Firstly, I hope you are not sick of all the reports of Korean flights by now, if you are I advise you to cover your eyes now. If you don't know what I'm talking about, here are some links to my last three reports which document my flights on Korean Air's 747 (https://www.airliners.net/aviation-forums/trip_reports/read.main/271115/) and A330 (https://www.airliners.net/aviation-forums/trip_reports/read.main/271127/) and an Asiana 767-300 (https://www.airliners.net/aviation-forums/trip_reports/read.main/271170/)
Over the years of reading reports on the forum, I've noticed that there are incredibly few reports written about flights taken on Korean low cost airlines and so in a series of three reports I'll take on 3 Korean LCC flights on Air Busan, Jeju Air and Jin Air. Flying from CJU-GMP on Jin Air, PUS-GMP on Jeju Air and Air Busan. In this first report we'll be flying on a Jin Air 777 to Gimpo.
Korean LCCs have only been around for the last ten years or so, however since their introduction they have boomed, today five of these airlines exist (Air Busan, Eastar Jet, Jeju Air, Jin Air and T'Way Airlines). These airlines all fly domestically to Jeju as well as to a range of destinations in China, Japan, Taiwan, Guam as well as to many holiday destinations in SE Asia. I believe Jin Air are also starting flights to Honolulu.
About Jin Air
Founded in 2008 as the low cost subsidiary of Korean Air, Jin Air flies to 36 destinations in Korea, China, Guam, Hong Kong, Indonesia, Japan, Laos, Macau, Malaysia, the Philippines and Thailand. The airline operates a fleet of mostly Boeing 737-800s inherited from Korean Air, although in the second half of 2015 they received 4 brand new 738s. The airline also operates three ex-Korean Air 777-200ERs.
Jin Air has many flights a day between Jeju and Gimpo however I picked LJ316 as it was one of the few operated by one of the airline's 772 aircraft. I would've also liked to try their brand new 738 but considering the airline's number of 738 flights from Jeju I would've had to be very lucky to end up on it!
I booked the flight a week or so in advance and ended up paying about 50000 won, seats could be selected for an additional 3000-5000 won however I decided just to check in early in the hope that there'd be a window seat left. Sounds simple, right? Far from it. The Jin Air website comes in Korean, English, Japanese and Chinese. When on the English website (and presumably the Japanese and Chinese ones too) you are only able to book international flights, in fact there is no indication at all that the airline flies in between the mainland and Jeju. Fortunately understanding Korean meant I was able to go to the Korean website and proceed to book domestic flights. Unfortunately, I lack a Korean bank account and name which meant I was unable to book the flights. In the end, as a last resort I phoned up their call centre and booked the flight over the phone. I'd imagine that this means that hardly any foreigners fly domestically on Jin Air (I seemed to be the only foreigner on my flight and on a 738 flight from CJU-PUS I took recently). Jin Air you're missing out on a lot of customers! Please make it easier for foreigners who don't speak Korean and lack a Korean bank account to fly with you!
I arrived at Jeju Airport with plenty of time to spare. I was greeted by large queues at the check in desks, however as I lacked hold luggage I was able to check in at the queueless ticket desk. After asking for a window seat and being given one (according to my boarding pass) all was looking good.
FLIGHT
From – Jeju International, RKPC
To – Seoul Gimpo, RKSS
Airline – Jin Air
Flight – LJ 316
A/C – Boeing 777-2B5ER
Reg – HL7743
Dep Time (Sched/Act) – 12:30/12:46
Arr Time (Sched/Act) – 13:35/13:36
My first glimpse of the 777 that would take me back to the mainland
I proceeded through the passport check and security, both of which were fairly quick despite queues and relaxed airside until it was time to board my flight. Our aircraft arrived from Gimpo on time and soon enough I found myself queueing to board the aircraft at gate 13. Today I'd be flying on HL7743, a Boeing 777-200ER delivered from Boeing to Korean Air on the 29th of August 2006 and was the first of two KE 772s to be transferred to Jin Air, making the move on the 29th of November 2014. In the past week my aircraft had made numerous round trips from Incheon to Sapporo and Phuket.
These gates at Jeju remind me a lot of Incheon's gates
As I climbed aboard I was greeted in English (even though I spoke to the crew in Korean!) and I made my way to my seat. In the distance I could spot a windowless seat, determined to believe it wasn't mine, my heart sunk further as the row numbers got closer to 39. It was my seat. I had the bad luck of getting the dreaded windowless seat. Fortunately I was able to see out of the window behind me if I really stretched my neck. It probably looked a bit odd to my ajusshi seat mate. Like most domestic flights in Korea that I have had the pleasure of taking, this flight was completely full.
The incredibly comfortable seats
Oh dear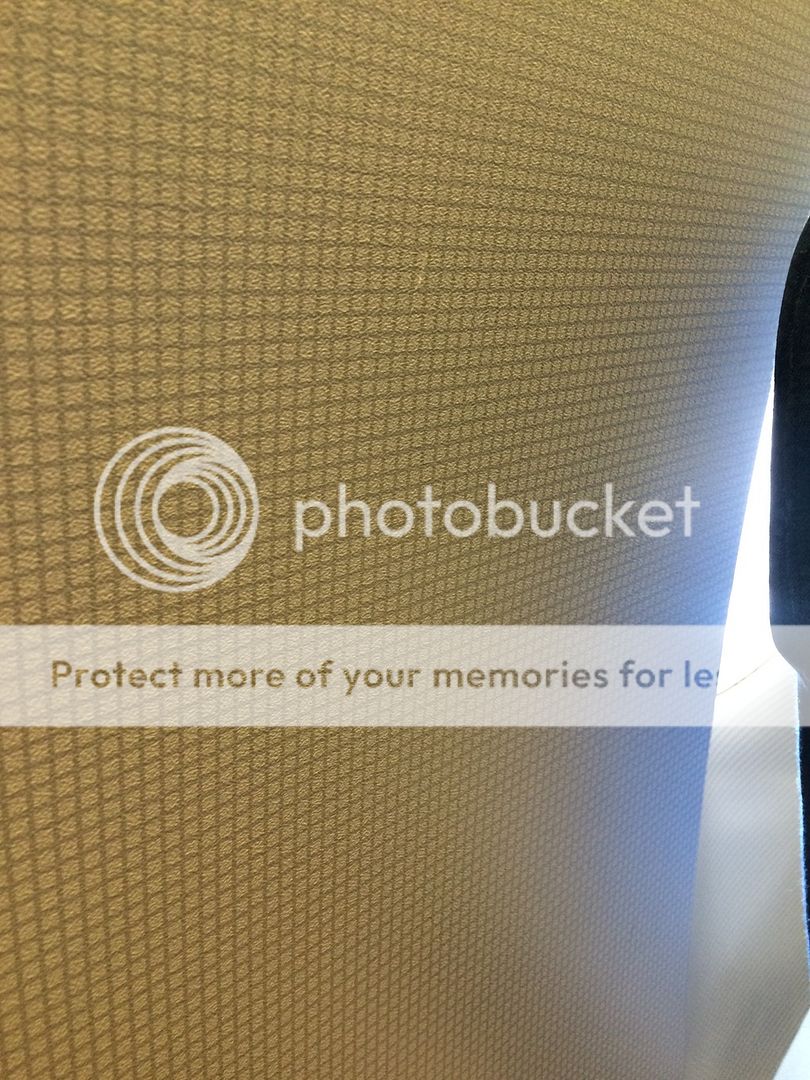 The 9 year old aircraft was in pretty good condition, well cleaned and virtually no signs of any wear and tear. When the aircraft was transferred to Jin Air, its KE long haul PTV seats were taken out and replaced with PTV-less economy class seats in a 2-5-2 configuration. The seats themselves were surprisingly good, fairly wide and well padded, albeit a little old fashioned featuring an ashtray and old school channel selector. I may be completely wrong about this, but after doing some research, these seats look very similar to the ones that were in Korean Air's A300s. Perhaps they were ex A300 seats, although perhaps they were not. The amount of legroom felt as if it was somewhere in between an LCC and a full service long haul aircraft.
After a professional yet holiday-ish welcome announcement and safety presentation in both Korean and English we pushed back exactly on time and began a reasonably long taxi to runway 07, no holding was necessary and we blasted off along the coast making a powerful and quick rotation into the slightly cloudy Jeju sky.
After takeoff we turned north and headed straight for Seoul, once we reached our cruising altitude the captain did an announcement in Korean and English about the flight. On this flight the service consisted of a cup of cold tea served on a tray, this was the first flight I had been on in Korea where one was not offered a selection of drinks. That's not really a complaint though!
One thing that really sticks out about the crew and service onboard Jin Air is their happy holiday nature which they pull off well whilst remaining professional. This reflects in their uniforms which consist of jeans, a T-shirt and a baseball cap, for pilots this consists of jeans and a standard pilot shirt. A very different (but not negative) style to any airline I've flown on before. On international flights food and drinks are sold and PSPs can be rented for the duration of the flight.
The descent began and from the little bit of window I had I spotted Suwon, it appeared we'd be landing on one of Gimpo's 14 runways. After a smooth flight there were a few lumps and bumps as we sunk through the little clouds near Gimpo. We made a smooth landing on runway 14R at 13:36 and after a short hold whilst a KE 738 took off on 14L we taxied off to gate 3, arriving at the terminal almost exactly on time at 13:40.
I think that's Suwon AB, although it may be Osan
Back at Gimpo
SUMMARY
Onboard I was very pleased with the service conducted by the very friendly and professional crew. The only real difference between Jin Air and Korean full service airlines is that you are limited to only taking 15kg of hold luggage (although free hold luggage is unheard of on most LCCs outside Korea!) and the fact that you can't choose which drink to have, although I'd imagine if you asked for water you'd probably get it.
The only real negative is the booking process, something which will (I imagine) put many foreigners off flying domestically with the airline and may put me off booking with them in the future. It's a shame as I was very happy with everything apart from this!
If the price was right, I'd definitely opt to fly on one of their international flights. Their large comfortable seats, which I personally found better than KE's 747 seats would dampen the negative of a lack of a PTV on a long flight to SE Asia. However I should say that on longer flights, I'd be willing to pay a little extra to fly with KE or OZ over a Korean LCC.