Flight: Gazpromavia 4G-409 (sold as Газпромавиа ОП409)
Route: Moscow "Vnukovo" – Yekaterinburg "Koltsovo" (VKO-SVX)
Date: 11FEB2016
Scheduled time: 0030-0510. Scheduled duration: 2h40m
Real departure Time: 0035 (take off UUWW RWY 24).
Real arrival time: 0437 (local time) (landing USSS RWY 26R). Real duration: 2h02m
Aircraft: Tupolev Tu-154M– MSN 92A933 C/N 0933. Built December 1992
Reg: RA-85751
Seat: 05E –Economy
LF: 90% Economy, No Business Class.
I've been in Russia over 2 years, and was never able to catch a Soviet beauty. Flew the Tu204 and the SSJ, but nothing else (and I've flown quite a lot here). Bought a ticket on the An148 (FV) and also on the An24 (UR), and both were rescheduled, one to an A319 and the other to an ATR72. Hadn't been lucky. Wrote in various forums, and never received clear nor satisfactory information. Either the flights wouldn't leave from Moscow, or would be only for workers of a certain company, or from the Russian Armed Forces. I was once invited to take place on a chartered Tu134 but couldn't afford it. So I simply gave up.
I arrived back to Moscow after two weeks in the Balkans, completely exhausted. Too much work to be done during this week, as I'm flying abroad (again), next week. But after a heavy Monday with work, Tuesday morning, checking a Russian aviation forum, I contacted one highly respected member via PM, and asked him: I can see in your signature, where your Last Flights are, that you keep on flying with Tu154 some times. How you manage it?
He answered me: "is not easy. Next scheduled flight is tomorrow night, on Gazpromavia, to NYM".
I love geography, and Nadym (Надым) is a town in the Yamalo-Nenets Autonomous Okrug (sort of State or Province), next to the Arctic, where current temperature is -16°C (or +12°F, as you wish). There was no way of returning easily to Moscow from there. But also learned (tracking the flight on various websites) that the plane made a technical stop in Yekaterinburg and a ticket from Moscow to Yekaterinburg was also able to buy. But the Tupolev did a one-way trip (it is based in NYM). So I'd to buy a return ticket on a separate airline. Yekaterinburg, previously called Sverdlovsk (that's why the IATA Code for the airport is SVX), is Russia's 4th largest city, so there are plenty of options to return to Moscow.
Tried buying on Gazpromavia website but it looked impossible or unsafe. Gave a chance to normal websites as Expedia or Orbitz, but they don't even know of this airline. And checked one of this Russian flight searchers which send me loads of junk mail. I checked on OZON Travel, and it was pretty easy to have a ticket bought, and sent both to my e-mail and to my phone as SMS. So I bought the return ticket going in the Tupolev and returning 2 hours later on an A320 to DME (Ural Airlines). But I checked that I'd be flying the whole Thursday night and Thursday is my day off from work (I work Saturdays instead). So called OZON call center (at 6am) and a nice lady picked up (no machines, just a real person) and I told her that I wanted to void my ticket because I've done a mistake while booking. She said: are you Eielef? Yes indeed, how do you know? You are the only person who has bought a ticket at this time of the day. That's what I called personalized service. In Russia, if you cancel your ticket in the 1st hour after having bought it, you receive all the money back.
I was pretty happy with this website, so bought it again, now returning on a Friday morning. Instead of Ural, I choose Pobeda as I much prefer Vnukovo (just 20 mins of my house).
This, also, made me save some money. Booked a hotel for two nights and went to work, both on Tuesday and Wednesday as usual.
Wednesday, I returned from work at 4pm, and took a nap until 10. Was planning on going by bus to Vnukovo (no luggage, just 20 mins walk to the bus stop and another 20 mins bus rids). But I was too lazy so called a cab, and in no time we were in the departures level of Vnukovo (Terminal A/B). Checked the screen, check in was done at counters 127 or 128.
I arrived there at 23:30 on Wed 10th.
01 Check In counters @VKO Airport . They couldn't easily find my booking, as I had written my name in the Cyrillic Alphabet and in my passport it is on the Latin Alphabet. Happens often, they mostly just check your date of birth! I asked for a window seat, and they told me the flight was full, and there were no windows left, not even aisles. I said: well then, whatever. Bad idea ☹
Security took no time, and I entered the pretty empty Terminal A. There are few flights at that time, mostly long flight by Pobeda (the Russian low cost). I read my boarding pass and found 08A and said: great seat. But no, that was the gate
02 Standard Vnukovo Boarding Passes. No Gazpromavia mentioned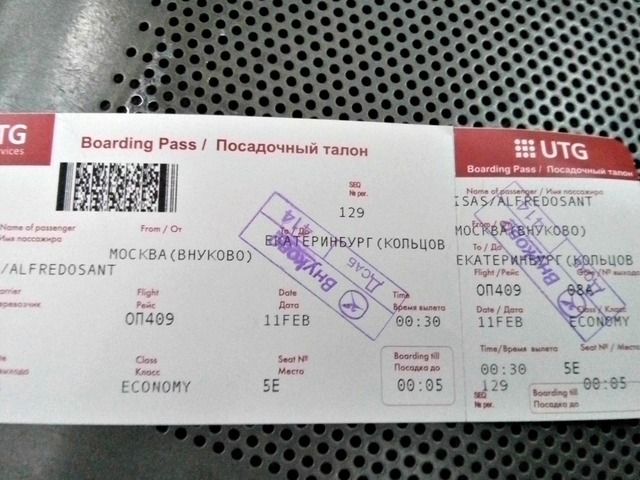 03 Boarding had already started, but the closest gate from the entrance to the terminal is 08/08A. Gates are all 08/08A, 09/09A, etc. 08 is jet-bridge, 08A is taking the stairs to a bus.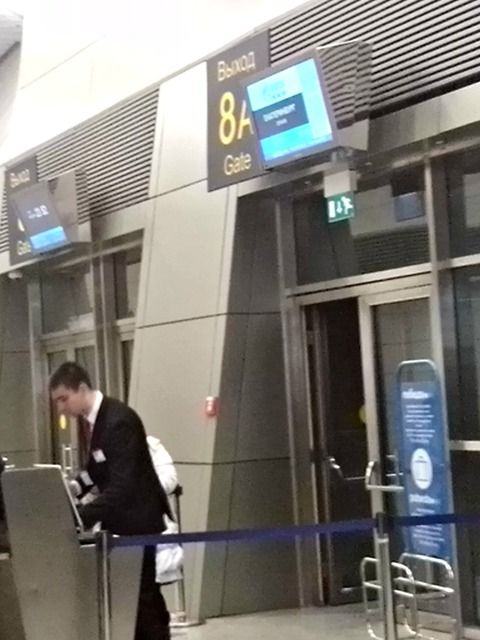 I boarded the second cramped bus and we drove a long while to a remote position were we spotted this Tu154M. My heart was happy… We were given immediately permission to board, as the previous passengers were already seated. There is no priority boarding, nor lines for some rows. There is just a general boarding. Climbing the stairs on a cold winter night, I took some photos, most of them are pretty bad
04, 05 and 06 Туполев Ту-154М RA-85751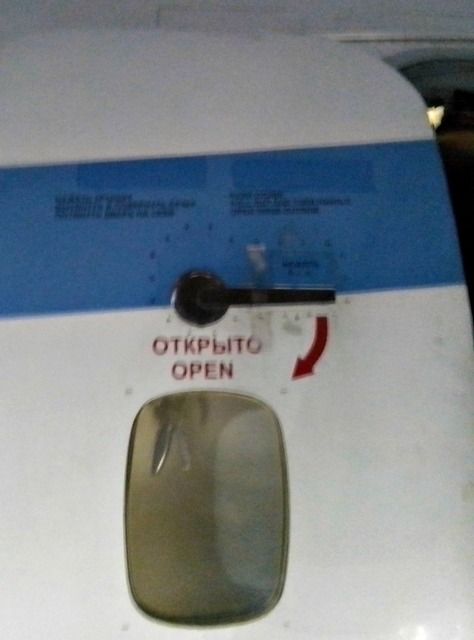 There is a front door which was never used. The door used (I'd say its called 2L) was pretty small, and almost everyone (myself included) hit his head. People lost also their winter hats.
The crew (three female, one male) checked your pass and told you to go to "1st saloon or 2nd saloon". I've heard sometimes than, when entering a plane and turning left (as of heading to Business Class) gives you some prestige. It was one of those occasions. There were many knobs and very old fashioned technology on the galleys (where we entered), though they kept pushing me, and the crew went mad when I tried making a photo. People are freezing outside!
Don't know why but I went to seat 08E instead of 05E (which was my assigned seat). Was empty anyway, but next to me there were already to males seating.
07, 08 and 09: What you get when you are sitting in the wrong seat.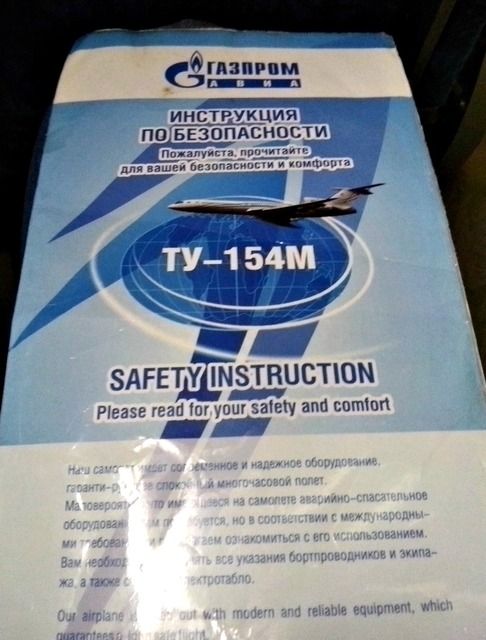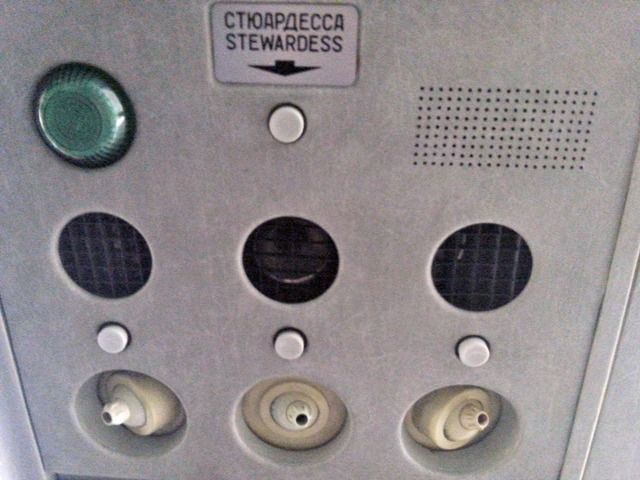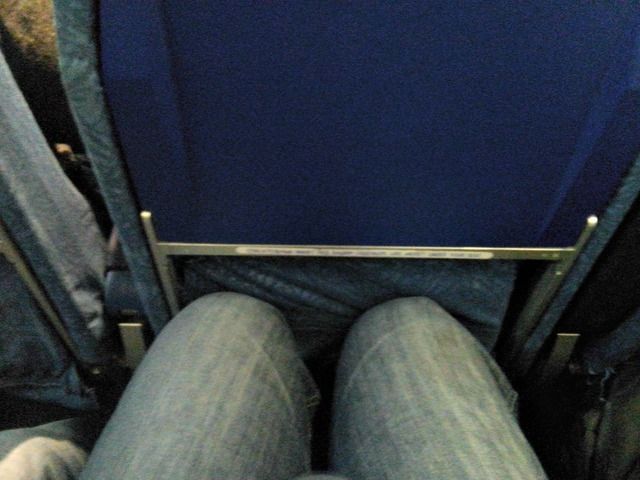 It was already 00:25 and the last bus arrived with the last few passengers, mostly crew members which were assigned rows 01 and 02. I waited impatient to listen to those three amazing Soloviev D-30KU-154 turning on. And the sound was among the best thing's I've ever heard. So powerful, so amazing, so Soviet! (if you are into classical music, listen Арам Хачатурян, my favourite Soviet composer). This music was being played on my mind, the power of an amazing orchestra on those engines. And doors were soon closed, they removed the truck with the stairs, they did the safety demonstration at the old fashioned way, only in Russian. The purser welcomed us (coldly) to the flight 409 to Nadym via Yekaterinburg. Absolutely no announcement was made in English. First time I'm in this situation. The safety card was in English, but all the rest was in Russian. Crew spoke no English at all.
As I was sitting in a middle seat, and the person next to me wanted to sleep, he closed the window and fell asleep immediately (snoring included). The other guy was reading a novel, on this very strange (now a days) paper format (I've seen many people reading on planes on their Kindles, but Russians, heavy readers, love paper books, and they take them from libraries, or buy them 2nd handed).
There is not a very modern IFE system, well, there is no system at all. Also, the signs of turning on the seat belt, no smoking (is completely banned to smoke now a days in Russian planes), and of Lavatories Occupied are in a central console, but not in each seat.
10 and 11 Cabin views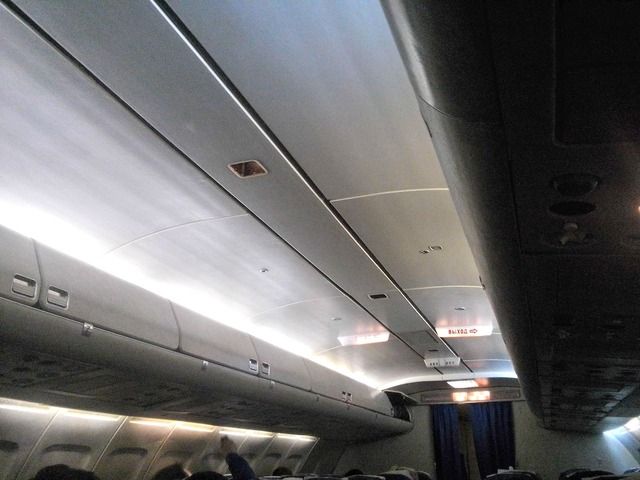 Just 5 minutes late, we took off from 3060m/10039ft long Runway 24. We used most of it. Take off was powerful and amazing. Climbing was also different than in other planes. We used full gas, and we climbed very high to a final flight level of 37000ft, flying at 930km/h, most of the journey. We headed immediately east, and continued in that direction for two hours.
As soon as it was safe, I asked the reader if he'd let me go to the toilet. There are some trip reports where photos of the toilet are included. I wanted to add mine as well, because this is a very strange toilet.
I wasn't allowed to enter the 2nd saloon, because there was a closed curtain and the crew rest area, before another closed curtain, so I had to be between rows 1 and 10. There are two lavatories next to the cockpit. Restrooms are bigger than in standard planes
14 Instead of lights indicating the door is closed, is a much better mechanical system. The options are opened or shut (not closed).
15 Lavatory was pretty nice, although no napkins were there, just a big roll of kitchen paper and a sort of soap mixed with water. Water was either warm or cold, and come in good quantities. There is a plug also for your shaving equipment. It is the standard European one (the same plugs used in Russia today). I don't think it works, nor that anyone carries a razor which needs to be plugged anymore.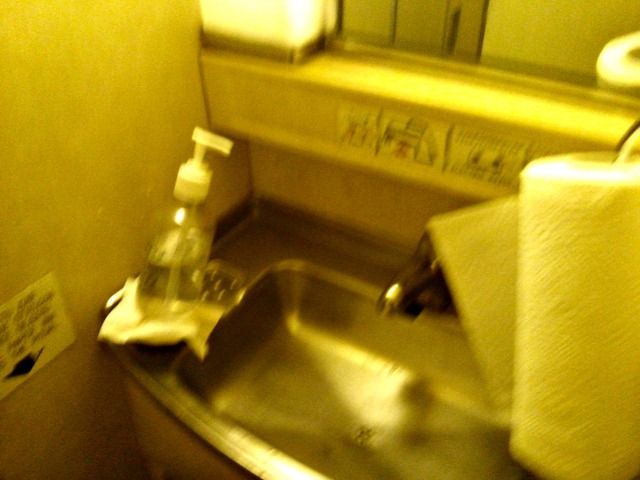 16 The WC with wooden (real wood) toilet seat! (Plastic is for peasants!!)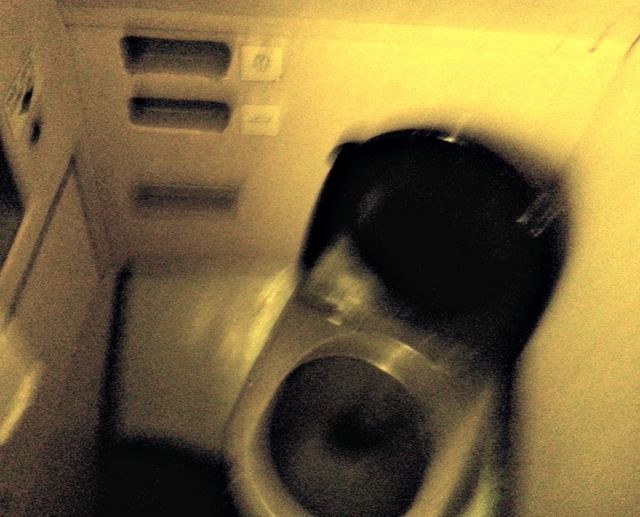 17 In the top/left of the previous photo you can see two tiny compartments. I don't understand what are they for. One is for a shirt, the other for a shoe. Strange things did those Soviets!
18 Also, you can hung up to three different coats on the toilet. Quite useful, in such a small place.
As I returned, they were serving dinner. First, a serving trolley where water or juice (tomato, orange or apple) was offered. I asked for the last option. Second, the same trolley brought you a bag with a sandwich (thin slice of sausage, cheese and cucumbers with lots of mayonnaise), a napkin, sugar and a toothpick. That's extremely normal in Russia (in my country, it would be rude to use something like that in public). Finally, the same trolley returned with iron kettles with either tea with lemon or coffee with milk. I also asked for the last one.
12, 13, 19, 20 and 21– Dinner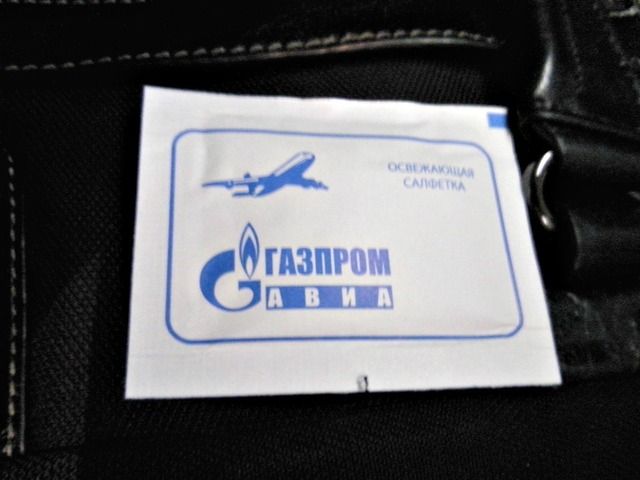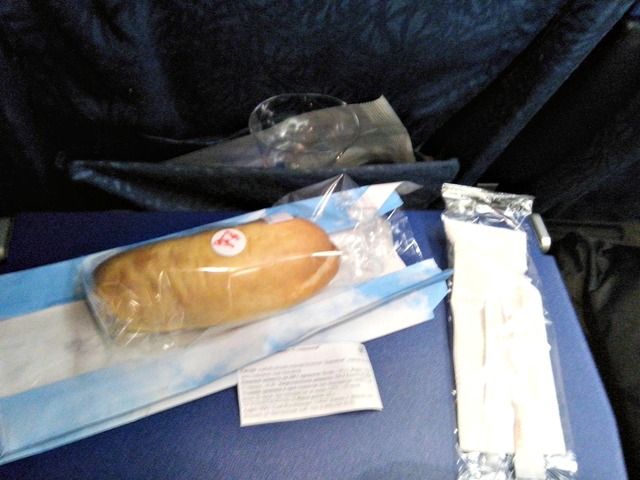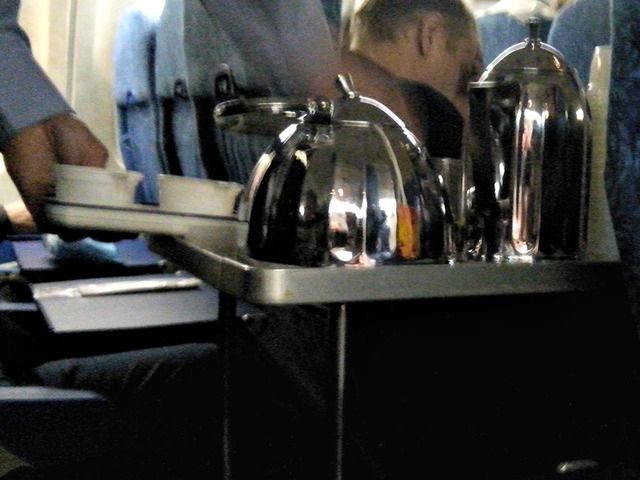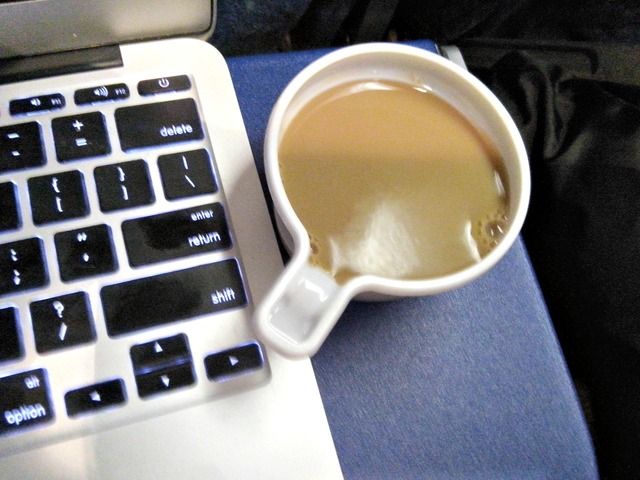 At 1am, lights were turned off and we still had almost 2h of flight, so I turned the movie I had left while flying back from Belgrade. Something I noticed in my seat was that you could recline it quite a lot, and it wasn't uncomfortable to the person behind you. Also, if the front seat is empty, is a standard practice (I saw the crew doing it) to kick it and put your legs there. You can recline maybe between 130° and 0°. Amazing! Seats were confortable, though the inside temperature of the cabin was a bit hot, and the ventilation didn't seem to work.
At 2am (Moscow Time), the captain told us we've already started the approach to Yekaterinburg, temperature there was −4°C (+25°F). We would land in the next thirty minutes, almost one hour ahead of schedule. The crew started preparing the cabin. Lights were dimmed one more time, and we overfly the big city of Yekaterinburg (my first time here, or in the region of Russia, where Europe and Asia joins), and we did a 180° turn back to Koltsovo International Airport, in south eastern Yekaterinburg, where we landed on 3004m/9856ft long Runway 26R. It was 04:37 local time (02;37 Moscow time), and we had been airborne just above 2 hours.
22 Crew preparing the cabin for landing
23 Lights dimmed up to 10 minutes after we had already landed and parked. Still seat belt signs were on, we didn't understood why. So we were left in almost complete darkness while we saw they unloading our luggage. No jet bridge was attached to our plane, as we where in a remote position.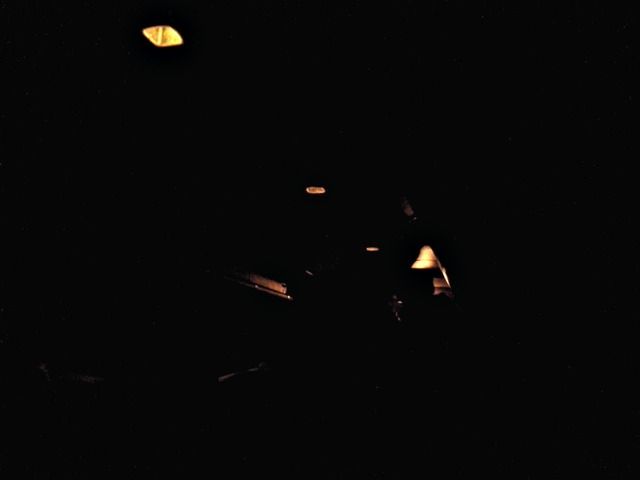 24 After this ten minutes, lights went back on. People started picking their hand luggage and heading to the exit while a technician was trying to get to the cockpit with some heavy tools. Extremely uncomfortable feeling, we felt cramped, this guy with tools, tiredness, and so many people!
Eventually, what had happened was that all the 2nd saloon was first disembarked, and then they let us go. So when we were leaving the plane, the other passengers had already gone on the first two busses. Remind that in the 2nd saloon there are rows 11 till 27, so is bigger behind that in the front. Don't know why don't they open the back door (3L)…
25 We got out from the same door (2L) as when we entered. Here is a person hitting his head (once more) while leaving the plane.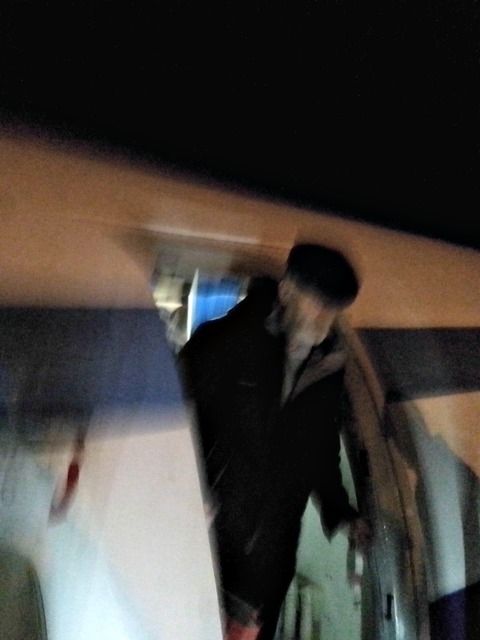 26, 27 and 28 Final views of the Tu154M RA-85751 in Koltsovo Airport @SVX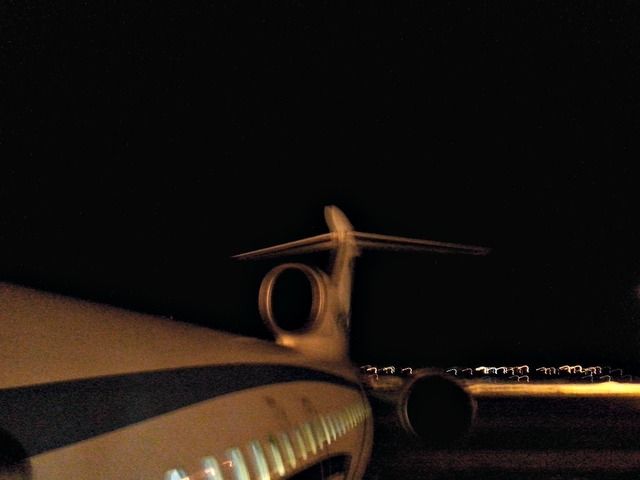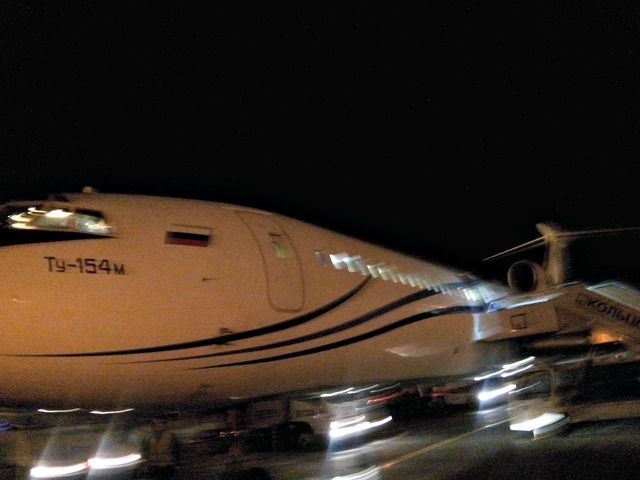 Koltsovo is a very modern and nice airport. The Terminal A was built not long ago, and is the 5th busiest in Russia, after all three airports in Moscow (SVO, DME and VKO) and the one in Saint Petersburg (LED). I tried making some photos, but a police guy told me not to do them and to erase them (those of inside the airport luggage area). Another person, who was also a passenger on the flight and in my bus, told him (thinking I was just a stupid foreigner) that I've been taking photos all over the flight. I got really mad at him, erased the photo the police officer asked me and cursed this guy in the finest Muscovite accent you could imagine. He left with no further incidents.
Airport was rather busy having many departures and arrivals, both domestic and international at that time. There were flights to Uzbekistan, China and Thailand leaving at that time.
29 FIDS at Koltsovo Airport SVX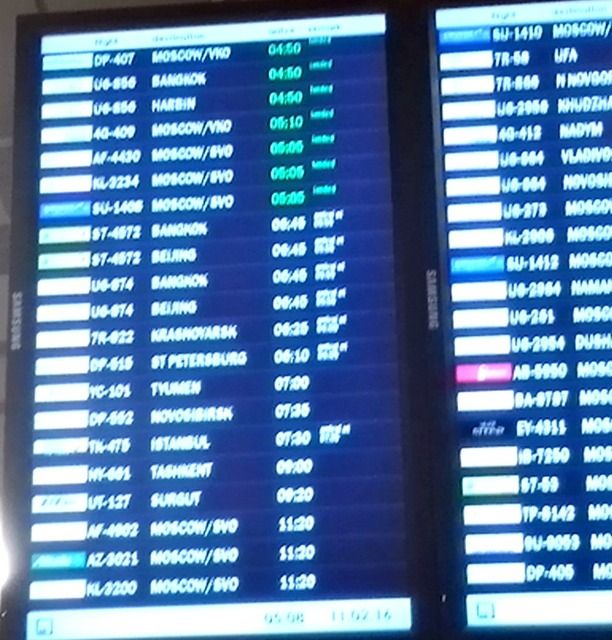 The hotel had promised me a shuttle waiting for me, but he wasn't there. I called the hotel, and they said it was because my flight was too early. He will be there at the time planned (so 5:10). I called them at 5:05, so I said no worries. But waited over 40 minutes, and he didn't show up. Called back the hotel, and they told me just take a taxi there, we'll pay it. Did it so, and got by 6am to Yekaterinburg, the place where Asia meets Europe.
So, this flight could be rated by some standards: On time 10, Comfort 10, Crew 2, Food and Drinks 3, IFE 0, Ambience 0 (ugly people, complete mess while leaving the plane). But this is a pretty special flight, so I rate it with a very good grade. It was my first, and maybe my only chance on flying this plane.
So, you deserve it, here are some three photos from the plane (good photos, with good cameras, and with better light). They don't belong to me, but I'm authorized by the website where they are hosted, as I'm a collaborator to them
30 My plane at Moscow (Vnukovo Airport) VKO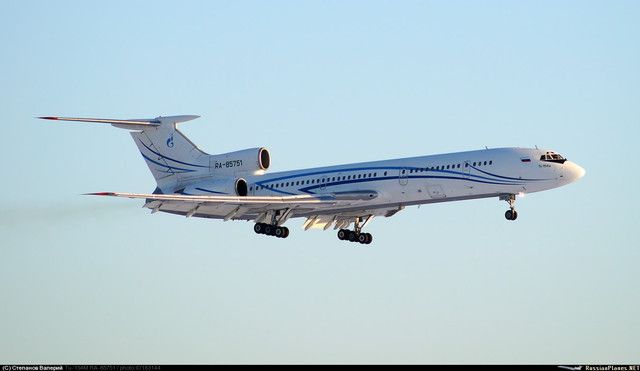 31 My plane at Yekaterinburg (Koltsovo Airport) SVX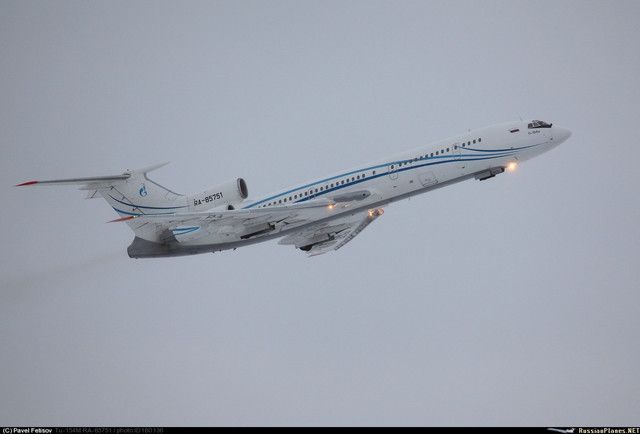 32 My plane at Nadym Airport (NYM)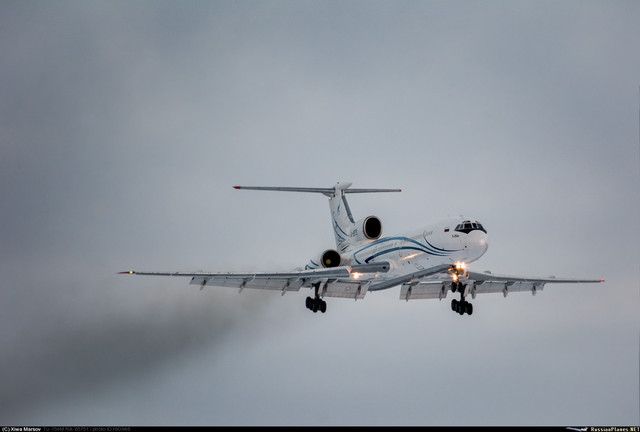 Cheers!
Eielef @SVX (waiting to my plane back to Moscow!)
Feedback is always appreciated, and also you are all welcomed to visit some earlier reports.
Aerosur 5L544: MAD-VVI - First Class B744. FEB2012
(by
eielef
May 8 2014 in Trip Reports)
Austral AR2479: TUC-AEP E190. Domestic Argentina
(by
eielef
May 31 2014 in Trip Reports)
Vladavia XF4649: UUD-SVO - Tu204. Frozen Siberia
(by
eielef
Jun 13 2014 in Trip Reports)
UTair Express: UR197 VKO-VOZ - ATR7. Sunny Russia
(by
eielef
Sep 8 2014 in Trip Reports)
Pobeda Inaugural Flight: VKO-VOG-VKO
(by
eielef
Dec 5 2014 in Trip Reports)
S7-910 EVN-DME A321 - From Armenia With Love
(by
eielef
May 14 2015 in Trip Reports)
Holidays In Montenegro And Air Serbia TIV-BEG-SVO
(by
eielef
Feb 8 2016 in Trip Reports)
[Edited 2016-02-11 16:26:38]