Video Reports of this leg of the trip
Nok Air DD8316 - Bangkok (DMK) - ChiangMai - Boeing 737-800
Thai AirAsia FD3162 - Chiang Mai to Phuket - Airbus A320-200
Background
Hello A'netters. This is the second part of our epic three week Meet the Parents/Chinese New Year/Tour around India Trip.
This part of the report comprises of the flights and sights within Thailand.
The entire trip has been split into four reports:
Report 1:
Part 1:Qatar Airways - Thailand And India
(by
newbief1yer
Mar 9 2016 in Trip Reports)
Report 2: Thailand Domestic - Nok Air and Thai Air Asia.
Report 3: Bangkok Airways - Economy - HKT-BKK-BOM - A320
Report 4 - India Domestic - Economy - BOM-JAI; UDR-DEL; DEL-COK - Jet Airways, SpiceJet and Air India.
Thanks to GCMaps for the map illustrations below:
3 days in Bangkok and now it was time to head to Chiang Mai to continue with the rest of our trip.
Few sights and sounds across Bangkok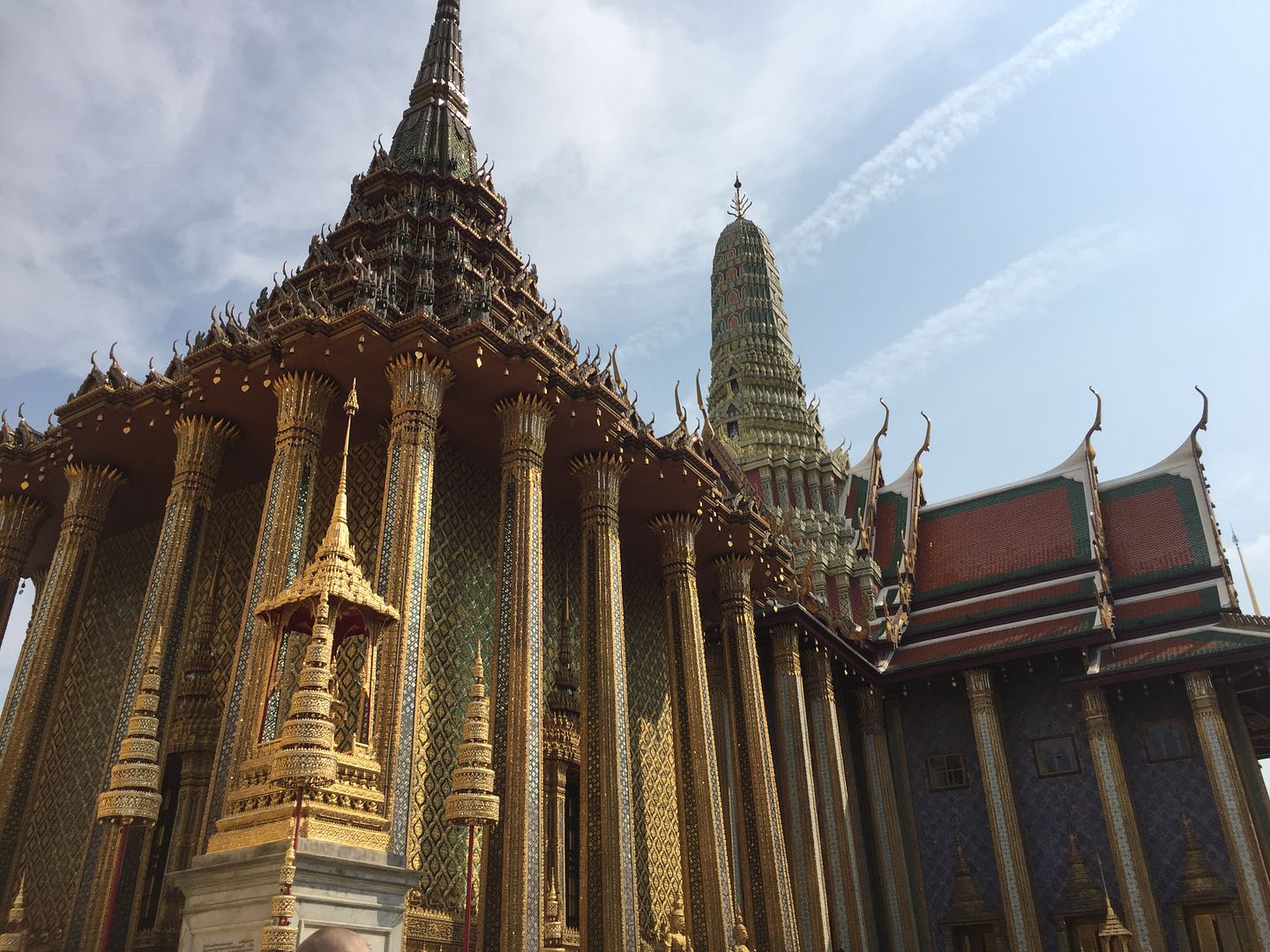 Chatuchat Weekend market
River Dinner Cruise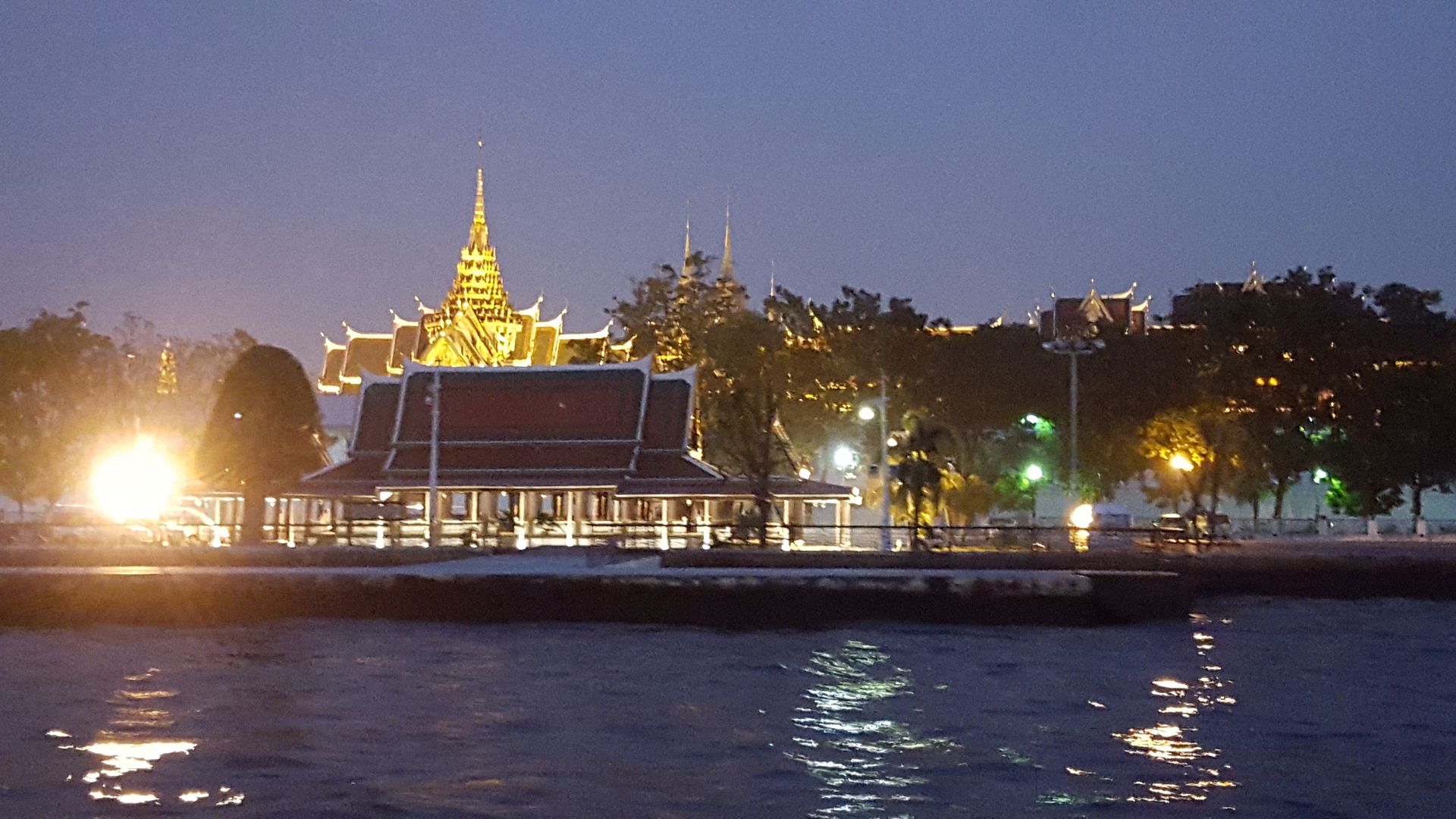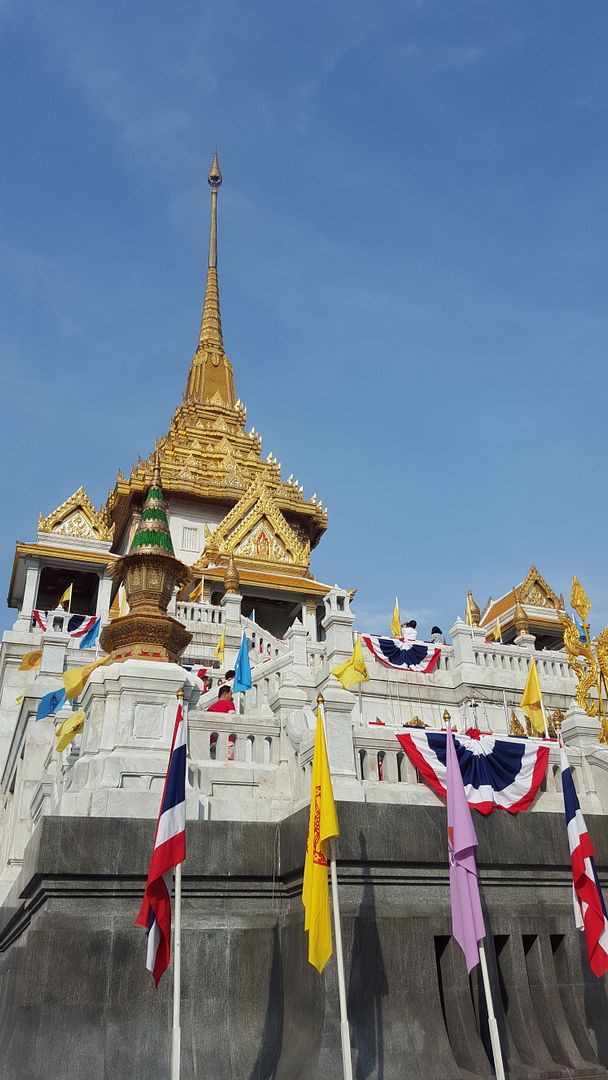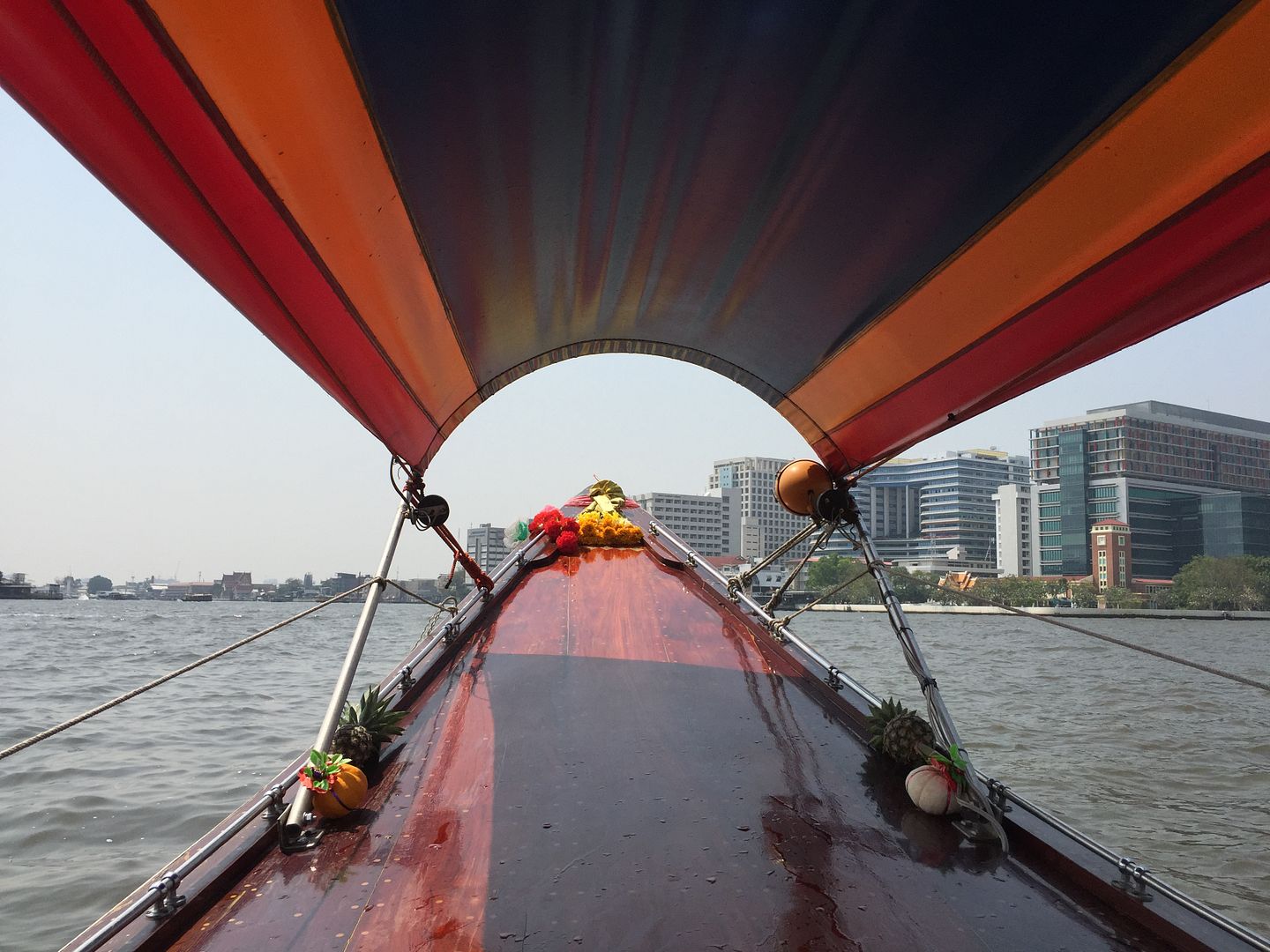 Nok Air – DD 8316
Route: DMK - CNX
Flight Reg: HS-DBT ; Delivered July 2015. The second newest aircraft in their fleet. At the time of flight.
Aircraft type: Boeing 737-800(Winglets)
Seat:41 A (seat rows starts from row 30)
Flight time: 14:30 - 15:40 (14:50 - 15:55)
Actual flight time:1Hr 05 min
Distance: 351 Miles
Load: around 70%
9th February 2016
My Log book: 1st Flight on Nok Air/19 th flight on Boeing 737-800/ 99th Total overall flight
Previous day online check in for Nok Air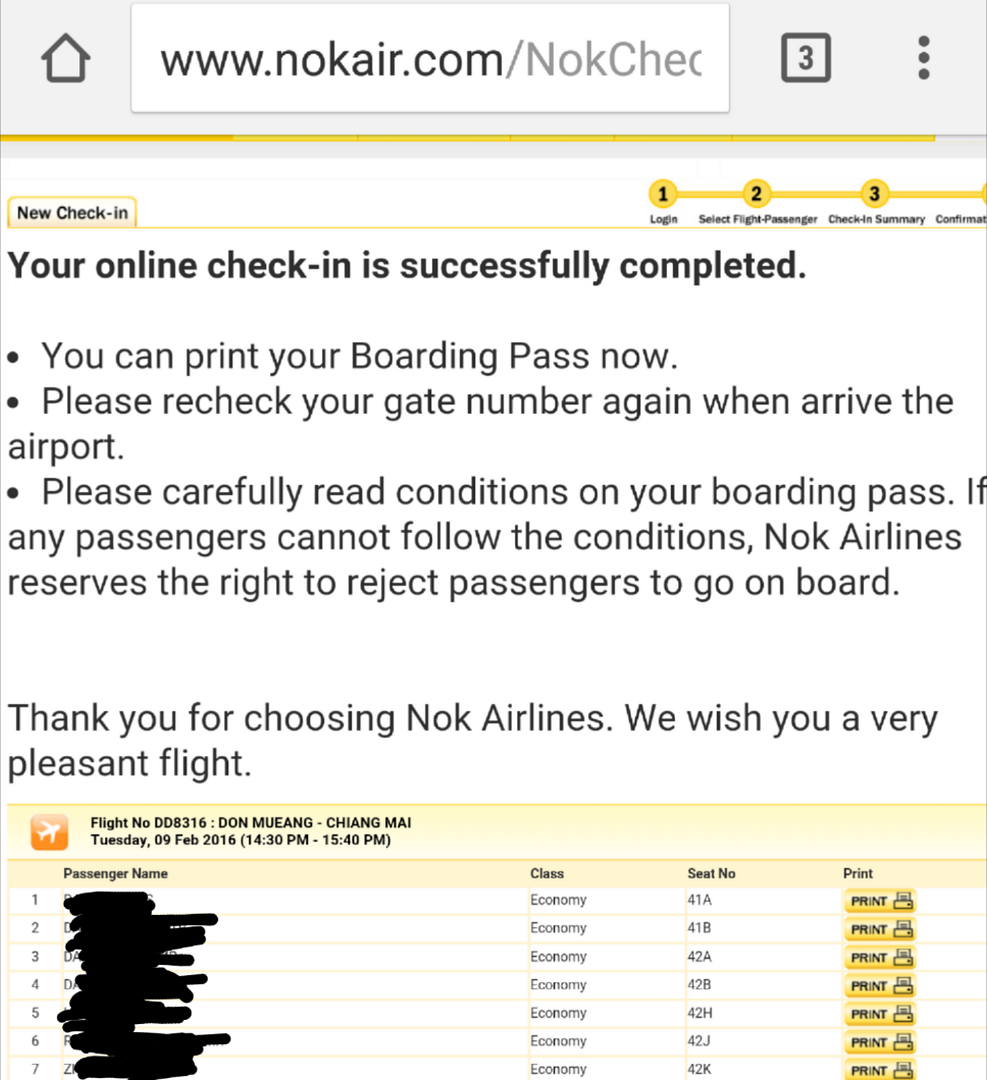 Email from Nok Air. Quite helpful.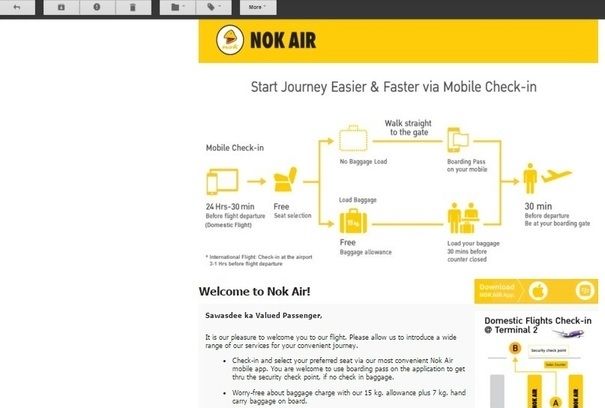 Booking Process, website usability and online check in
The first leg of our Thailand escapades was to get us from Bangkok to chiang mai. Being one of the most busy routes for tourists we were spoilt for choices. We could virtually take any Thai airline. But the choice was Nok air - or bird air in English. New airline with whacky livery. Done deal.
The booking process was simple enough on nokair.com. Easy to navigate and got our seats booked in around 5 minutes. Looking forward to flying the funky looking aircrafts.
Upon booking I had pre-booked an extra 5 kilos of excess baggage for our entire group in case if we needed it.
Day before flight, online check in was seamless and quick. Seat selection was also possible during check in.
Entrance to the Airport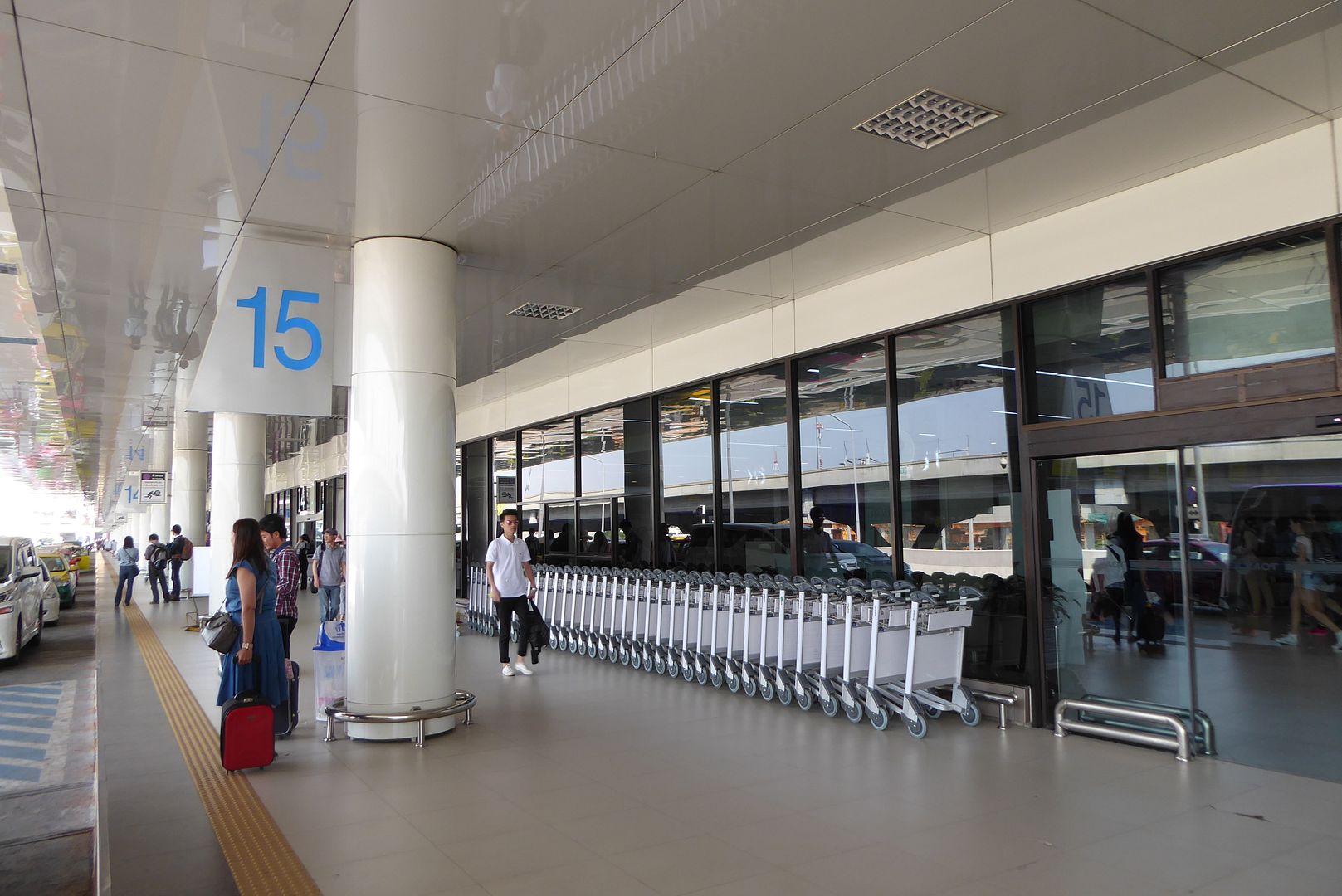 Airport service / checking in / Lounge
Arrived with a lot of spare time at the airport. Baggage drop only starts 2 hours prior to departure time. Waited in the queue but was asked to come back in 25 minutes.
Once we returned to drop the bags it was a quick process. The boarding pass was a bit odd. Looked like a restaurant receipt. Then came the really strange bit.(have seen this previously when travelling domestic in China ) We had to watch our bags pass through the conveyor belt security check via a television monitor. Of our 8 checked in bags, 2 were checked for portable charger. The entire process of waiting for bags to pass through, removing the portable chargers and re-doing the process took a good 15 minutes to complete. The airport staff barely spoke English too. Not ideal given the vast amount of foreign tourists visiting Bangkok.
Post the portable charger fiasco, security was quick. Once airside, there are quite a few restaurants to choose from albeit all a bit expensive. A pint of singha with cashew nuts will set you back £7. Quite expensive and very expensive for Thailand. But decent enough airport to spend an hour before departure. The fast food corner is near the security check. But the Asian food corner is quite a trek away near the air Asia gates.( Gate 50 onwards). The walkalators only traverse In the directions of gate 50 onwards. If you want to get back you'd need to walk back the entire distance.
Nok Air Check in desks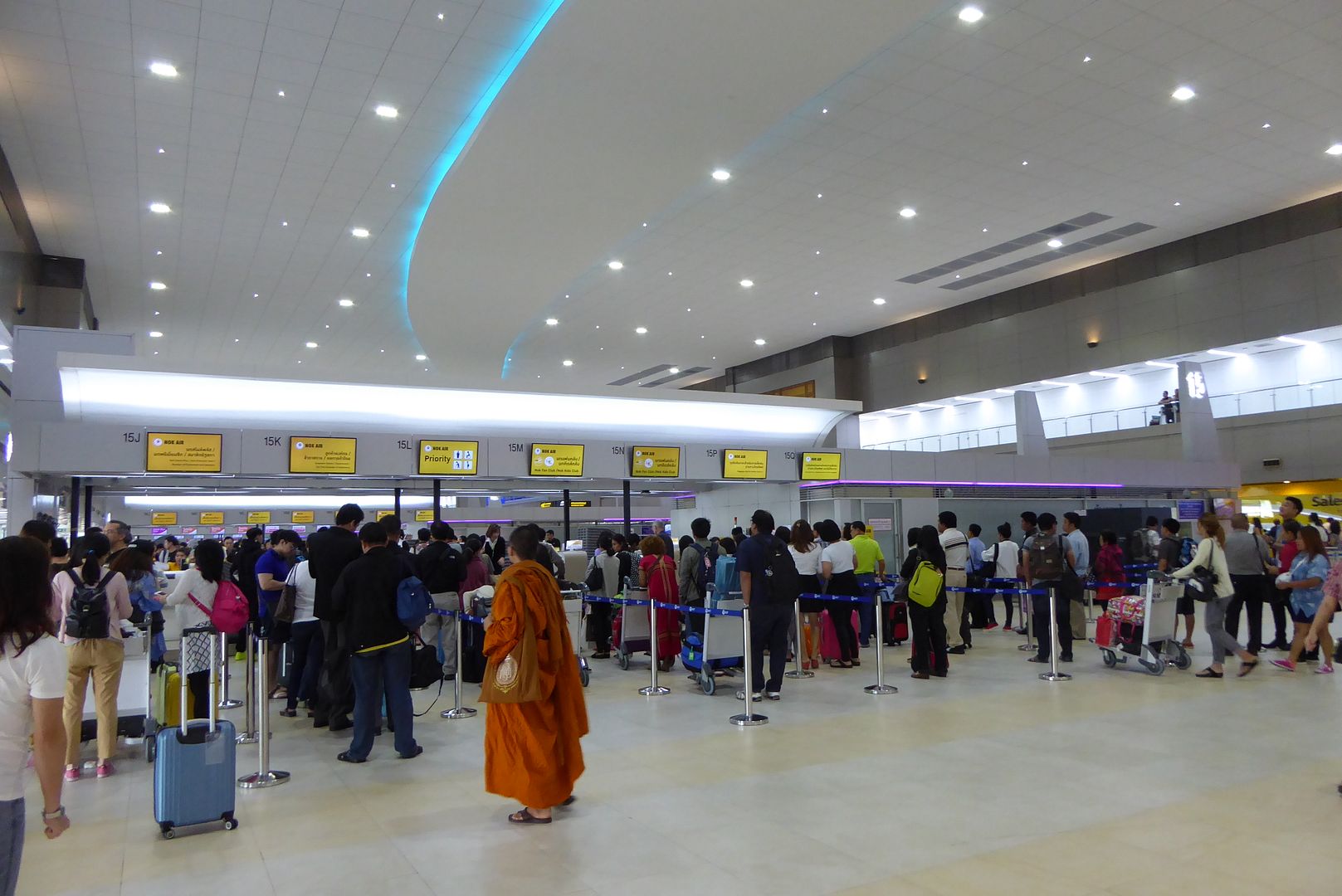 The strange looking boarding pass
Flight seems to be on time (for now)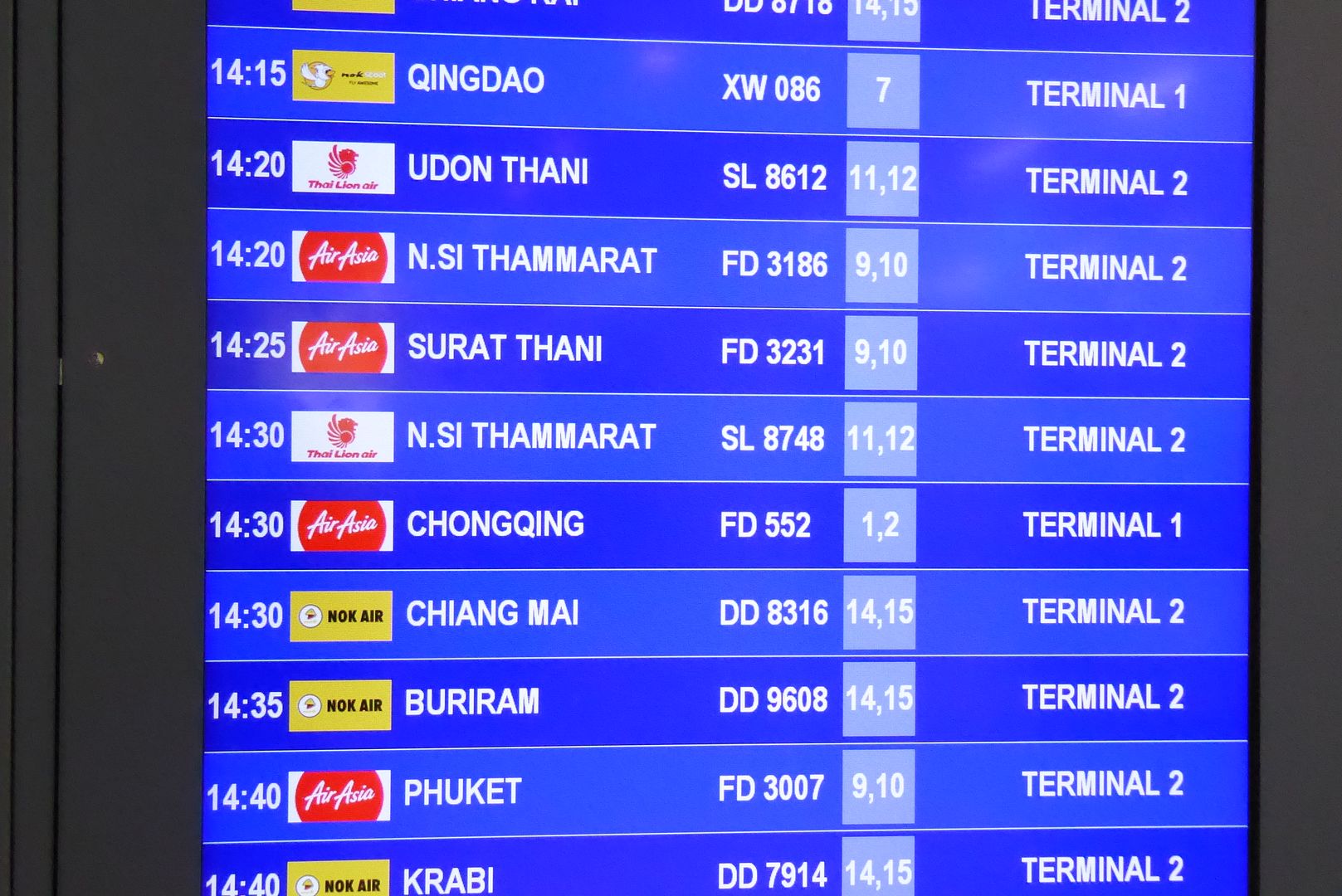 Bangkok Don Meung Airport (DMK) Departure hall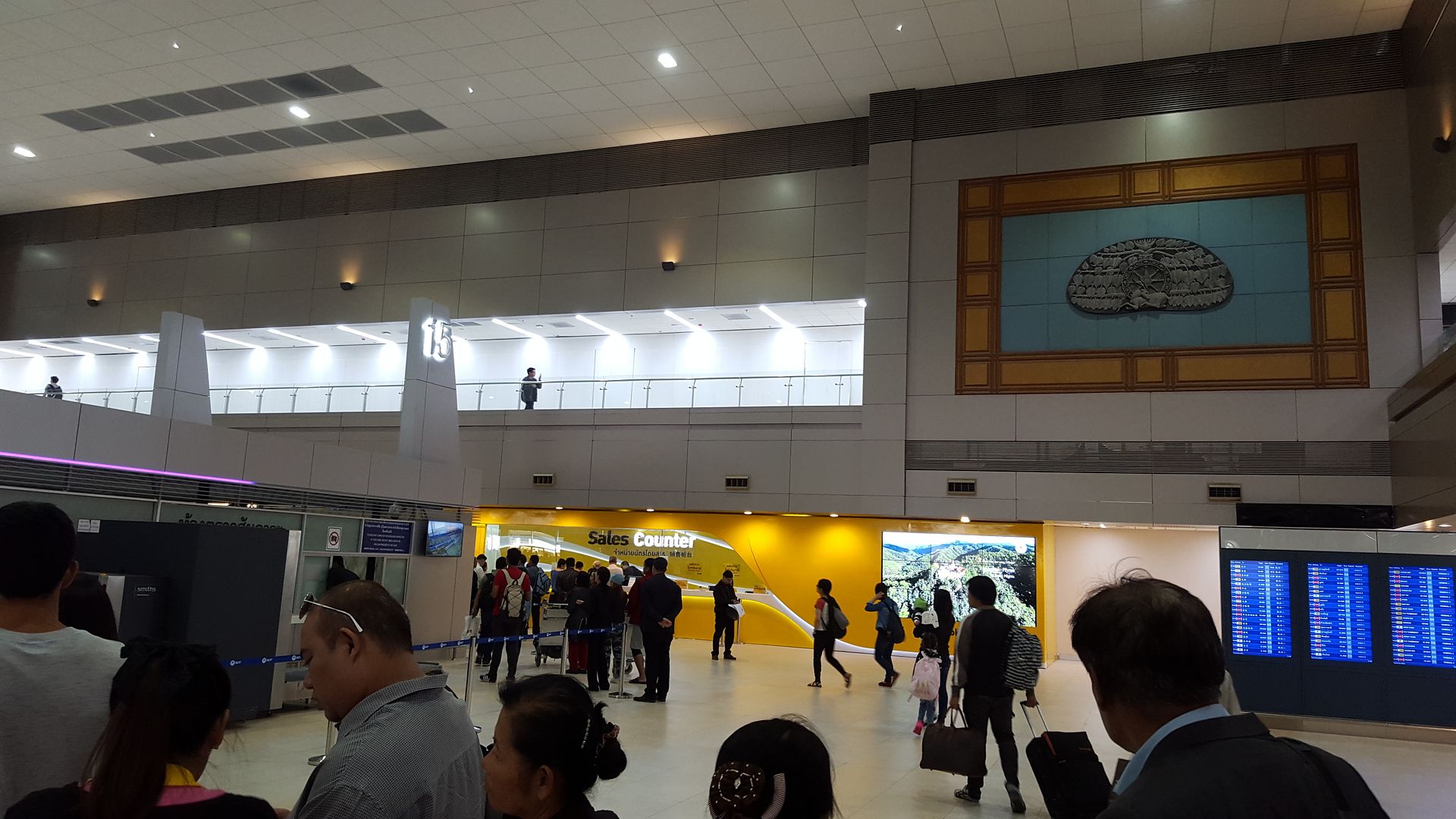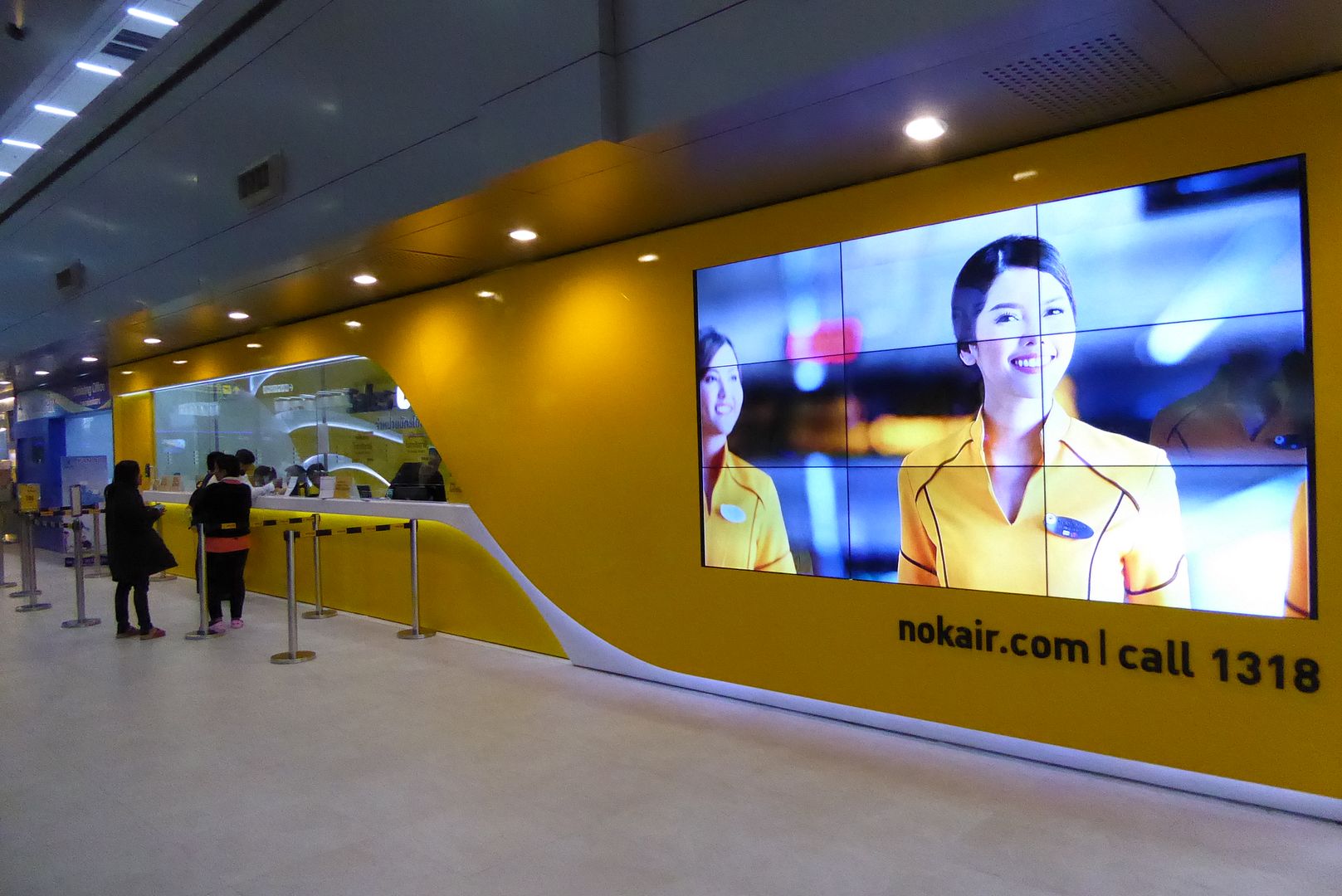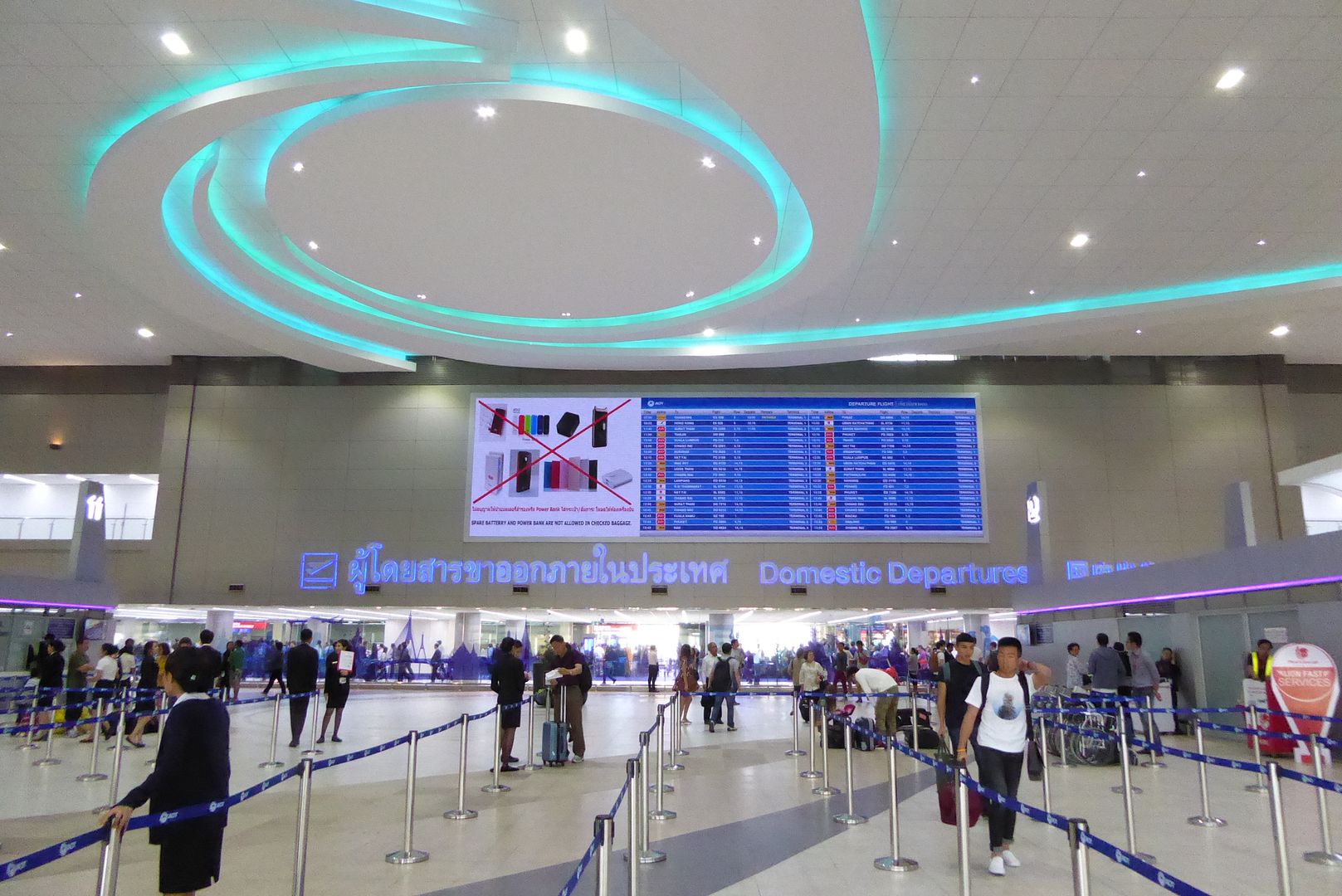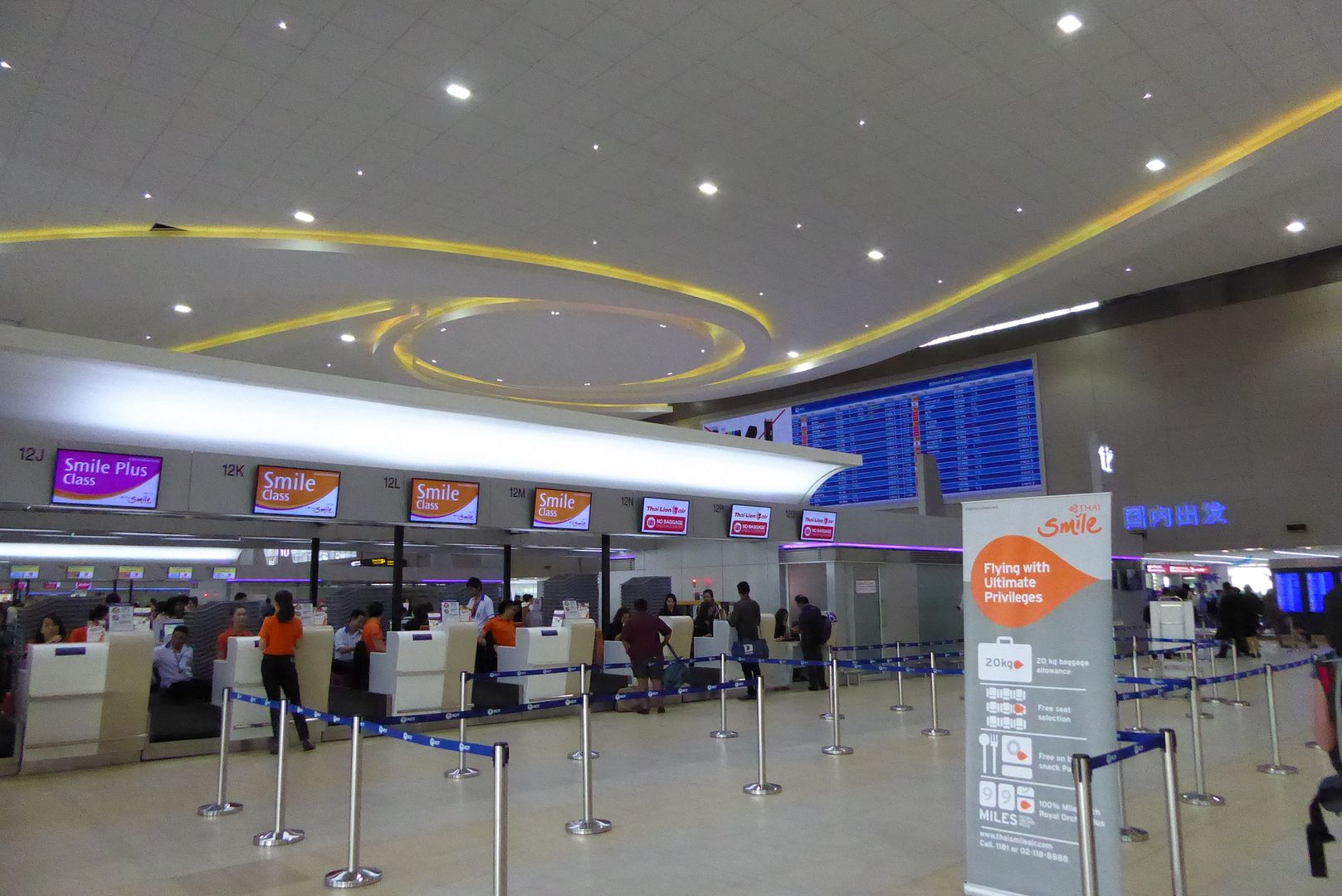 The baggage screening area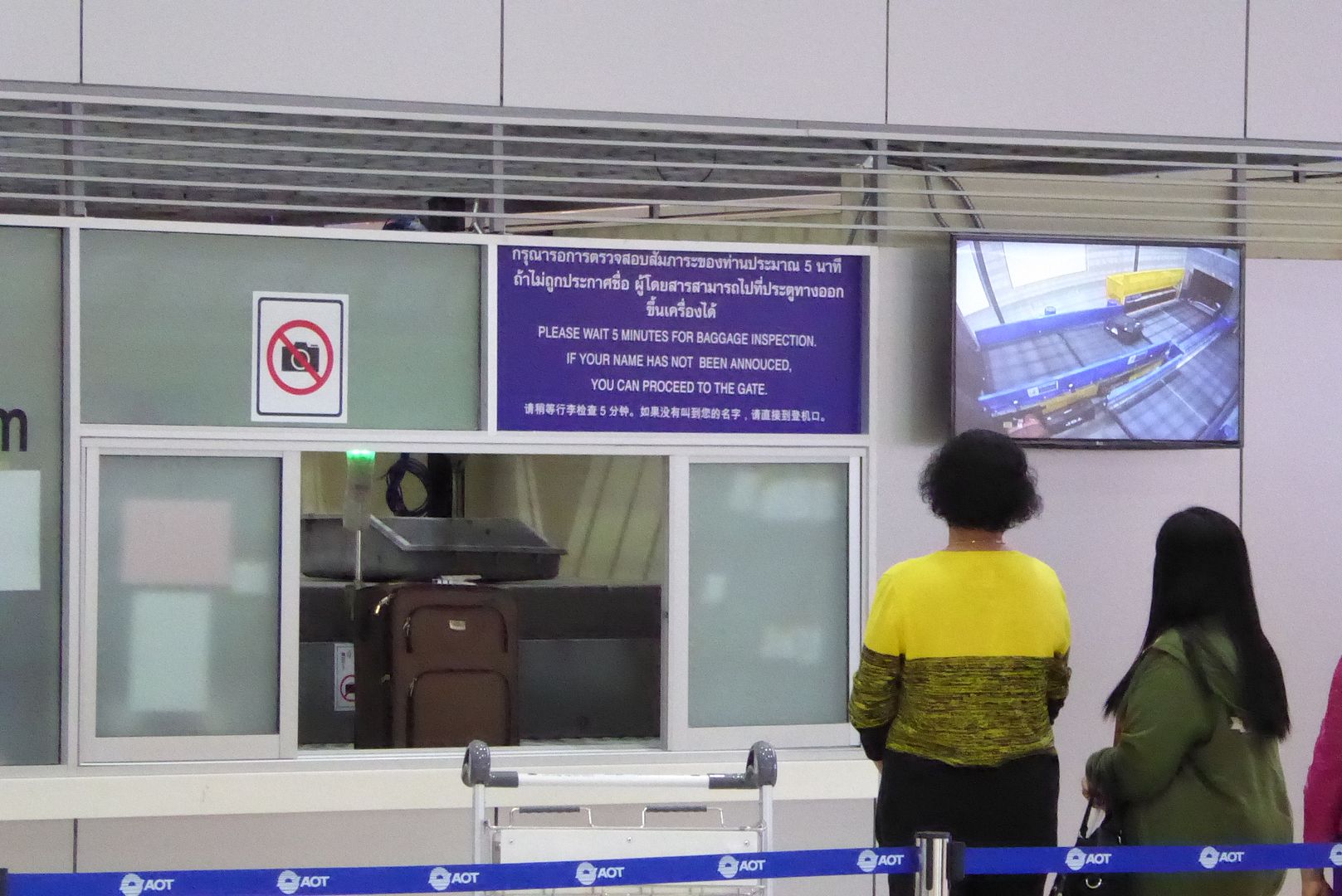 Airside at DMK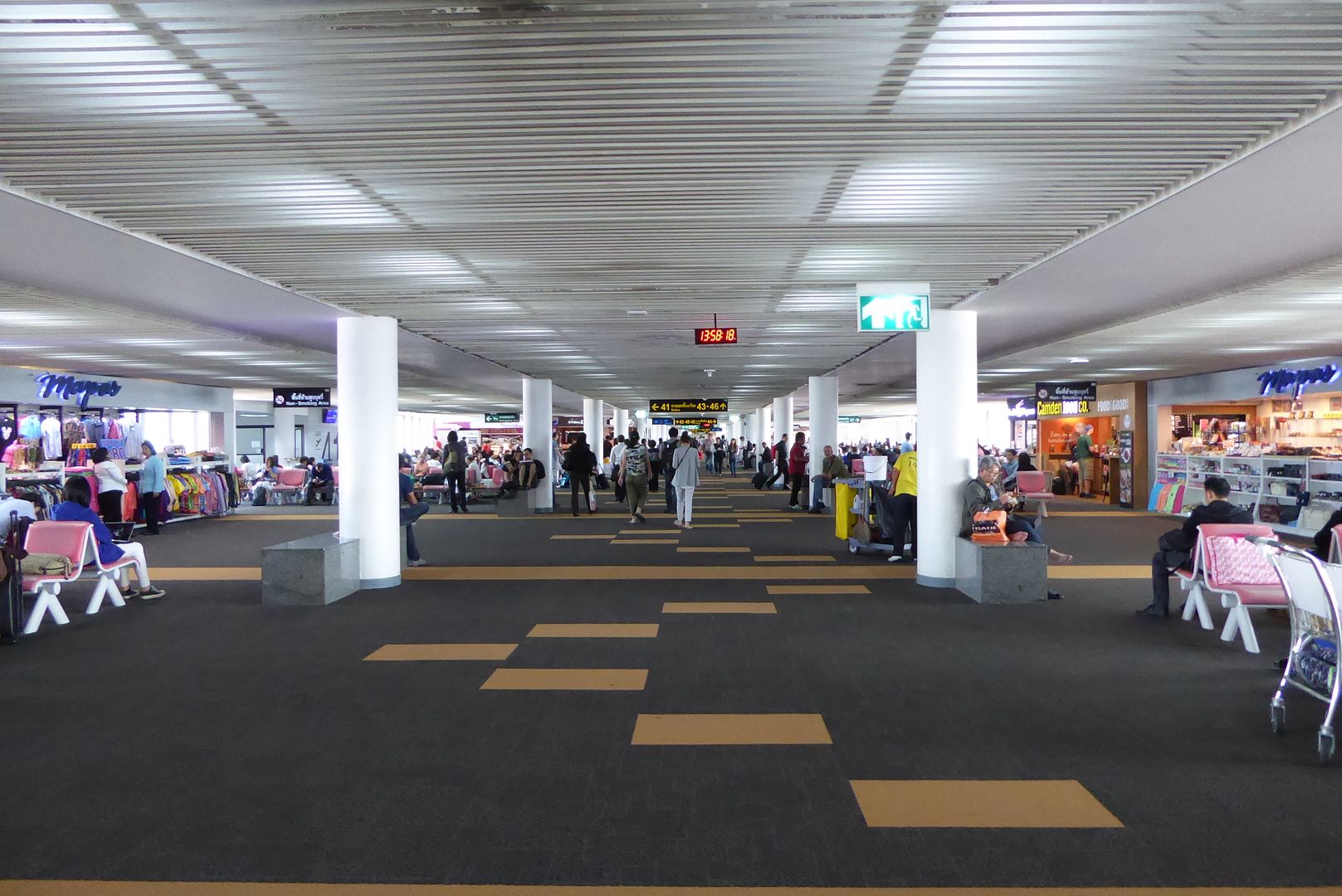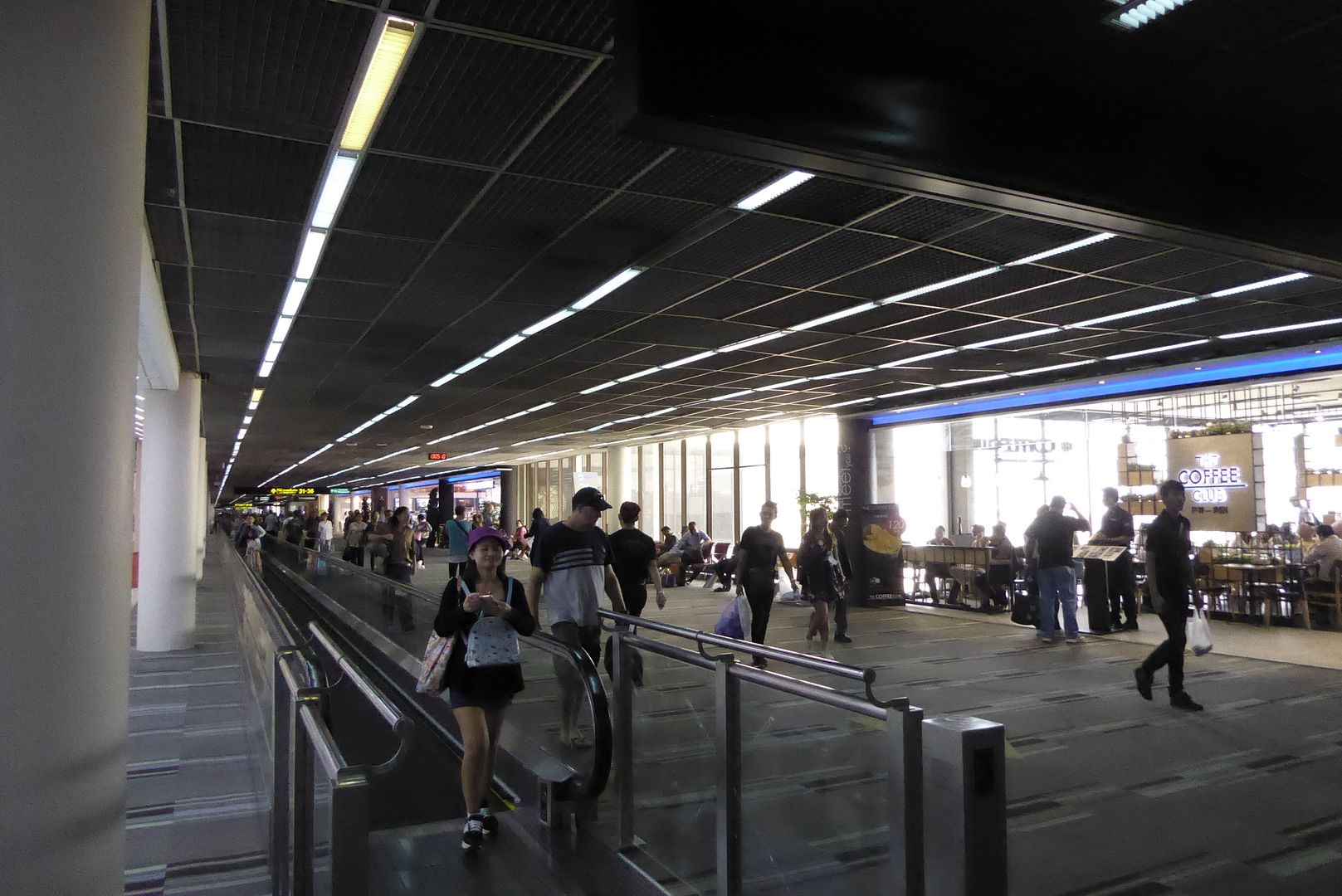 A lot of eating options, albeit at different ends of the terminal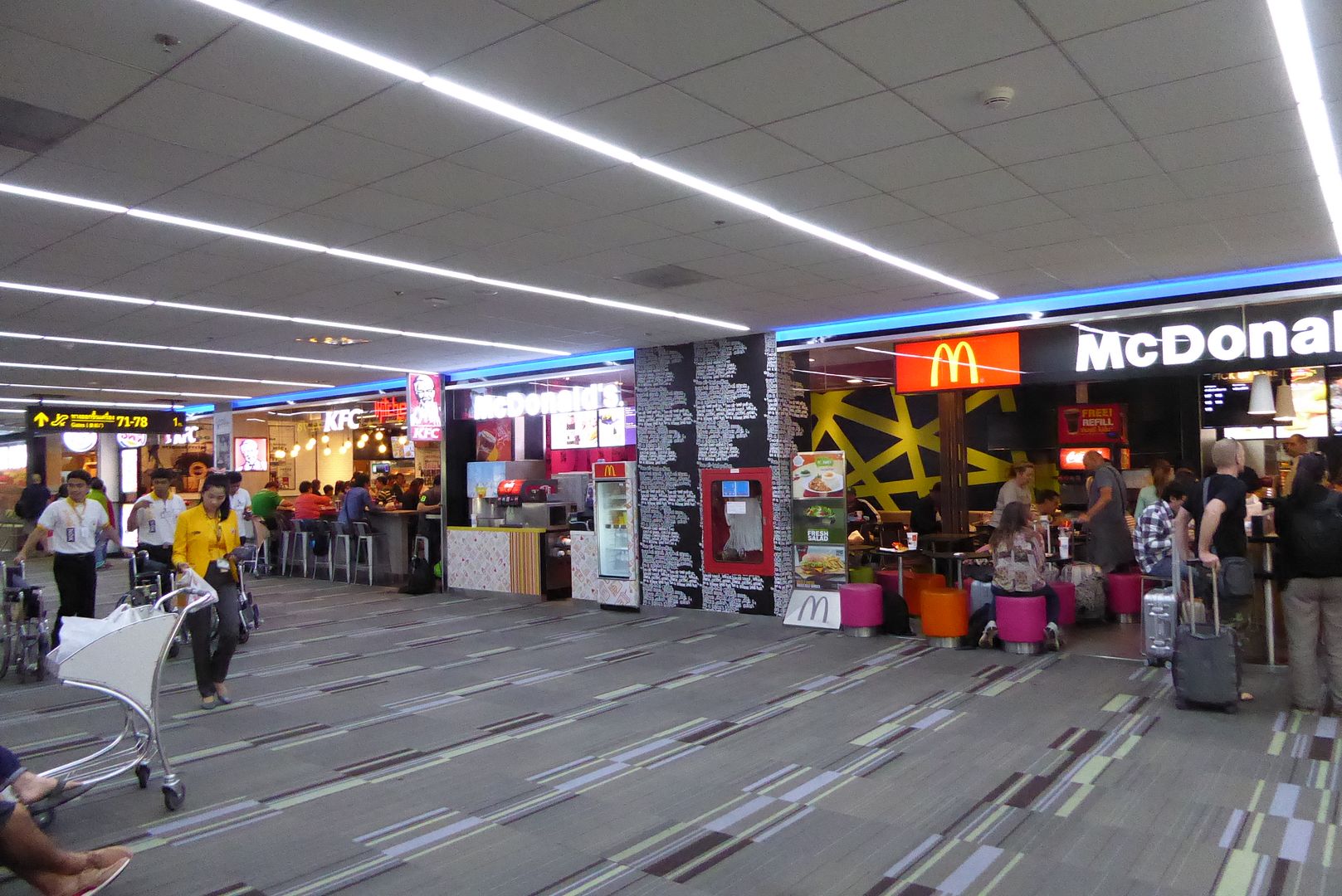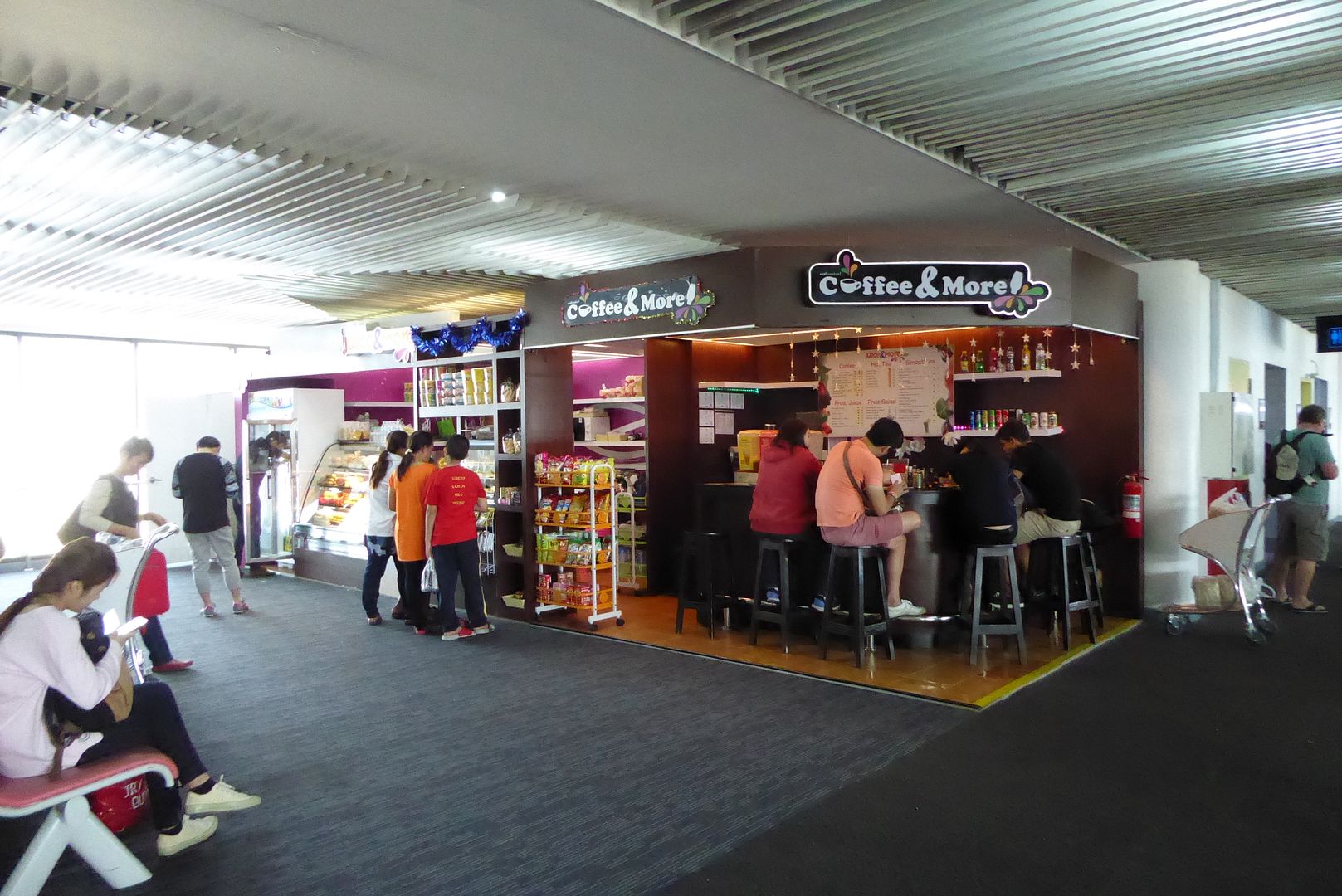 Boarding Process
Incoming flight from Hat Yai got delayed and we only disembarked from the gate at 14:50 and airborne by 1500. Once boarding commenced it was quick.
Plane Spotting at DMK
The Beauty - Thai B747-400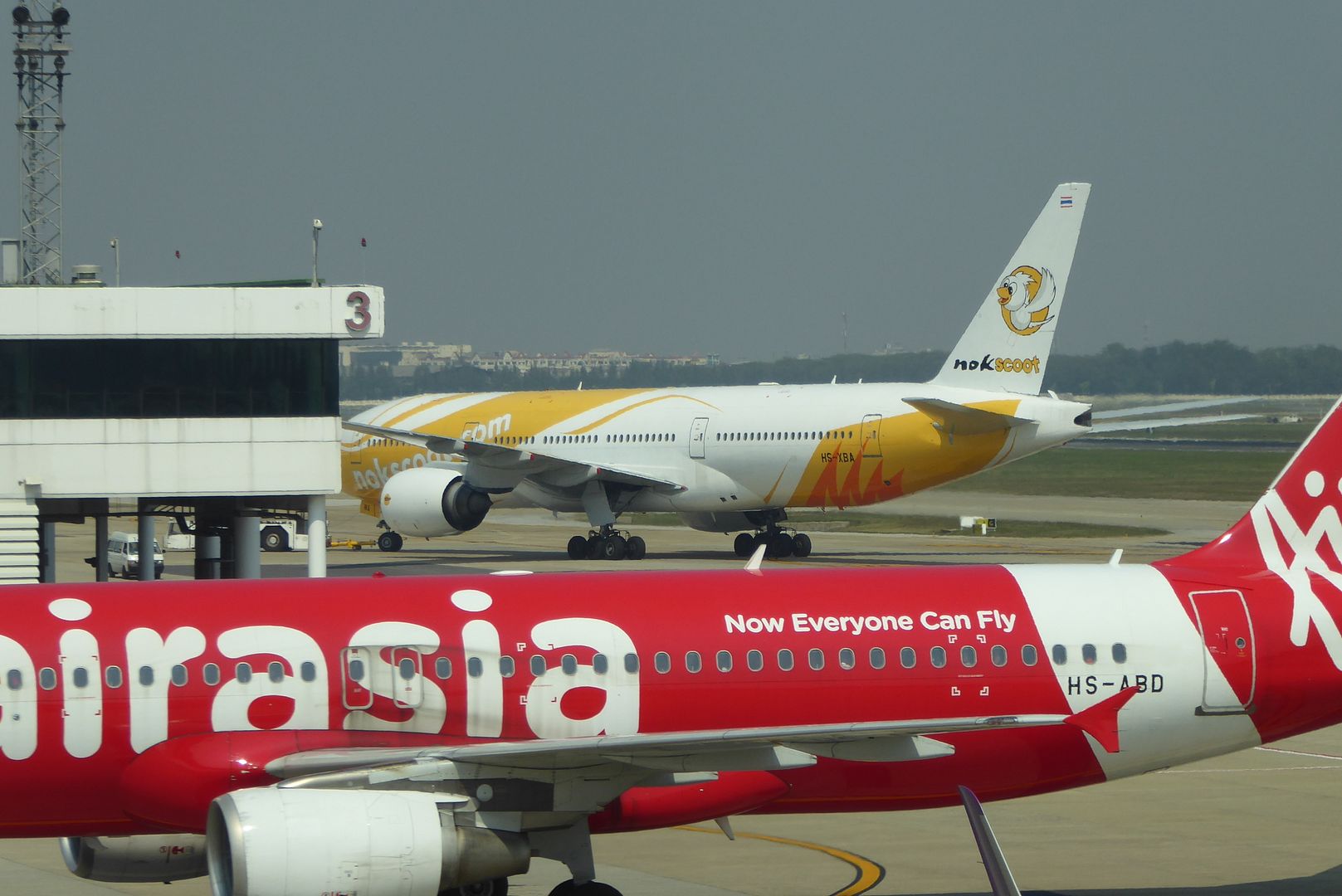 Our eventual Neighbours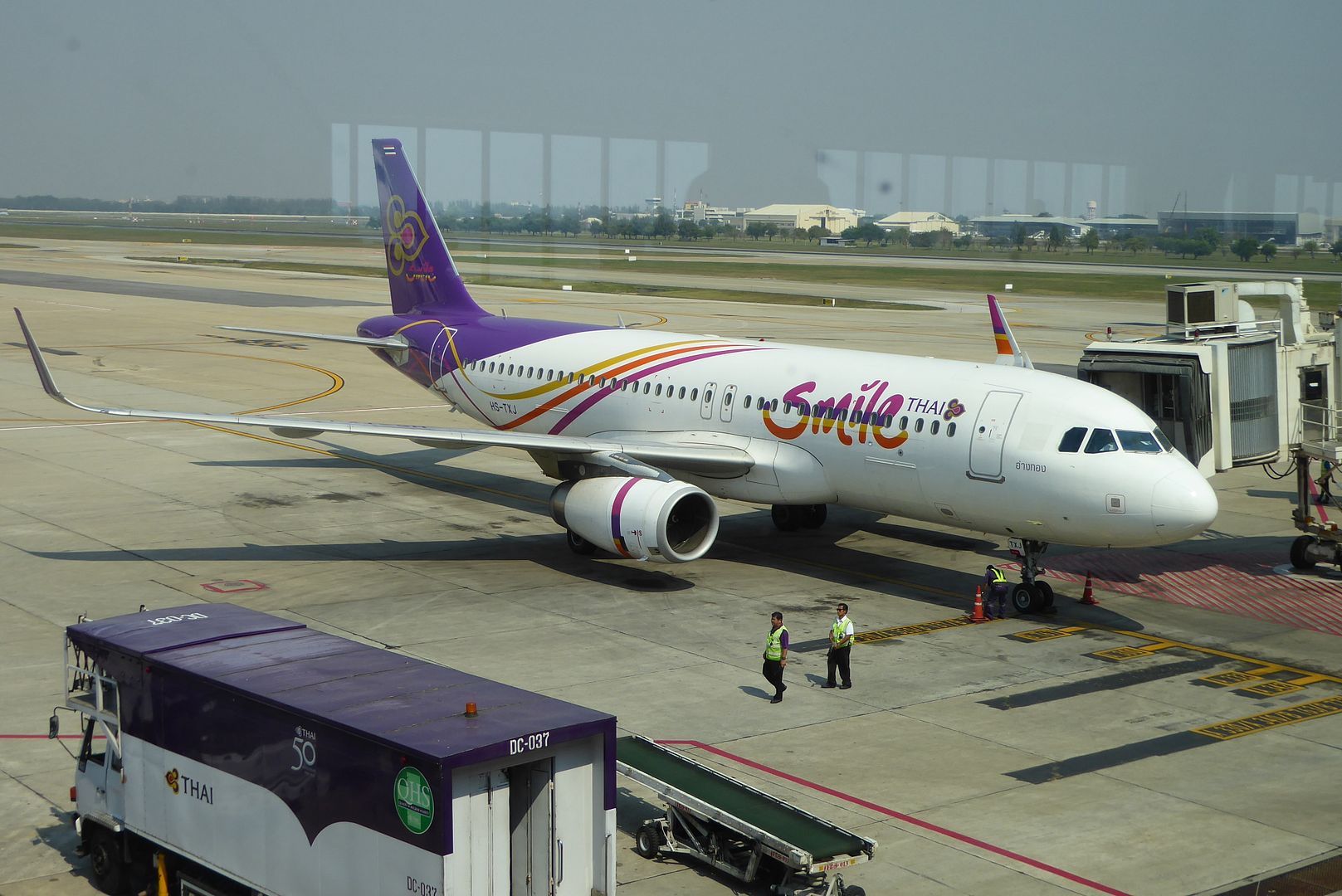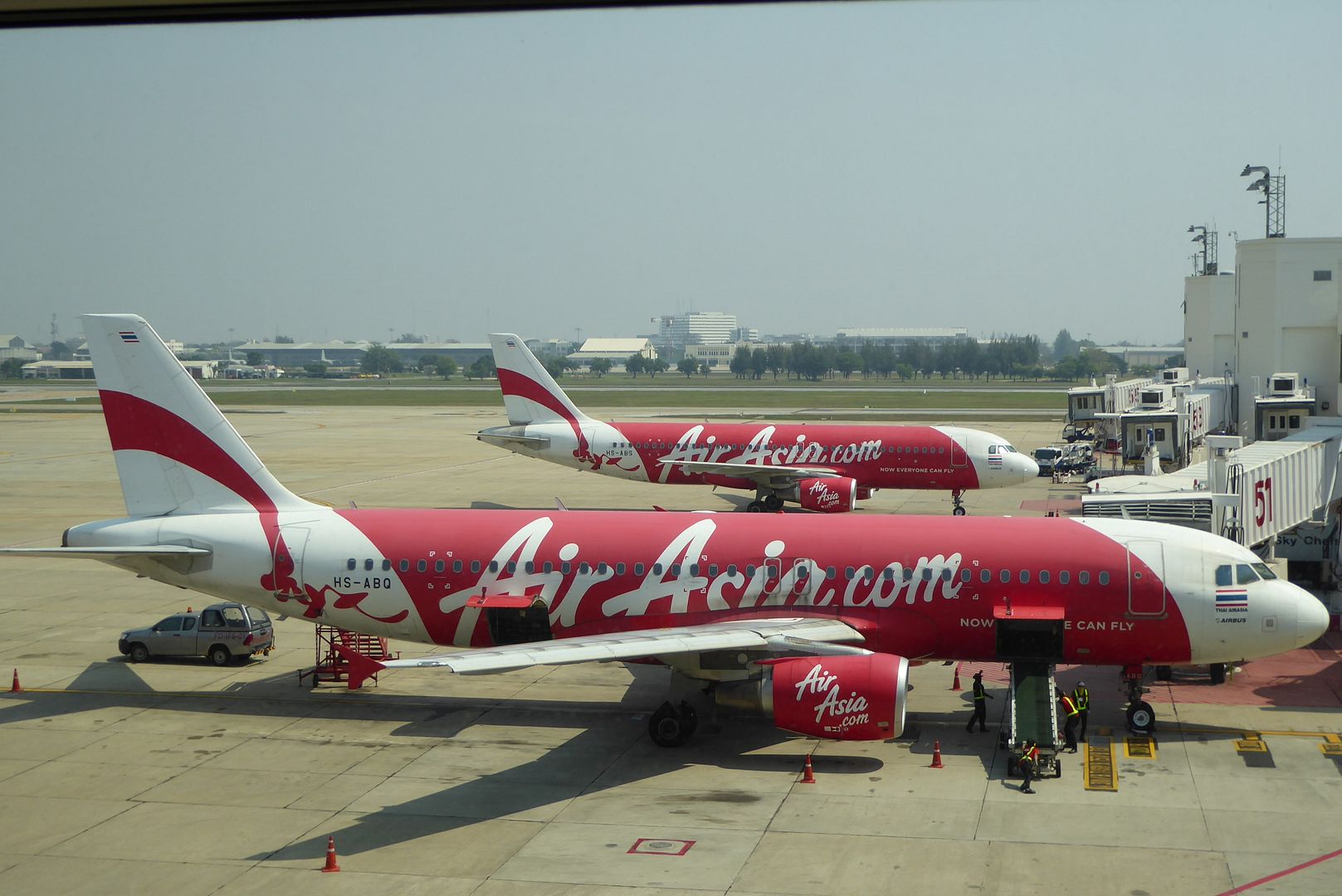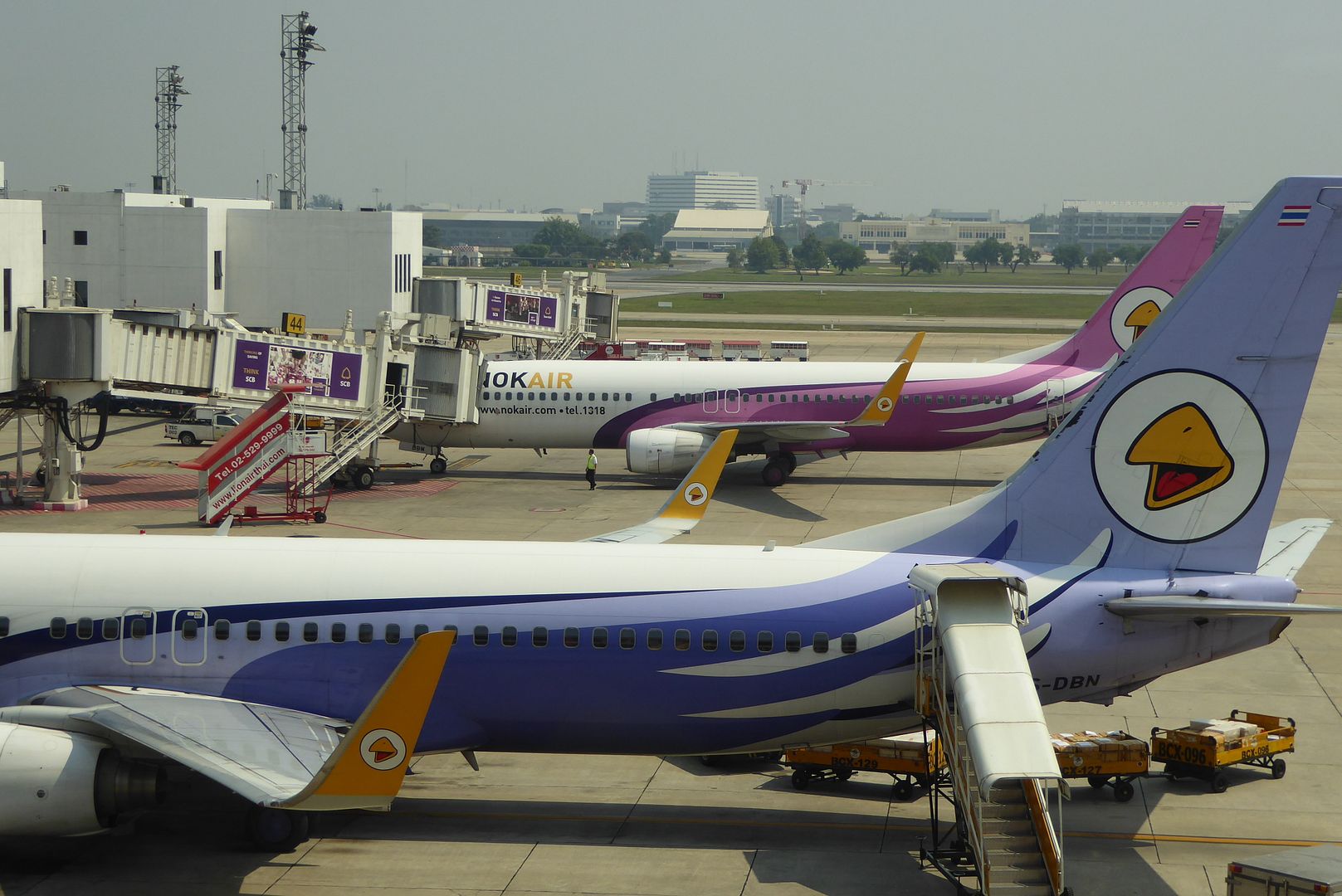 There is our ride to CNX Today, a 6 month old Boeing 737-800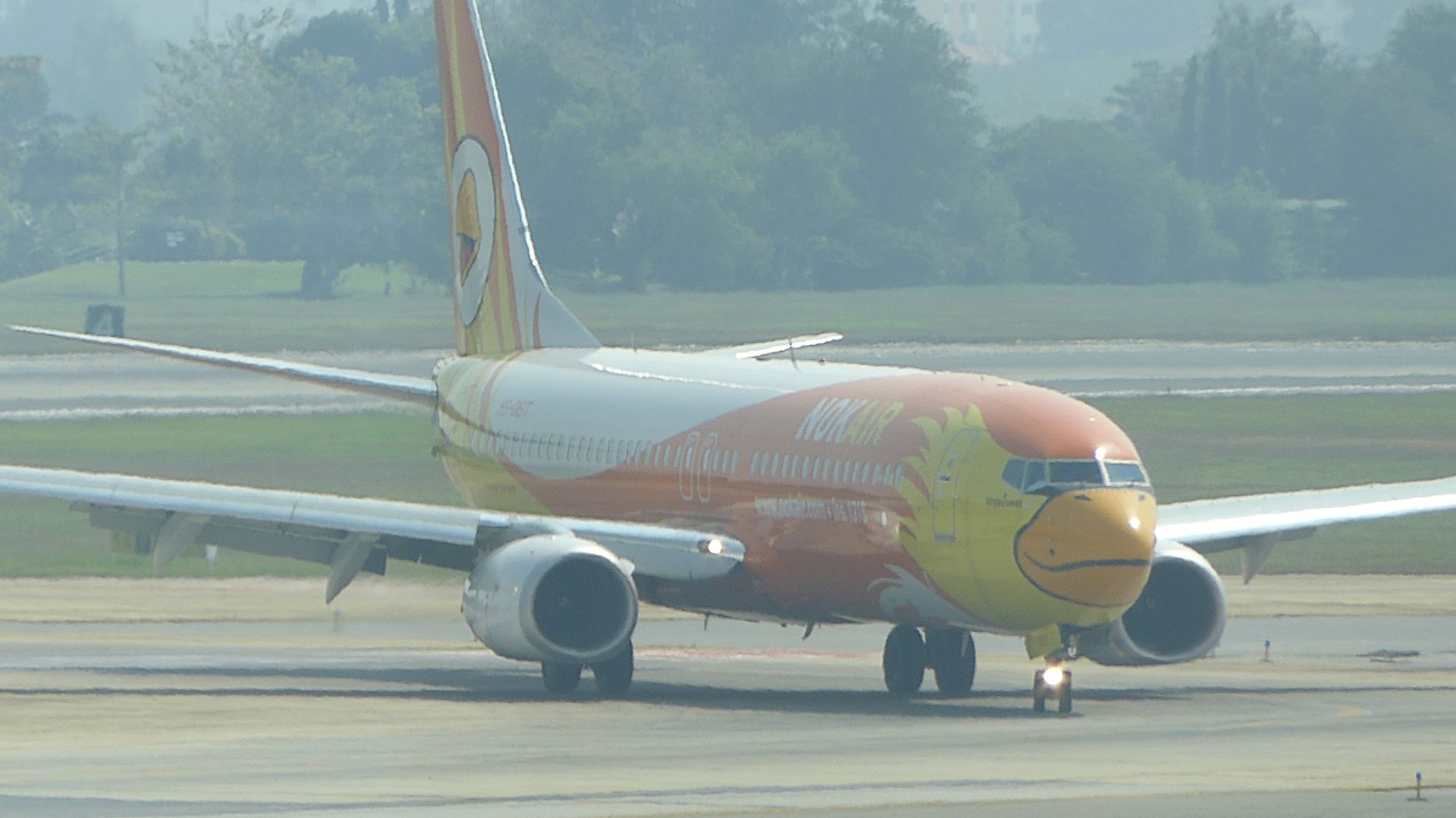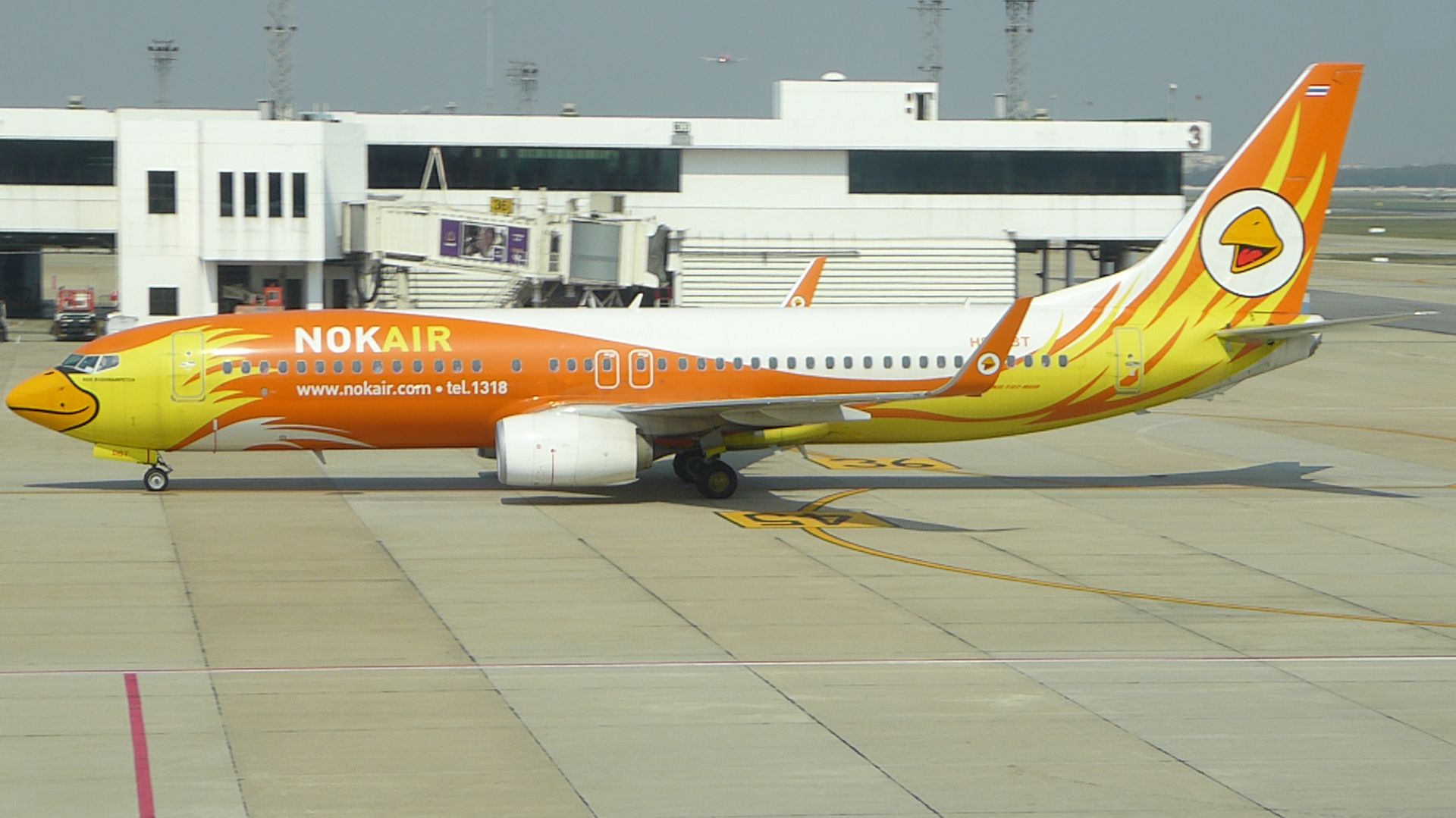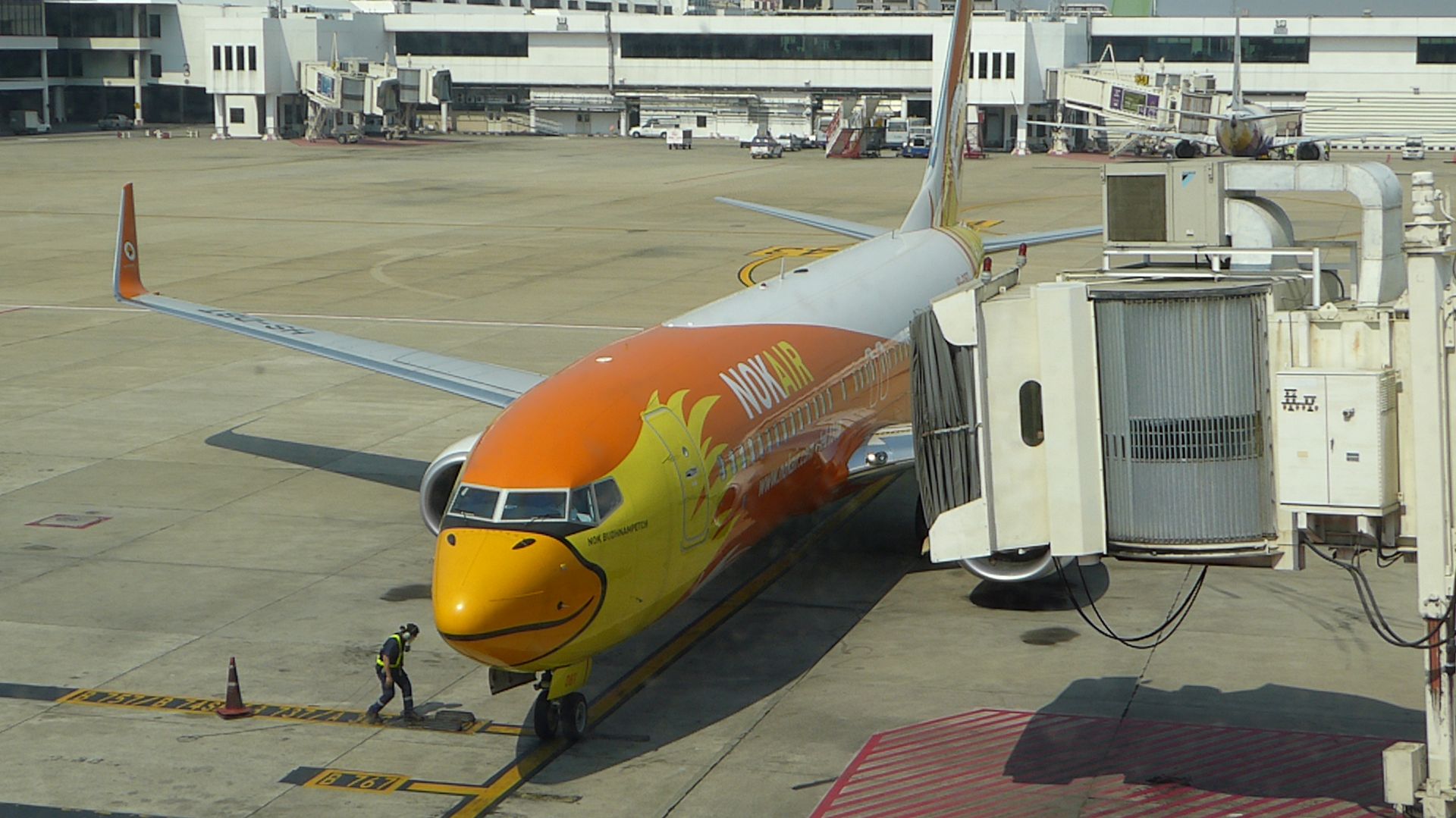 Boarding time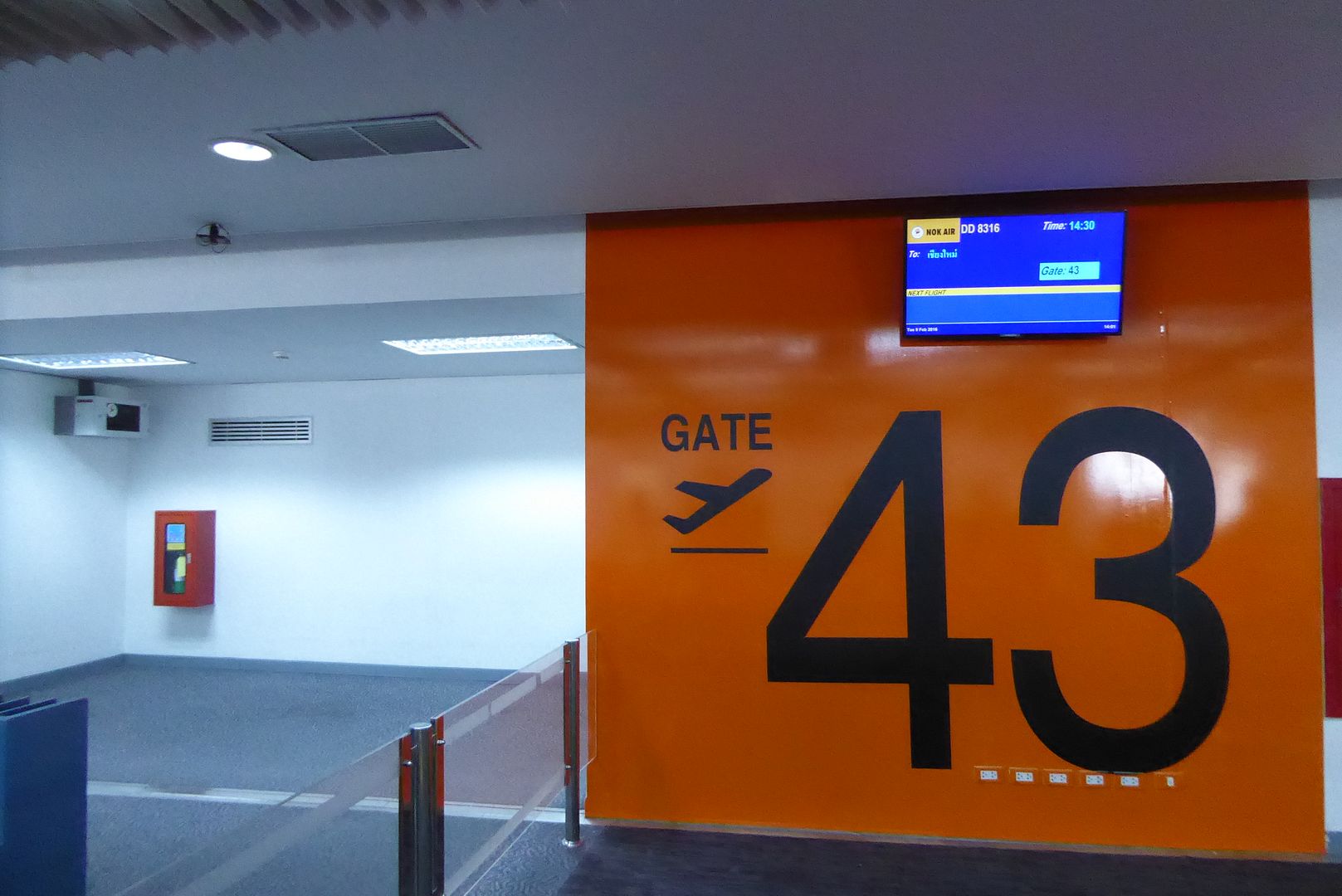 First impressions/Hard product/Aircraft Interiors
A 6 month old Boeing 737-800 with sky interiors. As expected it looked brand new.
Onboard Nok Air - Shiny new interiors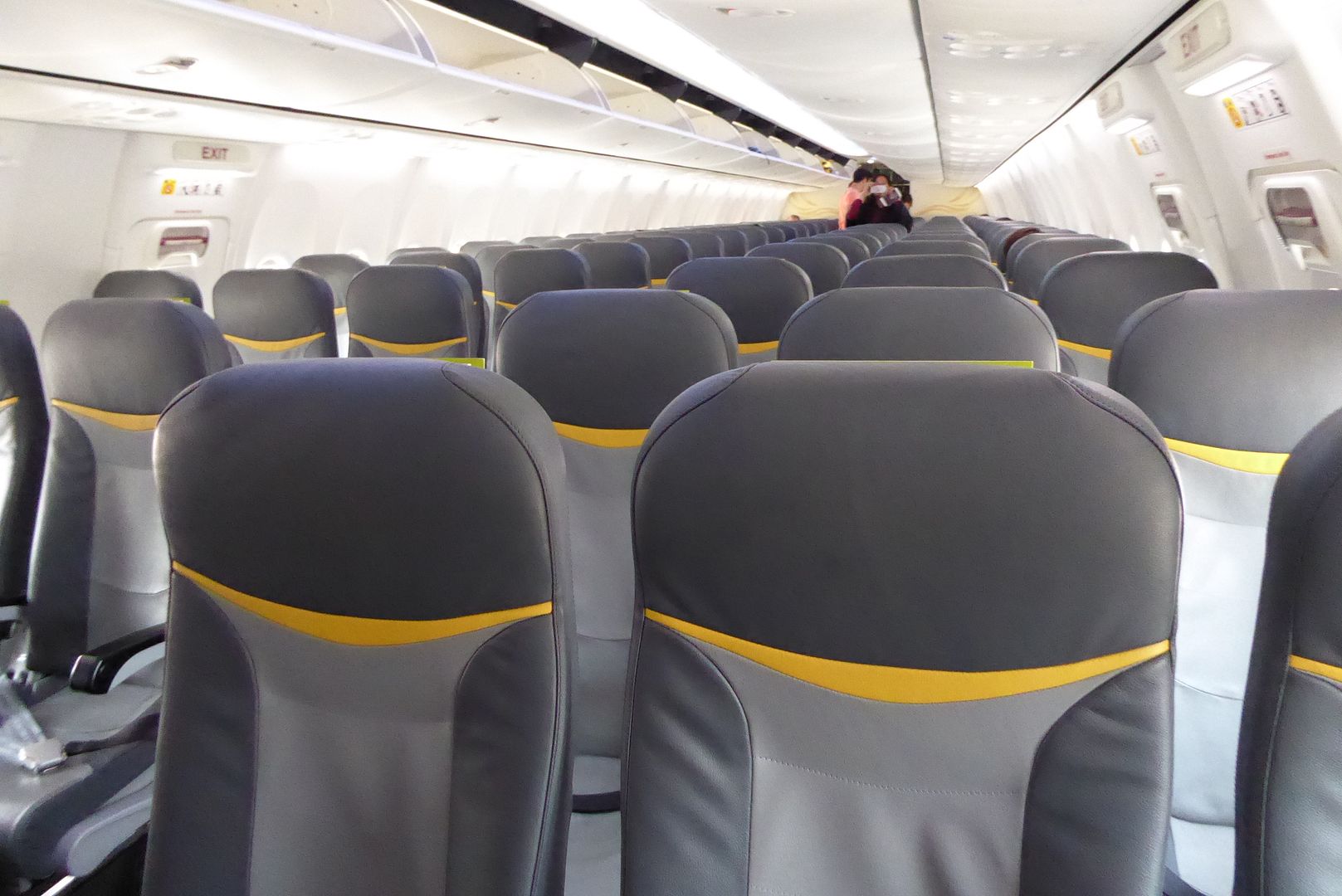 Our seats - Row 41 (Actually Row 11, as the rows start form row 30)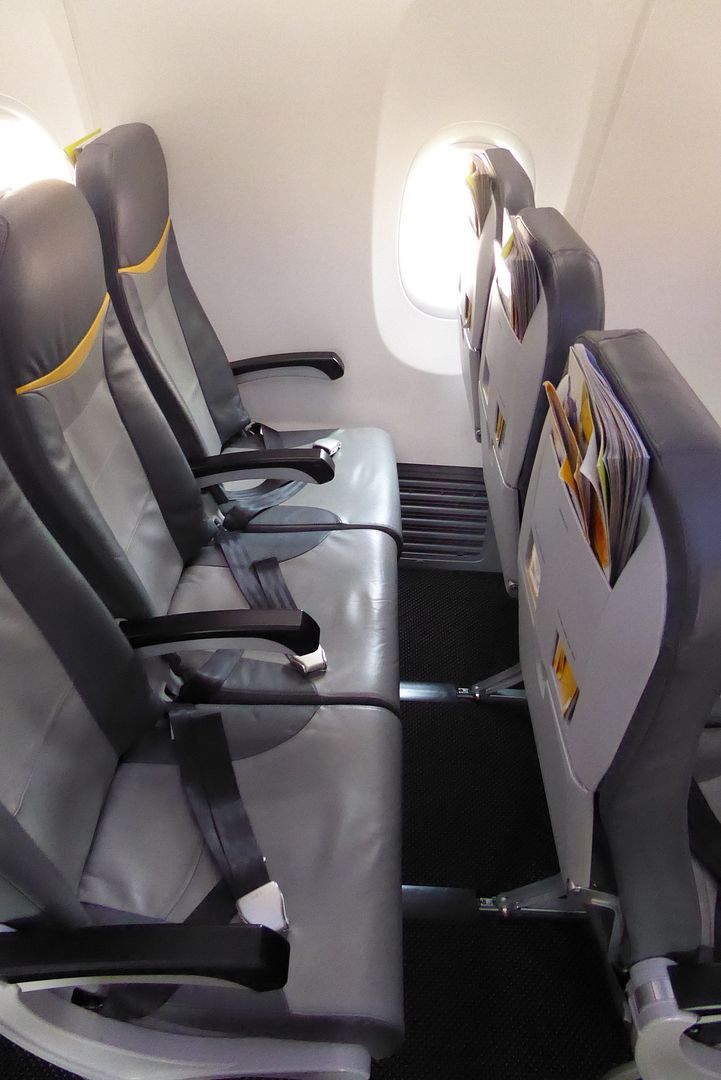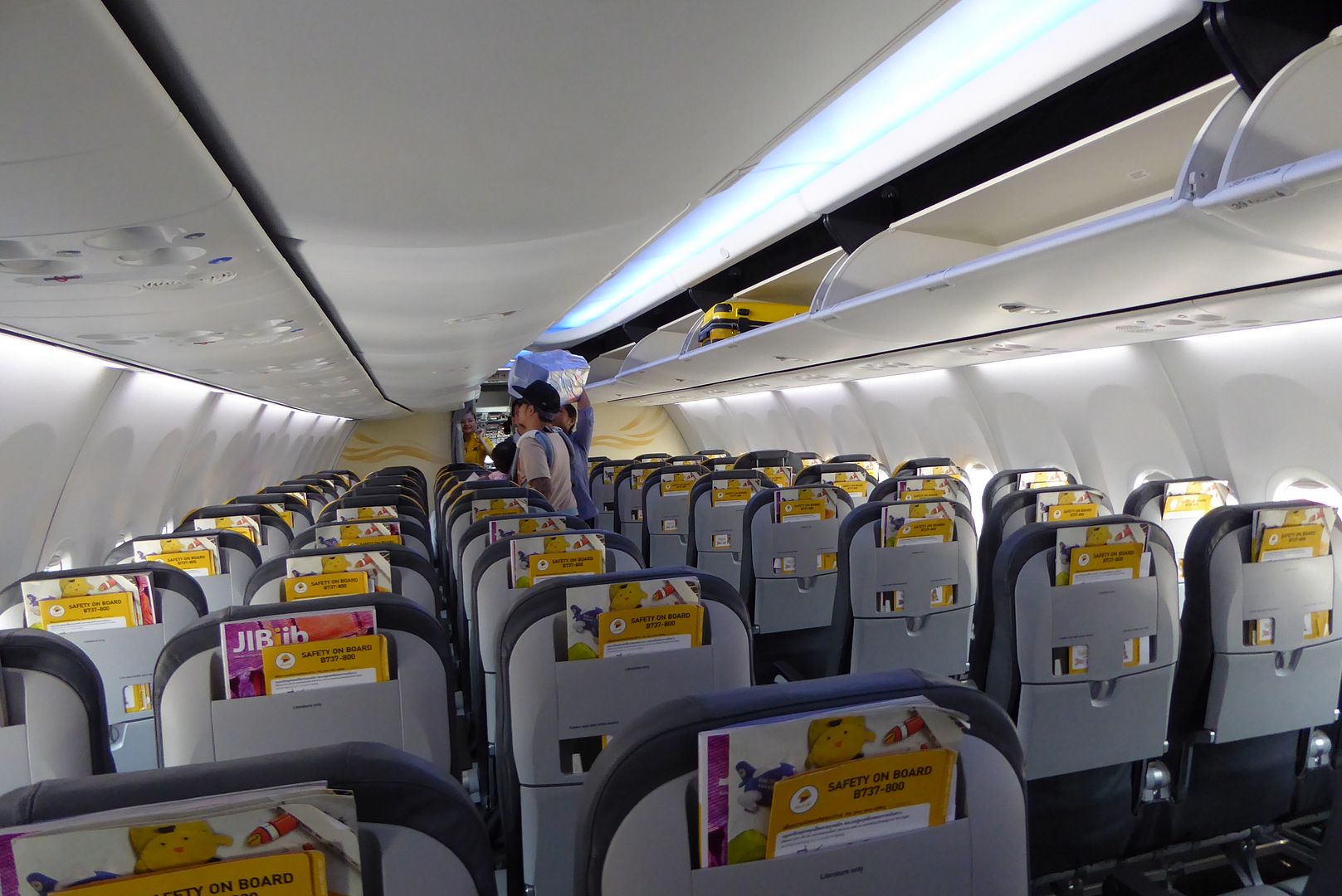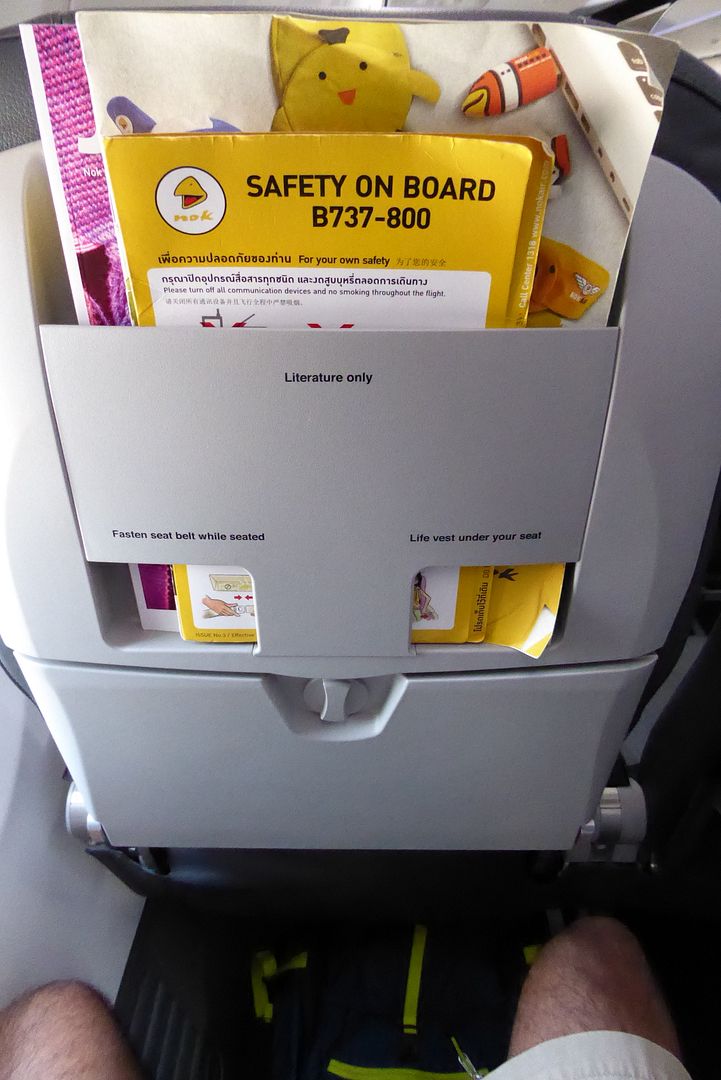 Reading material on board Nok Air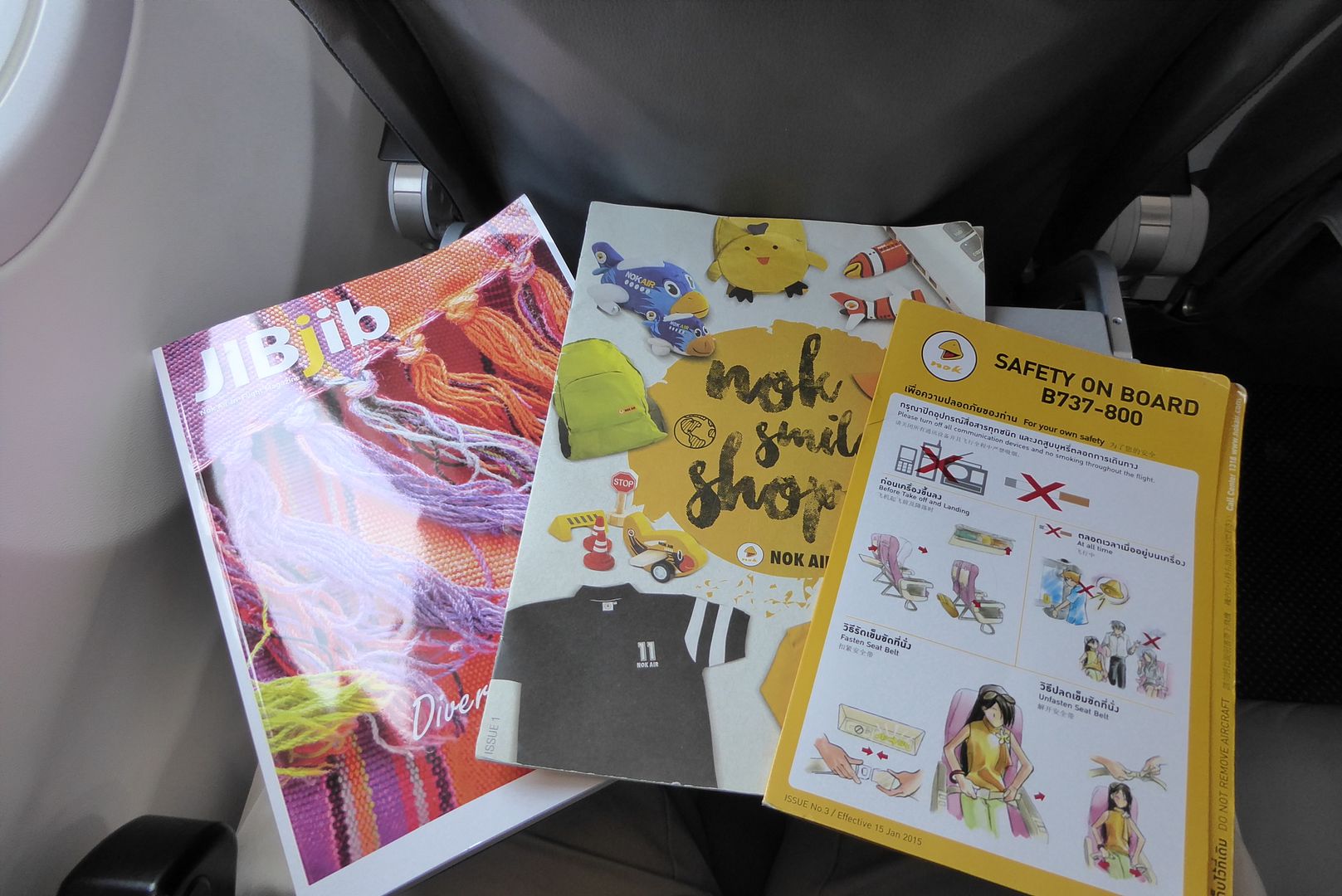 Nok Air destination map
Neighbours at DMK - Thai Smile A320-200
Seating/Bed
Comfortable seating with more than adequate leg space. Comfortable for an hours flight.
Cabin Crew/Captain announcements
No announcements from the flight deck. Cabin crew were cheerful and very helpful. Helped the elderly load all their bags in the overhead locker.
The cabin crew on this flight was especially very good. They were quick and efficient. And also good with selling items - not too forceful yet persuasive.
Bye Bye Bangkok, I'll be back!
Plane spotting while taxiing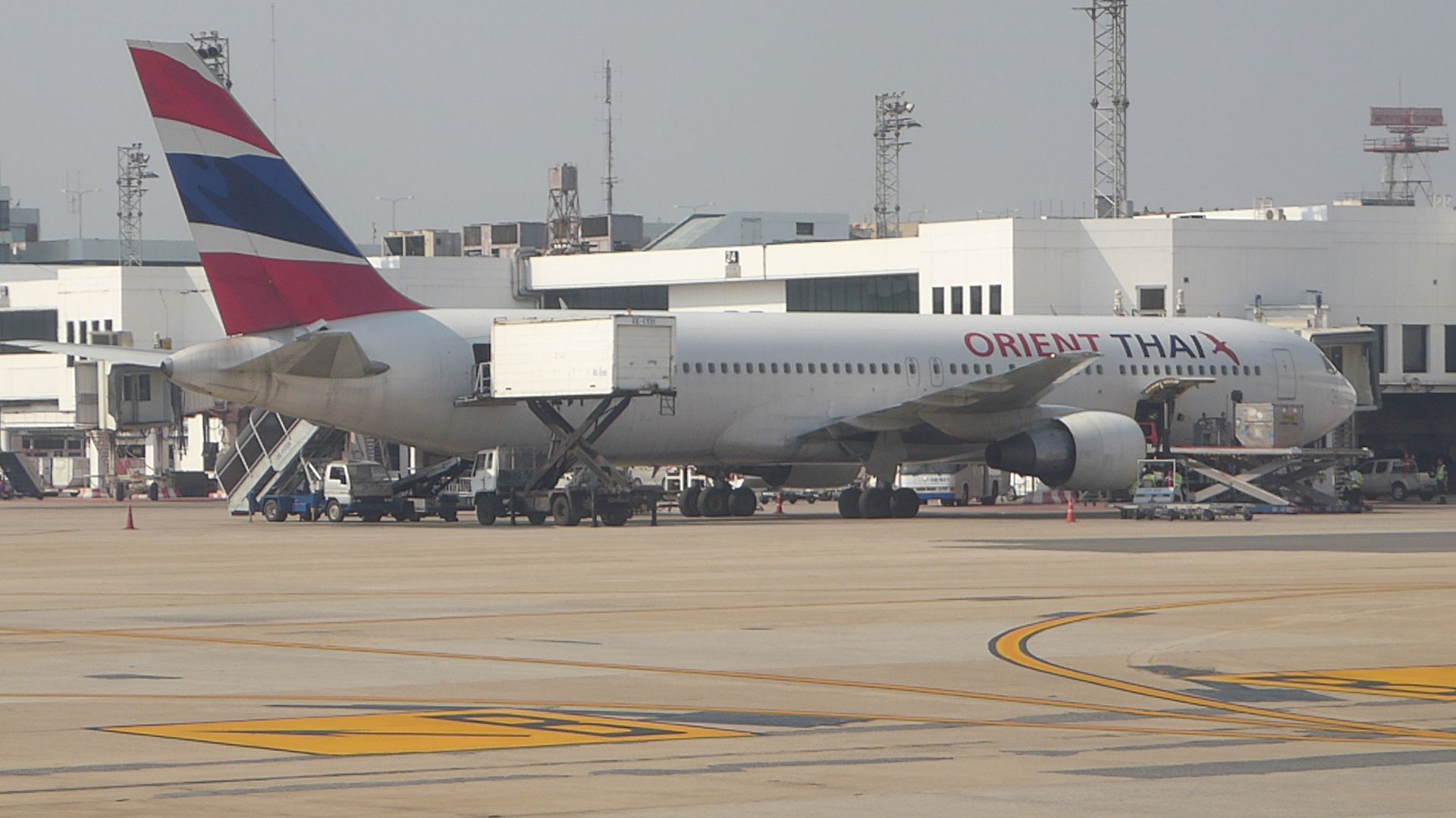 Time to take off
Just before taking off from DMK
F&B
A snack pack was provided which consisted of a sweet Asian flavored pastry with drinking water. Decent offering for a LCC and for a flight of a very short duration.
You could also buy other items on board. But not sure if anyone had bought any.
Meal on board Nok Air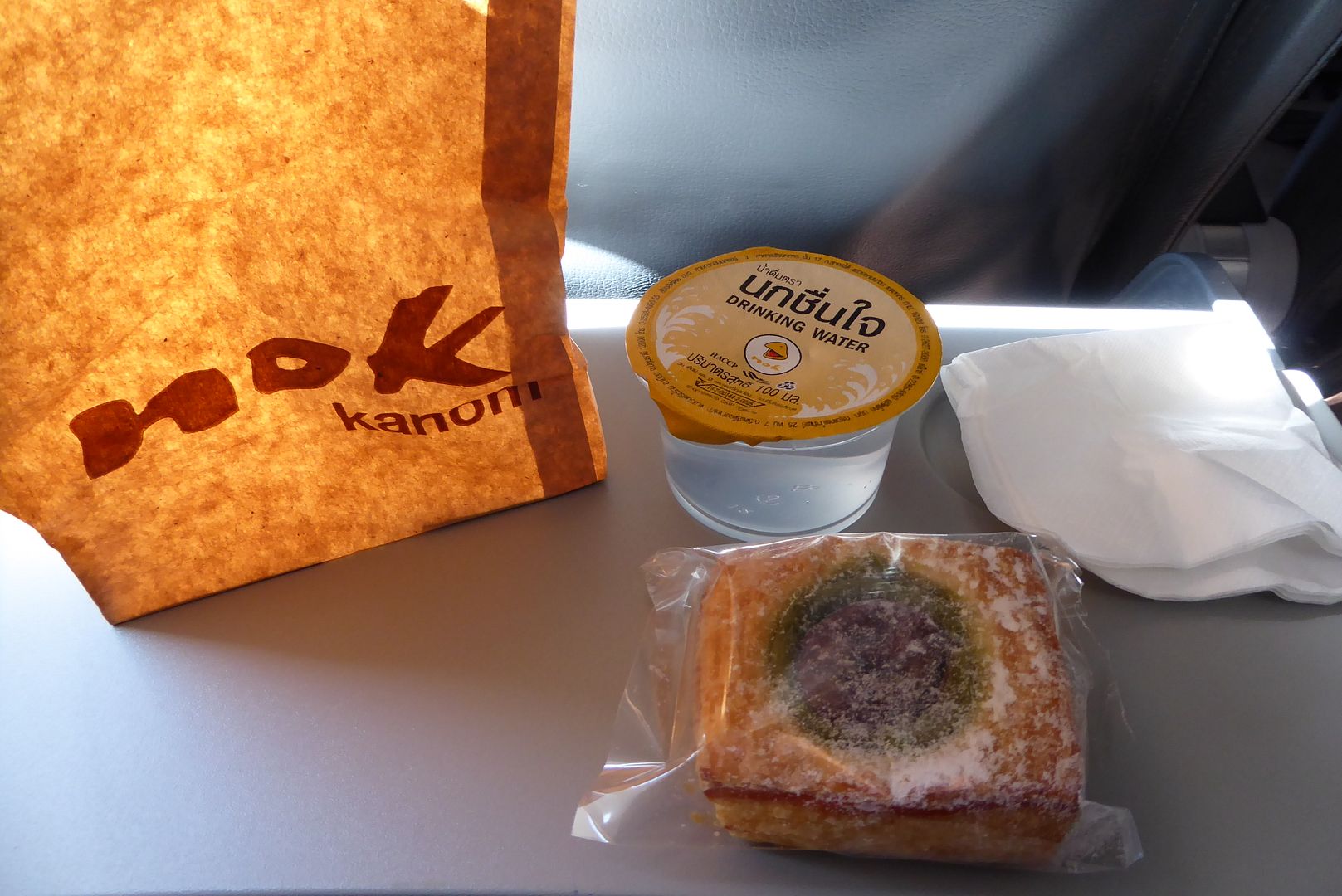 Cabin shot of Nok Air B737-800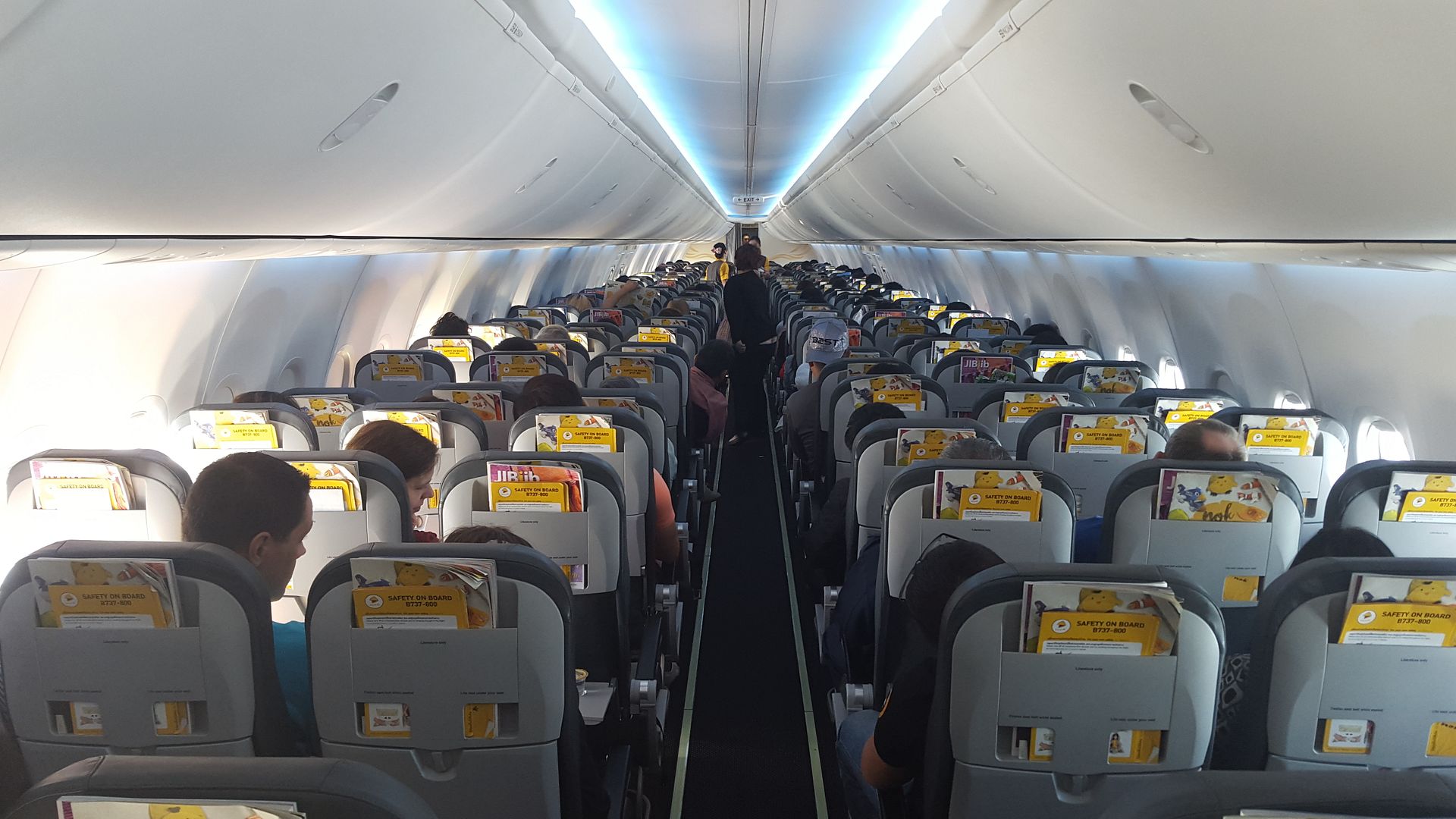 Entertainment
None on this aircraft, except for the reading material, which was only in Thai. So spent my time formulating this report. Not amiss for a 60 minute flight.
Decent gift items on board and some cute Nok air branded items for the kids. Bought a t-shirt and a cap for my nephew.
On time Performance
Flight departed half an hour late and arrived 15 minutes behind schedule. Not the best given it was only an hours flight.
WOW Factor
It Has to be the whacky livery, the clean interiors and the cheerful cabin crew.
Verdict
In a nut shell I'd definitely fly Nok air again. They run a neat operation although I'd like to see how's their on-time performance going ahead. Apart from that it was a very good experience and the aircraft decals is a laugh.
Landed at CNX
Plane Spotting at CNX
Exiting at CNX
Welcome to Chiang Mai - Thank you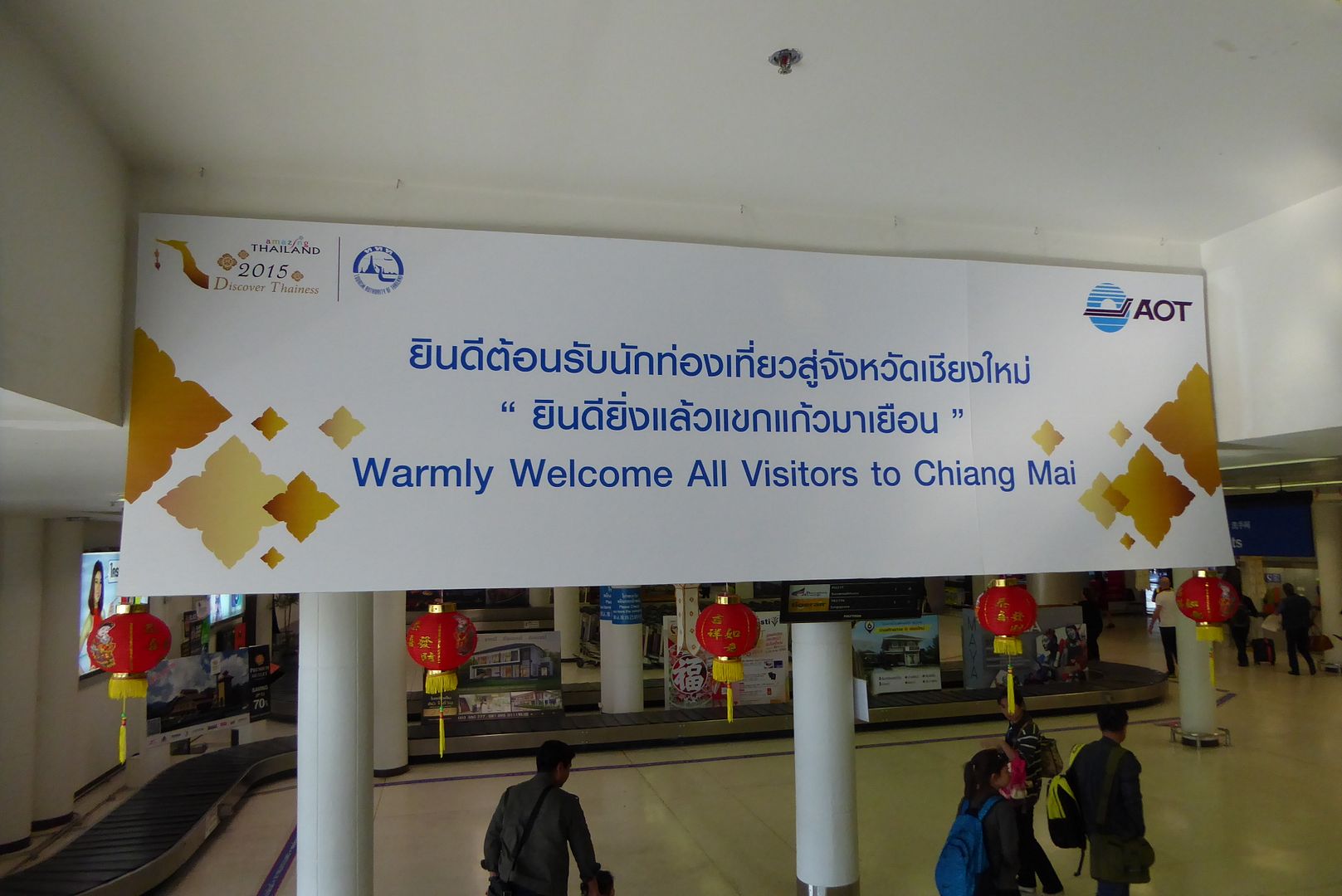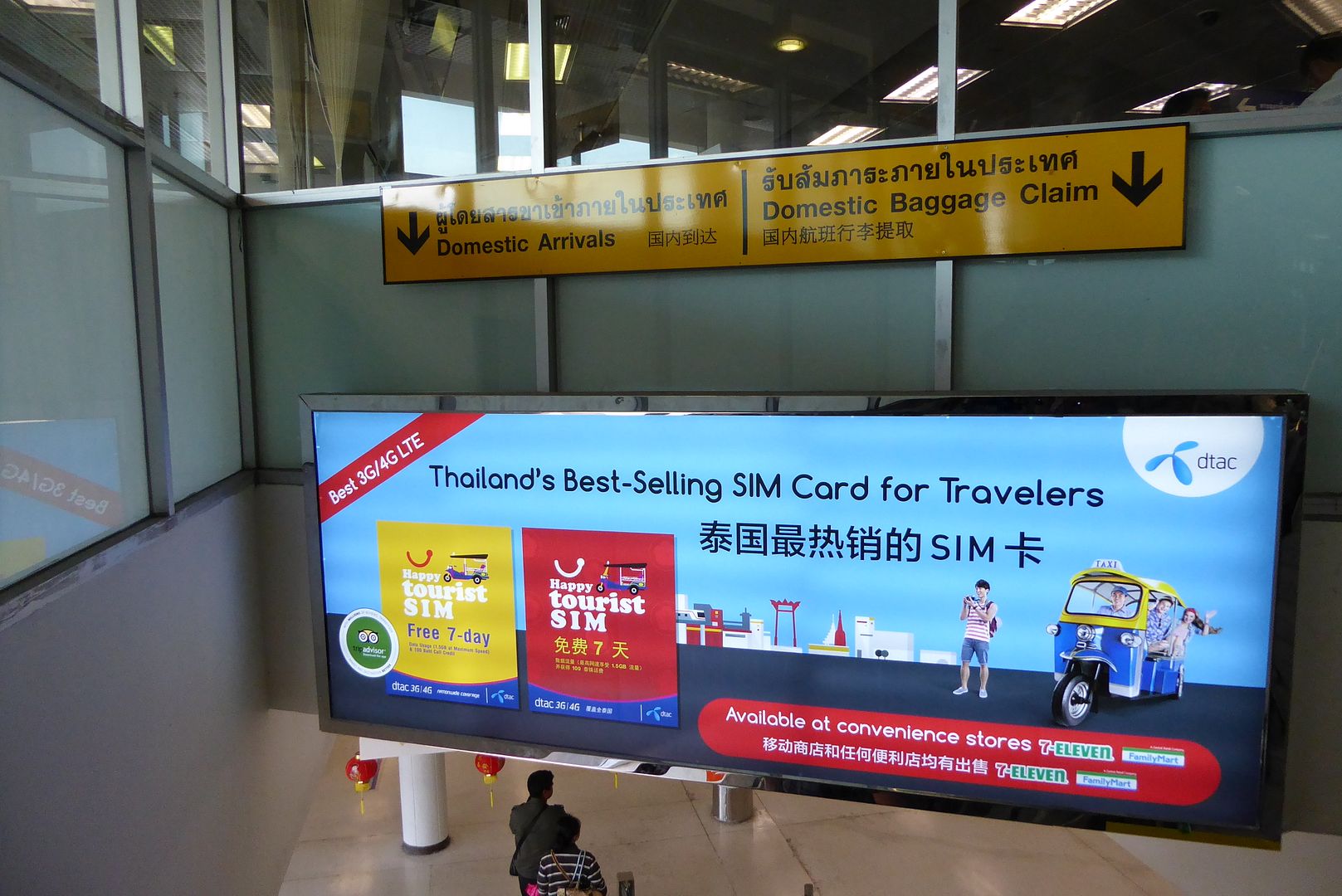 Baggage collection at CNX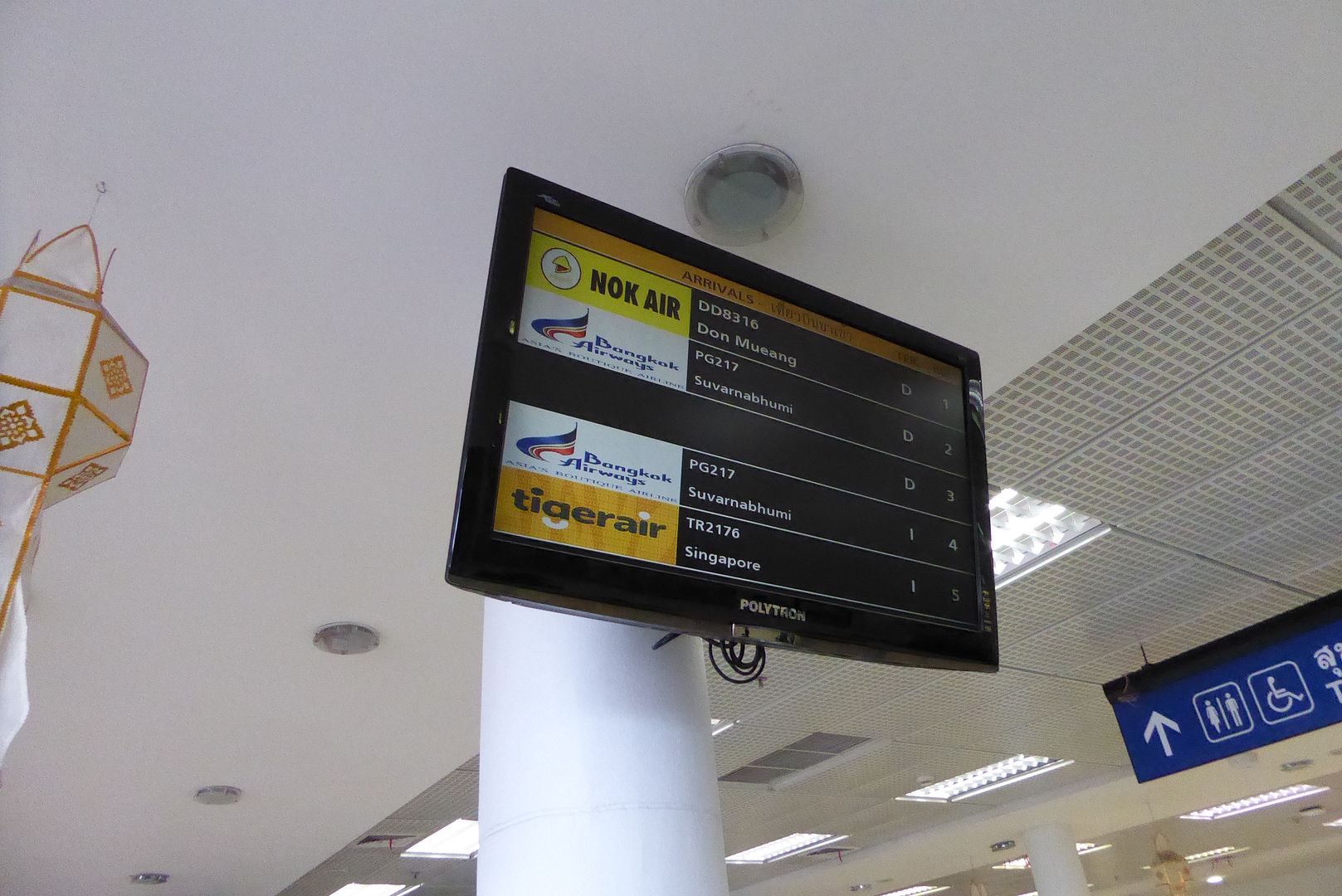 Arrivals at CNX
After a short 2 day stopover in Chiang Mai, onward to our next destination in Thailand - Phuket.
Few sights and sounds round Chiang Mai and Chiang Rai
White Temple, Chiang Rai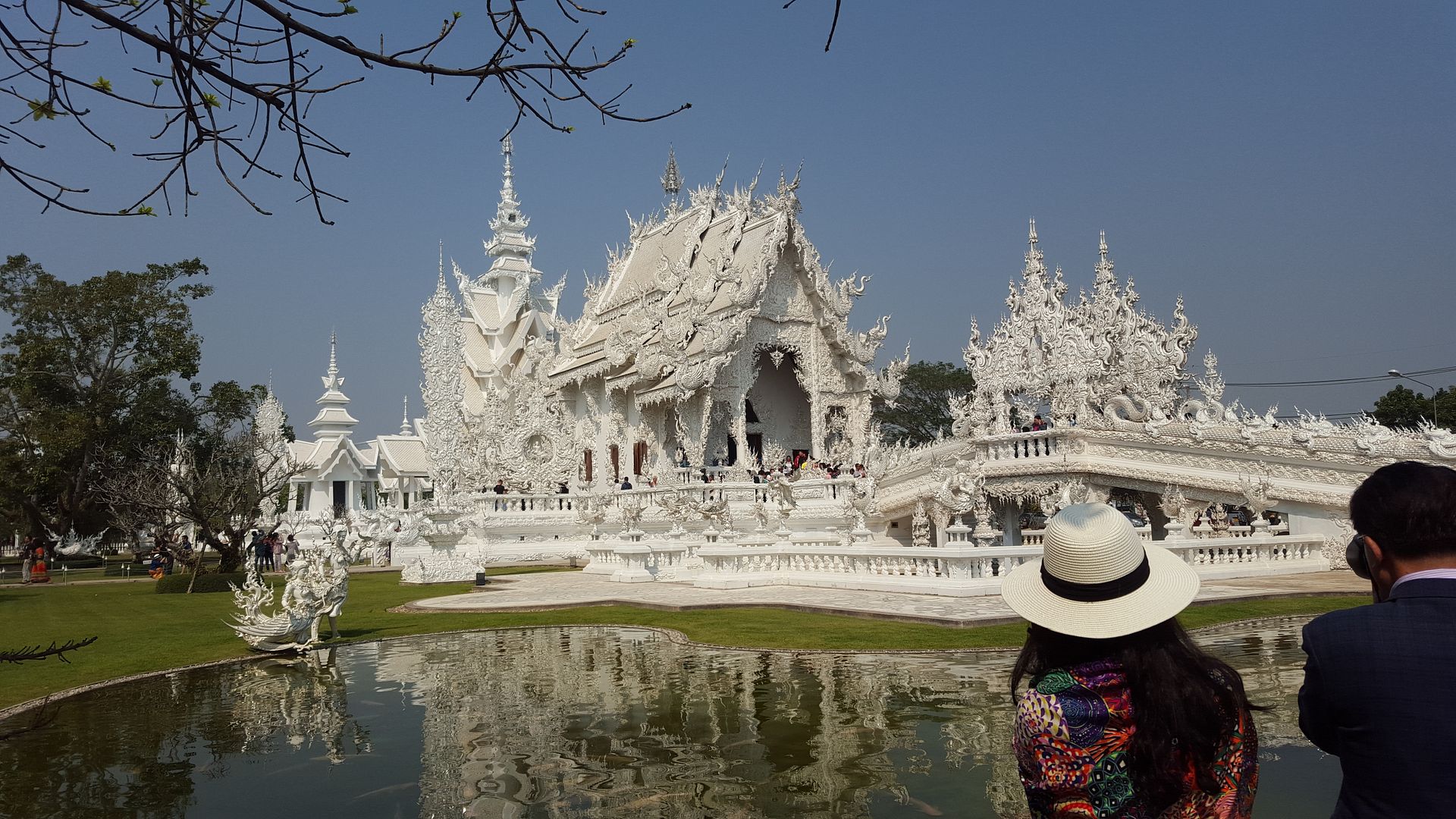 Casino at the Burmese side a tthe Golden Triangle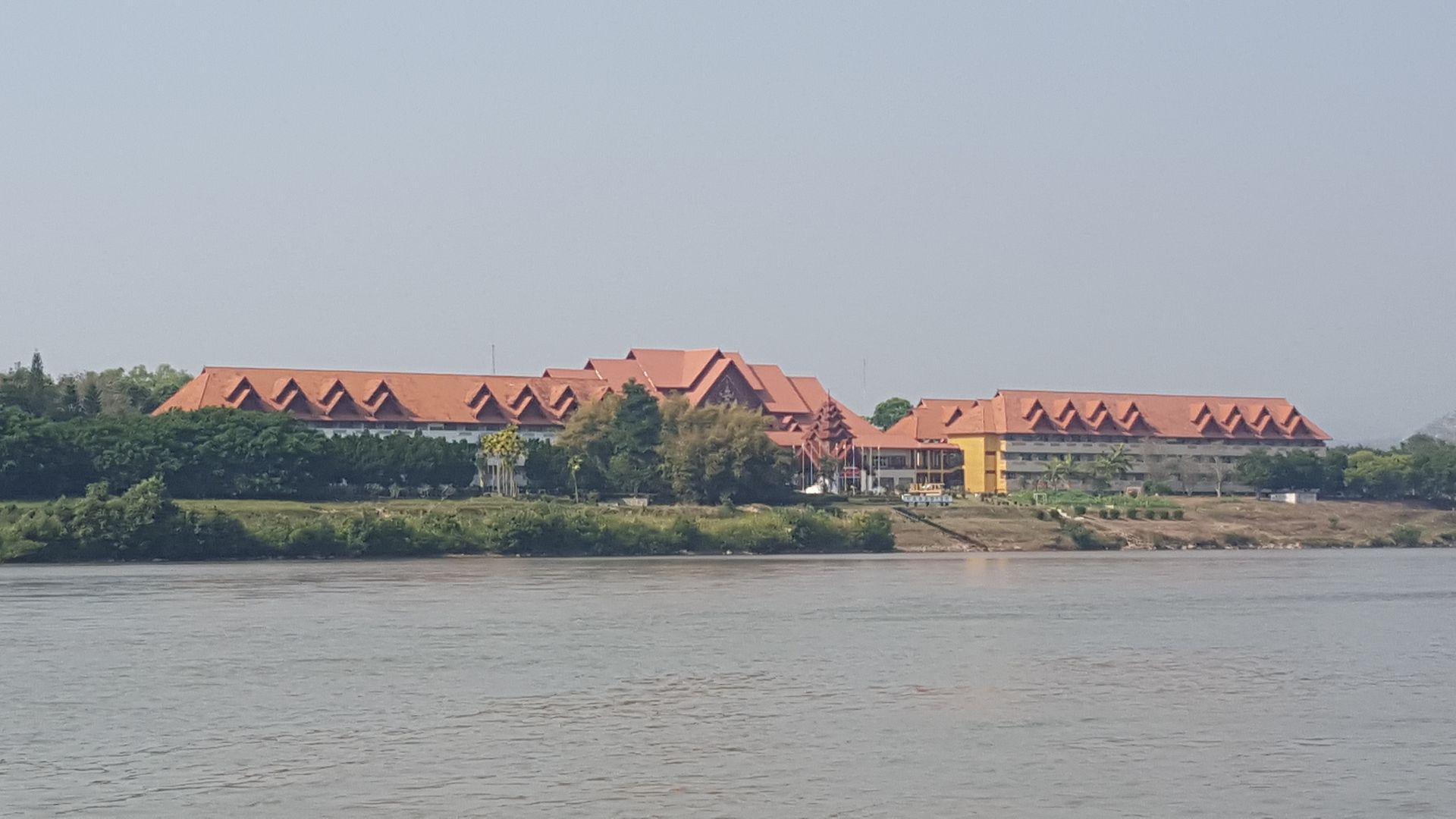 A 30p Chiled can of Laos Beer in Laos
Dancers at Chiang Mai Night Safari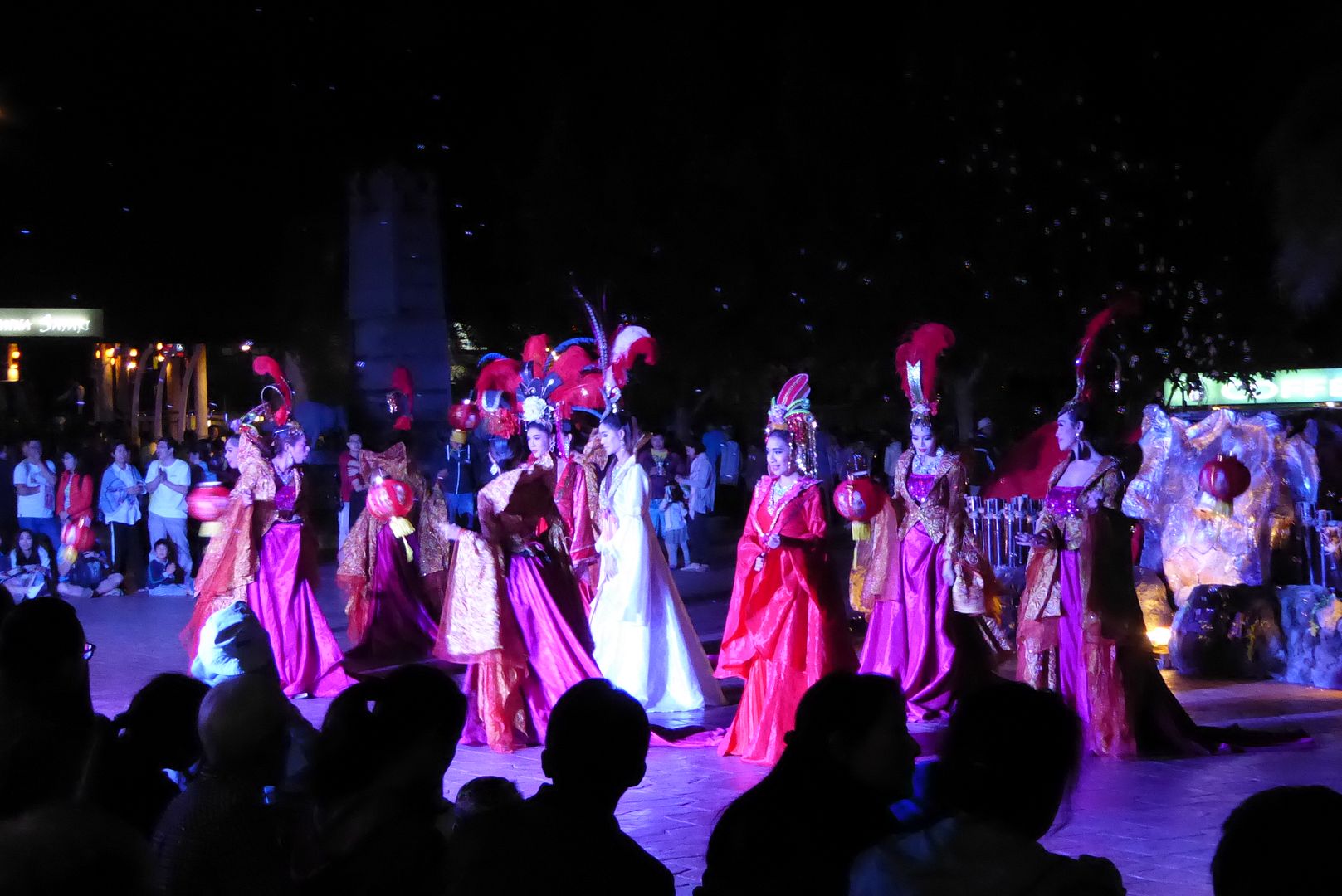 White Temple, Chiang Rai
Thai Air Asia – FD 3162
Route: CNX - HKT
Flight Reg: HS-ABY ; Delivered on Dec 2011. Previously D-ABFY with Air Berlin. Joined Thai Air Asia fleet on March 2013
Aircraft type: Airbus A320-200
Seat: 25A
Flight time: 13:00 - 15:05 (13:28 - 15:27)
Actual flight time:1Hr 59 min
Distance: 734 Miles
Load: 175/180
11th February 2016
My Log book: 1st Flight on Thai Air Asia/17th flight on Airbus A320-200 / 100th Total overall flight
Booking Process, website usability and online check in
For the next part of the trip we needed a convenient way to reach Phuket from chiang mai. Our options were limited on this route. In the end Thai air Asia flight in the afternoon seemed out best option given the timing and the price of the flight.
Another easy site to navigate. Booking process was very easy and transparent.
The night before, online check in was simple enough. During the check in process we were automatically allocated seat numbers. This is free but for any other changing of seats there is a charge from 70-200 Thai baht depending on the seats you want to change to. We opted from our pre-allocated seats.
Chiang Mai International Airport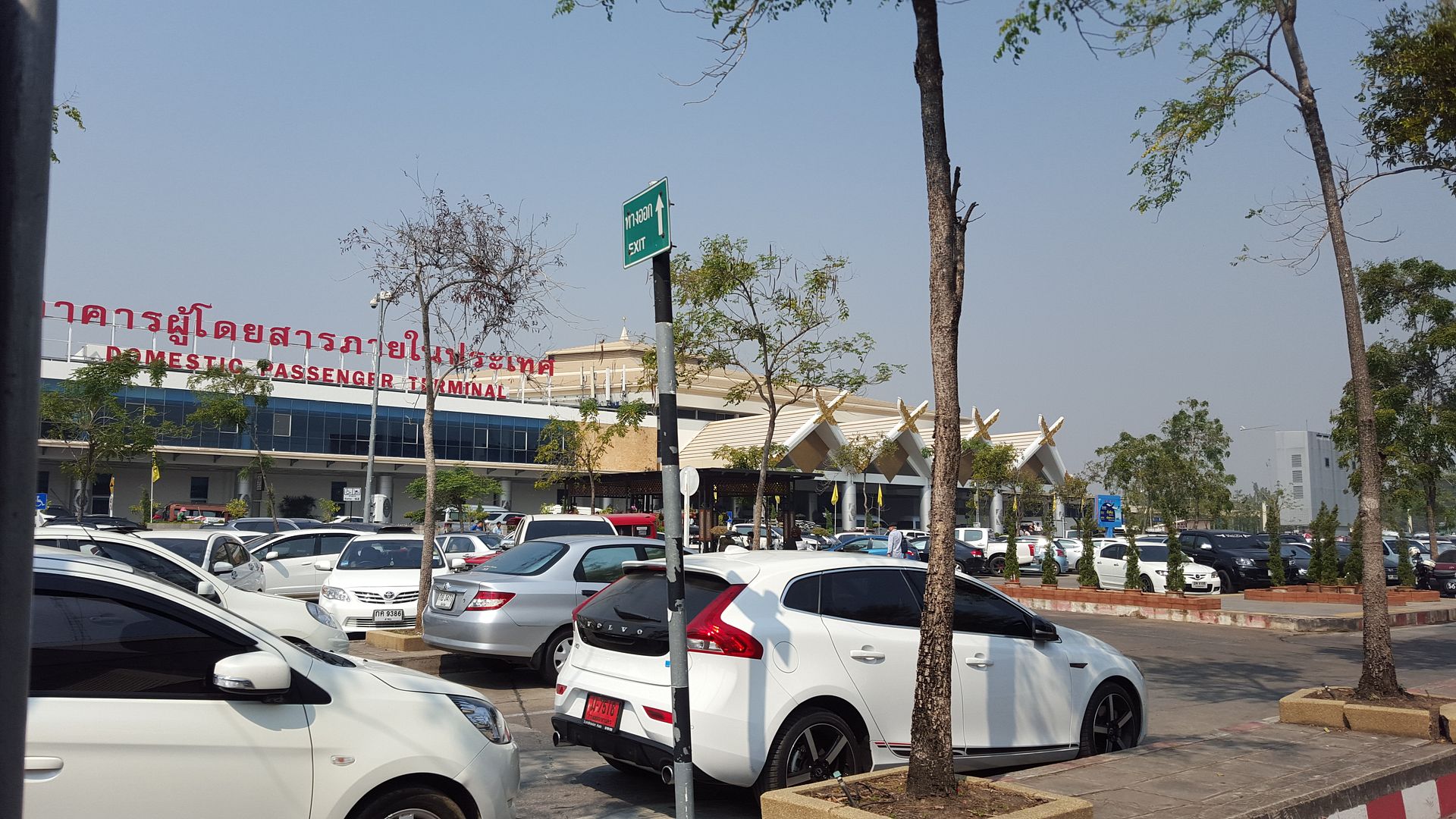 Entry into CNX - Long queue, althoguh it proceeded quite quickly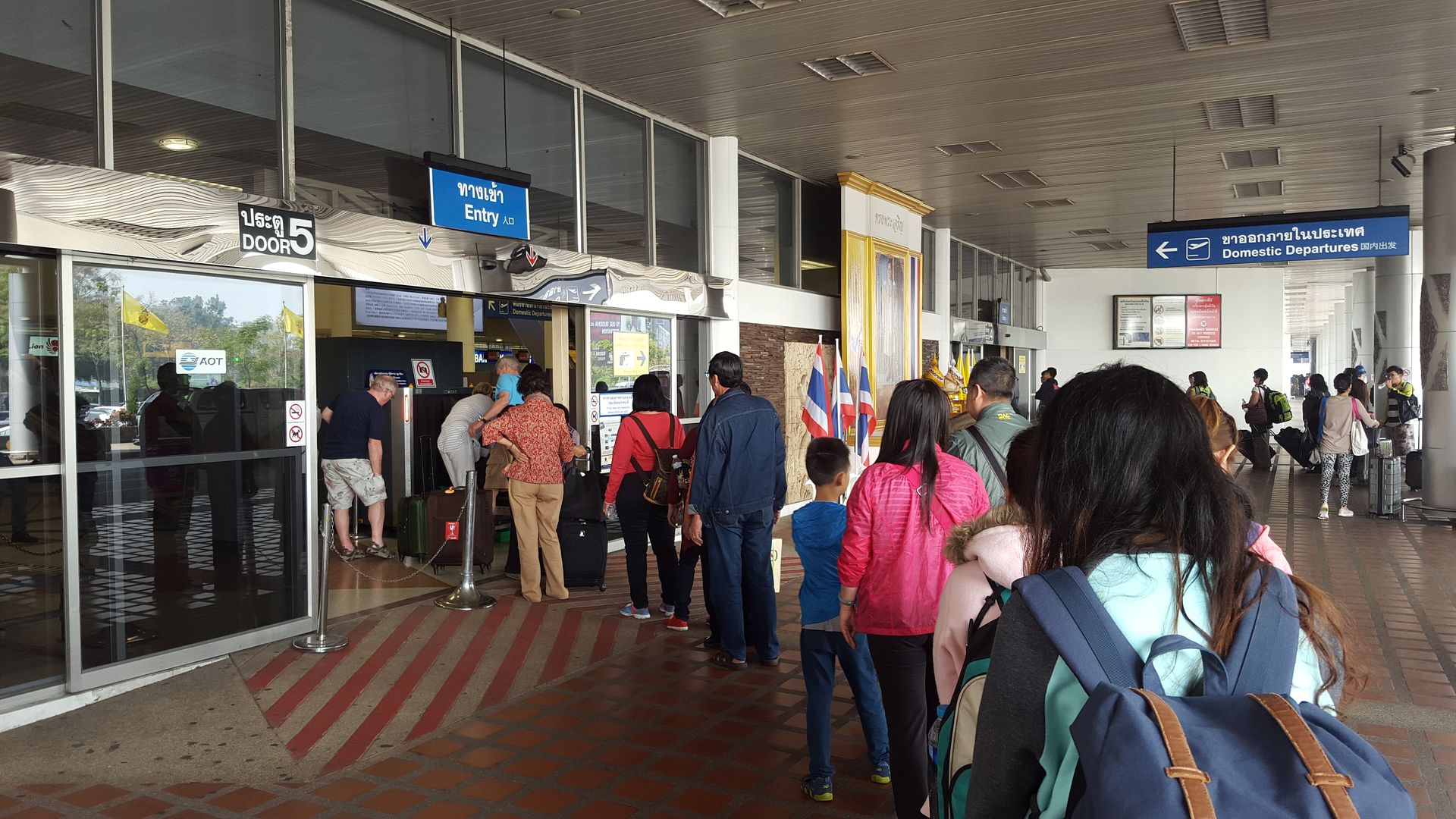 Airport service / checking in / Lounge
Reached the airport with an hour and 40 minutes before departure. Chiang mai airport is like any other domestic airport in Thailand. Cramped, people everywhere. But it just works. Check in was quick although there was a long line at the departure gates.
Air Asia Check in counters at CNX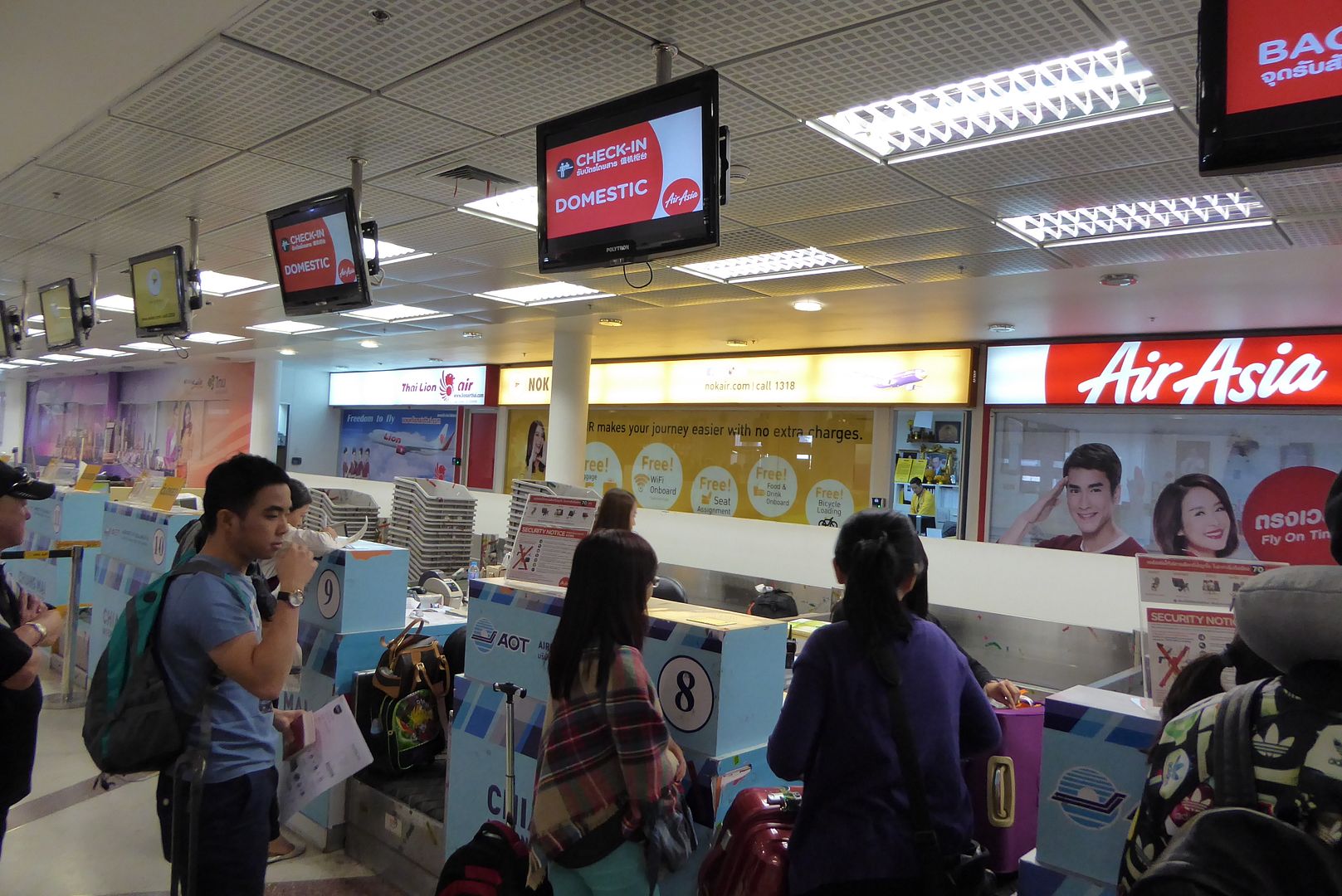 FIDS at CNX
The single escalator toward Departures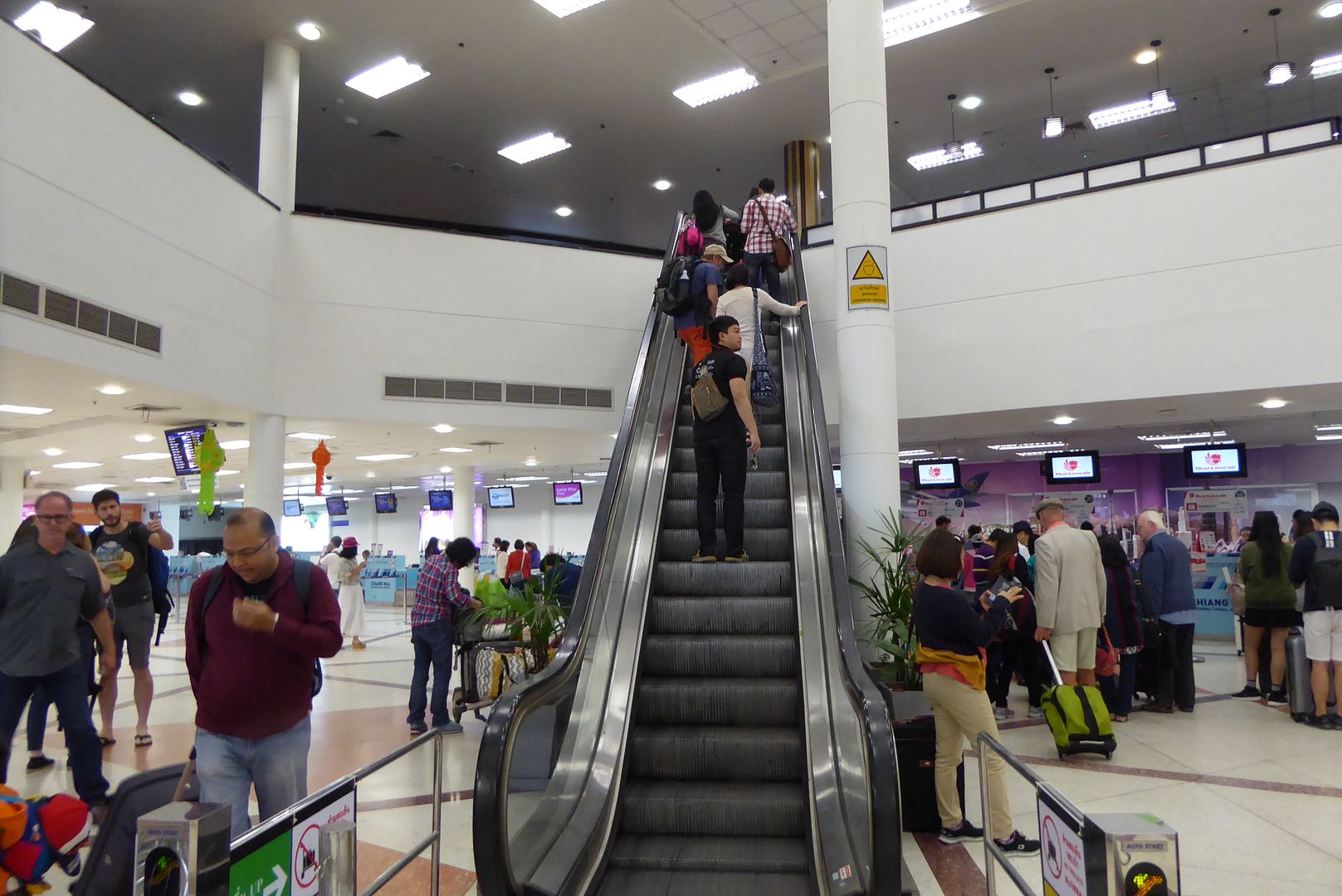 Photos of Chiang Mai Airport Departure terminal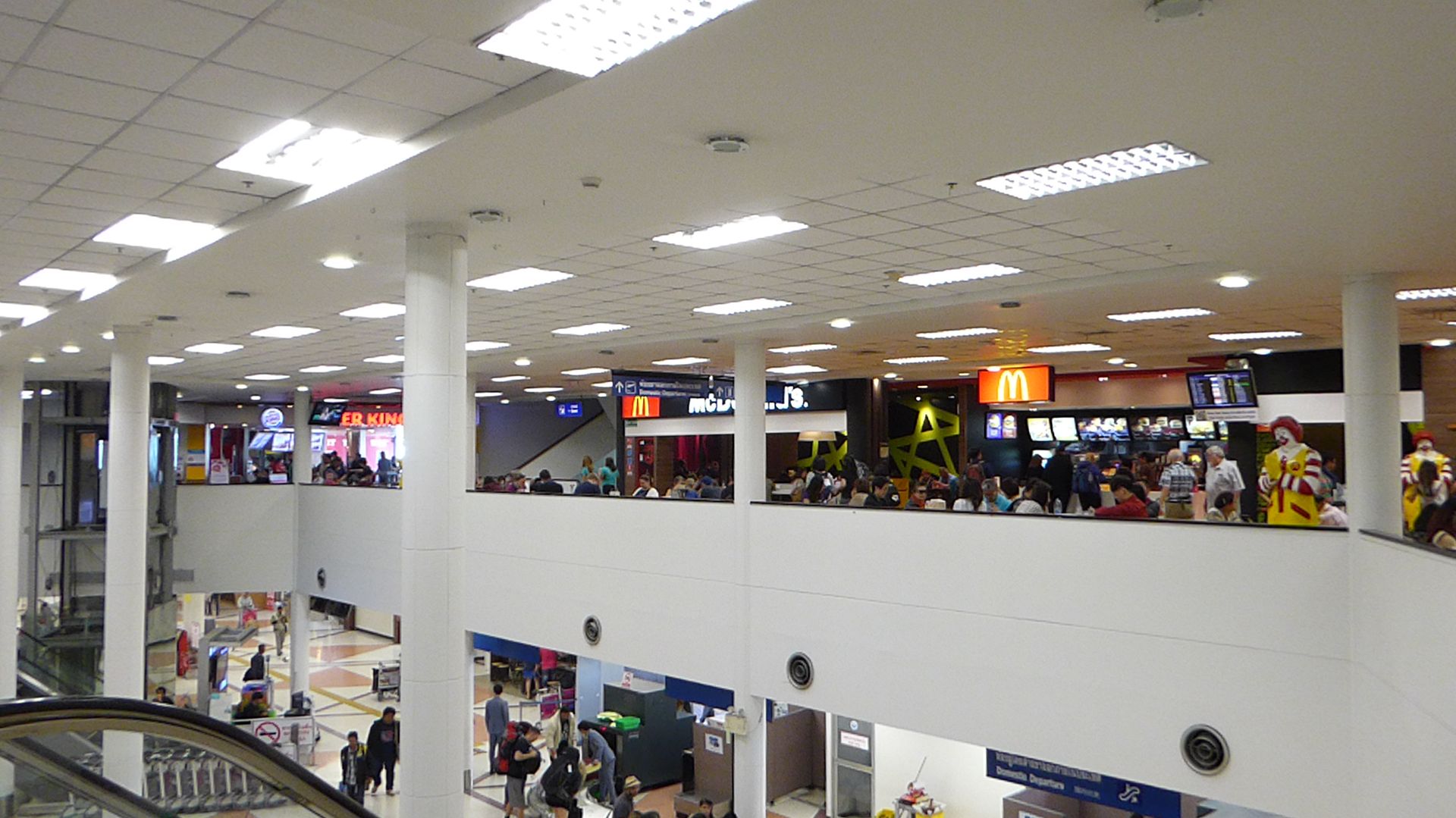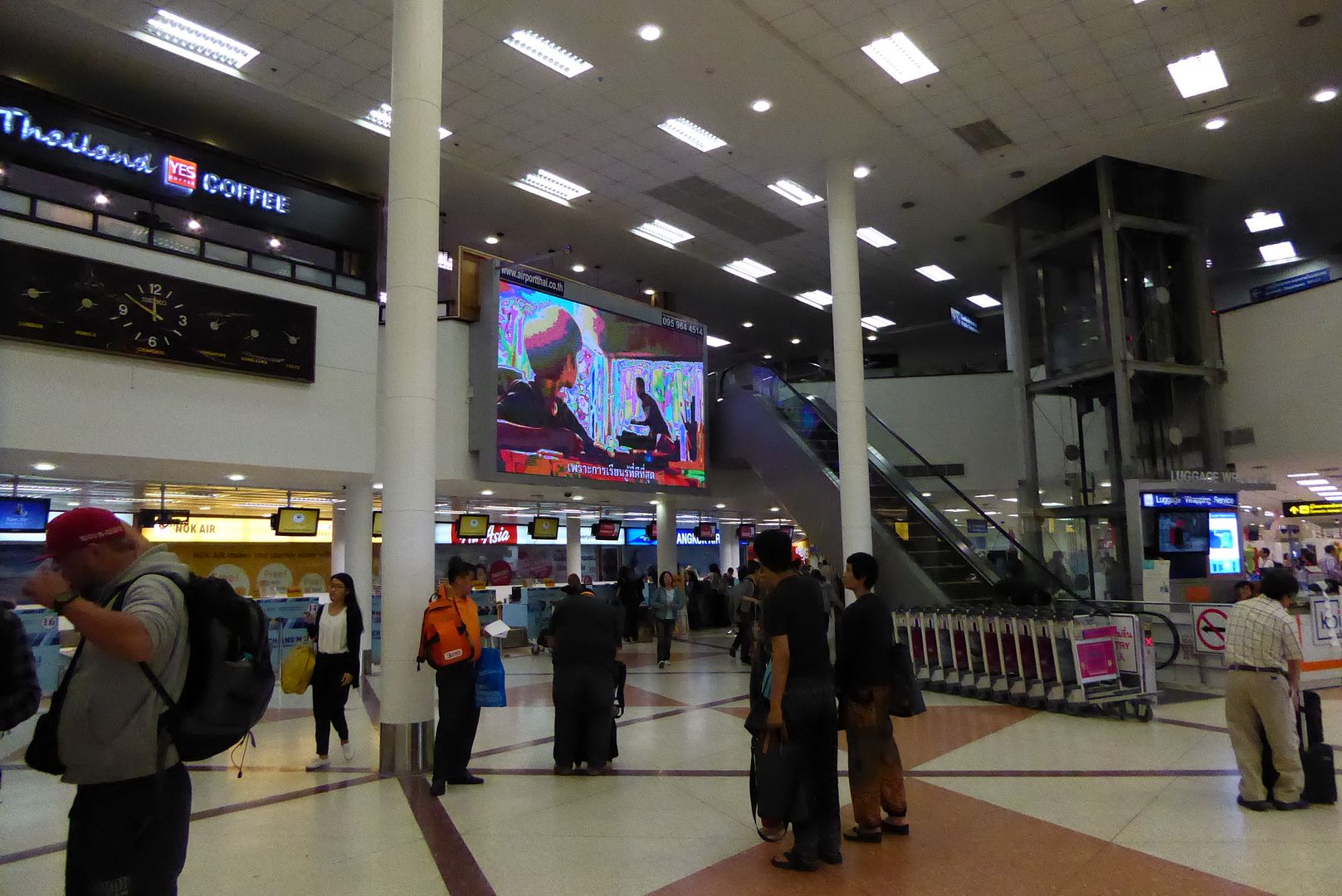 Queue at Security check
Calm before the storm at CNX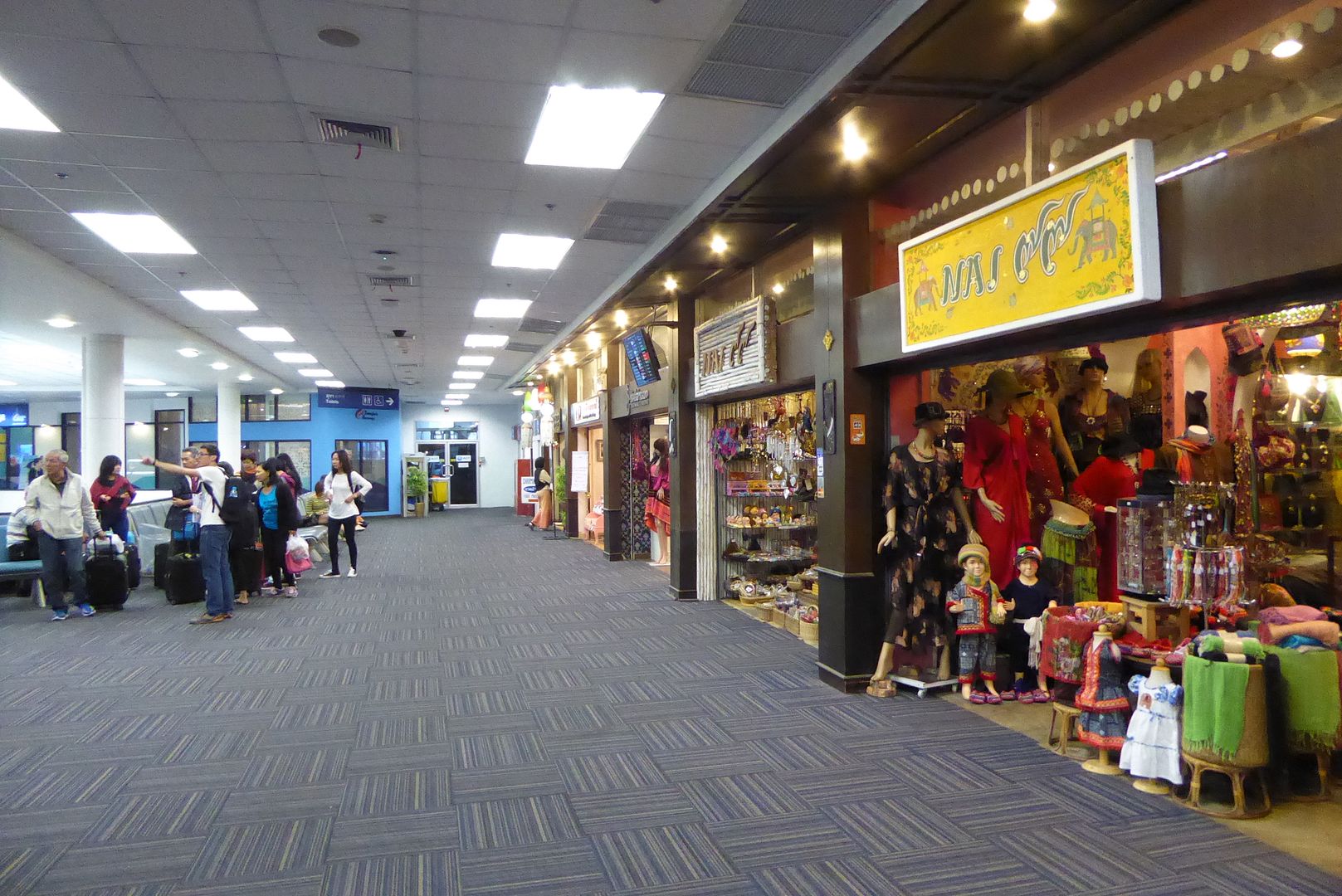 Bangkok Airways Lounge, before security at CNX
Chaos reigns supreme at CNX Airport, Airside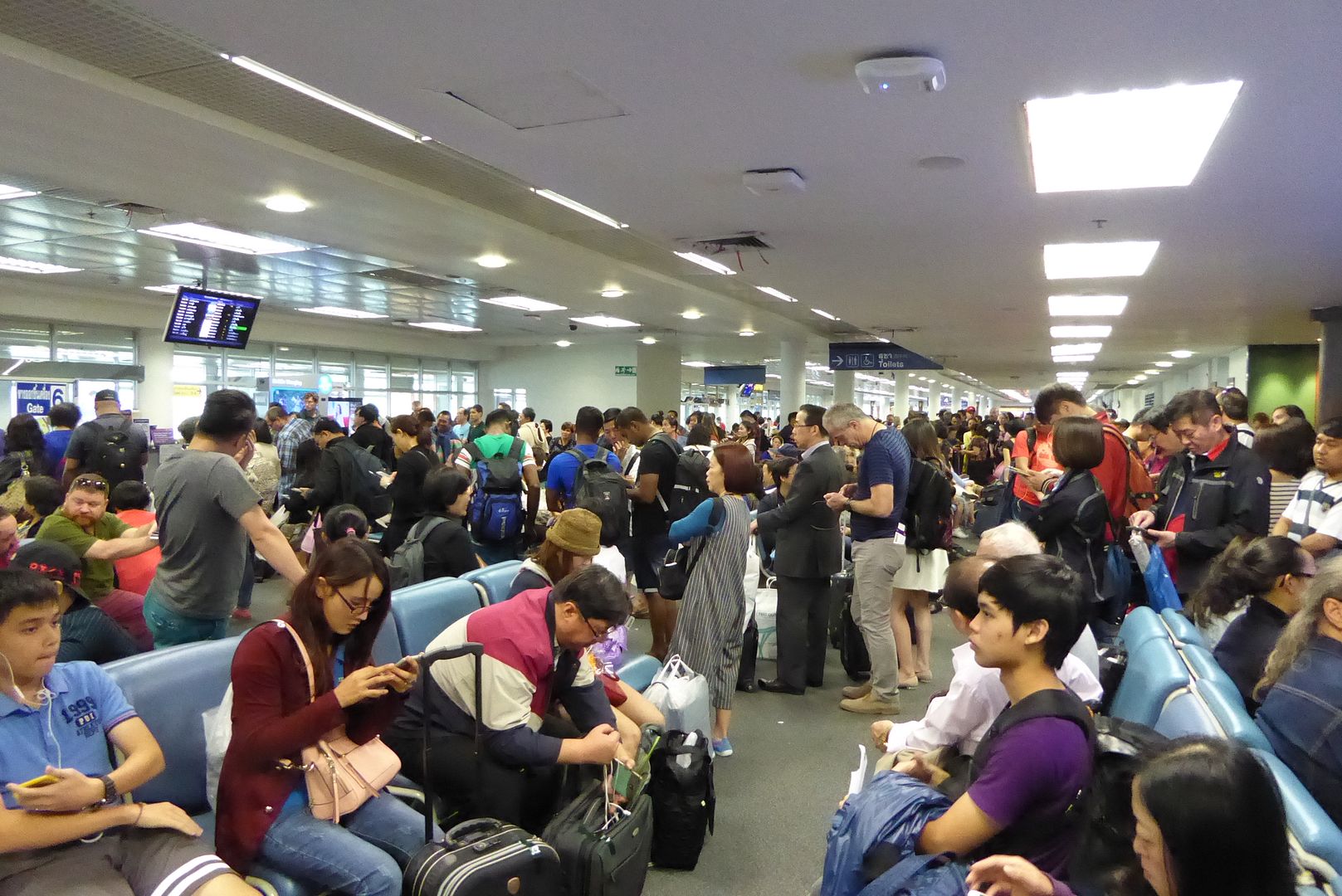 Massage anyone?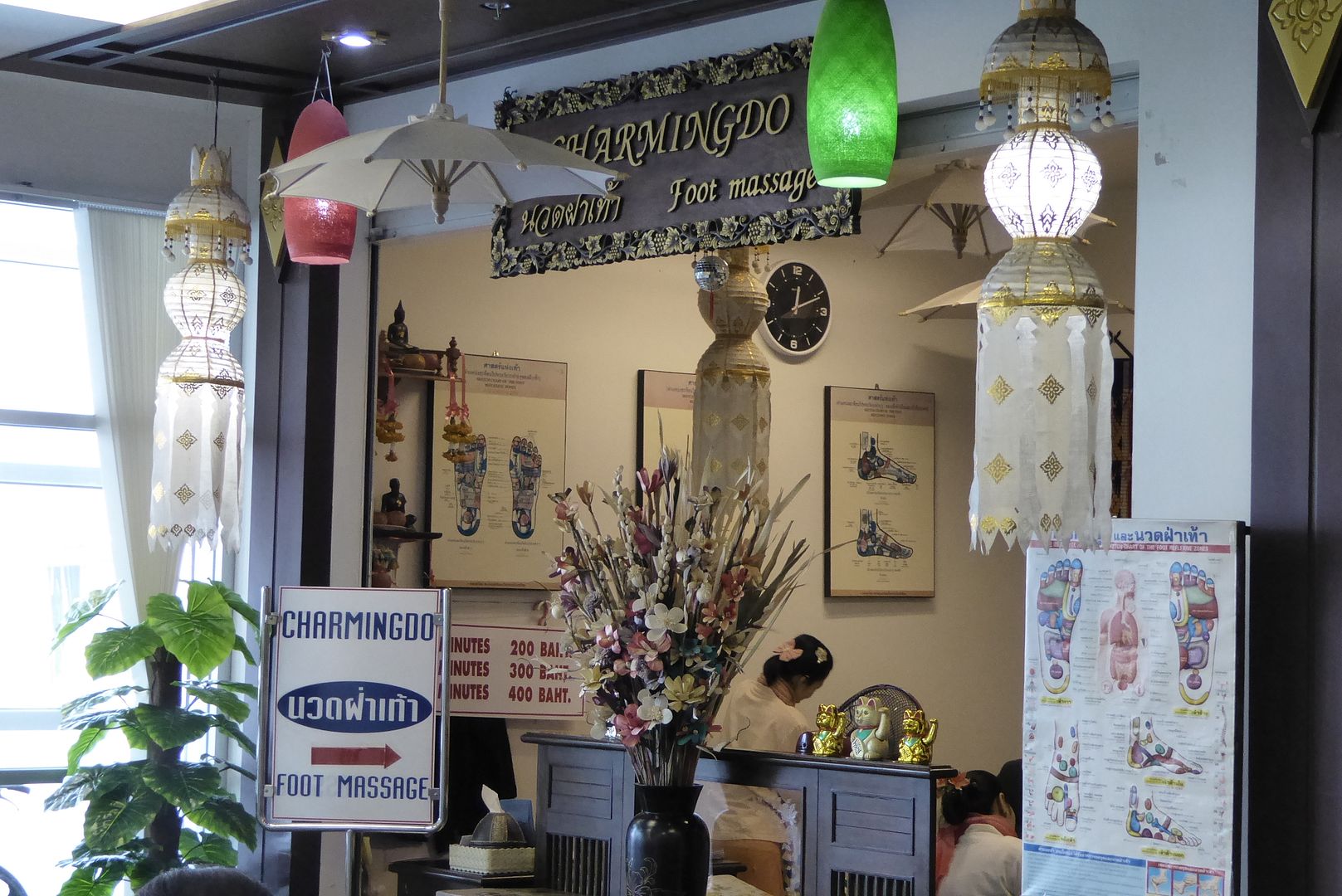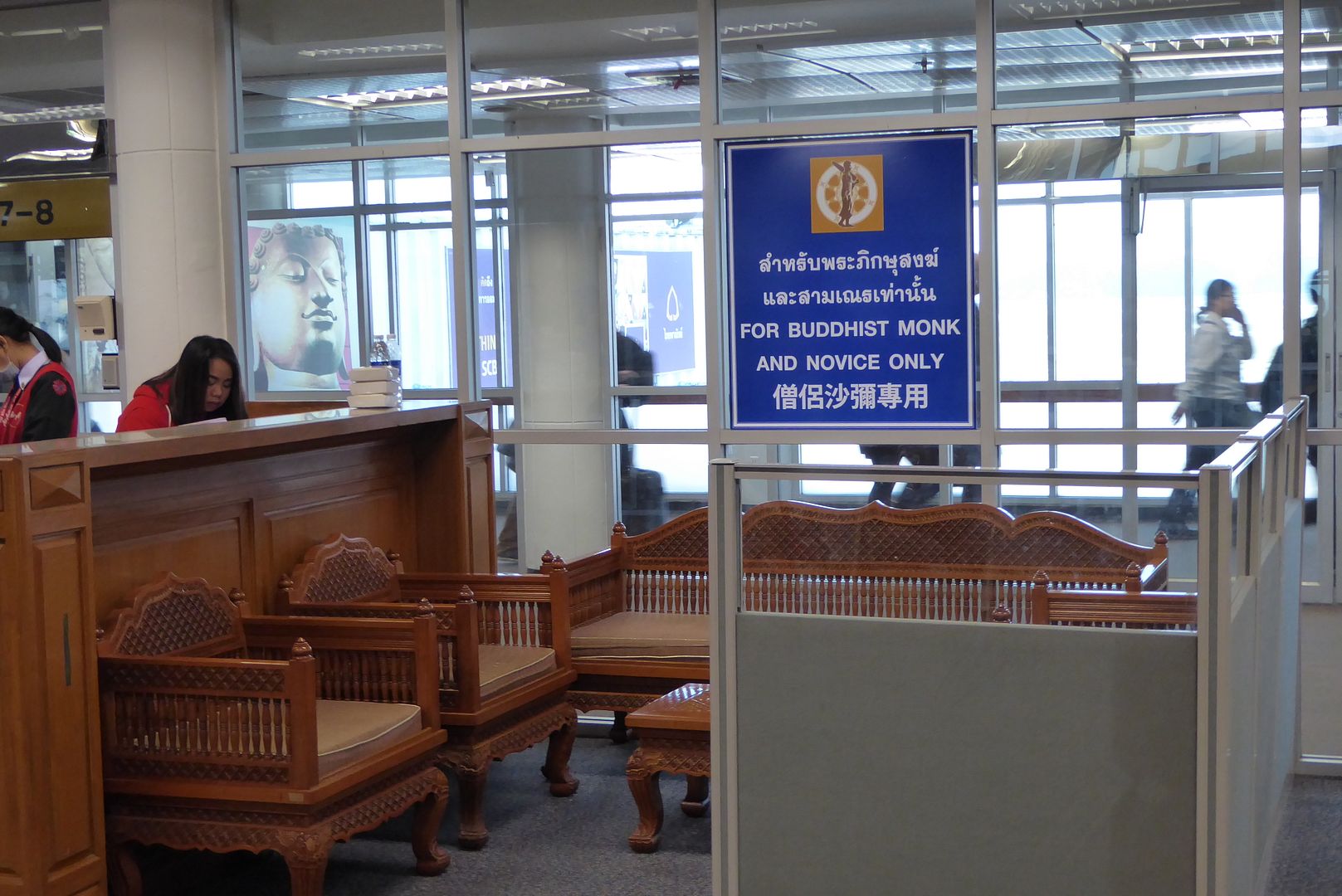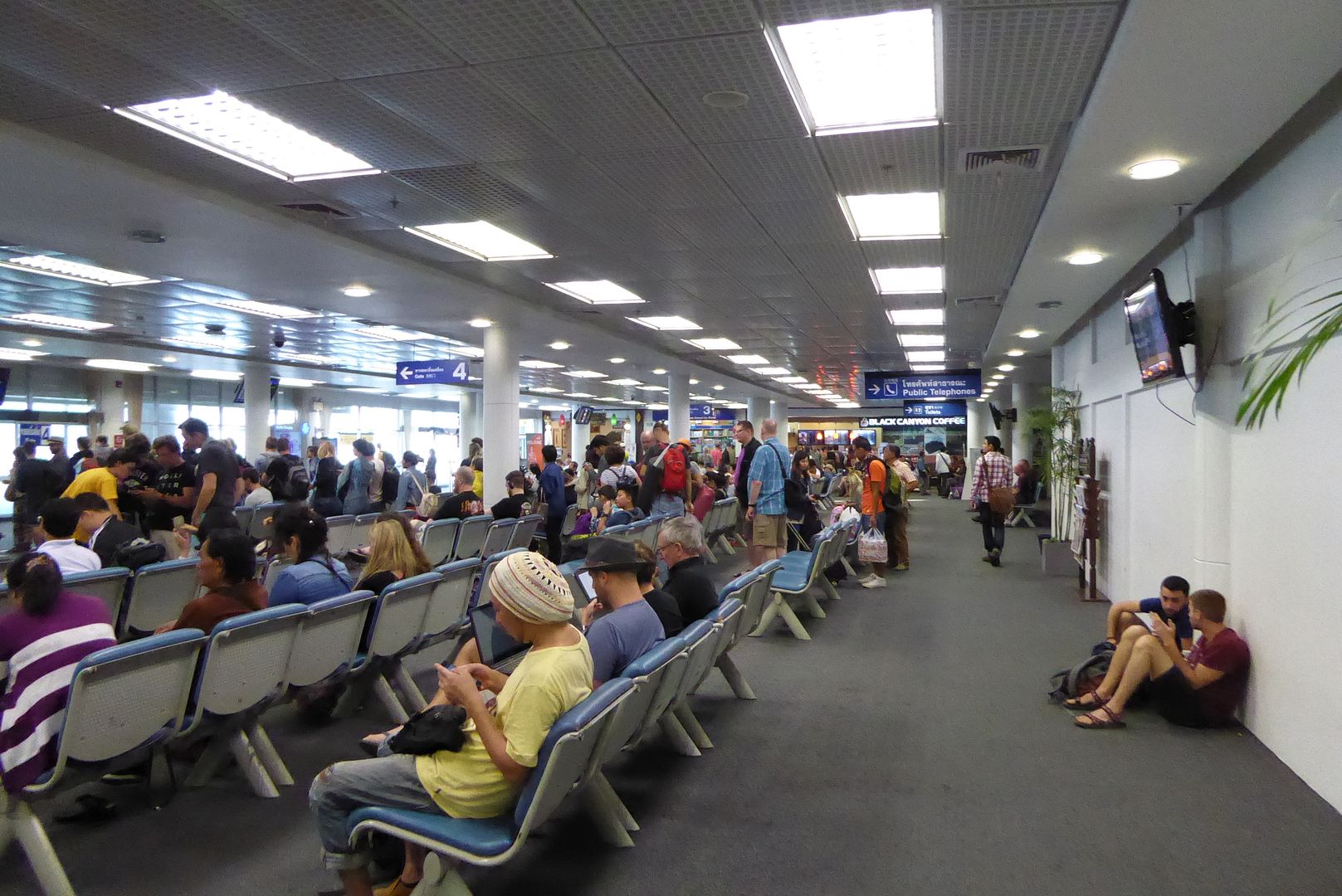 oddly, so many empty seats at one corner of the airport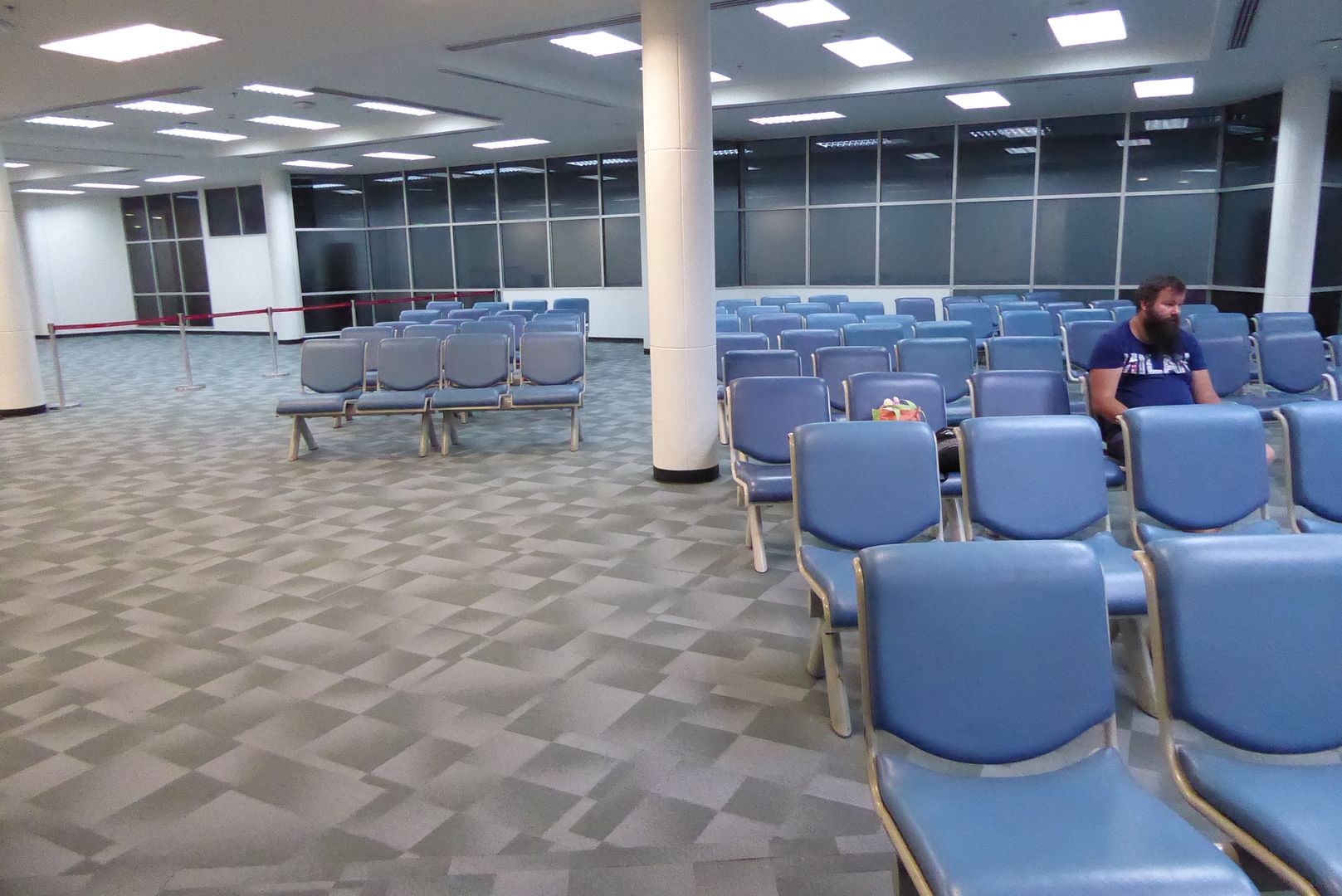 Plane spotting at CNX
Our eventual neighbours at CNX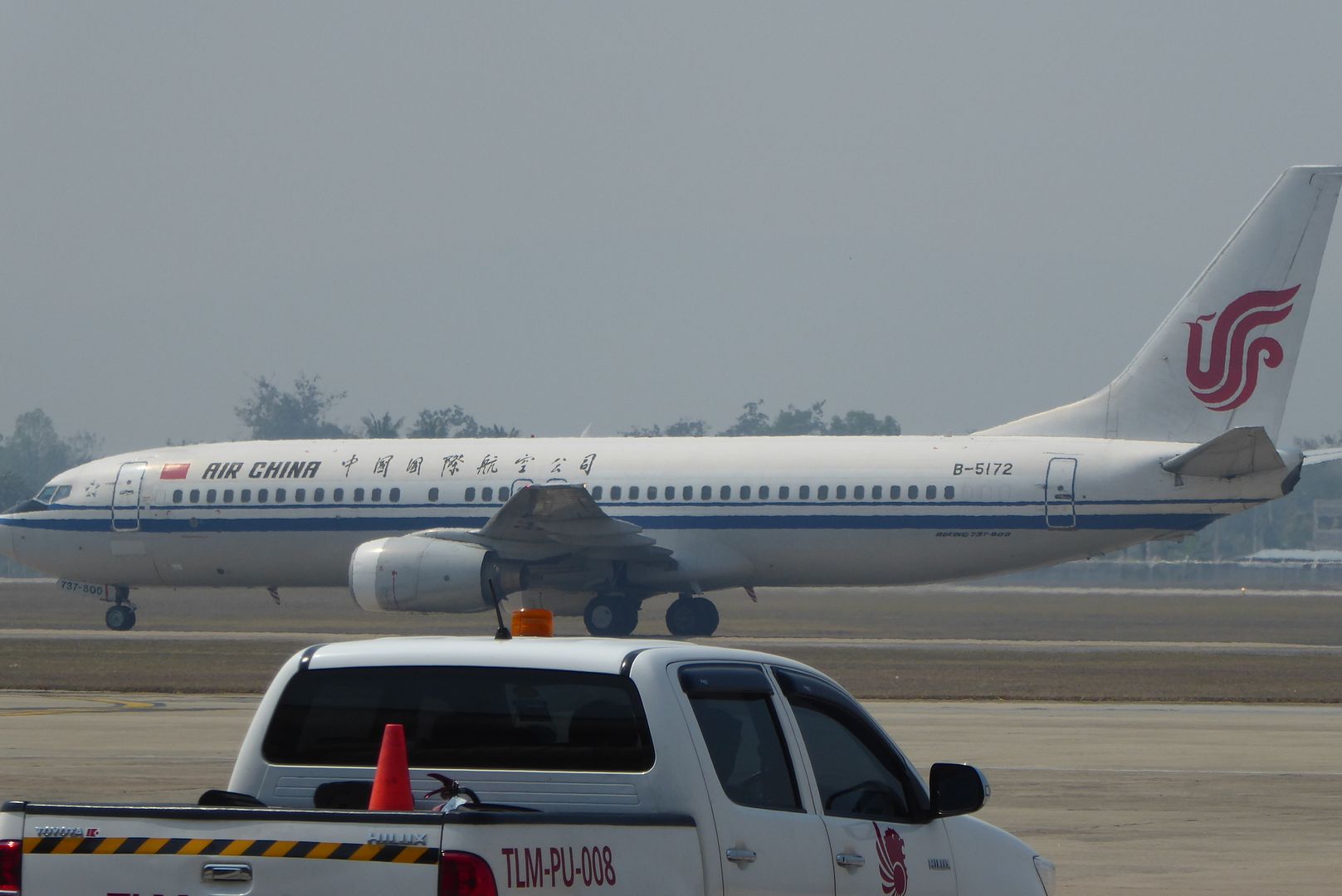 One of the numerous Thai Air Asia's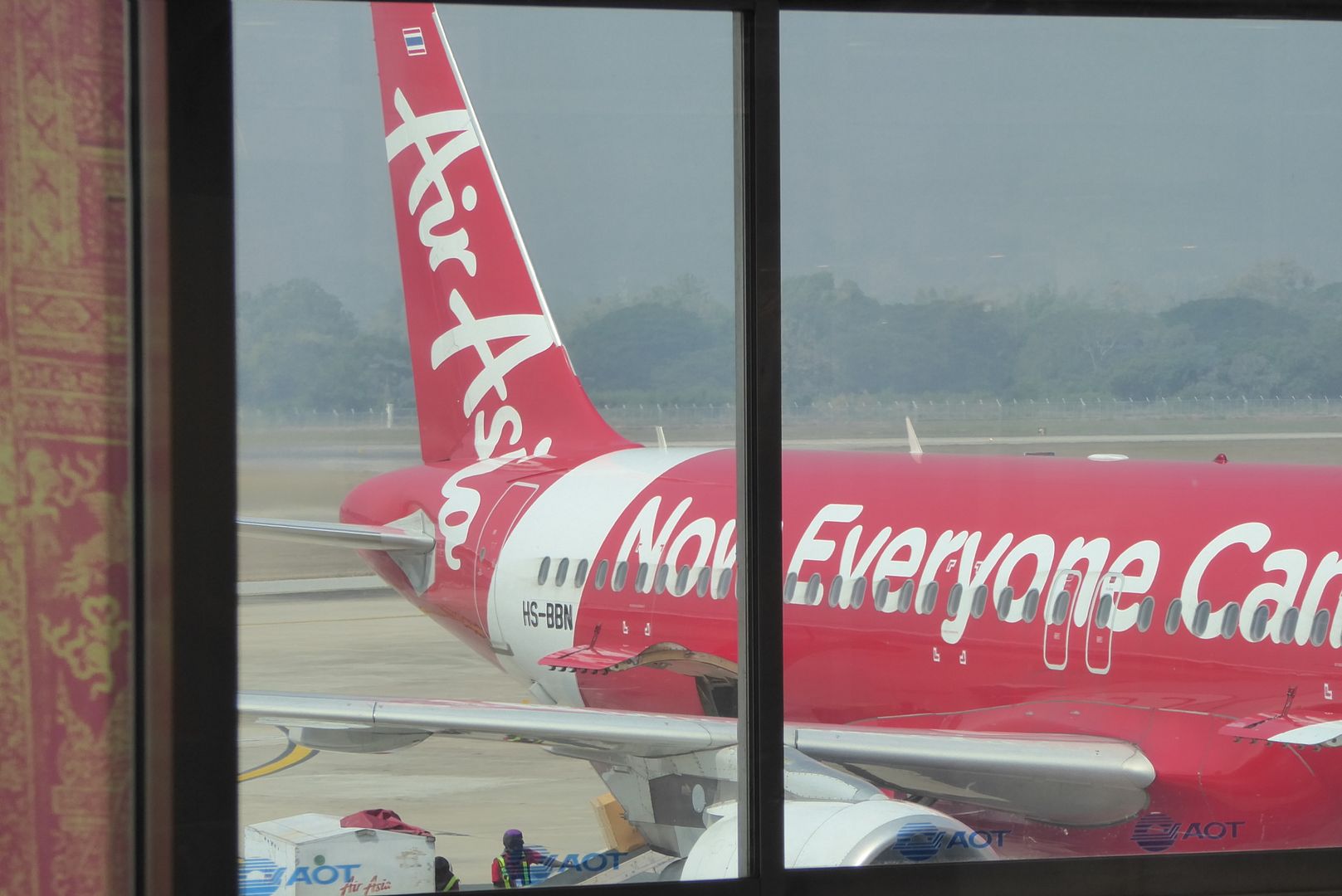 Kan Air ATR72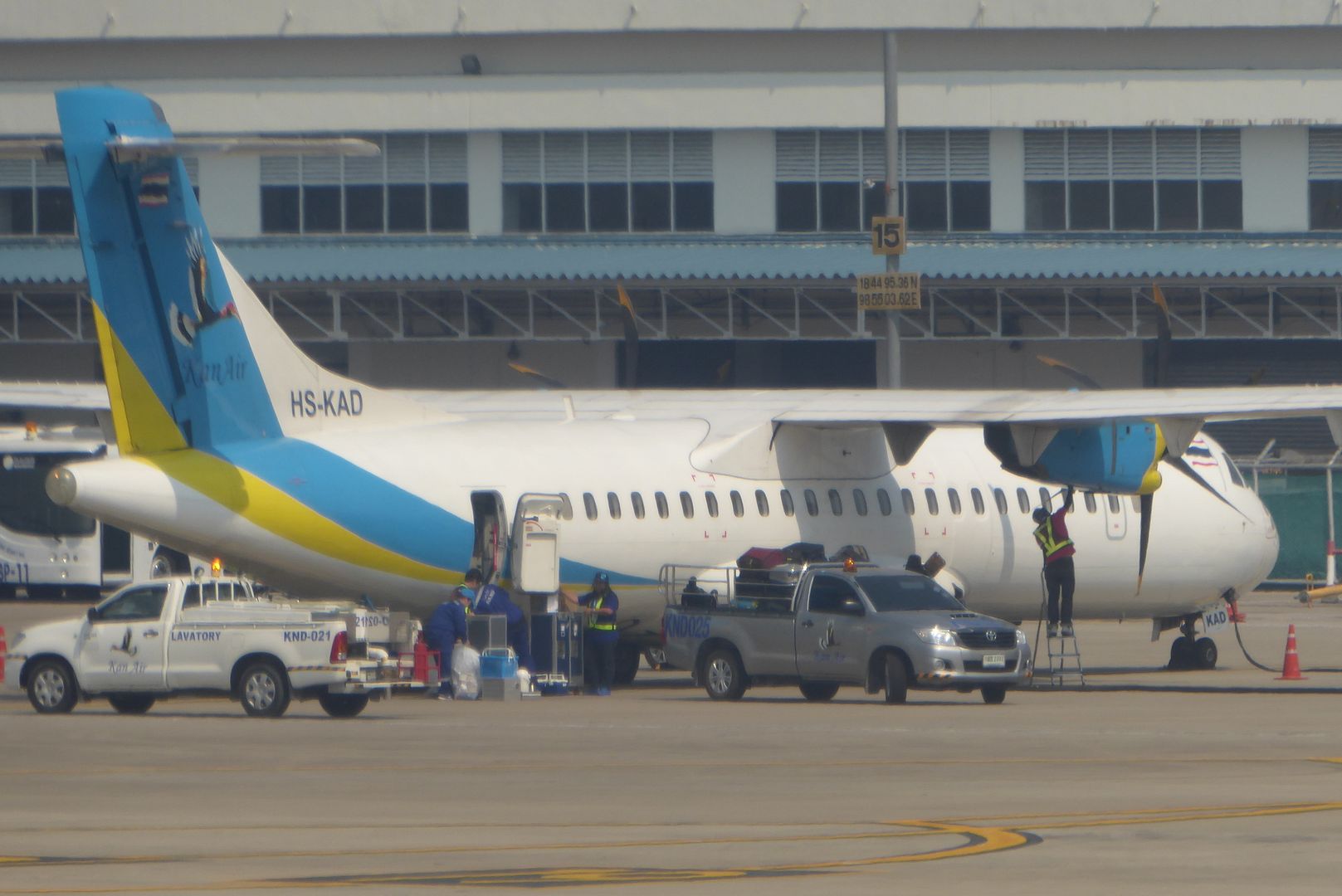 Rare - A 1988 Saab 340, currently with Legacy Air with an interesting past (http://www.airfleets.net/ficheapp/plane-sf3-115.htm)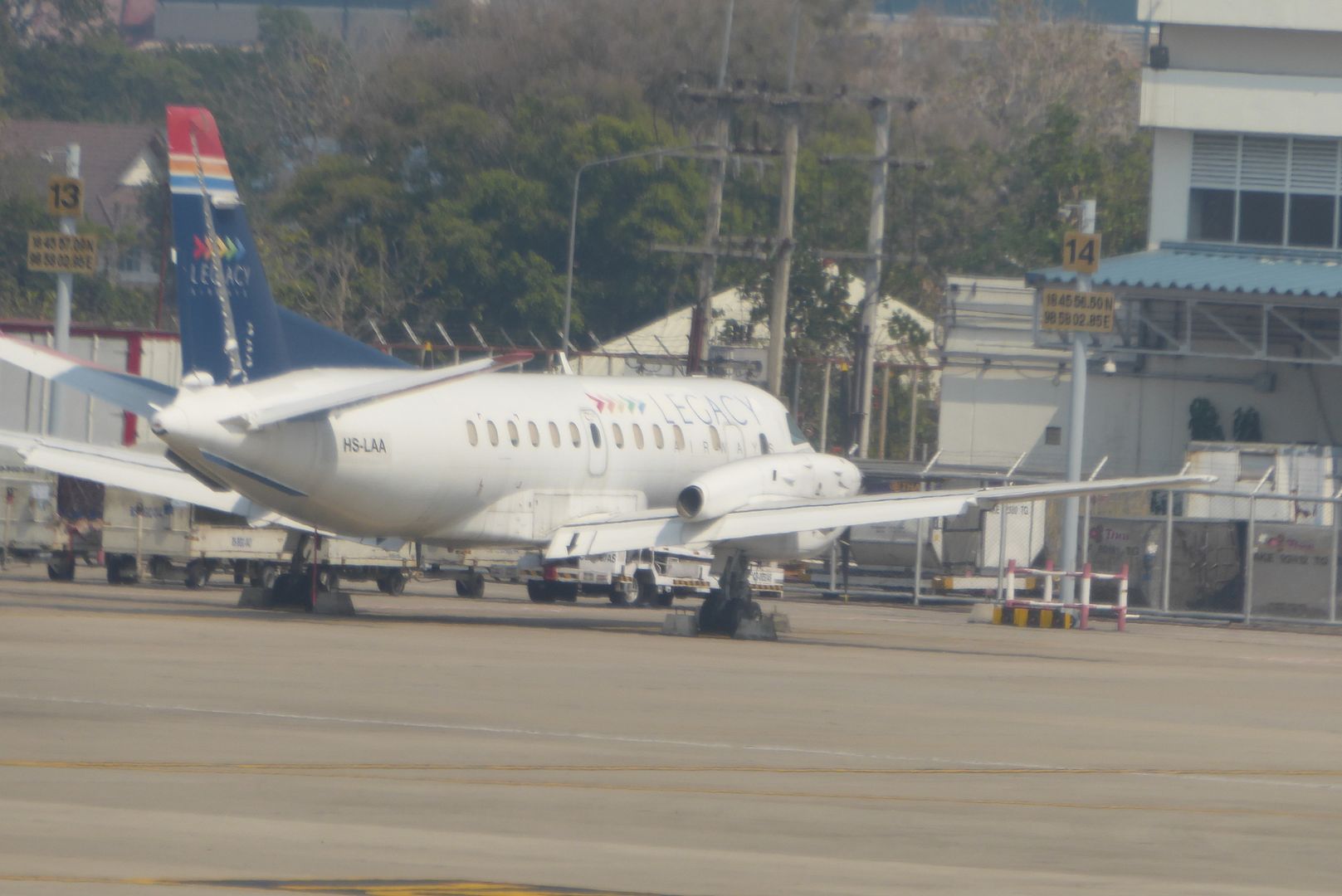 Lion Air B737-900ER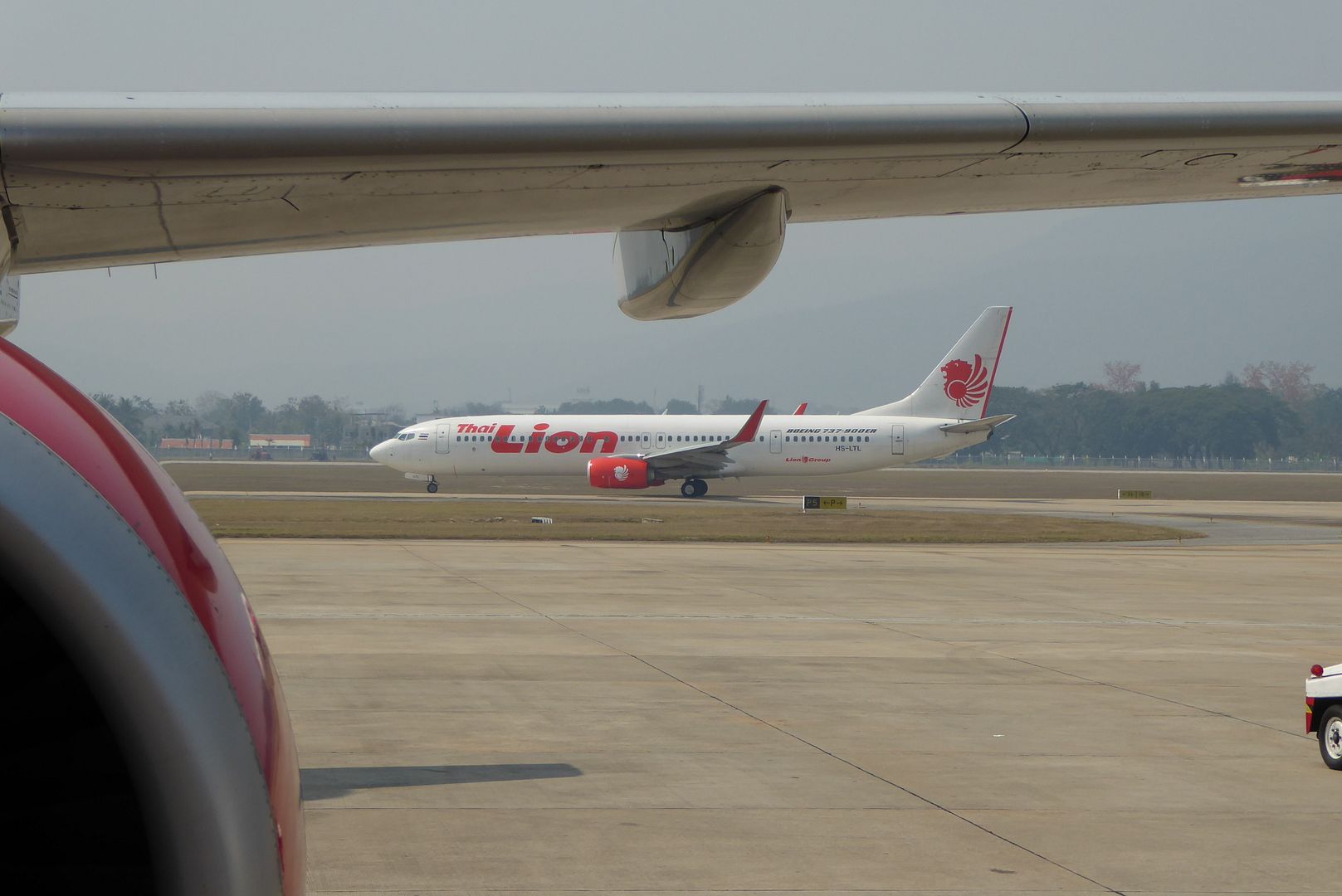 Boarding Process
A lot of gate changes. Apparently due to a lot of late running flights. Our gate got changed from 5 to 6 to 12. From the announcements it sounded like every flight have their gates changed and it seems to be a normal thing.
Boarding only commenced at 1300 which meant another late flight. Does any flight in Thailand ever leave on time?
Boarding process was a mess. The gates are way to small to cater for any priority boarding. I didn't see any one use it although I did hear people had paid for it but not able to walk in front as it was too crowded.
We were then bussed to our aircraft.
Chaos at Boarding gates, after numerous gate changes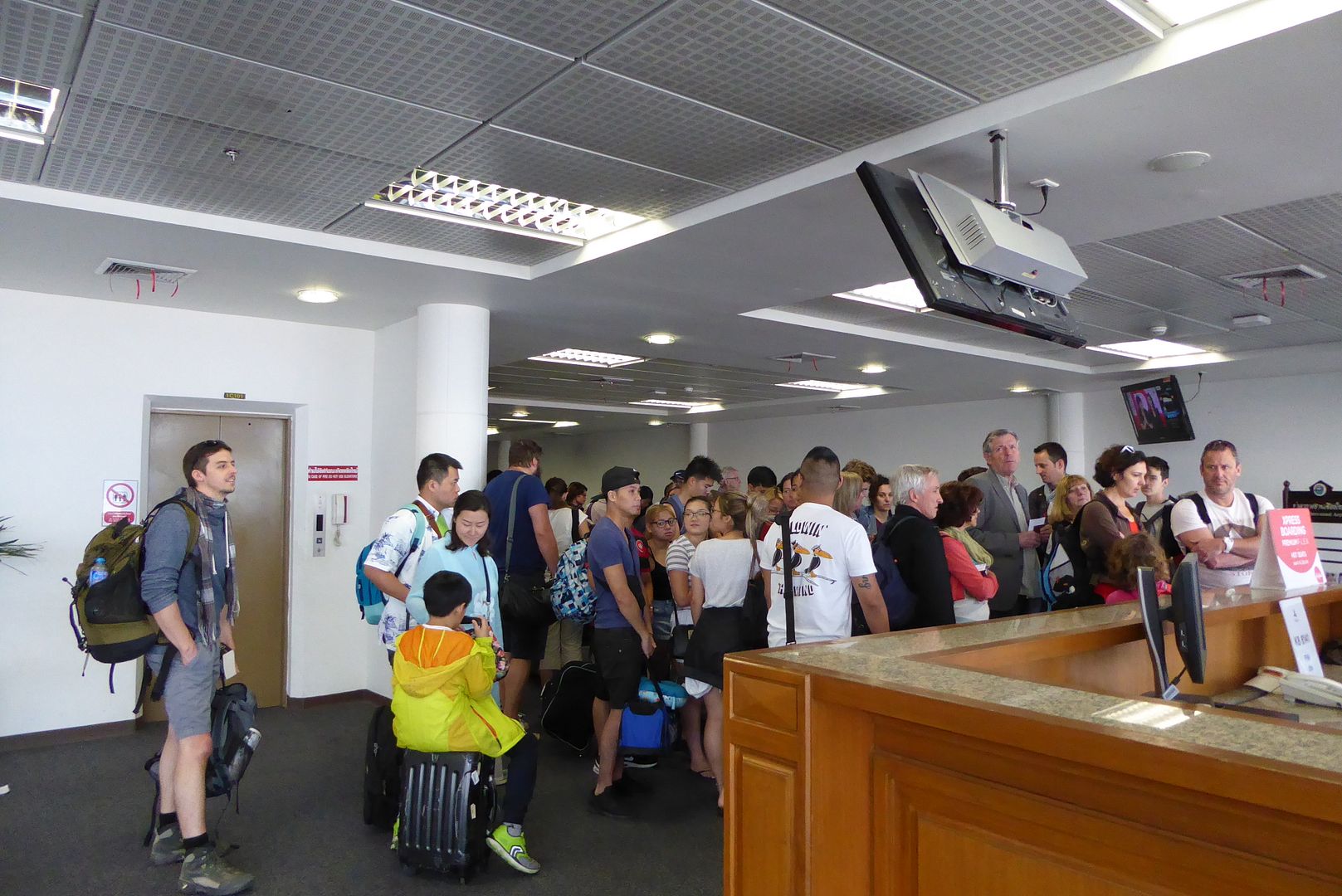 Top