I haven't posted a trip report for a quite a long time because my last posts received almost no replies.
This time, I want to share some experiences with TG's (fairly) new 787-800. The route was BNE-BKK on TG474, the longest current route served by TG using the 788. According to the crew, this aircraft type is configured for shorter-haul inter-Asian routes and therefore has no crew rest area. In lieu of this, two seats are reserved for crew rest in the rear J cabin and also two seats at the rear of the Y cabin.
TG's 788 has 24 lie-flat seats in business class and 240 seats in economy class. Having flown a number of sectors on this aircraft (TG in Y), the configuration feels cramped, the seat pitch feels tight and the seats have the comfort of setting concrete. Given this, I knew I did not want to endure a 9-hour flight in Y and decided to splurge on a business class ticket (with onward flight TG sector to Japan). It was worth it.
Brisbane Airport is a very user-friendly place. The security staff are polite and friendly and they don't shout out instructions military style as they do in a lot of other places. Security and immigration departure lines move well and don't take long to clear. I checked in around 11:30 a.m. for a 2 p.m. departure. At this time of day, there are few international departing flights – hence even shorter queues. No one was waiting at check in, I got the seat I wanted in a cabin that had 17 seats booked (out of 22 available not counting the two reserved for crew rest). From check in to arriving at the Air New Zealand lounge took less than 10 minutes. The NZ lounge is currently undergoing renovation and in the past few months, noticeable improvements have included new and better furnishings such as seating and floor coverings. The staff are always cheerful and helpful. The attentive cleaners also now use a practically silent vacuum cleaner, whereas they used to use one with the squeal of a JT8D engine… The showers and toilets have not yet been renovated, but are still in quite good condition. It is always a treat to have a hot shower before a long haul flight and makes the experience feel all the more civilised. It is also convenient (usually standard) to have toilets in the lounge area – as opposed to having the leave the lounge on an excursion as you do in Singapore from the Kris Flyer Gold Lounge, Terminal 3, from where flights to Aus depart.
The quality of catering at the NZ lounge is excellent and so is the range and quality of the beverages offered. Arriving on the cusp of morning refreshments and lunch, the food is all fresh and enticing. Free wifi is available in the lounge. It is certainly a decent sized lounge that accommodates passengers well without feeling too busy.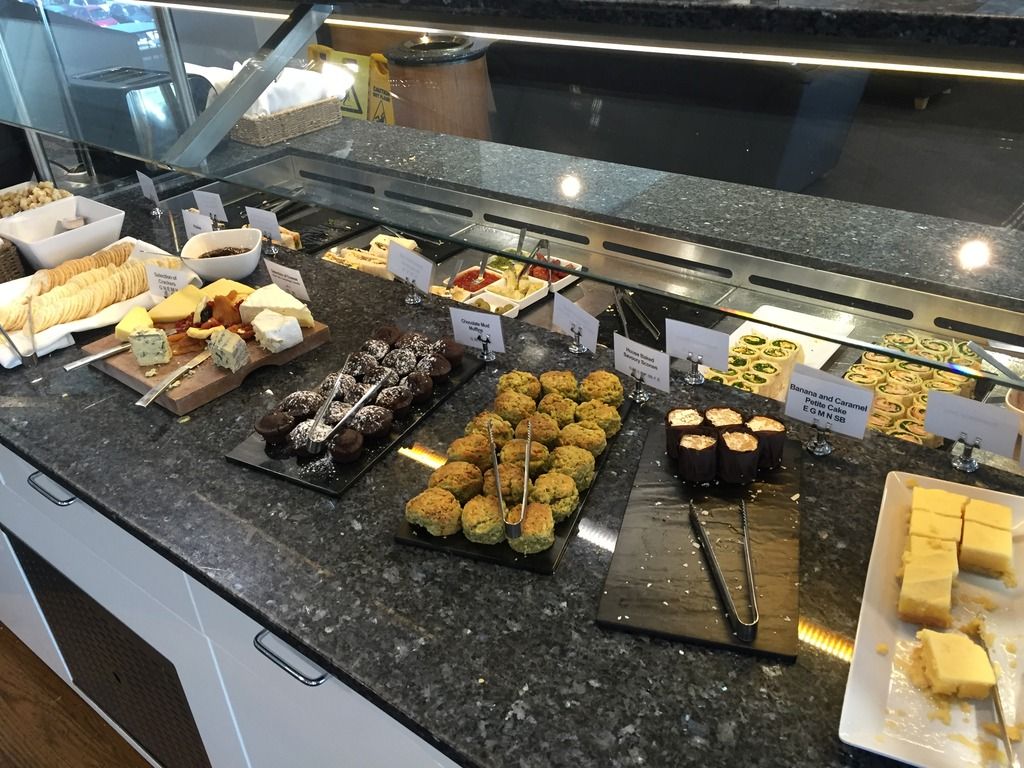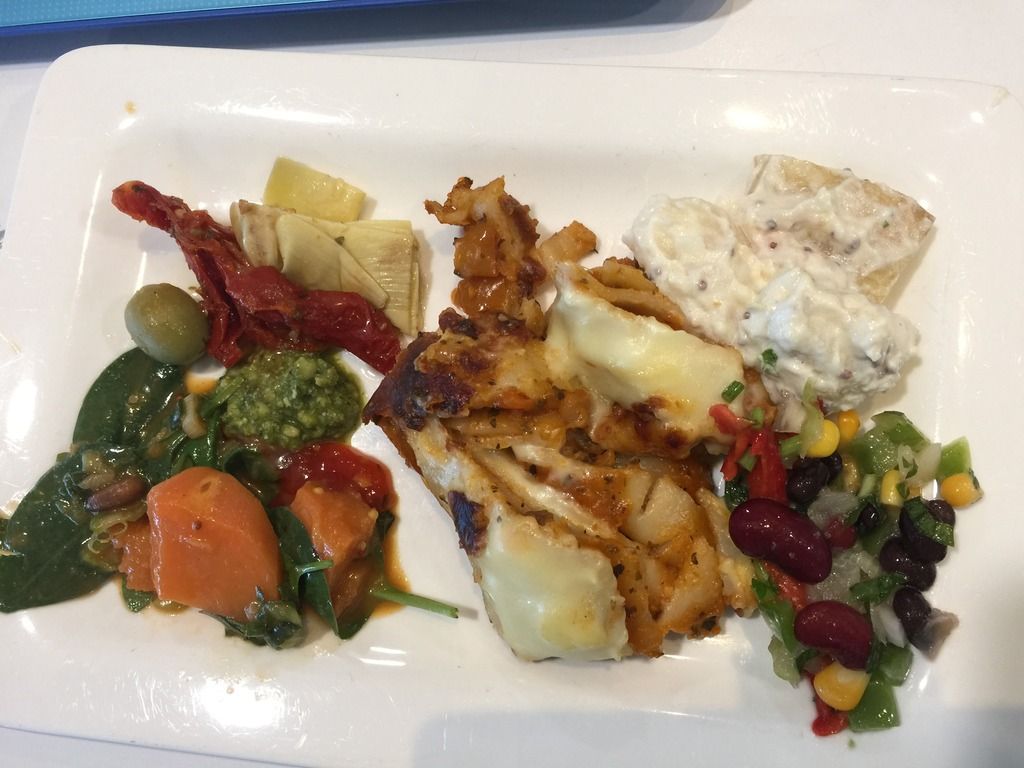 Boarding announcements are made, but I decided to leave slightly earlier to take a few pics of the 788 pre-boarding. The flight time was expected to be about 30 minutes less than scheduled and so boarding was delayed a little. The gate staff were well-organised and patiently helped passengers wait in the correct area. In this case, the business class passengers waited to the left and all economy passengers waited to the right, which was practical given the seating arrangements in the lounge area there. Boarding was fast and smooth. The flight attendants were very friendly and called me by name throughout the flight.
This flight was on HS-TQE Kosum Phisai, one of TG's six current 787s.
TG's current 787-800 fleet comprises:
HS-TQA Ongkhara K
HS-TQB Chaturaphak Phiman
HS-TQC Pran Buri
HS-TQD Wapi Patum
HS-TQE Kosum Phisai
HS-TQF Kong Krailat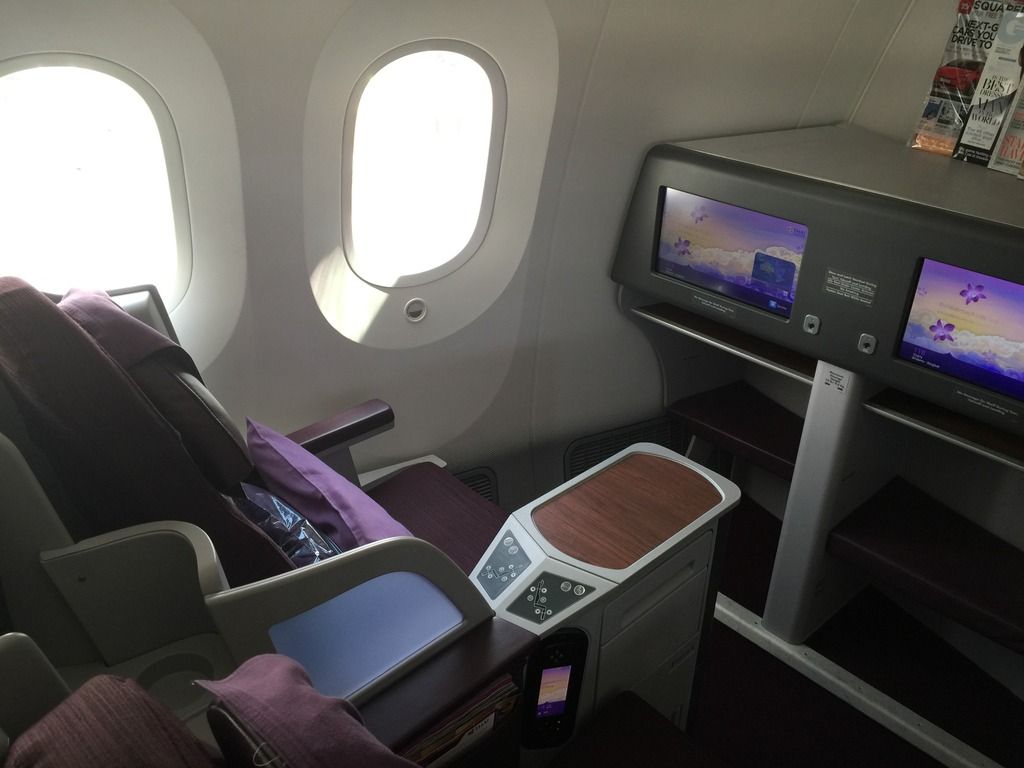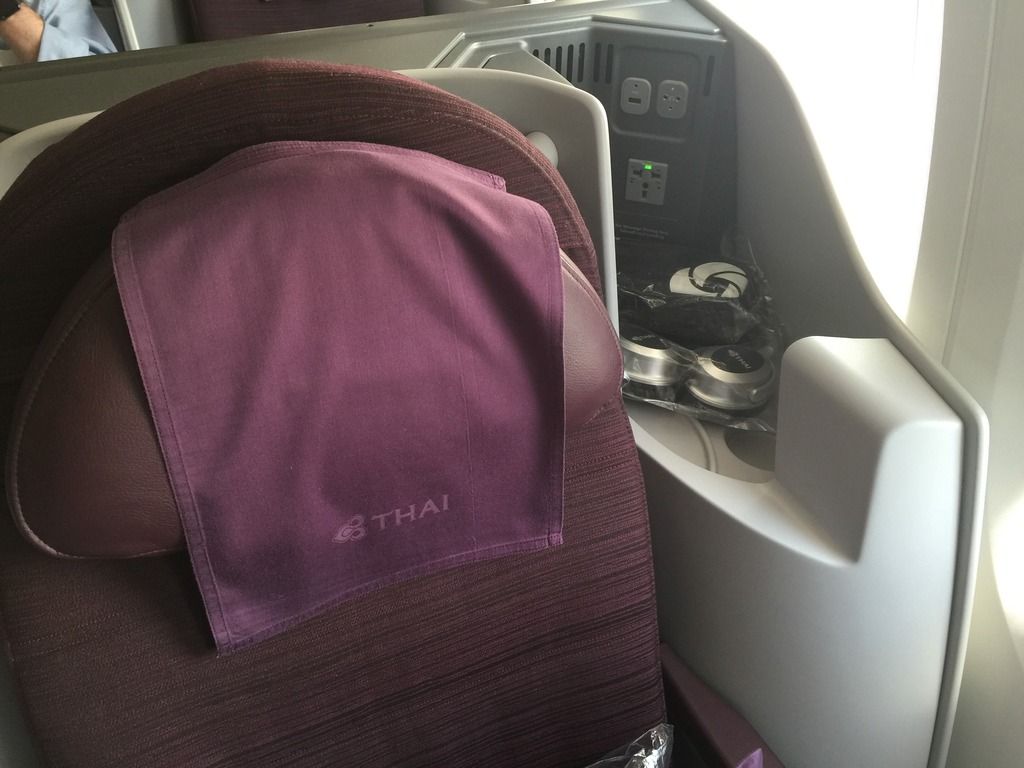 The footwells have noticeably different widths. My window seat had quite enough space for me, but the B seats were a few inches wider and the centre E, F seats had footwells seemingly as wide as the seats, having a very square rather than tapered shape.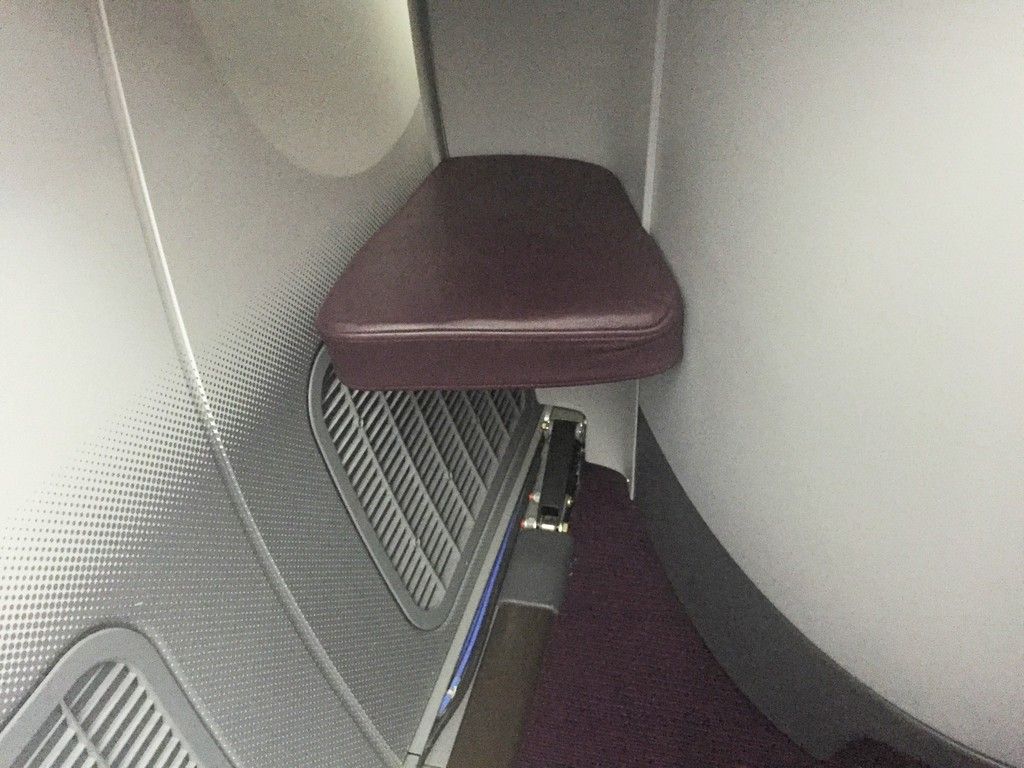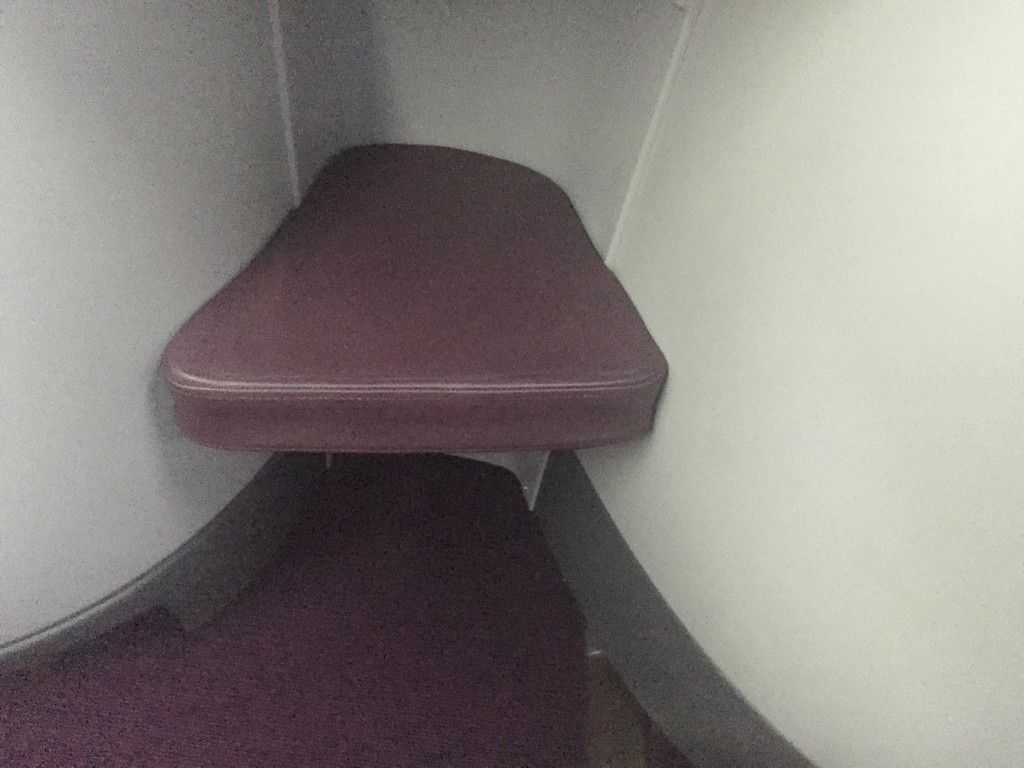 (seat 12B)
A pre-take off, fragrant (orchid) hot towel was given as well as a choice of beverage. I was pleasantly surprised to see that TG serves Veuve Clicquot champagne, which has an excellent, fruity bouquet and is very tasty on the ground or in the air – and today's flight was at 38000 feet.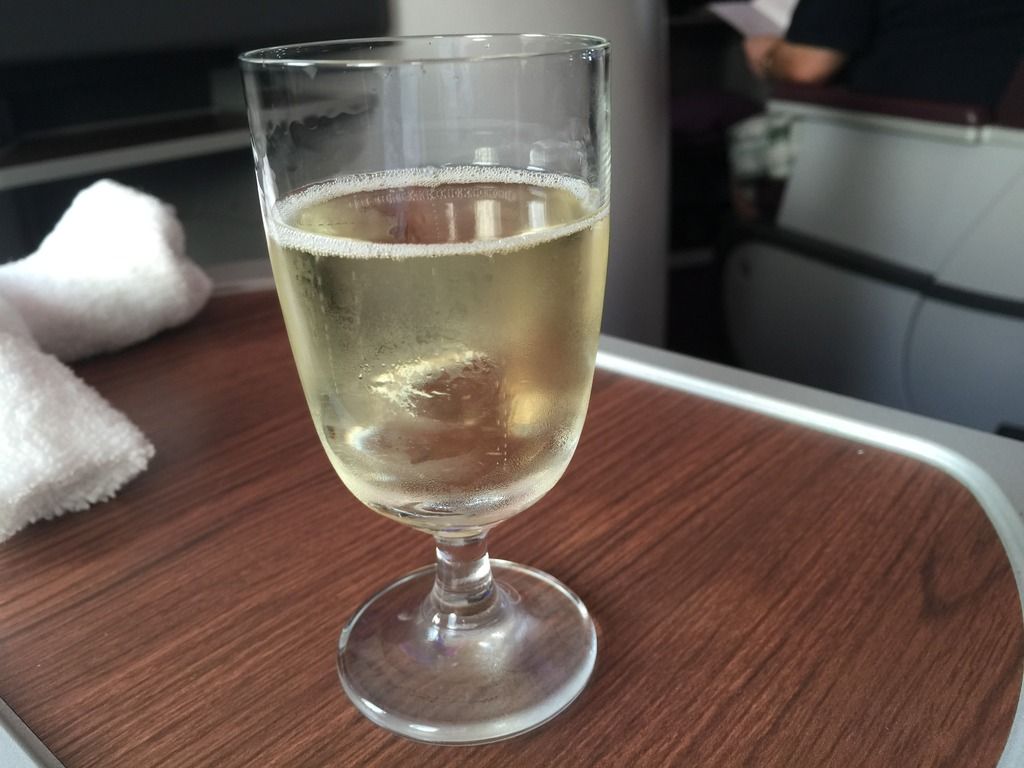 Scheduled departure is 2 p.m.. Pushback was at 2:13 p.m. and departure at 2:25 p.m. Thai's 788 J seats are the same as United's 787 seats. They are comfortable and spacious enough, but the 2X2X2 configuration does lack privacy. No one sat next to me, so I felt I had plenty of space. A disadvantage of this configuration is the window seat passenger having to step over someone to access the aisle. Another disadvantage is not having a privacy screen and being able to clearly (and brightly) see what the passenger next to you is watching on their large screen. TG's AVOD system is adequate, but can be hard to navigate. It takes some playing around to see how the handset functions. There are enough music, tv and movie options, but I would not say the choices are extensive. If you want to listen to a various artists compilation album, there is no playlist to choose from. The only option is to start at the first song with no track fast forward option.
The food was excellent. The quantity and quality was great. Everything was tasty and well-heated. The timing of the service was also very good. The entrée of parma ham salad was a welcome change from the usual smoked salmon presentations. It was really excellent! My main course was a beef fillet with mushrooms and mashed potatoes. The beef was very soft and flavoursome. The cheeses were good and the two desserts served were also very good.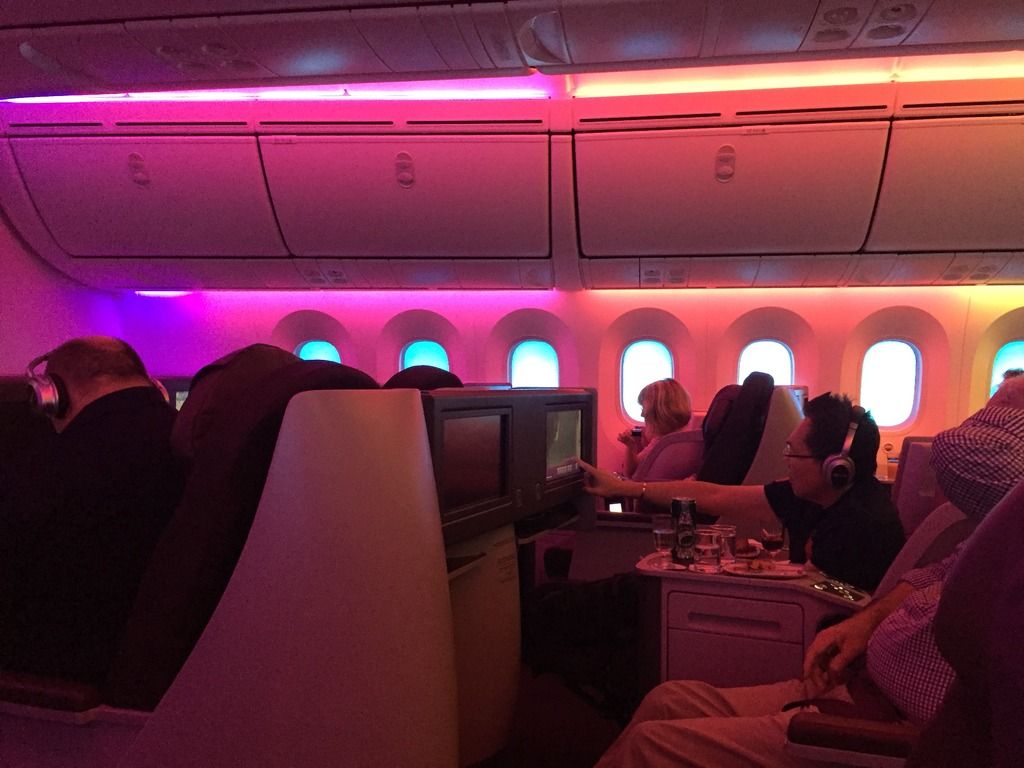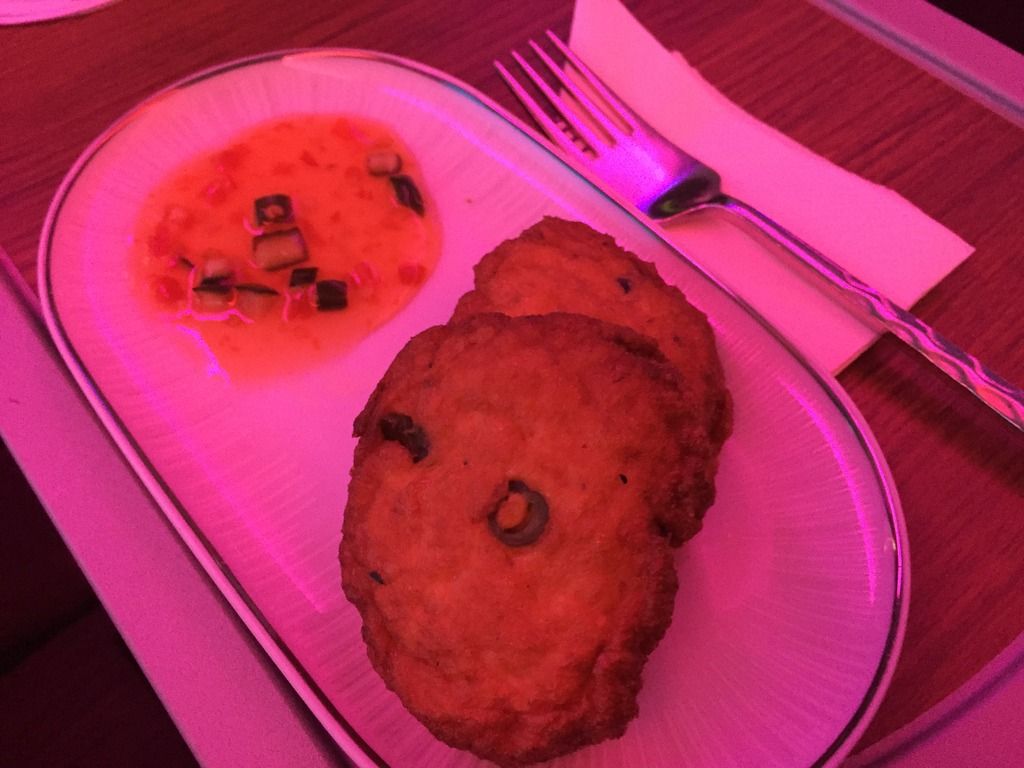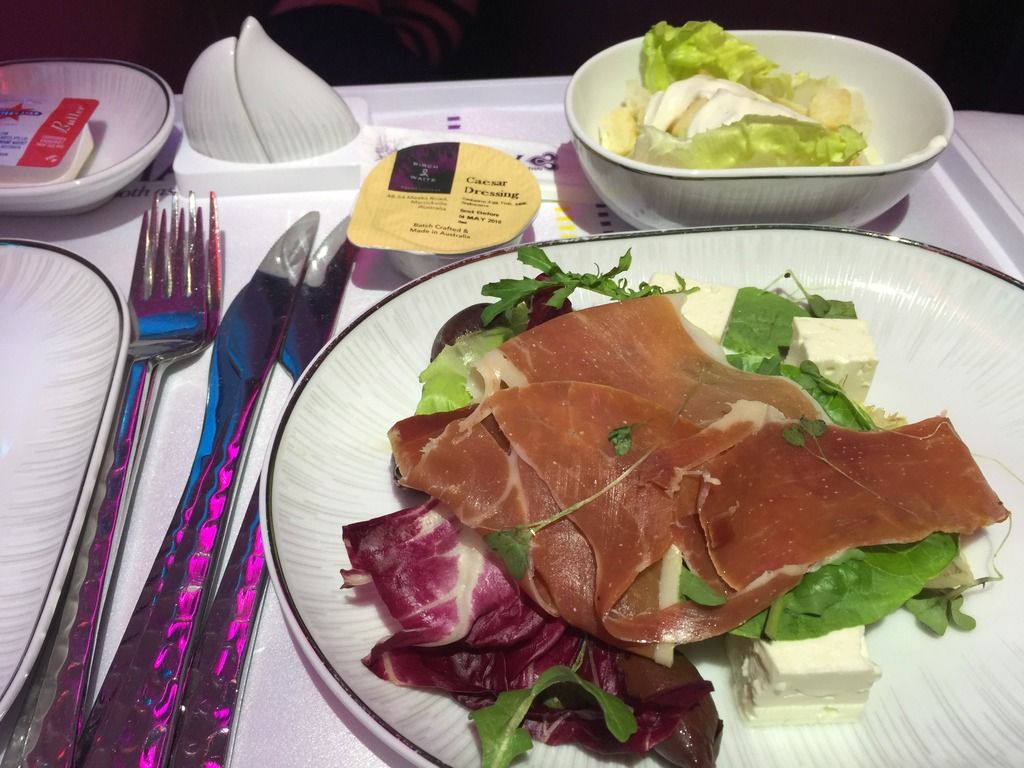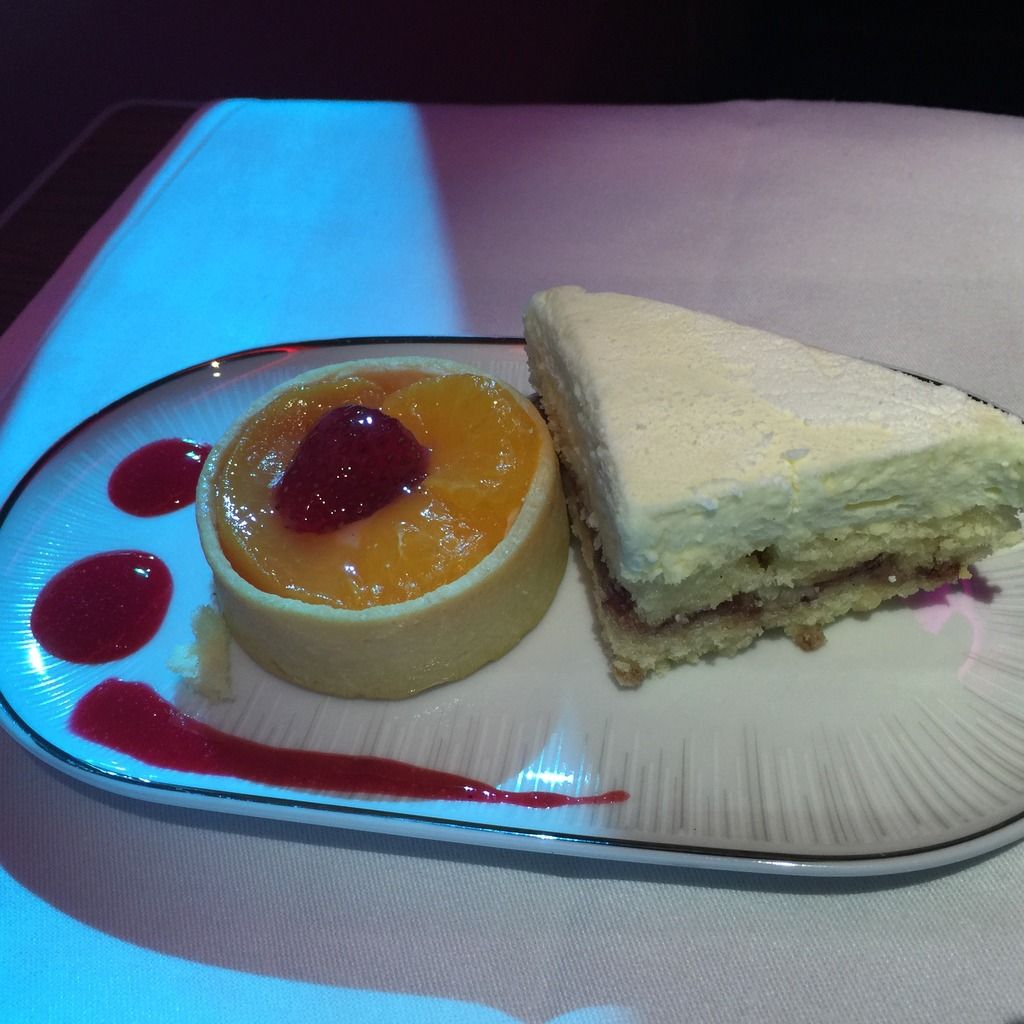 The amenities kit had usual items, all of which are useful and were appreciated. The soft case also has a nice feel and can be recycled.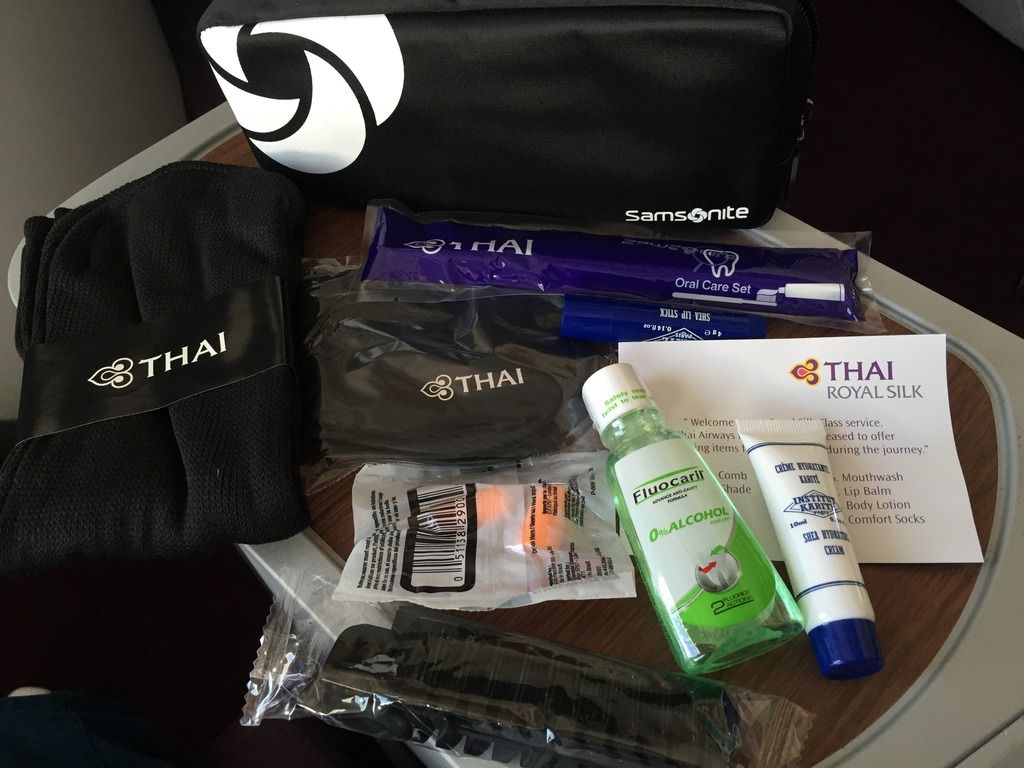 The sun set as we flew over Indonesia and the window shades were all set to the dimmest shade, still allowing a lot of natural light to permeate the cabin without disturbing sleep. I didn't recline to the sleeping position because I don't sleep on flights (too excited) and this was only an eight and a half hour flight, so between the meal services, was time to gaze at the wonderful ITCZ cumulonimbus.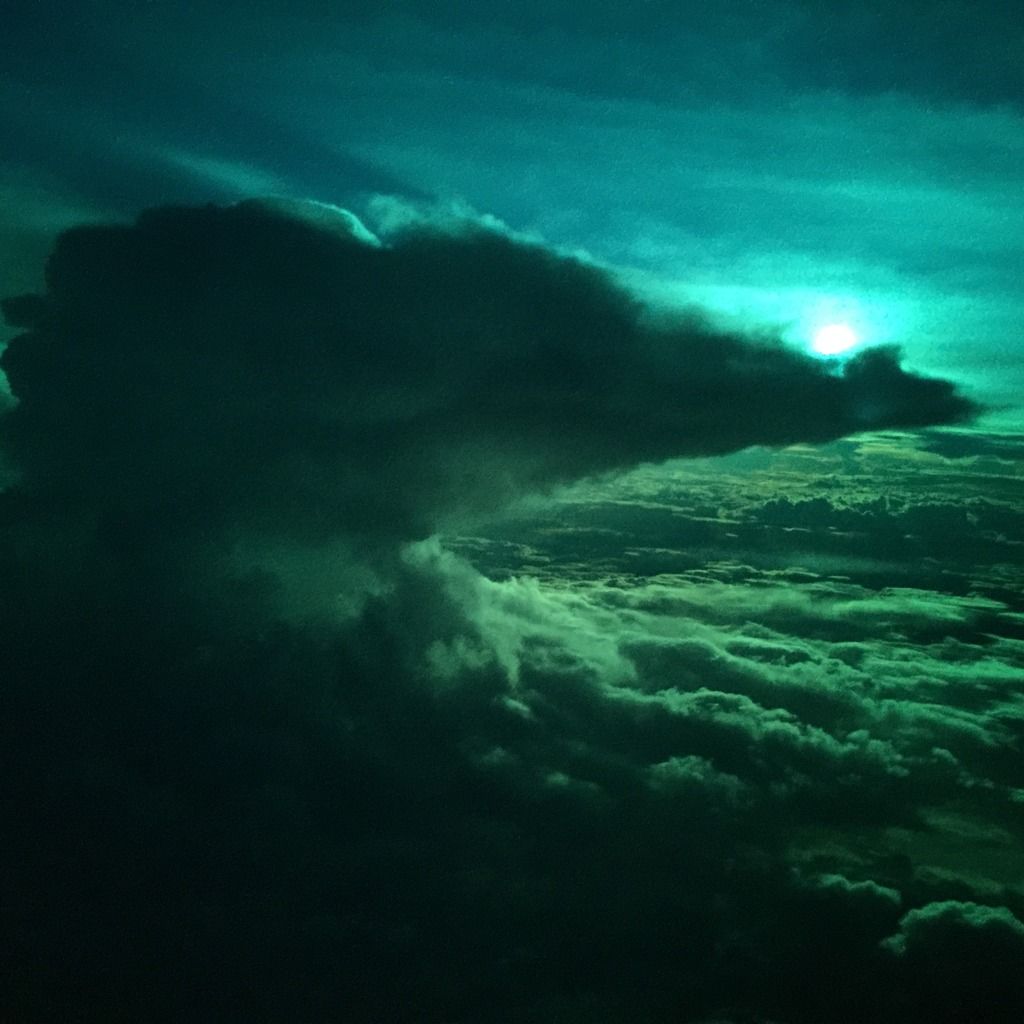 The FAs were very keen to talk about the 787. They proudly showed me the USD$100000 microwave oven used just on the 787. SQ are camera shy in their galleys...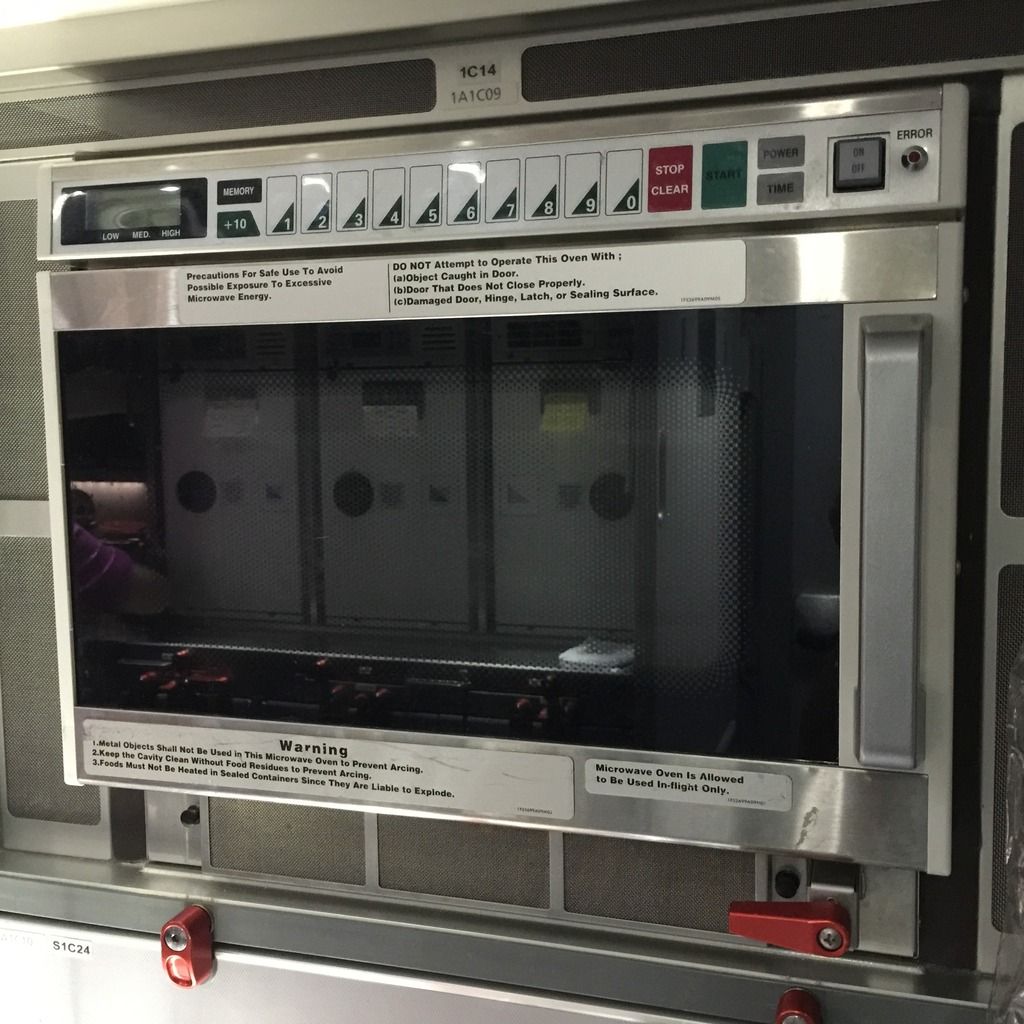 Some pics of the entry/front galley area.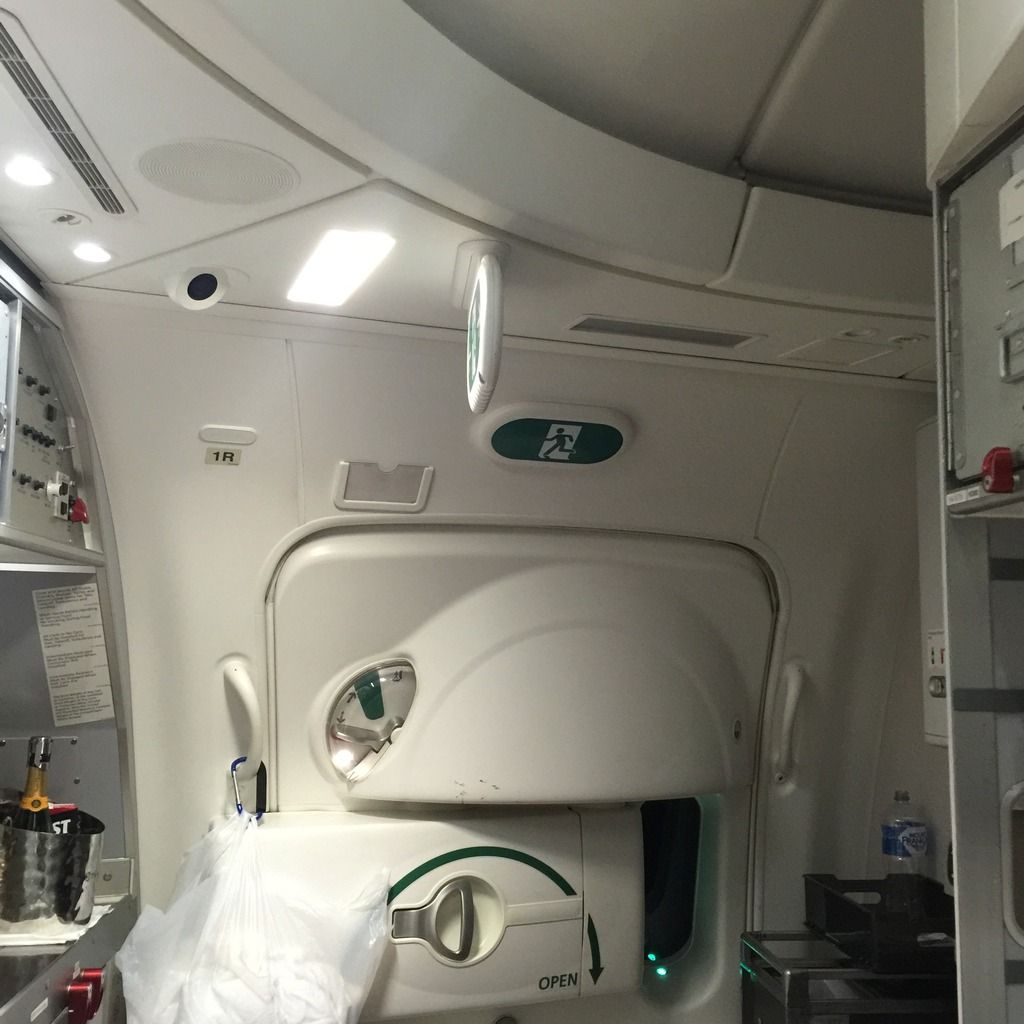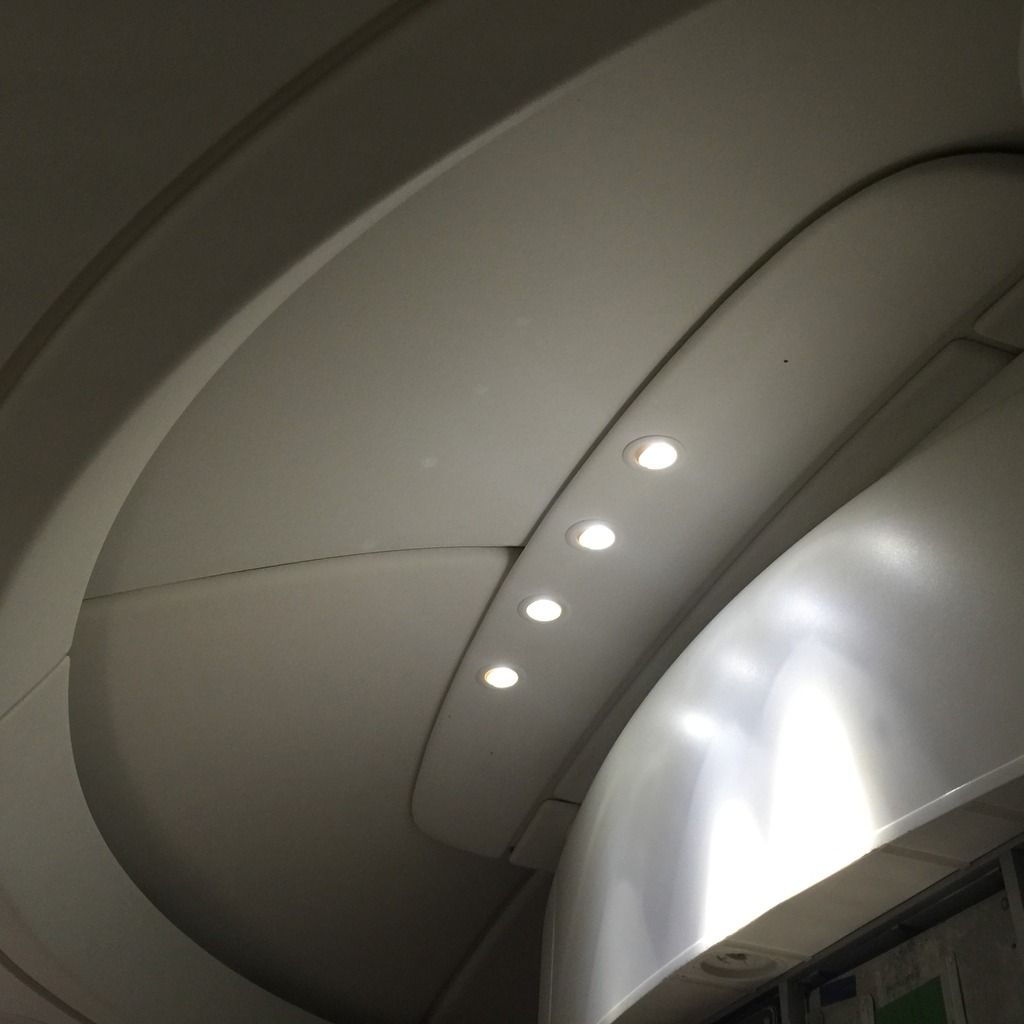 The second meal service was spicy chicken rice, which was very good. The Ferrero Rocher chocolates were a nice touch and the FAs provided more with hot drinks after the meal. I arrived feeling like a python that had just swallowed a goat (well, not quite that bad). There was certainly enough high quality food and beverage.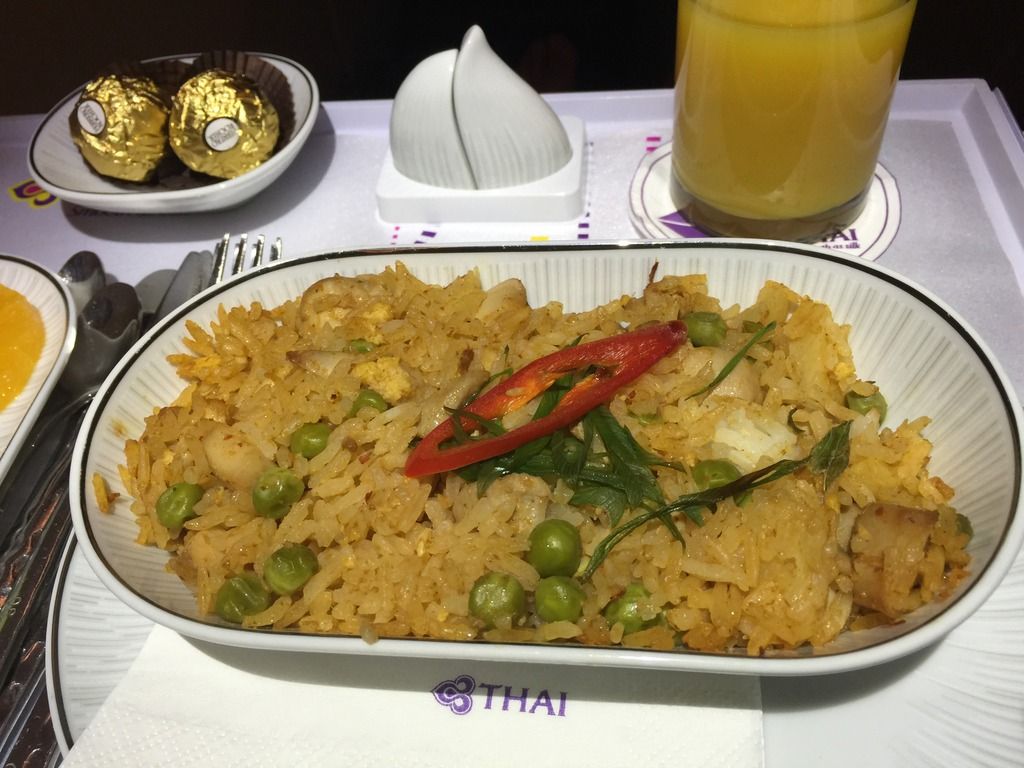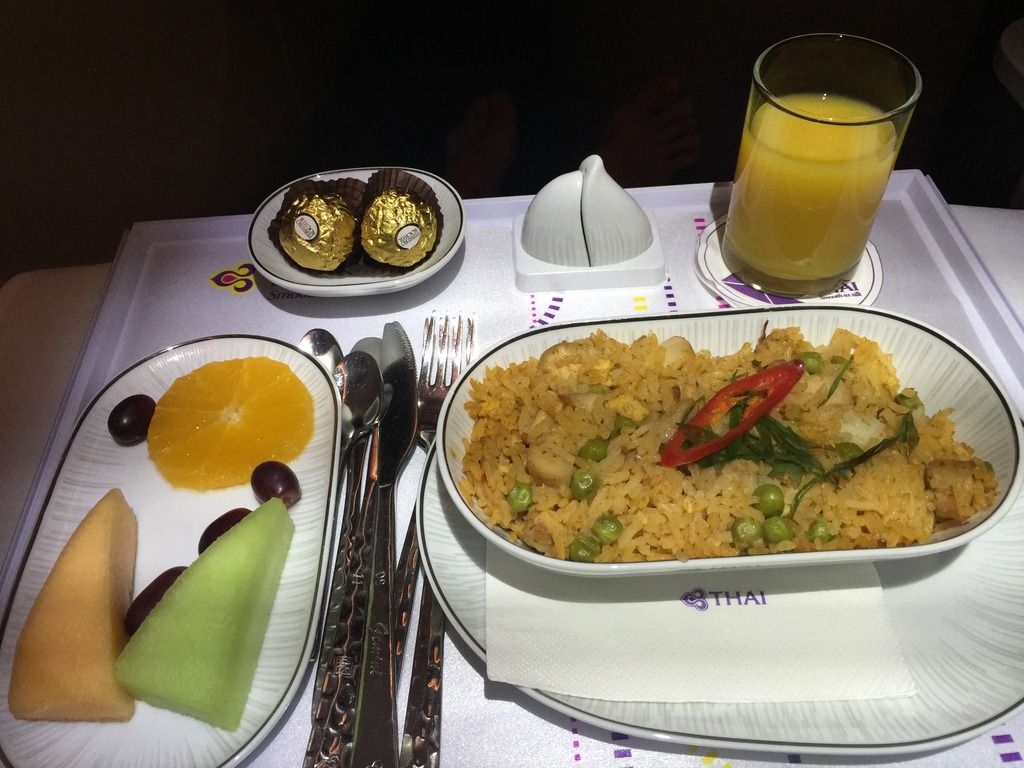 Aren't the salt & pepper shakers cute?
We arrived on time at 8 p.m. and were bused to the terminal, alighting close to immigration. No one was waiting at the express immigration. I don't remember the last time I didn't have to wait at immigration in Bangkok. The luggage arrived soon after, completing a fast, smooth, quiet and friendly flight experience from check in to baggage collection. The experience was worth what I paid. TG used to fly a 777-300 to BNE daily, but I do prefer the cabin comfort of the 787. Having travelled on a dozen or so long haul 787 sectors, I definitely notice a lack of dry eyes, itchy throat, coughing, sneezing and overall fatigue. The aircraft is quiet on take off and is fairy quiet during cruise.
I'll soon post a report of my TG A380 onward flight to Tokyo. That was quite a different (but also wonderful) travel experience to that on the 787.