TG A380 BKK-NRT In J New Dining Experience
Posted: Tue Mar 15, 2016 2:32 pm
TG676 A380 HS-TUB "Mancha Khiri" Upper deck Business class Seat 14G
This report follows from my TG 788 report BNE-BKK. After a brief stay in Thailand, I continued to Japan, choosing TG's A380, the third time I've taken this particular flight.
Check in at Survarnabhumi Airport (BKK) around 5:30 a.m. for scheduled 8 a.m. departure. No one was waiting at check in, nor at security. Even at this early hour, all the staff were cheery and polite. Clearing immigration took just a few minutes, so from check in to getting to the Concourse C lounge took less than 15 minutes – which is quite a short time for BKK.
I was one of the first to arrive at the Royal Orchid Spa when it opened at 6 a.m. and that was earliest time of day I've ever had a massage! This time, it was a foot massage and a wonderful way to start the day. After a light snack in the TG lounge, it was a short walk to gate C7 for boarding. The TGA380 at the gate next to ours was heading to HKG. I've taken that flight a few times (on the A380) and really enjoyed the schedule and service plan – and of course, the aircraft!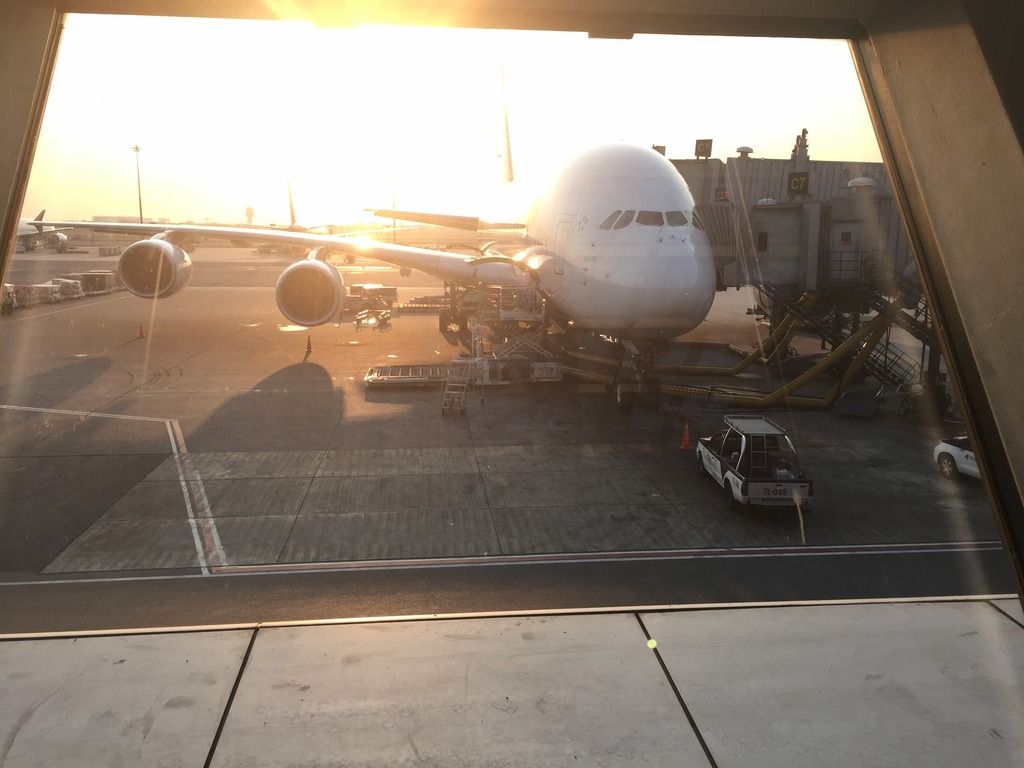 Upper deck J cabin Seat 14G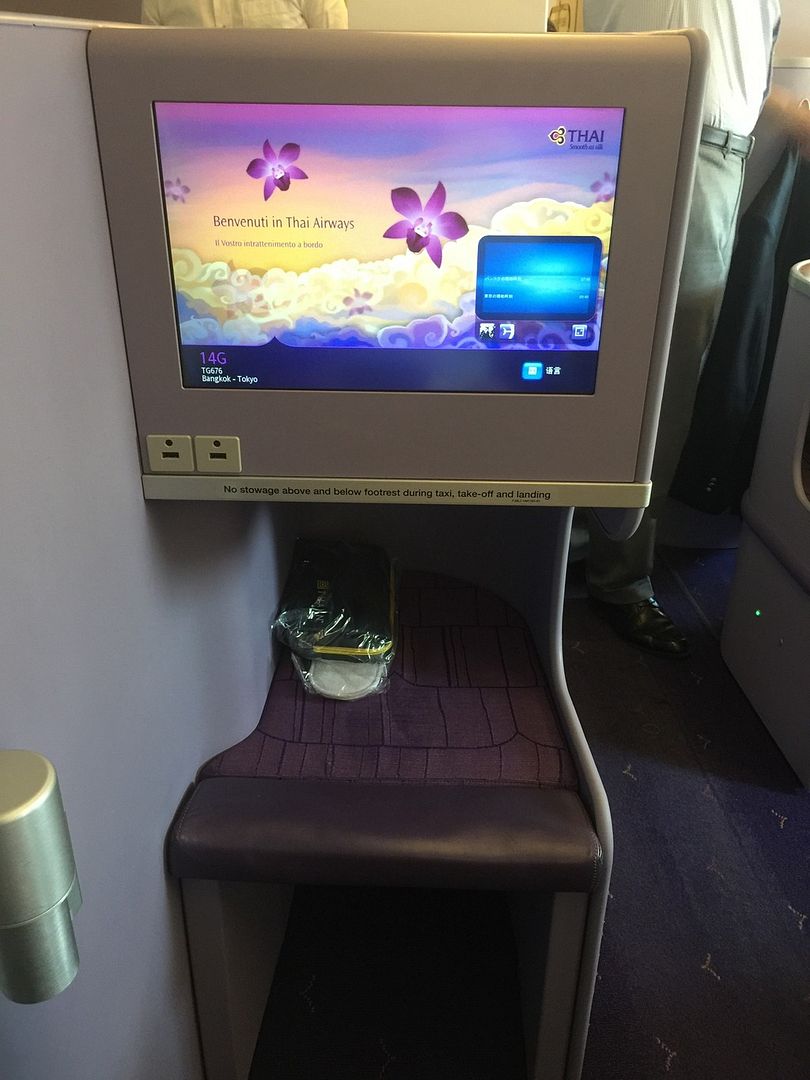 Cabin view from 14G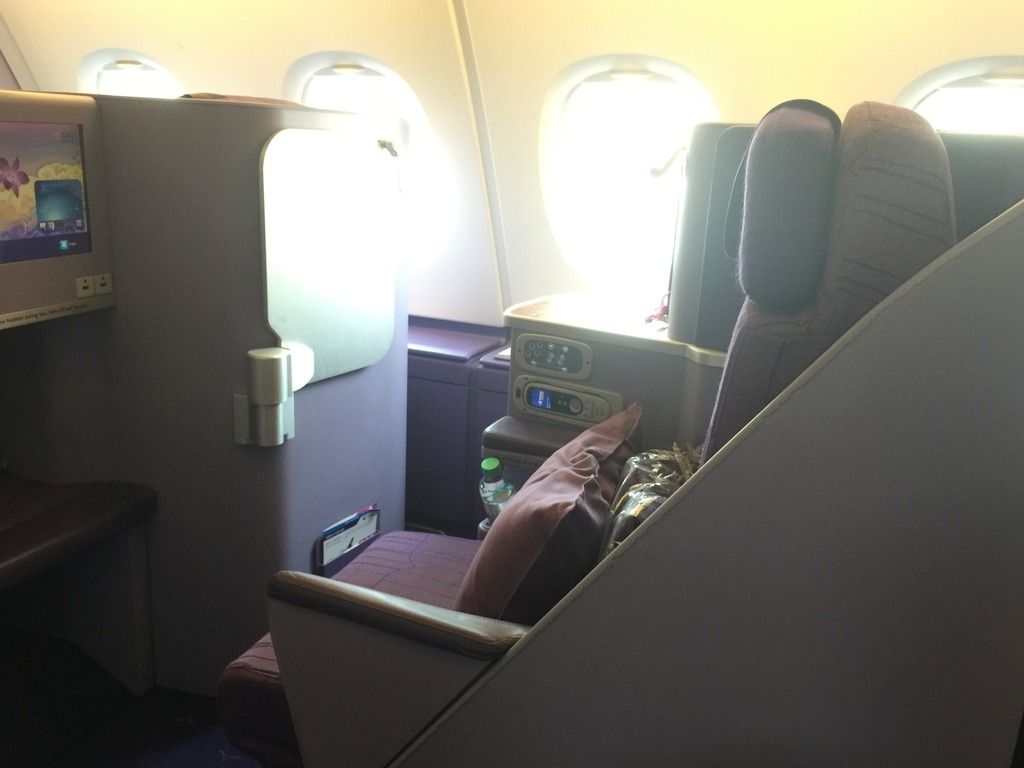 Pre take off drink
TG serve Veuve Clicquot champagne, which is a delightful, business class standard beverage.
The scheduled flight time BKK-NRT is almost 6 hours, but our fight time was predicted to be only 5 hours and that is a fast flight to cover almost 2900 miles, or about 4600km. Our actual departure was at 8:29 a.m. and as it turned out, with the usual, expected congestion mid-afternoon at NRT, we circled a lot and so arrived at 3:53 p.m. (scheduled at 3:50 p.m.).
After take off drink and (cold) nuts. The nuts were very fresh and really tasty!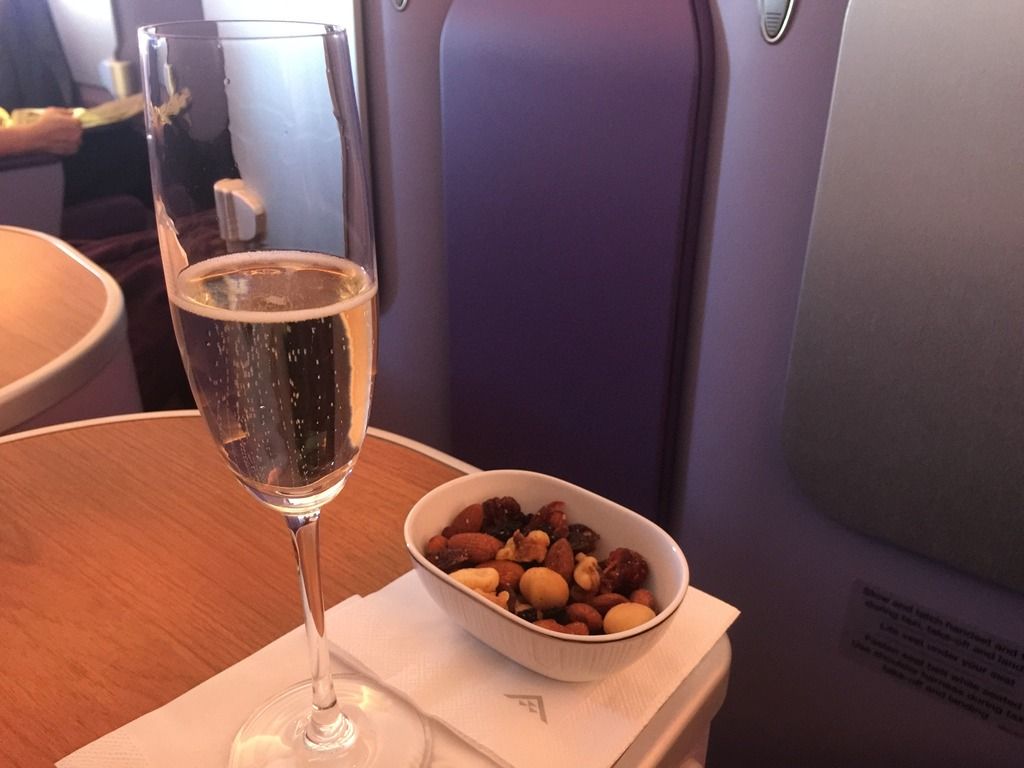 Note the new symbol printed on the napkins and etched in the glasses.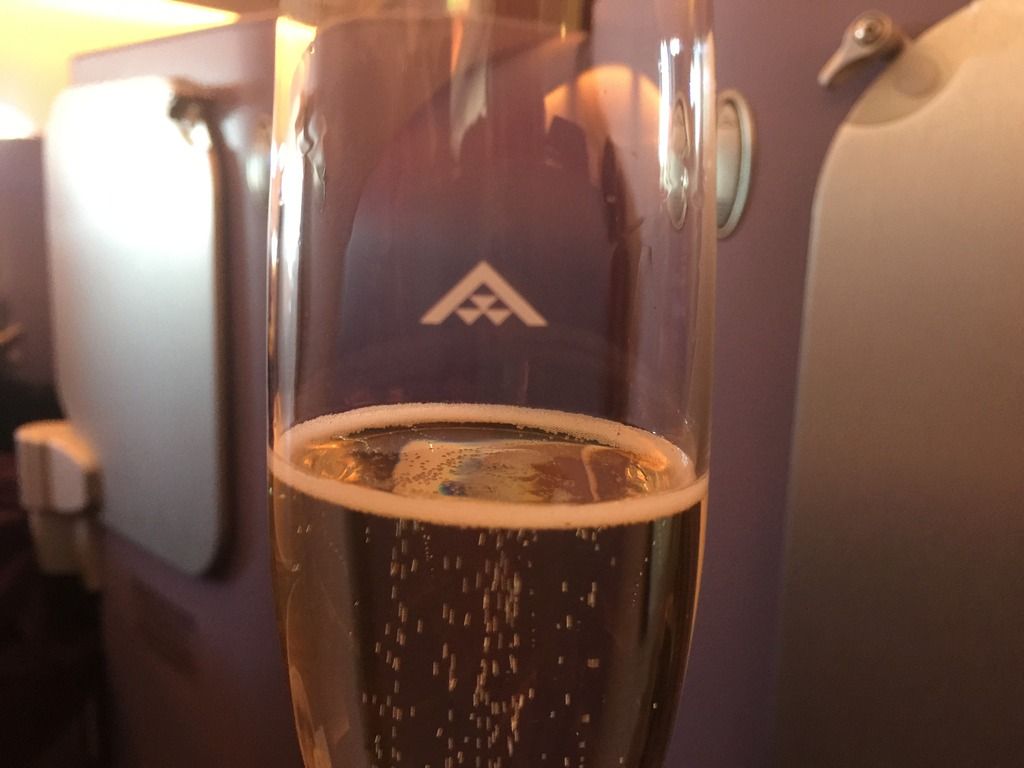 Check out the menus and the way they are presented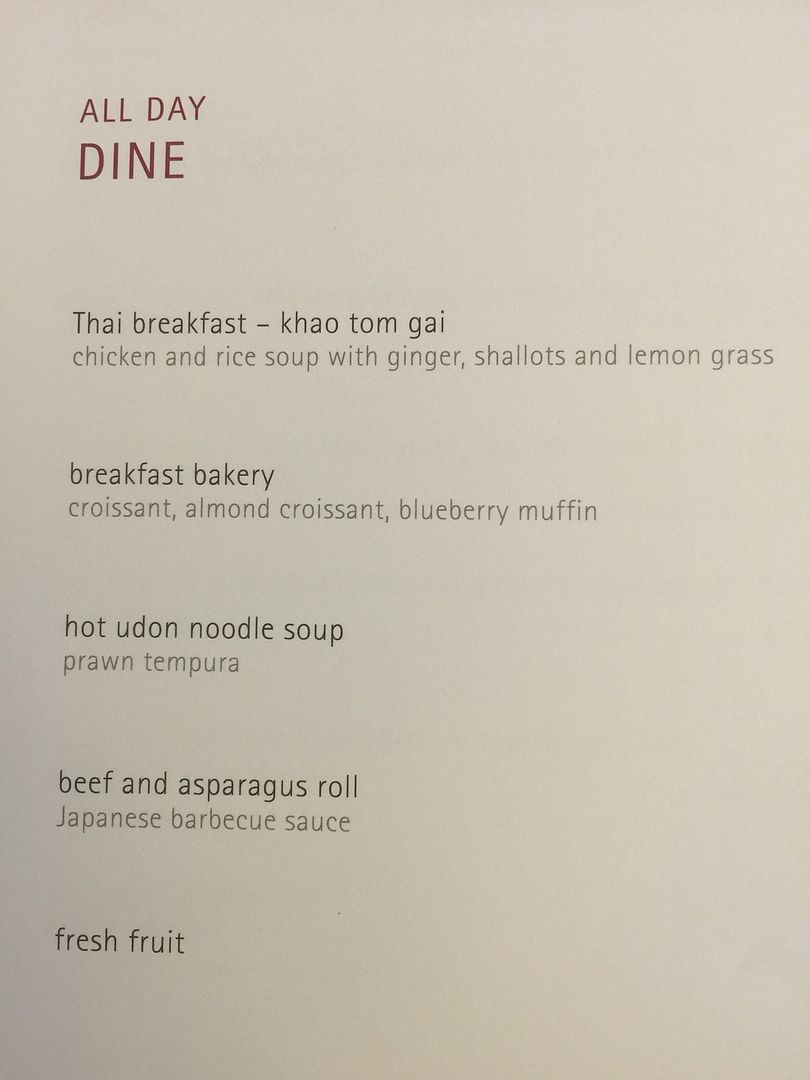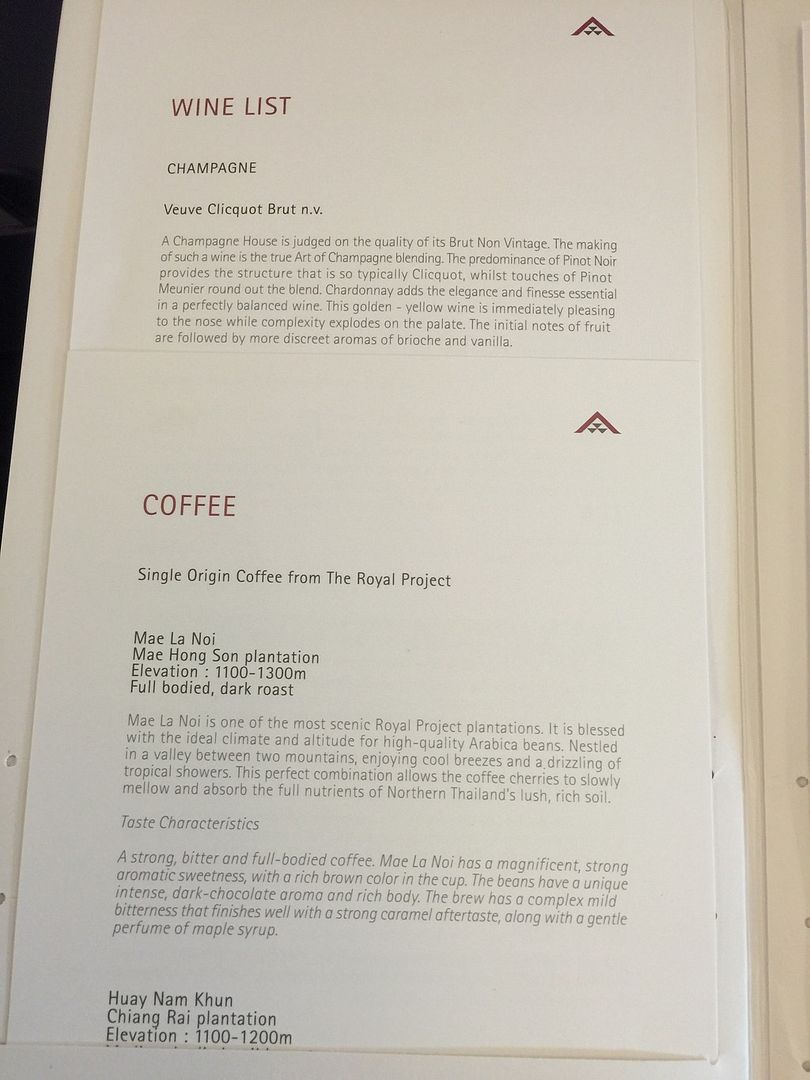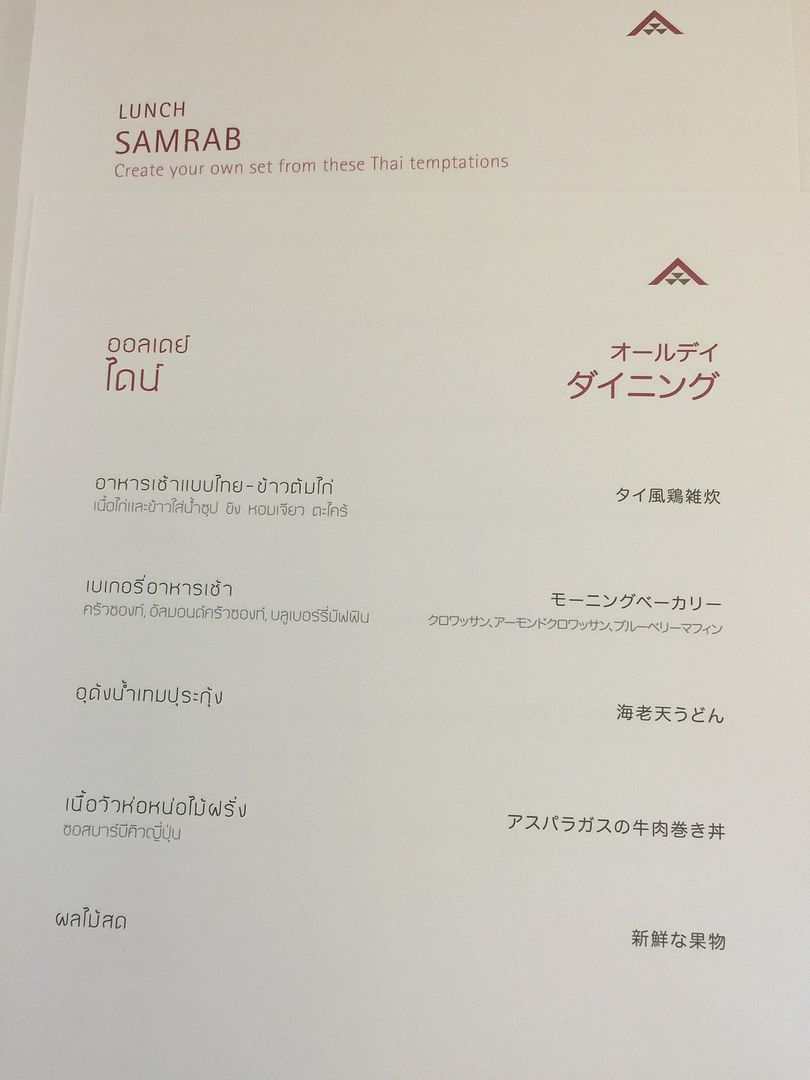 TG have a fairly new service concept on this flight. You can order from the "All Day Dine" menu featuring a 'breakfast bakery', soups or a hot rice dish as a first service option. Orders are taken and the FAs then prepare and serve you soon after. The galley serves the forward F cabin and J cabin behind. The FAs are constantly moving, but I never felt the service was rushed. The microwave in this galley cost 4 million baht, or about USD$114000.
I did not choose the first service, as I was saving myself for the items on the second service menu. Besides the first service, you can also order from the second, main service, where you choose from any number of meals that are prepared and served together about 90 mins after take off. The service/procedure is very much like that in the TG F lounge. There are standard favourites packaged in easy to heat and serve pouches with garnishings added later. Everything was fresh and very tasty.
Appetiser: creme fraiche with cracked pepper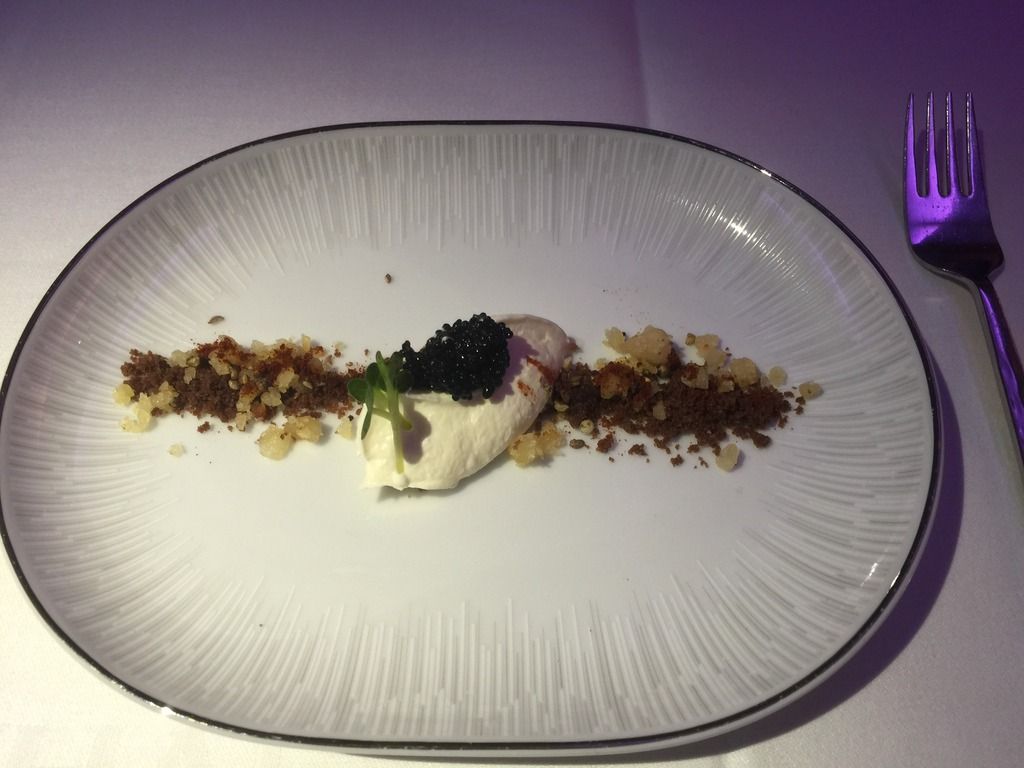 Grilled prawn on lemongrass salad, red chilli vinegarette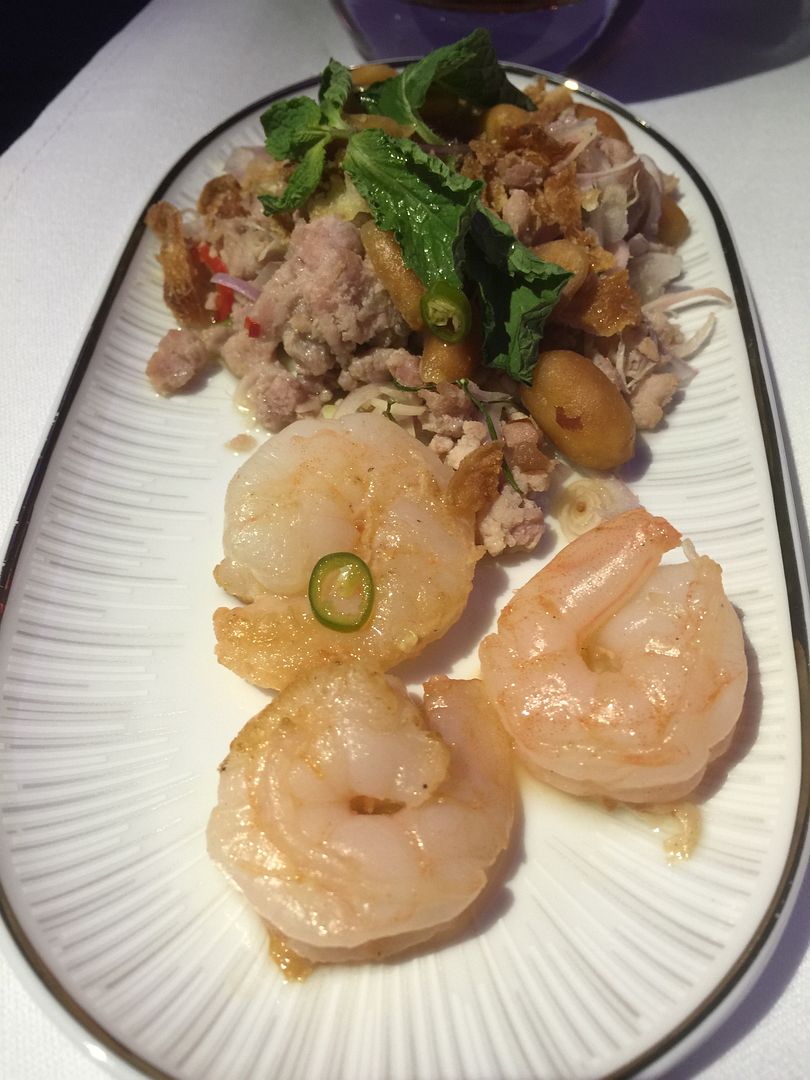 One of my favourites, tom kha gai – chicken in lime coconut galangal soup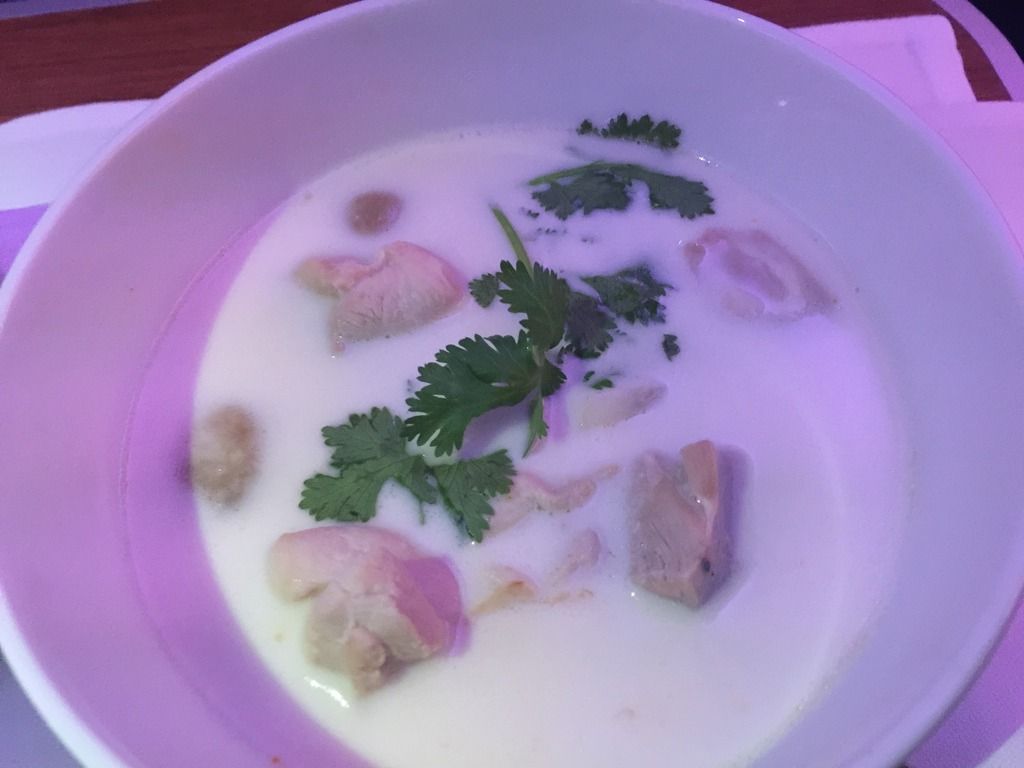 Braised beef and potato in massaman curry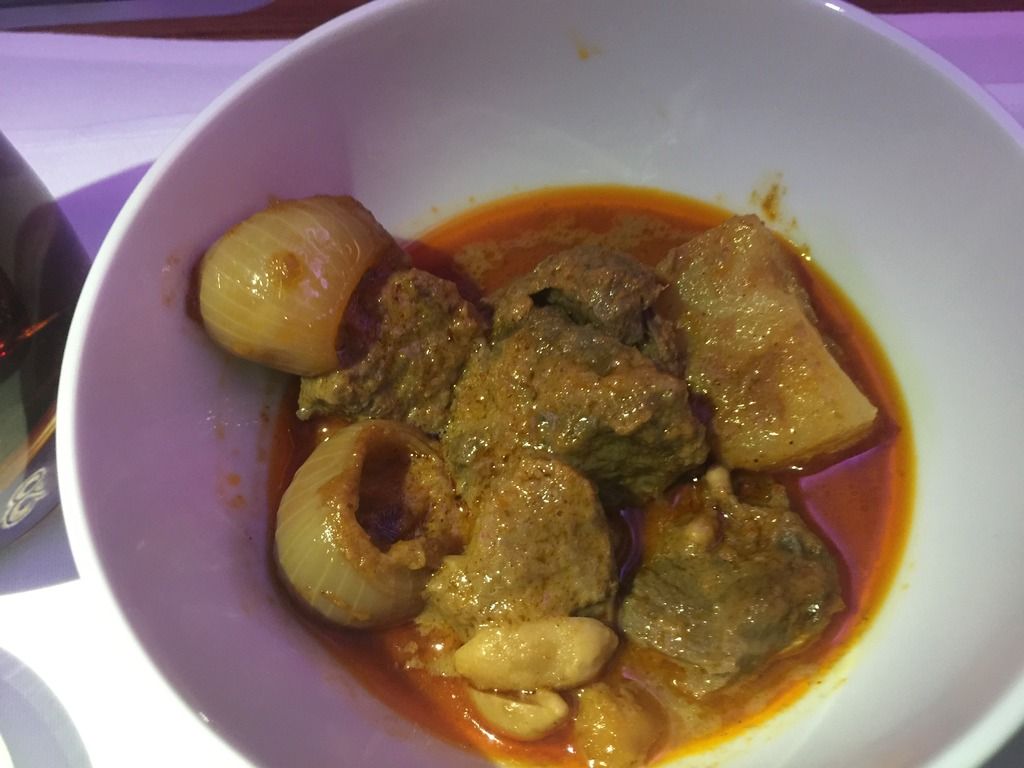 Served with thai style stir fried sweet pickled radish with egg
Steamed rice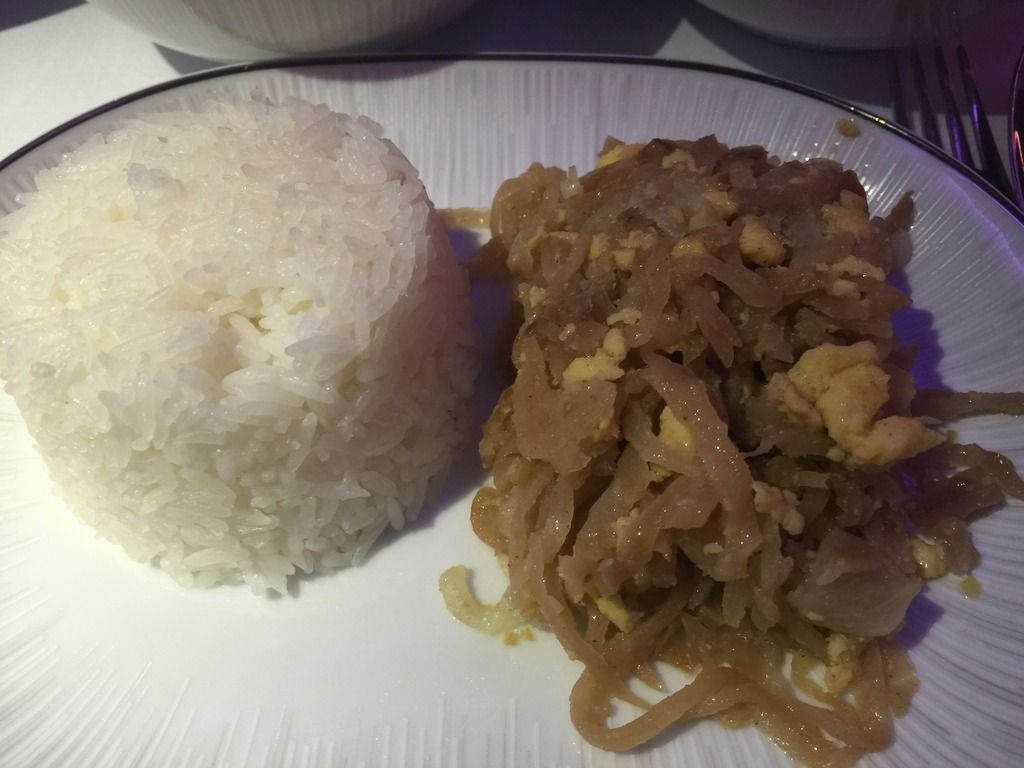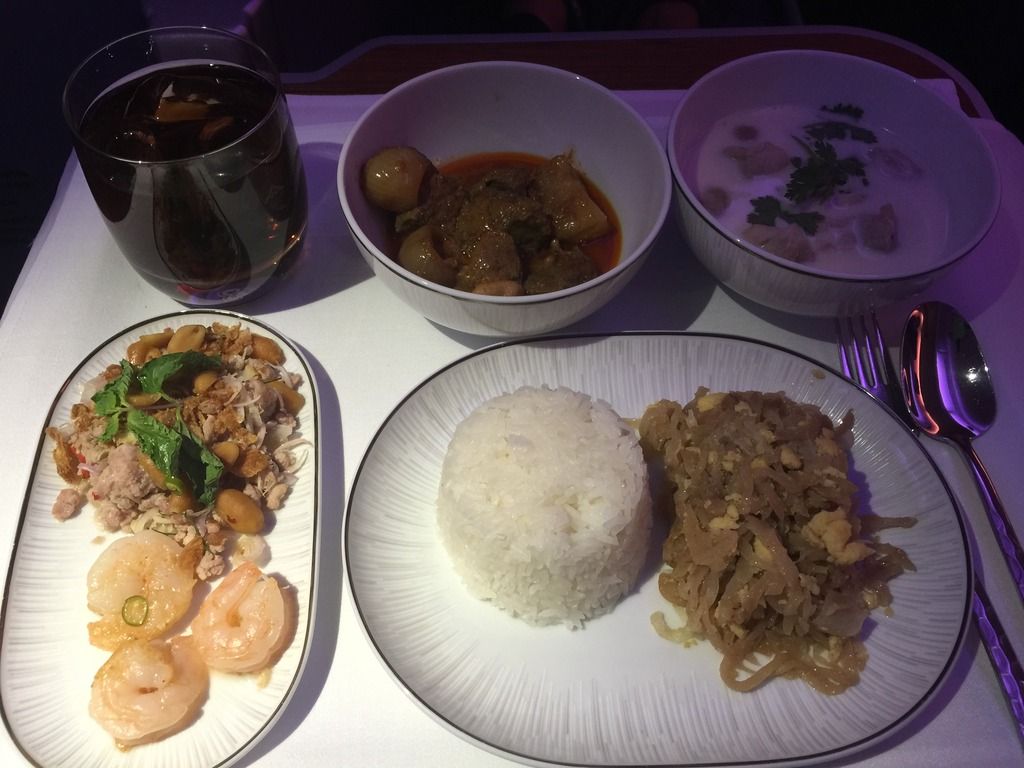 I chose just one dessert, the water chestnut rubies
Note that the other dessert was lychee icecream. It would be great if UA could serve something as interesting as that vs the vanilla with sugar syrup stuff they do… Even SQ serves Haagen Dazs choc chip in Y…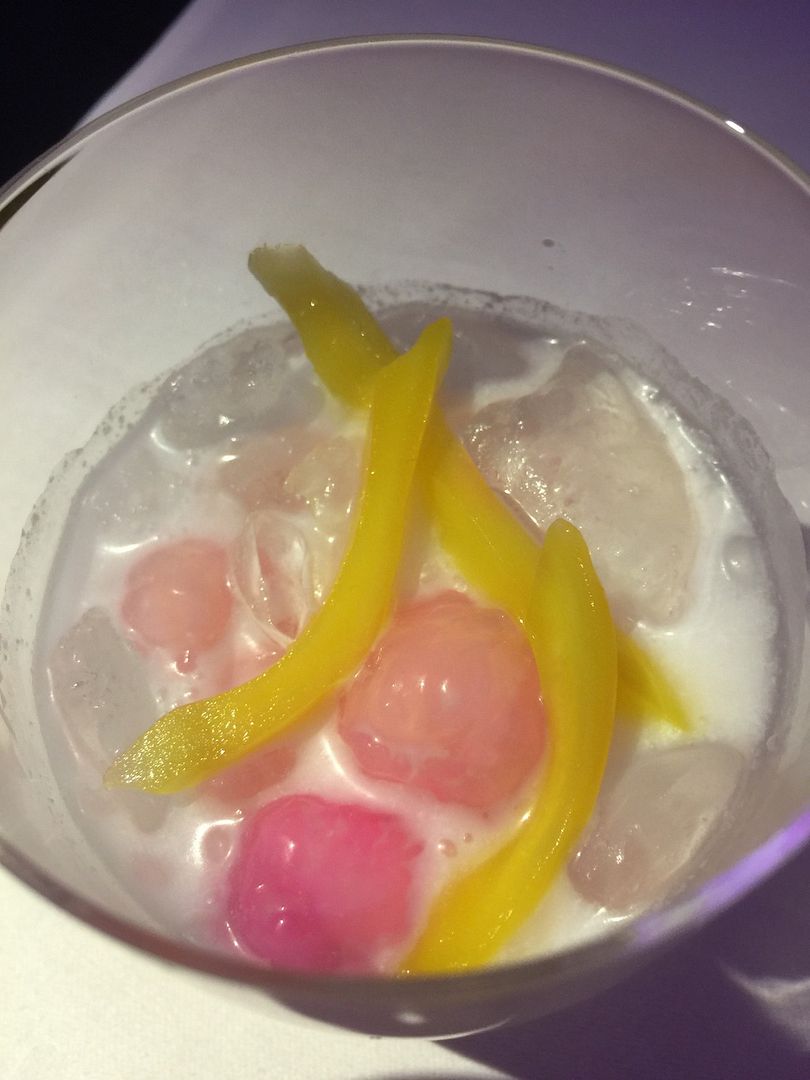 Following the second service, I ordered a hot Ovaltine that was served with a very nice chocolate. Additional chocolates were provided without even asking – how did they know I wanted more than one?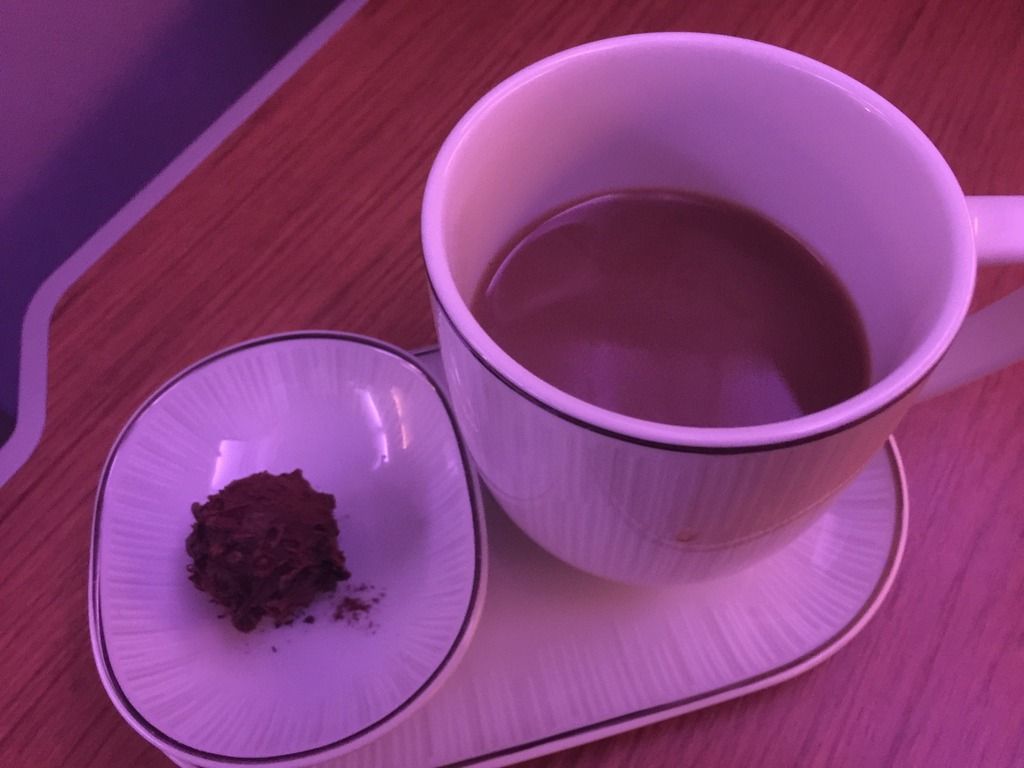 The configuration in the J cabin is 1X2X1, with alternate rows with single seats next to the window or the aisle. These have a side 'desk' area, which is convenient for placing drinks and documents. The centre two seats are arranged either together, ideal for couples, or separated with closer access to the aisle.
The seat was comfortable, but I can't comment on the sleeping position or comfort, as I didn't recline to the flat bed. I don't sleep on planes and this was a daytime flight in a well-lit cabin as well. Two points I wish to make are: 1. get a seat closest to the window because there was the constant movement of FAs and this busyness right next to my armrest was a bit off-putting; and 2. sit towards the middle or rear of the J cabin to experience less FA foot traffic and noise from the galley. My seat, 14G was the second row from the front of the cabin behind the galley and it was noisy.
On this sector, the sun glares brightly on the right side of the aircraft, so keep that in mind if you are 'light sensitive' for sleeping. Unlike on the 787, the A380 shades are manual and the cabin was very well-lit.
I found it a bit odd that the toilets were located in the galley area, so it was necessary for passengers waiting to use the toilet to keep out of the way of the busy FAs. On other sectors served by the A380, such as LHR/CDG/FRA, this area is set up as a bar, with drinks and snacks arranged.
Arriving at NRT always involves a lot of walking. It certainly involves a few hundred metres to get to immigration, but after quick entry processing there, my bag arrived shortly after.
I loved traveling in J on this sector. The staff were run off their feet though. It was a busy restaurant-type feeling where I was seated. Having said that, all the FAs were friendly, polite and very attentive. As they zipped backed and forth, they kept an eye on my drink level and I was offered numerous top-ups without having to ask. At the end of the flight, (probably) the purser came to say thank you to each passenger and at that time, used my name. With 60 J seats though, it was understandable that such a personal level of attention was not received by the FAs serving my aisle. With only 24 J seats on the 788, the FAs from BNE to BKK did constantly use my name during their service.
I love the way that the A380 can allow a bar, lounge, shower, innovative use of space as opposed to the physical limitations of a 777, for example. Besides the A380, I find the downstairs toilets on the A346 to be an interesting use of space. I hope to travel on the BKK/NRT route again on TG and I was happy to pay what I did for the quantity and quality of service I received.