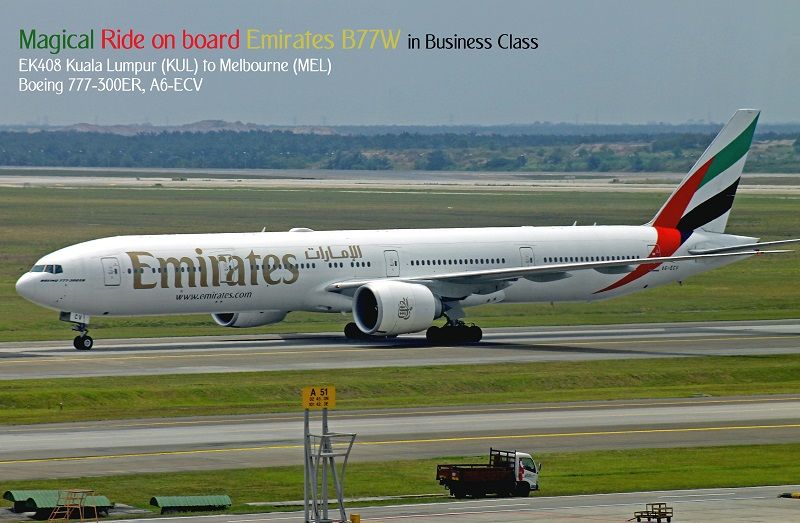 Hi everyone!
I hope you had enjoyed the first two installments of my
magical ride
series aboard the EK A380, where my experiences from the two A380 flights have left me amazed.
As one would say, a good experience invites a returning customer. Personally speaking I was not the biggest of EK fan when I first flew on them a couple of years ago. They were truly world class, with a top-notch equipment and facilities but somehow the entire experience can be a hit-or-miss.
It was not easy to change my initial perspective on a brand but largely thanks to the crew on my previous A380 flight I somewhat grew fonder towards the airline. Hence, on my next trip to MEL I decided to book another flight on EK408 KUL-MEL. No harm done especially when the airfare was about 20-30 percent lower than CGK-MEL or SIN-MEL on other airlines (or on EK's own SIN-MEL services also).
Frankly speaking, given my previous experience I had high expectation over them although constantly I reminded myself not to, for two good reasons (1) It is a B77W operated flight, (2) I book a fare in their lovely 3-4-3 Y class although I have placed myself conveniently on the last row that has only two seats (2-4-2 config rows). That being said, do follow my journey on the third installment of my
magical ride
with Emirates!
FLIGHT DETAILS
Emirates, EK408
Kuala Lumpur (KUL) - Melbourne Tullamarine (MEL)
Boeing B777-31H(ER), A6-ECV
Delivered 19/10/2009, msn 35594
ETD: 1520 (Actual around 1551)
ETA: 0155 (Actual around 0143)
Seat Number 11E
Check-in and KLIA Express Ride
Having completed my SIN-KUL sector on WY, followed by a two-days layover in Kuala Lumpur, I continued my journey through KL Sentral station, where the KLIA express trains to the airport depart from.
Good to know that EK is one of the carriers with a check-in desk at the KL Sentral station. It is certainly nice to reduce the hassle of carrying my luggage on the train.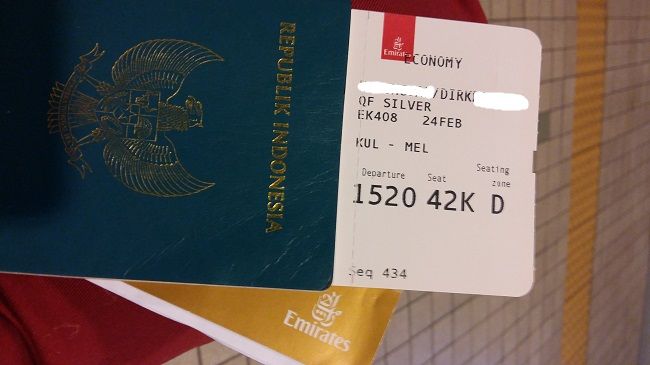 All check-in process done, my bags are checked and I got my boarding pass with my pre-booked seat number.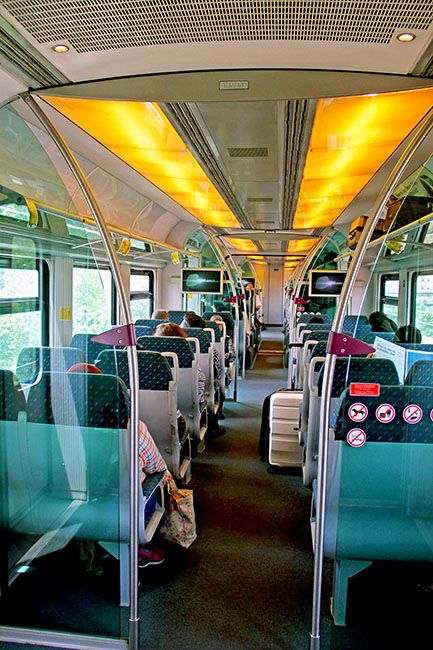 Taking the KLIA express train to KUL airport. The journey roughly takes 30 minutes from the KL Sentral station. It is a clean and comfortable train with a complimentary internet service, although the recent price increase does brings it to the pricier end of Airport train services.
KLIA Main terminal departures area. You can see EK check-in desks on a distant, but looking at how busy those desks were, I was pretty lucky to have done mine back at the train station.
Went to the "Anjung Tinjau" (a.k.a Viewing gallery) to do some planespotting and saw my aircraft, B77W A6-ECV arriving from DXB for a quick turnaround before my flight. I guess it is a sign that I have to get to the gate.
The flight: EK408 KUL >> MEL
Immigration and security screenings were passed smoothly. Since the plane was parked at the Satellite Terminal I had to take the airside train to get to my gate. When I reached the gate it was filled with people. Oh well, this will be one full flight I thought!
Our aircraft, 6.4 years B77W, A6-ECV.
Getting refueled for our continuing sector to MEL.
There were quite a long queue for passengers to get their boarding pass scanned, which is a procedure before passengers can enter the holding area before boarding. Extra security manpower were also present at the gate, not sure if it was related to recent events, or they were expecting a chaos with the fully-filled room with people. Nonetheless all those security personnels were sharp but courteous and friendly in doing their job.
By the time it was my turn to get my boarding pass scanned, the "BEEP!" red-light appears on the machine. While lots she had been getting a lot of "Ah, crap!" from the other passengers with similar situations. I told the agent "Thank you!" to which she look flustered and told me to go to service counter.
A man who queued behind me seemed to be flustered too, he tapped me and asked, "Dude, why are you saying thanks?! She have just told you to head for service counter?"
I just told him "Ah, it's okay you'll see."
A-netters sure knows what the red-light means. That being said the last time I got the "red-light" I was moved to an emergency row. I was quite nervous taking that short walk to the counter when the security man I talked to earlier, was following me to the counter. I certainly hope that I did not go into trouble.
So here I was, reaching the counter that was manned by the expressionless lady who was simply to be intensely occupied with the flight today.
"Hey, your colleague said I need a new boarding pass from this counter"
*Takes my boarding pass*
"Ok wait"
*Gives new boarding pass*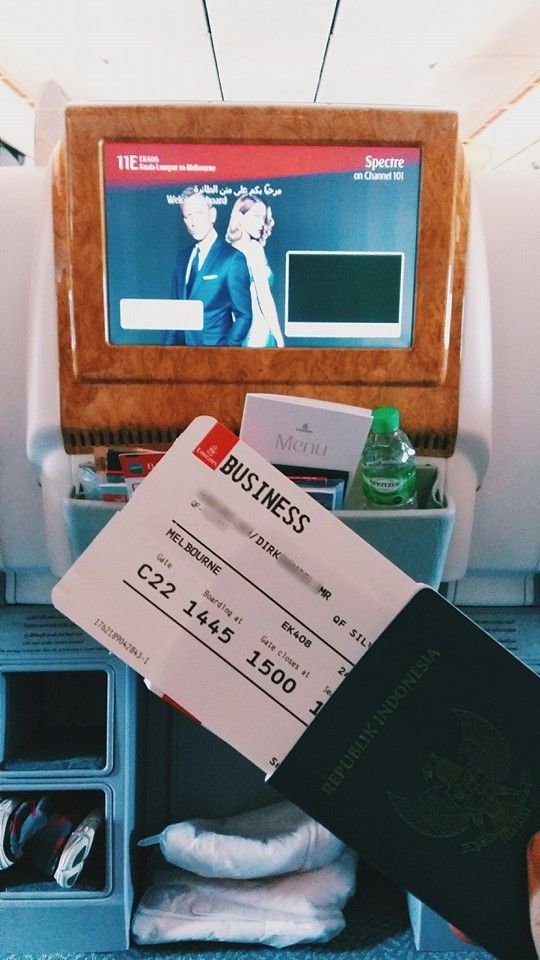 My new boarding pass. First time being glad losing my middle seat to a middle seat.
The security man that was accompanying me to the desk looked at my boarding pass and smiled. He shook my hand and congratulates me to have being upgraded. He told his other colleagues that I got an upgrade and everyone else echoing the congratulatory wishes. I thanked the security guys and the agent that scanned my boarding pass before sitting at the holding area. It sure does feel like winning a lottery for that moment.
I only waited for ten minutes before boarding calls were made.
My row of seat, 11 D-E-F. Like many have emphasized on the forum, the only drawback on EK J class is certainly their 2-3-2 configuration on the 77W flights.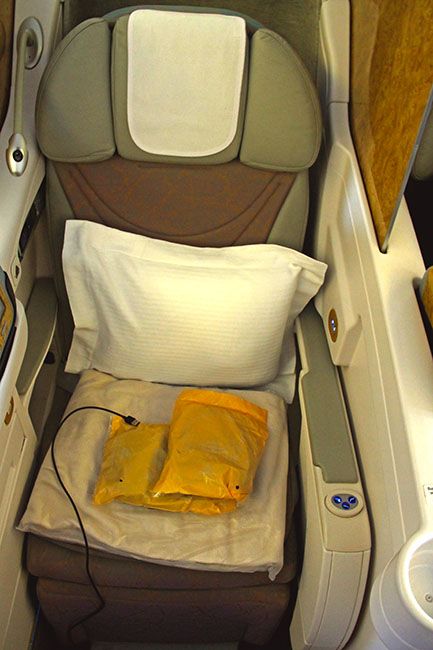 I had the honor of sitting on 11E. But hey, being in the middle seat in J is better than in Y right?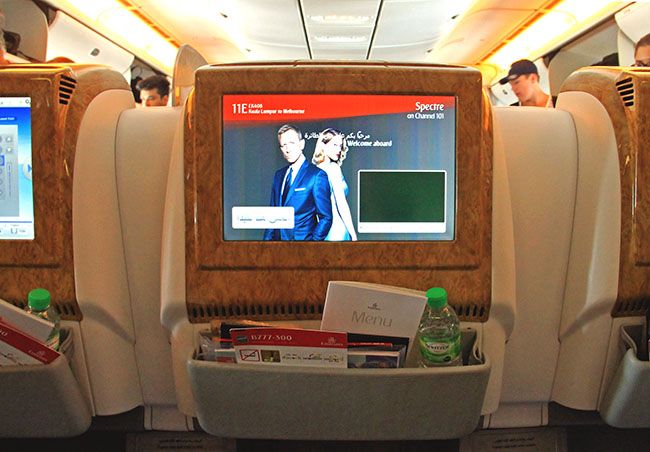 Our seatback with full seat-pocket content.
As the doors were closed, the Captain announced on the PA that we might be further delayed for about 15 to 20 minutes because one passenger has fallen sick and decided to stay behind in KUL. The ground crew were currently locating the passenger's bag on the cargo hold, before we can commence our flight to MEL.
As if the ground crew catch a lucky break (or very skilled) the bag was offloaded in less than 15 minutes. We were able to push-back the gate and make our way for departure. Safety video was played as we were taxing to the runway.
We were rolling down the runway for a lift-off from KUL, climbing over the clear skies while this is the closest I got to a window. But again, the tail-cam feature on the ICE system was not a bad substitute.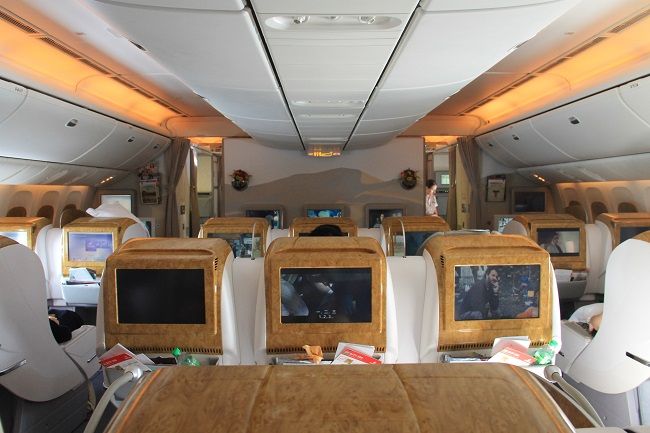 Calm afternoon on our cabin as the seat-belt signs were off.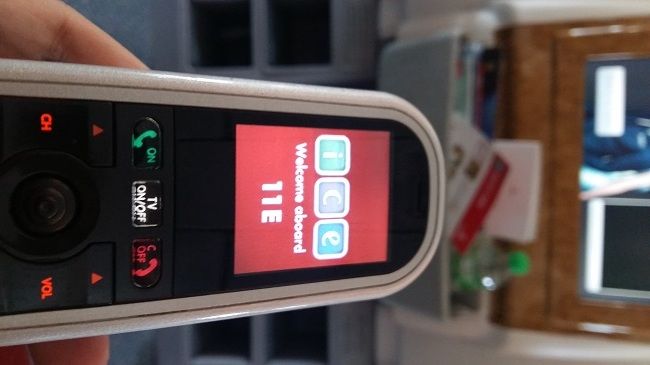 Checking the ICE system was one of the first thing I did. Our aircraft was equipped with the second generation of the award winning system. Jurassic park seems like a good company for the first two hours of the journey.
Noise cancelling headphones comes with the package.
Making a quick trip to the lavatory, clean and well maintained. More importantly it was well stocked with toothbrush and shaving kit.
Seat pocket contents: Open Skies magazine, ICE guide, duty free catalogue, Wifi and Live TV user guide, and the B77W safety card.
Our flight was equipped with a wireless internet access that is complimentary for the first 10Mb or an access of 500mb package for USD 1. Clearly one of the most affordable internet on the skies today.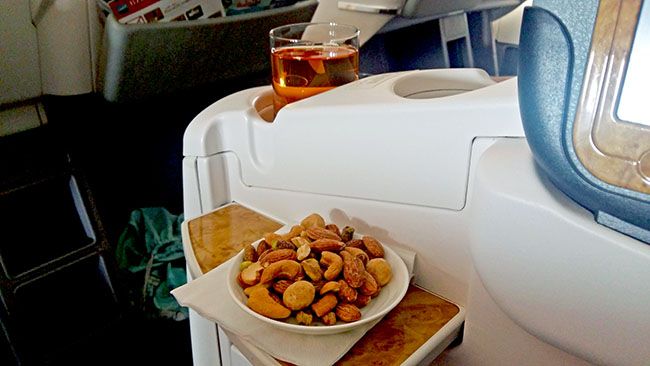 Peanuts and a choice of drink were served shortly after take-off. Not a bad way to watch the movie right?
Or even better, with a back massage accessible with a touch of a button (or a screen function).
80 minutes later we flew over my hometown, only to be greeted by an announcement asking everyone to be seated (including the cabin crew) as we expect to pass turbulent weather. Thankfully it was only a light bumps and everything resumes to normal in less than ten minutes. That being said, it was always good to take precautionary measures than be sorry afterwards.
Two hours into the flight, the dinner service commences. The French female FA dropped by and set up our tables.
Exactly like what was explained by the crew on my A380 flight last time, meal service on this (longer) flight will be in the sequence of appetizer, mains, and dessert served one after another.
She then brought our appetizers on the tray. My appetizer was Chicken Galantine, served with potato salad and mango salsa.
My main dish was Chicken Rendang with steamed rice and vegetables. It tasted good and slightly spicy, as was expected out of KUL catering.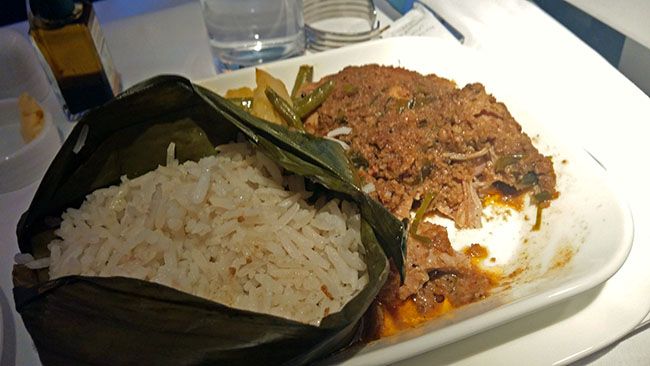 Closer look at my chicken rendang meal.
My choice of dessert was mango cheesecake, served with a cup of warm tea.
As the meal service completes, Kevin comes around our seat and cleared our tables. He asked if we need anything else after the meal service. Despite the full load, the crew did the meal service eloquently without rushing any aspect of the dinner service at all.
Shortly after the dinner service finished, the cabin lights were dimmed, just like the sun was setting outside the windows. Hopefully this way, passengers will have some bed-time before arriving into MEL over the next three-and-a-half hours.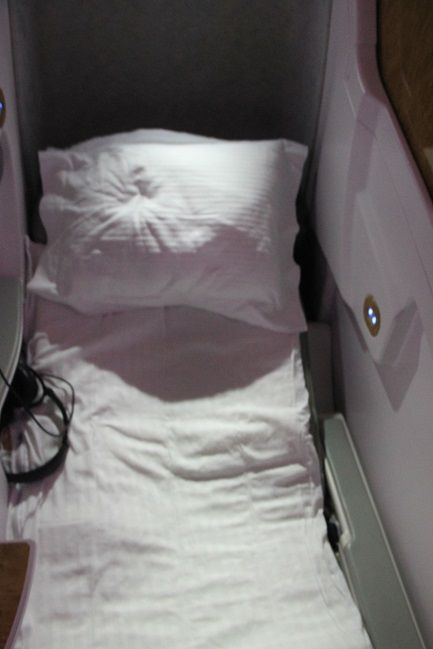 Another FA came around and set our sleeping pods before we catch some sleep. The seats were reclined to its maximum angled-flat position, and was covered with duvet for extra comfort. I had a good two-hours rest without any issue with the angled seat.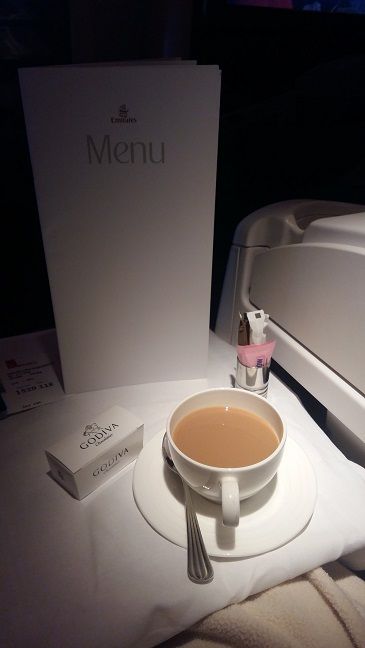 I was awake and the lights were still dimmed (insert that Jennifer Aniston EK ad) and realized that I was still enroute to MEL. Positioned my seat back into the normal sitting position before continuing on some movies on the ICE. Upon realizing I was awake, the French FA dropped by offering me any tea/coffee. So here it was, my tea served with (more) chocolates.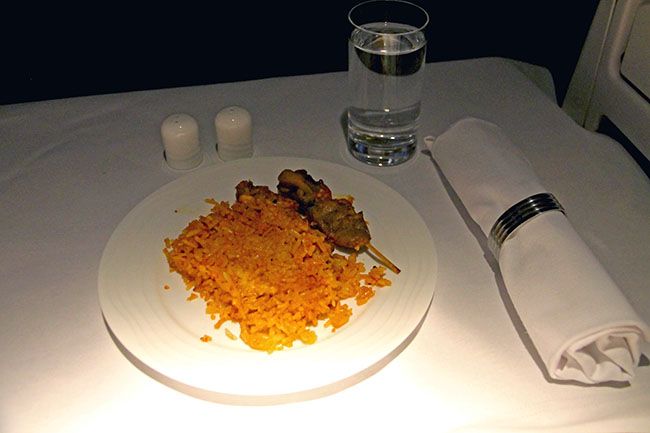 Looking at the menu, I see a section called "Light bites" which seemed to be available upon request. So when Kevin passed around I asked him for any chicken satay, which he brought me shortly after.
I was expecting a MH-like satay and rice cakes but hey, the satay and fried rice are always welcome!
Arrival into Melbourne
It was only about 40 minutes before landing at MEL, the lights were switched back on its brightest mode. As we were only half an hour away, the Captain announced that we were on descent and preparation for landing has begun.
Only 10 minutes away from MEL.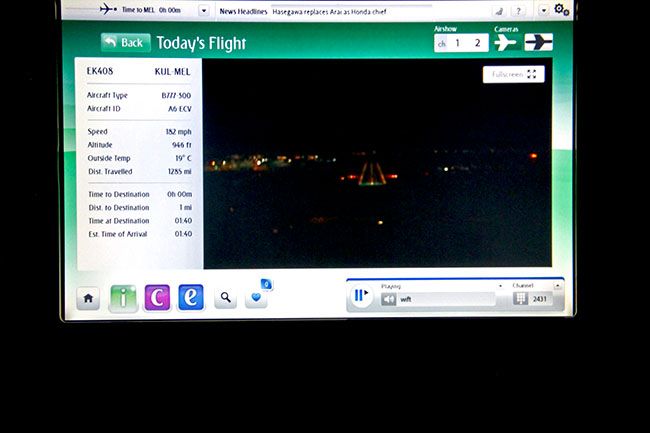 Runway in-sight.
Touch down of ten minutes behind schedule.
Reached our parking position in no time. That being said, we need to stay onboard for a further ten minutes as an Australian customs officer enters the aircraft and inspect something.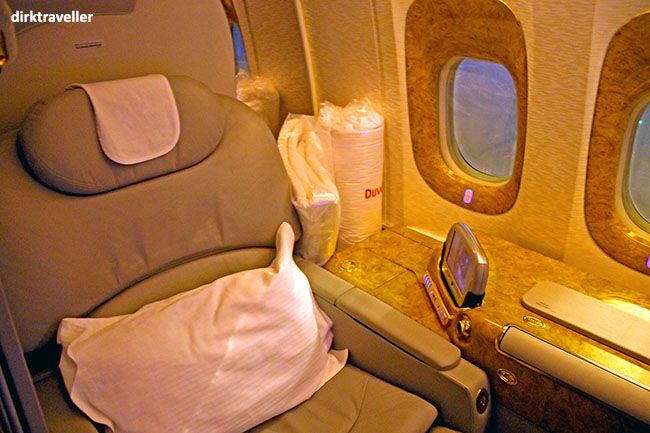 Before disembarking, I asked Kevin if I can pass through F class and had some pictures which was a welcome by him and the crew. That being said, the request for a flight deck visit was turned down (while there's no reason, I guess probably due to minimise turn around time due our earlier delay).
Roomier feeling due to absence of overhead bins on F class cabin.
I had my pictures taken on the F seat too.
The flight ended with a selfie with the man himself. I thanked Kevin and his team for looking after us onboard the flight down to MEL that day, before making my way out through L1.
As we were the last arriving passengers into MEL that day, passport control were streamlined into three separate desks, regardless of nationality or an express pass you're holding, which means a moment of queuing to get my passport cleared. Baggage claim and customs were a bit smoother, and I was able to leave the terminal around 30 minutes after our arrival.
FInal thoughts of the flight
First of all, thank you so much Emirates for upgrading me on my flight. It has been nothing short but a wonderful hop to MEL.
The seats were comfortable enough for me, and I had no issue with the angled flat on the flight. That being said, the only let down from the seat was its 2-3-2 configuration (which EK seems to be keeping it on its next-gen aircraft), it was not really that easy to navigate through my sleeping left and right seat every time I need to access the aisle.
The catering from KUL did a good job as usual and so does the ICE system with its widest of content selection to keep me entertained. The affordable wireless connection is also appreciated, especially to those who need to stay connected on this long flight. While the product itself was top-notch as one would expect from EK, this flight would not stand out without the crew on my flight that day. Thanks to the team for staying warm and attentive towards our needs, despite the heavy load on our flight. They remained interactive throughout the flight and at no point they were rushing on their service, which should be applauded. Hence, this concludes the
magical ride onboard Emirates B77W
for now!
Thanks for reading, your thoughts/questions on a reply are welcomed!
Best Regards,
Dirktraveller