Hi all,
Inspired by reading so many great trip reports over the years, I have decided to give it a go and share my latest adventure to Germany in April 2015 with you.
Business takes me back to Germany (my country of birth) once a year and being self-employed I do treat myself to business class on these long trips to Europe. Being a loyal Qantas frequent flyer my last trips to Europe were with QF/AY via SIN and HEL and once with QF/EK just at the beginning of their JV before the A380 became a regular visitor to BNE
This time made use of a Qantas offer for double mileage and within minutes booked BNE-DXB-HAM departing Brisbane April 29, 2015 on the QF website.
EK 435
BNE-DXB
29 April 2015
A380 / Seat 23 A
Made use of the free chauffeur service offered by EK and was picked-up at 6pm for my 9pm departure. I live in the northern suburbs of Brisbane so without traffic it takes just about 20 minutes to the airport.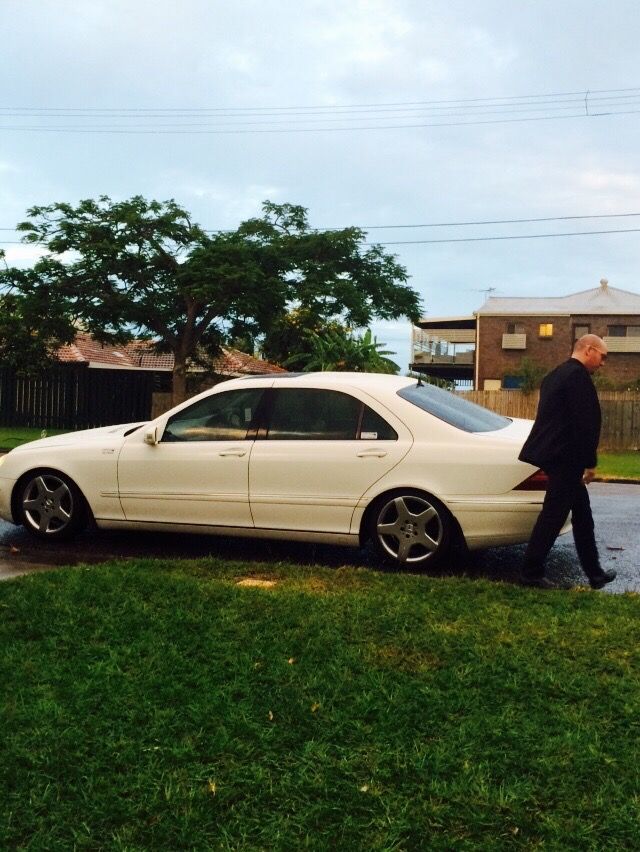 Had been a frequent visitor to the QF and EK websites but could not check in online so upon arrival at the empty International Terminal went straight to the EK First Class check-in counter and with a friendly smile asked if there was any chance of an upgrade from C to F. No luck but instead got my boarding pass for 23A (my preferred seat on the A380 / bulkhead in the smaller business class cabin towards the rear of the air craft)
Went through the security check and immigration (being a good German I always complete my departure card many weeks before my actual departure) and within minutes was on my way to the EK Lounge above the departure gate 75. Boarding of the whale is done straight from the lounge.
My A380 (did not get the registration) had arrived nice and early from AKL and was prepared for the long journey home back to DXB. Sorry this is the best picture I could get of my ride.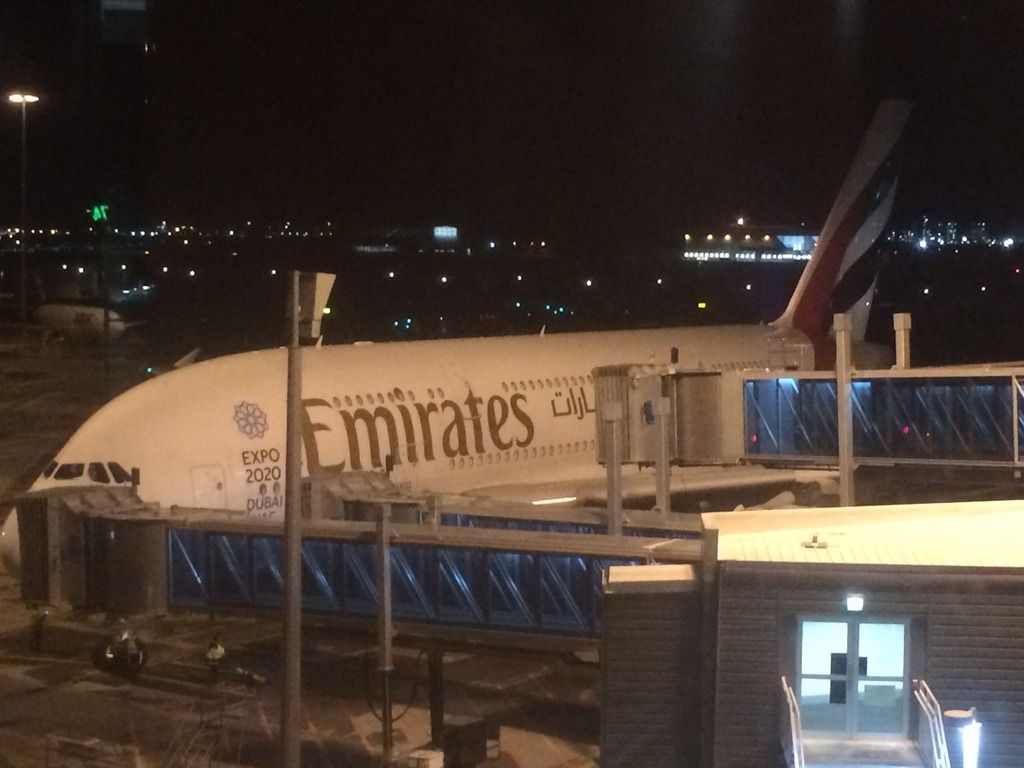 Just after an announcement that boarding would begin within the next 20 minutes I heard the magic announcement I had been waiting/hoping for all night.
"Mr. BPS3458 please come to the front desk of the lounge". Trying not to smile too much I made my way to the front desk where my boarding pass with seat 23A went straight in to the shredder and I was handed my new boarding pass showing seat 3A. Just as I had hoped for, economy was overbooked and they started upgrading status flyers in to business and business passengers with status in to first. Finally my loyalty had paid off.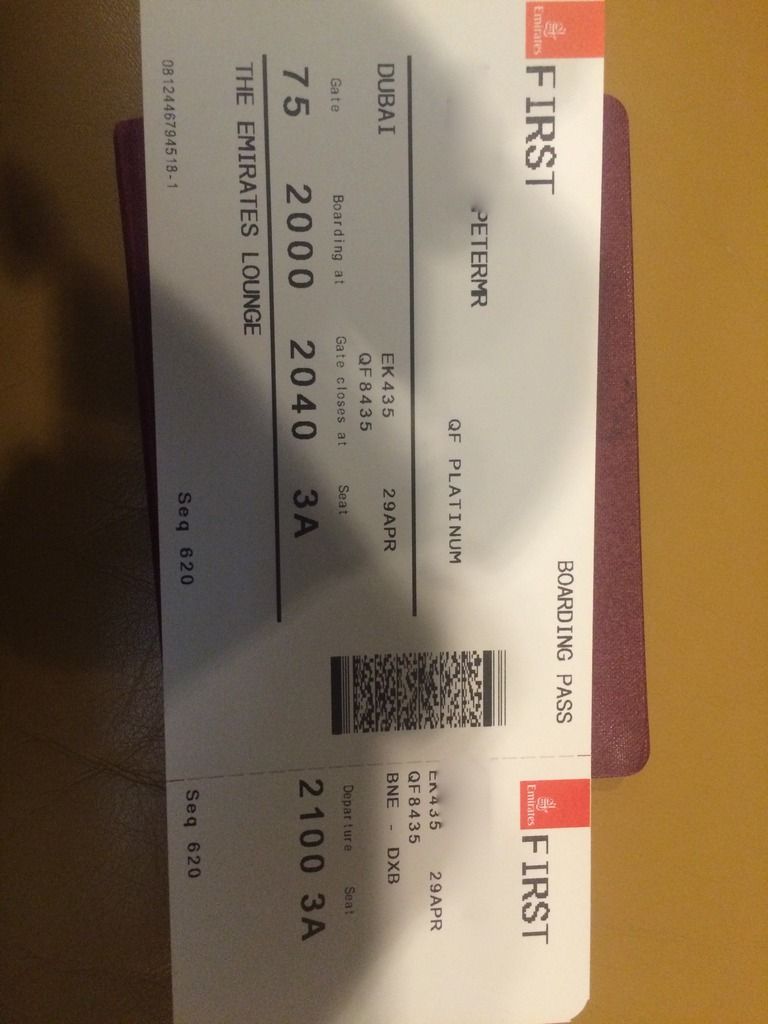 A couple of pictures and glasses of champagne later and it was time to board. Can't comment on the food in the lounge but I always find the food on offer in the EK lounge in BNE to be well presented but very average in taste.
Was shown to my suite 3A by a lovely Croatian flight attendant and had a glass of champagne within seconds. Hardly any time to explore the seat as there were many questions to be answered (food preference and what time I would like to take a shower). Seems no one was booked in first and we were all upgrades.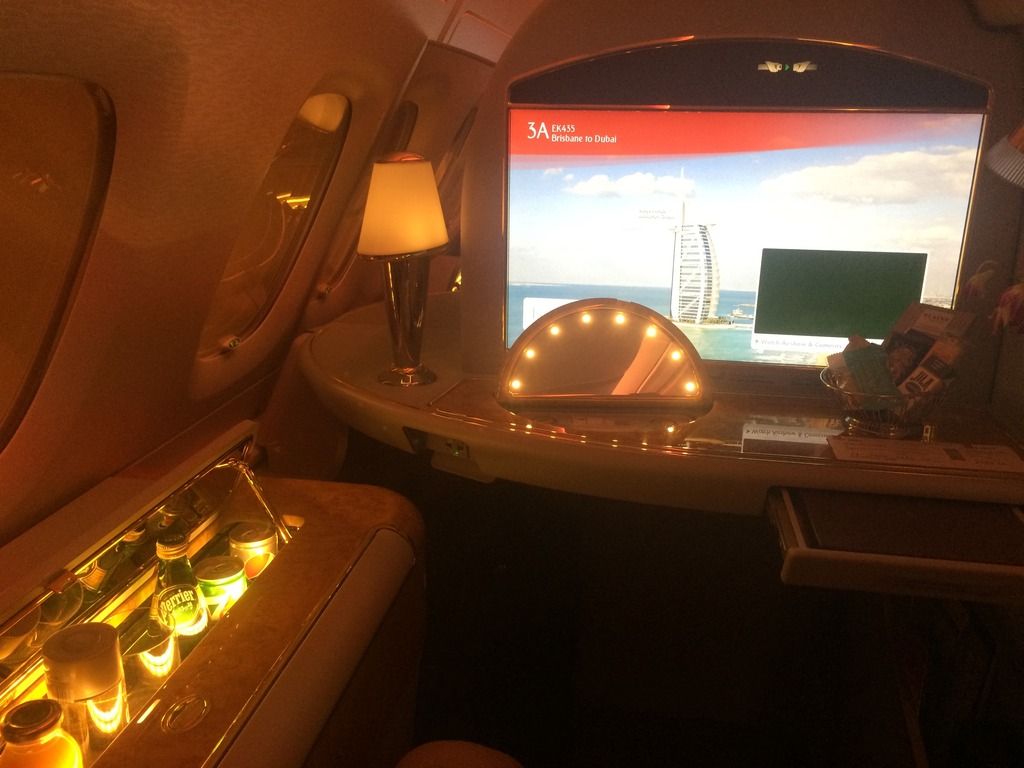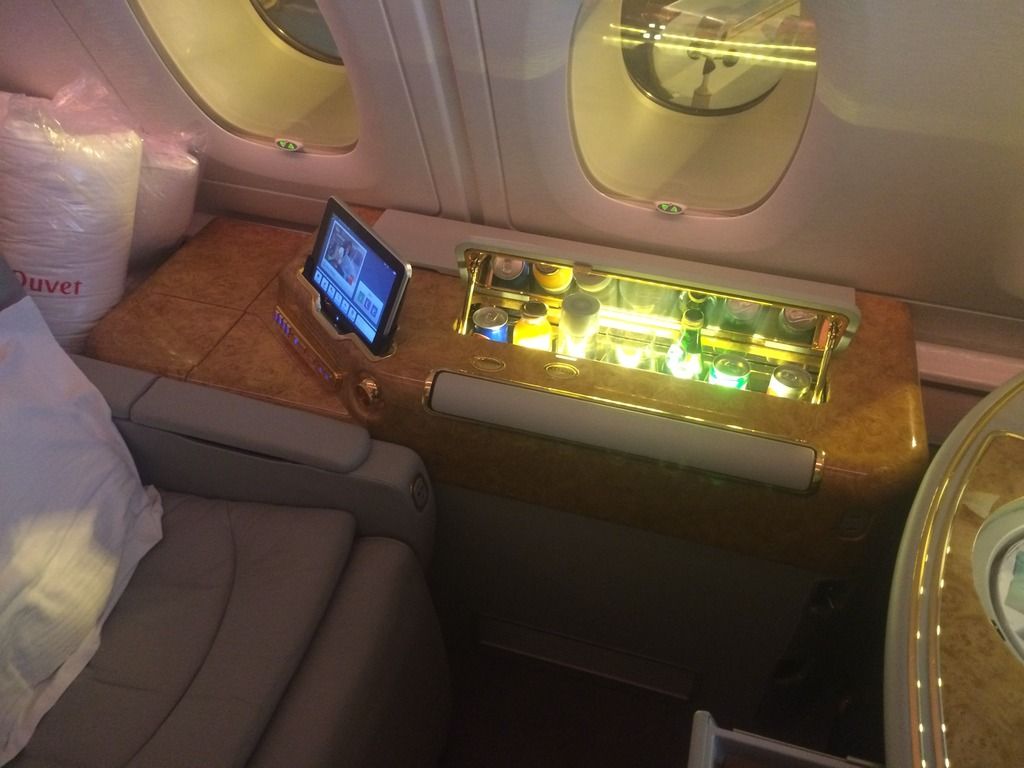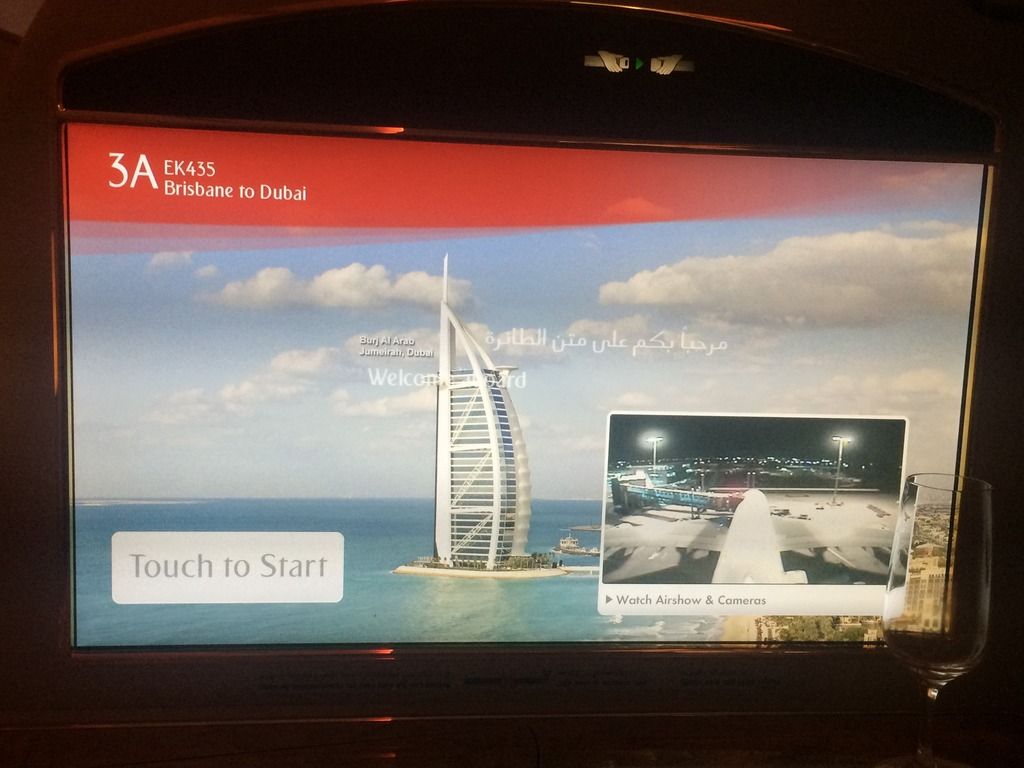 Push back was slightly behind scheduled at 9:15pm and after a long taxi we were airborne around 9:45pm for our long trip to DXB. After the fasten seat belt sign had gone off it was time to log on to the wifi which I found to be working pretty well on this leg to DXB (did not work well on EK 59 DXB-HAM) and I had lots of pictures to send from my seat and the surroundings to my family back home in Brisbane and my friends in Germany.
With three little kids at home, do not have time to watch too much TV so was really looking forward to catching up on "Big Bang Theory". Dinner was served (mushroom soup as starters, steak as main and cheese for desert) but to be honest always find the EK catering very average.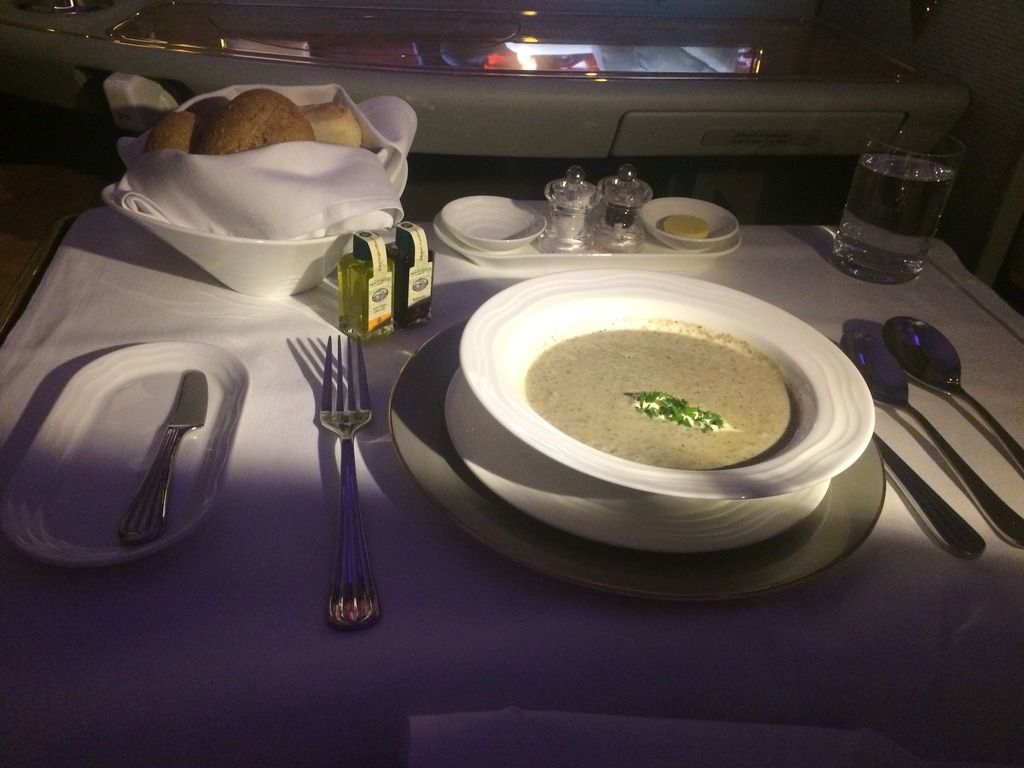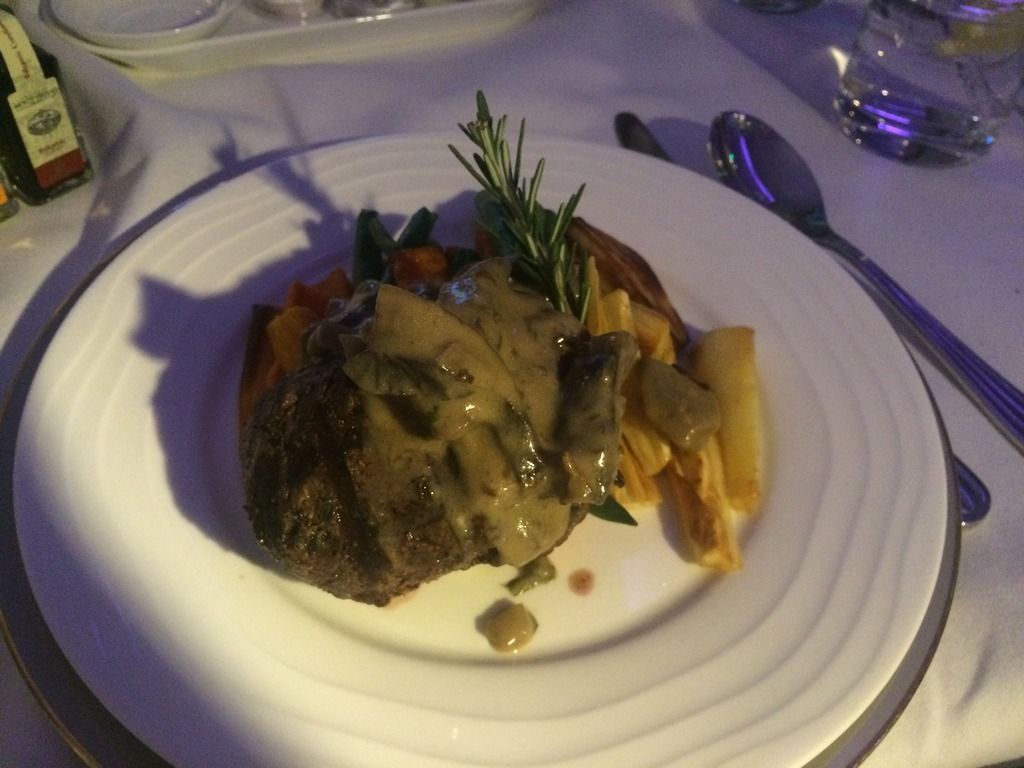 After dinner disappeared to the bar in the back while my bed was made. Took the usual bar keeper pictures and met the lucky fellow who got upgraded from downstairs to "my" seat 23A. We had a G&T together before I decided to get some sleep.
My bed was made when I returned and I slept a good 6-7 hours.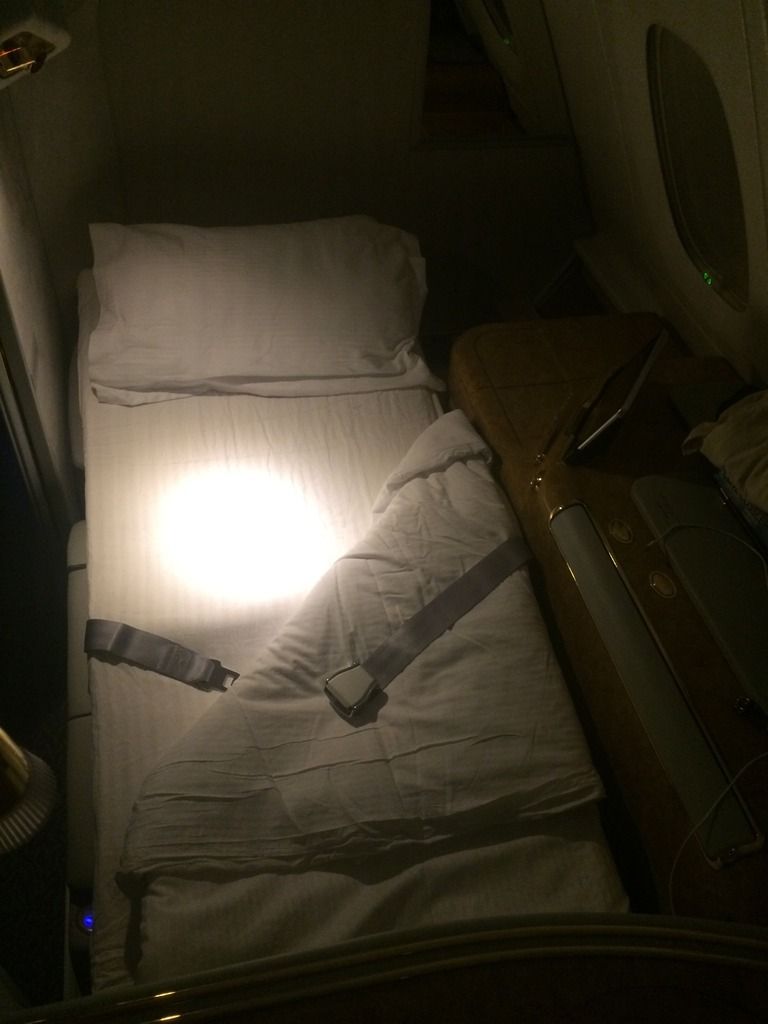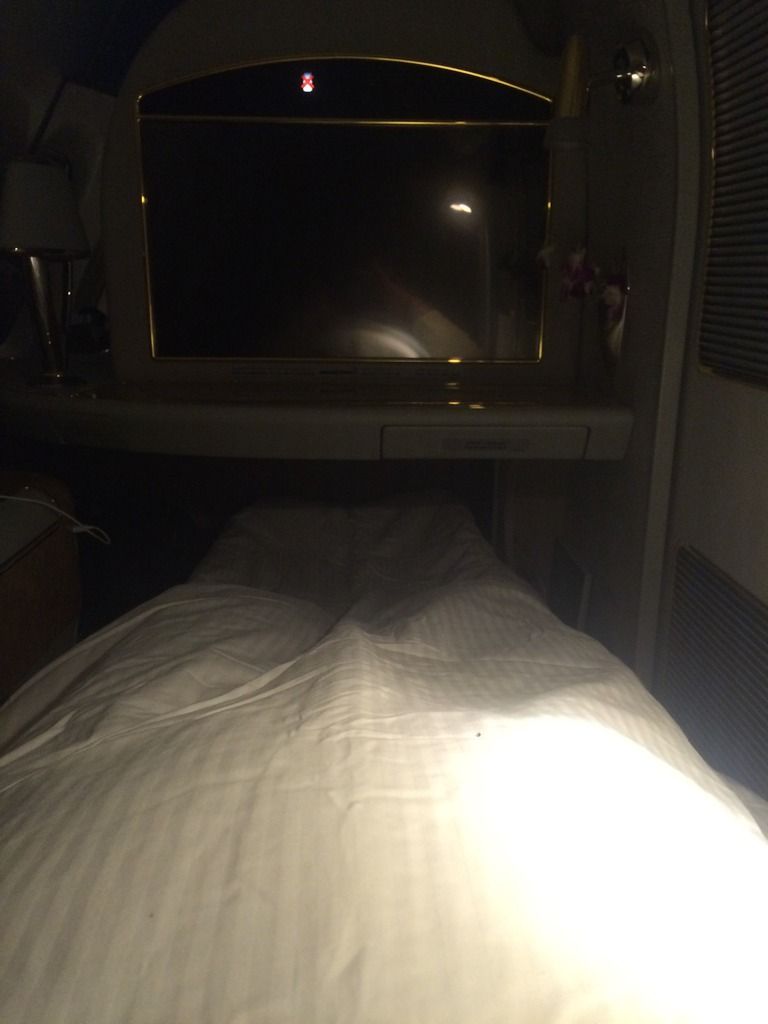 Woke up and was escorted to my first shower above the clouds. Was very impressed with the size of the room. The shower was great for the first time but would probably skip next time. Being 6'7" tall found the shower cabin to be too small and nearly had a heart attack when my back touched the cold wall of the shower. My flight attendant was very surprised that I was back in my seat so quickly.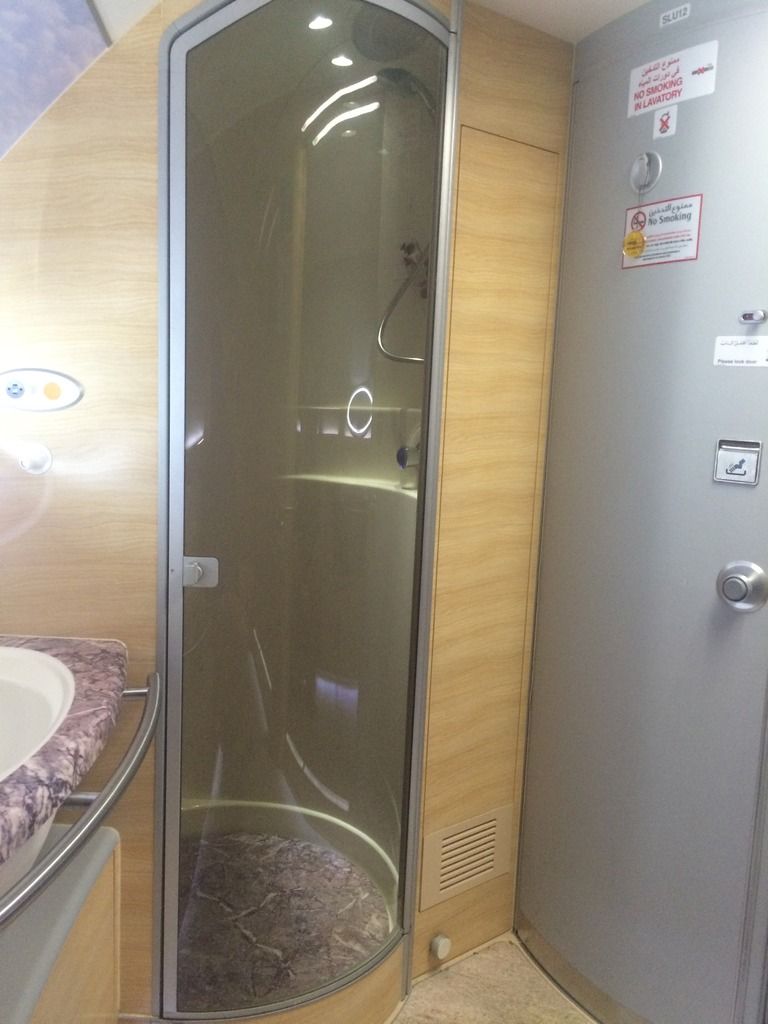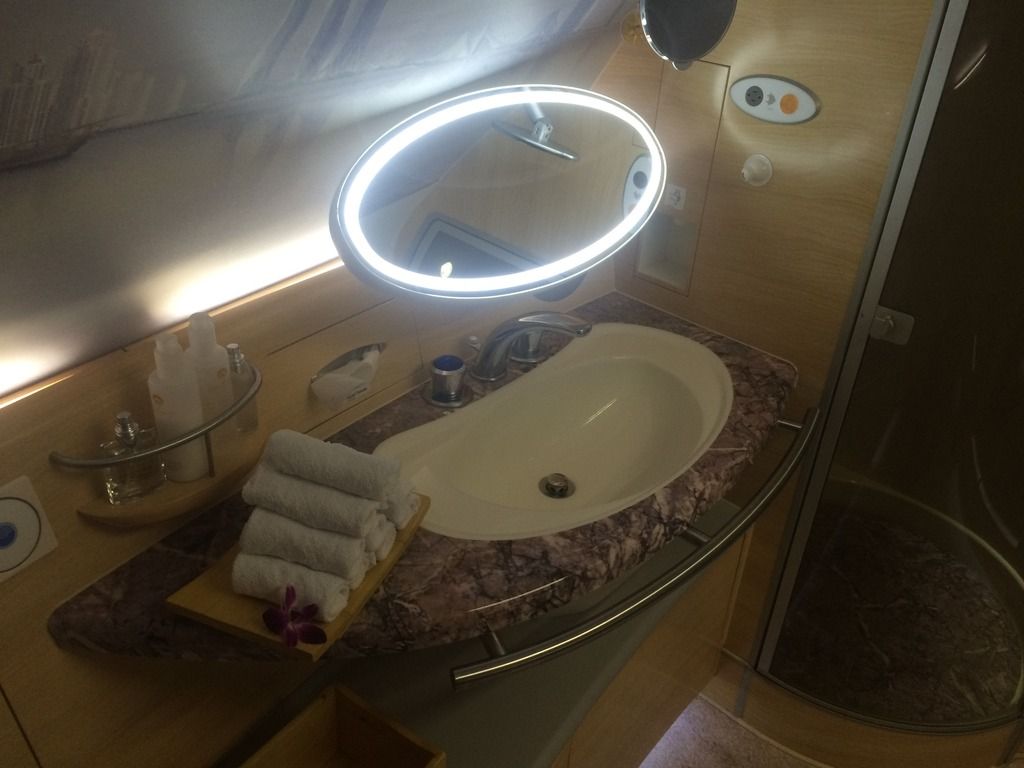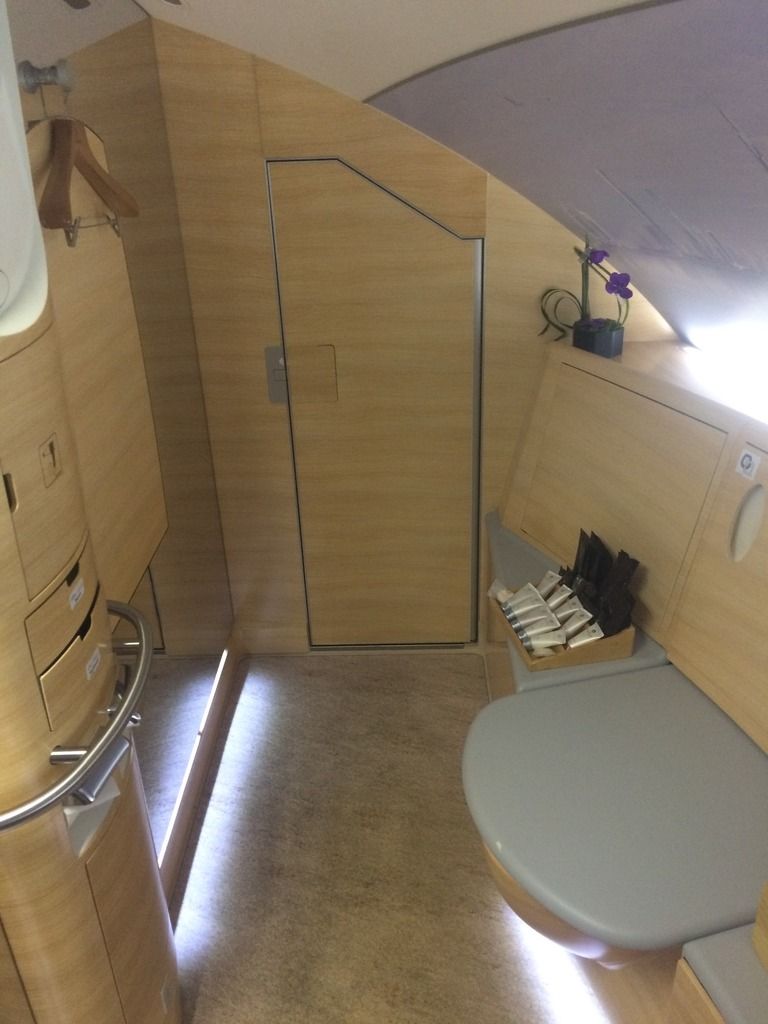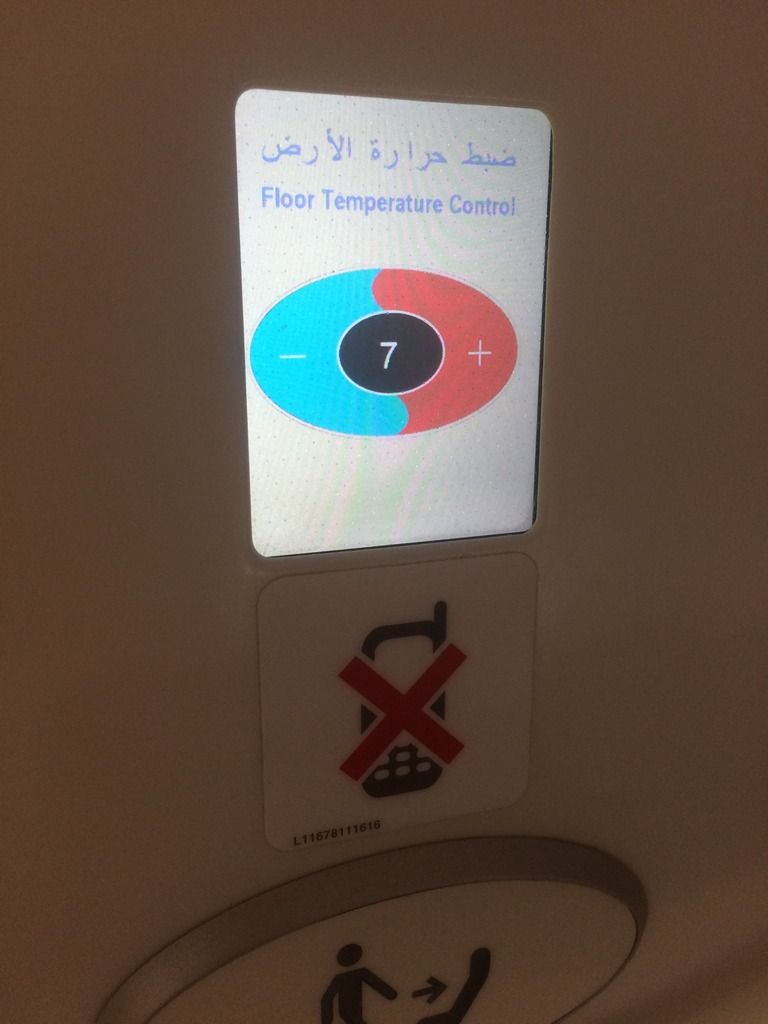 Breakfast was served along with a nice cup of coffee and fresh orange juice. Watched a couple of episodes of "Big Bang Theory" when the captain wished us all a good morning and informed us that we would shortly be starting our decent in to DXB where we would be arriving right on schedule at 5:20am.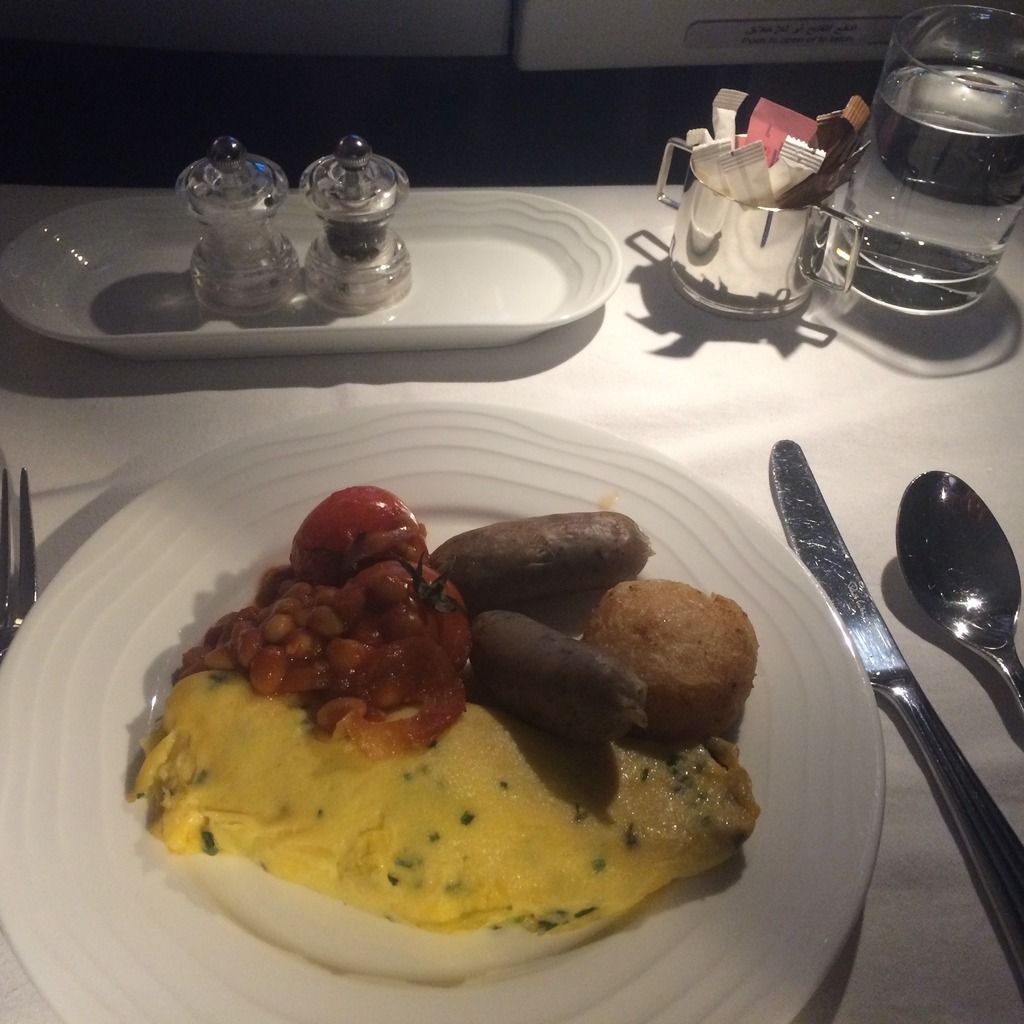 This wonderful segment came to an end much too fast. Would certainly never pay for first as I find business more than satisfying but it was certainly a dream come true.
Disembarked nice and close to the first class lounge and within minutes was in the very calm and relaxing atmosphere of the EK first class lounge where I had a second breakfast and a nice shower. Had about 2 ½ hours before it was time for my flight to HAM. Not sure what others think but I find this lounge to be too big and impersonal for my liking without any real atmosphere. Eventually made my way to me connecting gate for my flight to HAM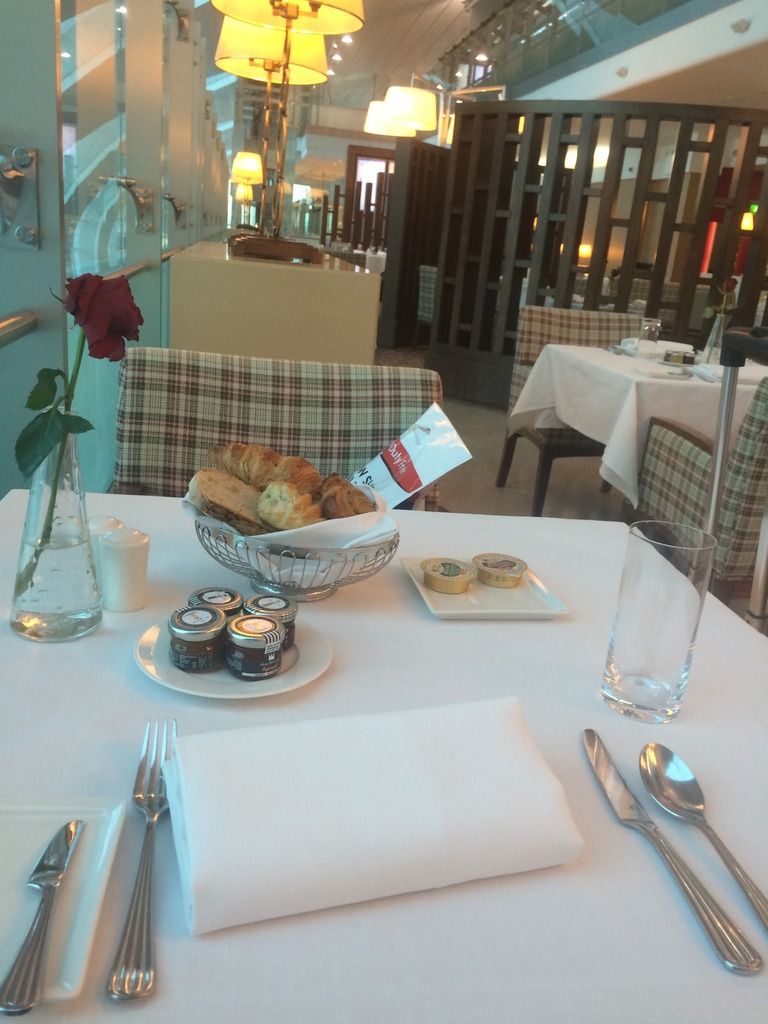 EK 59
DXB-HAM
30 April 2015
Boeing 777-300 / Seat 9 A
Boarding started nice and early and was I surprised when I saw the red light and heard a "ping" when my boarding pass was scanned. Seat 9A again went in to the shredder and I was presented with my new boarding pass with seat 1A. How likely is it to be upgraded on 2 flights in a row.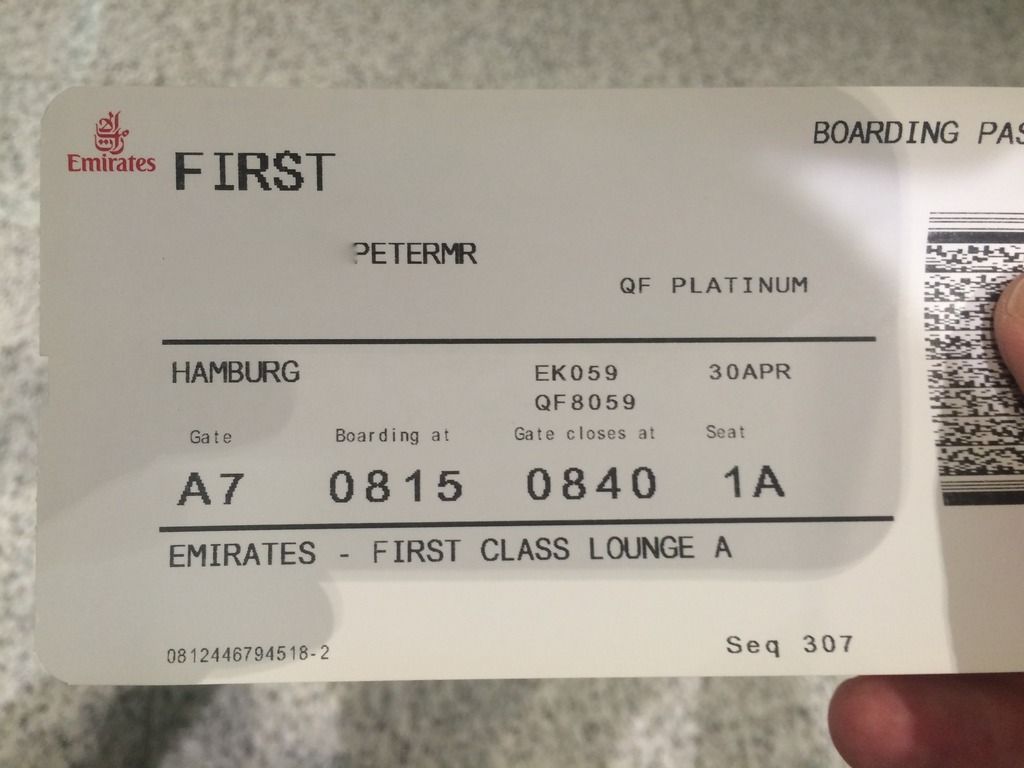 Really enjoyed the long sightseeing tour of DXB as our 777 apparently was parked just about at the end of the airport. The private bus for first class passengers was certainly a plus and I did enjoy seeing a number of upset German tourist trying to make their way in to this bus. Is the HAM flight always parked in the dark corners of the airport ?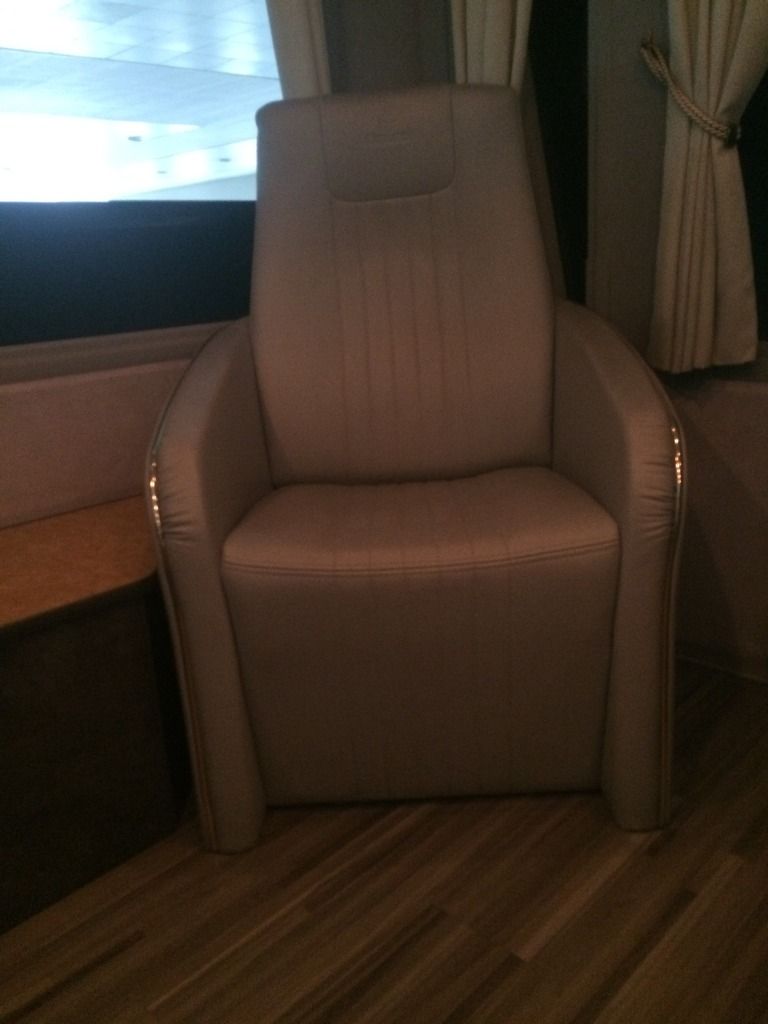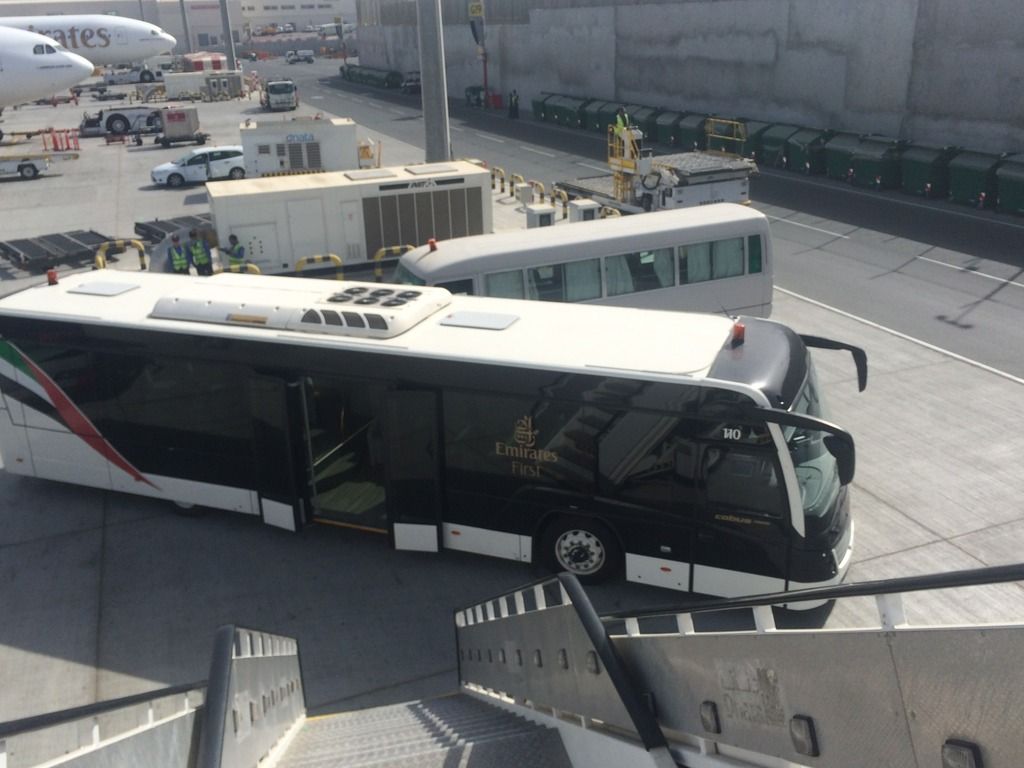 Flight seemed very busy in economy and business but only 3 passengers in first and being in suite 1A I really did not leave my seat for the entire flight and had my doors closed whie reading a book and looking forward to my arrival in to my home town of Hamburg. Flight went very quick and the Rinderbraten mit Rotkohl really hit the spot.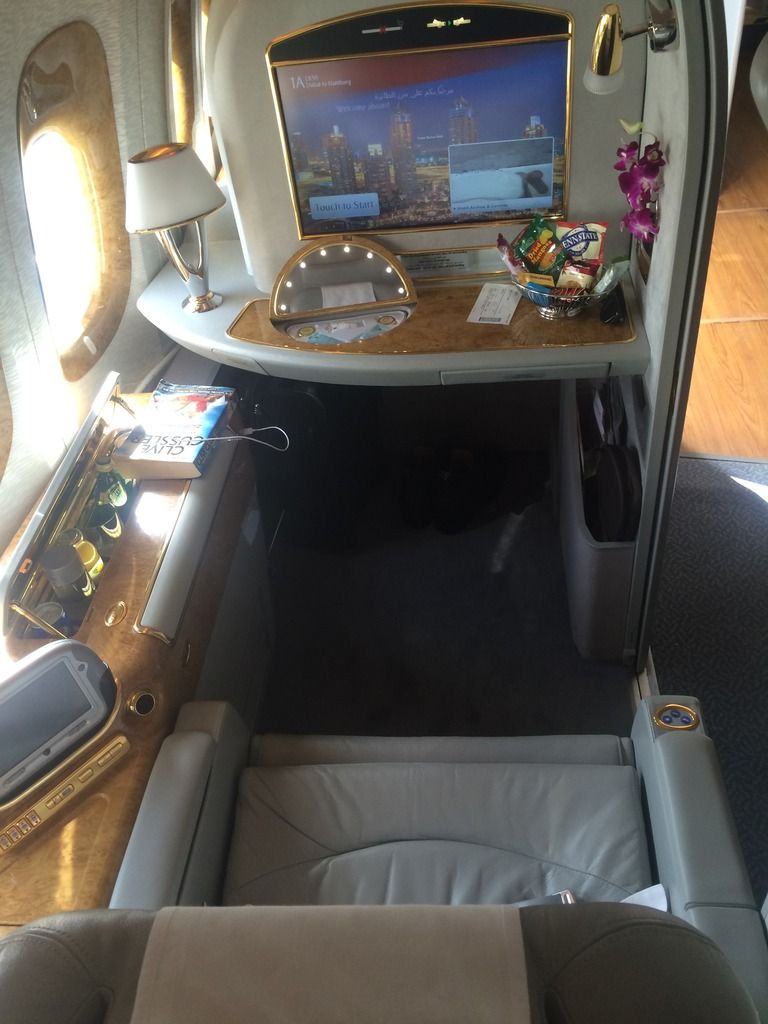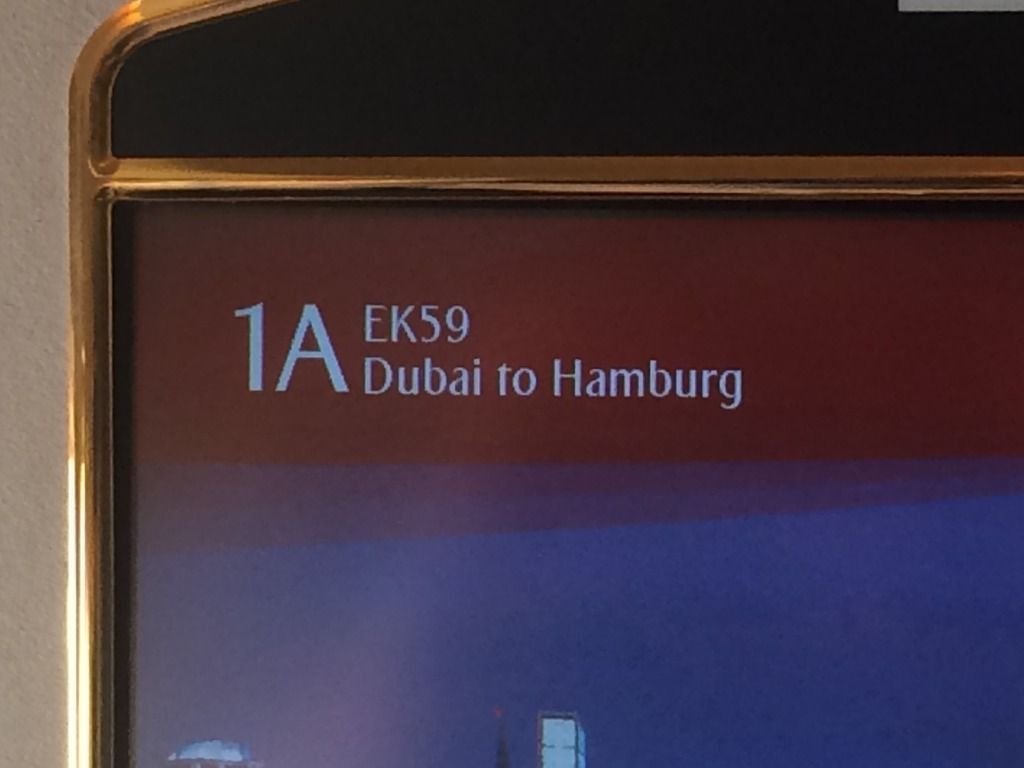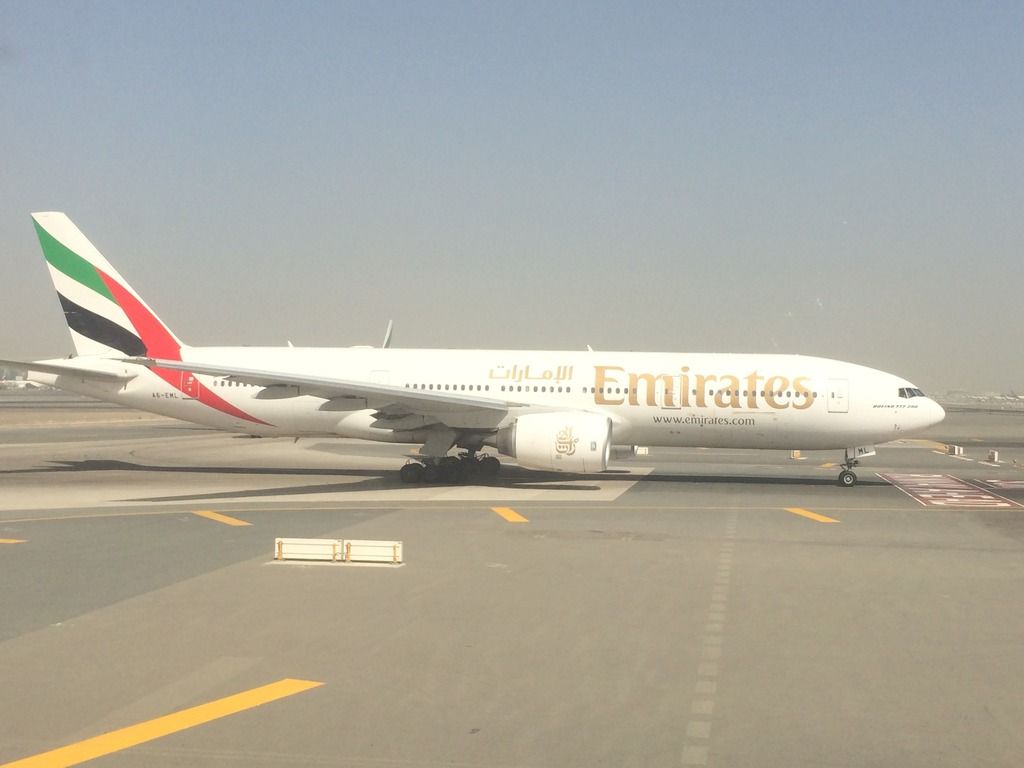 Arrived in to a rainy (Hamburger Schmuddelwetter) Hamburg right on time. Arived nice and fresh and within no time was on the Autobahn in my rental heading for my home town. Ended up partying all night with friends that I had not seen in years (Tanz in den Mai).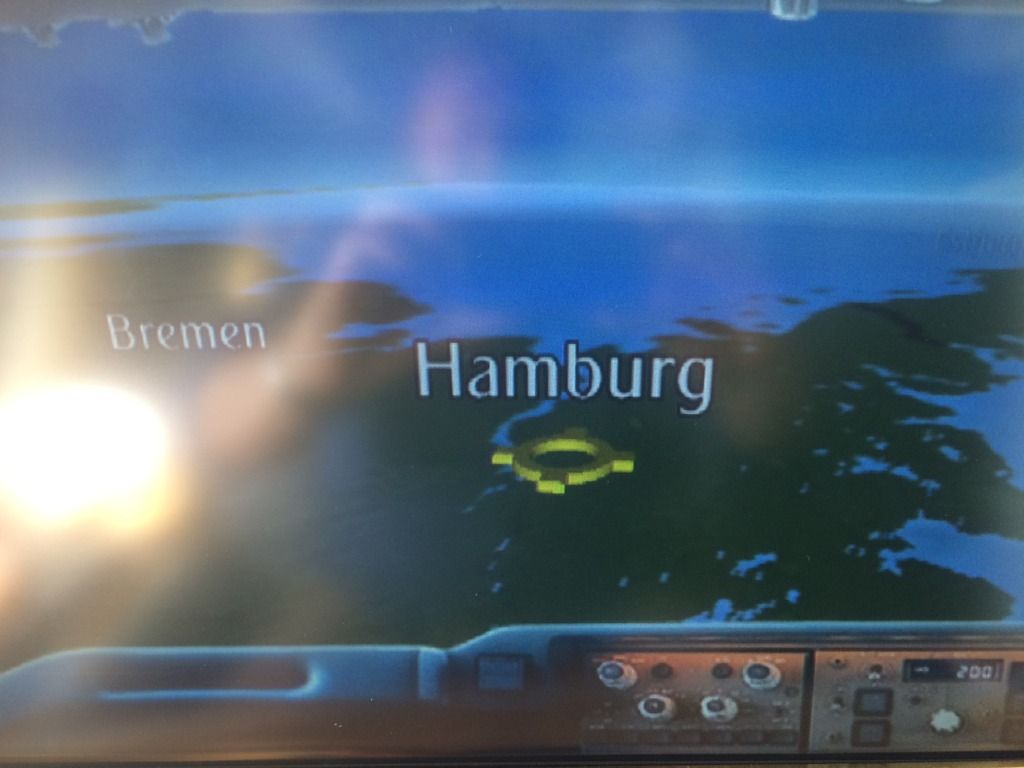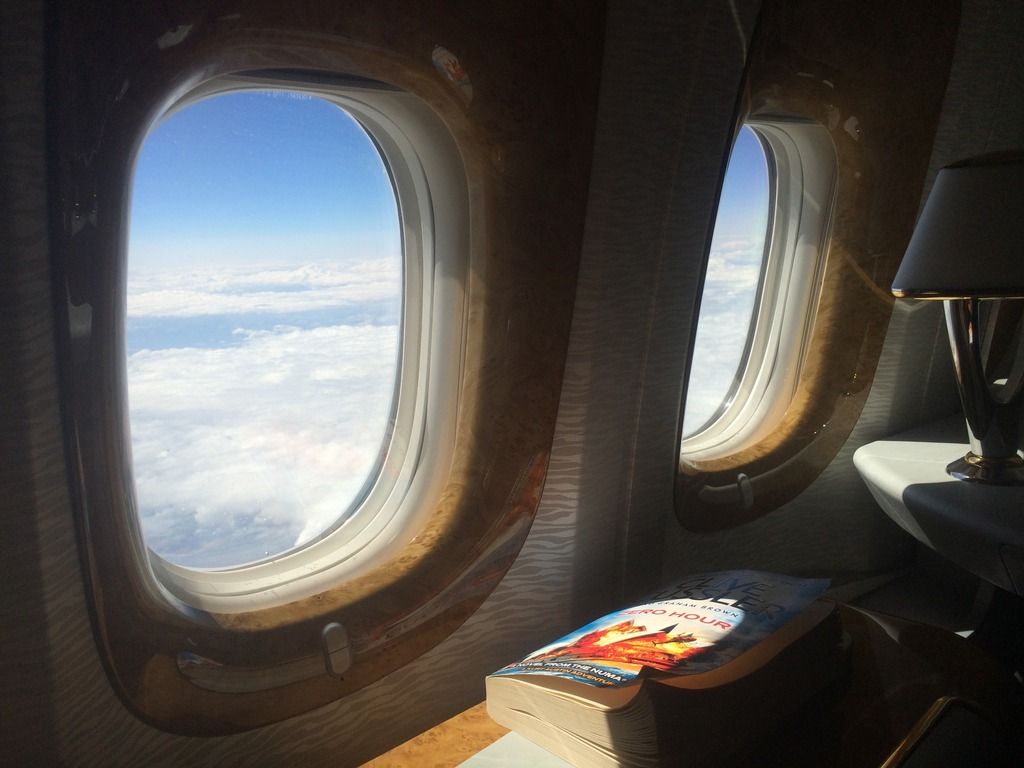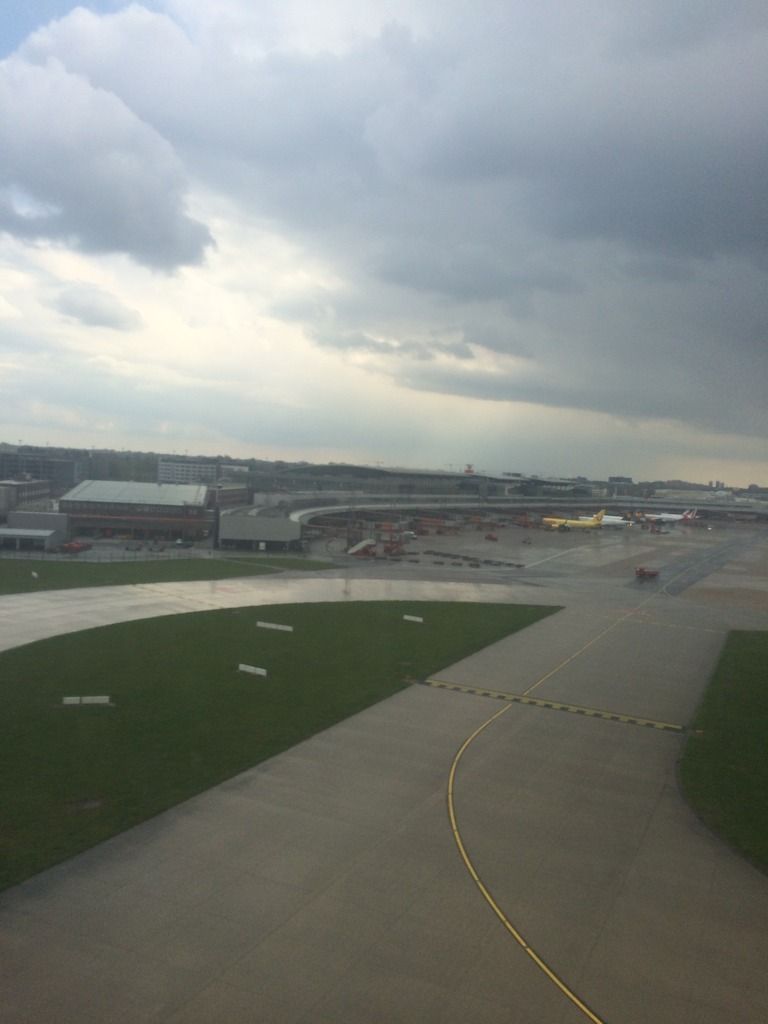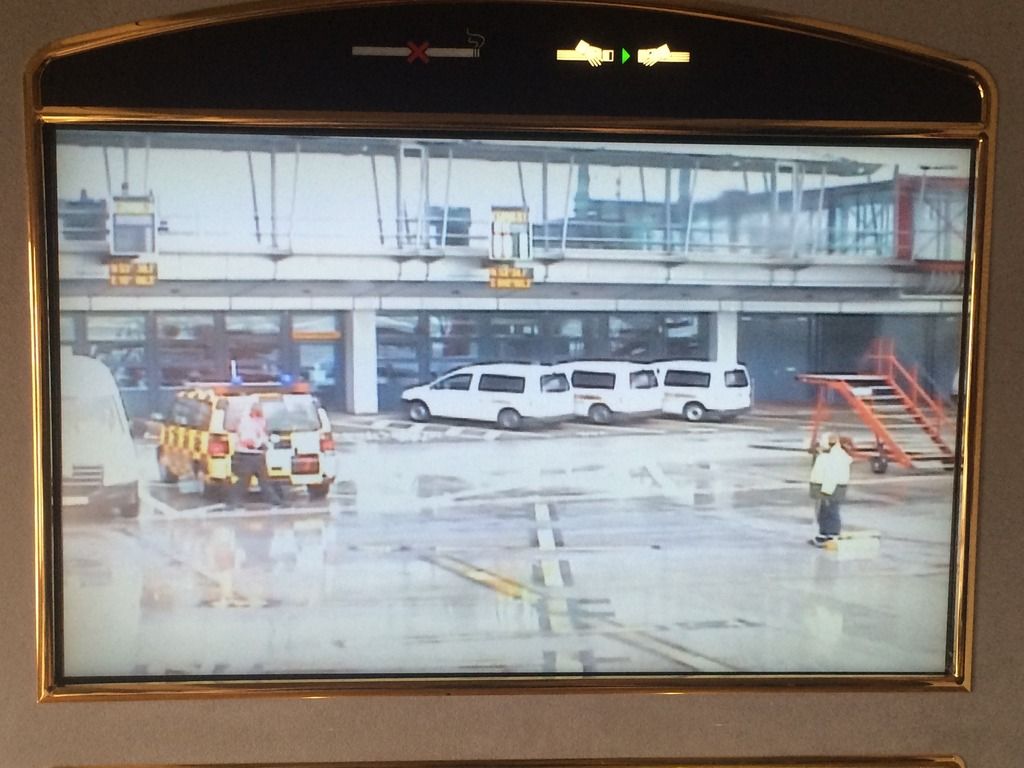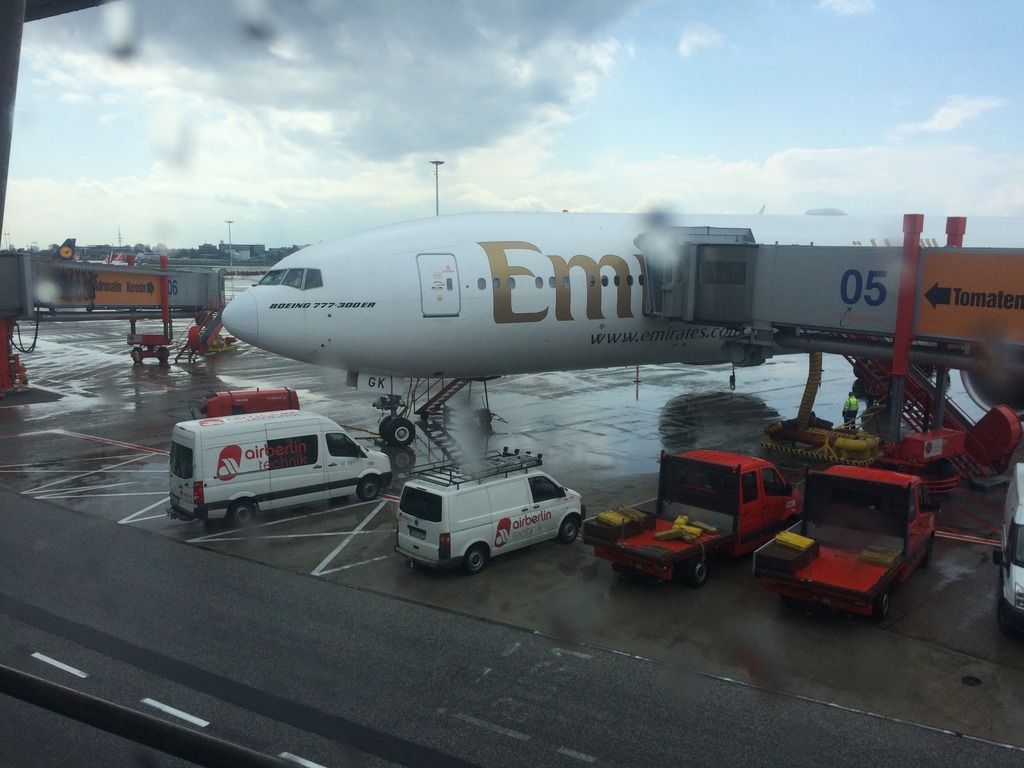 Overall a great experience flying EK. Service on both flight spotless with friendly crews. Transit in DXB very easy and I did really do enjoy the long bus ride all over DXB.
Am now looking forward to my upcoming Germany trip in May. This time back to QF BNE-SIN and AY SIN-HEL-HAM.
Hope you enjoyed my report and the pictures. Any questions and comments, fire away.
Cheers from Brisbane,
Peter