INTRODUCTION
It's been a while since I've posted on this forum but I'm back with a brand new track. While my previous trip reports have been about Emirates flights, I now bring to you the chronicles of a university student and his trips back home during the holidays. Originally in September before starting university I thought since I'd be on a plane every few months, I might as well stay loyal to one airline to earn miles and eventually get status one day. I decided on Qatar Airways because its fares to the UK ex Dubai are very reasonable and they have a great loyalty programme, achieving Silver status isn't too difficult in comparison to achieving Silver on Emirates which is a mission on its own for a student buying just Economy Class tickets.
I've flown with Qatar Airways in the past to China and I was very pleased with them, their Economy product on the B777 was far more comfortable than that of Emirates', it's just a shame that they've decided to switch to 10 abreast but let's not dwell on that. Ever since I started flying frequently with them as well, they've been great.
A little backstory to this trip. I didn't intend on writing a trip report for these set of flights to Manchester however my dad booked these flights without me knowing because there was a great promotion and he wanted to avail of it. Usually I like hand picking my flights because Qatar Airways sends a variety of aircraft from Doha to Manchester (and Dubai to Doha for that matter) so I wanted to choose the specific flights. Because I didn't get to check the a/c operating the flights beforehand, after the ticket was booked, I decided to check. To my surprise, a Dreamliner was assigned for the Dubai to Doha flight and a B777-300ER with the new 10 abreast seating was assigned for the Doha to Manchester flight. This is what made me decide on writing a trip report, it would be my first flight on the Dreamliner (well, so I thought) and the first report on A.net featuring Qatar's 10 abreast seating on the B777.
Moreover, this is the first report on the forum featuring Dubai's brand new Concourse D so all the more reason to write a trip report for you guys.
So without further ado, I bring to you my experience on the World's '5-Star Airline' all the way from Dubai to Manchester.
(I must add that this is quite a lengthy trip report and photo quality isn't the best but I hope you enjoy it!)
11th April 2016
So the time had come for me to go back to university for the final term of my 1st year. Needless to say, time had just flown this year but I hope to savour as much of what I have left as possible. My trip in Dubai was brilliant, a great 3 weeks spent with family and friends and leaving home is never fun but I do have uni-life to look forward to as well.
With a flight to Doha at the ungodly hour of 5:30AM, my dad and I set off for the airport at around 2:45AM. The airport isn't very far from our place at all and with virtually zero traffic at this hour, we reached after a quick 15 minutes. After the usual goodbyes, I proceeded into the ever-so-familiar entrance of Terminal 1 and proceeded to the Qatar Airways check in counters. There was no line for check-in at all and within minutes of walking into the terminal, I had my boarding pass in my hand and my very heavy suitcase sent off! I was good to go. Immigration queues vary inconsistently in Dubai and I wasn't sure what to expect but I was pleasantly surprised to find out that there was barely any queue. I had my passport stamped after waiting in line for just 2-3 minutes. On arrival in Dubai last month, I waited in the queue for 45 minutes and when I arrived in Dubai in December, I waited in the queue for 2 hours.
This is where it gets a bit exciting because instead of going downstairs from security through the long walkway, which I'm sure everyone who has travelled through Terminal 1 in DXB is familiar with, I went upstairs to take the train to the brand new Concourse D. A bit of background, Concourse D is actually just meant to be a temporary structure until all airlines move to DWC. The introduction of this concourse will increase DXB's capacity to 90 million passengers per year.
And with that out of the way, let's explore DXB's latest addition. It was around 3 in the morning and the excitement of visiting a new terminal was keeping me up (as well as the coffee I bought much later).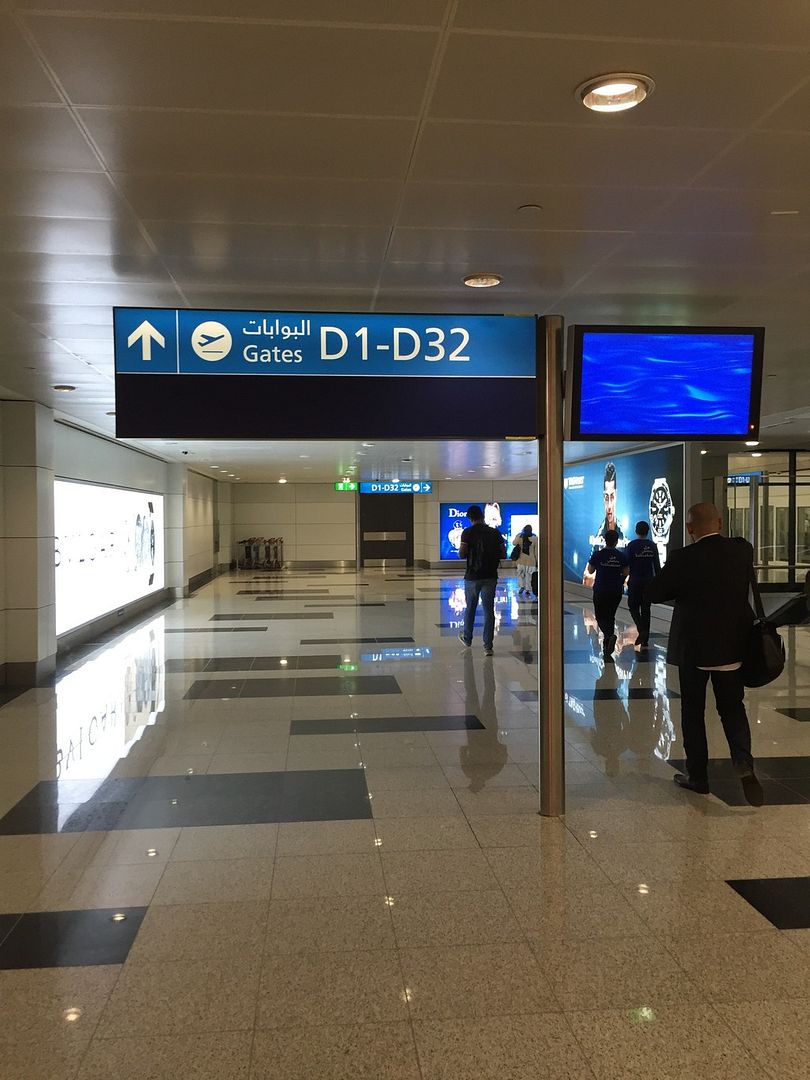 So this is the platform at Terminal 1. If you look closely at the back of the picture, you'll notice the amount of people waiting for the train. It was a packed train journey to Concourse D. This is just a random thought but maybe there could be a dedicated carriage for passengers on wheelchairs and for First and Business Class passengers? Then again, it's a less than 5-minute journey so maybe it isn't very necessary. After the quick train ride, we pulled into Concourse D.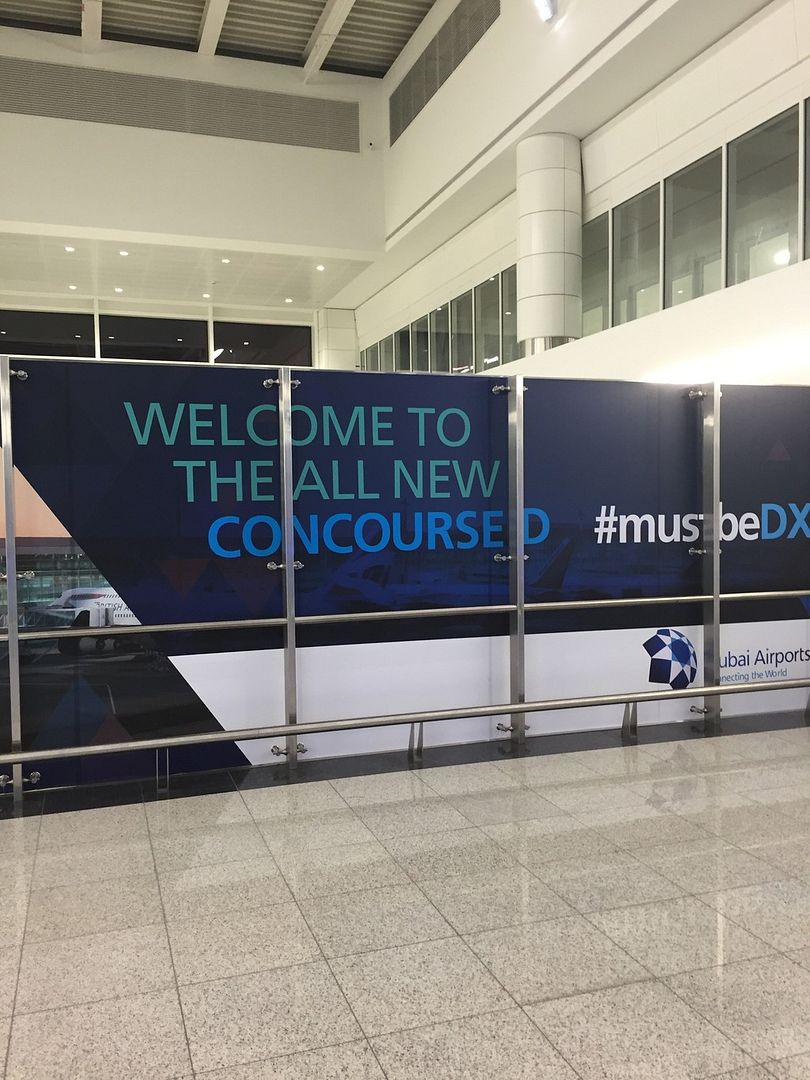 After going down the stairs, I ended up in the duty free area which I had to walk through to get the main area of the concourse. I went there with the intention that because it's temporary, I shouldn't expect anything on the same scale as Terminal 3 or Concourse A. I was pleasantly surprised! While it's quite small, it is a nice place to wait before a flight.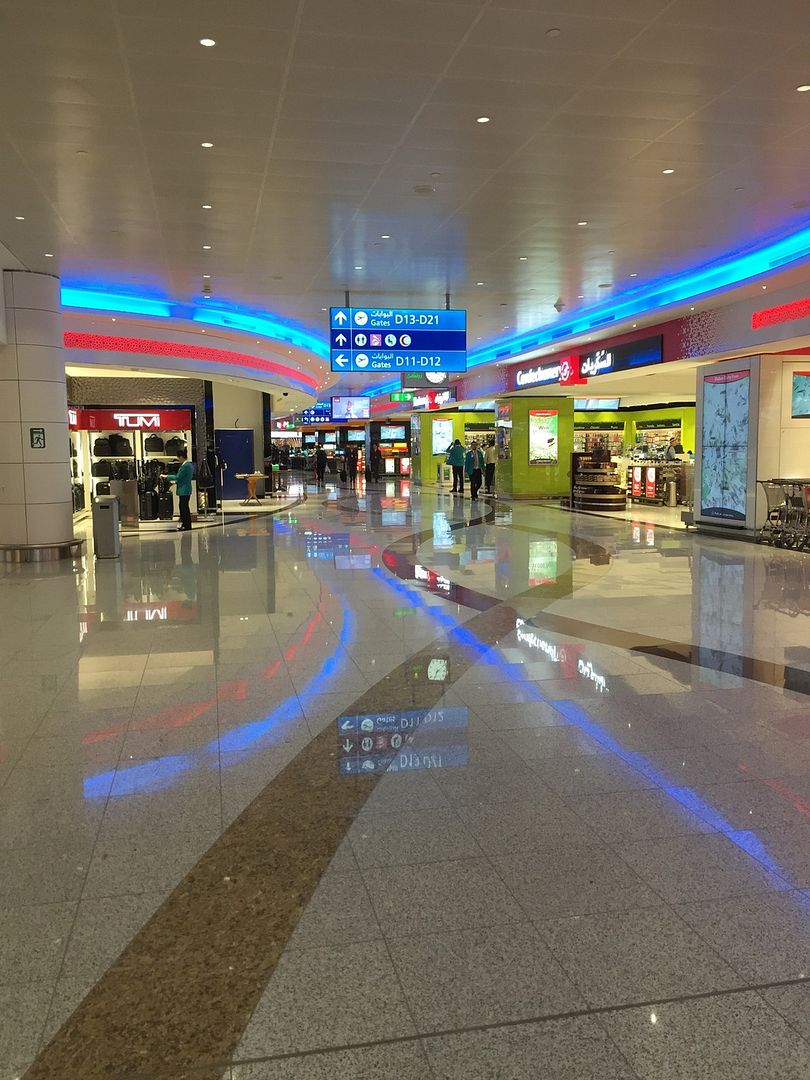 To begin, I made a quick walk to my gate, D2, to familiarise myself with the location. It was about a 5-minute walk to the gate from the main atrium area.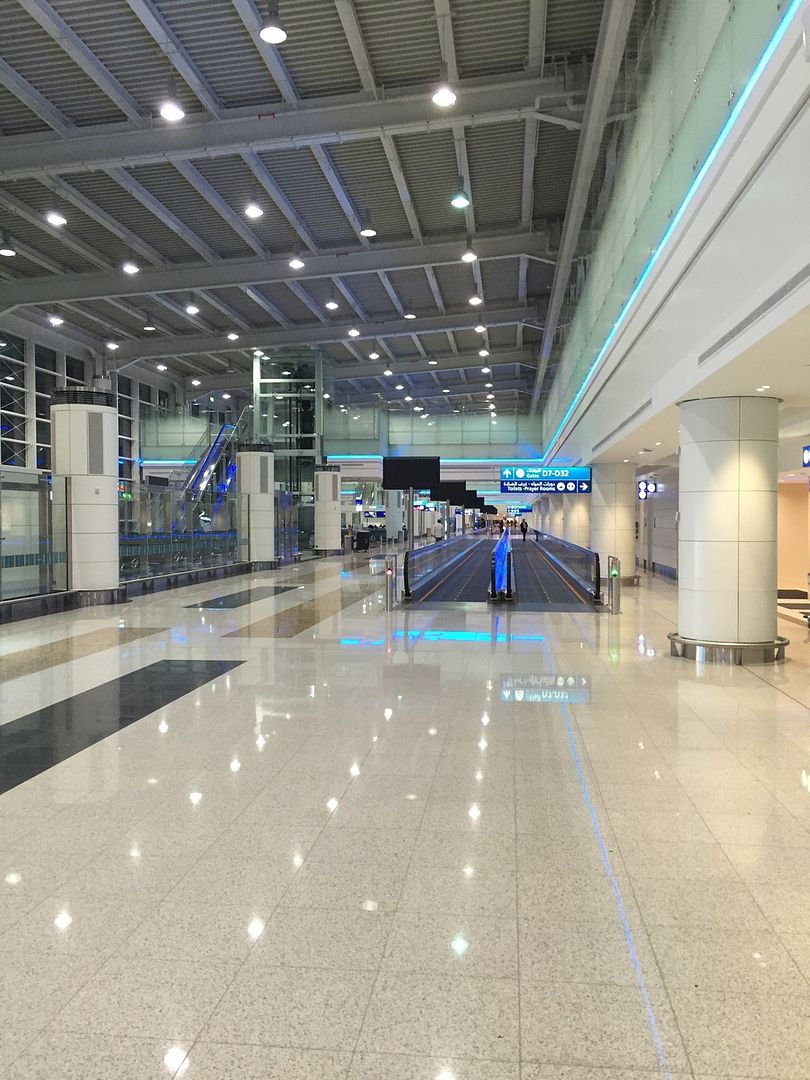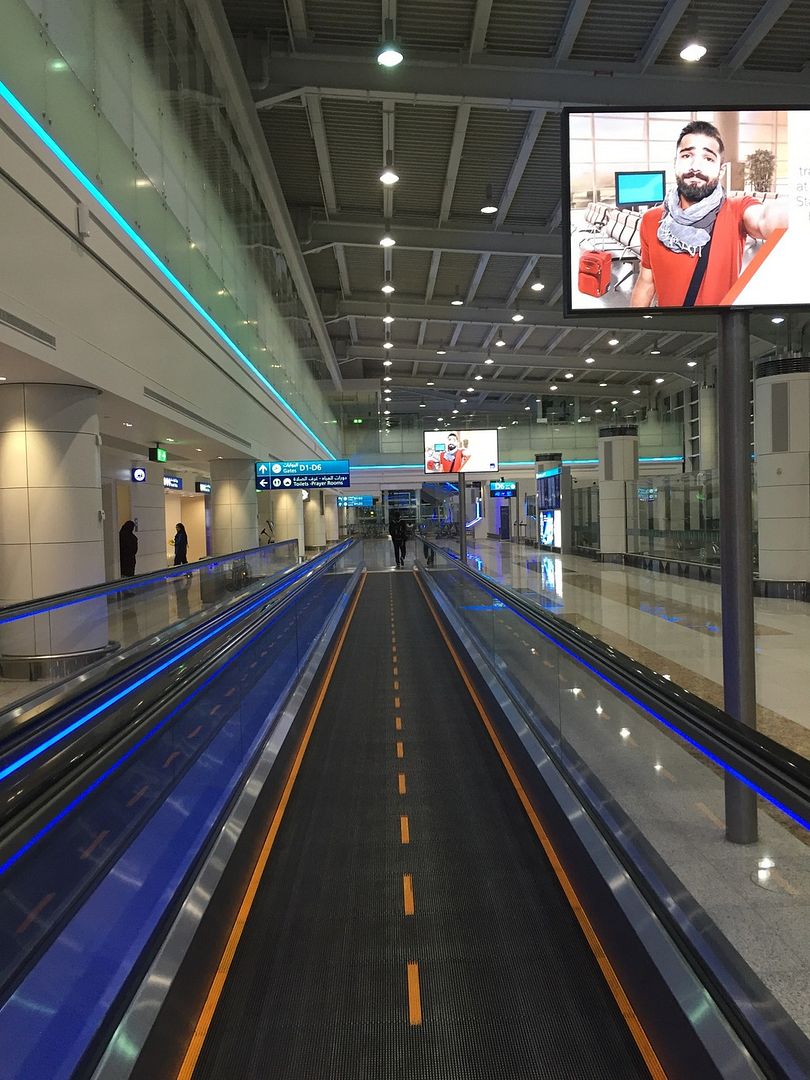 Here are some pictures of the main area right in the centre of the concourse: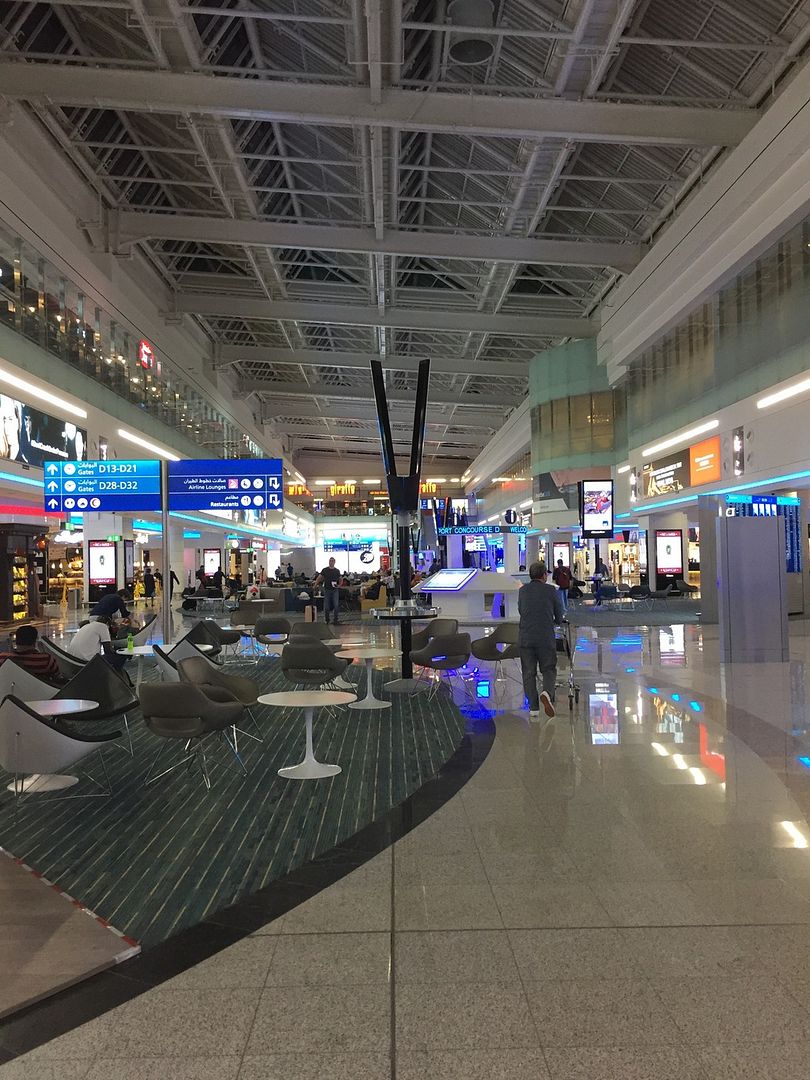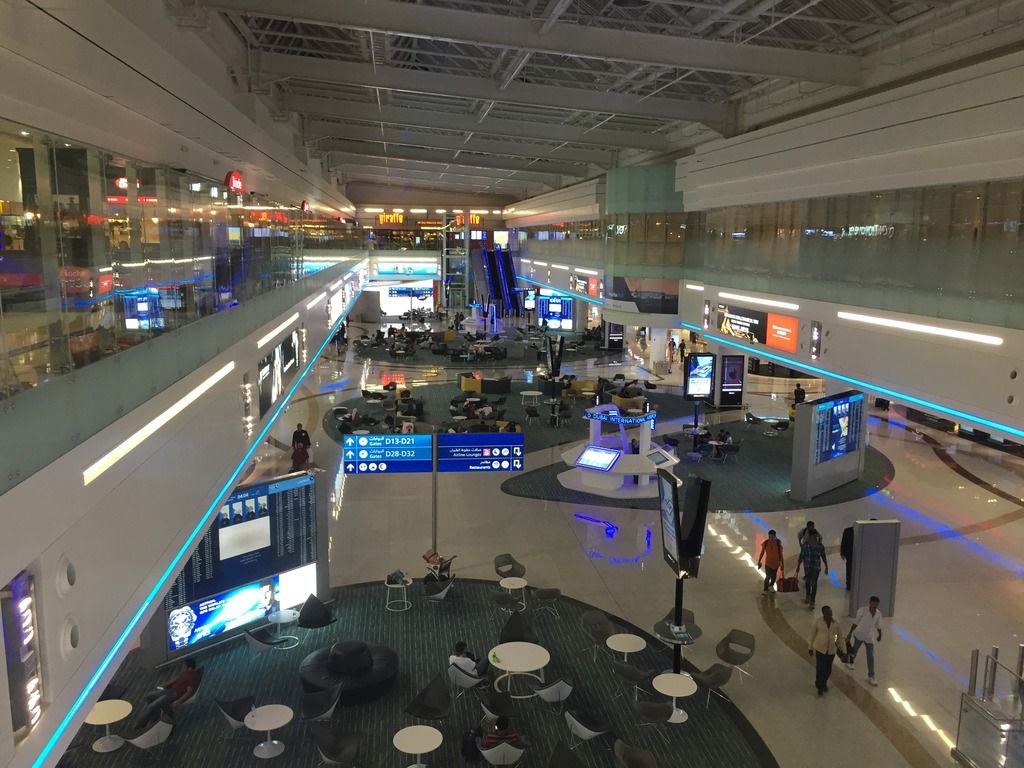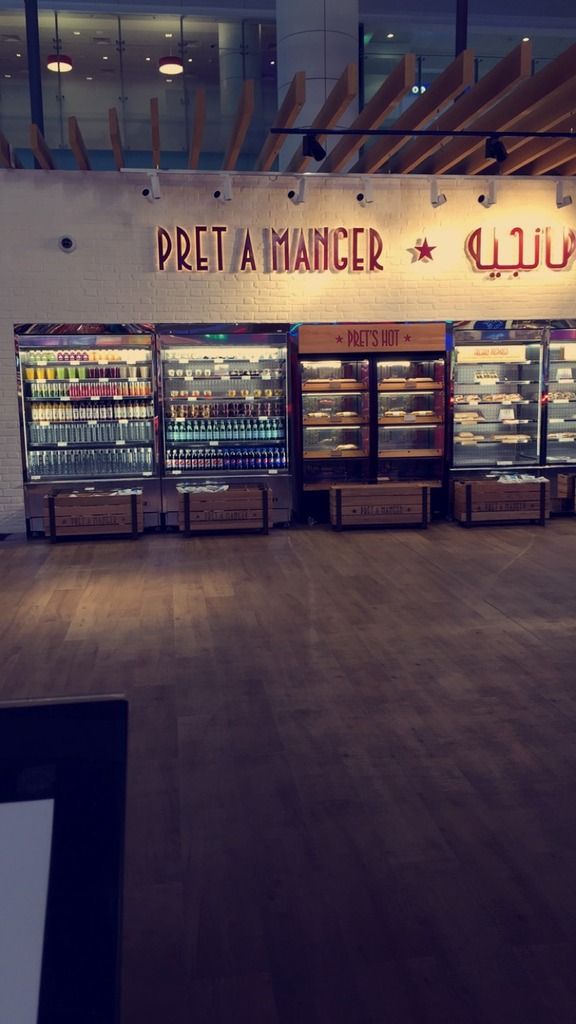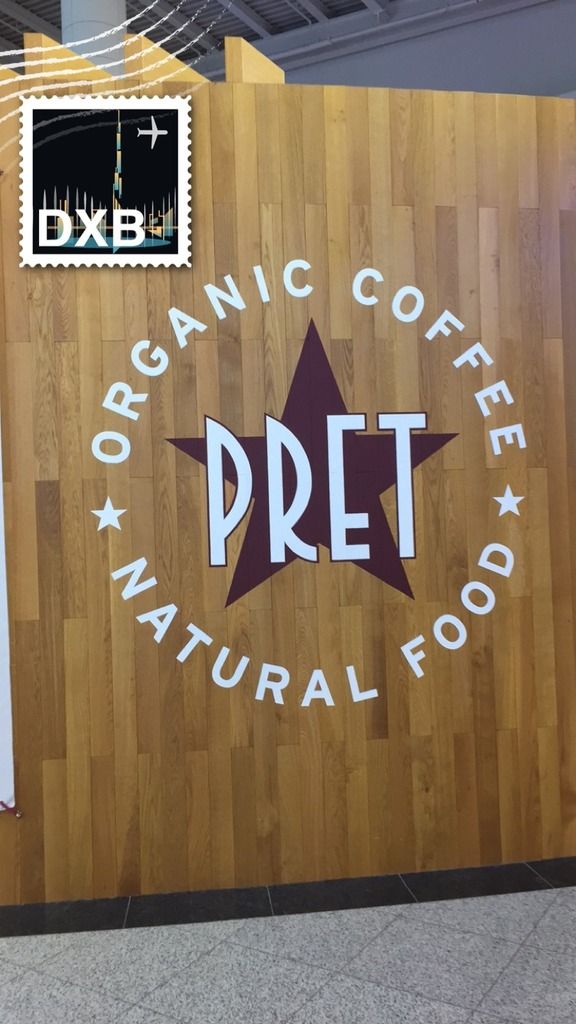 I'm not going to lie but I was quite happy to see a Pret in Concourse D! I love going there in the UK but because I'm used to seeing it, I decided on sitting down elsewhere for a cup of coffee. I find it funny how there's a Pret in Dubai Airport but not one in Sheffield, where I study.
I went upstairs exploring the dining options and just aimlessly walking around. I came across plenty of restaurants including Giraffe, Taqado Mexican Kitchen, Masale, KFC, McDonalds, CNN Traveller Café and more. The dining options are great in Concourse D. There are some nice places for quick fast food meals and there are restaurants where you can have a proper sit down meal as well.
I then walked along a corridor where all the lounges are housed. I came across lounges belonging to Qatar Airways, British Airways, Lufthansa, Skyteam and I'm sure there's one I'm forgetting! In addition, there was the standard Marhaba Lounge and a Dubai Airport First and Business Class Lounge. I tried getting access to the Dubai Airport Lounge as Citi Bank Card Holders get free entry but I was told that my card was not accepted which was a shame because the lounge looked a whole lot nicer in comparison to its Terminal 1 counterpart.
Eventually, I settled down at CNN Traveller Café for a cup of coffee before the flight because I was absolutely knackered and wanted to stay up for my flights.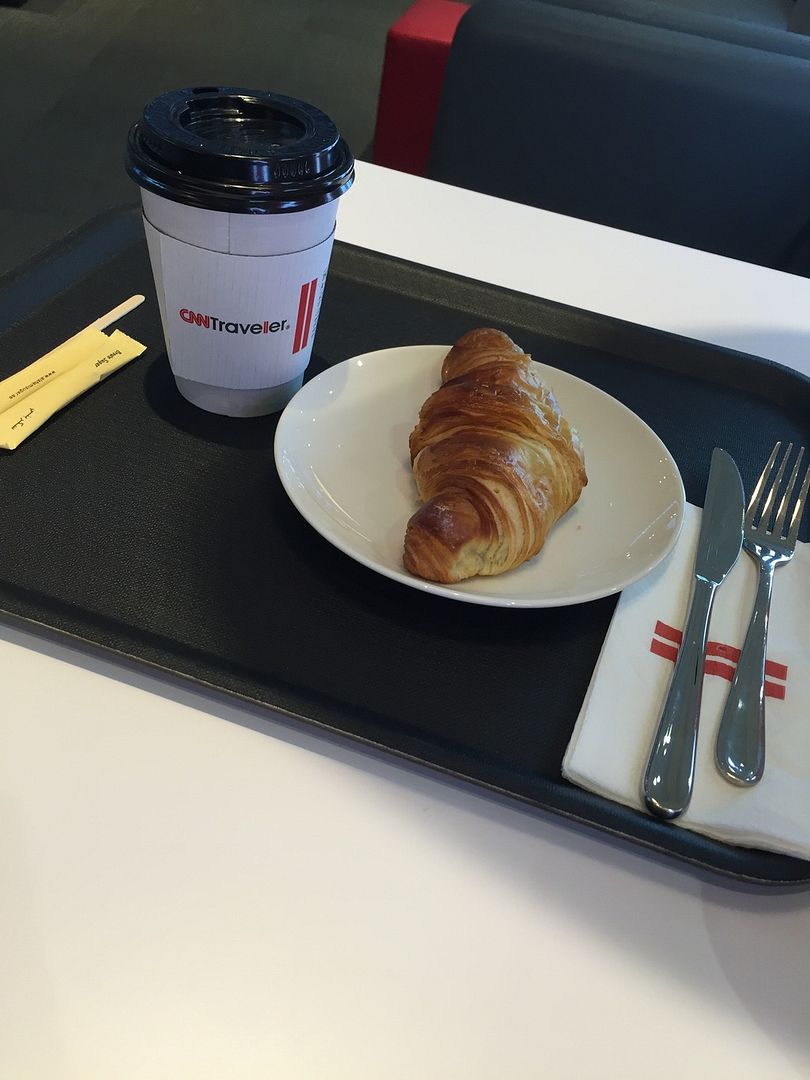 At 4:30AM, I decided to head over to gate D2 as it had just opened up for boarding. Judging by the amount of people at the gate, this flight was looking quite empty or maybe just over half full. At this point, I was buzzing to get on-board the Dreamliner! I couldn't see the aircraft from the window but just to make sure the Dreamliner was outside; I went on Flightradar24 to check which aircraft was operating QR1003 to Doha. To my complete surprise, the app said an A330-200 was to operate the flight and honestly, my heart sank. I was so excited about the Dreamliner but I thought there must have been a mistake so I thought I'd wait till I get a proper view. As it turned out, I noticed the winglets and that was it. I guess my first Dreamliner experience is meant to be for another time!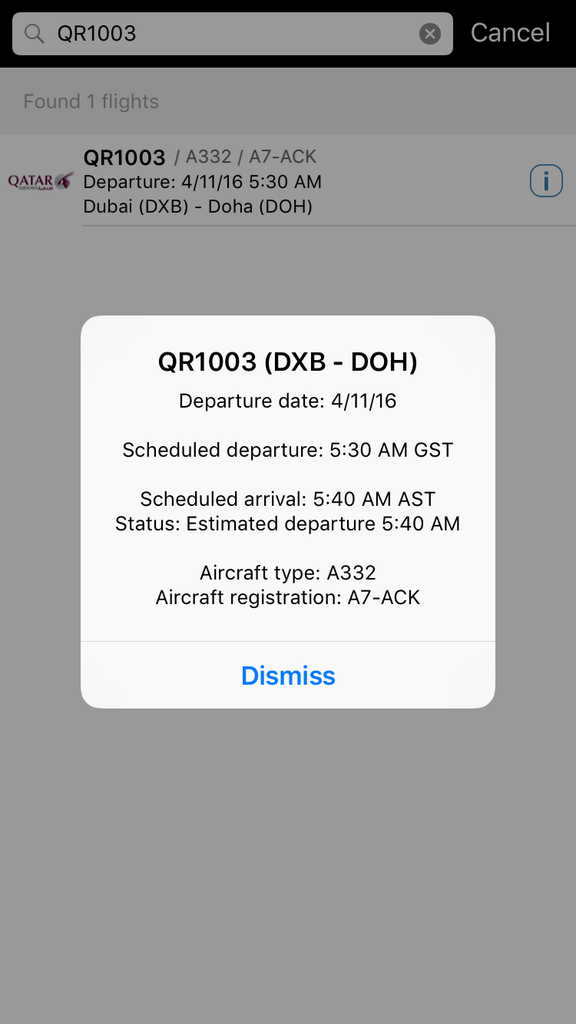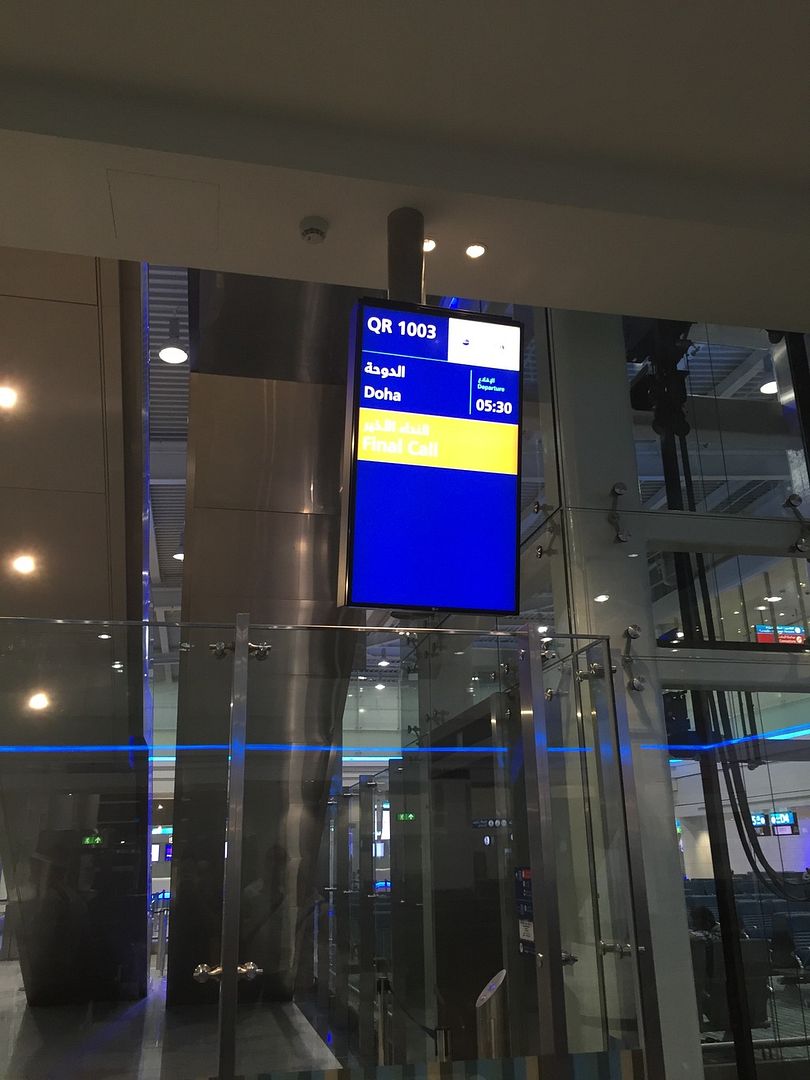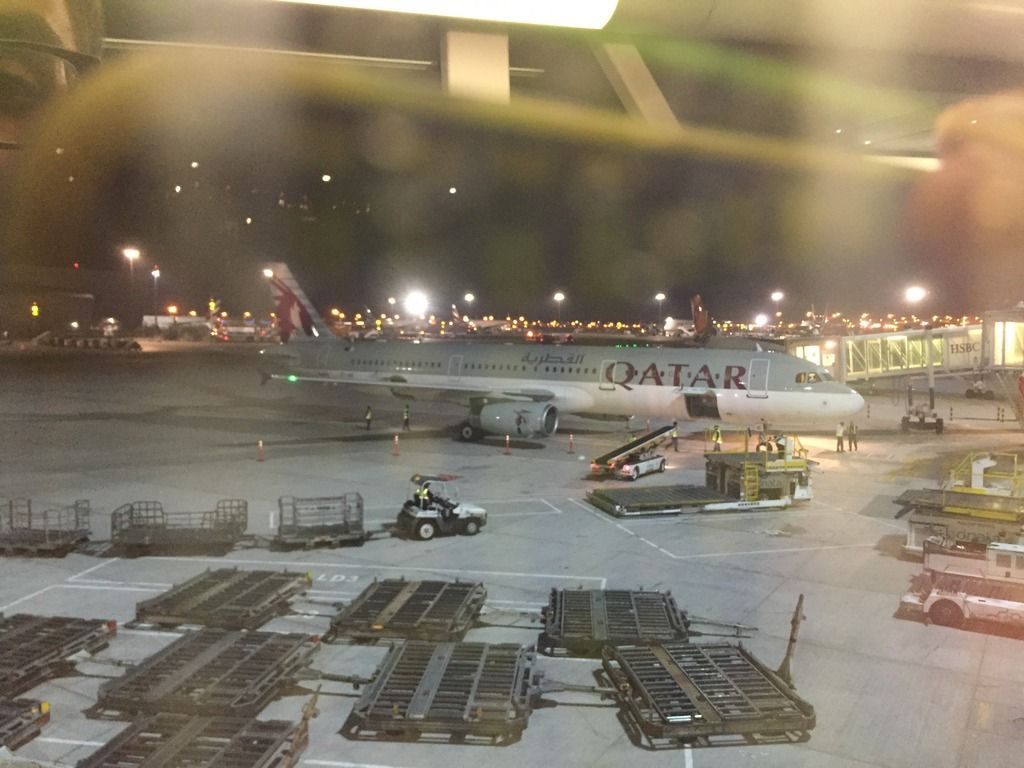 On the bright side, I was excited about being on a plane. At 4:45AM, I was onboard.
Qatar Airways
QR1003
DXB-DOH
Airbus A330-200
A7-ACK
Seat 18A
Scheduled Time: 5:30AM-5:40AM
Flight time: 45 minutes
I stepped onboard the almost 10-year-old A330 excited about being back on a plane! I noticed this A330 was refurbished with new seat covers in Economy but with the same entertainment system. Settling into seat 18A, I noticed the IFE box took up SO much room. I was surprised at the size of it, that shouldn't even be there in this day and age. However, it was just a 45-minute flight so it didn't really bother me. I could see it being a problem on a longer flight though.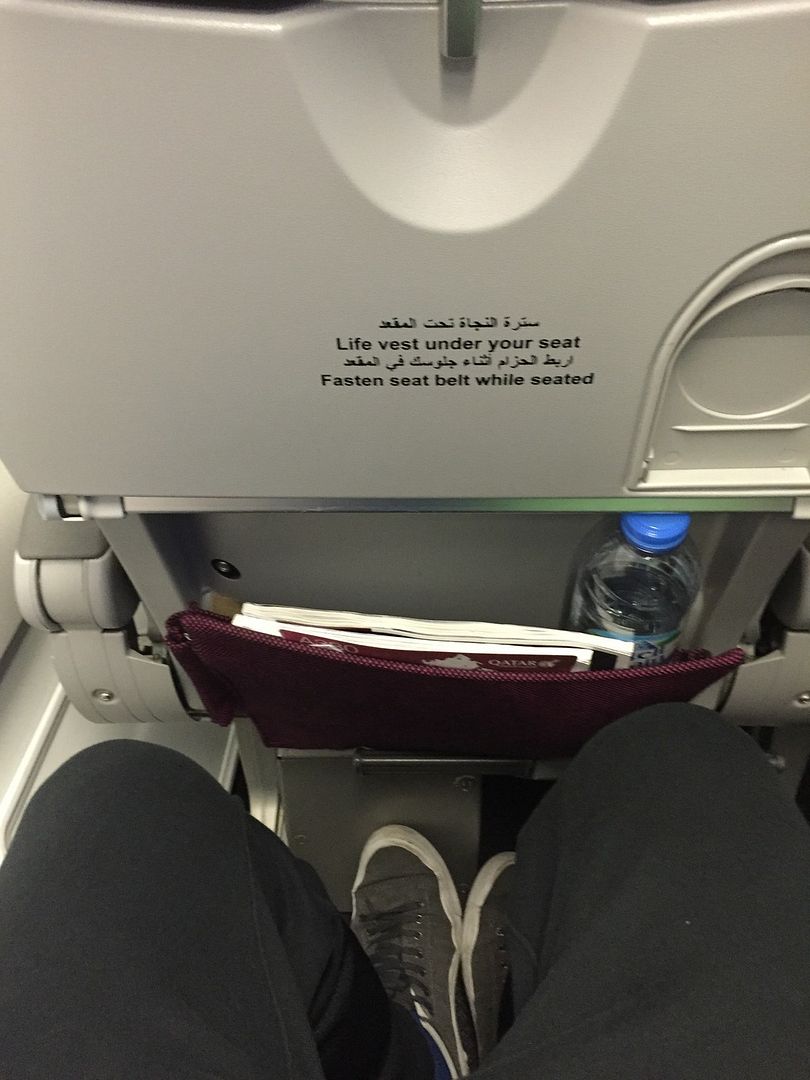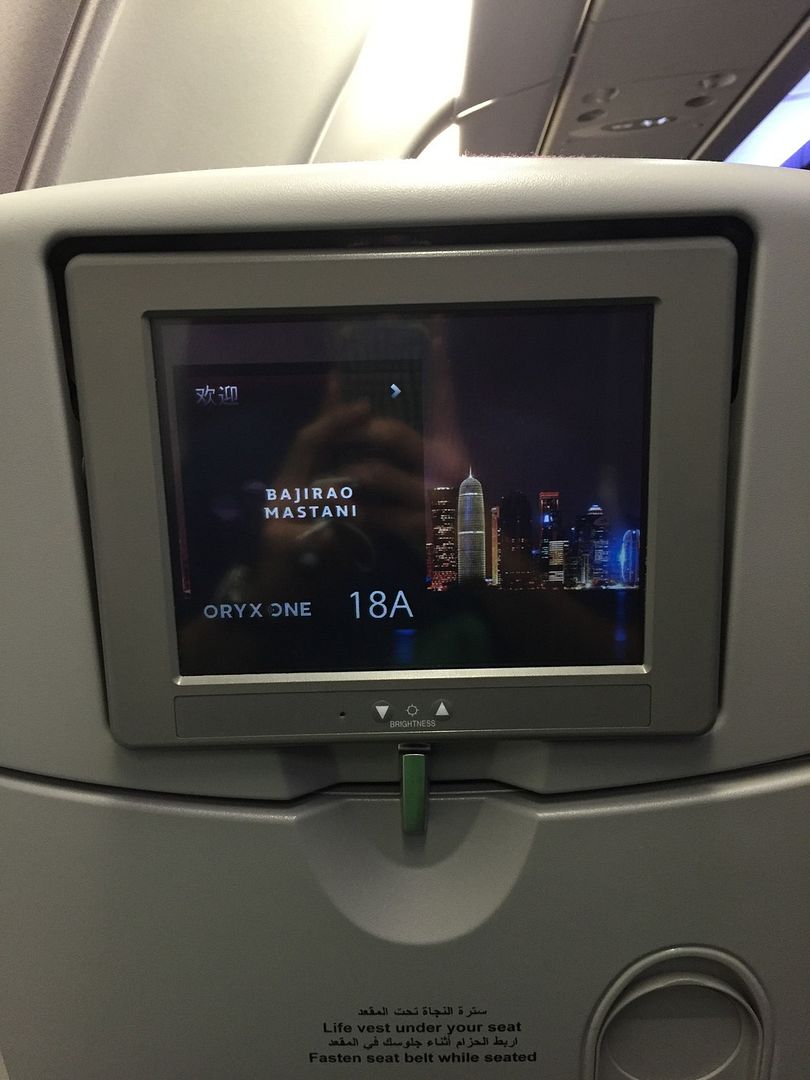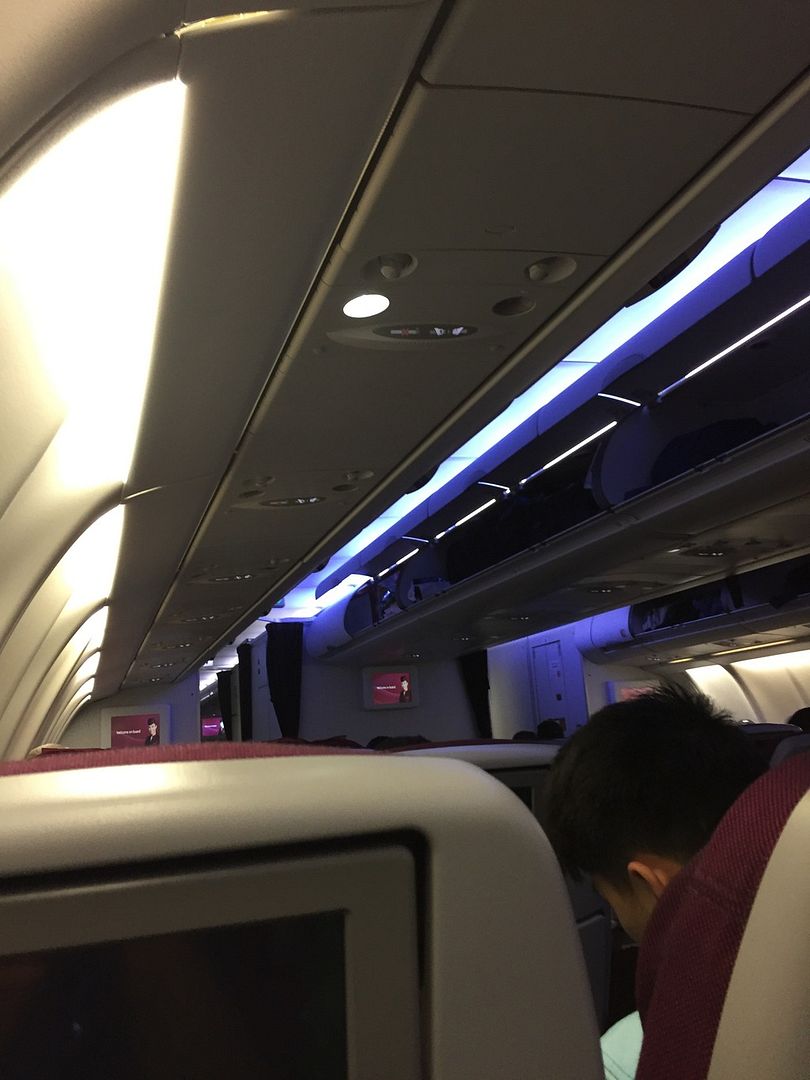 Captain Steve welcomed us on-board this 45-minute flight to Hamad International Airport which would be flying at a cruising altitude of 20,000feet. We pushed back from the gate at 5:25AM, 5 minutes ahead of schedule and we were airborne at 5:44AM.
Seeing your home from a plane is one of the best and worst feelings ever. It's the best feeling because the view is just beautiful but it's the worst feeling ever watching it become smaller and smaller as you fly away from it. I took in the view and enjoyed my last sights of Dubai till June. 2 months is a short time but home is home! See you soon Dubai!
The meal service on this flight was very quick and efficient. Just 10 minutes after take off, the cabin crew were already serving meals. On these short intra-Gulf flights, Qatar Airways normally just provides a sandwich or pastry with a drink and it was no different this time around.
Today, a scrambled egg sandwich with mushrooms alongside a sweet pastry. Orange juice was also given. Overall, a pretty decent snack for this very short flight. You could see the cabin crew rushing to make sure everyone was served but they pulled it off very well. I can imagine how hard it must be to serve 100+ passengers in such a short space of time.
Our descent into Doha began at 5:08AM and at 5:33AM we landed in Hamad International Airport 7 minutes ahead of schedule. It had been a pleasant flight with Qatar Airways.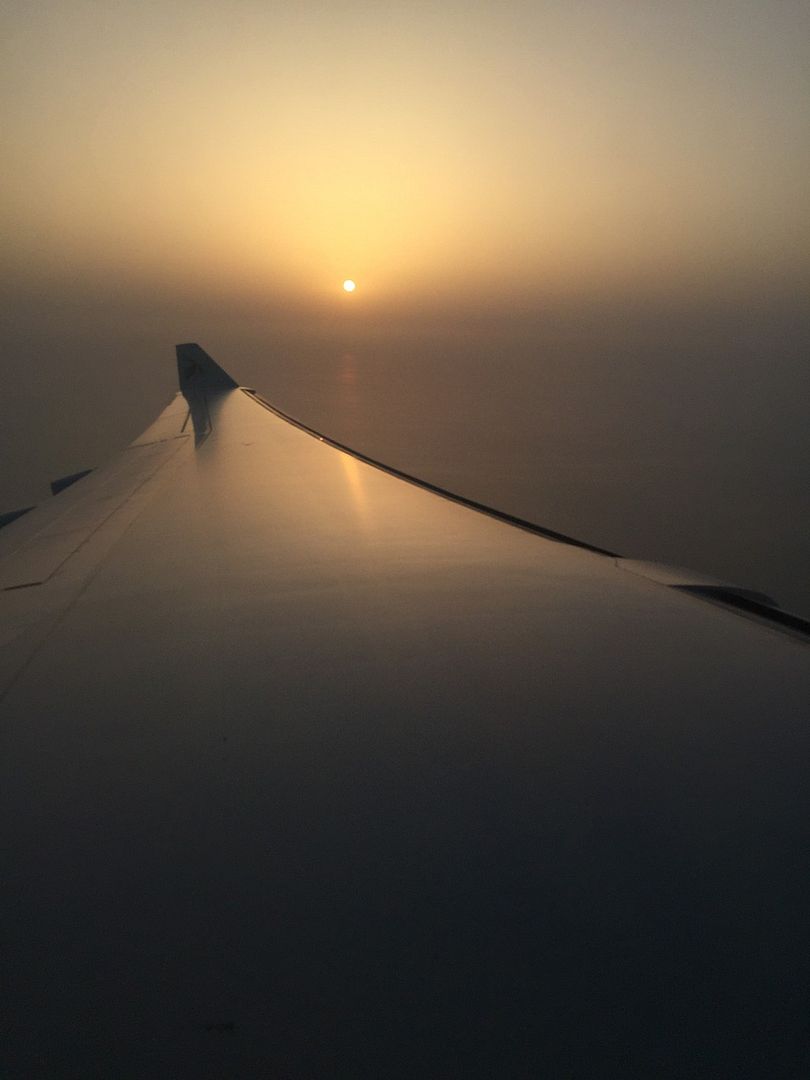 Views on landing were quite beautiful with the sunrise and its reflection on the sea. While taxiing to the gate, I saw at least 4 Dreamliners! If only it operated my flight.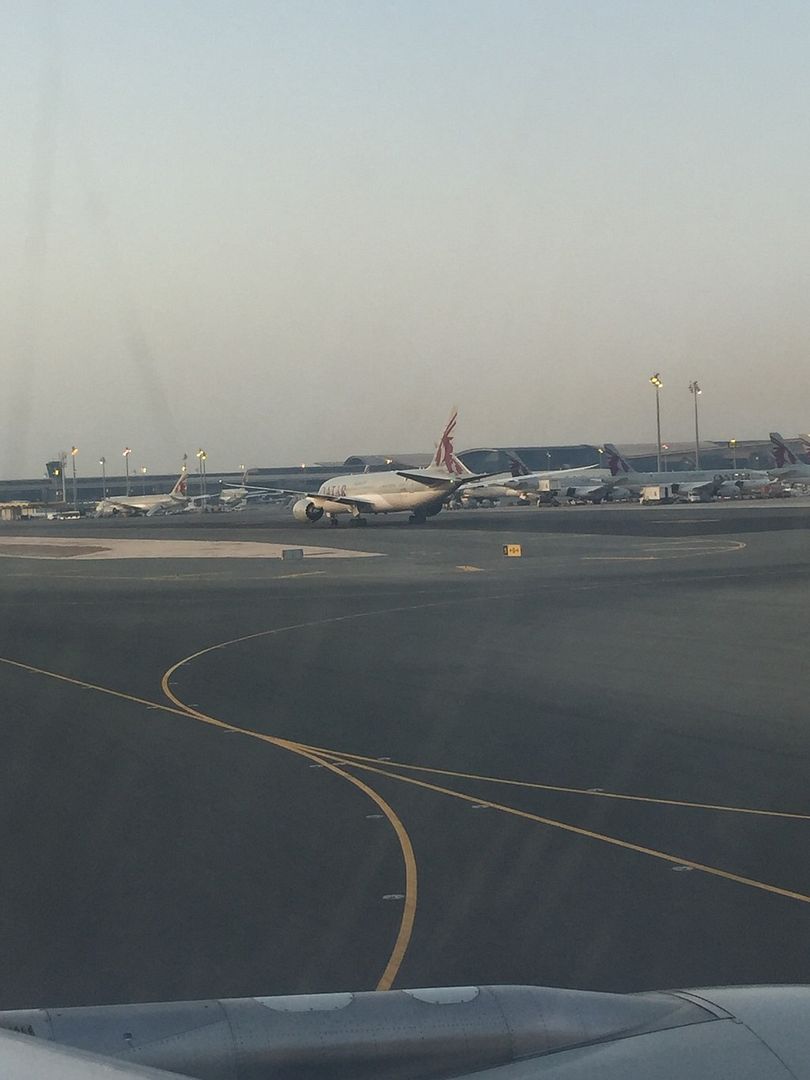 Transit at the gateway to the world, Hamad International Airport
After stepping off QR1003, I was back in Hamad International Airport for the 5th time in 6 months. I'll be honest here and say that I prefer DOH to DXB because the design of the terminal is just a lot more practical. Because DXB is essentially just a straight line of concourses, walking from end to another takes ages whereas DOH has a main central area with different wings which makes walking from end of the terminal to the other a lot easier.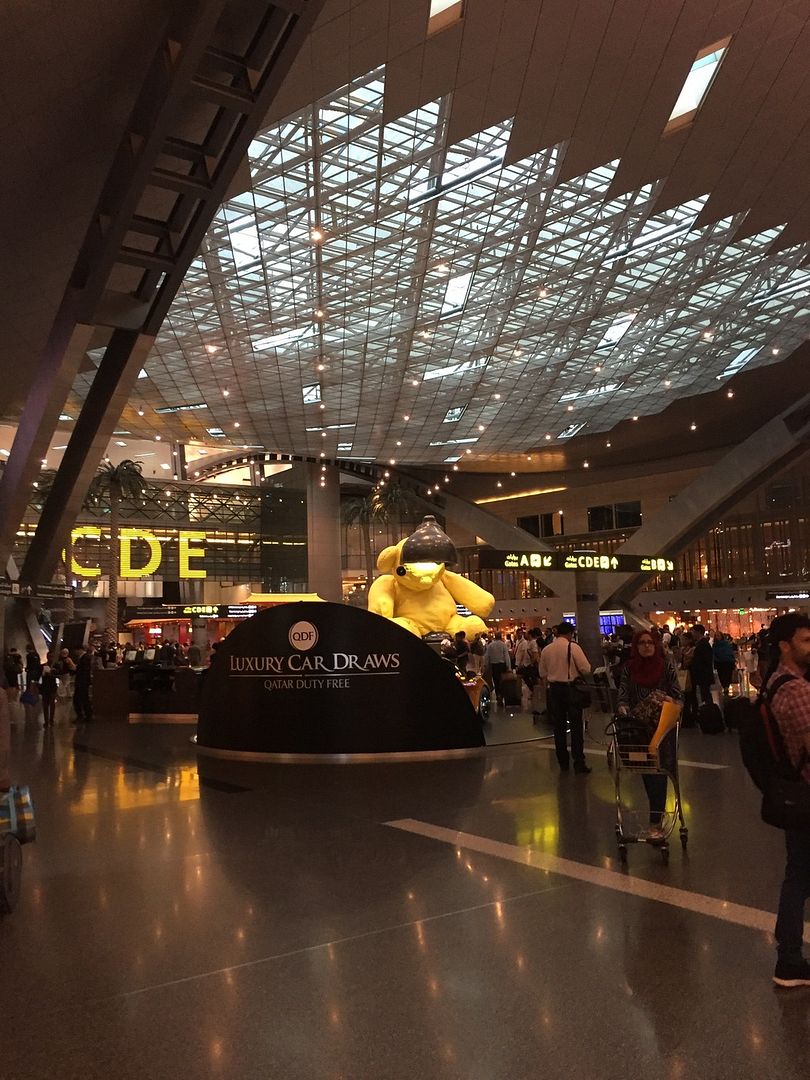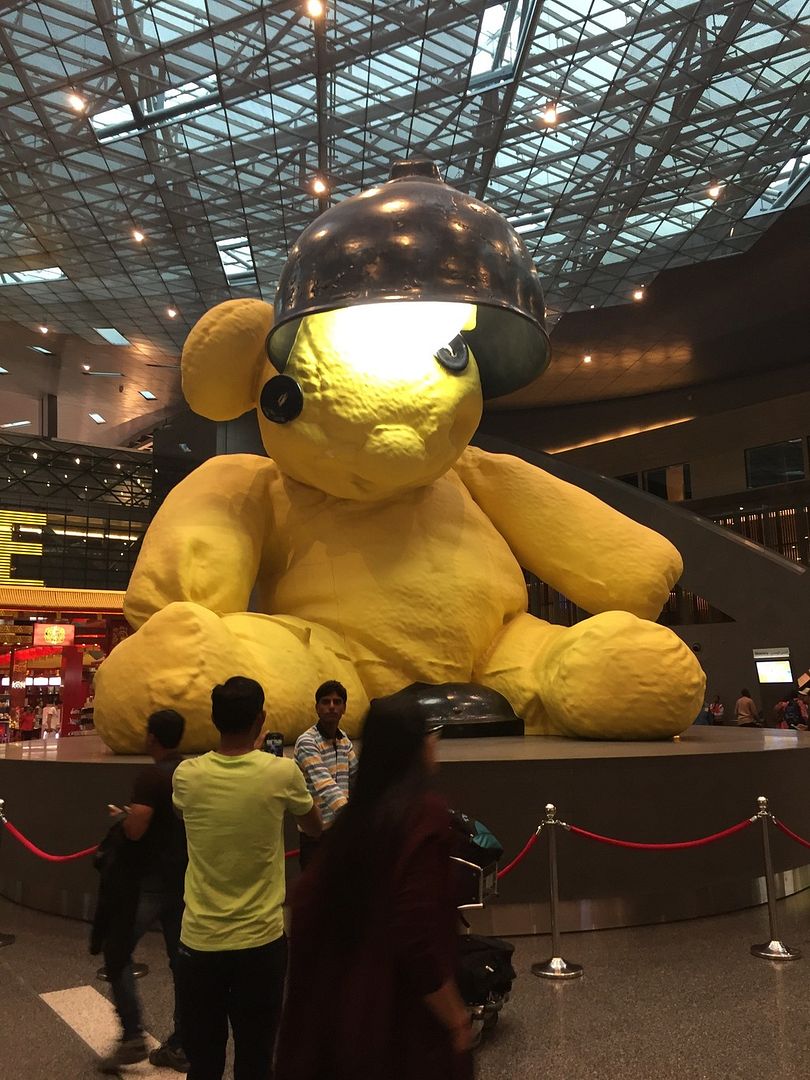 Pictured above is the famous 'work of art' created by Urs Fischer valued at $6.8million. It is situated right in the centre of Hamad International Airport standing at a height of 7 metres. I find it quite aesthetically pleasing and I know for a fact a lot of people don't so please don't judge me
At this point it was 6:10AM so I decided to head to my gate, C8. On the way to the gate I noticed a monorail on a separate level above us which was quite interesting! I had noticed it when I was last in Doha in March, does anyone know if it's in use at the moment? Because I've always seen the carriages being empty.
I was in the holding area at about 6:25AM for the 7AM flight and boarding hadn't even commenced at this point so I was wondering whether or not the flight would be delayed. Eventually, boarding did begin though and by 6:45AM, I was on-board a B777-300ER bound for Manchester.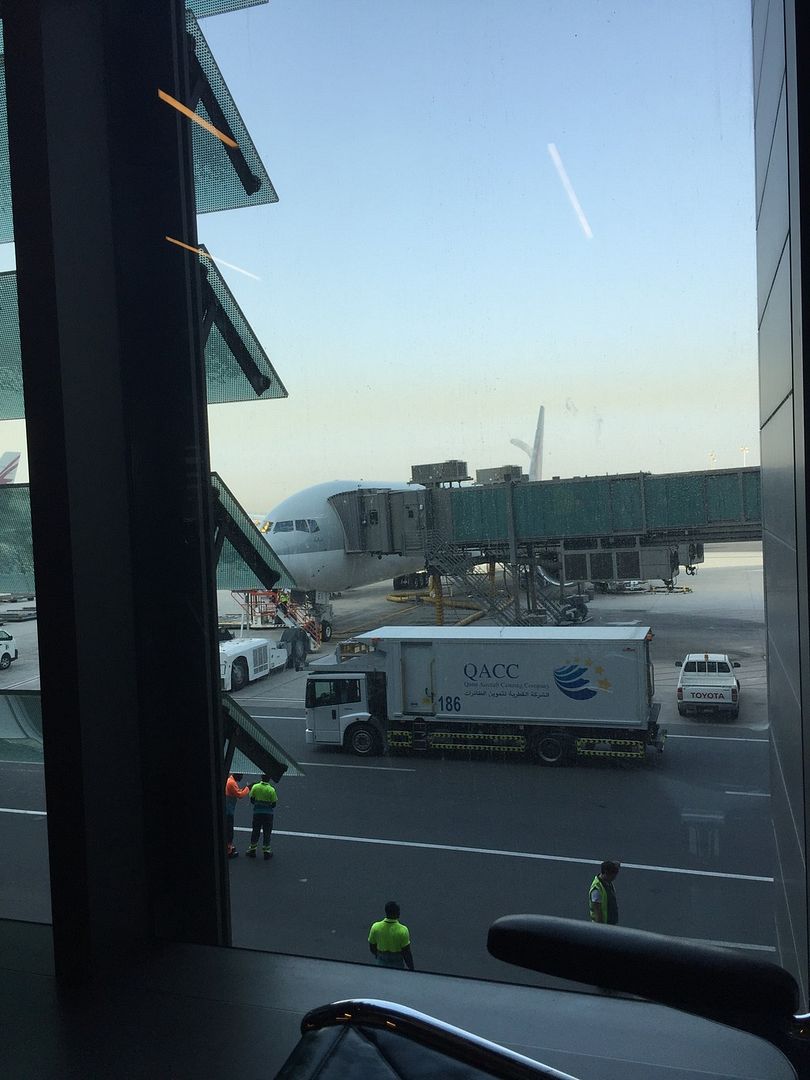 Qatar Airways
QR45
DOH-MAN
Boeing 777-300ER
A7-BEA
Seat 25A to 33B
Scheduled Time: 7:00AM-12:55AM
Flight time: 6 hours and 40 minutes
For this flight, I was able to secure an exit row seat and I was quite excited about being able to stretch out for this flight. However, due to the new 10-abreast configuration and the fact that the PTV and tray table were built into the arm rest, the seat felt quite narrow. Moreover, I thought at first I'd be able to deal without having a window next to me but then I realised it felt so weird. So while I was loving the leg room, I wasn't enjoying everything else.
Within 5 minutes of settling into my seat, a member of the cabin crew approached my seatmates and I requesting for 2 of us to swap with an elderly couple, I obliged thinking the seat would be more beneficial to them than to me. I was then shifted to seat 33B and while it's in the middle of two people, it was tolerable. Now with the new 3-4-3 configuration, Qatar has gone for slim-line seats and has done away with the the thick and padded seat it used to have on the B777. To be honest, it wasn't that bad as people made it out to be. The seat itself was comfortable and leg room was actually quite excellent. There aren't any IFE boxes protruding leg room so in some ways the new seat is nicer albeit narrower.
I flew on the newly reconfigured B777 between Doha and Dubai last month and I actually loved that flight because I had a window seat and the seat next to me was empty so I was a happy camper then! I was hoping for that on today's flight but I guess I had to make do with what I had.
Our American captain welcomed us on-board announcing a flight duration of 6 hours and 40 minutes and a cruising altitude of 36000feet. By 7:13AM, we pushed back from the gate 13 minutes behind schedule but we were told that we would make up for the time and actually have an early arrival in Manchester. By 7:26AM, A7-BEA took to the skies on this medium-haul flight to Manchester. We flew right over downtown which gave us quite nice views!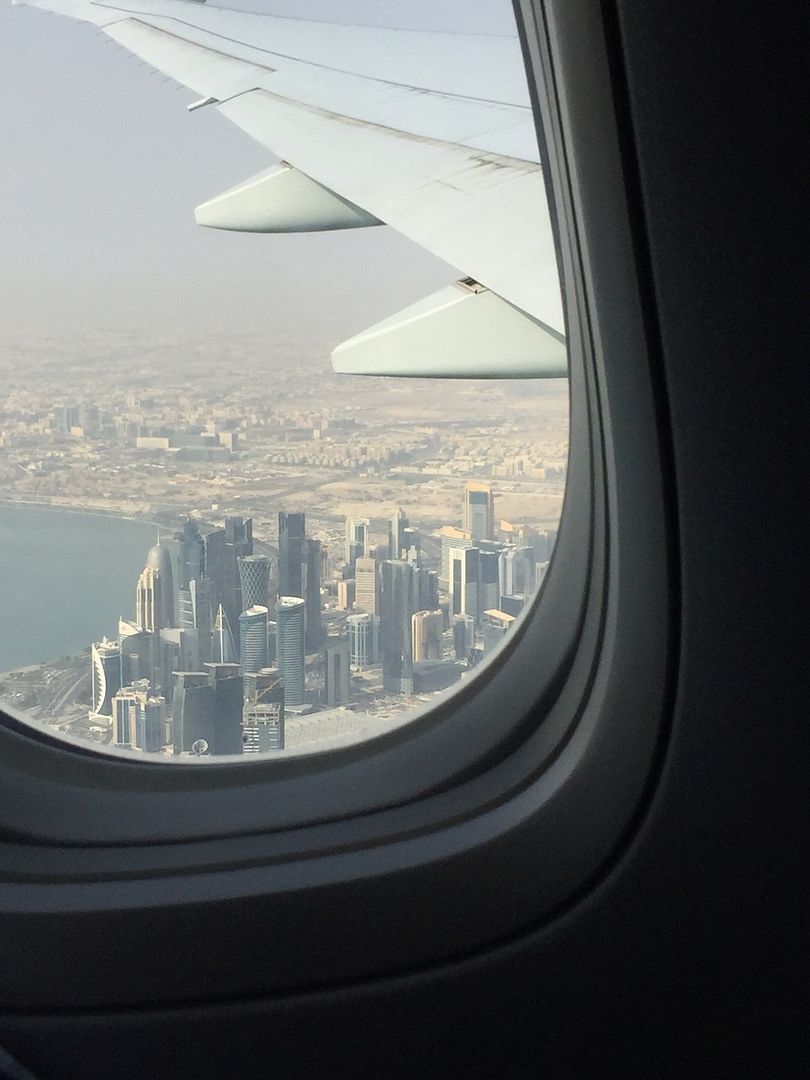 I began the flight by watching a bit of Modern Family and just relaxing really. I always feel comfortable and cosy on a plane and this wasn't different. About an hour or so into the flight, I was absolutely starving but the meal service had just begun so it wasn't too bad. We were given the option of scrambled eggs with a chicken sausage or apricot pancakes. I already had a scrambled egg sandwich in the morning so I went for the pancakes this time around.
The meal itself was quite tasty. The pancakes were nice and fluffy and the fruit was refreshingly cold. I continued watching Modern Family and napped for a few hours as well waking up about 2.5 hours before landing. At this time, a second meal service was served and it was just a sandwich and juice, similar to what I was served on the flight from Dubai to Doha earlier on.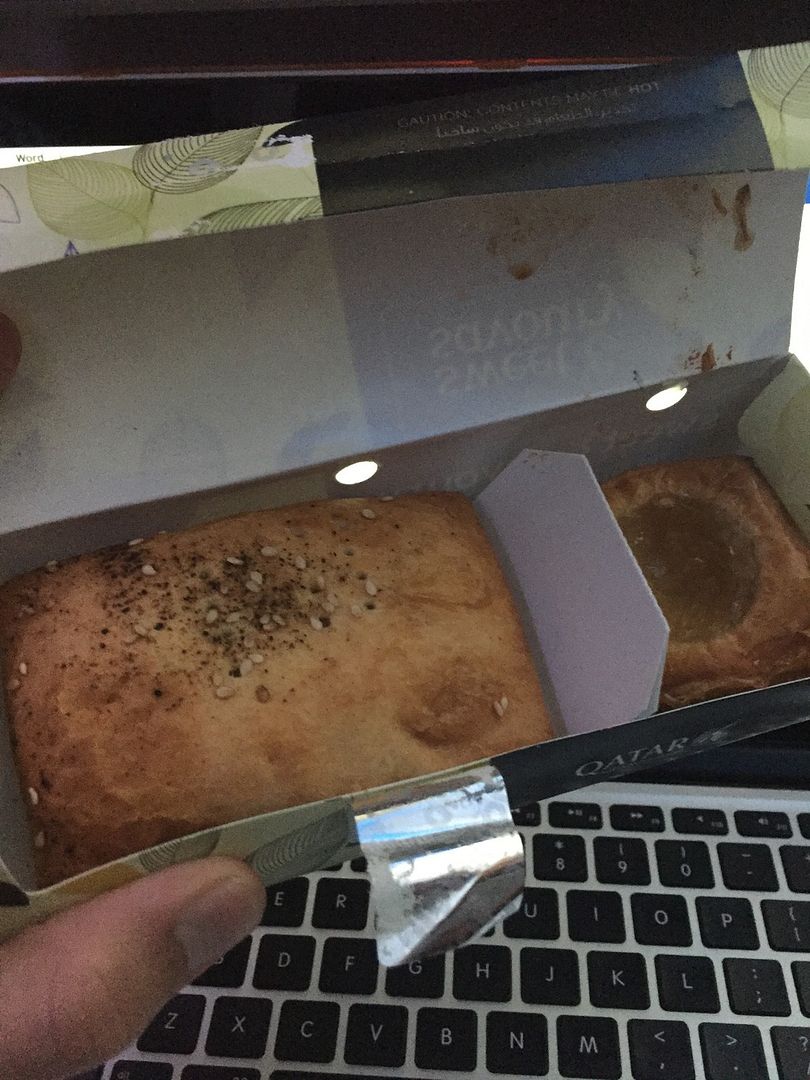 I chose the vegetarian sandwich which (you guessed right!) consisted of a vegetarian sandwich with a sweet pastry like desert.
At this point, the thought of the workload awaiting me at uni prompted me to finish some small tasks off. This was the first time I was productive on a plane, I'm quite proud of myself for that
but to be honest I was just making up for the fact that I was missing 2 lectures on the day of my flights.
I must add that service on this flight was very impressive. The cabin crew were courteous, friendly and delivering their service from the heart. I had one such encounter in particular with a member of the cabin crew when I was waiting to use the lavatory. She approached me and asked if I wanted a glass of water and I said yes please. She then jokes around with me telling me that it'll cost GBP10. I laughed it off and said I can get tap water for free instead and she says "but we serve from the heart". Just little things like that!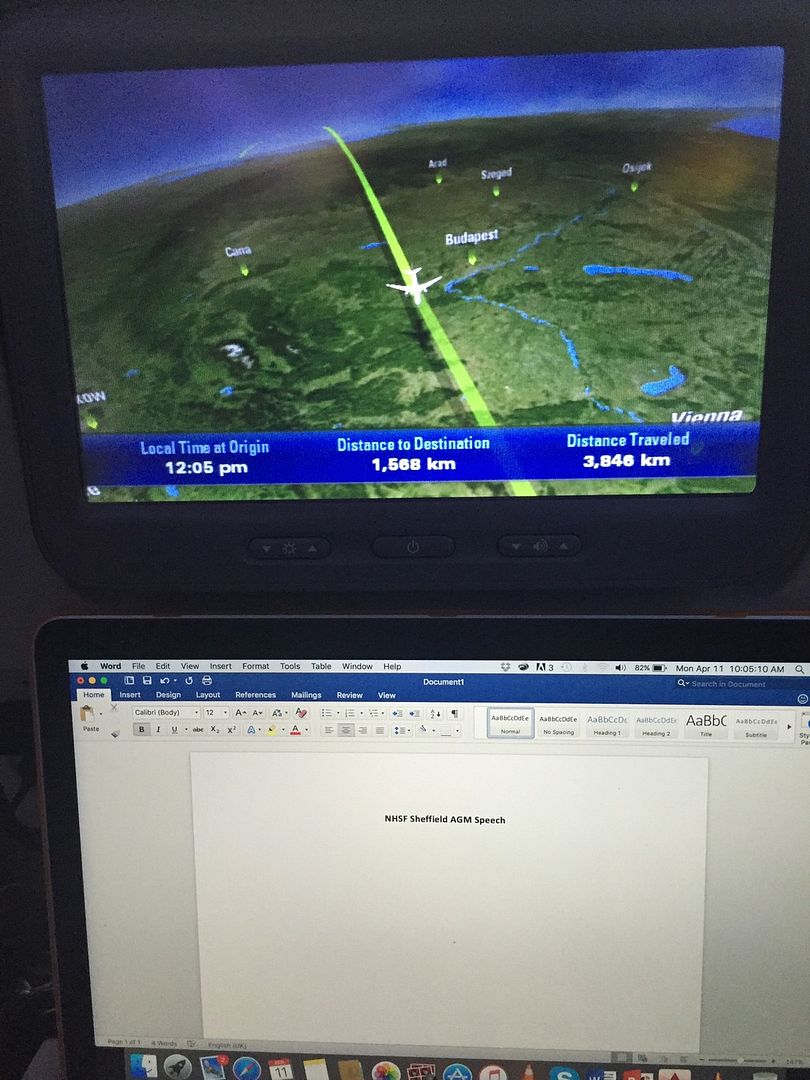 Writing a speech somewhere over Budapest.
After quite a relaxing flight, descent began at 11:27AM and at 12:02PM, we touched down in 'not so sunny' Manchester (Terminal 2) a whole 53 minutes ahead of schedule! We were docked right next door to a Cathay Pacific B777 which had flown in from Hong Kong.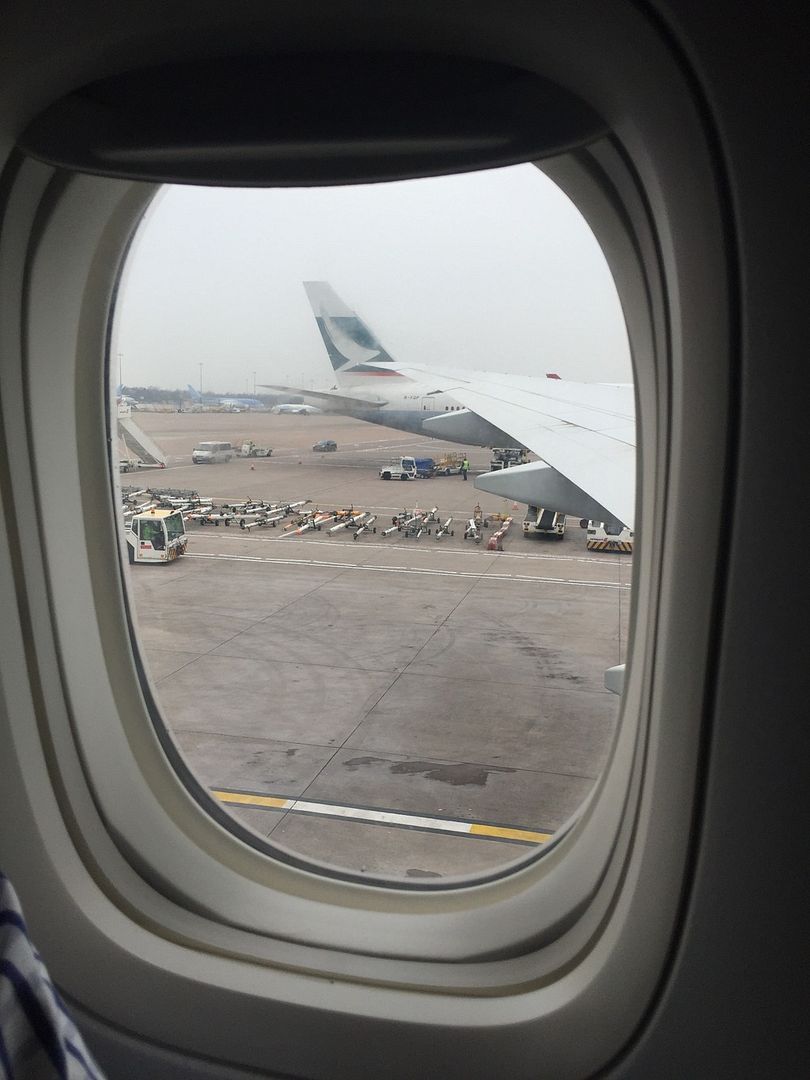 One last look at my ride from Doha to Manchester:
With a fast moving immigration queue, I was out in baggage claim quite fast and my bag was already on the carousel. At this point, it was 12:40PM and there was a train to Sheffield departing in 15 minutes. After a mad dash to the train station, I made it on the train with just minutes to spare. Before I knew it, I was back on the good ol' First Transpennine Express heading back for my final term of university this year.
FINAL THOUGHTS
Overall, I had a pleasant experience with Qatar Airways. While I was disappointed about not being able to fly the Dreamliner, I still enjoyed the flight from Dubai to Doha. The 10 abreast B777 wasn't as bad as I thought either! I'm sorry I didn't get pictures of the cabin for you guys though. Concourse D in Dubai, while quite small, was a nice structure for something temporary. I look forward to arriving in Concourse D again in June!
Thank you guys for taking the time to read this. This was a long trip report and I only realised after I finished typing it up so I appreciate you all taking the time to read about my student travels. Stay tuned for future trip reports! Maybe I'll review my flight back home in June as I'll be flying the QR A380 from LHR! Until then,
Rishi.
PREVIOUS TRIP REPORTS
-
Hiking Along The West Highland Way! EK DXB-GLA-DXB
(by
rparwani
May 8 2015 in Trip Reports)
-
To Mumbai On The Emirates A380
(by
rparwani
Sep 26 2014 in Trip Reports)
[Edited 2016-04-14 08:51:23]