Hi everyone!
Ever since Qantas introduced its new Business Class seats two years earlier, it has been high in my bucket list to experience the product. Dubbed the Business Suites, it is the ultimate replacement for the "Skybeds" on board the QF A330s. The Skybed features a 2-2-2 configuration with an angled-flat sleeping position. Meanwhile, the new Business Suites promises an extra comfort and privacy with a 1-2-1 configuration. Initially, the Business Suites is rolled out on the A333 fleet, which mainly serves the Australia to Asia flights, as a strategy to counter the hard product of their Asian competitors.
However, when Virgin Australia (VA) announced the plans to update their A330 fleet flying transcontinental routes with a reverse herringbone seats, Qantas extends the Business Suites into its A332 fleet, which operates its domestic products. That domestic route, includes my flight QF420 from MEL to SYD. Therefore, please join me aboard my day out with Qantas, flying
the Domestic Business Suites Experience
.
FLIGHT DETAILS
Qantas, QF 420
Melbourne-Tullamarine (MEL) - Sydney- Kingsford Smith (SYD)
Airbus A330-203, VH-EBS "Swan Valley"
Delivered 20/10/2011, msn 1258
ETD: 0930 (Actual around 0956)
ETA: 1055 (Actual around 1100)
Seat Number 4A
Pre-departure
I have arrived on Melbourne Airport's Terminal 1 approximately two hours prior to scheduled departure. Check-in was handled professionally by the staff members at the premium check-in desks dedicated to Business Class, QF Platinum, Gold, and Silver customers. My bags were checked all the way to my international destination I'm connecting to, and my boarding pass was handed in no time.
Next stop is the Qantas Business Class lounge in MEL, which is in the level above the departure terminal. The staff members welcomed me on to the lounge, and showed me around the lounge. I also meet fellow a-netter and trip-reporter
pugsley
who is working that day. Thank you for sparing some time to meet me amidst your busy schedule to meet me and making sure I was well looked after.
More coverage on the lounge can be seen through the link below:
http://www.dirktraveller.com/single-pos ... ess-Lounge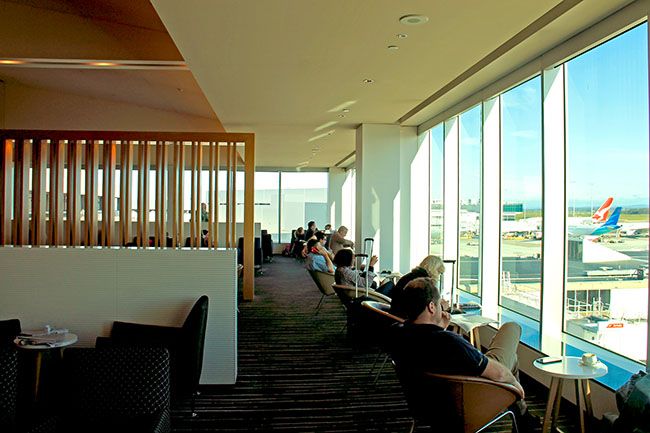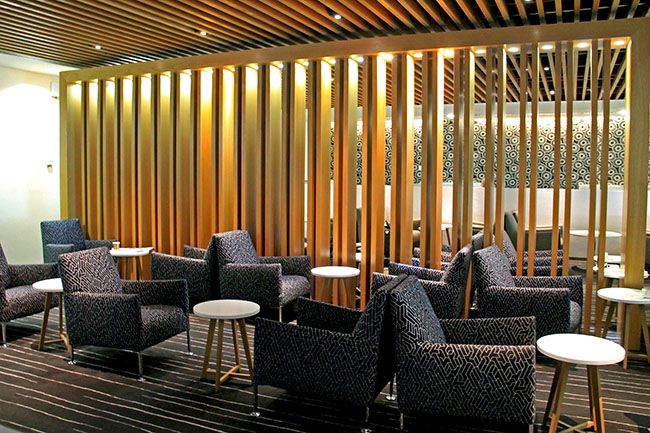 The lounge was very well stocked with food and beverages for breakfast, while it was quite a busy time I had no difficulty finding a seat.
I had a good time enjoying my morning coffee while doing some 'planespotting' from the window overlooking the tarmac outside.
Soon, it was time for me to board the aircraft. The aircraft was an A332 registered VH-EBS. This would be my second time flying on the airframe, although my previous experience was when the aircraft was still operated by Jetstar.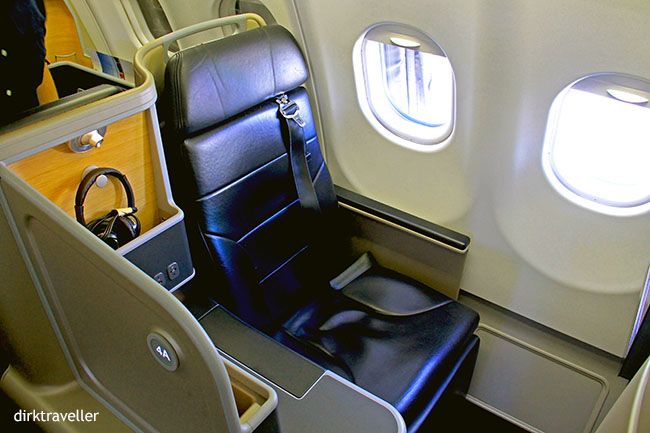 As I boarded through door L2, I was welcomed by David, the Customer Service Manager (CSM) in-charge of our cabin. I made the short walk into my seat 4A, and finally meet my Business Suite seat.
Unlimited legroom for me here!
Welcome to seat 4A. The Panasonic ex3 system was fitted on the refurbished Business Suites seats, with promising range of content and responsive to every touch.
Also a remote control if using touch-screen is not your preference. The mirror inside the remote control cover does come in handy for some quick appearance check prior to landing.
[URL=http://s1113.photobucket.com/user/dirktraveller/media/qfdayout/20160919_093800_zps7tcavvvg.jpg.html
[/URL]
Noise canceling headphones is provided on every J seat.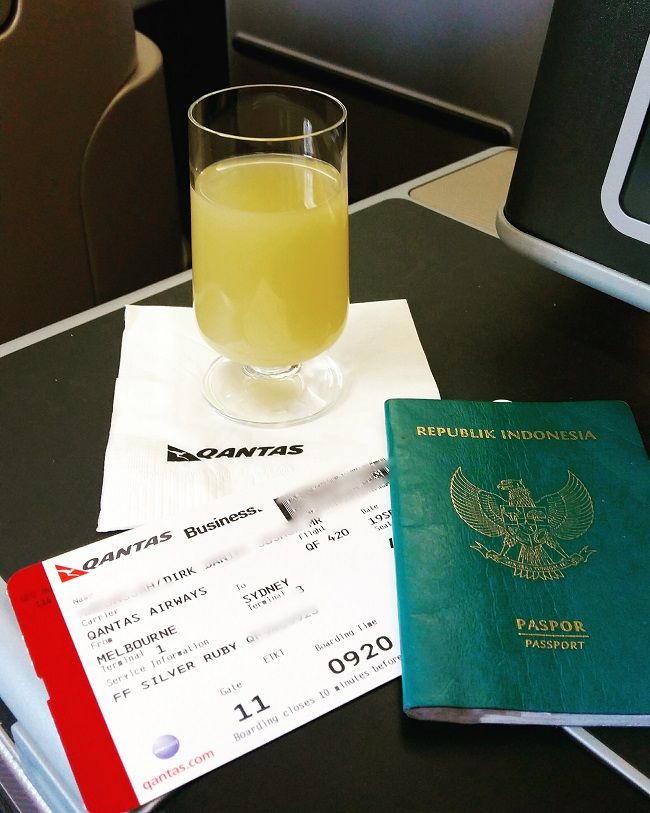 Soon, as everyone was settling on to their seats, Kathleen come around offering lemonades as welcome drink.
What better way to start your journey, really?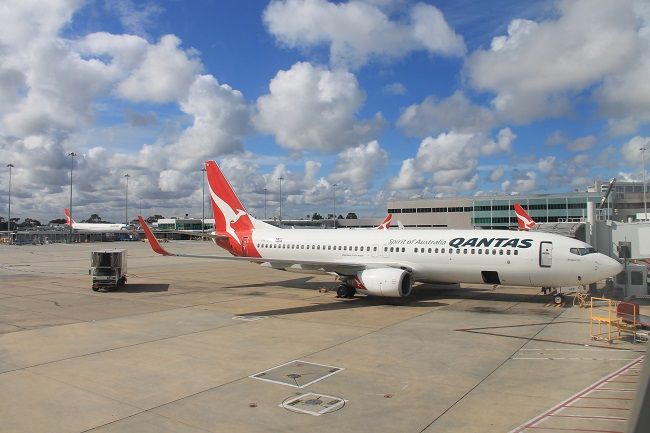 Bidding farewell to sister aircraft parked beside us, as we were pushing back from the stand. The safety video was played while the aircraft was taxing towards our assigned runway.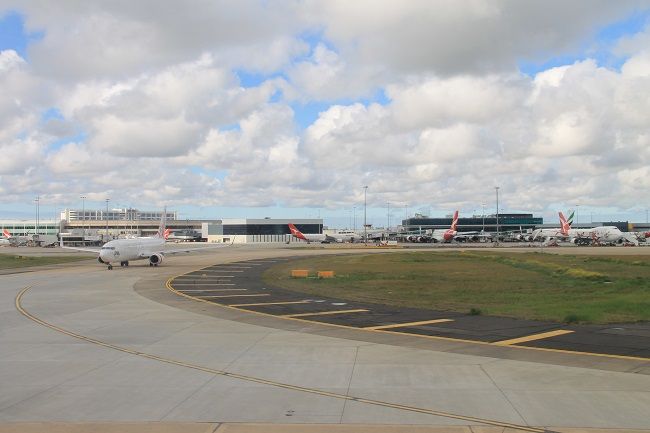 There was a bit of queue to use the runway, and finally it was our turn to power the engines and soar towards Sydney.
In-flight
Climbing away from Melbourne, while making a few right turns to put our A332 on the path for SYD. According to the PA, the passengers on the aircraft's right hand side had the privilege of looking the view of Melbourne CBD in a distant.
1 hour and 1 minutes left on our flight as the seat-belt signs were switched off. The crew took no time to start preparing the snack services.
Putting my Business Suite seat on the relax-mode. The seat was one of the world's first that has the capability to be reclined (at a regulated setting) from gate to gate, including take-off and landing.
The seat offers a fully-flat bed for passengers' to sleep. This is certainly an advancement from the SkyBed product which offers an angled-flat product.
On long-haul flights the crew would offer duvet padding for maximum resting comfort, particularly on overnight flights.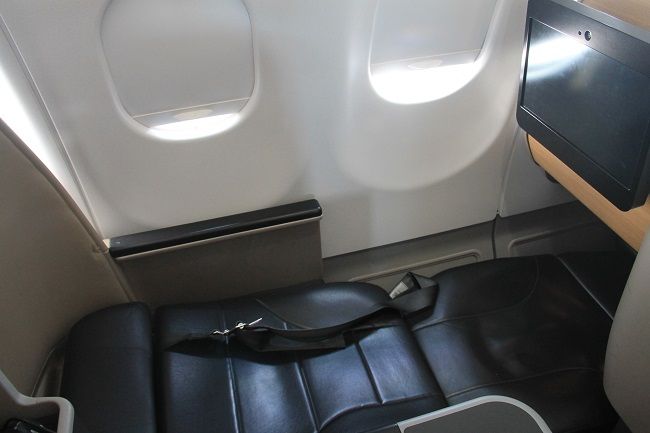 On fully-flat mode, your feet will go under the screen!

.
Having taken our meal orders earlier, the crew came around and brought our meals. This is definitely my kind of breakfast, where you get to enjoy a TV show, looking out the window from 39,000 feet, while enjoying my meal!
Closer look at my mains, which was one of the tastiest breakfast in sky I've ever had!
Throughout the meal service, David and Kathleen who were taking care of our cabin was going around to ensure everything was alright, or topping up any water or beverages where necessary. A coffee/tea service was also offered right after the meal service was completed.
No need to worry about your personal electronic devices to run-out of battery, the seat is also equipped with a USB port and a universal power plug. The plugs are conveniently located, especially for devices with cords at shorter length. It should be within reach of the side storage space, or even the foldable table when it is set-up.
Seat controls for you to configure your seat from recline, flat-bed, and up-straight at a touch of a button. It includes a massage function that allows the seat to vibrate along your back, a feature which I greatly appreciate!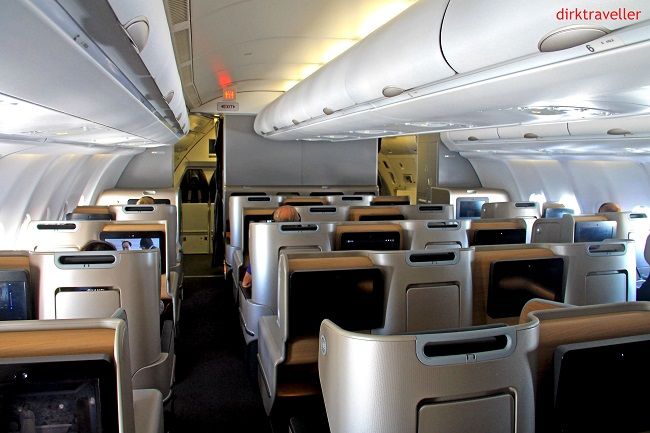 The cabin is configured 1-2-1, with a total of 28 seats. On this flight, only 6 out of the 28 seats are occupied, while economy class were reportedly filled in its maximum capacity.
Arrival into Sydney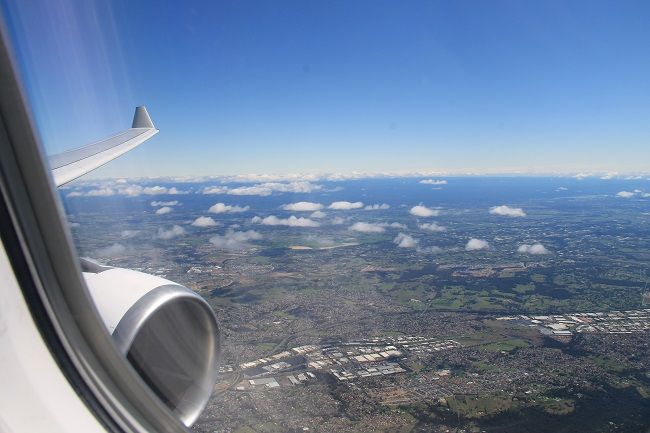 Time really flies fast and the Captain on the PA was announcing that we were on descent to SYD. The cabin was prepared for landing and the crew were doing their checks to ensure the cabin was ready for our final approach and landing.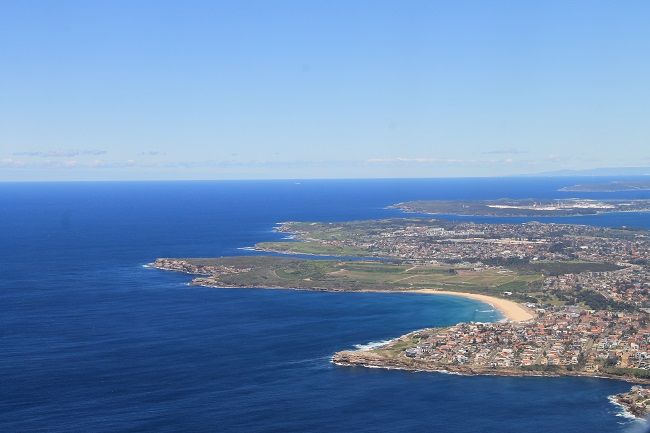 Our approach pattern includes a turn around the beautiful Botany Bay, before continuing for final approach to SYD.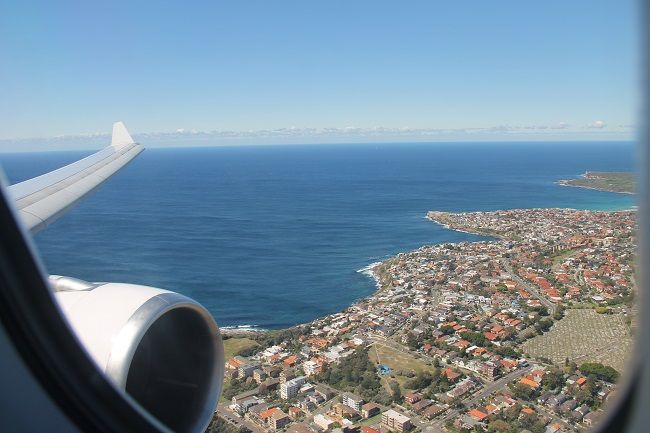 On final approach to SYD.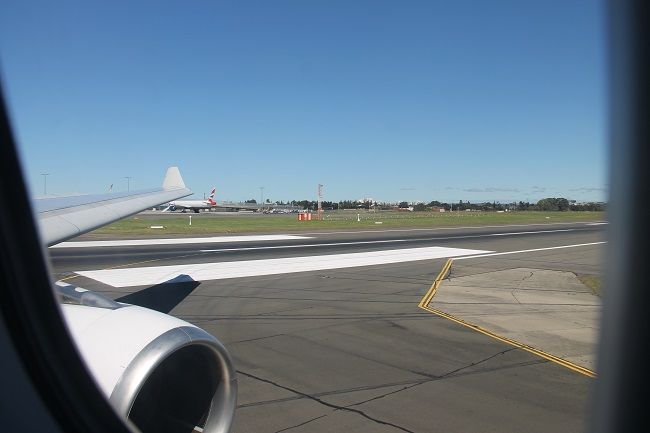 In for a smooth touchdown, and making quite a long taxi into our stand at Gate 04.
Docked nicely at Terminal 3 in SYD. I was able to become one of the first to disembark from the aerobridge-connected L2. I thanked the CSM for looking after us on the short 75 minutes journey, and he wishes me well on my onward international flight.
Final Thoughts of the Flight
Designed to take-on international long-haul competitions, the Business Suites certainly surpassed every expectation for a domestic, let alone one-hour flight. Thoroughly enjoyed my long-awaited Business Suite experience. Tastefully designed, the new product is indeed an advancement from the previous SkyBed product. The direct aisle access from every seat definitely helps the Business Suites to live up to today's premium long-haul expectation.
The ability to recline to a fully-flat bed and have a reclined seat from gate-to-gate will be a blessing to most business travelers who already had their long-day behind them. Meal offerings was well what was expected on a one-hour flight. The IFE system was working perfectly, with a range of local and international (with multiple languages) content adequate for a long-haul flight. Last but not least, I would like to thank David and Kathleen, along with the entire crew of QF420 for doing a lovely work despite the limited flight time for meal services, they certainly made you feel right at home along the flight.
Thank you for taking the time to read my report.
Questions or thoughts are welcomed on a reply or private message.Best Regards,
Dirktraveller