Doha to Buenos Aires via Sao Paulo (Qatar Airways Boeing 777-200LR Business)
A video trip report containing most of the photos of this report along with some videos of the flight is available on this link:
Video Trip Report
Background
This is the continuation of my previous trip report:
Madrid To Buenos Aires (Via Doha?!) Part 1
Having written Part #1 more than a year back, I wanted to write a detailed report of my onward flight to EZE. But, I somehow thought I lost all my photos and videos of the trip. Last week while I happened to come across a folder with all the pictures! They brought me back vividly to the day of the flight
On the day of the flight
I arrived on QR152 from Madrid after an overnight flight around 06:00AM. With less than 2 hours between flights, I decided to visit the Al Mourjan Lounge to have a shower and catch some breakfast. Having been to the Al Mourjan lounge before, I went straight to the showers which were busy at the time. I was asked to registered my name and flight details and told the shower would be free in about 5 min. So I decided to wait right outside.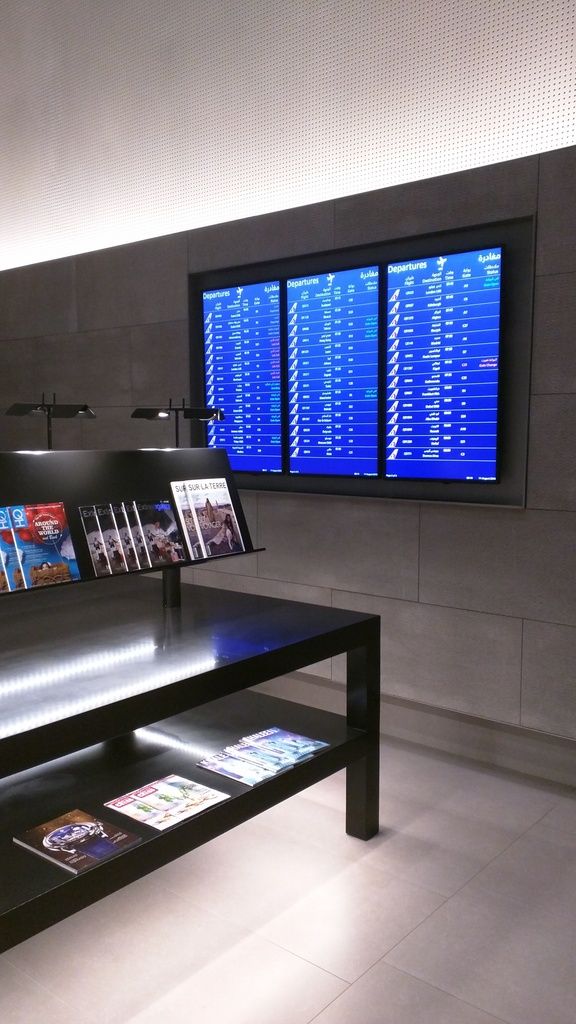 After a refreshing shower, I headed up straight to the restaurant. On my way to the restaurant upstairs I passed by the large area with water dripping like rain from the ceiling. I love to stand there and hear the sound of the water drip.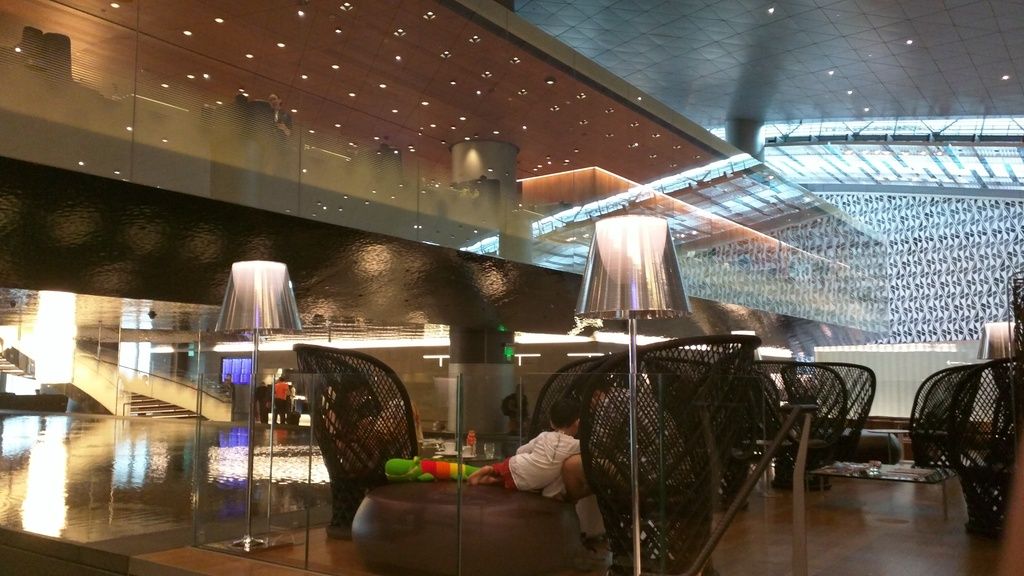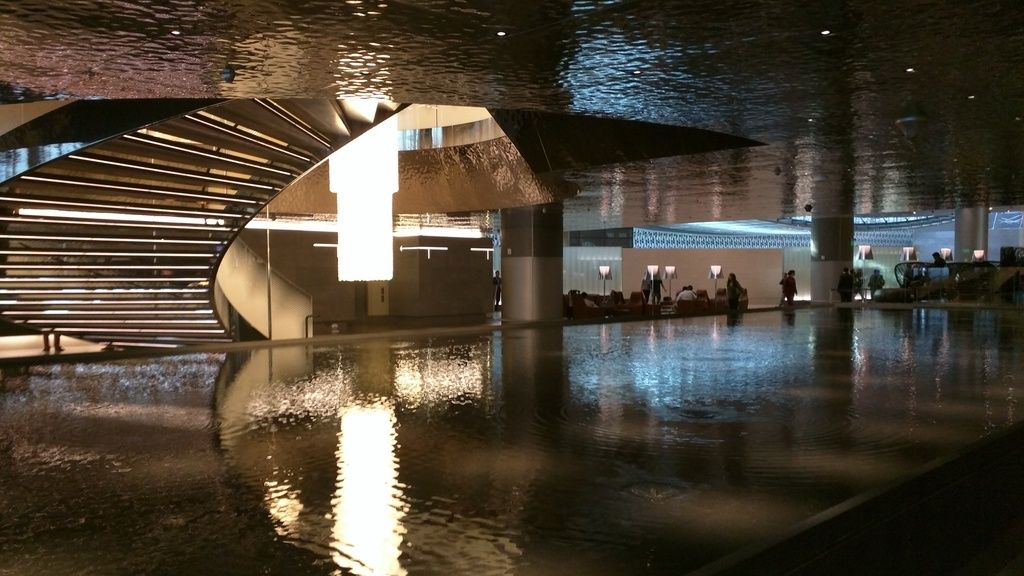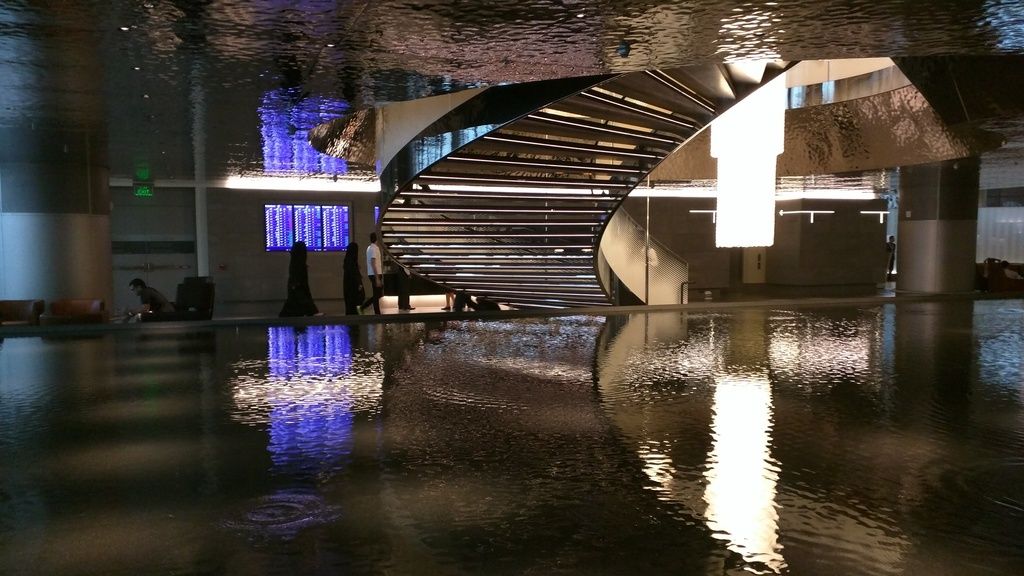 The restaurant then had a buffet service and an Ala carte service. With lack of time, I stuck to the buffet breakfast. I loved the grilled Haloumi cheese. In my recent trip in the first week of October, I was told that the latter has been discontinued.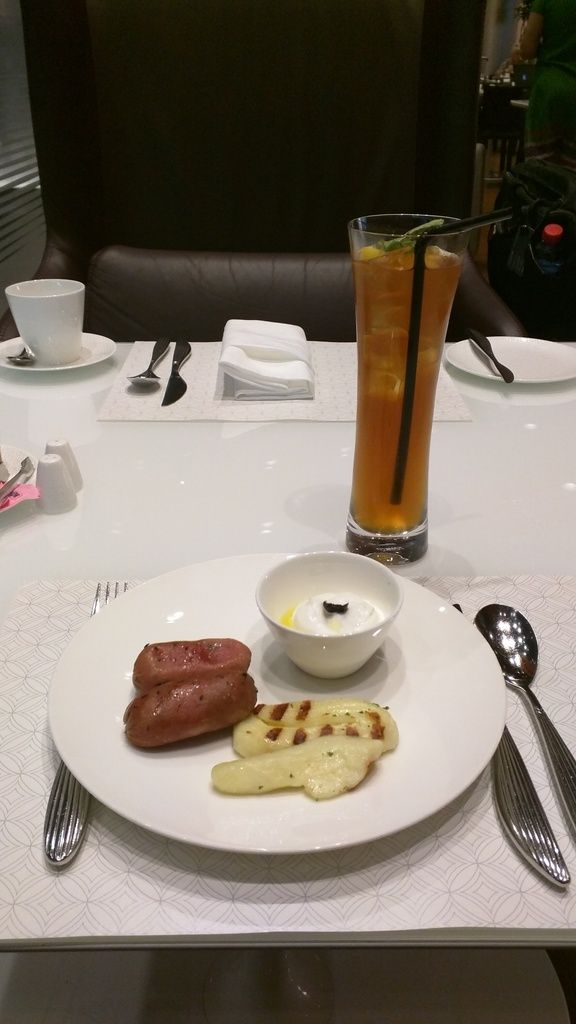 Around 45 min before departure time, I headed to the gate C3.
DOH-GRU
QR771 Qatar Airways
Business class
Seat: 3K
Boeing 777-200LR A7-BBE
STD: 0800 STA: 1630
ATD: 0758 ATA: 1554
Flight Summary: Doors closed:0758 pushback:0801 takeoff:0823 landing:1554 flying time 13:31 hours Runways: 34R:09R Gate:C3 Max Cruising altitude: 36000 feet
Boarding
Qatar Airways always follows a very orderly boarding process, and I appreciate the way they manage crowds. Boarding had just been called when I arrived, and I went straight to the boarding gate since Business class and FFP members were invited for boarding first. Peeked through the windows near the gate, saw the magnificent aircraft that would take me half way across the world. On entering the aircraft, the flight attendant at the door saw my boarding pass and welcomed me on board directing me to my seat. There was no personal welcome from the chief or any other flight attendant at any time during the flight, which is strange having flown Qatar numerous times before.
The Seat & Initial service
I love the 777! So for me getting on board on this aircraft always gives me goosebumps. The feeling of spaciousness with its high ceilings and trademark overhead bins is truly amazing. After having flown just before on the 787, this 777 felt even more roomier.
I somehow like the old style seats on the QR 777 much more than the reverse herringbone seats on the 787. I feel there is more space and for my height I feel I can sleep without any issues. On the seat is placed a really nice and comfy pillow along with a mattress.
Boarding process ended very soon and the chief called out All customers on board. Today's Business class load was very light only 7 passengers. So there were many seats vacant and I could switch to any other if I wanted to.
One of the FAs stopped by asking me what Id like as a welcome drink. I'm a big fan of the lemon and lime mint drink and so asked for it. Within a few minutes she came and presented the drink along with the menu for the flight. They also offered me pajamas of my size for the flight which I gladly accepted. They also offered the Georgio Armani amenity kit.
While sipping on the lemon drink, I looked outside at the beautiful GE90 engine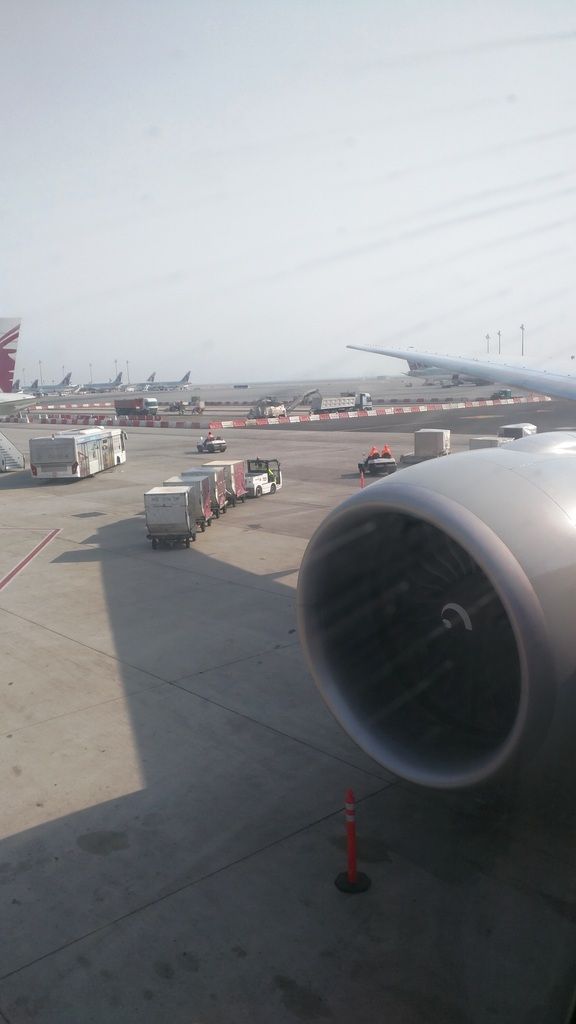 Meanwhile I was reading through the menu and the captain came on the PA system welcoming us on board and gave us a few details of the flight. He announced the flying time would be around 13 hours and 30 min and that we could experience some turbulence around 5-6 hours after takeoff.
Pushback and Takeoff
Door was closed a few minutes before 8:00AM and we pushed back a few minutes after. In spite of being very close to the runway 34L, we went all around the airport to takeoff towards 34R. I wonder why! Maybe the length of the runway or the takeoff weight?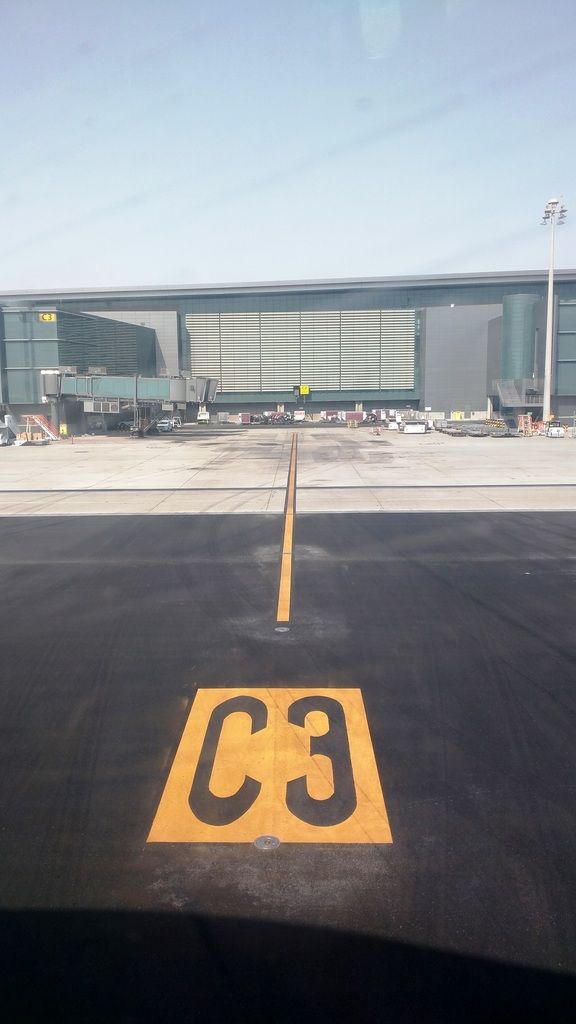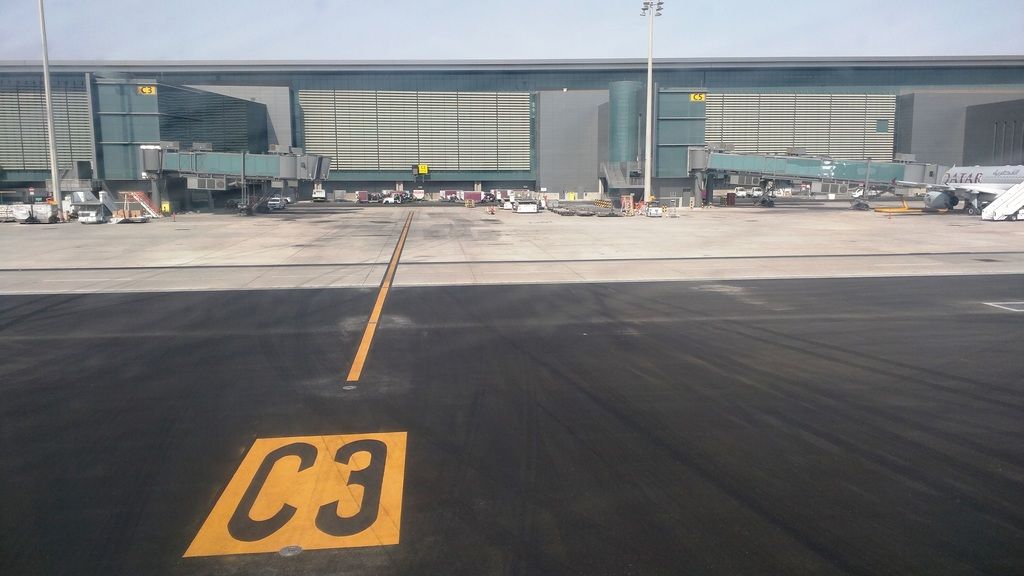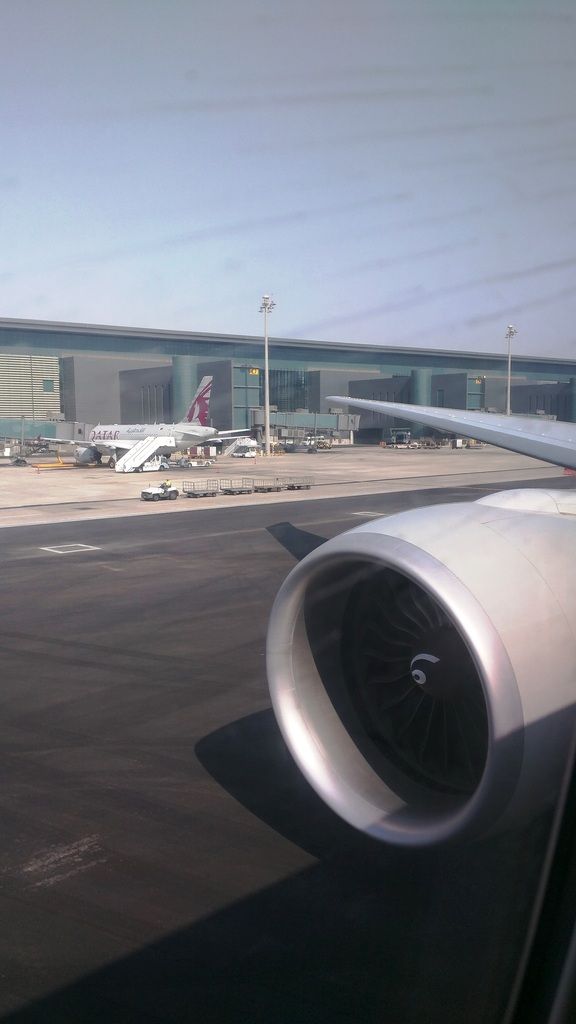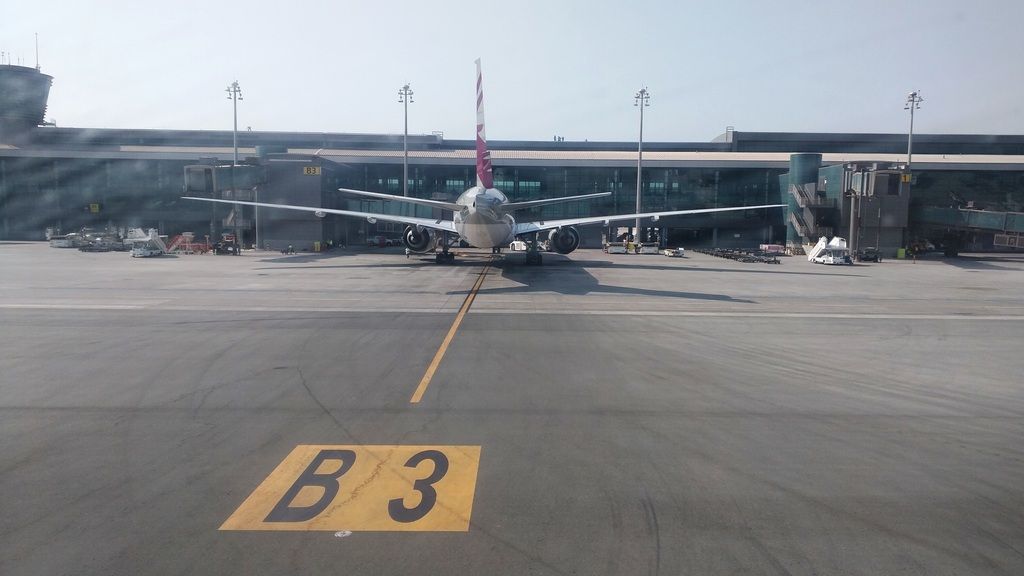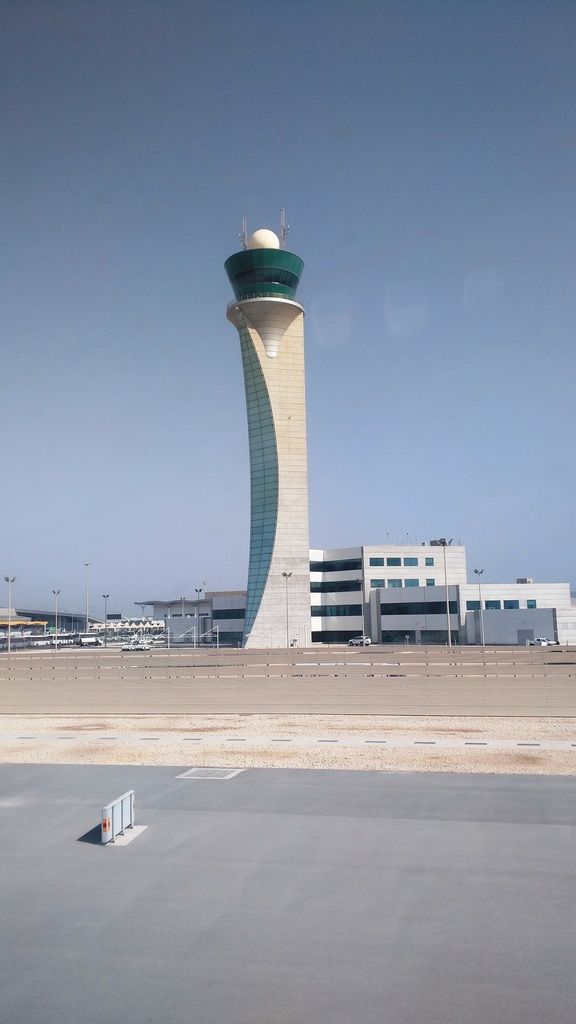 Takeoff was powerful and very long and we took off into the hazy and hot summer skies of Doha. Some pics right after takeoff with the iconic Pearl in the distance.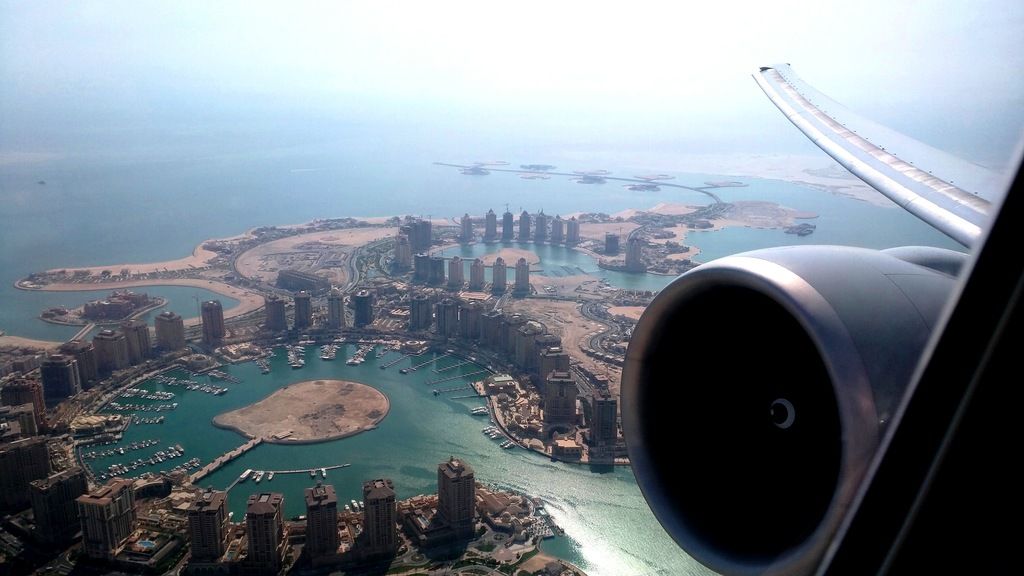 Drink, eat, sleep, repeat...
I was excited to try out almost everything on the extensive menu. I think for a long haul flight like this, the menu is very good and gives you multiple options for you to try out with your preference when to eat and in which order.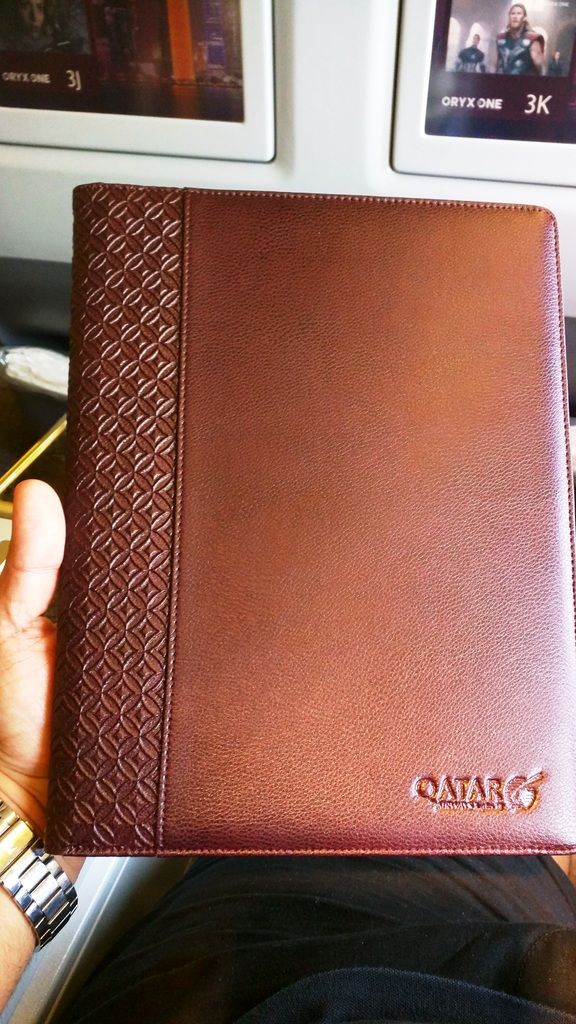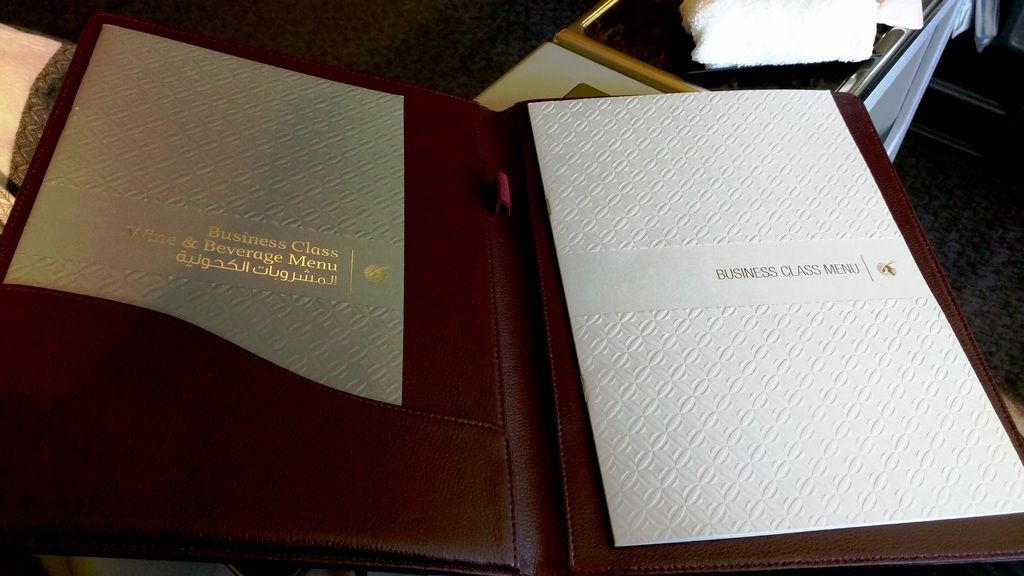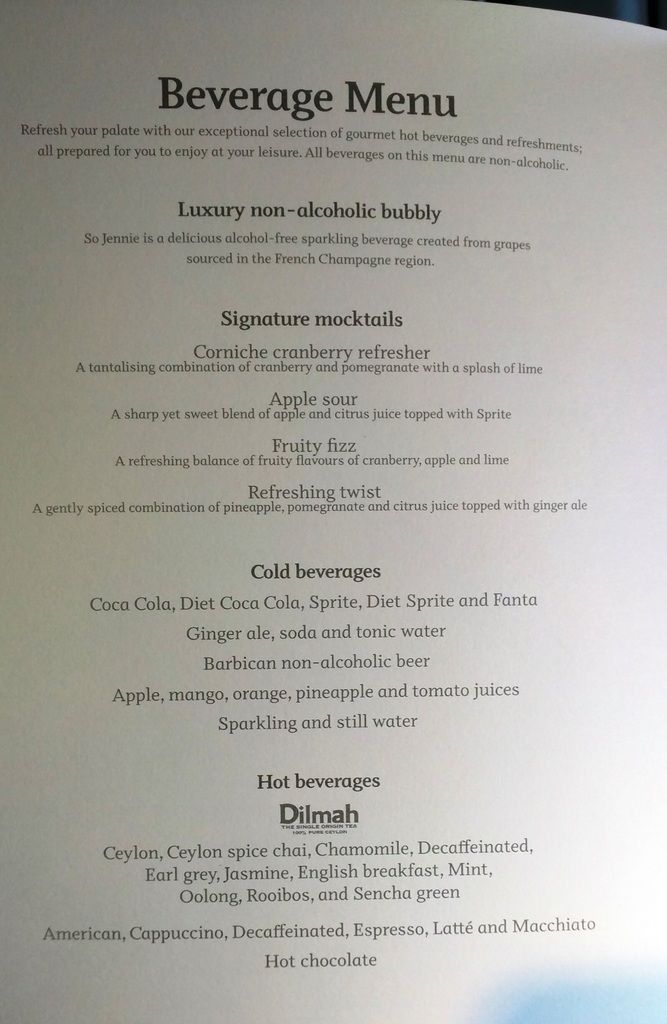 Since I was fairly full after the previous flight and the lounge, I decided to have a light meal and go off to sleep. Before takeoff the FA came to take orders, and I requested for the smoothie to start with followed by the salmon and yoghurt. In a very short time, the same FA came and prepared my table for breakfast. I feel the way they make your table is very elegant and gives a feel of a good quality restaurant. They placed a white cloth on the base followed by a selection of hot breads, butter and silver ware. The food was really good, very well presented while being really tasty. Through the meal, the crew kept coming and checking to see if everything was okay and if I needed anything else, excellent service. It's like they knew exactly when I wanted my next course and when I wanted them to take everything away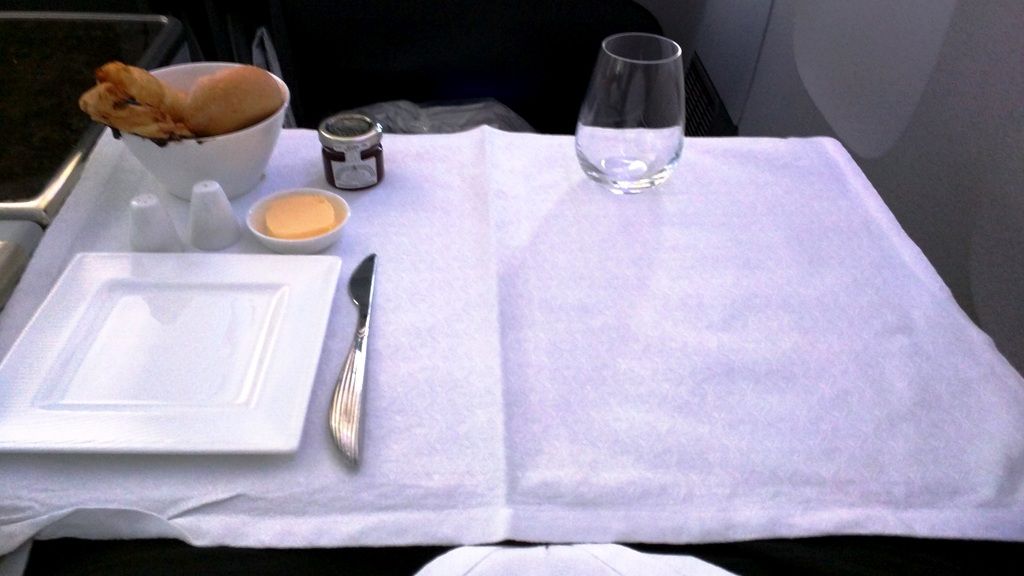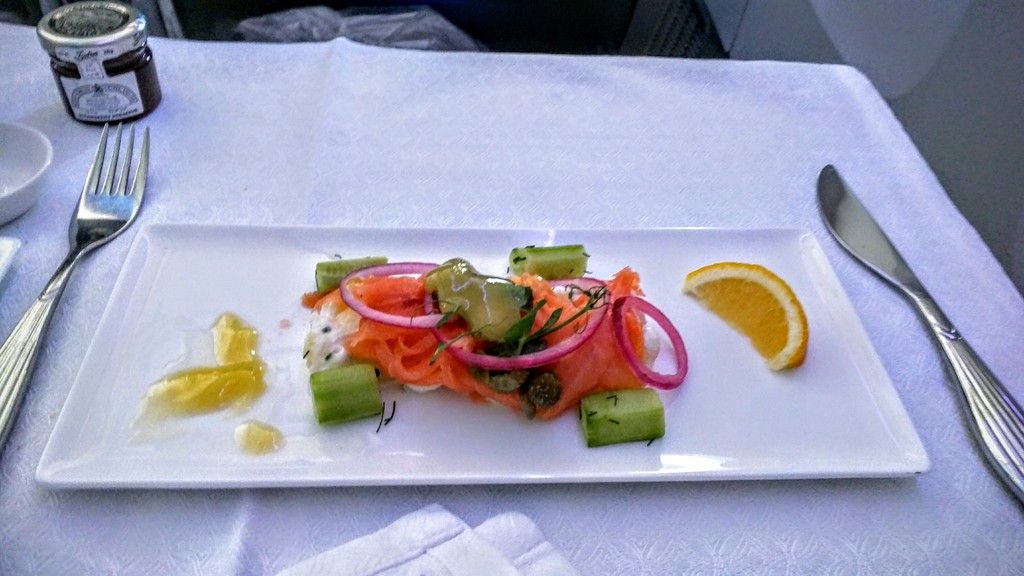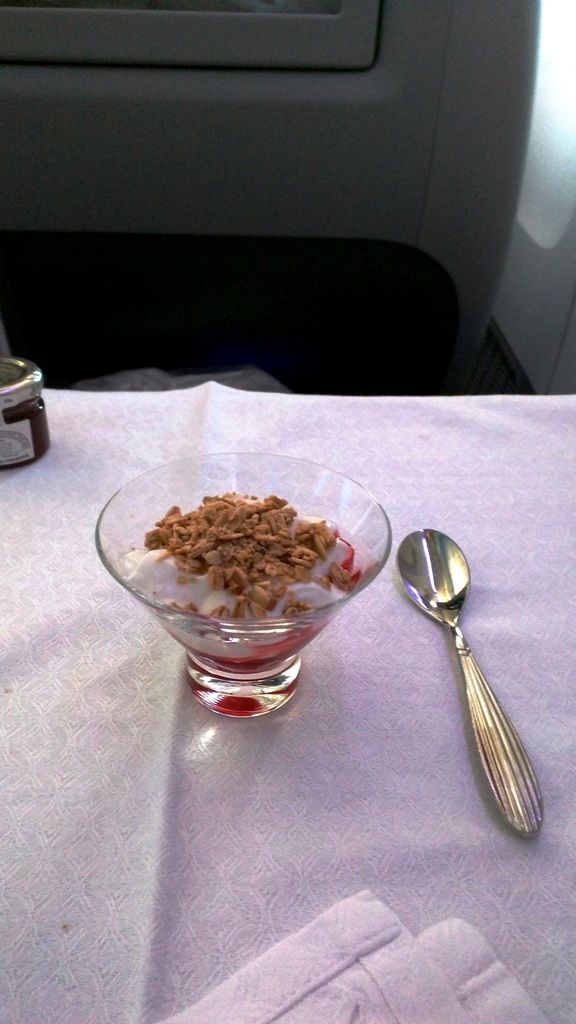 After breakfast and after a quick visit to the restroom to change into the pajamas, I decided to sleep off for a few hours. I was putting up the mattress on the seat, when one of the FAs saw and offered to set up the bed for me. Very soon all lights were turned off and I slept off for a few hours only to be woken up by some fairly strong turbulence. I woke up to see we were somewhere over the Sahara desert in Africa with Clear air turbulence rocking the aircraft with strong winds. The crew came to ask if I wanted anything and I politely declined. The turbulence gradually went away and I went back to sleep.
I don't remember how many hours I slept for, maybe around 5-6 hours, but when I woke up we were already approaching the Equator over the Atlantic Ocean. I then decided to have some lunch as I was beginning to get hungry. And so I pressed the FA call button. The FA came almost immediately and asked if everything was okay. I told her I that I'd like to have lunch, and so she asked me what I wanted from the menu. She helped me by picking the menu for me. I decided to choose the soup, prawns for the appetizer, Chef Vineet's fish for the mains and the LADUREE dessert. Also I requested for a glass of the Rose.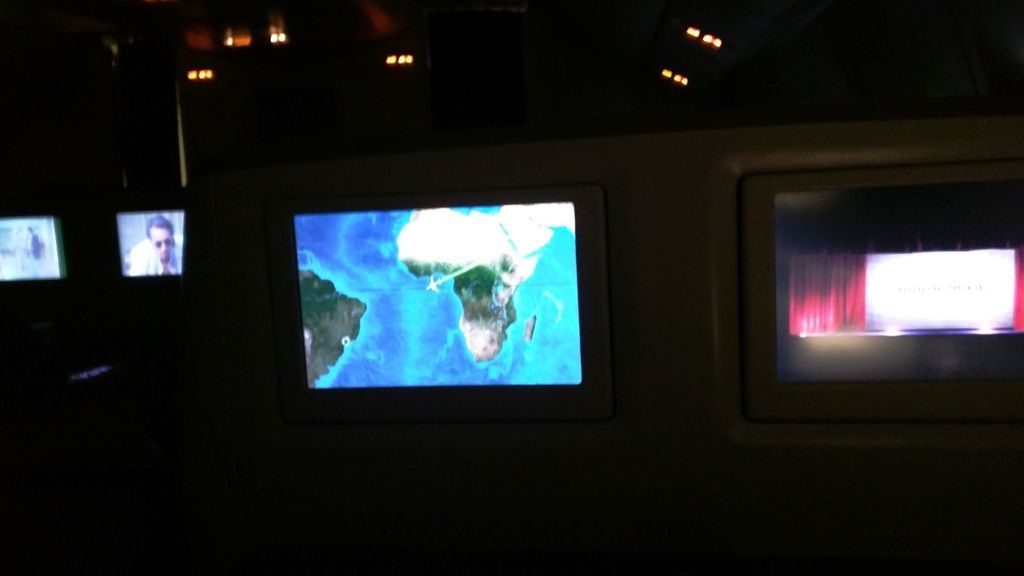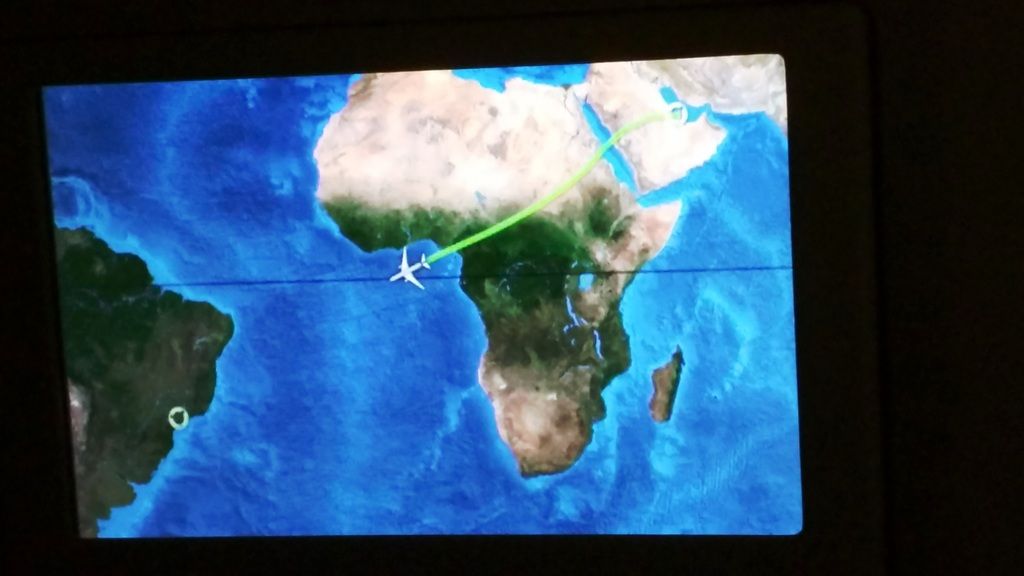 Like clockwork, the FA came and made my table in the same way as earlier. Then she came and offered me the Rose along with a cup of assorted warmed nuts. Ill let the pictures speak for themselves. Overall the lunch service was really good, so good that I was tempted to try out the lamb in spite of being full! So I then politely requested to have the lamb, and FA smiled and said surely, why not! Really nice service!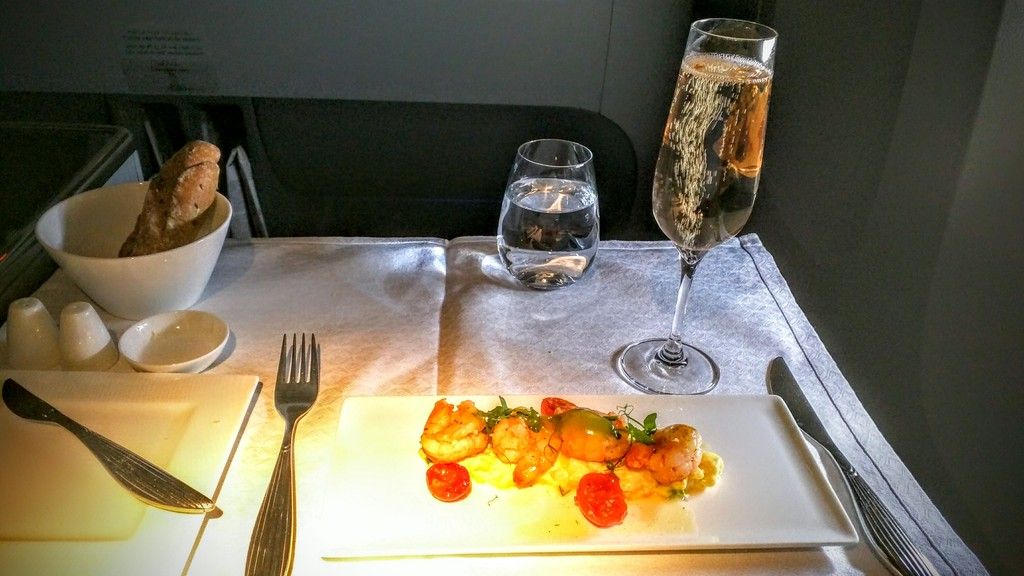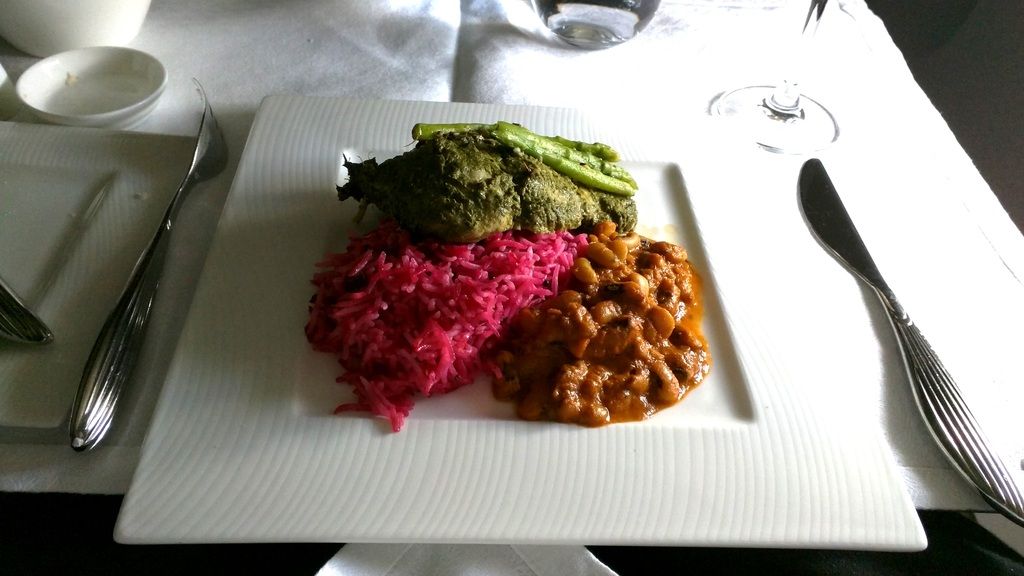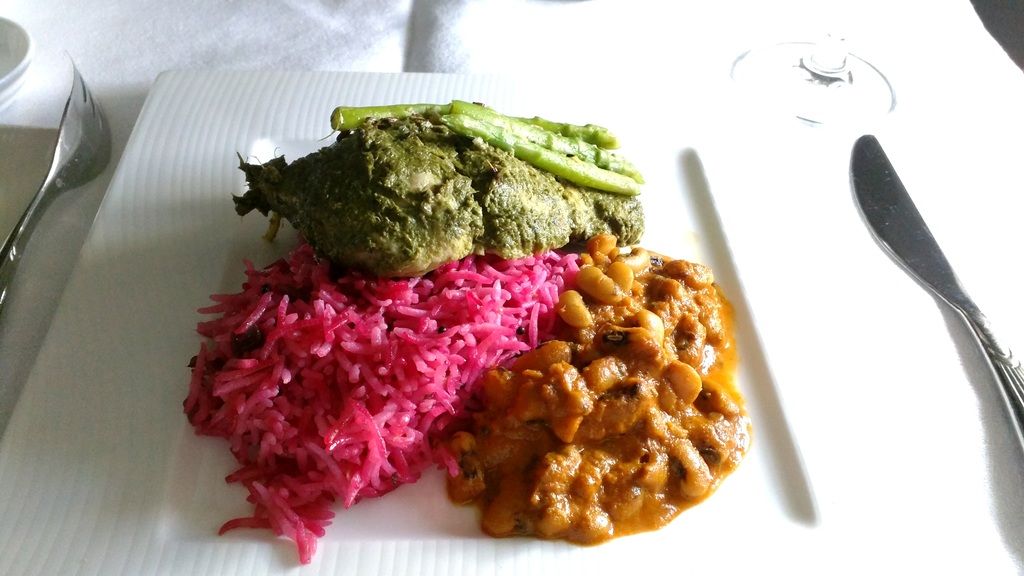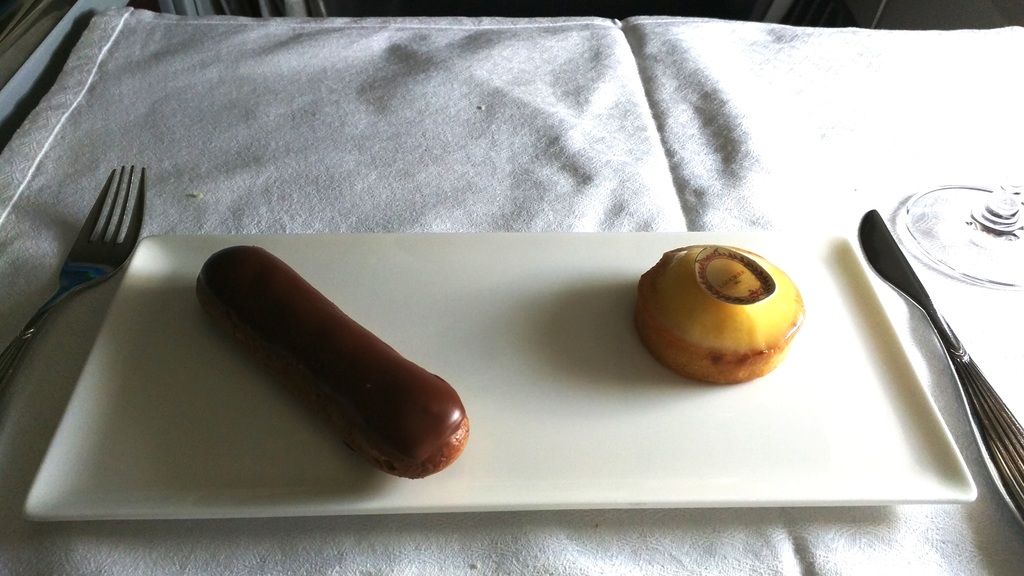 After an elaborate lunch which lasted around an hour, I saw we had already crossed the Equator entering the Southern Hemisphere.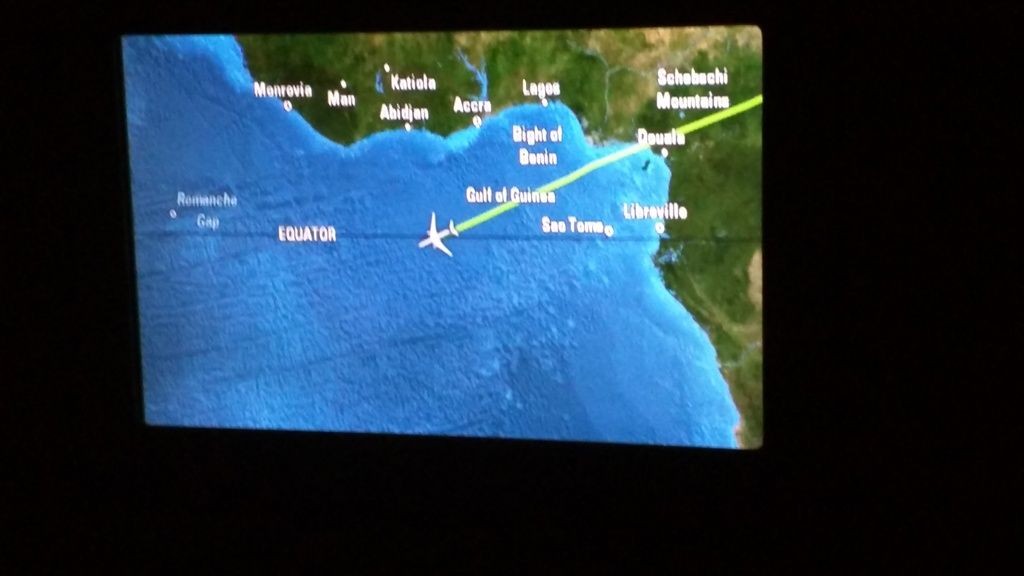 Some pics of the beautifully calm Atlantic Ocean that morning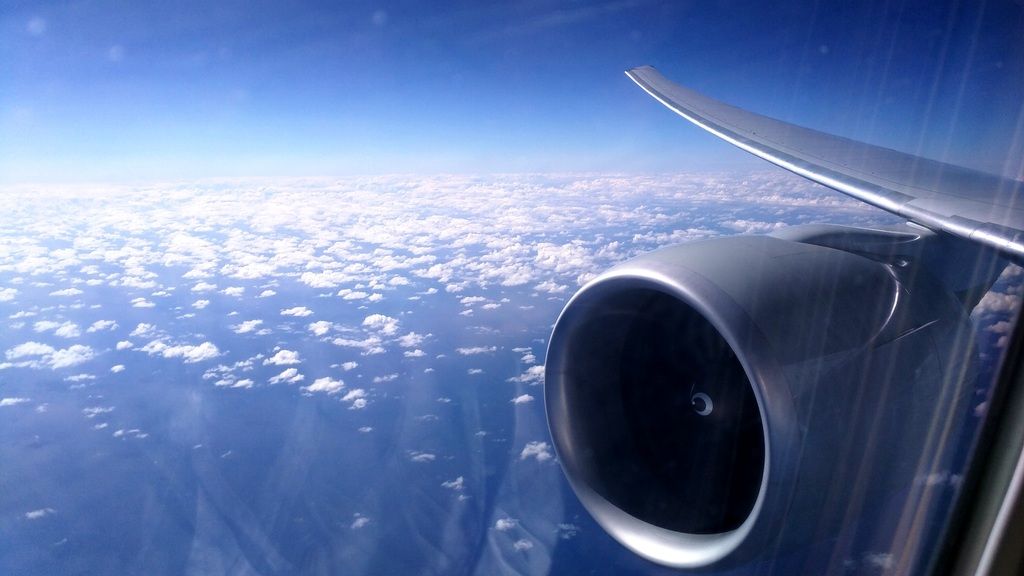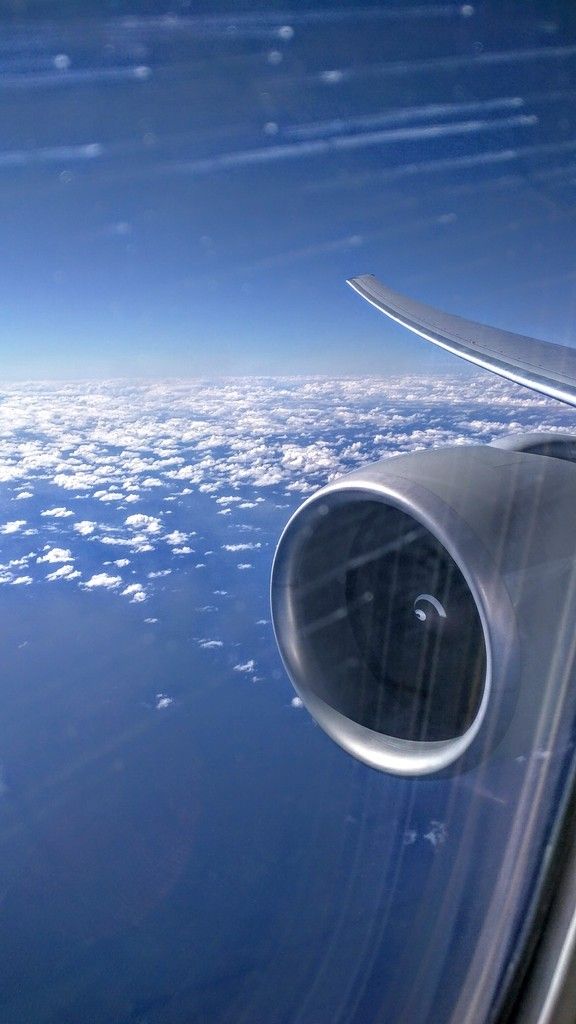 Immediately after, I slept off again. The seat with its thick mattress, blanket and big pillows was super comfortable, and I was asleep in minutes. I woke up a few hours later to see we were approaching mainland after being more than 6 hours over open ocean.
I decided to then order a final snack just before landing, and then pressed the FA call button, the crew jumped into action almost immediately, coming over and asking me if I needed anything. I requested for the hot Arabic Mezze followed by the LADUREE dessert. As expected quick service, excellent presentation and very good quality food.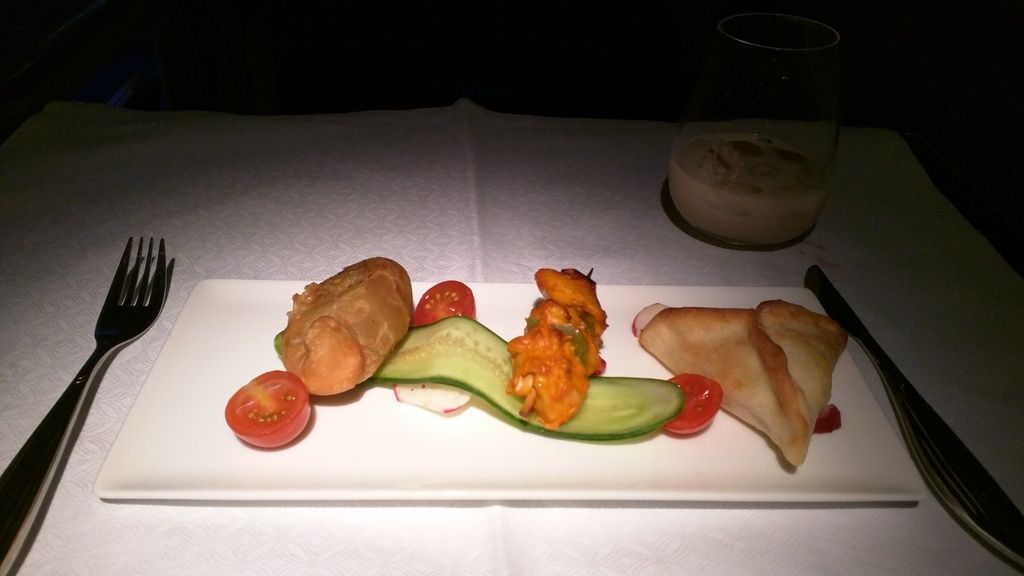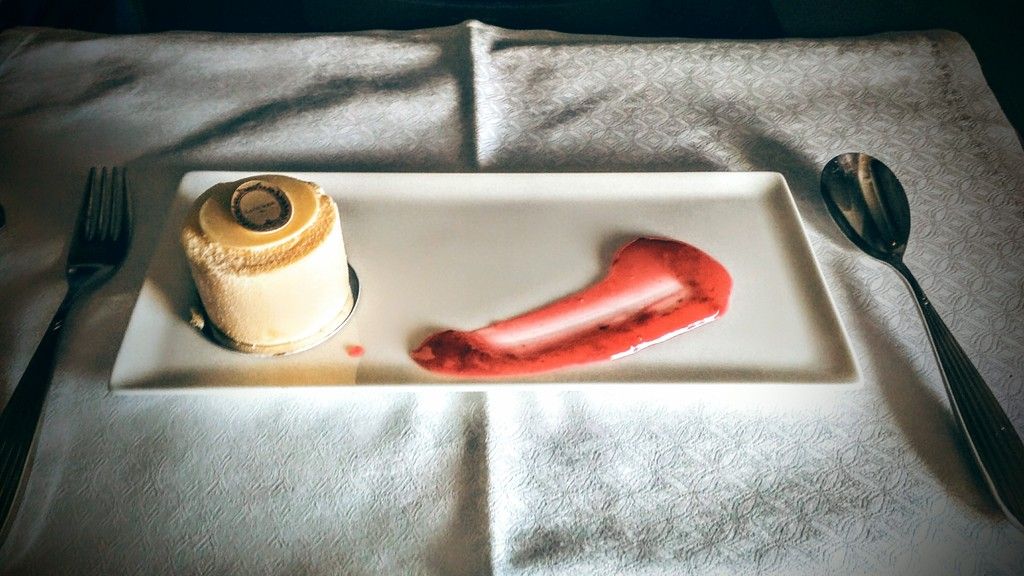 A little while later, we were approaching Rio de Janeiro, and I quickly took as many photos with my camera. I think I spotted the famous Rio beach, the Christ the Redeemer Statue and the Rio Airport (I think itt was GIG). Maybe you guys could tell me which one it was.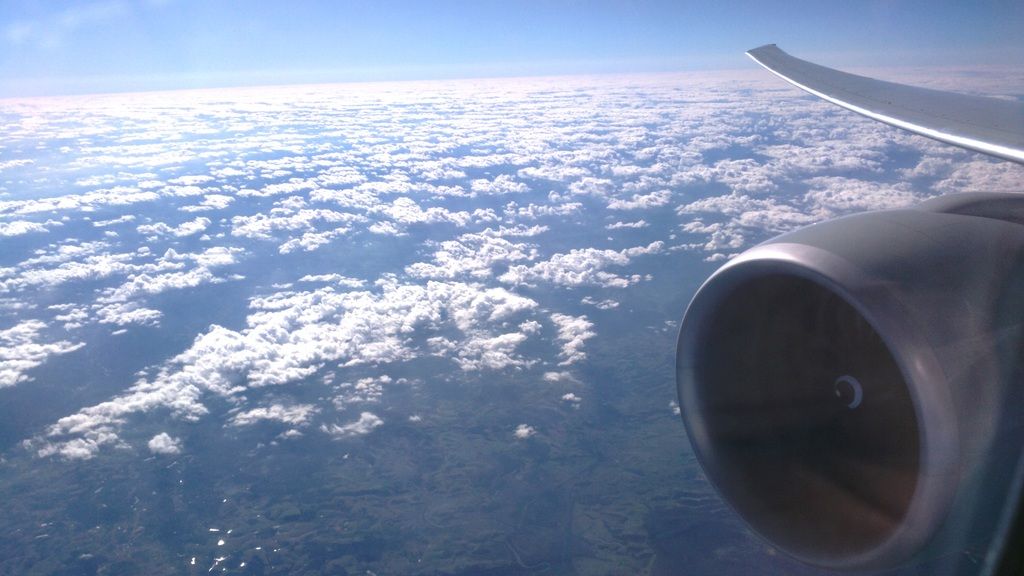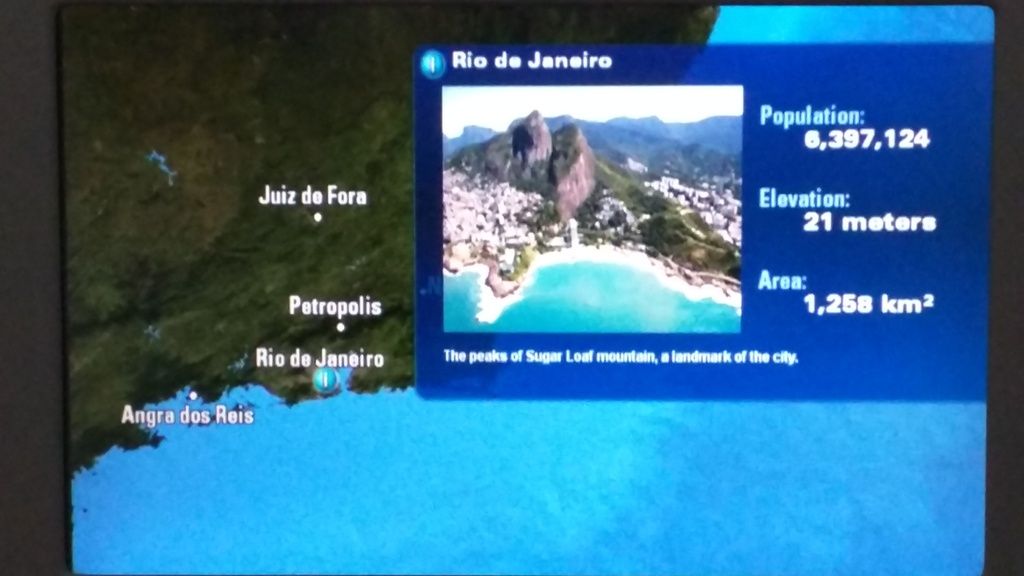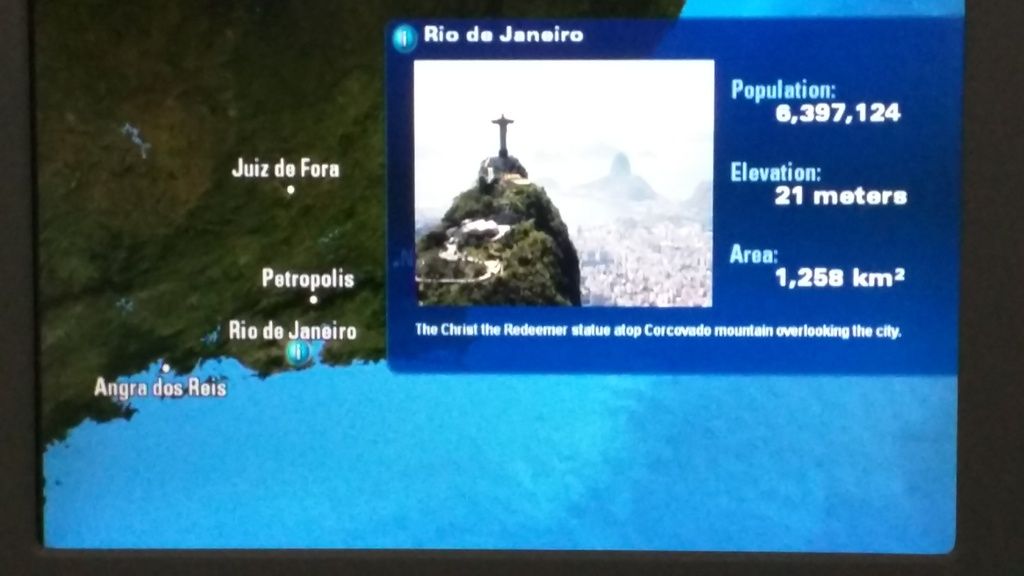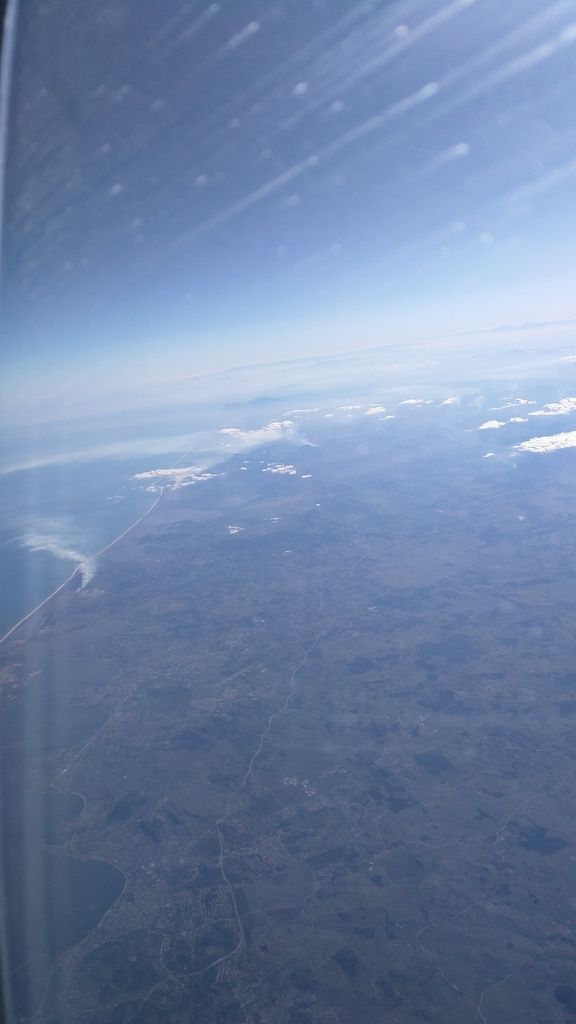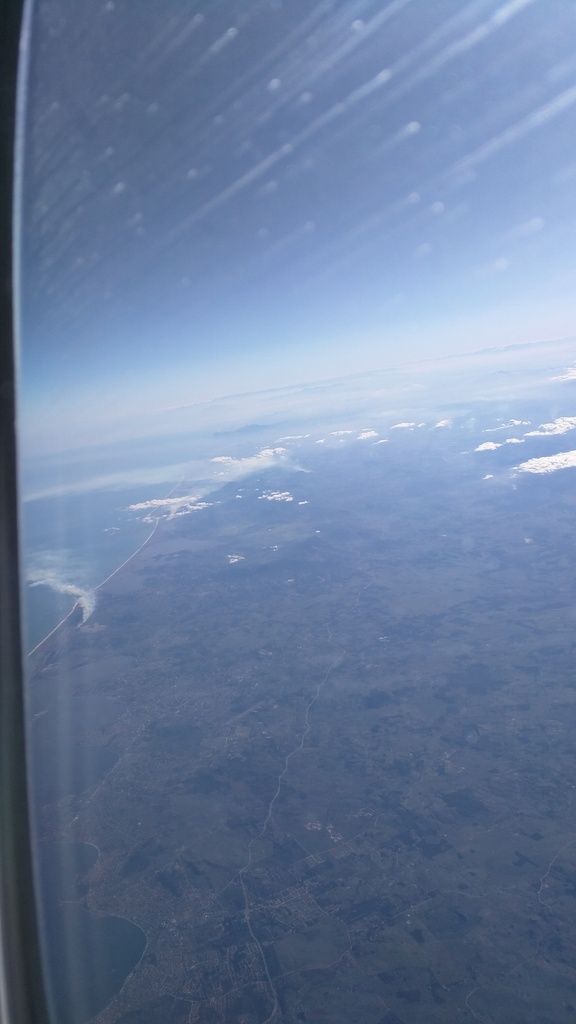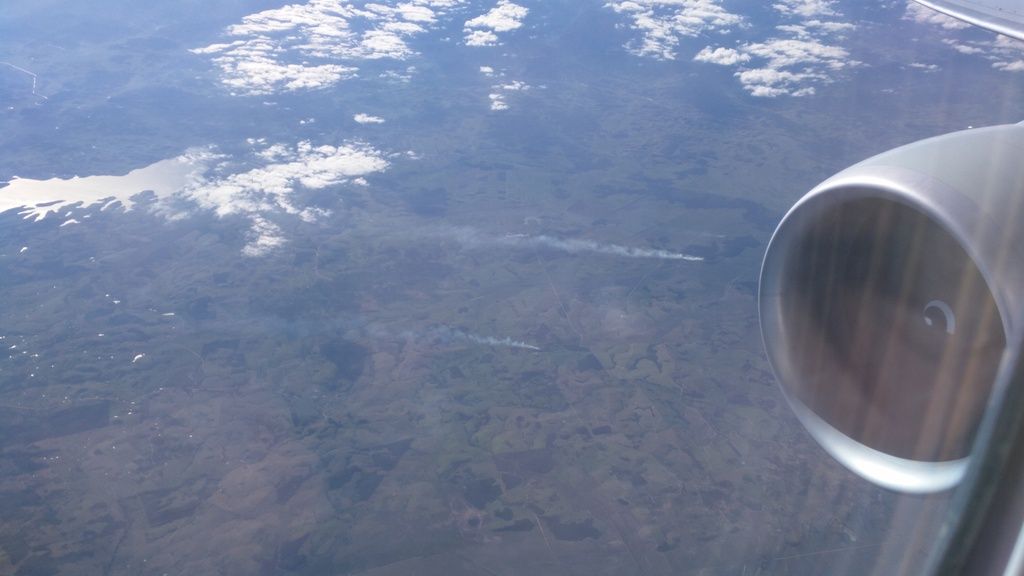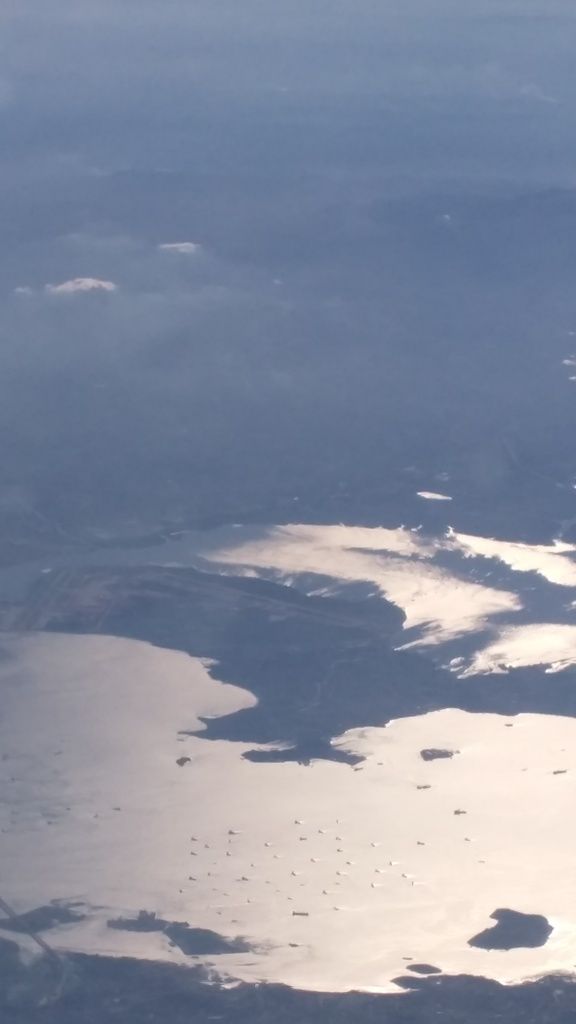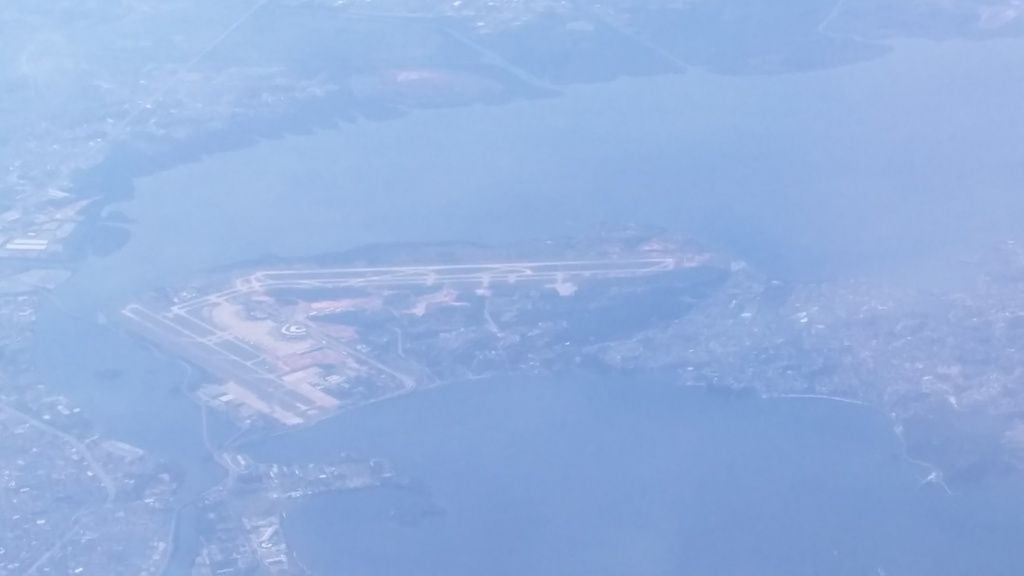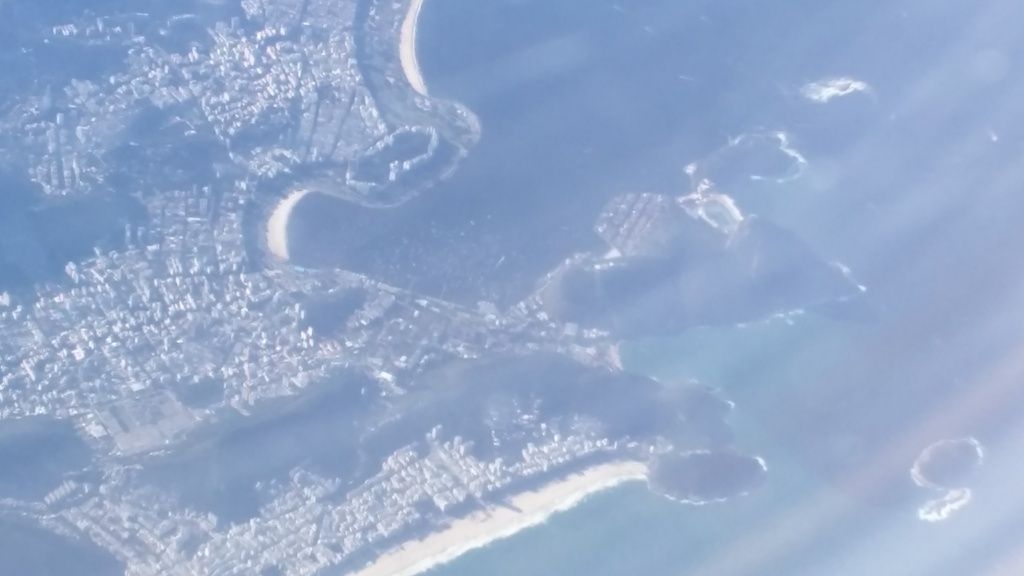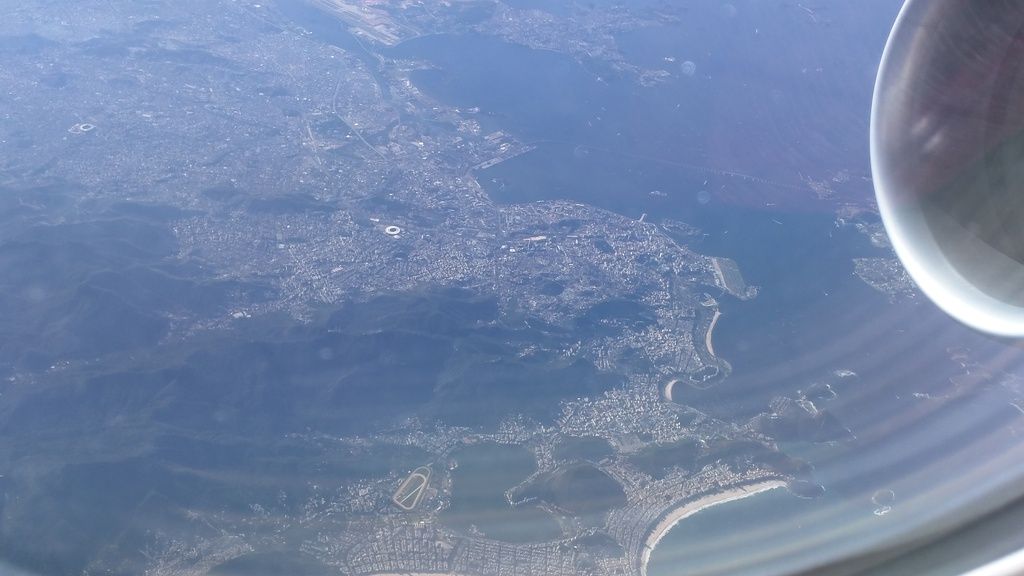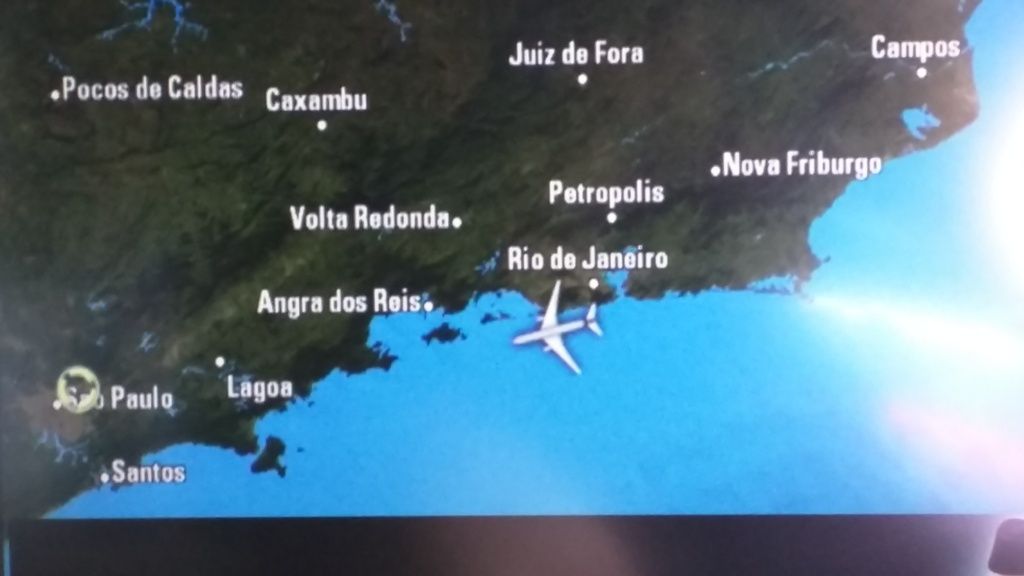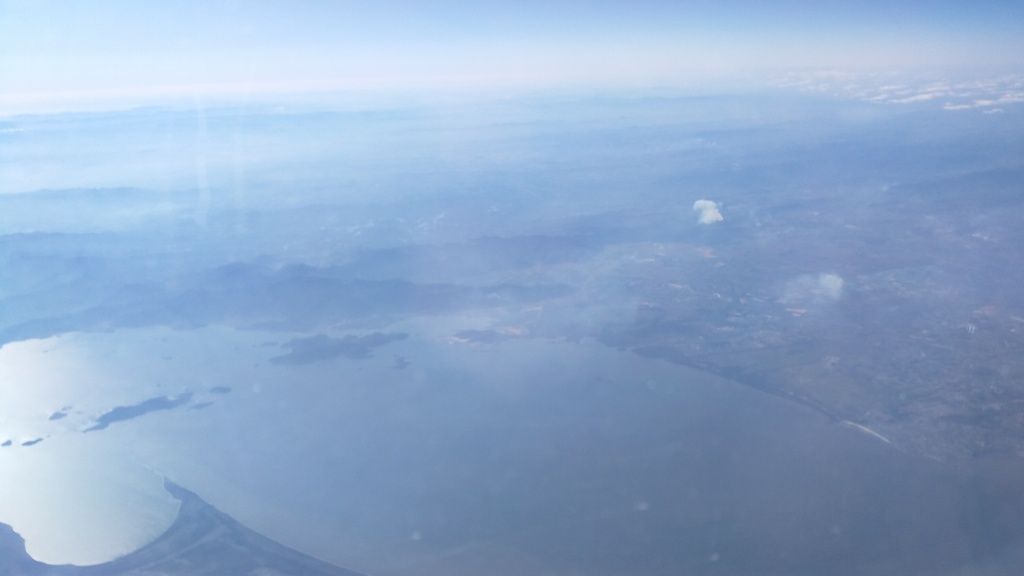 Descent & Landing
We began our descent into Sao Paulo very soon after. It was a beautiful and clear winter afternoon. We did a few turns which gave some really amazing views of the massive city along with its CGH airport. The pilot landed the aircraft very gracefully, with no reverse thrust. We landed about half hour before scheduled time. After landing I got a glimpse of many aircrafts waiting for their evening/night departures. We came to a stop next to a TAM A320.
The cabin chief came on the PA thanking everyone for flying QR and also stating that passengers continuing to EZE must remain on board and that there would be a change of crew with about two hours on ground before the next flight.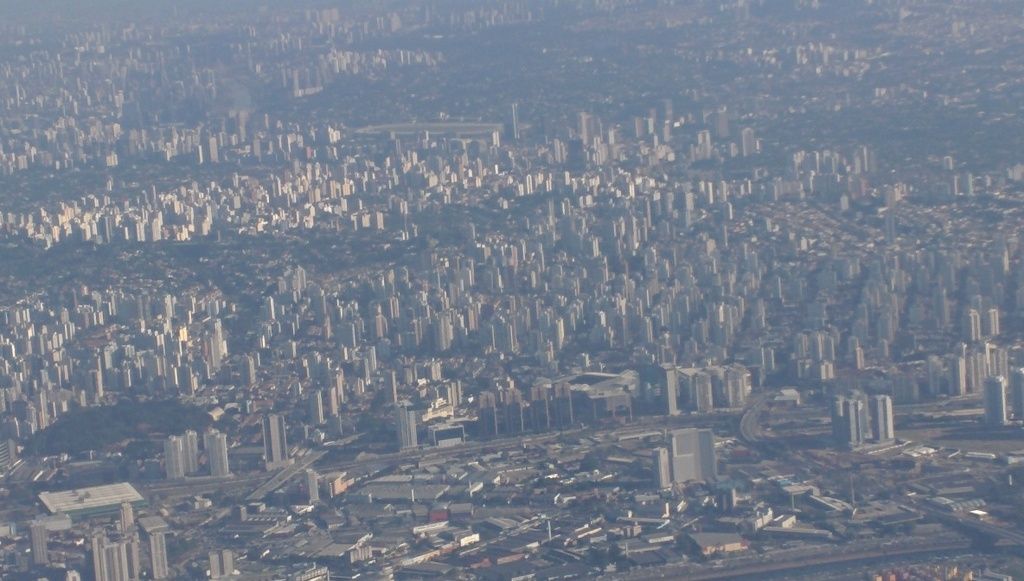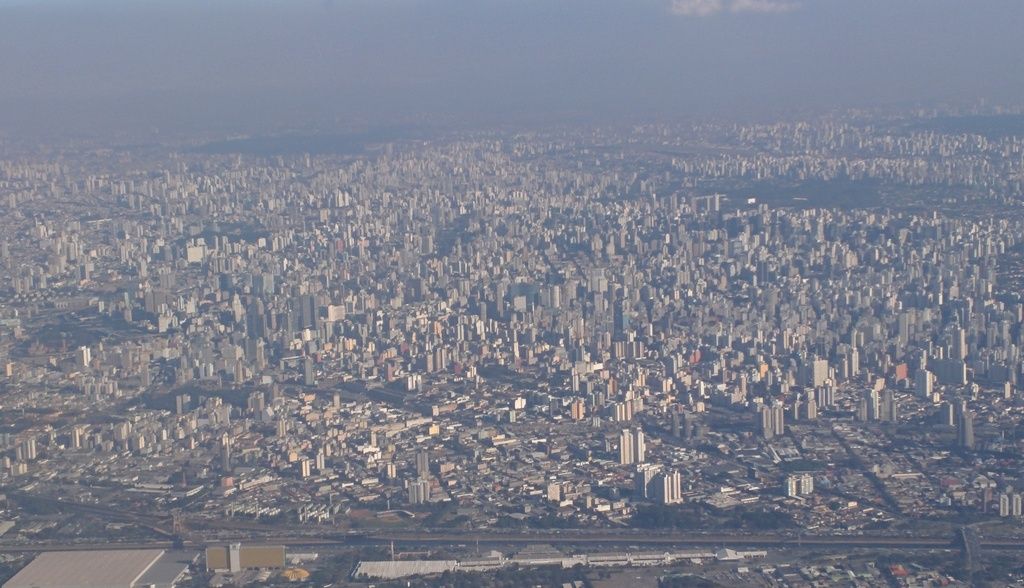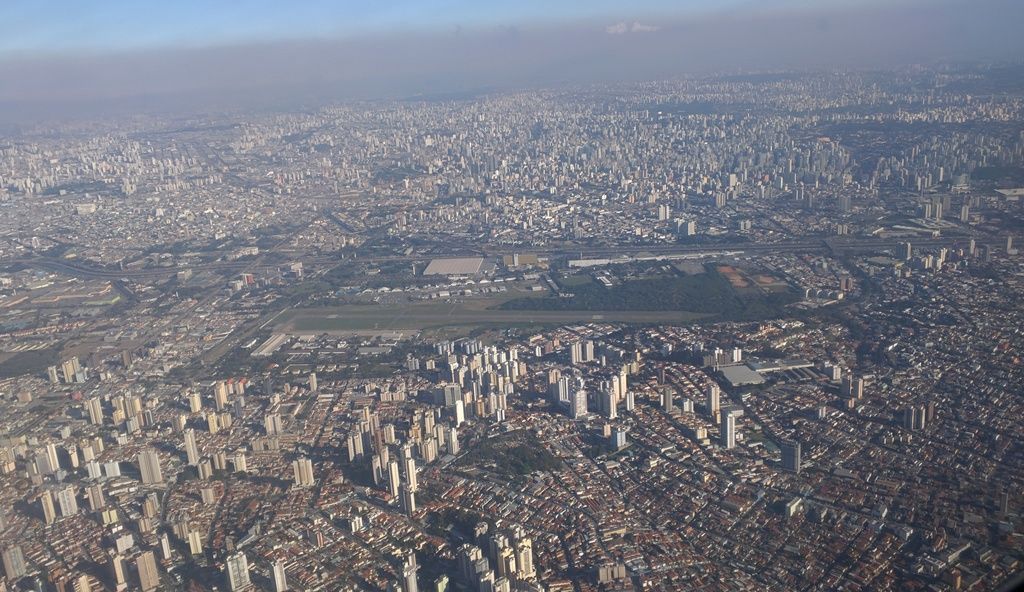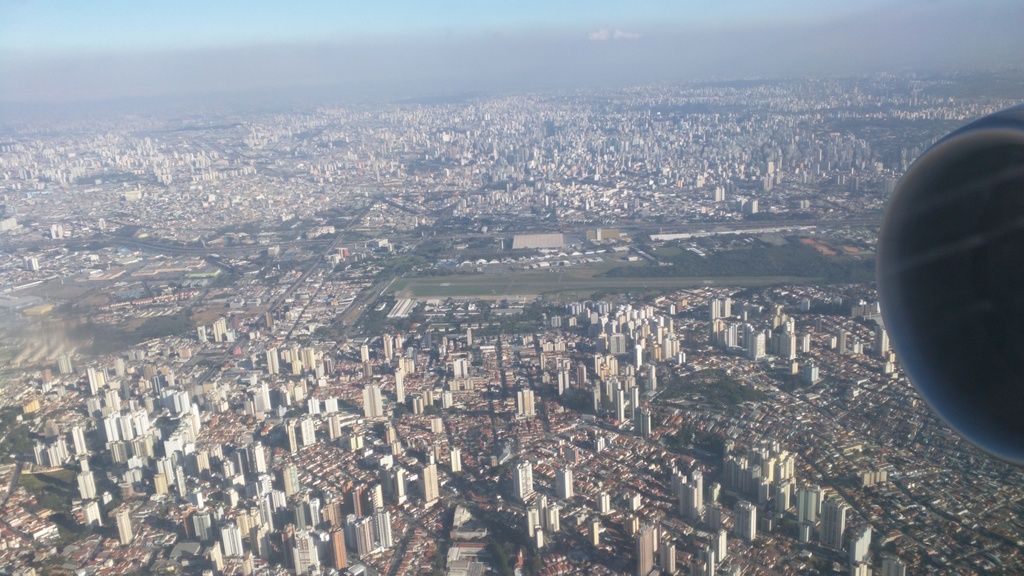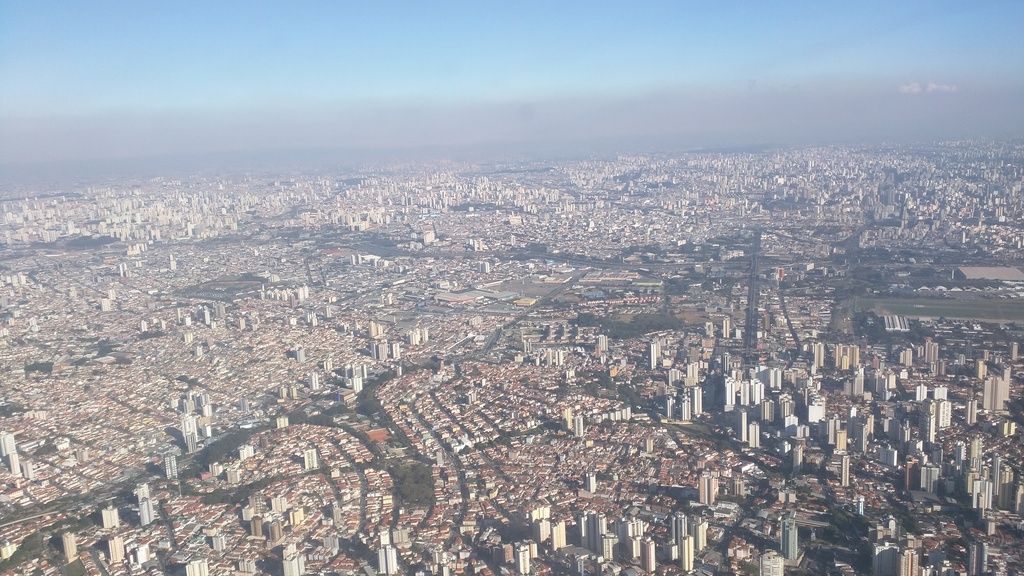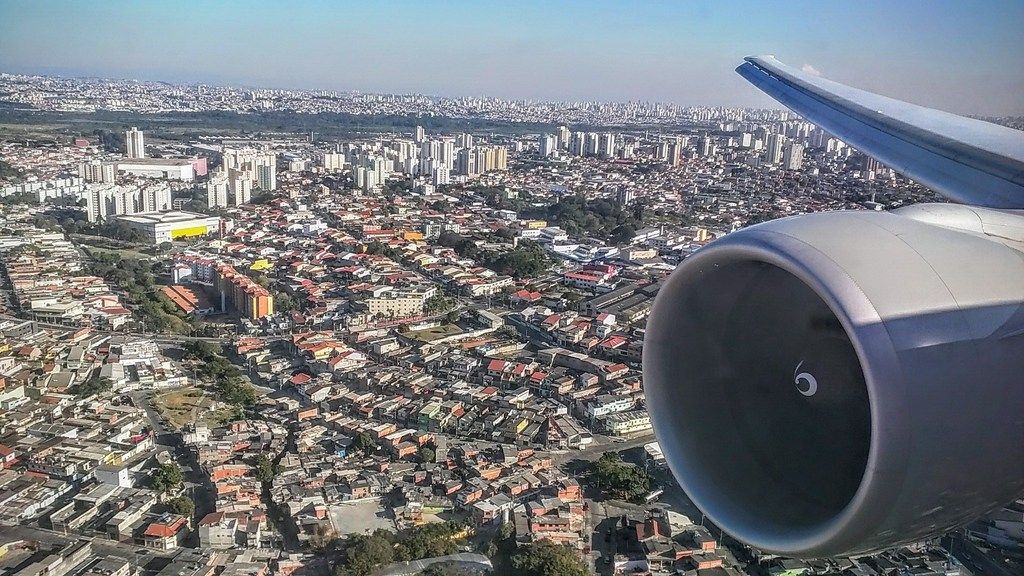 [IMG]http://i1198.photobucket.com/albums/aa442/jasonpais/DOH-GRU-
EZE/75.jpg[/IMG]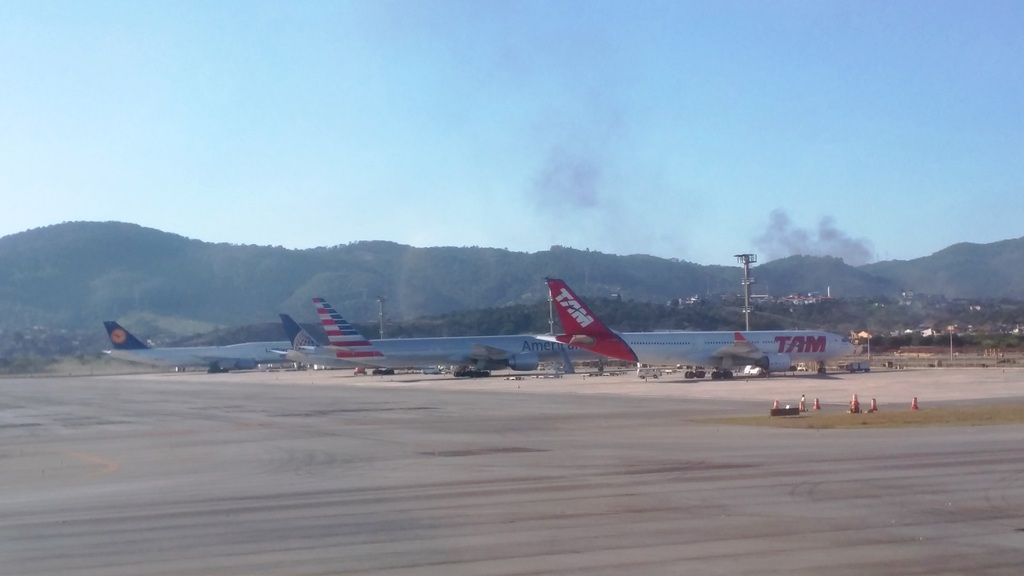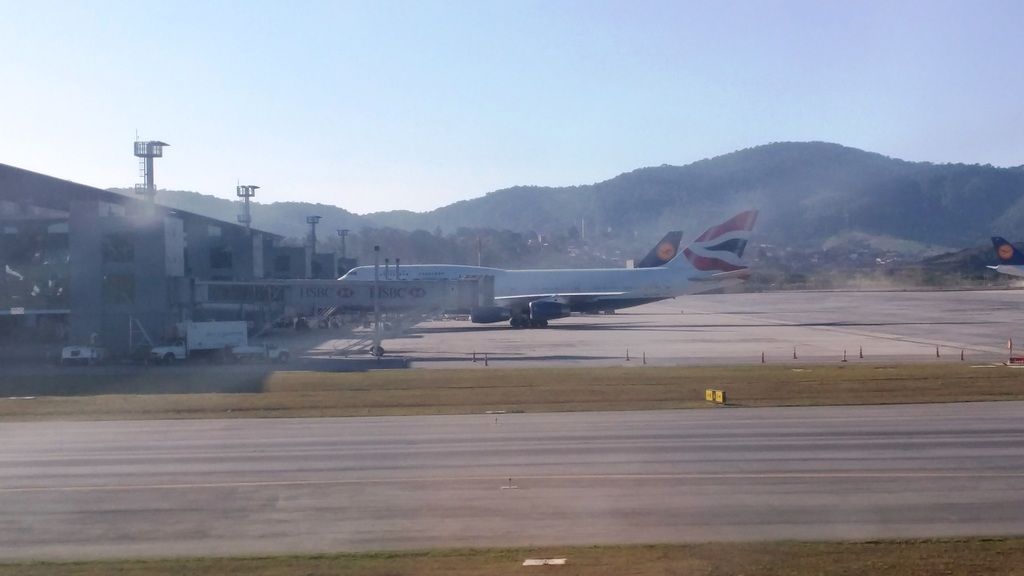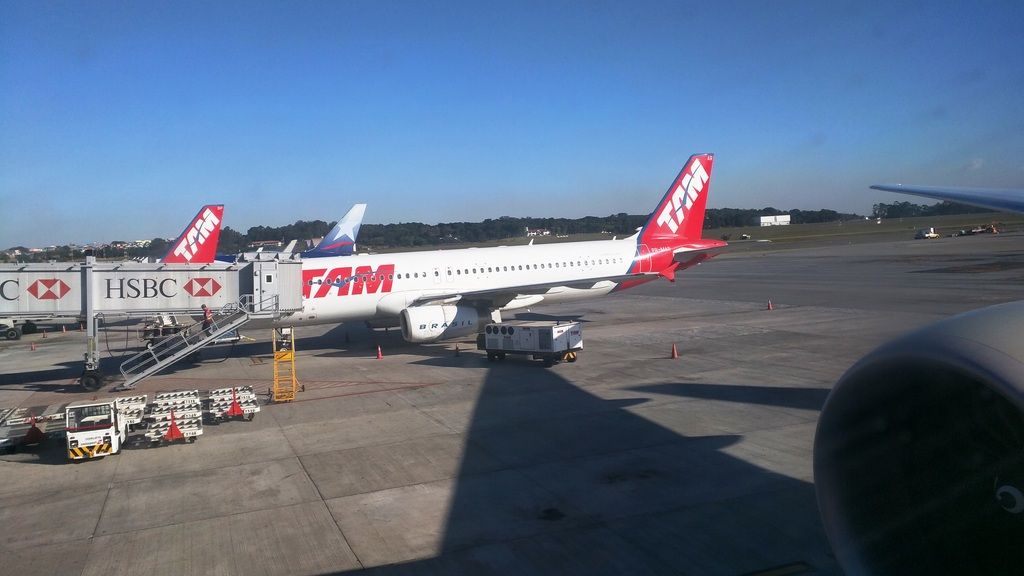 GRU-EZE
QR771 Qatar Airways
Business class
Seat: 3K
Boeing 777-200LR A7-BBE
STD: 1755 STA: 2050
ATD: 1745 ATA: 2016
Flight Summary: Doors closed:1745 pushback:1749 takeoff:1759 landing:2016 flying time 2:17 hours Runways: 09L:11 Max Cruising altitude: 35000 feet
During the time on ground, I managed to chat up with the crew who would disembark at GRU. They were a chatty bunch and were really surprised I took such a long detour. We then chatted about the airline, Doha and their flights. Interesting stories and really nice conversations! They bid farewell to me and introduced me to the incoming crew. The incoming crew seemed as professional but not very willing to speak.
After the fresh crew settled in they asked me if I wanted anything, and I told them I was full after such a wonderful flight and that Id take something after takeoff.
Soon enough the crew came on the PA and told us that the evening flight down to EZE would take about 2 hours and 15 minutes and that there would be some turbulence a little before arrival into EZE because of a passing cold front. The doors were then closed and we pushed back for departure. There were even less passengers on Business class for this flight. There was no air traffic around at that time and we were #1 for departure. A quick turn onto 9L and with a powerful GE roar, we effortlessly lifted off into dusk skies over GRU.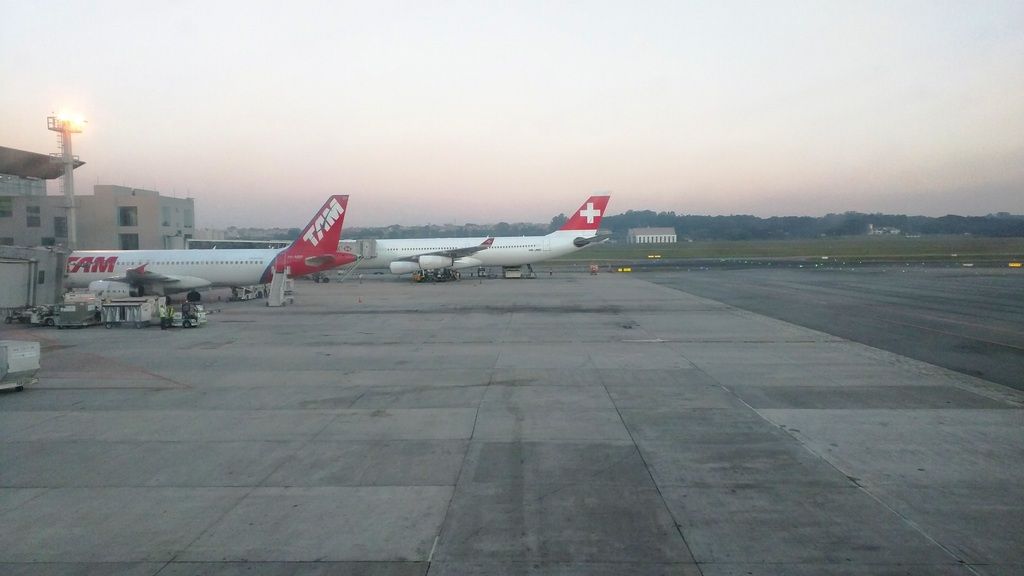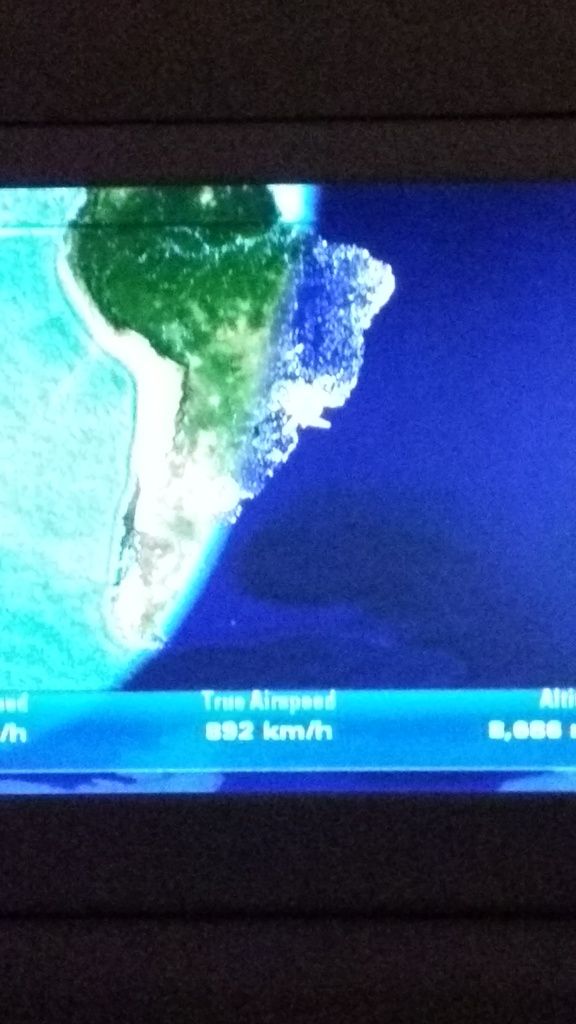 The crew sprang into action immediately giving me a menu for the flight and asking me if I wanted to drink something. The menu was more like a collection of snacks for this flight because of the time. I chose a couple of things on the menu and a cocktail. The crew were very quick to serve because the captain informed them of turbulence ahead.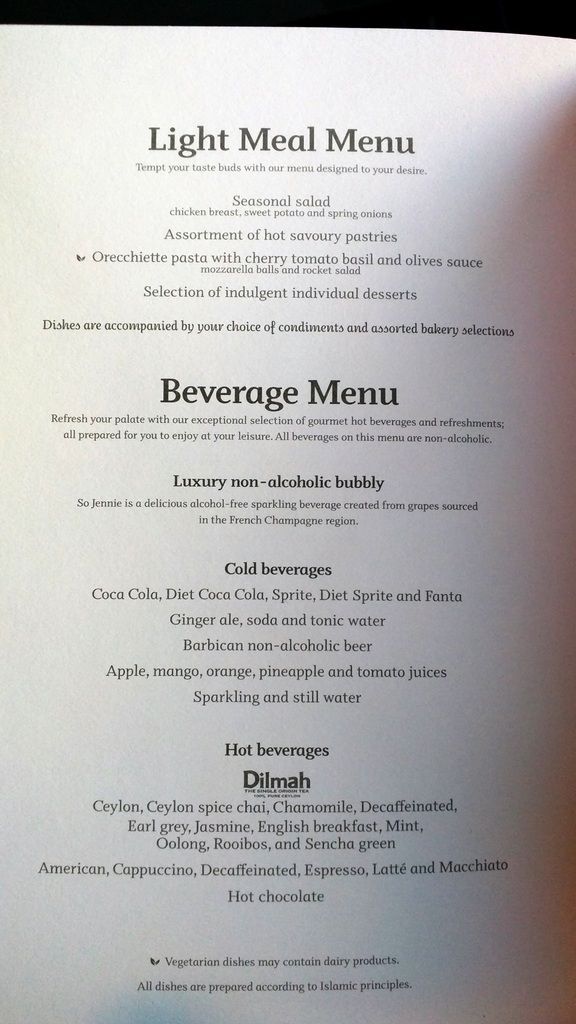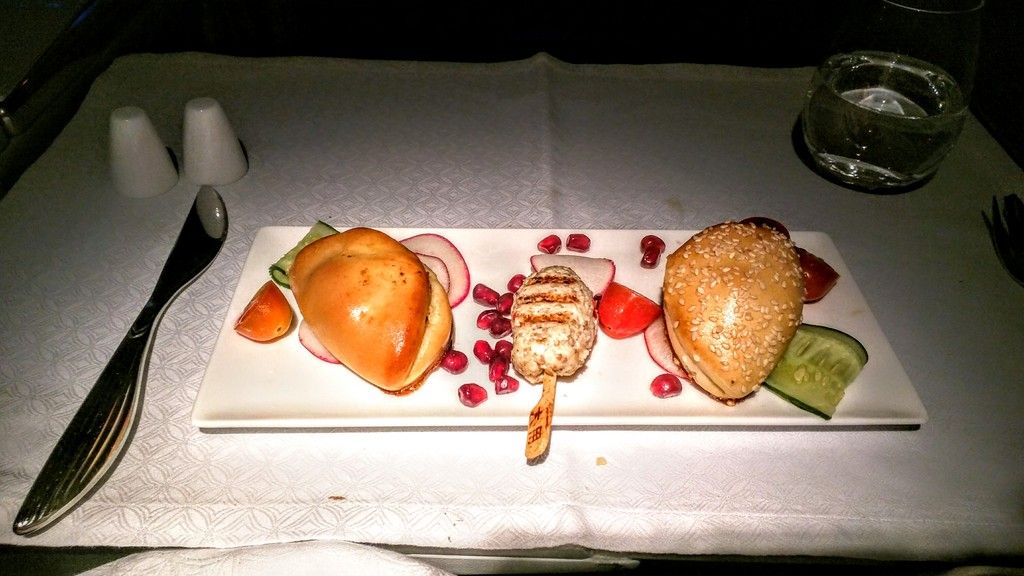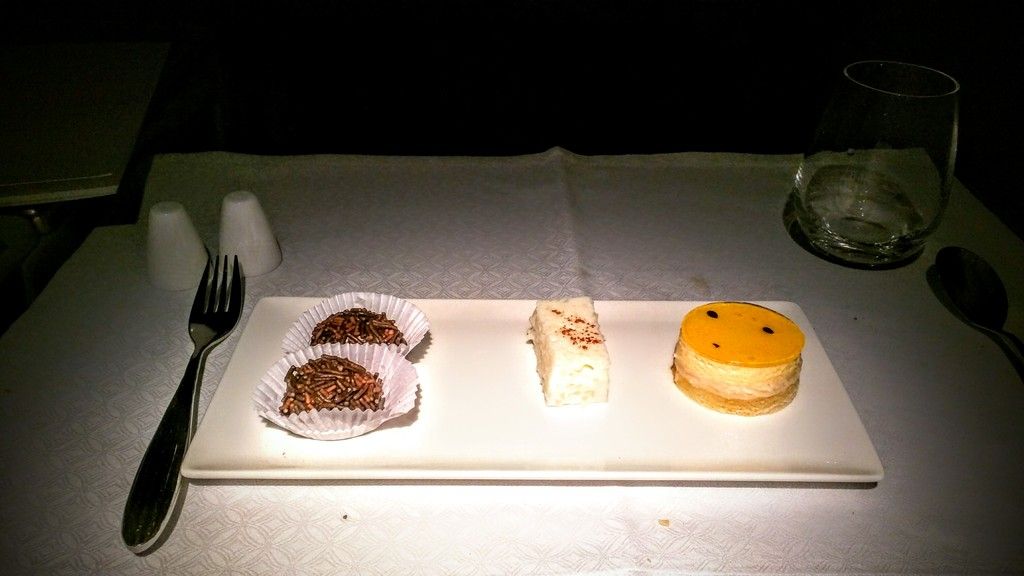 After the meal, I decided to nap for one last time before landing, but for some reason the seat wasn't reclining. I called the crew and they said they had to reset the seat (weird! First time Ive ever heard resetting a seat!). They told me they couldn't do it as they would disturb other people who were sleeping on 2K and 1K. Supposedly all of them are connected. They requested me if I could change seats and I decided to go try the second cabin out. Meanwhile the turbulence had picked up and very soon, the crew was asked to be seated and we went through some good bumps.
[IMG]http://i1198.photobucket.com/albums/aa442/jasonpais/DOH-GRU-
EZE/90.jpg[/IMG]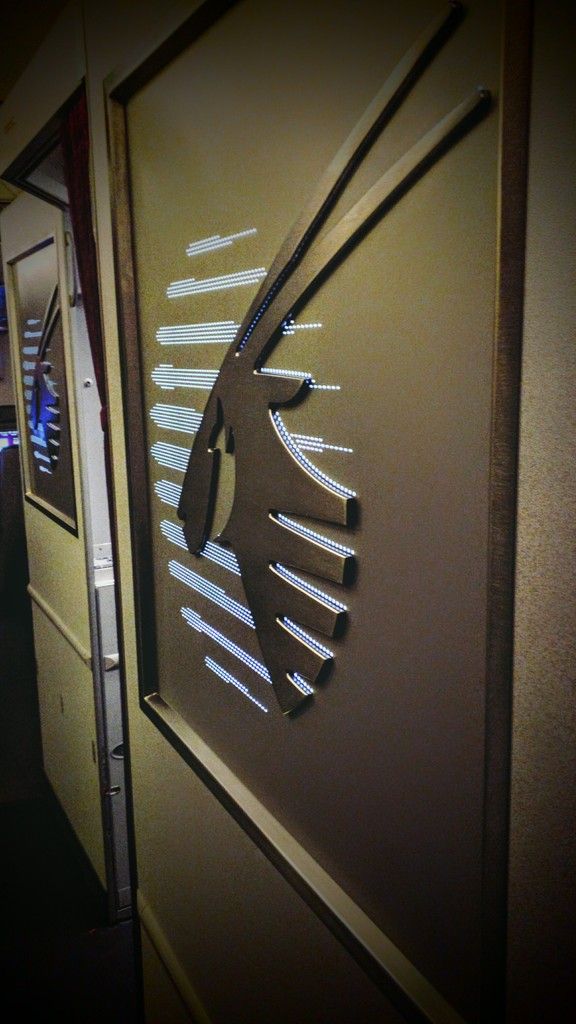 About 20 minutes before landing we descended into the night skies of Buenos Aires. It was crystal clear and cold. Many turns later over the massive city we landed with heavy braking. The crew came on the PA and thanked everyone for flying with Qatar. After a few minutes of taxing we docked into one of the gates at EZE.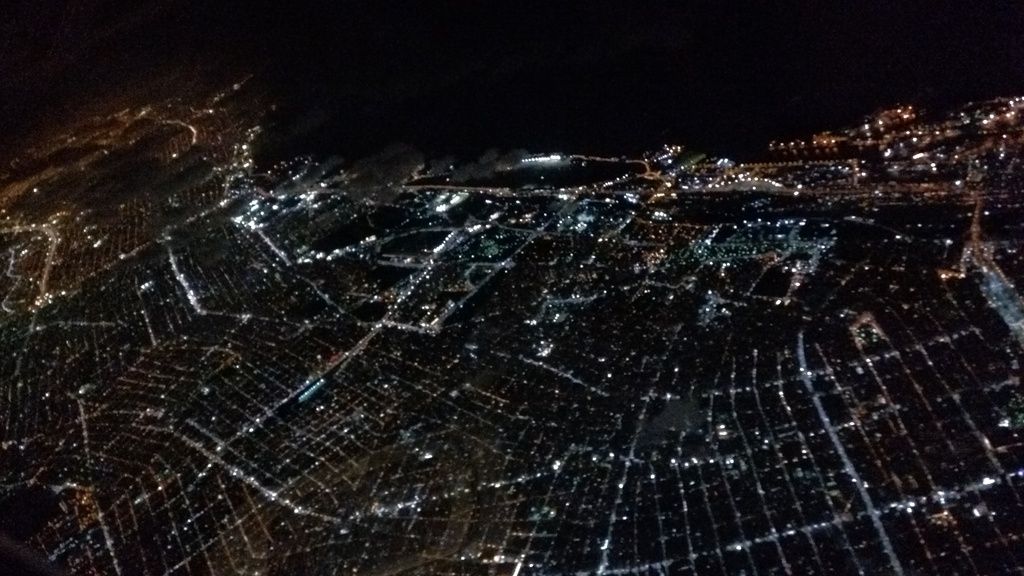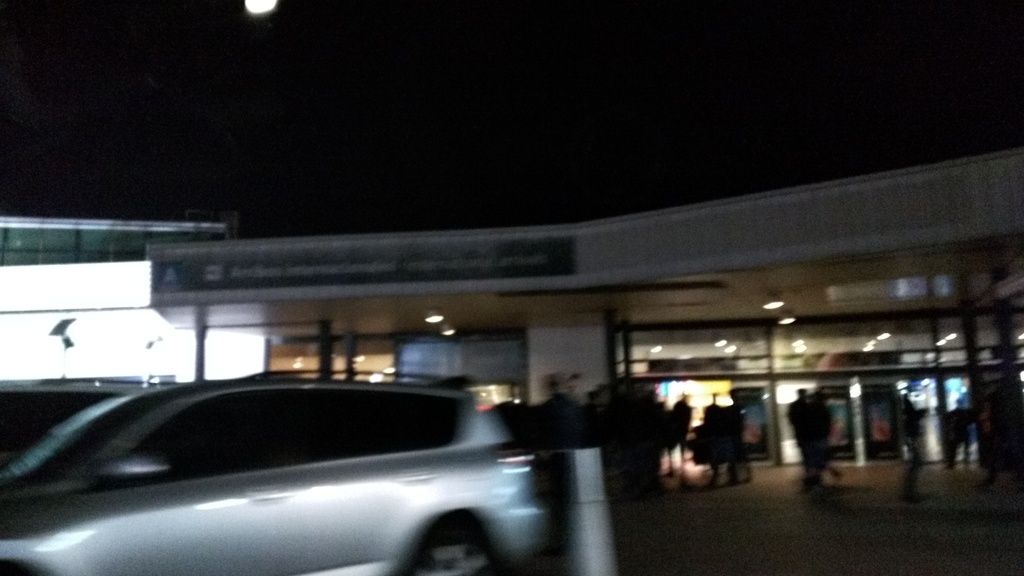 I couldn't imagine that a really long but fantastic series of flights came to an end!
Being one of the first to exit the aircraft, there was absolutely no queue at Immigration. The bags appeared soon after and picked them up and headed to the pre-paid cab counter.
Crew
An amazing crew in all my flights. Very polite, extremely efficient and very detail oriented. Really had a great time chatting with the crew from DOH-GRU. The crew from GRU-EZE was more methodical and lacked a personal feel, though they were still excellent
Final Review
Positives
1. The Crew all the way! The best hands down
2. Extensive menu and food choices on the DOH-GRU sector
3. Good IFE, though I didn't use it too much as I wanted to catch some sleep
Negatives
1. Can't think of anything, though maybe the episode with the seat could be one negative.
Thank you!
A video version of this trip can be found here:
Video Trip Report
Some of my previous trip reports:
Thunderstorm & Rude crew: LIM-GRU-MAD by LAN & TAM
Madrid To Bogotá On Iberia A340-600
With Gaudí From Madrid To Lima (Iberia A340-600)
Madrid To Buenos Aires (Via Doha?!) Part 1
India Domestic Flights By Jet Airways