Flying the latest Canadian ULCC: New Leaf (well Flair Air)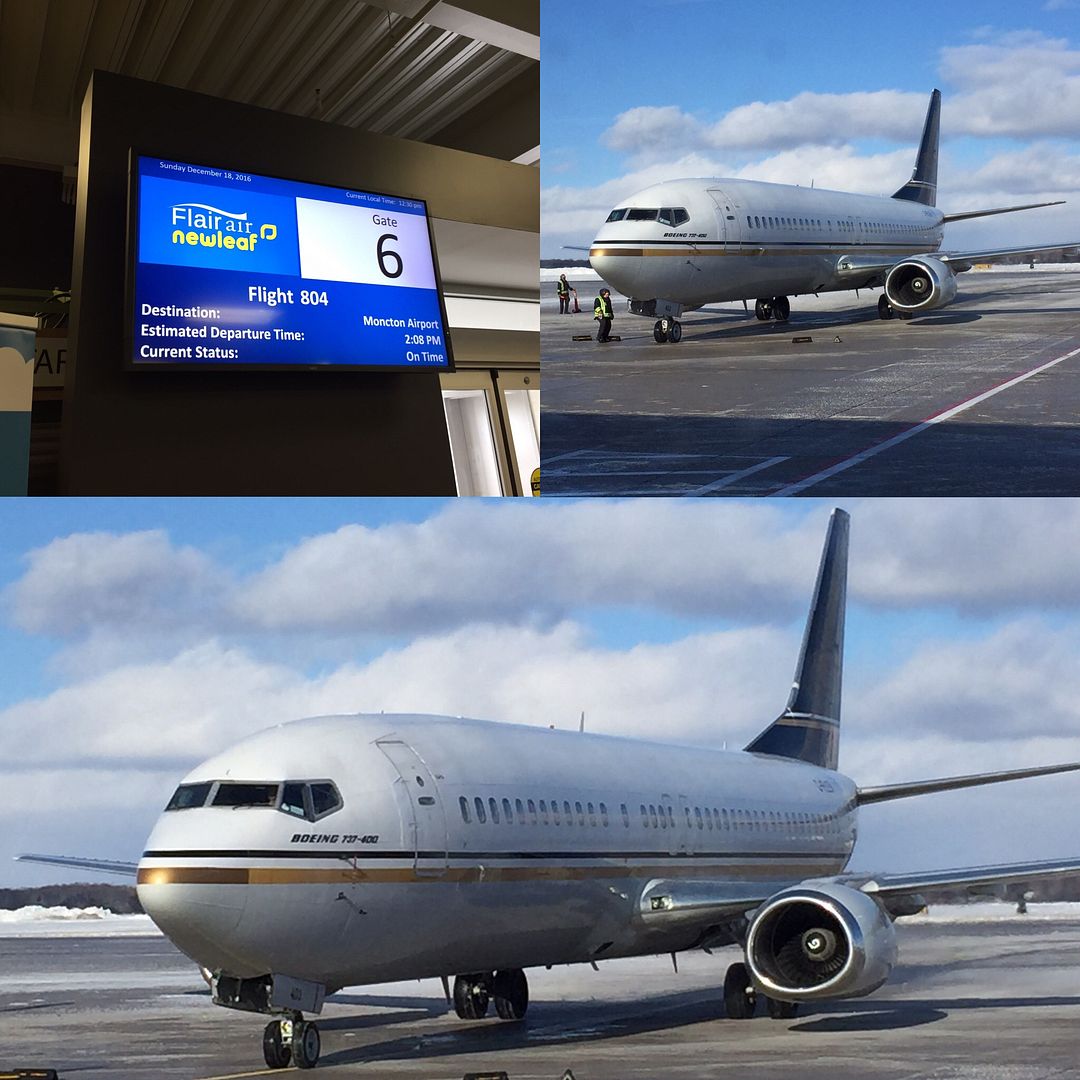 Writing this brief report, while cruising at 34,000ft across the snow-covered Eastern Seaboard of Canada! After a brief visit of a friend living in Montreal, I have a few days before needing to be back in LA home, so I looked around for another interesting airline to try. New Leaf comes to my mind and I really want to give it a try before it is too late. New Leaf has quite a struggle to get off the ground, but as the first Canadian ULCC (Ultra-Low-Cost Airline) and virtual airline, it is interesting to see how it works. Honestly I still don't think how using a third-party airline with some aging Boeing 737-400s is going to work. I also don't know how not having a strong brand will work and there is this identity crisis going on because despite having a cute website and branding, you don't see it at all as you board the plane and even the interior of the plane. They don't even have any "buy on board" menu reminding you that you are flying New Leaf. Indeed, I only find Air Transit magazine and menu on the seat pocket. There is really a lot of work that needs to be done and not sure if it is going to survive. The crews and ground staffs are friendly, but I am not sure how this is going to work without building strong brand recognition and some loyalty.
Photo link:
http://s1213.photobucket.com/user/Carfi ... 0412182016
December 18, 2016
F8 804 Hamilton to Moncton Lv1408 Arr1703 Boeing 737-400 C-FLEN
New Leaf Operated by Flair Airlines
Booking:
New Leaf has a pretty typical LCC website, which is easy to navigate and use. All the prices are listed and most of the fare conditions are listed. Similar to Allegiant and Spirit, your fare basically comes with a non-assigned seat and a free piece of carry-on luggage that can fit under the seat in front of you, and everything else is chargeable.
Here is a list of things that I have bought:
One Checked Bag $25
One Carry on $30
Travel FLEX that allows you one free change (date or time) $20
Priority Boarding $10
An exit seat $25
The website is pretty good and I am able to accomplish all the above tasks with no problem. I got an e-ticket shortly after my payment was accepted. They sent out reminders a few times to remind you that nothing is "free" and it is cheaper to pre-order now than at the airport.
Hamilton is a small regional airport and is basically a warehouse type building. However I appreciate that the airport authority tries to make it nicer.
Exterior pictures: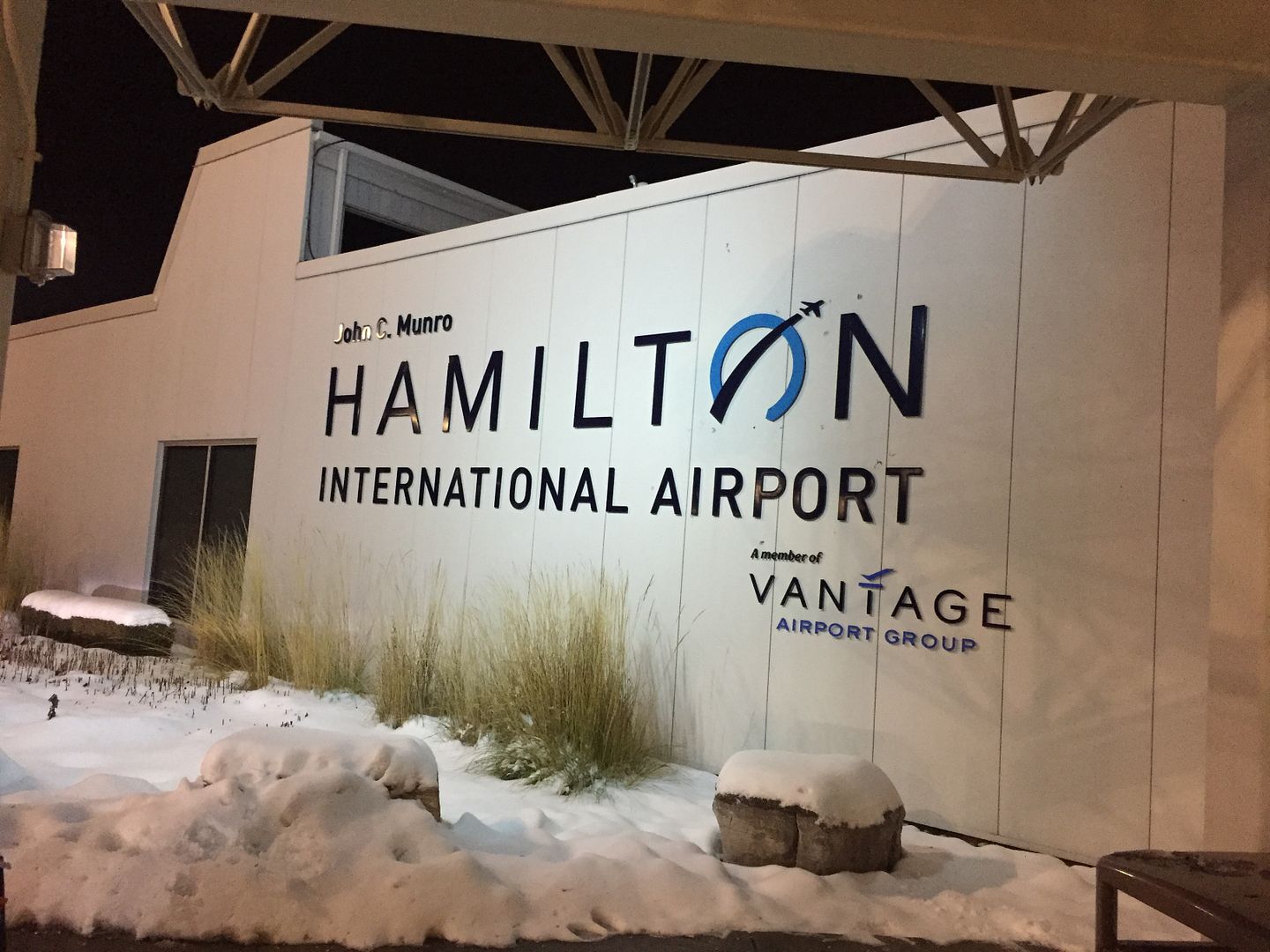 Artwork: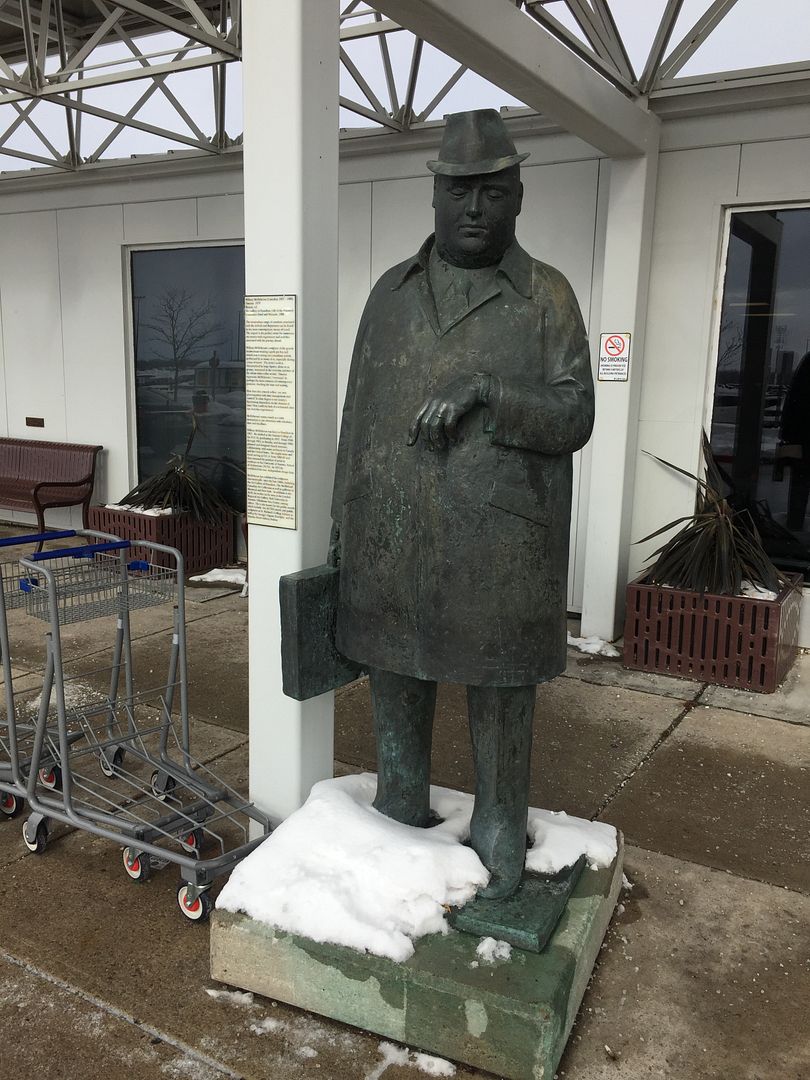 Interior Picture: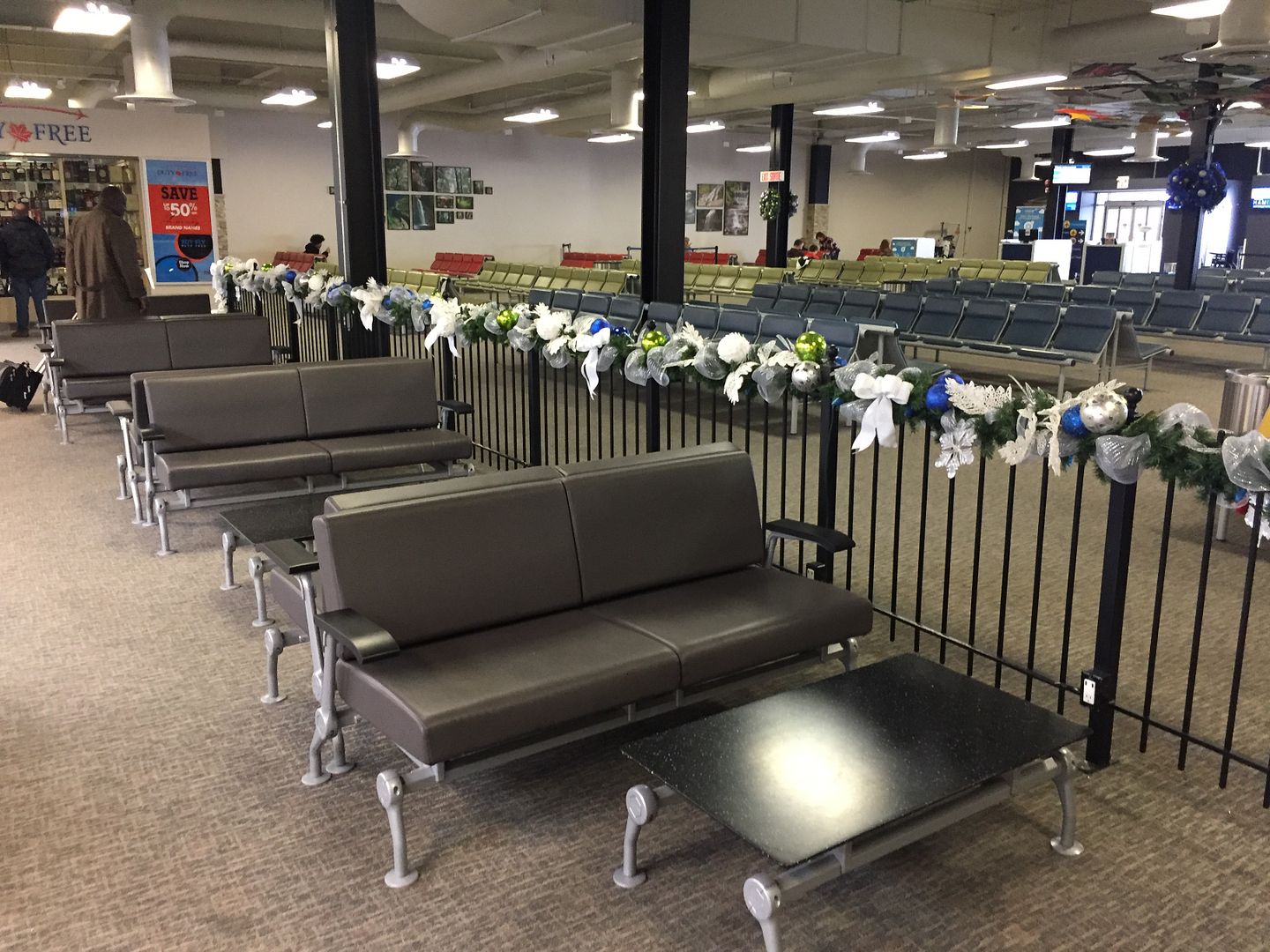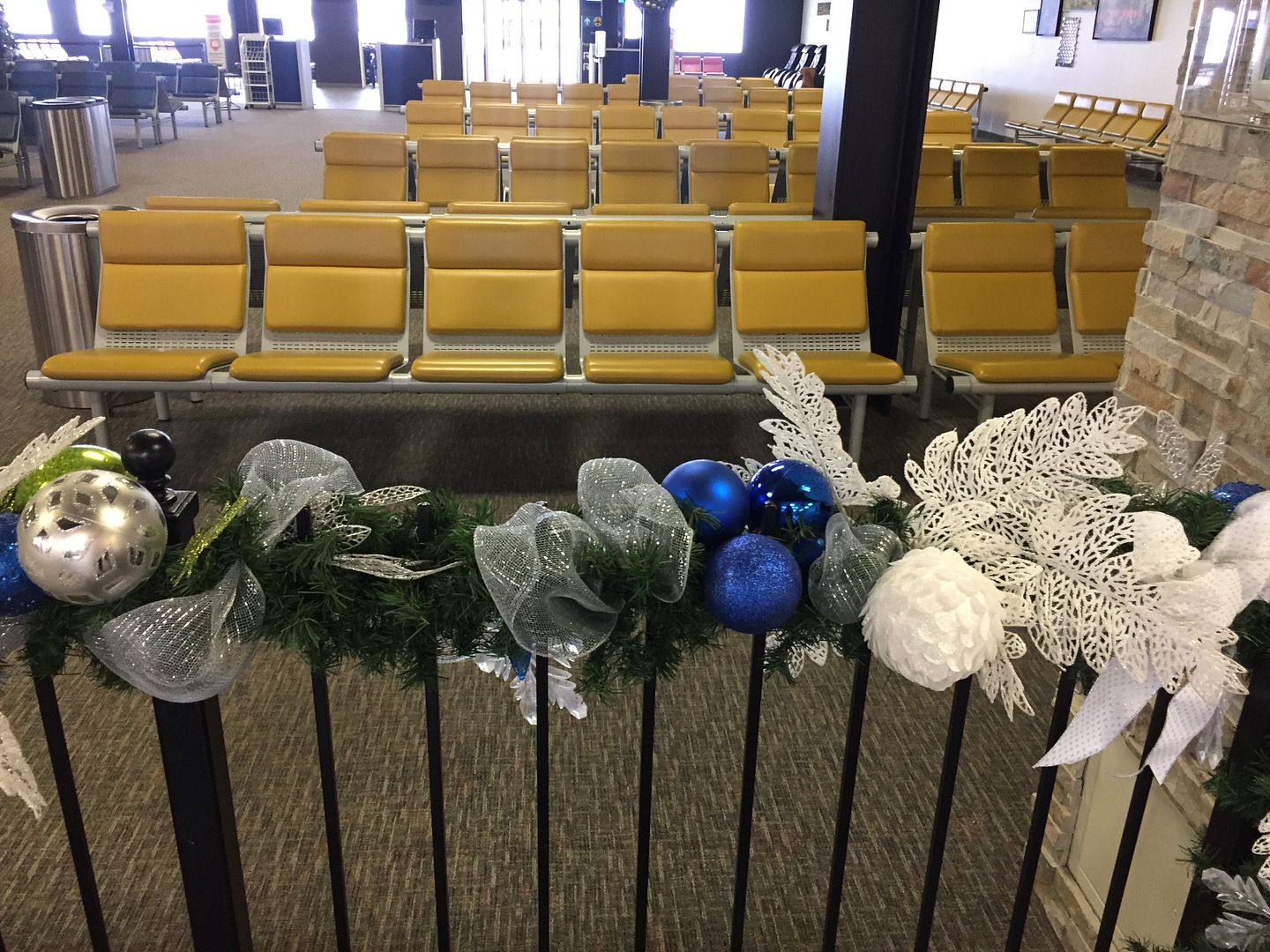 The only vendor in the public area is a Tim Horton, and inside the secured area, there is another Tim Horton kiosk, along with a fast food stand.
Check-in:
New Leaf sent out an email a day prior to takeoff reminding everyone that it will cost them $10 if they do not have a mobile boarding pass or print out a boarding pass at home. They really give you plenty of chances to skip the $10 fee.
Check-in desks at YHM: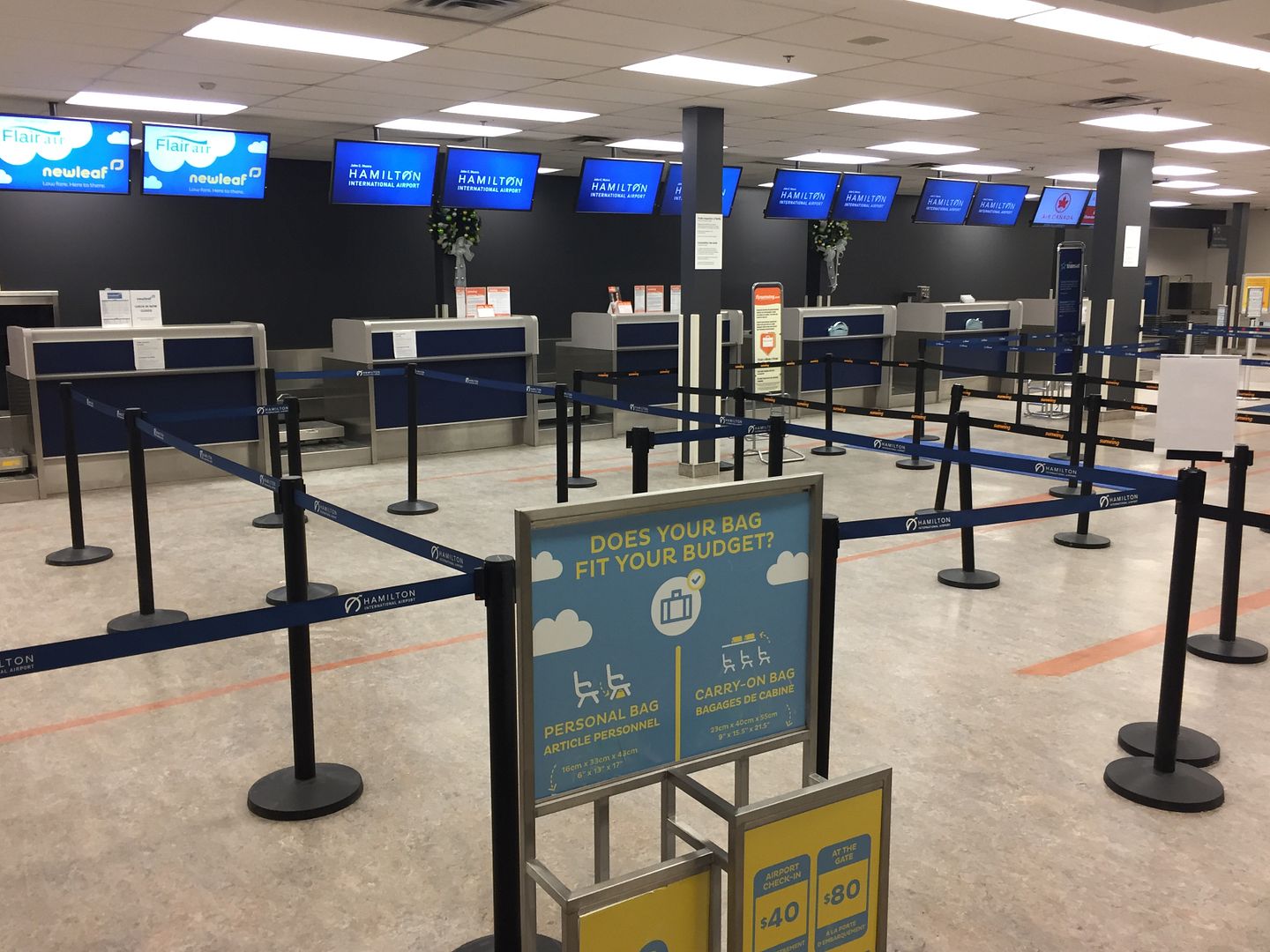 Separate baggage drop line: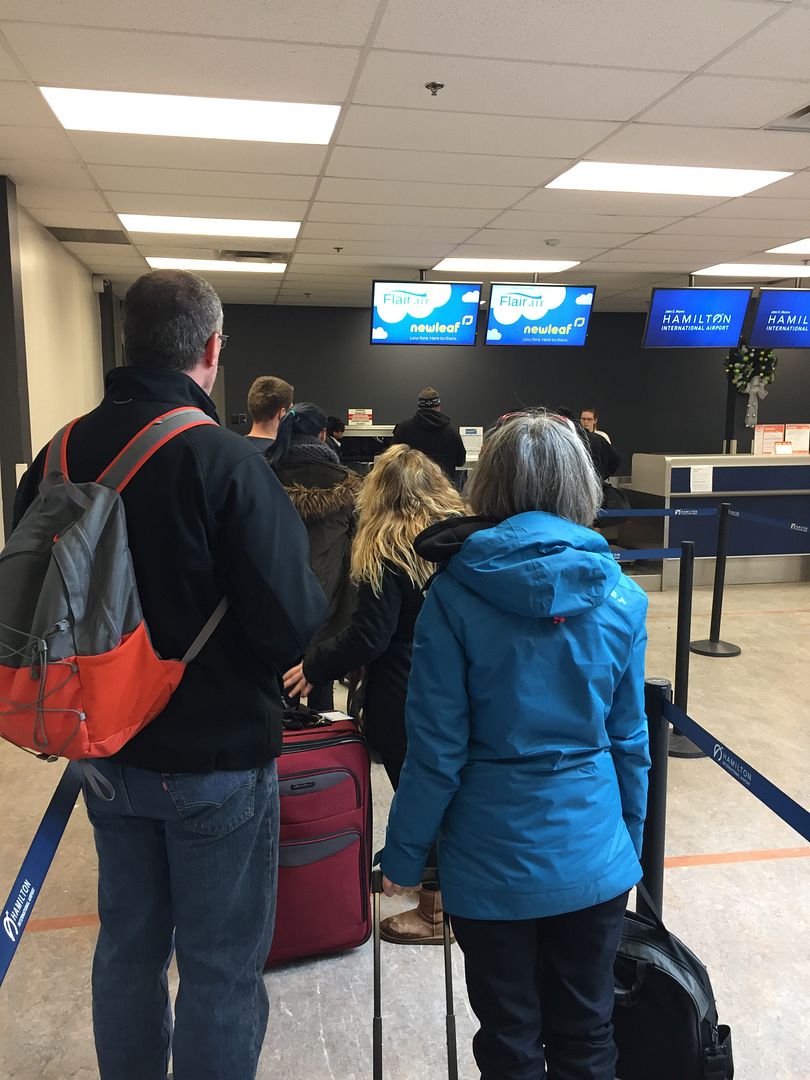 The check-in agents were very friendly and there was a good amount of training going on. Many passengers were obviously not familiar with the concept of ULCC so it took a while for the full service line to move, but in general, things move quickly. Please be reminded that check-in opens three hours prior to departure time, and closed an hour prior to departure time. Yes YHM is a small airport but New Leaf is a ULCC, so they follow the rules strictly. The reason for the early closing of check in is that many check-in agents are also your gate agents, who have many other tasks.
The flight to Moncton was not completely full and some passengers were originated from Calgary, too. There were two later flights in the afternoon, which operated later.
I knew the rule, so things went smoothly. The agent even refunded my carryon fee because she said that my laptop bag would fit under. That was cool and fair, and I wish other ULCCs around the world have to do the same thing.
I went through security early, and unlike Canadian's major airports, these agents were friendlier here.
Then I picked a seat next to the window and there are some interesting planes to look at.
I spotted a pair of Porter's Dash 8-400s resting here in the weekends.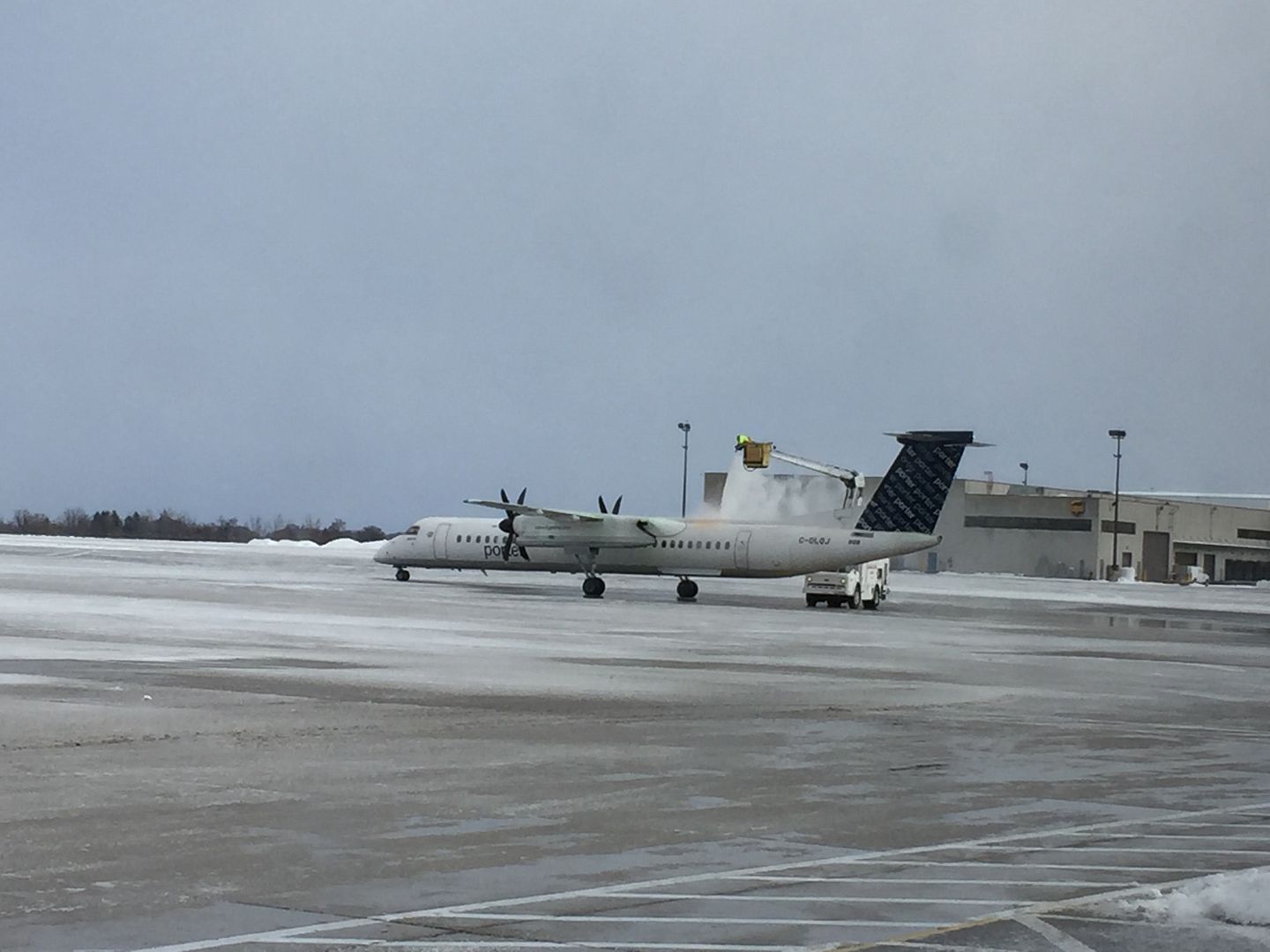 The inbound flight arrived late at 1:28pm from Calgary and the Flair Air's Boeing 737-400 C-GLEN looked beautiful.
Boarding:
Boarding began at 1:50pm and the gate agent had already asked those who have purchased priority boarding (ME) to approach her. She asked me to take a seat near the pre-seating area, and it was strictly enforced. However just a FYI, you also receive priority boarding if you have pre-purchased an exit row seat. I indeed double paid and it would be nice if the airline could make it clear. The boarding took place very slowly despite there is no overhead bin issue.
Plane shot: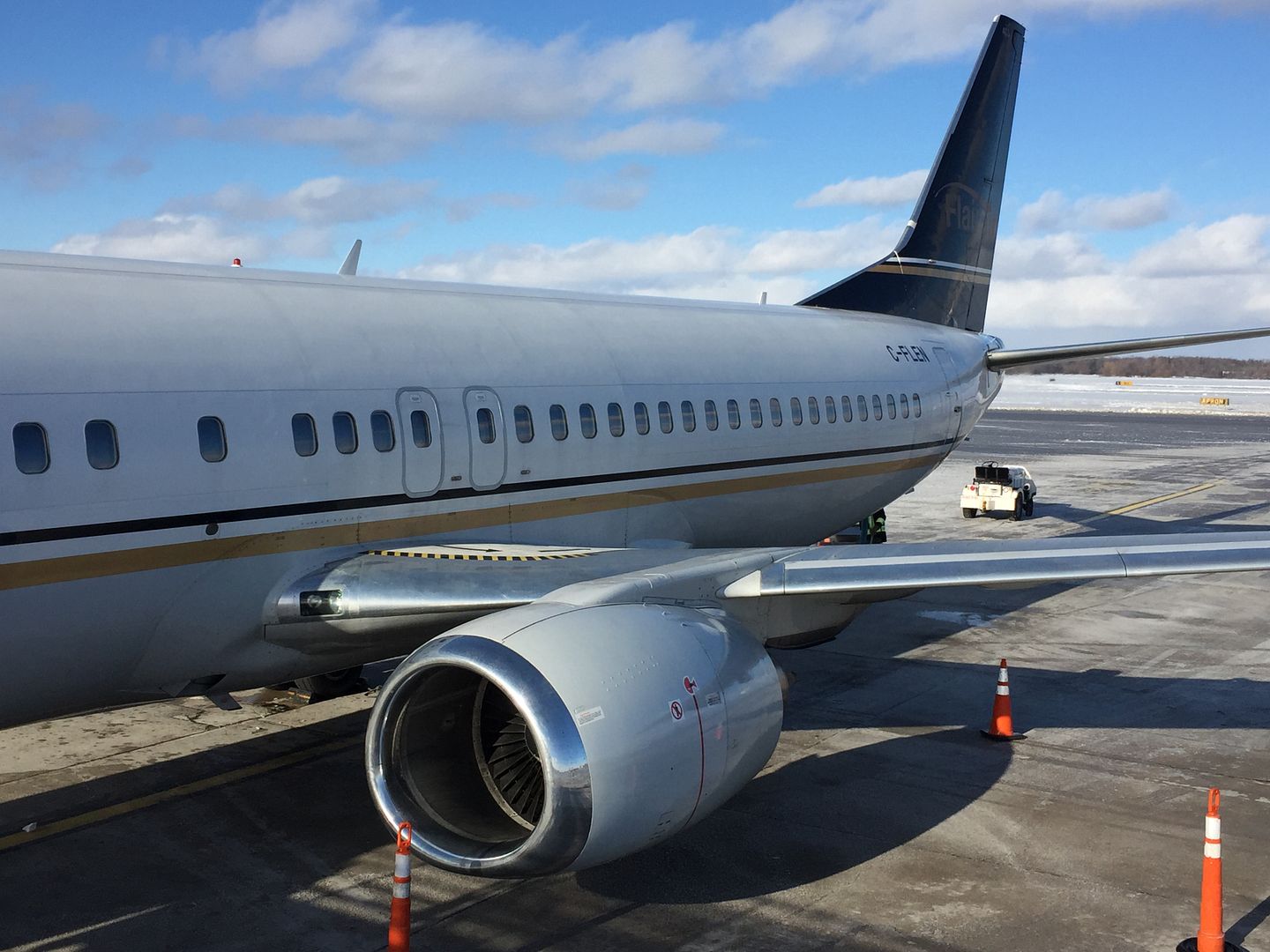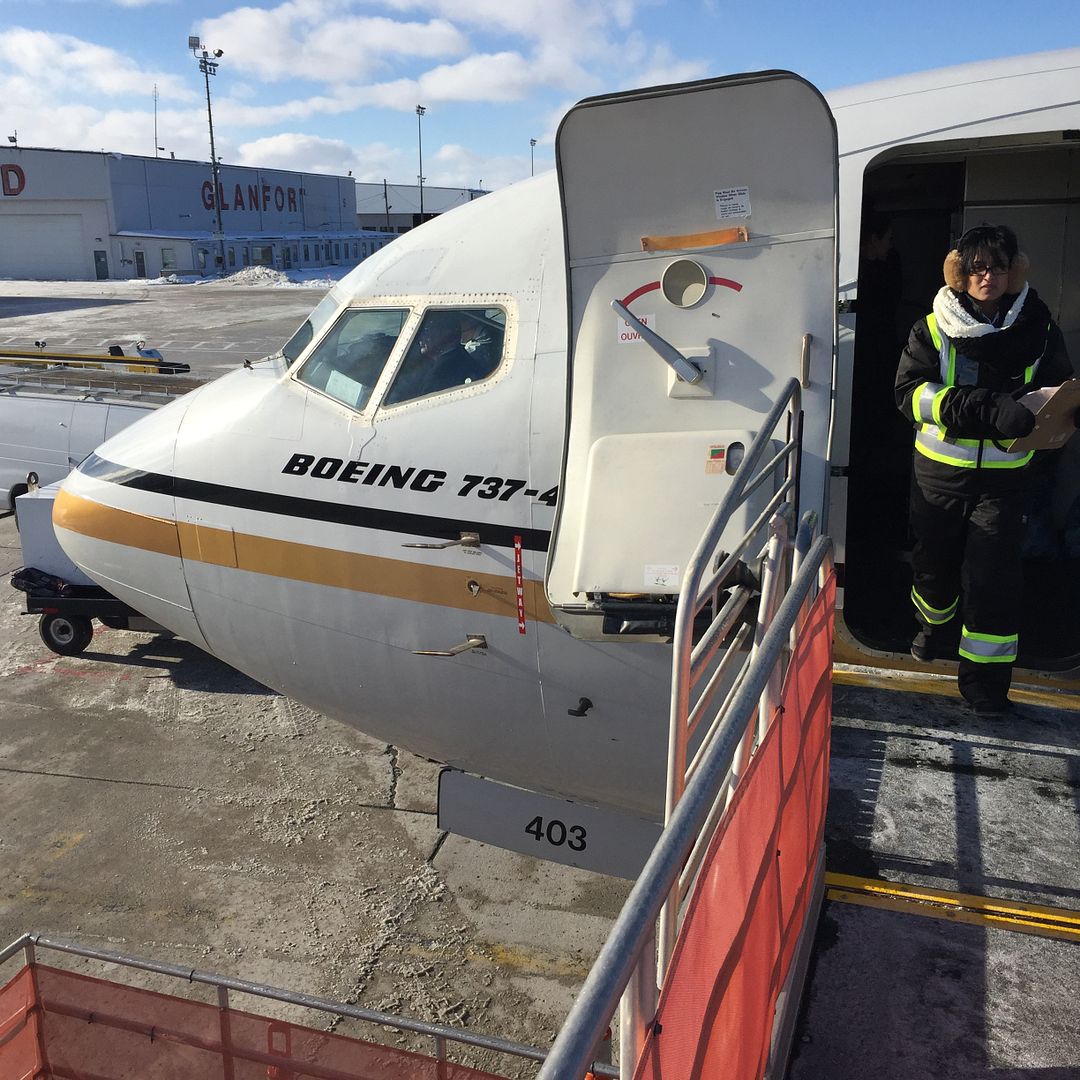 Operated by Flair Air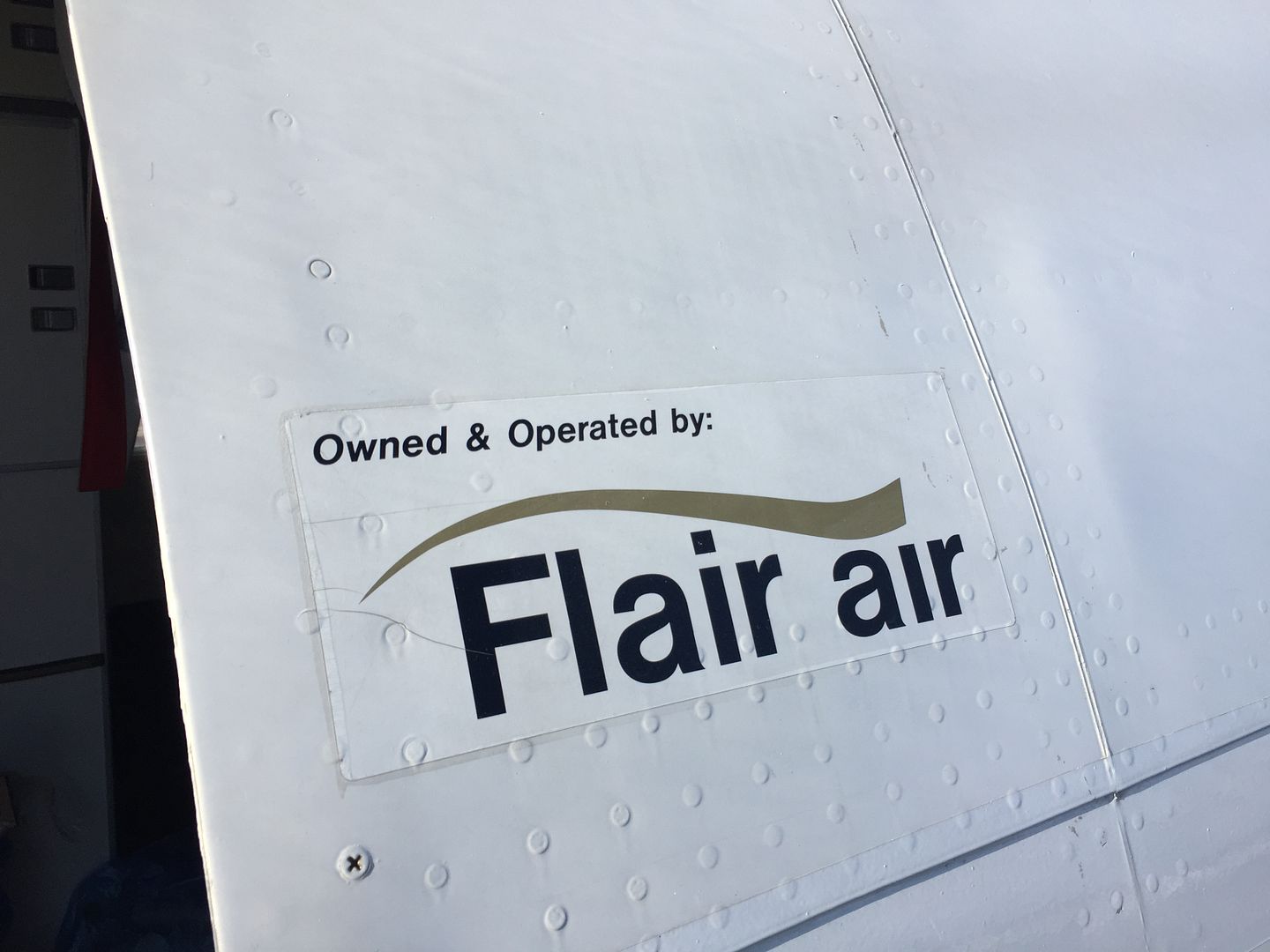 Cabin shot: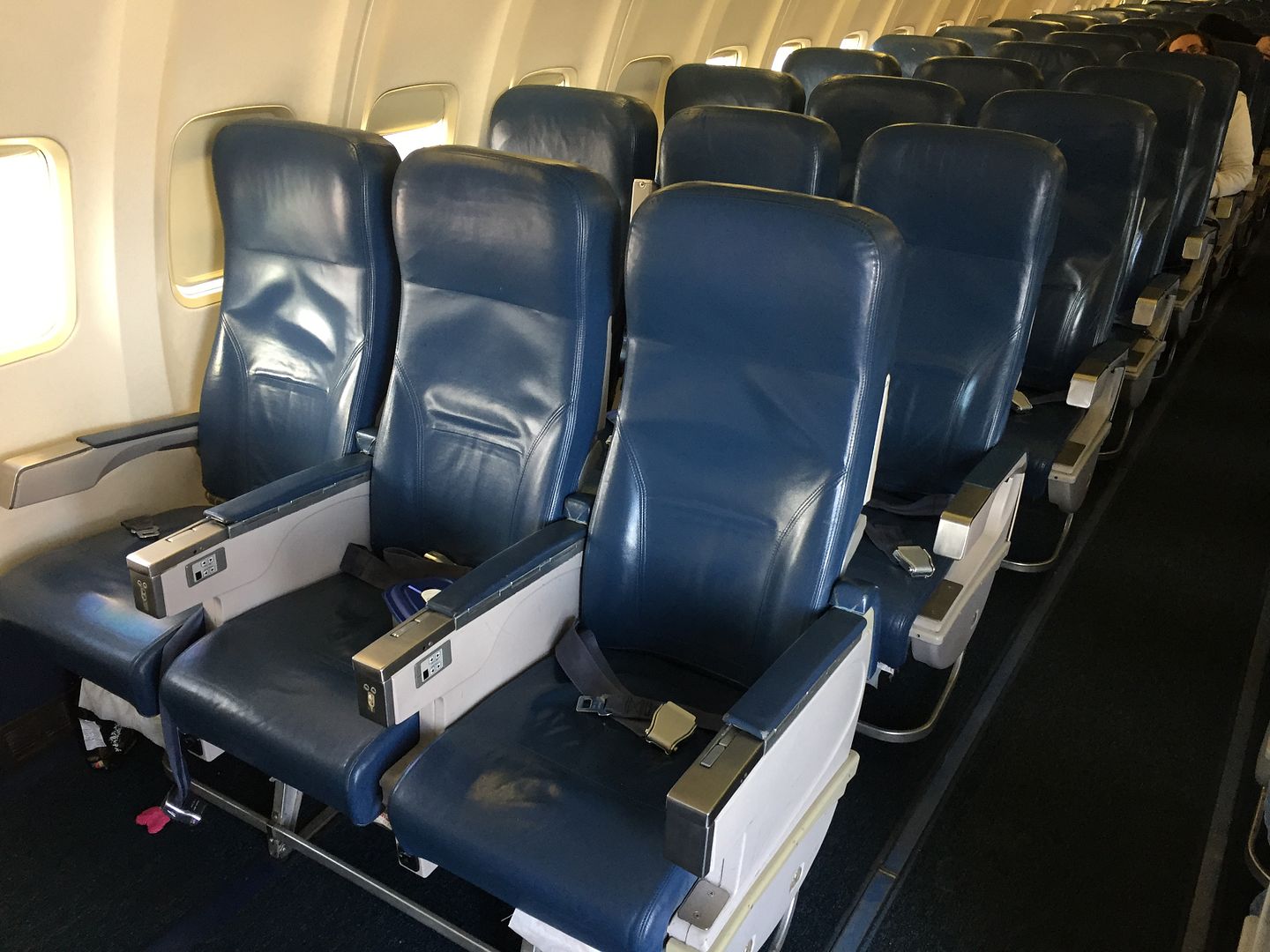 Exit row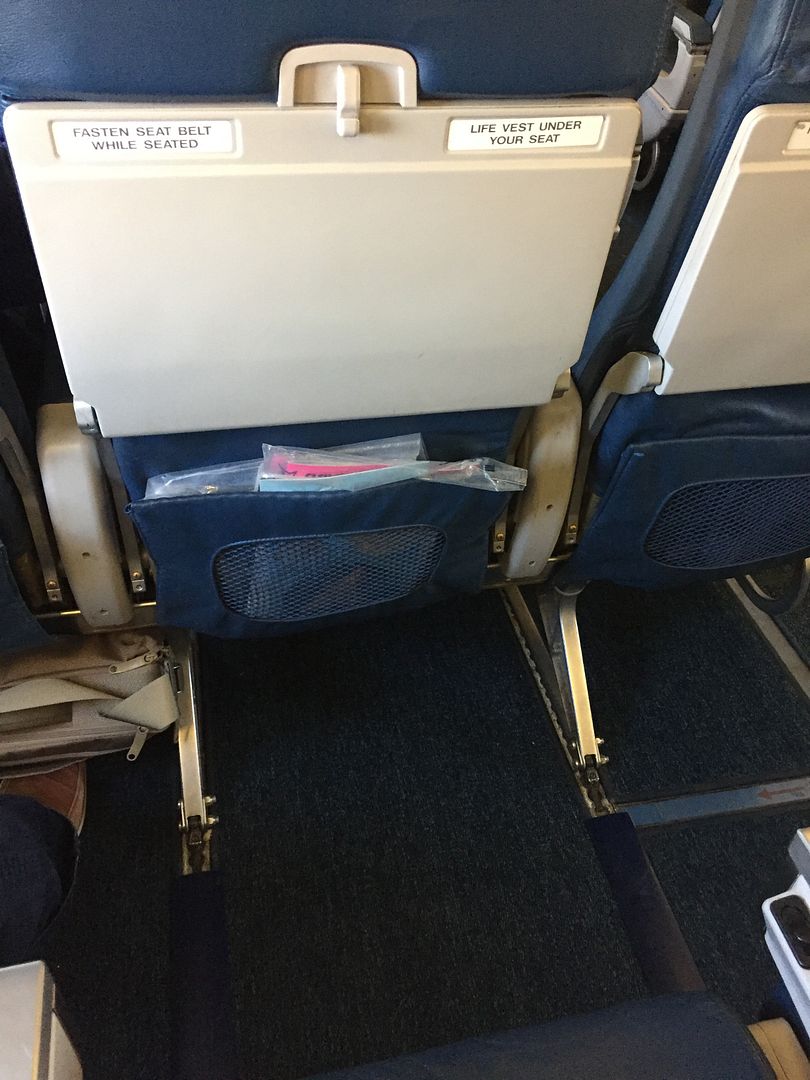 Classic armrest
The cabin was very traditional looking and while it is clean, the plane is very tired-looking. The bathroom does not really have a fully working light (therefore no pictures).
But one good aspect – the seats are well padded, unlike the modern slim line seats, and the legroom was actually not too awful. Of course a 60% full cabin made everyone happy, except a ULCC. However, I really don't know if the ground staffs and F/As can handle a full flight.
Rules are rules, but they are no use if no one was enforcing them!
I find it a bit annoying that Newleaf really went out of its way to tell everyone that they are an ULCC, and therefore you have to pay for little things like carryon on the overhead bin or seat assignment, but in reality, no one really enforces anything. The Flair F/As are very friendly but are basically charter airlines F/As, who are more used to carrying out full service. They really do not enforce the carryon rules and seat assignment rules at all. I paid $25 for an exit row seat, so I got really annoyed when I saw passengers changing seats after door was closed, including moving to exit row. The F/A, who briefed me on the exit row procedure, did not even say anything. First, she did not give that passenger an exit row briefing, and second, that was really unfair to the passengers who paid those extra $25. In the long term, folks will not pay for those items because they will get away with it. At the same time, the F/As really don't have any incentive to reinforce the rules because they don't want to get into fights with passengers. They don't work for Newleaf, but Flair Airline that is just leasing out the crews and plane for Newleaf.
Flight:
Since our flight arrived late, boarding did not resume till 1:50pm and I was allows to board first, since I bought priority boarding, and also being in an exit row. After priority boarding, they boarded the rest of the flight by rows.
Door was closed at 2:23pm after two different F/As did a headcount.
Flying time was an hour and twenty-five minutes with a cruising altitude of 33,000ft.
With no traffic, we took off from R/W30 at 2:36pm.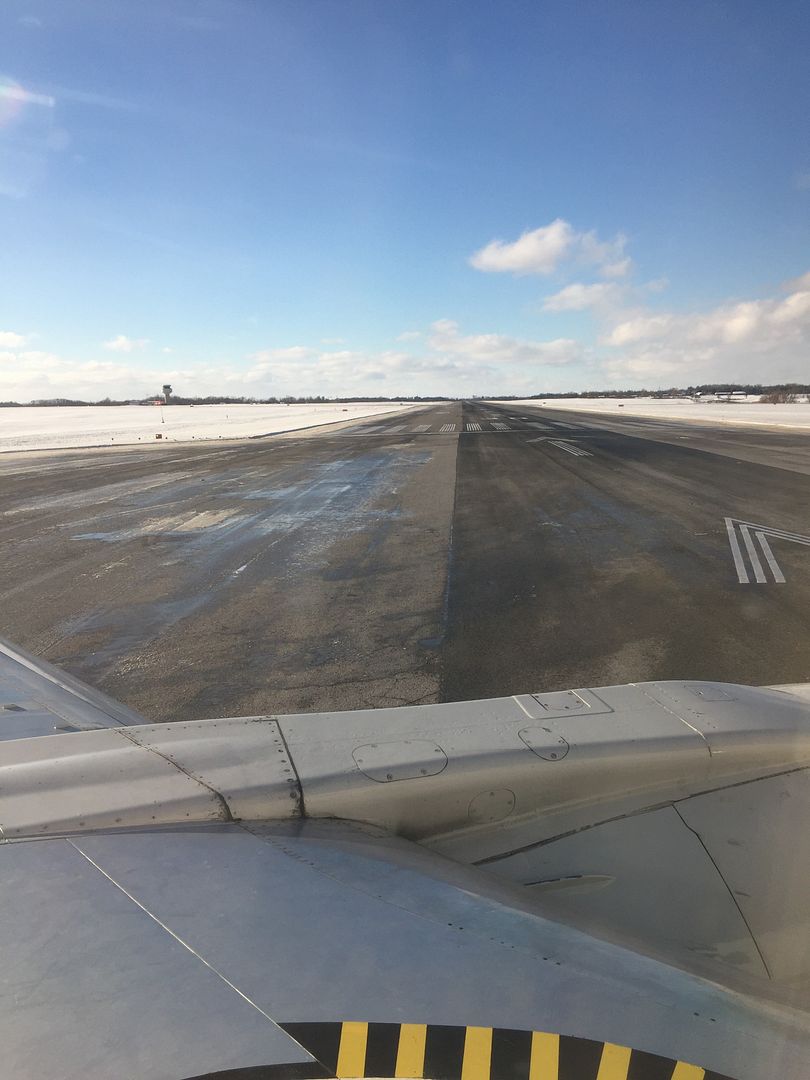 Hamilton Airport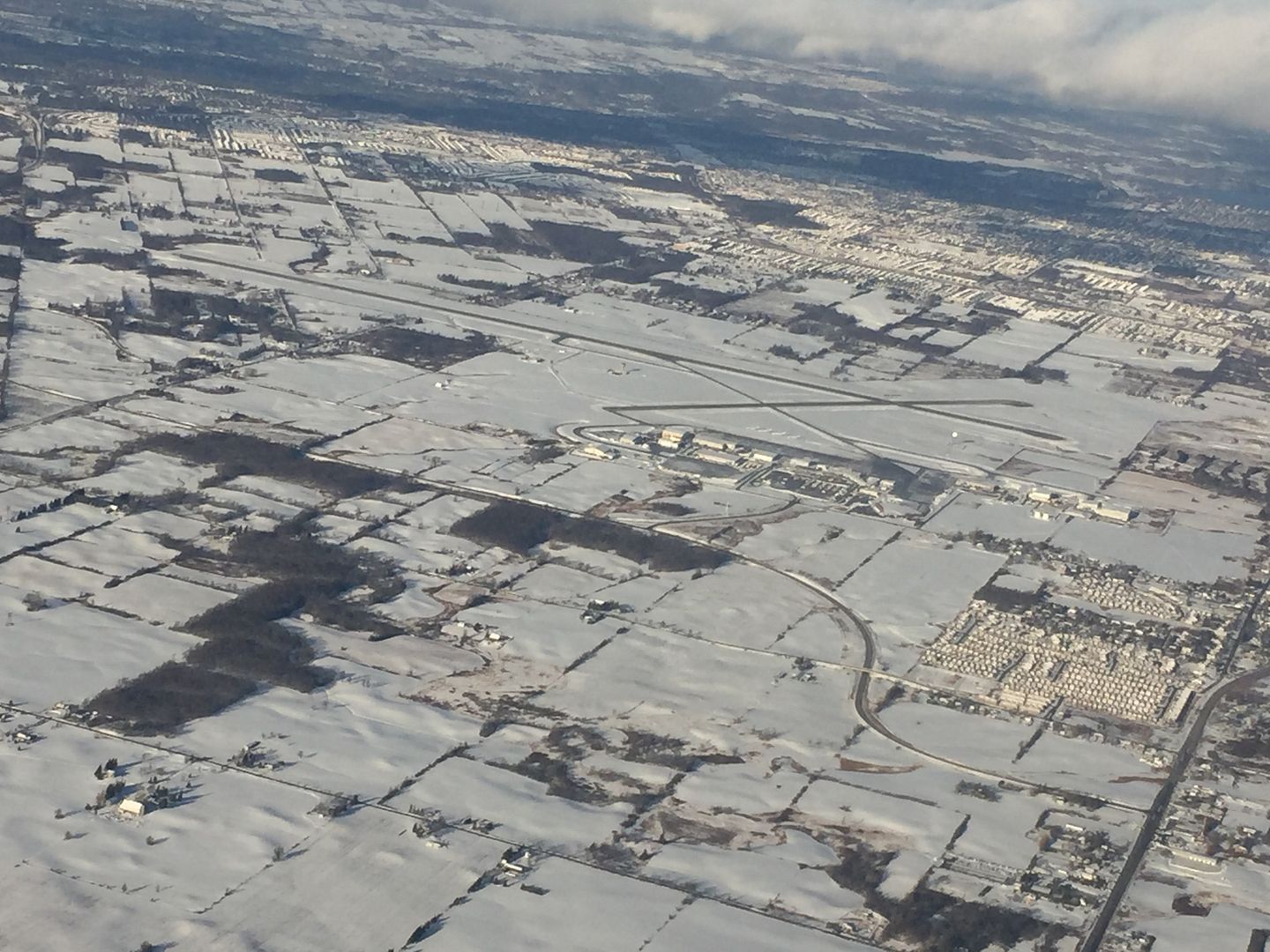 As expected, there is no in-flight entertainment at all but in the seat pocket, I find the Air Transat magazine, menu and duty free catalog, as Flair Air is also doing some charter flights for Air Transat too.
Safety card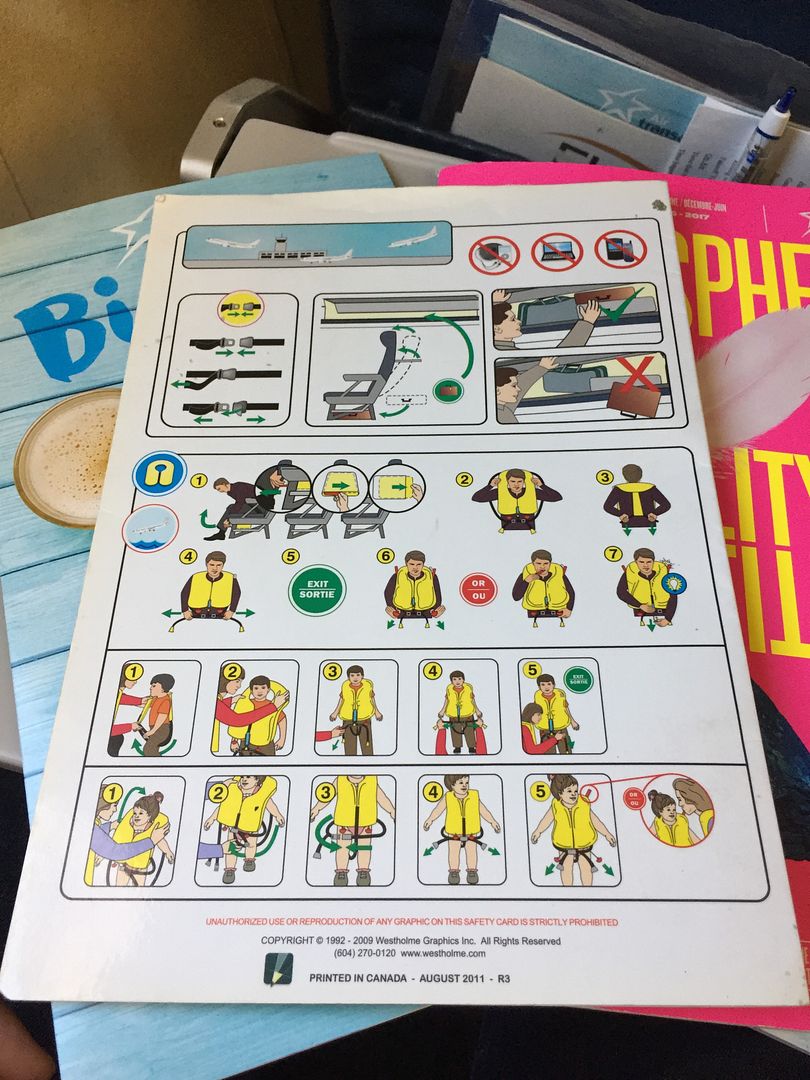 Newleaf, according to its website, offers a full buy on board service, and even beverages are not free. Some Newleaf staff even sends me a Facebook message of their on board menus. However, I don't know why, but there is no buy on board service at all. Rather, Newleaf offers complimentary tea (three choices), coffee and water service to every passenger, but no alcoholic beverage, sodas, or snacks are on sale on this particular flight. More confusion here, but hey, who won't mind a free cup of tea under this freezing weather. However, I will not board a Newleaf flight without a bottle of water and some snacks. I notice that many families are traveling with Newleaf and yes you need to pack snacks and food for your kids, and don't count on anything, even a buy on board menu.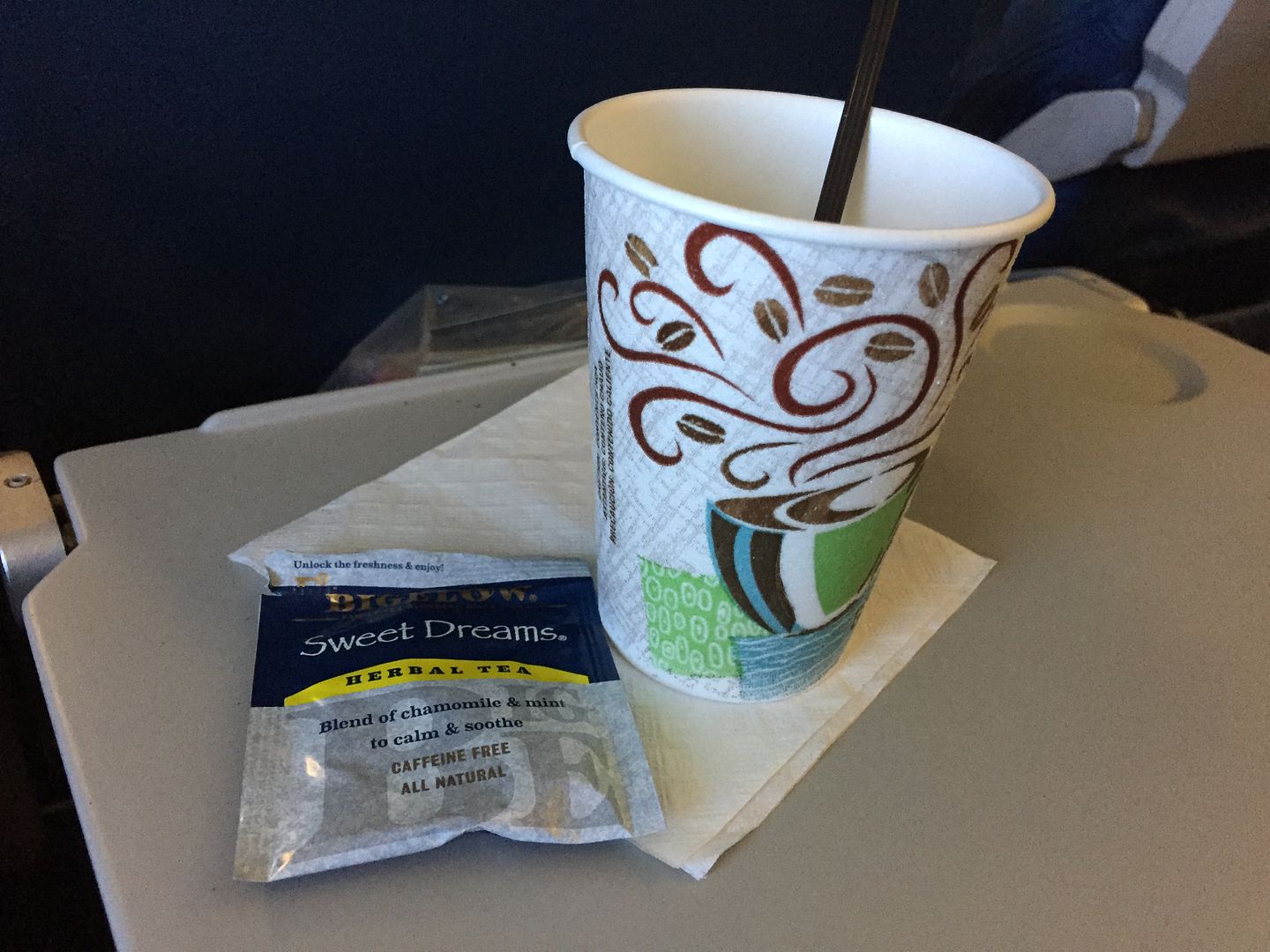 Descent soon began at 4:39pm Moncton local time, and it was dark by now.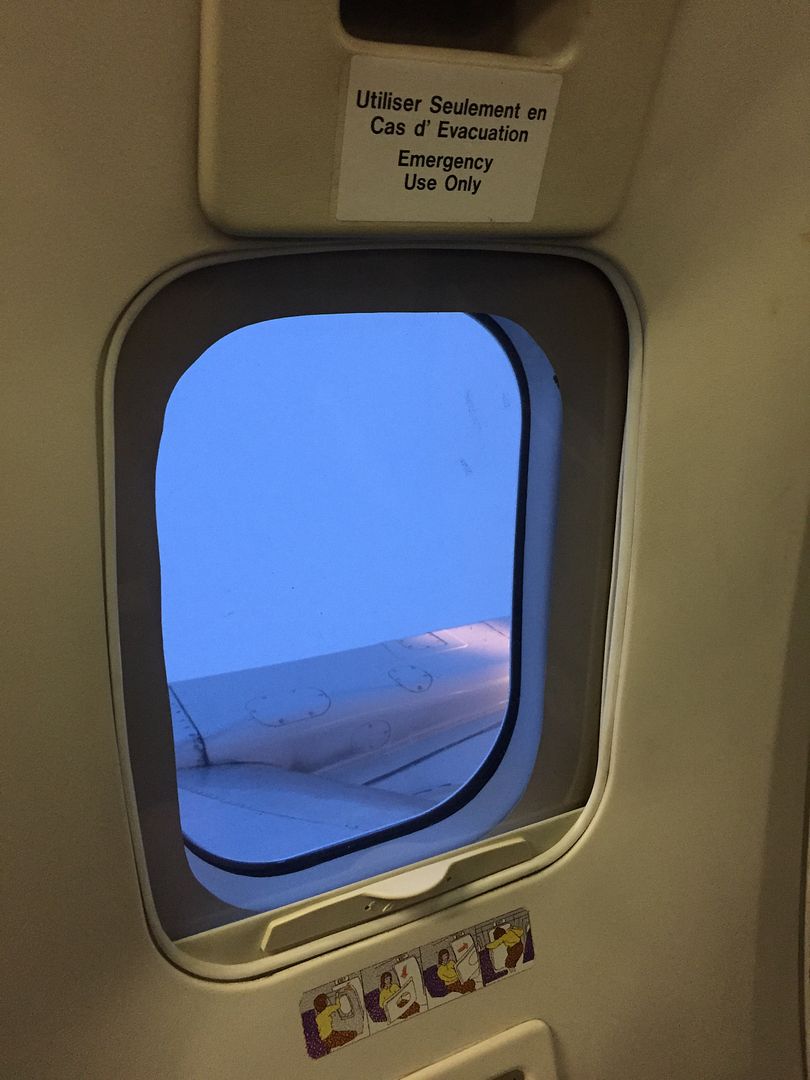 We landed on R/W24 at 5:01pm and parked at gate 4 three minutes later. Yes there is a jetway, indeed there are at least two gates with jet bridge.
Baggage was out within twenty minutes, and it was a nice flight.
In conclusion, I don't really have anything bad to say about Newleaf, other than the lack of enforcement on some of the rules like usage of overhead bin and passengers playing magic chairs, and not labeling those extra legroom seats. This virtual airline concept is just bizarre but I don't think it will work for a range of reasons. Honestly I don't think Newleaf can force the Flair Air F/As to do anything especially these F/As don't want to upset anyone. They also are trained to offer full service and obviously work in multiple flights for different airlines. I still feel that Newleaf can only be successful if it really launches its own planes with its own crew and seats, and sticks with a set of inflight service, paid or not. The branding is cute, but is weak because other than the website and checking in, nothing reinforce that Newleaf label. I think the success of jetBlue, Spirit and Virgin America is based on its strong identity. Now it is just a blur of things, therefore I am glad that I fly it before it becomes something else. The load is really not that great, given that it is the holiday season. After Christmas and the winter holidays, I don't know how Newleaf is going to survive. I am still not sure what is a virtual airline.
I hope you enjoy this trip report!
Carfield