Background
Continuing from Kazakhstan, the trip report of which could be read here on the following link
https://www.airliners.net/forum/viewtopic.php?t=1373919
we then found ourselves further west in the Caucasus - a tiny little corner of the world whereby Europe and Asia are not so clearly definable. Geographically, this area is probably Asian. Culturally, it is much less obvious, Azerbaijan is definitely more Turkic with very close cultural and religious ties with Turkey and the rest of the Middle East. Georgia and Armenia are more Christian. And all three were sovietised and Russified to some extent.
Part 1: The Flight

Airline: AZALjet
Flight: J2 8225
Aircraft: A320 (4K-AZ77)
Class: Economy
Load: 95%

The first part of this trip report is the flight AZALJet from Baku (capital of Azerbaijan) to Tbilisi (capital of Georgia). Azerbaijan Airlines is the main full-service flag carrier and it has spawned 2 newer Airlines in the last 2-3 years. AZALjet is supposed to be the first low cost subsidiary serving routes in the former CIS and the Middle East. Unlike its counterparts in Europe and Asia, I find the model is more of semi Low cost. Yes, seats and luggage are chargeable, but meals are included. This is the airline that I will be reporting on. Just a day before my flight, AZAL had also launched another subsidiary - Buta Airways. This is an ultra lowcost flight where everything is chargeable including meals and hand luggage.
For comparison, on the day of travel, mainline AZAL (operated by QR) charged S$350, AZALjet charged S$120, and Buta Airways as Low as S$45 when it first launched and increased to about S$90 closer to the date.
My journey started at Baku's sleek new Terminal.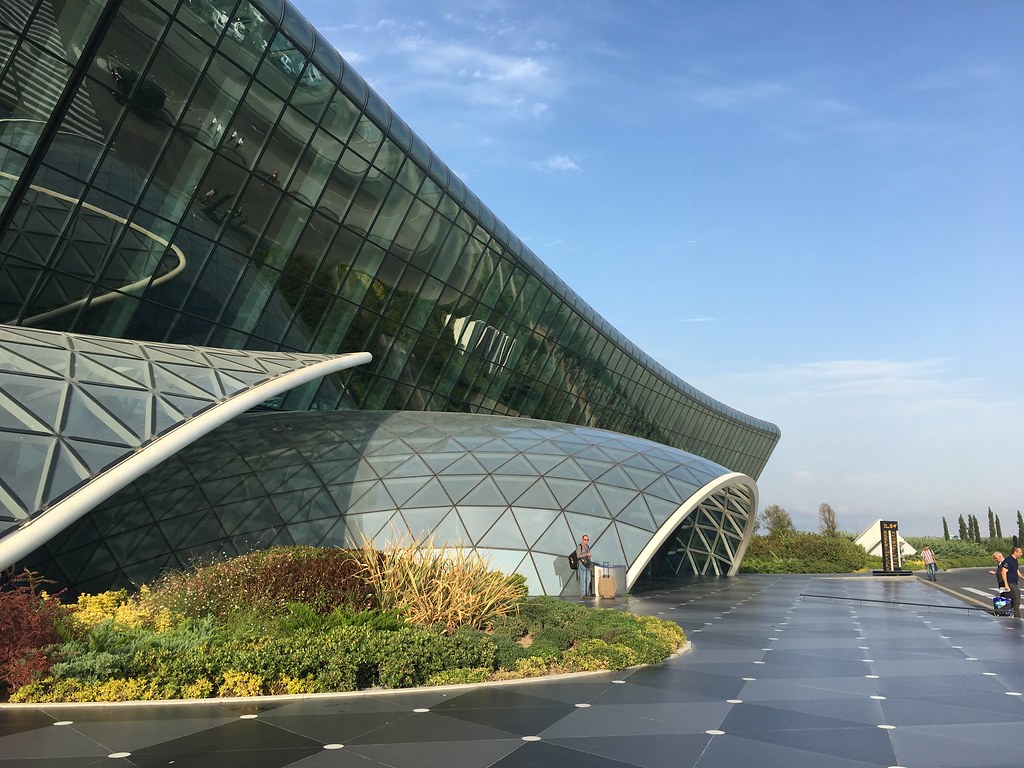 The main hall is a common hall of one-storey with departure area adjacent to its arrival area.
Check-in counters for AZALjet is at the end of the terminal building and it was a smooth experience with very little queue.
From here, one has to take an escalator up to the 2nd storey where the immigration and security are located. Post-that is the transit lounge area which is spacious and beautifully daylit from the roof above. It's a really pleasant airport although the quietness at that afternoon hour might seem boring.
Throughout the transit area are all these different stylish pods where various F&B joints are located.
And beyond this zone, the gates are located in a spacious open area.
We headed up another floor where the lounges are located.
There are two business class lounges which are very empty.
Since we were flying economy class and were using our Priority Pass lounge access, we were not allowed inside these seemingly spacious and well-furnished lounges.
Instead, we were directed to another lounge in the centre of the floor with no open views whatsoever.
It has a bar and buffet area at the centre and rather funky looking birdcage chairs.
The food was really good, I have to say .... Simple things but the quality was top notch.
Definitely I had to have local beer anywhere in the world.
We spent a good hour in the lounge before we had to make a move and boarded.
The flight itself was nothing to shout above. It's a standard economy class flight in 3-3 configuration. There are also 4-5rows of business class which was not sold in AZALjet. I think it was a last minute equipment swap to a mainline plane. Since I am no frequent flyer with them, I am not sure if there is shared fleet between AZAL and AZALjet for fleet flexibility.
It's an A320 that evening. If I am not wrong, the original flight was supposed to be an A319.
Legroom was okay. Good enough for my height.
Browsing through their inflight magazine - an article of the new airline just launched the day before
Their network is mainly regional and European-centric although they do have flights to New York, Beijing, and Bangkok is just launched a few days ago.
Its widebody fleet
It's a very short 279 miles hop from Baku to Tbilisi.
Despite the short flight, a decent meal was served. The crew worked really hard tonight with a cart manned by 3 people. 1 for taking order, 1 for preparing drinks, and 1 for distributing meal. Very efficient.
The flight was relatively uneventful and we landed on time at Tbilisi Airport. Disembarkation was by stairs and I was face to face with my first sighted AZAL fleet.
Tbilisi airport is much more basic than Baku's which really tells the wide discrepancy between the two countries' economic wealth.