This is a follow on from my past two trip report located here:
American Airlines - London To Boston (Pics/Vids)
(by
B742
Jan 5 2007 in Trip Reports)
American Airlines - Boston To Miami (Pics/Vids)
(by
B742
Jan 12 2007 in Trip Reports)
After spending two weeks in the USA, it was now time return back to home. We had booked on
American Airlines to London Heathrow via New York's JFK as the price was so much cheaper than the
direct flight. Flying via JFK was no problem for me and it was nice to return to JFK again.
We had spent our vacation in Boston, Miami and the Florida Keys which were all very nice. I must
apologise for the lack of detail on all of the shots, they are rubbish to due internet speeds some people
experiance.
We stayed in an Villa/House in the Florida Keys, which was extremly relaxing and nice. The weather
was very nice and hot (few days were slightly worse).
The view looking across the bay towards Southern Florida just after sunset: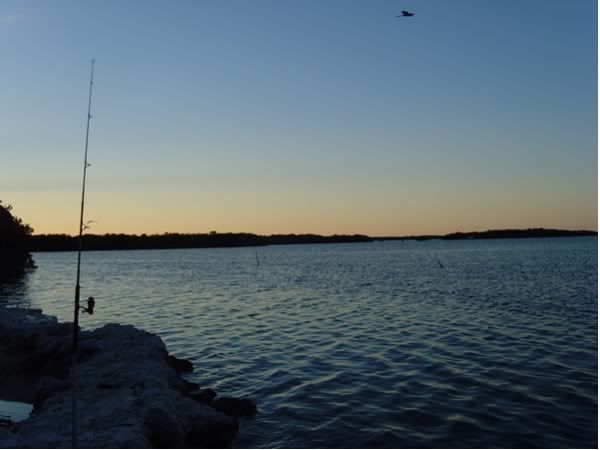 Our very nice rental car from Dollar; the Crysler 300S. I must say the car was very nice and spacious,
the only drawback is the low roof:
Hes hungry....
One of the many large boats heading for fishing trips in the Keys: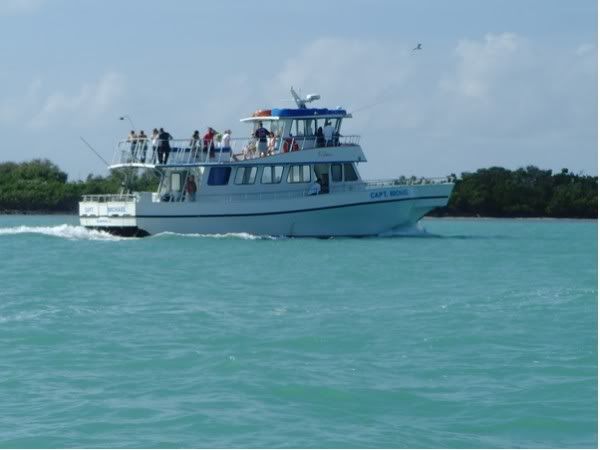 After spending a great week in the Keys it was now time to head back to Miami and head towards the
airport...
Cellphone shot of an American beauty on finals for MIA:
Another American Airlines A300 on finals for MIA, taken from the Dolphin Mall on a cellphone: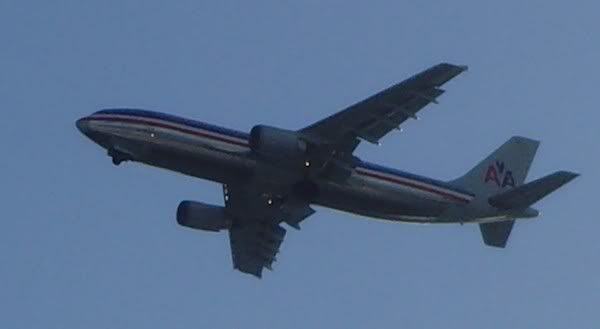 Beautiful LAN Cargo B763F on finals for Miami in the distance: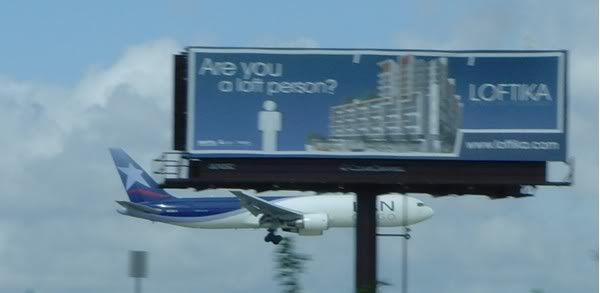 Some shots from my room in the Embassy Suites...
A Private Challenger N130CH on finals for MIA
An American Airlines 737-800 taking off on the wet runway: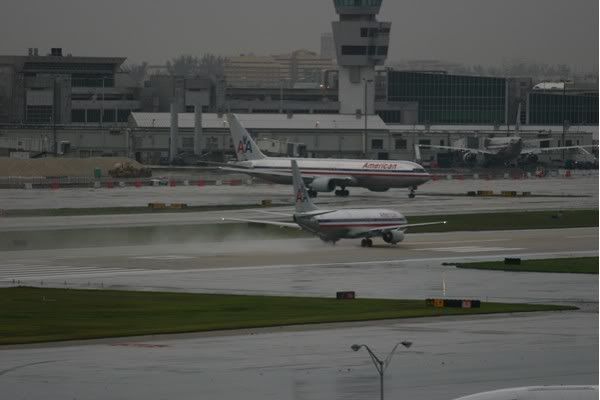 Looking across to the American Airlines remote stands, with an 757, 737 and 777
N604WS on finals for 26R
Looking towards Terminal A with an AA 763 and a TACA A320
Four aicraft on one shot; with an AA B763 taking off
An UPS Boeing 757-200F on finals for 22R
UPS 757F about to touch down whilst an AA B763 takes off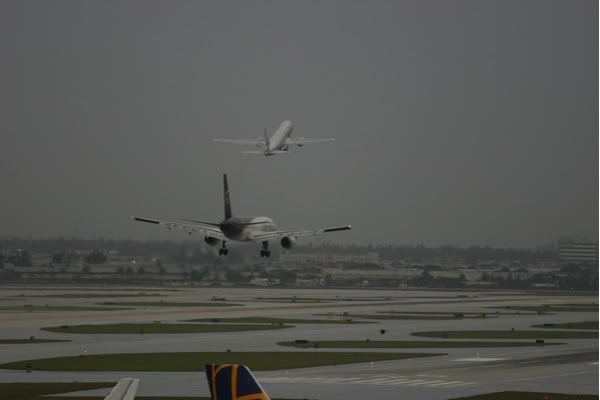 American baby Boeing taking off from Runway 22L, with Concourse D in the background
Looking towards the AA hanger with an Arrow Air DC8 parked on the stand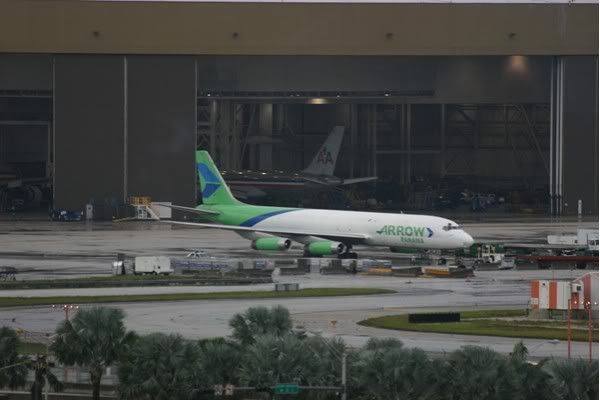 Looking towards Concourse A with an JJ A330 parked at the terminal: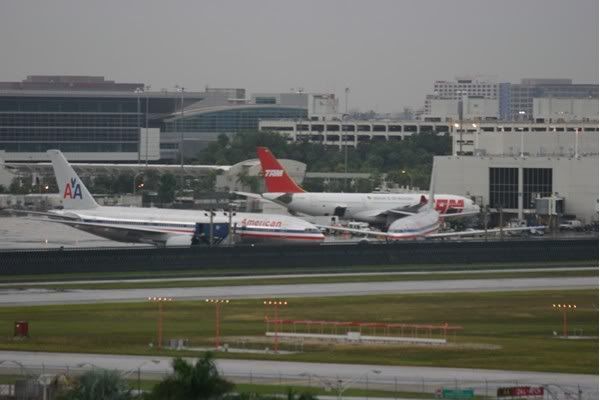 As we got closer to the airport, you could realy tell the large presence of AA at the airport:
View of some American Airlines heavies parked at the remote stand. There are three AA B763s, a
single AA B772 and a LAN B763 parked here: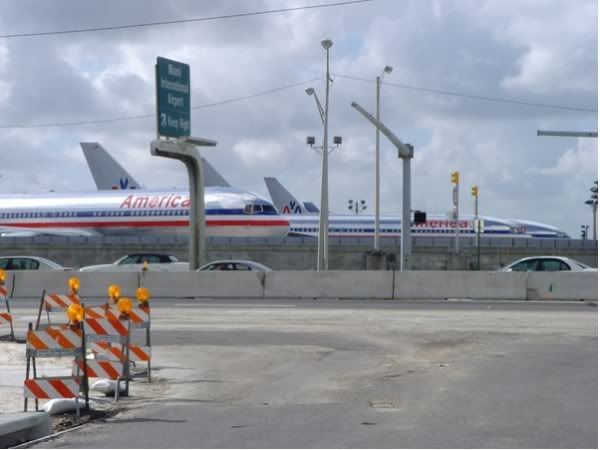 Another view towards the remote stands by the hanger: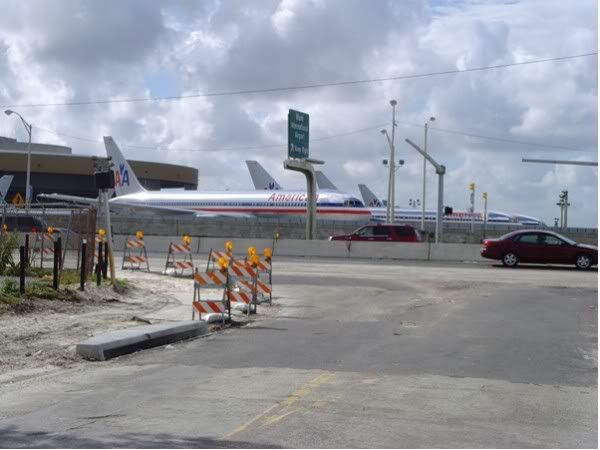 We then decided to head back to the rental lot where we gave back the car. The lot was very busy at
this time, but Dollar was very quick and got us to the airport in no time at all.
Here was our flight information for our first flight today to New York City:
Route: Miami to New York John F. Kennedy (KMIA/MIA-KJFK/JFK)
Flight Number: AA2282
Carrier: American Airlines
Aircraft: Airbus A300-605R
Aircraft Registration No: N11060
Scheduled Departure Time: 17:35 EST (GMT-5)
Actual Departure Time: 17:39 EST (GMT-5)
Scheduled Arrival Time: 20:25 EST (GMT-5)
Actual Arrival Time: 20:38 EST (GMT-5)
Seat Number: 22J (Window Seat)
Journey: 2hr 50m
Cruising Altitude: 31,000ft
Class of Travel: Main Cabin
Passenger Loads: J100% Y100%
Today our flight was to be operated by the only Airbus type left in the American Airlines fleet. I realy love
flying the A300, it's a shame that FedEx and UPS have most of them now
We arrived near to where Concourse D is located. We made our way into the terminal which is all
connected to eachother.
The terminal map is located below, American Airlines are located in Concourses A/C/D/E: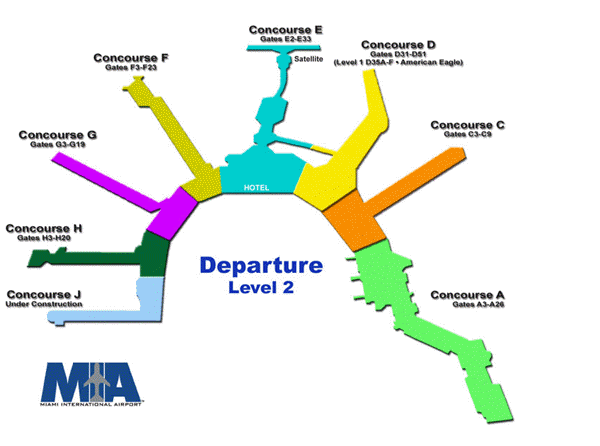 Interior of the terminal, looking towards the Domestic Self-Service check-in counters: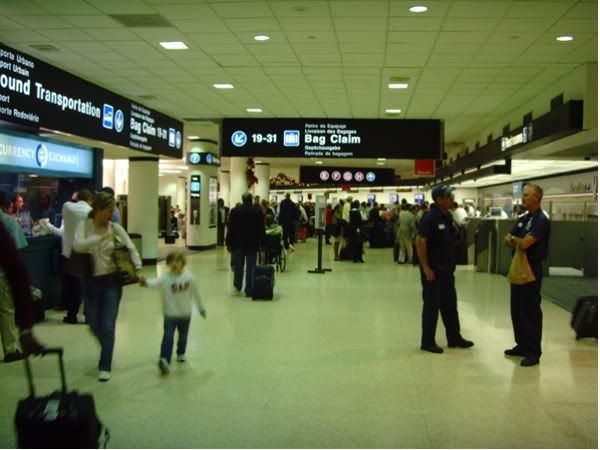 This is where International AA passengers check-in (like ourselves) with the self-service counters:
The Copa Airlines check-in desks in Concourse G: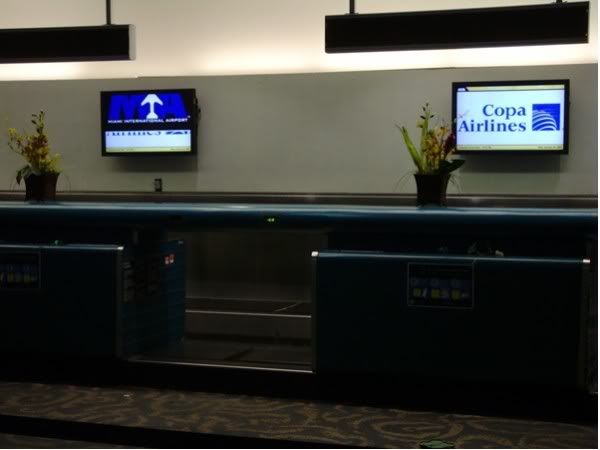 The Iberia check-in counters in Concourse G:
At this time there were flights being checked in to MAD (Iberia), San Jose and Amsterdam (Martinair)
and Paris (Air France) aswell as several other carriers.
Our aircraft was due to come in from Managua, Niguragua into Concourse A which I was glad about as I
could snap some shots of LAN, TACA and BA aircraft. Unfortinatly the flight changed to Concourse D, we
also stole the Bogota's flights' gate
As it was soon to get dark, we decided to proceed through the long safety check in Concourse D. The
area was pretty busy at this time, we took around 20mins to get through (still quicker than JFK/LHR).
We then made our way into the main part of Concourse D, the terminal seemed very new and nice. It
was very clean and was full on American Airlines jets heading off to various destinations.
Looking up towards the fish display, the photo makes the terminal look very low, infact it isnt: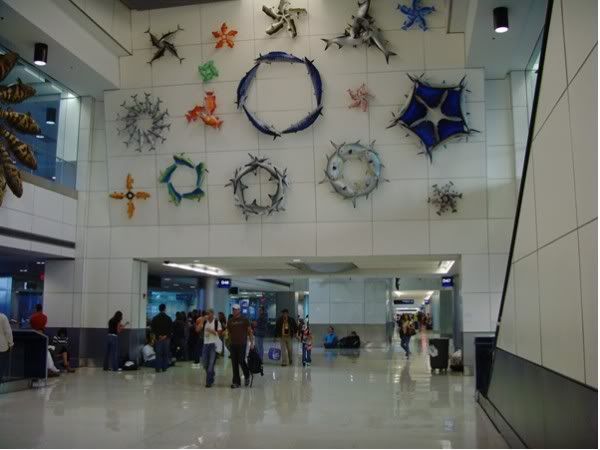 Beautiful American 757-200 at gate D48:
A strange shot which I didn't mean to take, nevertheless it shows you that the terminal is in good
condition: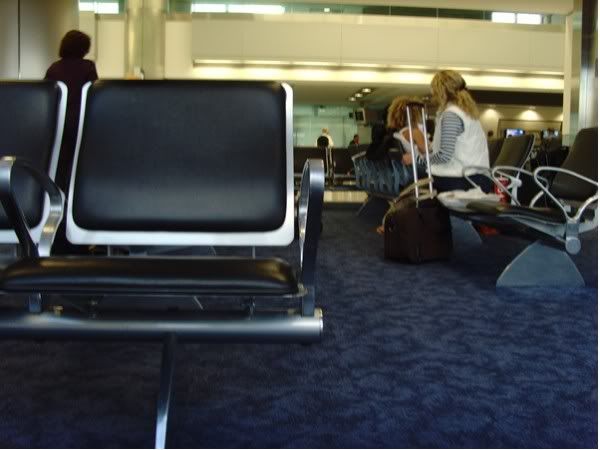 It was now beggining to get dark outside:
One of the ramp workers; he is actualy asleep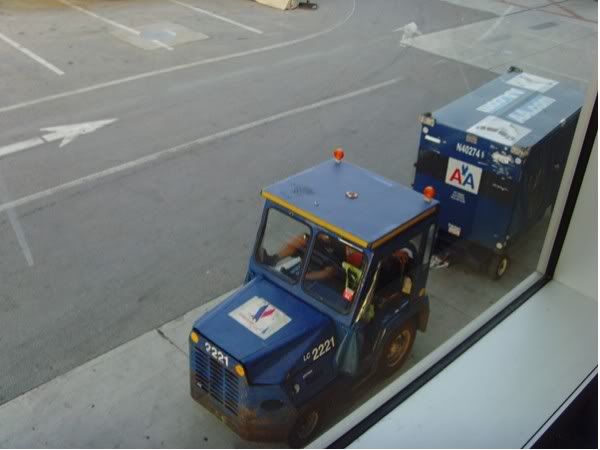 A Miami Air 737-800 in a hybrid sceme taking off in the distance: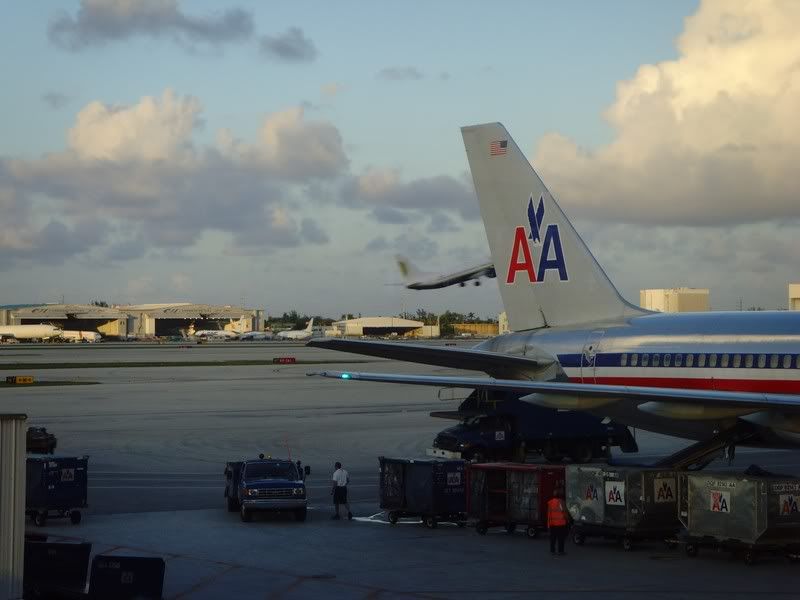 Nose of an American 757-200, looking very nice in the evening sun:
The tail of yet another American Airlines Boeing jet: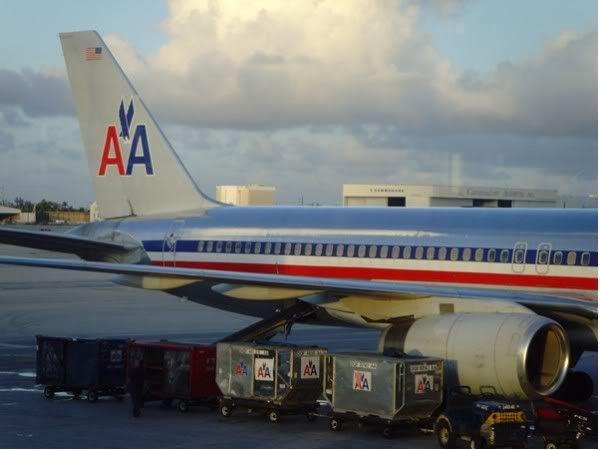 British Airways 747-400 heading off towards London Heathrow:
An American Airlines A300 departing from the runway:
[IMG]http://i5.photobucket.com/albums/y167/Rob_canada/SNV30206.jpg
[/IMG]
It was now time to board the aircraft. The flight was again overbooked like our BOS-MIA flight. This time they were offering a $200 reward for passengers to travel on another flight. Boarding was again called by groups. I was suprised to find that the F/A's were collecting tickets at the gate, I havn't noticed this before. We began walking towards the jetbridge but there was a huge line. We eventualy found out that the door timer had run out and we were waiting for no reason
The crew kindly appologised and the passengers laughed. We then made our way down to the aircraft, which was N11060: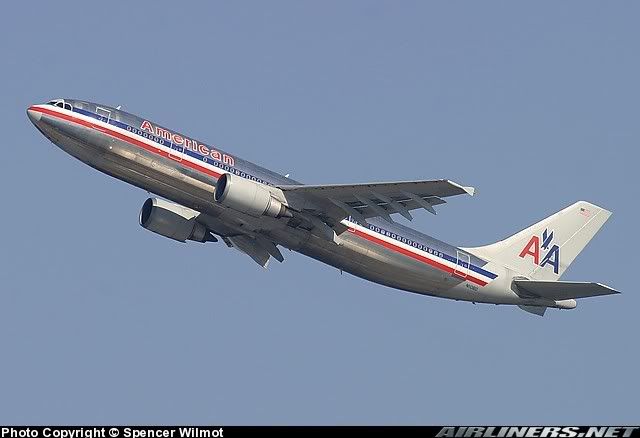 N11060 was delivered in 1988 to American Airlines, so was an old aircraft compared to the others we had travelled on. The cabin was in very good condition as we boarded through door 2L. The aircraft was in a two class configuration. The Main Cabin was in a 2-4-2 configuration as shown below: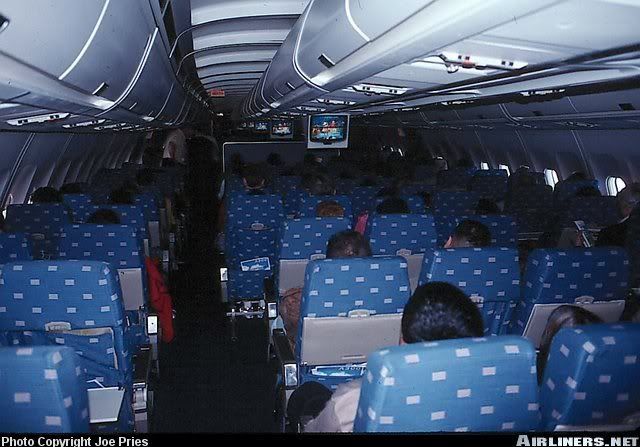 The cabin of the A300 was alot nicer than some of the AA 763's I've travelled on. The overhead bins didn't look as old fashioned as some of the boxy 767's.
The captain announced that we would be pushing back very soon, a little behind of scheduled departure time.
Looking across the American Eagle area of Concourse D: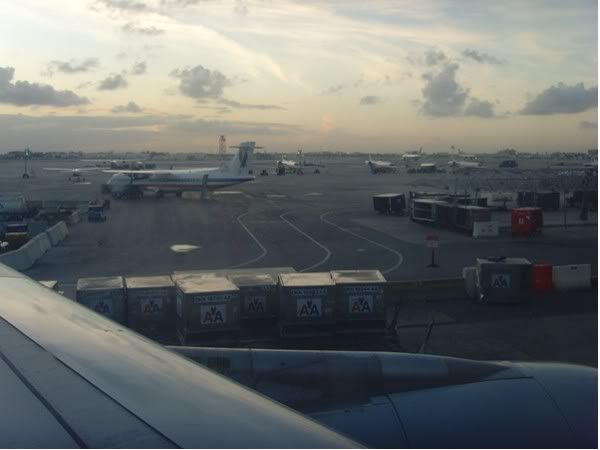 Closeup of an American Eagle ATR72:
View across the wing as darkness began: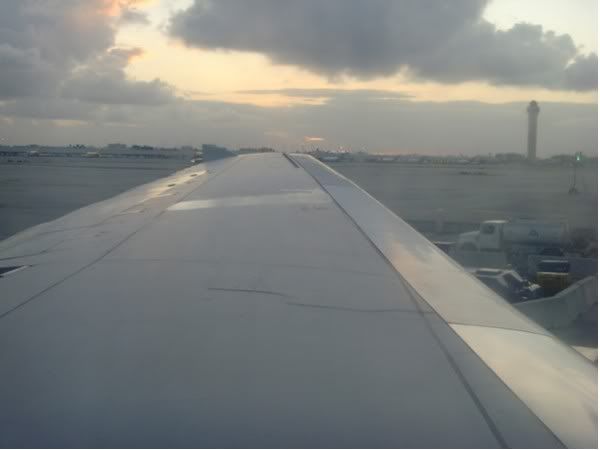 We began pushback and headed towards runway 08R which we would be taking off from today.
View of the cabin as we taxiied toward the active runway:
A view of some American Eagle Jungle Jets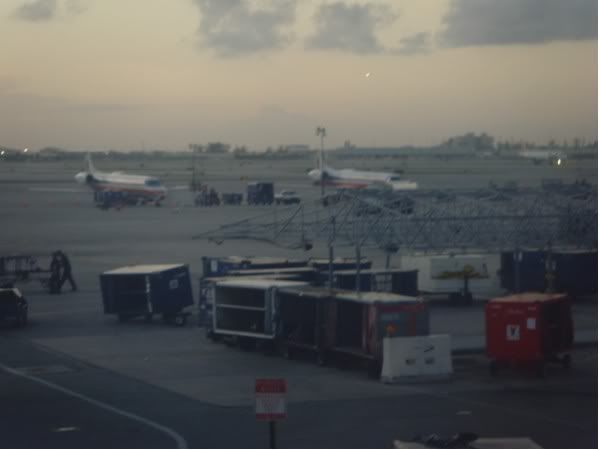 We began following an Air France 747-400 to the runway, the aircraft would soon depart to CDG
The airport diagram, showing our concourse (D) and the runway (08R)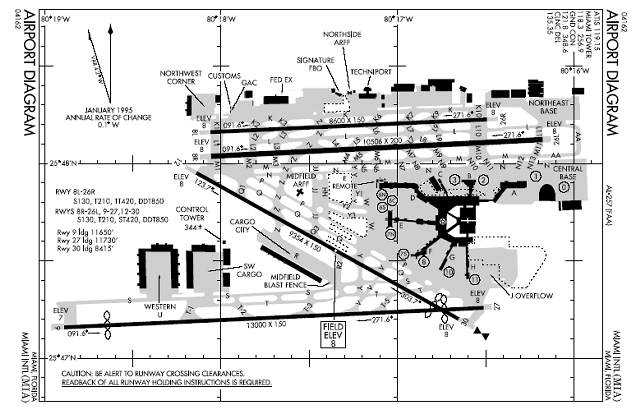 Our taxiing video, notice the Iberia A340 pushing back for Madrid:
The captain announced that we would take the following route on today's flight:
VALLY1 VALLY WOLFO AR18 DIW WETRO CEBEE SWL J121 SIE CAMRN4
We would today fly at 31,000ft up to New York City. Annoucements were made in both English and Spanish. As the flight originated in Managua, there were some passengers on board from Niguragua.
We took off and headed towards Miami City, we then turned out towards the Atlantic Ocean before turning northwards towards Raleigh/Durham.
Our flight route today; courtesy of FlightAware.com:
Our flight was very smooth today, we headed northwards hugging the East USA coast.
There were several drinks offerings on today's flight. Again you have to pay for food and alcholic beverages on Domestic flights. There were no snack boxes avaialable on todays flights, just a series of snacks. They were quickly running out after the first few rows of the Main Cabin.
The crew seemed to be very average on this flight. I've found that International crews seem to be nicer than Domestic crews, perhaps its just me
There was no IFE on this flight, up until the last hour, which I thought was strange as it had to be cut off for landing.
Before long it was time to decend into New York, we began our decent over Phildalphia. After a series of turns we began lineup for runway 31L at KJFK.
The captain announced that the crew should be seated for arrival, but they seemed to just walked around even when we were on finals!! It amazes me how tight the crew are on turbelence yet they are still standing seconds before touchdown.
We landed on Runway 31L and made our way to Terminal 9 passing Terminal's 1 and 2 on the way. There were many DL jets on the ground at this time. We had to wait for a VS 744 to depart to LHR and an AA 772ER to depart before crossing the taxiway.
We parked up at Terminal 9 which was very nice, the terminal was very modern and in good condition. The terminal was quite empty at this time and our flight was the only arrival within the last 5 minutes. It was now time to make our way towards our connecting flight to London Heathrow which would later depart at 23:35. There were also a few passengers running to catch the flight before ours to LHR, but they missed the flight. We had to find our way to Terminal 8, which was a dump
.....
A diagram of the airport terminals:
JFK_Map_7499C.jpg" width="617" height="439" border=0>
A shot of the new Terminal 9: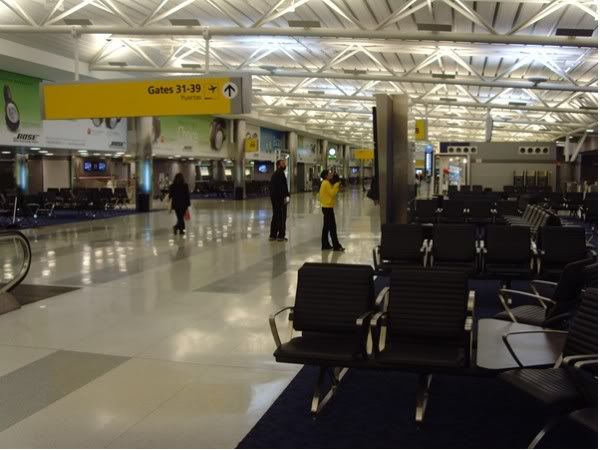 I will post the following trip from New York JFK to London Heathrow soon
--------------------
Ratings
Miami Ground Crew -
The staff were very nice and spoke both in English and Spanish. Each one of the staff were polite to me. 8/10
AA Cabin Crew -
The crew were the least frendliess I had from this trip to the USA. They seemed very average and dissapeared often. Language skills were good though. 6/10
Miami Concourse D -
Very modern and clean. By far alot better than some of the other concourses I've travelled from at Miami. It was a shame not to see any other airline other than AA though
8/10
Aircraft -[b/] The aircraft was again another workhorse of the AA fleet, although was in good condition. The seats were comfy and the aircraft was very clean. I love the A300. 8/10

[b]Food and Beverages -
The food and beverages offered today were very basic. They are the basic service offered by AA on domestic services. The snack boxes were selling fast and there was not enough for all passengers. Drinks services were offered two times, which was enough for me.
In-Flight Entertainment -
On today's flight there was no IFE until the very last hour. It was very poor and only a quizz programme was shown. 5/10
Verdict -
Yes, I would fly AA again on a domestic flight. They are very reliable and safe. I would fly them again and I will soon. I would like to give DL a try though
Any comments welcome as usual
My previous reports on this trip are avaialbe here:
American Airlines - London To Boston (Pics/Vids)
(by
B742
Jan 5 2007 in Trip Reports)
American Airlines - Boston To Miami (Pics/Vids)
(by
B742
Jan 12 2007 in Trip Reports)
Rob!