Well, here goes my first Trip Report.
Background:
So I went to Vancouver in March of 2006 to experience Western Canada and do some sightseeing and tourist related things. It was a last minute trip, and we were only out there for a few days, so there were many things I didn't get to do. After being there for not even a week, I realized what a great place it was, and how much more I liked it than Toronto.
My cousin Ryan moved out of Ontario last fall, to North Vancouver to work as a ski instructor at Cypress Mountain. So when he invited me out there to see him, I jumped on the opportunity. After some planning and arranging, we figured the beginning to middle of March would be the best time for the trip.
Booking:
After spending countless hours studying Air Canada's website, trying to figure out which days and times to go, and which planes I wanted to fly on, I finally decided on the Airbus A330-300 to YVR, and the B767-300 on the way back to YYZ, as I've never flown wide body before, and I hear that both of those are nice planes. So I pre-selected my seats online; a window seat on the right side of the plane over the wing on both flights. So $700 later, I was all set, or at least I thought I was. About a month before the trip, I decide to have a look at Air Canada's website to make sure everything was still good. So I login, only to see that the plane from YVR-YYZ had changed to a 767-200. I was a little aggravated because now I was leaving on a 7:00am flight for no reason whatsoever. So I call Air Canada's support line to find out what would happen with my pre-selected seat on the flight home. After being put on hold, and having to listening to elevator music for a good half hour, I finally get a grumpy woman on the other end, who tells me that I have been put in the window seat in the emergency exit row; that was a nice surprise. At least now I would have some adequate leg room.
Flight Details:
Wednesday March 7, 2007
Air Canada Flight 137
Toronto, ON, Canada (YYZ) - Vancouver, BC, Canada (YVR)
ETD: 18:00 (EST)
ATD: 22:47 (EST)
ETA: 20:05 (PST)
ATA: 00:16 (PST)
EFT: 5hr05
AFT: 4hr29
Airplane: Airbus A340-313X
Registration: C-FYLD
Seat: 19K
Before Airport:
So the day was finally here, Wednesday March 7, 2007. I had been anticipating this trip for months now, and I couldn't wait. The whole concept of it truly amazes me. I mean I wake up in Newmarket, Ontario, then I'm sitting in Marketing Class, and then not even nine hours later I'm going to sleep in Vancouver. I mean most people take flying and traveling for granted, but if you stop and think about it for a moment, it really is something. Anyways, I was all packed and ready to go, and I just went in for a couple classes that day, as I wanted to be at the airport early. So my dad came and picked me up around 2:30, and we made our way down to Pearson.
At Airport:
We got to the airport around 3:00pm, and after finally finding our way out of the parking garage, (which is very poor in terms of directional signs), we headed over to the lineup for the Air Canada check in counters. So we get up to the counter, and the lady tells me the flight has been delayed two hours, and won't be leaving until 8:00pm now. She said it was due to a change in aircraft. That made my day, I intentionally picked both flights on planes that I wanted to fly on, and I wasn't going to get to fly on either one of them. So after walking around Terminal One for a bit (which is a very nice piece of work) and watching all the goings-on on the tarmac, I headed through security around 4:00pm. I got through without any problems, and now I had four hours until I left. So I first went and found my gate, which was in the far left corner of Pier E at gate 145. There were a few people there, and there was nothing happening out on the ground in that area, so I decided to mosey around the Terminal. I walked around looking at planes and taking pictures for about an hour or so. Here are some of the pictures I took;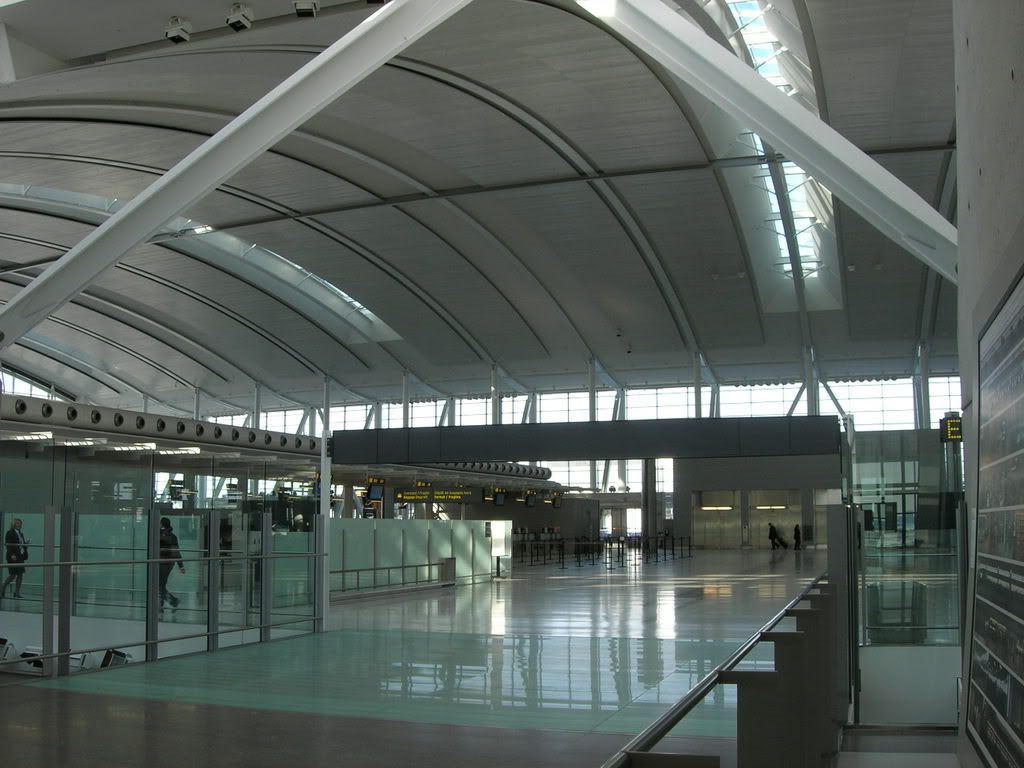 Entrance area into Terminal 1
Air Canada check in counters
Coming down the escalator after clearing security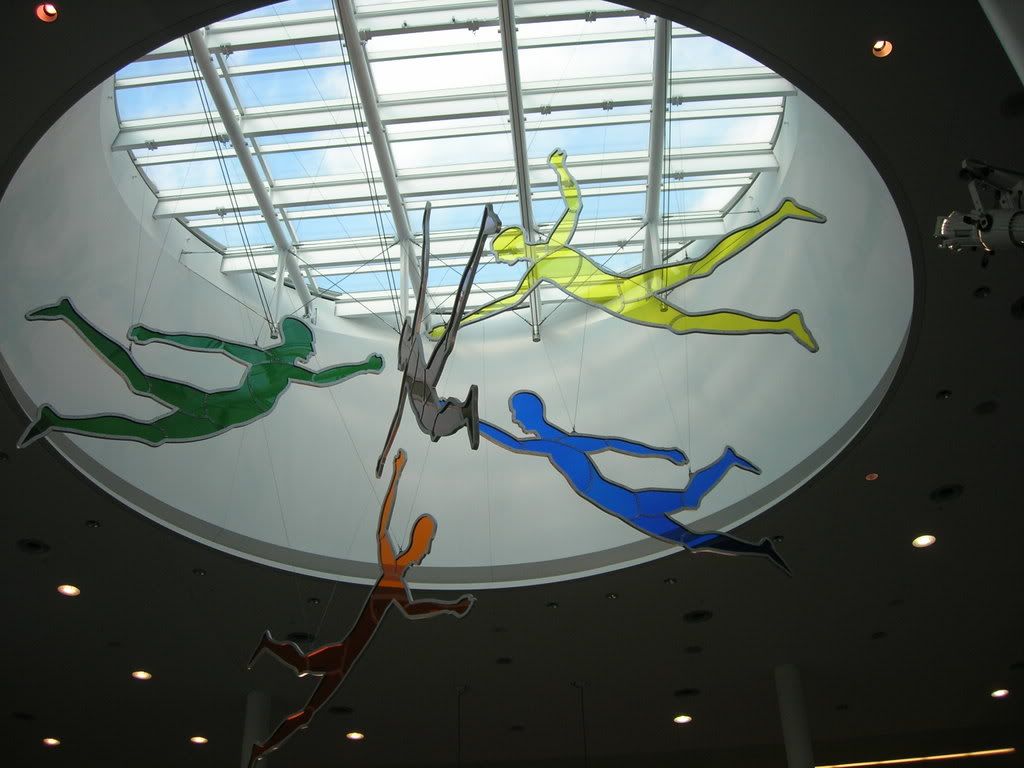 Neat looking statue type thing in the terminal
Walking to my gate
A cool looking paper airplane hanging statue at the end of the pier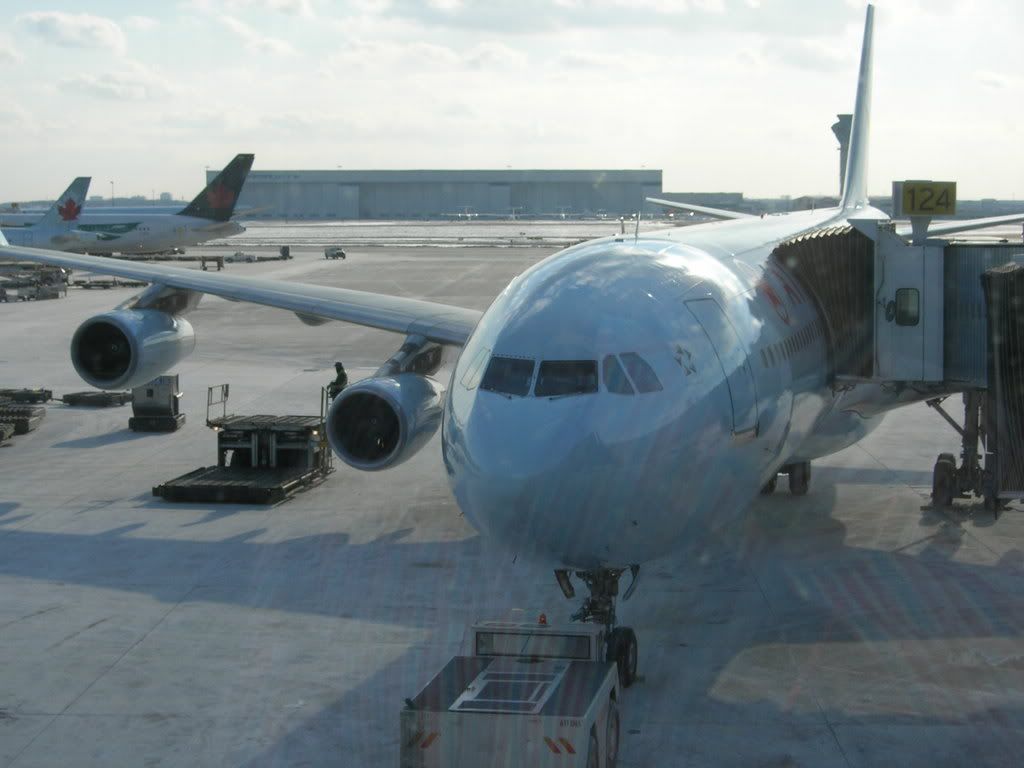 An Air Canada Airbus A340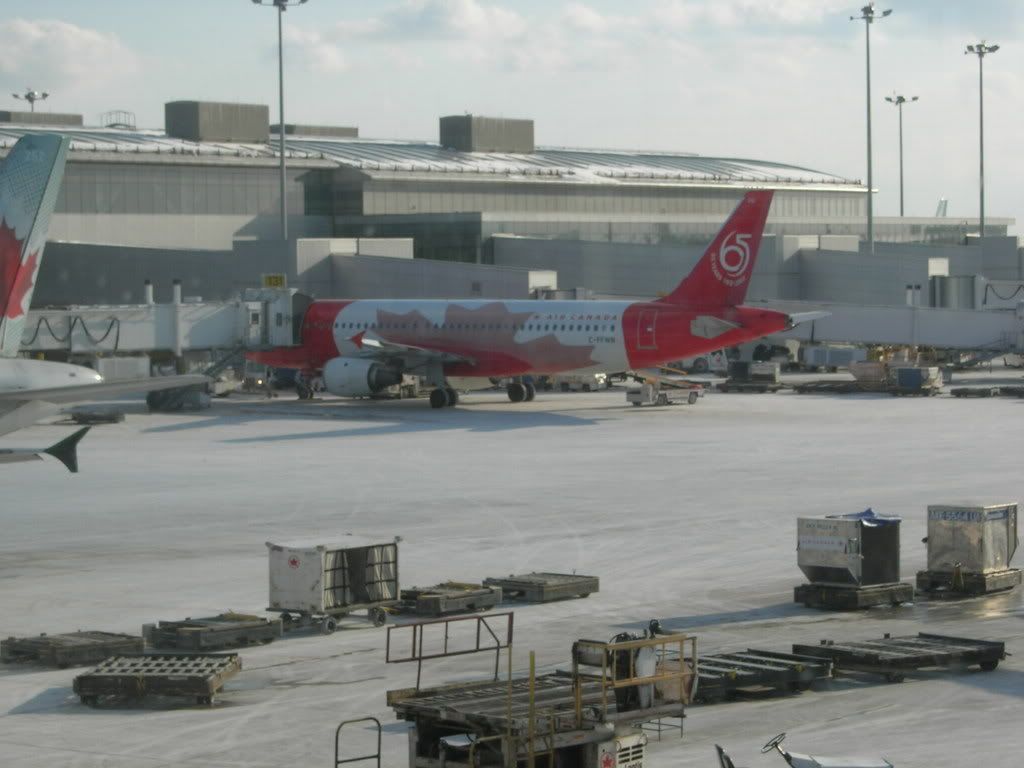 Air Canada Airbus A320 sporting a 65th anniversary paint scheme
What would appear to be an Air Canada plane departing Pearson
After that, I headed over to the restaurant area to get some dinner. I went to the Kennsinton Food Court, and ordered a bowl of Chinese food. So I go up to the cash, and I pull out a five dollar bill (assuming it wouldn't cost more than five bucks), and the lady says, "That will be fifteen dollars." I couldn't believe it when she told me that. The meal consisted of vegetables, noodles and sauce. How the hell can they justify that kind of mark up on something so basic? So after having a little chat with the cashier about that, I paid and went to sit down. The terminal was starting to get busy at this point, and the lounge at my gate was almost full now, with people who thought they were leaving at six. So I'm eating my meal, and an absolute babe of a flight attendant comes and sits across from me. It was actually quite funny, every single guy that walked by her checked her out, and they didn't even try to do it subtly. They would just walk by gawking at her. There were even two pilots that came her way, and they were chatting, then one of them looks at the other pilot and nods his head in the flight attendant's direction, and both pilots just stop there conversation and stare at her as they walk by, and then continue on talking after they pass. It's actually quite interesting watching all the people at the airport. So I finished up my dinner, and went for another walk around the terminal. It was very busy by now, and there were passengers, workers and flight crews everywhere. After walking around for a bit, I went back to the gate, but there was still an hour and a half until boarding time. So I put my iPod on, and went for a nap. When I woke up, I looked at my watch, and it was 7:50pm, and boarding for my flight was supposed to start twenty-five minutes ago. I got a little frantic, but I looked around, and the lounge was still full. I looked outside the window, and there is no plane at the gate. There wasn't even a boarding agent at the desk. But it looked like there was some confusion at the desk though. There were about six pilots, and like twenty flight attendants standing there, and none of them appeared to no what they were doing or what was going on. Way to go Air Canada, we're supposed to takeoff in ten minutes, there's no plane, we have three flight crews, and the passengers are all still sitting in the lounge. So it looked like we were going to be even later, so I dozed off again, and when I woke up, there was a plane outside. And to my surprise, it was an A340. The ground crews were busy loading up the aircraft and getting it ready, and there were pilots in the cockpit, so I figured we would be leaving soon.
Boarding:
Originally, boarding should have started at 5:25pm, but with the delay, it was to start at 7:25pm. But in reality, it didn't actually start until 8:30pm. So everyone was boarded and it looked like we were all set to go around 9:00pm. But we were waiting, and waiting, and then the captain comes on and says that we are all ready to go, but they're just waiting for someone from the ground crew to close the cargo door. I figured that wouldn't take long; but it did. It took them half an hour to find someone to close a damn door. Now I'm no expert in ground operations, but can't anybody close a door, or do you have to be qualified?
"Yes, I have a degree in Big Door Management."
Anyway, so now it's approaching 10:00pm, and the door has been closed, but we're still sitting at the gate. The captain comes on again, and says that two of the flight attendants have exceeded their duty days, and they have to leave. He says they are waiting for two more attendants to arrive. By this time, we've been sitting on the plane for a little over an hour, and some of the passengers were starting to get cranky, and there was a couple that would make comments about everything the flight crew said over the PA. Like when we were told we were waiting for a door to be closed, the one guys like "Are you shitting me, we have to wait for someone to close a friggin door. I'll go out there and do it myself for Christ sakes." Then when they said two of the flight attendants had to leave, the lady laughs and the top of her lungs, and says "Wow, even they don't want to wait here anymore!" They had a few more snarky comments, and everyone within earshot thought they were funny, except for one of the male flight attendants. After the man made one comment, the flight attendant just stared him down and gave him one of those, 'I don't take shit from nobody looks.' After that they quieted down a bit. After about thirty more minutes, the flight attendants strolled onboard, and we were now ready to go. We pushed back at 10:31pm.
In Flight:
We took off at 10:47pm, almost five hours after are scheduled departure time, but what are you going to do. So once we were at cruising altitude, the flight crew said they were going to be showing a movie. I figured that would pass the time well, as I couldn't look out the window because it was dark and cloudy, and you couldn't see anything. So the TVs come down, and what movie comes on? Dreamgirls! I don't care how many damn awards that thing has one, or how many stars or good reviews it's received, I was not about to watch that. So once again, I put me music on and went for another nap. I woke up almost an hour later, and everyone is drinking and munching away on some snacks. I look up and the beverage cart is nowhere to be seen. I just couldn't win today could I? First the flight gets delayed two hours, then I spend almost two hours of salary on dinner, then we board an hour late, then they can't close the door, then the flight attendants leave, then they show Dreamgirls, and now I miss snack time. I figured the plane was going to fall apart next. I know what you're thinking,
"Why didn't you just ask the flight attendant for a drink or some food?"
Well, I did think of that, but not until after the flight. So anyways, by now Dreamgirls is over, and they're starting another movie, which was Happy Feet. If I wasn't going to watch a bunch of black woman singing and dancing, I wasn't about to watch a horde of penguins do it either. So I decided to take my camera out and try taking some pictures. However, none of these pictures turned out, as it was dark outside, I just had my small handheld digital camera, and even though I took a course, my photography IQ is rather low. Anyway, the rest of the flight was uneventful, and we landed in Vancouver at 12:16am local time. It took a rather long time to get off the plane though, as all the people that we're further up to the front, took forever to get their stuff together. I decided to jack the safety card though, as I hear that lots of people on here collect them.
Post Flight:
Once I was off the plane, I made my way though Vancouver Int'l, which is absolutely dead at that time in the morning, and I went over to the baggage claim. We must have been waiting forty minutes before the first piece of luggage dropped down. I don't fly often, so I don't know what the standard time to get the bags from the plane to the baggage belt, but it seemed like it took too long. While I was waiting, I saw my cousin Ryan, and went over and met up with him. Once my bags came down, we left, and drove to his place in North Vancouver. To my surprise, I got my own bedroom there, as one of his roommates had just moved out. That was nice, as I thought I would be sleeping on the floor for a week.
I've decided to include a few of the pics I took while in British Columbia.
My cousin Ryan and his roommate Scott at Cypress Mountain
Very foggy day of skiing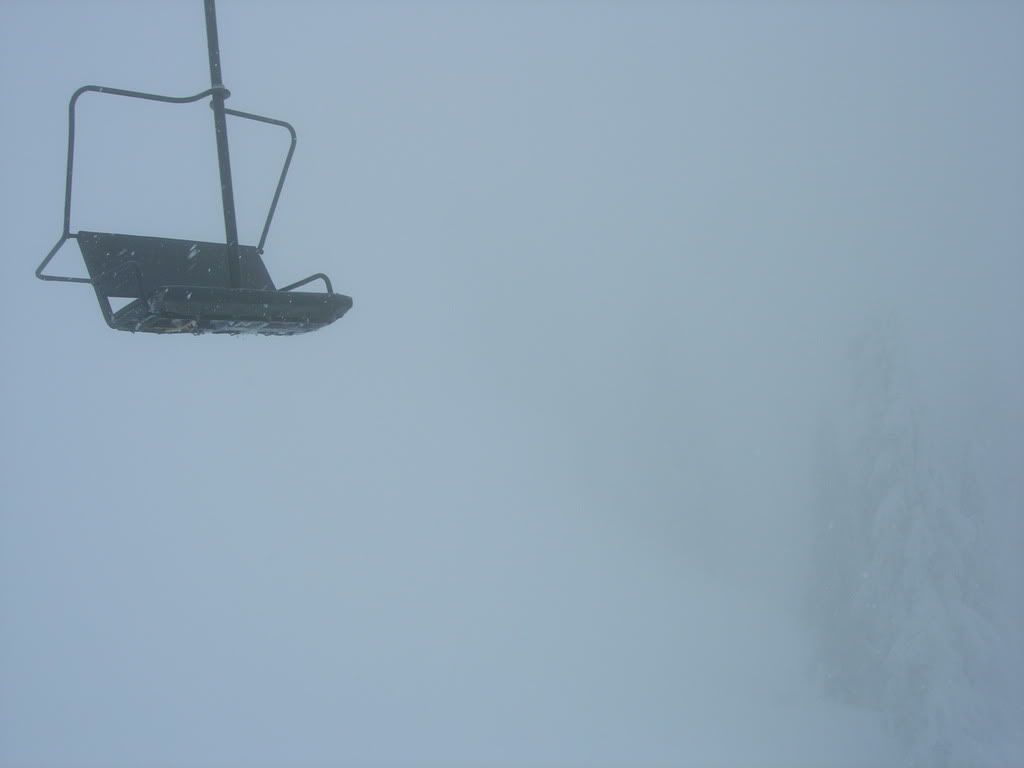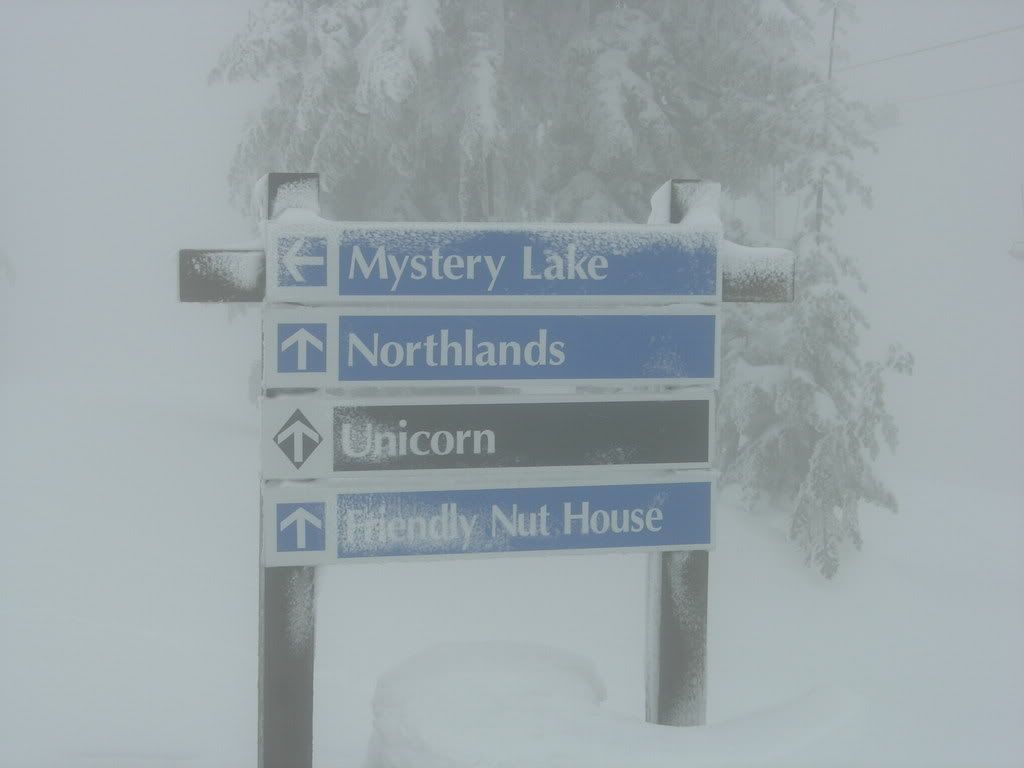 Various runs at Mount Seymour
Me after a huge wipeout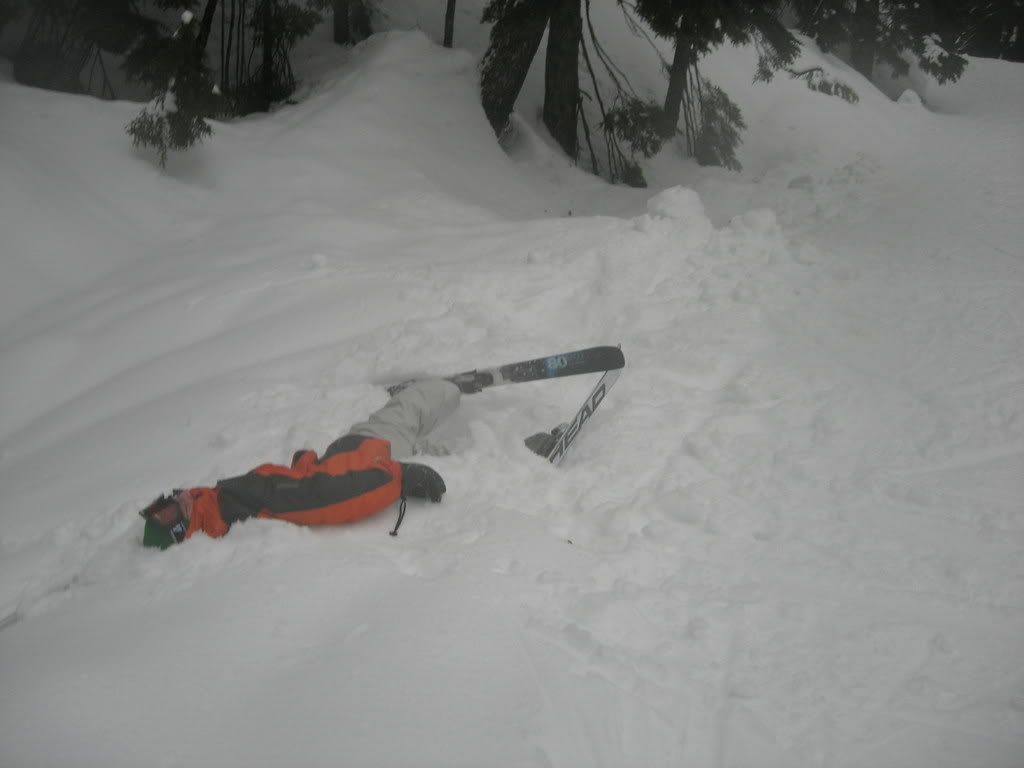 Playing pool on their back porch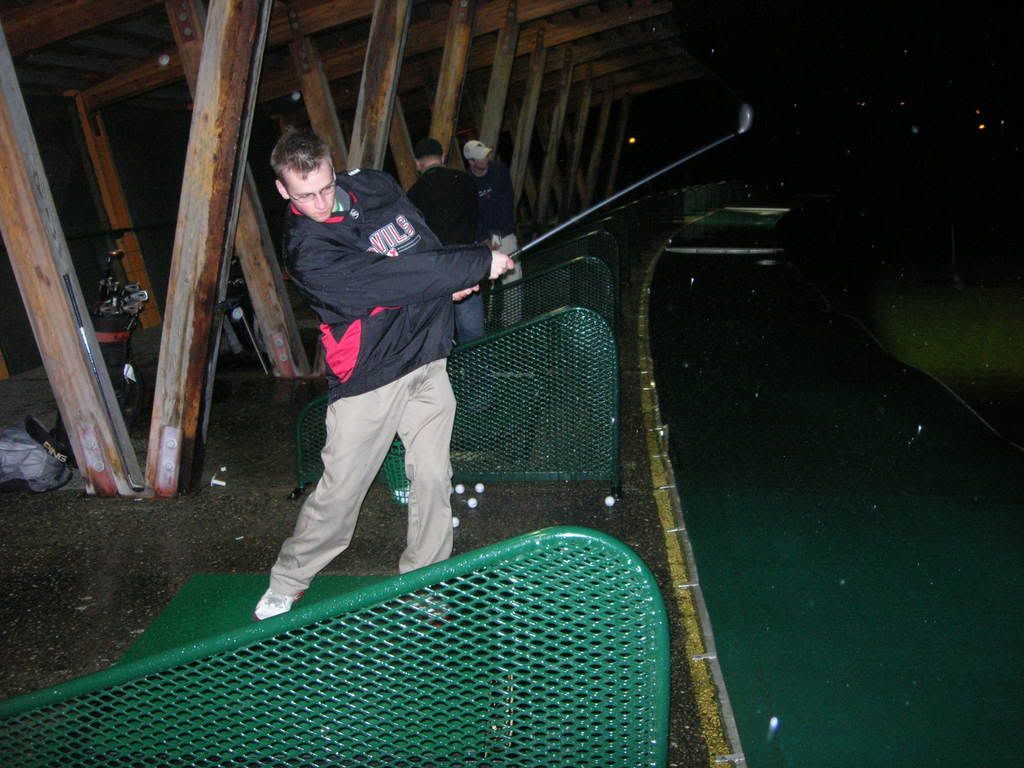 Me at the driving range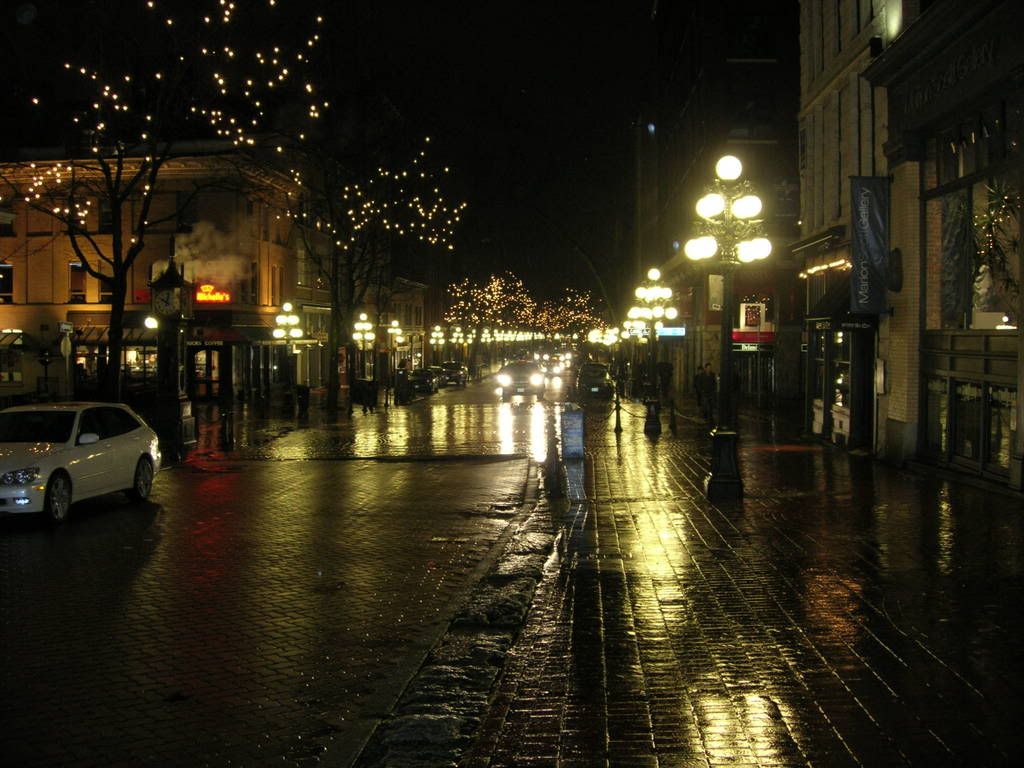 A rainy night in Gastown
The Gastown smoking clock
Driving through Stanley Park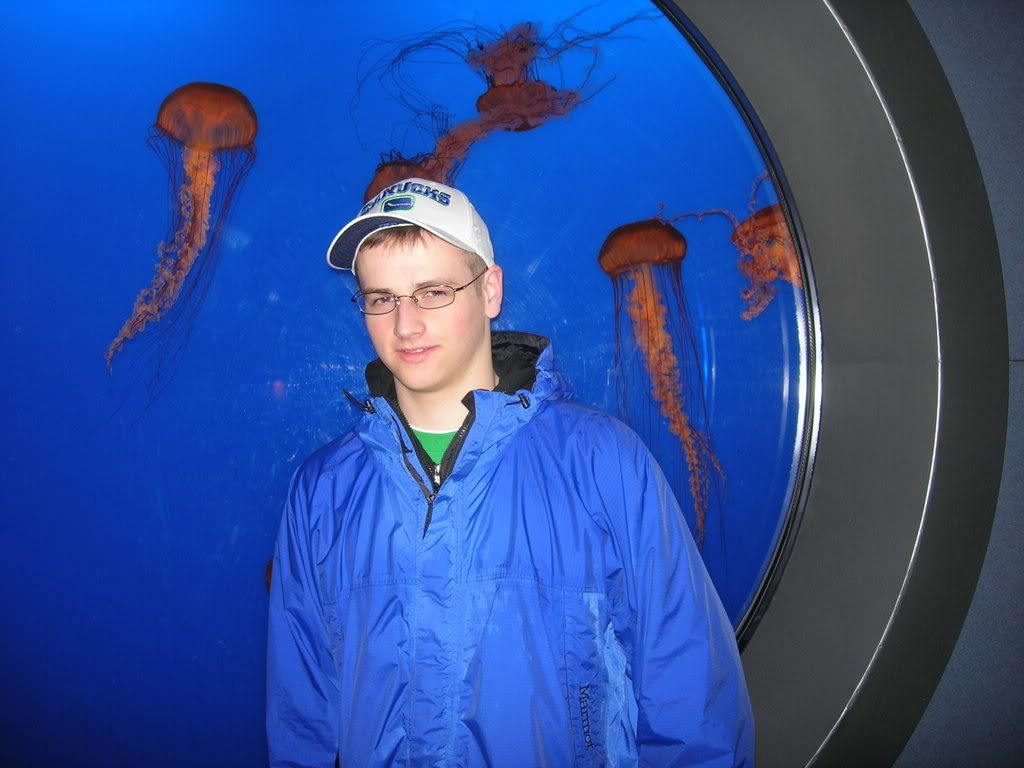 Me at the Vancouver Aquarium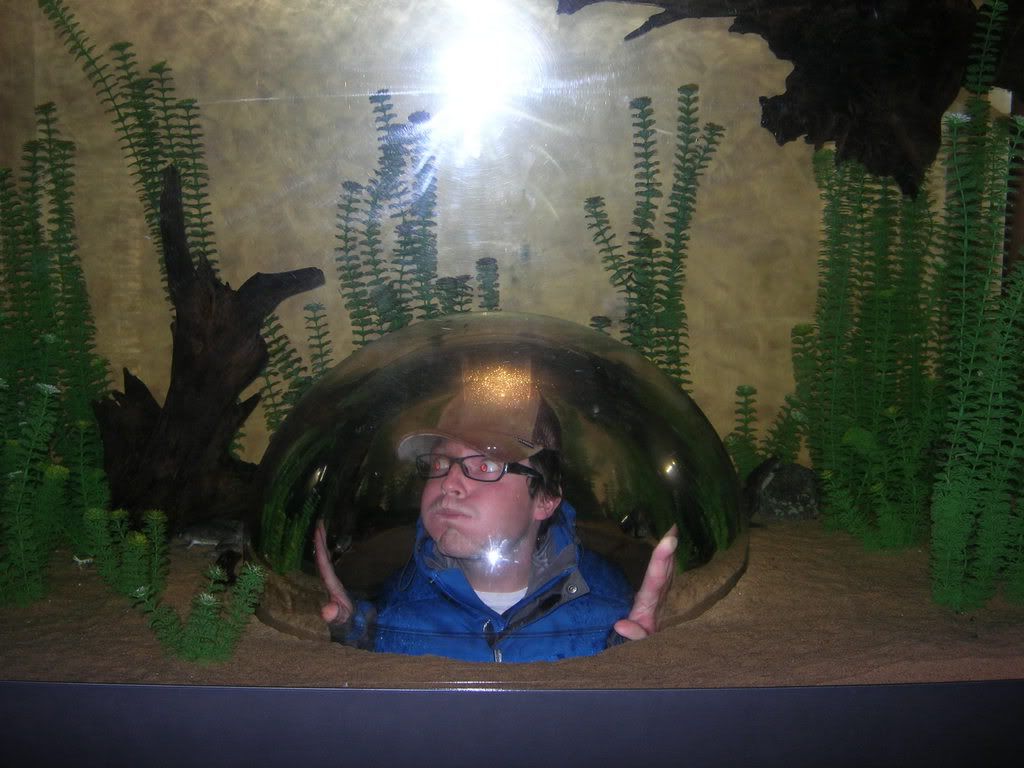 Ryan in a fish tank
Beluga Whale
Beluga Whale Show
Some starfish
A giant turtle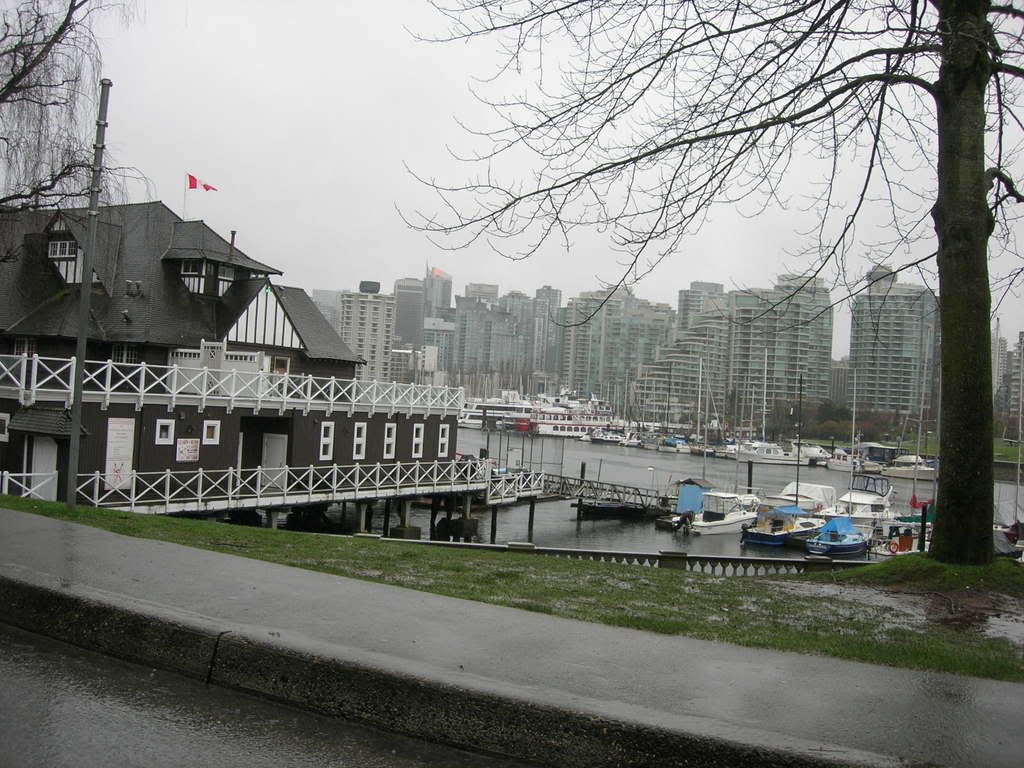 The Vancouver Yaught Club
Lions Gate Bridge
A gas station in the water for boats and seaplanes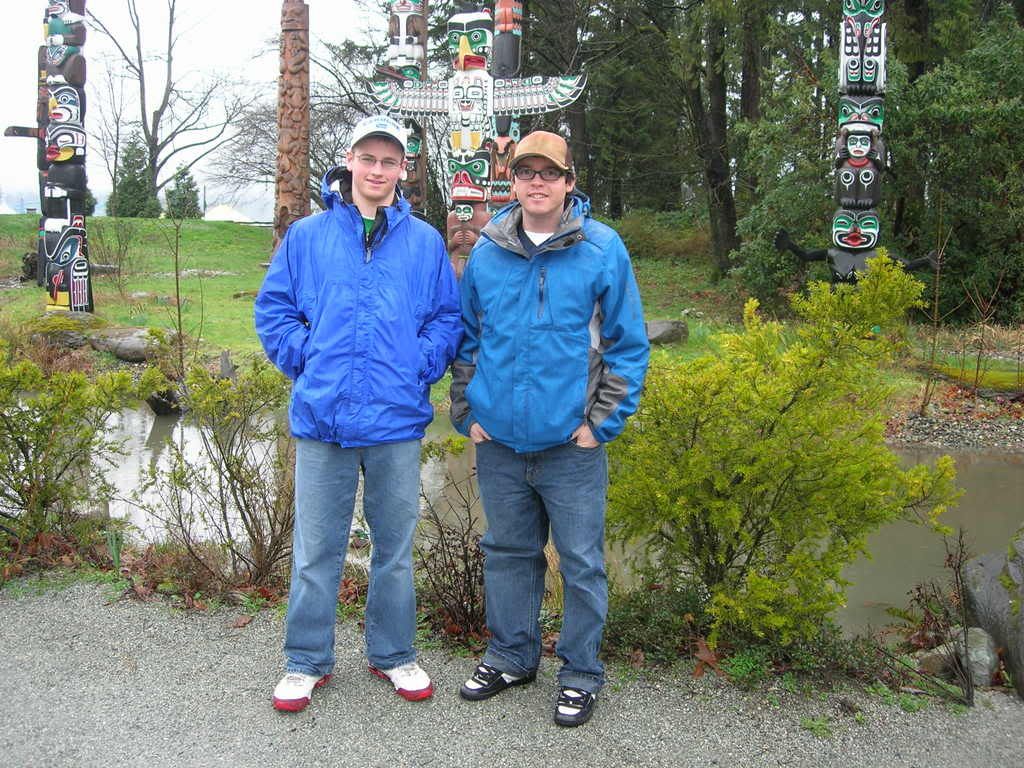 Me and Ryan at the Totem Poles
Driving through Vancouver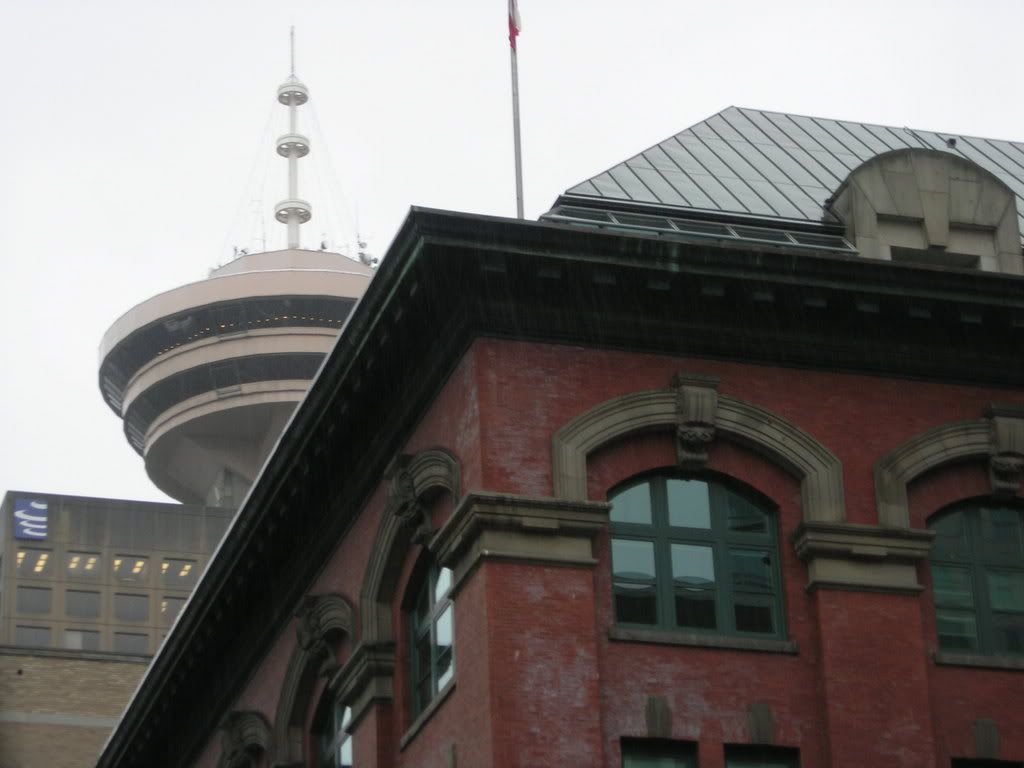 Some buildings in Vancouver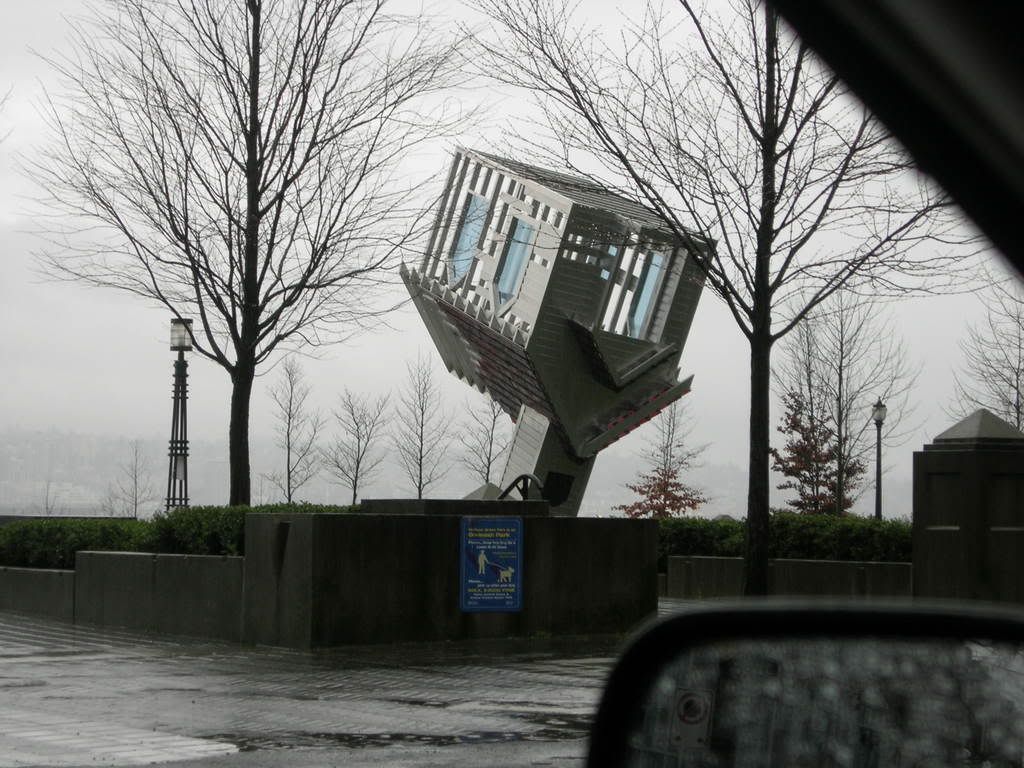 A weird looking statue by the Waterfront
Now how's that fair?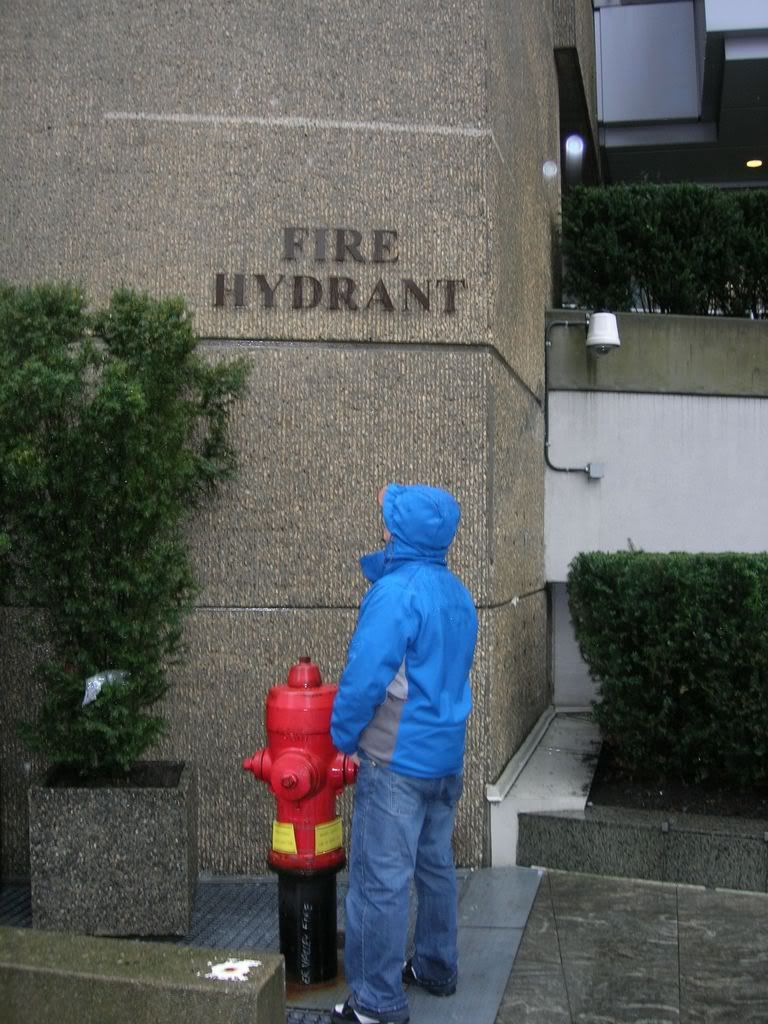 Ryan with a clearly labeled fire hydrant in case the firefighters get lost
Could have sworn that's what was hit on September 11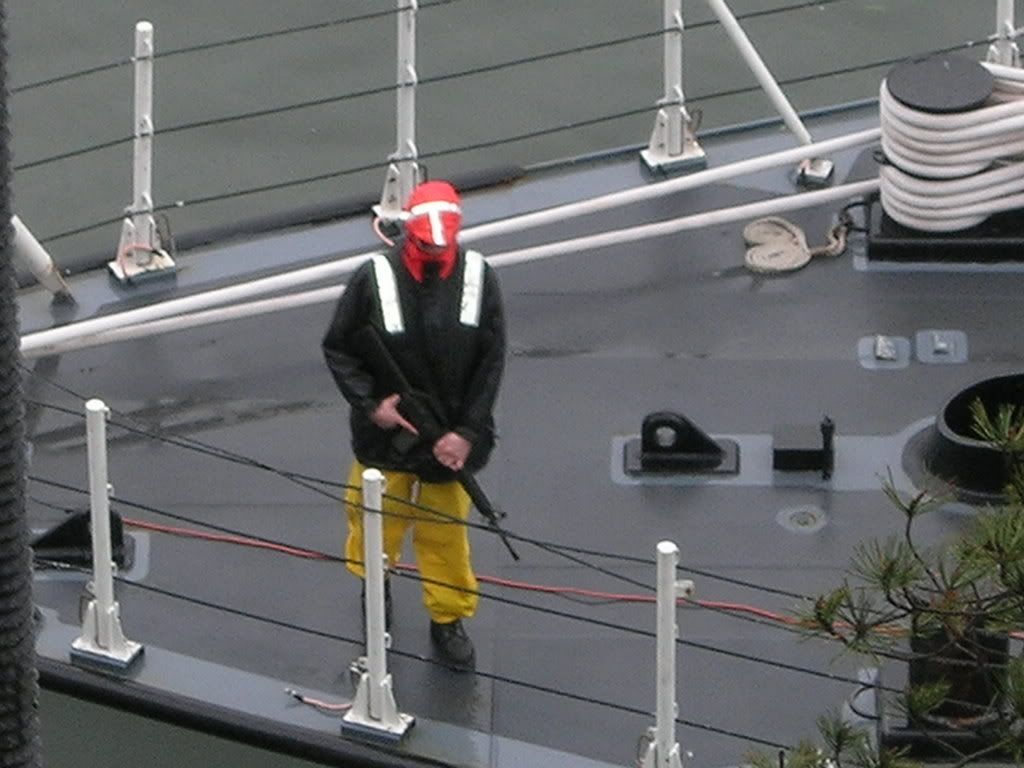 An armed guard on a military ship (proof to all the doubters of the Canadian Military - sure, we only have one gun, but it's a nice one)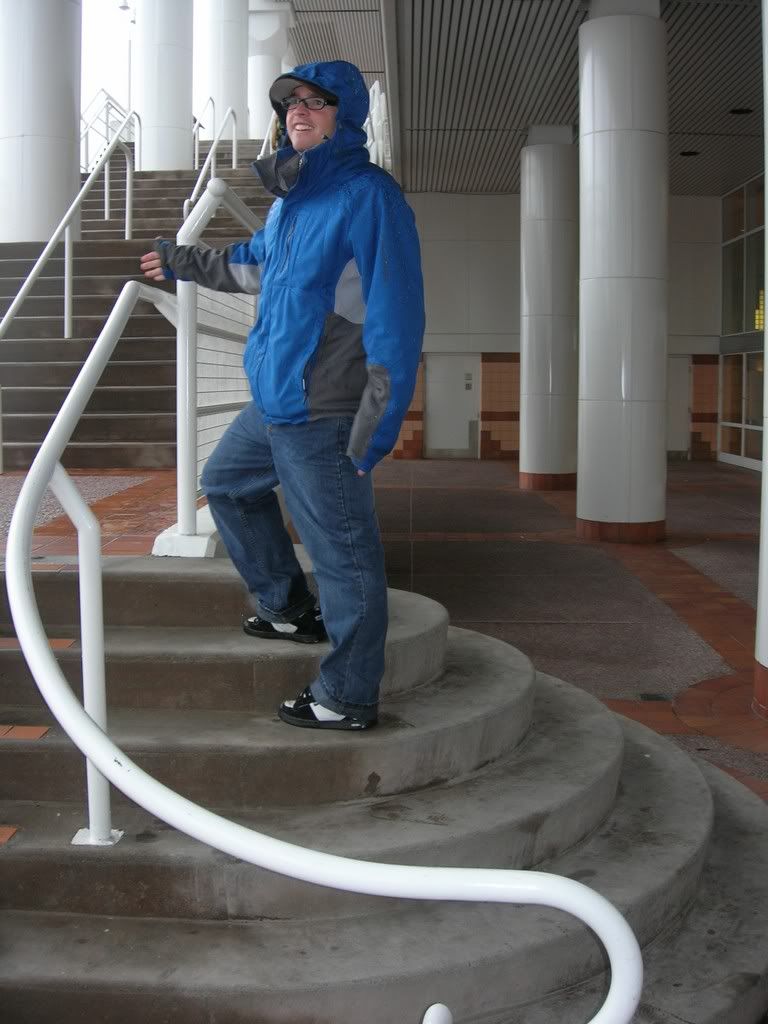 Look at that staircase for a second, and see if it makes sense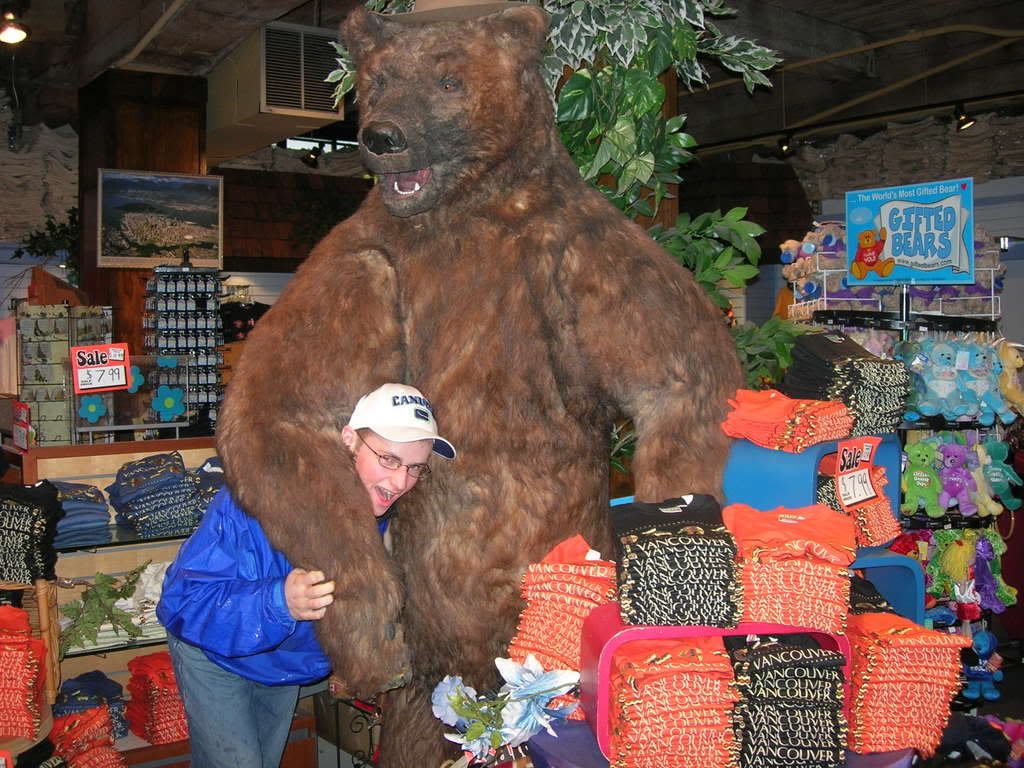 Me getting manhandled by a bear
Ryan eating a giant sandwich
What a tool
A rather funny street name
A nice Irish Pub in Gastown
Me and Scott on the Ferry from Vancouver to Vancouver Island (winds were 90km/h)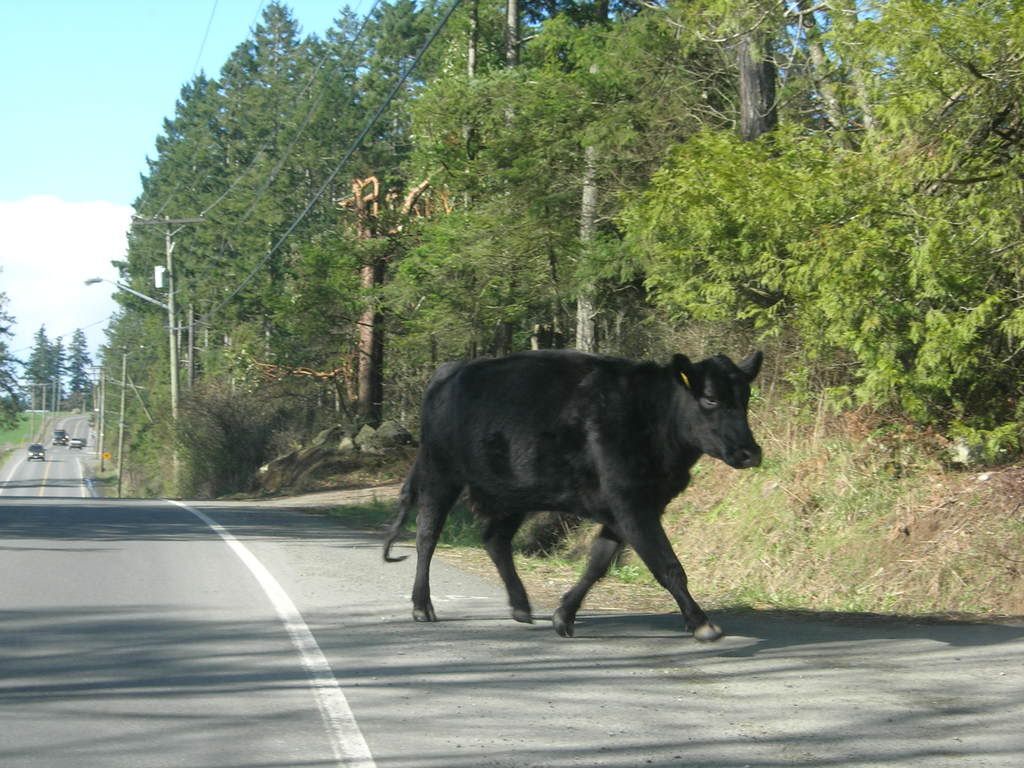 A cow, mmmm, were eatin tonight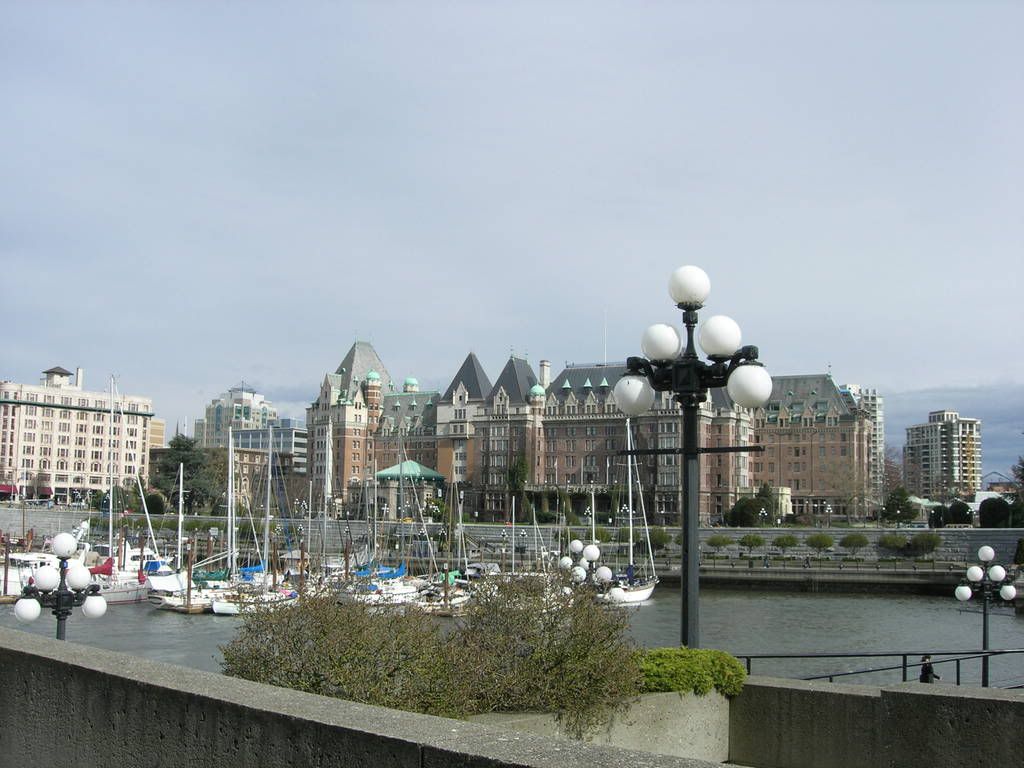 Victoria, the capital of BC
Victoria Parliament
Sunset while driving from Nanaimo to Tofino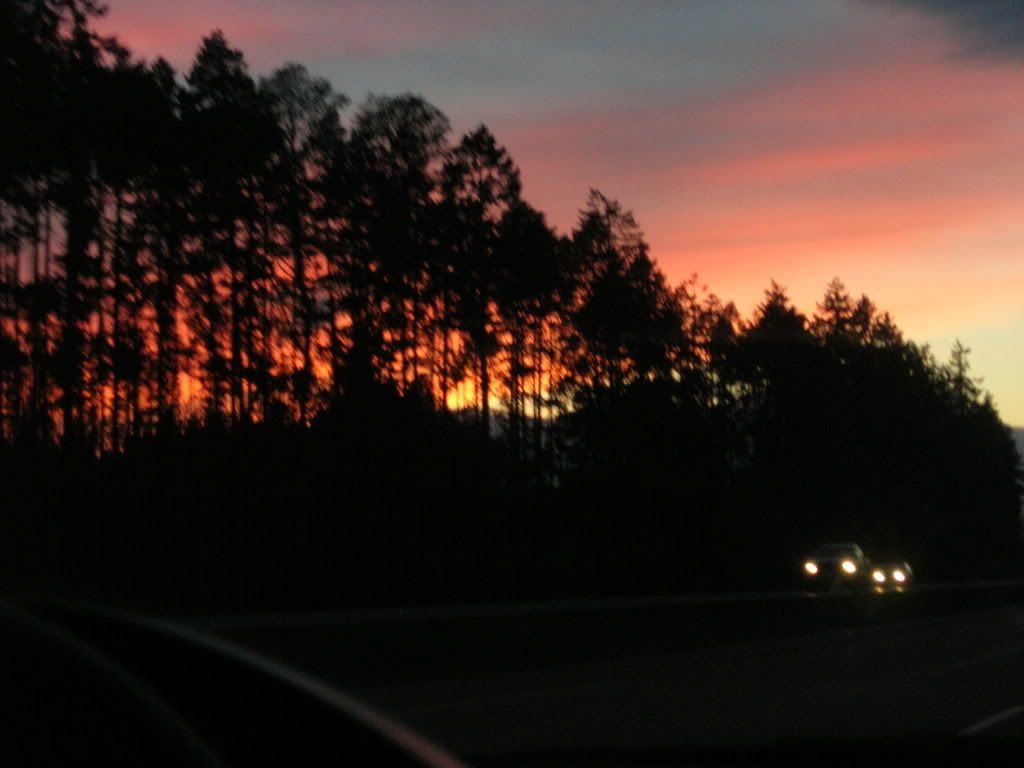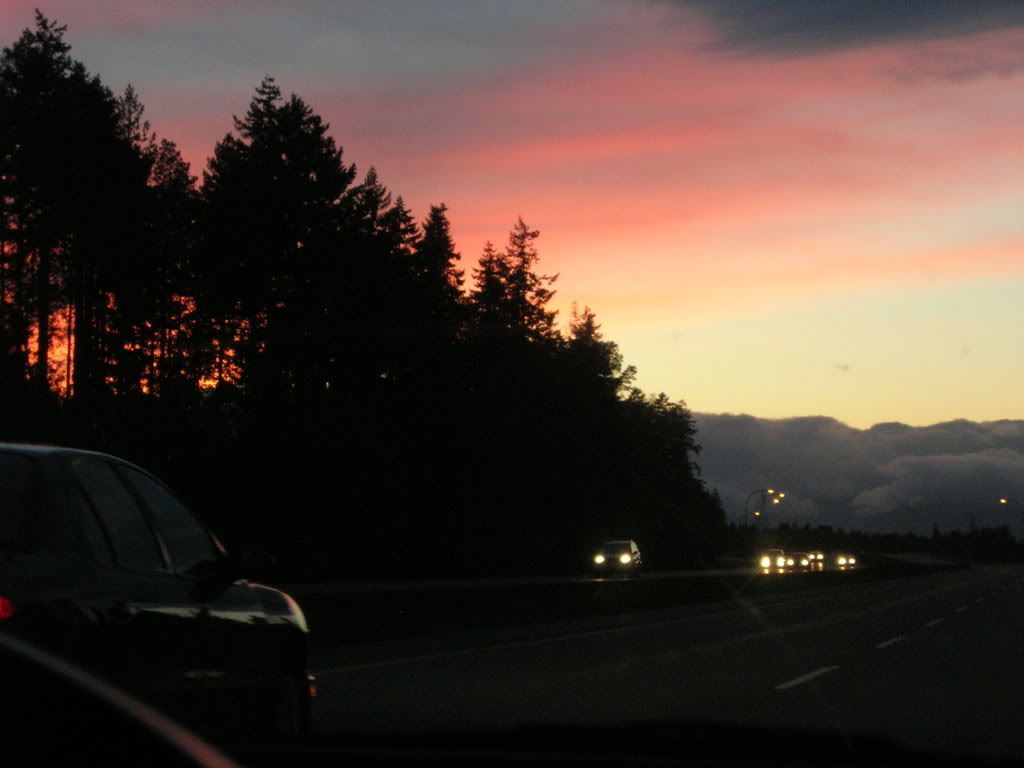 That guy better move faster
A beach house in Tofino
Surfing in Tofino (ring a bell? There's a song by Planet Smashers with that title)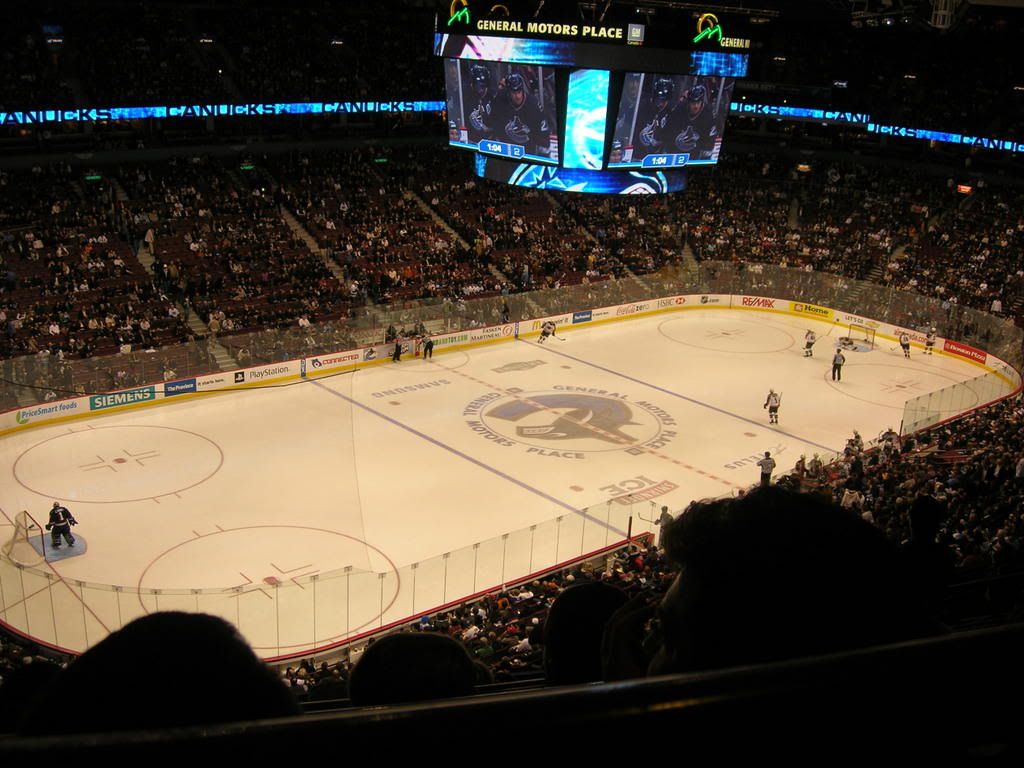 At the Vancouver Canucks NHL game
Roberto Luongo - Great goaltender
Canucks lost in overtime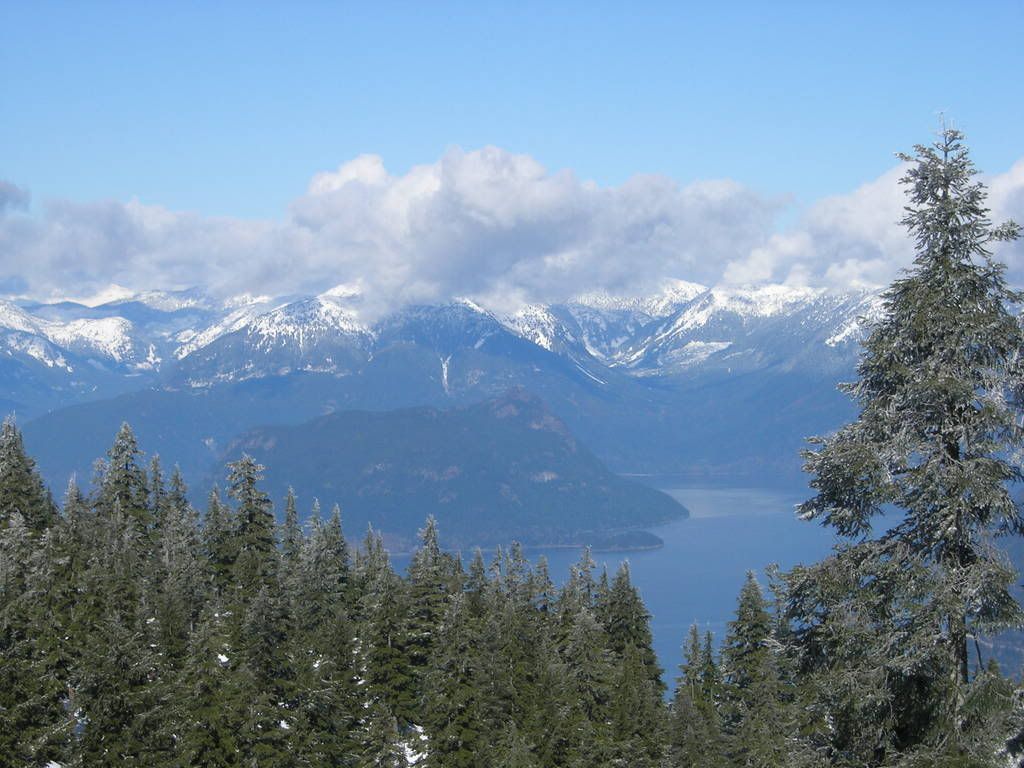 Some shots from skiing on Cypress Mountain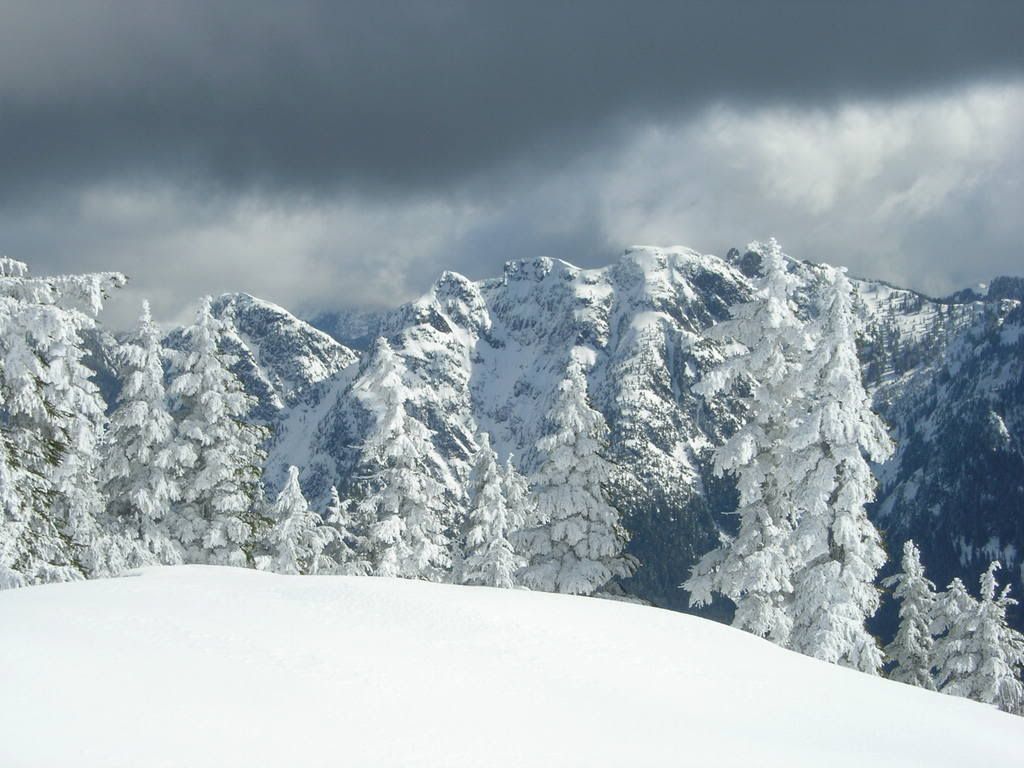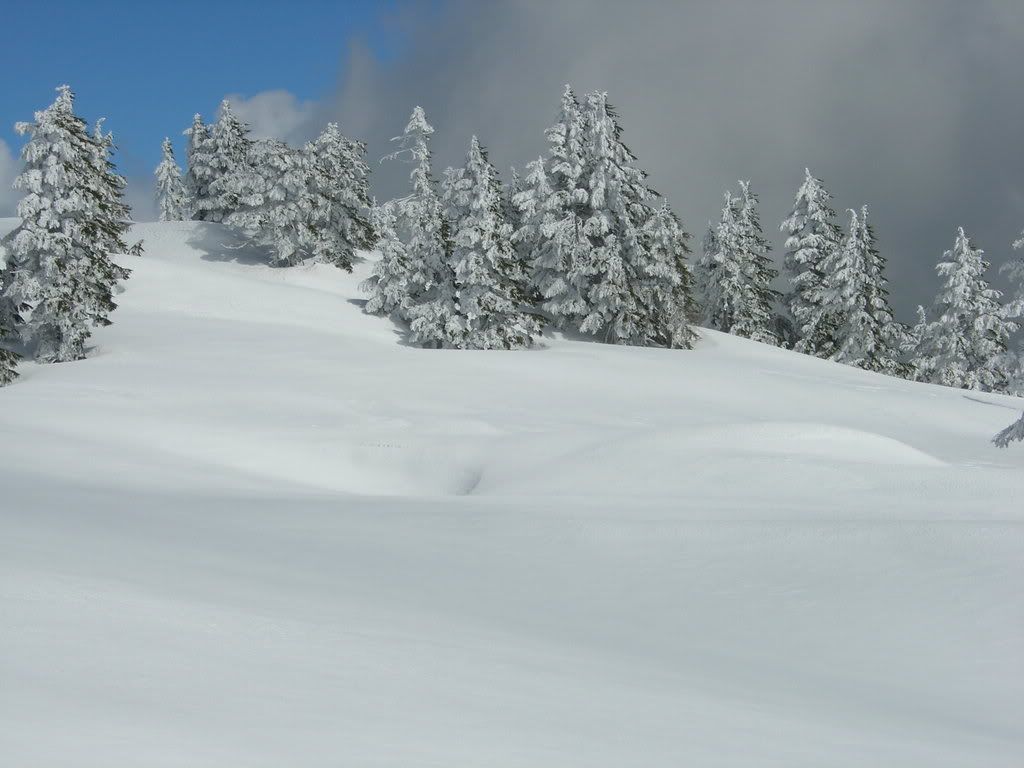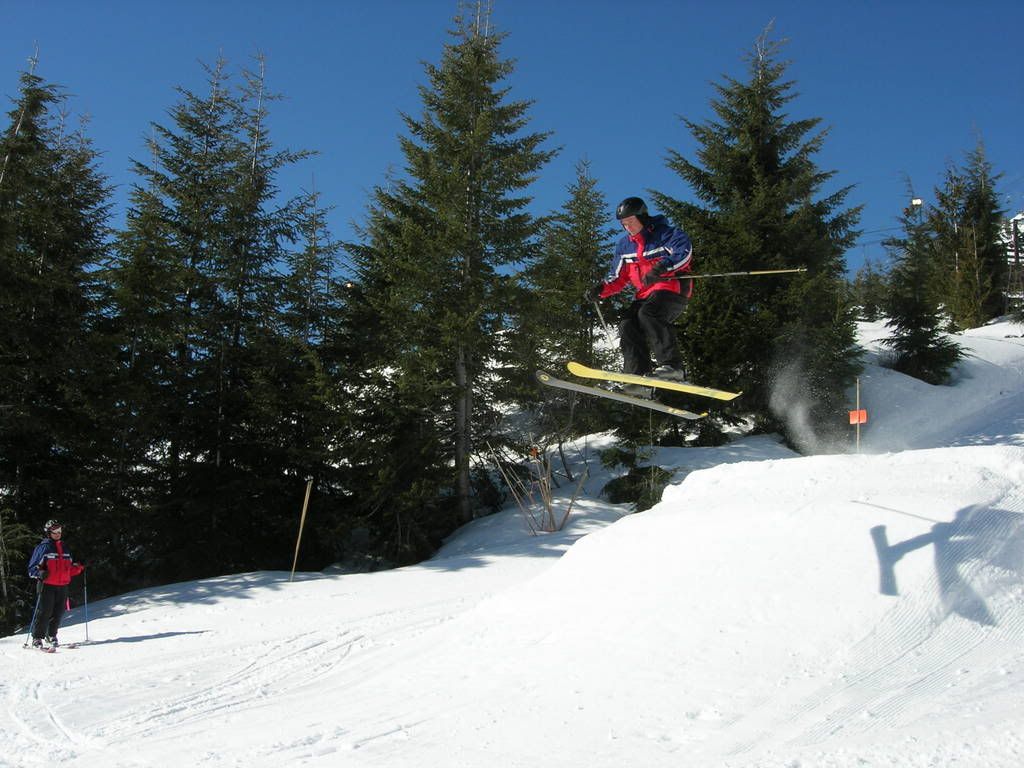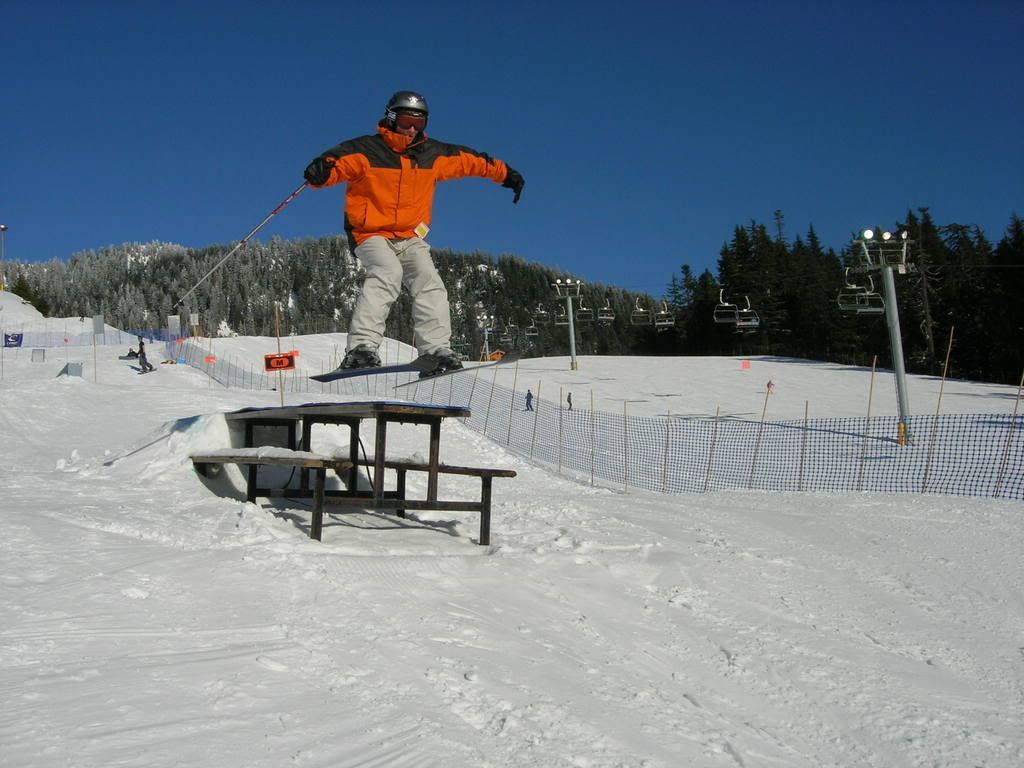 Lost Lagoon in Stanley Park, with Grouse Mountain in the background
English Bay
Sunset on English Bay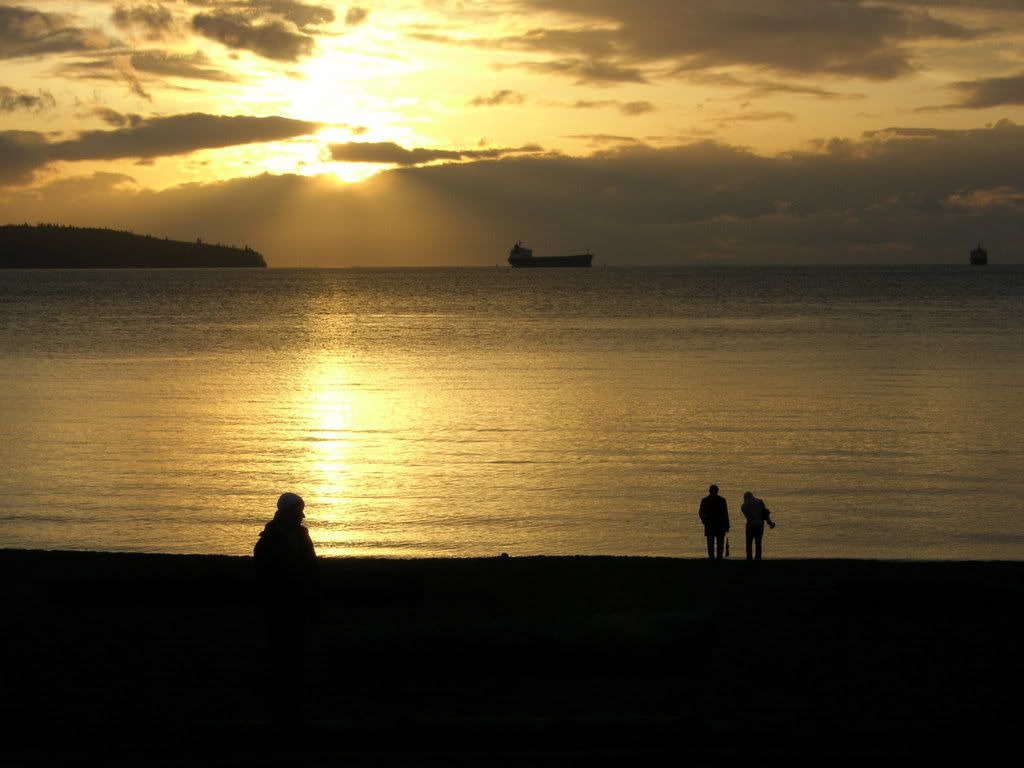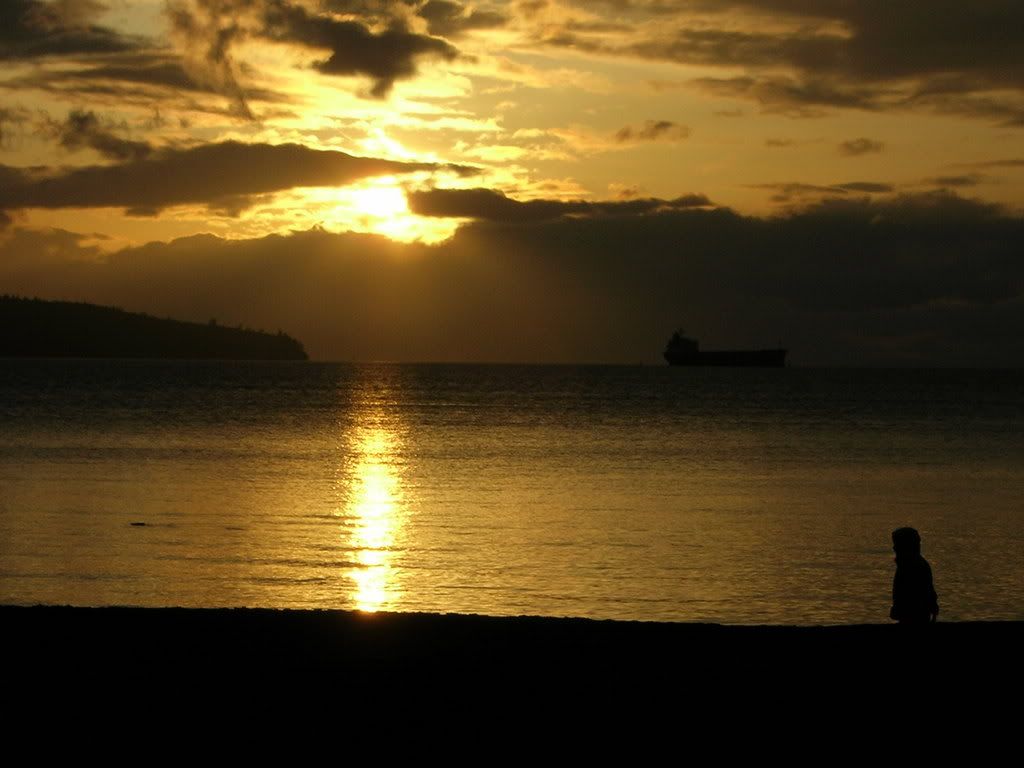 In my opinion, the best pic I've ever taken
Flight Details:
Thursday March 15, 2007
Air Canada Flight 136
Vancouver, BC, Canada (YVR) - Toronto, ON, Canada (YYZ)
ETD: 07:00 (PST)
ATD: 07:15 (PST)
ETA: 14:25 (EST)
ATA: 13:58 (EST)
EFT: 4hr25
AFT: 3hr43
Aircraft: Boeing 767-233/ER
Registration: C-FBEG
Seat: 21K
Before Airport:
So the day started at a very early 4:00am. I was feeling the effect of going to bed not even three hours ago, which probably wasn't the greatest idea. I was still full from the dinner I had at Denny's not much more than six hours ago, which consisted of pancakes, sausage, bacon, hash browns and eggs, as they serve breakfast all day. I went and had a quick shower and then went and watched Sports Centre as I waited to leave. I was all packed up and we left Ryan's place a bit before five. It was a very quite drive to the airport, as most people were still in bed. I did however notice a large amount of joggers out running; at five in the morning! Now that's dedication right there, most people can't even wake up that early, let alone run at that time.
At Airport:
We got to the airport around half past, which also was pretty desolate at that time. I checked in and then since I had a bit of time, we went over to get some Tim's. When we got there, we soon realized why the airport was so empty; everybody was at Tim Horton's. There must have been a lineup of 15 people, and soon after we lined up, the line almost doubled in length. I tell you, Canadians are addicted to Tim's. After a quick coffee and bite to eat, we said our good byes and Ryan was on his way. I wandered around the Terminal for a bit, than made my way through security. It was not very busy going through security, which was nice. So I walk through the metal detector, and I get through fine without any warnings or anything going off. I'm about to go collect my things that went through the scanner, when a security officer calls me over to him. So at first I thought he was going to ask me some questions or something, but then he pulls a pair of rubber gloves out of his pocket. He then asks me if he can do a search of me, and I figured that if I said no, I would look suspicious. So I figured it would be a brief few second pat-down. But it wasn't. He puts the gloves on very slowly, and pulled them all the way down so they made the snapping sound, which made me sweat a little there, as I thought I was in for the "FULL" cavity search. So he starts doing the pat down, and let me tell you, they do it very thoroughly. He checked everything you could possible think of. He checked between my belt and my pants, along my waistline, bottom of the shoes, in the shoes, in my hair, in and behind my ears (as if I'm hiding a bomb in my ear), in my shirt, in between the armpits, and it went on for about seven or eight minutes. Now the women who were working security were by no means anything special, but I would have much rather had one of them do the search than buddy with the gloves. I'm guessing it was just a random search, like maybe I was number seven or whatever, because I'm pretty young, clean cut, well kept, well dressed, and I'm not even a visible minority. But what are you going to do. I'd rather have them be extra cautious then have the plane go down. So I'm through security, and I'm on my way to the gate. At Vancouver Int'l, they have the main hallway with gates along either side, than they have a large, sort of pod at the end with more gates. Now the gate I was looking for; gate C50, is one of their new gates which are in another direction. So as you enter the main hallway, there is a door on your right that takes you to C50. It had only one small sign directing you to it. I of course missed it as I was looking out the windows at the tarmac and the planes, so I'm walking around the main terminal building looking for it, and it of course is nowhere to be seen. So I'm wandering around trying to find it, and of course I don't want to ask for help, because then I'd look like an idiot when they say "it's right there in front of you." So I'm walking around, and I look back and there's a few people following me, and they look lost as well. Apparently they thought I knew where I was going or something. So I hear the people behind me ask one of the cleaning staff where gate C50 is, and she says it's up there on your left. So I finally see it, and I make my way there. It must be in a rather new area, as there are a lot of scaffolds and drywall and building supplies around. When I got to the gate, it looked very new and a rather, I guess, ultra modern sort of a design. There where two gates there that appeared to be in operation, both used by Air Canada with flights to Toronto and Calgary.
Boarding:
Boarding started around 6:30am, and went very smoothly and quickly. When I got on the plane, I walked down the aisle towards my seat, but when I got to seat 21K, there was a young kid in it and his mother was beside him in 21H. I go up to the lady and said, "Excuse me, I think you're in me seat." Then she responded by saying, "No, these are our seats, your's is that one (pointing to the one ahead of her)." This made me a little annoyed, as she responded in a rather rude tone, and I don't know how she 'knew' that my seat was the one ahead, as she had never seen my ticket. So I said, "No, it's definitely not. You're in my seat. What seat number are you supposed to be in?" She replies, "20H and 20K." Then I said, "That would be those two (pointing at the two ahead)." I then pointed at the seat numbers on the overhead bins, and showed her that it said 20 over those seats. But she seemed to think that the seats were the row behind the corresponding number, as opposed to the seats RIGHT UNDER the number. So she kept sitting there, just gawking back and forth from her ticket, to the seat number, to the seat. I woke up at four in the morning, and was operating on three hours sleep, and I was not in the best of moods, especially after being felt up by the security guy. So I then said, "Okay, these seats are in row twenty, and those are your seats (pointing at them), and these seats are in row twenty one, and that is my seat (pointing at it)." That seemed to do the trick, as she and her son quickly moved up to there seats. So after getting that solved I sat down in my correct seat, which was in the emergency exit row, and had ample leg room. So we have almost everybody on board now, and it looked like we were ready to go. Pushback was at 7:01am.
In Flight:
We took off at 7:16am, and climb up to cruise altitude rather quickly. Soon thereafter, they put a movie on, which was Night at the Museum, starring Ben Stiller. I had already seen this movie, and I liked it, so I was going to watch it. So I take the headphones out of the bag and plug them in. I then try to put it to the right channel on the little converter control thing on the armrest; and it won't work. I tried every button on there, and none of them worked; not the channel selection, volume selection or the flight attendant call button. But the light button did work, and my reading light went on. After fiddling around with it for a bit, I realized it wasn't going to work so I gave up and was going to go for a nap. So I try to turn the reading light off, and now that button doesn't work either. So I went the whole flight with the light on me, which was kind of irritating but I didn't really care. So by that point the snack buggy was coming around, and I wasn't going to miss it this time. I decided I would go for one of the Subway sandwiches; which of course costs you money, as Air Canada doesn't provide a meal service. They also make you pay for a pillow and a blanket. So I order the sub, and the flight attendant says they don't have that, so she gives me one of the Swiss Chalet lunch sandwiches. Believe it or not, I actually quite enjoyed it. The only thing was that it was sort of hard to handle, as it was overfilled with chicken, and every time I take a bit you get some chicken shooting out the back of the sandwich. But other than that, it was very good, and I would recommend it if I remembered what it was called. I went for another nap, and by the time I awoke we were descending into Pearson.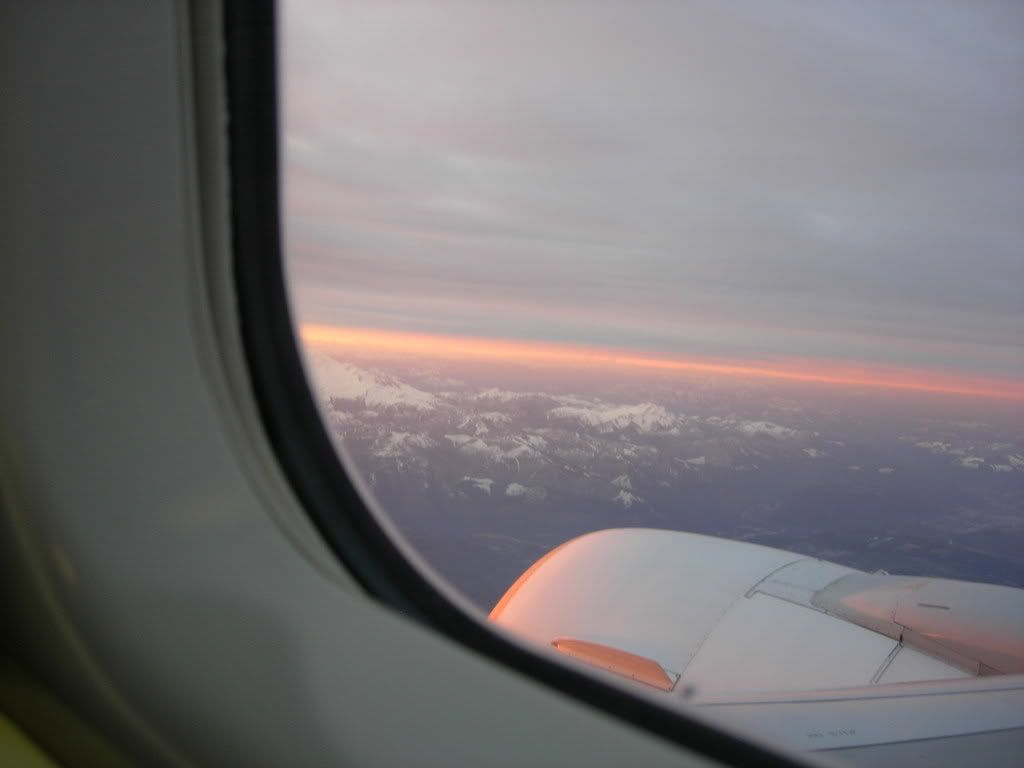 Departing Vancouver Int'l
About 80 miles away from Pearson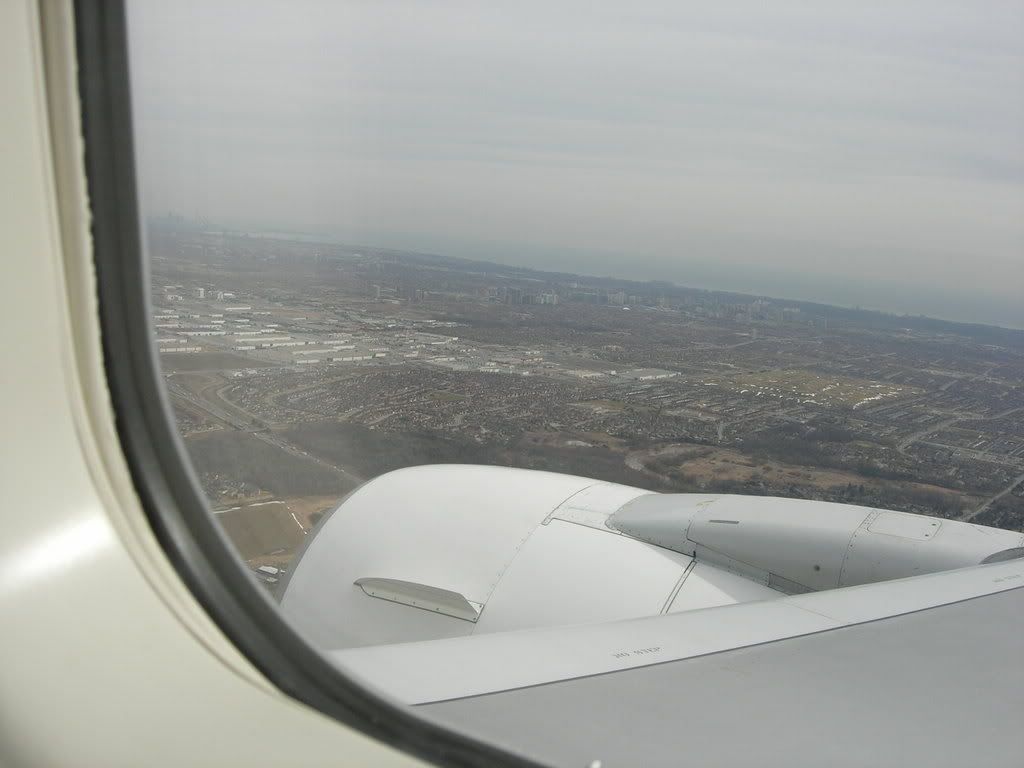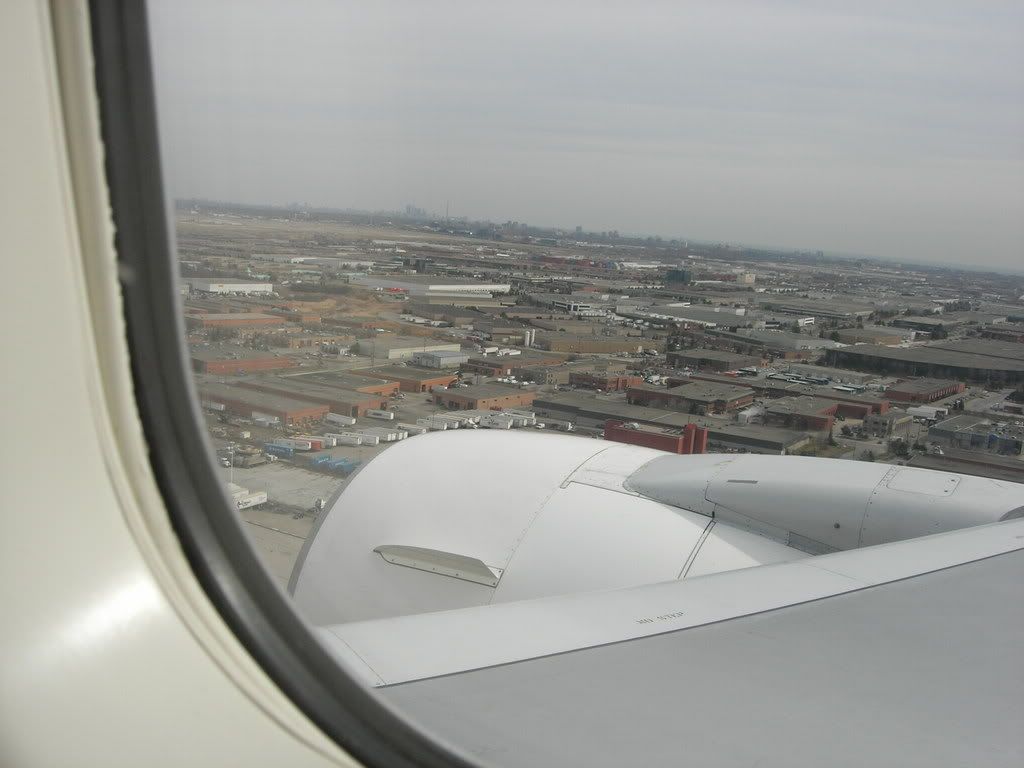 On Final into Pearson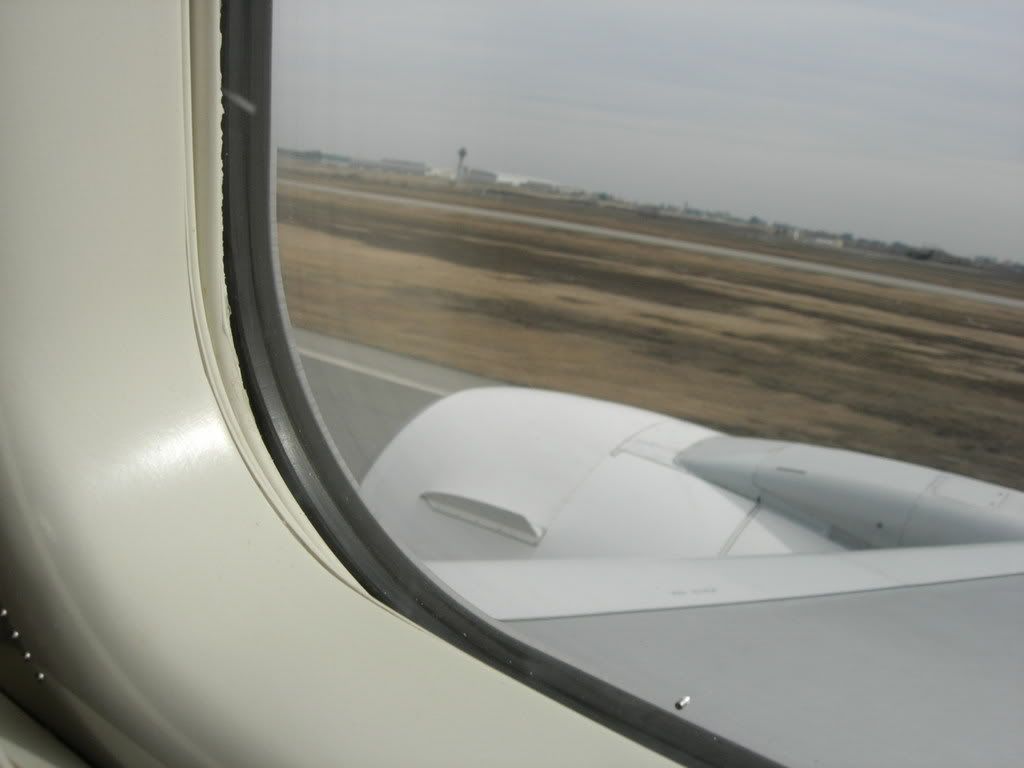 Touchdown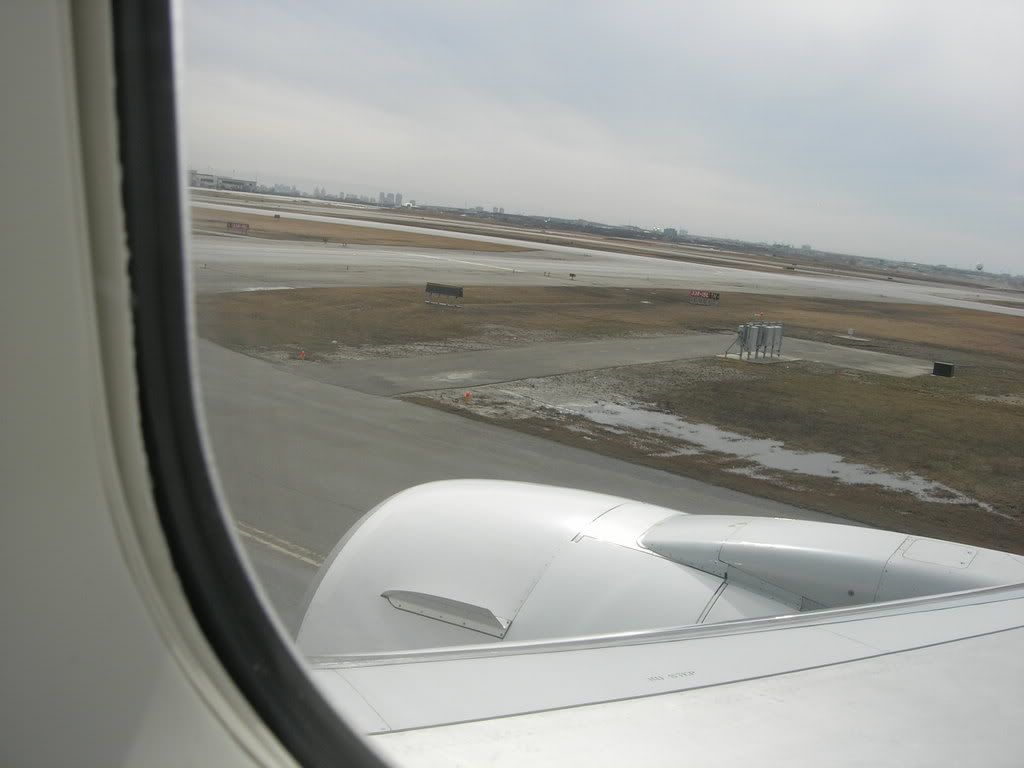 Taxiing to the gate
Post Flight:
We made it to the gate rather quickly, but we had to wait there for about ten minutes as the ground crews weren't ready because they weren't expecting us so early. Once we parked I was off the plane quick and to the baggage claim in good time. It took about forty-five minutes this time before the bags started coming down though. After I retrieved my bags, it was back home.
Summary:
All in all, I would fly Air Canada again, and I would recommend them. I am going to give them the benefit of the doubt, and say that the whole five hour late departure was a one time thing. I mean shit happens, who knows who or what was at fault for the late departure. I guess I would have a different outlook if I had been late for a meeting or missed an event or something, but I didn't. Other than that, I was pleased with Air Canada, and I will fly with them again in the future.
And that's the end of that chapter. Keep an eye out for my next Trip Report when I fly Porter Airlines in August 2007 from Toronto (YTZ) -- Ottawa (YOW) -- Halifax (YHZ) -- Montreal (YUL) -- Toronto (YTZ).