Hi boys & girls !
Ia Orana !
Here is a small trip report about a flight I have taken last August, from Los Angeles to Papeete with Air France on board one of AF's latest Boeing 747-400: F-GITH. This flight was the second leg of a RTW trip (MRS-CDG-LAX-PPT-NOU-KIX NGO-CDG-MRS). Sorry for the poor pictures quality, but it's not easy to take good pictures at night !
After two awesome weeks in the United States with my father and my two brothers, it was time for them to go back to France, and for my father and I to head to Tahiti. My father has been living in Tahiti for 2 years, but it's the first time I'm going there alone with him.
My whole family and I had already spent two unforgettable years in Tahiti, from 1991 to 1993. Even though I was a kid, I left French Polynesia with hundreds of great memories and a big feeling of nostalgia.
13 years later you can't imagine how impatient I was to go back to Tahiti. I had been thinking of Tahiti continuously during every single day of all those years ! It really turned into an obsession.
Well August 27th, the big day is almost there...flight AF70 was scheduled to leave LAX at 00:20AM on the 28th. The four of us spent much of the afternoon walking around at LAX while waiting for my two brothers' evening flight to Paris. Air France operates out of T2 at LAX. I found this terminal to be dark and filthy, but it can't be worse than CDG1
.
After having waited hours in the terminal, we were finally able to check in. The queue was rather empty. Next to us was a couple of very friendly Americans heading to Bora Bora. We chatted with them until the check-in desks were opened. As my father is a FB Gold, we checked in at the Business class desk. Although we already had assigned seats on the lower deck, we asked for seats on the upper deck...and we got them ! I was already in heaven ! Air France has a kind of "economy plus" on the upper deck of its 747s. Even if it is not marketed as an economy + class, the legroom is awesome and all seats are equipped with PTVs. Usually they attribute those seats to FB Silver or higher members.
We proceeded through security, which was really fast as it was already late in the evening and the terminal was rather quiet. AF70 had arrived late from CDG, surely due to the tightened security measures in Paris. Two weeks earlier, my CDG-LAX flight had left almost 3 hours late...
We waited quite some time in the boarding area, along with other passengers who had boarded AF70 in Paris. AF70 used to be the longest flight of AF's network. There is a crew change at LAX, and most of the f/as operating this flight are based in Tahiti, therefore you get an authentic Polynesian service ! This crew base was inherited from UTA after the takeover by Air France. The other particularity of this crew base is that right after take-off, female f/as put on very nice traditional Polynesian dresses.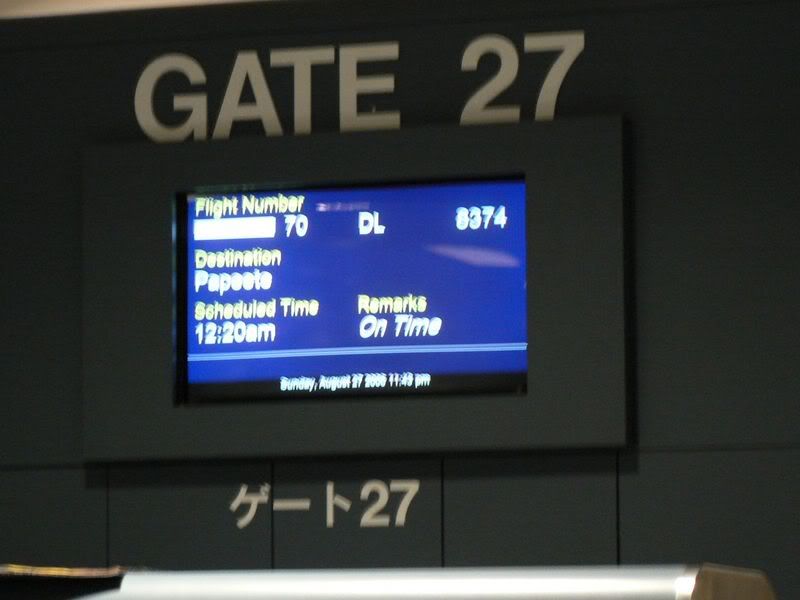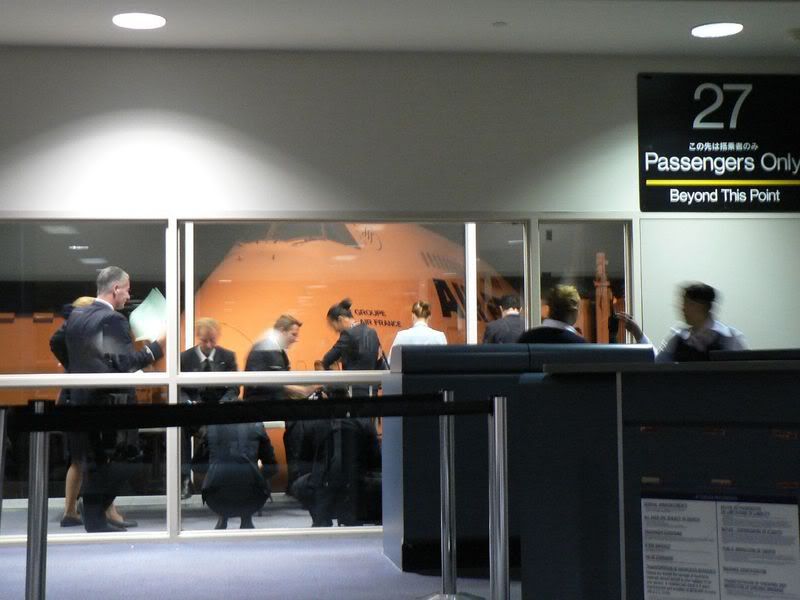 Our classy crew waiting for boarding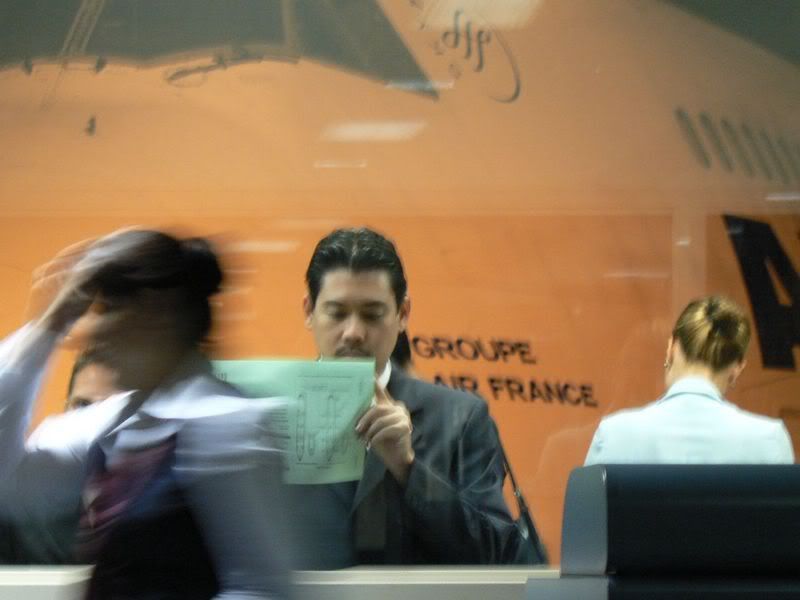 What I love with AF is the panel they set up next to the boarding gate giving you information such as the flight crew's names, languages spoken on board, etc...As you can see departure time had been delayed to 00:50AM.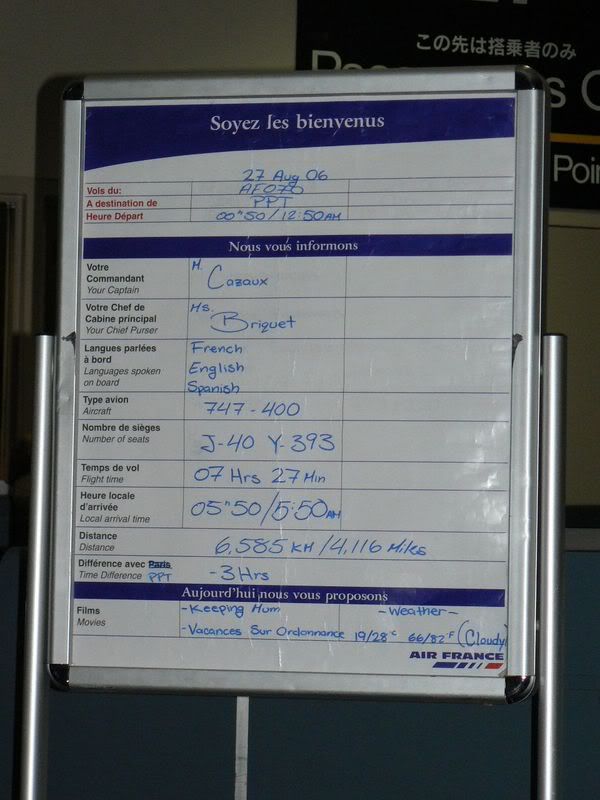 After a little more waiting, it was time to board ! I was glad to see the aircraft's registration through the window: F-GITH ! F-GITH is one of the three 747s AF got during the early 2000s. Along with F-GITI and F-GITJ, they feature PTVs in all classes.
What a feeling to climb the stairs of a 747...and here I am on the upper deck ! We were welcomed by a very friendly stewardess who looked really fresh and ready for this 8hrs flight, although it was late in the night.
The cabin looked new and spotless. It was very clean, even though the aircraft had spent little time on the ground at LAX after its flight from Paris. I love the quiet and pleasant music which is played during boarding on AF flights. I took my seat: the legroom was truly INCREDIBLE. AF could easily cramp more seats on the upper deck ! I felt so good. In the very convenient small "case" located under the window on the upper deck of 747s, I found a red blanket, a pillow and a small amenity kit consisting of ear-phones, ear-plugs, and an eye-shade. Boarding was completed in no time as the aircraft was far from full. My father sat in the aisle seat, leaving an empty seat between us.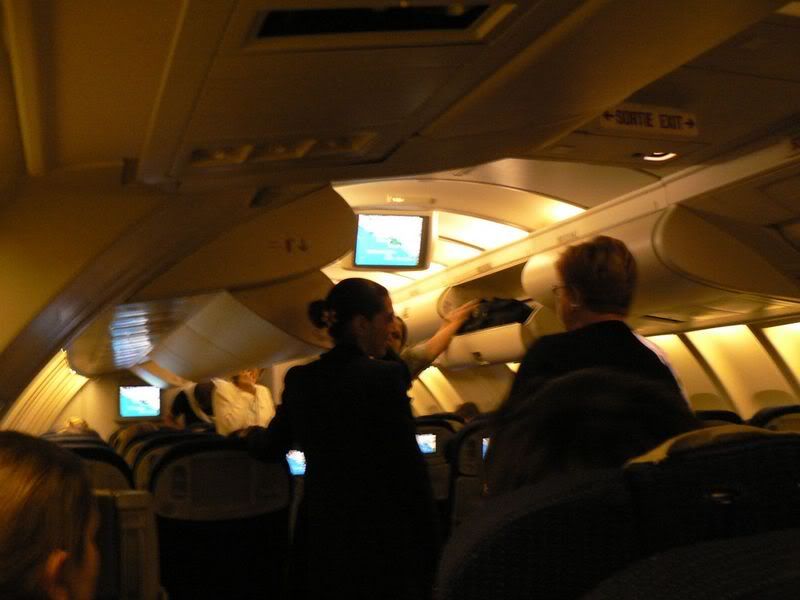 The economy class cabin on the upper deck of F-GITH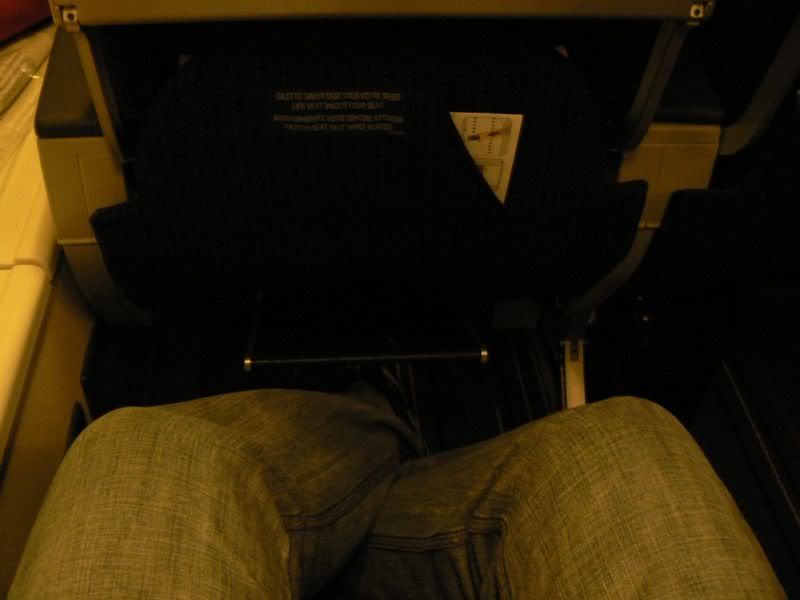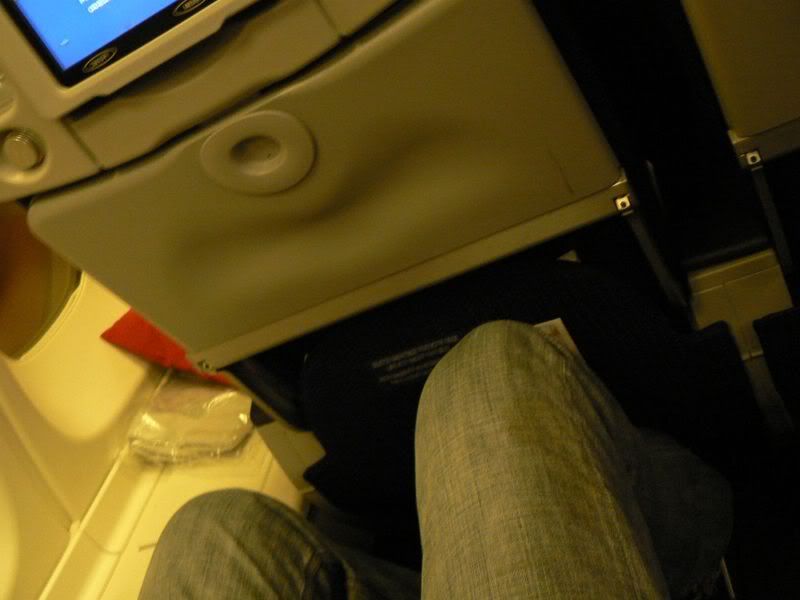 Awesome legroom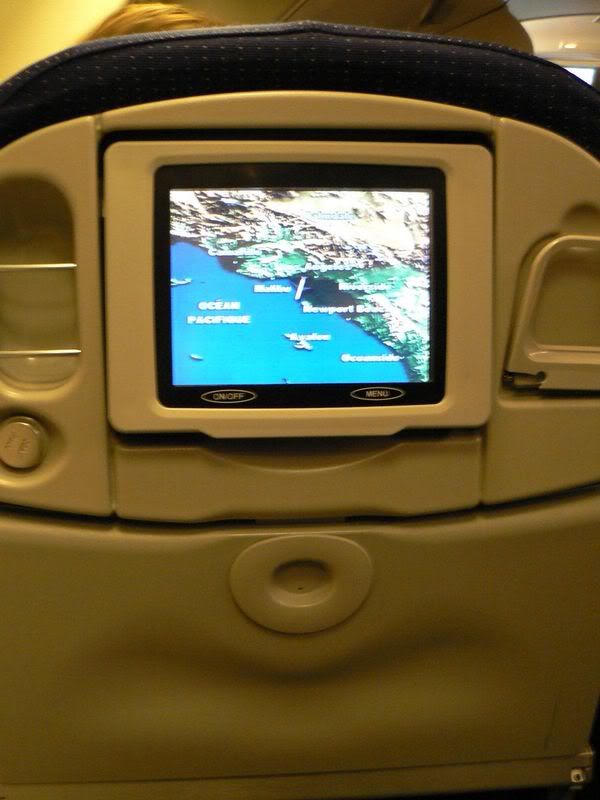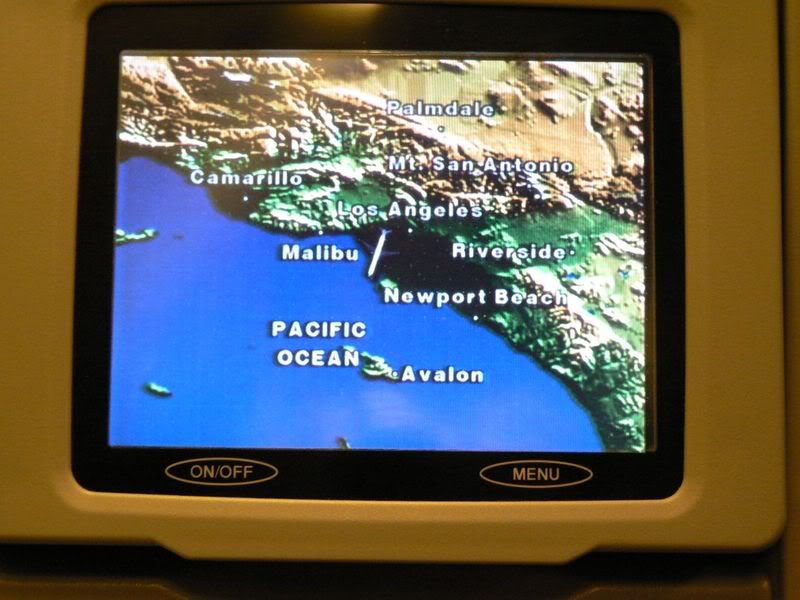 PTV
The captain came over the PA, welcomed us on board and gave us some information about the flight. Here is an exact transcription of what he said:
"Good evening ladies and gentlemen, the captain. Welcome on board of this Boeing 747-400, we expect to push and start in about 10 minutes. Take off on runway 24 facing west, then we'll proceed direct to Papeete. Complete flight time today will be 7 hours and 25 minutes. Weather en route to Tahiti is fair. The temperature actually in Tahiti is 26°. Enjoy your flight and thank you very much." He then spoke some words in Tahitian.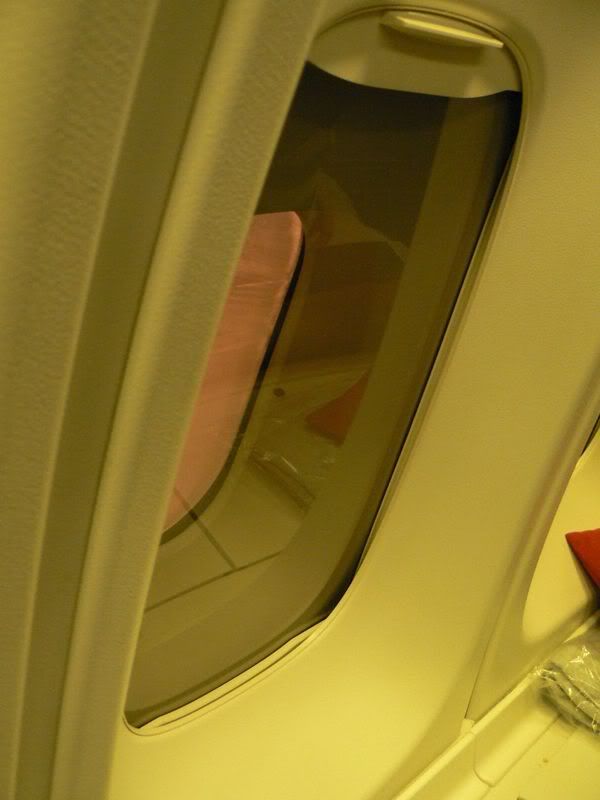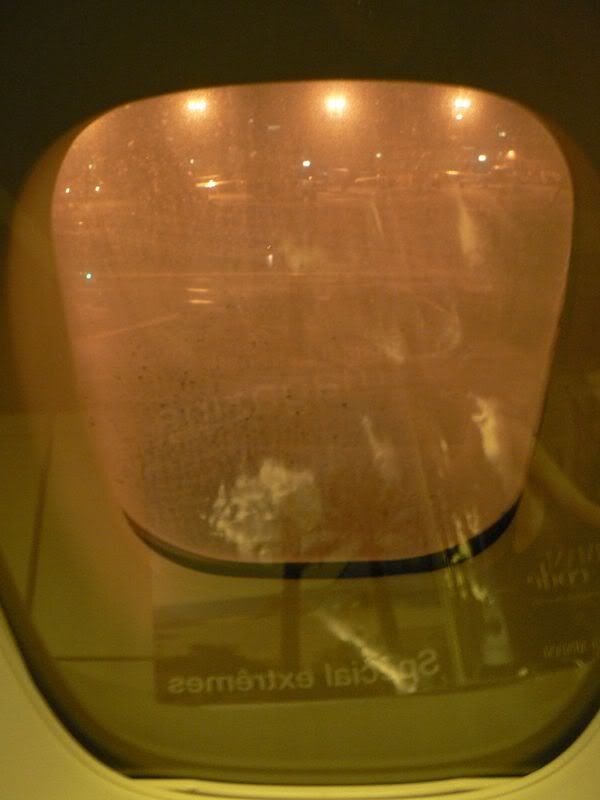 Ten minutes after, as expected, we pushed bacl. Wooooooooosh, engines start up, and here we go for a short taxi time to the runway. Although we took off from the southern side of the airport, we taxied quite fast and there was no queue before take off. While taxiing to the runway, the new AF safety video was shown.
After take off, we headed southwest to Tahiti...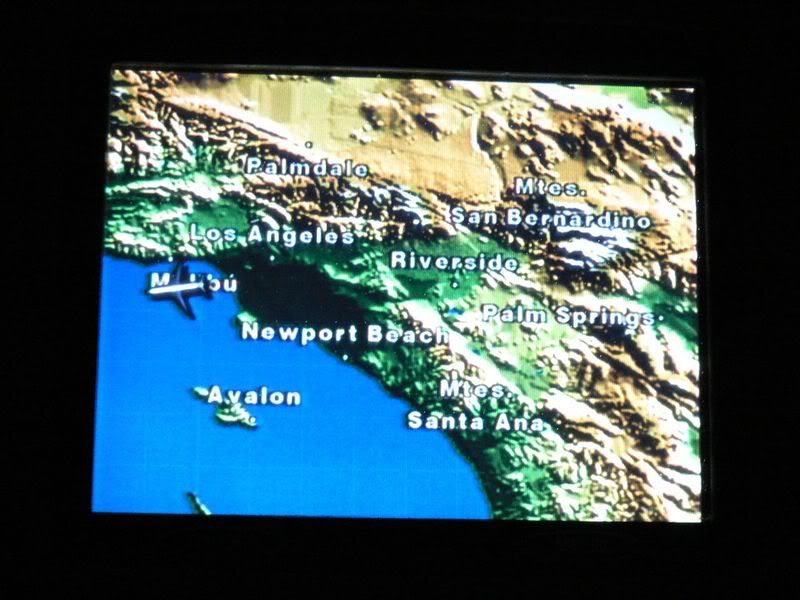 During climb there was nothing much to see out of the window as it was all dark...some minutes after, the PTV service started. AF's PTVs are touchscreen, that's quite convenient. The system is not AVOD, movies begin every 15mn. I don't remember the choice of movies on this flight. Anyway I was very tired, and I planned to sleep.
We got a light meal served by a very nice f/a dressed the Tahitian way, and then the cabin light was turned off.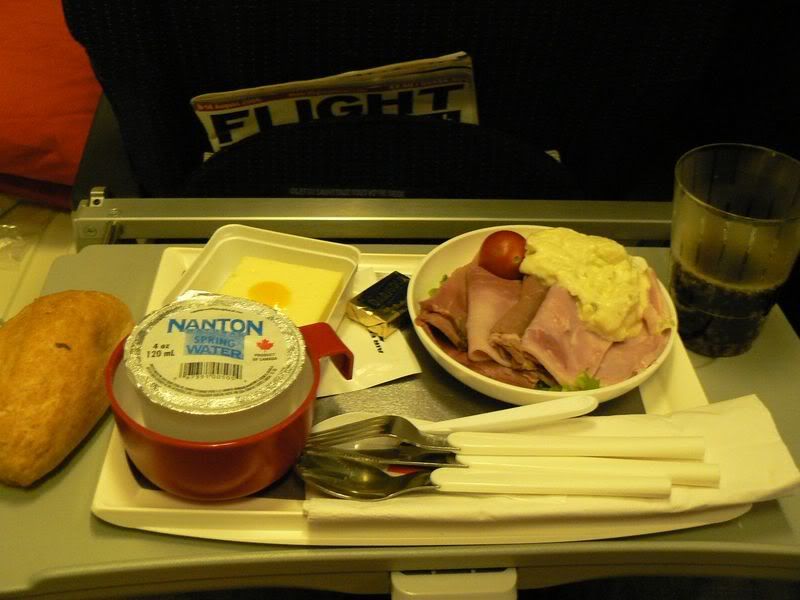 Light meal service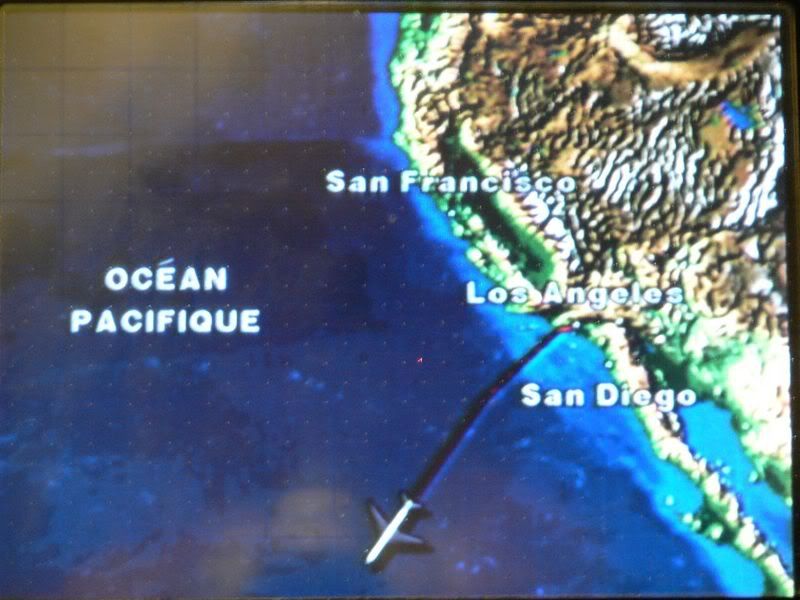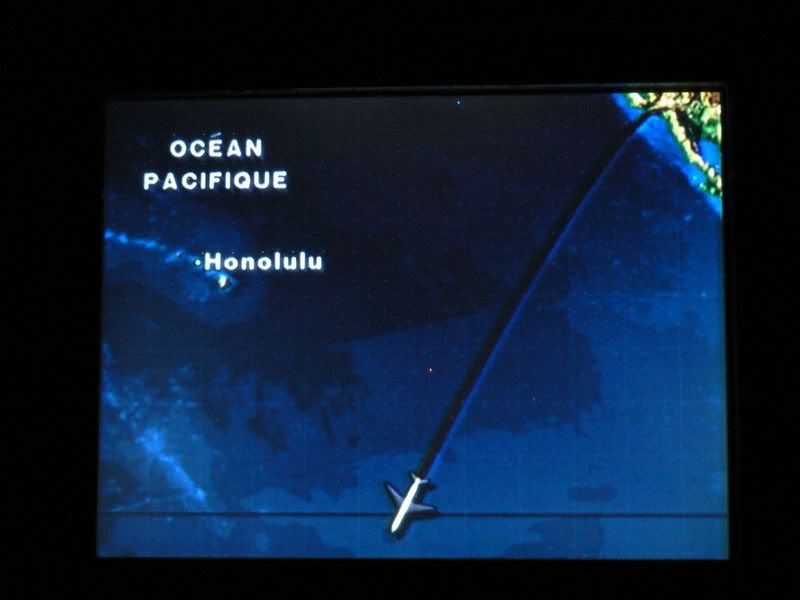 Southern hemisphere here I come !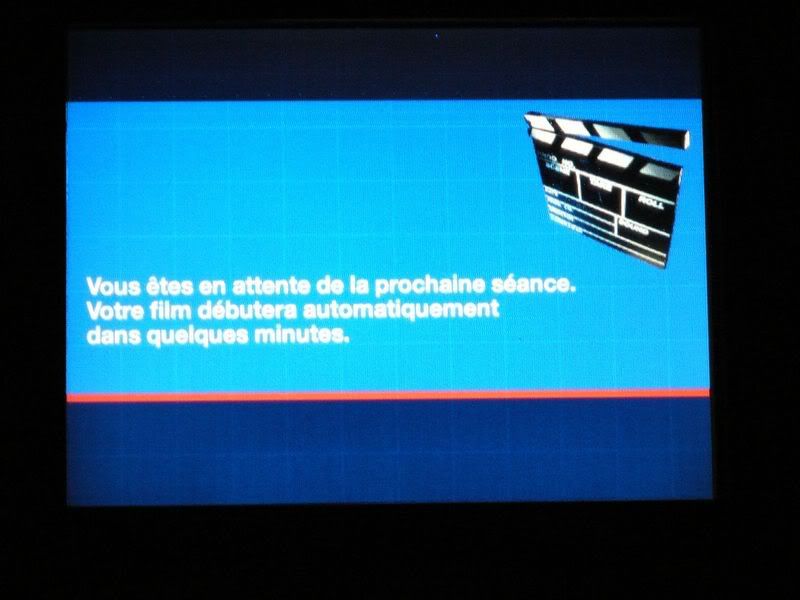 That's the message you get waiting for the movie to begin
No need to say the flight was uneventful...I managed to have several hours of sleep before I was awaken by the cabin light being turned of and a pleasant smell of coffee. We were really close to Tahiti now ! I was so excited, I had dreamt of this moment for years. Outside it was still dark. I believe we were expected to land at 5:30AM. We were offered a nice breakfast: we had two choices, and I took the pancakes. Once again I have to say that the female f/a was very friendly and so classy in her tahitian dress !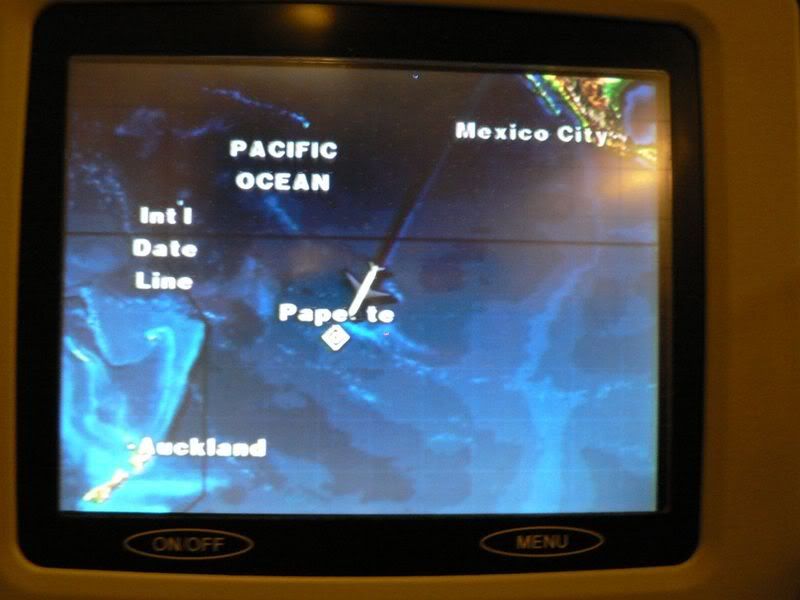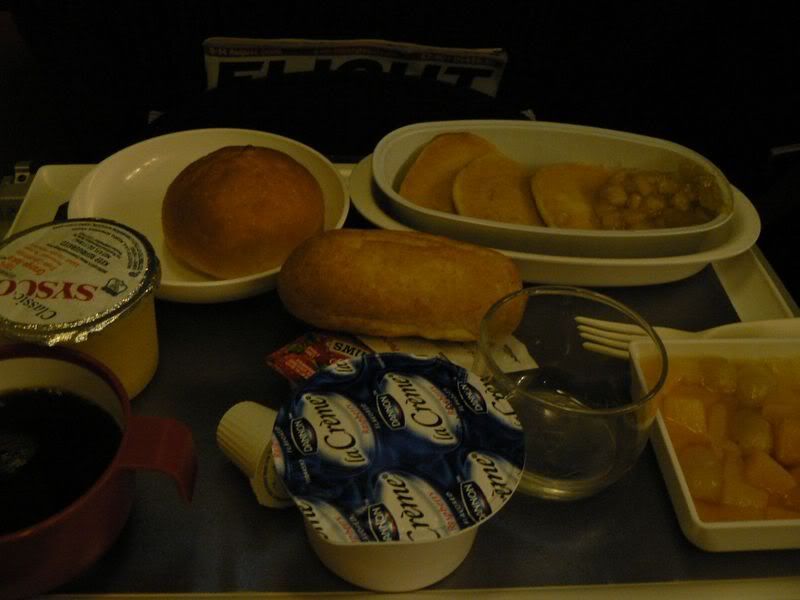 Breakfast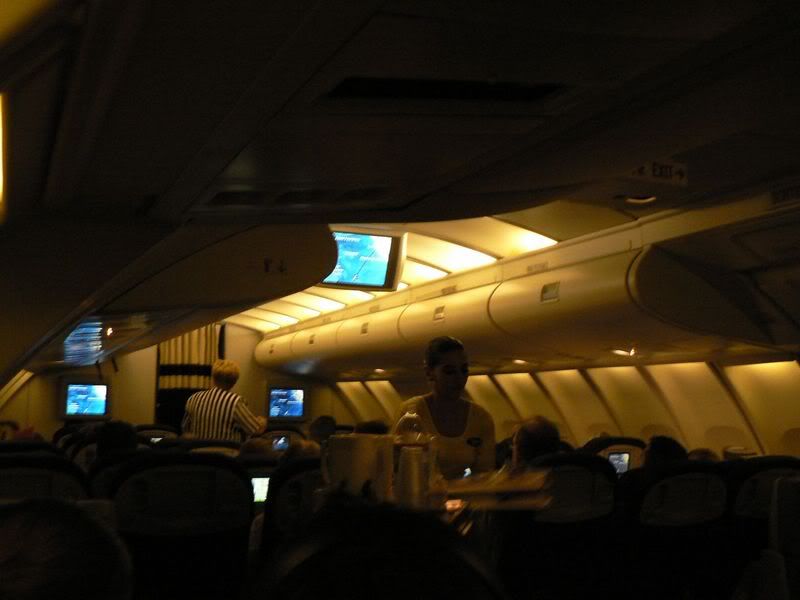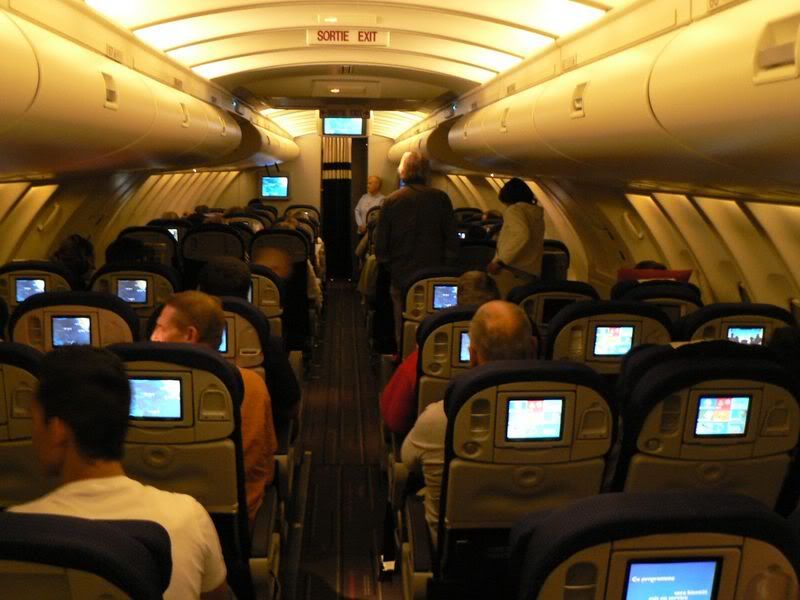 Soon after our trays were taken away, descent began. Every second got me closer to Tahiti. We landed on time as sun was rising. PPT has got a very special runway, built on the lagoon. I still remember my first landing at PPT in 1991. I was 5, it was in a COTAM DC8 and until the very last second I was scared that we'd be landing on water.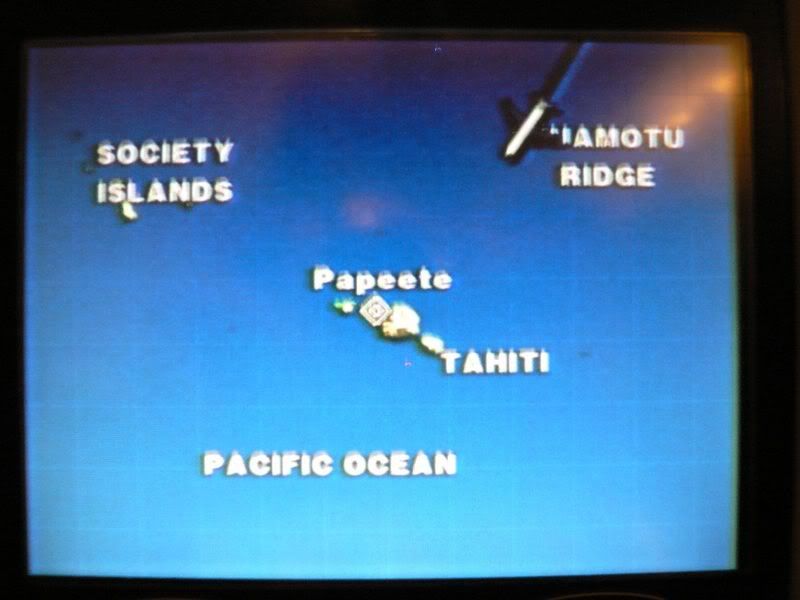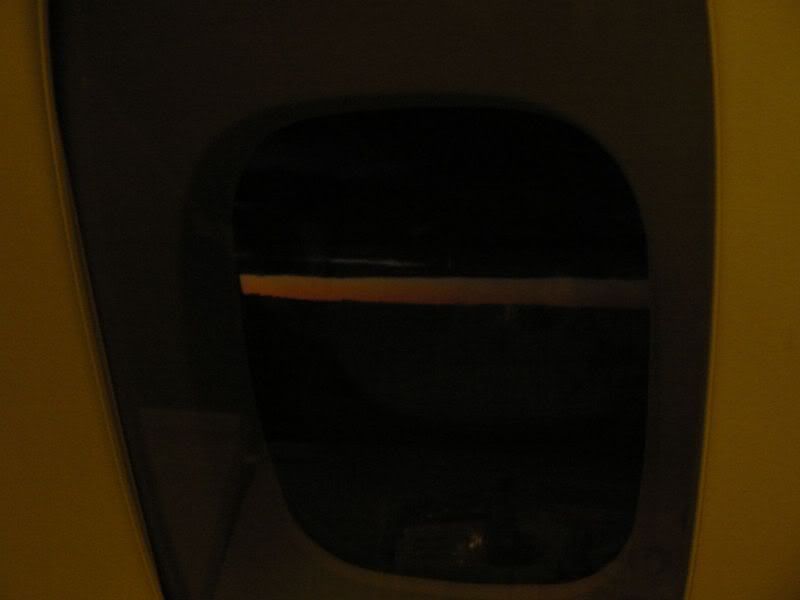 Trust me, I was thrilled as the aircraft was taxiing to the terminal. In a few seconds, I'd be walking on the Tahitian ground. I had been waiting for this moment for such a long time that it seemed unreal to me.
Engines were switched off...the f/as opened the doors, and suddenly a hot and moist smell of Tiare Tahiti filled the whole cabin. The best smell in the world. There's no doubt I'm in Tahiti now !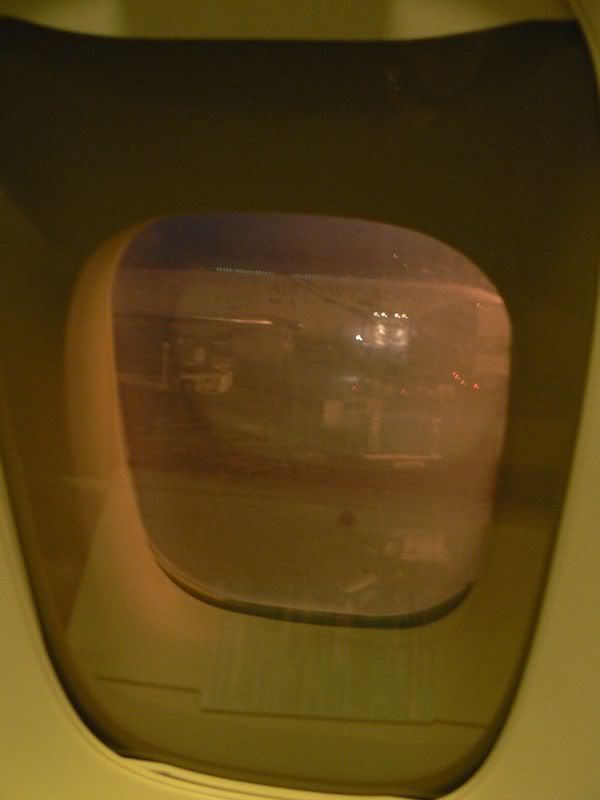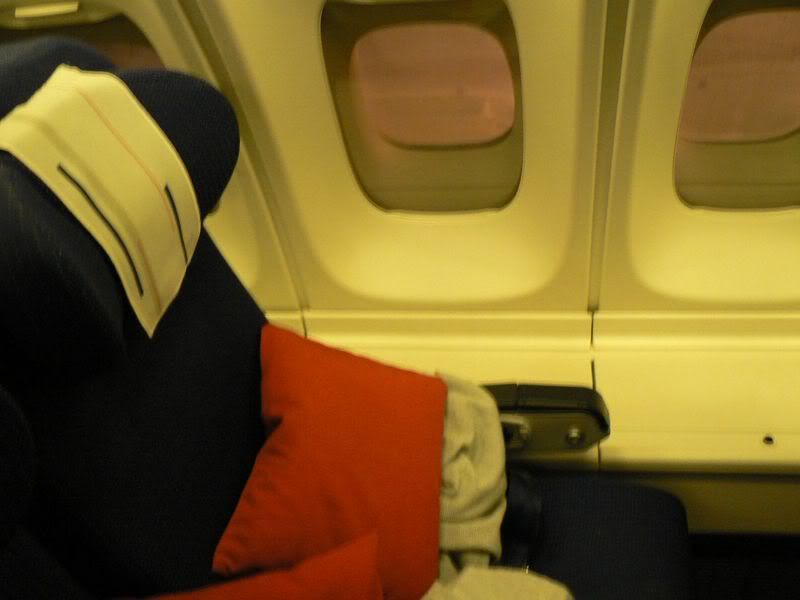 There are no jetways in Tahiti ! It's old-style, you have to get off the plane by stairs which is really cool (unless it's raining as it's often the case in Tahiti) because you get to see how big a 747 really is. Next to us was an ANZ 767-300 which had left LAX earlier than us. It was about to continue to Rarotonga, and then Auckland. Unfortunately this route now belongs to the past.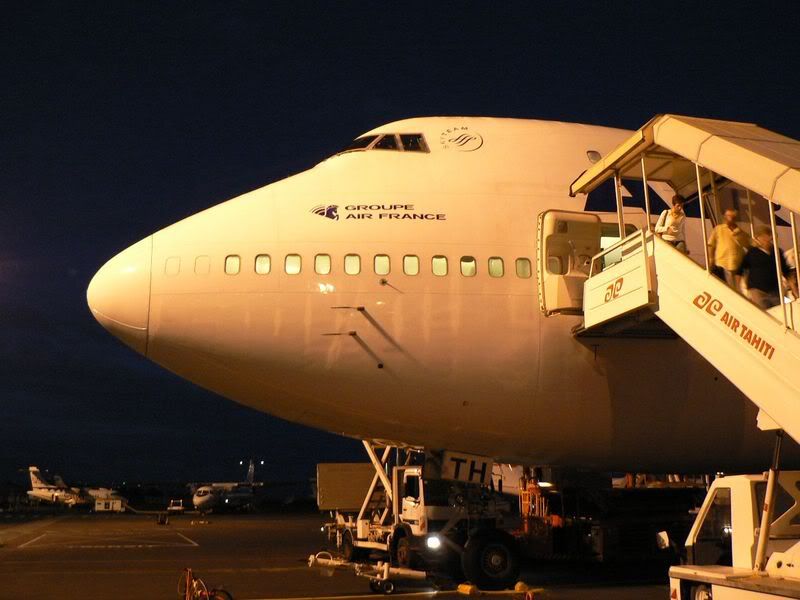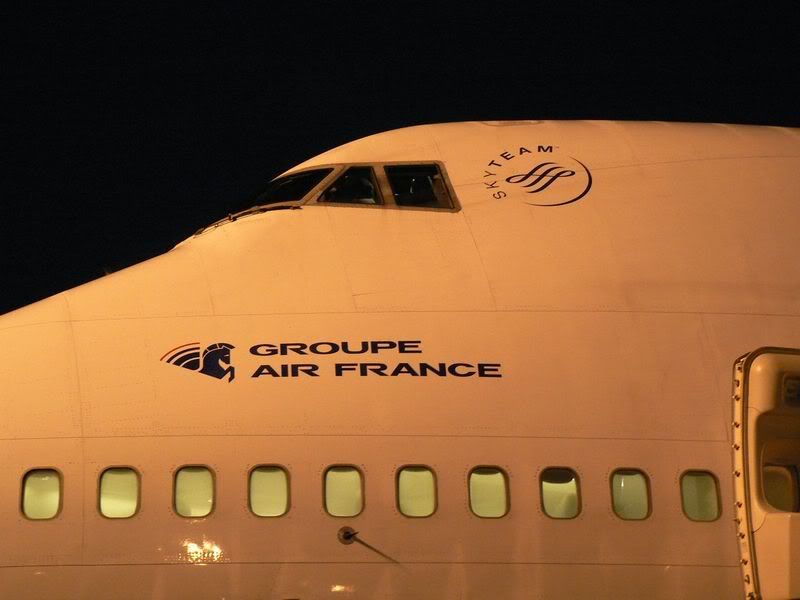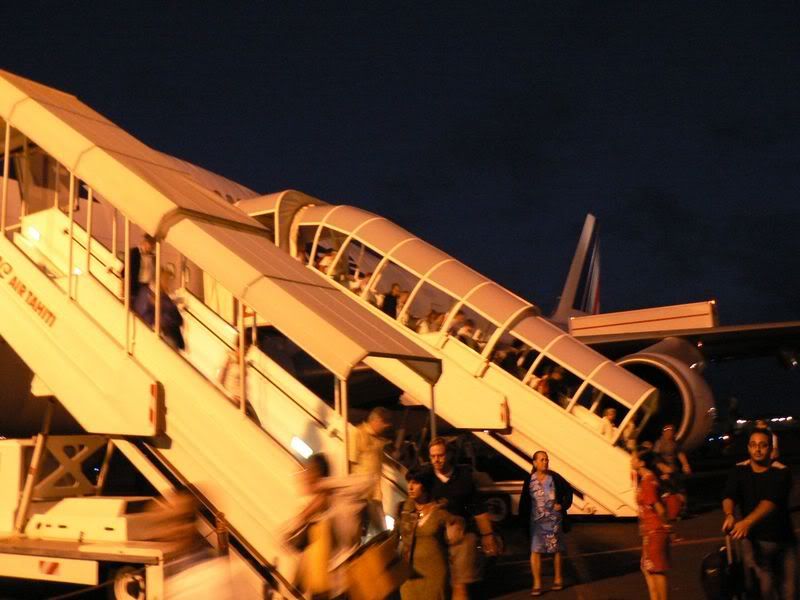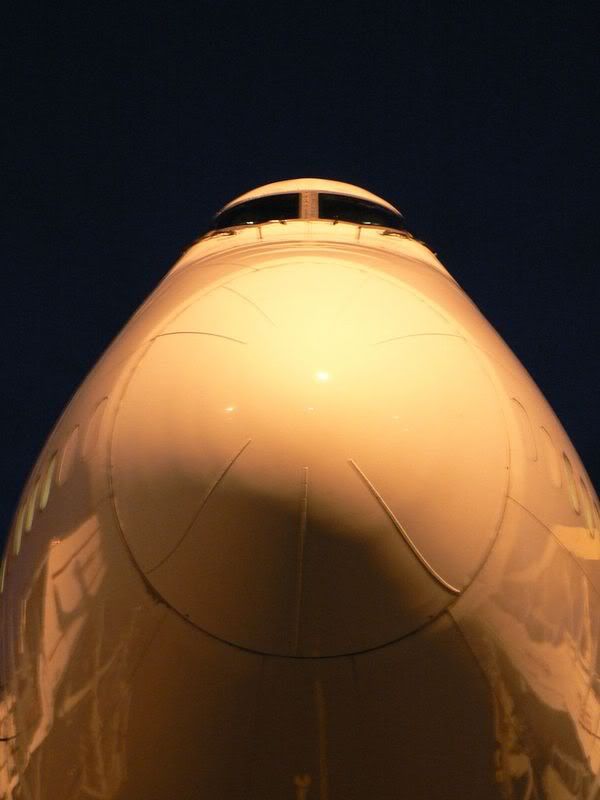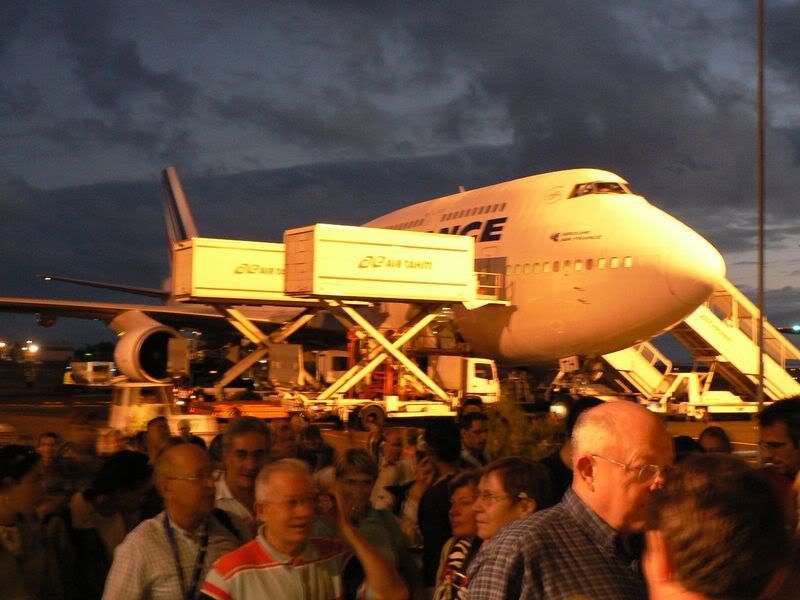 As I walked to the terminal, a very nice Tahitian girl offered me two tiare Tahiti flowers. Before immigration, there was a band of Tahitian men playing ukulele and singing in Tahitian. What a nice way to welcome both Tahitian locals going back to their "fenua", and tourists.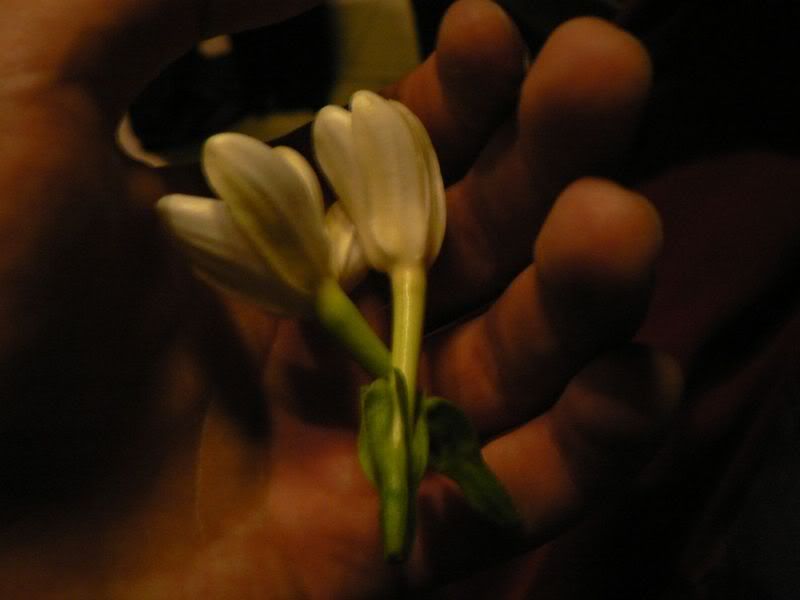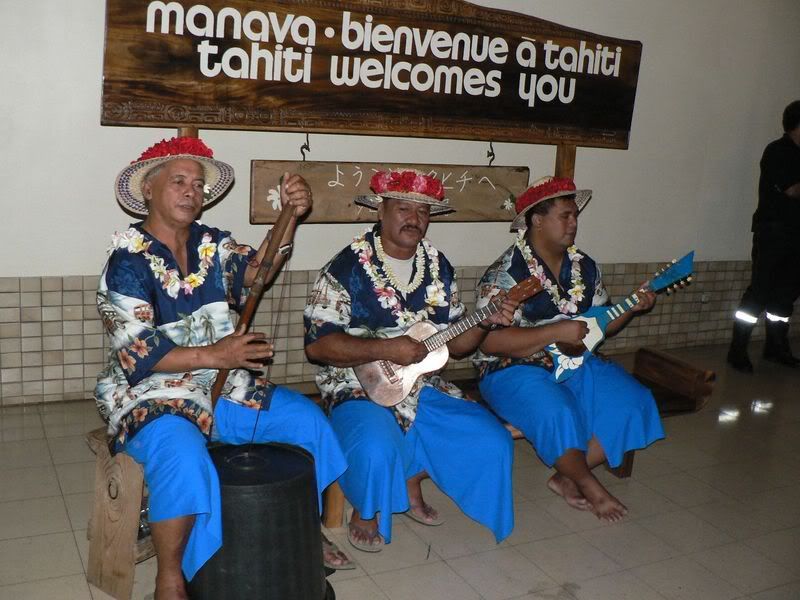 Ia Orana e Manava i Tahiti !
We waited for our luggage and left the airport a few minutes later...
I really had a great flight, although I spent much time sleeping. The f/as were very friendly and attentive, I loved the seat and of course the legroom, and the IFE, although it's not AVOD, is good. To be honest, Air France used to have a very bad reputation in my family, but it seems that the AF of today is definitely not the AF of the 90s.
This flight has been a great introduction to the following 5 awesome weeks I spent in Tahiti...if you're interested in what it looks like, check my album here !
http://clementoronto.myphotoalbum.co...ew_album.php?set_albumName=album11
Thank your for reading !