The day after we arrived at my relative's house we went to airtran.com to purchase our return tickets. During the six days in Mississippi I had lots of fun hanging out with my cousin and his friends. We looked at quite a few houses because my mom and I still want to live down there someday even though it is kind of pointless at the moment because I will be going to college. One day we decided to stop by the Hernando Airpark. I always new it existed but never got a chance to see it in person before...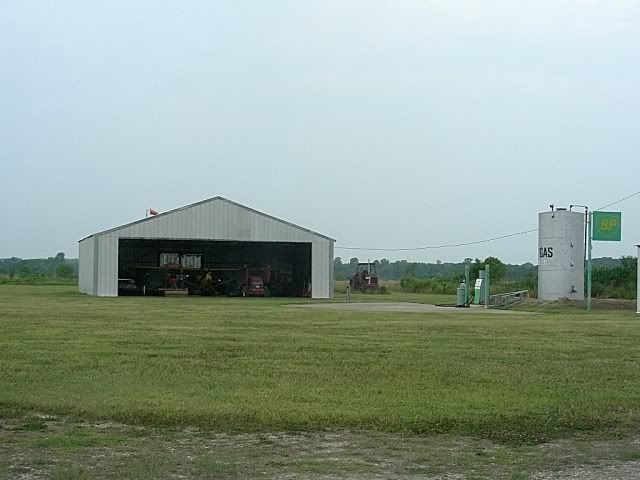 the only aircraft there at the time
The terminal I suppose lol. I would like to live in one of those houses in the background. They all belong to this airpark subdivision and most have their own hangars and planes. It would've been cool to see a cessna taxi down the road while we were there but that didn't happen.
Weds. June 20th
After a 3 hour nap I woke up at 6am and finished packing up my belongings. We loaded the car up and then my aunt drove us to the airport. The Airtran check-in line was relatively short, even though in comparison to the other airlines in terminal C, it was the longest. At the counter the guy asked if we wanted to upgrade to business and surprisingly my mom said yes. We flew down on business but I wasn't expecting to fly it home too. It coasted $40 more per person to upgrade just for the first flight to ATL. We couldn't upgrade on the flight to MKE because it was full already. Before heading to security we said bye to our relatives then continued on to our gate C 16. I took about the next 30 minutes to some spotting...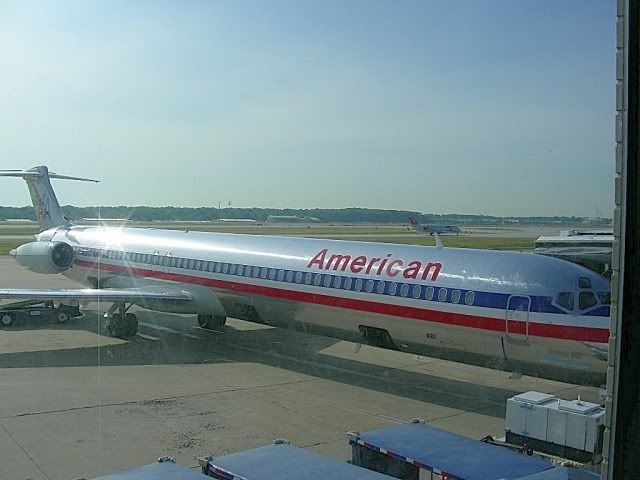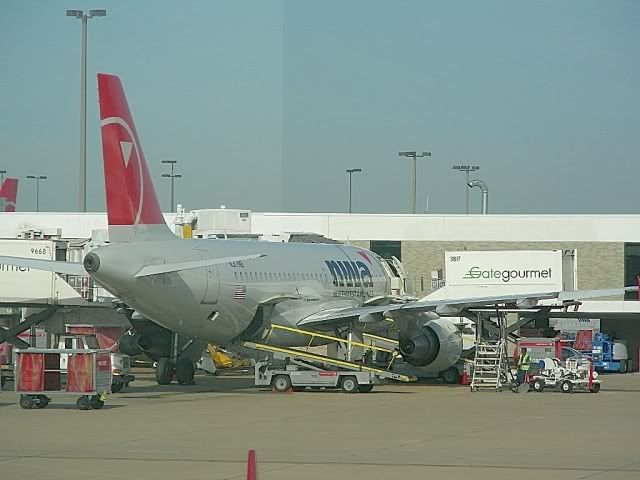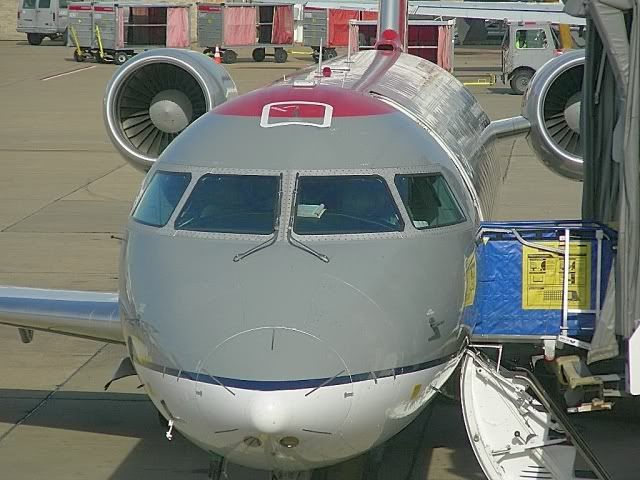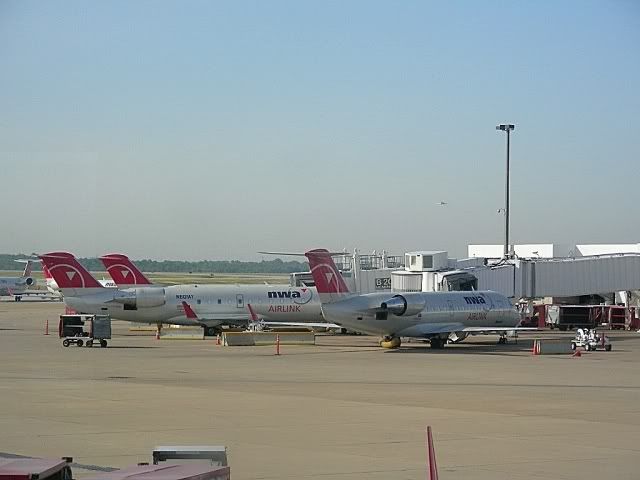 After I had seen everything I wished, I went back to the gate where our plane had already arrived...
Airtran 524
717-200
Seat: 3F
load factor: 100%
We began boarding shortly before 9am and once seated I got an apple juice while we waited. The flight attendants were very friendly like they had been on the previous flights. Once everyone was situated the tug pushed us pack and we began our taxi to 36C. Along the way I took some more photos...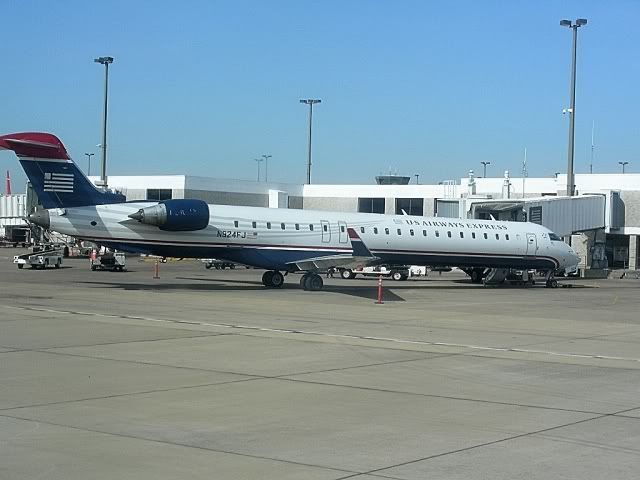 Upon reaching the runway we did not have to wait long for there were not many landings or takeoffs on 36C. 36R was a little busier and that is where this FedEx was landing...
Taking off to the north provides some nice views of the FedEx ramp...
As we turned east I tried to get an aerial shot of MEM and this was the best I could do.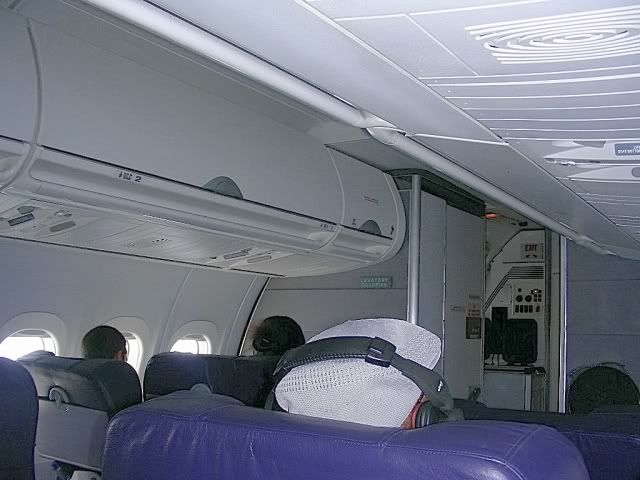 Shot of the cabin while in flight. Those seats are nice!
The flight was very smooth and beverage/snack service was the same as before; a bag of chips and a soda is what I got. Our descent into ATL began quickly and I was pleased to have flown past the airport before lining up for 26R...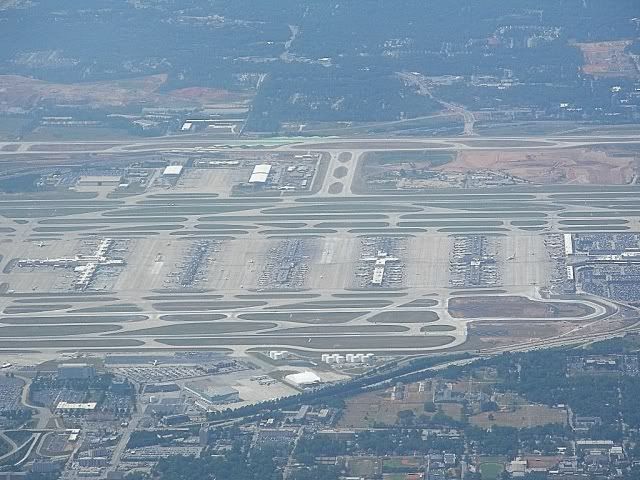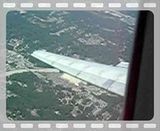 turning inbound for 26R with vortex's coming off the wing.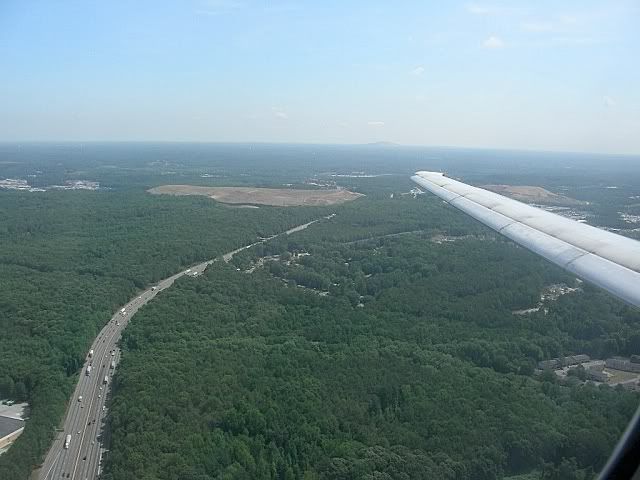 on final approach
After landing we didn't have to wait nearly as long to cross the other runway because we took a taxiway around the end of the parallel runway. I don't remember seeing that there before. Maybe it's fairly new, but anyhow it helps the traffic flow immensely.