BACKGROUND
After flying the Uruguay (usually Montevideo) - Lima route with LAN several times, plus a trip across the South Pacific to Sydney also with LAN (beautiful city.... Yes, I am very lucky in having the opportunity to perform such a trip) I eventually got a respectable number of miles on LANPASS.
When I began planning the last Lima trip, I decided to use this miles to give me a treat: and upgrade to Business Class. The itinerary eventually compromised
MVD-SCL (A320)
Approximately 9 hours waiting in SCL....
SCL-LIM (767)
-----
LIM-SCL (767)
Approximately 5 hours waiting in SCL...
SCL-PDP (monoclass A320)
This would also be my first experience in Business which wasn´t an accident (my two other Business experiences were due to overbooking and Y passengers being put in C)
On this report I will cover the return, LIM-SCL and SCL-PDP flights.
AIRPORT 1
I arrived early at Lima Intl Airport (Jorge Chavez- LIM/SPIM). The airport looks modern, bright and airy. The LAN counters were quite full, but no one was on the Business Class line and I was soon out of the place.
The joys of Business!
The agent was courteous and efficient. He told me that unfortunately the LAN Lounge was in renovation (closed), and gave me a voucher to spend $15 dollars on the airport's duty free stores instead. I found this to be a very good deal, as I didn't plan to visit the Lounge anyway.
Security and Immigration was also quick (even though Business doesn't get a special line there... I guess Business Class spoiled me after all) And I was soon at the boarding area.
I bought a nice t-shirt, courtesy of LAN and their voucher, and then proceeded to find the gate. There was already plenty of activity there when I arrived. A MAD bound Iberia A340-600 was boarding just next to us, and the place was a bit crowded.
When the people waiting for the SCL flight realized boarding was imminent, they stood up and formed a huge line in front of the gate. I didn't worry very much, after all, I get Preferred Boarding as a C passenger. In fact, when boarding started I just walked towards the gate, bypassed the mess, and soon found myself in a comfortable Business Premium seat onboard CC-CWN.
The joys of Business!
FLIGHT 1
Unfortunately I didn't take any picture of my seat in that flight, so I will have to post a picture I took two weeks before this flight, on the SCL-LIM leg, onboard CC-CXC, the newest 767 in LAN's fleet. The seat is the same one I got in CC-CWN. Both simply wonderful.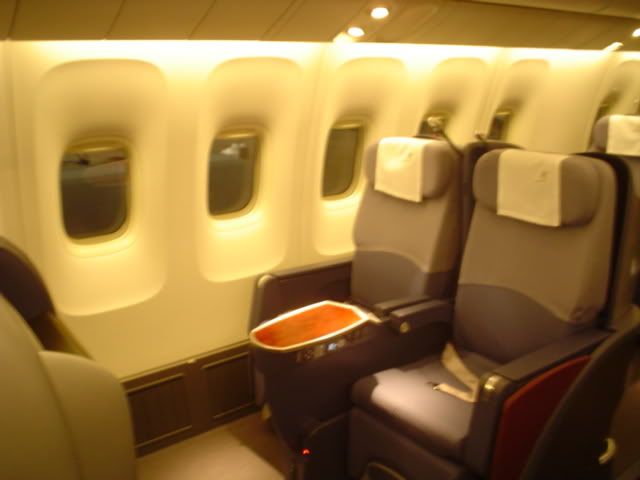 I was soon approached by a FA, who welcomed me aboard, gave me the menu and offered me a preflight drink.
Here are some photos I took during boarding, in which you can really appreciate LAN's amazing Business Premium (yes, this were shot in the actual aircraft, CC-CWN. I also got the WB right this time)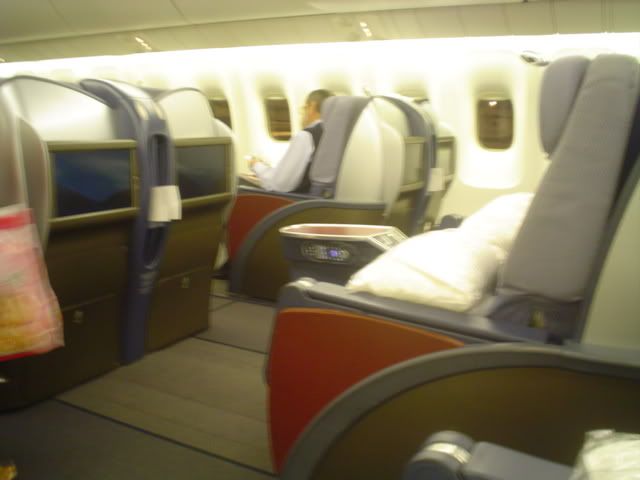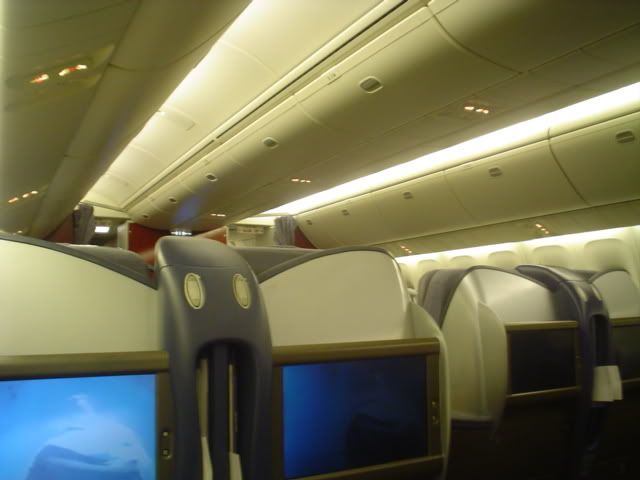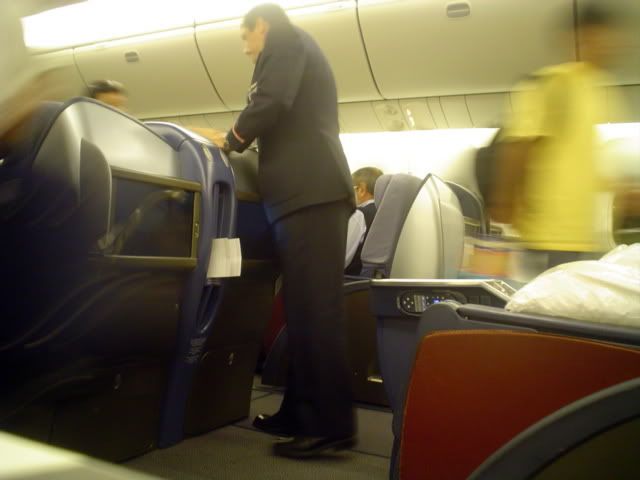 After everybody settled down, we began our pushback and began taxiing to the runway, taking off behind the Iberia Airbus. We were soon climbing over the Lima night sky.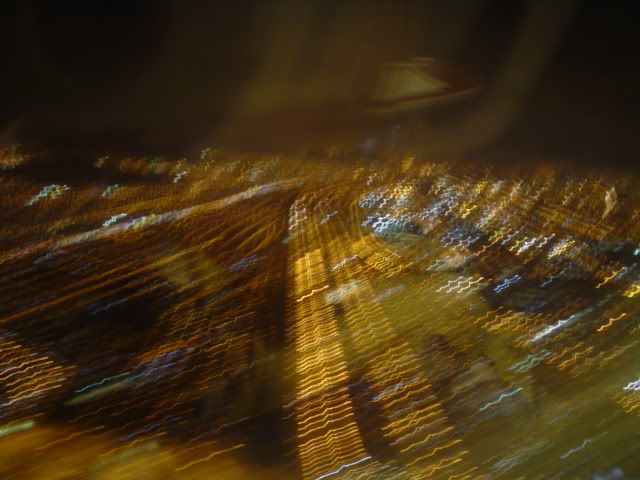 Soon after reaching a comfortable altitude, the crew began the dinner service. I chose the fish (conger-eel) which was accompanied by a salad. I had a "suspiro limeño" for dessert. When I asked the FA how about it, she said it was a traditional dessert from the city of Lima, and very tasty. She recommended me to have it. For sure I wasn't disappointed.
Several Chilean wines were offered with the dinner service as well.
(Sorry I didn't take any picture of the food, it was so nice it literary "disappeared" from the plate!)
After this, the lights were dimmed and the cabin put in "sleep mode". I put the large PTV in the Airshow, reclined my seat (didn't put it 180 degrees, though) and semi-slept whilst enjoying the rare benefit of being there.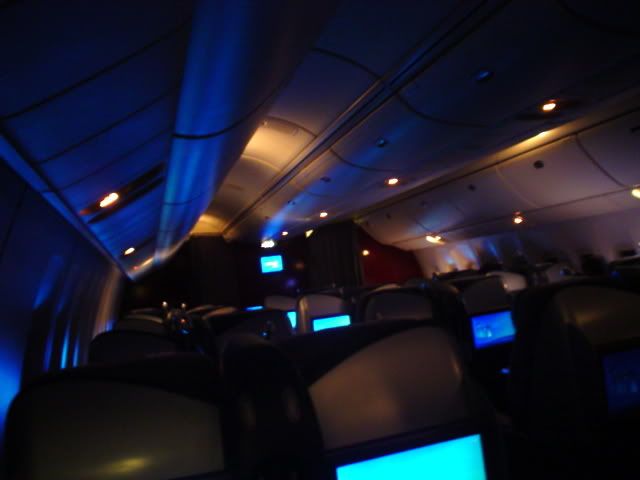 Too soon, we started our descent to Arturo Merino Benitez Intl Airport, Santiago. I was rather sorry about this, as I was enjoying the seat quite a lot and wasn't actually looking forward to leave. However, all good things come to an end, and we soon docked at the gate in SCL, approximately 3 hours 10 minutes after takeoff, at about 2am local time Chile.
AIRPORT 2
Five hours of boredom, walking through the deserted airport (not many people at those early hours) Just a few people either sleeping on the chairs, or red eyed strolling around, were present. I really missed the nice Premium Business seat at this point.
The lounge was closed until 5:30am, which is quite logical, as there aren't many potential users before that time, but nonetheless quite inconvenient for me.
Finally, at around 5 am things started picking up and the place started to fill up with people. The lounge also opened, and I went there to have breakfast.
Finally, boarding was called for the Punta del Este flight. These flights were performed by LAN during the southern summer season, and were quite convenient to me as they saved me the 100 something km drive between Montevideo and Punta del Este.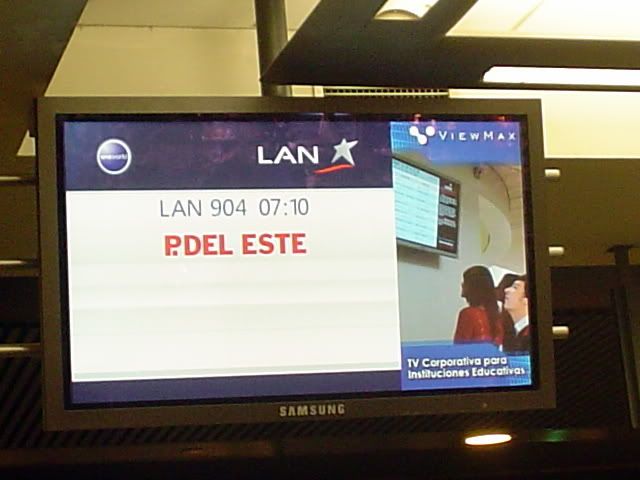 The plane was at a remote parking spot, and we got a bus ride to it. Very scenic, actually. Here are some pics from the "ride"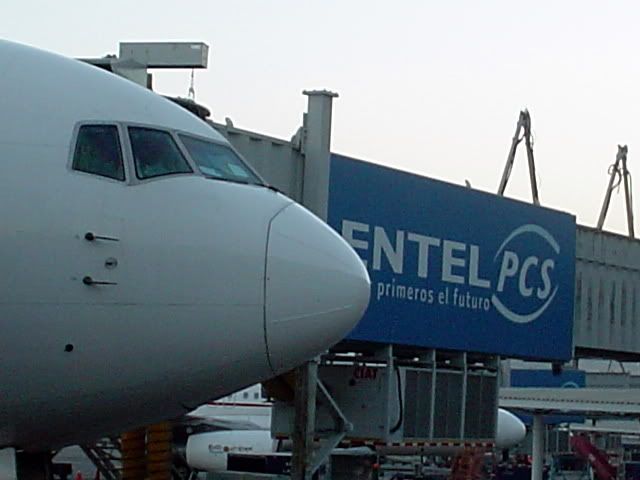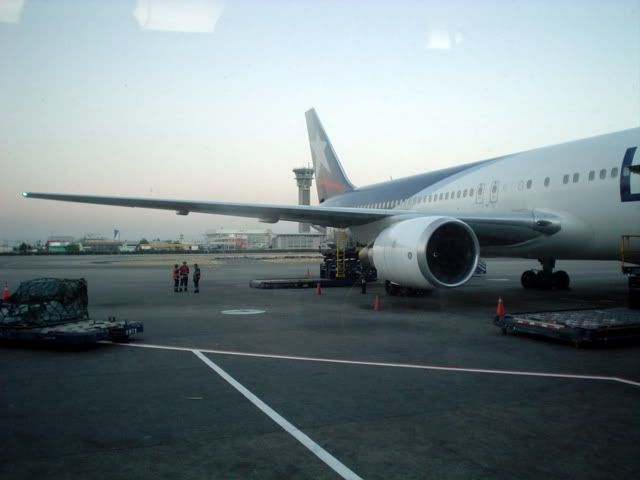 FLIGHT 2
After everyone settled down in their economy class seats (single class A320, CC-COL), we started pushback. We were parked right next to a GOL 737-800.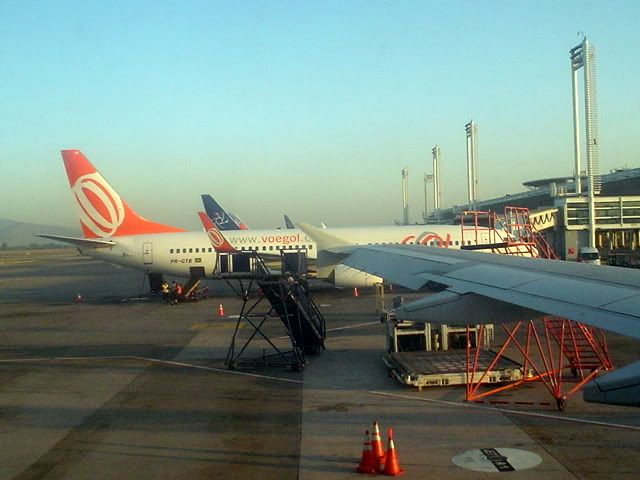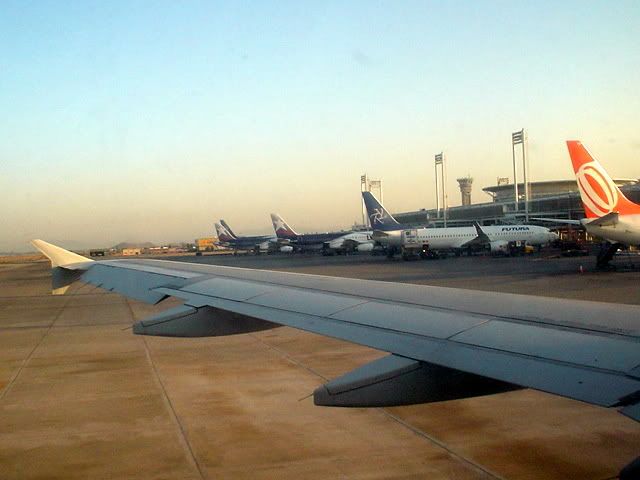 In no time we took off. If it wasn't for the glare, we would have been treated to a wonderful view of the airports terminal.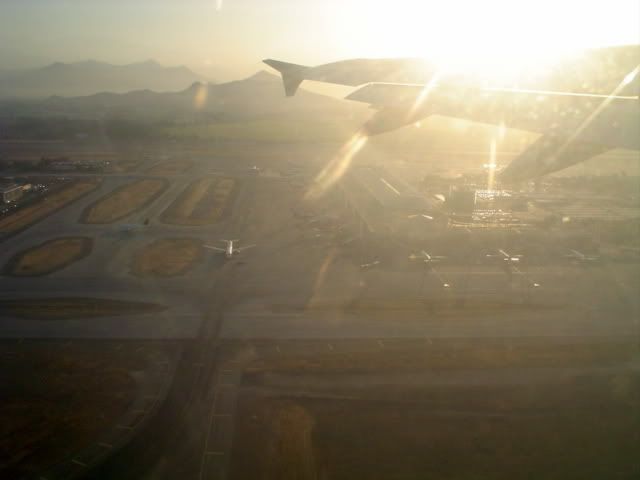 On ascent we also caught a glimpse of the Andes. Unfortunately I didn't take any pics of the crossing on this flight.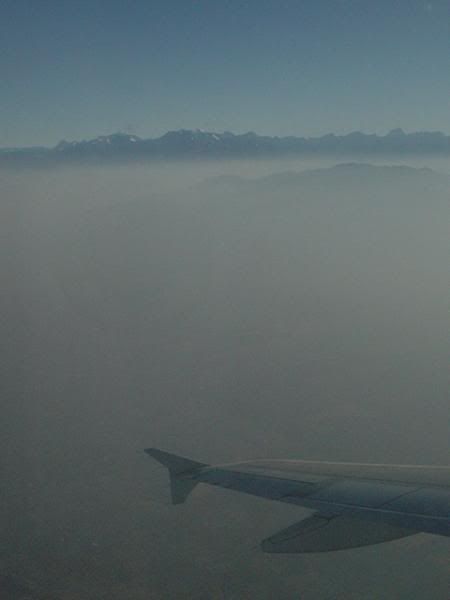 I also took a picture of the cabin at around this point.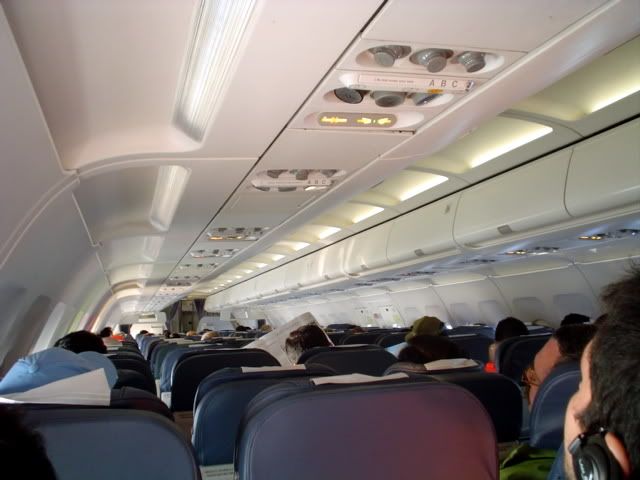 Once in the other side of the mountain range, service started. It consisted on a sandwich... which frankly wasn´t very appetizing. It was surely a big contrast of my dinner last night.
IFE consisted on "Just for Laughs", which was displayed on the overhead screens.
As we crossed right over Buenos Aires, descent started. After going over that city, we crossed the River Plate, making landfall over Montevideo. From there, we went "wet feet" again, flying more or less parallel from the Uruguayan coast in an eastern direction.
After a sharp turn, we made landfall again (and definitely) over Piriapolis...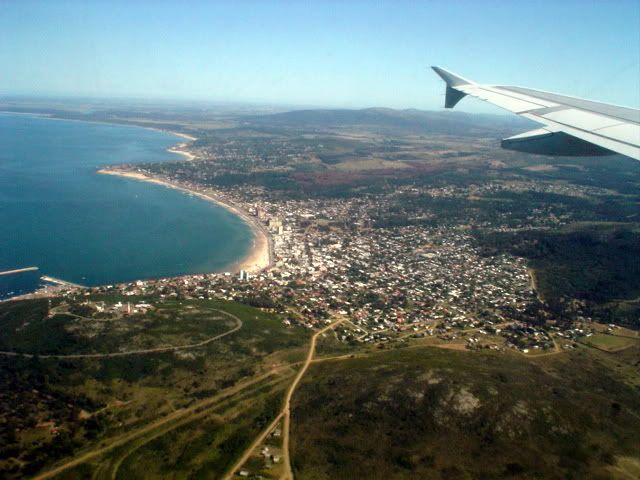 Crossed the Interbalnearia highway between Punta del Este and Montevideo...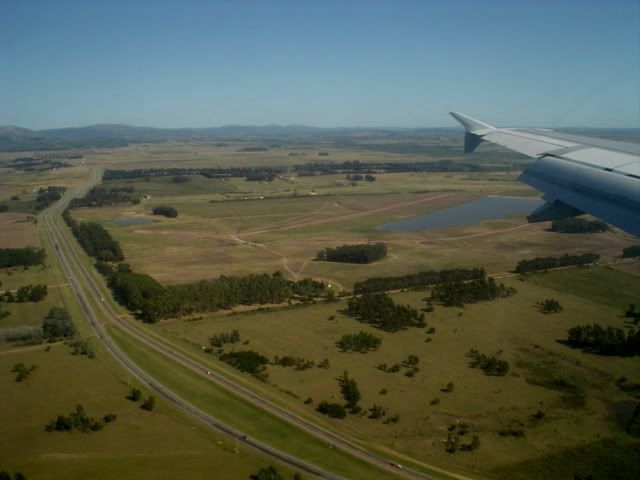 And we landed at Laguna del Sauce Intl Airport, Punta del Este (PDP)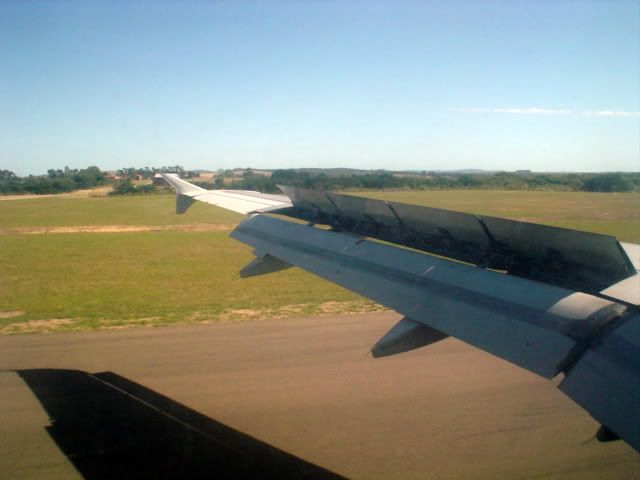 PDP is a fairly small airport, mainly used for the short (aprox. 40 minutes) hop to Buenos Aires (Aeroparque). As such, there are no jet bridges and we were bussed to the terminal instead.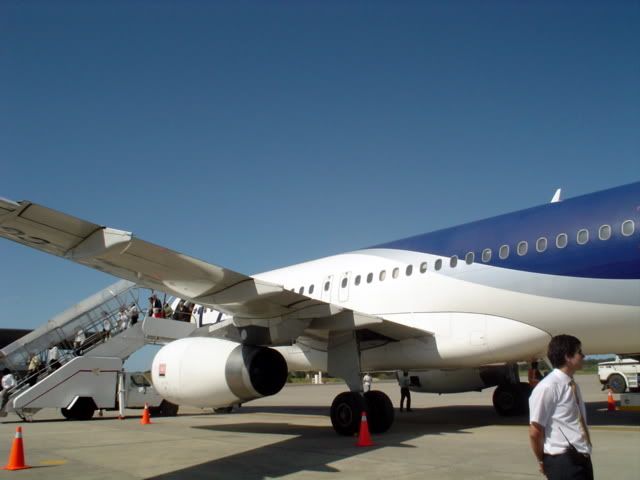 CONCLUSION
Nice trip. With TACA´s recent arrival into the Lima- Uruguay market, LAN has lowered its fares, making them a very competitive option. Both flights were good, although a certain inconsistency between LAN´s service onboard its widebody and narrowbody fleets (I also experienced that whilst on Economy on both sectors) exists.
LAN´s new Business Premium product is just amazing as well. They did a wonderful work with their 767 (and soon A340) fleet in that sense.
It is for sure going to be very difficult to me to adapt to travel back in Y after discovering Business Class style travel!