Special Thanks go out to Hans Resch, Horolsky Alexandr, Lee D. Holden, Olivier Lamoral, Teemu Tuuri – FAP, and Werner Horvath for granting permission to use their respective pictures in the video above.
Syrian Arab Airlines is an airline with a rich history; one which is favored by most aviators such as ourselves, primarily because of certain special aircraft that our age of aviation seems to no longer accommodate. Yes, Syrian Air is our playground!
As they say, time does fly, but perhaps the other way around on Syrian Air. For as we moved forward in-flight, I found myself going back to an era of 1970's aviation that I have totally missed out on. This I thought, is the true glamour of flight in its purest and most preserved form; forget Kingfisher or Virgin, what do they know?
You probably won't find any other airline that flies the 747-SP, the Tupolev 134 and the Yak40 altogether on this day and age, and that is precisely why this interesting airline receives frequent business from your ever so obsessed aero-freak.
I invite you to step back in time with me, as we enter this Syrian special performance of what turned out to be the adventure of a lifetime....
Welcome to my 7th Trip Report.
The intention of this TR, was to cover the following flights on Syrian Arab Airlines:


DXB – DAM, B747-SP, Economy

DAM – LTK – DAM, YAK-40, Economy

DAM-ALP-DAM, TU-134, Economy

DAM-DXB, B747-SP, Economy

My previous Trip Reports can be found here:
CX: JFK-HKG-DXB In Y A346/772 (Lots Of Pics/Vids)
(by
Ronerone
Aug 28 2006 in Trip Reports)
Etihad: Pearl 2 AMM, Coral Right Back Pt 1 PixVids
(by
Ronerone
Jul 4 2007 in Trip Reports)
Etihad: Pearl 2 AMM, Coral Right Back Pt 2 PixVidz
(by
Ronerone
Jul 5 2007 in Trip Reports)
Cathay Delight: A Trip To Asia's World City
(by
Ronerone
Oct 5 2007 in Trip Reports)
Suvarnabhumi, The Etihad Way!
(by
Ronerone
Jan 18 2008 in Trip Reports)
Ultra-Competitive, Ultra-Long Haul: EY Vs EK
(by
Ronerone
Mar 21 2008 in Trip Reports)
This Is Royal Jordanian!
(by
Ronerone
Apr 12 2008 in Trip Reports)
This is a joint-TR which includes a mixture between Sam Chui's and my pictures. All his photos have been included here with his permission, and are indicated by his name on the bottom-right corner of each picture.
This trip was in the plans for over six months when Sam Chui had invited me to join him. As the sole purpose of this trip was to specifically fly the 74L, TU-134, and YAK-40, there was no doubt that Syrian Air was the
the
optimal choice. Apart from that, the actual selection was left for the timing of the trip. I had never thought of making it a point to fly such aircraft before, so once the decision was made, I realized that I had entered into a new dimension of 'Aviator Obsessive Behavior,' if I may.
After we mapped out our travel plans, we made our bookings on
www.syriaair.com
to discover that you can only do so much as make a reservation on their website. It is when I went to the RB office in Abu Dhabi that I learned that passport and visa details must be verified by an RB agent prior to issuing any ticket. After all that was cleared, I issued all our tickets, domestic as well as international portions. The roundtrip cost for the DXB-DAM sector was approximately AED 800, while a roundtrip domestic sector cost approximately AED 110.
The next step, which initially proved to be a challenging one, was the hotel selection. There was an Arab Summit that was going on in Damascus during the time we were going to be there, so all hotels were sold out. Furthermore, from the way I understood it, most hotels in Syria are not available for booking outside of Syria and instead, one had to go through the country's national tourist authority through some means. In any case, the few hotels that were available for booking online were all showing as sold out. Furthermore, I also called a few hotels myself, and also arrived at a negative result. Since we had planned for an overnight stay in Aleppo, a hotel was easily found, however, we decided to take the risk of traveling without securing a room in Damascus, in hopes of finding one while we were there. Who cares? You only live once!
Thursday March 27th, 2008
I woke up around 8:30AM to shower, get dressed, and pack up my clothes, cameras, and other requisites. By 10:30AM I was all set to go, so I bid my goodbyes to my mother, who was so skeptical about my intention to fly with Syrian Air, and headed out to Dubai, where I was to meet Sam and a friend for a quick lunch before going to the airport.
On the way there I got lost for a good 15 minutes when I realized that I had taken the wrong exit. As stupid as I had felt at the time, this was due to the completion of certain construction works on a portion of the highway, that lead to the removal of a detour that I had gotten accustomed to. Nevertheless, I found my way back and by 12:30PM, I had arrived at the Lime Tree Café in Jumeirah, where we had lunch.
For anyone who is interested, the Lime Tree Café has some of the best sandwiches and desserts that I have
ever
had in my life.
At around 1PM, we had agreed to part ways in order to save time. I was to head straight to the airport to park my car, while Sam went to gather his belongings and catch up with me at DXB.
By 1:40PM, I had arrived at the DXB long-term parking. However, this proved to be one big hassle as it took me about 20 minutes till I actually found a parking spot. This of course, is in typical Dubai fashion!
I proceeded towards the departures entrance, which connects to the main terminal building through a tunnel of moving walkways.
DXB Long-Term Parking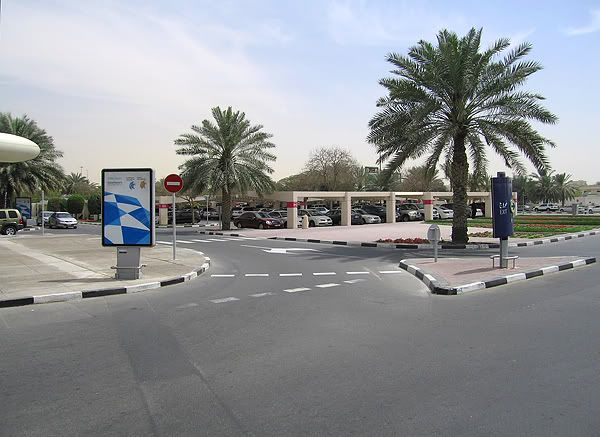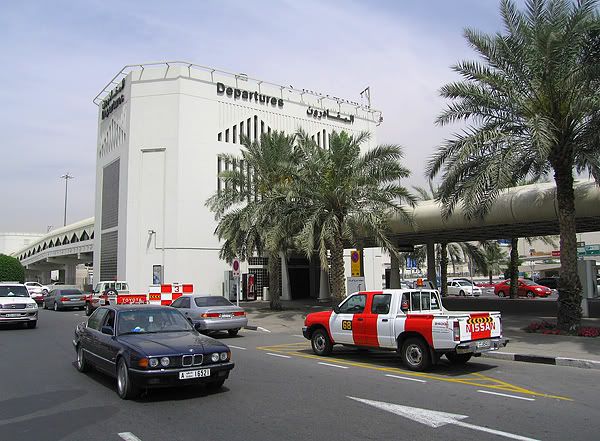 Tunnel Connecting the Parking Garage to the Terminal Building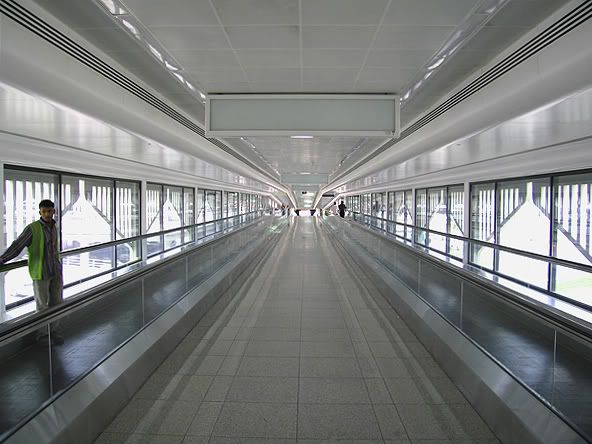 I arrived at Departure Entrance 3 to find a rather crowded terminal. Most of the passengers at the time happened to be traveling with me on Syrian Air to Damascus. As I had some time to kill, I thought I would wait by the departures area for a while and smoke a few cigarettes outside.
Check-In Area 3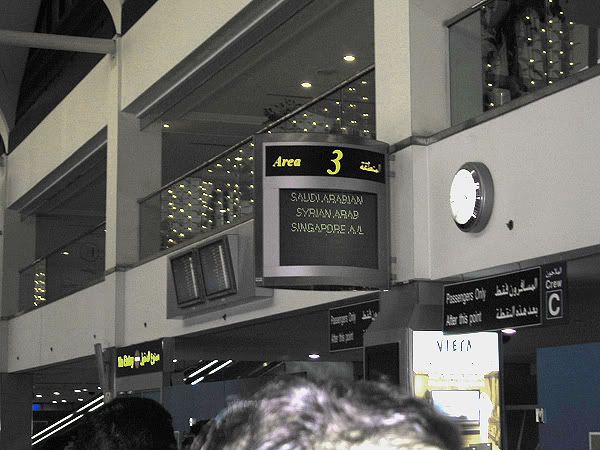 FIDS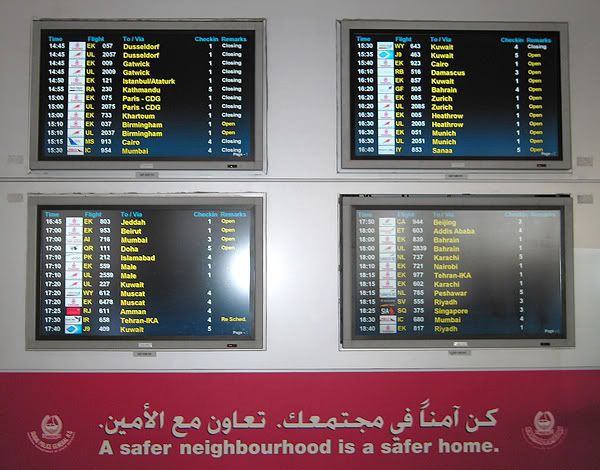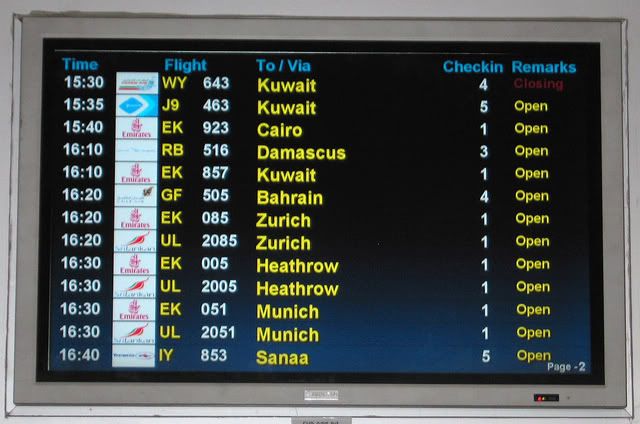 Departures Hall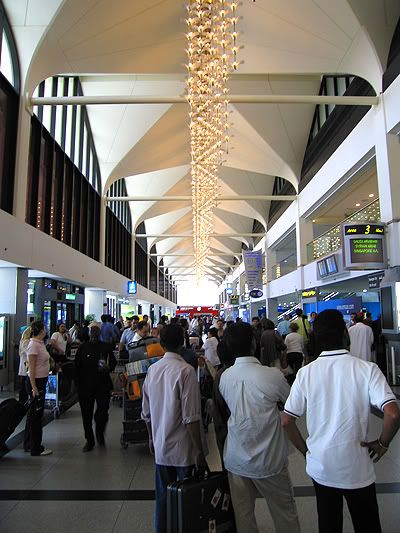 I was suddenly approached by a guy who asked me where he needed to go to check-in for Syrian Air. I told him I was also on the same flight as he, and directed him to proceed to Area 3 for check-in. As seems to be the norm on all flights to Syria, Lebanon, Jordan, and Egypt, the man asked me if I could carry some of his extra baggage as my own, in an attempt to forego the extra baggage charge. I 'regretfully' declined and when he tried to persuade me, I told him that I was airport staff myself, and that this is strictly against the rules. He seemed to have respected my wish, thanked me, and proceeded inside for check-in.
At around 2:15PM, Sam had arrived. We then proceeded through security and into the check-in hall to find a long queue by the Syrian Air counters.
Syrian Arab Airlines Check-In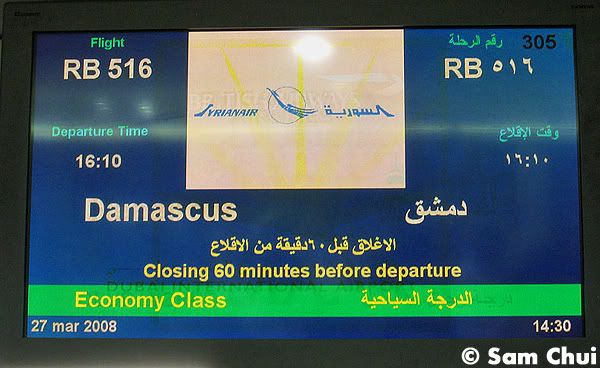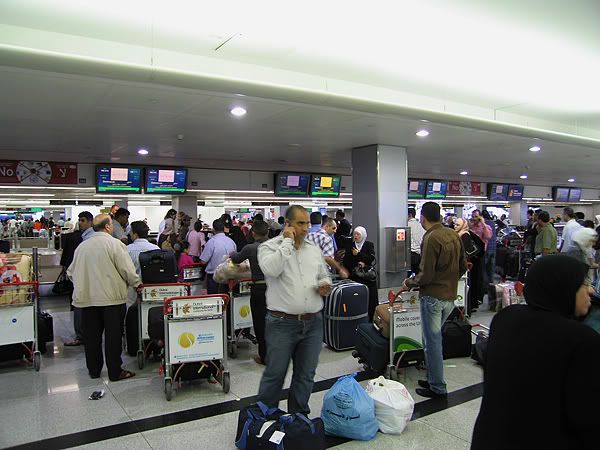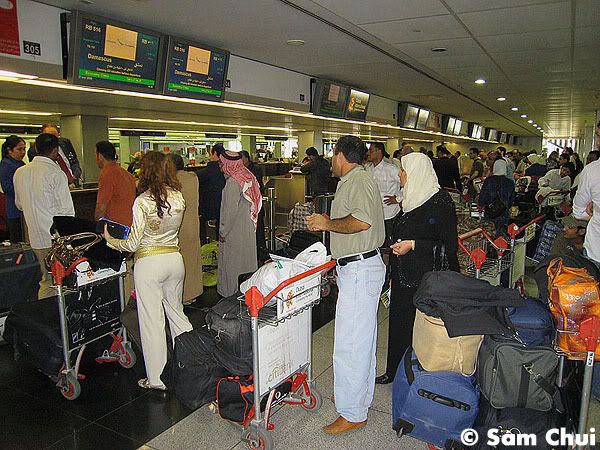 We stood in line and awaited our turn. As the passengers ahead of us finished checking-in, it was our turn. We handed our tickets and passports to your typical generic DNATA agent who showed little to no emotion as he took our tickets, checked our passports, and typed away at his computer.
The agent then informed us that Sam's reservation had been cancelled, although he held a booking that has been obsessively reconfirmed time and time again. The Station Manager was then called for help in this situation. After making several phone calls, the RB Station Manager told us that he had reinstated Sam's booking on this flight, however we would need to check with the local RB office in Damascus regarding the return booking, as that too was cancelled.
As that ordeal was taken care of, I asked the Station Manager if we could pay for an upgrade to Business Class. Unfortunately however he 'regretfully' informed me that Business Class on today's flight is full. On the other hand, the check-in agent told us that Business Class today is 'wide open' but in order to get an upgrade, we had to go back out to the departures hall past security, and to the Syrian Air Office.
Next on the agenda was the assignment of seats. We tried our attempts at securing seats in the front row of the 747-SP (i.e. at the nose), but were unsuccessful as the seats were occupied. Our second attempts were at securing seats in the last row of the aircraft, but those too, were occupied. We thought we would then settle for two window seats, only to discover that all window seats have also been occupied. Confused to say the least, as all our backup seating plans have been unsuccessfully exercised, Sam poked his head around the counter next to the agent, to get a view of the seating plan on the monitor.
The flight today had a 100% load factor, so we had to settle for whatever was available. As such, a middle and an aisle seat have been assigned to us. As we had no luggage to check-in, the agent only printed our boarding passes and handed back our passports, and tickets.
My Boarding Pass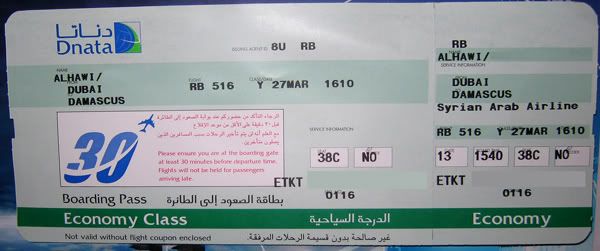 Before proceeding through immigration, we decided to go back out to the Syrian Air Office. The Airline offices at DXB are located one level below the main departures hall. We took the elevator to the lower level and began our search for the Syrian Air Office. There were many signs indicating the direction and room number of the RB office, in which we strictly followed. However, when it seemed like were just going around in circles, we realized that this office did not exist, and in fact, it was actually occupied by China Southern.
Giving up, we then headed back upstairs through security and straight to immigration and security again. After a long trek to the main terminal building, we arrived at the gate by 3:45PM. As we had little time till boarding, we decided to go inside the holding area. We handed our boarding passes to another DNATA lady who tore off the large portions of our boarding passes and handed back our stubs. Finally, the SP was in sight!
Syrian Arab Airlines B747-SP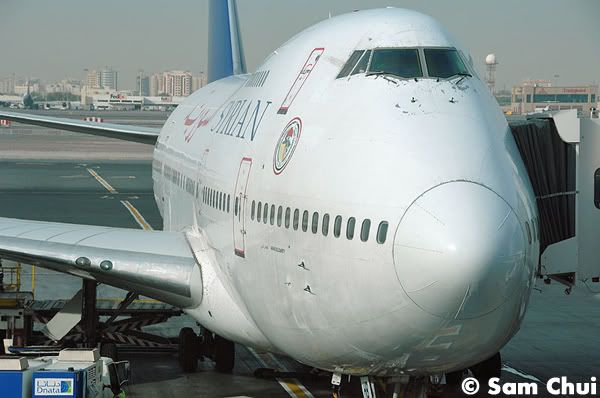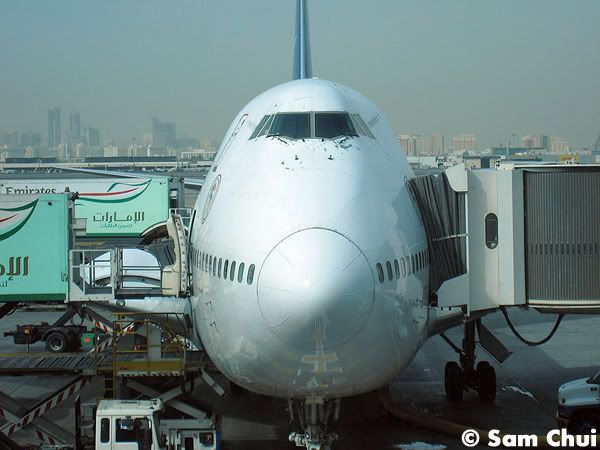 Holding Area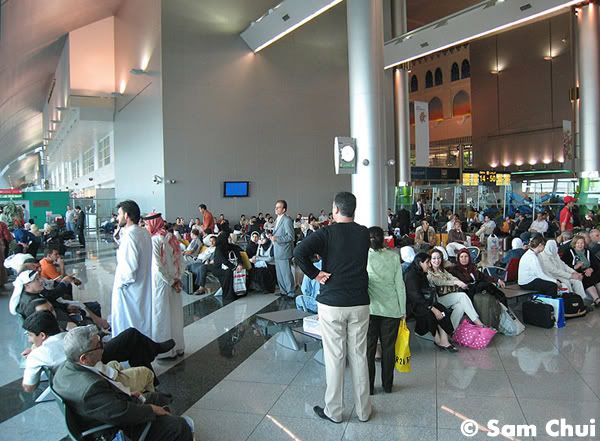 While we waited in the holding area, we spotted a group of three guys taking pictures of the SP, and after taking one look at Sam, they instantly recognized him. Two of which are definite a.net members, Airsicknessbag and Johannes, and the third, I am unsure, but should not disclose any real names.
From Another Angle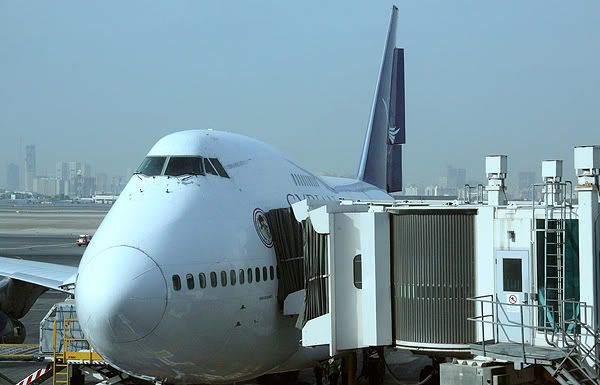 By 4:15PM, five minutes after our scheduled departure time, we had not boarded the plane yet, let alone departed. As we waited for boarding, I watched out the window for any celebrity sightings.
China Airlines B762ER (B-2556) Arriving from Athens (I think)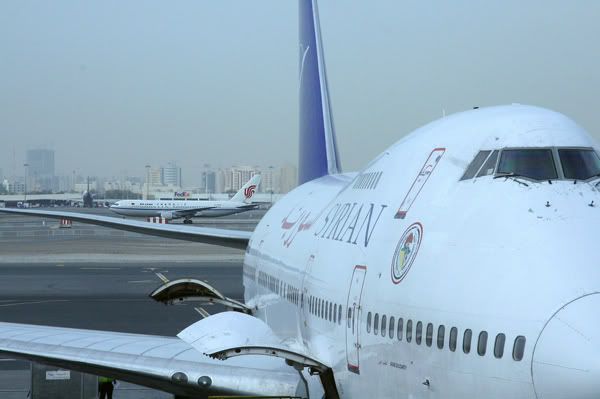 Emirates B77W (A6-EBP)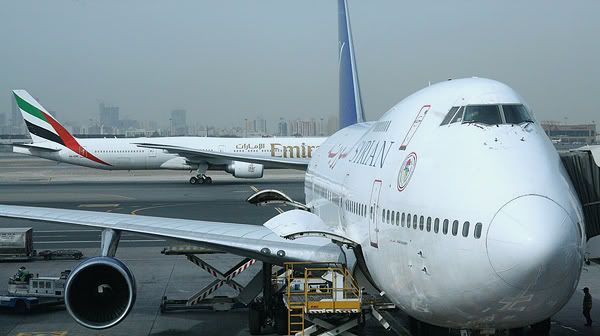 At 4:40PM an announcement was made that our flight was delayed, and that the new departure time was 4:50PM. I'm not sure who would be daft enough to believe that they have yet to call for a full load of passengers to board a 747-SP through one aerobridge, have everyone seated and ready, close the door, get clearance to depart, pushback, taxi, and takeoff in only ten minutes. So, we decided to just watch out for more celebrity sightings.
Royal Jordanian Cargo A310-F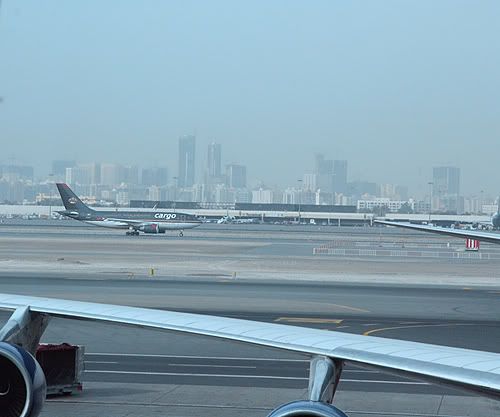 EK A345 & SV 772, Alongside the 74L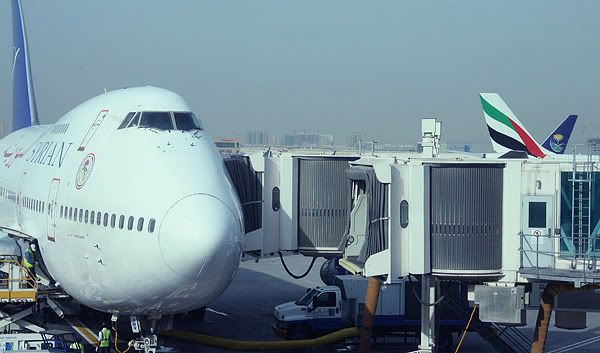 By 5:15PM, another announcement was made that there was to be a further delay. While no reason was specified, nor was a rescheduled departure time, we were invited to proceed to the food court for a free meal which consisted of juice and a sandwich. As such, passengers were allowed to leave the holding area but had to leave their boarding pass stubs with the DNATA staff.
Passengers Leaving the Holding Area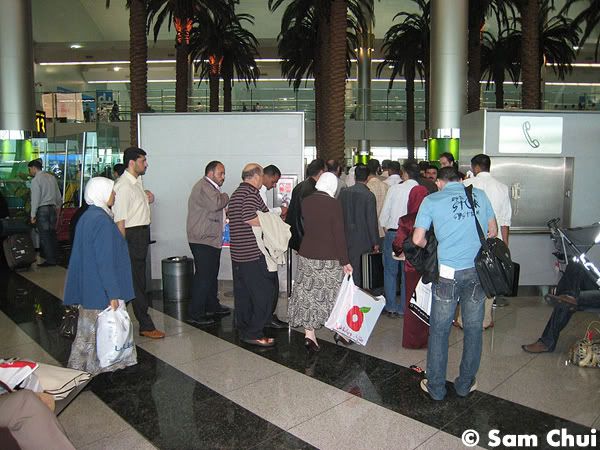 Shortly afterwards, I decided to go outside the holding area to smoke a cigarette. I arrived at the podium to find the DNATA agents extremely frustrated with the passengers who honestly were calmly requesting for more information on the status of the flight. I was actually surprised with this because if this was a flight to Amman for example, hell would have broken loose as passengers will not tolerate a situation like this. I left my boarding pass stub with the agent and was free to go.
Internet Kiosk at DXB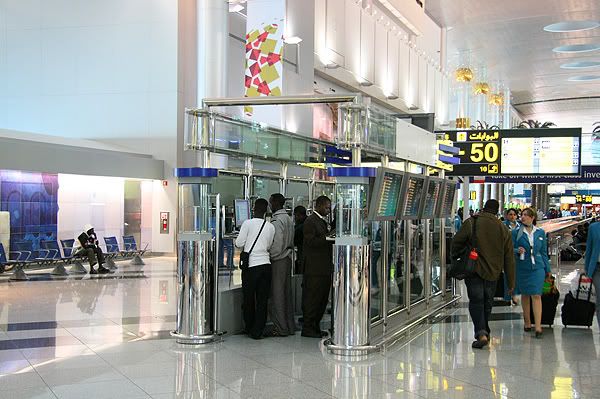 Moving Walkway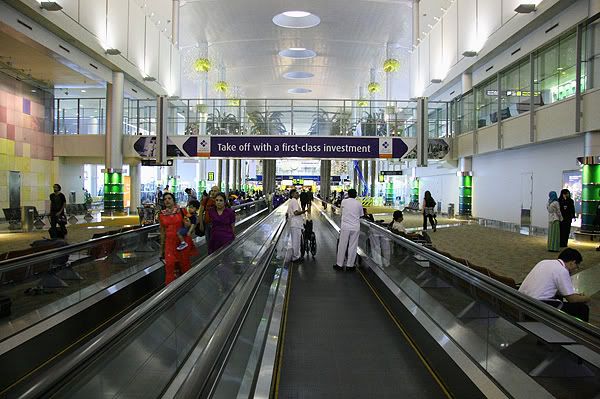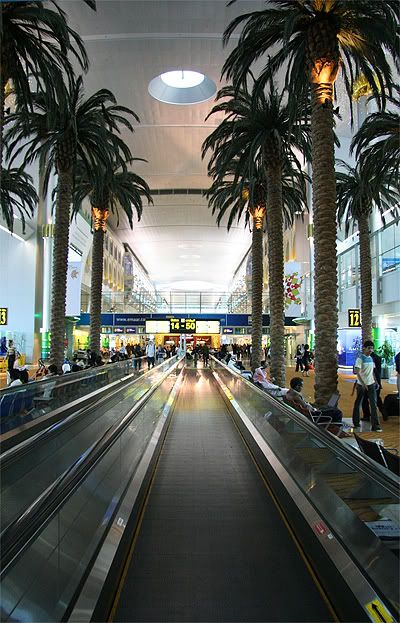 What A Lovely Surprise, The SQ Girls!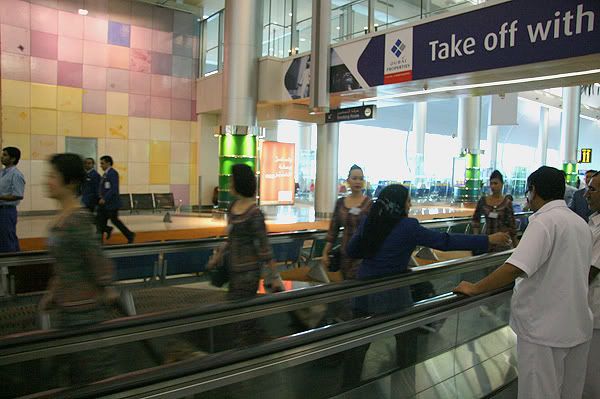 I returned back to the gate and tried to get my boarding pass stub back, however the rude DNATA staff were unwilling to give it to me because they were 'busy' sorting out the passengers who wanted to go out. I managed to squeeze my way through the crowd and pushed my way inside the holding area.
Drama At The Podium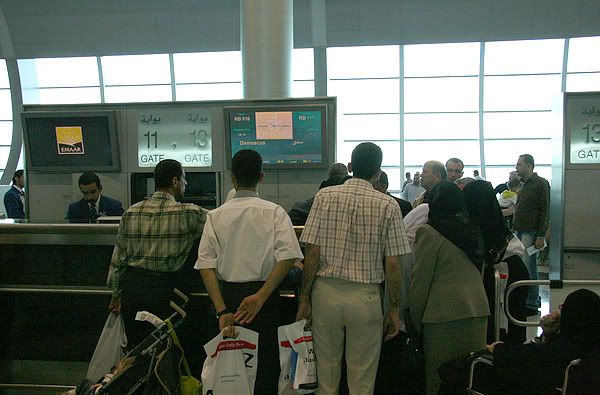 What's wrong with this picture?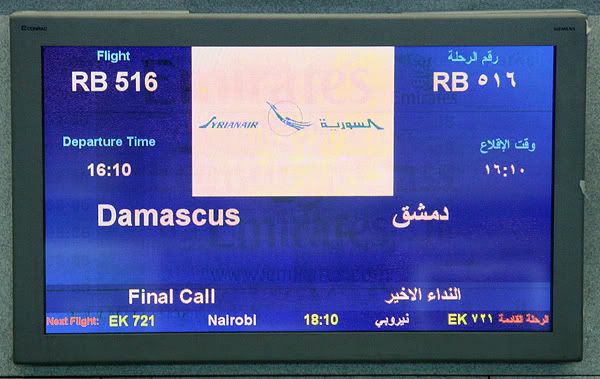 That Same CA Aircraft, Turned Around & On Its Way To PEK
Sam and I then decided to go to the food court for a bite to eat. It was then when I overheard the Station Manager inform a group of passengers that there was a technical problem with the aircraft and that a part has been ordered from Emirates Engineering. I was surprised to know that EK Engineering had parts for the 74L.
Some more celebrity sightings from the food court:
Our Aircraft Again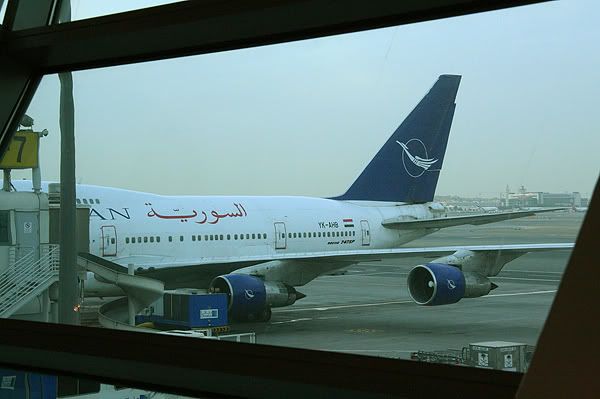 One Of My Favorite Liveries: SV 772ER (HZ-AKE)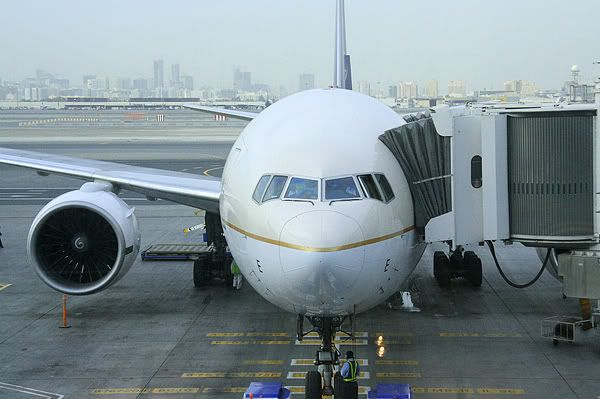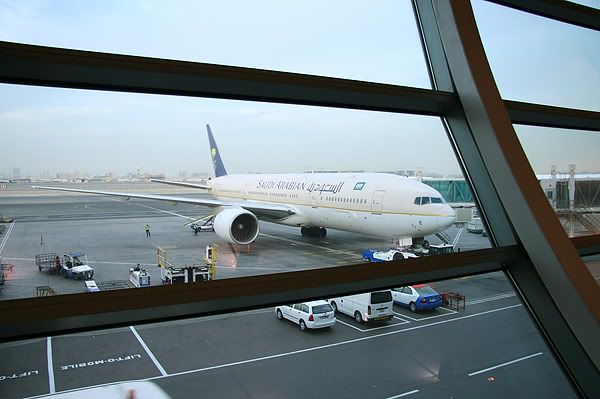 TNT B747-4HAF/ER/SCD (OO-THB)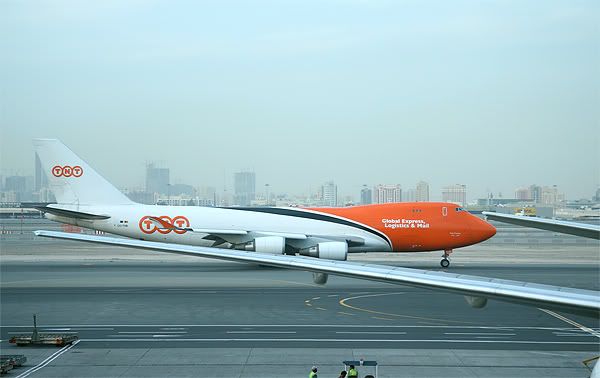 When we finished eating, we thought we would go back to the gate to see if there was any update on our flight. When we reached the podium we found that the DNATA agents had given up altogether and left the gate with our boarding passes with them. There was absolutely no staff on site, with no information on our flight available anywhere.
With the entrance to the holding area no longer manned nor restricted for entry, we walked inside and sat inside for an hour or so. At around 8PM, the aircraft was pushed back, and towed somewhere, presumably at the time, to a remote stand. As this was happening, all the passengers gathered by the window and calmly watched as their plane left them stranded. By that time, rumor had it that the needed spare part for the aircraft, along with two Syrian Arab Airlines Engineers were due to arrive from Damascus in three hours.
Shortly after, a Saudi Arabian Airlines 777 docked at our aerobridge. This was followed by an announcement requesting all passengers to exit the holding area in order to make way for the departing passengers on SV. Again, no other information was given. So we left the gate, and Sam wanted to check out the Airport Hotel's spa facilities for a possible shower/massage etc.
DXB Duty Free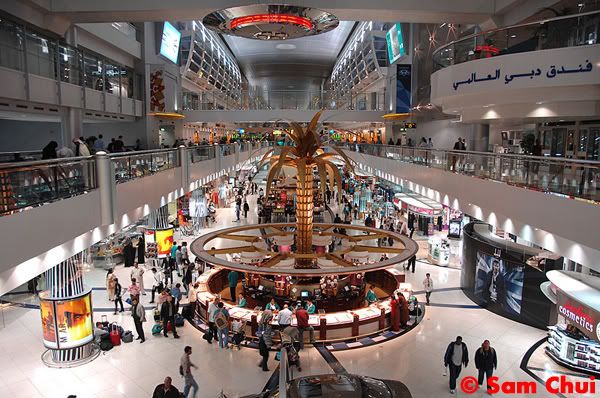 Airport Hotel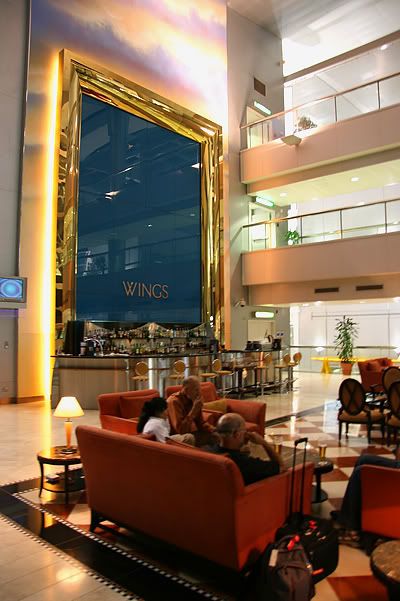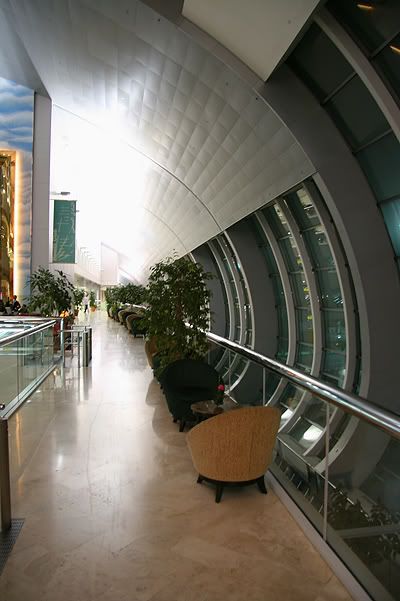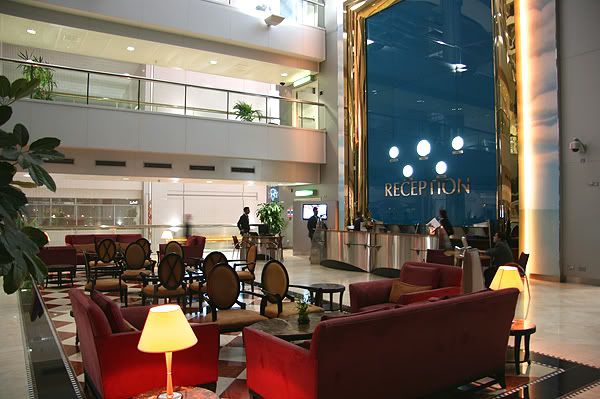 Apart from showers, all spa facilities at the hotel were fully booked for the evening, so Sam and I decided to go to the Marhaba Lounge to relax until whenever! On our way we stopped by the Information Desk to check on our flight, however they had no information or any update.
Marhaba Lounge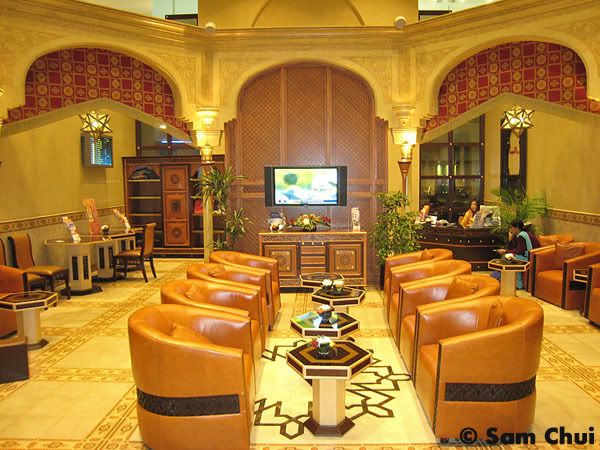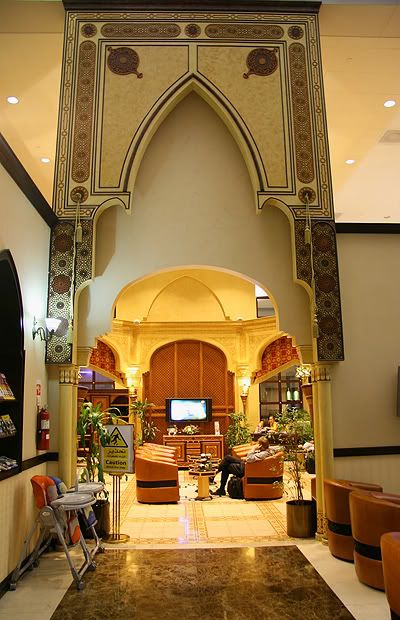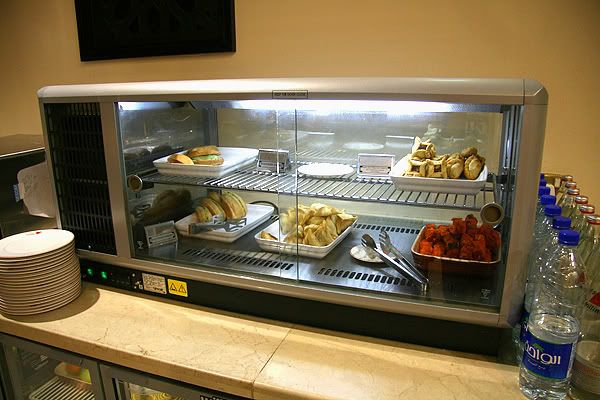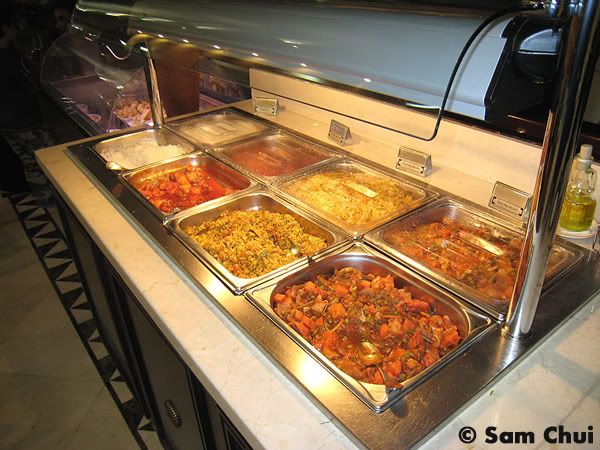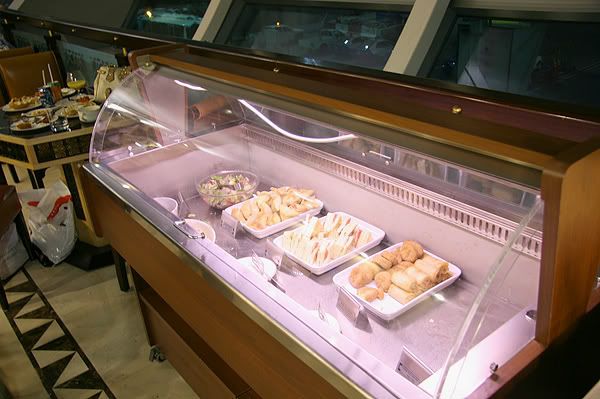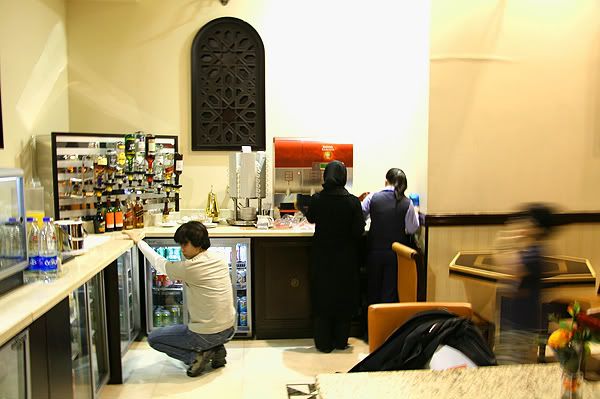 Royal Brunei B767, from LHR With Continued Service to Bandar Seri Begawan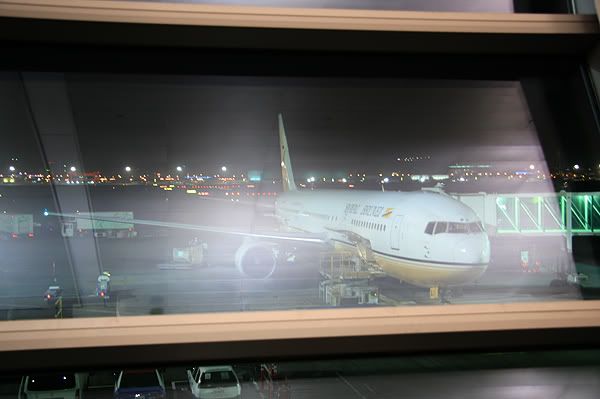 We were completely famished, so we helped ourselves at the buffet, which had a decent selection of hot and cold items. I especially liked the Sweet & Sour Chicken.
Food Offerings in The Lounge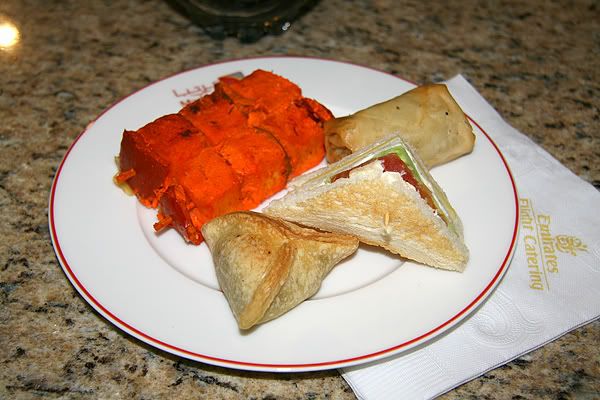 CONTINUED BELOW