Good day A.netters!
Fortunately the time for another trip report has arrived. If you've read some of my past trip reports you would know I'm into irish dancing. This trip report is no exception. The last time I was in Miami/Fort Lauderdale area was about 9 years ago, so imagine how excited I was for going back to MIA after all this years.
This time AA was the airline of choice as they hay this 282 USD fare on the MEX-MIA-MEX leg compared to the 400 USD fare with Mexicana or Aeromexico. I've heard and read lots about AA "finest" service so I was really looking forward to flying on them.
The reason for this trip was because our Irish school in the US hosted a competition at Fort Lauderdale. The plan for the trip was to do the Fort Lauderdale feis ( competition) and then go to Atlanta for workshop and then to the Nationals at Nashville. Unfortunately this was a VERY VERY expensive trip and was only reduced to FLL. So I decided then to spend a couple of more days at FLL as a vacation.
The day arrived on Wed. June 18th at 4 a.m. Well I actually had no sleep as the day before I went to TLC and came back to Mexico City at 12 midnight. I barely had chance to pack my stuff so I decided not to sleep and pack rather than sleeping for an hour and then dying at the airport. At 4 my mom and dad took me to the airport to which I got around 4:30. Traffic was non-existent so it was a fast ride. I was dropped at F3 hall which is where most One World airlines are.
The AA counters were already busy with flights departing very early in the morning. The F3 hall was VERY dark compared to the rest of the airport. I guess they wanted to save power as AA was the only counter operating. Although I think they could have turned a couple of lamps.
Busy AA counters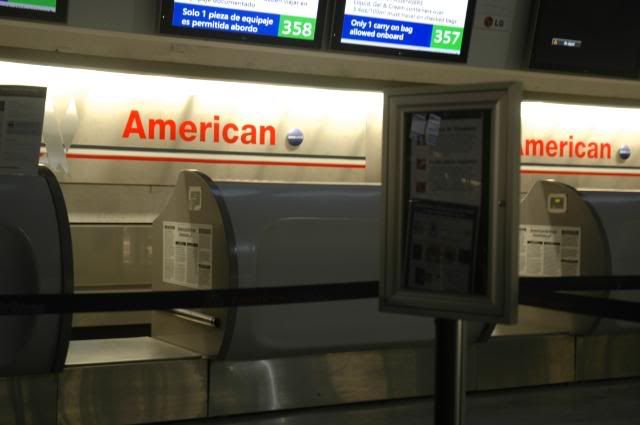 No lights at F3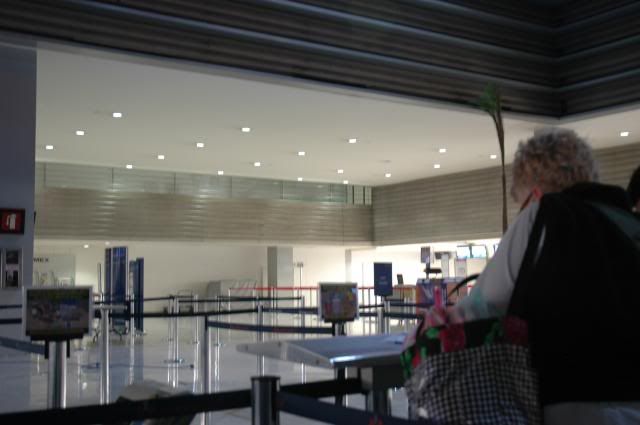 Only being illuminated by the other counters light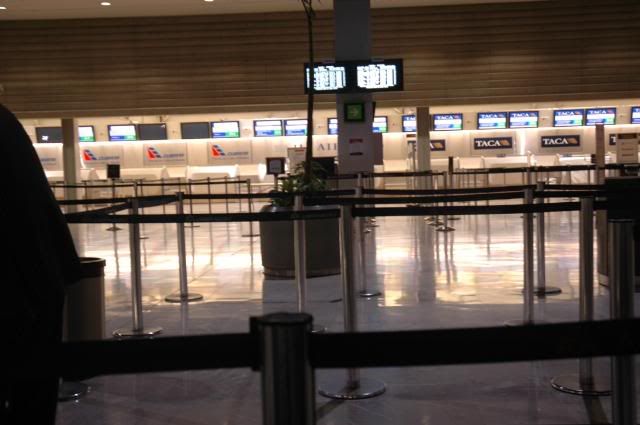 After ten minutes of being in line it was my turn to check in. The check in agent was a very kind young women who asked lots of questions of where i was staying, purpose of trip, etc...Normal procedure I guess. What basically called my attention was the very informal language she used. I had no problem with that as I know I look young and cool ( self-gloss lol) but I can't imagine her talking like that to some premium pax.
Phrases like:
" Alonso, te esperamos en la puerta 35 a las 7"
"Alonso, cuántas maletas documentas?", etc...
It was kind of weird to being addressed THAT personally. But it was ok. After realizing I could just take 23kg per bag I was more focused on the weight I was going to have in my bag in order to avoid paying the ridiculous amount of 50 or more USD.
After checking in, I went to meet the rest of my friends to breakfast ( or whatever eating at 4 in the morning can be called).
McDonald's Molletes or something similar ( the guy in the kitchen was sleeping while cooking)
At sometime around 530 we went past security ( where a lady was detained cuz of having a whole ziploc bag full of pennies...which then stopped all the line) and wondered around the duty free which had nothing I could be interested in at 5am. So we walked immediately towards gate 35
The long way to gate 35...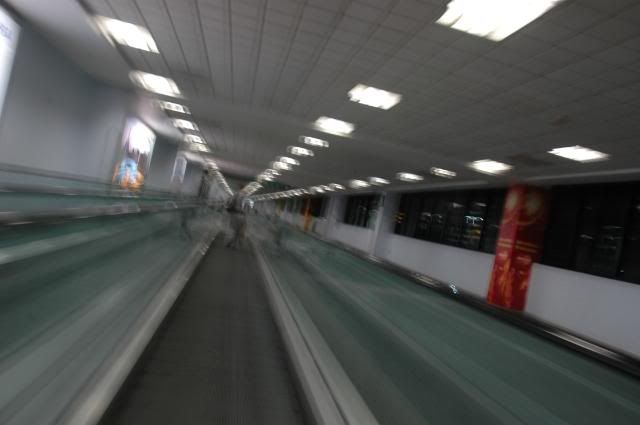 MEX-MIA
American Airlines
Flight: AA2214
Depart: 6:50 /7:28 (Scheduled/Actual)
Arrive: 11:15 / 11:00 (Scheduled/Actual)
Duration: 2h 32min
Equipment: Boeing 737-800
Reg: ----
Cabin: Economy/Turista
Seats: 19A
Seat pitch: Tight
Load: 90%
Gate: 35
Departure Runway: 5L
Arrival Runway: 26R
Boarding pass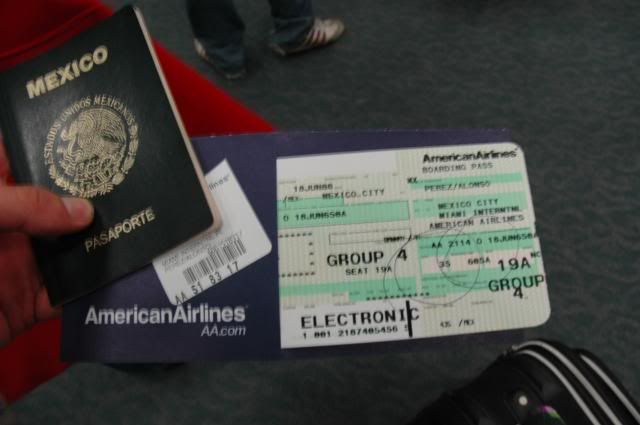 The 30's Gates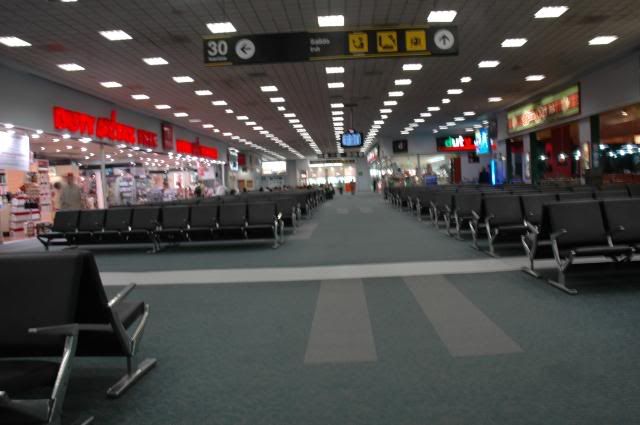 Boarding just started when we arrived to the gate and we quickly went through the gate agent but people weren't walking THAT fast to get into the plane.
Slow line for getting into the plane
My first time walking into an AA plane!
And first time in a One World airline
The plane looked good. I found my seat quickly and settled immediately. My body was desperate to start sleeping so seating was more than welcomed. Fortunately for me the middle seat was not occupied and I used the middle seat to put my camera which I HAVE TO keep always by my side in case anything interesting ( or not) might go on. Boarding took long so we started pushback some 10 minutes after schedule.
AA 737-800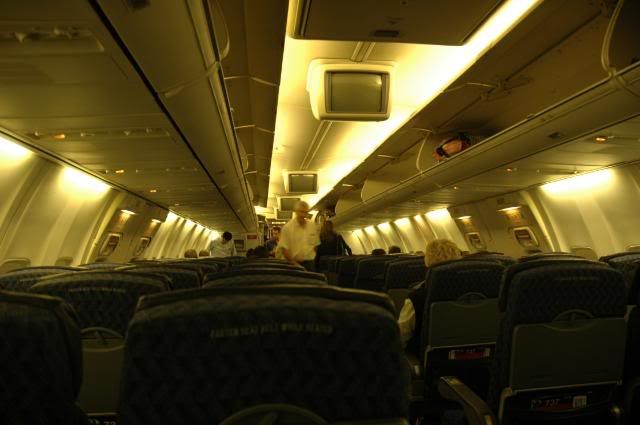 Row 19
The sun just started rising
Pitch...thanks AA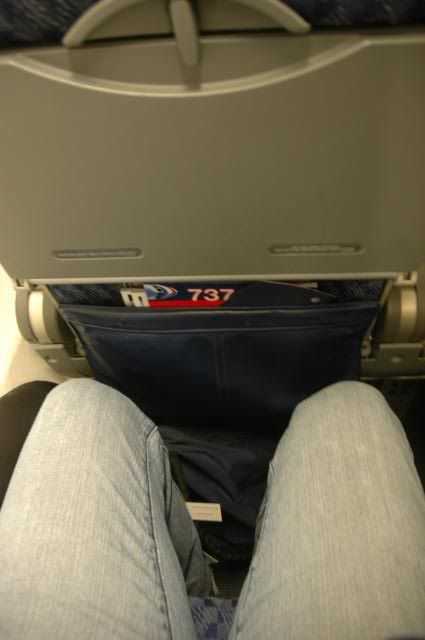 Before departing I gave a quick look to AA's inflight magazine. Do you think this is true??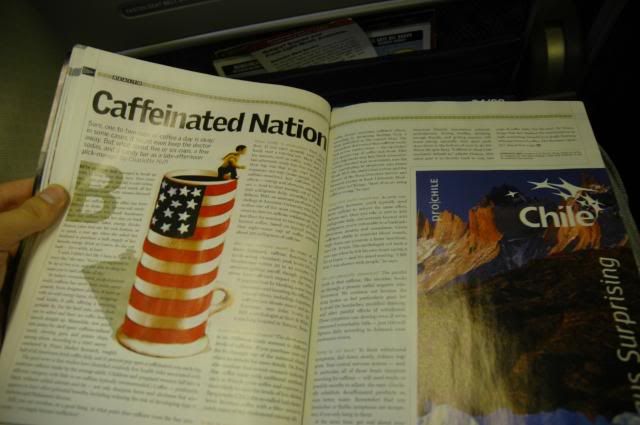 Notice the low visibility going around...Do you see where T2 is?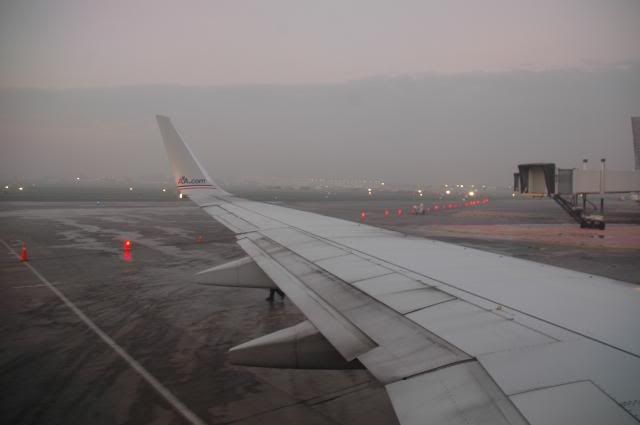 Safety video being shown...in french...
I wondered how the crew was OK with showing the safety video in French given the fact people in this flight rather prefer English or Spanish. Then it was shown in english and spanish.
T2 and a almost ghostly plane taking off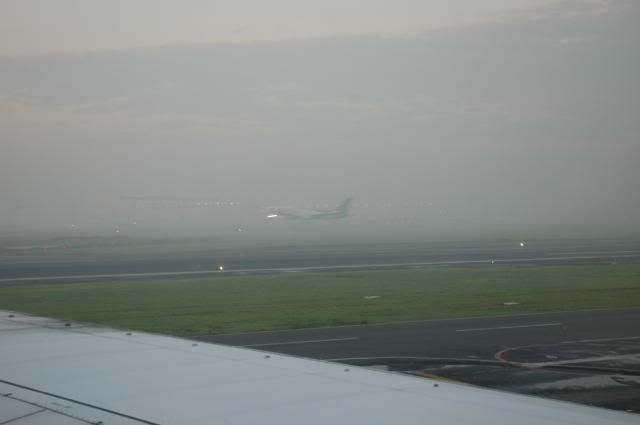 We arrived fast enough to runway's 05L holding point. For reasons I'll explain to you later, I'm not able to show you the take off video.
Great scene before takeoff
Taking off from Mexico City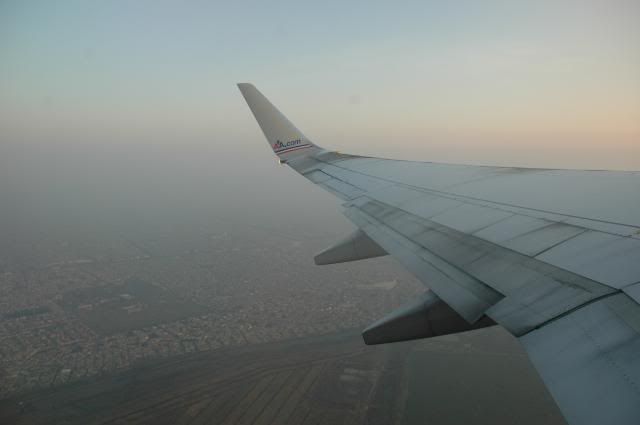 So after take off it was my time to sleep for the first time in 24 hours. I was so asleep I couldn't wake up when I wanted to see something regarding the drink and food service. Every time I tried to open my eyes I went back to sleep really fast. This was a really good thing as I always had trouble sleeping during flights. Don't know if it's because i'm excited like a 5 yr old kid who loves airplanes or just because i need my bed to do so.
So after finally waking up with some pain around my body due to the shape I took in the two seats while sleeping, I found myself flying over the Gulf of Mexico not too far from Florida.
Gulf of Mexico
Some 20ish minutes before arriving we started our entrance and descent over the Florida Peninsula.
Correct me if I'm wrong but this is Naples Airport in sight?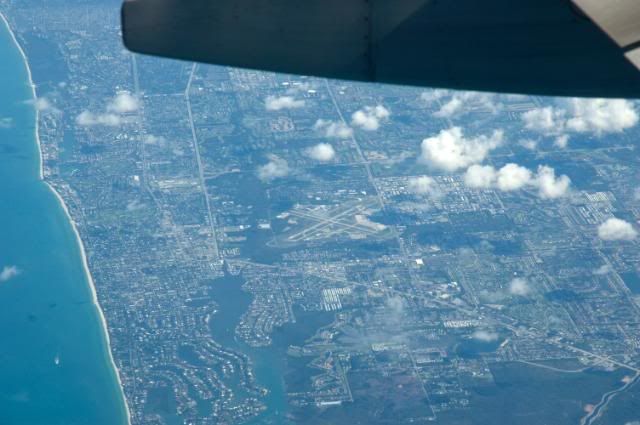 Some interesting turns before landing in MIA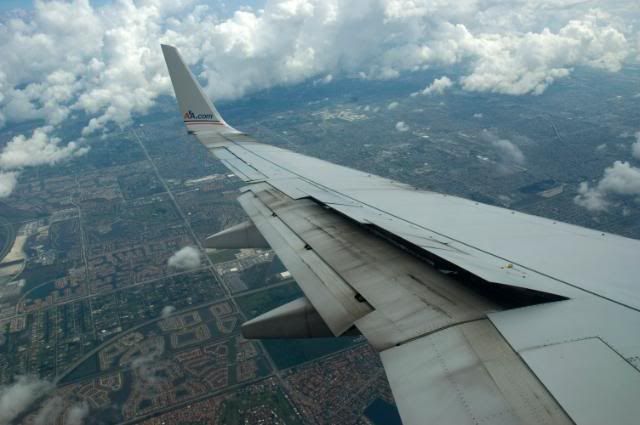 Leaving Florida before making a right U-turn to MIA 8R rwy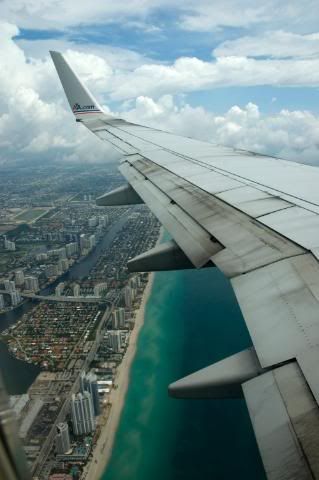 Miami Beach and Key Bizcayne at the back!!
( No landing pics or video...)
Taxiing through MIA
Reaching our gate
A nice AA 757 w/winglets!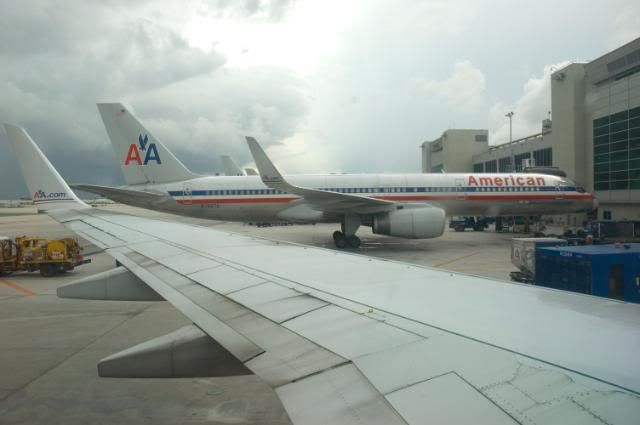 So we finally got off the plane and walked for 10 minutes in the middle of construction ( or war site) until reaching the chaotic custom line where I spent the next 40 minutes as all of Latin America and the Caribbean was arriving. When I was next in line the customs officers decided it was time for lunch break. So they closed messenger, turned off the computer, put everything away, said good bye to everyone and leave... 10 minutes passed until the next custom officer arrived. I'd rather stay where i was as moving from lines would take me another 40 minutes which I wanted to spend. As the next custom's officer arrived it was the same procedure but the other way around: said hi to everyone, turn the computer on again, open messenger, say hi to everyone on messenger, go to the bathroom and then it was my turn... Splendid. My anger about being in line went away by watching the custom's rituals.
Fortunately, I went by quickly enough to go reach my bags and then leave MIA por my mental peace. To my surprise I found that all Latin America and the Caribbean was waiting for bags at baggage reclaim zone. The reason was because there was a thunderstorm and the ramp was closed...fair enough. After sitting for an hour in baggage claim the bags finally started to go out and Latin America and the Caribbean was happy to finally leave MIA.
Lots of bags about to go out
bored?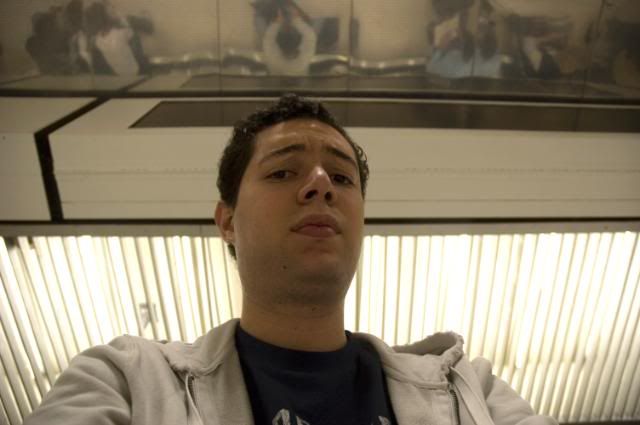 Two of my friends were staying at MIA, but another one was going to FLL with me. For our excitement we had someone waiting to take us to Fort Lauderdale to our hotel.
Sunny Fort Lauderdale! I must admit the temperature was great!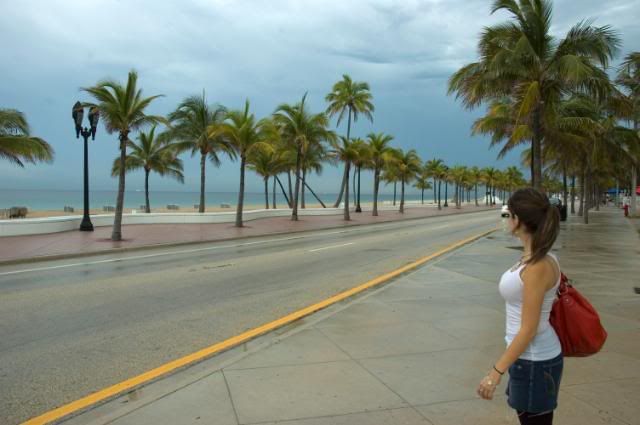 Our hotel was great. It is run by this great Irish women called Marie. The rooms are big, the fare is really cheap and it's close to the beach, bars, restaurants...you name it!
Blarney Castle Motel ( I highly recommend it for people in a budget)
At the beach
Baywatch...or not really
A quick view of FLL
After spending two great beach and alcohol days, it was time to meet with our other friends at the Sheraton Airport in FLL as the preparations for the feis began. We moved all our stuff from the charming motel to the big hotel. When we arrived at the hotel it was time to make an excursion to one of North America's biggest malls: Sawgrass Mills. I'm not a fan of buying but I must admit I was impressed with everything that Sawgrass Mills has to offer! It's an attraction by itself. Hopefully that's not the best of what Fort Lauderdale has to offer people.
Our new room at the Sheraton!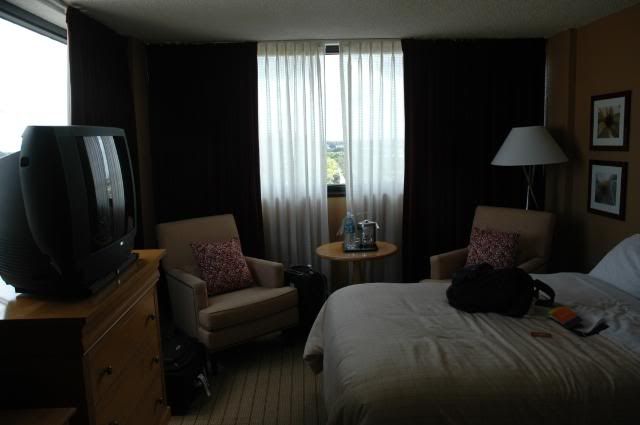 My EXCELLENT view from the room
Runway 90 at Sawgrass Mills! or 09 maybe?
Spirit airplane at Wanadoo City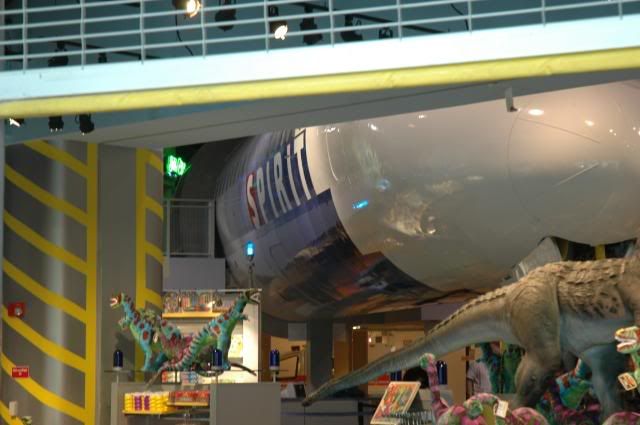 The Oasis at Sawgrass Mills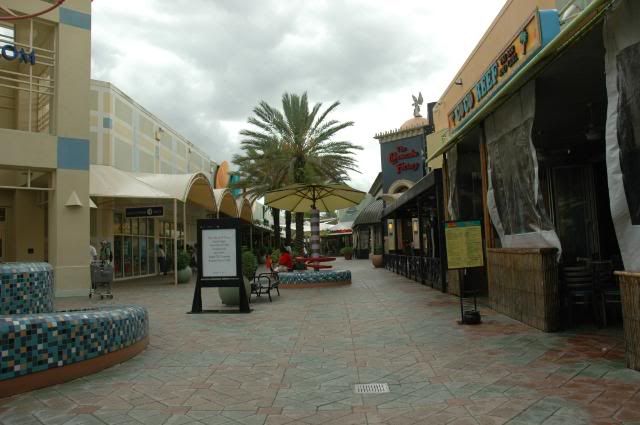 We then had to go back to our hotel to prepare ourselves for a party we had that night. And on the way I found this great surprise:
More about Fort Lauderdale:
The Oasis Cafe ( with swinging tables)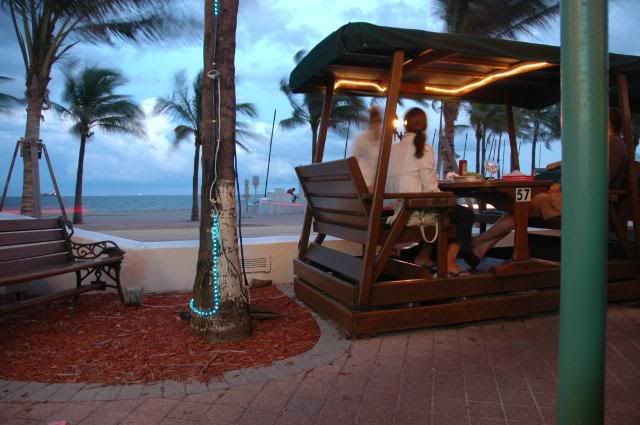 The Bahia Cabana, a cute little restaurant besides the canals with live music and great atmosphere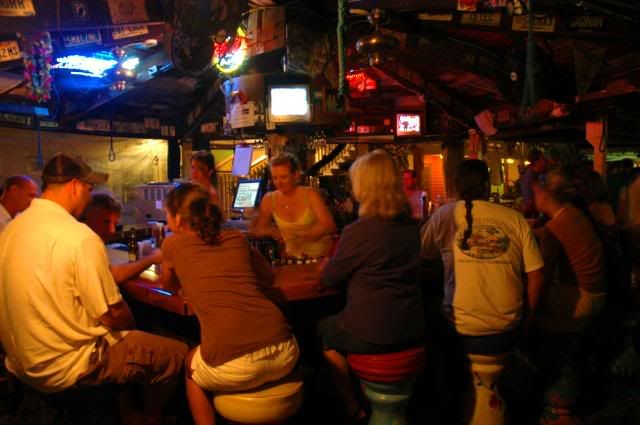 Me discussing something very important with the Blue's brothers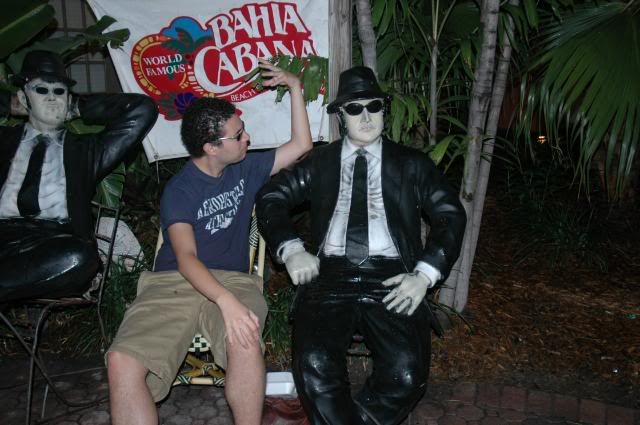 Dying to know where pizza and beer is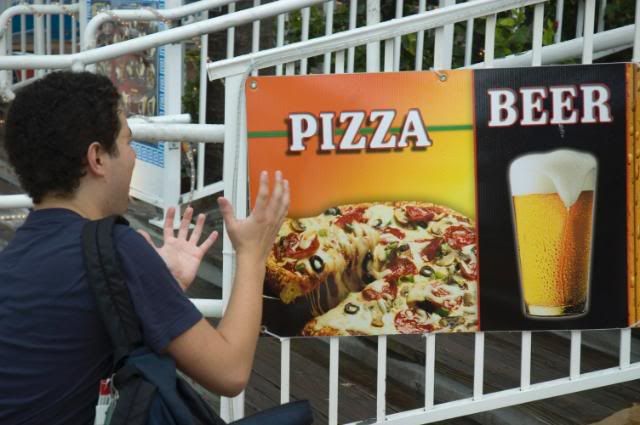 The day for the feis arrived and it was all about nerves, judges, musicians and doing a great job. I did great in my level and age group and was thrilled about getting my first trophy.
Random competition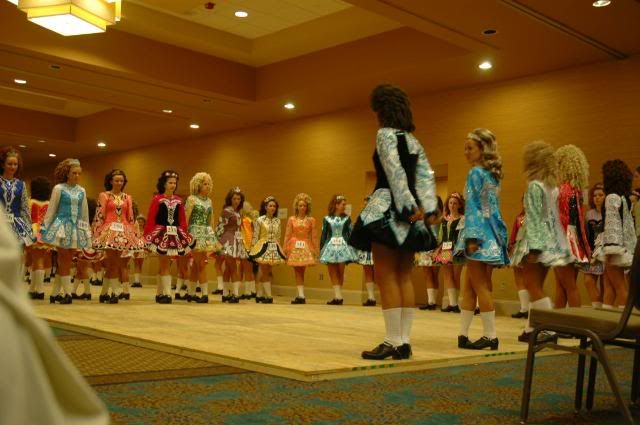 Random Stage
The feis ended very late that night so after we took a quick shower and went all to dinner. The next day most of my friends left on the morning but some of us were leaving at 8 so we had all morning to do whatever. What I like about the late flights is that you can get to do loads of things in the morning. From experience I don't think there's a point leaving at 3 pm when you're paying another night in the hotel and the only time you've got is to finish packing and running to the airport...
So the thing with the camera that took the takeoff and landing video of the beginning was that the day of the party I told my friend to keep it in her purse as I had no way of carrying it all night. We were seating on the bench outside the Sheraton and when the cab arrived she left it in the bench ( me trusting she had it in her purse). The thing is she told me it was all my fault loosing my camera, it's not her responsability, etc... Without knowing she left it in the bench, I called the cab to ask if he had it with him. He then told me that he found one in the bench and took it to the front desk. When I got to the front desk they said they didn't have it with them... PERFECT. I was thrilled by then, so my only option was to leave my adress and phone number just in case it appeared. Fortunately it did appear and Sheraton sent it to me by DHL cost free ( except for the 50 usd i had to pay for taxes which got me furios a whole day). Kudos to Sheraton staff for doing a great job looking for my camera, I was really happy to have it. The bad thing was that when the camera got to my hands it had it's memory erased as I suppose Sheraton staff didn't want everyone to see my pictures.
After all the camera fuzz going on it was time to go home.
The same person that took us from MIA to Fort Lauderdale was now taking us back to the airport at around 4pm. Traffic was ok and the weather was great...too bad we were leaving.
Arriving MIA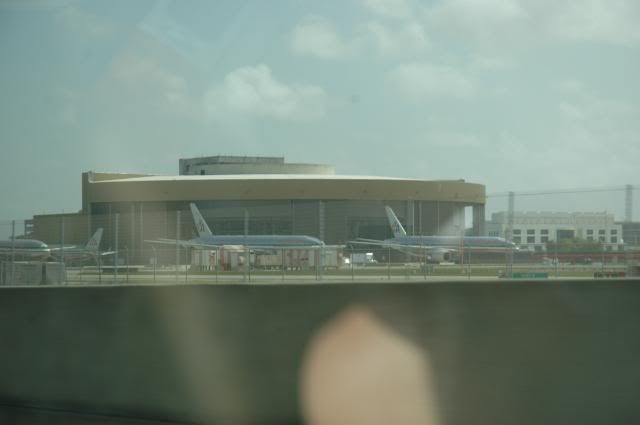 Planes!
Welcome to Old Miami International Airport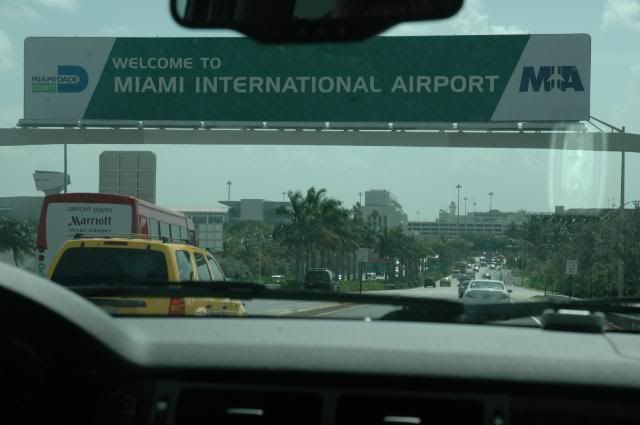 We arrived 430 as our friends were leaving half and hour before us. We headed towards the AA counters and they walked over to MX's ones.
The only option to checking in was via this machines:
Getting my boarding pass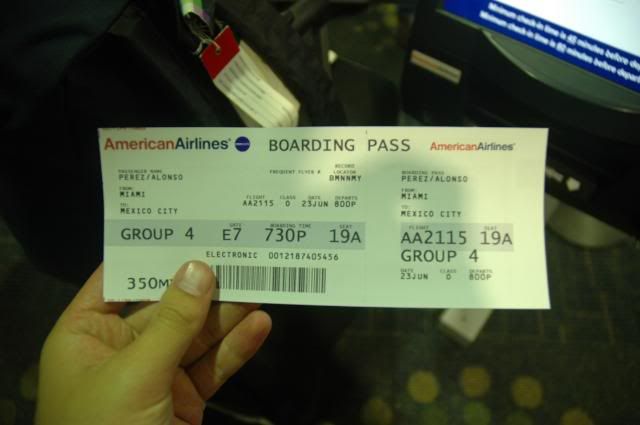 Those machines are useless as you make the same time you would by manually checking in, just look at the lines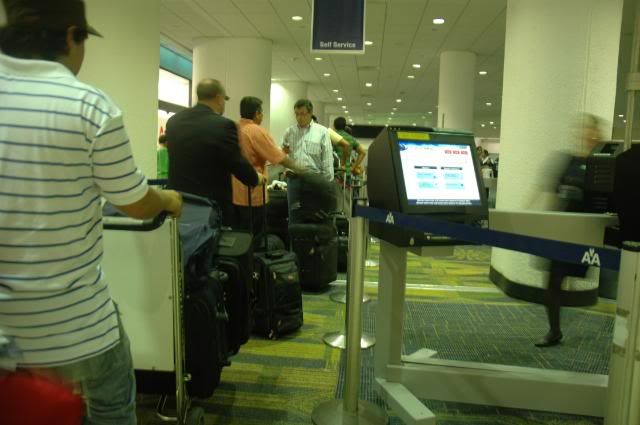 In my very honest and personal opinion I think MIA is a trash compared to other great American airports like DFW terminal D ( I know it's newer but still). It's starting to get this very old feeling, plus is getting dirty and cramped with people. For the amount of people it handles I think it need an urgent extreme makeover. So my friends and I had the brilliant idea of going past security to eat something.
After 20 minutes of happy TSAs I went inside only to find out that E and F were not connected. So after finding out how idiot I was to agree with the idea of meeting inside without proper knowledge of MIA's facilities I waited until my other friend came in so we could eat and walk around beautiful E terminal.
When I went inside I found myself in something similar to Times Square in a New Year's Eve. Then I found out all of Latin America and the Caribbean ( plus some US destinations such as ORD,SJU among others) were having a rendezvous at E terminal which made it very pleasant to walk through. At some point ( after one hour really) I got to the conclusion that my friend was lost. She kept sending me sms to my phone asking where I was...even though she knew I had no way to reply to her as I had no more sms available...brilliant. So I decided to make the one hour line to Pizza hut and then buy a beer and chill or something. After some spotting I decided to go look for her to the E satellite gates which are train distance from where we were.
Beautiful
AA
Train terminal at the satellite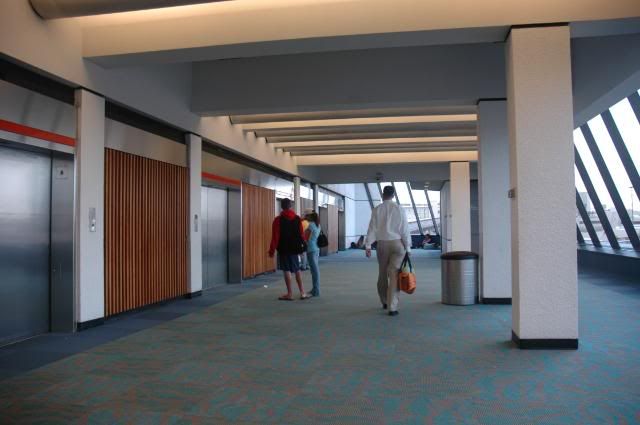 Inside the train
Train view
Train view 2
Train view 3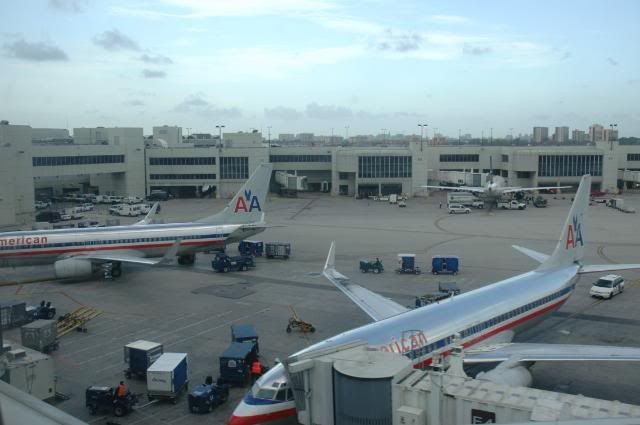 MIA-MEX
American Airlines
Flight: AA2215
Depart: 8:00 /8:54 (Scheduled/Actual)
Arrive: 10:19 / 10:15 (Scheduled/Actual)
Duration: 3h 00min ish
Equipment: Boeing 737-800
Reg: ----
Cabin: Economy/Turista
Seats: 19A
Seat pitch: Tight
Load: 100%
Gate: 22
Departure Runway: 9
Arrival Runway: 05R
Route: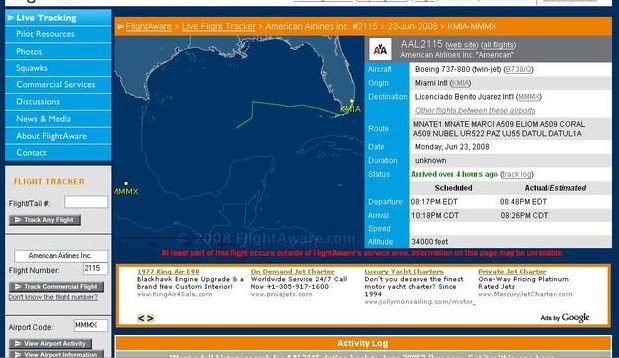 So our assigned gate was E7...but as I was seating on the bar next to that gate I suddenly realized the Caracas flight was still waiting for some lost pax hanging around the Latin American rendezvous. Suddenly it striked me! Maybe our gate was reassigned without our flight pax really knowing. Of course MIA airport is very smart and after those deep thoughts it was announced that MEX pax were reassinged to gate E22...just like telepathy.
It was my turn to take the train for a third time before quickly going to E22 where I found my friend. I was so bored by then that I had no energy to even talk to her about anything. Boarding time quickly came and it was our time to go home and get out of that bar/club crowded atmosphere going around the gates.
When everyone was finally seated a gate agent came in saying we all had to show our boarding passes again because the computer outside had a malfunction. Few minutes later i felt quickly asleep. When I woke up like 40 minutes later I realized we were still at the gate because now the airplane's computer had a malfunction. I really didn't care as I was having a nice snooze. We finally departed leaving Miami and all it's charm behind going back home after an awesome week.
Safety video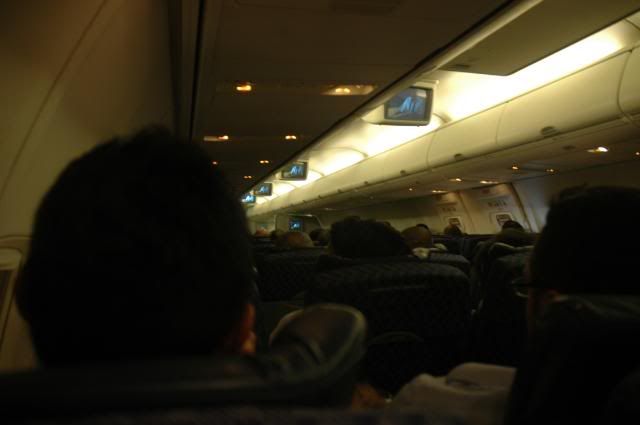 Pepsi...yiuk ( but no idea they had Coca-cola as well) and the famous 6USD sandwich. I had to try it as I wanted a.net readers to actually know what it's all about. Is it worth it? Is it overpriced?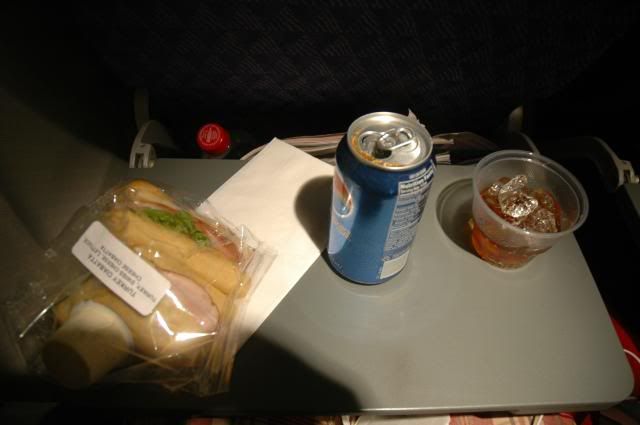 Worth it? Yes. Actually it was pretty big and quite tasty, although I really expected something terrible. It had me full when I finished.
Overpriced? Yes, I would pay no more than 4usd so it isn't extremely overpriced at the end. My suggestion would be to bring your food if you want to save the bucks.
Definately Maybe playing on the screens ahead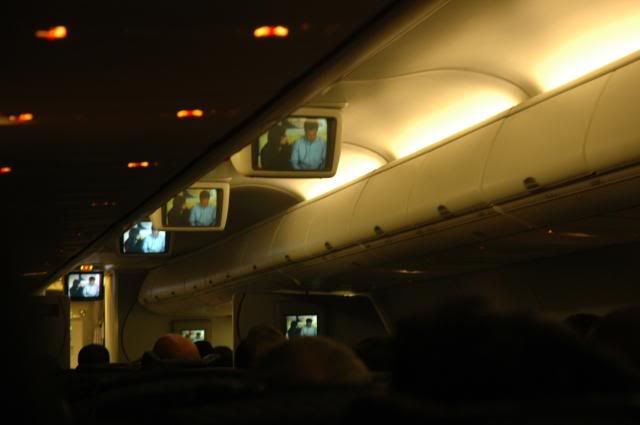 The rest of the flight was uneventful except some turbulence going almost arriving Mexico City. I couldn't take any normal pictures because my window was full of water ( only mine for some reason)
Arriving Mexico City
The famous turn for rwy 05R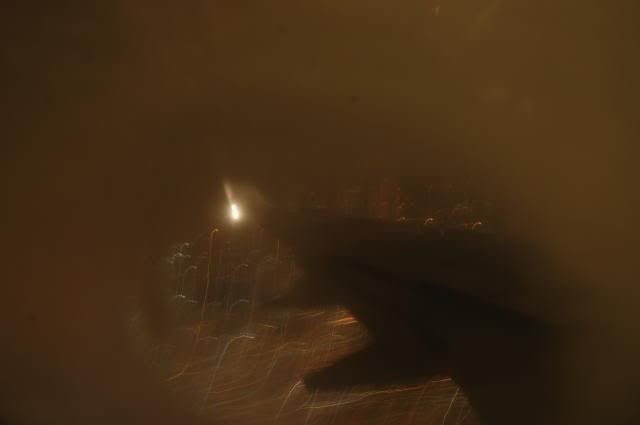 The curious thing was that David Letterman's show was still going on when the plane landed, taxied and stopped at the gate.
David Letterman at rwy 05R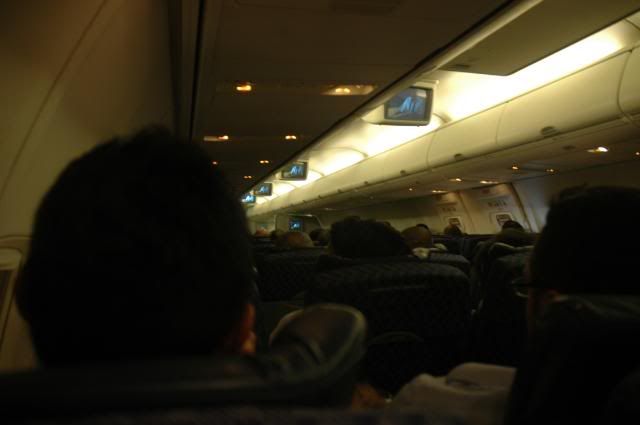 Passengers leaving the plane
Customs and bags were ok and we were out 20 minutes after getting out of the plane. Not too many people arriving at that time.
Overall, as my first American Airlines experience I had a good impression. Just good. Flight Attendants were ok, the planes were clean and the expensive food was really good. The only problems with AA are the seat pitch, the 50 lb maximum weight, their on-time performance and the MIA hub.
For the cost of 282 USD round-trip ticket I think I wouldn't mind paying 6 USD for a sandwich when I'm saving around 100+ USD compared to MX or AM. But I would pay more money in order not to have my baggage weight restricted.
Thanks for reading I hope you enjoyed reading this trip report as much as I liked writing it for a.net.
Cheers!
Alonso