I needed to take a business trip to the USA from Australia and decided to buy a SQ only, round the world (RTW) 1st class fare rather than buy the usual OneWorld Circle Pacific 1st class fare, primarily because the SQ fare was A$3000 cheaper, but also I was curious to compare the SQ services to what I have experienced on QF, BA, and CX, airlines to which I had been previously wedded. The itinerary was MEL-SIN-ICN-SFO, JFK-FRA-SIN-MEL.
The first leg of my journey was MEL-SIN. I decided on a midnight departure because this would ensure my flight was on the 777-ER (77W) on flight SQ218, and I was keen to try out the new 1st class seats I had read so much about. So it was Friday night the 25th April when I arrived at Tullamarine airport (MEL) at around 10:30 pm. Check in was immediate with the usual service one expects from the 1st class check in. I was given directions to the 1st class lounge and a priority pass to use through passport control. This is the first time I have ever been issued with such a pass even though I had been flying 1st on QF out of MEL for years! I proceeded through the fast lane at passport control, then immediately through security, and after a cursory wander through the duty free stores, made my way down the escalator to the SilverKris lounge – opposite the QF J lounge (which used to be both the F and J lounge for QF). I felt like a traitor.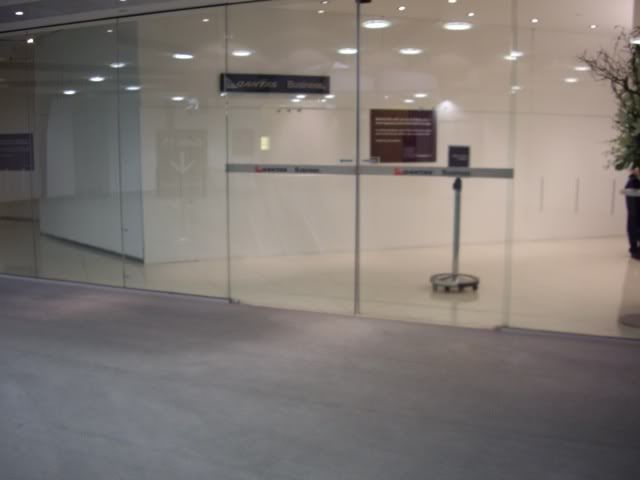 entrance to former QF F lounge in MEL
Anyway, I was soon inside the SQ F lounge section. It is about the same size as the previous QF F lounge and is likewise totally enclosed with no natural light – I don't know what the new QF F lounge is like at MEL but will find out in late August when I go on a points redemption flight to LHR. I found this small SQ lounge quite comfortable and well supplied with cold and hot snacks, and most importantly chilled Moet champagne. So far, everything is much the same as previously offered by QF, except for the express lane pass.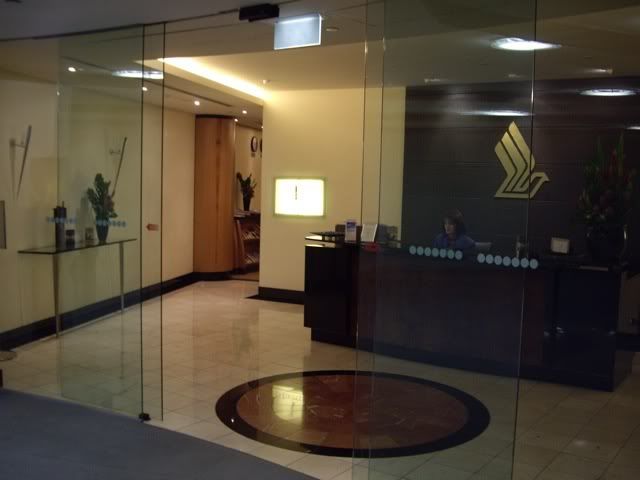 entrance to SQ F lounge in MEL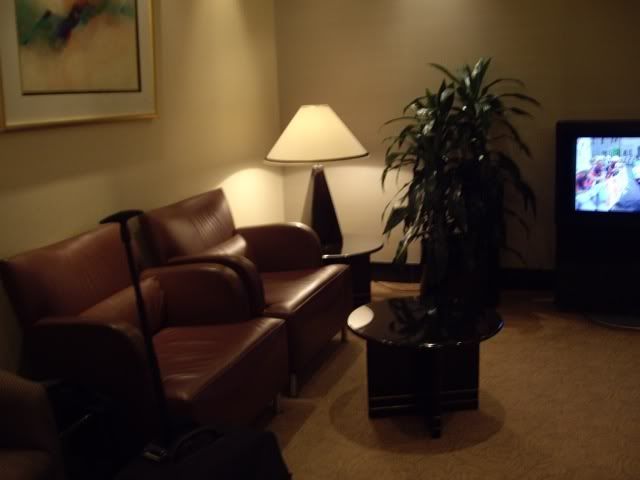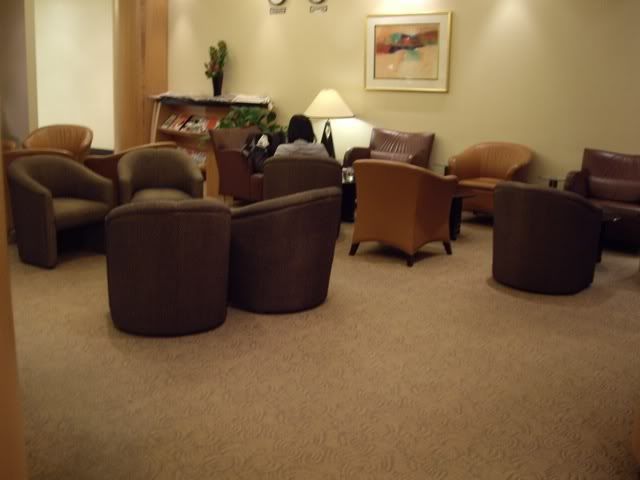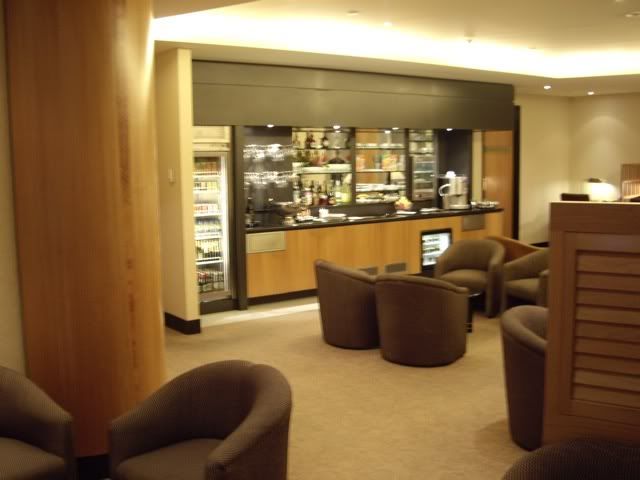 small, but comfortable lounge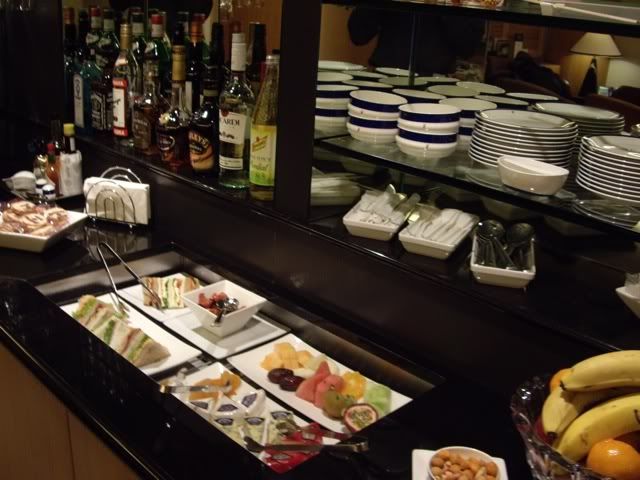 good buffet selection
French champagne on offer
my selection
bathroom in SQ F lounge at MEL
Before long I was boarding through the F/J aerobridge, and this is when I began to notice a distinct difference in service. I was warmly greeted by name and shown to my seat (1A). My coat was promptly taken and I was immediately offered something to drink. I was offered Dom Perignon in the first instance, but I politely requested if Krug was available and it was. A few seconds later I heard a cork popping and Krug was freshly poured into a long stemmed glass at my seat. This is better than QF, CX, and BA who often serve cheap French champagne (e.g. Piper Heidseck) before takeoff, reserving the better quality champagne for when airborne. By the way, on a later flight I sampled the Dom Perignon 2000 and have to say it is as good as the Krug. The 1999 vintage Dom which SQ was serving last year was not as good.
pre-flight glass of Krug – almost empty
The flight departed 5 or 10 minutes early, so just before midnight.
The Seat. I was very impressed with the F class seat, especially the enormous LCD screen which I was convinced would fall into my lap during takeoff.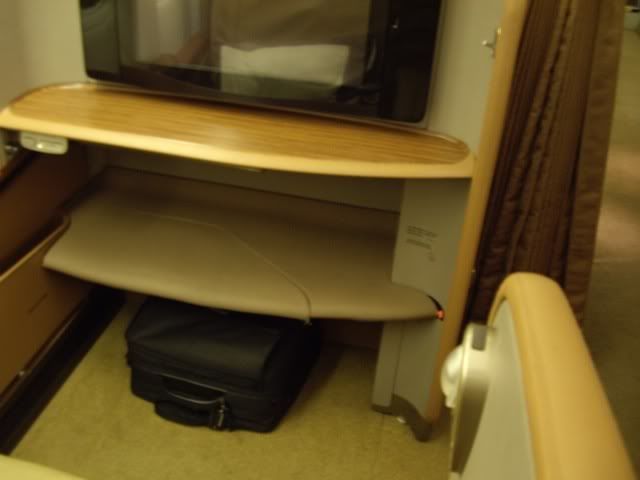 lots of leg room and storage space
The seat is very spacious and private, but not claustrophobic because there is a lot of airspace above your head as a result of no overhead storage bins. There is plenty of room on the floor in front of the seat for carry-on luggage.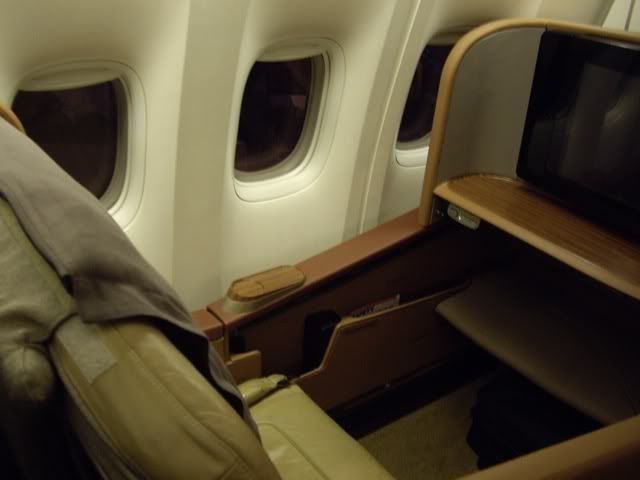 I found the seat was quite comfortable when sitting or reclining, but later on when it was converted to a bed I was disappointed in the length of the bed. On the diagonal it must be about 75" because that is my height and my head and toes were touching each end when laying straight on my back. This means the seat provides at least 3" less than F beds on QF, CX, BA, and even SQ's 744. It is passable though, because on the two 77W flights when I was sleeping, the length of bed didn't concern me. However, given the J seat is not as wide nor is the pitch as deep as the SQ F seat, someone of my height or taller would not be comfortable at all in J. On the SQ 77W, the F and J seat are similar in that they rely on people sleeping along the diagonal with cavities in the seats in front and behind to accommodate this.
I guess this is a reasonable compromise in designing the layout, i.e. using wider seats with less pitch to get the same seat density as a herringbone design achieves in BA F, for example.
F cabin
Overall, the seat is probably a plus for SQ, although the new CX F seat may be better.
Once the flight was airborne, the FA's got busy handing out the amenity kits, sleeper suits, etc. Pre-dinner drinks were offered.
Krug with mixed warmed cashews
The food menu was un-inspiring so I was thankful that I had "booked the cook", although on a flight at this hour one should avoid food and alcohol completely, something I was to learn to my detriment on arrival in Singapore at 5:30 am – the flight is only 6 and a bit hours afterall – feeling stuffed and hungover. By the way, the F cabin was full on this sector.
The Food. I ordered Lobster Thermidor via "Book the Cook" three times on my itinerary and I can say that the meal ex-MEL was atrocious compared with the versions served ex-SIN. The Melbourne version had tough lobster, plain tasteless rice – no saffron, and the asparagus looked and tasted like they had been reheated from a can! A big minus for SQ!
When I was ready to sleep, the FA swiftly converted my seat to a bed while I changed into my sleeper suit in the cramped confines of the 1st class toilet. This is a minor minus for SQ for the small yet trendy toilet compared with QF.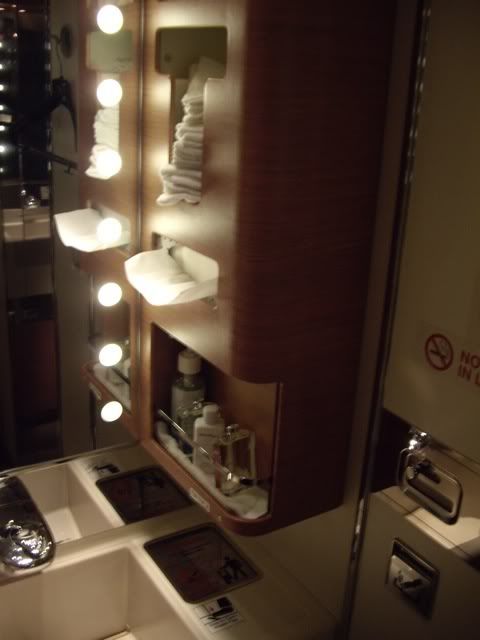 77W cramped washroom
77W washroom's trendy design basin
Despite the short flight duration, I managed to grab a few hours sleep. I did not have time to checkout the IFE on this sector, although I did notice the clever placement of headphone outlets, and, of course that monstrous LCD screen. A small note I made was that the remote control showed ETA, but to Paris……?
On arrival at Singapore I was pleased to note that the FA's actually let the 1st pax leave the aircraft first, whereas on QF it seems arbitrary. Luggage delivery was quick but passport control was very slow. By the way, in the SIN arrivals hall I was approached by someone doing a QA survey on passport processing and took great delight in telling them that I thought it was painfully slow – they seemed quite surprised. I stayed overnight in Singapore at the Mandarin Oriental.
My next flight was SQ16 SIN-ICN-SFO which leaves SIN at 9am, so I had to make sure I left for Changi in plenty of time to sample the new T3 SQ F lounge. It is a pity taxi drivers don't know about the special F reception for SQ which requires an early left turn when arriving at T3.
I insisted the driver circle back and re-enter so as to leave me at the correct position. It is easily missed and is quite deserted although a porter and attendant soon appeared to escort me through check in which, if memory serves me correctly, is similar to what SQ has done for years for F pax, i.e. you enter a lounge and sit at a desk while someone checks the luggage and issues a boarding pass.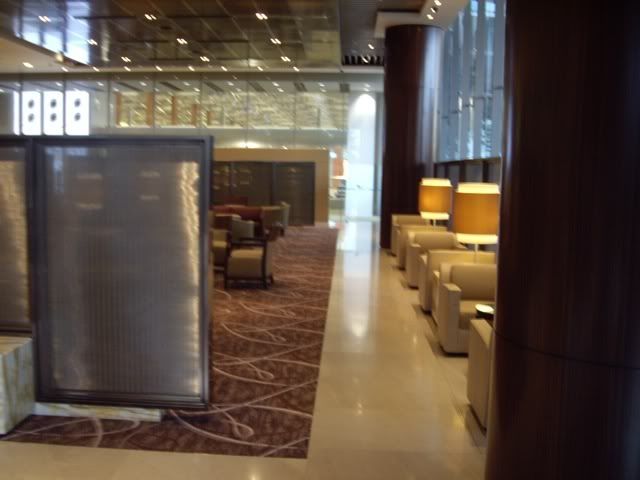 F class check-in lounge at SIN T3
plenty of desks for F passenger check-in
special exit for F passengers direct to express lane
You are then ushered through to the express passport control lane, which seems to flow on from the F check in area, so everything is nicely streamlined and efficient.
After another cursory look at the duty free shops I entered the SilverKris F lounge in T3.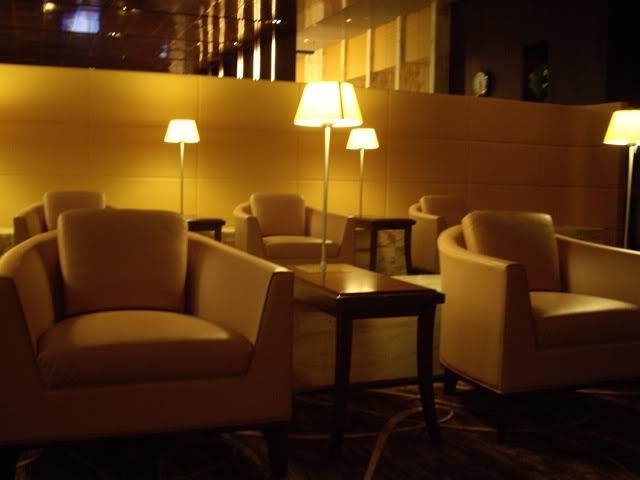 inside the lounge
After reading so many negative comments about this lounge I was surprised as to how good it actually is. It reminds me of CX's "The Wing" at HKG (arguably the best F lounge in the world), although SQ's is not as big or well designed – e.g. the inevitable people collisions when entering, moving around, and leaving the dining room.
Dining room in SQ F lounge in T3 at SIN
However, the food offerings at this time of day compares favourably with what CX serves in "The Wing". I just love dim sum, and there was plenty and it was delicious. There was also a very attentive chef ready to cook eggs any style.
egg station
Given the range of food for breakfast, I can only assume the offerings would be excellent at other times of the day also.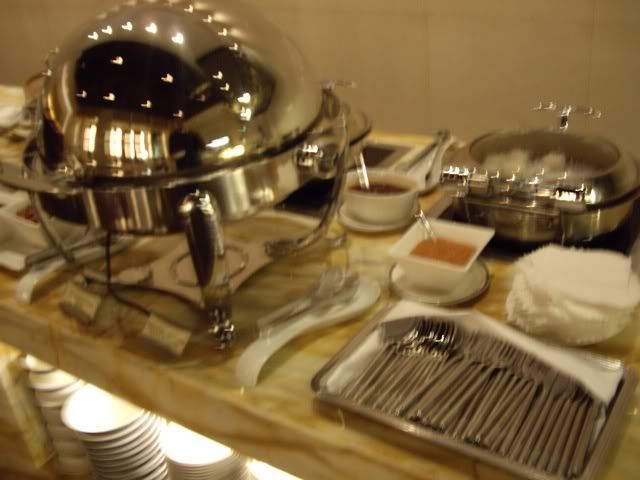 From this enormous buffet, I chose my favourites: bircher muesli, fruit, orange juice, assorted dim sum, muffin, pastry and cappuccino.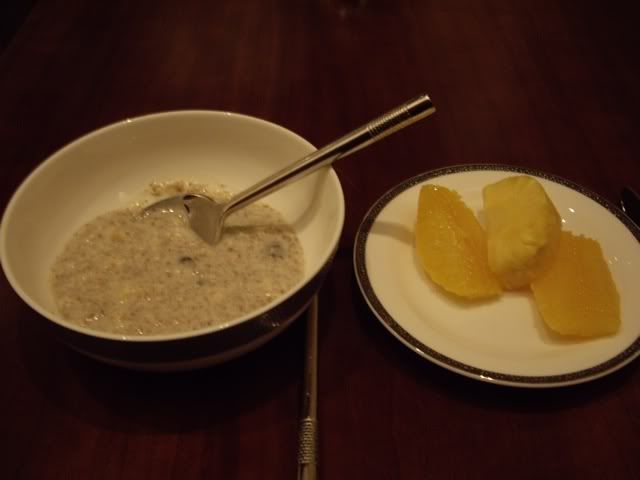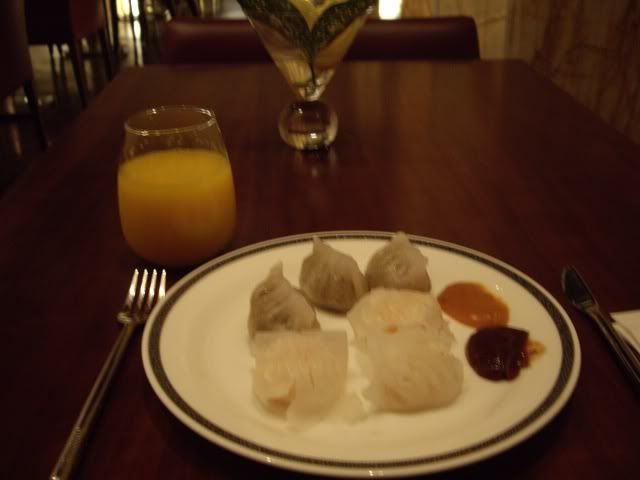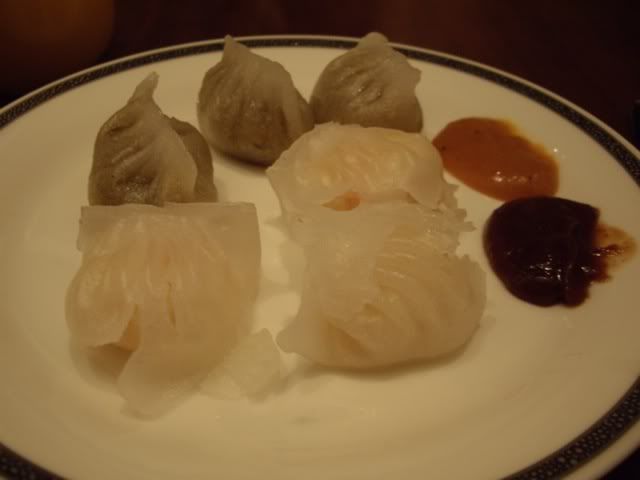 After a good breakfast I rested in the quiet section of the lounge until boarding time, but not before a visit to the bathroom.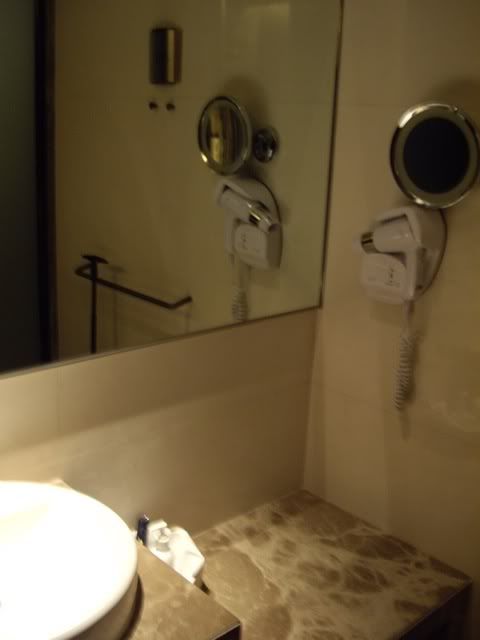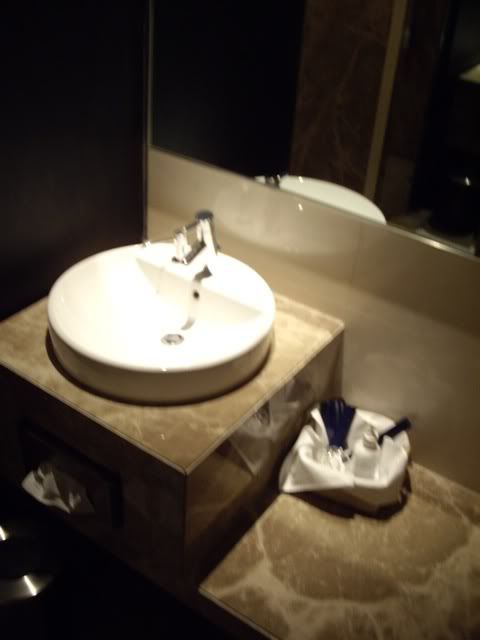 Boarding was similar to my previous experience with separate aerobridge for F/J pax. I was again greeted warmly and escorted to my seat (1A) in yet another 77W. I noticed that the F cabin was again full for this sector (SIN-ICN). Of course I was offered champagne – the FA was holding an opened bottle of Dom, but this is early morning for me, so I regretfully declined and had orange juice instead. The flight departed perhaps a few minutes late – not that I noticed because I was studying the Krisworld programme to work out what films I would watch. The SIN-ICN fight is a daylight flight of about 6 hours, so I didn't plan to sleep, but instead looked forward to a slow lunch and some film watching.
As usual, before and after takeoff the FA's busied themselves handing out hot towels, amenity kits, menus, etc. On all SQ flights the menus are presented as inserts in leather folders. While SQ would no doubt object to passengers taking the leather folders, they do not mind if you take the inserts – provided you ask them. They seem to grab those menus just before the flight lands and remove the inserts ready for the next sectors menus. Anyway. Here is the lunch menu: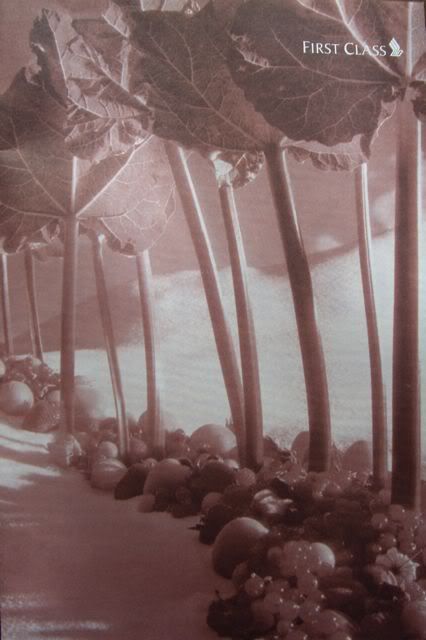 SQ16 F lunch menu
I had ordered another Lobster Thermidor via "Book the Cook" and when the FA came around to take my lunch order she confirmed whether I still wanted that option, which of course I did.
After the flight levelled out, drinks and canapés were served. I decided to stick with Krug for cocktails as well as all through lunch.
Delicious satays were served as canapés.
I then had the "Terrine of crabmeat and avocado with tomato confit" followed by "Cream of chanterelle mushroom and ceps with chicken". Then salad of "Butter lettuce heart with baby cress and cherry tomato". The main course was a perfectly prepared "Lobster Thermidor".
SQ16 F lunch dessert menu
Finally, I had the dessert of "Black and white chocolate cake with passionfruit coulis". I skipped cheese and fruits. Looking back now I rather wish I had tried the cheese, but knowing that another full meal would be served after leaving ICN for SFO, I didn't want to end up feeling the way I did on arrival into SIN the day before. As for wines, I stuck to Krug for the meal. Unfortunately, SQ do not offer a "sticky" to have with desserts. Another minus given that QF always offer "Noble One".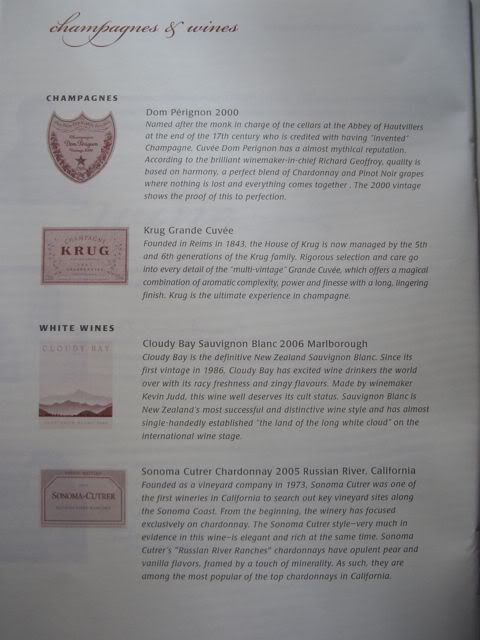 SQ16 F Wine list, page 1
SQ16 F Wine list, page 2
After lunch, I settled back into my seat, gently reclined with my feet up on the opposite ledge and watched the movie "I Am Legend" which was a perfect choice to demonstrate the large HD IFE screen mounted directly in front of my seat. It was like being at home.
By the time the film finished and I had a brief nap, it was late afternoon local time the plane was preparing to land at ICN, where there would be a 90 minute stopover. As is customary, security requires that all passengers leave the aircraft. So I made my way to the SilverKris F lounge. This is a very nice lounge, but is apparently now closed.
I resisted the temptation to eat too much from the excellent array of food presented in the lounge and instead checked out my email using my laptop and the free wifi internet connection.
Before long it was time to board the continuing flight and the usual drill applied. I was surprised to find only two other F passengers on this sector. ICN-SFO is an overnight flight of about ten hours duration – just enough time to have dinner, watch a movie and get some sleep. As usual, on boarding I was escorted to my seat (1A) and offered a drink, which I decided this time I would try a Singapore Sling. It was fantastic – refreshing but sufficiently alcoholic to leave me with a big smile on my face.
As soon as the flight levelled out drinks and satays were served. I changed into the provided pyjamas in the tiny toilet and returned to my seat to ready myself for dinner.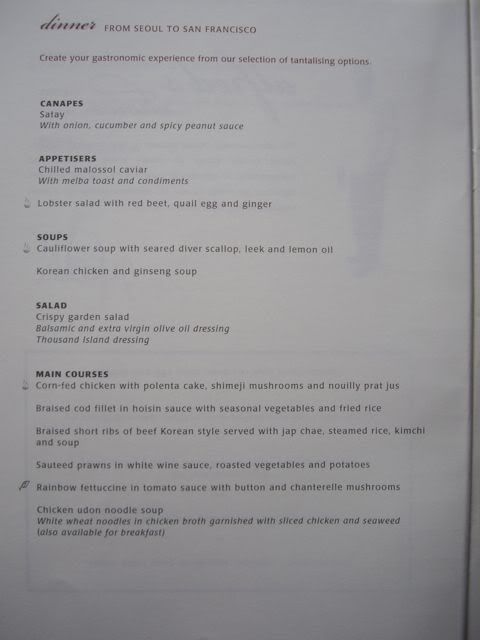 SQ16 F Dinner menu, page 1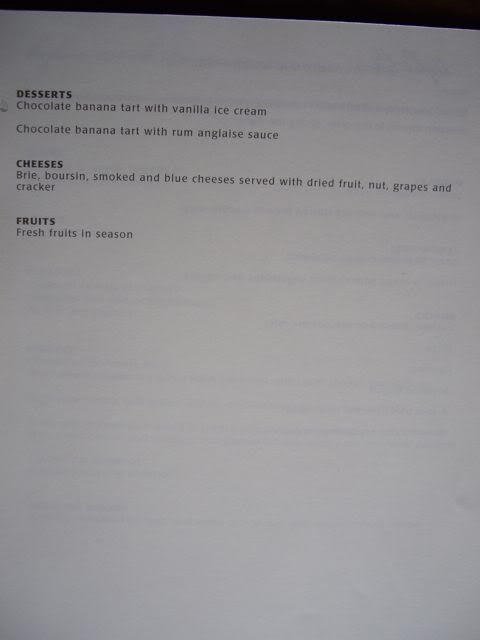 SQ16 F Dinner menu, page 2
I decided to start the movie as soon as possible to maximise my rest time. This time the film I chose was "AVPR: Aliens vs Predator – Requiem" probably not the best choice to watch while eating…..
I was looking forward to this sector because a full caviar service is provided, and I love caviar. But I was disappointed to find the caviar tasteless. I had the opportunity to try this service three more times on JFK-FRA, FRA-SIN, and SIN-MEL, and it was only the FRA-SIN where the caviar was of acceptable standard. Good quality caviar is sticky – like jam – and has quite a strong flavour. Except for the FRA-SIN, the caviar served was not of high quality – it was dry and tasteless – like what you get cheap at supermarkets. I think SQ's caviar supplier needs a wake-up call. I mentioned this to the Flight Director on the FRA-SIN sector – he was very friendly and attentive – and he said he would pass my comments back to management.
Anyway, back to dinner. After the caviar service, I had "Cauliflower soup with seared diver scallop, leek and lemon oil", salad, and for main course "Corn-fed chicken with polenta cake, shimeji mushrooms and nouilly prat jus". I declined dessert, cheese and fruit. Overall the dinner was OK, but I think its description and the anticipation it set exceeded the reality. I think I stayed with Krug champagne throughout the meal.
After dinner I settled back to finish watching my movie while sipping tea and eating some superb chocolates, which had been offered. I think the SQ IFE system on the 77W is fantastic – easily the best I've experienced. As soon as the film finished the F/A made up my bed. I fell asleep listening to some classical music on the IFE. The quality of the programming and the IFE equipment was so good that I didn't use my iPod and Bose headphones at all.
I awoke a couple of hours before the flight was due to land at SFO, just enough time to have some breakfast.
SQ16 F Snacks menu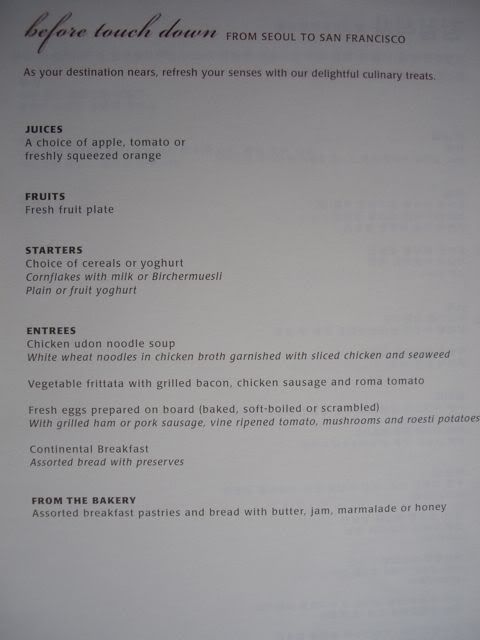 SQ16 F Brunch menu
I think I had just fruit and cappuccino with a croissant. I was still feeling rather full from the previous meals. The flight arrived almost on time at 12:30 pm.
I was the first person off the plane. This was a little daunting but before long some other passengers, from J I think, soon caught up and led the way to the arrivals hall where the relentless queues at Immigration awaited me. I joined a seemingly short line of about 6 others but, as is always the case, a couple of people ahead of me took an eternity to be processed. Still, my luggage was waiting for me and I was through customs and out within 45 minutes of leaving the aircraft – probably a record for USA arrivals.
The next leg was from JFK. After a few days in San Francisco I flew to BOS on UA, the only airline with a direct flight at a reasonable hour. That day the midwest was experiencing terrible weather conditions and this resulted in the flight arriving an hour late in BOS. The service, in economy plus, was terrible of course. A few days later from Boston I took an American Eagle flight to JFK in time for my SQ25 JFK-FRA-SIN departure at 9pm.
Arriving at the furthest gate in the AA terminal at JFK meant a 30 minute walk to the skytrain to transfer to T4 for SQ. Check in was slow. Some J passengers were hogging the F check-in agent at the SQ counter. They were probably summoned to his counter because there were no F pax waiting, but this then resulted in me waiting an interminable time despite there being a second F agent, who seemed to prefer talking on the phone than checking me in. I was not surprised. I usually find that F check-in at USA airports to be a pretty casual affair even on OneWorld airlines except maybe for one time at EWR when the BA F check-in was excellent. However, the checkin people provided me with an escort to the Virgin lounge.
I think I could have done without the Virgin lounge experience. What a dump! It's more like a café than a lounge, very noisy and open to the terminal. I had a quick drink of nondescript lukewarm champagne served in a plastic flute. After scanning what people were eating, I thought I would pass on sampling the dismal food offerings. I really don't like Virgin's pseudo hip marketing style.
I decided to go to the gate relatively early, partly because the Virgin lounge wasn't that comfortable and partly in anticipation of possible delays passing through security. Of course, security was a nightmare with the usual over officious staff shouting at everybody.
Just to demonstrate their incompetence I actually passed through undetected with my bag full of liquids, which I had totally forgotten about. The officer looking at the x-ray screen seemed mesmerised. It must have been a long day.
I thought that at least I could board the flight early, SQ25, but no, I got caught behind a long queue of Y passengers. A table with three ground staff sitting behind it was actually in the aerobridge – for what reason is anyone's guess – maybe just to add further inconvenience to boarding passengers. The net effect was to block F and J pax from walking passed the Y pax to reach their separate entry to the plane. Oh well, it is the USA afterall, but it's stuff like this that makes me feel relieved that I am leaving the place.
Anyway, finally I was on board and warmly greeted by SQ F/A's who set about performing their boarding rituals, which by now were very familiar to me.
In an instant I was in my chosen seat 2A and served a glass of my drink selection, Singapore Sling again, together with the customary warm nuts. The flight, a 744, was about half full in F. I think the plane actually took off about an hour after departing the terminal. Again, previous trips reminded me of the congested traffic conditions at JFK, so I wasn't surprised.
Soon enough, though, the plane was tracking north over Canada on its way to FRA and I was changed into my pj's, now sipping Krug, and nibbling satays. There were no amenity kits handed out on this sector due to none having been loaded. Overall, I have the impression that SQ is not supported well enough by JFK ground staff.
The SQ 744 F interior is the same as I remember from years earlier when I first travelled SQ F. But, it still seemed fresh and those big seats looked in good condition.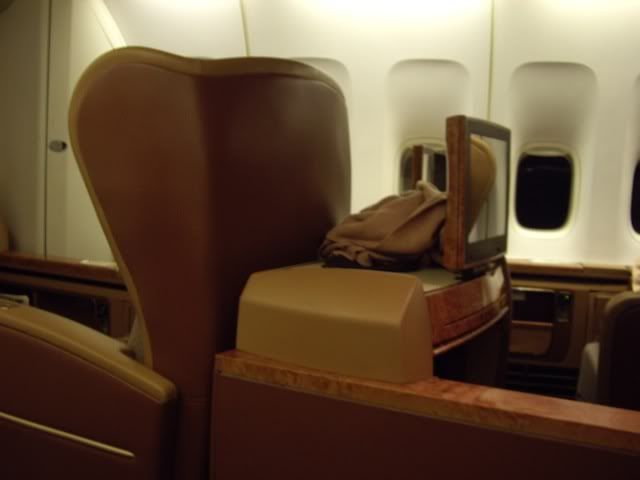 SQ's 744 F cabin
Although the video screen isn't as big as the one fitted in F in the 77W, it is still a good size and a huge improvement on what QF has in F. I think I prefer the SQ F seat on the 744 to the one on the 77W because, although not as wide, it is more comfortable and as a bed a smidgeon longer.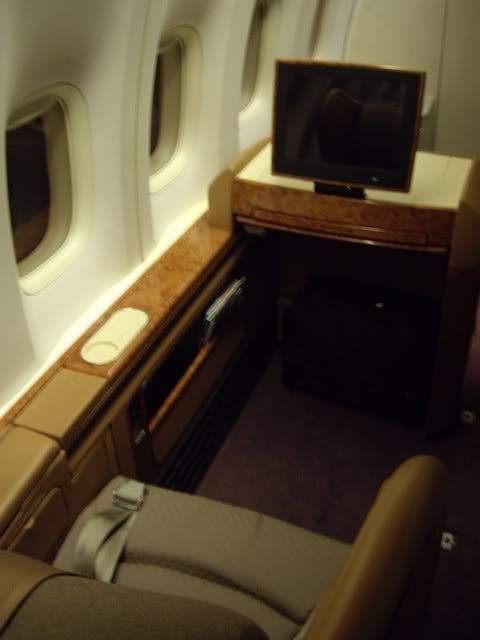 The F/A's were quick to set up for dinner. This was a relatively short flight of a bit under 7 hours from JFK to FRA, so not a lot of time to experience the service. In any case, I had BTC for this sector and was determined to eat everything and get some sleep.
SQ25 F dinner menu, page 1
SQ25 F dinner menu page 2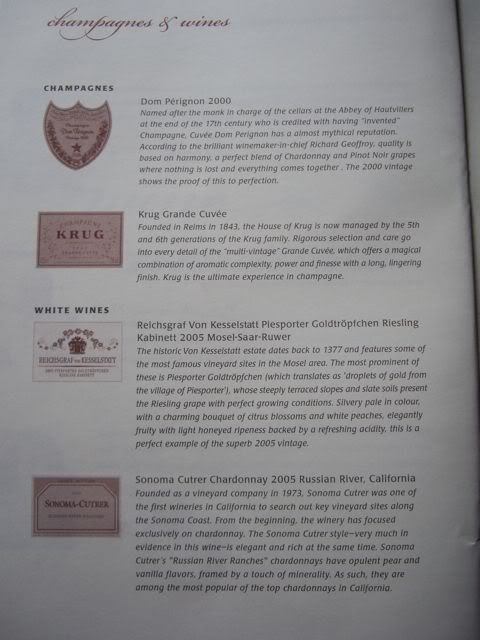 SQ25 F winelist, page 1
SQ25 F winelist, page 2
I had caviar to begin, and as mentioned earlier this was a disappointment. I followed this with soup "Creamy green pea with crème fraiche, etc". By now I had realised that it is worth having the soup course because it is always delicious.
A salad followed and then my BTC selection "Grilled shrimps and scallops in tarragon mustard sauce with leeks, carrots, and linguini". It was quite good. I especially liked the sea scallops because they were large and tasty. Unfortunately, the dessert "Warm caramelized plum tart…" was terrible.
The tart was in fact a stale and tough flaky pastry shell on which the plum is placed. Very ordinary. I finished with tea and chocolates. The F/A made up my bed in the empty seat 1B, so as soon as I finished my meal I moved to that seat, plugged in some soothing music on my iPod and fell asleep within minutes.
About an hour before landing at FRA I awoke and noticed that we were flying directly over London. I quickly changed into my clothes and busied myself getting ready for arrival while the F/A's rushed about serving continental breakfasts, about all I had time or the appetite for.
On landing at FRA I was surprised to be greeted at the arrival gate by a young lady holding a notice board with my name on it. This was for transportation through the terminal to the F lounge of my choice either the UA lounge or the LH lounge – I chose the latter.
As it turned out, I could have walked to the lounge in about ten minutes and whirling through the terminal with everyone gawking at me was an experience I could have done without. Anyway, when it came time to depart I got back on that cart with the charming young lady – well I couldn't disappoint her now could I? I wondered why there were no other transit F pax though.
A note about the LH F lounge. I think it is referred to as the Senator lounge. It was crowded with mid morning business commuters no doubt availing themselves of membership privileges. It reminded me of the Qantas Club lounges at MEL or SYD on a busy morning – nothing special, although the food looked appetizing.
There was a delay re-boarding due to a technical hitch. I think the flight was an hour late leaving FRA for SIN, but some time was made up along the way, so we probably arrived about 30 minutes late at SIN.
The flight from FRA was smooth. There were only 3 of us in F and the crew were fantastic.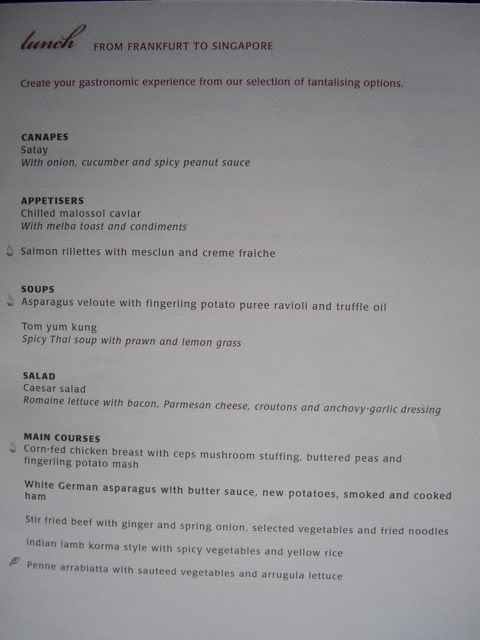 SQ25 F lunch menu, page 1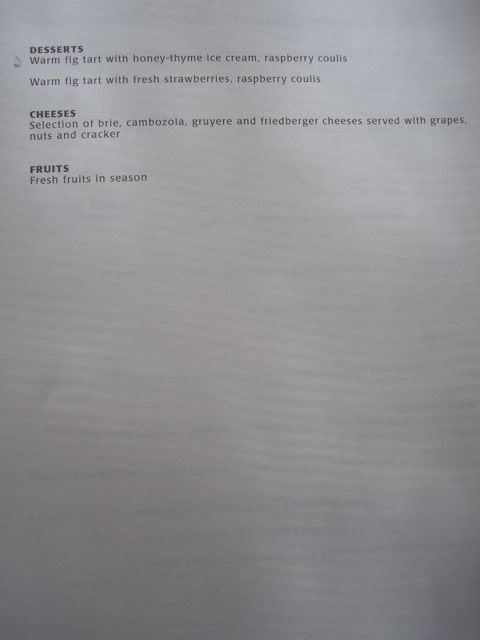 SQ25 F lunch menu, page 2
Once again I had the caviar service but this time it was quite good.
chilled malossol caviar with melba toast and trimmings
I followed this with soup "Tom Yum Kung", then salad, then for main "White German asparagus with butter sauce, new potatoes, smoked and cooked ham". This was terrible. The asparagus were OK but the accompanying meats!!! Really, SQ, if you are going to serve a German dish please get the meat right or you will insult a nation known for their keen interest in "fleish". The smoked meat was rather tough prosciutto and the "cooked ham" was like the pressed ham one often sees being used as sandwich fill. I informed the Flight Director about the poor main course and suggested that using Kassler ham would have hit the spot rather than these other terrible meats. I decided not to have the dessert of "Warm fig tart…" given my experience on the JFK-FRA sector with stale pastry.
By now I was forming the view that catering is not one of SQ's strong points. Overall, the food served in F is certainly inferior to what QF serves and the wine list is not that inspiring, especially with no "sticky" to have with dessert. One of the reasons why the food is inferior is that SQ lacks consistency of quality in the food it serves. There are varying standards across the sectors. Sometimes the garlic bread is tough or stale other times it is melt in the mouth. The caviar quality is hit and miss. The BTC is best only ex SIN, and the desserts are a feeble cop out: either ice cream or those dreadful "tart" bases. I have subsequently realised that SQ, like CX, is best when it is doing Asian food, so next time I will chose Asian dishes wherever possible.
Again on this sector the F/A made up my bed in 1B which was vacant. Again I had some good sleep and before arrival into SIN, had a light breakfast.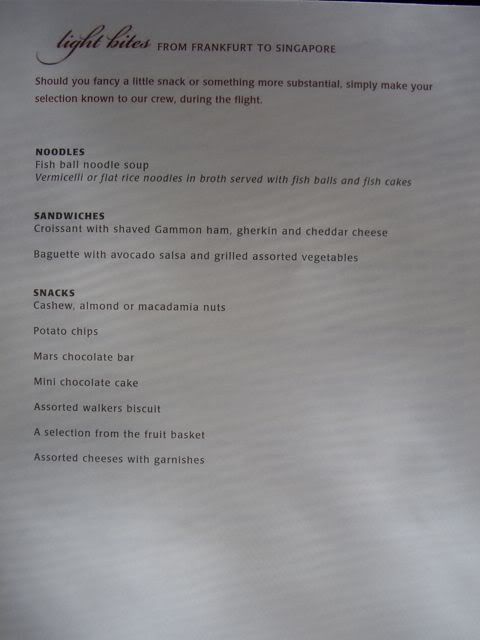 SQ25 F snacks menu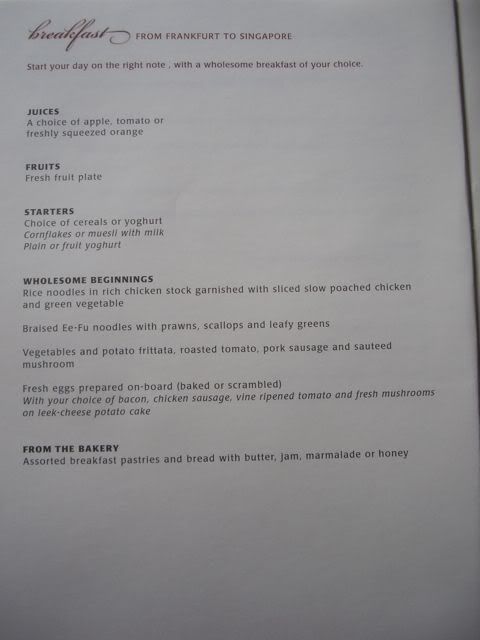 SQ25 F breakfast menu
My final sector on this round the world itinerary with SQ was SIN-MEL.
The SIN-MEL flight was SQ227, an overnight on a 744. Again I had seat 2A and again the F cabin was almost empty.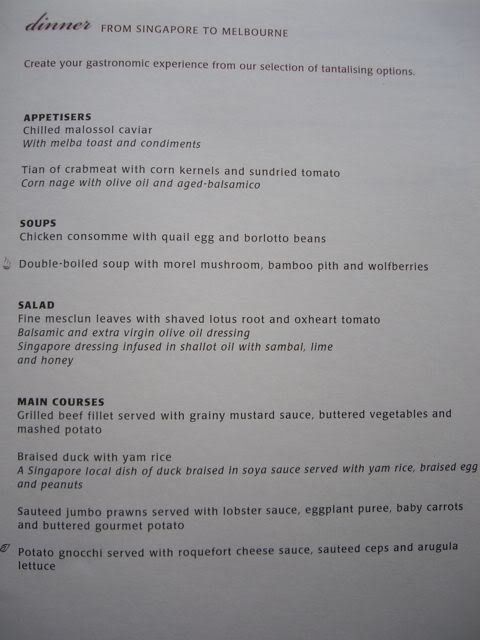 SQ227 F dinner menu, page 1
SQ227 F dinner menu, page 2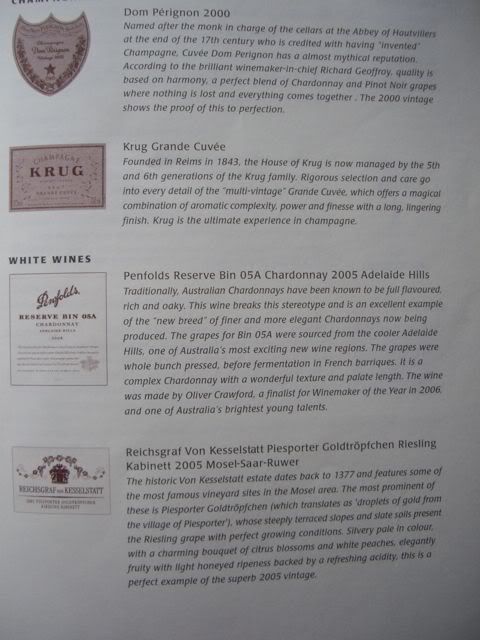 SQ227 F winelist, page 1
SQ227 F winelist, page 2
Being a short flight of some 6 hours I wanted to dispense with dinner quickly so I had the caviar again followed by the BTC "Lobster Thermidor", but declined anything else, even the soup this time.
Again the F/A made up my bed in 1B and I managed a few hours sleep before arriving into MEL at 6am. I was the first pax off the flight and this time I was also the first pax to arrive at the Immigration counters. Amazing. My luggage was waiting on the carousel, no delay through customs, and I was in a cab on the way home from the airport at 6:15!! This was a particularly good finish to the trip and left me with the lingering impression that although the food needs to improve on SQ, everything else is top notch.
After this good experience with SQ, I will not fly QF (except on redemption tickets…maybe) until they can remedy some of the following: reduce ticket prices, rollout a new F product including better seats and IFE, improve the FF scheme, get newer planes, become less incident prone, and make sure that the myriad of relatively small F service items such as preferential boarding and de-planing, express immigration lanes, priority baggage handling, etc., are uniformly applied on all sectors.