Hey guys!
It's always a pleasure to write another trip report, specially if the trip was as good as this one. As some of you might know from my past trip reports, I do a lot of trips to irish dancing competitions. This time it was not the exception as the time for the US Southern Region Regional was to be as usual the first weekend of December.
Getting a cheap ticket was not easy this time. I usually have good luck finding a cheap fare (I just bought a round trip ticket to New York for 220 USD!!). What was different this time is that I was travelling with one of my best friends and it was really hard to get her to buy the plane ticket ( as she thought the fare just stays forever). This made us loose several great fares. So as time passed it was getting tougher to get some nice deals.
If any one has been to Orlando ( specially to the Disney Area) you know that it has to be one of the most expensive places in the US. So getting a good hotel was also a pain. After doing lots of research we finally decided our best bet was to buy a vacation package ( airplane, hotel, park tickets and breakfast). The fare was a little less than 1000USD, which was not that bad but the USD started to get really expensive in Mexico by then.
Two days before the trip I had to do a quick trip to a small town in Jalisco. The result was me arriving back at home just 4 hours before going to the airport. I was, of course, feeling phisically devasted but ready to go. My friend's boyfriend arrived at 3:30 am to pick me up and take us to the airport. It was a quick trip of course and we arrived just on time...to wait for an hour.
The check in counter were closed and opened until 10 to 5, which created a huge line of people. Once they were open the check in process was fast and the agents were nice.
AA counters at MEX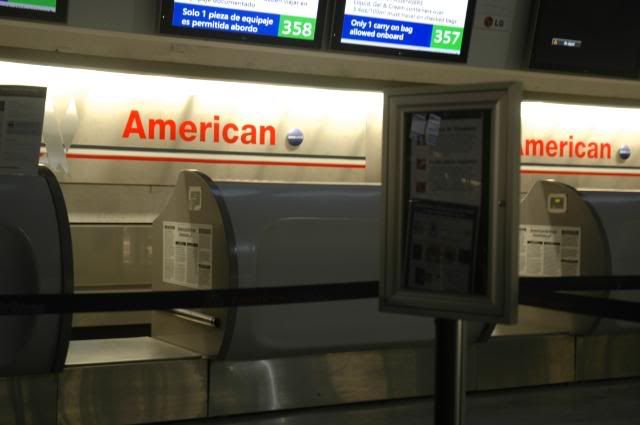 Our boarding passes were given quickly for both sectors. We then proceeded to take a quick breakfast and then onto the gate as both of us had no energy to be moving around the airport ( as I usually do once inside lol).
MEX-DFW
American Airlines
Flight: AA1066
Depart: 6:00 /6:55 (Scheduled/Actual)
Arrive: 8:30 / 9:12 (Scheduled/Actual)
Duration: 2h 17min
Equipment: MD-80
Reg: ----
Cabin: Economy/Turista
Seats: 12B
Seat pitch: OK...
Load: 95% (aprox)
Gate: 36
Departure Runway: 5L
Arrival Runway: 18R
Waiting paciently at the gate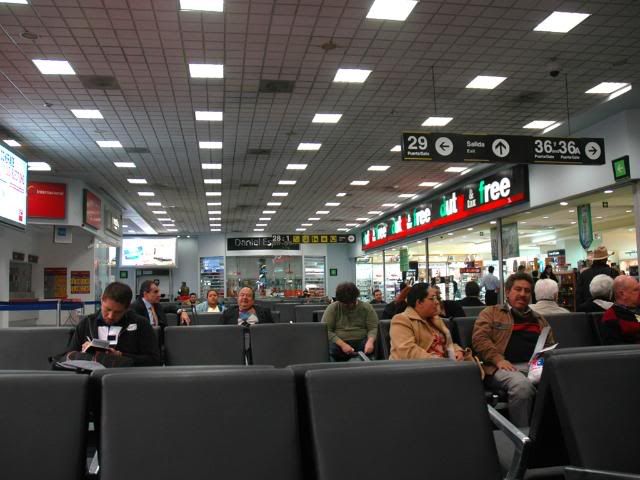 Boarding started soon, which was really appreciated as I was about to fall asleep in the middle of the waiting area. We were group 5 to board so we just waited for everyone to board the plane and avoid the line.
I was really looking forward for this flight as I couldn't remember the last time I flew with an MD80. So for me it was like the first time! You never know when will those planes stop flying. Once inside I was not that happy, it felt really cramped and spaceless. Although I loved how quiet the plane is when you're almost at the front and the galley behind the wing. It was a very interesting experience though.
More boarding...
AA 737 ready for it's flight to MIA.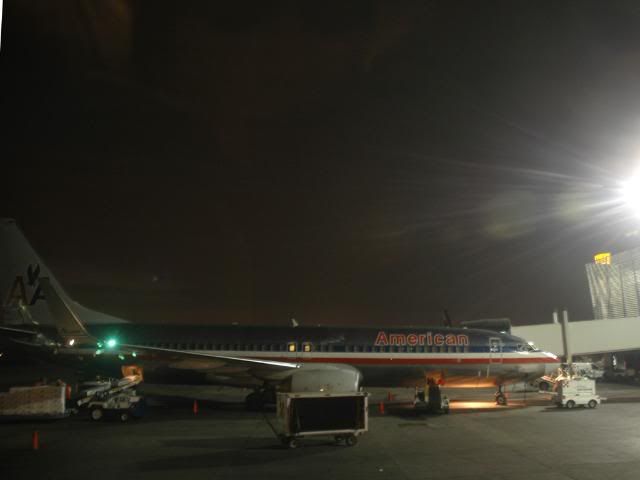 We were actually supposed to depart before them, but for some unknown reason we left half an hour after them.
Sunrise had already taken place when we started to taxi to runway 5L. The safety video was shown and the FA made sure everything was in place for take off.
Aeromexico 777 in the queue for departure.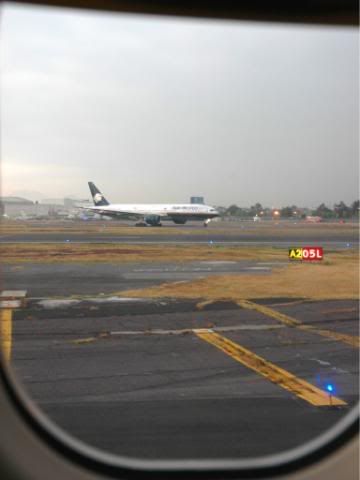 Waiting for departure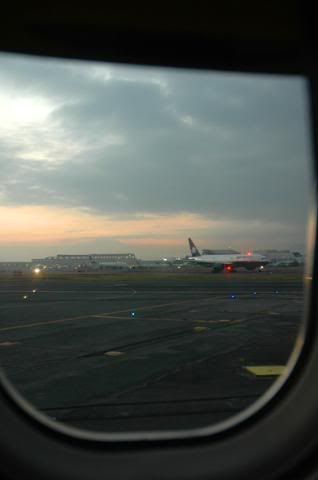 Climbing!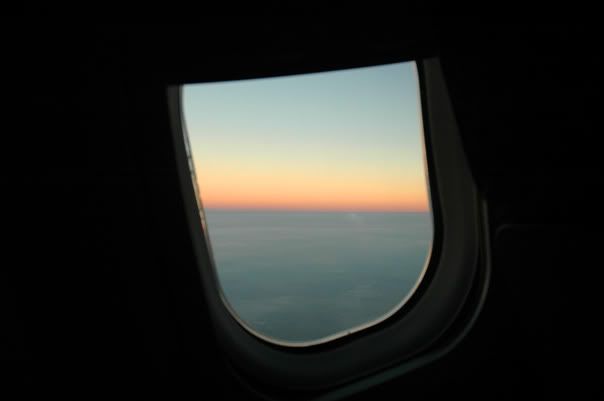 After reaching cruise level my friend decided to sleep and so did I. I got awake with the drink service and to take some pics around the cabin. The service was...well...nothing spectacular. FA only give drinks and picked up trash with efficiency. As almost all products on board are for sale, the contact between flight attendants and passengers is starting to get lost.
MD-80 aisle
Me at the restroom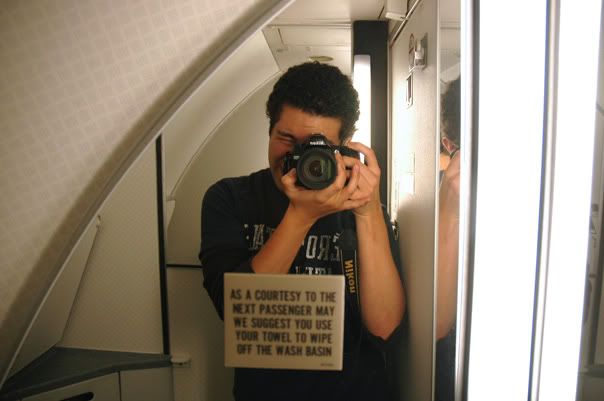 More MD80 restroom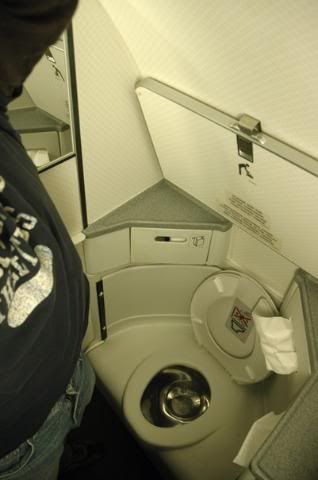 MD-80's cabin from the rear.
Felt asleep for some more minutes until the cabin crew started to prepare for landing. As I didn't have the window seat, I had to make some maneuvers to avoid my sleeping friend in order to get my camera to the window.
Would this by Fort-Worth?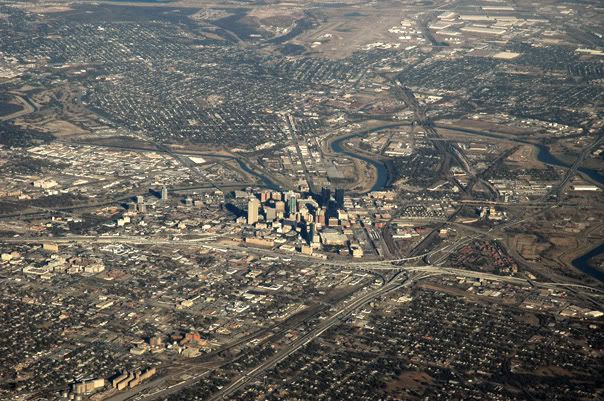 For arrival, we did this famous U-turn over Grapvine lake in order to arrive at rwy 18R
Grapevine lake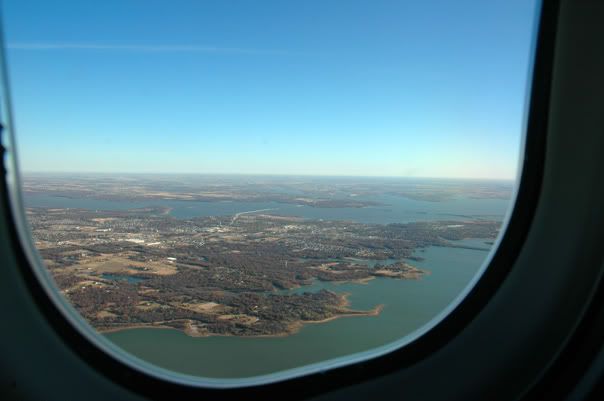 Dallas in the morning! Almost there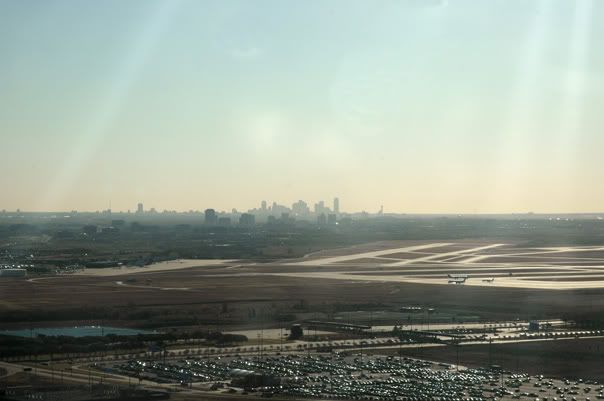 DFW! After my first visit to this airport in February from last year, I was really looking forward to it again!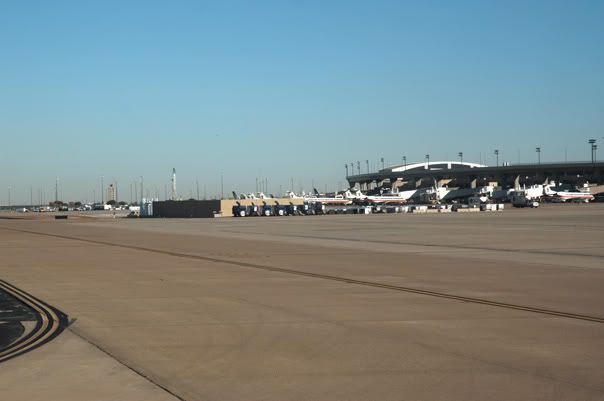 Arriving at gate, with a heavy AA besides us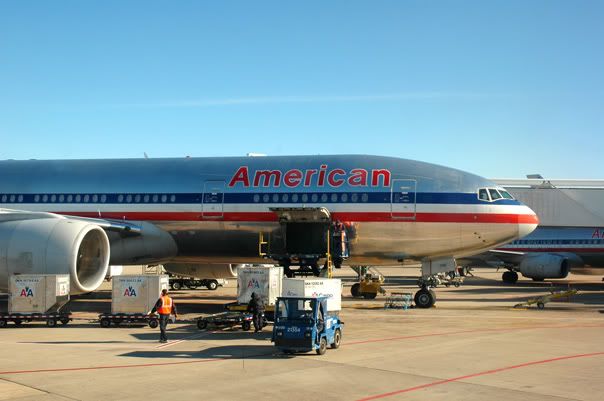 Our Super 80 at the gate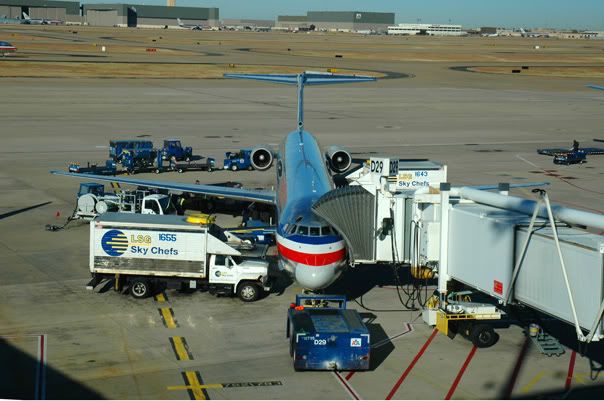 More Terminal D pictures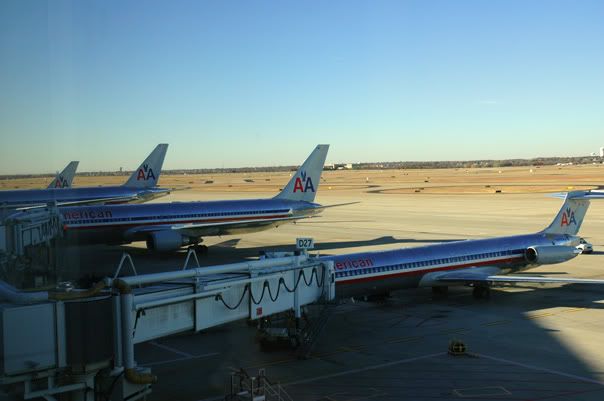 After leaving the plane we made our way straight to the restrooms before doing any lines at the immigration check. The line was long as Korean arrived by the time. My I-94 arrival form had to be re done as I apparently did something wrong with it. The ladies helping were very very kind and took a moment to re do it for me to avoid any future error.
Immigration check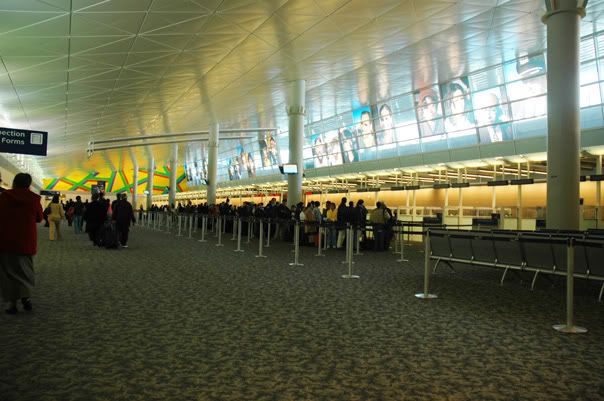 After going through immigration, we picked up our bags and left it in the transfer point. It was the first time I was doing a stop in a hub in the US before going to another destination. I wasl always kind of reluctant to doing a stop in the US. I was surprised at how easy it was, no hassle at all. It is a pain going to immigration, but as I was doing a domestic flight next you might just do it. Maybe DFW is a great airport and doing a connection is hassle free. I would seriously consider doing a stop in DFW anytime. Don't know how other airports in the US work with this ( I know I would NEVER do it in MIA).
Back to DFW, we went outside to smoke and to freeze our ass of for a while. It looks sunny but it was freezing and windy!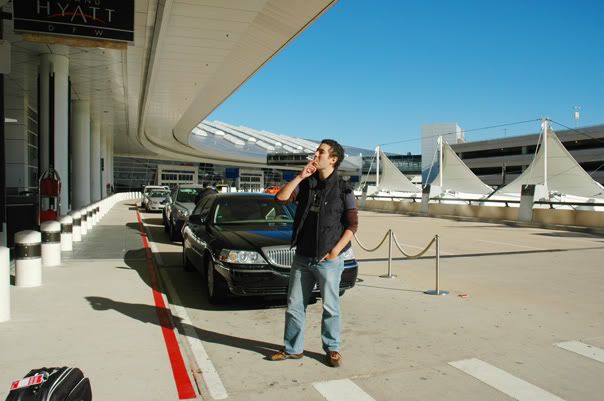 Back into terminal D before going through security check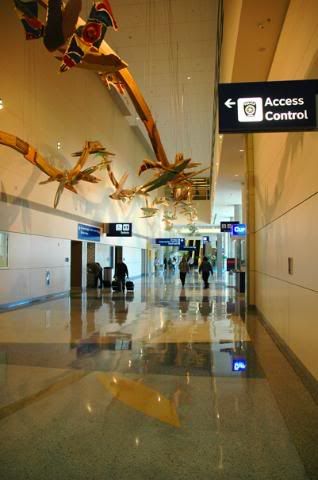 More Terminal D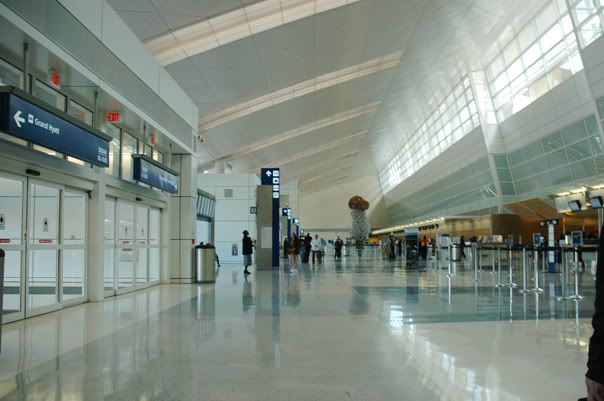 Once inside, we had to take the Train to Terminal A for our flight to Orlando
Train map
A picture from D sponsored by my friend Ana which decided she wanted to be a plane spotter as well
The train ride was a great experience! It has great plane sights! We were soon in Terminal A for our flight. As we lost a lot of time wondering around Terminal D, we didn't have enough time to see around Terminal A as we went straight to the store in front our gate for supplies.
DFW-MCO
American Airlines
Flight: AA1638
Depart: 11:00 /11:10 (Scheduled/Actual)
Arrive: 1:20 / 1:09 (Scheduled/Actual)
Duration: 1h 59min
Equipment: B757-200
Reg: ----
Cabin: Economy/Turista
Seats: 24E
Seat pitch: OK...
Load: 100%
Gate: 22
Flight level: 40,000 ft
Departure Runway: 17R
Arrival Runway: 36R
I was also looking forward to this flight as I was very excited with this trip, plus also I couldn't remember a time when I was in a 757. Boarding was quick and we departed with a minor delay.
Gate A22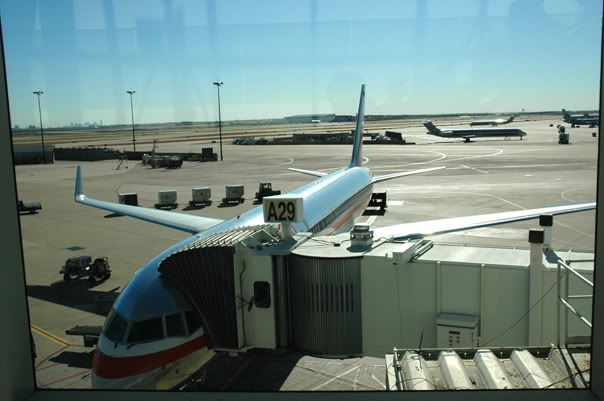 Waiting for boarding to finish
Taxi to runway 17R was very fast. When the plane started to gain speed for take off i was AMAZED by how fast we took off. The power from the 757 is just amazing!
Service was good and IFE was ok. Some random shows were shown but I didn't really pay attention to them as I was studying for my final exam which was the following monday.
Supplies bought in our last minute shop at terminal A. Drinks were given by the crew
The flight went by pretty fast as I thought it was going to take us longer. I haven't even finished studying some basic stuff when the cabin crew was already preparing for landing. By this moment I was very satisfied with my flights with AA. I've flown 95% of times in Y, and I've heard some bad comments from AA. But so far my experience was doing fair justice to the airline.
Before landing in Orlando
In no time we were in Gate 16 and ready to deplane.
Ooops, some work going on with the ceilling...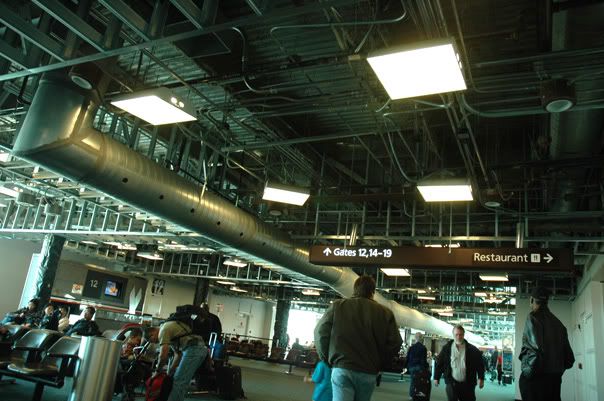 Trains connecting to main terminal and atc tower
Train view!
More terminal view at MCO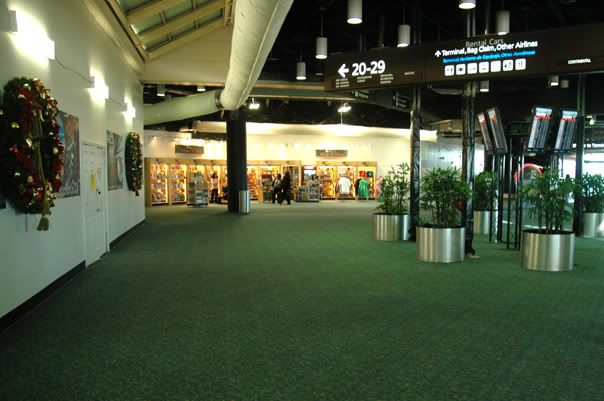 I was starting to feel the rush of the trip and was very excited about being back in Orlando after 12 years. Plus the American Xmas Spirit is just out of control!
Me with the mile high Xmas tree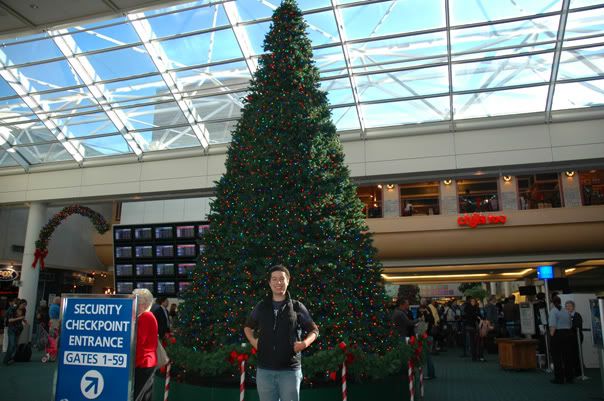 Here are some random pics from the trip
Biggest Disney Store in the World!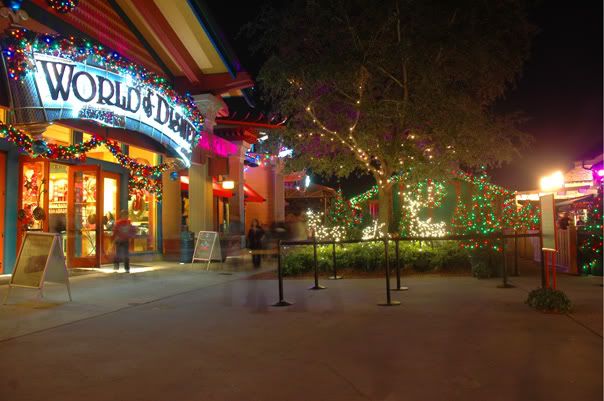 Virgin Megastore
Candy and more candy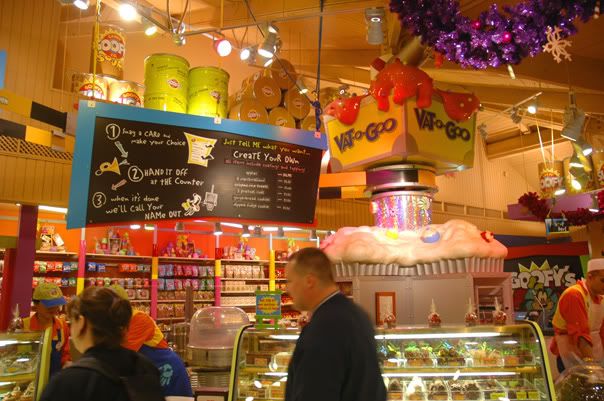 Epcot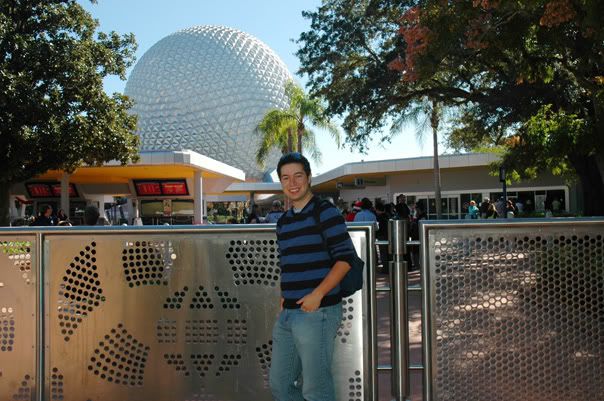 Monorail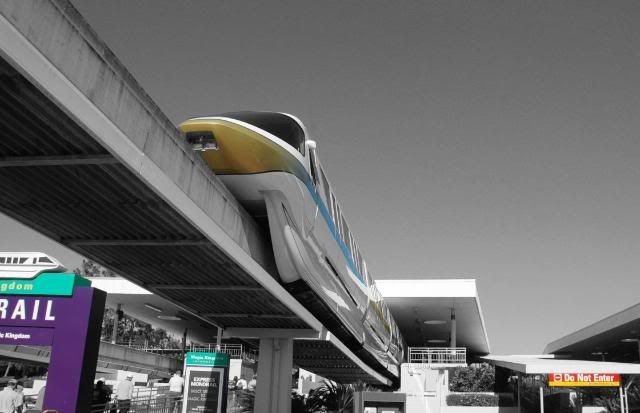 My friends and I being dead after walking all day around Magic Kingdom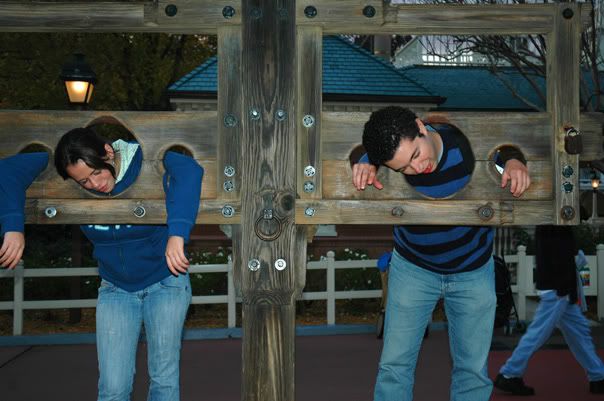 Amazing Fireworks! I'm just amazed at how the magic never ends.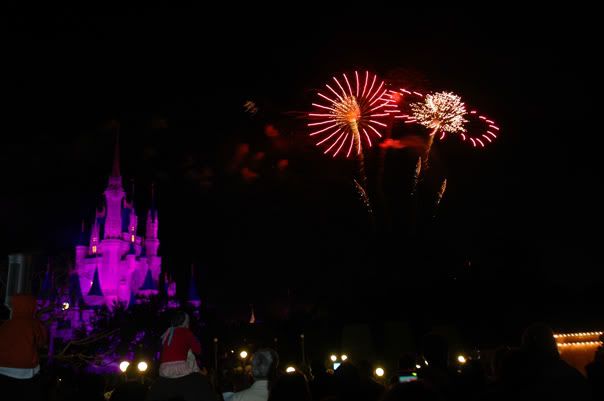 Best ride ever!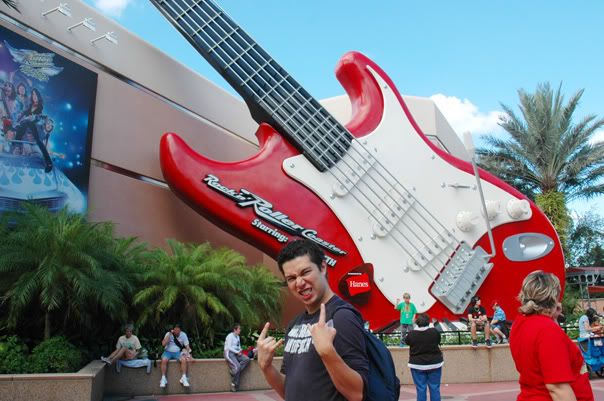 A week at Orlando felt like a day and half and it was time to go back to Mexico City and to real life. On Sunday's morning, my friend and I had a huge hangover and we had to hurry up and do our bags. We have a friend that was working at Epcot by the time and she told us she was going to pick us up and take us to the airport. The only problem was we weren't that sure we would remember after the party the day before. She arrived on time and took us to buy some last minute gifts to the huge Disney store. Half and hour later we were at the airport ready to leave.
Arriving to the Airport
Satellite with lots of planes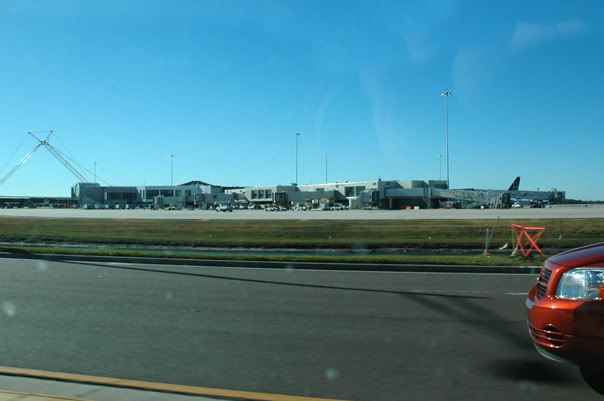 Departure area
Once inside the AA check in counter had a very small line. For some reason we spent one hour there before our turn to check in. The lady was very nice although she was surprised about how big my bag was and how little it weighted. She found this suspicious so she started asking me lots of questions. I had to explain her I was not on a shopping trip and that I was there for a huge competition. She even had me take my camera out and show her! I think she was more curious about the irish dancing than anything else.
With our boarding passes on hand, we went back to this xmas tree area. There dozens of people with flags plus lots of veterans waiting for something. It ended up being a welcoming party for wounded soldiers in Irak. I'll never support the war, but being there and looking at those men who's bodies and lifes changed for ever made me realize just how many brave people there is outside to go and fight for their country.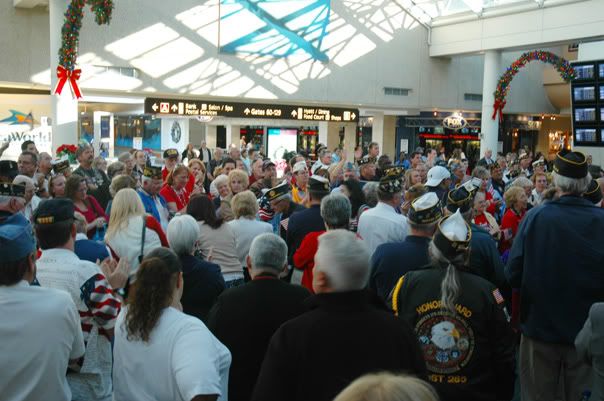 After that we went to walk around and found this last minute mini-mall inside the airport. I found great deals at Brookstone and bought an excellent hand luggage! I also had my last minute Sbarro pizza at the food court.
Acquarium at the food court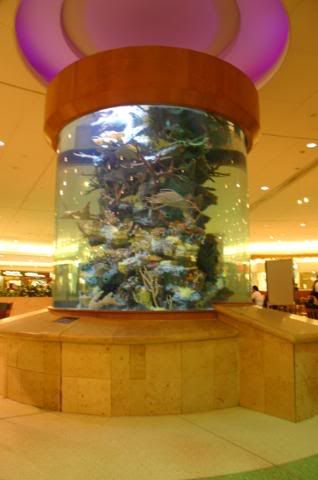 We then had 15 minutes to get to our gate for our departure to DFW.
MCO-DFW
American Airlines
Flight: AA897
Depart: 17:40 /17:48 (Scheduled/Actual)
Arrive: 19:40 / 19:28 (Scheduled/Actual)
Duration: 1h 42min
Equipment: B757-200
Reg: ----
Cabin: Economy/Turista
Seats: 26F
Seat pitch: OK...
Load: 80% (aprox)
Gate: 22
Flight level: 40,000 ft
Departure Runway: ---
Arrival Runway: ---
Boarding was OK. No major delays were made with having people getting into the plane. We just had some minutes before pushing back. I was at first in the middle seat and the aisle seat was obviously taken. Then I noticed the front row was empty with the exception of the aisle seat ( which was fine as long I could get the window seat). When doors were closed I jumped right away to ask the FA and the person in the aisle seat it it was ok for me to seat in the window. Fortunately I got it!
Looking devastated after a great week and having to leave.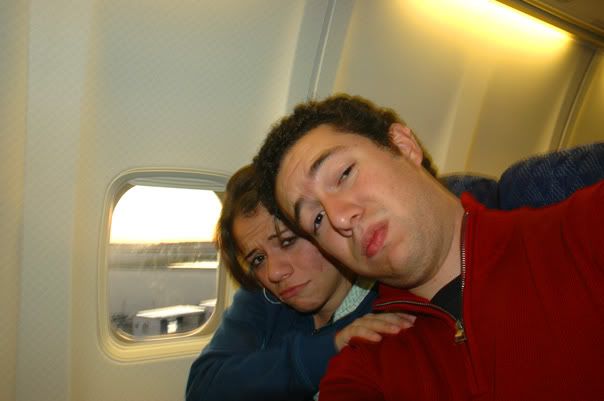 My friend decided she was going to take the pictures for the trip report now!
Getting everything organized before departure
More cabin view
Ramp view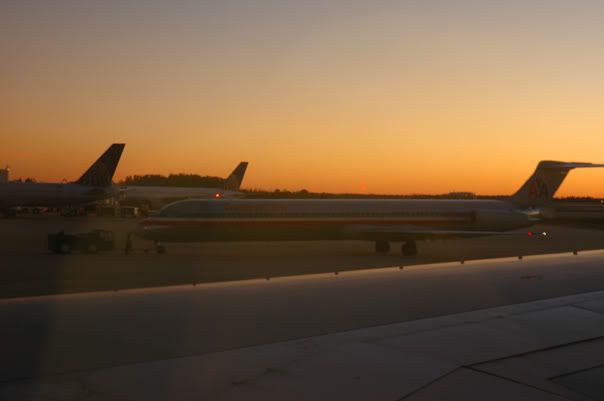 Sunset at MCO...making our departure almost nostalgic
Takeoff! I really tried pulling the pic together, I do need more practice with these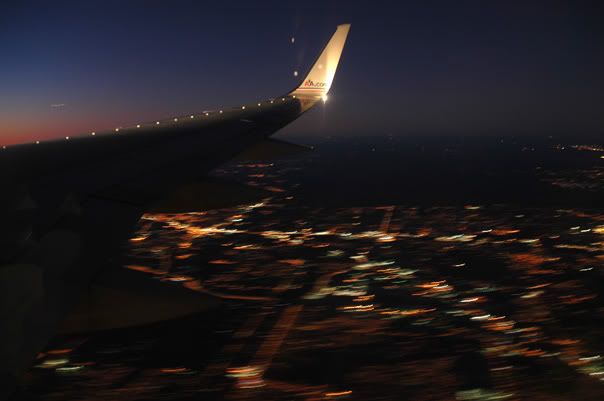 Inflight service came around 30 minutes after departure. I was having a great time until I realized I had a microeconomy final test the following morning and I had NO time to study!!!
Studying externalities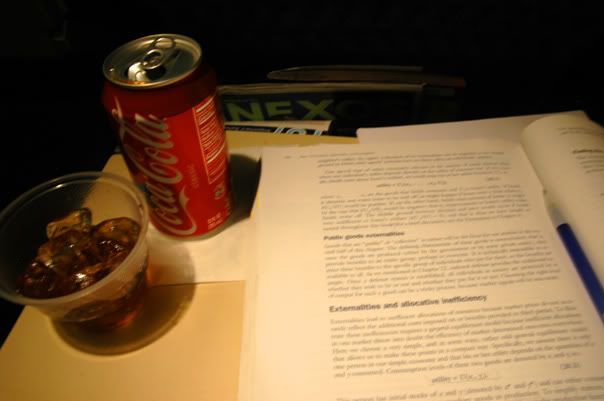 IFE going on in the middle screens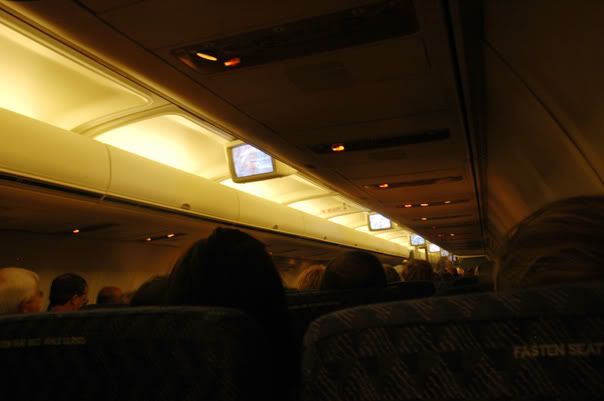 It was obvious I was so concentrated I was not taking myself pictures during study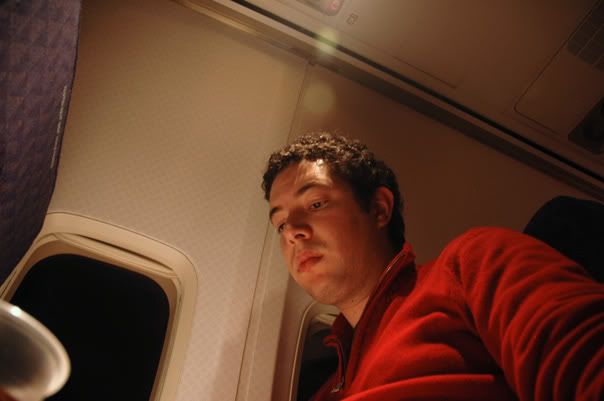 Flight went fast and soon we were on our approach to DFW!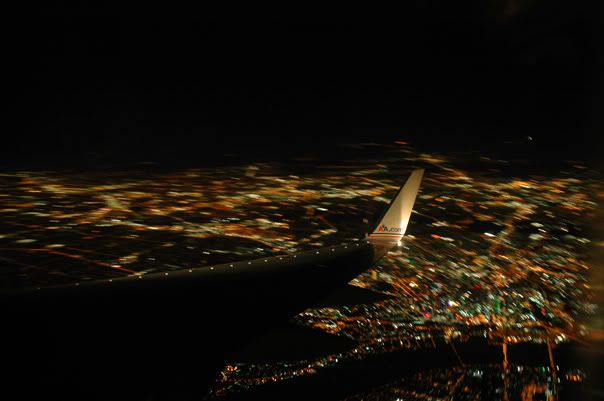 Getting the approach organized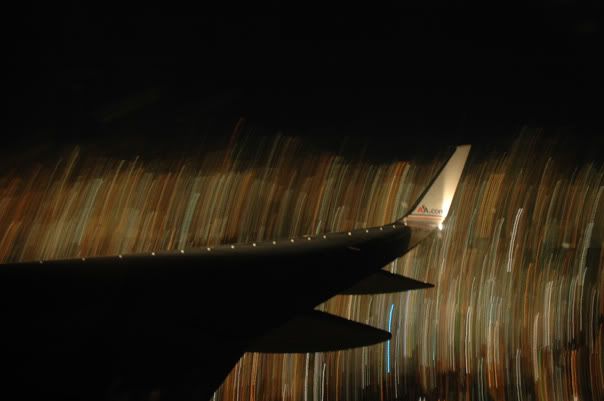 Arriving to our gate in DFW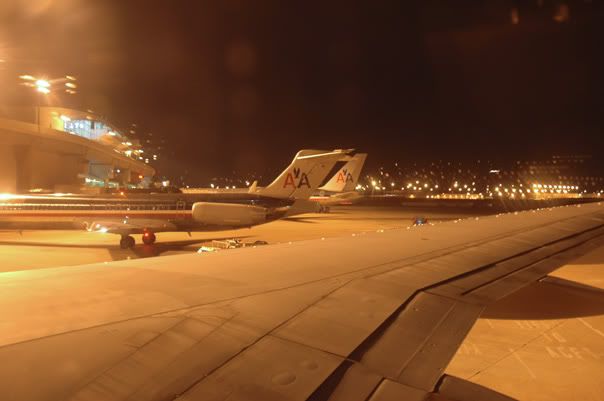 Some friends
We had an hour and a half for our connection in DFW. We immediately went to the train to get to terminal D soon.
Terminal A at night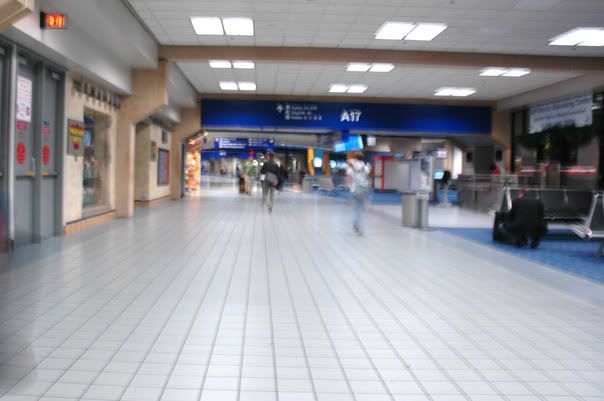 Stairs to the train
Train station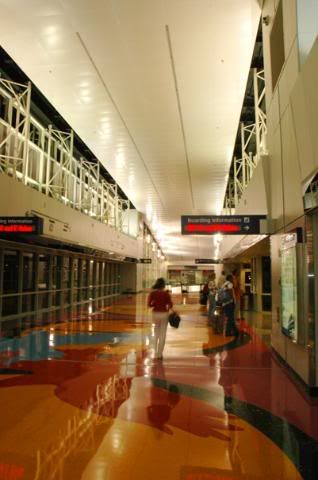 Arriving at terminal D we went outside for a smoke and then inside to have a pretzel at Auntie Annie's local.
DFW-MEX
American Airlines
Flight: AA409
Depart: 21:05 /--- (Scheduled/Actual)
Arrive: 23:40 / 23:25 (Scheduled/Actual)
Duration: 1h 30 min aprox
Equipment: MD80
Reg: ----
Cabin: Economy/Turista
Seats: 14B
Seat pitch: OK...
Load: 100%
Departure Runway: ---
Arrival Runway: 5R
I was just to tired for pictures so I slept and studied for the rest of the flight. The flight in general was run of the mill.
Boarding
Finally, all I can say is that I was satisfied with my flights with American. They are the cheapest option sometimes and I wouldn't doubt flying with them every once in a while if the fares are great! I've heard terrible comments with AA, so far they have proven to be reliable and take me to where I want to get on time and with my bags. Hopefully I'll never get a bad experience with them...but you never know!
Find out about my future adventure to JFK. Coming Soon in April!
I hope you liked my report! Comments are more than welcomed!
Cheers!
Alonso