Background
Welcome to my first trip report. I hope you enjoy reading this report as much as I did writing it.
This little trip report starts in march 2009, when I realized that I would have 2 free weeks in may and felt the urge to spend it travelling. Back then I was looking for attractive fares to even more attractive destinations, not really knowing which continent I wanted to visit. All I knew was that it should take place in those last two weeks of may. I had saved some money and was frequently checking airline websites, forums etc. for cheap fares all around the world. Most probably due to the financial crisis and oil prices dropping, airlines were obviously in a mad rush to cut fares and get their planes full. I was none the less still on a budget, so this was not to my disadvantage.
During the week I wanted to book my flights, I was constantly planning trips, checking hotel fares, dropping plans, having completely other ideas on a daily basis.
For me it's actually half the fun of travelling to plan the whole thing, checking flight times, aircraft types and interesting routings.
At the end I had 3 options that I seriously considered, all starting at my lovely home town of Hamburg, Germany.
3. San Francisco
Germanwings HAM-STR, Delta Airlines STR-ATL-SFO and back, around 200 Euro for all flights.
+ very cheap fare
+ new airlines/types for me. Never flew Germanwings or Delta, never seen the busiest airport in the world, Atlanta.
+ hotels are affordable
- I've already been to San Francisco
2. Tokyo
AF HAM-CDG-NRT-CDG-HAM, around 450 Euro
+ I always wanted to visit Japan
-- Expensive hotels, expensive everything
And the winner is:
1. The Kangaroo route. Singapore and Sydney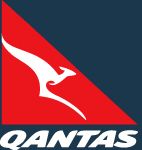 Although I always wanted to visit both Singapore and Australia, I didn't really look into fares for this classic route at first. Not until Qantas had another red e-deal on offer. Around 500 Pounds for flights leaving the UK and even cheaper when booking through Expedia Australia, which is quite a good deal, I guess. (In the end I paid around 470 Euro for LHR-SIN-MEL-SYD-SIN-LHR)
I also liked the idea of visiting australia for the first time and flying there on one of those white 747s with a huge white kangaroo on red tail. Just like I dreamed of when I was a little boy. Well, to be honest I don't really remember what I was usually dreaming of back then, but this tripreport definitely needs some hollywood emotions.
So I was simultaneously checking Qantas flight times and possibilities to get from Hamburg to London.
With the wish to save as much money as possible, I was even considering flying Ryanair from Lübeck (around 50 minutes drive from Hamburg) to London Stansted to catch one of the buses towards Heathrow. Well, when finally blood was returning to my brain, the choice was narrowed down to either BA or LH for the short HAM-LHR hop.
As I wanted to spend a couple of days in Singapore on the outbound flight, I chose QF32 (operated by a 747-400), which leaves LHR at 12:15pm and arrives in Singapore just after 8am. So I had to be in London fairly early to make that flight. After fiddling around with the dates for some time, I was able to book a Lufthansa 99 Euro ticket on my desired dates, arriving at LHR at 8:15 in the morning, which would give me enough time to make the connection from T2 to T4 without any trouble.
As I only had 3 nights in Singapore, I wanted to leave on an evening flight to make the most of my time there. So I chose QF10 which leaves SIN at 7:45pm and arrives at MEL at a very unholy time of 4:45am.
The return flight QF31 from SYD to LHR via SIN is operated by the A380 on my day of departure which is quite nice. As I live in Hamburg I regularly see the A380s flying in and out of the airbus plant at Finkenwerder from my office windows. But actually flying on one of them is a different story.
So finally I was all set. My routing would be as follows:
HAM-LHR, Lufthansa 737-300, 21.05.2009
LHR-SIN, Qantas 747-400, 21.05.2009
SIN-MEL, Qantas 747-400, 25.05.2009
MEL-SYD, Qantas 737-800, 26.05.2009
SYD-SIN-LHR, Qantas A380, 30.05.2009
LHR-HAM, Lufthansa 737-300, 31.05.2009
When I had finally booked everything I realized that I had completely forgotten about a family holiday with my sisters and my dad, who had already booked a holiday home in northern denmark for the exact week of my trip to Australia.
After checking my options I decided to go to Denmark, spend some days with my family and then take the train back to Hamburg the day before my flight to Singapore. So this report starts in Vrist in the north westerly parts of Denmark.
If you can't stand trains etc. feel free to scroll further down until you see the first signs of an airport in one of the pictures.
Vrist basically consists of hundreds of holiday houses and a couple of supermarkets but it definitely has some very beautiful and calm landscapes to offer.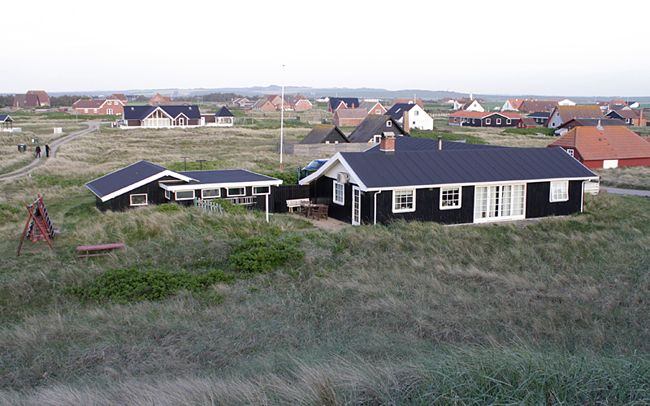 It was 5:00am when my alarm clock woke me up on May 20th and it was time to get back to Hamburg. My sister was kind enough to make the 50 minute drive from Vrist to Holstebro, the nearest train station with acceptable connections to Hamburg. To get to Hamburg I had to change trains 2 times, once at Vejle and once at Flensburg. The whole trip would take me around 6 hours.
Holstebro station
The first train was an Intercity of the Danske Statsbaner (Danish State Railways) or DSB, which was bound for Copenhagen's Kastrup airport and was full of people going to work and people with huge suitcases who were obviously going to the airport.
The danish IC train that took me from Holstebro to Vejle.
The next segment from Vejle to Flensburg was on a german ICE highspeed train. But if you think of a smooth ride with 250 km/h you're wrong. The train was a ICE-TD which uses a quite loud Diesel Generator to generate electric power for the engine and never reached more than 160 km/h. That and the fact that the train was full of members of an excited danish group of seniors travelling to Amsterdam (as far as I could make out), the ride on the ICE felt and sounded more like driving through a huge flock of birds on an old russian tank of World War II.
The diesel ICE that took me from Vejle to Flensburg, just behind the german border.
On a side note, this ICE would continue all the way to Hamburg, but because of the strange booking system of the german Bahn, I was only able to get a ticket if I changed to a regular IC at Flensburg, which would take 30 minutes longer than the ICE.
The mentioned german IC train was a direct jump into the seventies of german train travel. The whole train was so retro, the colours, the materials, everything. At least it was really empty and I had a nice and cosy compartment for myself.
The IC from Flensburg to Hamburg, which would continue all the way to Cologne after that.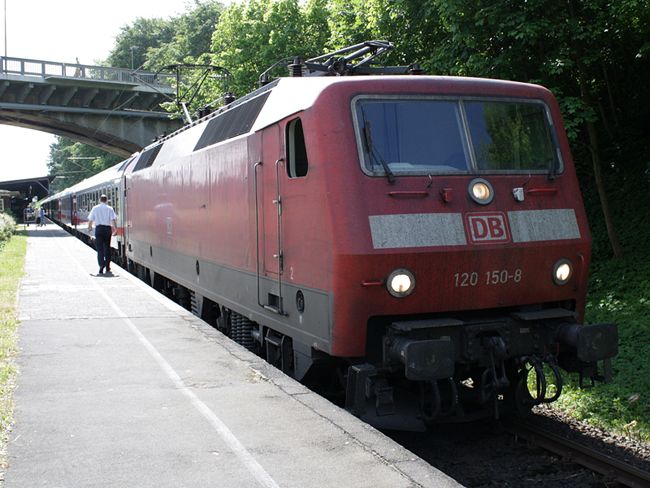 The mentioned 70s style seats on that train.
After around 90 minutes of trainride through beautiful north german landscape the lovely view of Hamburg greeted me. Shortly after that the train pulled up to Hamburg Central Station, where I took the U-Bahn (subway) to my home to start packing my bag as I had some serious flying ahead of me.
Crossing the canal that connects the North Sea and the Baltic Sea.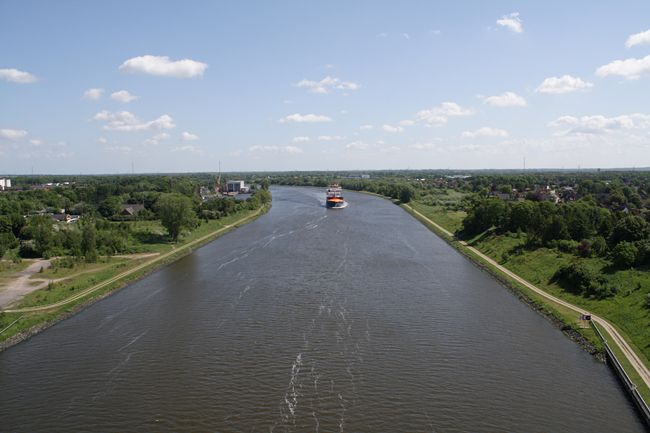 The beautiful view of Hamburg while crossing the Lombards bridge.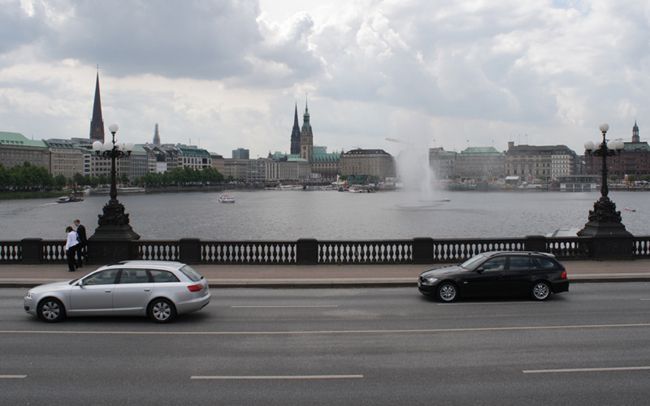 Hamburg Central Station.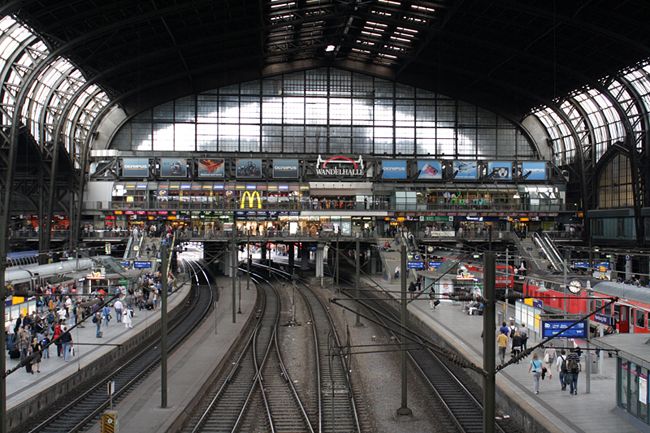 Finally May 21st, the day of my flight to London and Singapore had arrived and I was greeted by the lovely sound of my alarm clock at 5:00am.
Took a shower, brushed my teeth, had a cup of coffee, once again checked if I had not forgotten anything and off I was to the subway station to catch a train to Hamburg-Ohlsdorf where I would connect to the 5 minute train ride to the airport. I only live 4km away from Hamburg's Fuhlsbüttel airport so the whole trip only took me around 20 minutes.
More trains now, Hamburg U-Bahn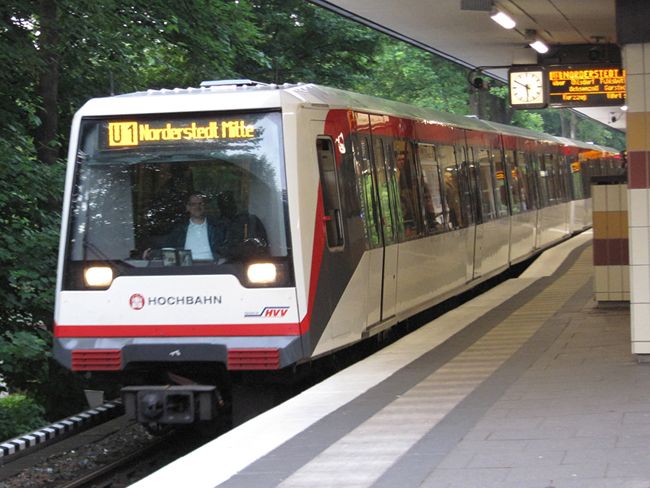 The Airport S-Bahn train which opened last year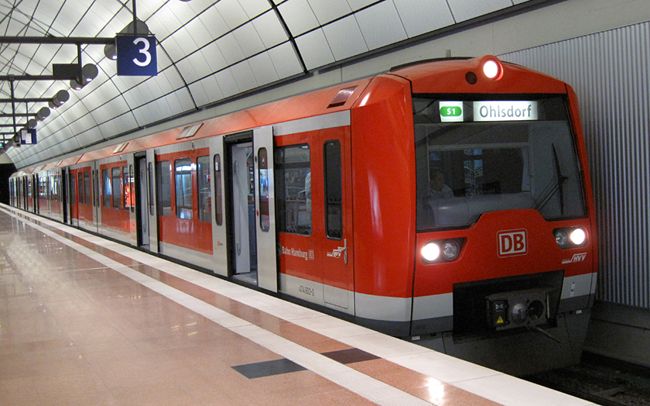 Flight LH4790 HAM-LHR
Lufthansa B737-330 D-ABEP, delivered to Lufthansa 13. February 1992, named "Naumburg"
Seat: Economy, 22F
Scheduled times: 7:35-8:15
Actual times: 7:36-8:25
Load: 100%
I had already checked in online the day before for that flight and secured a window seat on the right hand side of the plane, in the hope to catch a glimpse of London city if the 27s where in use for landing at Heathrow. I went straight to the self service check-in machine in Terminal 2 and printed out my boarding pass. With that precious piece of paper in hand I went to the Lufthansa bag drop-off counter, which was not really busy that morning as it was an official holiday in Germany and all the businessmen where still sleeping and hence not clogging up queues at airports.
The very friendly and chatty male check-in agent checked my bag through to Singapore without any problems, although I had 2 separate bookings on Lufthansa and Qantas. After telling me how jealous he was he wished me a good flight and I went up to the viewing deck of terminal 2. Don't you just love the smell of kerosine and the whining sound of jet engines and APUs in the morning. After watching my plane being towed to the gate I made my way back to the terminal and through security. The new layout of Hamburg airport consists of two terminals and a shopping plaza inbetween, which also houses the central security checks for all passengers. Luckily there weren't any queues at all that morning and I was through in less than 5 minutes.
Departure screen
Lufthansa self service kiosks and bag drop counters in terminal 2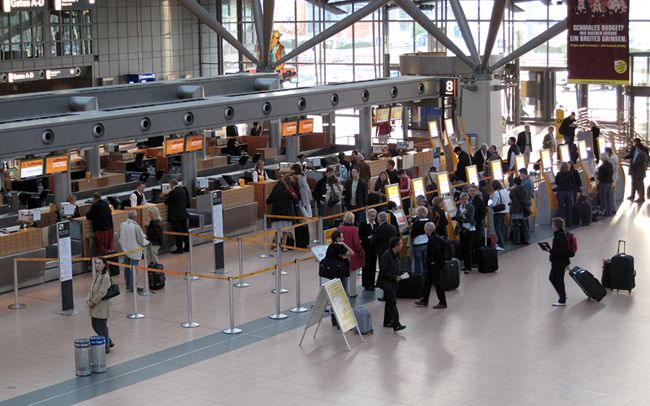 The fairly empty pier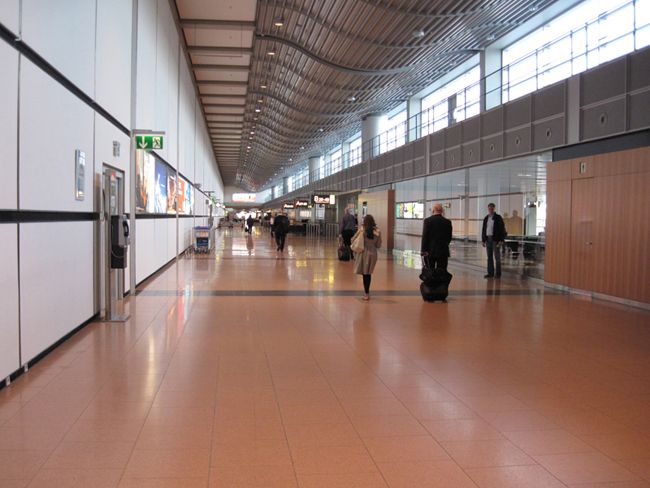 Boarding pass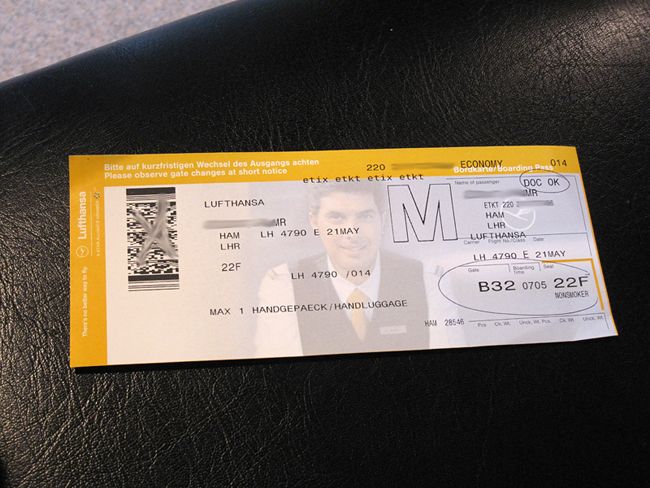 My ride to LHR, D-ABEP at gate B32
The captain doing his outside checks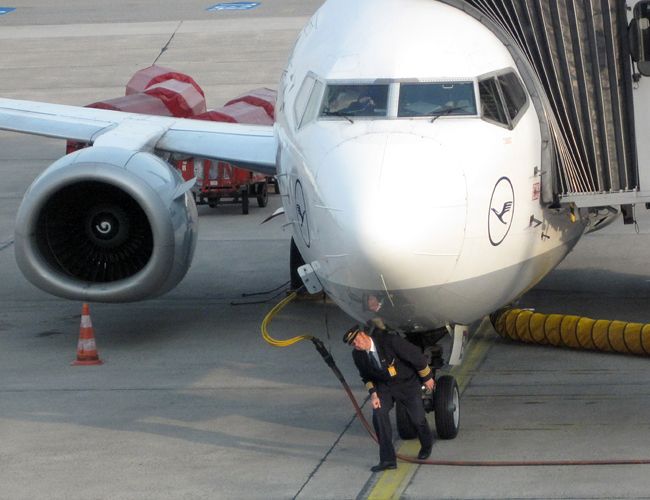 After waiting for a couple of minutes it was boarding time already.
The following flight was uneventful which doesn't mean it wasn't enjoyable.
Here's a video of the departure.
http://www.youtube.com/watch?v=Rfeal48pEAI
climbing out of runway 33 and into the murky sky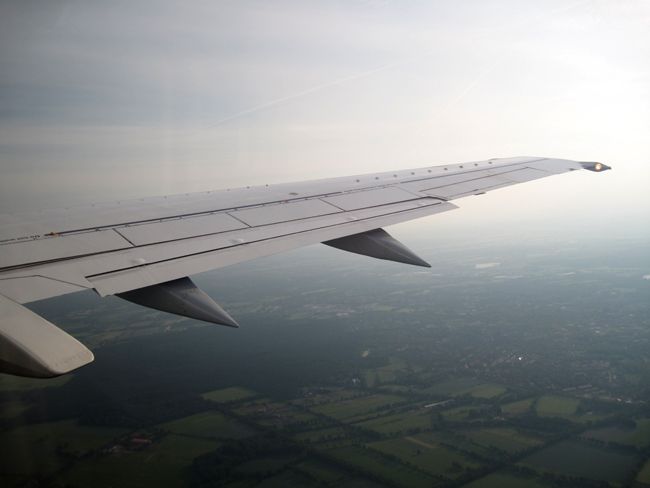 Shortly after departure the standard Lufthansa snack was served, this time consisting of a small bread roll and a chocolate banana granola bar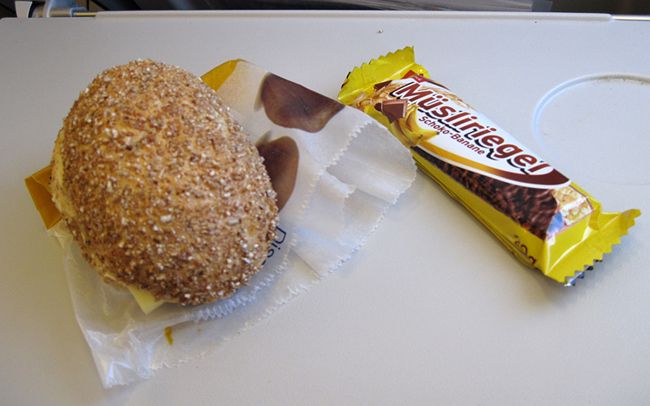 Full house on LH4790 today.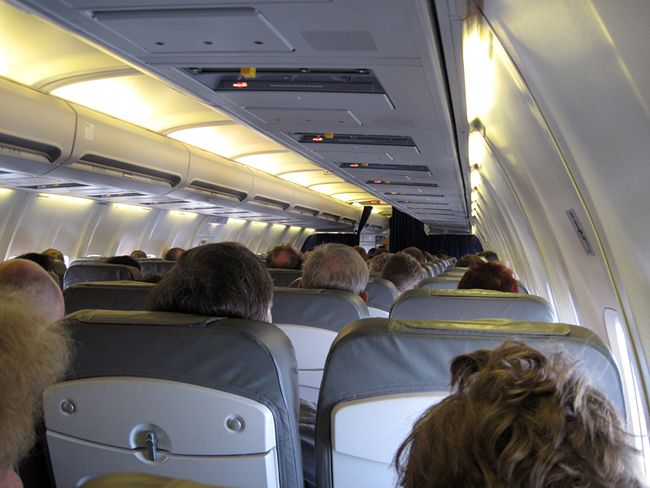 Some traffic as we approach british airspace.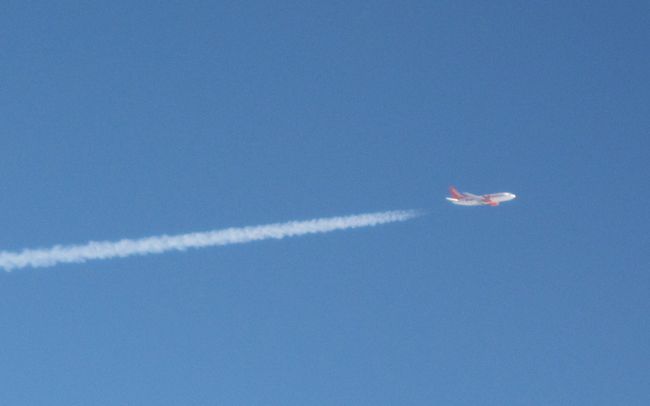 Even more traffic as we perform two laps of honor over north east London.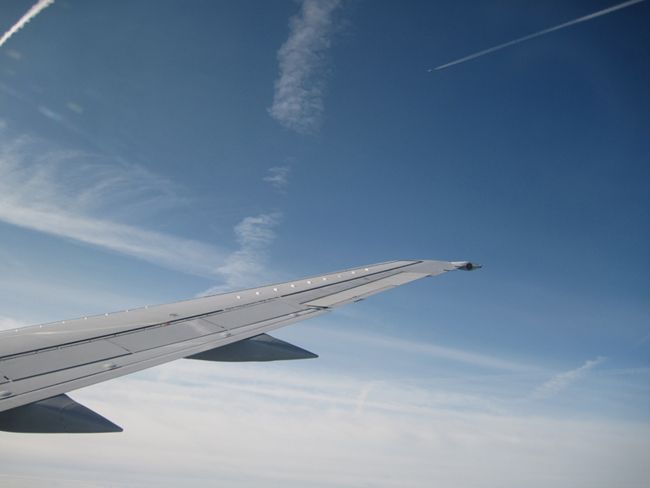 Finally making the approach to runway 27L at Heathrow which offered nice views of the city.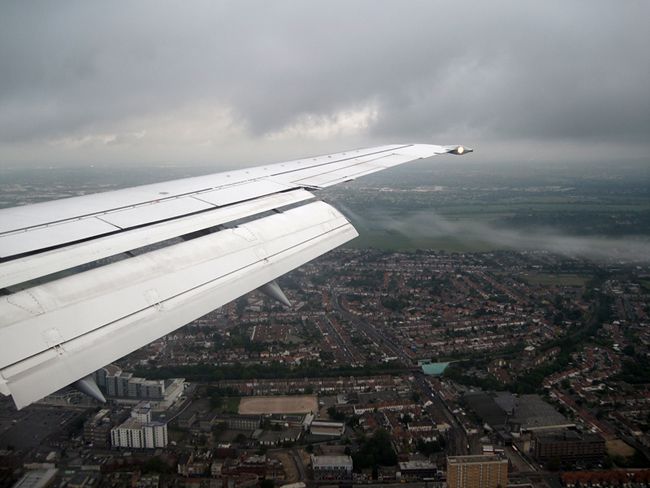 Video of the landing
http://www.youtube.com/watch?v=VK5laa2q1Js
D-ABEP joining an Alitalia and a Lufthansa A320 at terminal 2.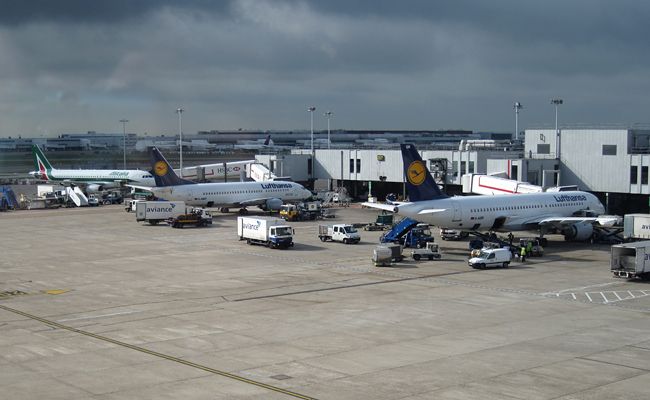 Arrival was nothing special. Plane touches the ground, taxies to the gate and with the seatbelt sign going off, everyone jumps up and stands in the aisle for a couple of minutes until the ground crew finishes their drinks, puts out their cigarettes to eventually starts connecting the jetbridge and unloading the belly of the plane.
Following the signs towards Heathrow's flight connection centre, I boarded the bus to terminal 4, from where Qantas is operates its flights. I remembered long queues at security checks at that point from flights through that airport in the past, but this time there were no checks at all until entering terminal 4. Just a couple of meters after putting my belt and shoes back on I was standing at the Qantas transfer desk where I presented my Lufthansa baggage receipt the nice female check-in agent checked me in for my flight to Singapore and handed me out my boarding pass.
Boarding pass for QF32.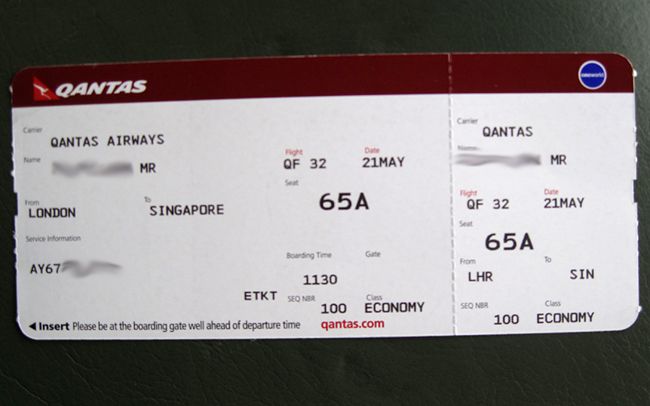 Finally it was time to relax and watch some planes from the northern parts of terminal 4, which offeres quite good views of runway 27L.
Delta Air Lines Boeing 767-432/ER N826MH to JFK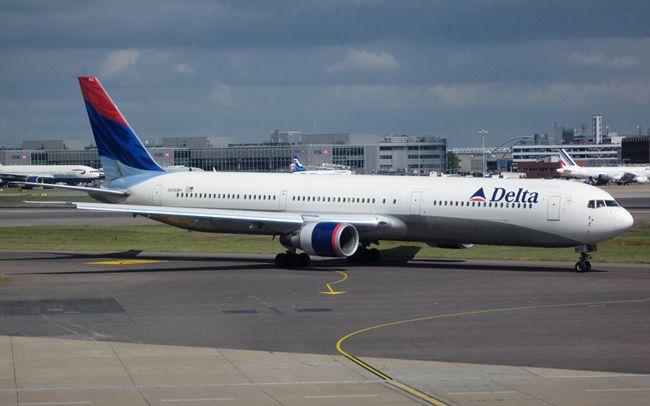 Delta Air Lines Boeing 767-332/ER from JFK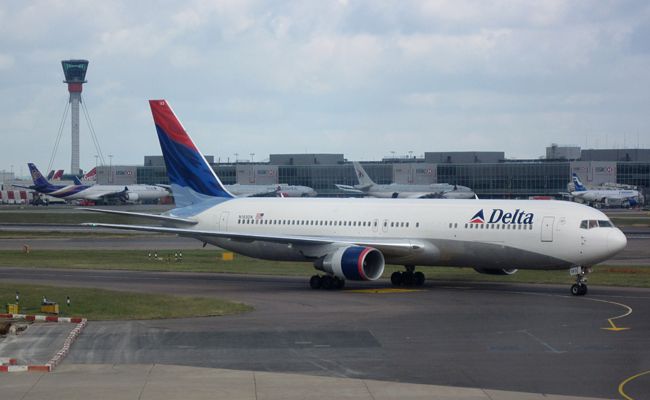 Thai and Virgin A340-600s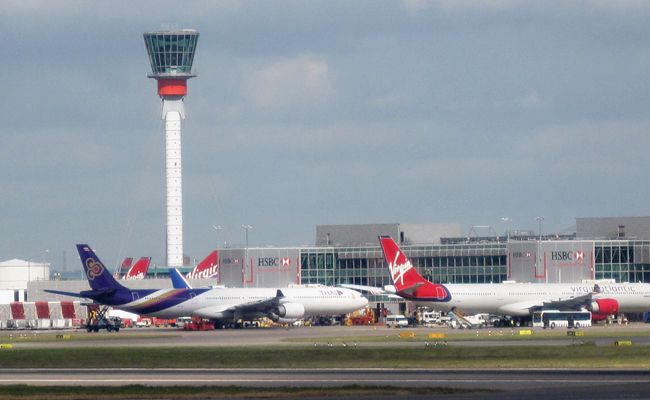 Continental Boeing 777-224/ER N74007 to EWR
Qantas Boeing 747-438 VH-OJH "City of Darwin" being towed to the gate. My ride to Singapore this day.
VH-OJH being prepared for her trip.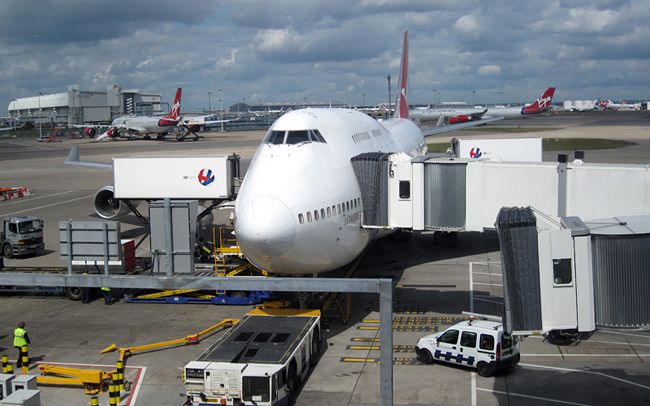 Terminal 4 departure screen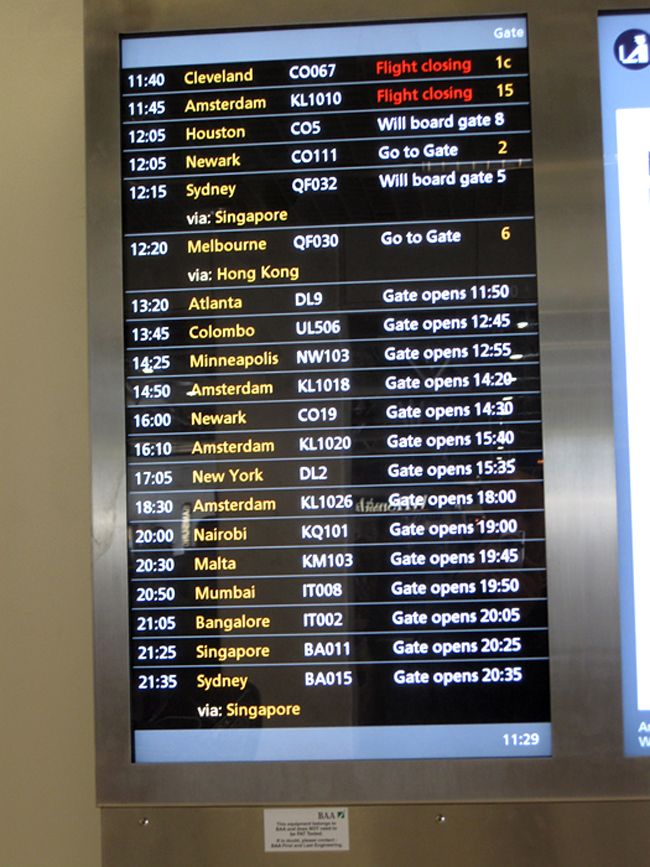 After wandering around the terminal for some time finally the boarding call was made and it was time to make it to gate 5.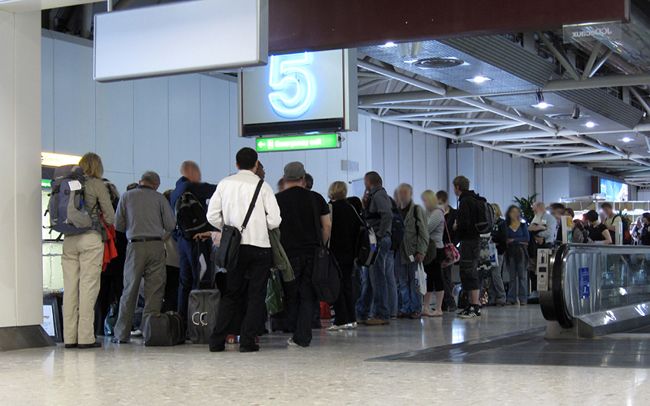 Flight QF32 LHR-SIN
Qantas Boeing 747-438 VH-OJH, delivered to Qantas on 30. August 1990, named "City of Darwin"
Seat: Economy, 65A
Scheduled times: 12:15 -8:10
Actual times: 12:45 - 7:45
Load: est. 95%
Horrible quality but I liked the reflection on the windscreen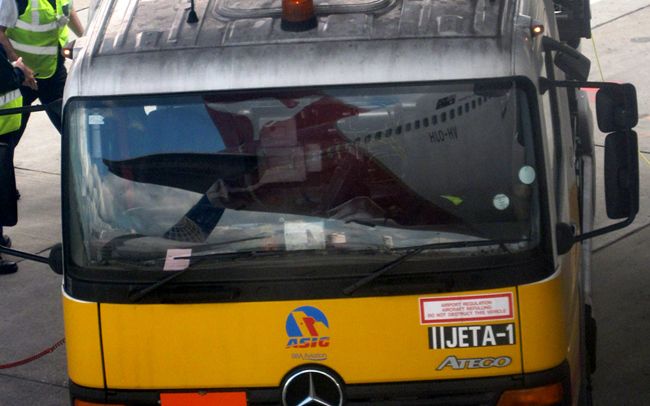 Sistership VH-OJR to Hong Kong as QF30 pushing back just before us.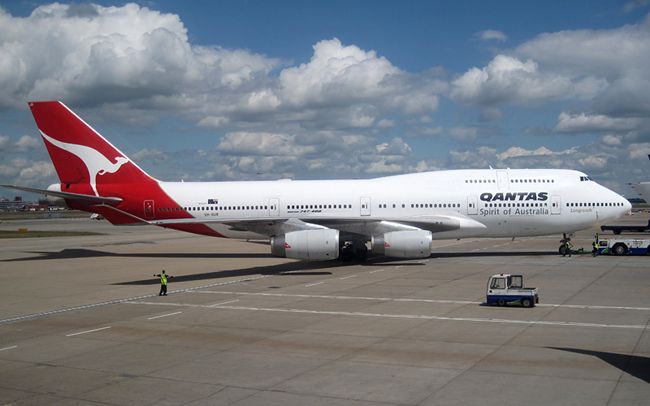 Another new airline for me, Air Ivoire Boeing 737-3H9 YU-ANI (operating as flight JU211 for JAT Yugoslav Airlines to Belgrade)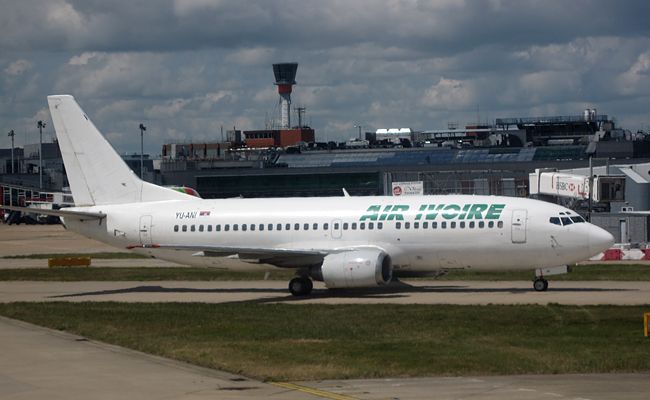 Air Canada Airbus A330-343X C-GFAJ to Toronto holding for us at runway 27R.
The video of the departure
http://www.youtube.com/watch?v=vXwYRYa35c4
Sharp right turns after takeoff and now cruising eastbound over english countryside
Flying over London Stansted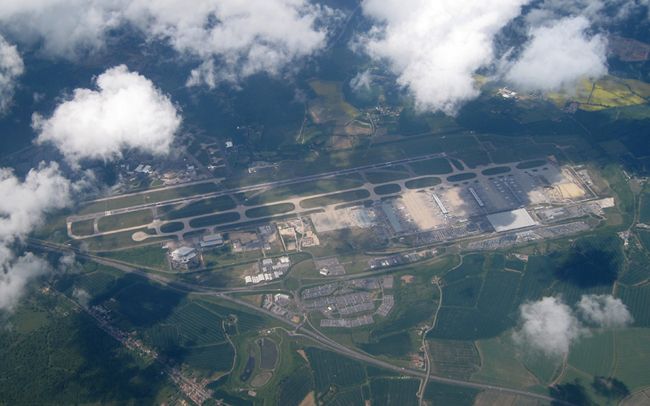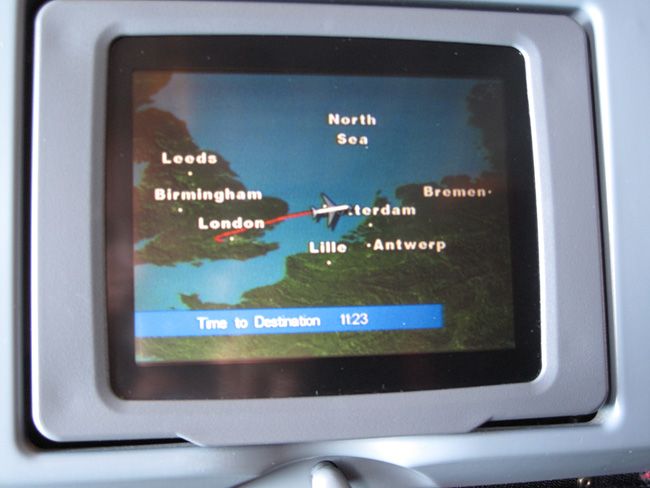 The crew that day consisted of a mix of mostly young and good looking flight attendants, no sign of old and grumpy Qantas grannies, that I read stories about.
I was sitting next to a couple from Belgium who had ordered vegetarian meals and got them at least 30 minutes before the people without special wishes. The 2 already eating during the main food service obviously let the crew think that the whole row was already handed out their meals. In other words: they forgot me. Mr. Belgium was kind enough to inform one of the FAs of me still being hungry and a couple of seconds later I got my tray and an apology. No problem at all for me. During the meal service there were light turbulences because of a thunderstorm between Magdeburg and Berlin.
Roasted Sage and Butternut Salad
Seared Red Snapper with Herb Butter and Sugar Snaps
Cheese and crackers
Ginger Ale
Elista airport (ESL/URWI), Russia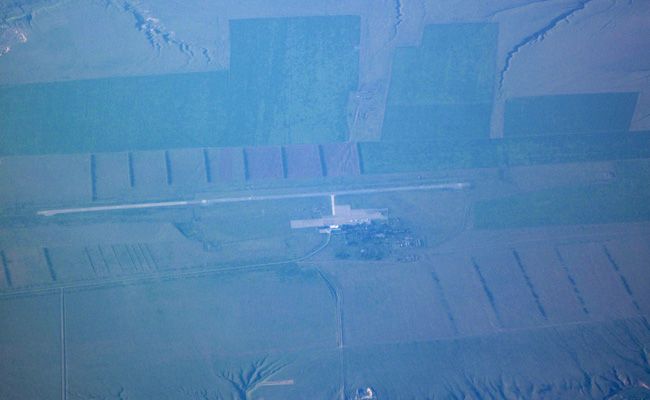 Some 4 hours into the flight the "Snack on Q" bags where handed out. They include a bottle of water and several snacks like rice crackers, chocolates etc. Very nice.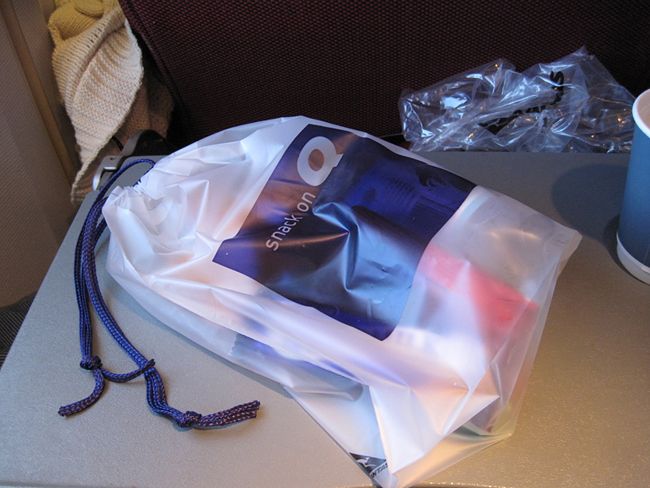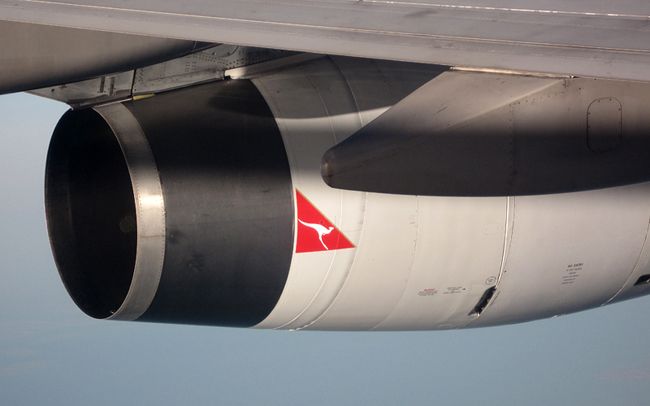 Shortly after the sun set, cabin lights were dimmed and I tried to sleep which didn't quite work. Instead I played around with the AVOD and watched Changeling with Angelina Jolie. During the course of the flight the system had to be rebooted at least 3 times because of not responding to remote input. This seems to be a common problem with Qantas, as I read about these problems in several other Qantas tripreports.
Initial cruise altitude was FL310 but as VH-OJH burned more fuel we step climbed to FL330, FL350 and eventually reached our final cruise altitude of 37000 feet somewhere over the indian ocean.
I finally managed to get some sleep and was woken up by the flight attendants preparing the breakfast service in the nearby galley. So cabin lights were switched back on again and breakfast was served. Once again the Belgian couple next to had already finished their veggie meals when I was given my choice of breakfast. (They didn't forget me this time)

Hot Breakfast
Orange Juice
Fresh Fruit Salad
Vegetable Omelette with Bacon (Yuck!) abd Braised Beans
Butter Croissant
Raspberry Yoghurt
Coffee or Tea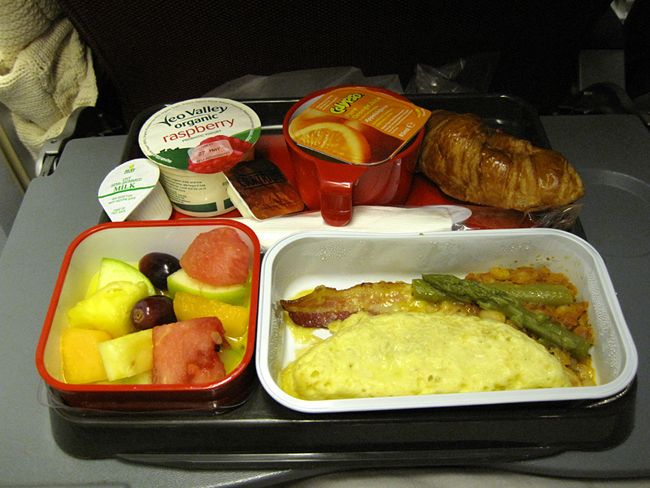 Beautiful sunrise over Kuala Lumpur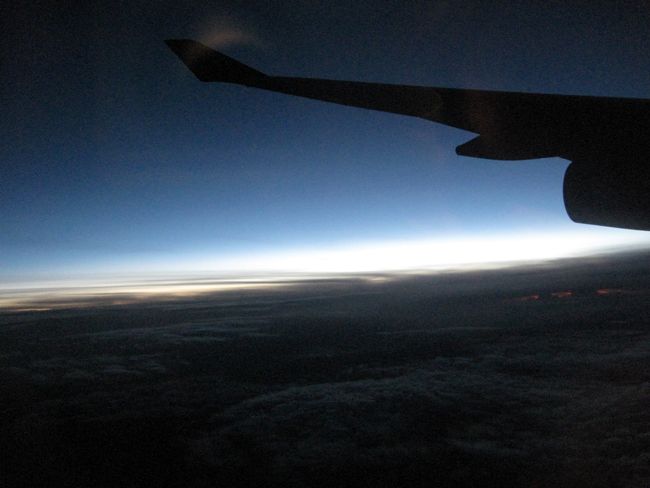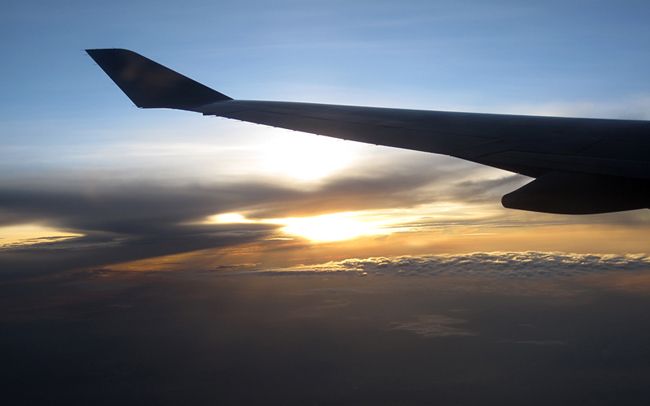 Approaching Singapore Changi's runway 20R
Here's the video of the landing
http://www.youtube.com/watch?v=sT9pSBGejao
Taxiing to the gate
I was so tired that I forgot to take any pictures at the airport, so here are 2 that I took some days later.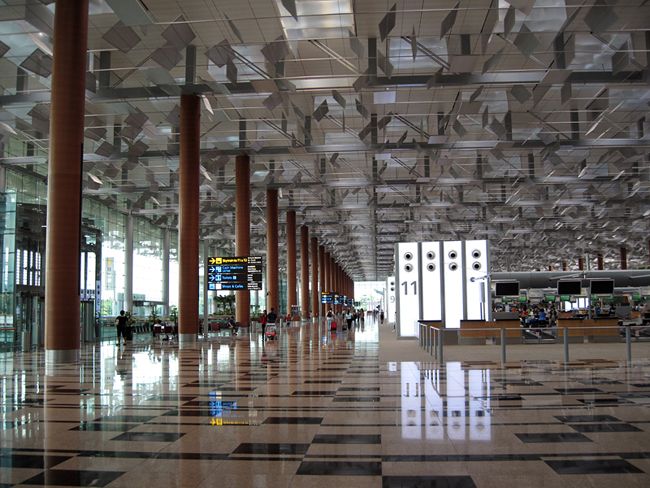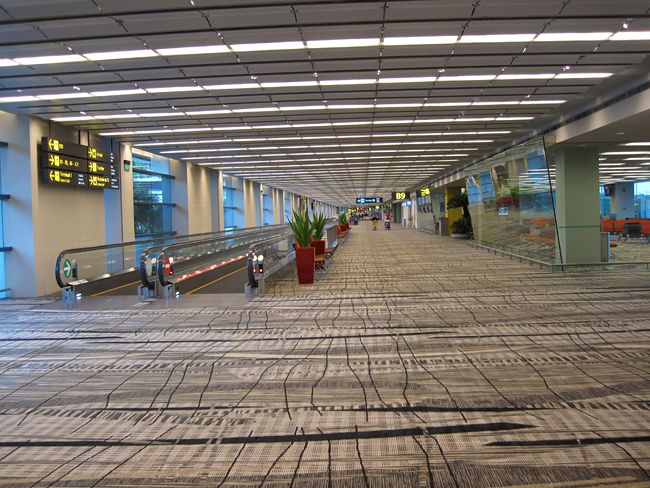 After getting my bag I went straight through the infrared camera lane and immigration (no queues at all) and finally to my hotel in Bugis.
Mmmmmh....Satay sticks with peanut gravy in one of the hawker centres. Yummie!
The next segment of this trip would be SIN-MEL-SYD which will be covered in Part II, coming soon.
Remember that this was my first trip report, so please don't be too harsh with criticism.
None the less, comments and questions are always welcome.