Hello, dear readers, this is part 2 of my TR to DUB. The first part can be seen here:
https://www.airliners.net/aviation-fo...s/trip_reports/read.main/149174/1/
After a night at the Radisson Airport Hotel at DUB I had to get up very early at 4:45 am. With the two Austrian girls from the bar the night before we agreed on a meeting in the hotel lobby at 5:15 am, because we wanted to take together the airport shuttle bus. And so we did. After checking out we had coffee and water, which was offered for free in the lobby for early departing guests. After some minutes the shuttle bus arrived and our baggage was stowed. Only a short ride to the Airport and we made our way into the crowded terminal. The Austrian girls had to check in at the crowded EI gates, because the kiosks made an issue that they couldn't check in themselves for their EI flight to VIE. We planed to meet again after check in and had another coffee together after security check. I went on to the LH check in which is located at area 10 in DUB. I lined up at the business class check in with only one pax in front of me. When it was my turn, I asked for window seats. The desk agent, which wasn't LH staff, was very friendly and I got my window seats. She made a sticker on my boarding pass and told me to use the fast track at security.
Check in hall at DUB. The crowded counters in the distance were mainly EI desks:
The LH check in counter (sorry for the bad quality):
My boarding passes with the fast track sticker:
I went back to the EI counters to see how the girls were doing. They didn't move very much and it was clear that they had to wait for a long time. Boarding would start in 30 minutes for me so we said our goodbyes and I headed to security. An officer had a look on my boarding pass and waved my through to the fast track. Just 3 people in line and I was through a few minutes later. The other lines were overfilled so I was glad to enjoy the privilege of the frequent traveler state.
Behind security were shops and bars: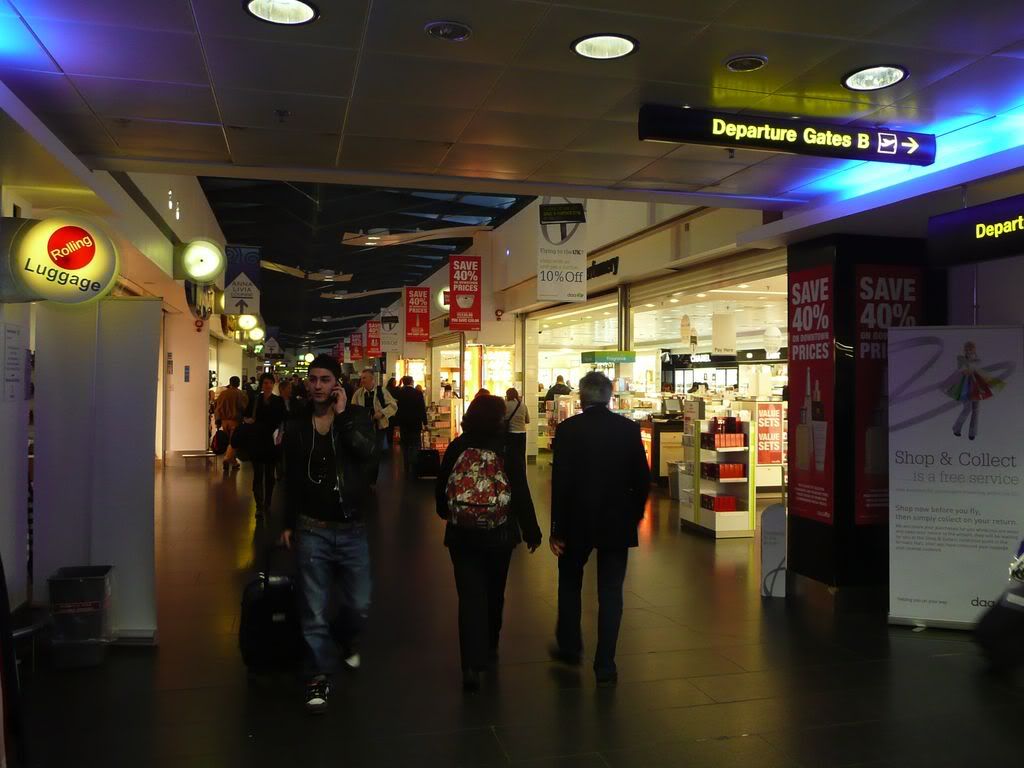 View onto the apron:
My assigned gate was C52, which is a bus gate downstairs. The area was a bit crowded because next to our gate was a flight to Porto boarding.
At gate C52: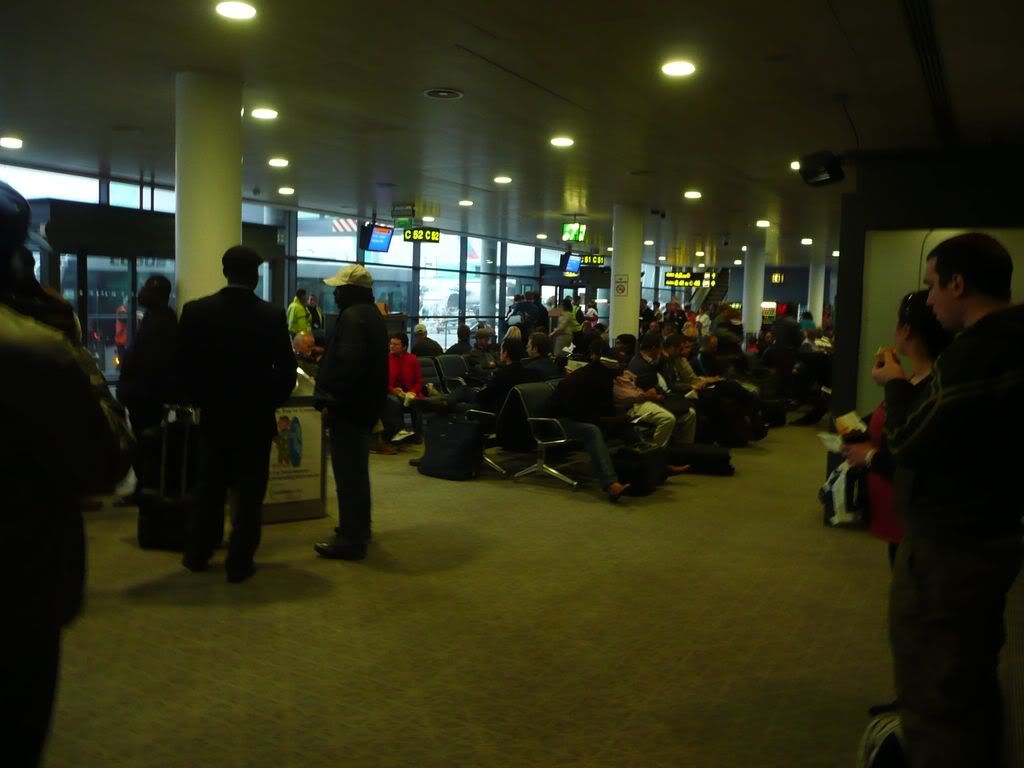 Flight: LH 4985
Route: MAN-FRA
DATE: 17. May 2009
SCHEDULED: 06:40 // 09:40 (1 hour time difference, duration 2 hours)
ACTUAL: 06:45 // 09:35
A/C: A319-100
REG: D-ACLP, 3rd flight on a A319, 1st time on this machine
SEAT: 4A
CLASS: ECONOMY
View Large
View Medium


Photo © Senior
This A319 was delivered to LH on August 27th 1997
Boarding started on time and I was quickly on the first bus off to the plane. Boarding via stairs was very slow. Time to take some pics: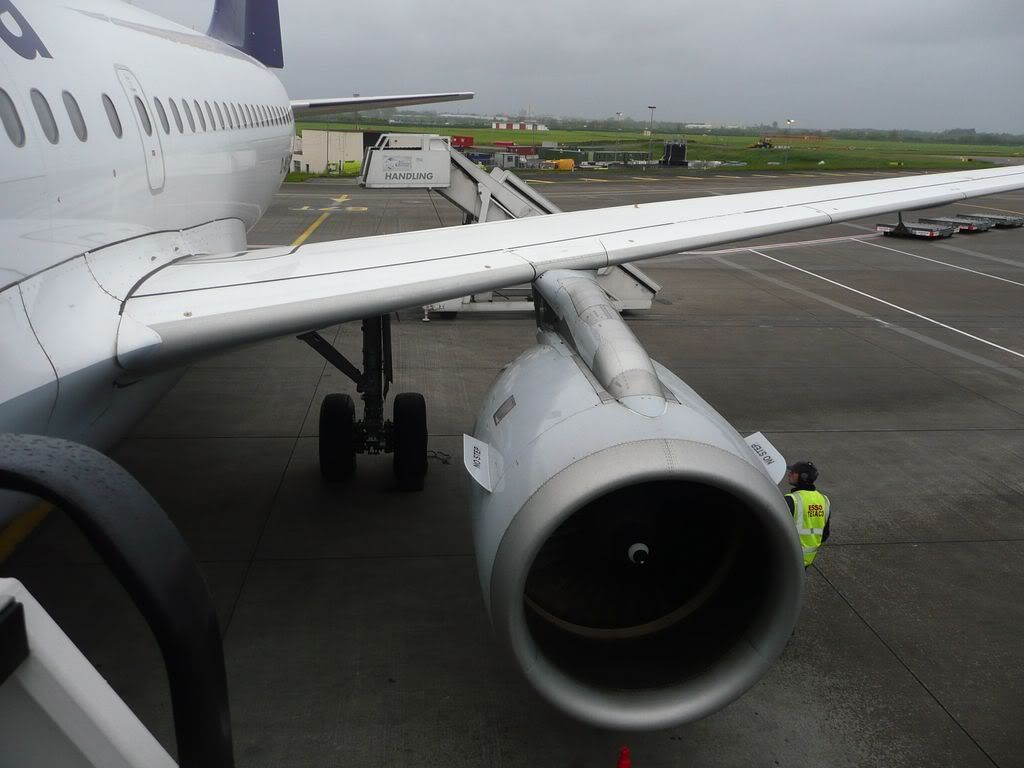 My seat was 4A which was in the first economy row. No view to the front because of the curtain dividing Y from C class cabin. At 4C was a DHC f/a. I hoped that the middle seat would remain empty. Then another bus with pax arrived:
Shortly before boarding was completed another woman settled in 4B. The load was quite high this morning. A short welcome from the captain after boarding was completed, but no route information today.
We left the parking position a dew minutes late and taxied a long way to rwy. 16. At 7 am we took off:
In front of the engine you can see the Radisson Airport Hotel: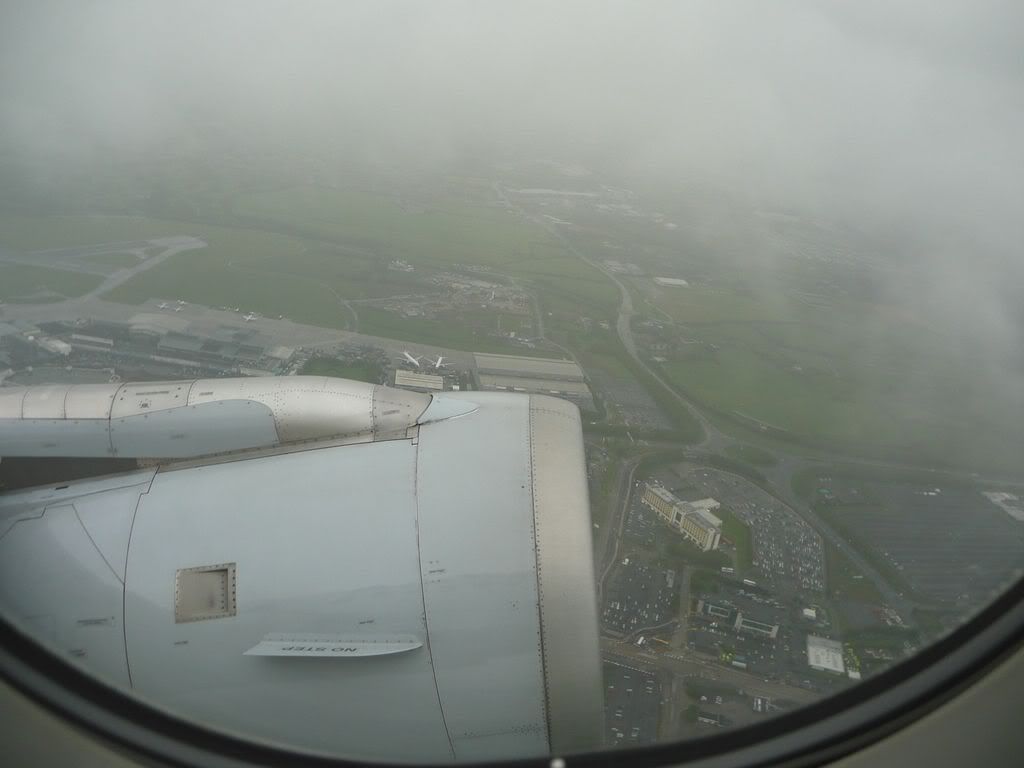 At FL100 the crew started their service. We got a cheese baguette and drinks. I chose tea and water. Another beverage round came again later in the flight.
In flight:
Shortly before descent begun the f/a came to the lady next to me and told her to come into the front now. I didn't see her again.
Approach over the City of Mainz:
In Mainz the Main river flows into the Rhine river:
We landed on rwy 07L at 9:30 and reached gate A34 (if I remember right) at 9:35:
A company A320 next to us: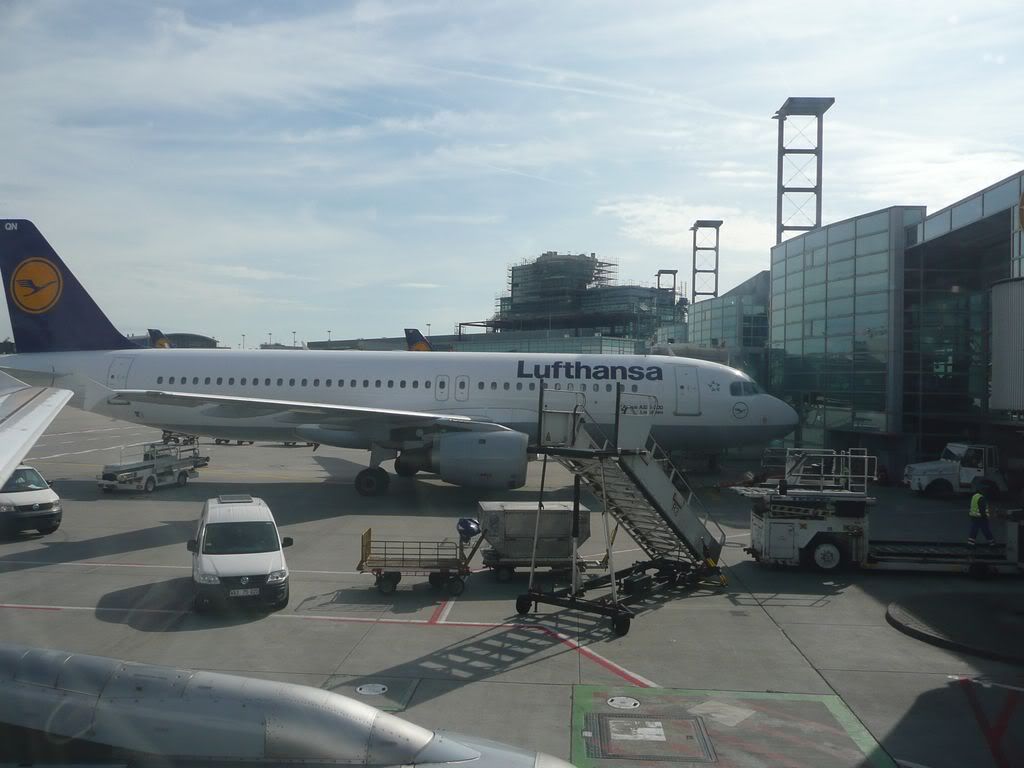 The new tower with the tower lounge on the roof of the A pier:
We had to disembark via stairs, because this gates are for the Schengen area, but we arrived from a non-Schengen country. Therefore a bus picked us up and drove us to the B pier:
No I had to kill more than three hours, so I had a breakfast at McDonalds in the airside centre of the B pier. I'm not a big Fast food fan, but I was still hungry and McDonalds has a nice view onto the apron. Later I walked through the tunnel to the A pier and into the business lounge at gate A 26. It was crowded, but I found an empty armchair at the window and had a nice view onto the apron again. After a while I dozed off. Not that the view was boring, but the night before was short. Sometime it was time to leave the lounge. The walk to the gate was short. It was gate 20, a usually finger gate, but we went downstairs and a bus brought us to a remote stand. I hoped again for a new registration of the CRJ fleet, but… oh no, D-ACJH again.
Flight: LH 1172, operated by Lufthansa Cityline
Route: FRA-PAD
DATE: 17. May 2009
SCHEDULED: 13:30 // 14:10
ACTUAL: 13:25 // 13:55
A/C: CRJ200LR
REG: D-ACJH (little Europe), 23nd flight on a CRJ100/200, 5th time on this machine
SEAT: 8A
CLASS: ECONOMY
View Large
View Medium


Photo © Nigel Fenwick
I was greeted at the door by the same crew as yesterday. We left the position some minutes early and taxied to rwy 25R. Winds changed, so we took off to the direction where I approached from some hours before.
After take off, the US Air Force Base in Wiesbaden:
The city of Wiesbaden:
The flight was very short. One round of beverages and we started our descent into PAD. Before landing we flew around the Airport. Here you can see the regional airport of PAD:
We landed on rwy 24 and after a short taxi we arrived on our parking position in front of the terminal. A bus brought us to the other end of the terminal, where the pax entrance the baggage claim are located. A last view from the bus:
A nice short trip for the weekend was over now. But no reason to worry. Two weeks later (last weekend 30/31 May) I had the next short trip to MAN, which hold a nice surprise in readiness for me. I will write a TR about it within the next days.
Questions and comments are desired as always.
Cheers,
Stefan