Good day everyone!
I'm glad to find myself writing a trip report again for me to share. As some of you may know, I do Irish Dancing. Irish Dancing has made me do some really cool trips in the past 2 years. This time it took me to the World Irish Dance Championships in Philadelphia.
I started looking out for the tickets back on February, where the normal fare was around 500 USD on a flight to Philadelphia. As a stop was required, I thought that a better option would be to fly to New York and then take the Amtrak to Philly. Flights to New York were not that far in price as well. Finally Mexicana had a ticket outlet and the price for the roundtrip to New York was 210USD!!! The price of the ticket was unbelievable. 420USD for two tickets to NY was not something easy to get. After that we saw the the price for the roundtrip ticket in the Amtrak to Philadelphia was around 180 usd for both of us.
The day finally arrived and a great week in NY and Philly started. We had to arrive at the aiport at 4 in the morning. I'm physically unable to wake up at surreal hours of the morning so I better decided not to sleep the night before and just sleep in the plane. My mom thinks she needs to be in the airport 5 hours in advance so at the end we arrived 3:30 at the airport (zzz...). The check in counters were not opened so we had to wait for a while outside.
Mexicana changed it's image recently. I was not very fond of the new "Official Sea World airline" colors but what they did to the check-in counters was fantastic.
Mexicana's new check-in counters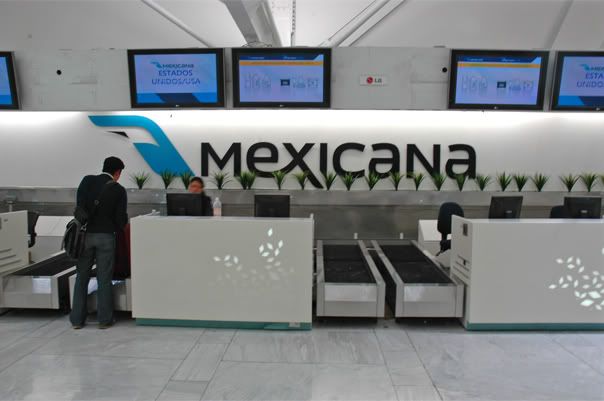 Check in was super fast and the lady doing the job was very efficient ( even though she was dying to go home and sleep). We still had a couple of hours before going to the gate for boarding so we went to take breakfast ( if there was SOMETHING opened). Surprisingly everything was closed ( at 4:30 in the morning...of course). We took some time to change money until the food court opened.
The new ticket holders from Mexicana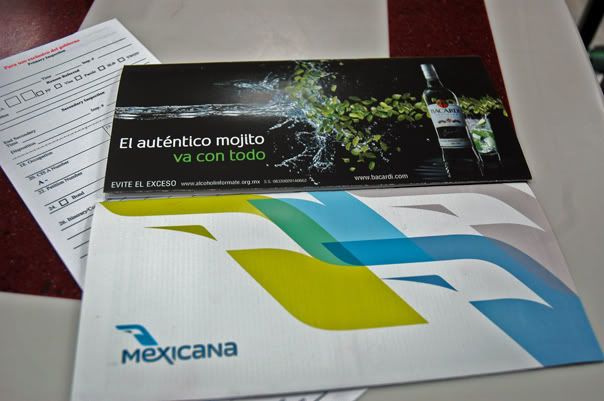 We had breakfast and our assigned gate was in the domestic part of the terminal ( our flight had a stop in MTY). We walked for 10 minutes until getting there and they wouldn't let us in because we were going on an international flight (great). The airport staff was apparently not organized and we had to call a Mexicana employee to explain security why we had to go through that gate. They finally let us in and waited in the deserted domestic terminal.
NO ONE!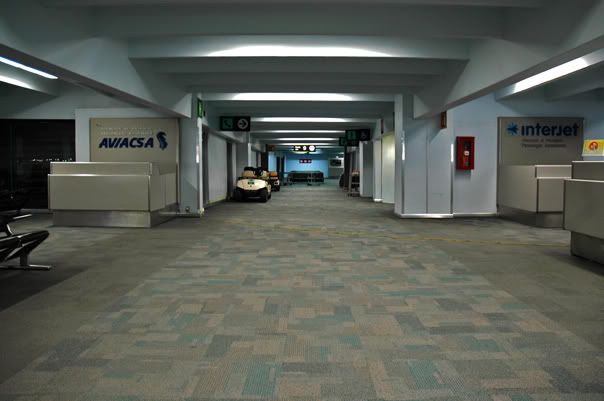 More people waiting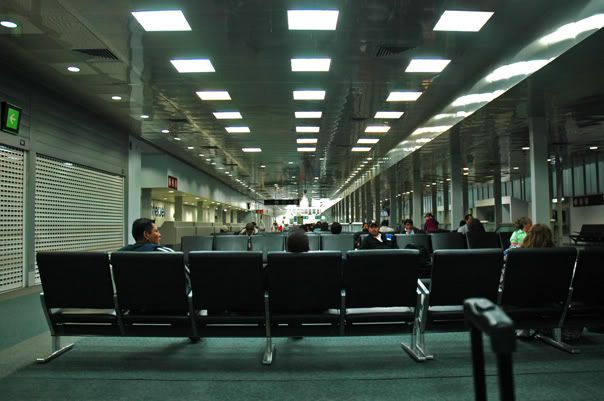 Our gate was finally announced on the speaker. To our surprise the gate was back in the international part of the terminal all the way to the 30's gates ( a 15 minute walk with an intermediate stop in security). I'm glad MEX wants us to do some excercise once in a while but PLEASE not at 5 in the morning!
MEX-MTY
Mexicana Airlines
Flight: MX5
Depart: 6:00 /6:28 (Scheduled/Actual)
Arrive: 8:30 / 7:38(Scheduled/Actual)
Duration: 1h 10min
Equipment: Airbus A319
Reg: ----
Cabin: Economy/Turista
Seats: 14A and 14C
Seat pitch: OK...
Load: 60% (aprox)
Gate: 30
Departure Runway: 5L
Arrival Runway: 11
Boarding was the normal chaos it is but fast enough as everyone in the flight just wanted to sit down and sleep.
Our plane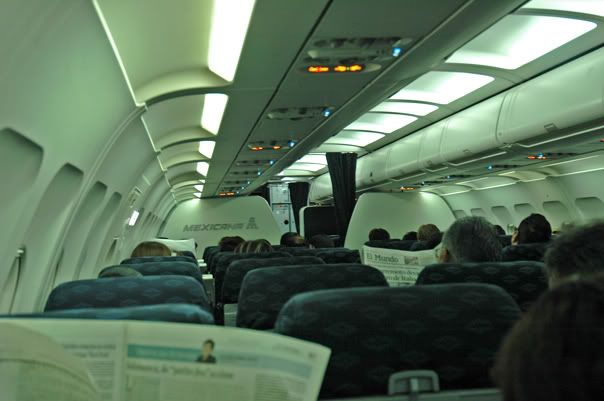 Takeoff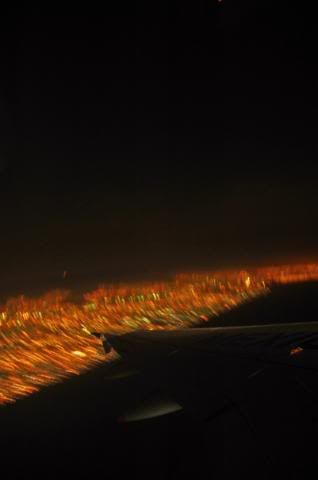 A small meal was given by the lovely FA's some 20 minutes after take off. As this was a small domestic flight, Mexicana offers you a small ( but very tasty) sandwich with the drink of your choice.
The flight went by really quick ( well I actually slept for the most part of it). An hour and 10 minutes later we were landing in Monterrey with a beautiful sunrise over the mountains surrounding the city.
Landing
This was the first time ever I've been to MTY so I was thrilled with having to do a small stop there.
Is this a new terminal in MTY? Looks really cool!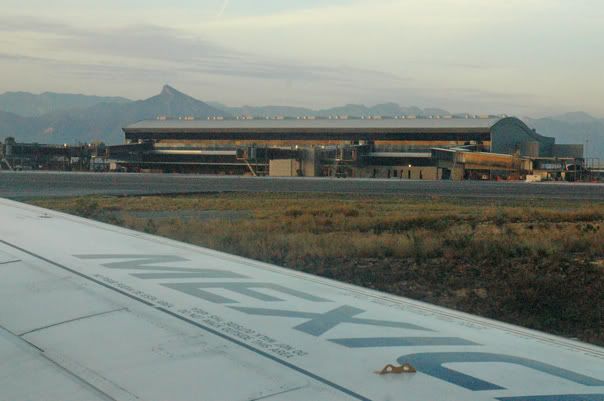 The Control Tower in MTY, Part of OMA airports in Mexico.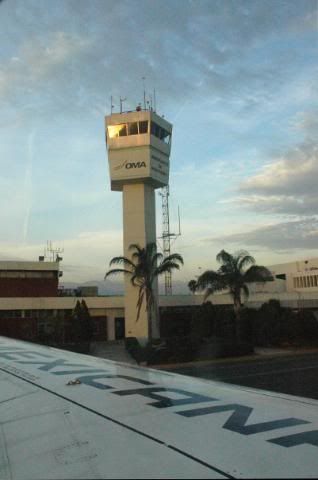 The stop in MTY consisted of passengers with MTY being the final destination being taken out of the plane first. Pax continuing to JFK were to remain for a couple of minutes in the plane to then be taken to the terminal. This because authorities have to check the plane in order for it to continue its trip to USA ( or so they say). Monterrey's airport is lovely, the view to the tarmac is great and the space is well organized.
Monterrey's Terminal
AA plane bound for DFW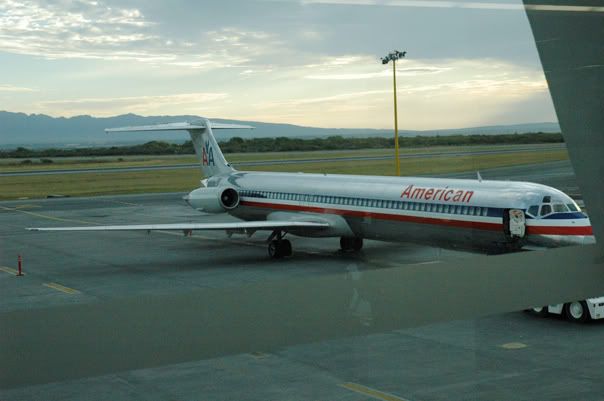 Our gate with pax from MTY and MEX waiting to board.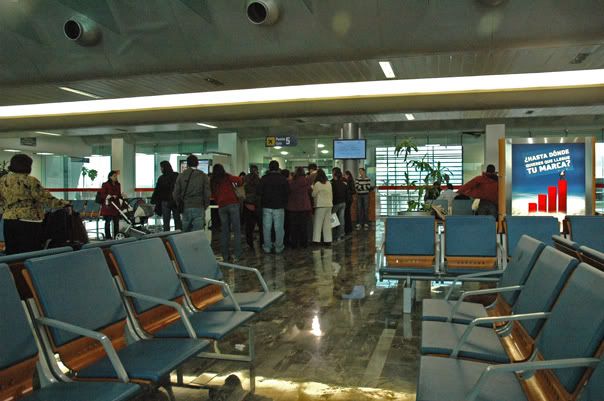 MTY - JFK
Mexicana Airlines
Flight: MX5
Depart: 8:15 /8:40 (Scheduled/Actual)
Arrive: 8:30 / 13:10(Scheduled/Actual)
Duration: 3h 45 min / 3h 29 min (Scheduled/Actual)
Equipment: Airbus A319
Reg: ----
Cabin: Economy/Turista
Seats: 14A and 14C
Seat pitch: OK...
Load: 95% (aprox)
Gate: 15
Departure Runway: 11
Arrival Runway: 31R CAMRN4 Arrival
Our gate neighbours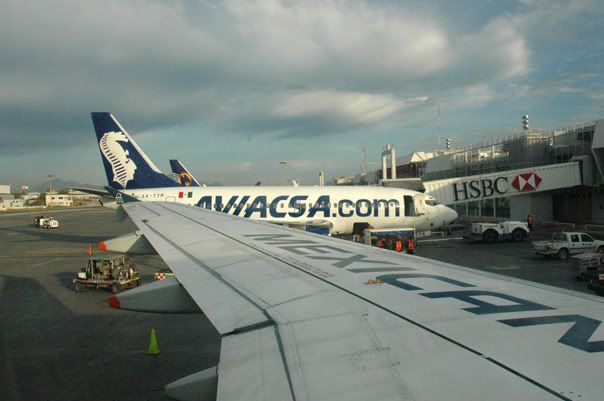 Lot's of traffic in MTY!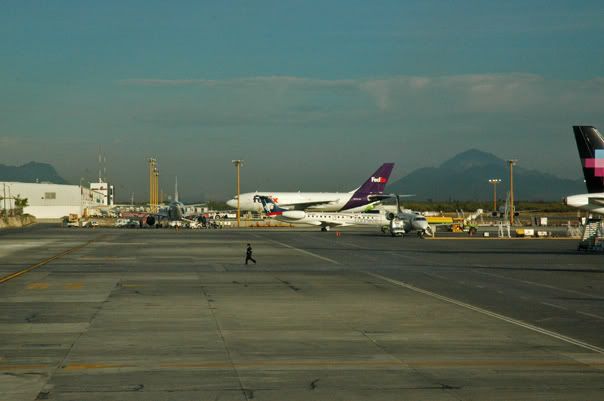 UPS plane @ MTY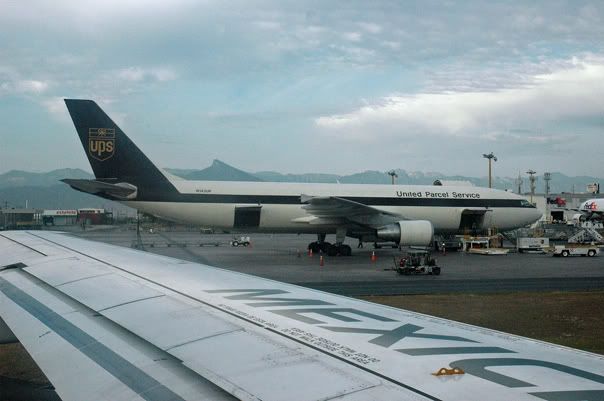 Our taxi to rwy 11 was uneventful and quick. We had to wait until this Aeromexico 737 landed.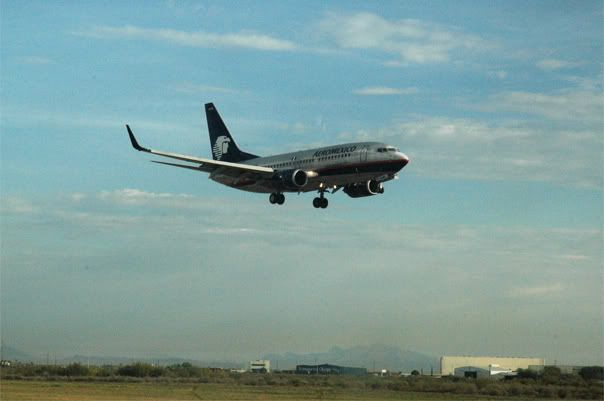 Departure runway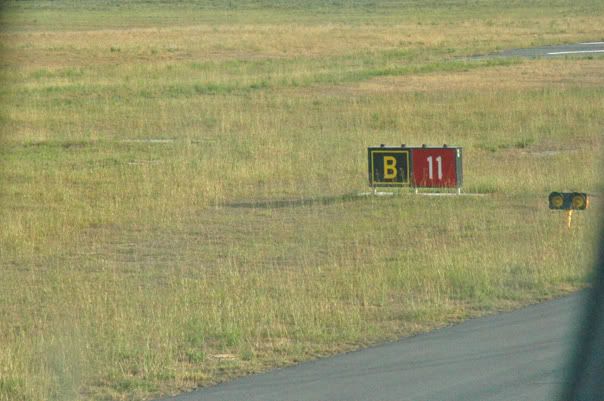 Takeoff!
Left turn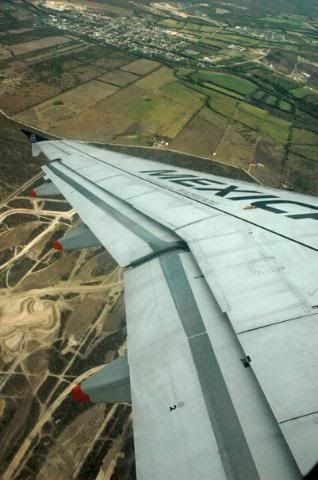 The flight was perfect. But i was starting to show signs of tiredness due to my decision of not sleeping the night before. I tried to stay awake to watch the Bolt movie but fell asleep eventually.
Bolt being showed at the screen ahead.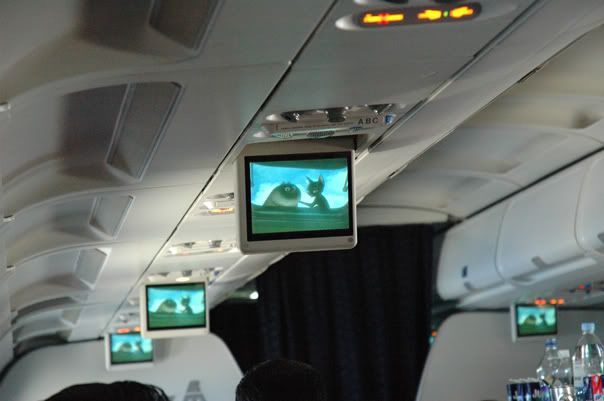 Two meal options were available: Chilaquiles and Scrambled eggs. My choice was the eggs ( which were not good AT ALL).
My mom had the chilaquiles
The terrifying eggs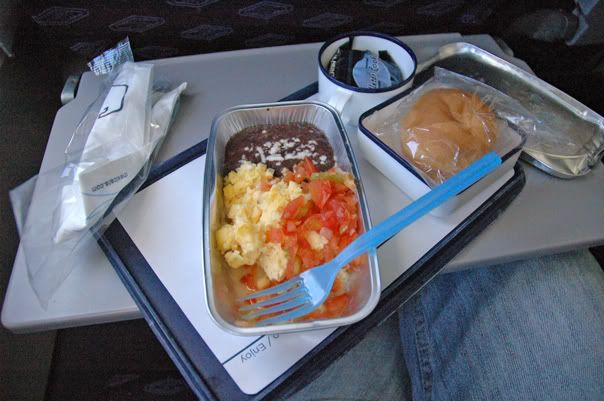 Starting descent with some spoiler action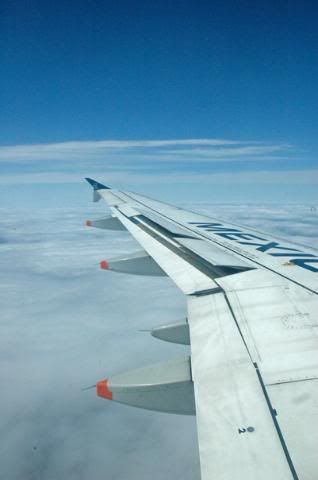 CAMRN4 arrival!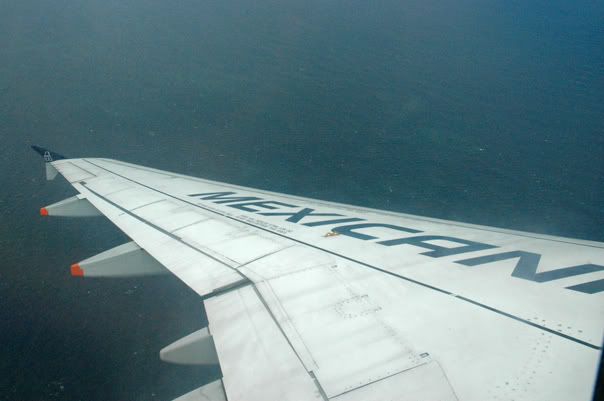 JFK insight!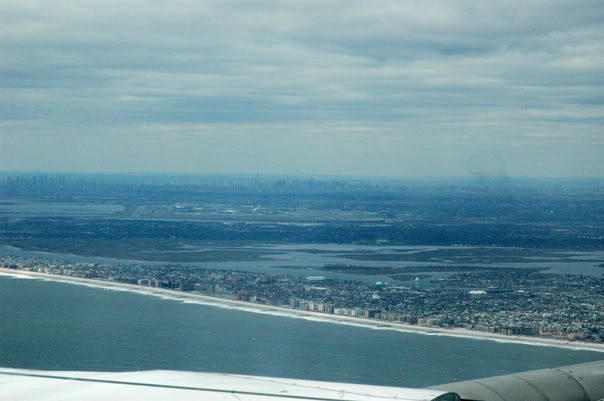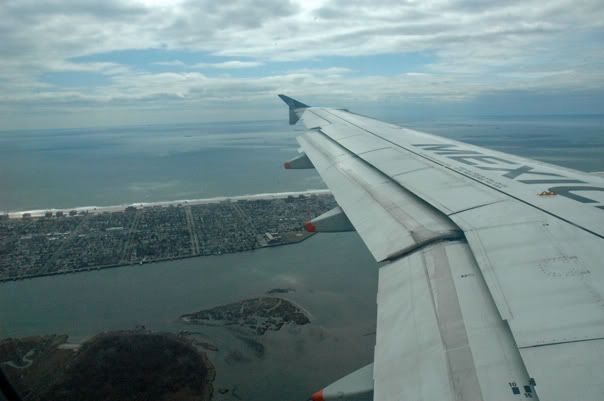 Landed! Emirates and Air India in terminal 4
BA and CX at terminal 7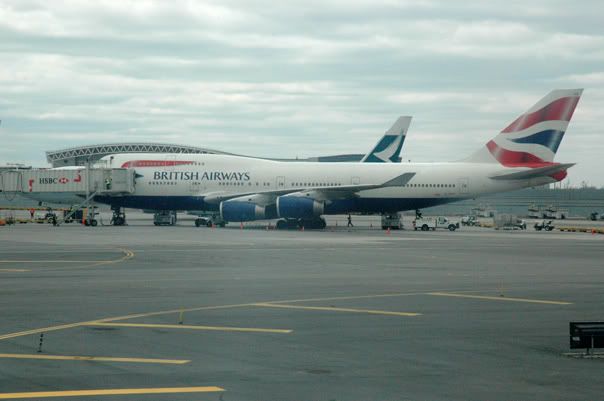 Love this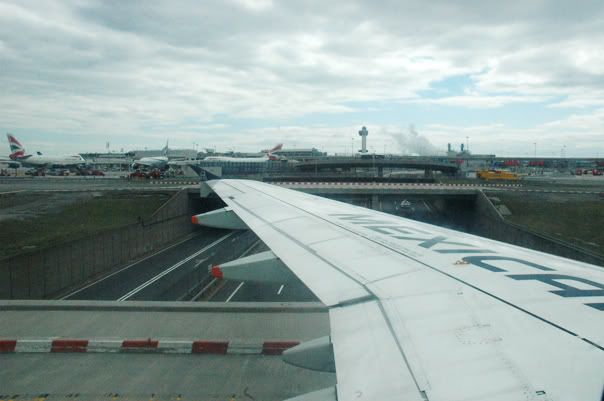 My first sight of a Jet Airways plane!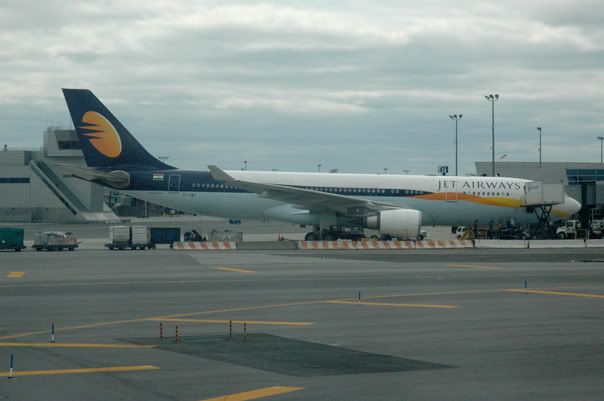 Parking at JFK's Terminal 8 with AA neighbors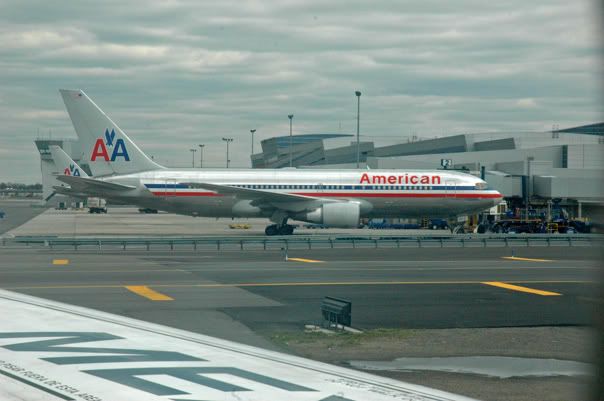 Terminal 8 directory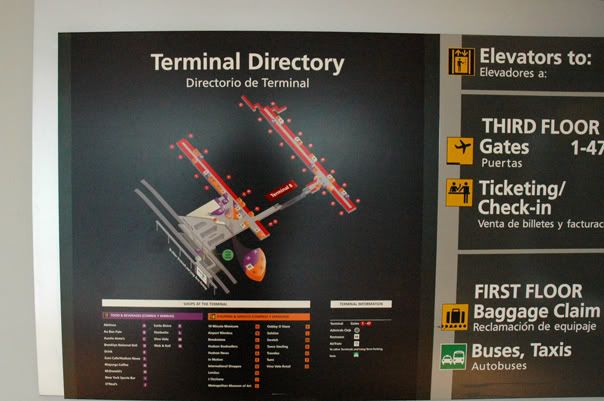 Immigration was not fast, our bags were already taken of from the bag belt when we got to the baggage reclaim section of the airport. We had to meet some friends at Terminal's 1 Air Tran Station ( they flew with Aeromexico) so we could all go together to Penn Station. They were going straight to Manhattan, we were only doing a quick stop and take a train to Philadelphia.
View from the Air Train: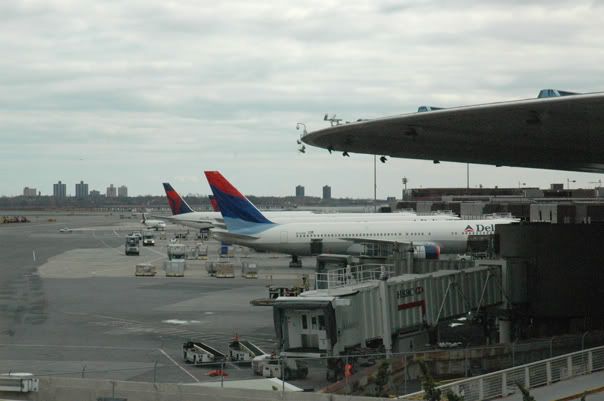 Terminal 4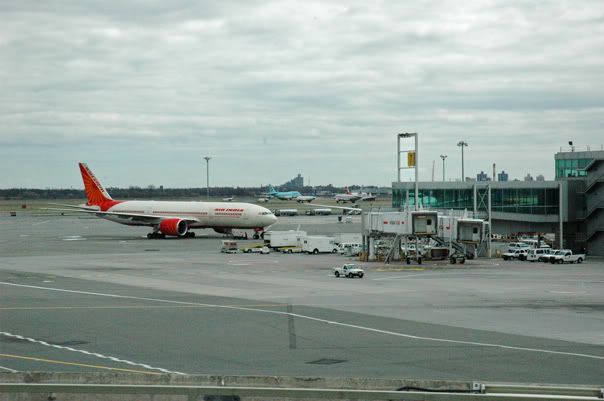 Terminal 7 with some Open Skies planes there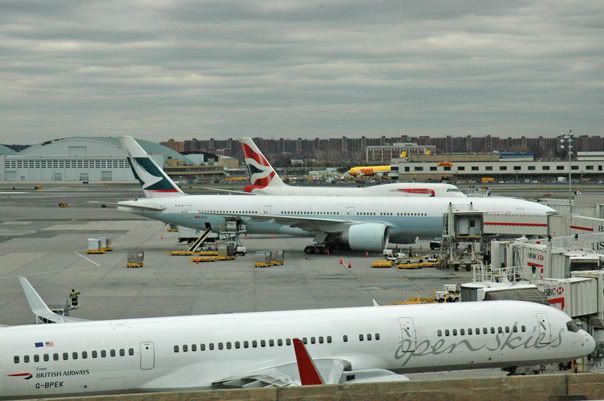 Queens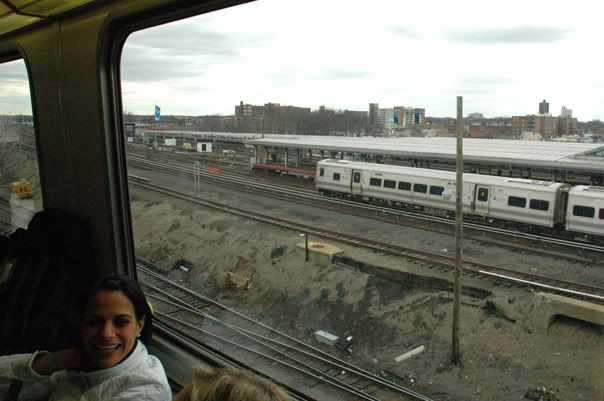 The Air Train took us to Jamaica Station from which we took the Long Island railroad to Penn Station. We spent an hour trying to figure out how to pay for all the transfer mania we had to go through at Jamaica Station. It was just too confusing and no one was willing to help us apparently. After some time we figured out and waited in the middle of freezing wind for the train to Penn Station.
Lady checking our tickets at the LIR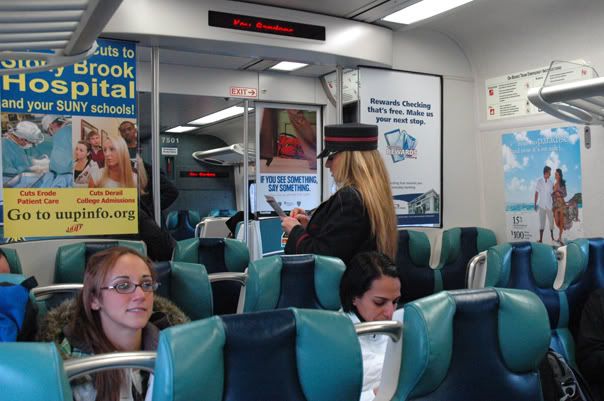 At Penn Station we bought ( after a very long line cuz there was no machines available) our tickets and had a small meal before taking our train to Philly. The last time I was in New York was around 13 years ago so I was shocked with the amount of people we found at the terminal. Finally we took the 4pm train to Philadelphia with stops in Newark, Trenton and finally Philadelphia.
Prudential center in Newark from the train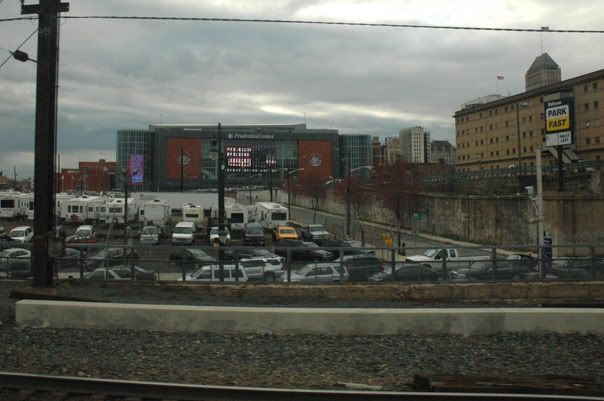 After sleeping for some moments we finally arrived at Philadeplhia's 32's? street station. I found the station to be quite classy, loved it.
Loved the style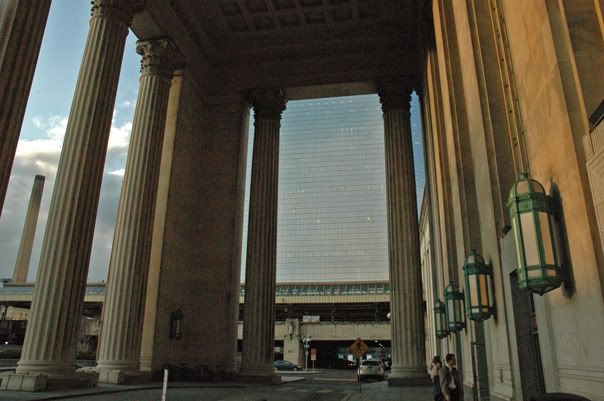 Philly finally after being in MEX, MTY, NY and EWR.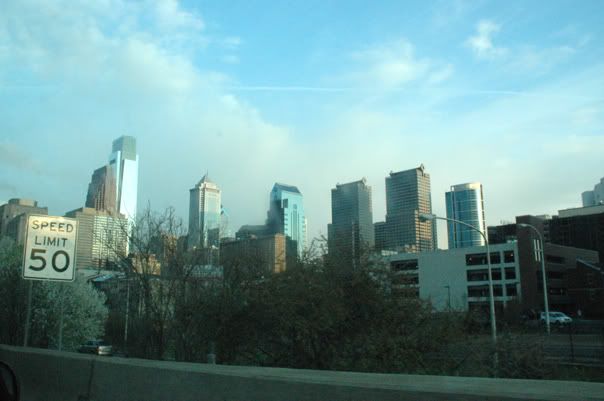 We stayed at the Downtown Marriot in Philadelphia just infront the Reading Terminal Market, City Hall and a 10 minute walk from the Kimmel Center ( where the World Championship was being held).
My Philly experience:
Reading terminal market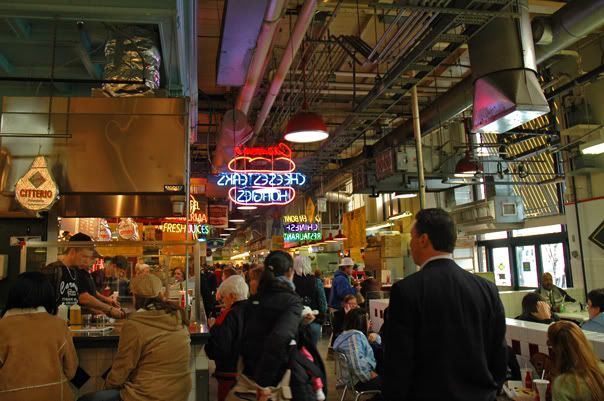 An excellent place to taste the Philly's Cheesestake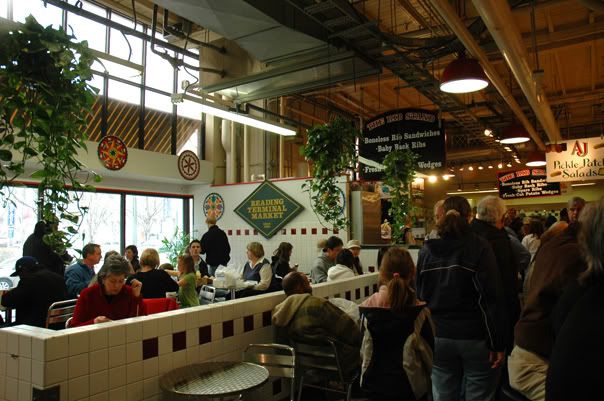 The Kimmel Center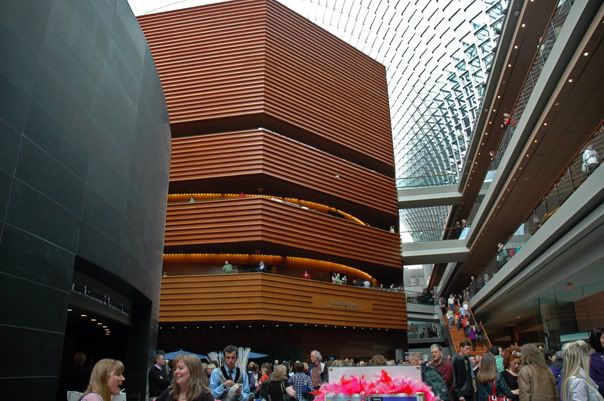 Verizon Hall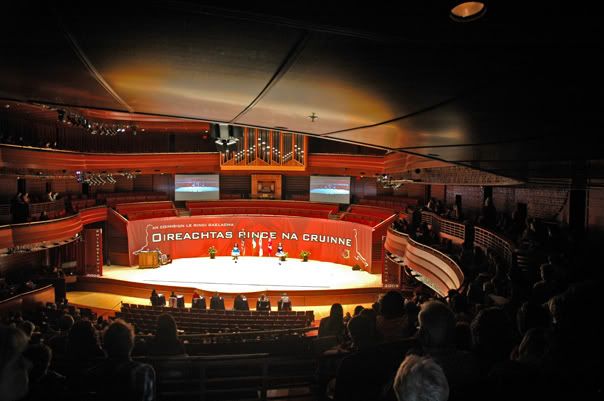 The Perelman Theatre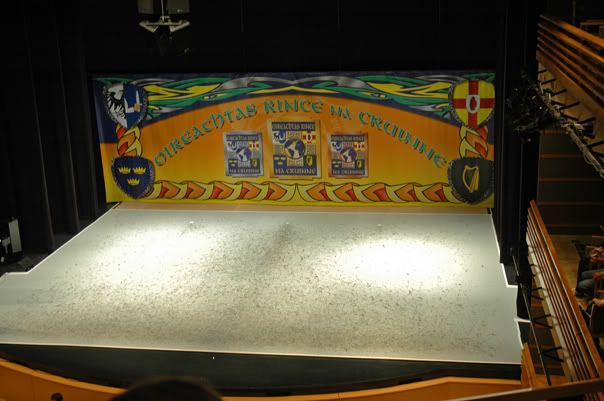 My competition was on Friday 10th and it was definately the best experience Irish Dance has given me through out the years. Out of 34 competitors I ended up in 25th. The result is not bad at all, I've been dancing for 5 years and I compited against the 34 best dancers in the world. We had competiors from USA, Canada, Scotland, Ireland, England, Australia, Hungary and me from Mexico. I danced against dancers from Riverdance and Lord of the Dance, plus dancers that have danced for around 20 years! Even though I was 4 days in Philadelphia, I had "no time" to sightsee the wonders this historic city has to offer. I spent 4 days locked in the Kimmel Center watching all the competitions lol.
On Saturday morning my mom and I said goodbye to 4 great days in Philadelphia and headed to NYC to enjoy the city. We went straight to the train station to take the 1:30 pm train to Penn Station. As I told you before, I haven't been to NYC for around 12+years so I was definatly excited to re-discover what the Big Apple had to offer me being a 23 year old guy.
The train to NY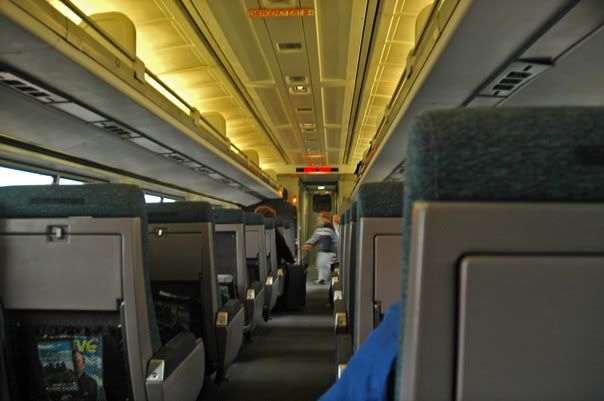 We were welcomed to NY with lots of rain, so getting a cab without getting wet was definately an experience. Then we went to our hotel in Lexington Av. with 48th street: The Radisson.
The room at the Radisson, very comfortable but a bit packed.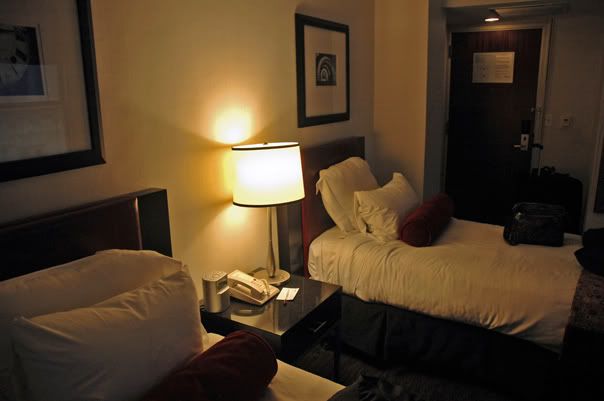 After leaving the bags we hit the road fast. I went to a pharmacy to buy a small guide of NY as I wasn't sure were I wanted to start with NY.
My favorite pizza in the world! ( of course there are betters but i really enjoy this one lol)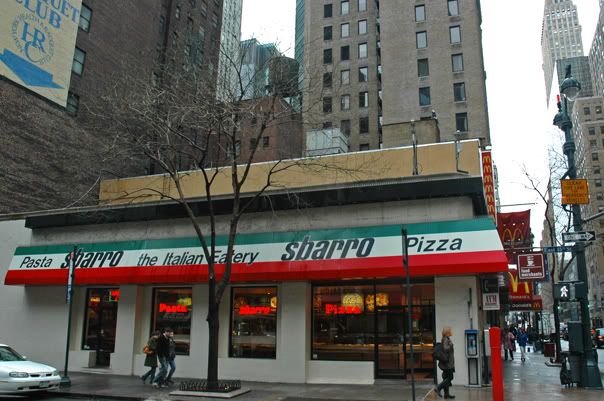 My first sight of the Empire State Building
Lower Manhattan seen from the top of the Empire State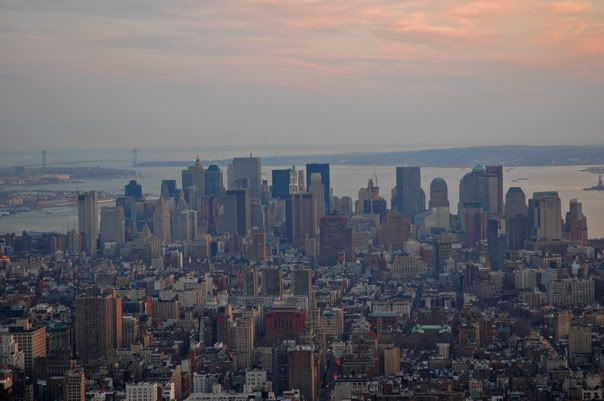 Jersey City in the background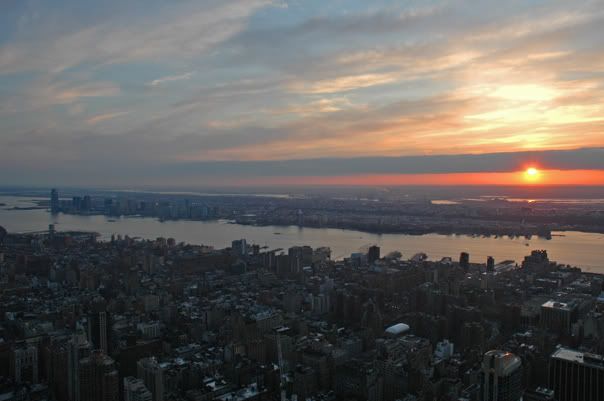 After an hour of so trying to get down from the Empire State went to dinner with my mom at the hotel restaurant and went alone to visit Times Square at night.
Closest Metro Station from my hotel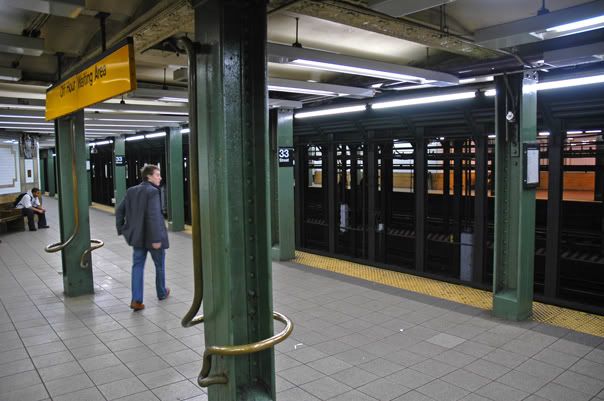 Lots of people in the metro at 11pm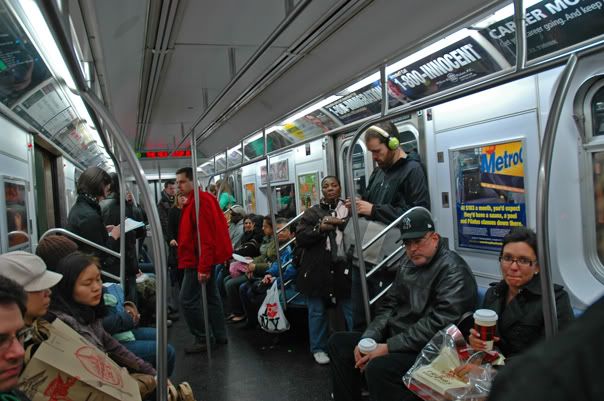 Finally Times Square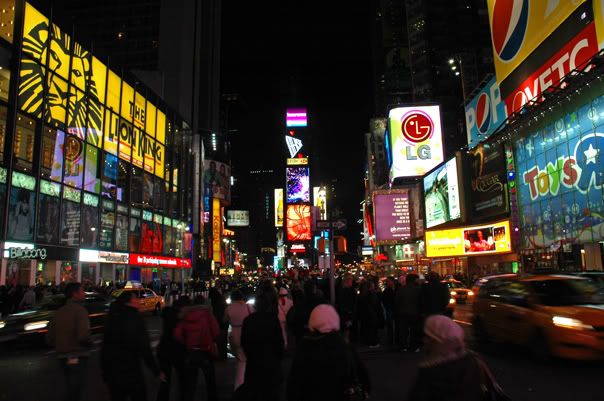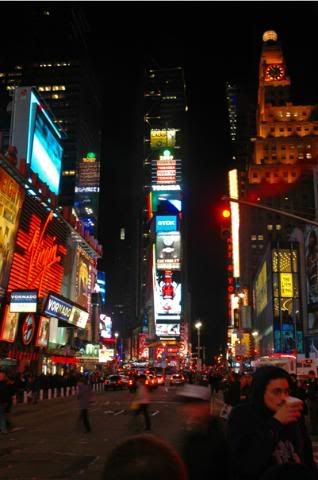 Just Wonderful
The next day was Easter Sunday. Our plan was to visit St. Patrick's Cathedral and go to see Mary Poppins on Broadway. We also had the nice plus that the Easter parade was going on in the Fifth Ave. Quite a sight! Lots of people with fantastic hats and dressed with crazy clothes.
Easter parade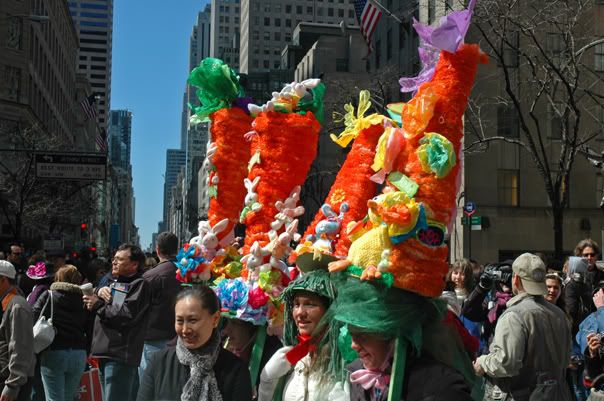 Brooklyn Bridge made of Metrocads
Empire State hat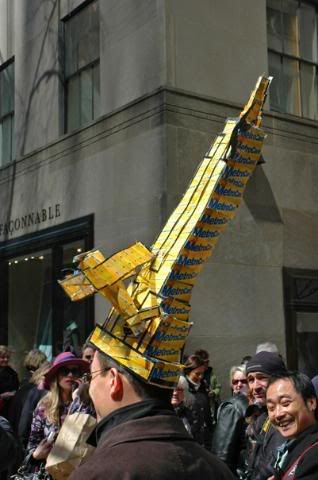 LOL
Rockefeller Center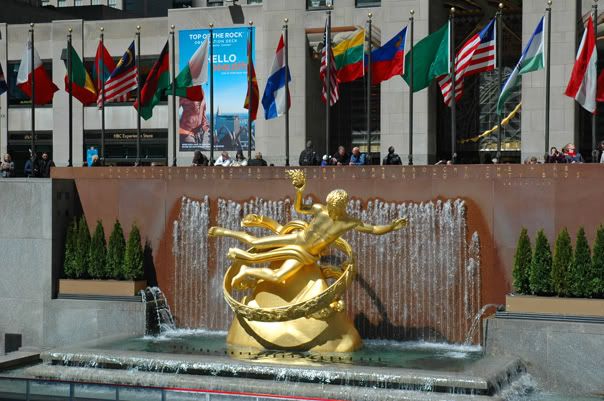 Me being really happy to be there
So tasty...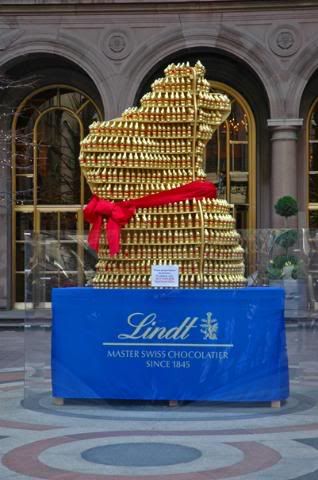 New Amsterdam Theatre
Definately a great show!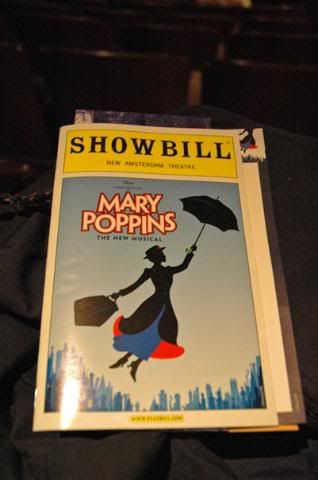 After watching Mary Poppins my mom wanted to go to eat to her favorite restaurant in NY: Carmines. It is definately one of the best italian restaurants i've been into.
Carmines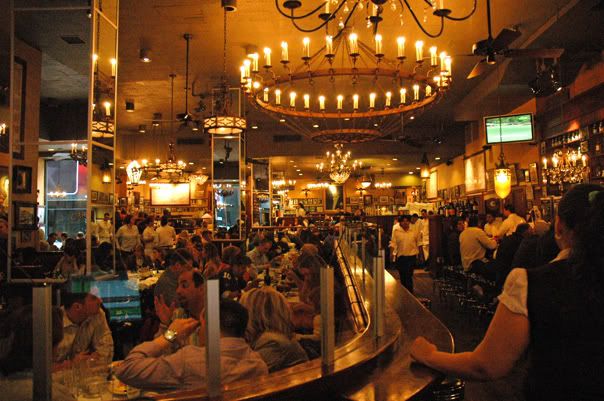 More NY sights of the day
Trump Tower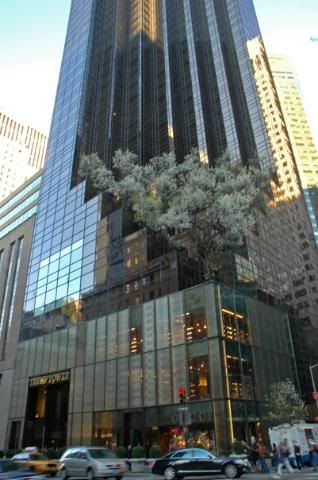 The Plaza
Central Park
Staten Island Ferry at 1 in the morning
Wall Street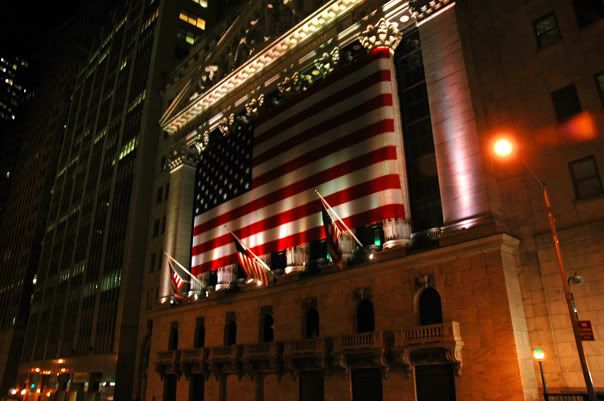 The next day we went to visit a friend that went to live to NY. It was nice to finally see her after two years and to finally see what her life is now. Her home in Tribeca it's super nice.
Some views from her apartment: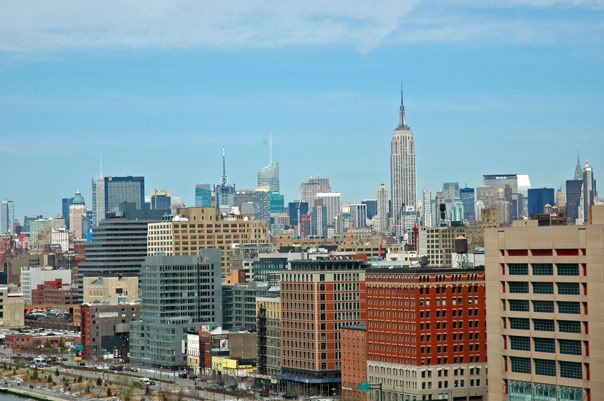 My friend living the New York life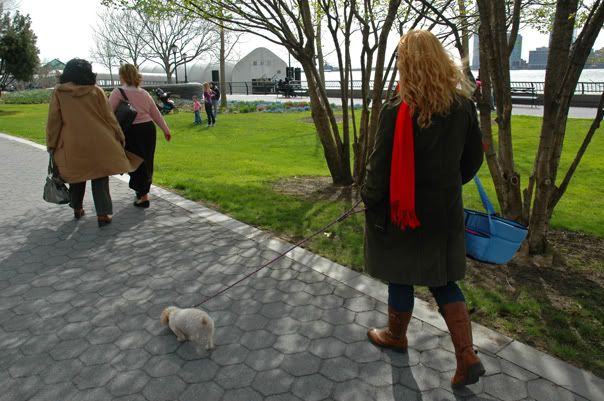 Irish Hunger Memorial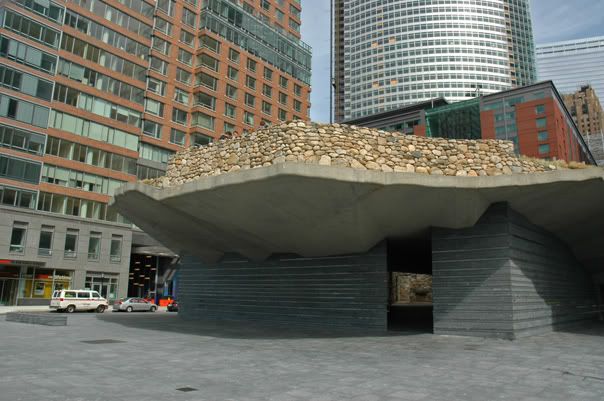 World Financial Center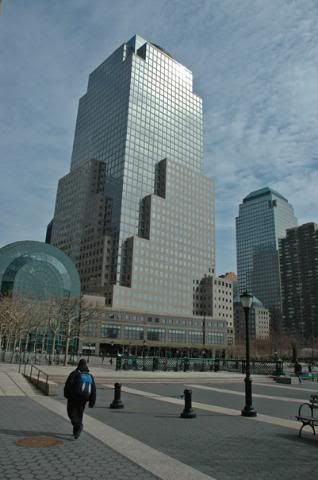 Lovely park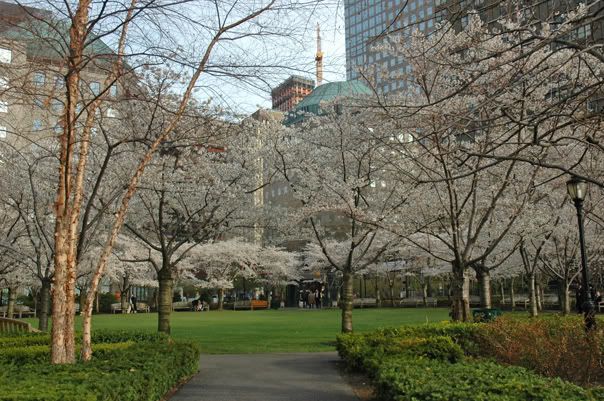 Brooklyn Bridge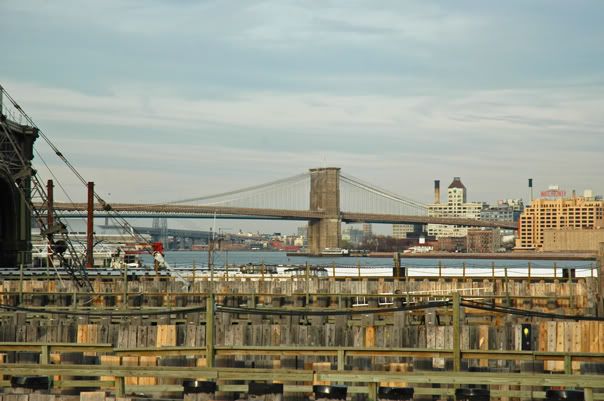 View of lower Manhattan from the Staten Island Ferry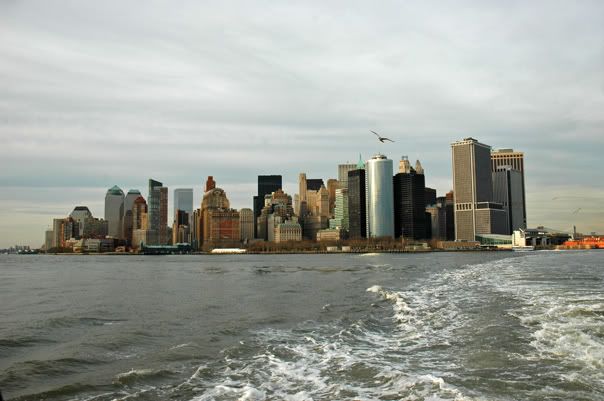 Statue of Liberty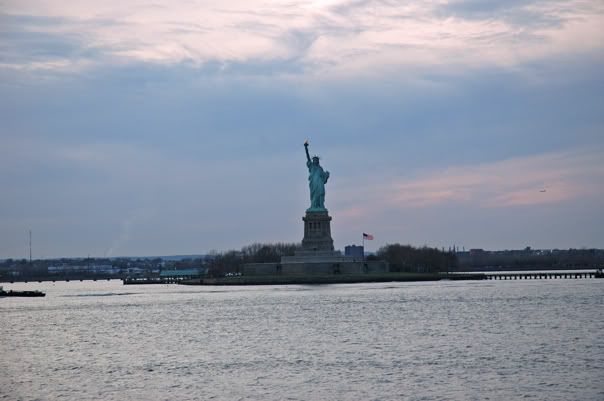 The Sphere from the former WTC
After spending an excellent day with my mom and friend, it was finally time to go home as our flight departed at 1:10 am. We left the hotel around 8:30 and arrived JFK in 25 minutes.
Mexicana departs Terminal 8 in JFK.
Arriving Terminal 8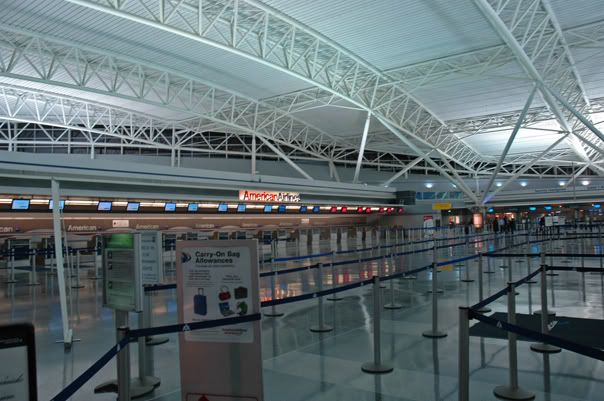 Departure timetable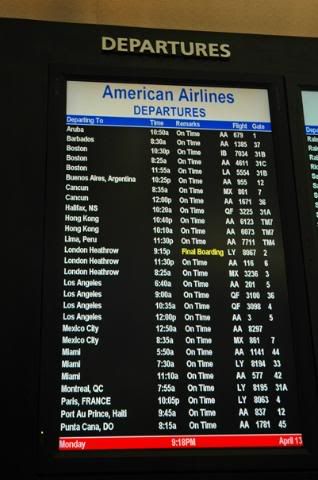 All the flights departing Terminal 8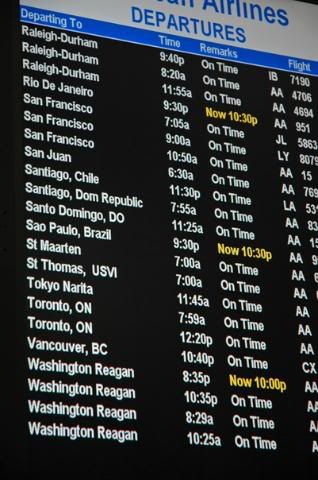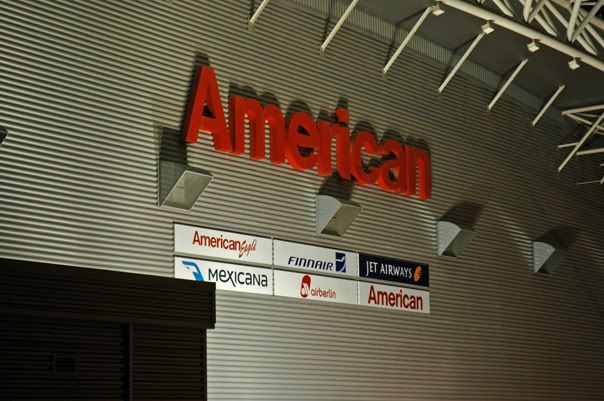 Security was a breeze as the terminal was almost empty, we then went to the food court to grab dinner before our flight.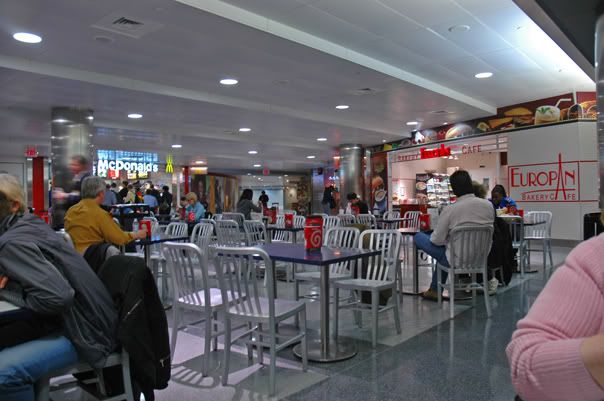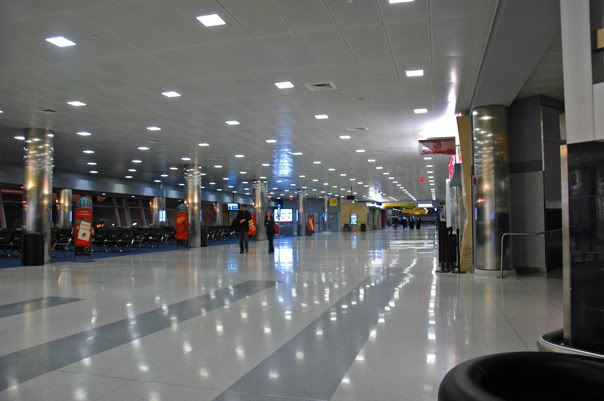 One World promotional stand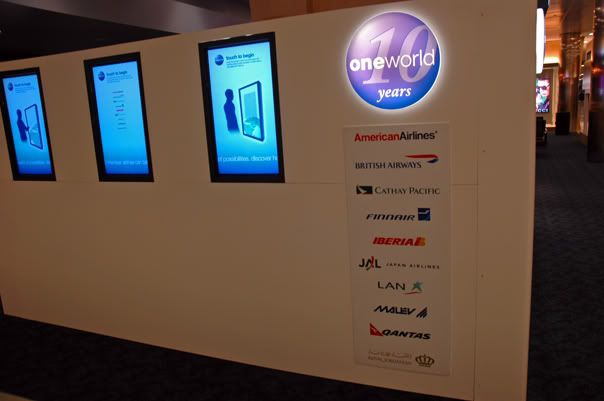 More terminal 8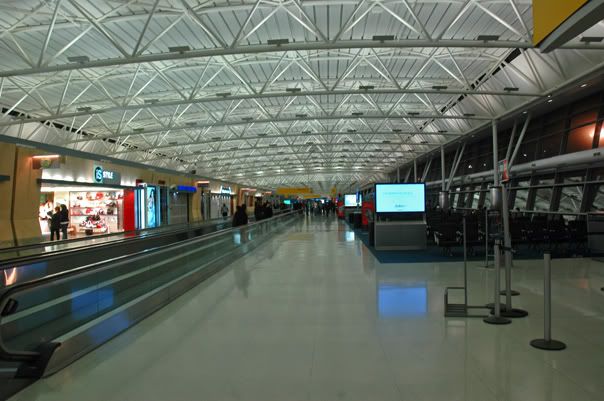 Our plane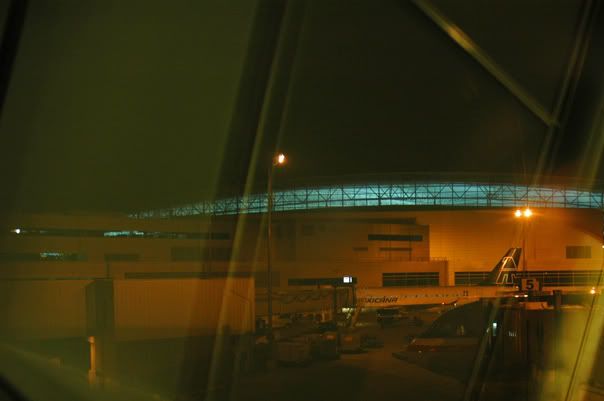 JFK-MEX
Mexicana Airlines
Flight: MX1
Depart: 00:50 /1:14 (Scheduled/Actual)
Arrive: 05:35 / 06:27(Scheduled/Actual)
Duration: 4h 45 min / 5h 12 min (Scheduled/Actual)
Equipment: Airbus A319
Reg: ----
Cabin: Economy/Turista
Seats: 14A
Seat pitch: OK...
Load: 95% (aprox)
Gate: 7
Departure Runway: 22R
Arrival Runway: 05R
Boarding was quite an interesting experience. The guys controlling the gate tunnel ( sorry forgot the proper name for it) had a problem and the tunnel moved upwards pushing the door of the aircraft a bit up. The whole plane was waiting in line to get in but it took a 40 minute or so inspection to see that the plane was organized to fly. For a moment I thought we were going to stay another night in NY ( which I didn't mind at all hehe).
Fixing the problem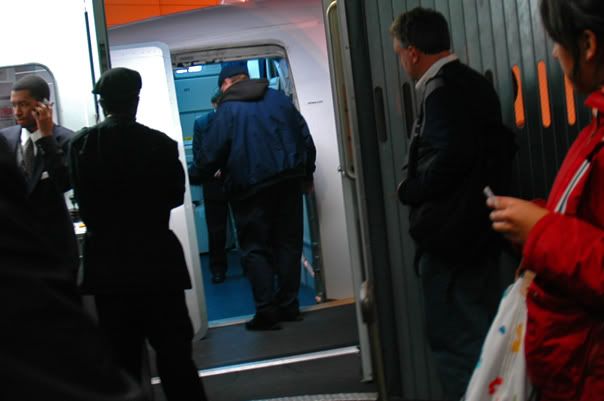 Our plane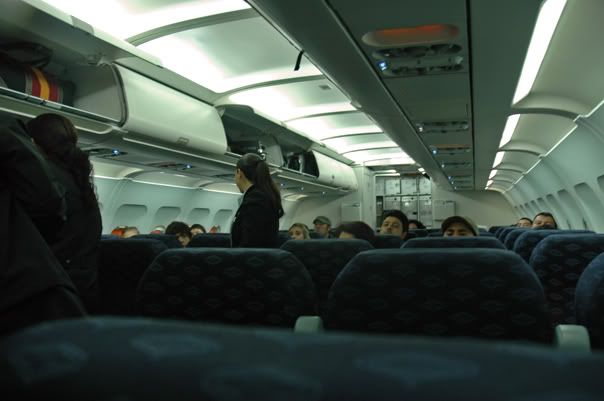 Security Video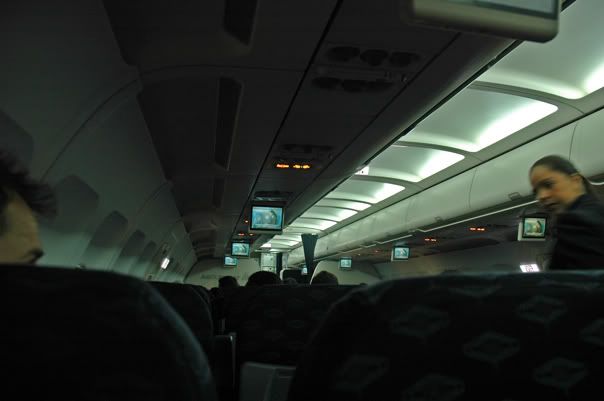 No Wi-fi allowed
A great airline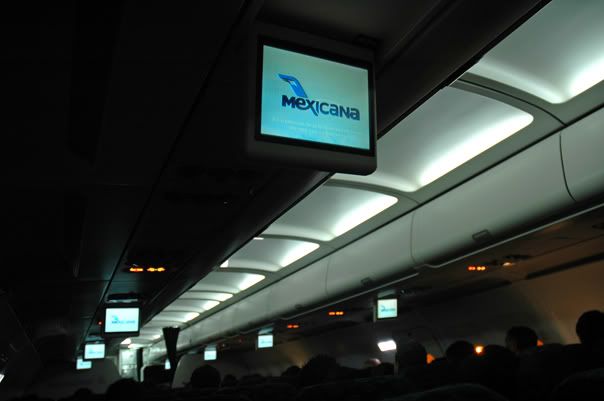 Takeoff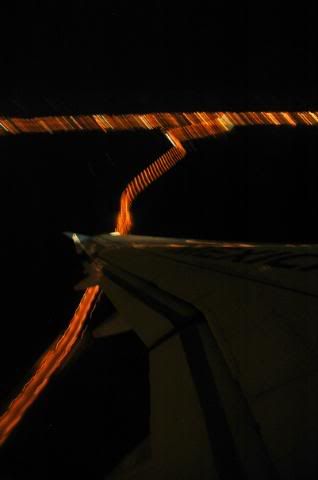 JFK in sight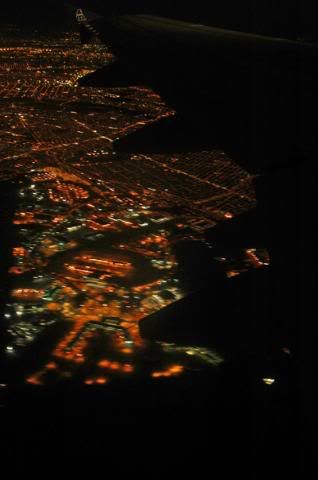 That's the best picture i could take of it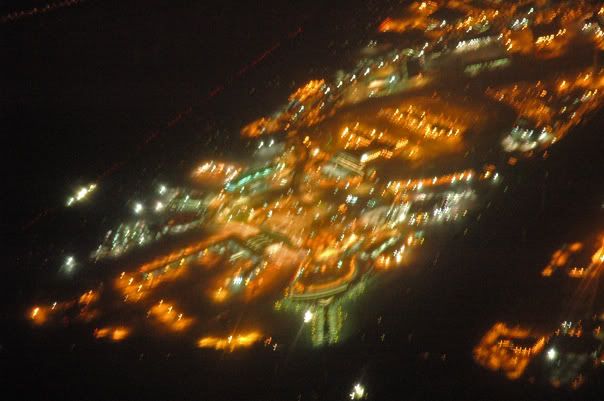 Inflight movie
Small but really tasty dinner/breakfast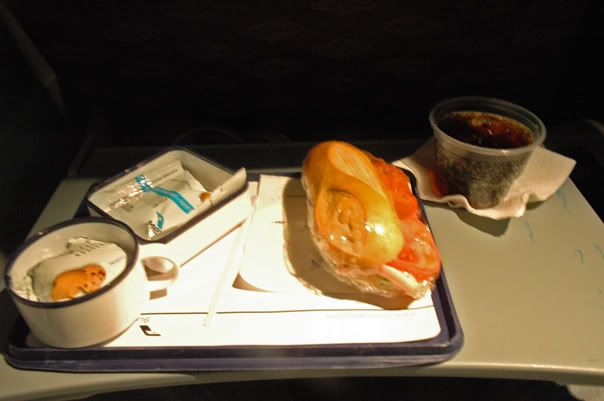 Arriving in Mexico City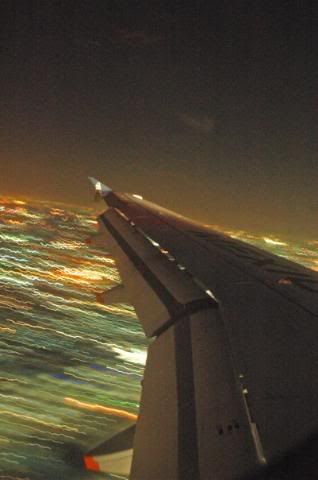 The return leg was pretty much uneventful as I slept for the most time. All I can say is I had a wonderful time in Philly and NY and Mexicana did everything to make the trip as good as it could be.
Hope you enjoyed my Trip Report. Comments are very much welcomed.
Cheers
Alonso