4 Weeks, 5 Countries, 11 Flights, 5 New Airlines Part 1
Trip Report Information
Welcome to my seven part photo trip report, which recaps my summer vacation to Turkey, Greece, the UK, and Spain. The breakdown between reports will be as follows:
Part 1 – Aer Lingus JFK-SNN-LHR: Airbus A330-300, Airbus A320
Part II – British Airways LHR-IST, ATH-LHR: Boeing 767-300
Part III– Turkish Airlines IST-AYT: Airbus A320, Aegean Airlines JMK-ATH: Airbus A320
Part IV – BMI LHR-EDI-LHR: Airbus A320, Airbus A319
Part V – Air Europa LGW-MAD: Embraer E-195
Part VI – Aer Lingus MAD-DUB-JFK: Airbus A320, Airbus A330-300
Originally I was planning on writing a very detailed report for each flight but time has passed and my memory has lapsed. Instead, I will let the many photos I took speak for themselves and will include a brief summary of each flight at the end of the report.
Trip Planning and Background, Part I.
My family has always been devoted to travel and do so whenever possible. As my mother puts it, "it's better than staying home gardening!" Having two parents in academia means that our summer vacation is generally when we spend the most time traveling.
Not soon after last summer's trip to Spain, France, and the UK, as well as Vancouver and Seattle, we started to think of possibilities for the followings summer. My mother had received a generous grant in her department at Vassar College to plan a six week student study trip to the Caribbean, which would take us to Puerto Rico, the Dominican Republic, and Jamaica. The trip would have been an all expenses paid travel and learning experience. Unfortunately the trip fell through due to the global financial crisis. Another option was a trip to Rio de Janiero, Brazil where my mother had been asked to host a panel at the Latin American Studies Association Conference. Given the expense and distance to travel, we could not stay long enough to make it worthwhile.
My mother had also been invited to attend a conference in England in early July and we decided to use this as a spring board for the rest of our trip. At first we had contemplated taking a cruise around the Mediterranean to visit Greece, Egypt, Turkey, and Israel but then decided we wanted to spend more time in the individual countries. Since we had a period of time to travel from June 13th, the end of school, and July 4th, the start of the conference, we decided on traveling to Turkey and Greece. We also wanted to spend a week in Madrid to see friends and "family" so we chose this as our destination to fly home from.
The difficulty of this trip was finding the least expensive airfares and interesting, yet affordable accommodations. Living 65 miles north of New York City and with easy access to JFK and EWR, the possibilities of air travel to Europe are quiet extensive. I was aware that Turkish Airlines is operating their leased Boeing 777-300ERs from Istanbul to Heathrow and was keen on getting on that flight. After a quick search on THY.com I was pleased to see that the fares were rather low.
The first step was to book a multi-city itinerary from New York to London and returning from Madrid. We flew the same itinerary last year on Air Canada via YYZ so we were interested in finding a different route. After searching with Air France, Swiss, Lufthansa, KLM, Iberia, British Airways, Delta, Continental, American, and Aer Lingus we were surprised to find extremely cheap fares to Europe, which is a rare find for summer. Aer Lingus was offering the cheapest fares via SNN and DUB at $605 r/t per person. With such cheap fares and having never flown on Aer Lingus before, we booked right away for a departure date of 6/15 and a return date of 7/15. A few weeks later I had been looking on Orbitz and Expedia to see how fares were maintaining and I was shocked to see Delta and British Airways down to $471 for our itinerary!
Flight Info.
Date: Monday, July 15th
Airline: Aer Lingus
Flight Number: EI110
ETD: 18:30 (ATD: 19:51, runway 13R)
ETA: 5:45 (ATA: 5:26, runway 24)
Terminal 4, Gate A6
Aircraft: Airbus A330-301, EI-DUB "St. Patrick"
Seats: 10 ADC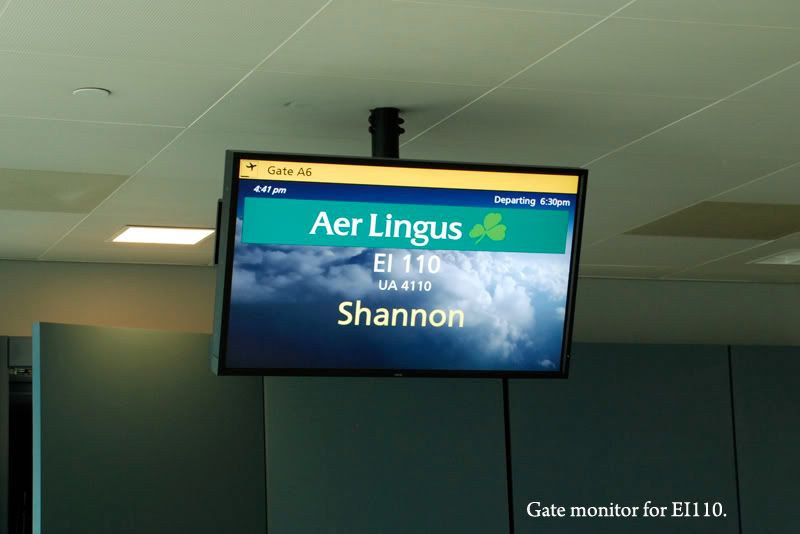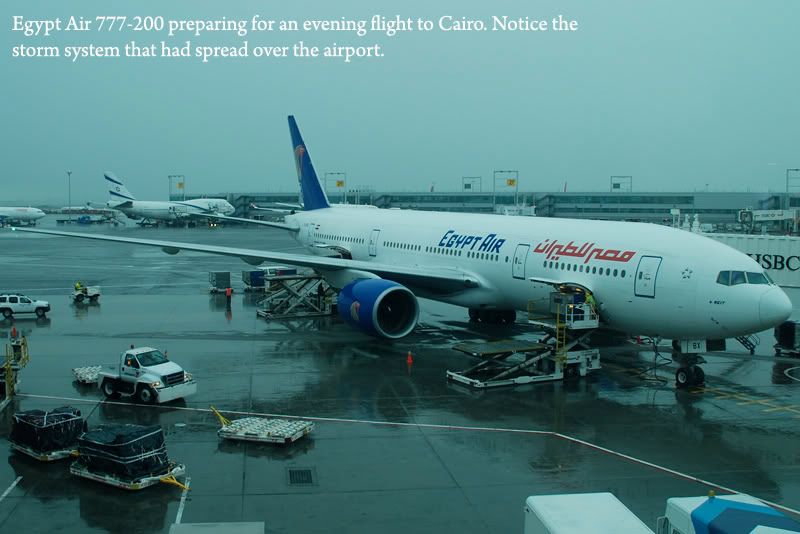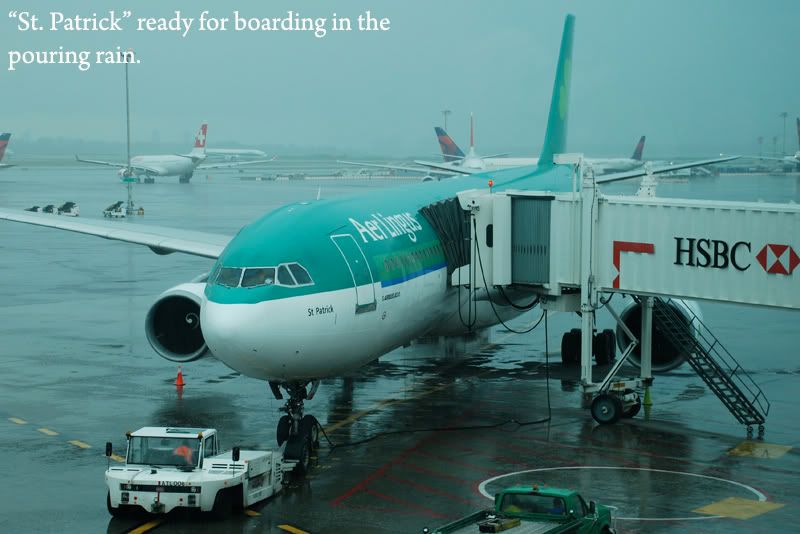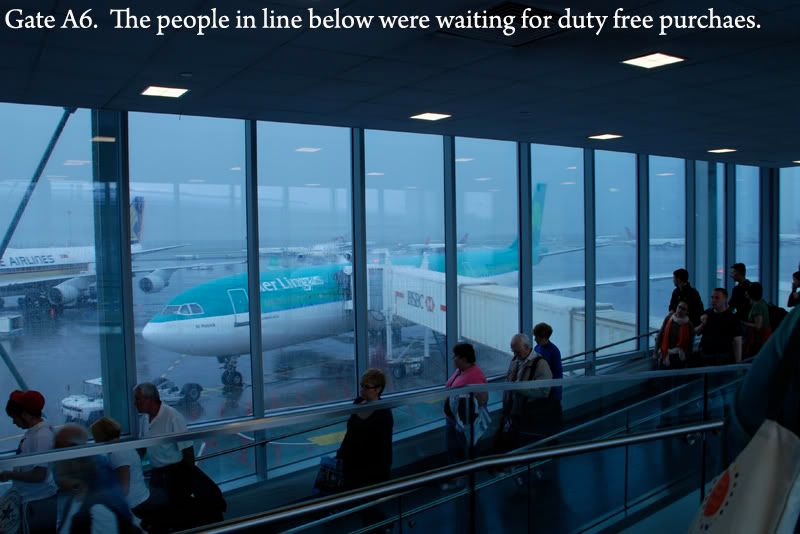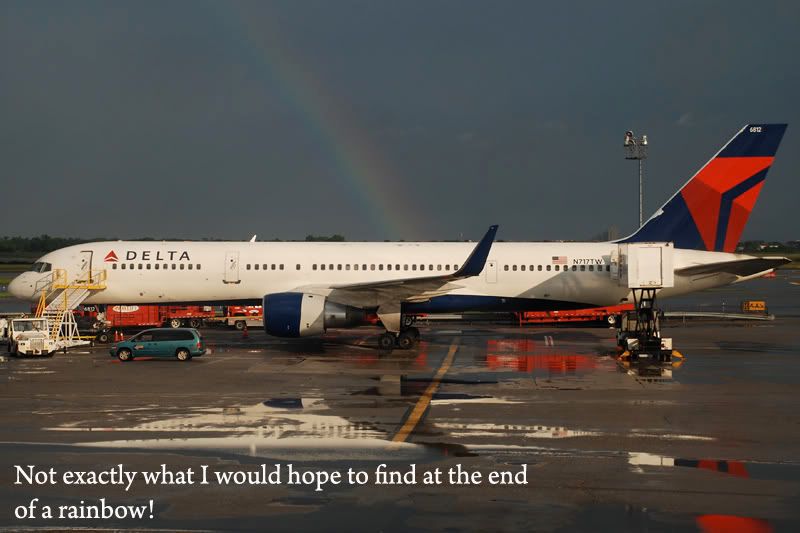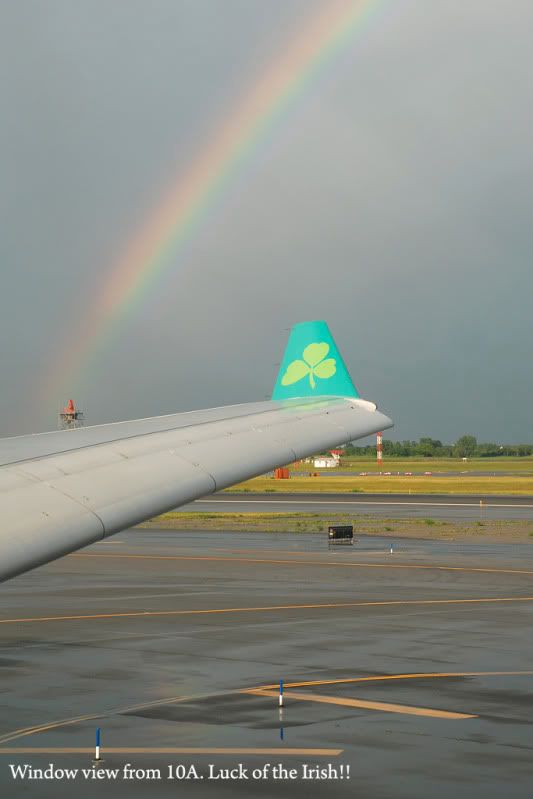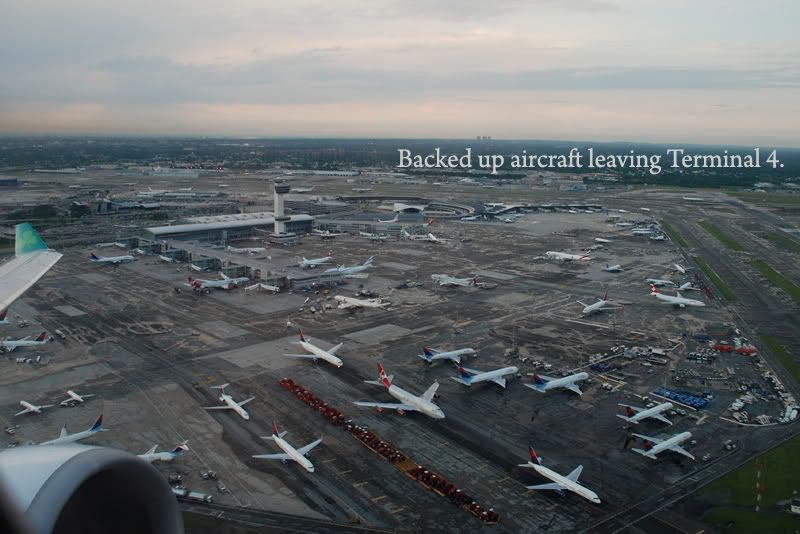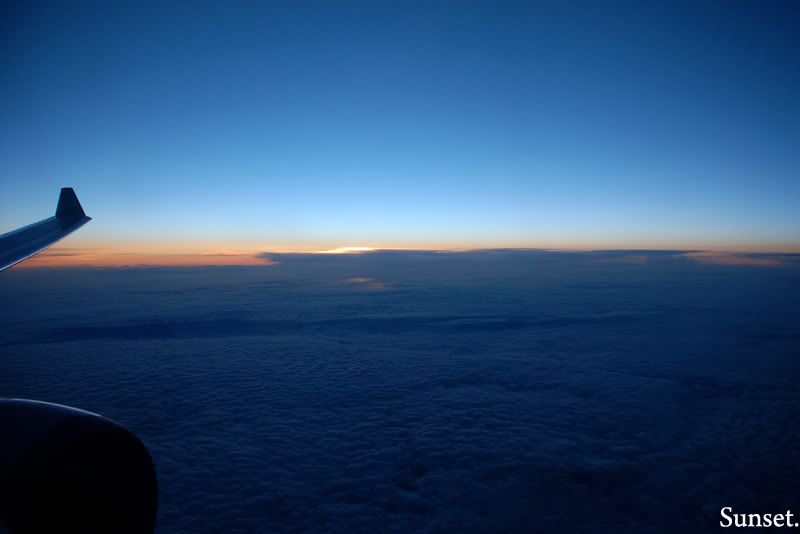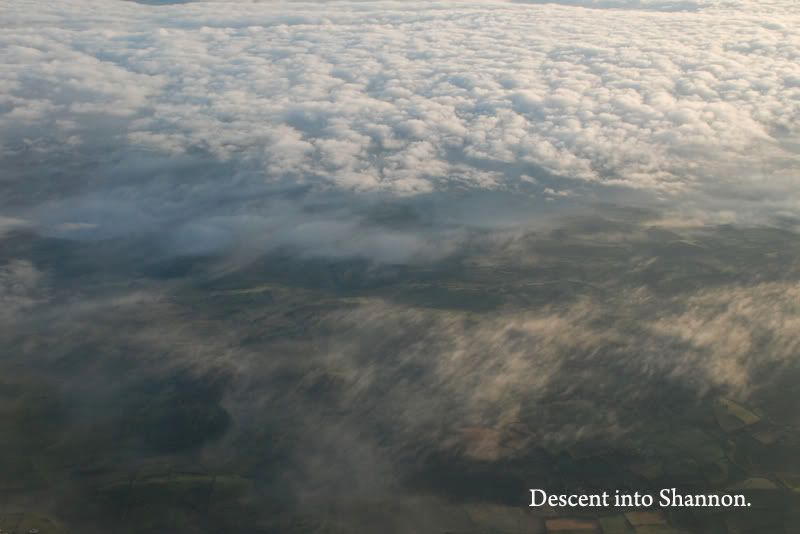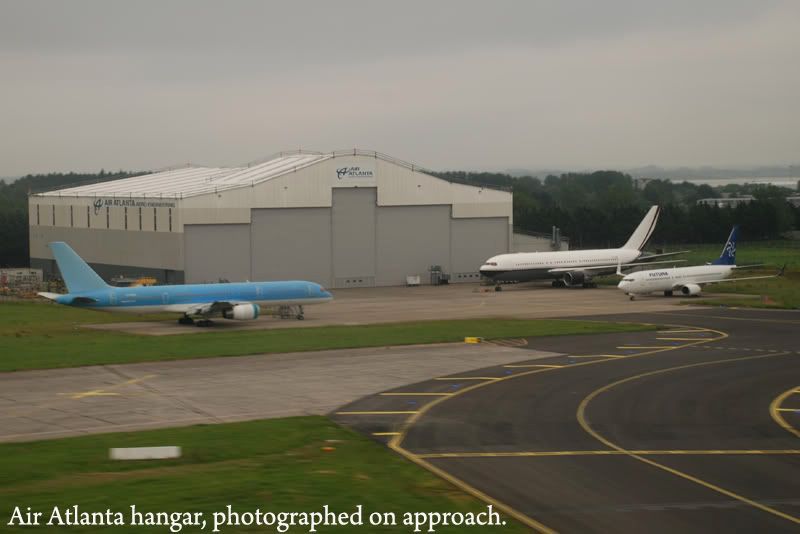 Flight Summary
Aircraft - I knew beforehand that the aircraft operating EI110 would be one of two aircraft in the A330 fleet with the old interior and that I would be without the new seats and AVOD. That being said, I found the old seats to be very comfortable with adequate legroom and recline. I was seated in the mini cabin of the A330, which makes quite the difference on such a large aircraft.
Entertainment – The IFE consisted of overhead monitors spread around the cabin and was on par with that of Iberia and other non-PTV long-haul aircraft. The movie choice of "The Pink Panther" was not to my liking but the movie helped pass the time. Complementary headsets could be found in the seatbacks.
Food – The pre-meal snack consisted of pretzels and a drink while the choices for dinner were either chicken with rice or beef with potatoes. I thought it was a nice touch to announce what the main course was accompanied by over the PA. The chicken was rather tasteless and the lack of a drink service during dinner was disappointing. Breakfast was also very disappointing and was only a cup of orange juice.
Service – The great service is really what impressed me with Aer Lingus. The flight attendants were constantly running around the aircraft throughout the flight making sure passengers were happy and comfortable, always with a smile on their face. The green uniforms were also quite eye catching.
Overall Impression – I would definitely fly Aer Lingus again on a long haul flight, although I would hope to be on a newly configured aircraft!
Flight Info
Date: Tuesday, July 16th
Airline: Aer Lingus
Flight Number: EI382
ETD: 8:45 (ATD: 8:51, runway 06)
ETA: 10:15 (ATA: 9:58, runway 27L)
Terminal 1, Gate N/A
Aircraft: Airbus A320, EI-DES "St. Pappin"
Seats: 16 EFD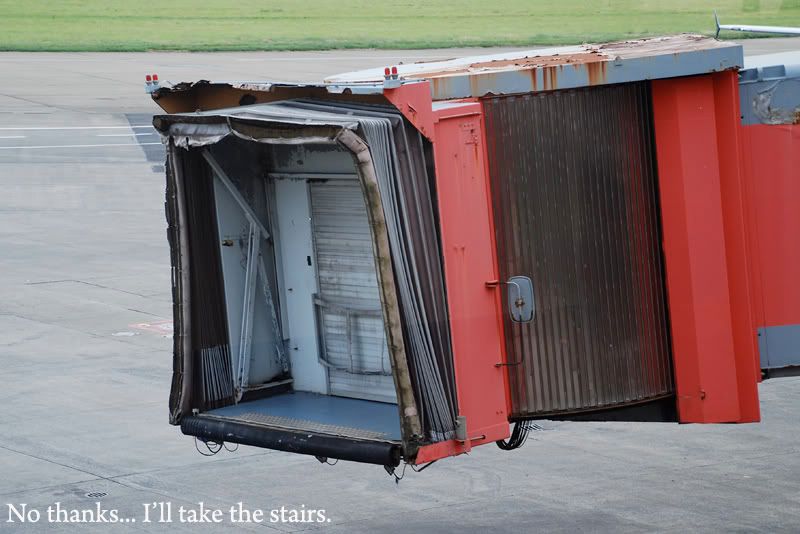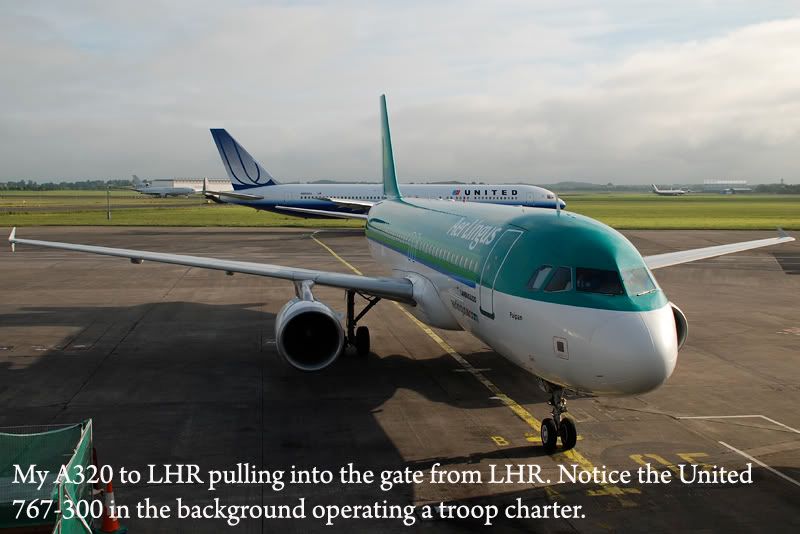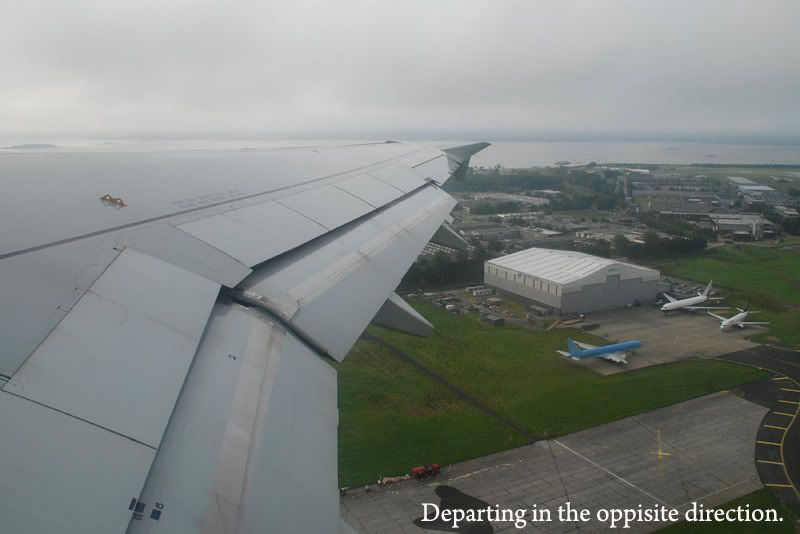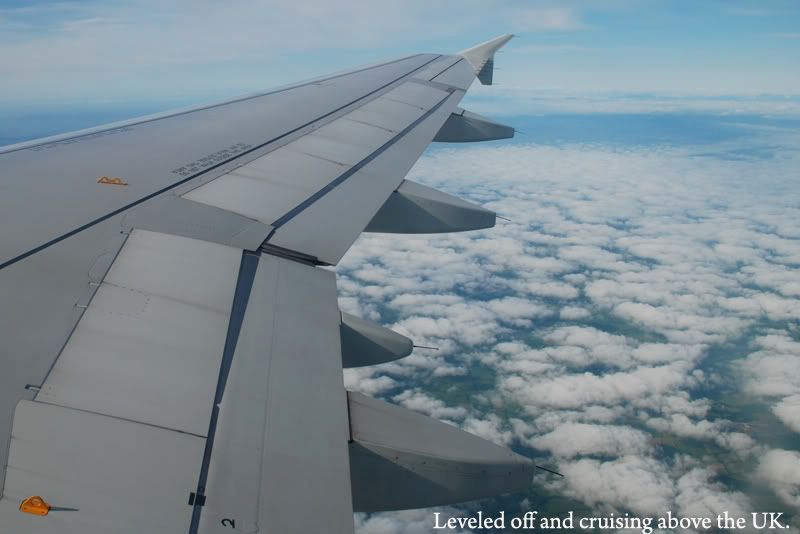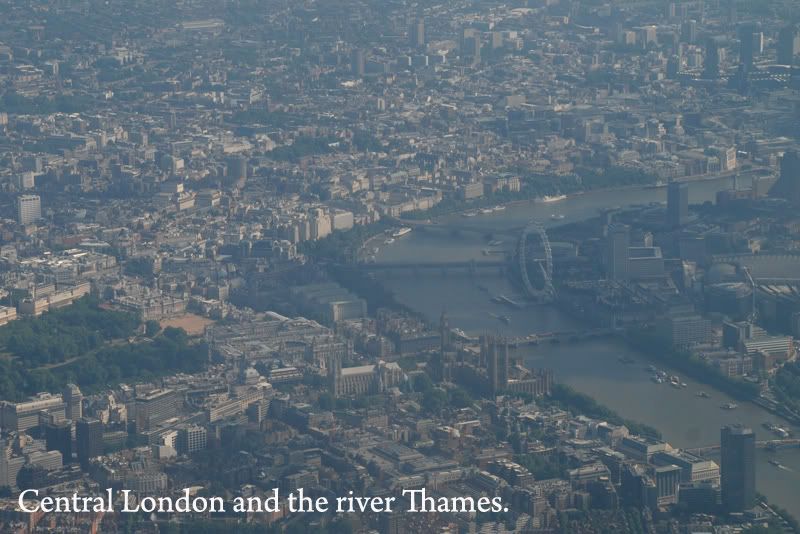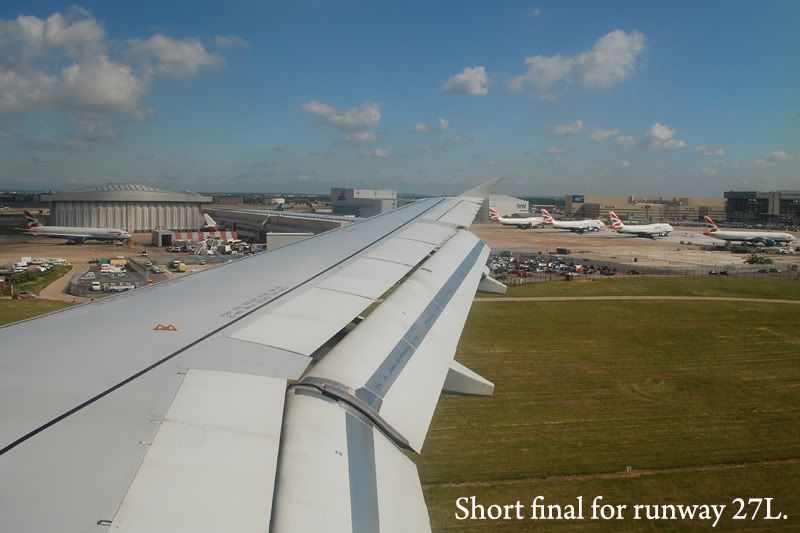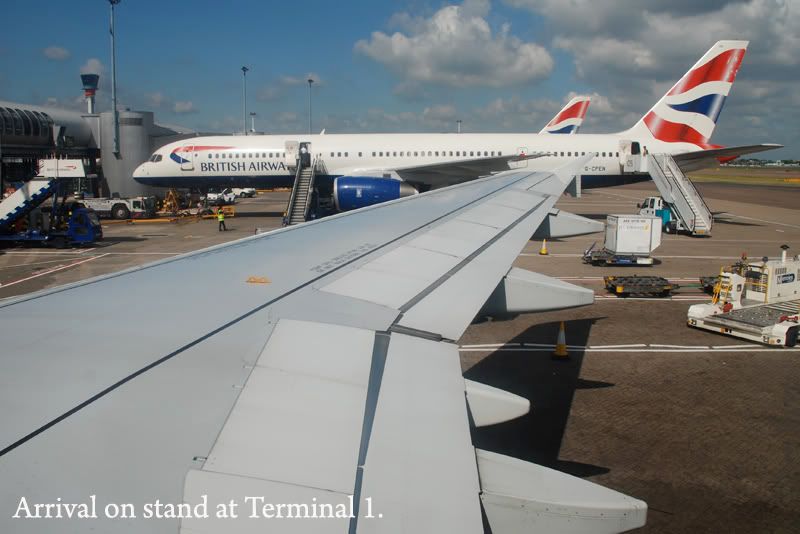 Flight Summary
Aircraft – The black leather seats on the A320 were comfortable enough for the short flight with adequate legroom and basic recline.
Entertainment – There was no overhead monitor entertainment that I can remember but the Aer Lingus in-flight magazine had some interesting articles in it.
Food – Aer Lingus has a buy-on-board menu and I purchased a J20 juice for 2 euros.
Service – The service on this flight was also very impressive with very friendly and helpful flight attendants.
Overall Impression – Short-haul, Aer Lingus seems like any low-cost-carrier in the skies today.