Hi all,
Here is my trip report/photo report for my trip to Bangkok during May 2009, hope you will enjoy and comments are always welcome!
Background of the trip:
I did this trip because I found that EK was offering a very attractive price on First Class to Bangkok at HK$3130 all inclusive, and EK was using 777-300ER during that period due to the 777-300 have to go refurbished. So I took this chance to experience my first First class trip.
The departure time was 22:25, but I arrived HKIA a bit early. EK's check-in counter was in aisle G, just opposited to ET's.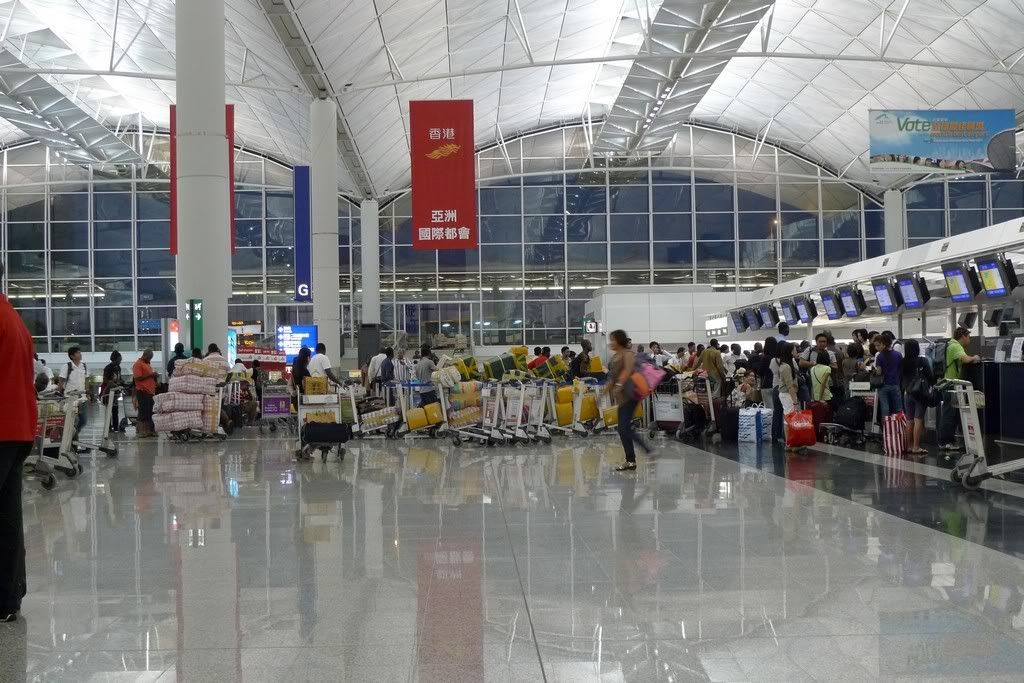 Queue for the EK's flight, the check-in counter wan't opened yet.
About 10 mins later, the counter opened, I waited behild the yellow line...
Get my boarding pass and lounge invitation.
After the immigration, check out the Emirates lounge. The lounge is at the far end of the terminal 1, next to gate 60. It is great that Emirates have their own lounge as they have only 2 flights per day.
Pleas go this way...
Entrence of the lounge, next to UA Red Carpet Lounge, believe they operated by same company.
There was no seperate lounge for First Class passengers, but it doesn't matter at all.
Cold food offering, many choices, wanna try all of them!
Hot food selections.
The food offering was quite impressive in my opinion, better than the CX's lounges.
Drink selections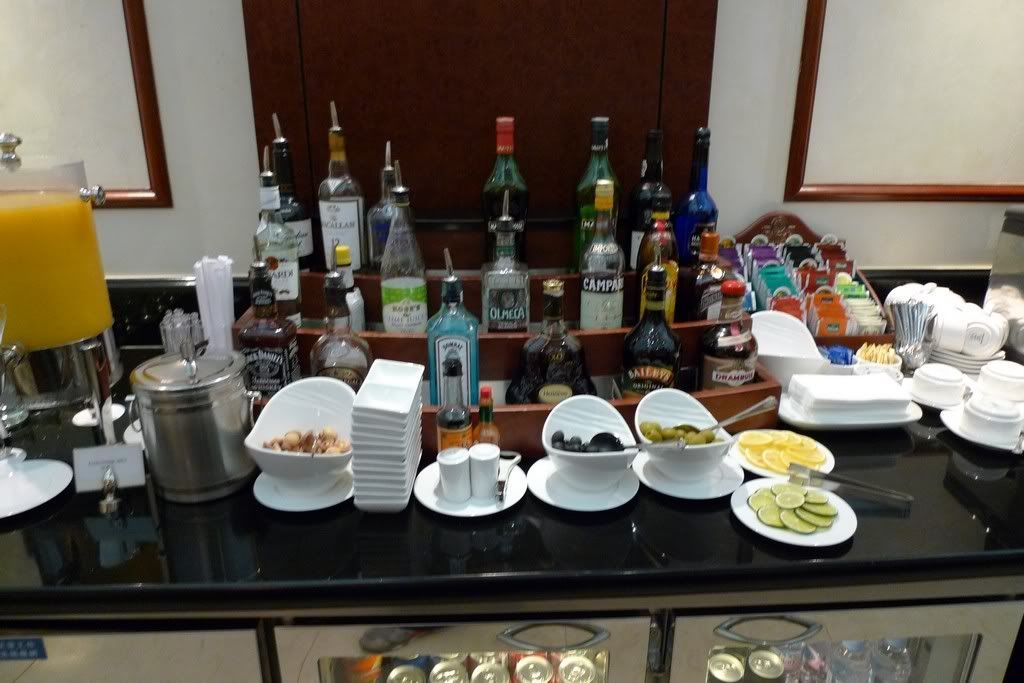 After having some food in the lounge, planned to go to the gate a bit earlier to take photos.
26 May 2009
Hong Kong (HKG) -- Bangkok (BKK)
Airline: Emirates
Flight: EK 385
Aircraft: B777-300ER
Registration: A6-EBQ
Seat: 2A (First)
Gate: 66
A6-EBQ ready to bring me to Bangkok.
Gate 66
A6-EAD will depart 2 hours later to Dubai directly at gate 64.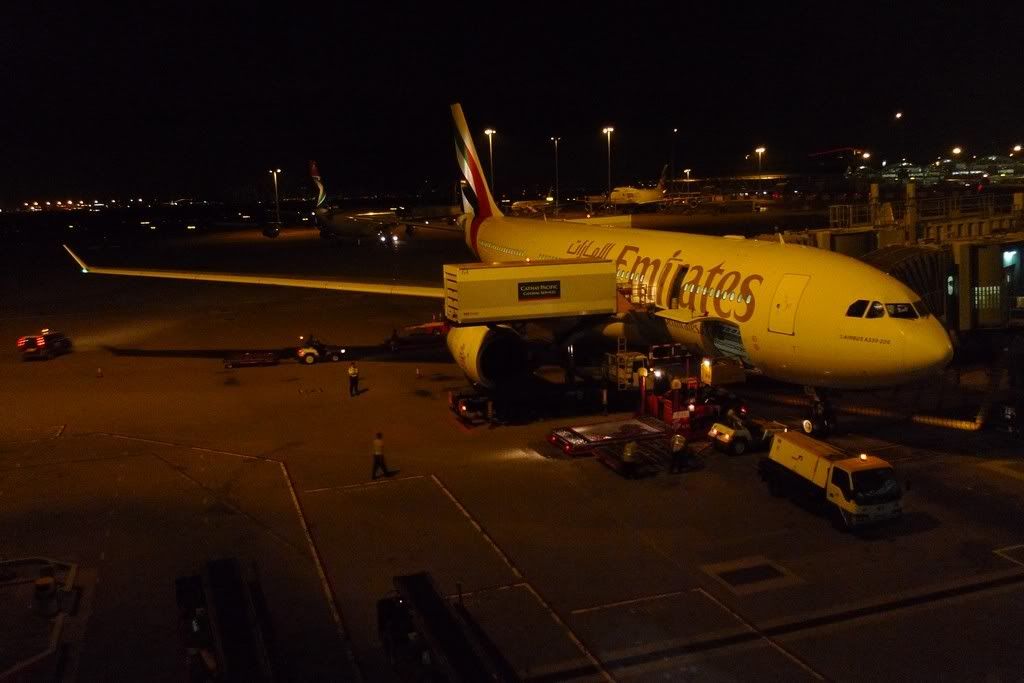 Board the aircraft after the boarding announcement, and arrived my seat 2A in no time.
The crew welcome me onboard and providing amenities like slippers, towels and some bubbles.
The self beveage store for seat 2A.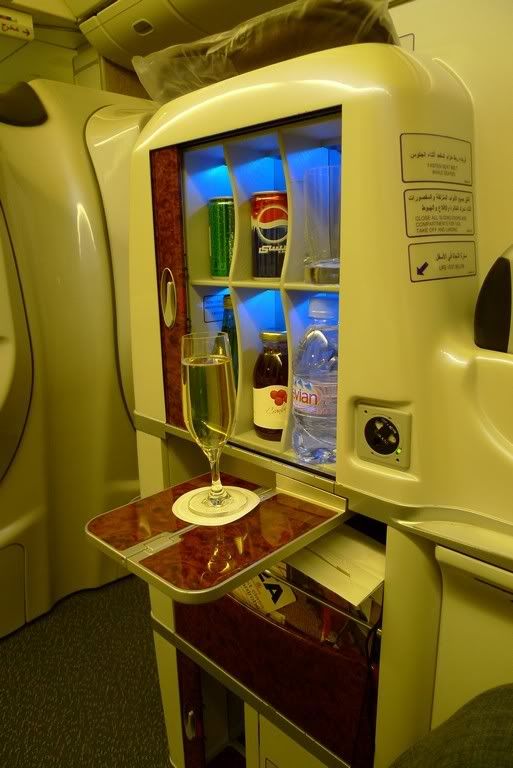 Arabic coffee, I am not used to it to be honest.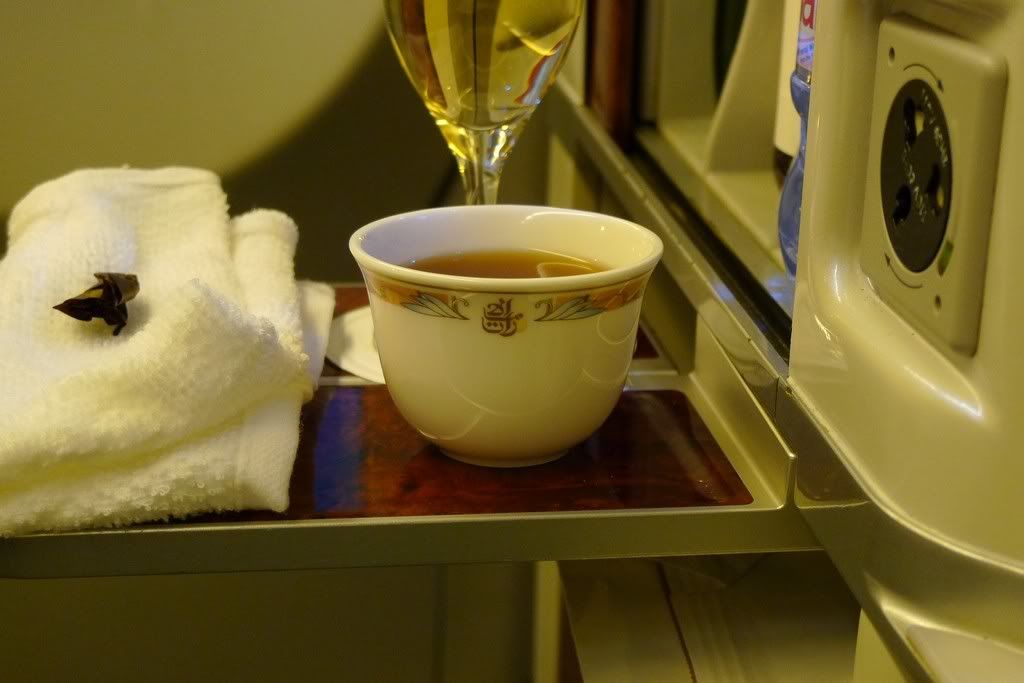 View from the seat, very good looking window frame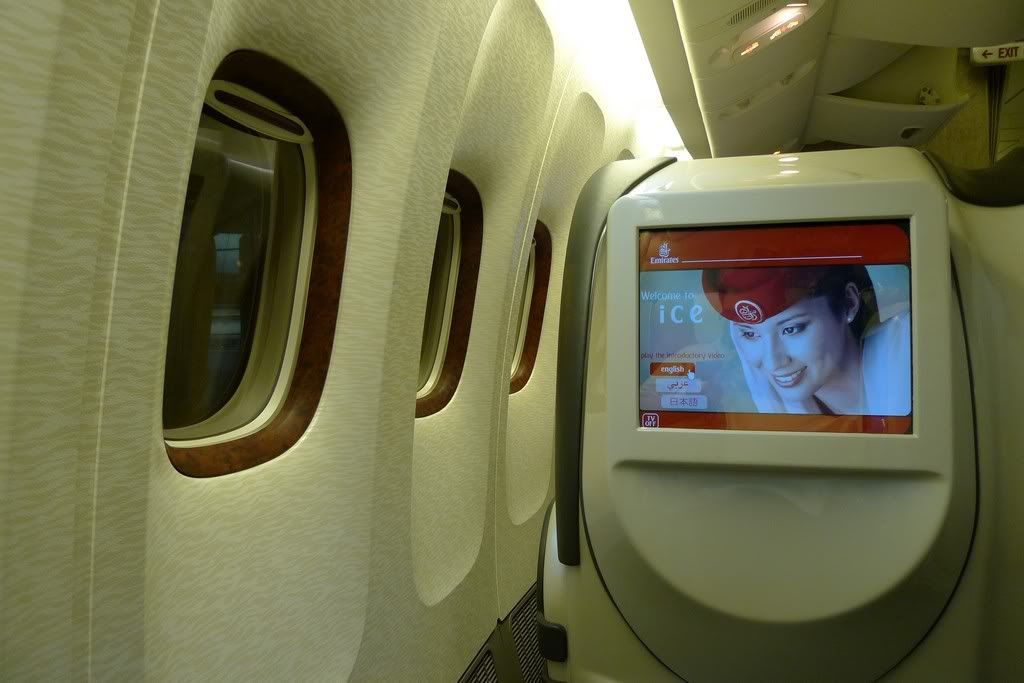 Seat 2A and 2C.
The seat was large, soft and comfortable in all position
There were only 5 passengers in First Class, everyone got their own little oasis.
After the powerful take-off, Light meal was served after the seat-belt sign gone.
Appetiser: Marinated prawns and scallops and seasonal salad
The seafood was very fresh so it need not much seasoning
After collecting the appetiser, the trolley containing four kinds of main courses and all side dishes arrived my seat, you can choose what you want and the FA would put them on the dishes
My Main Course: Pan-fried sea bass fillet with grilled eggplant and potato mash.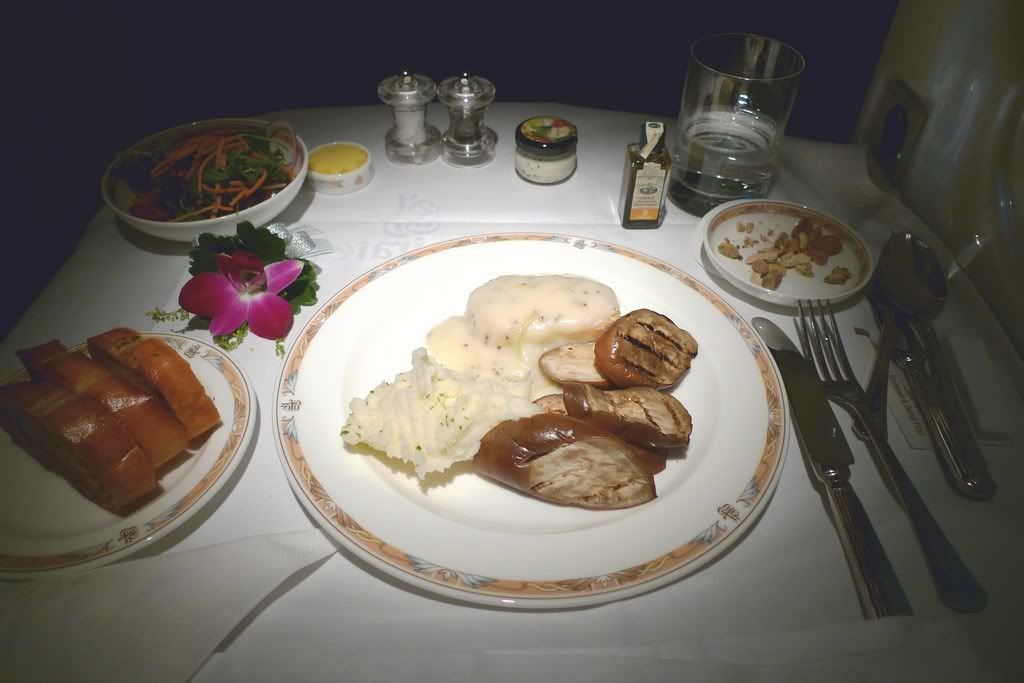 The fish was perfect but the eggplant was too dry.
Dessert: Rice pudding cake
Actually I don't like the texture of the cake and the rasberry sourse was too strong.
After finishing my meal, I planned to visit the toilet, however the seat belt light kicked in and the captain told us that we are going to decent very soon, but I though I still need to go.
Clearly stated that the washroom was in the front.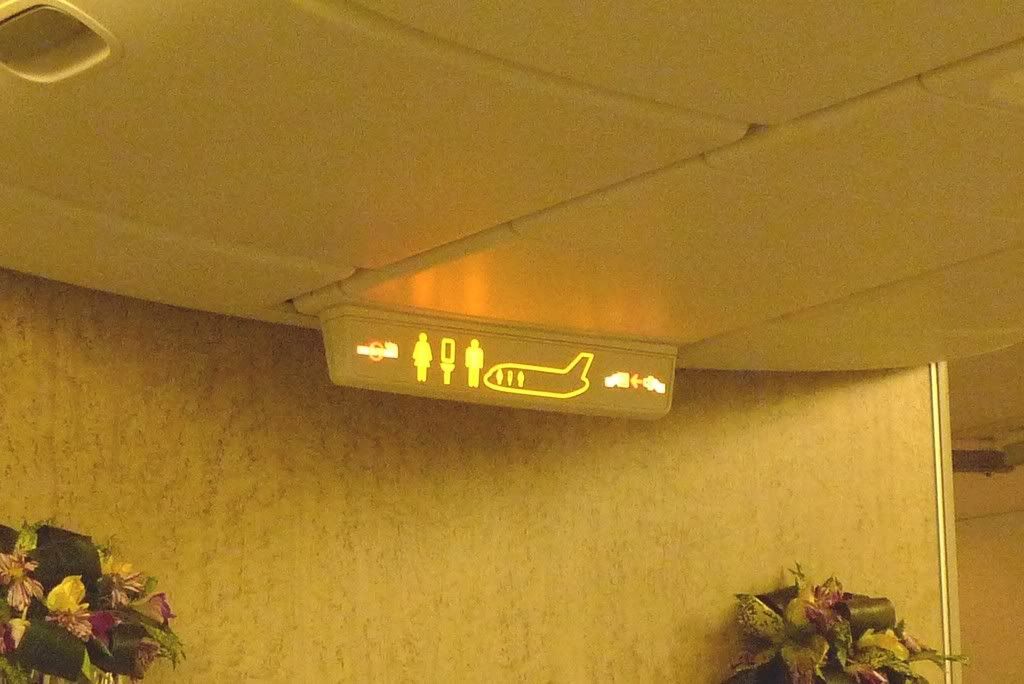 Not so First Class washroom, I think it have to a bit bigger. Combining 2 to 1 would be nicer.
Arrived BKK after 2 hours and 5 minutes, riding a Airport Limosine to the Marriott Executive Apartments at Mayfair, Bangkok
Inside my apartment: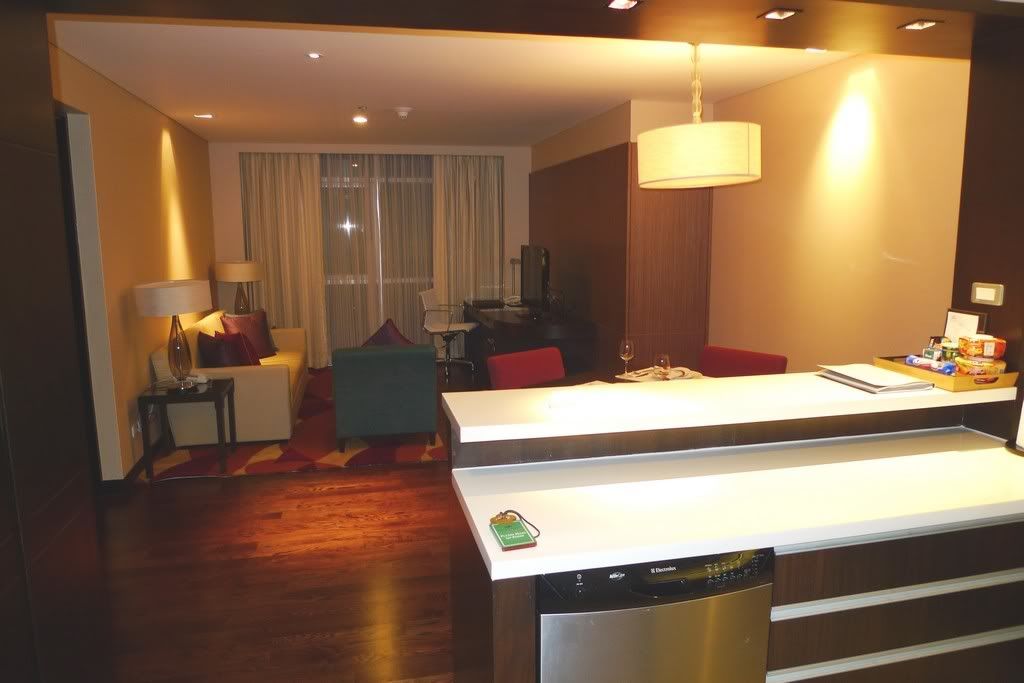 This property was opened at Dec 2008, so the room was like new, very good for both business and leisure. The only con was the location, you have to spend 15 mins walking to BTS or Metro station or taking a taxi from and to the apartments.
After 3 nights at Bangkok, it's time to go back home.
Reserved a Hotel Limosine to BKK, which is a Toyota Camry
After 40 mins ride, arrived BKK. EK is at entrance 9
At aisle T
A photo during check in
Fast track pass, lounge invitation and boarding pass.
Fast track entrance, but I didn't use the fast track as the normal immigration do have any queue
After the immigration, Emirates' lounge is at 3rd level
Beside CI's lounge
Entrance
A380 model at the reception
The receptionist got my lounge invitation, and told me I would be on the new aircraft, I told her I know that because during online check in, I found the seating plan changed to 1-2-1 layout in First Class rather than 2-2-2 during my pre-seclect the seat. I asked about the load in First Class that day, she told me that there are only 2 passengers in First, one from DXB and the other was me.
After a short chat with the receptionist, got some food from the food corner. There were more choices than HK's lounge, but the taste were worse than HK's.
View inside the lounge. There is no seperate First Class lounge.
29 May 2009
Bangkok (BKK) --Hong Kong (HKG)
Airline: Emirates
Flight: EK 384
Aircraft: B777-300ER
Registration: A6-ECE
Seat: 2K (First)
Gate: D7
I decided to go to gate a bit earlier as I want to take some photos, so I say good bye and thank you to the lounge receptionist and proceeding to the Gate D7.
It's A6-ECE, featured with SkySuite in First Class.
Some pessangers were waiting, but the gate agent announced that there would be a little bit delay due to late arrival of inbound flight.
After 2 minutes, the gate agent proceed to me and told me to board the plane first.
Door 1L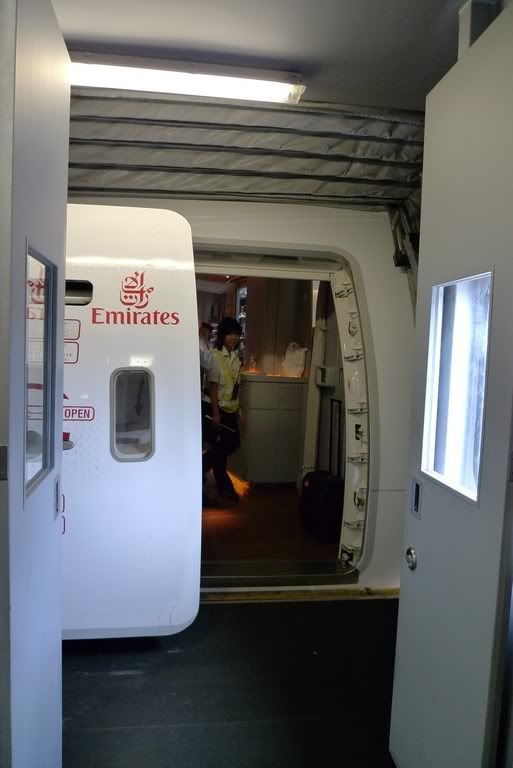 Welcome by the FA from Bangkok, she helped me to settle down in Suite 2K and Mr. 1A from DXB was chatting with other FA.
I have bought some 'Mango and Sticky Rice' from a airport restaurant, and asked whether I can store it in the fridge, the FA said no problem and asked whether I would like to get it back before or after landing.
My Suite 2K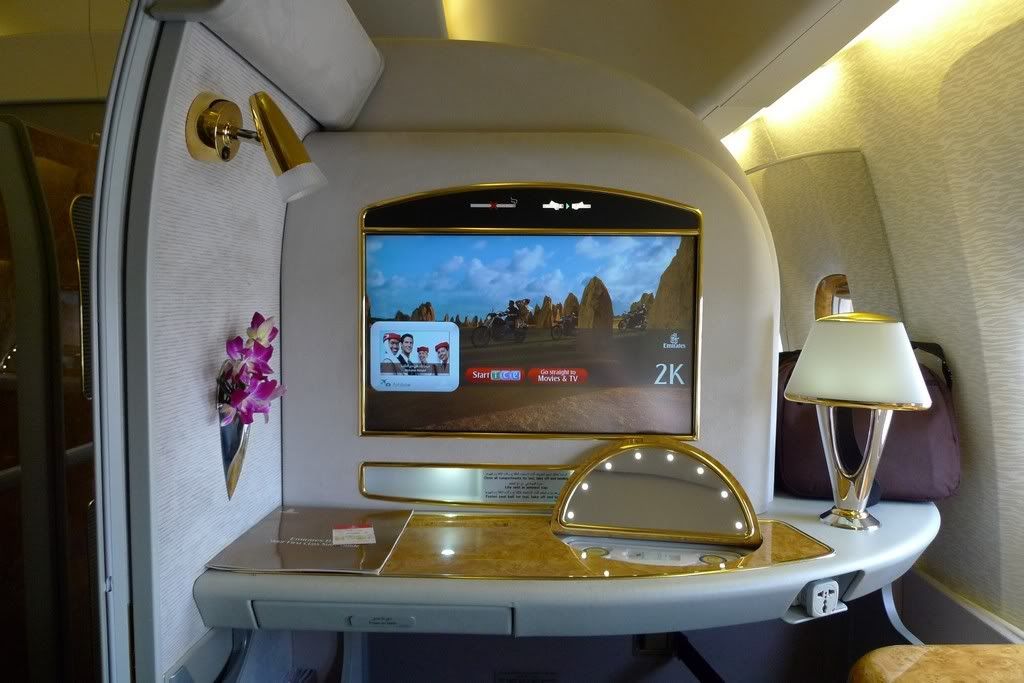 Self-served beaverge store
View from my seat
Note that there was no overhead bin nor any crew bunk above the first class cabin, so it provide a very spacious environment. Good Job EK!!
Suite status indicator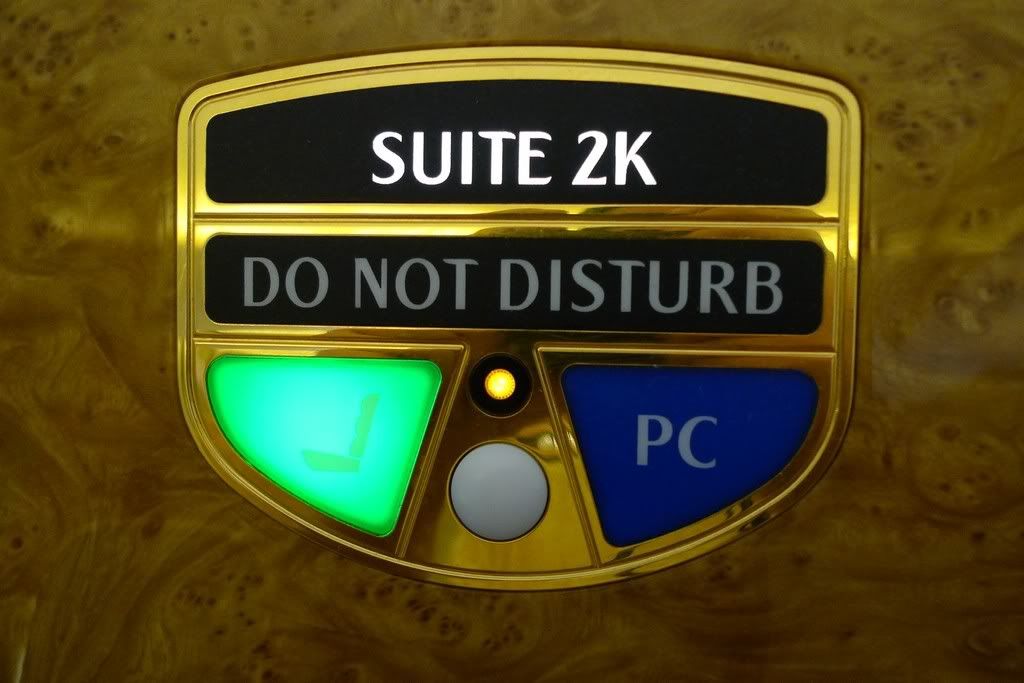 The seat, it's soft and the support was very good
Cabin from the front
Seat 1E and 1F
The table, which is very large and firm
Legroom
Some control buttons
Note that those 4 buttons at the right were for auto window shades, however this aircraft didn't equipped with it, so these buttons were useless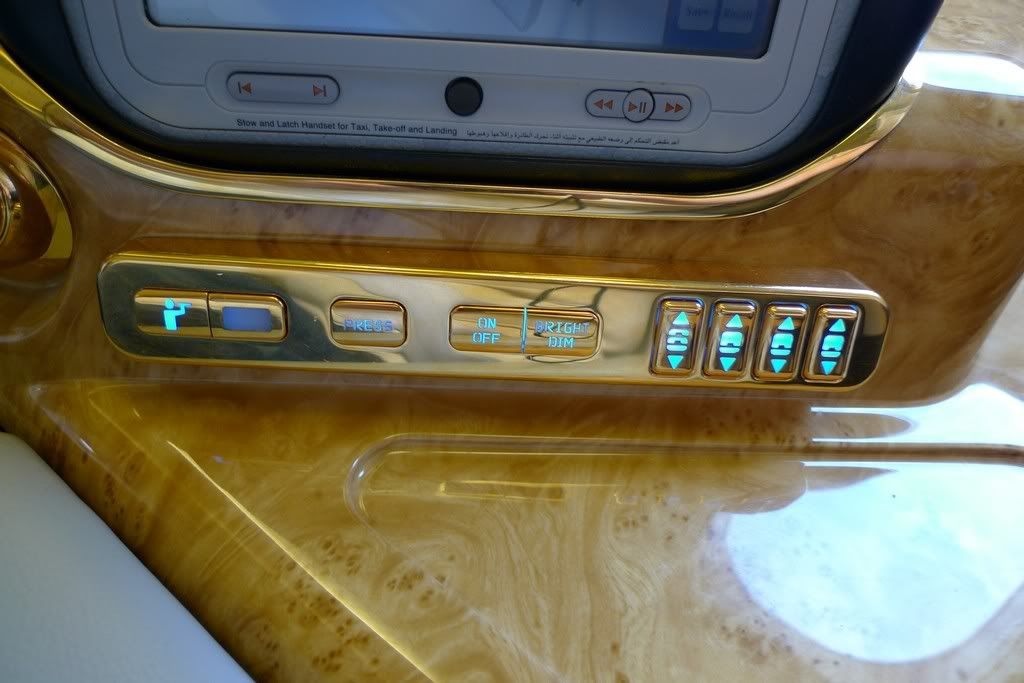 Flight map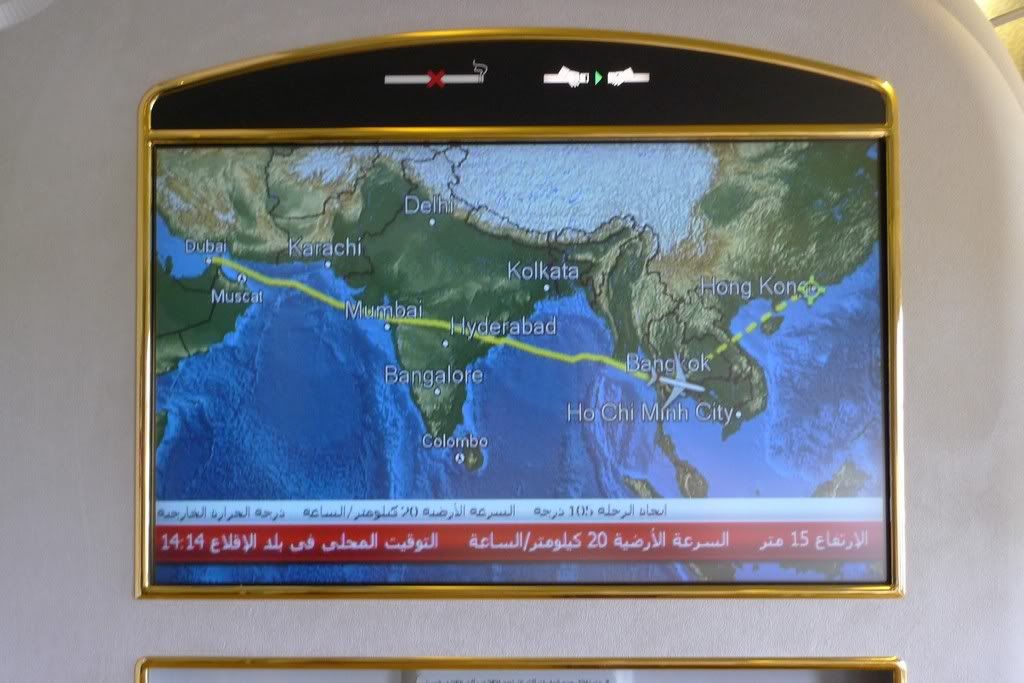 FA asked what do I want to drink, I told her it would be great to have some Dom.
She bring along the Dom from the galley and open it in front of me.
In addition, the nuts offered from EK were in superior quality
Door control of Suite 2K
After take off, it's time to have some food. The service was different from my outbound flight as the FA took my order rather than using the trolley.
Light meal:
Appetiser: Cold smoked salmon with Mango and crabmeat salad and seasonal salad. With bread basket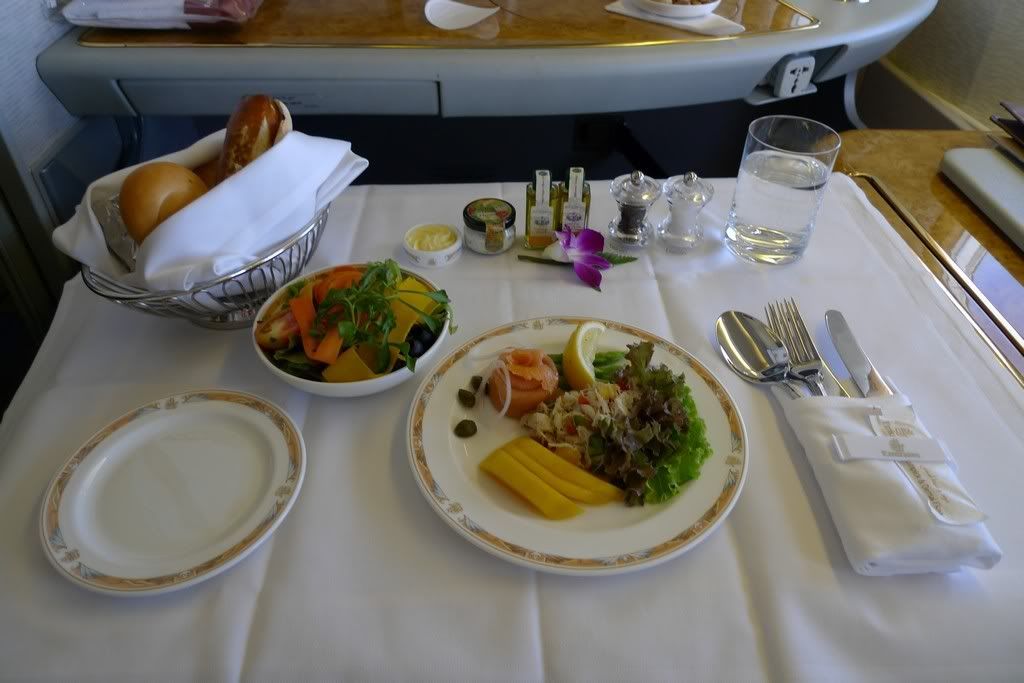 Main Course: Pan-fried plakapong with vegatables and basmati rice
Dessert: White chocolate mille-feuille
The meal quality was not as good as ex-HKG, but the service was very good as two FAs served mine, my glass never empty during the meal service. And finally I washed down about half bottle of Dom during the flight :P
After the meal, let's visit the washroom, still too small.
The Bar at the front
View from the front again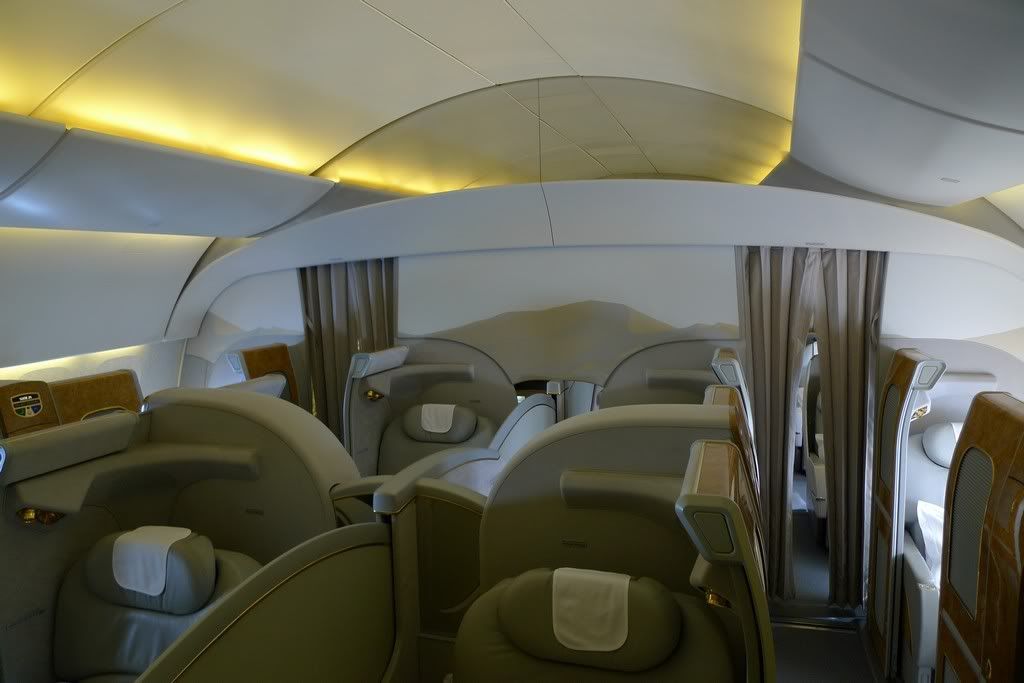 Still have some time, so played around the cabin.
The privacy control for Suite 2F
The bed mode
Close the doors and enjoy the movie with the flat bed
One touch seat controller
AVOD control. You can use either this AVOD control or the main control panel to control the IFE system.
Keyboard on the back of the AVOD control
After around 2 hours and 30 minutes, we touched down the HKG.
Comment:
The service was good for both flights, the aircrafts were new and the seats were very comfortable. The lounges were elegant while the food offering were somehow better than CX's lounges. I think I will using EK again in the future and hope the rumour of EK384/385 would change to A380 in May 2010 will be ture.
Thanks~
Sutrakhk
My past TR:
Three 5-Star Airlines In 8 Days (102pics) (June 2008)
First Touch Of China Southern MD82 (31 Pics) (August 2008)
China Airlines HKG - TPE (47 Pics) (August 2008)
HKG-TPE Turnaround On TG's A340-600 (33 Pics) (June 2009)
HKG,MFM,TPE,SIN,BKK In CX C And BR Y (201 Pics) (August 2009)
[Edited 2009-11-24 13:42:15 by sutrakhk]
[Edited 2009-11-24 13:44:22 by sutrakhk]