Asia Trip, Pt 2: China Southern and Hainan Airlines (A321/A346)
Hello Everyone!
Below is part two of my four part trip report coving my late April/early May trip to Asia.
Asia Trip, Pt 1: Qatar Airways Business Class (LHR-DOH-ICN)
Asia Trip, Pt 2: China Southern and Hainan Airlines (Seoul-Dalian-Beijing-Shenzhen)
Asia Trip, Pt 3: Malaysia Airlines, Hong Kong to Penang
Asia Trip, Pt 4: Qatar Airways Economy Class (HKG-DOH-LHR)
Originally I had earmarked this holiday time to go to Cuba, but for a variety of reasons I decided to change to the Far East. I've now booked to go in July with Iberia (yikes! But I got a great Business Class fare).
Asia Trip, Pt 2: China Southern and Hainan Airlines (A321/A346)
After five very interesting days in Seoul, during which I managed a day trip to the DMZ (Demilitarised Zone) between South and North Korea, it was time to head off to China. I had spent quite a time searching for the cheapest way to get Seoul to Beijing. I wanted to take an Asiana flight, as I'd get Star Alliance miles, and they have great service (a few years ago I flew with them from Busan to Shanghai). Unfortunately since 2007, they have "enhanced" their website to the point that it was impossible to even check flight prices without joining their Frequent Flyer club. I the end I ended up getting a Korean friend from work to help me translate some Korean websites where I found a great fare on China Southern (CZ). It was essentially the same fare from Seoul to anywhere in China, with up to one stop (less than 24 hours). As I was quite time constrained, I needed an almost immediate connection (I could have taken a direct flight, but where's the fun in that?), and in the end decided on changing in Dalian (DLC). Other options were Mudanjiang, Haerbin, Guangzhou, Yanji, Changchun and Shenyang. Unfortunately I'd already been to DLC airport, but at least I'd add two route routes.
CZ timetable out of ICN
From my hotel I caught the bus to Seoul's Incheon airport (ICN), which took around an hour. A Korean Air FA boarded somewhere enroute, so I got a photo of her cool hair clip.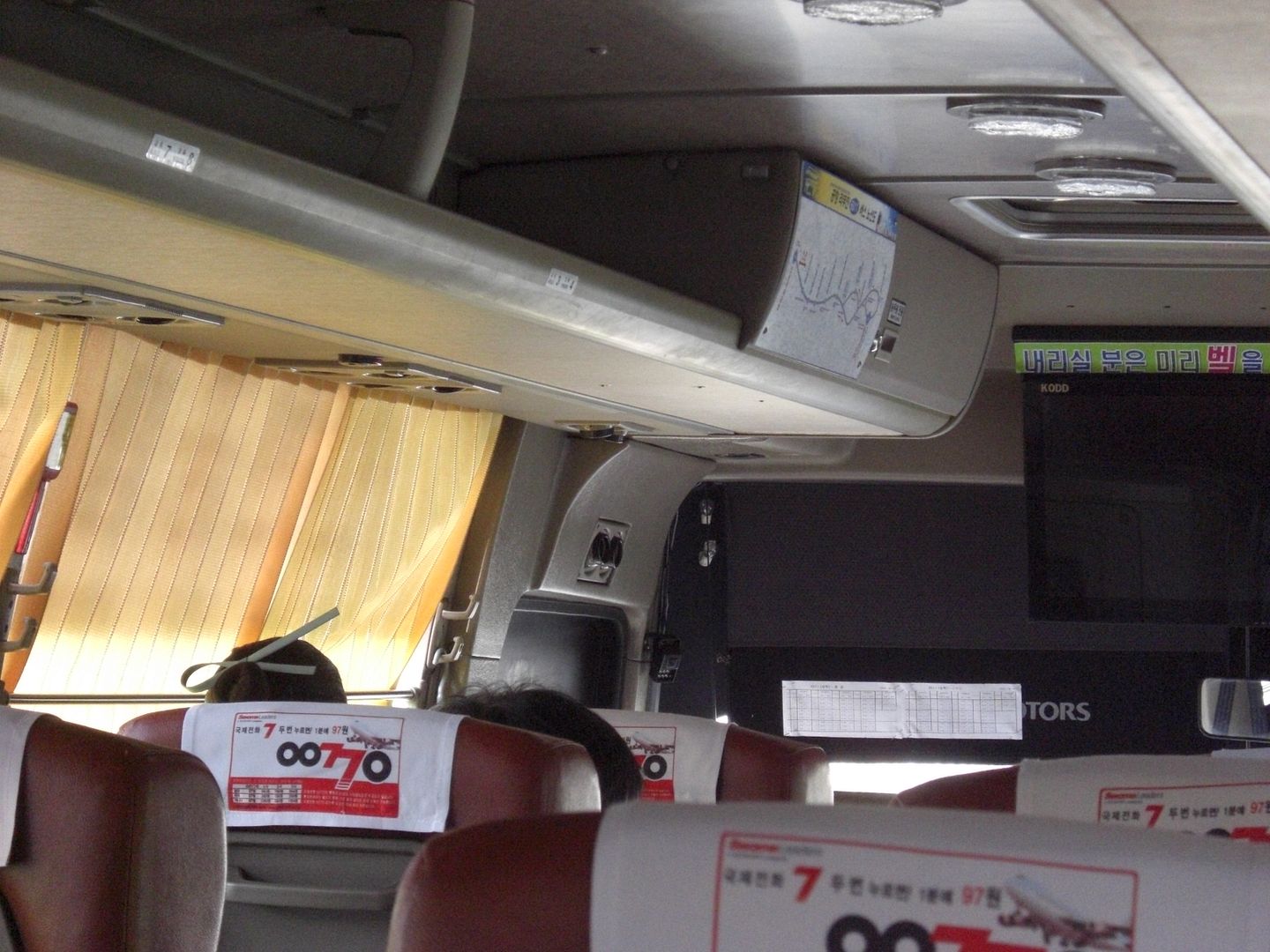 Dropoff Zone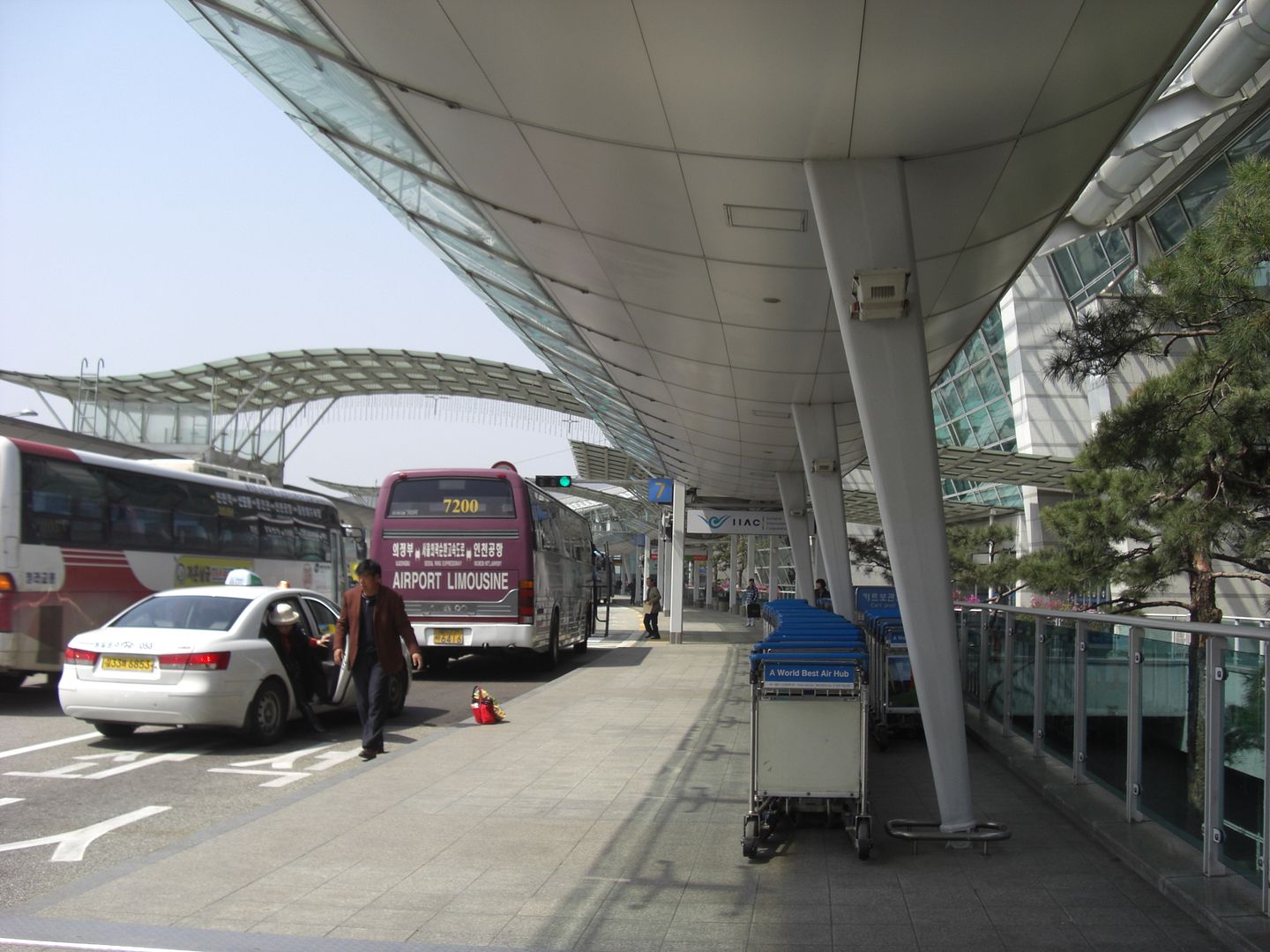 Once I was off the bus, I found the China Southern check in area pretty quickly. I joined the large queuing area, and after just a minute or two I reached the front of the queue. The very friendly and polite agent couldn't check me through to Beijing, which as a pain as I felt that 95 minutes was too short a time to self-connect. Bizarrely, after my bag was tagged and put on the conveyor I was asked to take a seat by the side of the check in area (with a lot of other people) in case I was called by security when they were x-raying the bags. What? First time I've ever seen security carried out like that. I sat there for about 5 minutes, then decided that my bag was fine, so walked off. I did notice that in the 10 minutes since I'd arrived the queue had grown from around 10 people to well over 100 – good timing!
Departures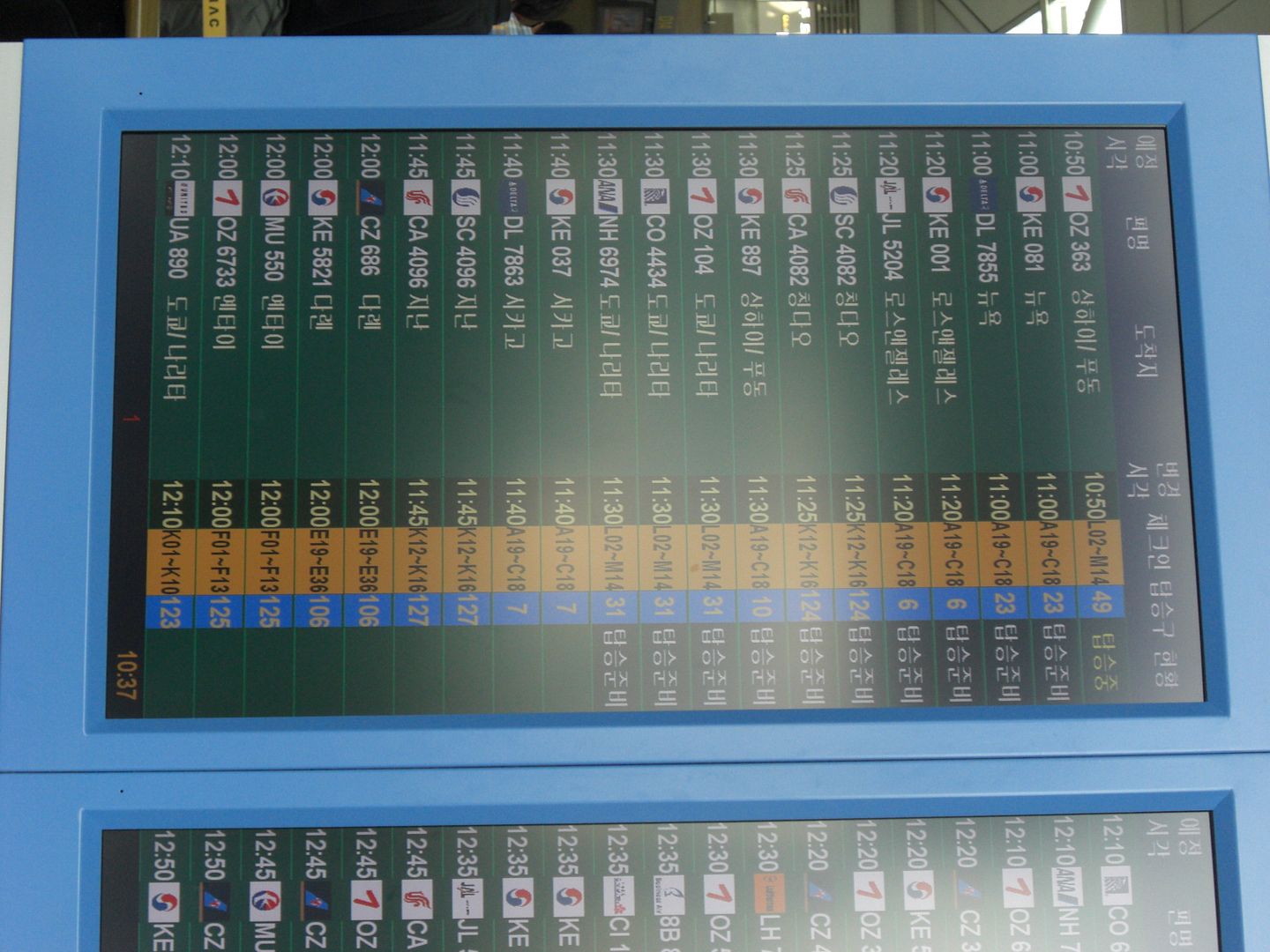 Security was fast, and there was no one at immigration. I had about an hour before boarding, and as Seoul is rarely (if ever) on my itineraries, I thought I needed to get a full a feel of this 5* airport as possible.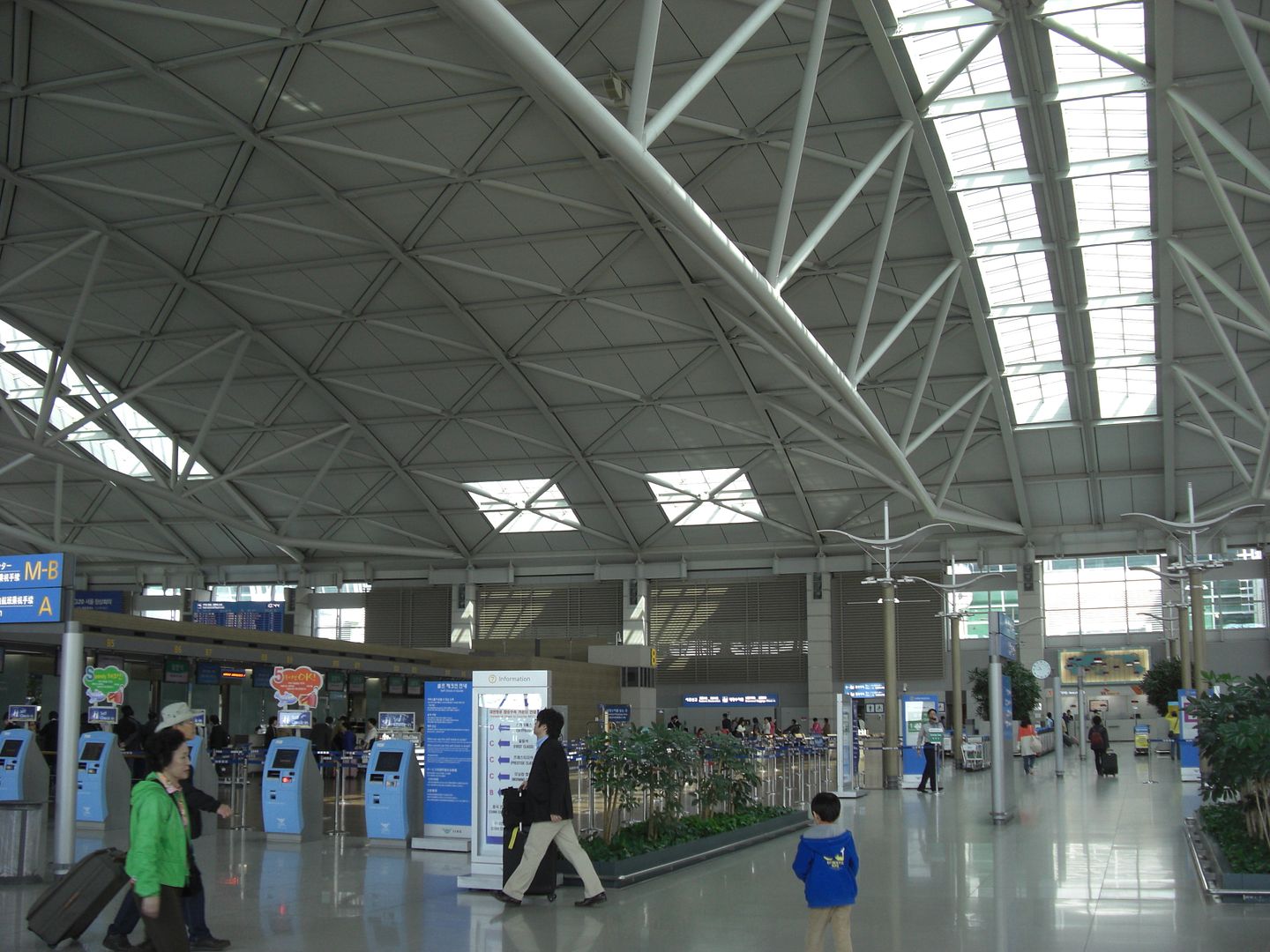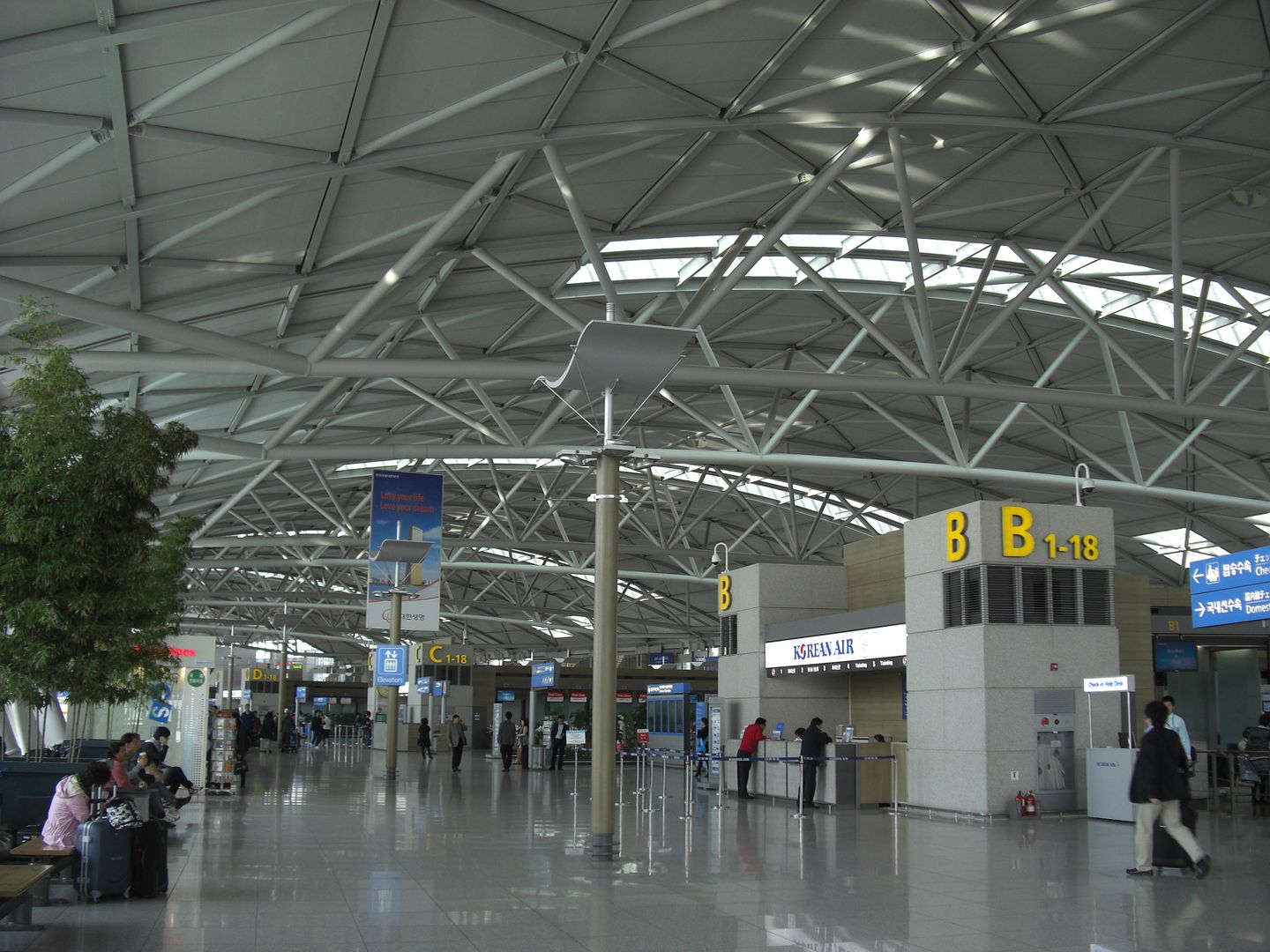 I checked out the duty free (seemed good value, but I wasn't buying). I then headed upstairs to check out the museum – yes, you read correctly, Incheon has a museum. True, it wasn't the most complete in the world, but it was interesting for 15 minutes. It wasn't as popular as the 24-hour cinema in SIN, but infinitely more cultural!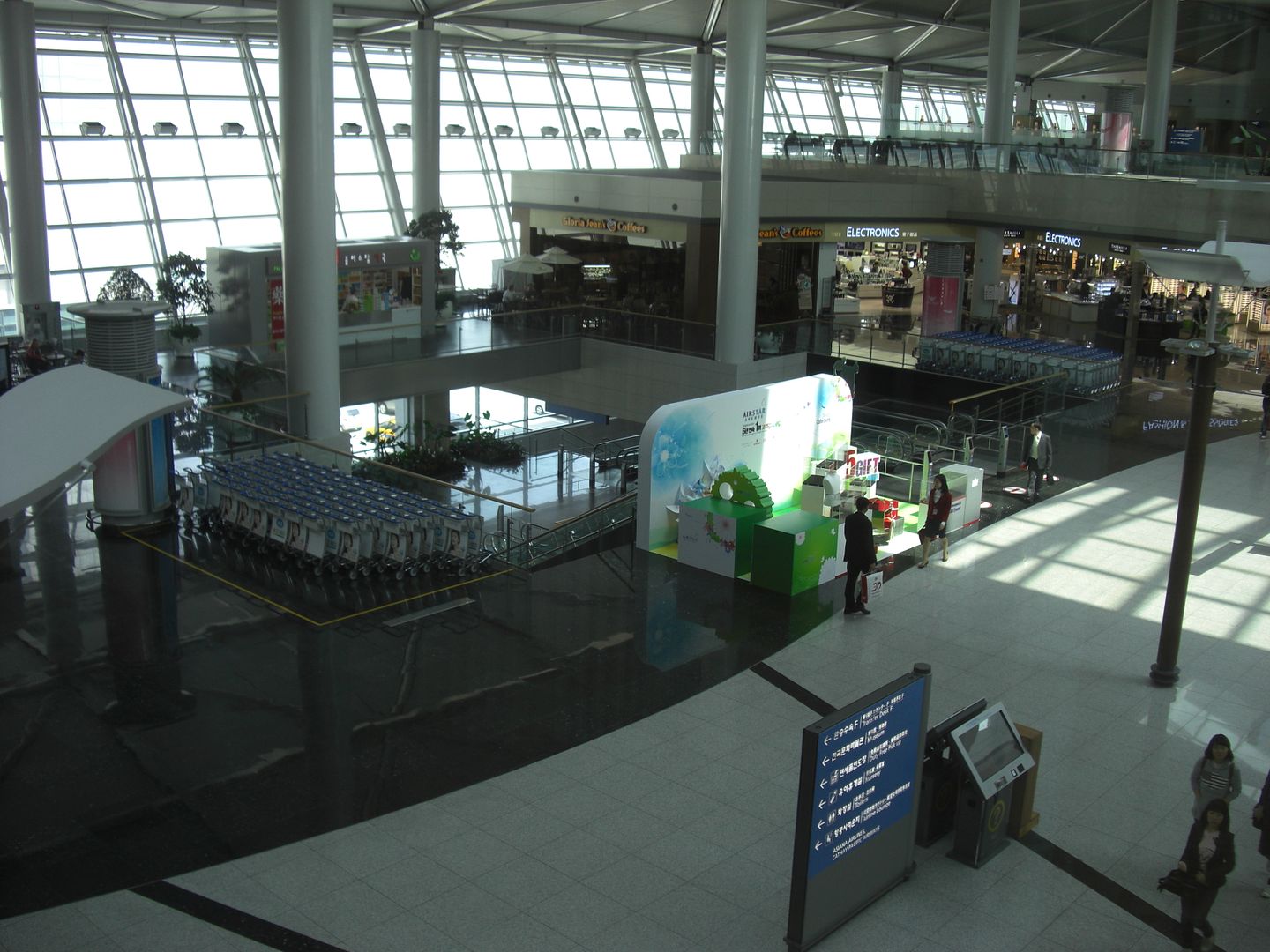 KE/OZ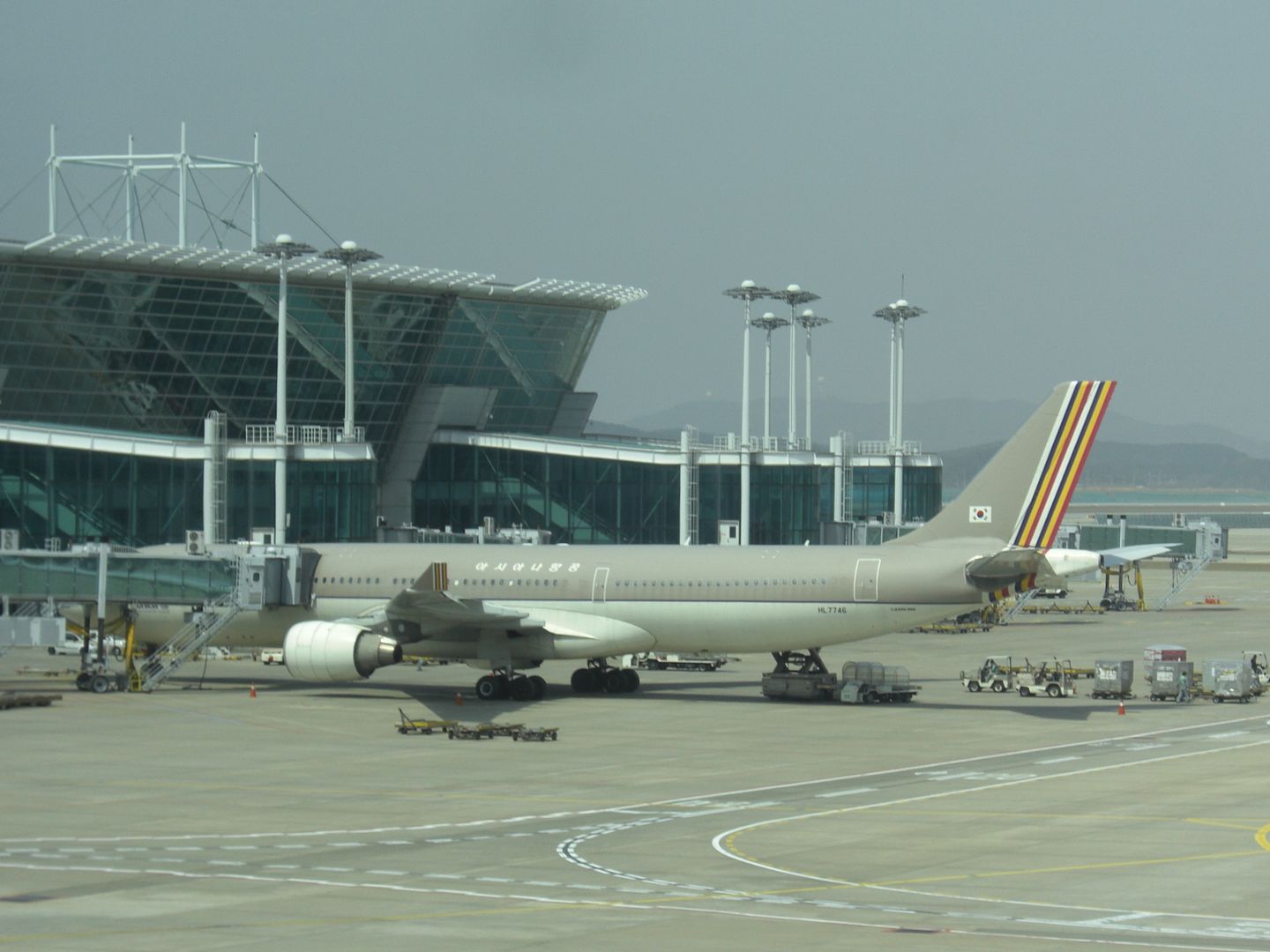 Comfy seating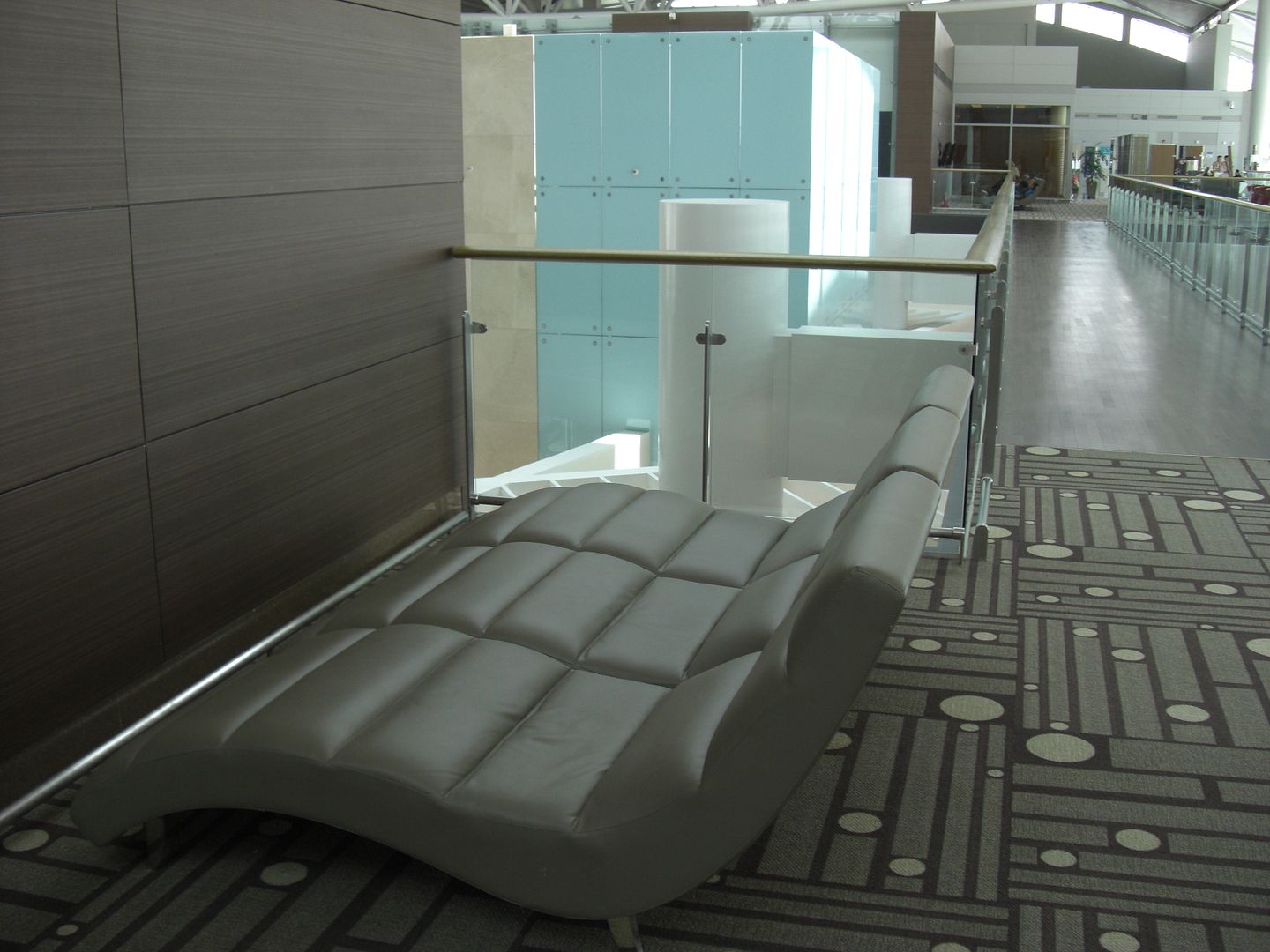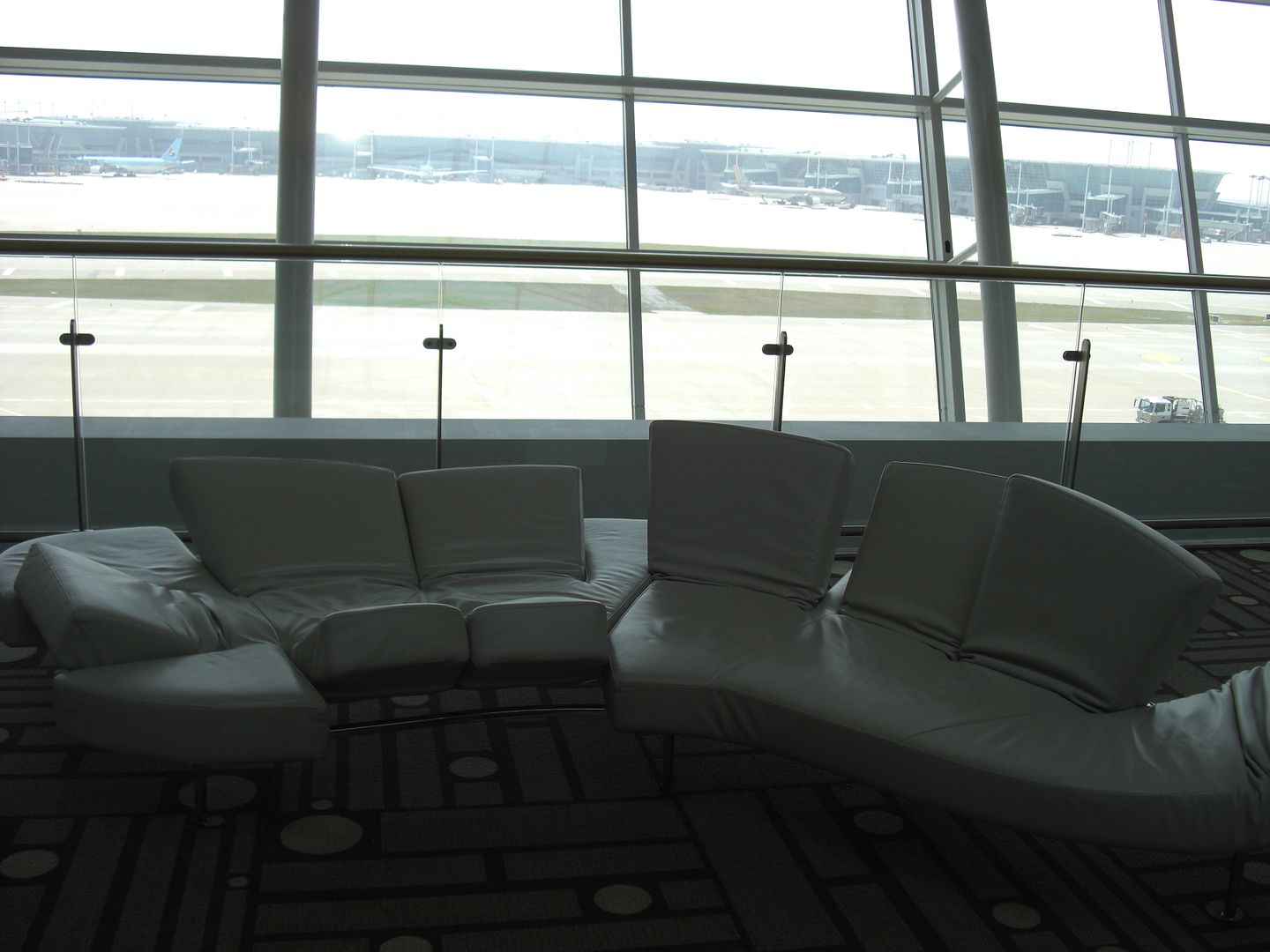 I took the shuttle train over to the non-Korean airline pier. On my walk to the gate I walked past a very inviting FREE internet café. Lots of airports have free wi-fi, but not even HKG or SIN have proper sofa areas, with private laptops for use. Very impressive.
Views fo the tarmac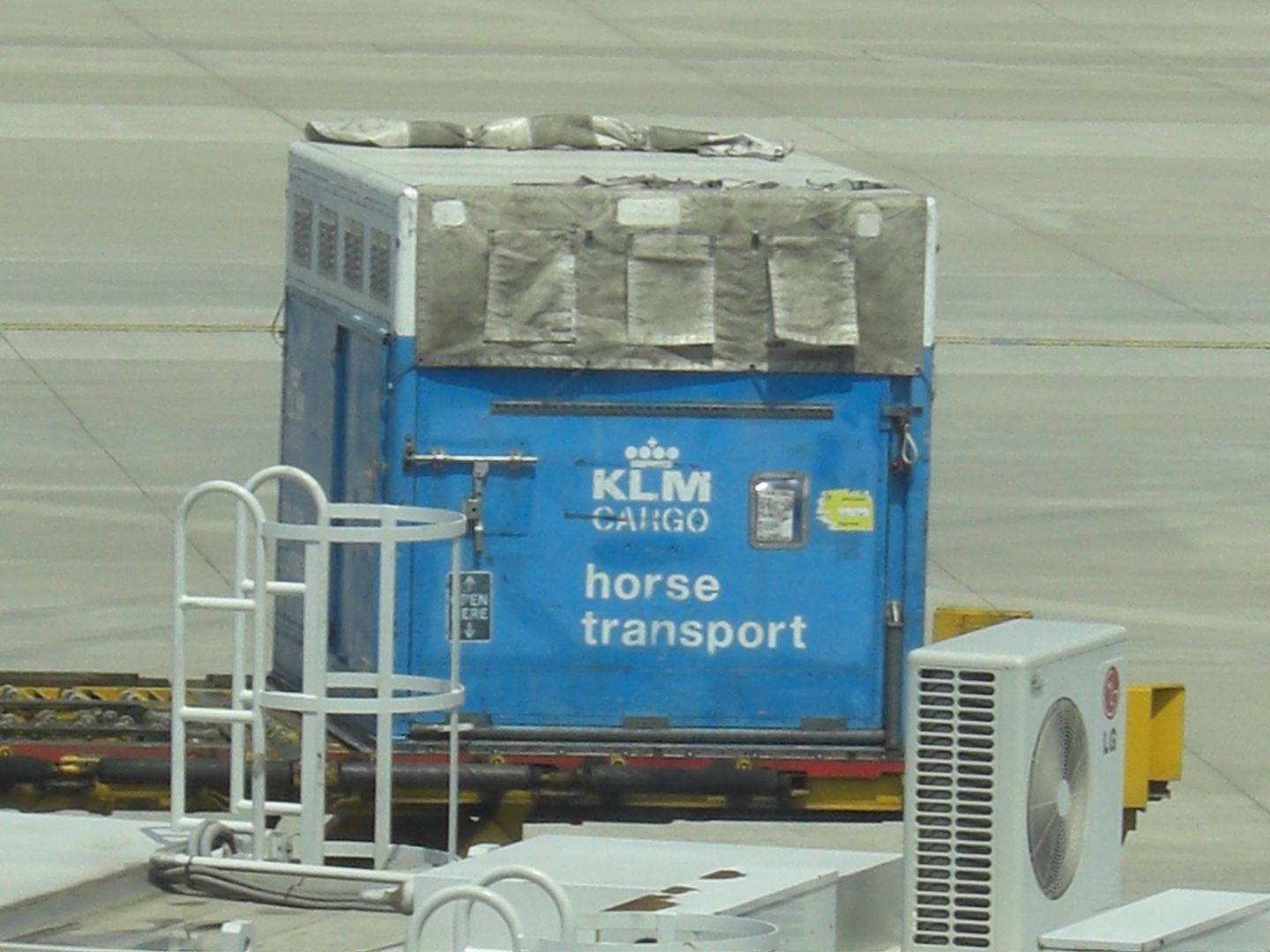 I joined the queue, and in just a minute or two I was on the plane.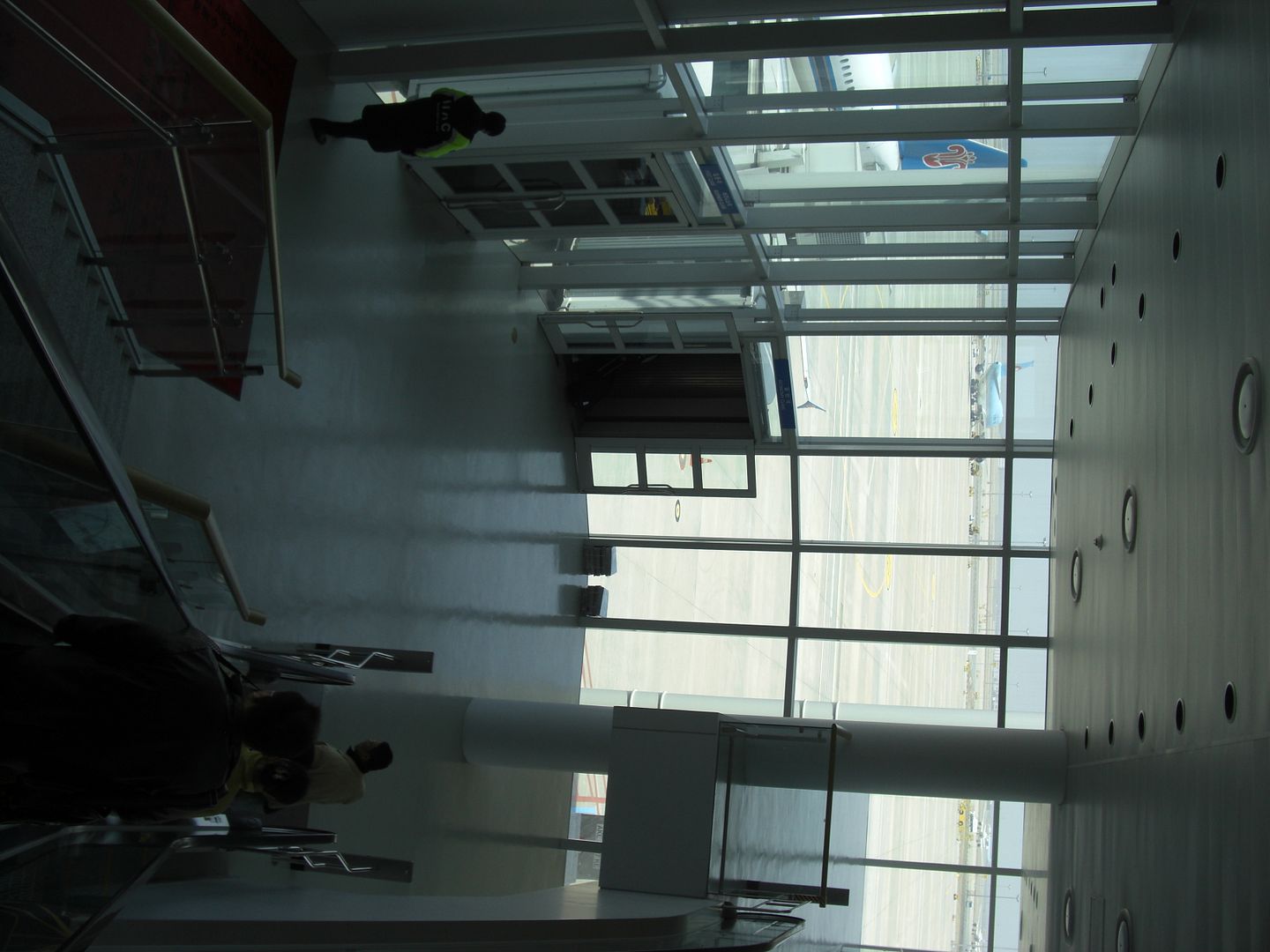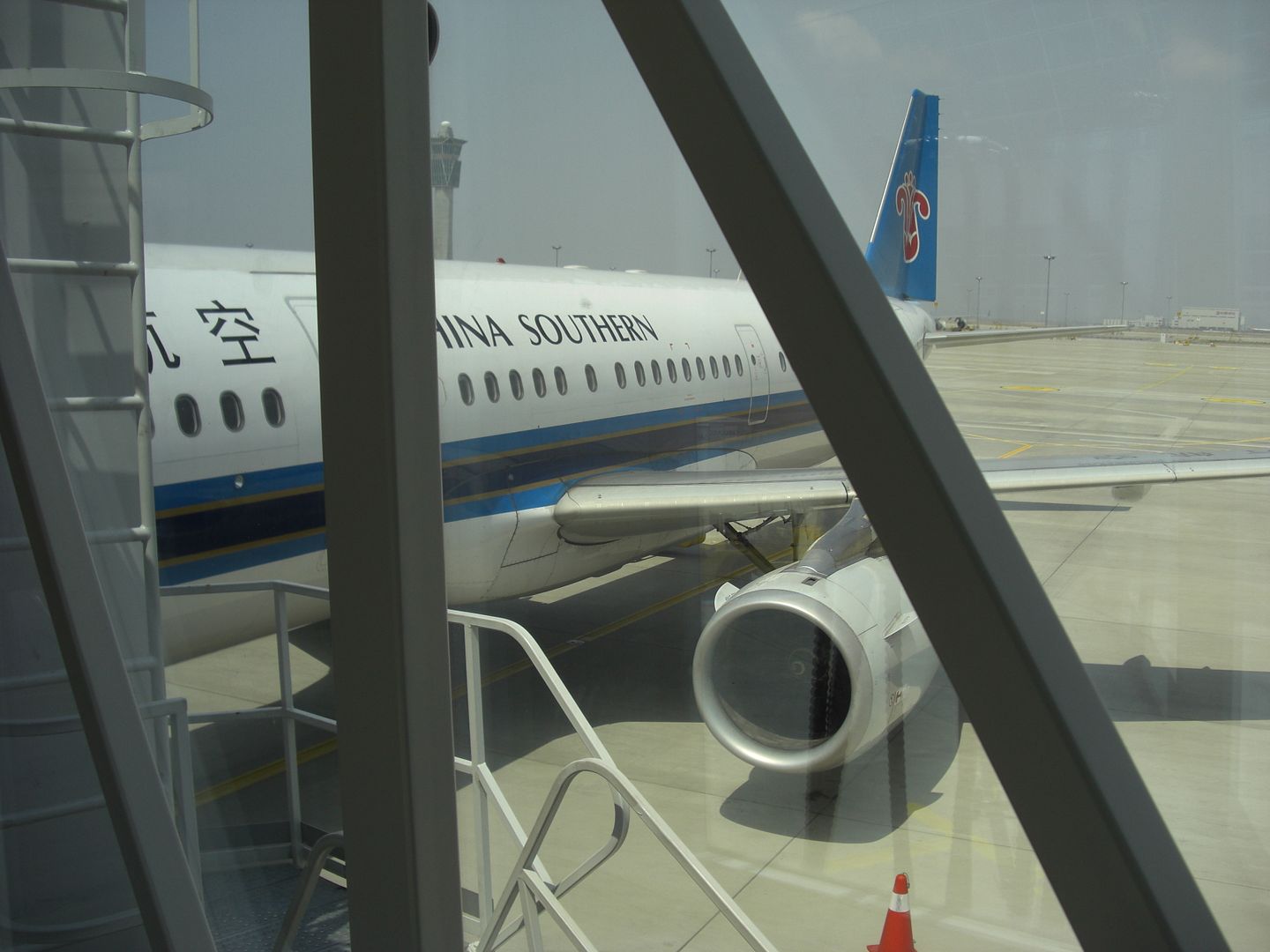 April 2010
China Southern Airways CZ 686
Seoul Incheon (ICN) – Dalian (DLC)
Airbus A321 (B-6580)
Scheduled: 1200-1155 (0h55m)
Actual: 1212-1205 (0h53m) Technically arrived before I left
Economy Class Plus
CZ has recently introduced a premium economy on selected routes. As I was paranoid about my connection time, I had asked for a seat at the front, as we assigned a premium seat. There was extra legroom, a blanket and bottle of water. Not exactly revolutionary, but not bad for China, and nice to have for free. After a bit of fussing with seats (I was moved to accommodate a baby), I ended up in the front row with an aisle seat. Annoyingly the guy at the window didn't look out once. Even during landing he had his paper open so even I couldn't see out. Grrr.
On board service was extremely good (for a Chinese airline). A very edible snack of a ham sandwich, yoghurt drink and small salad, along with a Carsberg. The crew even had time to get me another beer. Definitely the best service on a Chinese Airline (in economy) I've ever had (and I've logged around 50 flights).
This was the first flight I've been on that arrived before I left, touching down 7 minutes before I left local time.
Unfortunately my good CZ experiences finished as I disembarked in Dalian at a remote stand. Keen to make my connection, I was first out of the door, and onto the waiting bus. We made an agonisingly slow trip over to the international arrivals area. I made it to immigration before anyone else, and managed to catch the very end of their agent's pre-work pep talk and the command for them to all sit. As one body, all ten agents sat, which was interesting to see. The woman processing me was quite slow, but it didn't matter as once I had been stamped into China, I still had to wait 20 minutes for my bag to appear on the belt.
As normal, immigration ignored me, and I went upstairs, past the scavenging taxi drivers, to the extremely busy departures area. I joined one of the haphazard queues for 'ALL CZ departures', and after only around five minutes was seen. I tried to get another Y+ seat, but unfortunately I was told the flight was nearly all assigned, so ended up with a window seat at the back.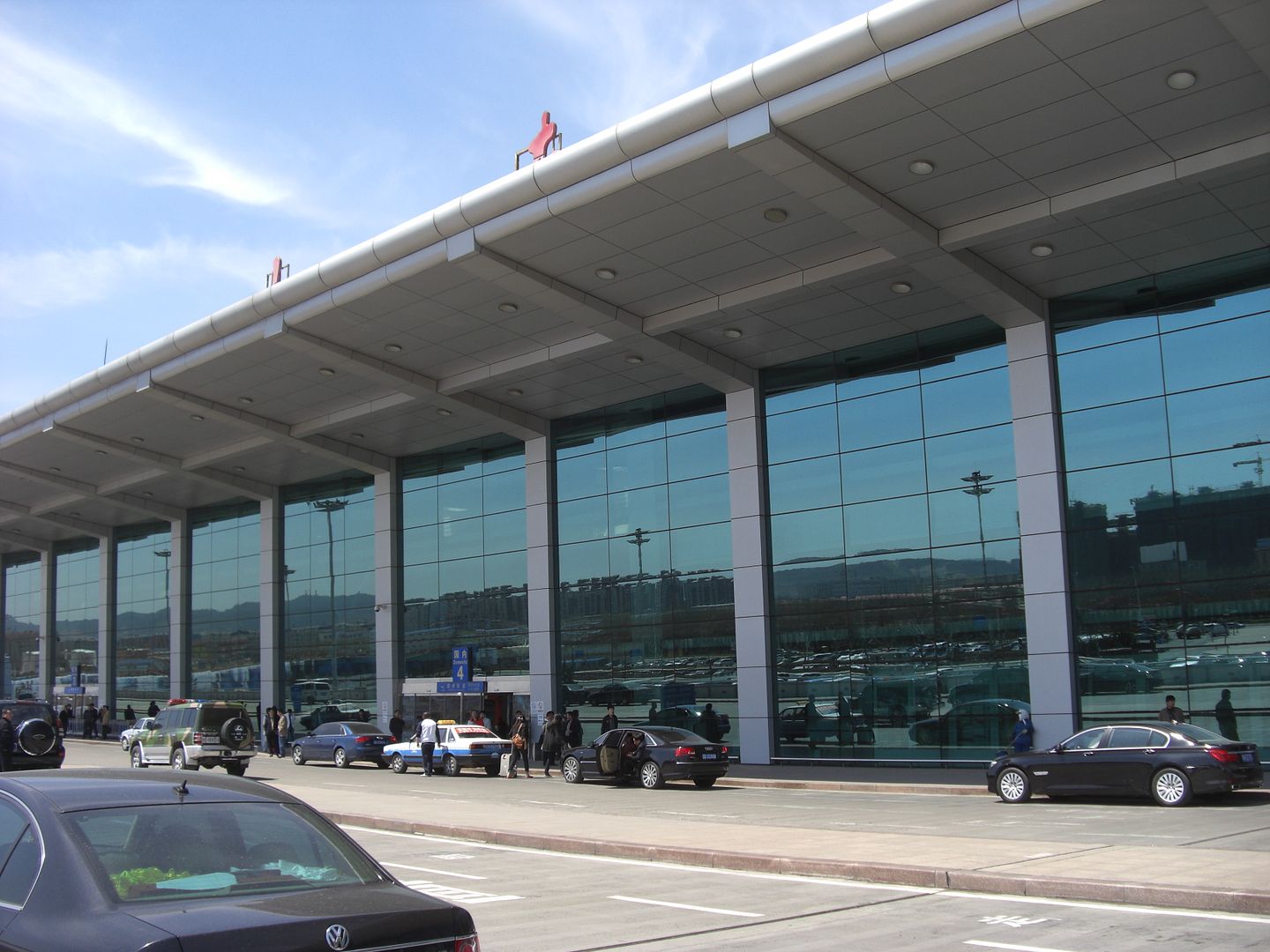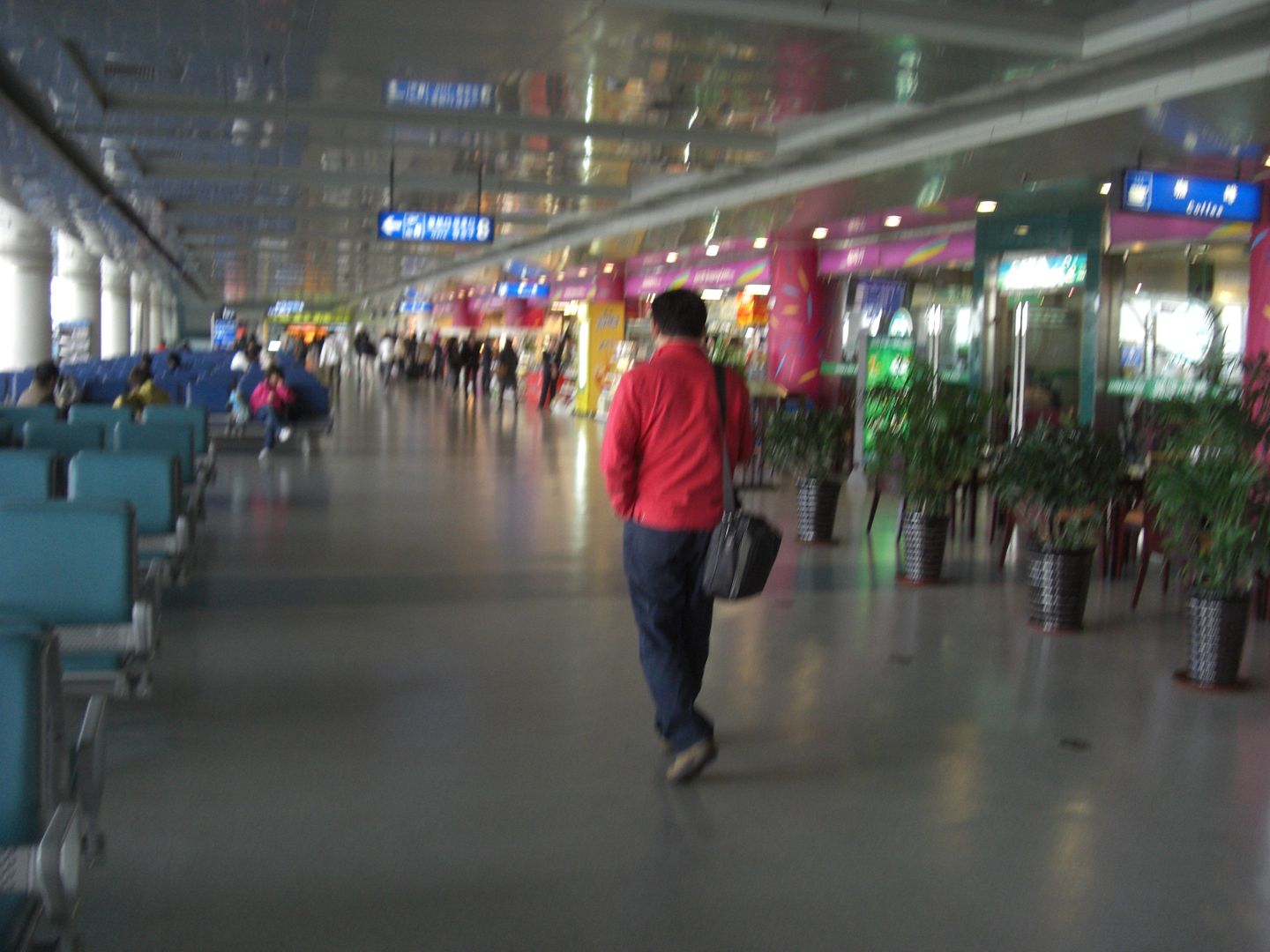 Security was a nightmare. Most Chinese are bad travellers at the best of time, but in the run-up to the May 1 holidays, inexperienced family and tour groups seemed to have descended on the airport en masse. After about 20 minutes of watching a lot of people having to empty their pockets, throw away water bottles etc, I was in the very boring departures lounge. Thankfully, due to all the waiting in the queue, there was very little time to wait before boarding.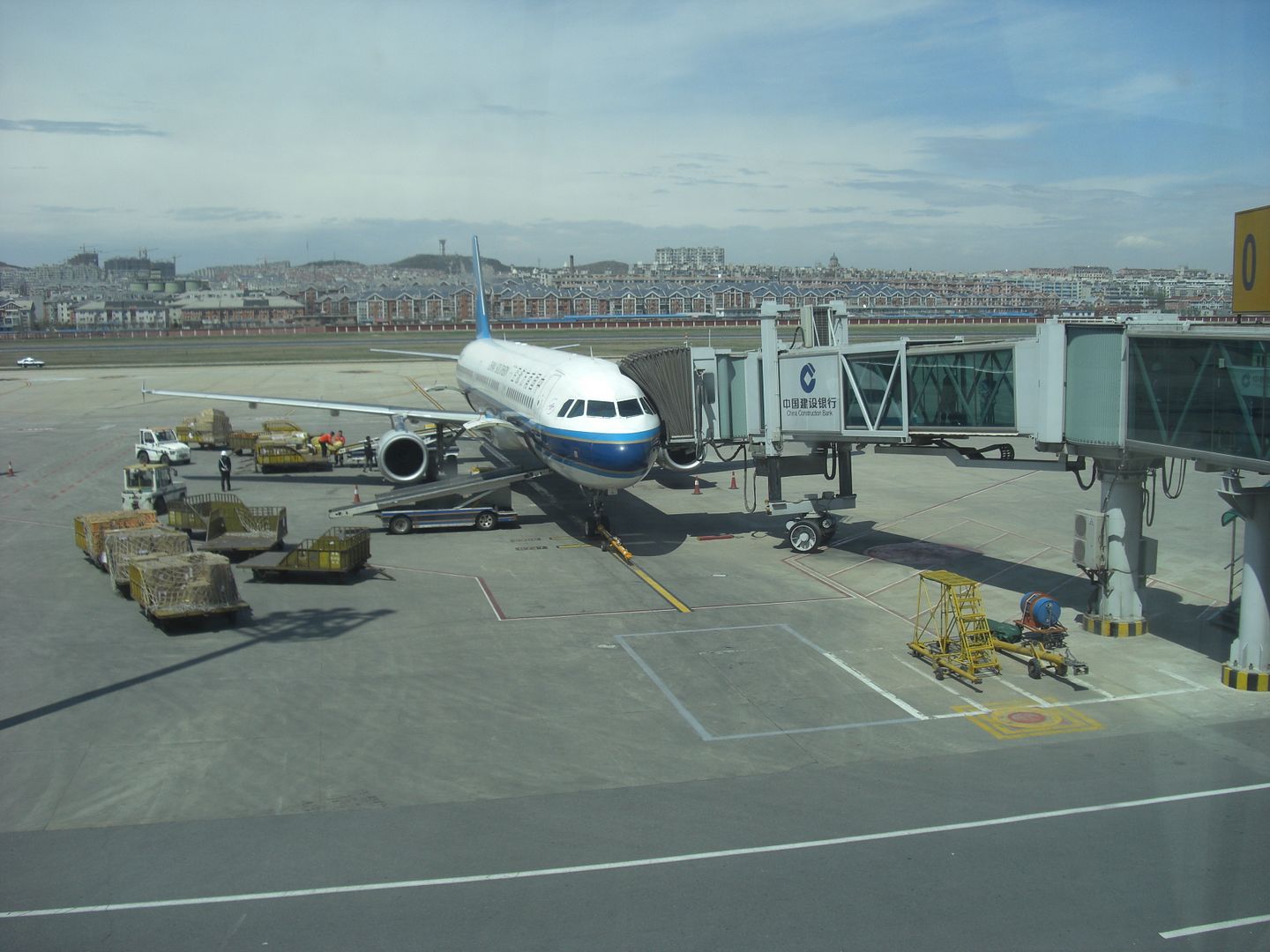 April 2010
China Southern Airways CZ 686
Dalian (DLC) – Beijing Capital (PEK)
Airbus A321 (B-2287)
Scheduled: 1330-1450 (1h20m)
Actual: 1404-1509 (1h05m)
Economy Class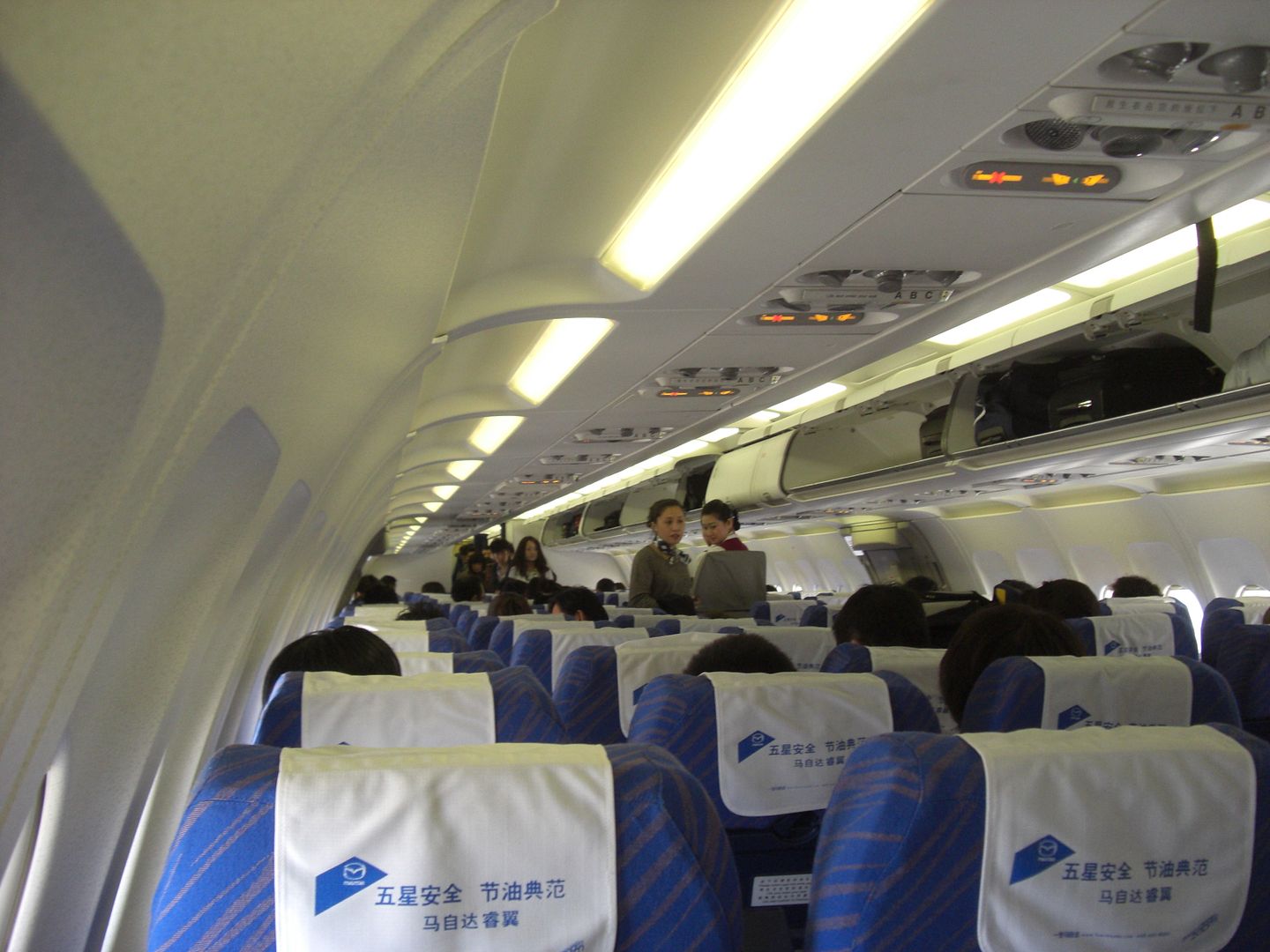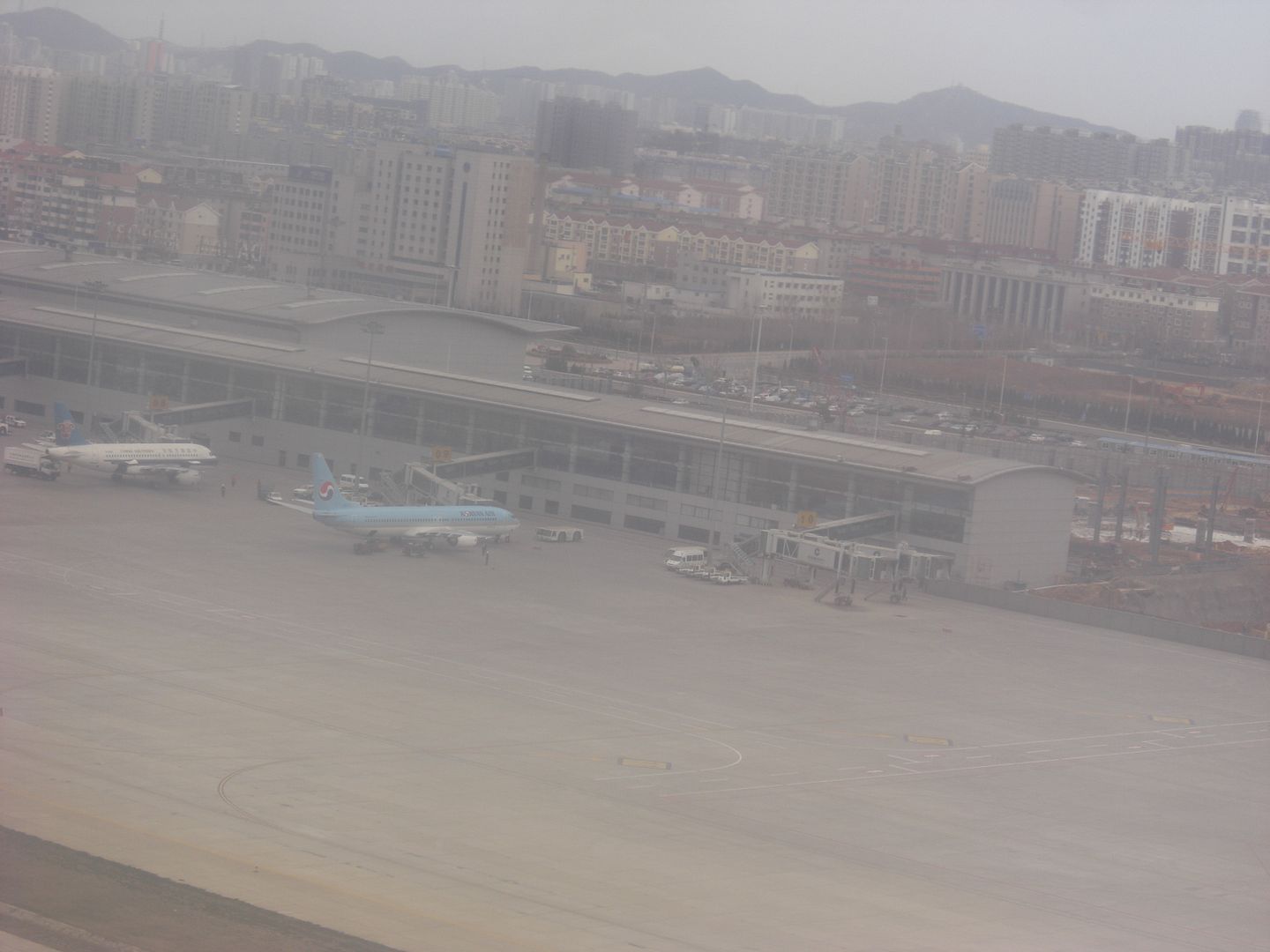 The change to normal legroom was very noticeable – thankfully this was another short flight. This flight was full to the last seat. A hotdog thing was served, but after the last snack, this was a big step back to traditional Chinese catering. I decided to give it a miss. The swathes of mayonnaise and wedge of gherkin didn't help. The Yanjing beer was cold and drinkable so it wasn't a complete loss.
After a late departure, we landed a little behind schedule into Beijing.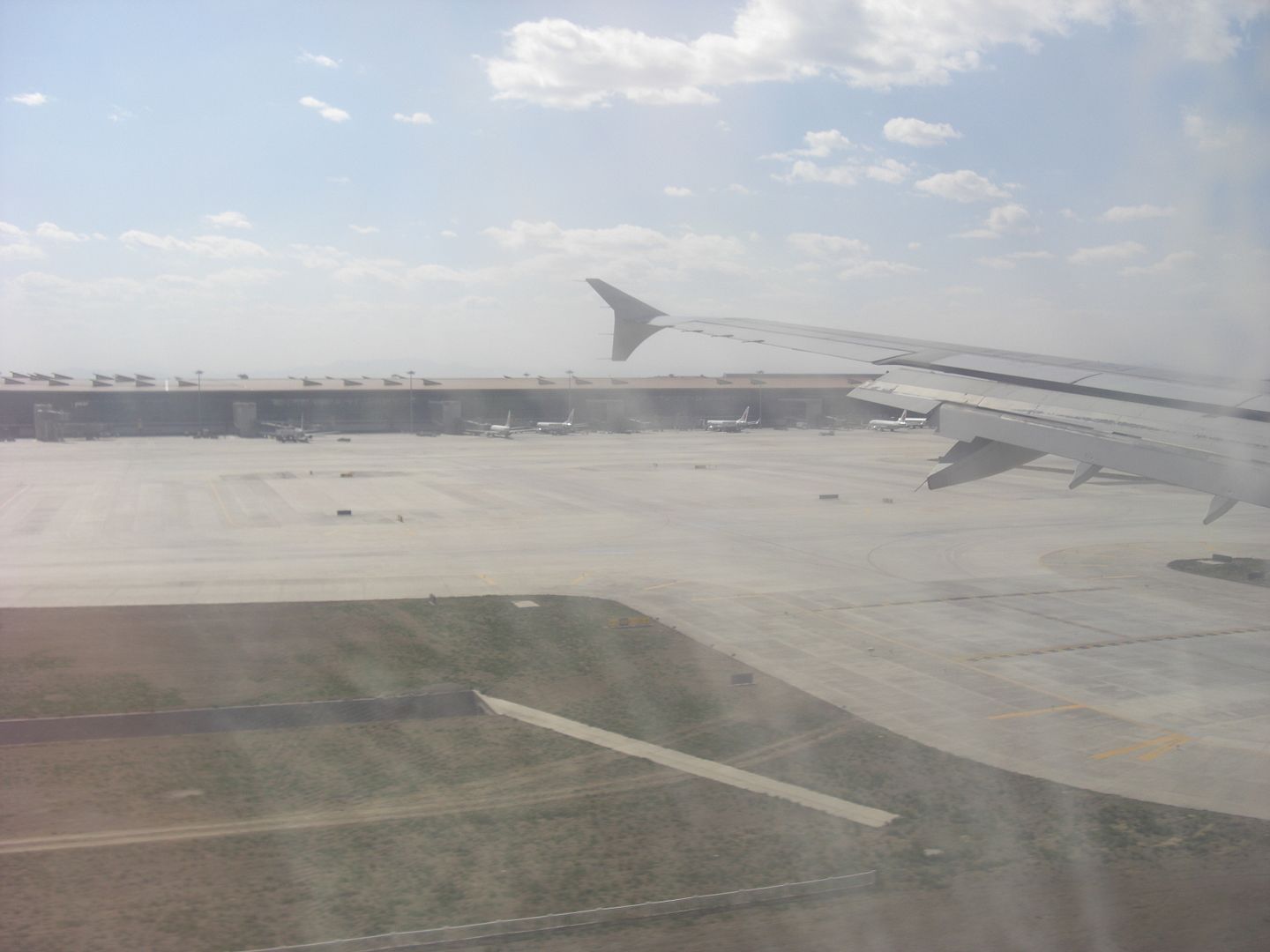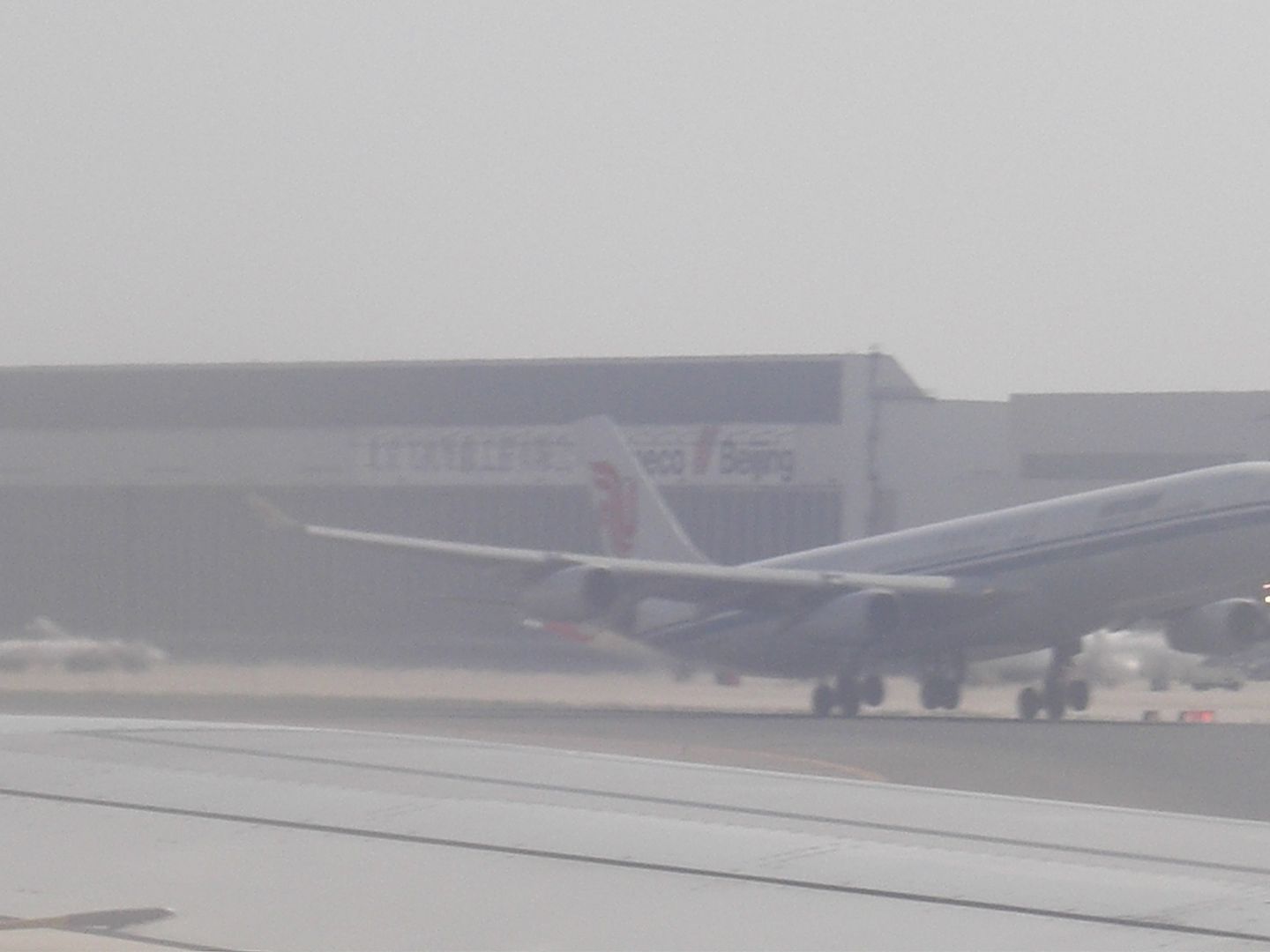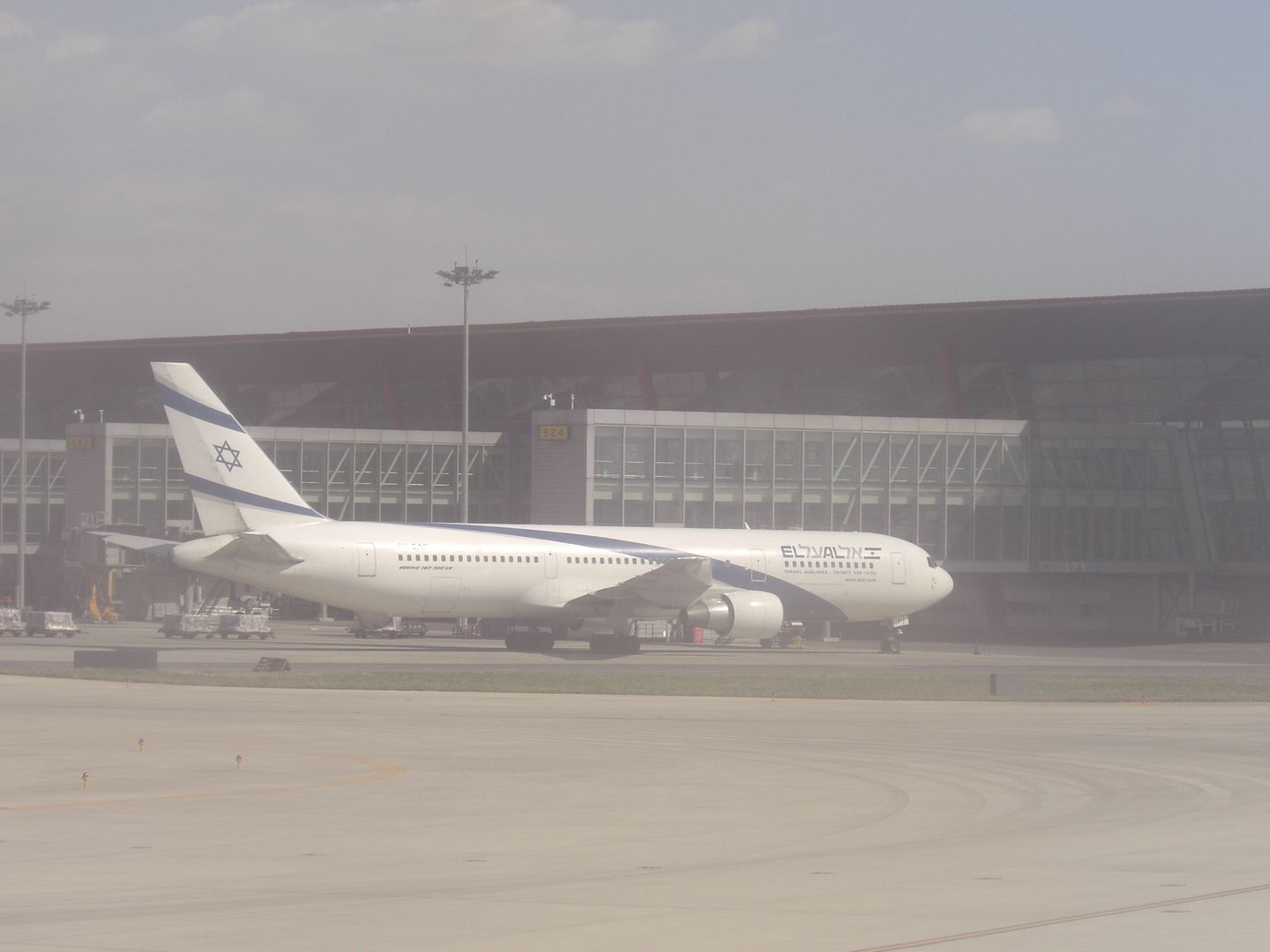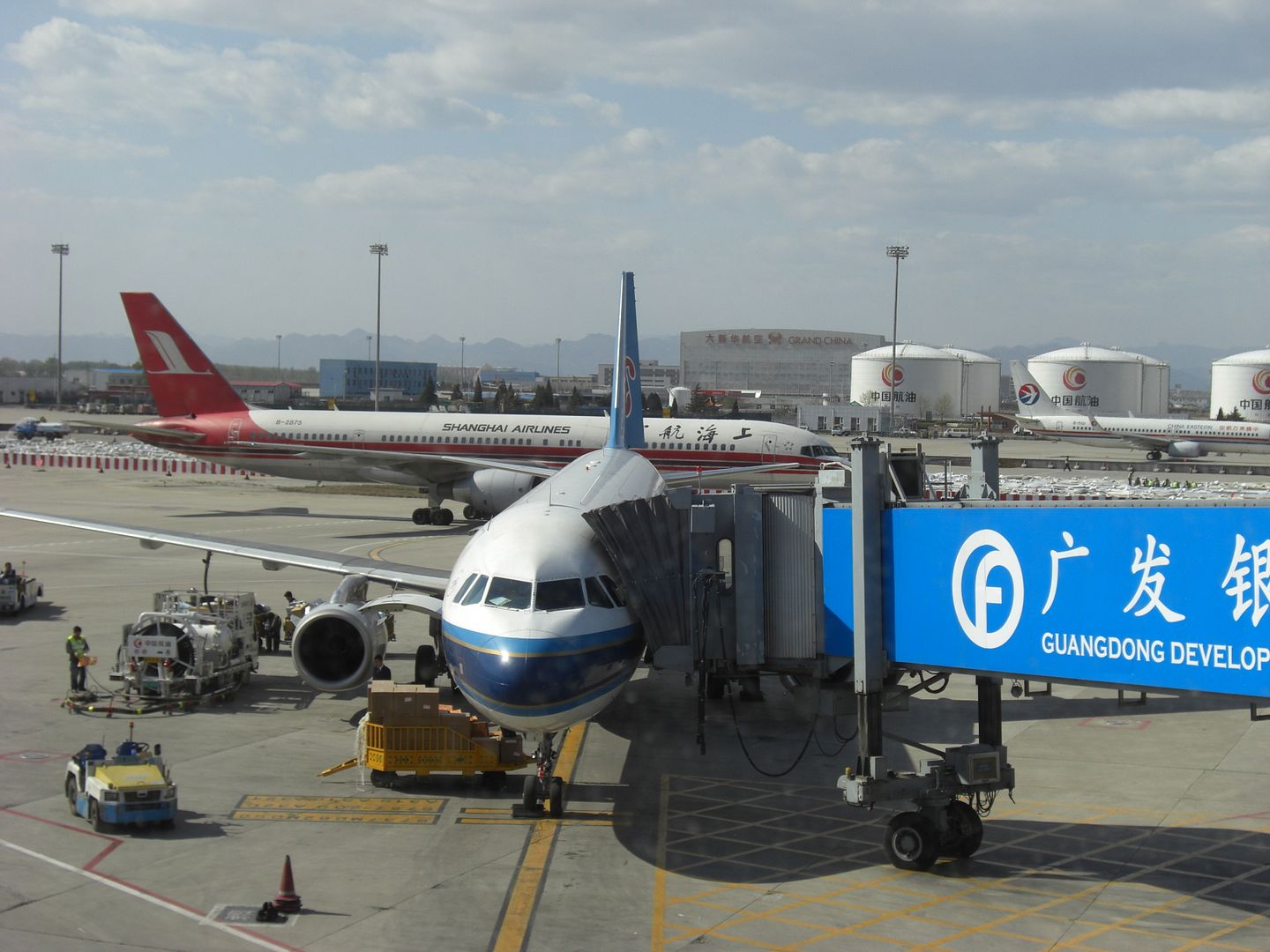 I decided to save a few kuai, and took the rather awful (it's slow, infrequent, and terribly put together given it's brand new, but fairly efficient if you don't want to sit in the airport bus traffic, or spend triple the train fare for a taxi) airport train to Dongzhimen, then took a taxi to my hotel in Sanlitun.
Express map superimposed on the subway map - the two maps are NOT related!
I spent the next three days catching up with old friends, including someone that was due to fly back to London on BA, but was rebooked on a flight FIVE WEEKS later due to the ash. Thankfully BA were paying up to GBP100 a night for accommodation and food, which generally goes a long way in Beijing. He managed to get a flight after only 10 days in the end.
My next flight would be on Hainan Airlines, the new and energetic kid on the block. I wanted a flight on Air China to get airmiles, but there no cheap seats. Hainan Airlines had some on their first flight of the day, which also happened to be on the A340-600 (seat back TVs), which I booked on elong.net using my Amex and was immediately emailed an eticket. Elong has come a long way since the first time I used them back in 2006 when they needed a photocopy of the passport and credit card to be faxed to their offices, then you needed to pick up a paper ticket at the airport!
My flight was scheduled for 0830, so I planned to arrive around 7, giving myself enough time to try and arrange an upgrade (if it wasn't too expensive), and if not probably pay for excess baggage. As it was a national holiday, I decided to leave a bit of extra time to trey and find a taxi, so set my alarm for 5.30. despite being quite drunk the night before, my internal alarm clock work me up BEFORE my alarm. I checked the time, got ready, checked out, and found a cab. I looked at the cars clock, and realised that it must be an hour slow due as it was only showing 0555. It took me another minute to realise that I had got up nearly an hour early. I was that tired. Dammit! I arrived at the airport at 0620 – so long to wait!
I wasn't able to pay for an upgrade (well, it was about USD 500 for 3 hours). I didn't have to pay for excess baggage either, which was good. I went through secutirty, and found a seat near the gate with some interesting views of thwe tarmac. Despite having flown into/out of PEK over 30 times, this was my first time flying out of Terminal 1 – I had not been missing anything!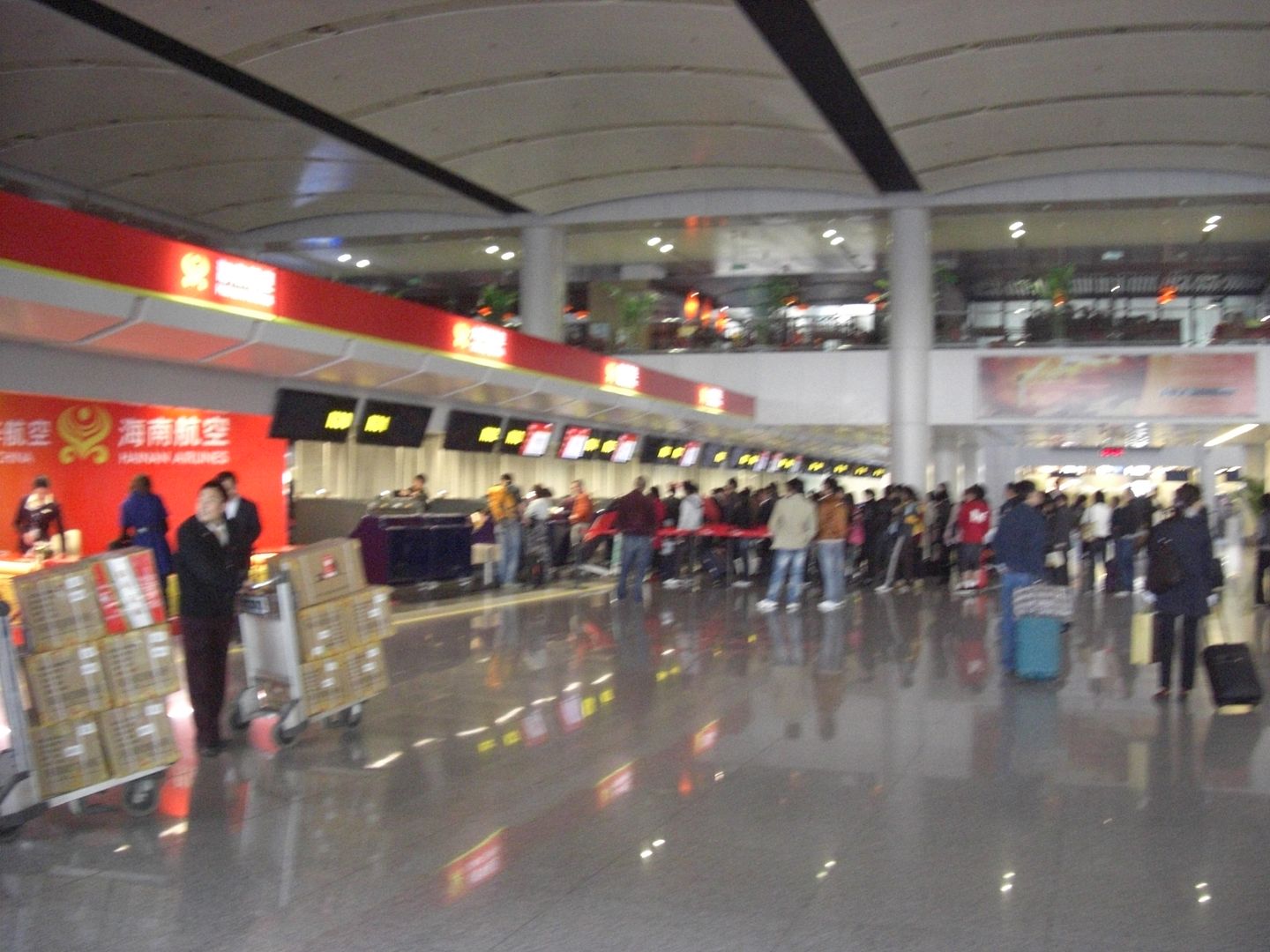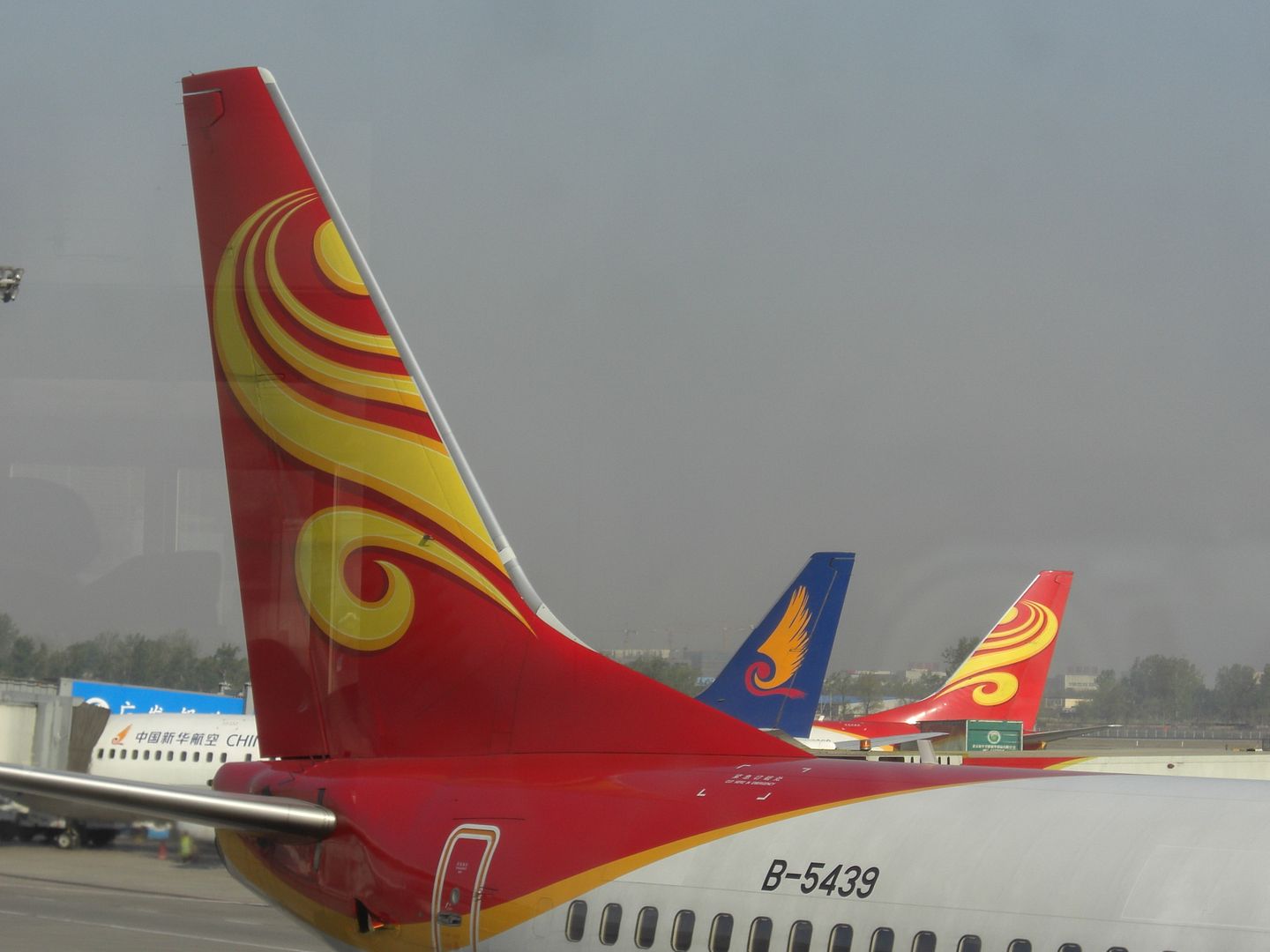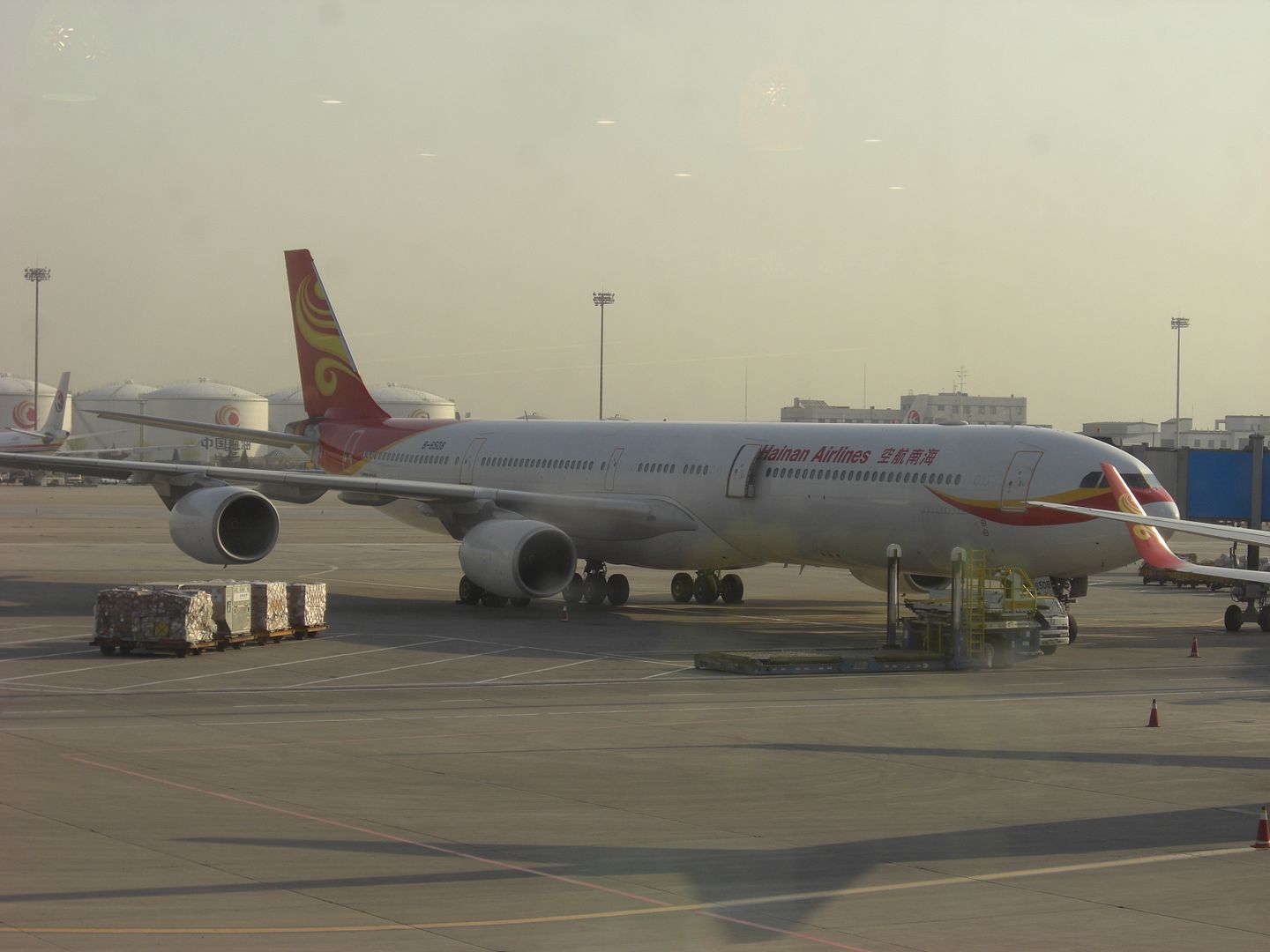 May 2010
Hainan Airlines HU 7703
Dalian (DLC) – Beijing Capital (PEK)
Airbus A340-600 (B-6508)
Scheduled: 0830-1130 (3h00m)
Actual: 0849-1133 (2h44m)
Economy Class
This flight was also completely sold out. I had a window seat near the back, which had been recommended by seat guru. Surprisingly, HU have a facility to let you select your seat in their 'manage your booking'. Another example of Chinese airlines slowly evolving.
HU offer a camera view on their PTVs which was nice, although not a lot of use other than at the very beginning or end of the flight.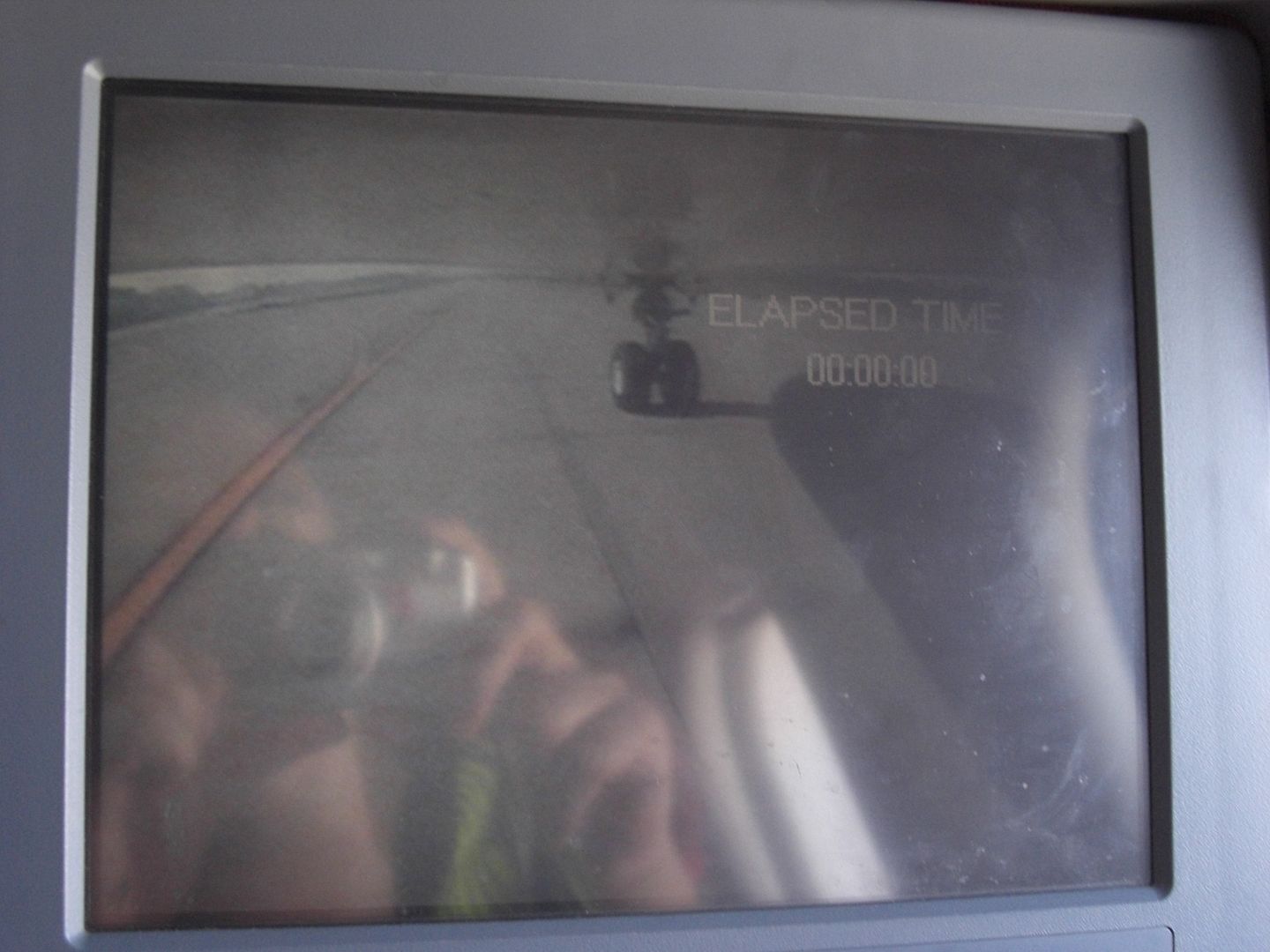 The snow on the mountains surrounding Beijing.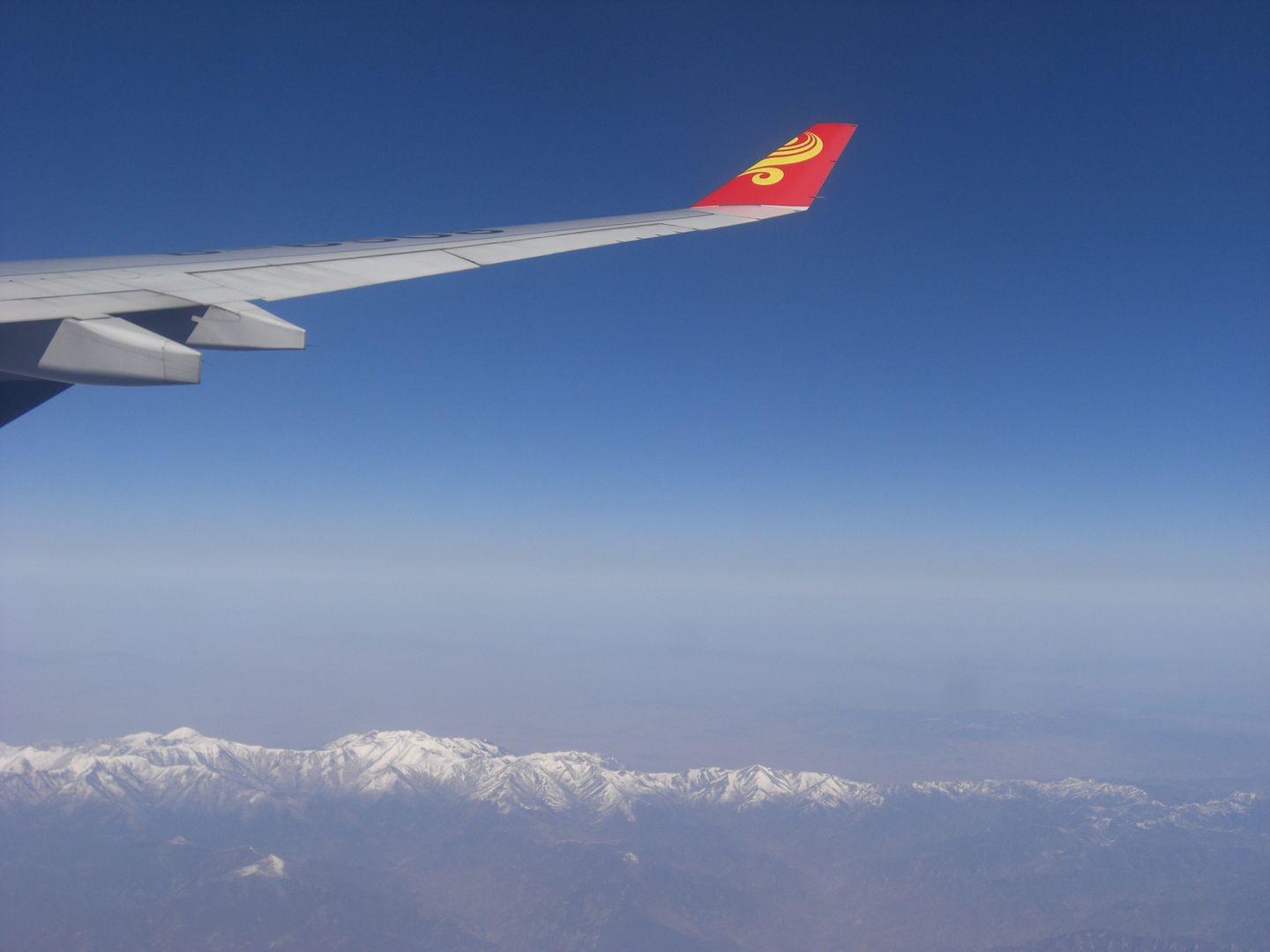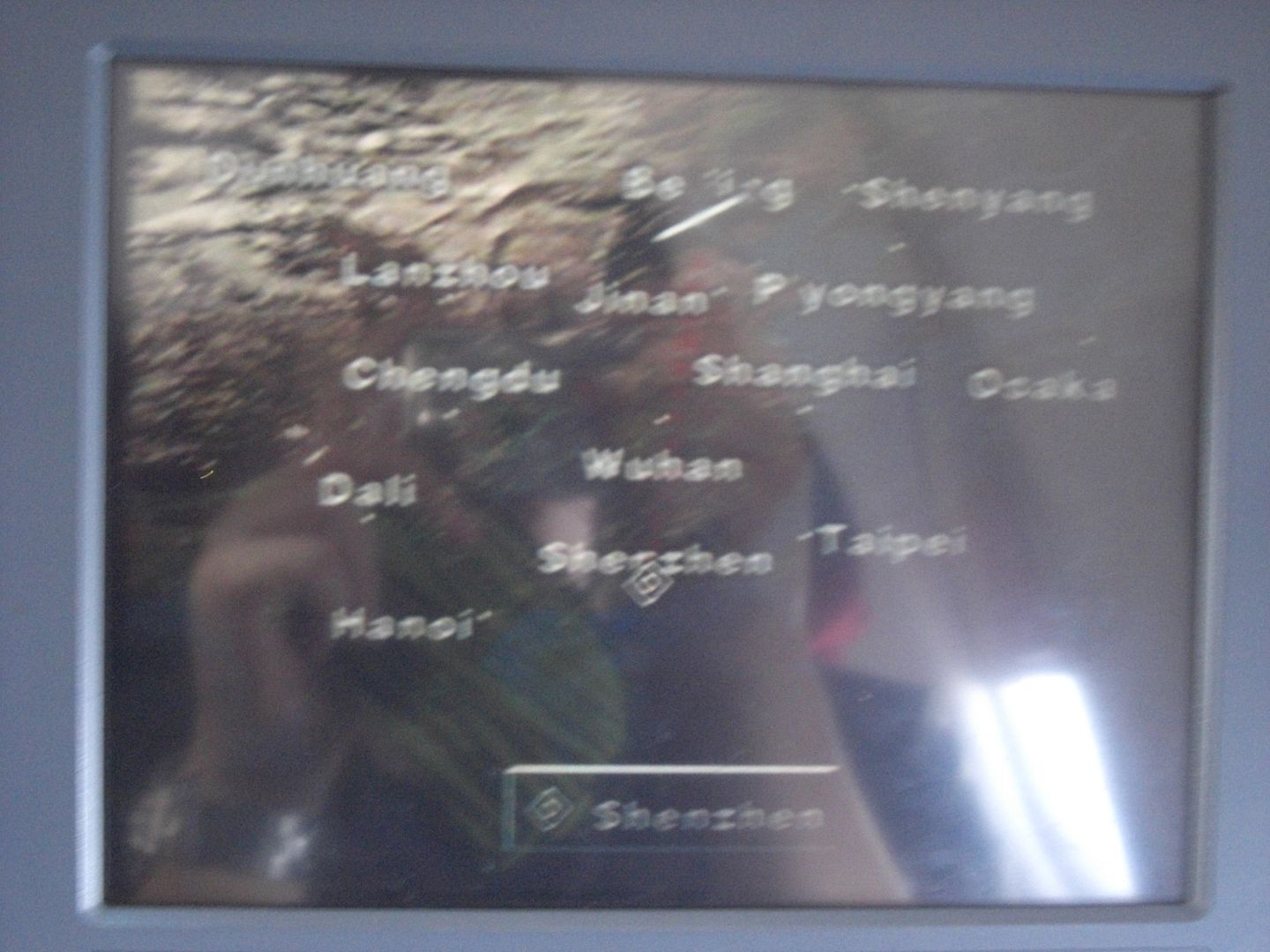 Breakfast was served not long after takeoff. The hot dish was Chinese porridge (yuck!), which I declined – thankfully there was also a cold section, consisting of a sandwich and some dried apple. Not great, but could have been worse.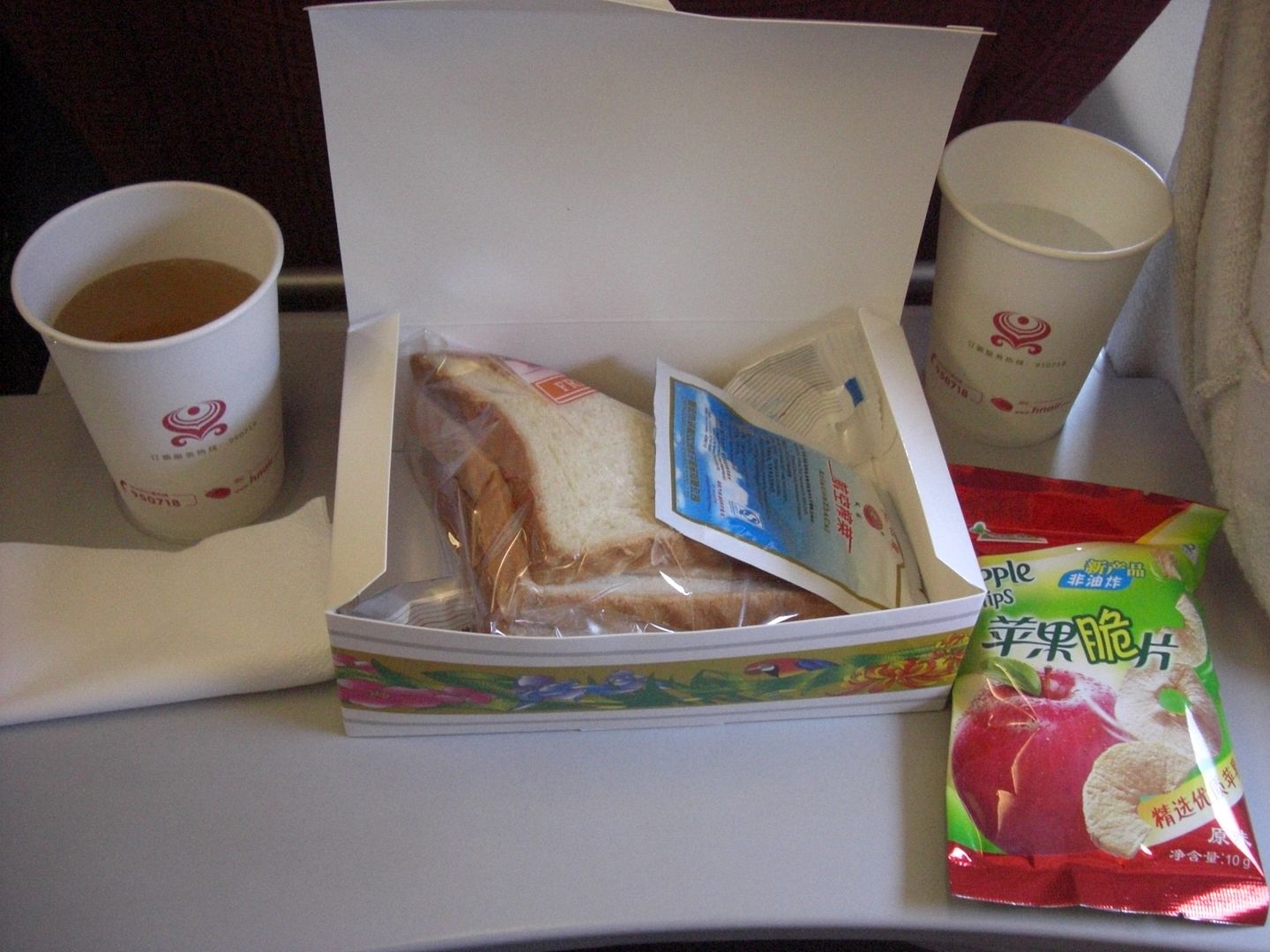 I watched The Curious Case of Benjamin Button, which was weird, and I wasn't upset when I ran out of time watching it. The HU IFE system was ok, not an enormous choice, and the language would suddenly change from English to Russian etc. Never mind.
We landed just three minutes late and to my delight, taxied to a remote stand. Again, to my delight, I missed the first 2 busses, so ended up having to hang out on the tarmac for 10 minutes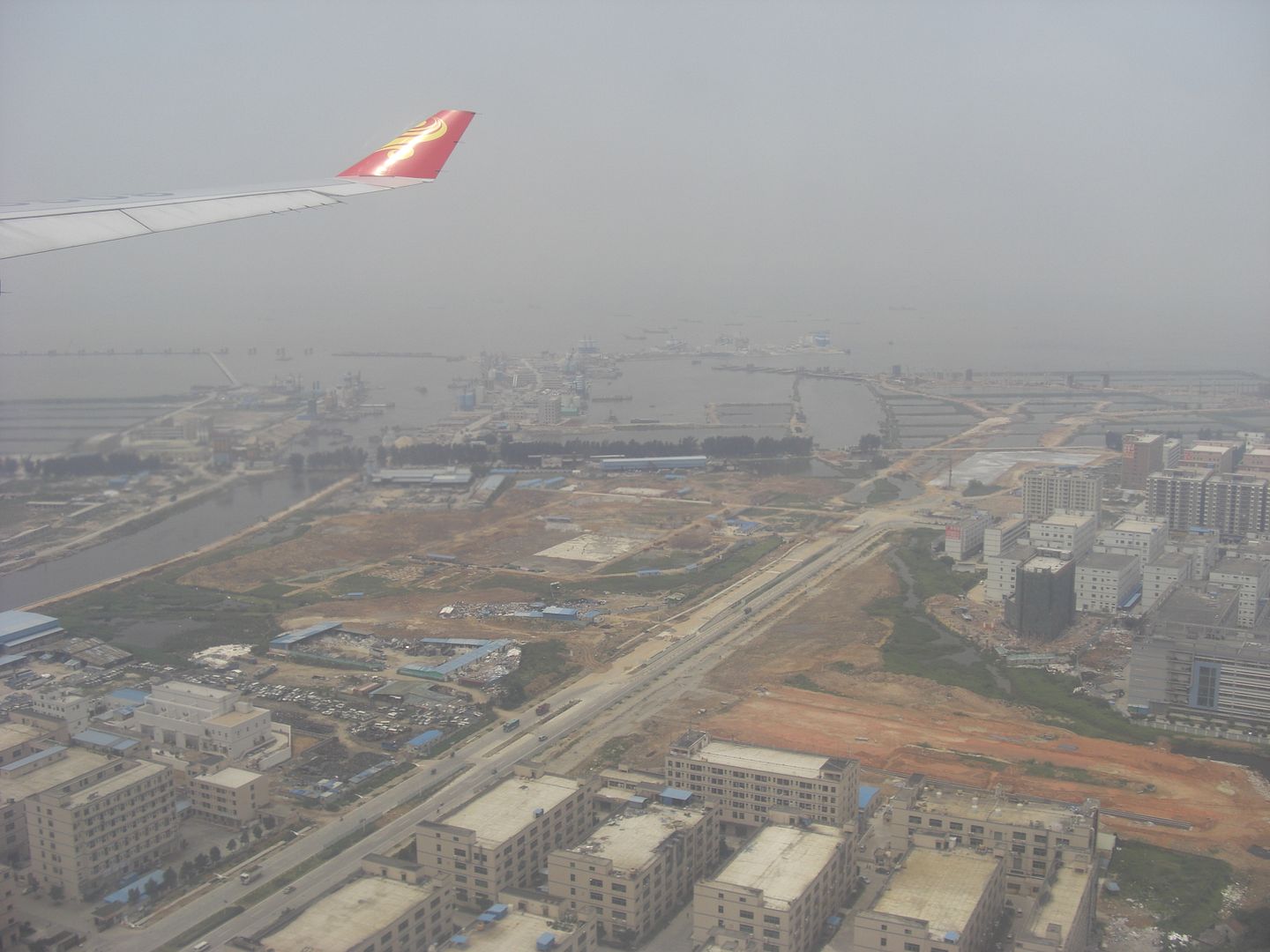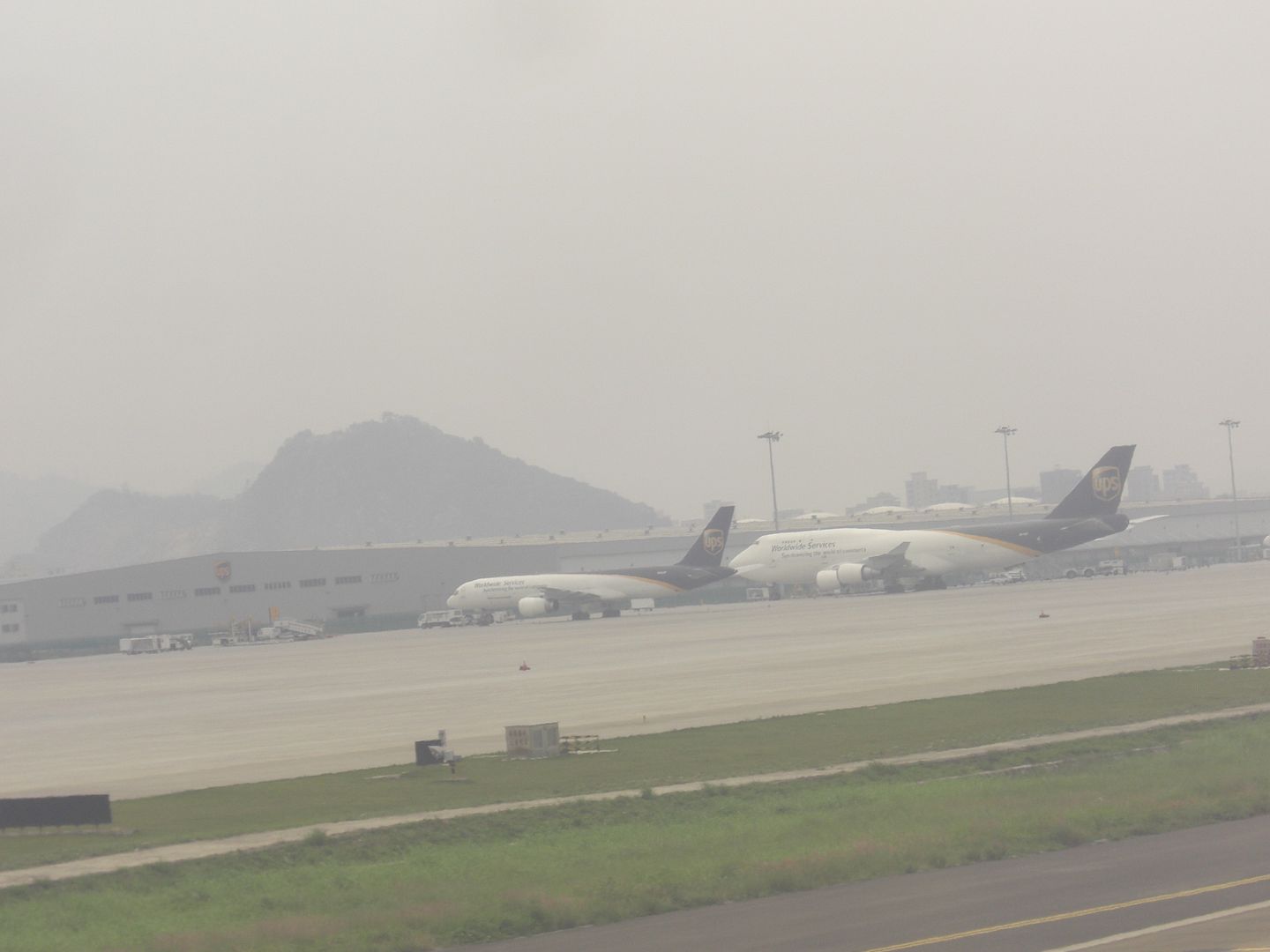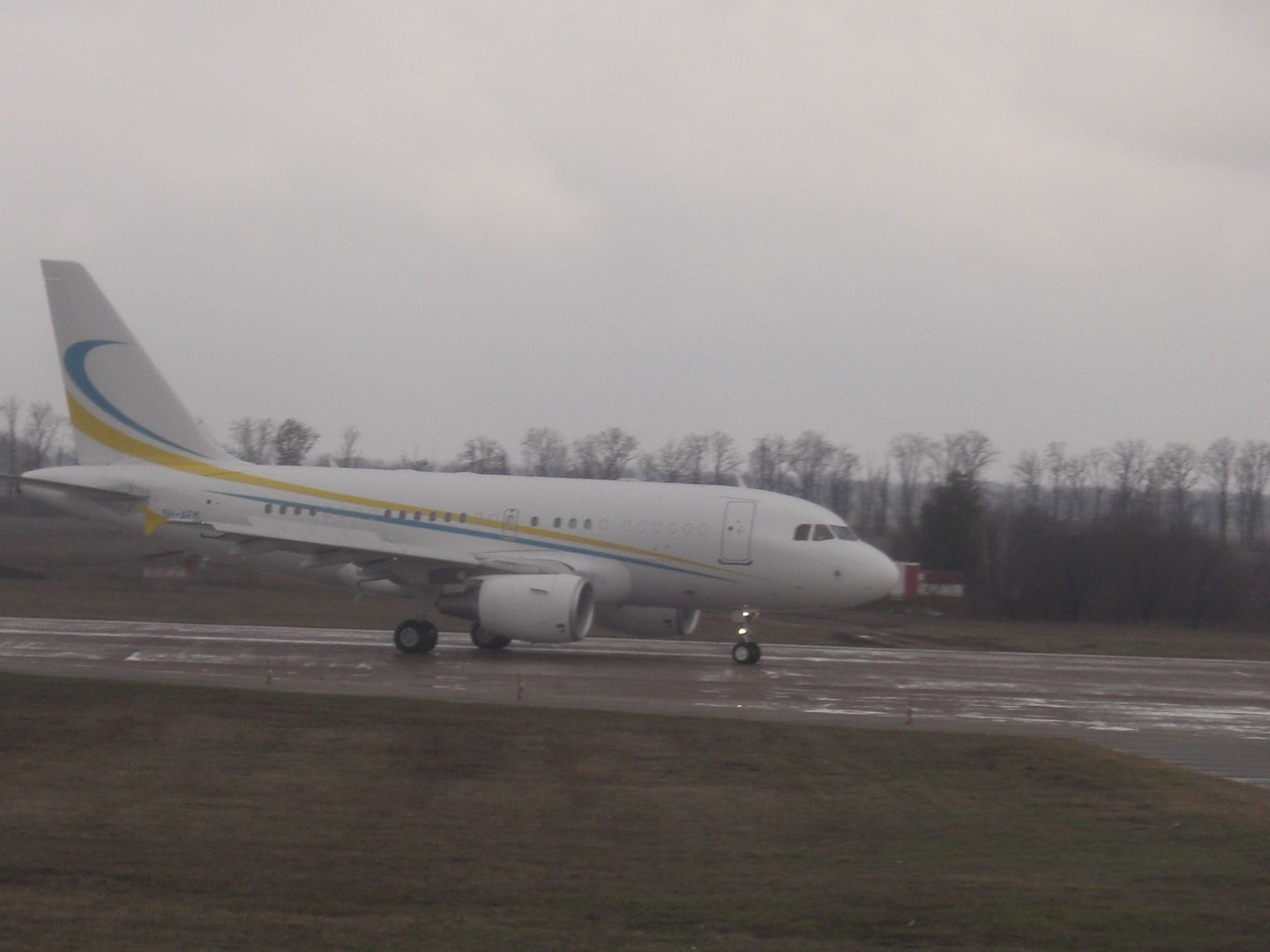 Disembarkation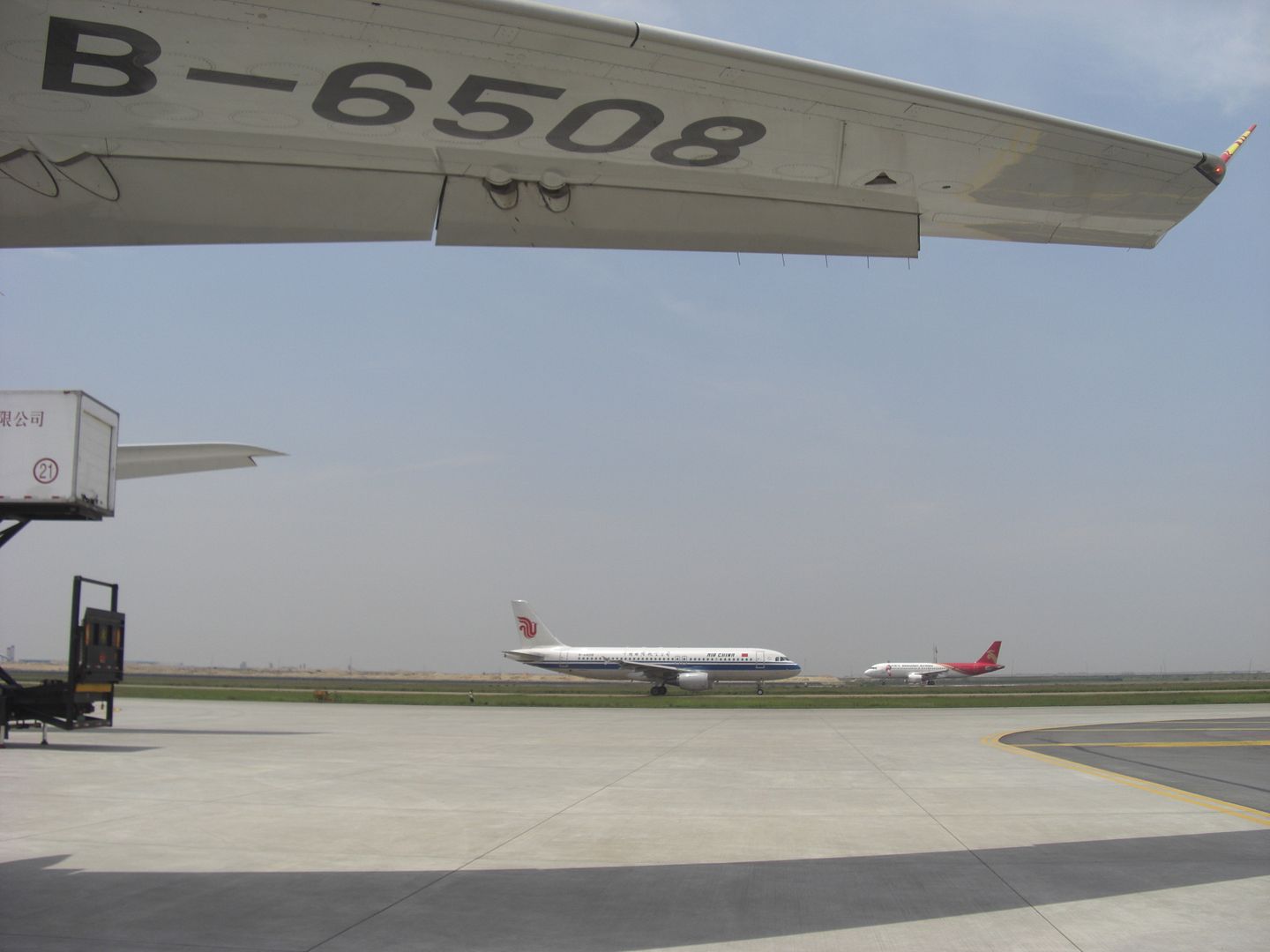 Luggage was delivered about five minutes after I arrived, so waiting on the sunny tarmac was definitely the best place to be! From the airport, I took the airport shuttle bus to Shenzhen station, where I met up with some friends. We spent four days hopping around various cities near Shenzhen, including visiting the Diaolou in Kaiping, and the expat "paradise" of Shekou.
Kaiping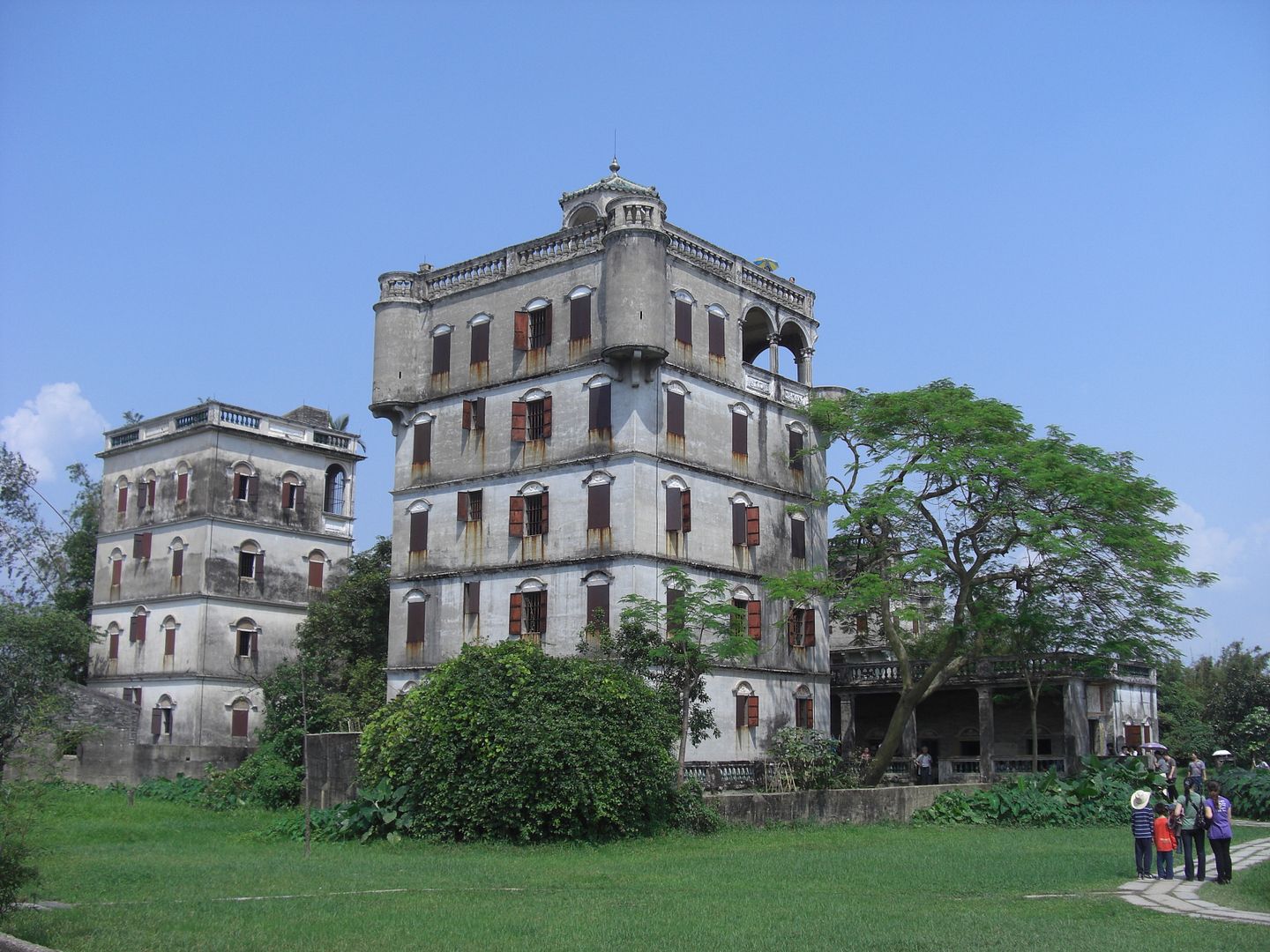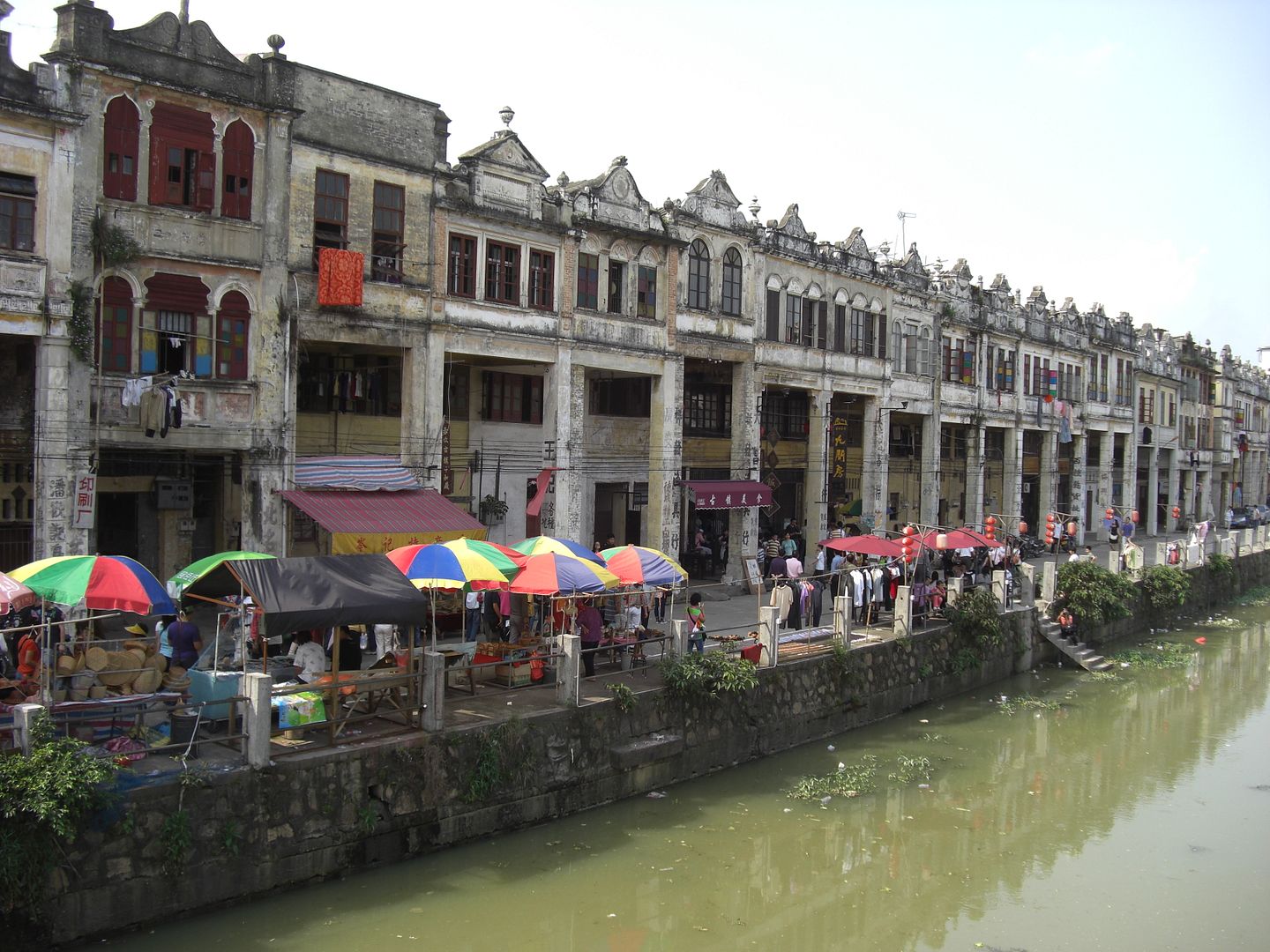 Next, part three, my flights to Penang, from Hong Kong, on Malaysia Airlines.