BACKGROUND
It has been a very long time since I wrote a trip report... I actually owe you guys and will always owe you the Tokyo-Hong Kong bit on Japan Airlines... In the meantime my life has changed a lot... I moved from Zurich to Buenos Aires.... almost got divorced... and traveled quite a bit (Chile, Sao Paulo on Qatar, Seattle, etc), including a segment on seats 2A and 2C from FRA to EZE on Lufthansa.
Now that things are a little bit more settled in my life I felt I had the peace of mind to write another trip report. This one is a special one. I have to travel on a monthly basis to SCL and I had tried both LAN and Aerolineas (don't get me started on Aerolineas), when I learned that I could fly the segment on a 77W courtesy of Air Canada. This trip report is on the EZE to SCL leg. I truly hope you enjoy.
THE DAY OF THE FLIGHT
My flight was due to leave at 5:50 PM if my memory serves me right. So I had finished packing around noon.
My bags, ready to go:
Taxi was right on time, at 3:30PM.
My taxi driver was kinda cute... but very quiet. It's a 30 minute run to the airport here in Buenos Aires... Here we are arriving. I believe these are the old terminal buildings...
Ezeiza can be hit or miss... sometimes it looks like what I imagine street markets looked in the 1500s, and sometimes it looks like a modern, decent and efficient airport. Fortunately this day it had chosen to be the latter, so there weren't any long lines and people shouting to each other. Some pics of the Air Canada counter:
Check in was a breeze... and the lady agent was very nice.... She assured me that life was still good (i.e. I still had the window seat I had selected) and even allowed me to carry on board my carry on (it weighed more than the 8 kilos they say is the limit). So I proceeded to security and immigration... A shot of the airport. Civilized, right?
Well, that civilization ended as soon as you entered the security line. First of all, you have to go through this counter so they scan your boarding pass or whatever... don't really get why they do this and have only seen it in modern Venezuela:
A closer look:
Things took a turn for the worse and out of nowhere, huge lines got on my way to security... I mean, look at the millions of people:
There had to be a reason for this... and soon enough I found out it was Ezeiza being Ezeiza... meaning that even though there are quite a few flights that leave at the same time: AF, IB, LH, AC and JJ, only 2 X-ray machines were working:
Mercifully, immigration was not too bad, but I was (as I tend to be lately) a little grumpy, so I got really annoyed at some people who didn't complete their immigration forms before their turn... I don't know if it's because I am quickly reaching middle age or what it is, but this annoys the hell out of me...
Finally, I walked to my gate to de-ogre a bit and take pics of the airplanes. My ride.... aint she a beauty?
Call it ugly, I call it ... ugly:
Aerolineas:
Boarding started right on time. It was a bit messy, but not too much. The staff made their best effort at making people understand the boarding process... it wasn't too bad:
My artsy pic of the trip (not...):
Almost there....
Business class.... if only...:
One of the few lessons life has taught me is that when you are in a grumpy mode, bad things happen to you... I got this crazy lady who stood on the seats reaching for the overhead bins... not a pretty pic:
Legroom... not incredible... for a short hop it was ok, but man... going to Toronto like this would be a nightmare...:
Views from my seat:
We pushed back right on time... and headed to runway 11. Some pics I took along this nice ride to the runway: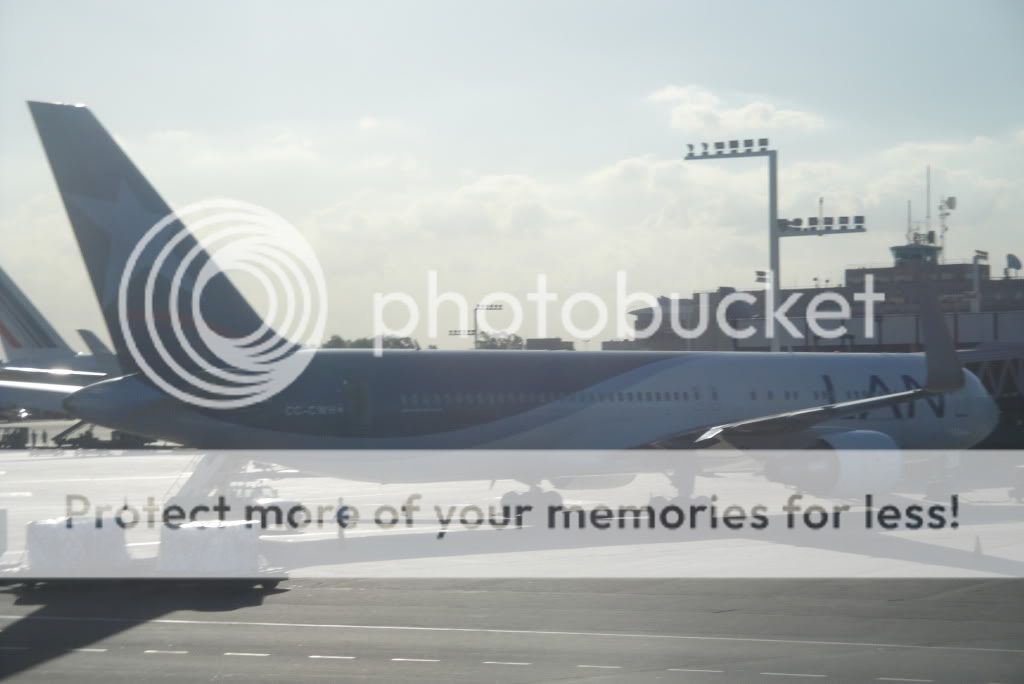 Take off was nice and uneventful. Do check it out, it's a nice video:
http://www.youtube.com/watch?v=coYx24vx6IQ
I have to say that the flight attendants (both male or female) would probably not win a miss universe contest... or a charm contest either... but they were not too bad.... few smiles, few frowns... Dinner, or something like it was served... it was dry as sawdust...:
Belgian Chocolate.... (joke):
So I kinda checked the entertainment system, but it kinda sucked... with a lot of canadian shows or movies (which is ok, I guess). I decided to use my IPAD instead and turn on the map thing:
I was surprised they didnt make us fasten our seatbelts when crossing the andes as the do in LAN... Nice pics of the crossing (little snow... )
Landing was uneventful... not really, it was very soft... I loved it... I have to say I am loving the 77W:
http://www.youtube.com/watch?v=4o-fT9EaLOQ
CONCLUSION:
To do a short hop on a 77W is always a fun experience... Air Canada keeps their planes nice and the service was.... OK. LAN is still better. Aerolineas still holds tight to last place... Would I fly them again? most likely... it wasnt too bad... One thing I forgot to mention is that all announcements were made in english, spanish and french, and this was a bit annoying, as the simplest thing would turn into a 10 minute ordeal....
I leave you with a pic I took when I was leaving the airport... soothing.