Hello all. It has been about a month since I completed this trip so I guess I should buckle down and write it up.
Every 2 years my father and brothers take the time to visit the EMO Machine tool show in Hanover, Germany. We skipped the last show (Which was in Milan) due to the poor economy at the time, but after some good recovery it was time to see what Europe was up to in the manufacturing sector. I have been to this show 2 times before and enjoy it every time.
In the past we have tried to travel together (5 of us) which makes things simpler in one way, but much more complicated in others. So this time around we split into groups of 2 (my father took my mother along) and booked our own itineraries.
I would be leaving by myself however, because although most in the group were leaving on Friday the 16th of September, I wanted to stay behind until the 18th as the 17th was my first wedding anniversary, and I would rather spend it with my wife be lonely in Germany.
Sunday the 18th came, and my wife and I woke up pretty early as we had agreed to walk in a charity walk for diabetes research that morning at the Cleveland Zoo. It was a nice brisk walk, and the animals who were not shy made for great scenery. After that we got home in time for me to finish packing.
In booking these flights I had vowed to do something different. I had taken US Airways twice to London, and knew their A330 product very well.
CLE-CLT-LGW And Back On US In Economy
(by
dimoko
Jan 31 2011 in Trip Reports)
CLE-LHR-CLE Via PHL And CLT In Envoy On US
(by
dimoko
Feb 23 2011 in Trip Reports)
In the past I had also flown (the old) United, and KLM. This time I eventually ended up taking Air Canada. They have won a few awards and their IFE system was supposed to be top of the line.
My plan was, Fly AC from CLE-YYZ then on to FRA. I would take a train to Celle (just outside of Hanover) We would go to the show for 2 days, take a day trip to Berlin (while still utilizing the hotel room in Celle) and then head south to Stuttgart and then on to Munich where we would leave for YYZ and then on to CLE. It was an ambitious trip, and one that ended up being very exhausting.
If you have read this far, I applaud you, now onto the flights.
First flight was AC7906 from CLE-YYZ.
This was operated by Jazz on a DCH-8 100.
I got to the airport about 2 hours before my flight, made it through security with no problems and headed to the gate area. I had a fairly long layover in YYZ so I didn't bother eating anything at CLE while I waited. My gate was in the C terminal and it turns out it was a jetway out to the tarmac where you simply walked onto the plane. CLE has a better area for this in the D terminal, but that is all United/Continental at the moment. As I handed my boarding pass to the agent, she said "The entire back row is empty if you want to sit back there."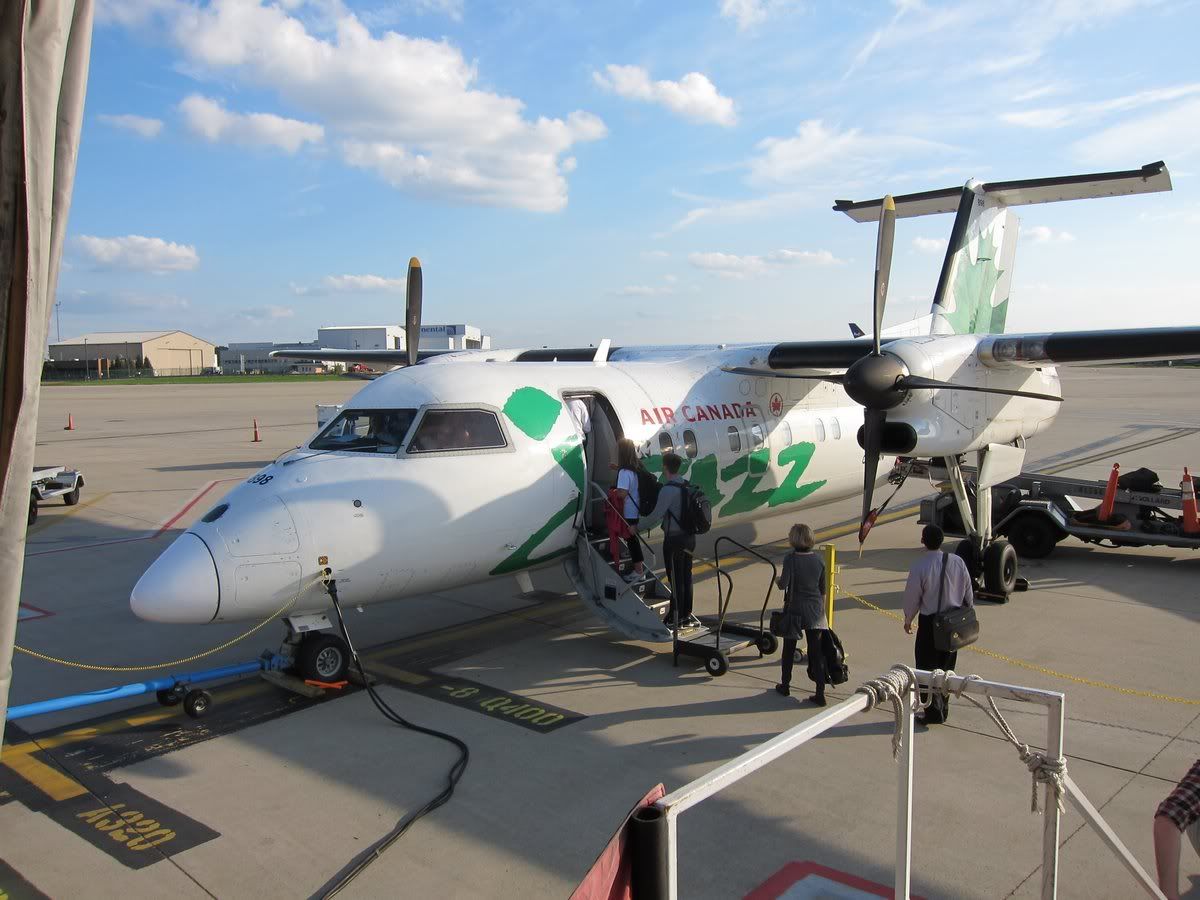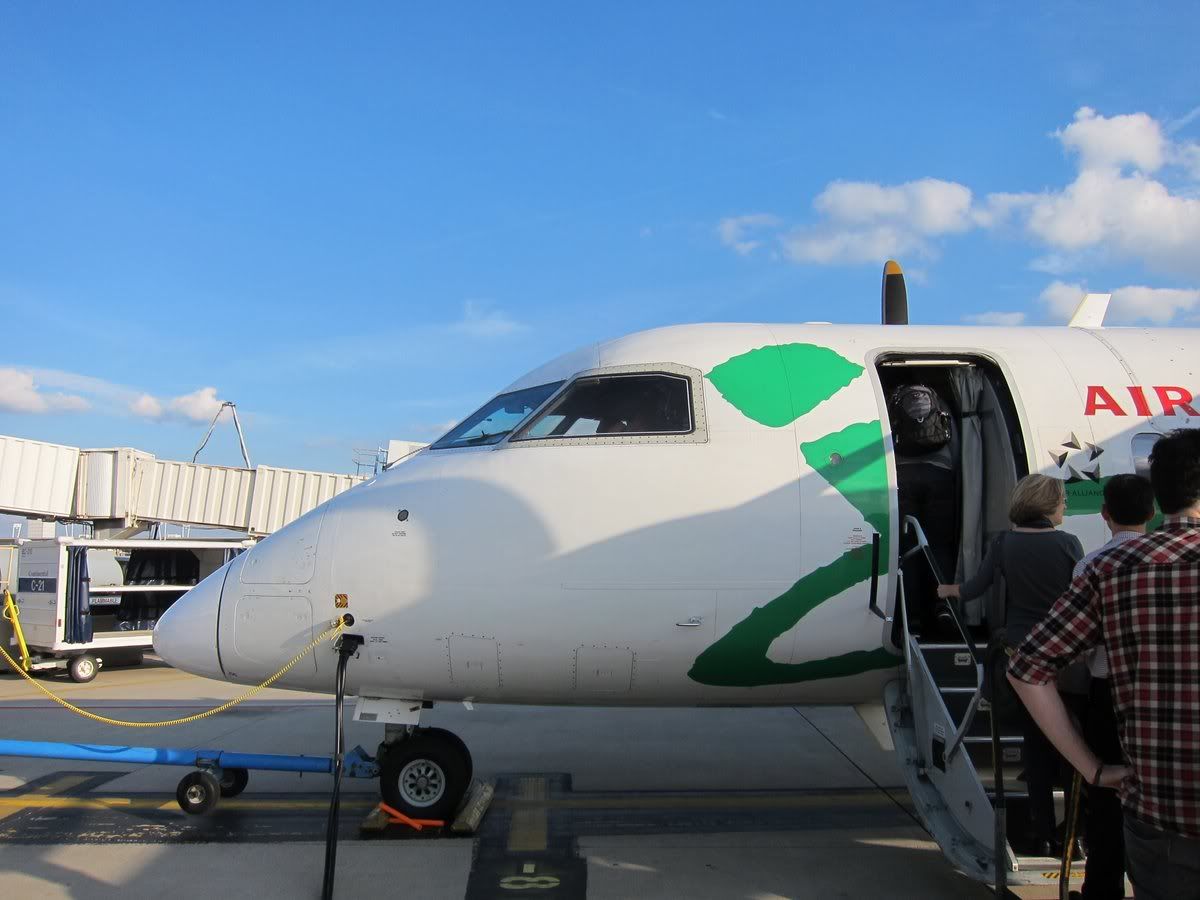 I Boarded and headed to the back row so I could take a window.
Here is the view.
Legroom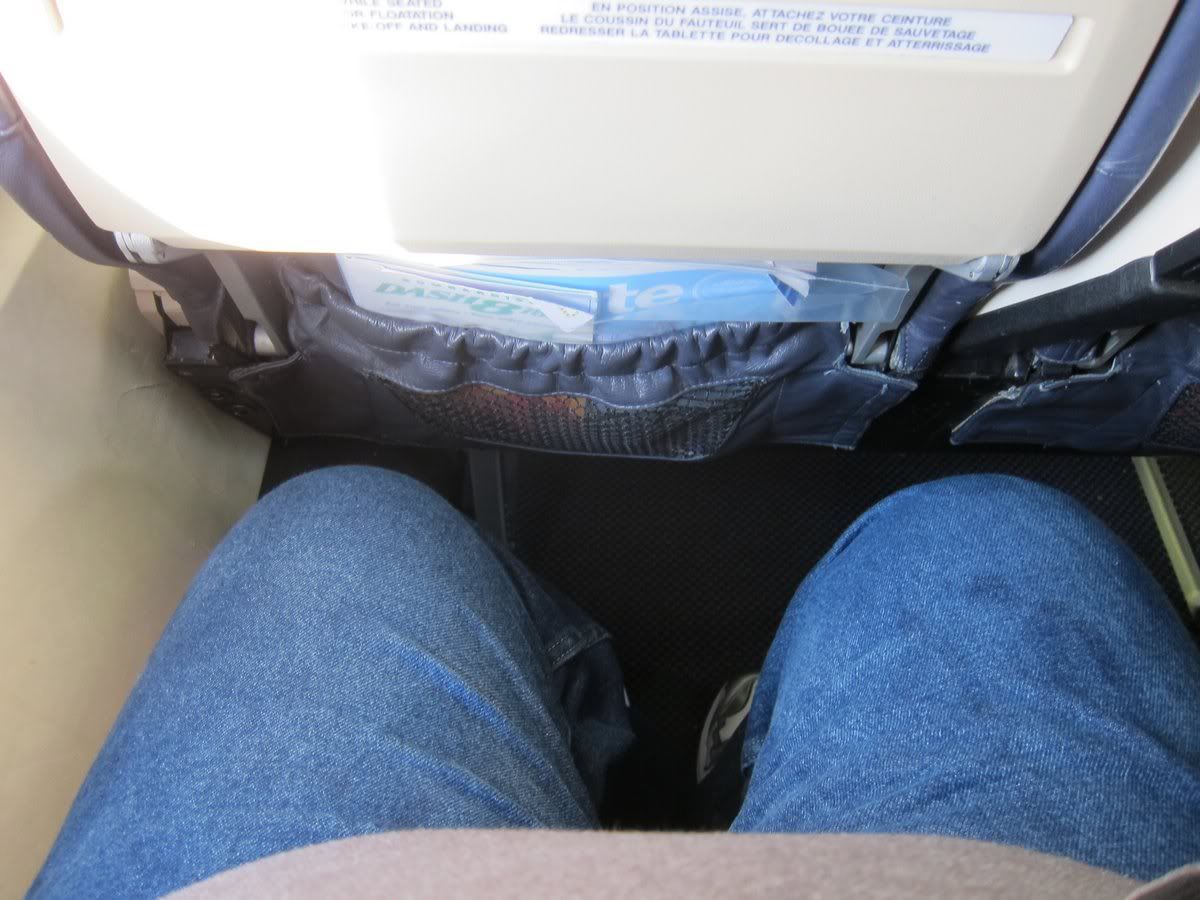 5 seats to myself.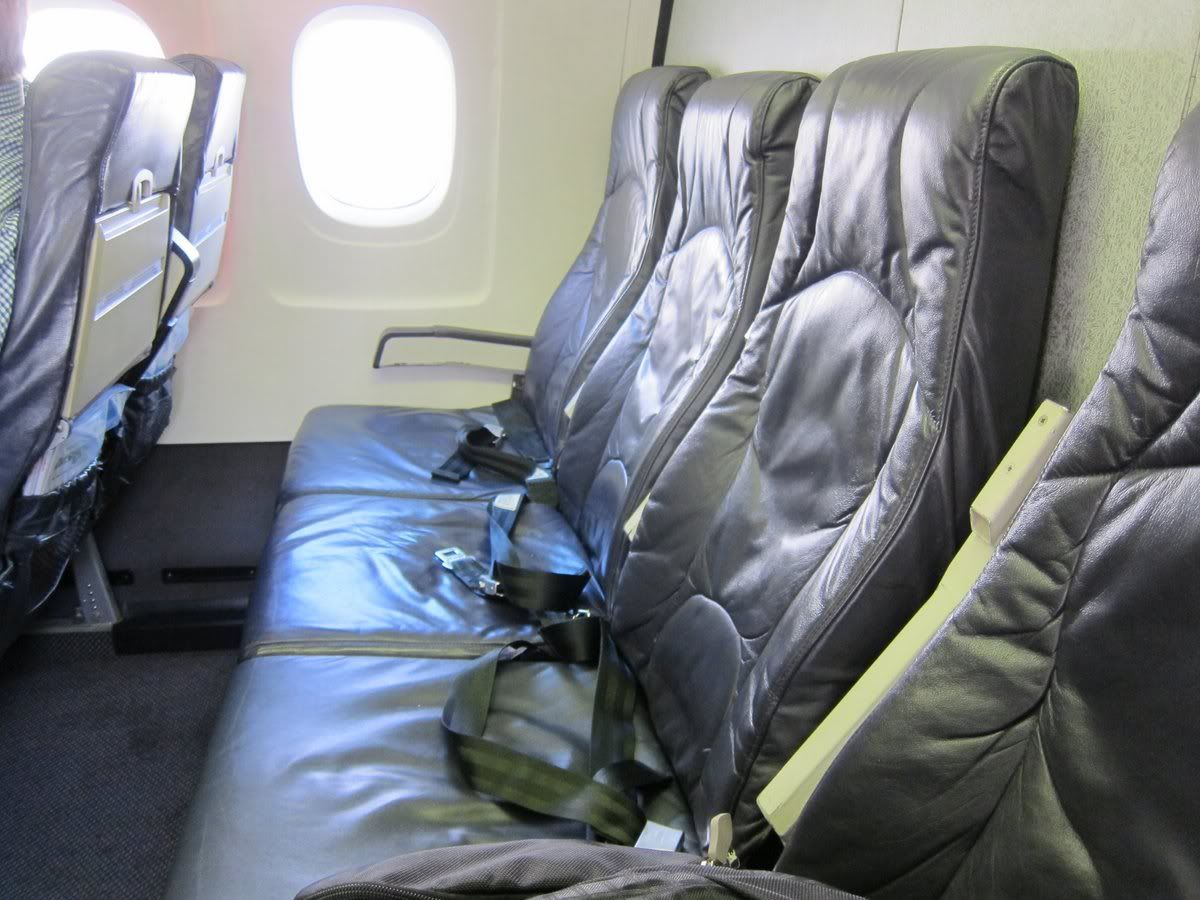 Tiny Cabin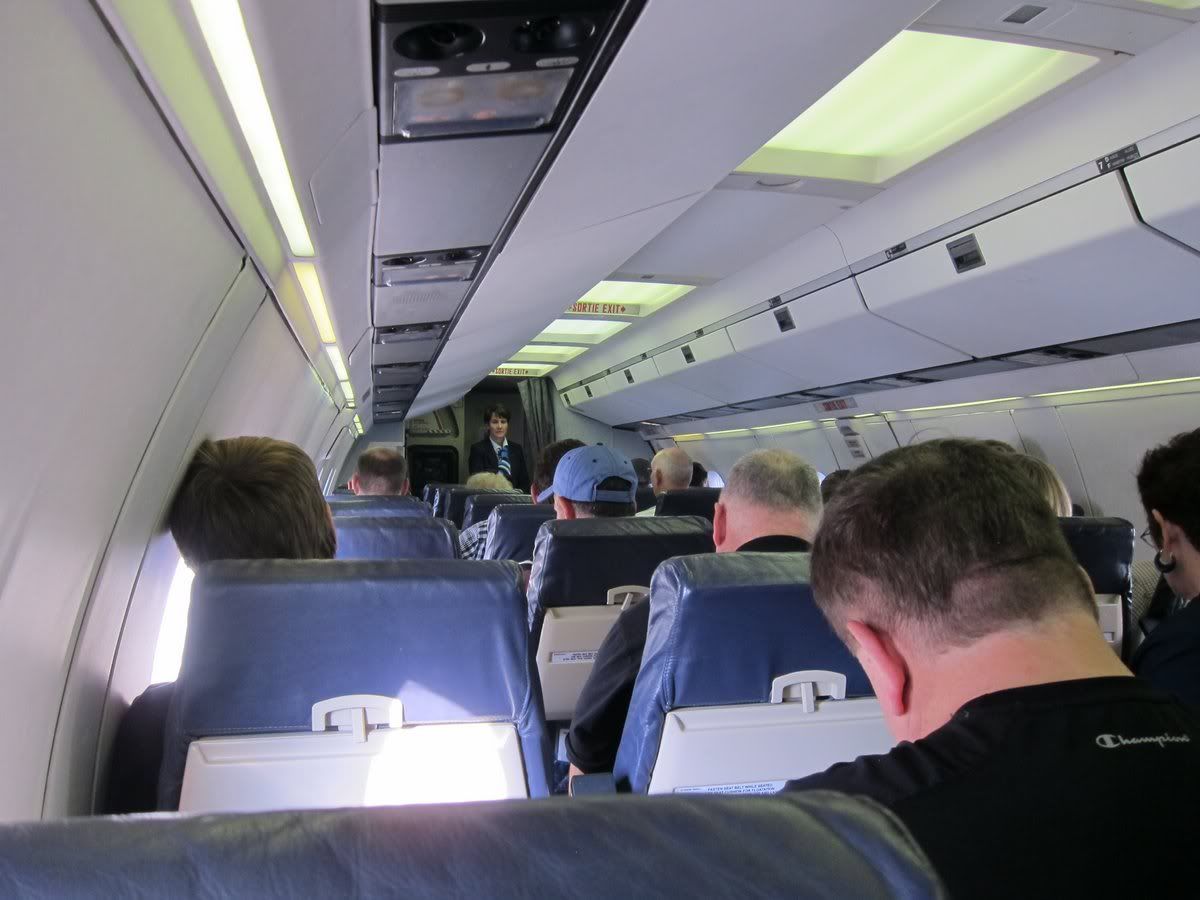 After announcements in English and French, we took a short taxi ride, and headed off, we took off on 26L.
Video of takeoff if you wish..
http://www.youtube.com/watch?v=uYIyJKCU_eM
After a nice climb, we headed out over the Lake Erie.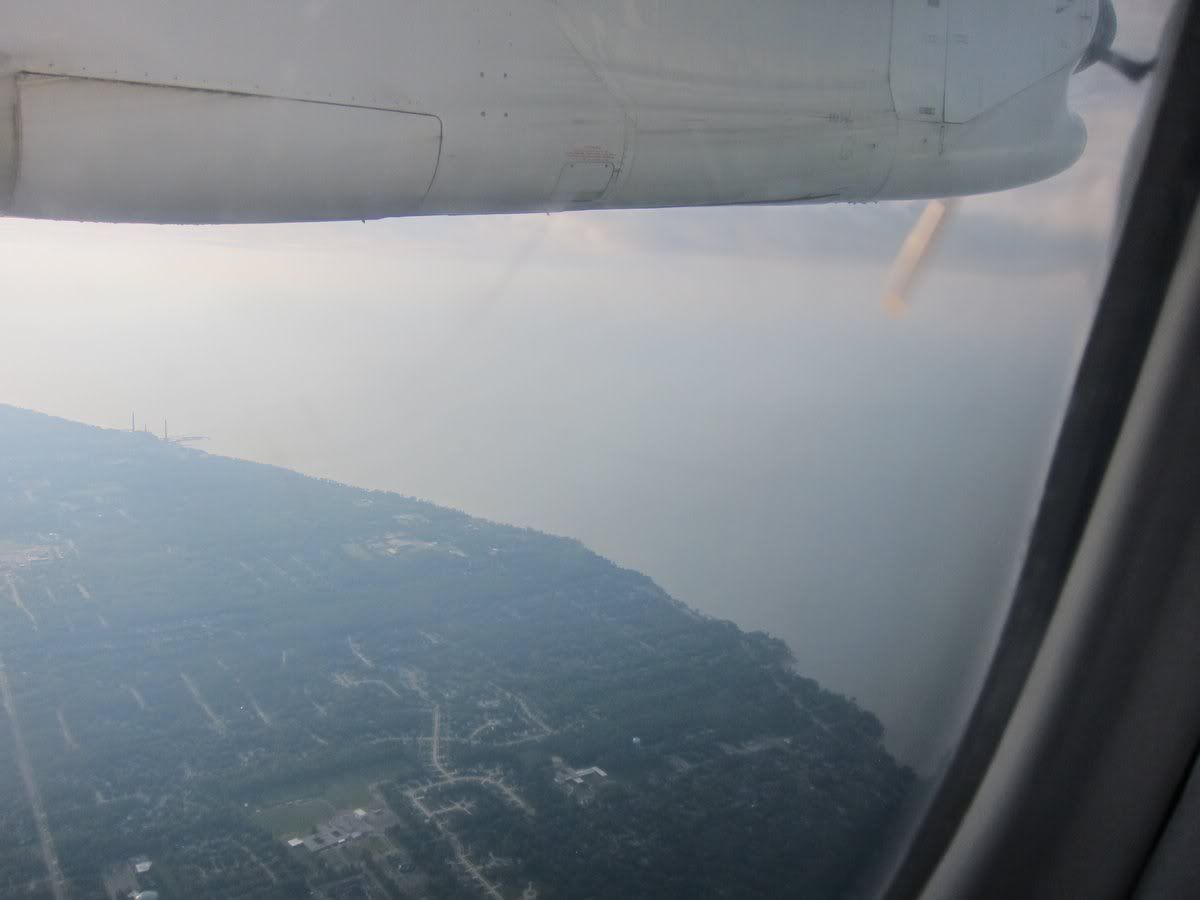 It is funny, on a 4 hour flight on a 757 you wont get a scrap of food, but on this 40 minute flight on a puddle jumper, you get some pretzels at least!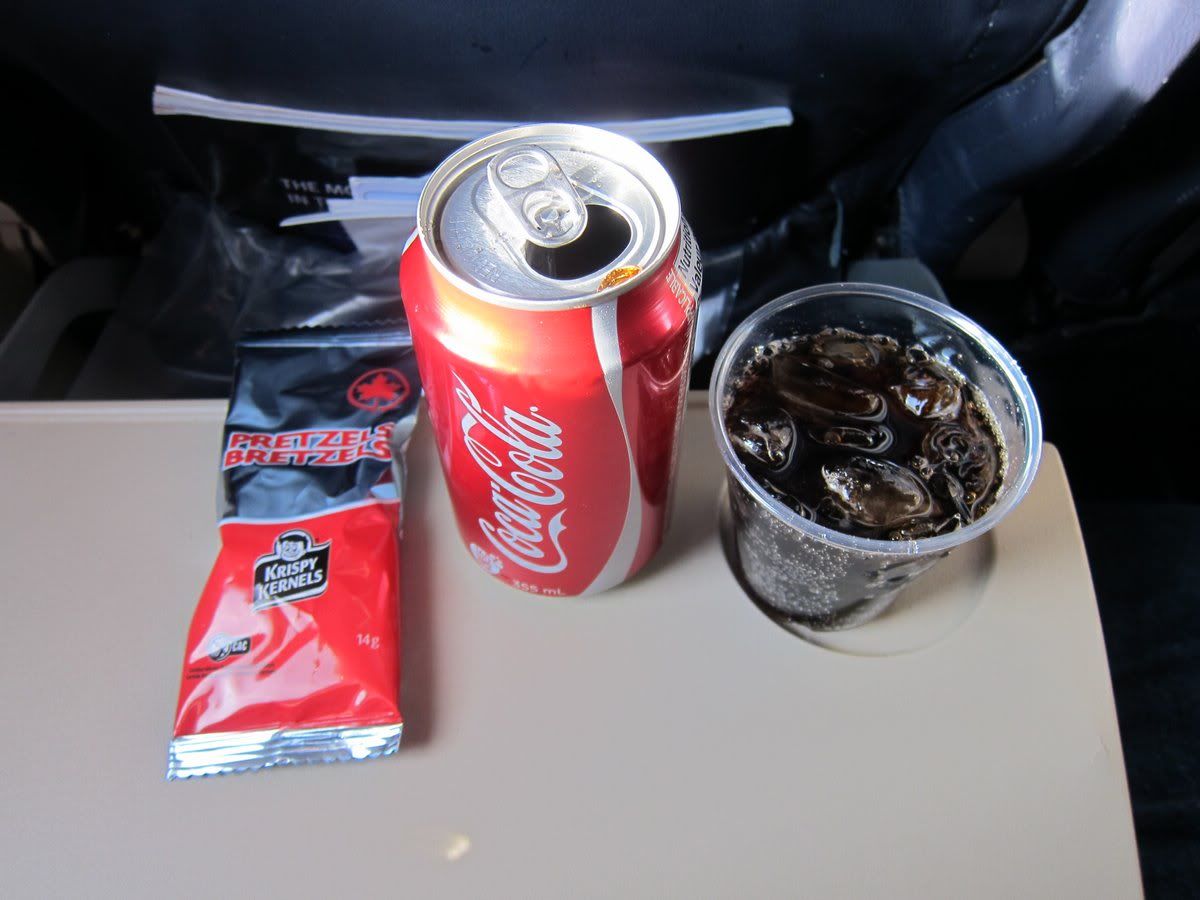 Landing is cool from this vantage point
http://www.youtube.com/watch?v=XZBrWJPLI0c
Got to Toronto and there was a bit of confusion as to where those of us connecting to international flights were supposed to go. Eventually I found an immigration stand and got in line. When I got to the front of the line the agent asked to see my boarding pass, but in CLE they had been "unable" to print it. The agent asked for any email with my itinerary on it, even on my phone, luckily I had printed an email copy and that was good enough, I was sent through and took off down the moving sidewalks to the international terminal.
I grabbed a bit to eat at the Bacardi rum bar, but didn't feel like drinking 12 dollar drinks. I stopped in to the convenience shop to get some snacks for the plane and then started waiting. There was a huge crowd of people by the gate, and it seemed to take forever to board. I waited until close to the end, as I figured I would be spending enough time in that tiny seat.
AC876
A330-300
After waiting as long as I could, I got in the (now short) line and headed onboard, but not without stopping to snap this picture)
I usually like a window seat, but for some reason chose an aisle on this flight, hoping that the seat next to me would remain open, as it had shown previously, but unfortunately, this was not the case. The seat was comfortable, but not really roomy. The only problem I had was the little boy behind me would not stop kicking the seat...that is until he fell asleep, which was welcome.
I chose the chicken meal, and a mini-bottle of white wine to go with it.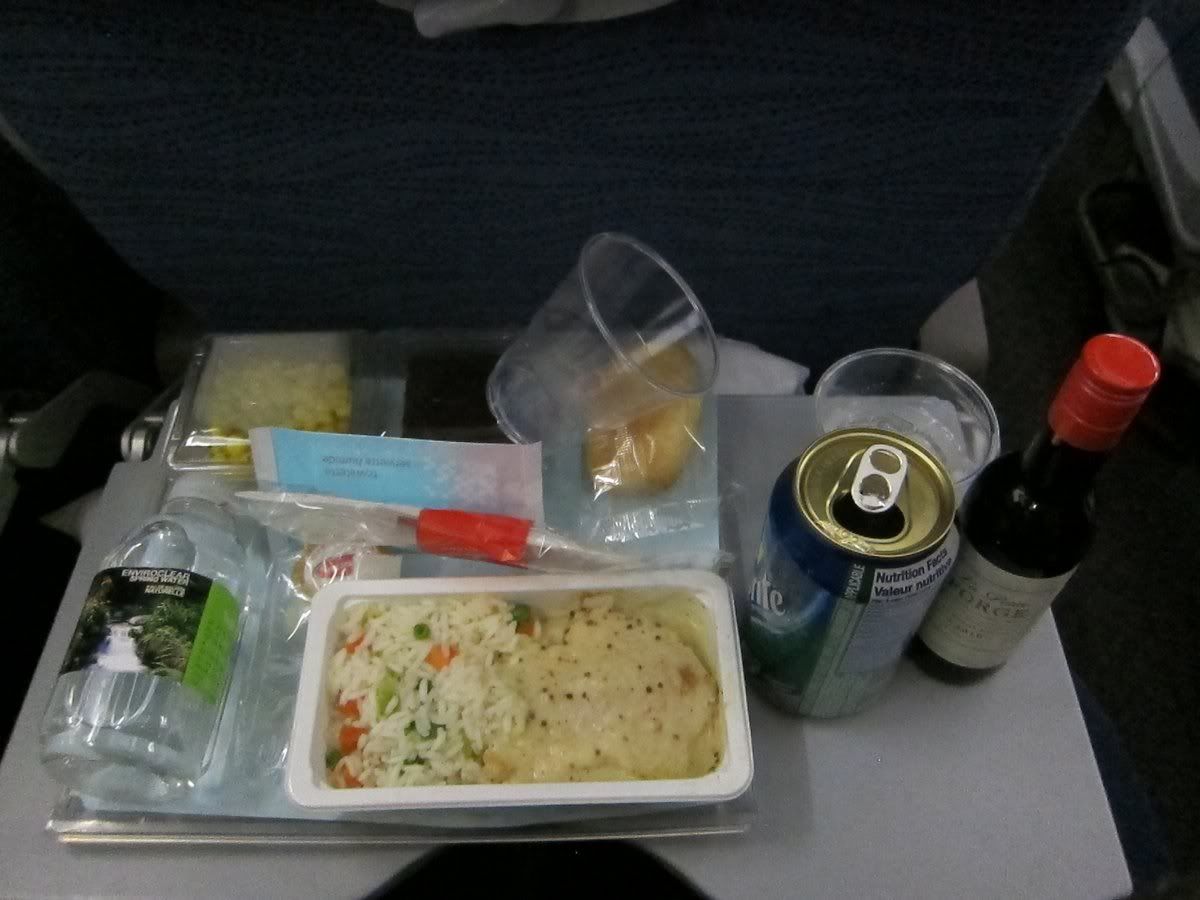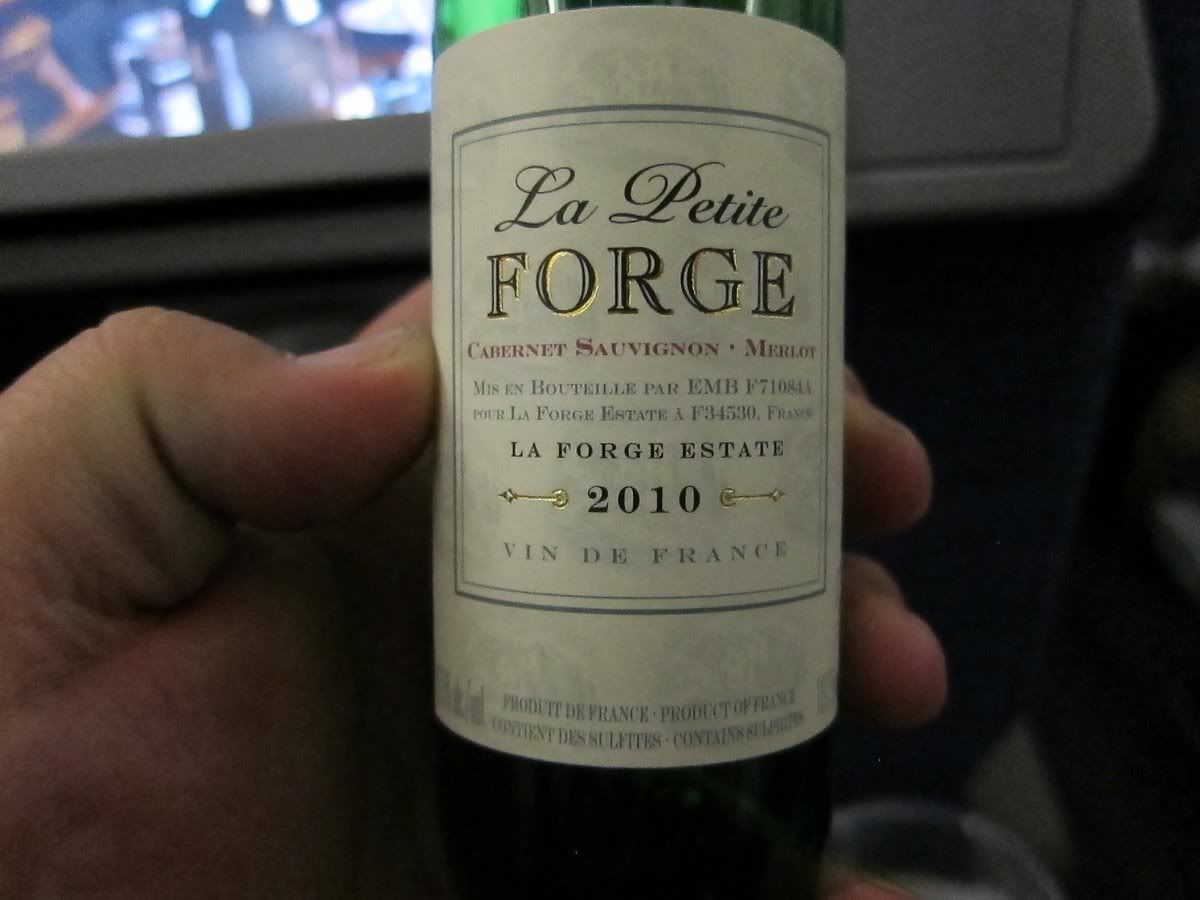 The food was...well, economy food. Was enough to get me by but nothing to write home about.
I passed the time watching a few movies on the WONDERFUL Air Canada En Route system...lots of selections, including some that I didn't expect. I watched "Submarine" which was a great movie. After this I put on my ipod and tried to sleep a bit, which I did. I woke up a bit later in time for "breakfast" which was a muffin.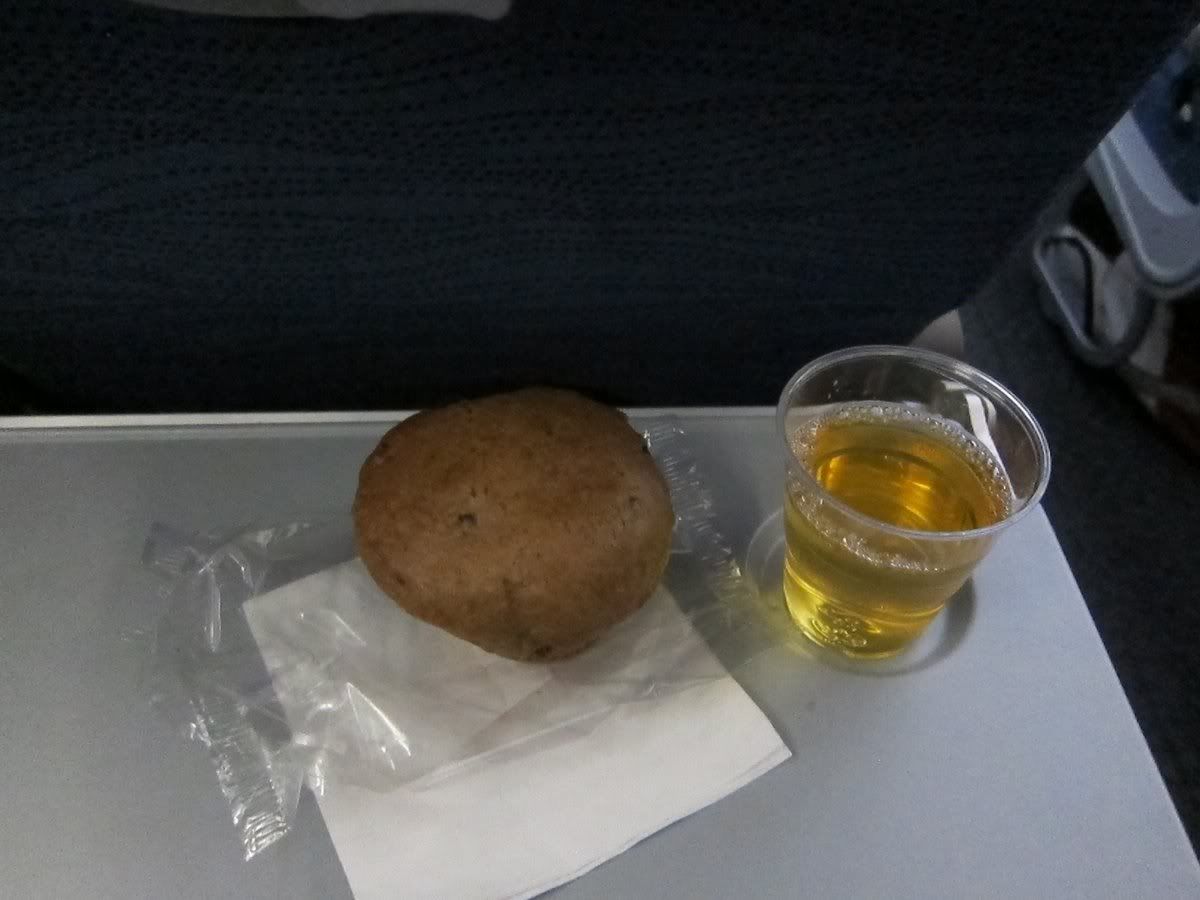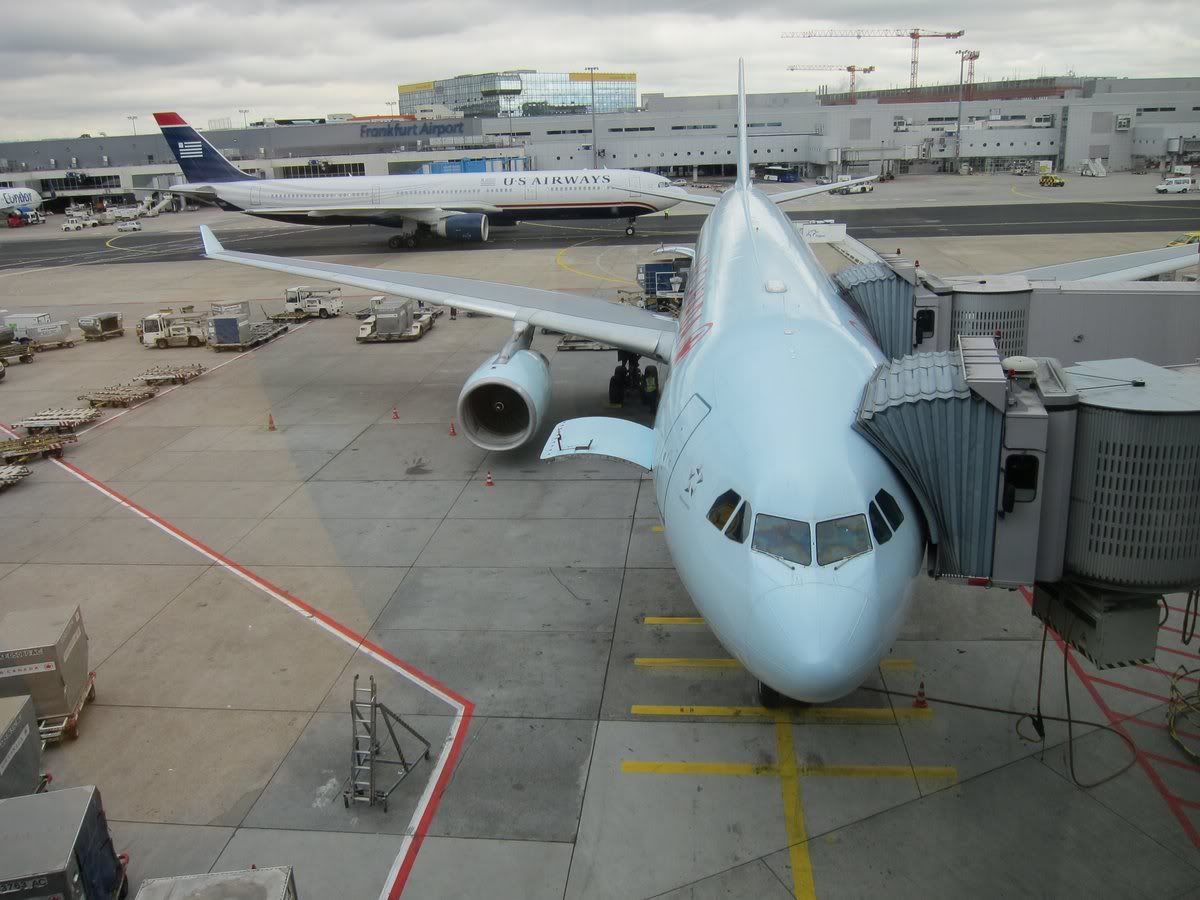 After landing there was the typical long walk to immigration and customs. I fetched my bag and started looking around the airport for what I would do. I needed to get to Celle by that evening, but the train ride was just over 2 hours...so if I wanted I could go there now and possibly not be able to get into my hotel, or I could see something in FRA.
I headed down to the train station, to see its location, and just down the hall I found the office for the airport tours...I had read about these online but thought they were only for large groups...it turns out they had a tour leaving in 30 minutes and it was only 8 euros.
I bought a ticket, and waited around. They warned me that the tour was only given in German, but I didn't care, I was there to look at planes. At 1:00pm a tourguide arrived and directed us up the stairs to a waiting bus outside. He checked our tickets as we boarded. He said I would not have a problem with my suitcase, but it would have to undergo security check. We took the bus to a security checkpoint that was almost exactly like if you were about to go on a flight. He was very helpful and gave me some information in English, as he could tell I didn't speak much German.
We re-boarded the bus and then headed into the airport and proceeded to drive around the tarmac...it was incredible!
The tour was great, I saw my first A380 and included tours of the gate areas and then the flightline...well worth the money, especially since it comes with admission to the outside viewing area. Another great thing, the tourguide knew what we wanted to see, and made sure we waited long enough to see the A380 take off.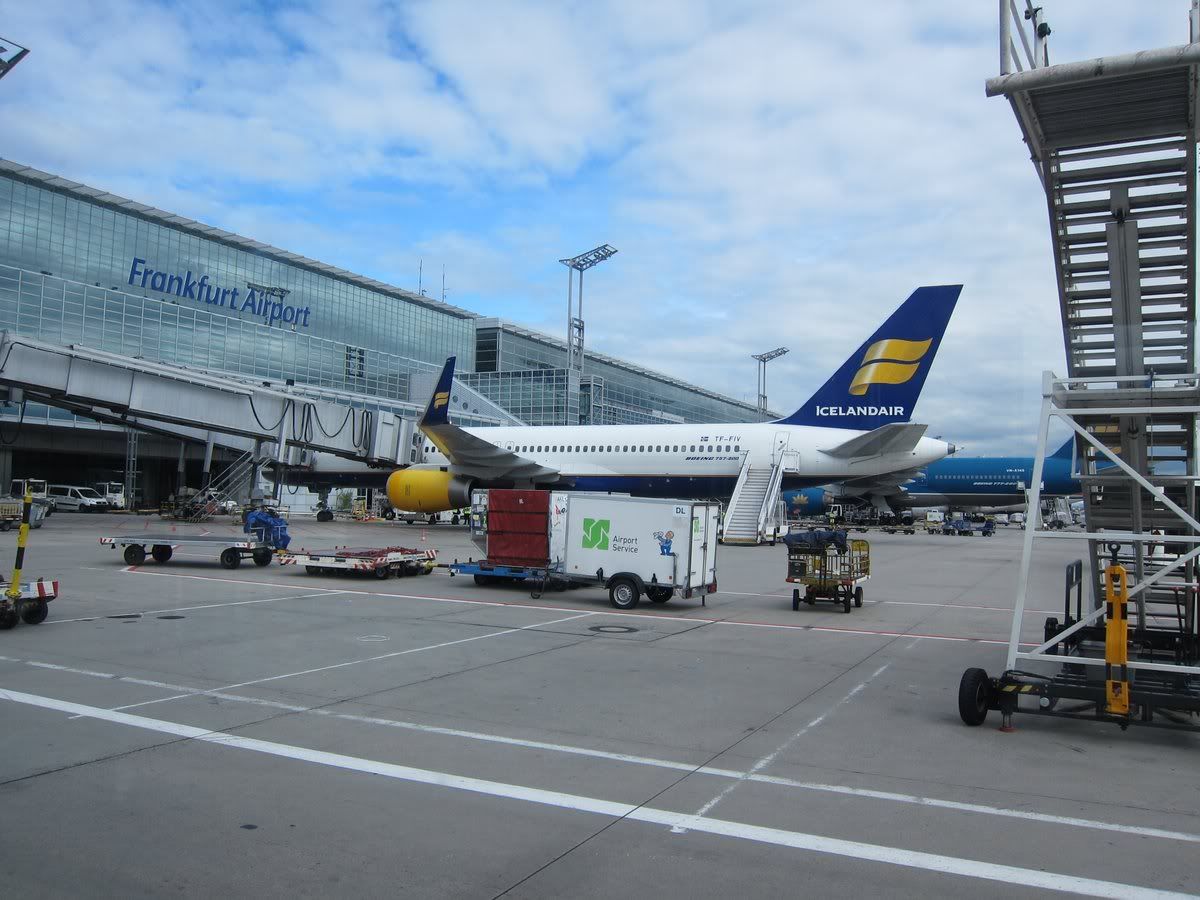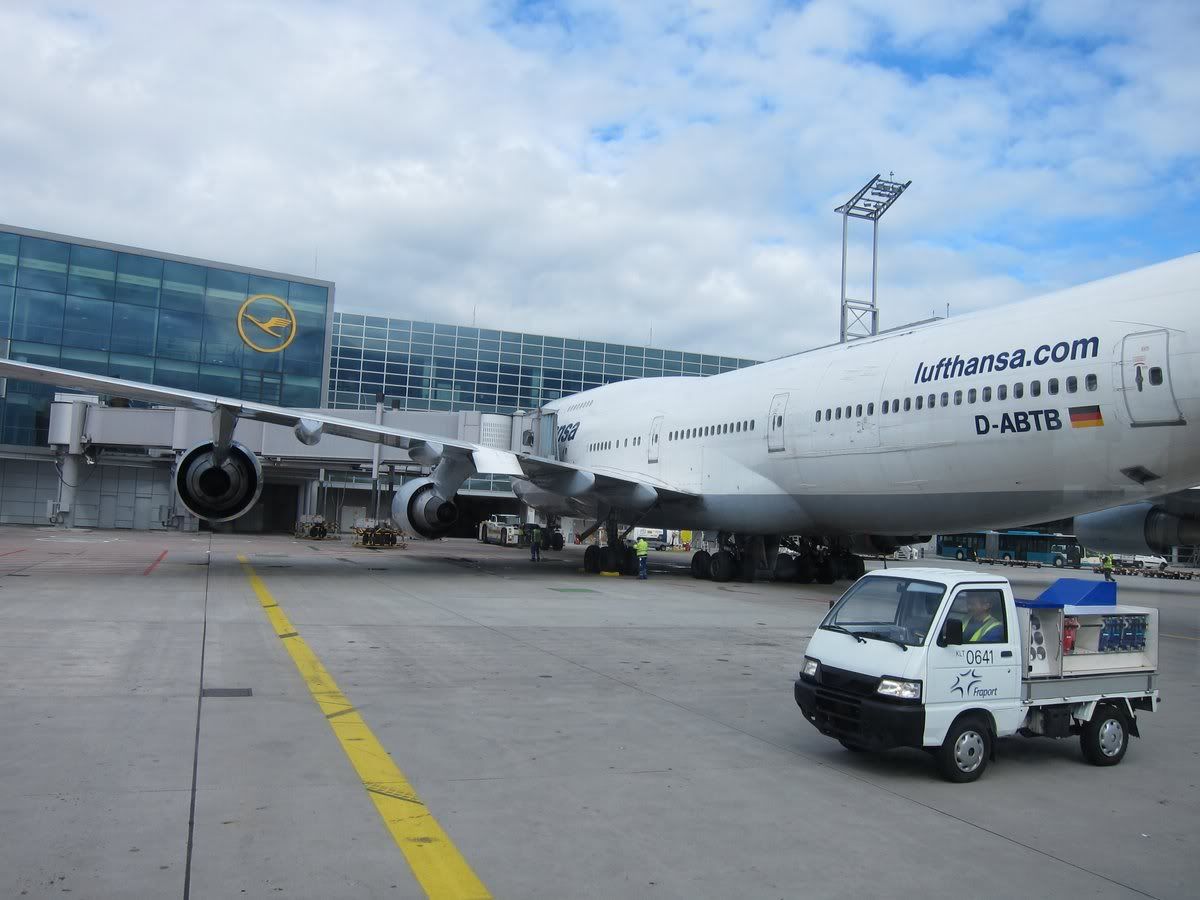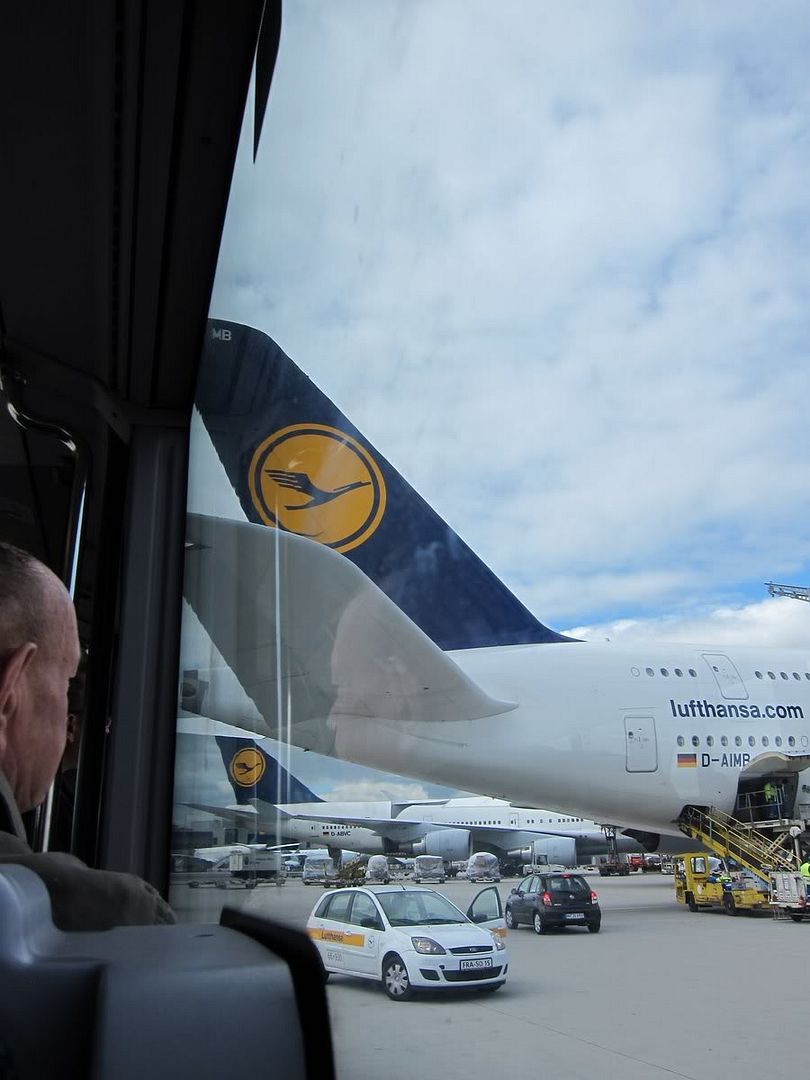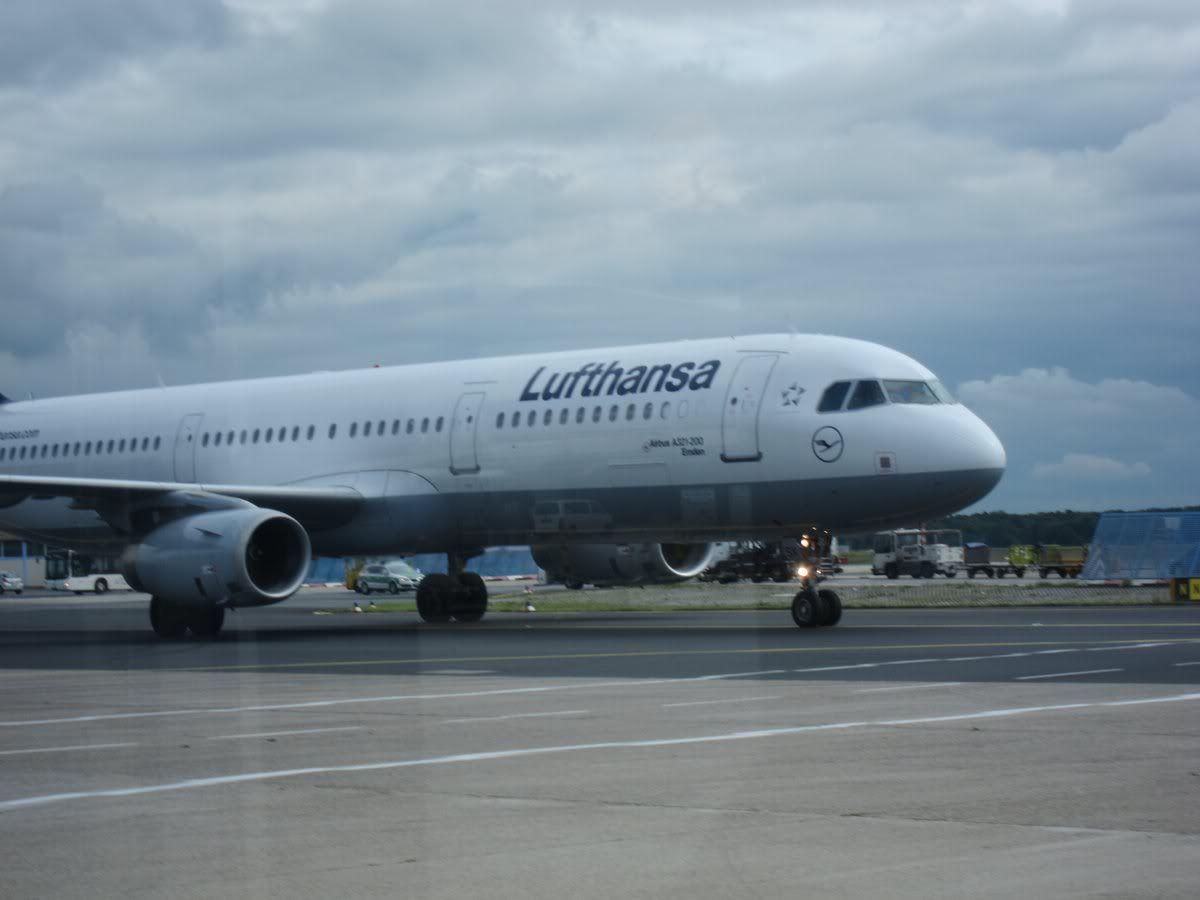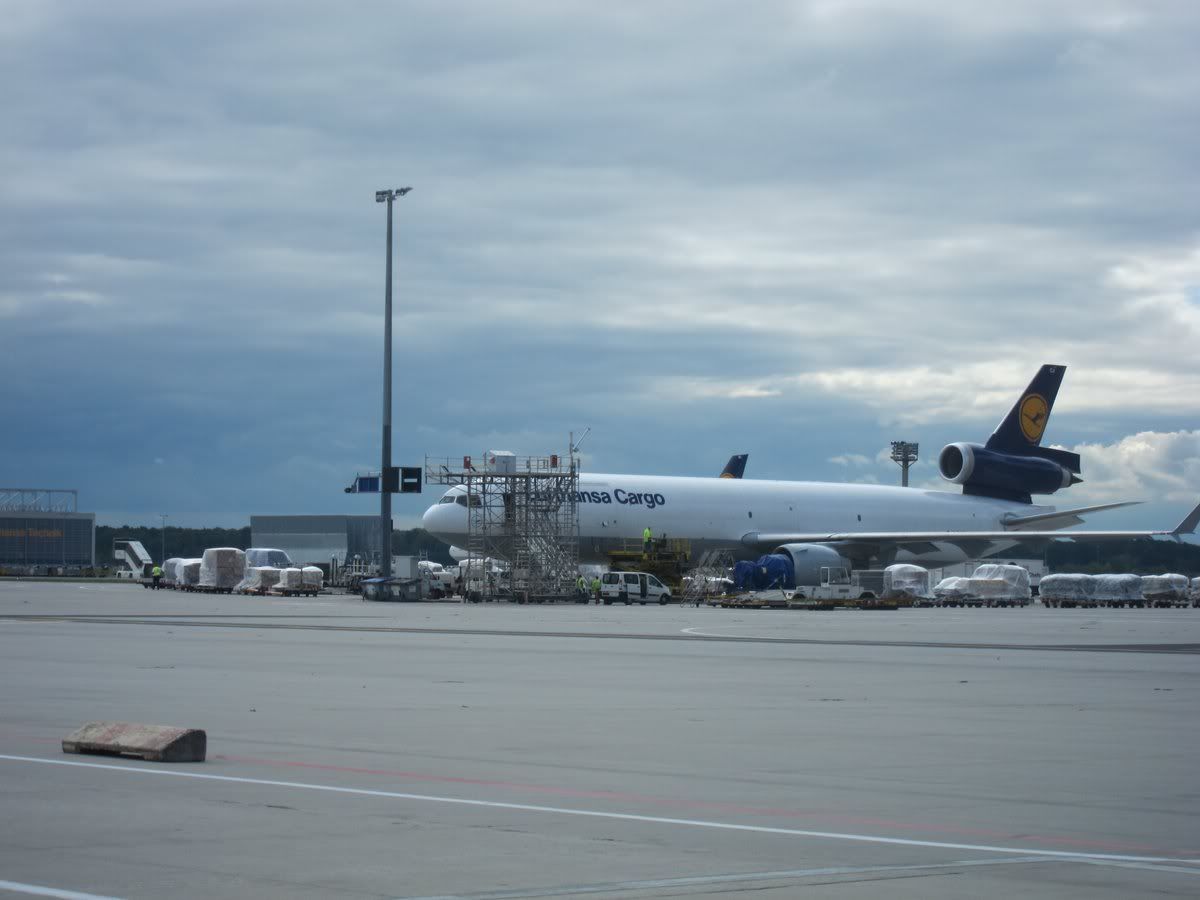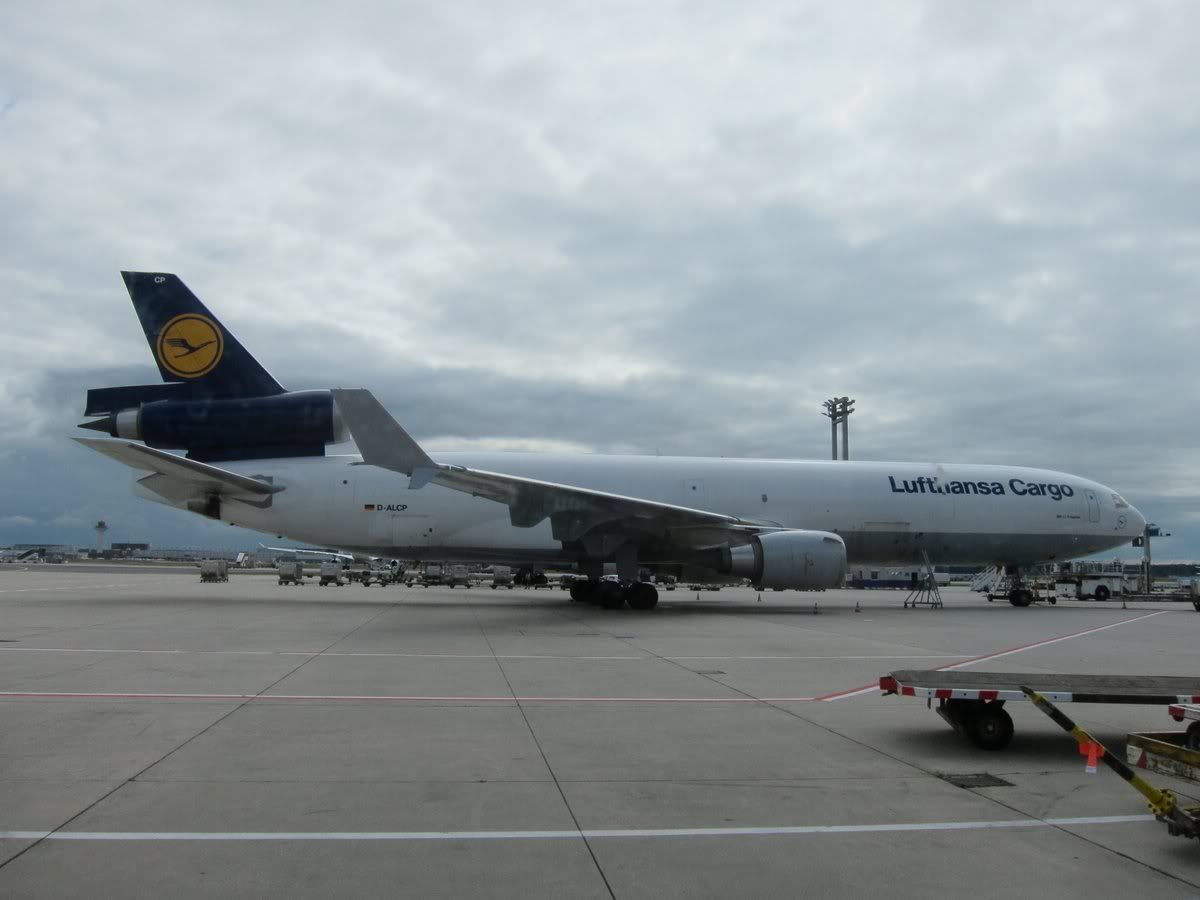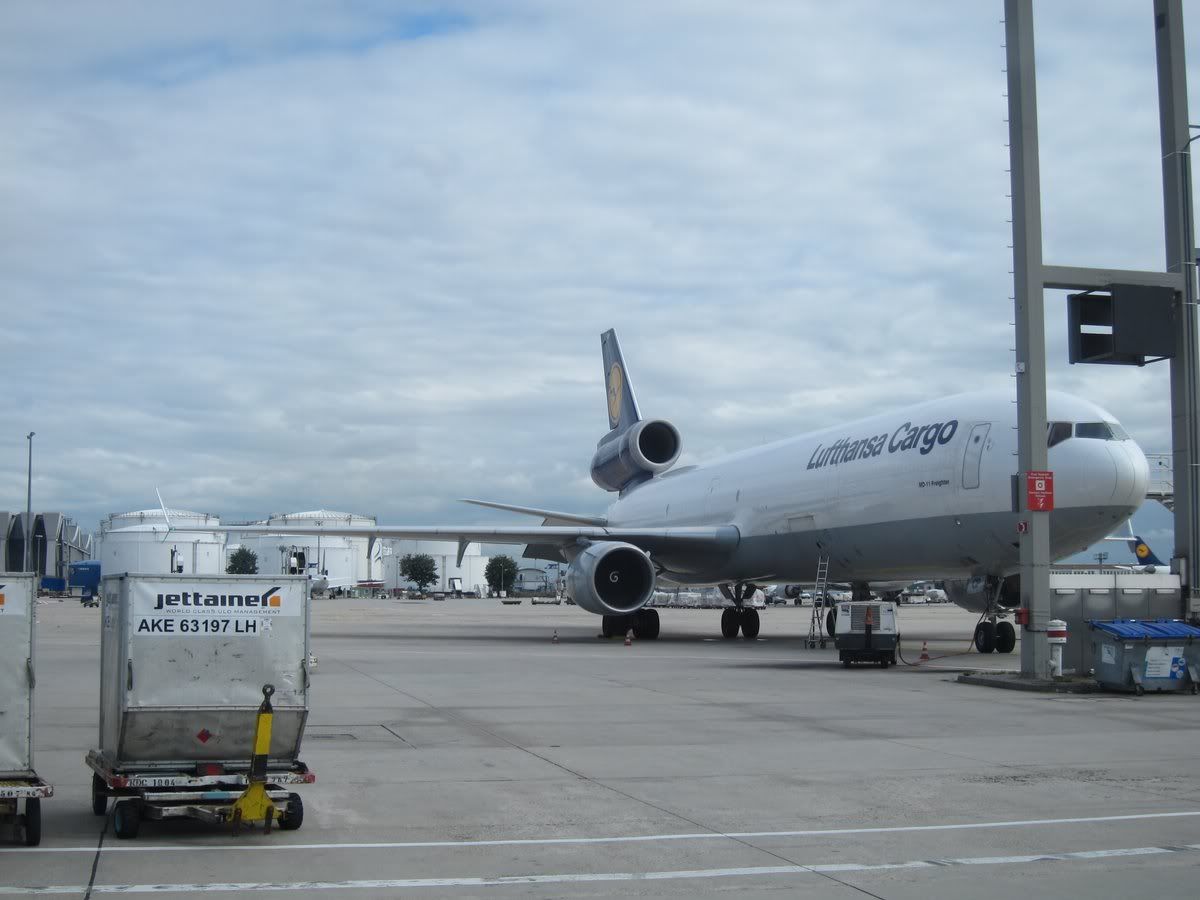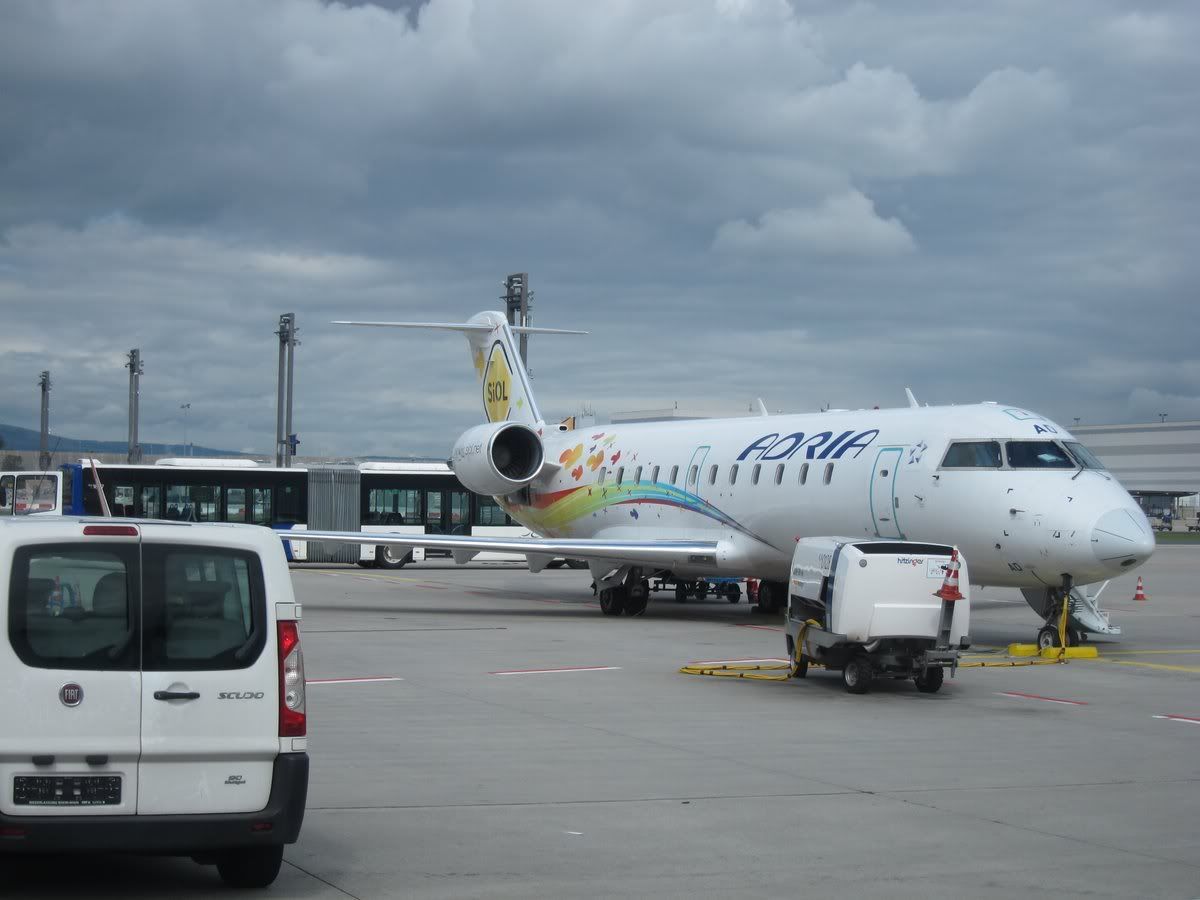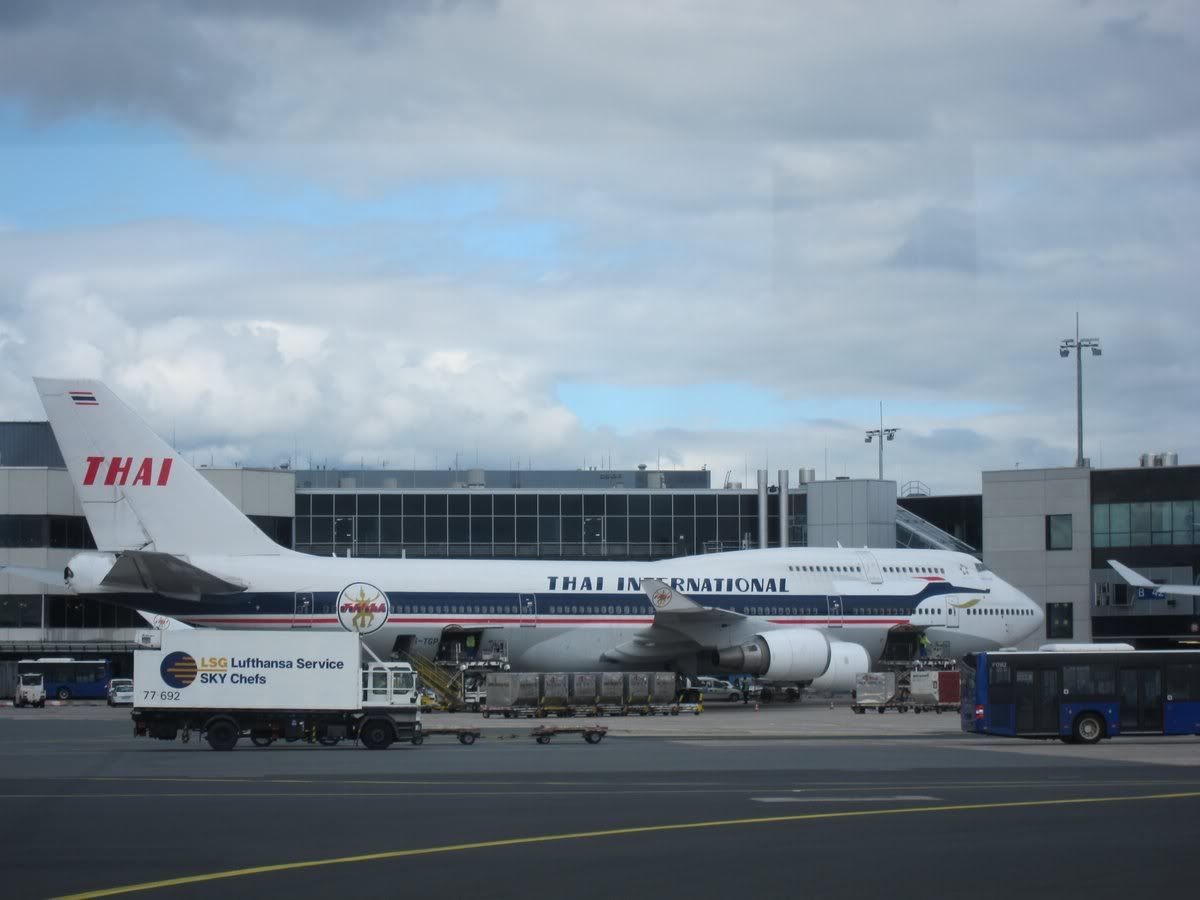 and from the observation deck.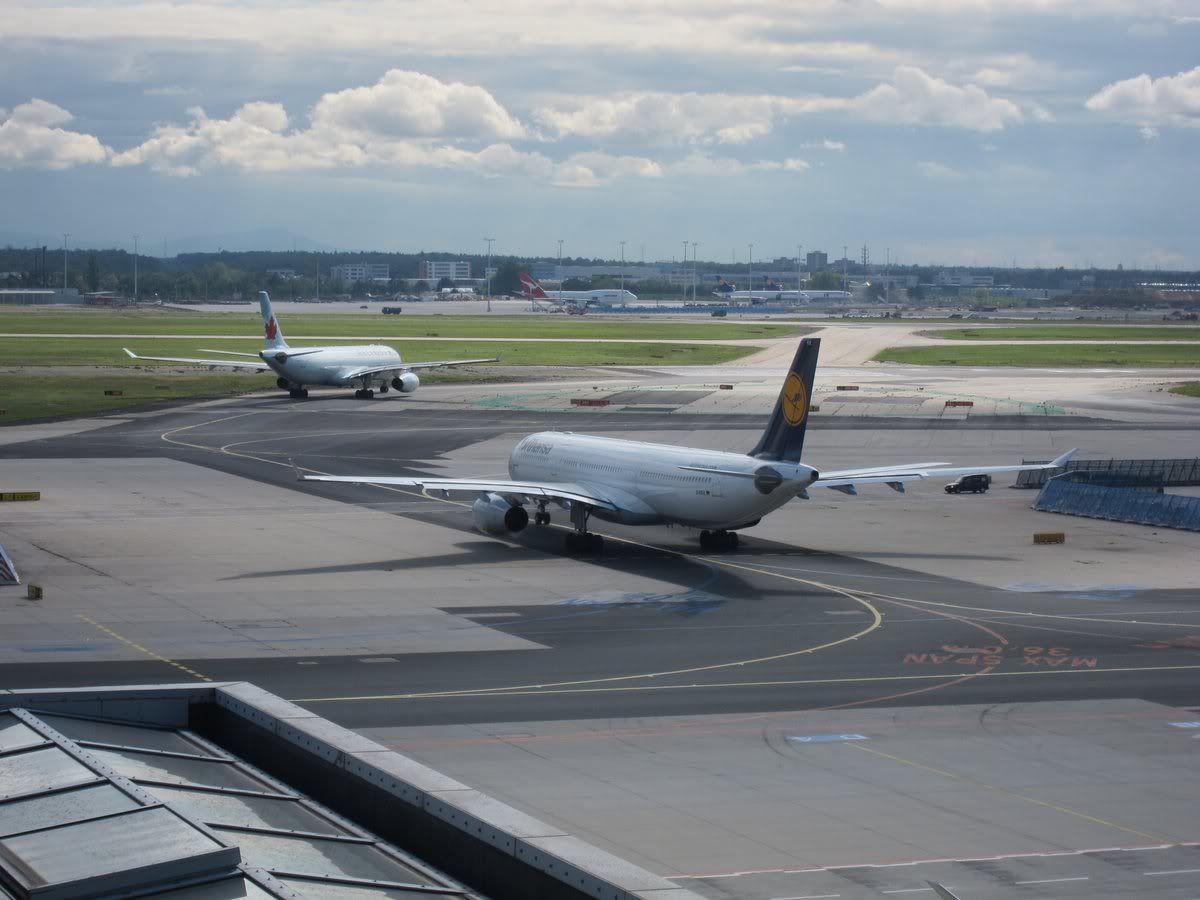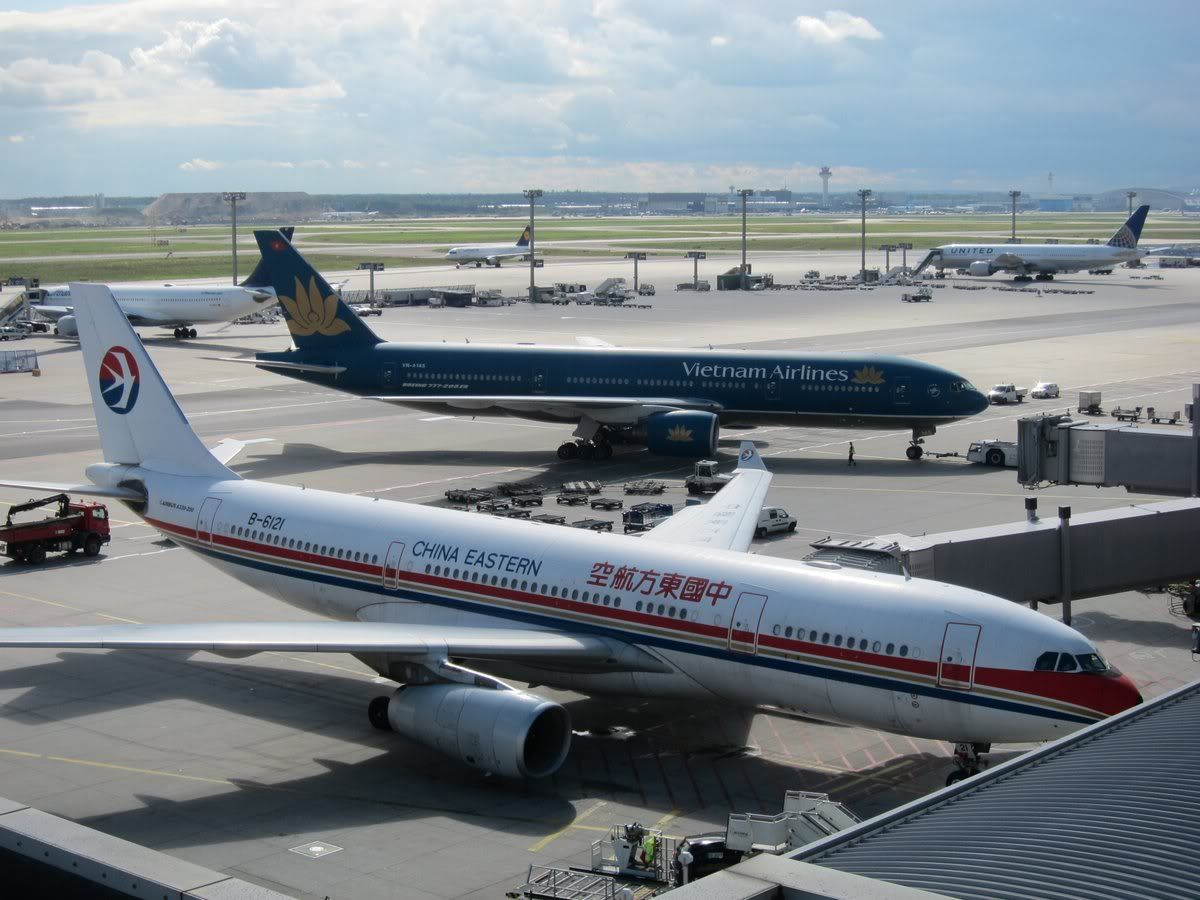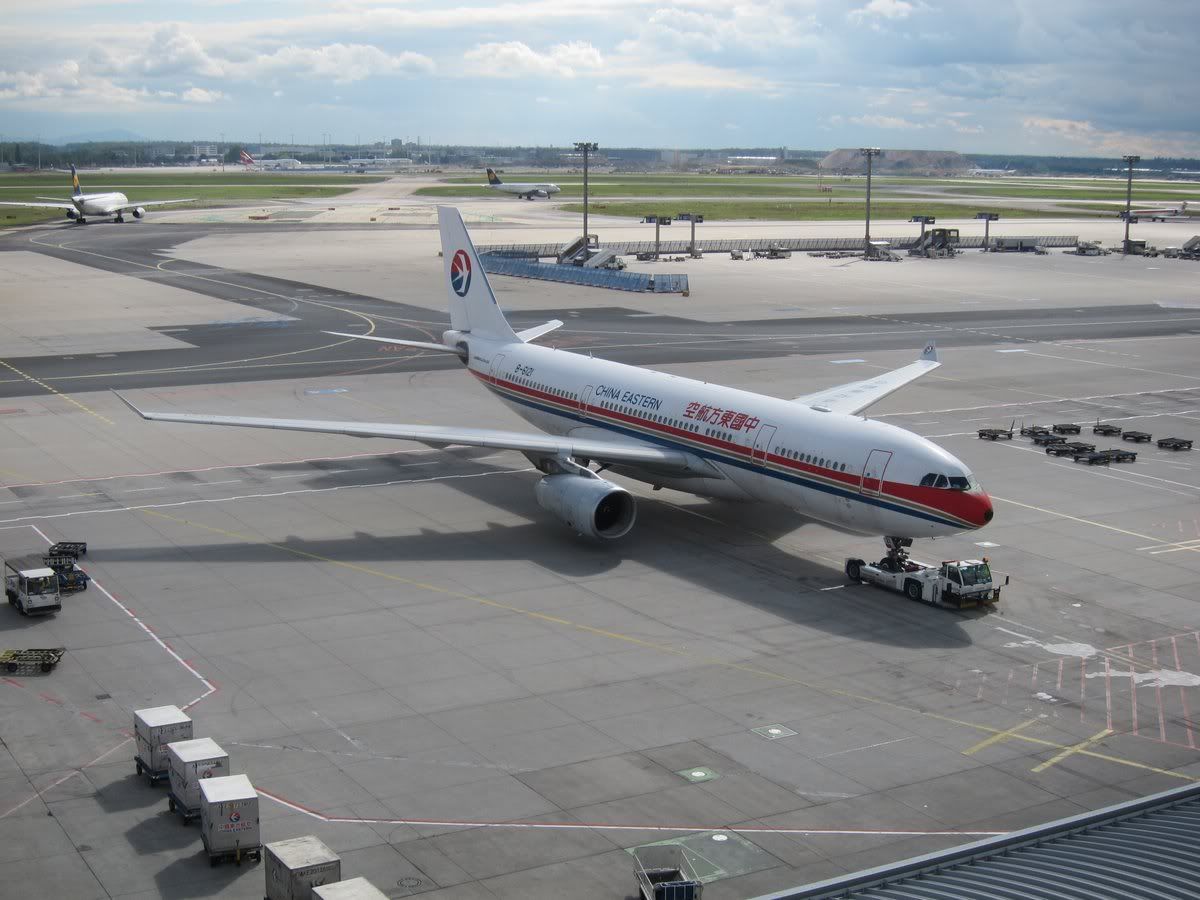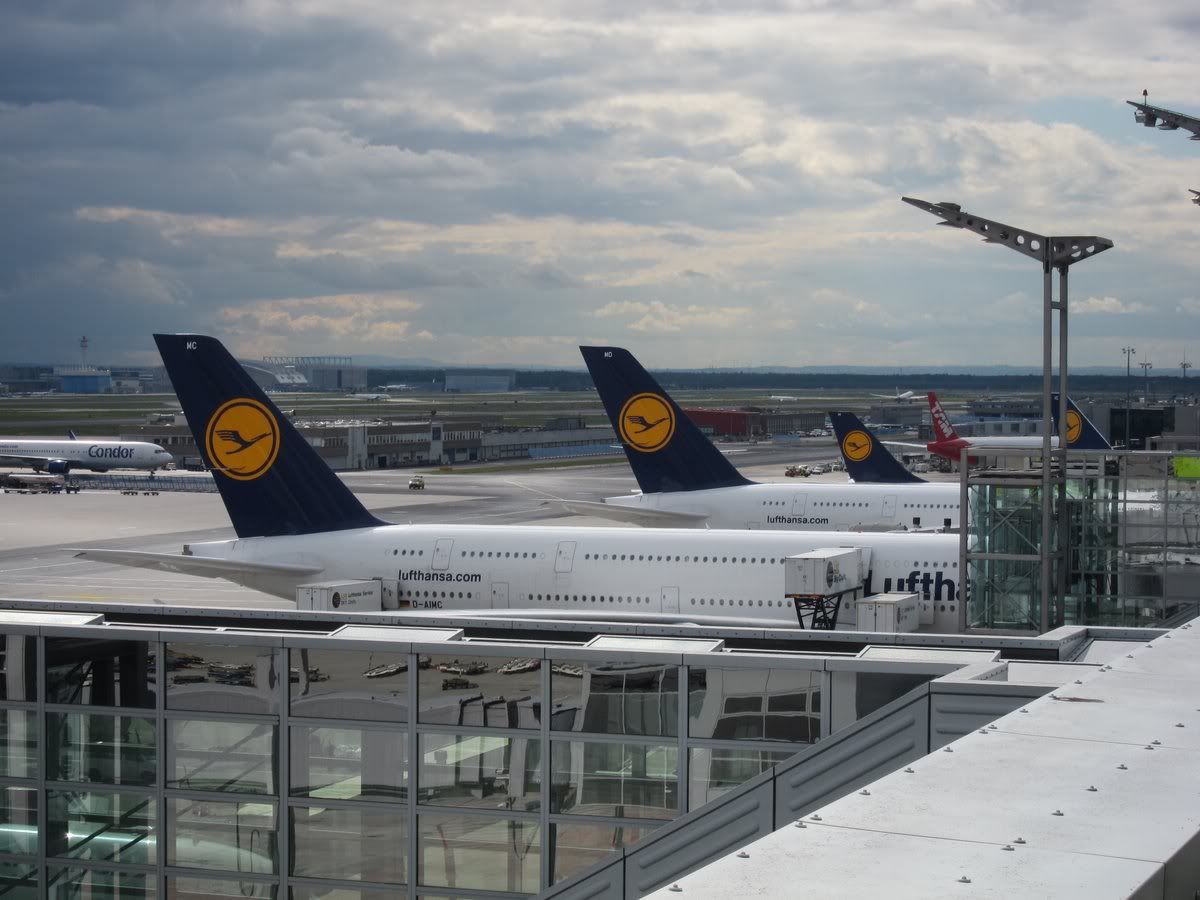 After awhile it was time to move on, so I found the ICE to Hanover, and then headed to Celle. We had a good few days at the show, and some great times in Germany. We love the German train system.
Inside of the ICE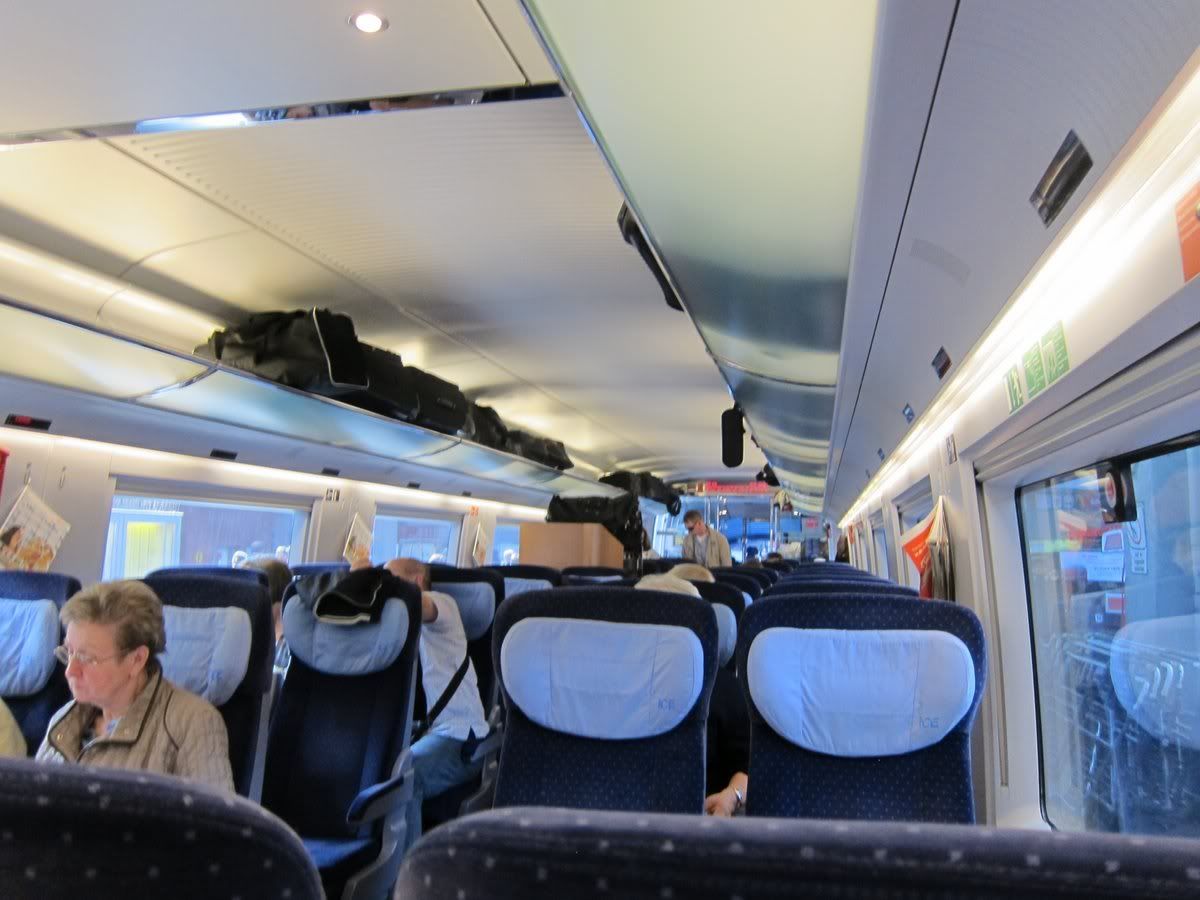 we did stop in at Oktoberfest.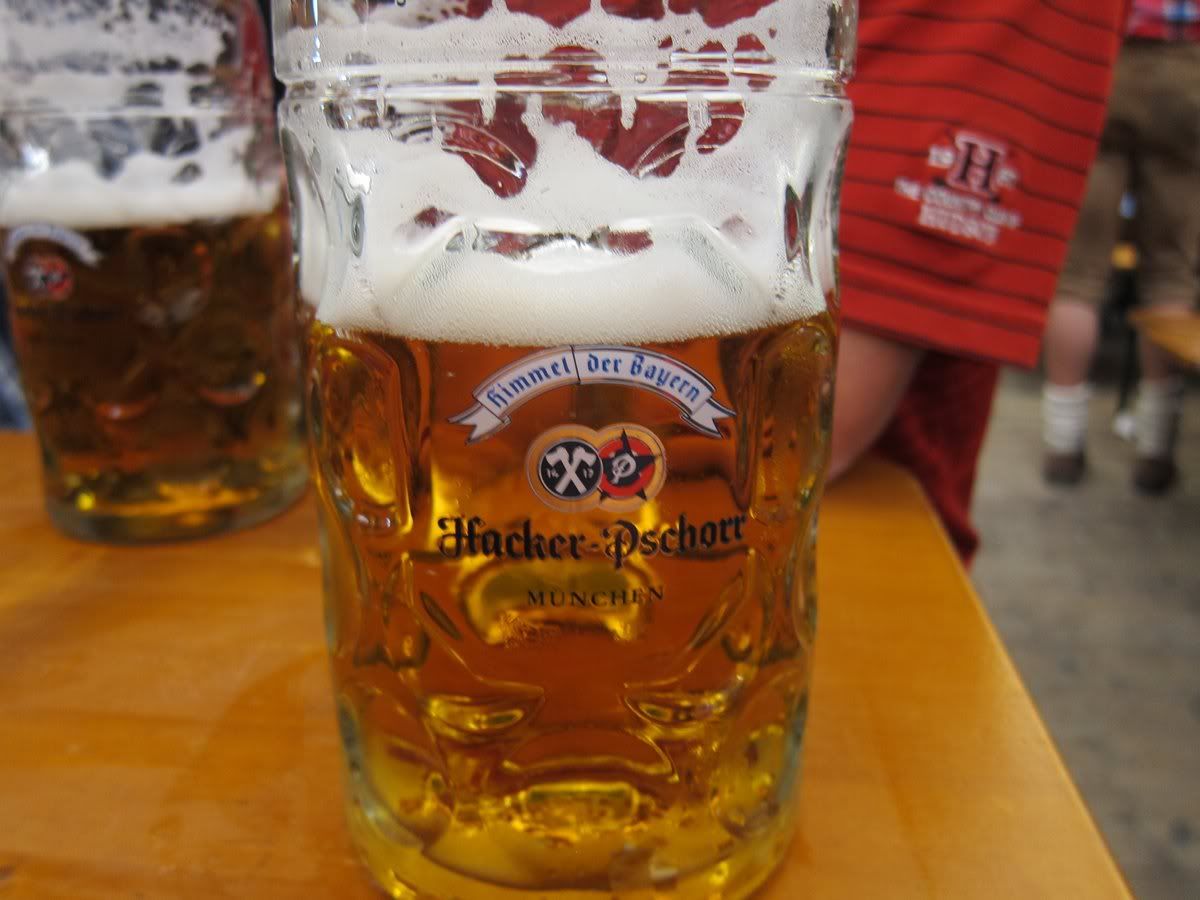 After the week, I was ready to come home though, and was glad when the day arrived. We took the S-Bahn from the hauptbanhof out to the airport, and it was clear a lot of others were doing the same.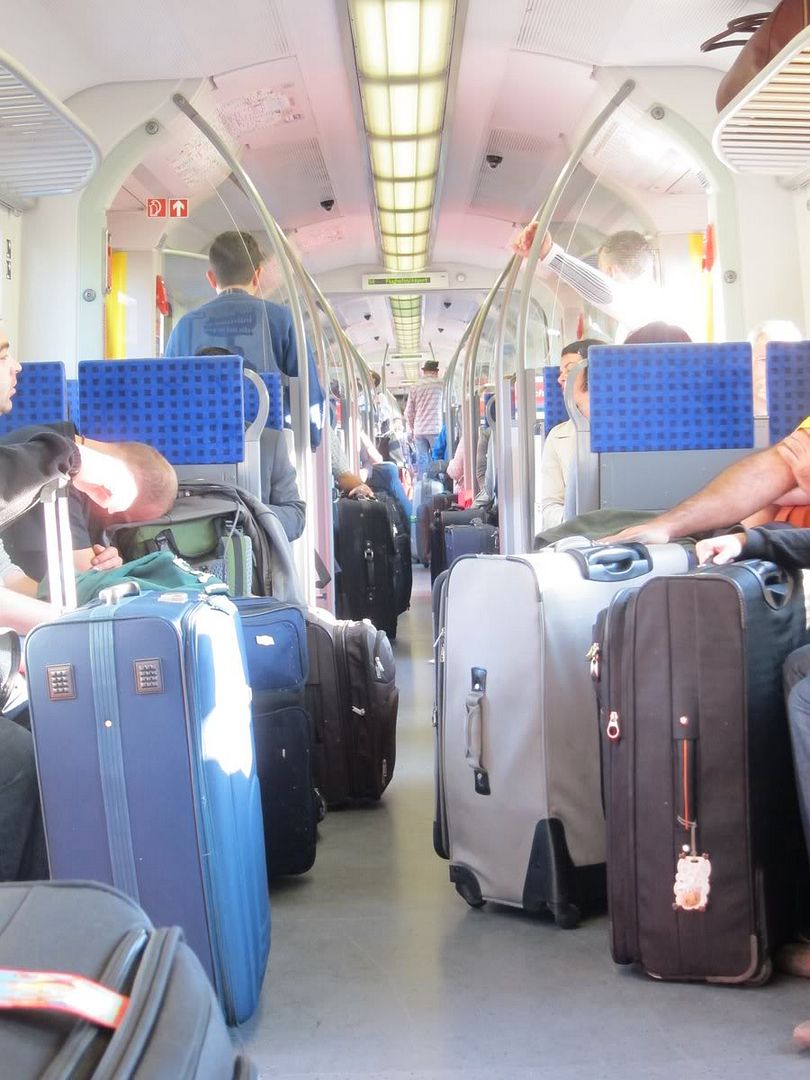 We were plenty early, because we needed to do a bit of shopping at the airport.
After some shopping and a quick bite to eat it was time to board...this boarding process took even longer than the outbound flight, and my brother and I sat around for awhile as it dragged on, again we didn't want to get on before we had to.
AC847
Boeing 777-300ER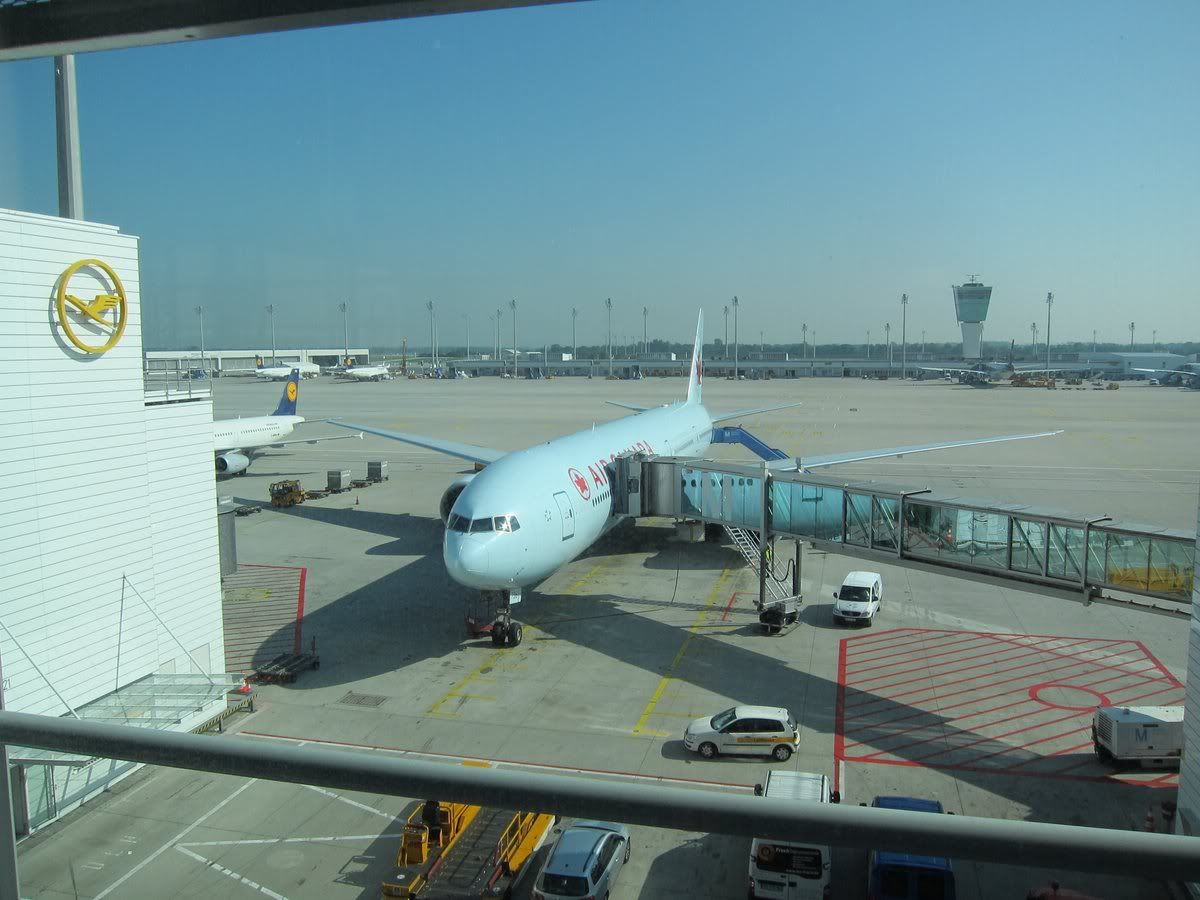 On this 3-3-3 configuation I took an aisle seat right near the front. It was a good seat and I appreciated having plenty of bin space.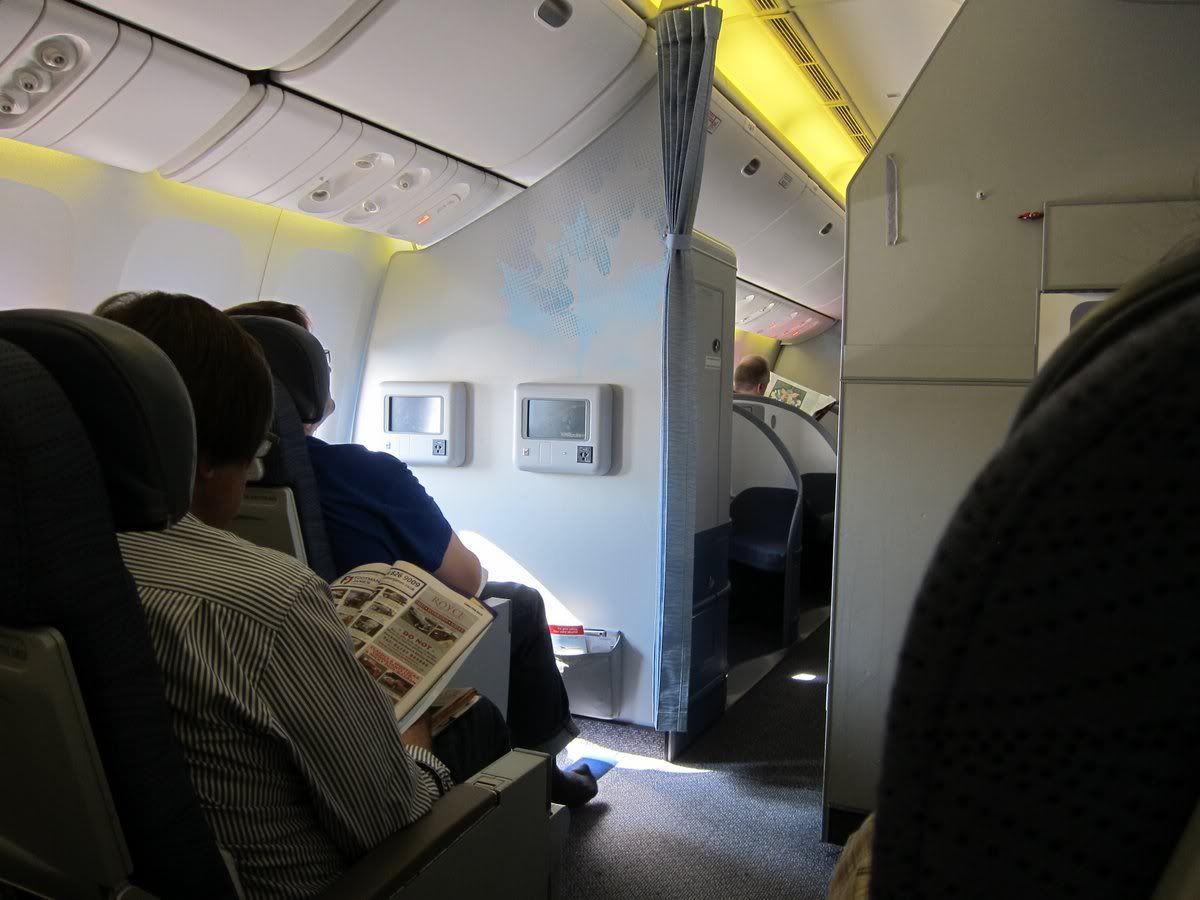 .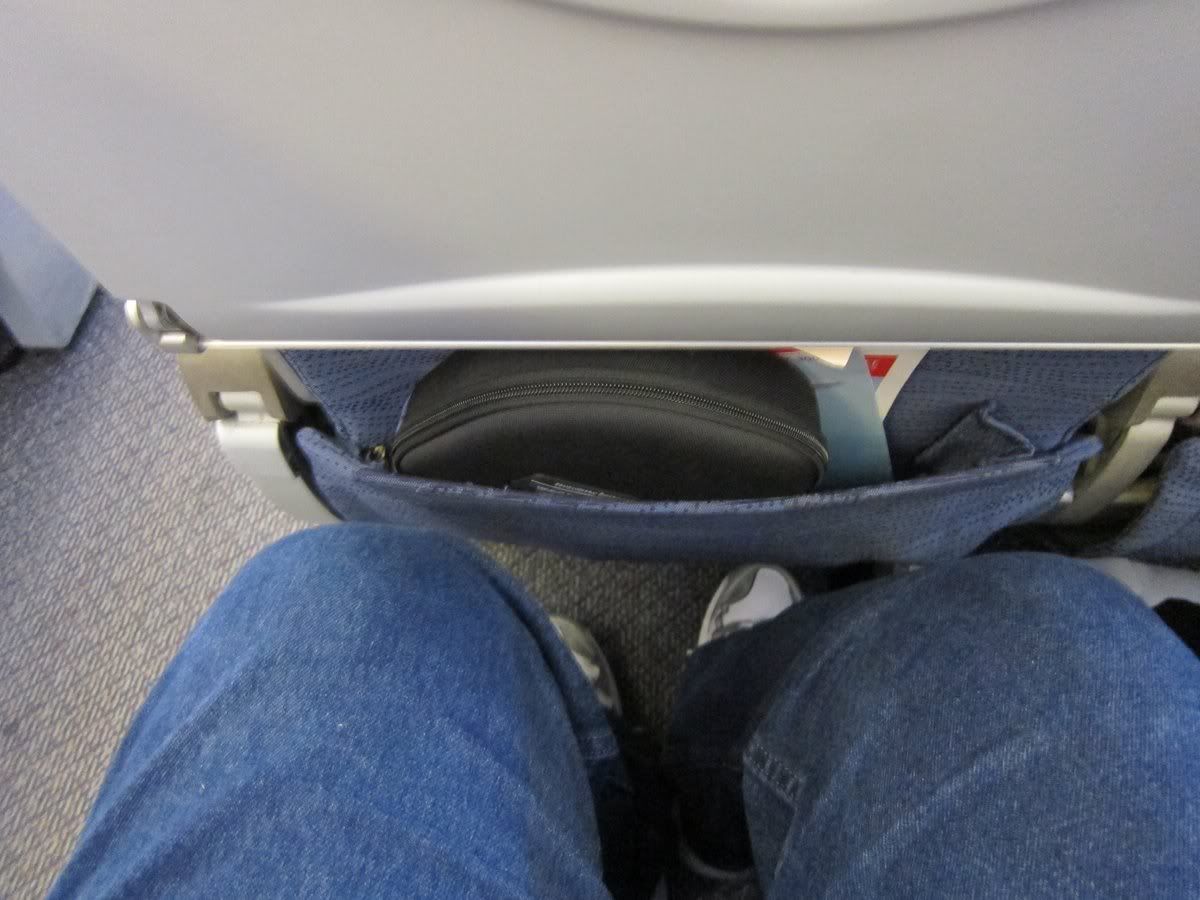 The one downfall of Air Canada is, the IFE stops working when they make an announcement, and since they have to announce everything in English, French and German, they all take a long time!
I picked the chicken as my meal again, and it was exactly what I expected. No booze for me at this time, because having visted Stuttgart Volksfest and Munich Oktoberfest on consecutive days, I had enjoyed enough beer for awhile.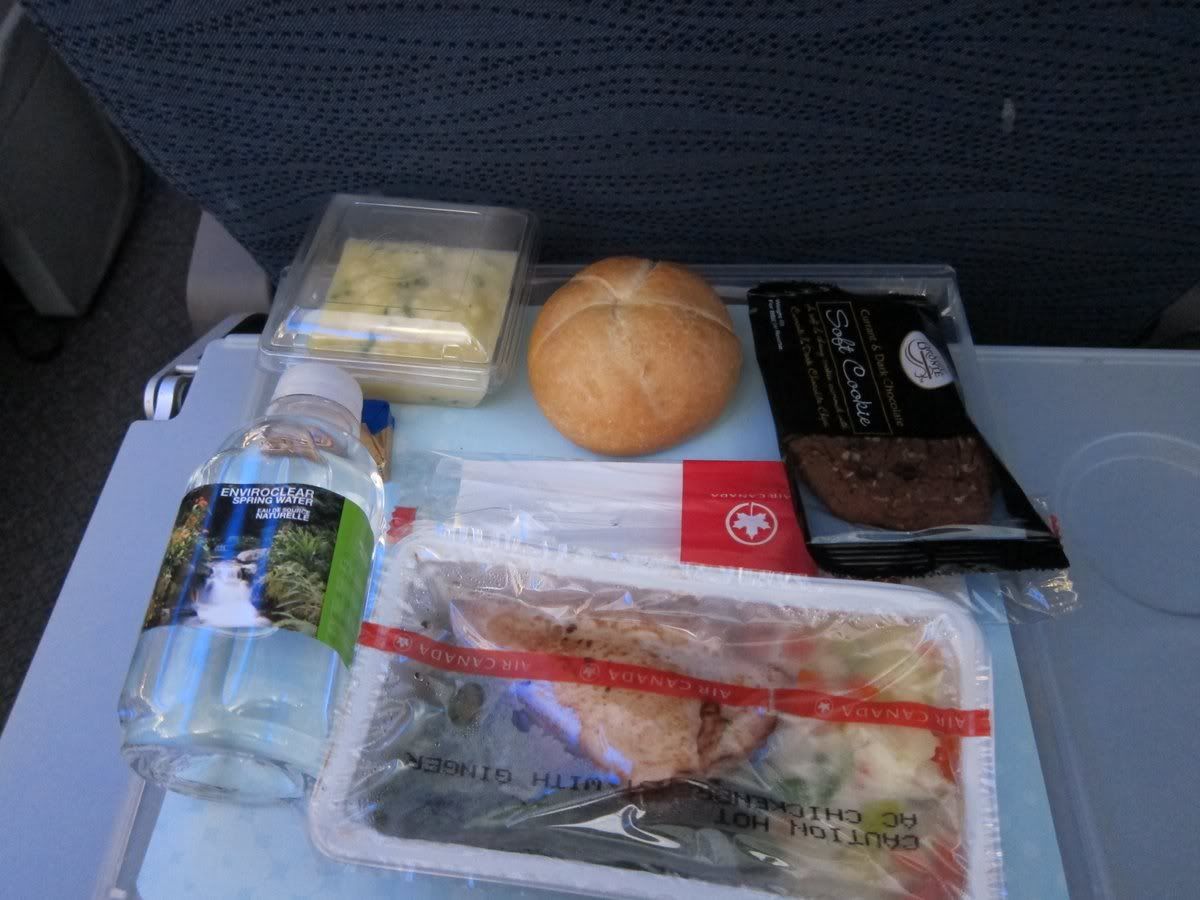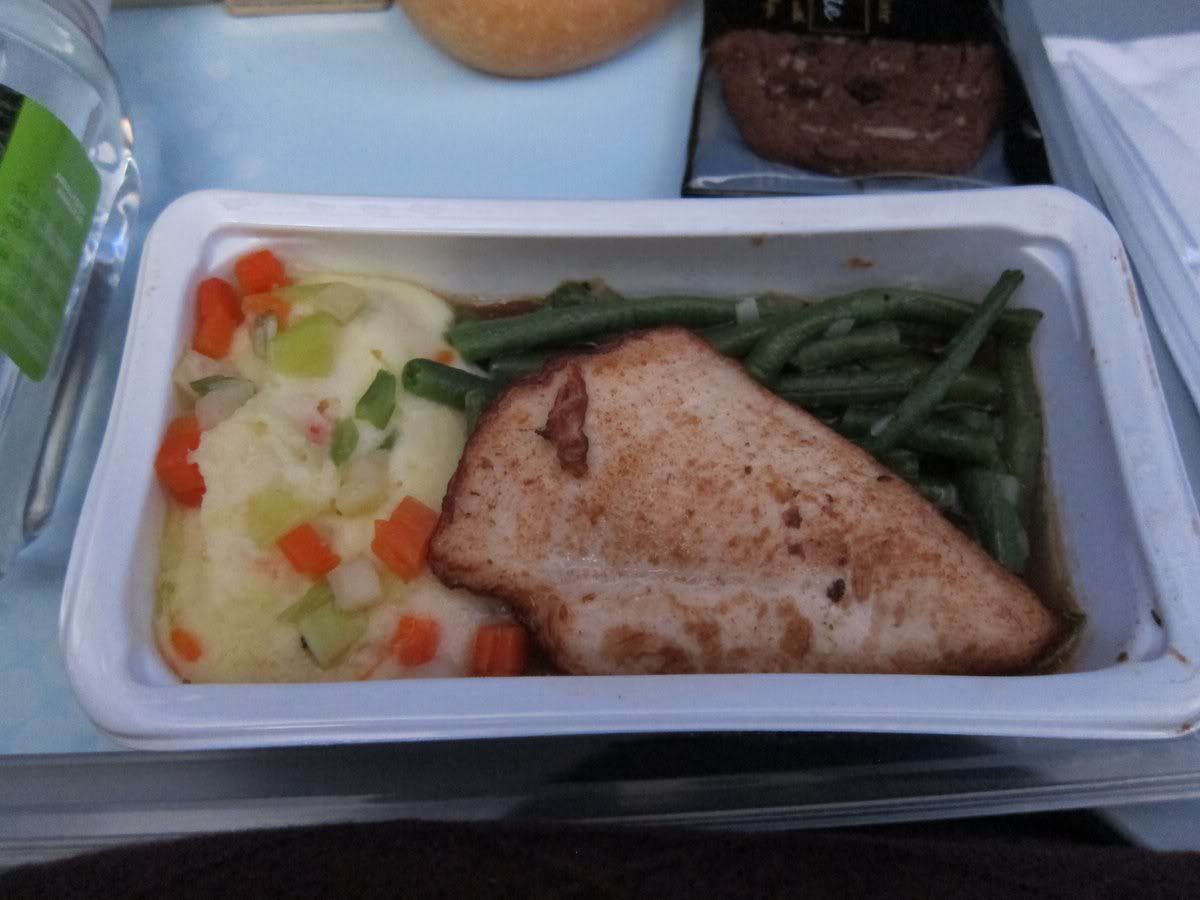 I watched some movies and passed the time just thinking about home. Nearer to YYZ they came around with these little wraps which were really really good as a "snack"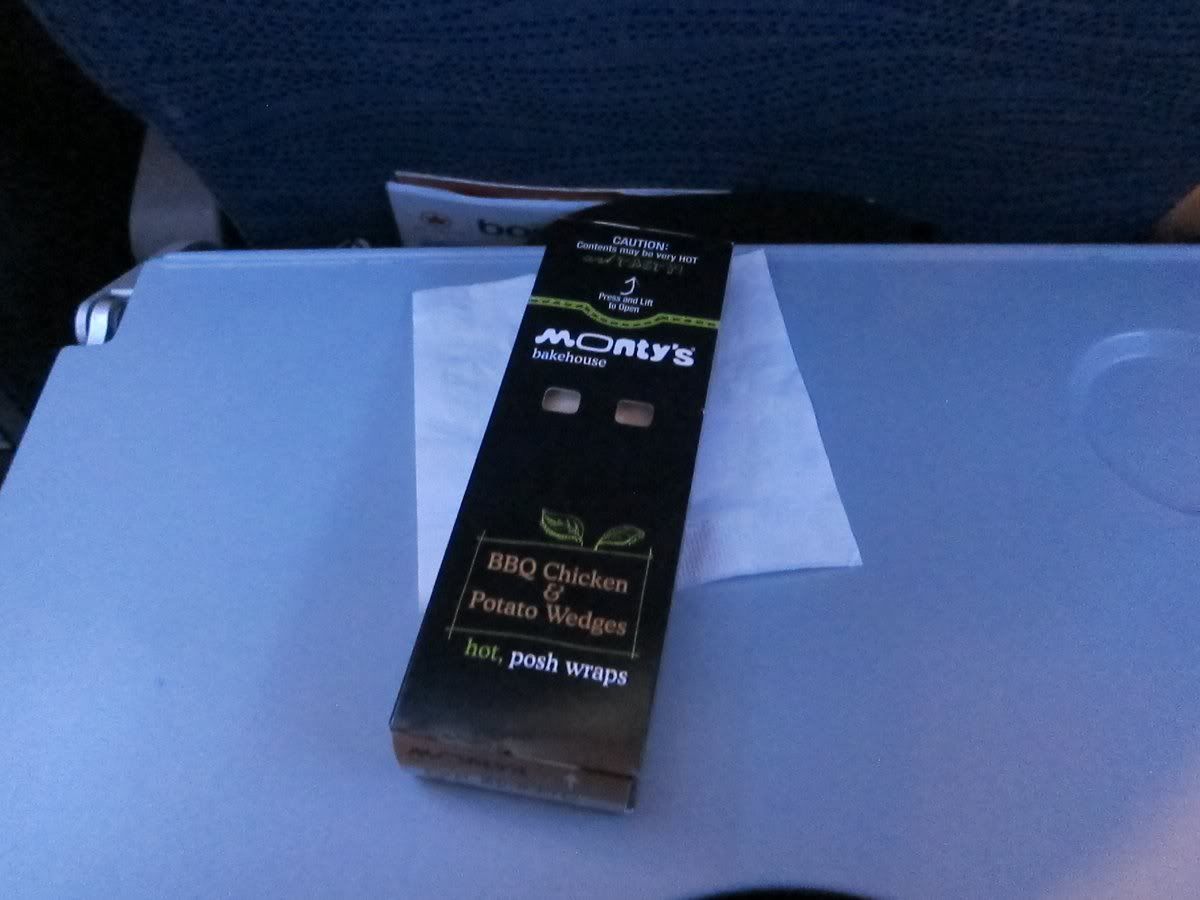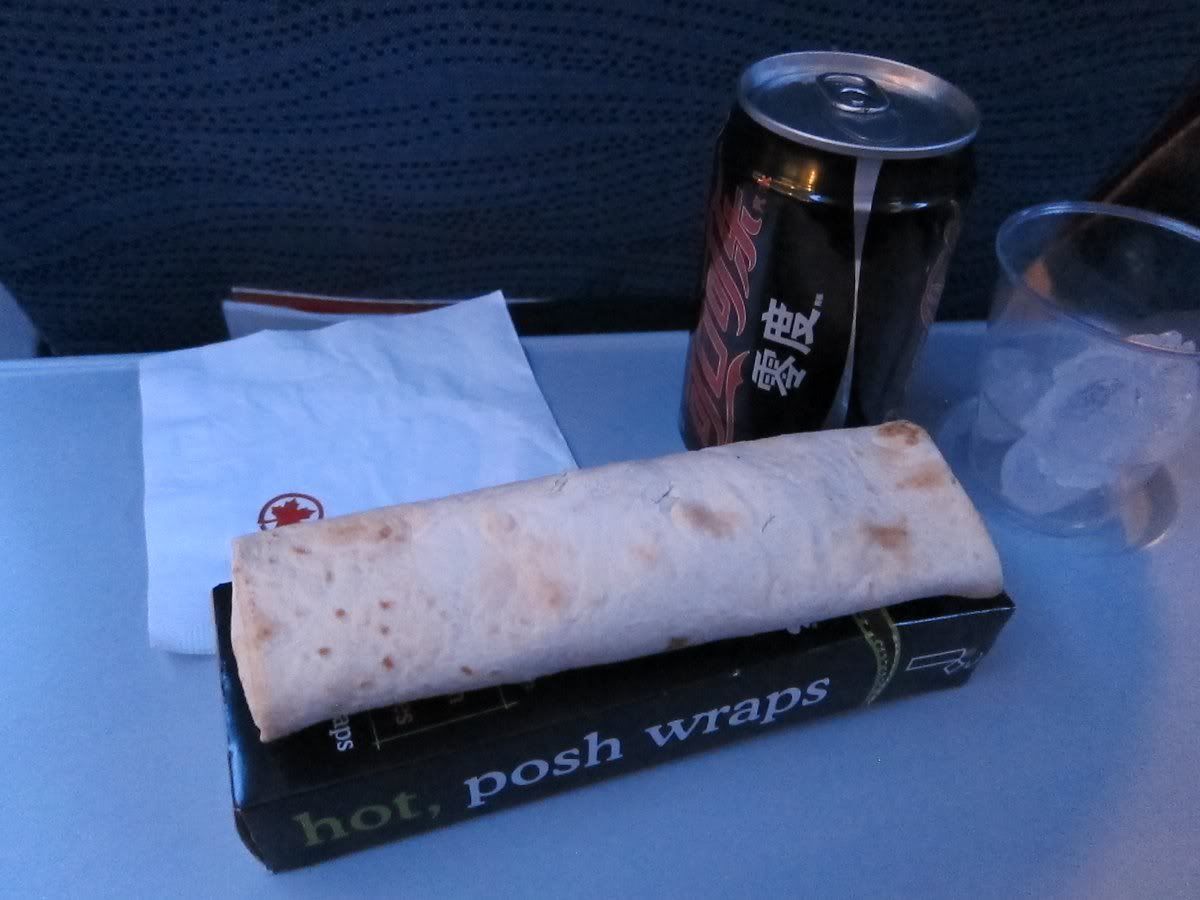 .
After getting off of the plane, we headed to clear Canadian immigration, and then we were processed into the US as well. It was nice to get this out of the way early. We then had a few hours to kill before our flight to CLE. We got some lunch, then split up while my brother did some shopping. We headed to the regional terminal at YYZ which is a bit of a shock compared to the international terminal I had been in on my departure...It seems a bit like a bus station more than an airport.
CO4811
DHC8-200
The flight home was uneventful except for some of the worst turbulence I have even been in. Our cruising altitude seemed to be right at the edge of some clouds and we bounced around pretty bad...including one hit that made people yelp a little bit in the cabin.
Overall I was please with Air Canada. I would also like to try their business seat as it looked very nice. And as always I enjoyed Germany quite a bit. Feel free to ask any questions and comments are appreciated.
Thanks for Reading!