My return flight to Chicago:
Note: This Trip Report covers my return journey from Europe to Chicago. You can access part one by clicking here. Enjoy!
Departure
After 10 incredible days of travel with my friends, I was ready to head back to Chicago and enjoy the last few weeks of our amazing summer in the city before fall and football season zapped up my time. In hindsight, I made an aggressive decision to take a 6:30 AM flight out of Heathrow, which I felt was unfair to my friend Chris who had to wake up at 4 AM in Surrey and drive me out to the airport. Alas, what friends are for.
This was my first time flying out of Terminal 4 at Heathrow - now officially the home for all SkyTeam alliance flights out of LHR. Despite the early morning departure, the check-in lines at LHR were bursting at the seams, and there seemed to be a general lack of order present throughout the terminal. Counters for KLM, Air France, and Alitalia all were full ready to ship off passengers throughout the world. Whoever says that SkyTeam doesn't have a robust presence at LHR certainly needs to check out T4 at 6:00 AM to be proven otherwise!
I meandered my way to the nearest self-service kiosks and printed my boarding passes easily, then waited in line for the bag drop. It seemed that most passengers were utilizing this system, so fortunately the line moved decently quickly. In spite of 2 hrs of sleep, my curiosity was at large and I noticed the passenger make-up was rather diverse. There was a large percentage of passengers bound for African destinations out of AMS, and I also heard some Brasilian Portuguese spoken in the moving line. People seemed to be all over - this got me excited for my first visit to Amsterdam.
I dropped my bag in the designated area and proceeded through security, and browsed around duty free before I made my way over to the gate area. The sterile component of the terminal seemed eerily quiet at this early hour, and the rainy weather outside created somewhat of a darker, dreary ambience. Nevertheless, I settled at a computer station and figured I might as well use the next 20 minutes until boarding to check up on some email; I had a few spare pounds sterling to exhaust and I had not used the internet in 10 days at that point, so I figured I should let the fam know I was on my way home safely.
Journey:
Boarding commenced and most things followed standard procedure. I was still in my early morning stupor, so I took my seat and waited for pushback. Taxi to the runway was interesting as it was drizzling pretty heavily at LHR, but I did see some early morning heavies arriving into LHR at that hour.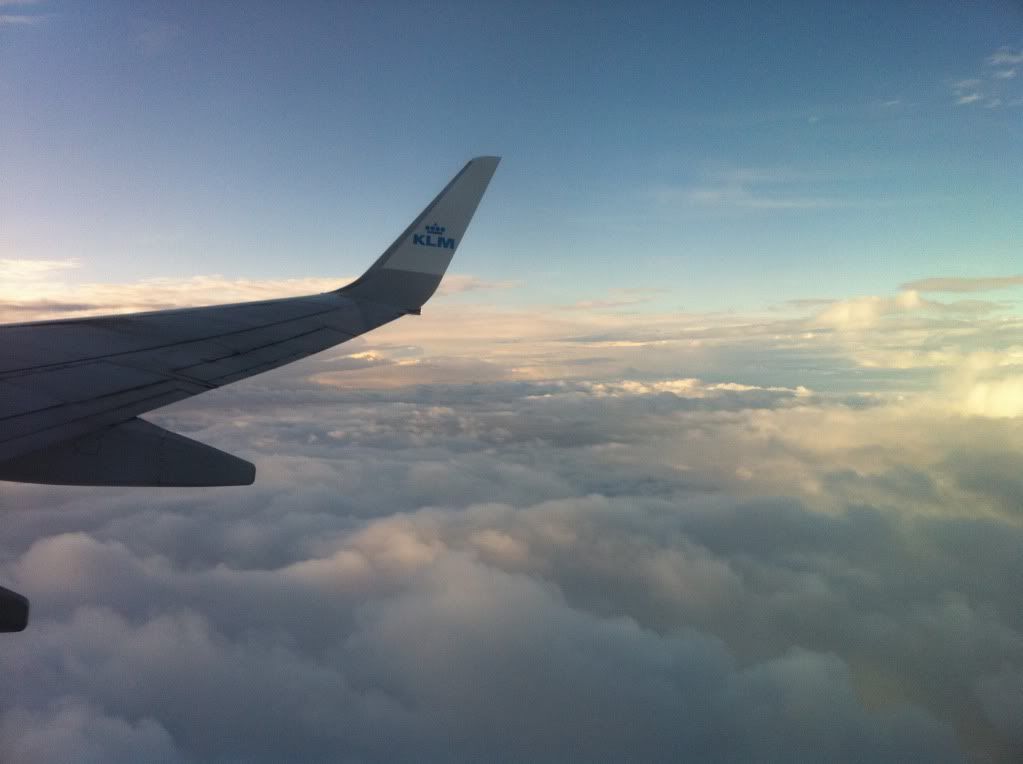 After liftoff we ascended into one of the most beautiful cloud sceneries I had ever seen. Knowing this was a short, 45-minute flight, I did my best to stay awake and take in the sights around me.
Shockingly, a breakfast service came about. We received not just one, but TWO ham and swiss sandwiches, which I scarfed up right away. They were FAR superior to the crummy ham sandwich Air France had served on my CDG-ARN leg earlier. Washed down by a nice glass of OJ, I felt my energy levels restored so I became more conscious.
Clearly, the weather over the British Isles and the European mainland were not in prime form that morning, but it certainly provided opportunities for some gorgeous cloud photos.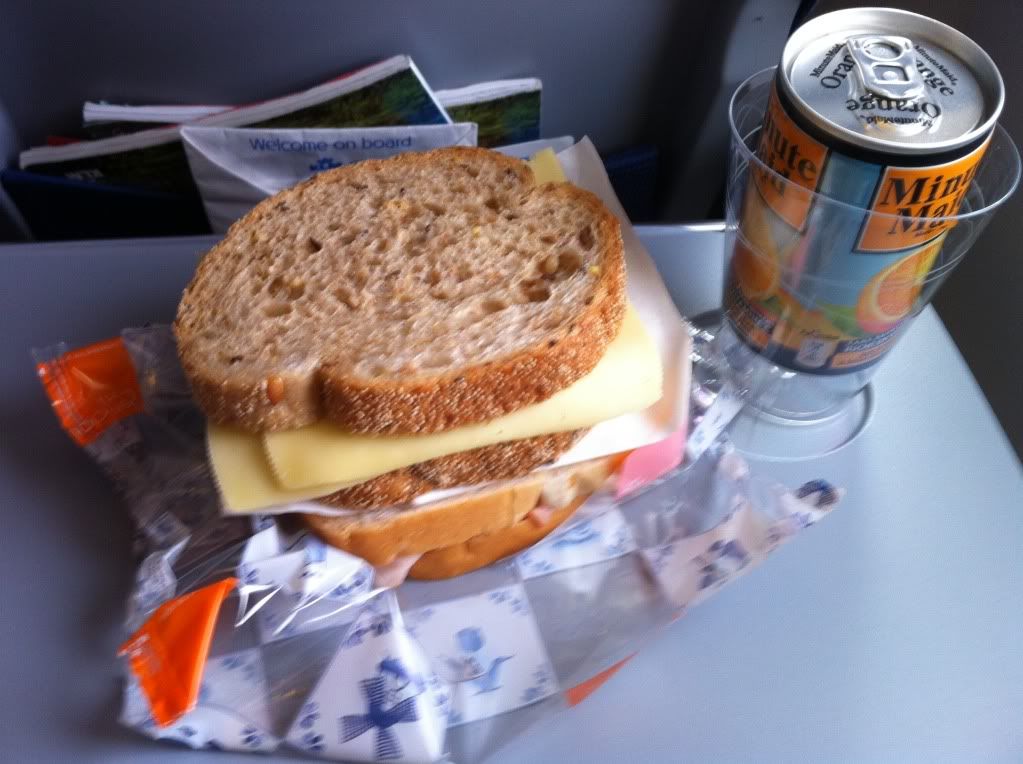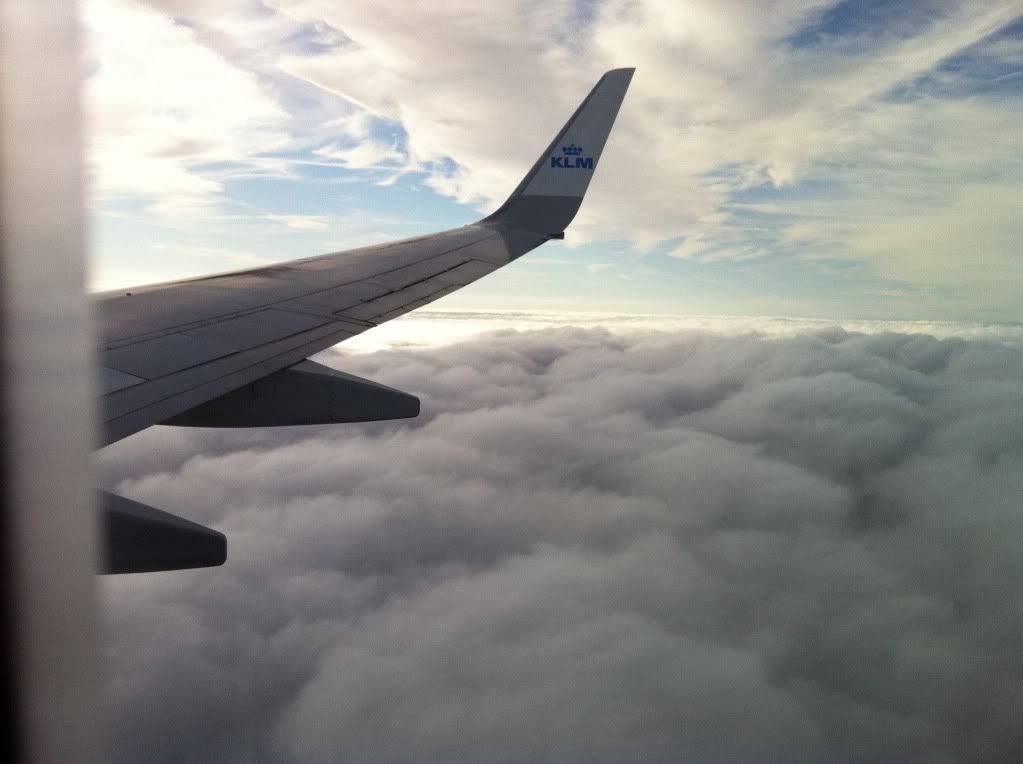 Before long, we were descending into AMS. I grew excited since this was my first time approaching into a country/city that I had heard so much about, so I took in the sights during the landing with much gusto. We landed alongside a Delta A330, either incoming from the States or from Mumbai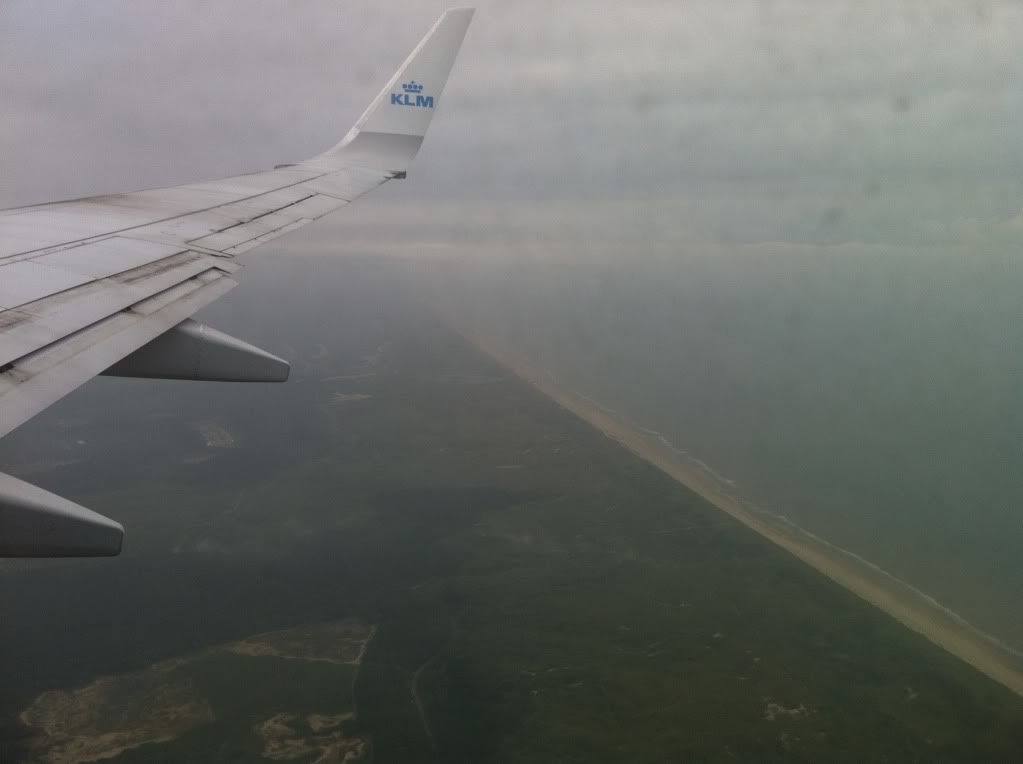 Something about being in AMS must have perked my excitement because I felt surging energy to go out and explore this airport to the fullest degree possible. We parked next to a Garuda Indonesia A330-200, which has been recently re-permitted to fly into EU airports since the ban was lifted. In addition, it being the newest SkyTeam member, made sense to fly into one of the biggest SkyTeam anchors in Europe. Ergo, no surprises to see China Southern there as well. I was also impressed by the number of UA aircraft on the aprons at AMS...whoever said non-SkyTeam members can't make AMS work have to be foolish
Transfer at Amsterdam
After disembarking, I set foot into the airport and grabbed the nearest airport guide to navigate myself through. I must say, AMS quickly became my favorite European airport (close to Madrid) for having some of the nicest, most helpful tour guides available and some of the best amenities possible. There was a palbable energy pulsing through with all of the various flights leaving on interncontinental routes to Africa, the US, Asia, Europe, South America, the Caribbean, you name it. I loved how it was all housed in one single concourse. Above all, the individual security screenings, aligned per each gate, piqued my curiousity. Something I had never seen before, and probably minimizes airport movement hassles.
For any local AMS people, or experts - does that imply that any person (ticketed or not) can proceed to the boarding area or walk around in the terminal up until the security check point? That would be fascinating to know. I think I may just not remember having gone through a first round of screening?
My first stop was to hit up the Planes Plaza, upon which I proceeded through immigration, received a passport stamp, and headed to the lower levels to check out the store. There were these gorgeous Dutch women handing out Siroopwafles as I passed the luggage claim areas, which were so delicious, I had to buy a package for my roommate who loves sweets.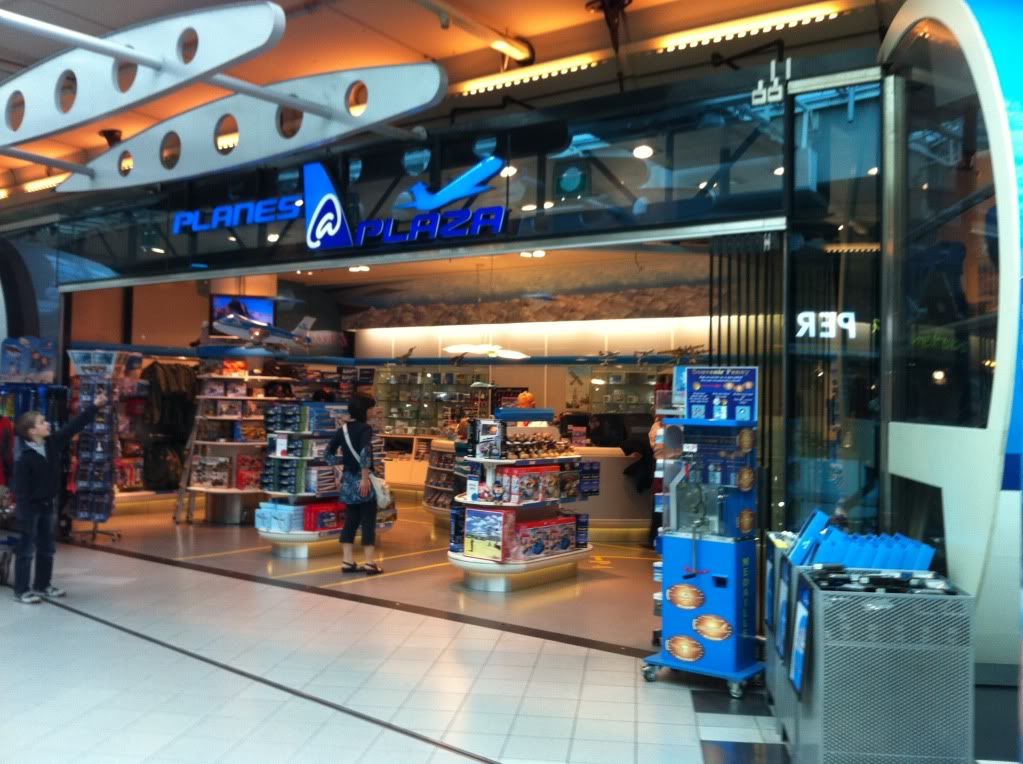 Next, I headed up to the observation deck to view all the sights from the upper level. It is incredible how large the Delta hub presence is at AMS! Widebodies departing to virtually every major US destination. As I mentioned earlier, it made the transition experience at Amsterdam much more enjoyable than at Frankfurt or London Heathrow, or heaven forbid Charles de Gaulle!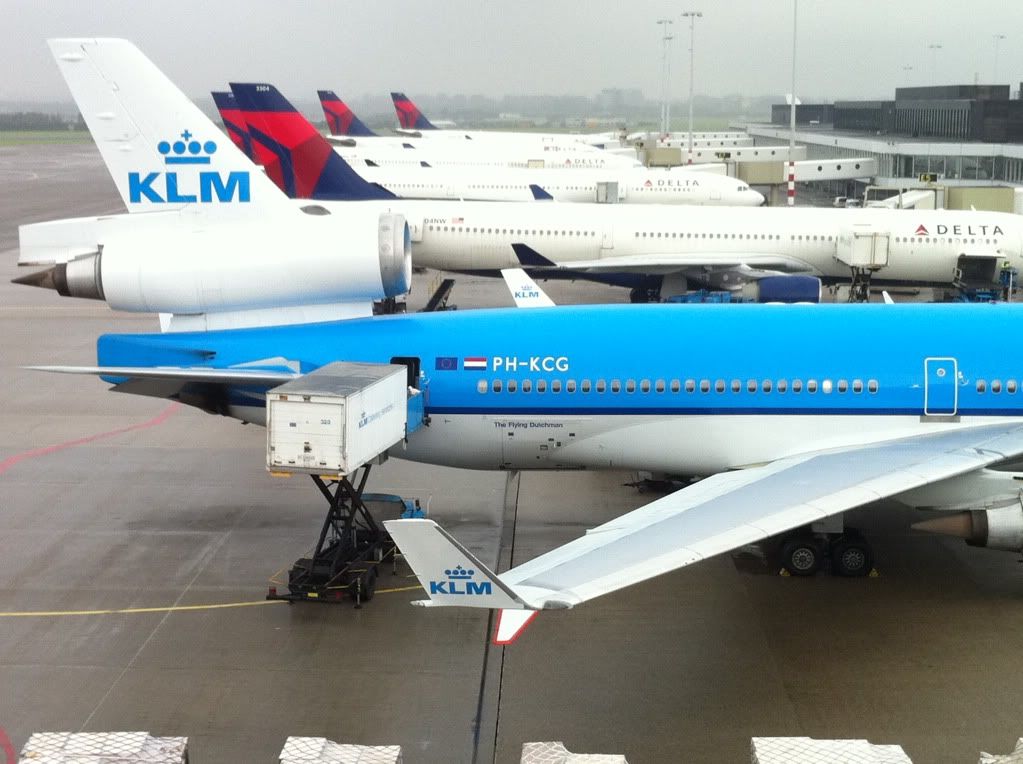 All of these DL birds were headed back to the States, but the KL MD-11 bird was off to Delhi!
As it was raining, I retreated back indoors to do a bit more walking and roaming. I purchased a few snack items to accompany me on the journey back to Chicago, and before long I became tired and realized my 3 hour layover was coming to a close, so I proceeded to boarding and security.
I boarded the rear of the aircraft and settled into my seat. This was a KLM Asia-operated 747-Mixed aircraft, so even though theoretically I was seated near the wings, it was at the rear of the passenger section. I was delighted to see a refurbished cabin with AVOD-equipped PTVs, newer, comfy seats and ambient lighting throughout the main cabin. During boarding and announcements, I browsed through the IFE selections and was really amazed by the catering descriptions. Very cool feature, KLM! Definitely a first there.
Once airborn, flight attendants began the first round of drinks service, and I must say we were served by one of the kindest, warmest air hostesses I have ever experienced on a plane. Truly remarkable, attractive and professional. I watched a few news and shorts episodes over a cocktail and enjoyed the views outside. Around the 1:30 mark into the flight, FA's announced the commencement of our first meal service, and directed passengers to seek their options on the IFE.
I love how KLM brands their in-flight catering: "Delicious hot meals." It certainly beats the pants off of Lufthansa and I find the tin-foil covering on Air France rather cheap. Plus, it was a greasy meal on the outbound, even if it was tasty and filling.
Our starter was a couscous salad topped with grilled zucchini and feta. It was perfectly seasoned with a nice lemon zest. The main course I selected was Green Chicken curry. Although the portion appears small, it was actually a very generous amount and the chicken tasted very moist and flavorful with the coconut and spicy curry sauce. It was accompanied by Steamed rice with peas and scrambled egg - sort of like fried rice except not haha.
Finally, dessert was mango mousse with passion fruit coulis on top of chocolate pearls. KLM's website describes this as, "satisfaction guaranteed." I am a huge foodie, but not a big dessert guy - yet I must confess that this was truly delicious and enjoyable. Not to mention, it did not seem overly rich or decadent to the point where I'd have to start worrying about diabetes
Other accompaniments included some spreadable brie, crackers, roll and butter - standard In-flight Entree items. I enjoyed a bottle of red with my lunch and felt reasonably full and relaxed after the meals. Perhaps I am different from others, but in-flight catering, to me, is almost as important as the comfort of the seat. It's no lie...I love food too much to not look to appreciate good meal service (even though I live off of cheap meals such as eggs, tuna, salad and yogurt in Chicago haha).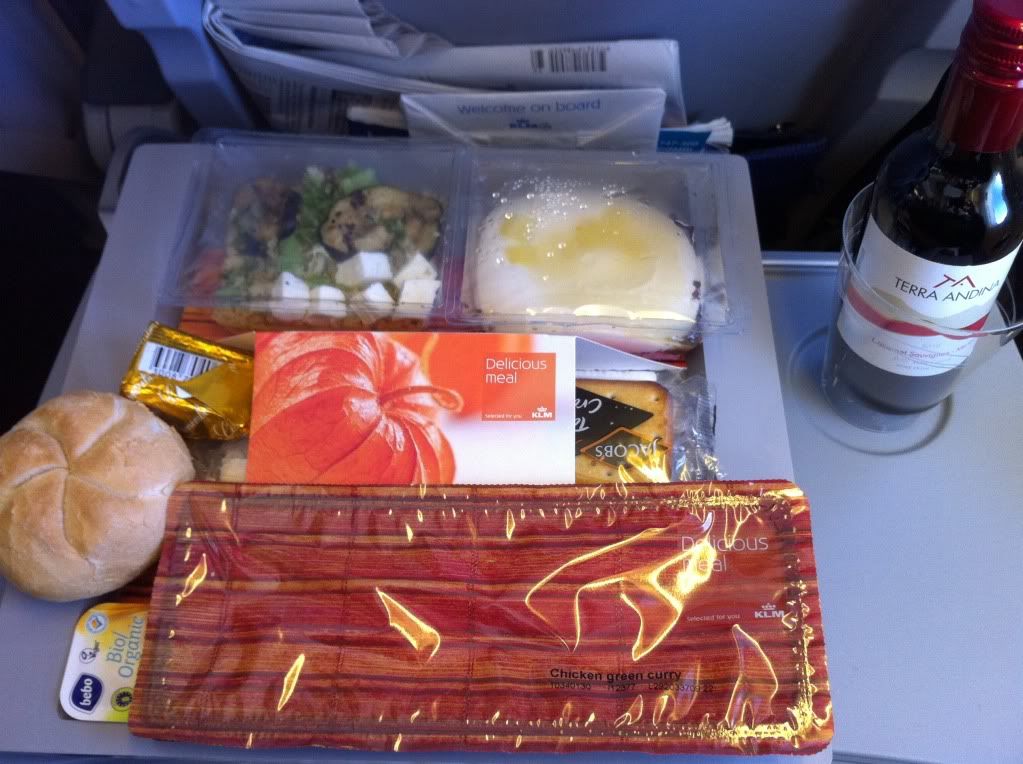 At this point, I was halfway into a film and my tray table was cleared just as the coffee and tea service began. I was constantly toggling between my film and the moving map feature. Because our flight route showed that we were going to be passing over Greenland, and it being a clear day outside, I knew that some exciting views of Greenland would be coming up fairly soon.
Another feature of KLM's IFE that I got to explore was their Audio selections. Superb. I have lately become more interested in electronic/global house DJs, and it was a treat for me to discover Tiesto's 2 hour podcast recorded exclusively for KLM. I popped in the jams and had that epiphany - that feeling you get when you're 38,000 feet in the air, you're listening to great music, you're feeling relaxed, and you just feel happy. I was coming off a fantastic 10 day vacation in Europe with my best friends. Life is good
Shortly after, there was an "Ice-cream" service which really consisted of a popsicle haha. Nevertheless, chewed on this as two really cool things happened: One, I discovered Avicii for the first time, listening to "Levels" - remains my pump up song when I wake up in the morning or I am on my way to work out. Next, the Greenland sights began to take place!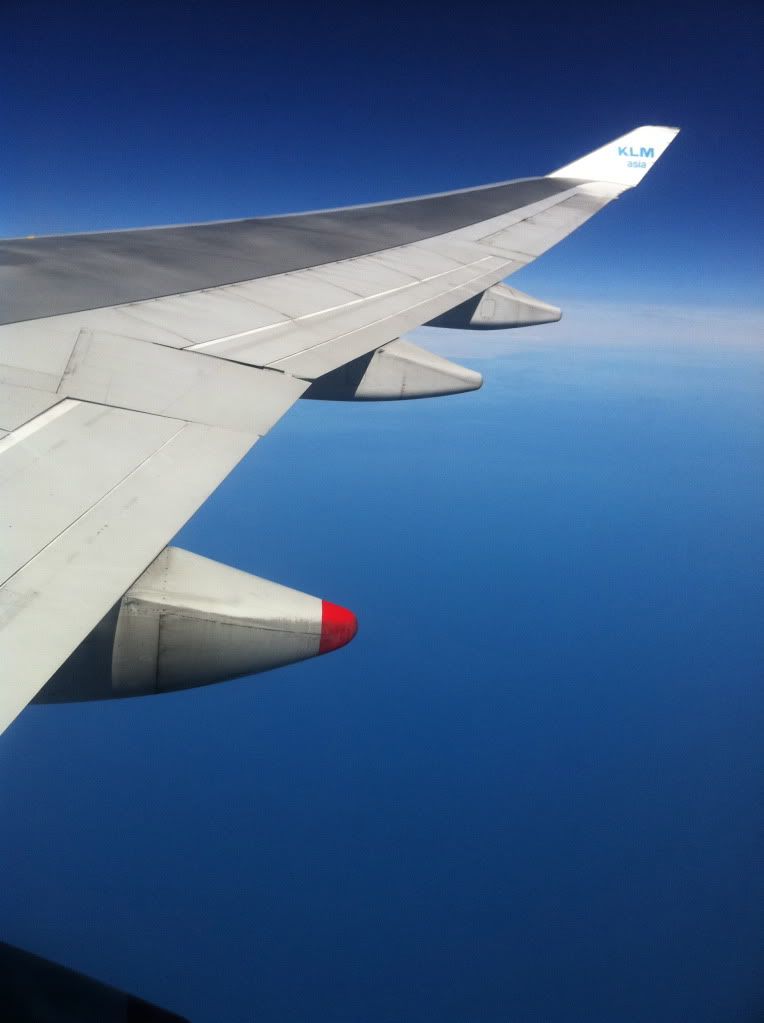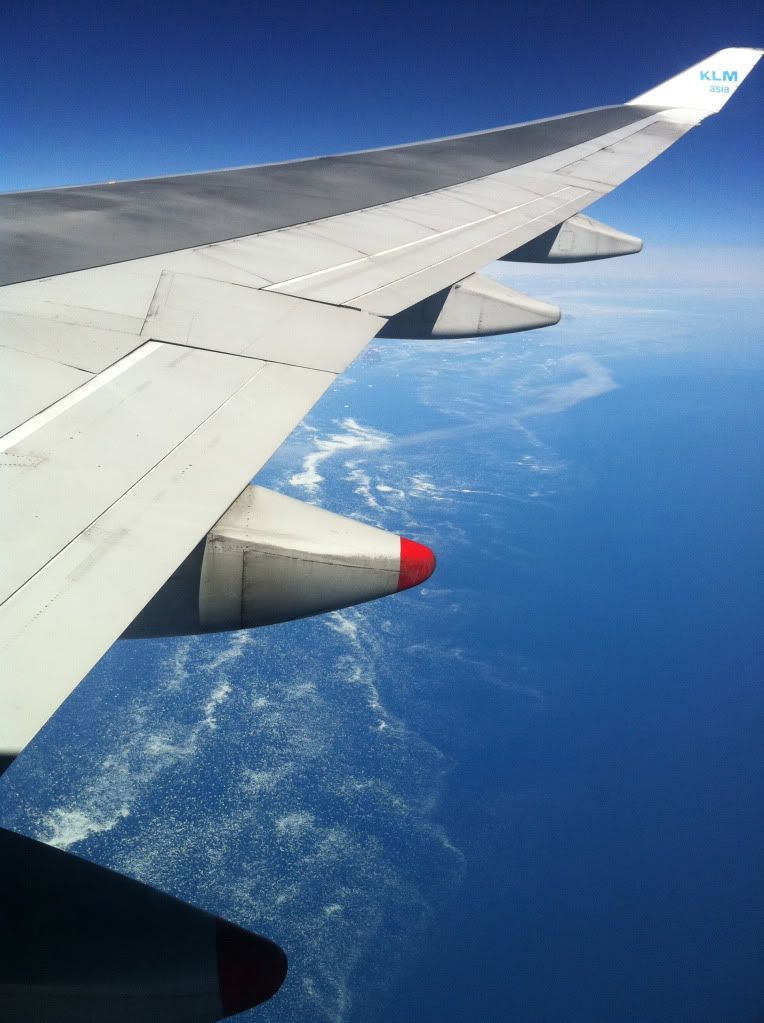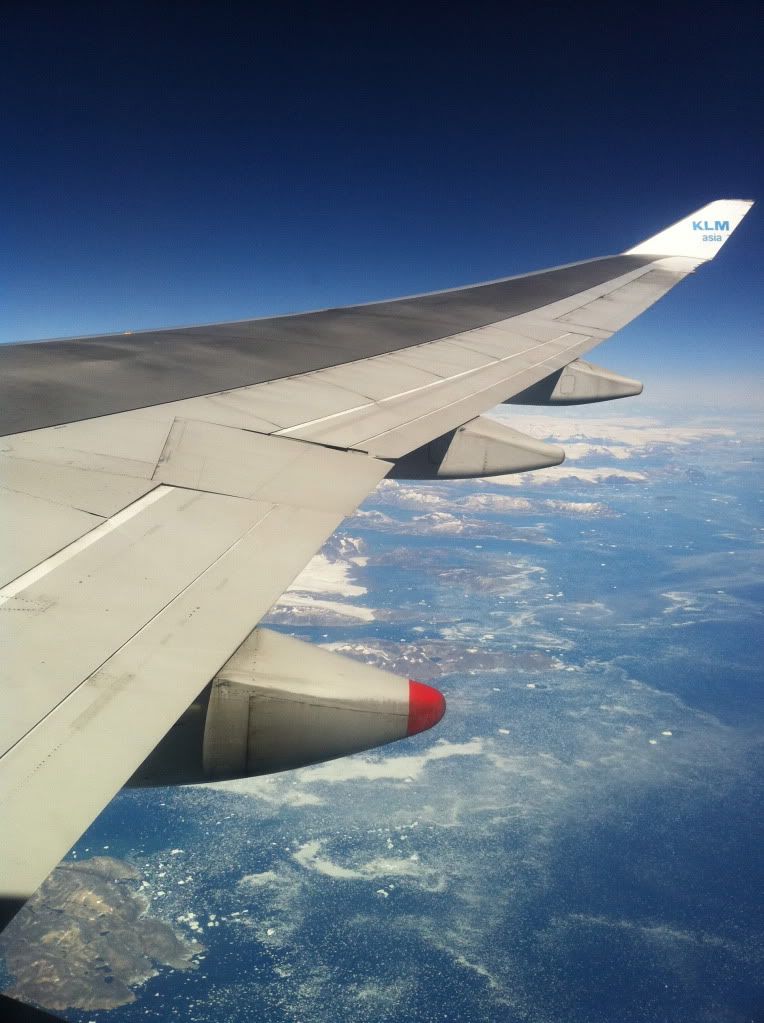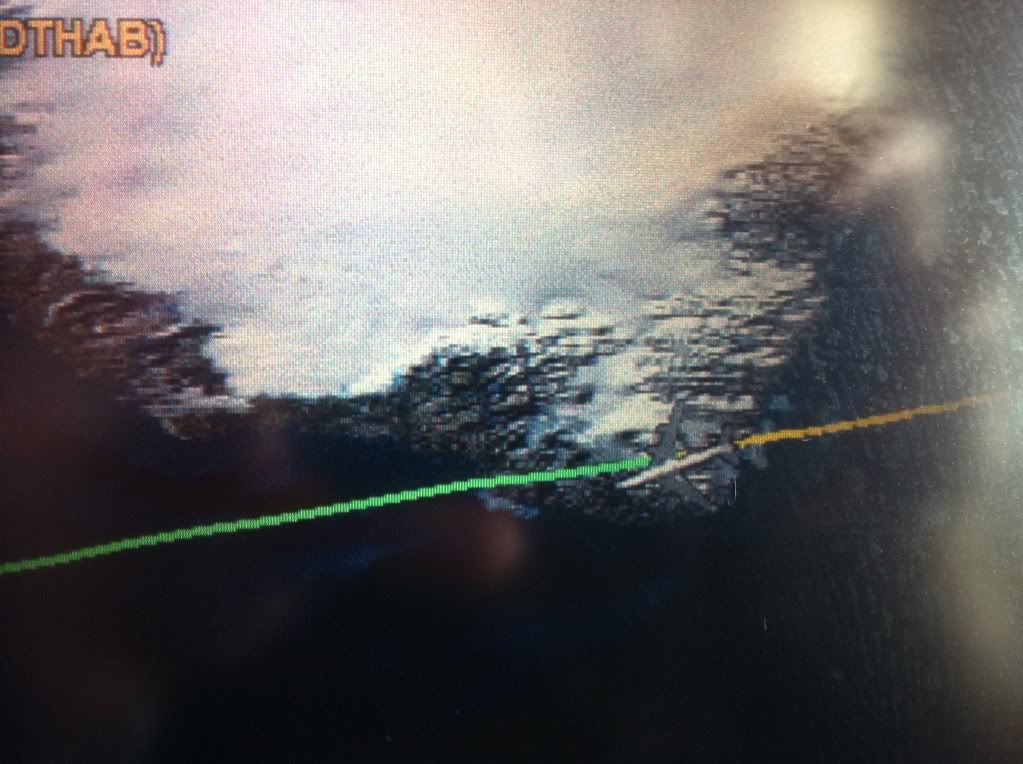 Enjoy!
It must have been sometime after then when all of the adrenaline, caffeine, sugar-rush, etc essentially eroded before the slumber, alcohol, and rhythms of Tiesto's mix for KLM (BTW - He is a platinum flier on AF/KL for life!) slipped me into a deep slumber.
And this is when the fun begins...
I woke up with approximately 1:30 minutes remaining in flight. Slightly disoriented, I drank some water and the snack service began. Opening the window shade, I noticed all clouds below and shrugged as I chose between "Pizza" and "Cake." The "cake" actually turned out to be one of those Cinnamon Coffee cakes, similar to the ones you can buy at Starbucks. I eventually would sneak into the galley to steal one prior to landing - but more on that later.
At first, I went for the "pizza." The "pizza" paled in comparison to the first meal service in the main cabin, but my expectations were low anyways. Honestly, you can't expect the latter meal services served 7 hours later to be as good as the first. At any rate, it was merely a chunk of dough/pizza bread topped with a few dashes of marinara and a little mozzarella with some basil. Talk about high on the glycemic index. Whatever.
Time sort of just passed along as we cruised our way through Canada and approached the Lake Michigan/Wisconsin border. What seemed odd to me at first was that our flight path, rather than head directly south on the Wisconsin shoreline straight shot into Chicagoland, instead had us traveling southwest into mid-Wisconsin - i.e. close to the Wisconsin Dells/Madison area. Nevertheless, nothing appeared to be wrong in this case. Flight attendants were preparing the cabin for arrival and passengers were instructed to prepare for normal arrival formalities. There had been some mentioning of weather in Chicago, so "fasten your seat belts because there will be bumps" but nothing unusual.
Thirty minutes till landing turned into forty-five. Something wasn't right. We were going in circles around Madison, WI. We weren't descending. We were clearly in a holding pattern. Then, the moving map feature then gave it all away. All of the sudden, our flight path no longer showed the remaining route to head to Chicago - instead, it was to: MILWAUKEE!
Seconds after making this realization, the announcement came on in Dutch, mentioned MKE, then English: weather conditions had worsened in Chicago, to the point of hail. O'Hare had been shut down, and we were low on fuel, so we were diverting to MKE in order to re-fuel and clear the holding pattern.
Cue in me, the sneak who ventured to the galley one last time and snagged a cake before arrival. No idea how long this ordeal would take place before I was back in Chicago.
So - I was about to land in Wisconsin for the first time. The descent into MKE happened rather quickly and soon we were on the ground. The landing was very rough (are the runways shorter?) but the fun had only just begun.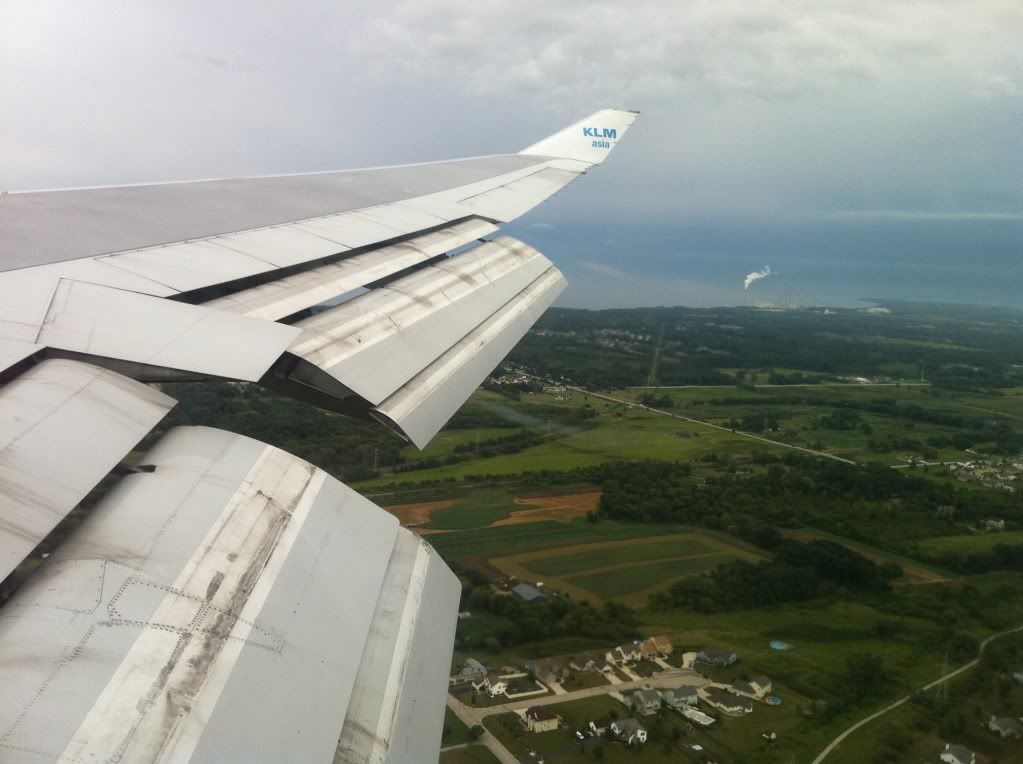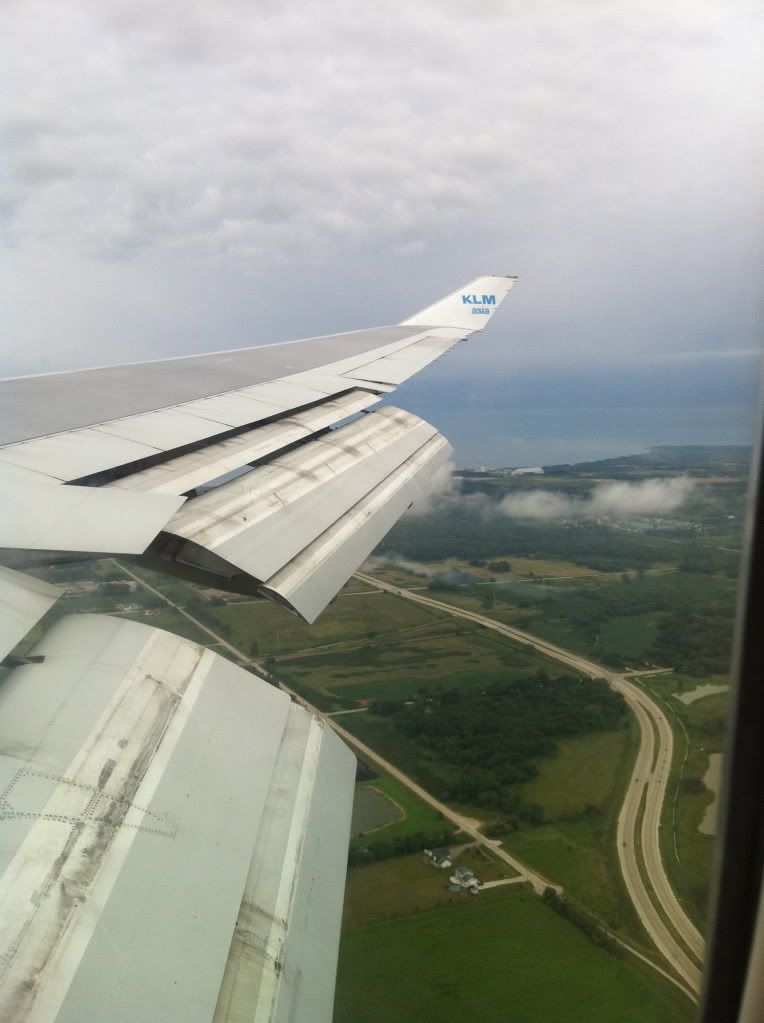 The logistics of accommodating a diverted flight, especially if it coming from overseas, can never be turned around quickly. Add in weather as a variable and the situation hinged on nothing but uncertainty. As is, the local police had to escort our plane to the terminal, so it added delay waiting for them to arrive. The refueling process also required Delta maintenance at MKE to step forward and begin that effort, so adding in taxi time, etc, by now 2 hours had passed. Nevertheless, the crew was very professional and did their best to help passengers by offering water and whatever beverages remained.
After re-fueling, we lined up on the tarmac and awaited clearance from O'Hare to begin our onward journey. Fortunately, a wait no longer than 15 mins elapsed before we were all clapping, and about to embark on one of the SHORTEST 747 journey's ever!!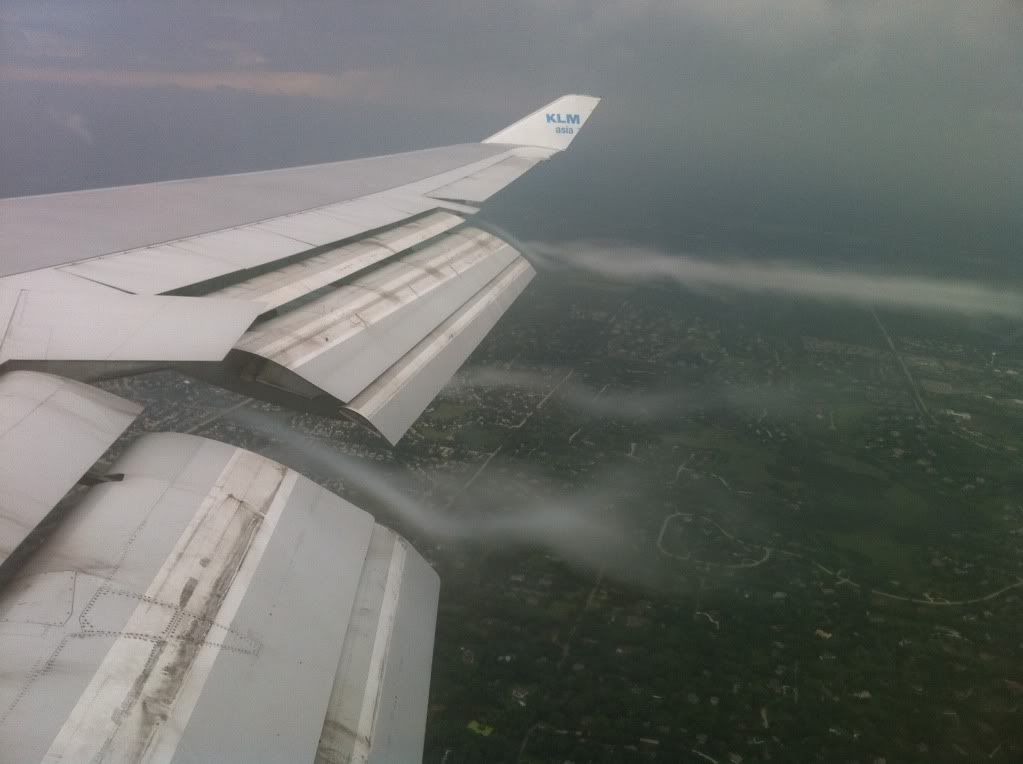 Sadly, my phone died at this point, so no more pictures. Long story short, we were in the air for what felt like five minutes before we touched down. Good old, terra-firma! However, as per standard operating procedure, ORD was a mess given the weather delays. Runway lineups looked so clogged, and this was peak departure time for the long-haul flights. T5 was in particularly bad state. Our gate was indeed still occupied upon our arrival from an inbound AA 777, so we had another 30 minute wait on the ground. We did get to park next to the PIA 773, which I found somewhat-cool given my semi-conscious state at this point.
Fortunately for me, the immigration and baggage claim lines weren't too painful to process through (a miracle considering all of these European flights must have arrived delayed from the storm) and I was soon on my way back home downtown.
Overall, I do pride myself on being a trooper throughout the final stages of the return journey, but I think I owe it all to KLM and their professional service and attitude in spite of the inconvenience. I must say, SkyTeam truly would be my #1 choice of airlines across the Atlantic based on this experience, although my allegiance has been with Star since moving to Chicago, which only makes sense. The AF-KL product has just what I need and doesn't feel watered-down like on Lufthansa.
Thanks for reading, and comments are appreciated as always!