British Airways Premium Economy Trip Report 2012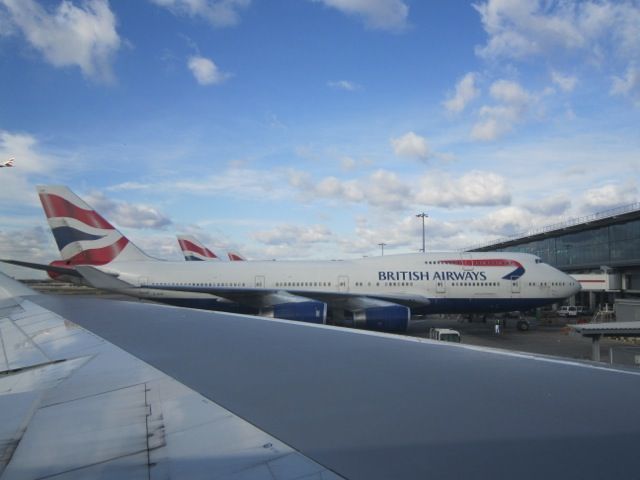 G-BNLF at LAX
Hi all,
Just want to write a short report on my recent trip on British Airways Premium Economy between Los Angeles and Barcelona via London Heathrow! It is actually one of my first real premium economy flights so my perspective is not as sharp as it should be. As most of you know, I am more like first and business class travelers when it comes to international travel but as an open-minded passenger, I have no issues especially if the price is right. After reading a number of reports, my expectations are low, as most folks prefer QF and NZ PE products. A few months ago, BA launched a premium economy fare sale for travels in the winter seasons – typically low season and my choices are just a same day roundtrip between LAX and LHR, or just overnight somewhere. At the end, the fare is actually cheaper if I fly all the way to BCN and I just decide to go with that and stay overnight at La Salles El Prat at Barcelona for the short night. My trip report will focus on the transatlantic flights, as the other two intra-European flights are in economy and service is limited to one beverage run (complimentary bar) with a pack of Indian Korma savory snacks, and followed by a duty free run.
Booking:
BA.com is okay and I think in general, it is a good and reliable website. I booked my flight with no issues and selected the flights that I want and they recognize my Emerald status right the way with AA number and able to select seats for free and have access to premium seats. I appreciate that much and the online check in also worked well. BA does very well in the technology part and much better than BD for sure.
Flight information:
March 3, 2012
BA 282 LAX-LHR Lv1630 Arr1045+1 Boeing 747-400 G-BNLF (Low J)
Connect to
BA 480 LHR-BCN Lv1405 Arr1710 Airbus A321-200 G-EUXH
March 5, 2012
BA 473 BCN-LHR Lv1010 Arr1135 Airbus A319-100 G-EUOH
BA 269 LHR-LAX Lv1500 Arr1805 Boeing 747-400 G-CIVH (High J)
On time Performance:
Both flights departed on time, but arrived late due to ATC and bad weather at LHR, and a late takeoff from LHR for the same reason and strong head wind. BA 282 departed from R/W25R at 5:09pm and landed on R/W27R at 11:05am and parked at gate B35 ten minutes later. BA 269 departed from R/W27L at 3:34pm and landed on R/W24R at LAX on 6:16pm local time and parked at gate 121 at 6:35pm. Delays were okay and the crews apologized both times. The major delay occurred at my BCN to LHR flight, and thankfully I had a three hours layover, but the delay was handled poorly. I was at the lounge during the whole delay… yes BCN used a third party lounge – MIRO Lounge, but an announcement would be nice, and BA should have sent a ground staff to assist with connections and alternative arrangement. However to give credits, some passengers were already informed of their missed connections prior to landing at Heathrow so people did not need to fanatically rush to a gate. The delay was due to a mechanical reason, as one of the part (brakes related) required a change and the whole process took two hours. We also arrived at gate A12/ Bay "512", which was in the middle of Pier A and right at the "flight connection area" and "arrival" area. It made my connections much more smoother.
The routing from LAX to LHR took us over Las Vegas, Grand Junction, Sioux Falls, Sault Sainte Marie and then Goose Bay, and we reached land again when we crossed Rossport at Ireland, and then onto Birmingham. The return flight headed North immediately after takeoff, and passed Nottingham, Manchester, Glassgow, and then Keflavik at Iceland, and then Greeland and Kangerlussuaq airport and crossing Davis Strait, Baffin Bay, Hudson Bay, and Regina before enter the US. Then we flew towards Billings, Salt Lake City, Las Vegas and turned west towards LAX.
Check-in:
Weakest part of the experience – there was no dedicated premium economy check in counters at Los Angeles International, and without status, you are expected to check in at the regular economy line. I don't expect fast track security, but premium check in is relatively easy to set up and it can easily accommodate the need. I used the first class counter and the agent was friendly enough, but did not tell me that I was moved on my connection flight to Barcelona due to the last minute increase of Club Europe cabin. I found out after checking my boarding pass at the lounge. In the end, it worked out as Row 9 was the beginning of the economy section and I got the whole row to myself, and I guess the return load was heavy in J, so the seats were kept at the Club Europe 2 abreast seating. In Barcelona, I do not expect a premium economy line, but BCN is a nice airport with plenty of kiosks to print out boarding pass and a premium check in line is available.
Lounge:
World Traveler Plus does not permit lounge access, but I have access to the OneWorld Alliance first class lounge and BA Galleries First Lounge as an Oneworld Emerald member. I most appreciate the access to fast track at the transfer station at T5A. I used the regular economy line and the agent immediately led me to the fast track line after reading my Emerald status. But WT+ really has no benefits when it comes to ground service when it comes to check-in, lounge access and even priority boarding. There was no sign in greeting WT+ passengers. Anyway no photos at both lounges, as you can easily find them here. The LAX lounge was fine except the slow Internet access and the computers did not have Internet connection. That is unacceptable. The Galleries lounge in London was nice of course, but the food selection – could they have more than Chicken Tikka Masala considered they served it on the plane as well. I know there was a menu to order form, but they could do better. A soup station would be appreciated too instead of ordering such a simple item from the staff. Business facilities are good at LHR lounge and there was chargers that permits the use of American adapters. Wifi is good and printing is available.
Boarding:
I boarded with the fast track group, as an Emerald member, and noticed that WT+ passengers often boarded last, which was strange. Boarding was organized at the major ports and Barcelona boarded everyone in the same time, but separate premium boarding lane was available at LHR and LAX. There was no pre-takeoff beverage service – only a quick newspapers round and then the passing of printed menus, which was a nice surprise – nothing fancy just a small card, but better than nothing. At each seat, there is a pillow, a blanket (fleece), a noise-canceling headset (same kind used in J and same cheap generic brand used by CX F and J), an amenity kit, and a charity envelope asking for spare changes.
Cheap noise-canceling headset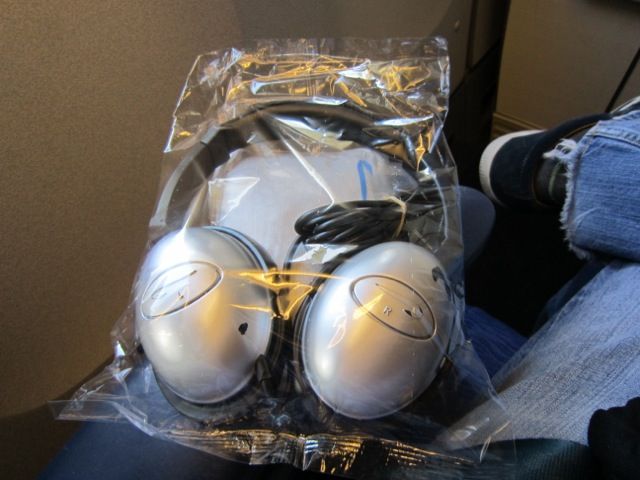 Cabin & Seat:
There were two different configurations – one featuring a 70 seat business class cabin with a 30 seat WT+ cabin, which was right behind Club World, and another one with a 52 seat J cabin with a 36 seat WT+ cabin between first and Club World. I flew both cabins – the 52 J seat version on the outbound and the high J on the return.
Cabin – 36 seats cabin with low J situated between Door 1 and 2 and strangely in front of Club World
My choice – Bulkhead window – 12A (Same 11K) – note this seat did not release till 48 hours prior to departure. I held 12B (12H) originally.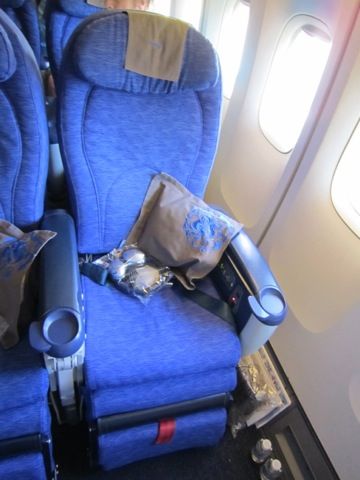 Legroom Shot for 12A – yes bassinet seat – so there may be chances that a baby is seated there.