Thanksgiving Lufthansa First Class Trip Report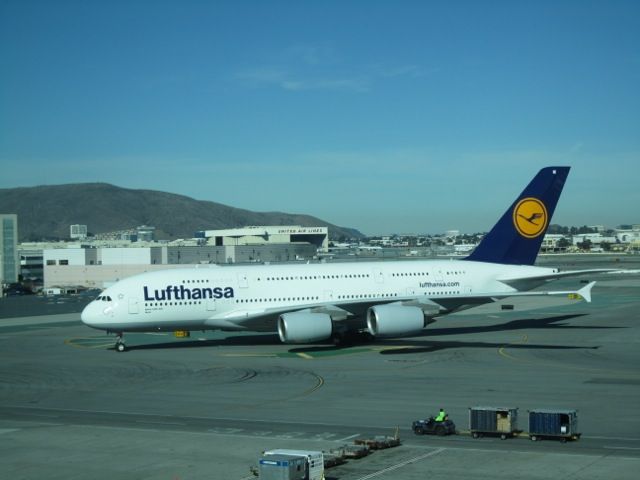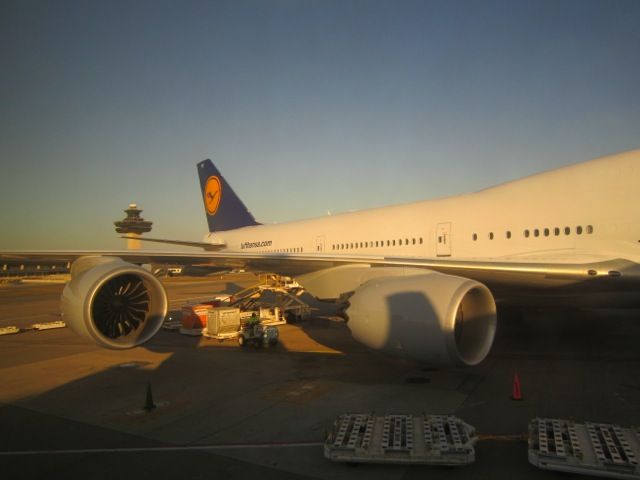 It is time for another Lufthansa first class trip report during Thanksgiving, where premium fares usually go down. The first class fares this year are not that great with Lufthansa and the only flights with significant discounts are operated by United. Lufthansa flights are still discounted but not as much. I have decided to go ahead with flying LH F this year since I am able to come up with an itinerary that allows me to fly both the A380 and Boeing 747-8. I know that Lufthansa first class has been discussed extensively, and I hope it is not very repetitive. To some extent, Lufthansa First Class is definitely a top-notch product and the service in the air is personable yet efficient. My only complaint is the lack of a choice of first class lounges in the non-Schegen areas, especially when you are doing international connecting flights in Frankfurt and you don't want to bother with immigration. The only first class lounge within the non-Schegen area is located near Gate B22. I am just disappointed that there is no first class lounge located at the new A Plus Pier. Given the large USA operation, I expect one at the Z Concourse. But LH offers a private car transfer from the Non-schegen B lounge to the A concourse (Z gates) for USA departures.
Anyway I am thrilled to finally fly my first Lufthansa's A380 flight (My seventh A380 operator – still need Malaysia and Thai) and my first Boeing 747-8 flight. Both feature the new generation of first class seats/suites.
November 23, 2012
LH 455 SFO-FRA Lv1515 Arr1120+1 Airbus A380-800 D-AIMI "Berlin"
In terms of routing, the current LH A380 USA destinations are Houston, Miami and San Francisco, and given my origin is Los Angeles, SFO makes the most sense with a reasonable departure time despite my concern about SFO and its on time performance. For the return, it is relatively simple as the only current 747-8 USA destination is Washington DC Dulles (LAX soon), but I have to say that I drag flying through this airport and United's crowded and tired-looking Concourse C and D. I used Lufthansa.com to book the ticket and it was very easy to use and I was able to pick my seats on LH flights with no issues. For the flights on United, I just entered my LH confirmation number and was able to access my flights and select my seats on United's website. There were a number of occasions with schedule changes on United flights, but Lufthansa did a good job in keep me posted but I have to reselect my seat on the new United flight every times.
Check-in:
I checked in using one of the self-service kiosks at the United terminal at LAX, and was able to print out all the boarding passes including Lufthansa segments, and I did not need to scan my passport again since I had already entered all my information on line. Good IT integration between LH and UA! Since I had lots of time at SFO and security was not too busy, I decided to go to the Lufthansa check-in counters and got real Lufthansa boarding passes and the famous LH First envelope.
Busy day at SFO International Terminal
With the A380 operations, Lufthansa uses both aisles 4 and 5. Aisle 4 is dedicated to premium passengers, and Aisle 5 for economy passengers. The agent was very friendly and he reprinted my boarding passes with on questions asked and even made some small talks. Efficient and friendly – trademark Lufthansa performance and impressive for an outstation.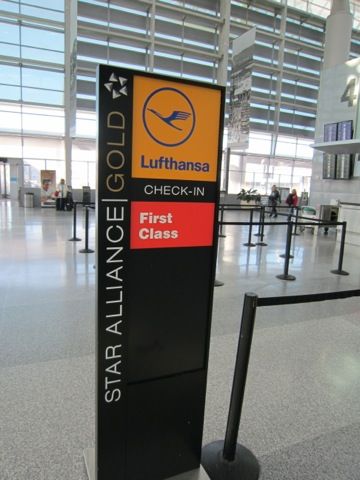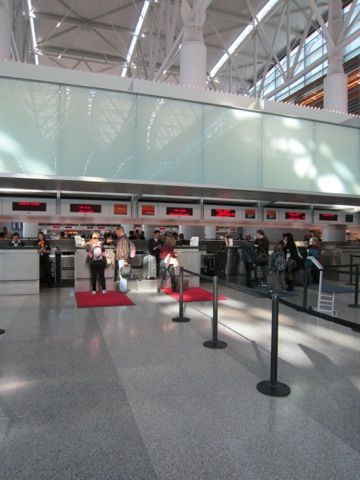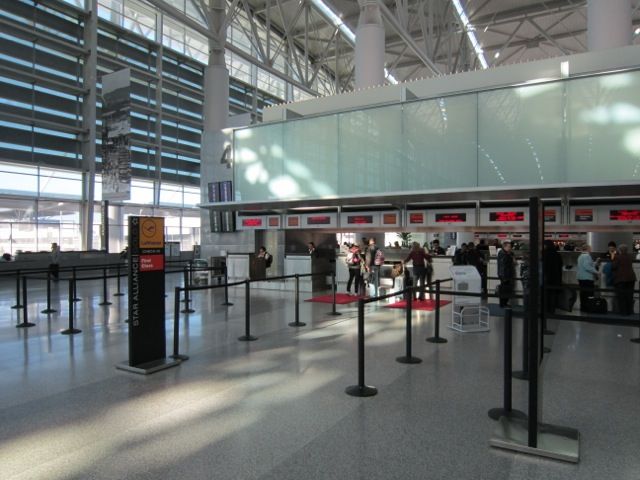 Security line was surprisingly light, as most Asian flights have left and the crowd for the European flights has yet to arrive. Priority line was opened and I was able to get through security with little issues. My first stop was actually the gate, as I wanted to take pictures of the plane, as it taxied into the gate after landing. Gate 101 is at the end of the concourse, and photography is difficult due to the way the plane is park and the "dotted" windows.
Gate 101 is the designated A380 gate here in SFO, and Lufthansa boards all its premium passengers in the upper level with a separate entrance, and the economy passengers in the lower level, the main gate area. I did not take any pictures of the lower level gate area, as there was a Singapore Airlines boarding next door and the area has yet to be fully set up.
Here is the premium entrance:
Beautiful day here at SFO, while it was actually foggy in Southern California
I finally spotted the arrival of D-AIMI from Frankfurt and it arrived slightly ahead of schedule. A good start to my trip and knowing Lufthansa, this flight would indeed be on time.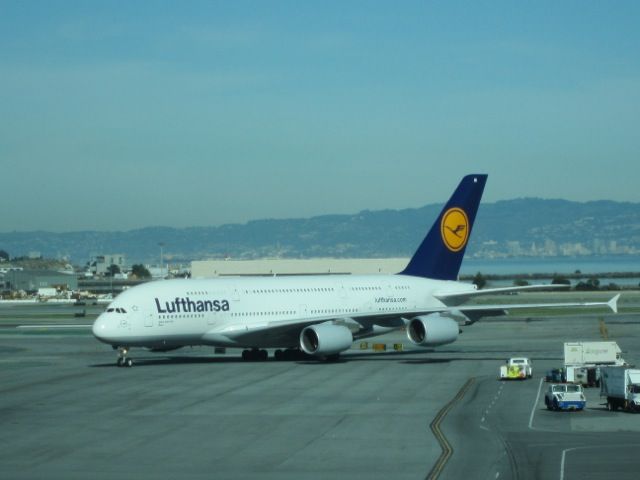 Dotted window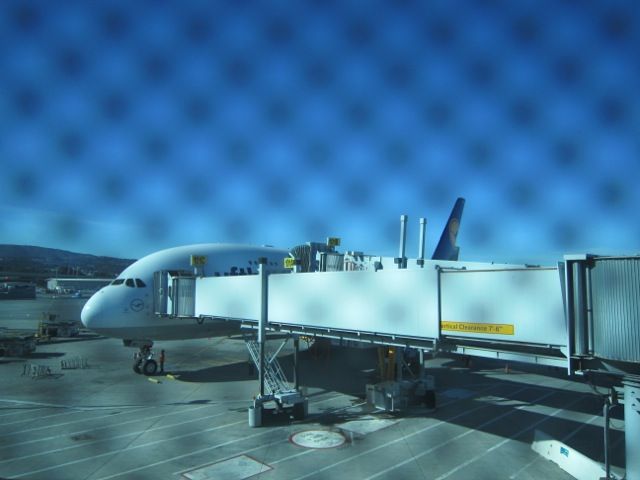 Nose of D-AIMI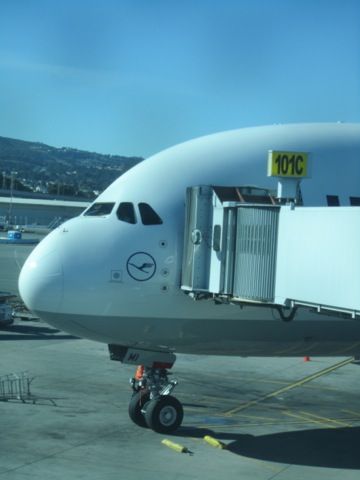 A380 is a beautiful plane and its huge size always amazes you.
As a Lufthansa First Class passenger, I have access to the Global First Lounge and of course, it is very nice compared to the United Club. The receptionist is a good-looking boy today and he is very professional and friendly. He reminded me that Lufthansa would send a rep to the lounge to escort all F passengers to the gate. The lounge was relatively quiet, as most Asian flights have left by now. The food selection is impressive and I love the mushroom soup offering today.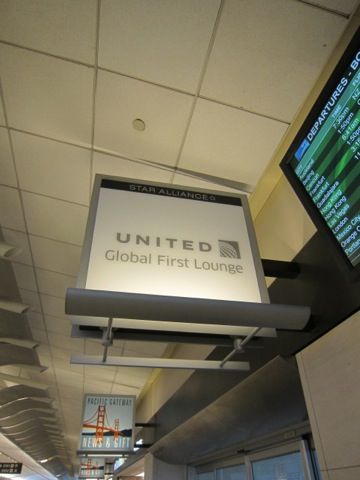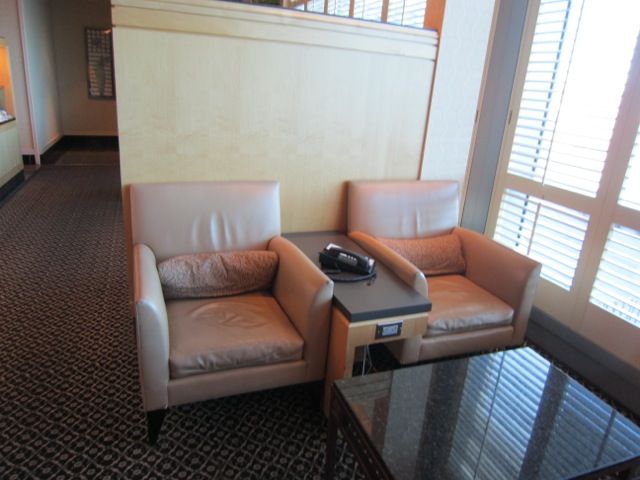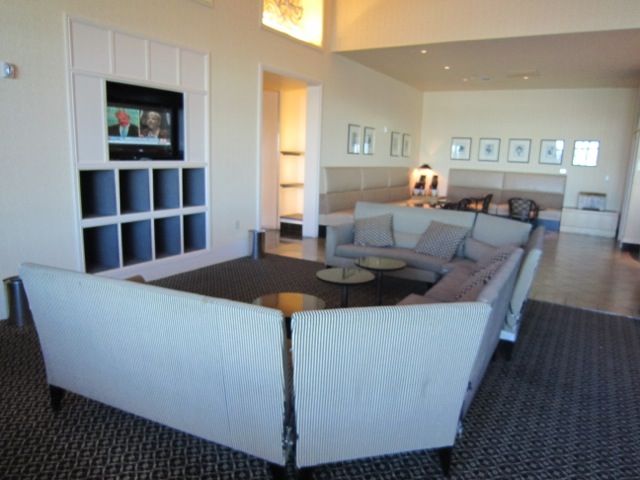 Here is the buffet selection: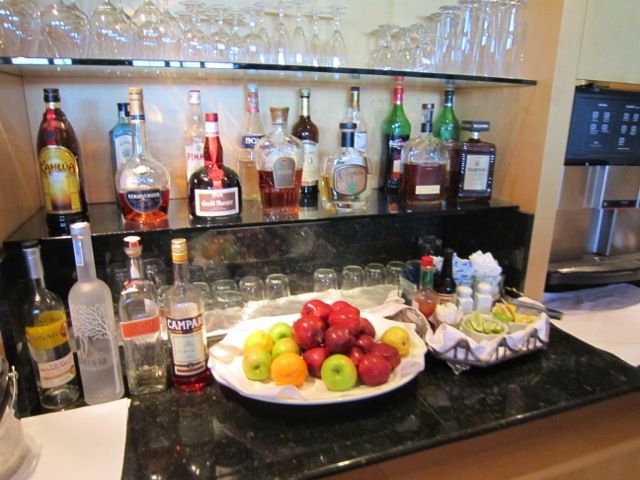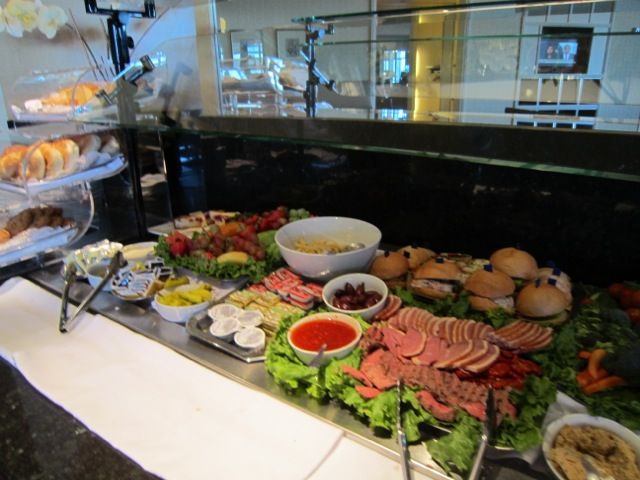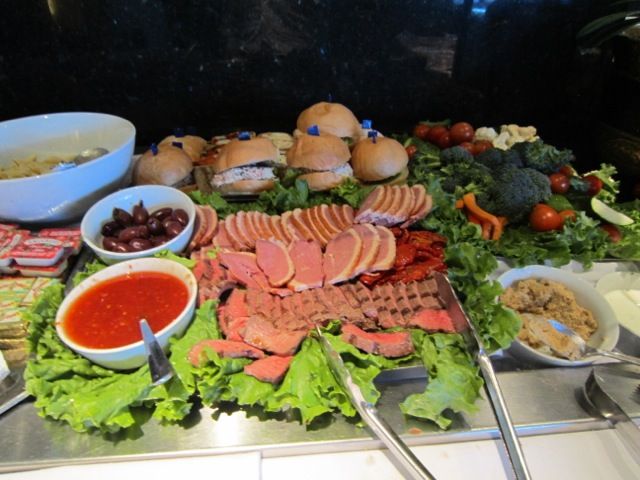 Two interesting planes
N178UA heading to Hong Kong
B-2468 to Beijing – it is a Boeing 747-400 Combi