Here is the more interesting part of my trip, and as I mentioned before, here was the second (and final) ticket that I bought during the Yangon error fare episode last year. China Airlines is one of the other airlines that release these error fares, so I decide to use it for a pure mileage run back to the US from Asia in February. There were a few schedule changes that affected me, and Opodo handled it poorly. I originally scheduled an overnight at Bangkok in the return, so I could take the more convenient daytime flight from LAX to TPE. However China Airlines decided to play around with its schedule, and I ended up having to take the late night combo for both flights – CI 7 and 8. China Airlines has cut back much lately in the late night flights claiming that passengers wanted to rest. So let see how things turn out. Of course, China Airlines has another schedule change later and my original flights would have worked out, but anyway, as of this point, I have no intent to use Opodo again in the near future and do not bother to deal with the switching. My final routing is RGN-TPE-LAX-TPE-BKK-RGN (last segment on TG Y). Just for your information, China Airlines is perhaps one of the few airlines in the world that does not provide pajama in first class on long haul flights, considered American and United Airlines finally joined the trend, and most Mainland Chinese airlines offer pajamas even in business class now. China Airlines continues to be generation behind in terms of amenities and seats in premium class.
February 20, 2013
CI 7916 RGN-TPE Lv1110 Arr1635 Boeing 737-800 Winglet B-16801
Check-in at Yangon airport is relatively straightforward and the China Airlines counters are not too busy. There were one servicing the business class area, and three servicing economy passengers. Singapore Airlines on the other end is busier and no wonder it is sending its Boeing 777 to Yangon now. The agent spoke limited English and for unknown reason, it could only check me as far as Taipei, and apparently all connecting passengers have to collect their onward boarding passes at Taipei. (Well at least the TPE staffs were ready when our flight arrived.) China Airlines uses the Sky Smiles Lounge at RGN, and since I had already covered the lounge on my RGN report, I am not going to repeat again. It is a nice lounge with free wifi (not high speed but okay for basic stuff), some snacks, and beverages. It has its own in-house restroom, which is a plus. The admission price for non-elite/J passenger remains at $15, which I will be happy to pay. It has a nice apron view, and for some reasons, all the staffs were hovering over the SQ boarding area trying to spot a movie star.
Anyway, the inbound plane arrived early from Taipei, and a familiar bird, B-16801, one of the first China Airlines' B737-800 and my first CI's 737-800 flight a few years ago, arrived at gate 3 at 9:46am with a slight difference. It has a pair of winglets now.
The apron was very busy at Yangon today – Singapore Airlines Boeing 777-200 9V-SRG, Thai Airways' A330 HS-TED, Mynamar Airways A320 XY-AGI to KUL, Bangkok Airways' all white Airbus A320-200 HS-PPE, and Jetstar Asia's Airbus A320 9V-JSN.
Anyone knows anything about this all-white Bangkok Airways A320 – not the typical colorful livery
All I found out that it was from TAM and was delivered November 2012 to PG!
Boarding began at 10:25am at Gate 3, and here is a close-up of China Airlines' Baby Boeing!
There was a male purser welcoming passengers at the entry way, along with a J class F/A preparing beverages inside of the J galley.
My seat 1K
And empty seat 1J next to me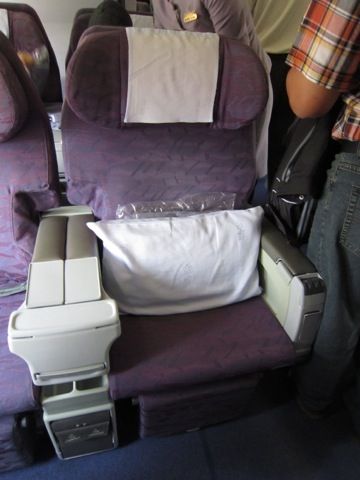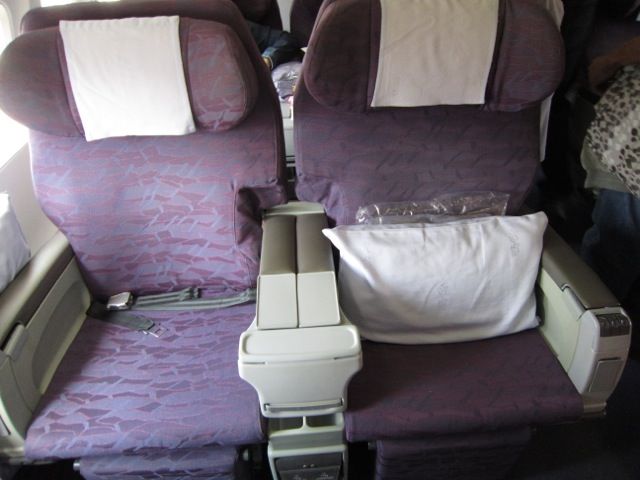 Pre-takeoff beverage (choices of Orange juice, apple juice, or water) with a bag of mixed snacks
Load was almost full in economy and business class is 75% full with two empty seats – 1J and 2B.
Boarding was completed quickly and door was closed at 10:45am. We pushed back from Gate 3 at 10:52pm, and taxied towards R/W21. There were some military activities, and we did not take off till 11:13am.
Flying time was a quick three hours and thirty minutes with a cruising attitude of 37,000feet. We headed towards Hanoi before turning towards the PRC over Nanning, and then Guangzhou and Shenzhen, before making across South China Tea towards the West coast of Taiwan. Since the Sky map only made its appearance in between video programming, I am unable to give you a more detailed routing report.
One F/A was in charge in business class cabin today and she was your typical China Airlines F/A, which did all according to the book.
Menu was passed out after takeoff and here is our choice this afternoon.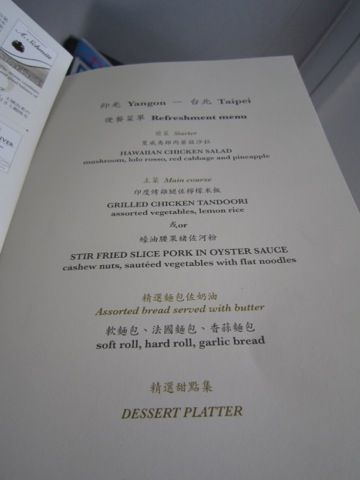 Wine List (Boeing 737-800)
Champagne Gremillet, France
Mosel Valley Riesling White Wine 2009 Germany
Marlborough Sauvignon Blanc White Wine 2010, New Zealand
Chianti Riserva DOCG 2007, Italy
Napa Valley, Merlot Reserve 2008 USA
101.07 738
January to March 2013
CI 7916
Yangon to Taipei
Refreshment Menu
Starter
Hawaiian Chicken Salad
Mushrooms, lolo rosso, red cabbage and pineapple
Main Course
Grilled Chicken Tandoori
Assorted Vegetables, Lemon Rice
Or
Stir Fried Sliced Pork in Oyster Sauce
Cashew nuts, sautéed vegetables with flat noodles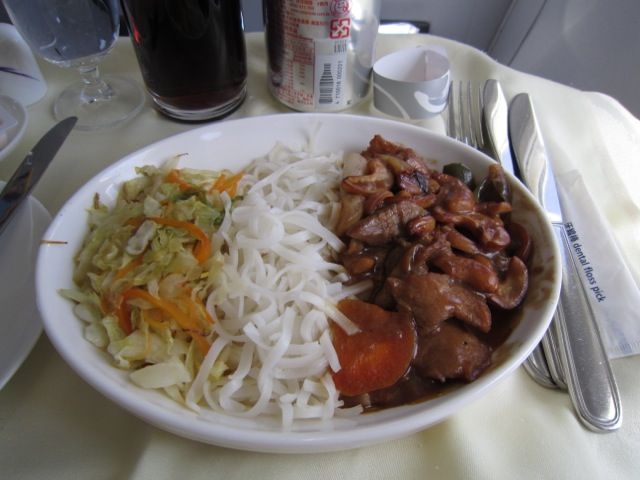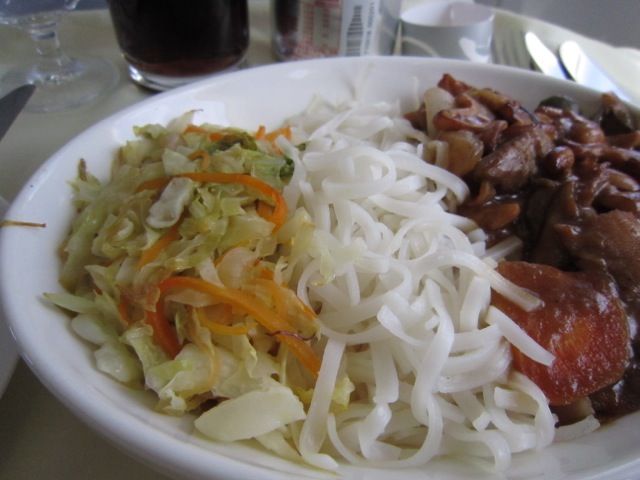 Assorted breads served with butter
Soft roll, hard roll, garlic bread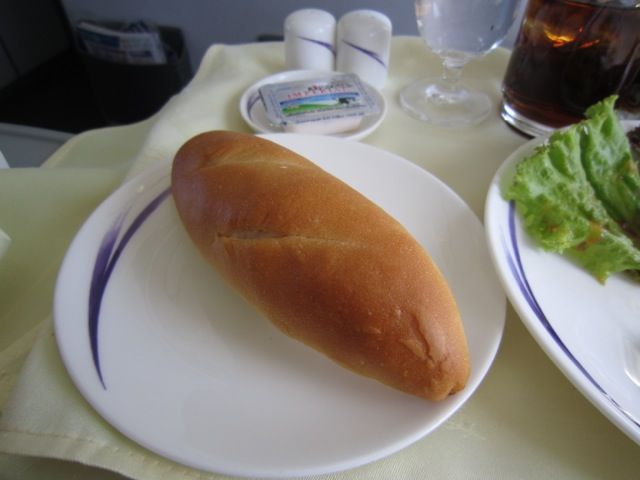 Dessert Platter
101B-715/7916C
I have to say China Airlines usually has a high standard of catering, but the food catered from Yangon was definitely below standard, and for a three hours plus flight, I expect more in terms of quality and quantity. China Airlines has gone through a major cost-cutting a few years ago, all these SE Asia to Taipei flights really suffered. There is no longer a canapé service prior to meal, and no longer a separate appetizer and salad, as well as a separate fruit and dessert service. Canapés are not necessary, but I feel that there should at least be another round of pre-meal beverage and mixed nuts service – packaged or not. The appetizer should be heartier. Anyway, the quality is so bad that quantity will not help anyway. I am glad that I had breakfast in the hotel earlier in the morning. I also expect a full beverage service prior to landing – not only juices and waters. The cutback in catering has definitely hurt the already lackluster service and hardware, including seats and entertainment system.
To no surprise, China Airlines does not install personal entertainment system in business or economy class on its Boeing 737s. However, overhead video monitors are available and BBC News was first shown, followed by the main feature movie, "Here Comes the Boom." In between programs, Sky Map will make its appearance. There is no universal power outlet but the seat is pretty comfortable, and seat pitch is pretty generous for a narrowbody plane.
Here is a picture of the seat in full recline position!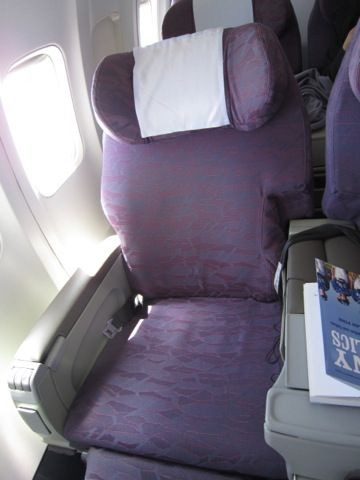 I took a nap and read for the rest of the flight. Descent began at 3:45pm Taiwanese local time (Taiwan is an hour and thirty minutes ahead of Yangon). We landed on R/W5L at 4:13pm, and parked at gate A1 a few minutes later. As said before, I had to get my onward boarding pass from the transit desk. I presume the Yangon system cannot process the US immigration data, and that's why China Airlines has to make everyone getting their boarding passes at Taipei and does the related document check.
[Edited 2013-02-26 06:46:12]