Afternoon all! For Christmas me & me sister decided to treat each other. She bought tickets for us both to see The Making of Harry Potter in England, and my end of the deal was to get us there! Excellent, I said, rubbing me hands with glee: She presumed just an FR job to STN or something, but I was hellbent on LCY! It would either be a toss up between WX or BA Cityflyer. This is who won out: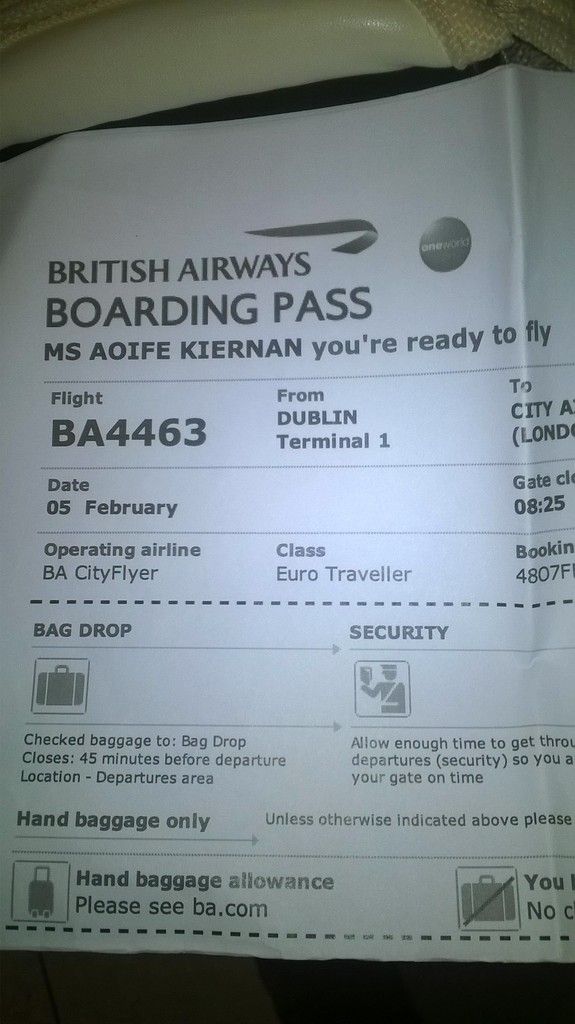 €96 one way for two people, winning! I was so excited about LCY and my first E190! I booked FR back from LGW for €60. We would stay in London for three nights.
Our good mammy dropped us off at T1 DUB early in the morning on the 5th Feb. Me sister and mam kept insisting that BA must go from T2 and they actually made me so paranoid that I had to quadruple check, how annoying! Surprisingly for a Friday morning security was dead and we were through in about five minutes, thank god. I suppose it was because we were on a relatively late flight to LCY at 8.45am. We didn't eat as we would be getting fed on the flight, and already had eaten at home. Me sister sat down at Pier B while I stalked around for aircraft. I got to see our a/c land and be marshalled right in. When I came back from me expedition me sister said she overheard the gate staff saying that there was only twenty pax on board. YEAHHH!!! The boarding was probably the most peaceful and beautiful we'd had in ages. She had never flown BA before and hated the one smug guy in the business class queue, ha. She couldn't comprehend why he would want to get on the plane before anyone else. Ah, the innocence/stupidity…
View Large
View Medium


Photo © Patrick Schwarzschulz
Plane being marshalled in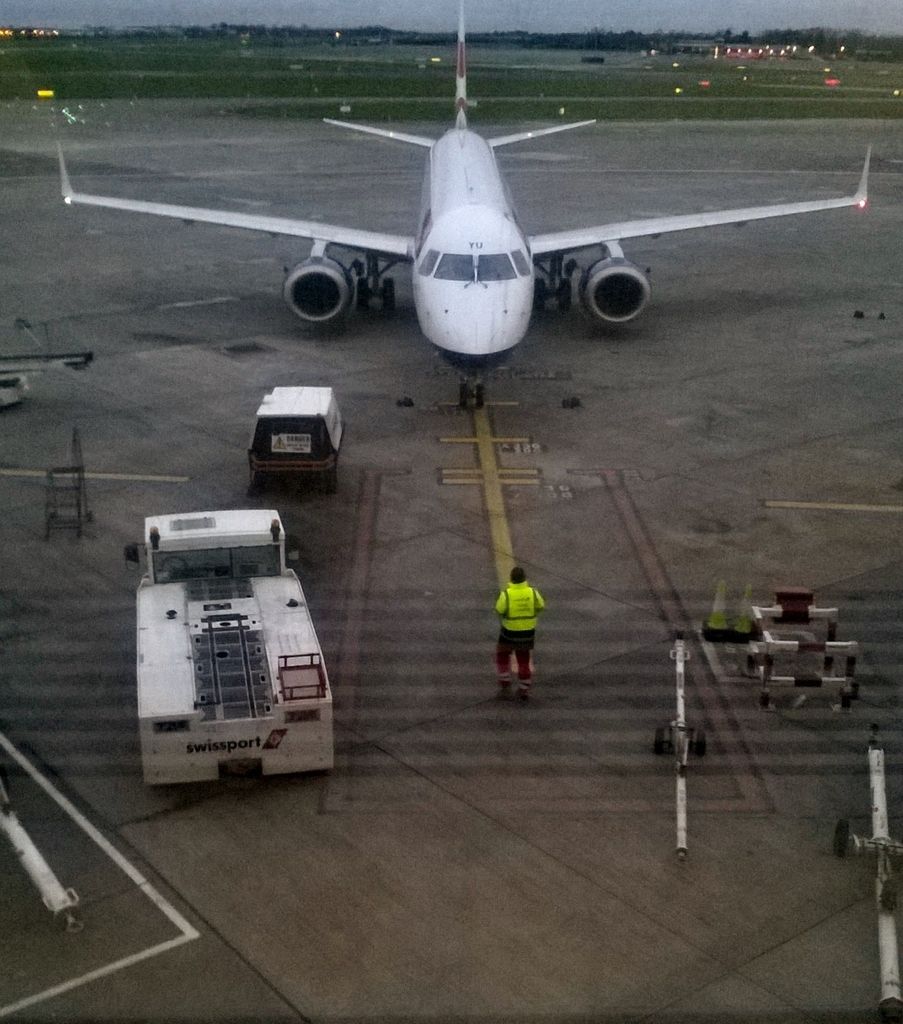 BA 4463 DUB - LCY
BA Cityflyer
Embraer 190 SR G-LCYU (Can anyone remind me what the SR stands for? I think it's something to do with the certified 5.5 degree landing at LCY but I can't really find anything.)
Just 1.5 years of age – this a/c looked great.
Flight time was 75 mins.
Boarding the aircraft itself was a bit of a let-down, as the crew was doing paperwork or something, hunched over in the galley. Hm. Bit ignorant. Even on most FR flights you'll get hello and a magazine.
He did start saying hello to people afterwards when he was finished. Anyway. By then we were on our long trek down the E190 to our seats in the back at row 23! I admonished me sister for putting her suitcase in sideways and then embarrassingly realised that on the E190 they didn't fit any other way! It felt like a much bigger plane…
Settled down the back (that's me sister's coat)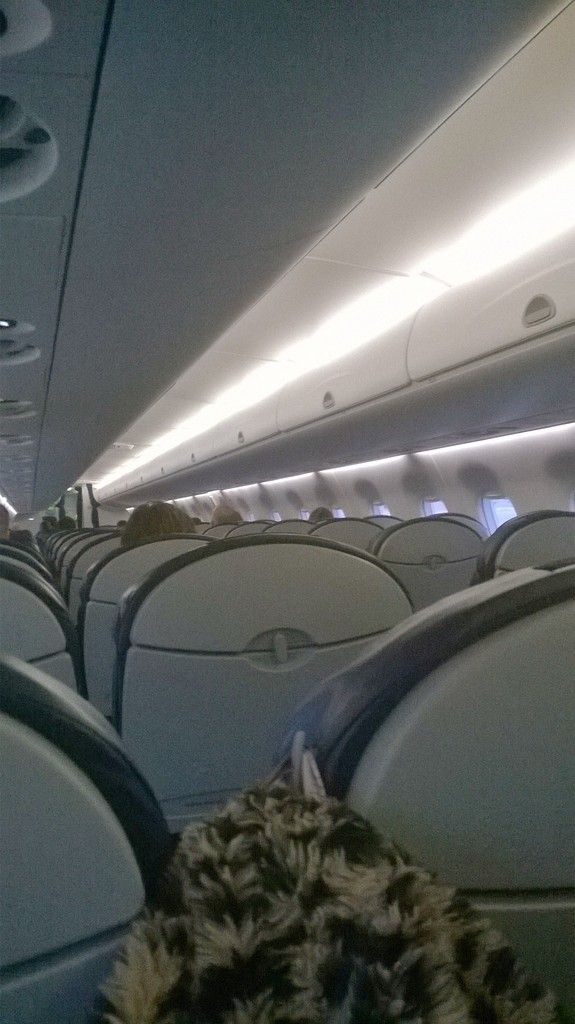 We spread out because of the tiny load! So much space for activities!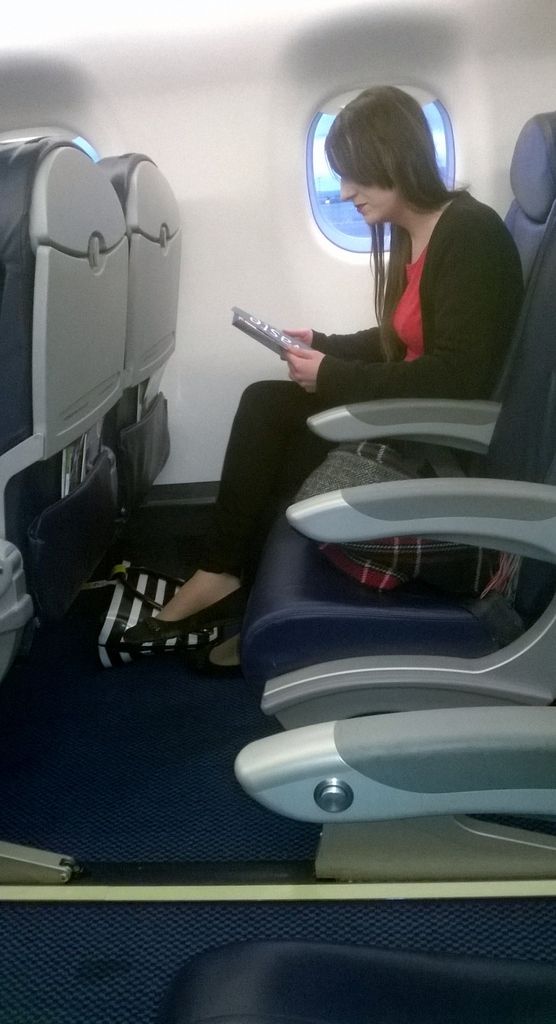 Seat pocket stuff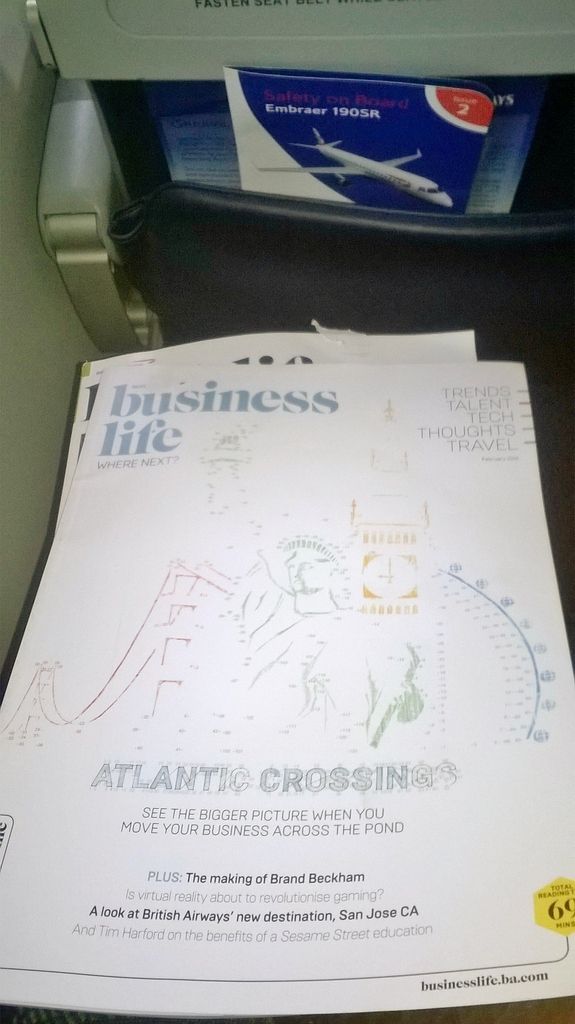 BE's Breast Cancer UK logojet, G-FBEM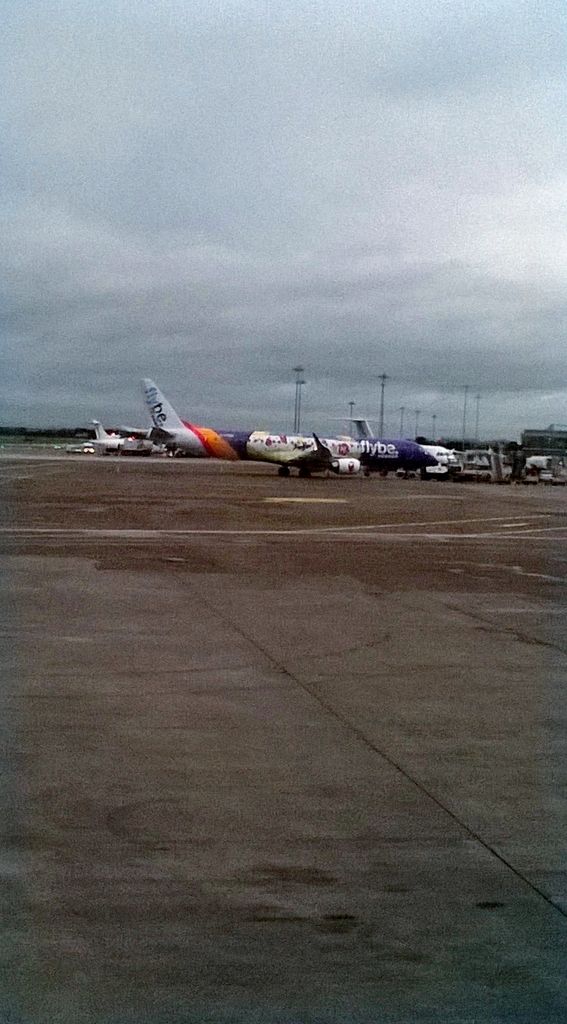 Three BAs at DUB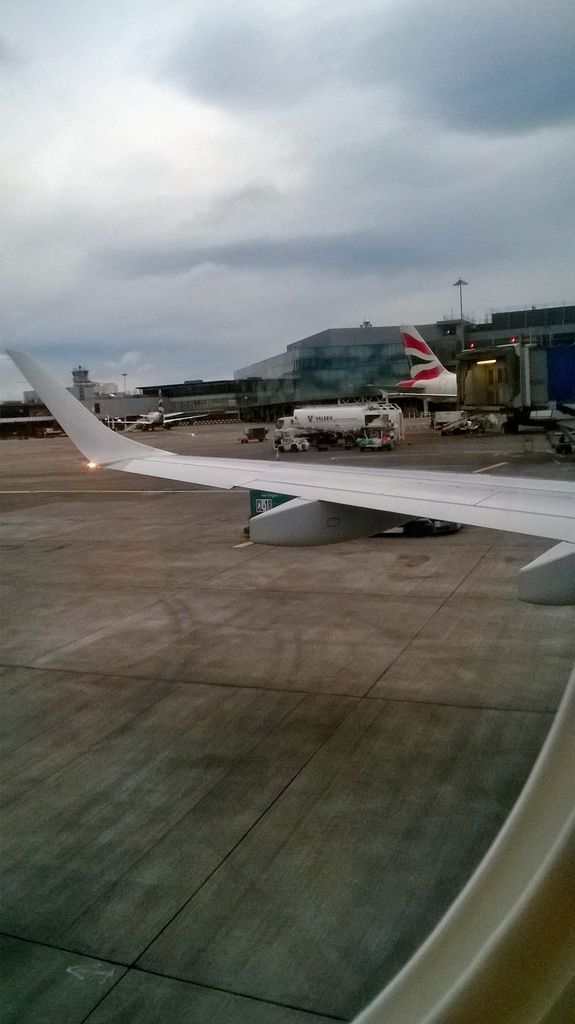 The captain came on the blower and said there would be some turbulence, so the seatbelt signs would be illuminated. She said she would get us there just at 9.55am. We took a while to figure out the seatbelt signs on this new a/c type. I feel sorry for anyone who actually had to listen to our inane deduction. It was still early…We taxied out to the weird middle runway at DUB, 16.
Bye bye DUB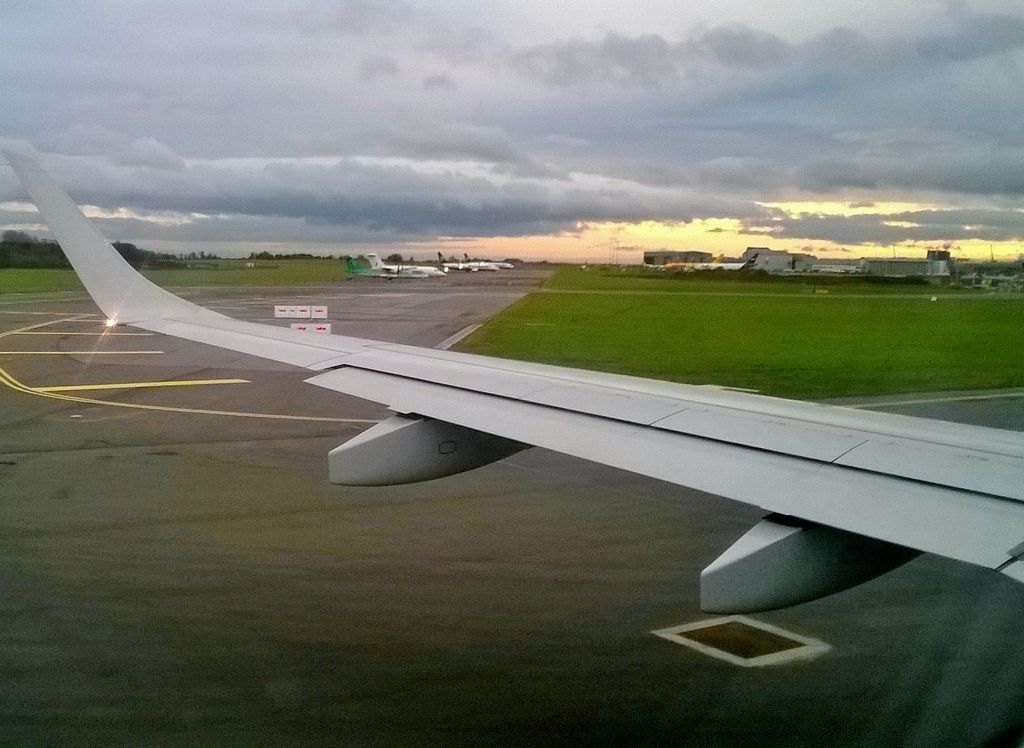 There was a little shriek from the GEs and we then catapulted off the runway. It was brilliant! The E-jet was shaking from side to side down the back of course and I loved it. However I forget that my sister is not such a seasoned flyer and when I glanced across the aisle she did indeed have the armrest in the death grip. Aw.
Howth island just under the wing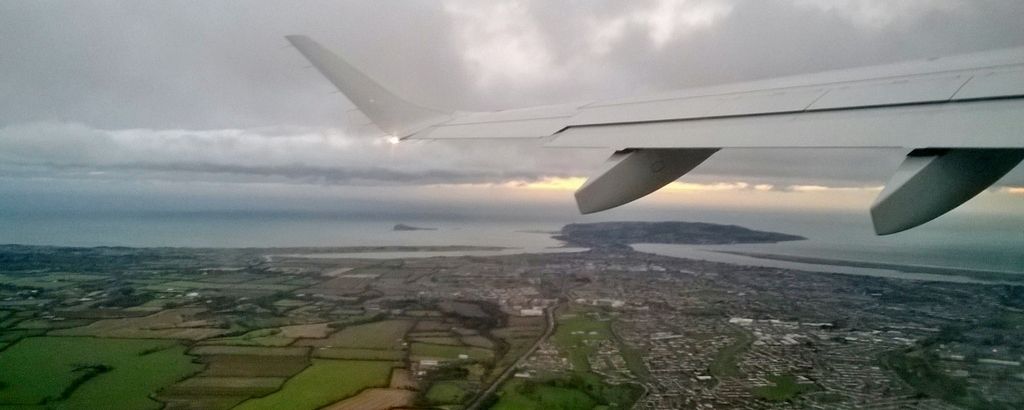 Portmarnock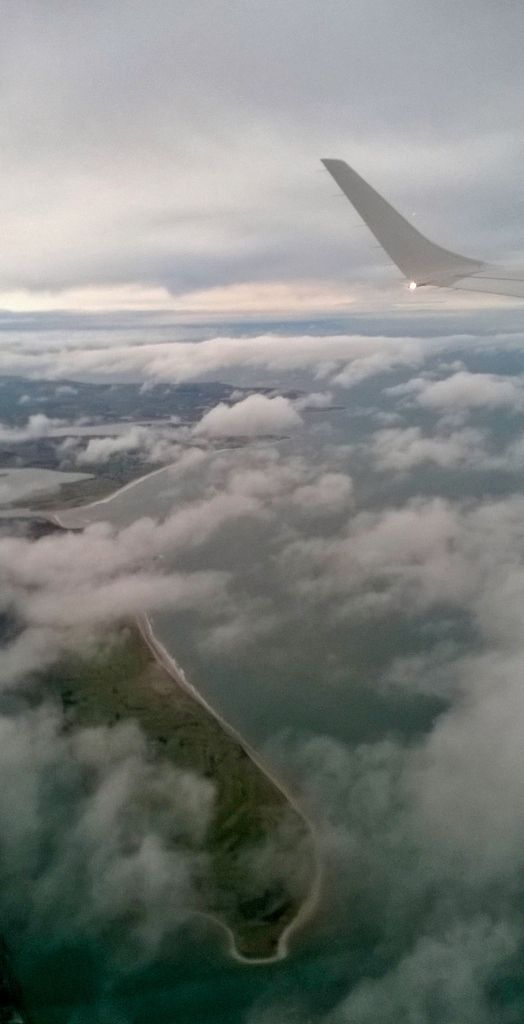 Wing finally cleaned up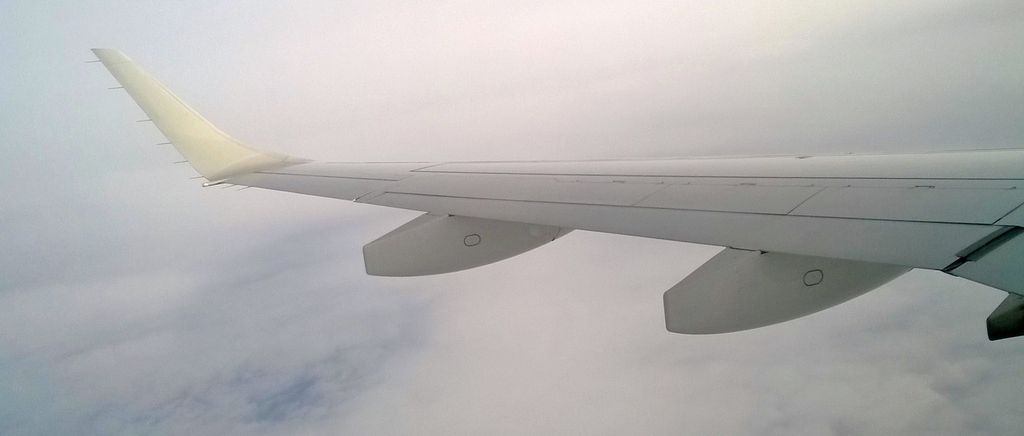 I could hear noises from the galley and thought I could smell hot food cooking. Aw yes! We were offered ham and cheese croissants from the other crew member. Yes please!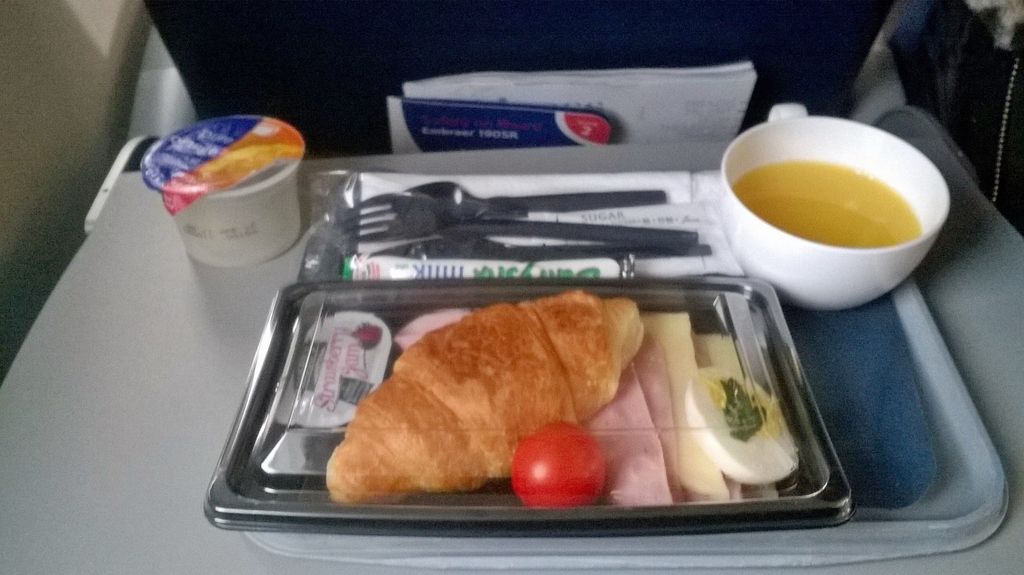 Me sister is allergic to cheese but I noticed that they were separate on the tray. I just gave her my croissant and ate the ham and cheese and when the crew noticed this she gave me another one! Aww. Must write to BA about this.
Billy Two Breakfasts (second croissant totally frozen in the middle but I appreciated the gesture)
There is nothing I love more than having a cup of tea and just looking out the window at FL270. All too soon the flight came to an end. I didn't want to get off! Haven't enjoyed a flight like this in ages.
Spoilers up, all the way till touchdown!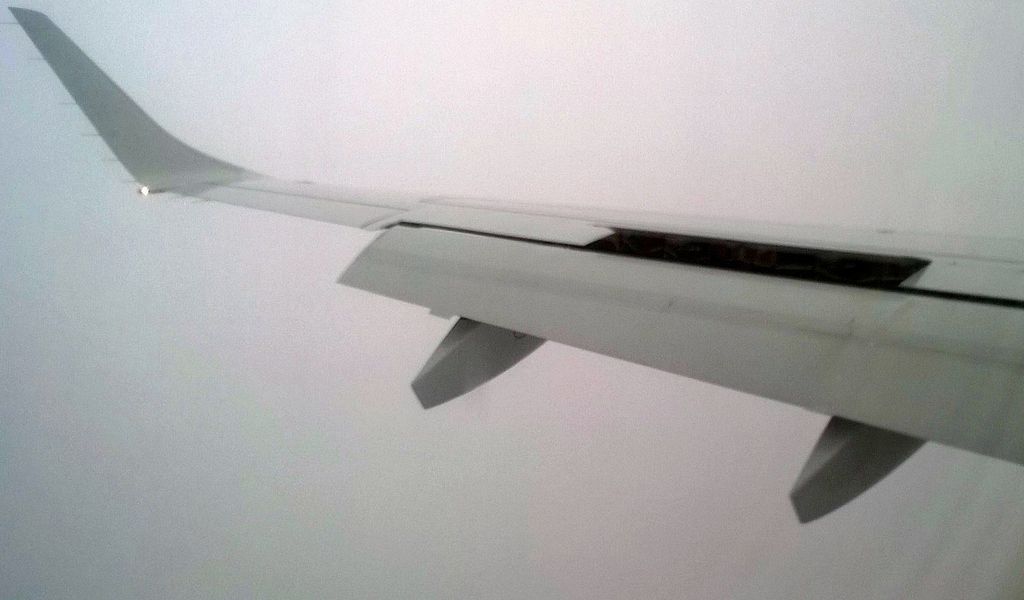 There was some turbulence again and of course the bumpiness caused by the spoilers up the whole descent. I wasn't complaining! I did brace meself for the landing but it wasn't bad at all! FR in DUB on the way home was a different story however…
Hi, LCY!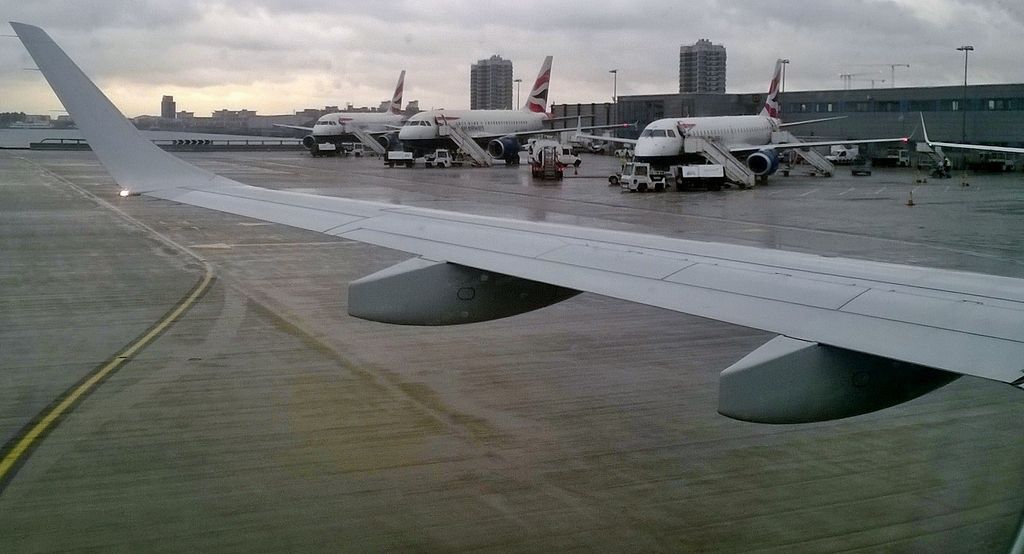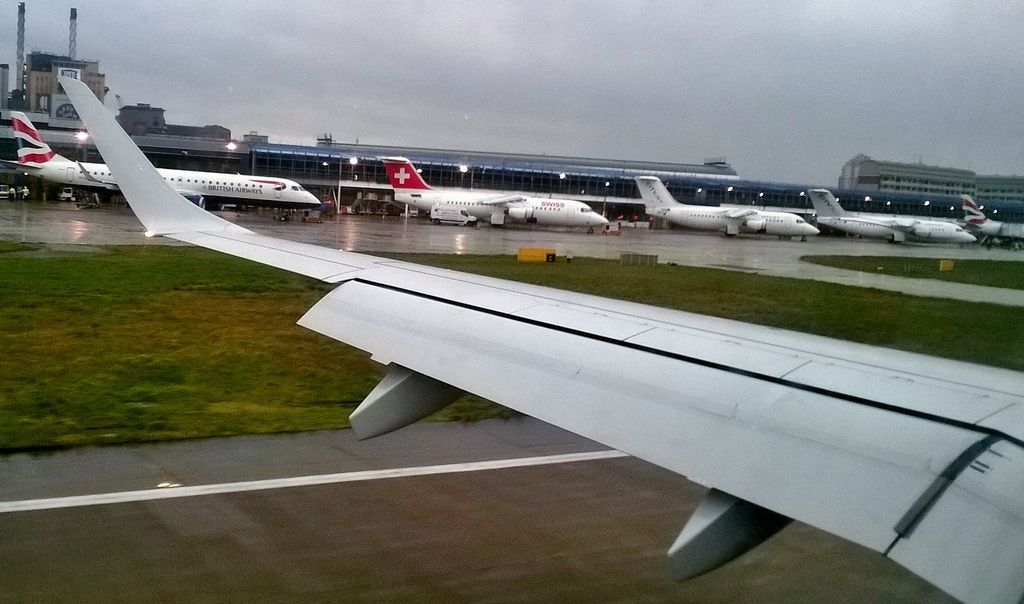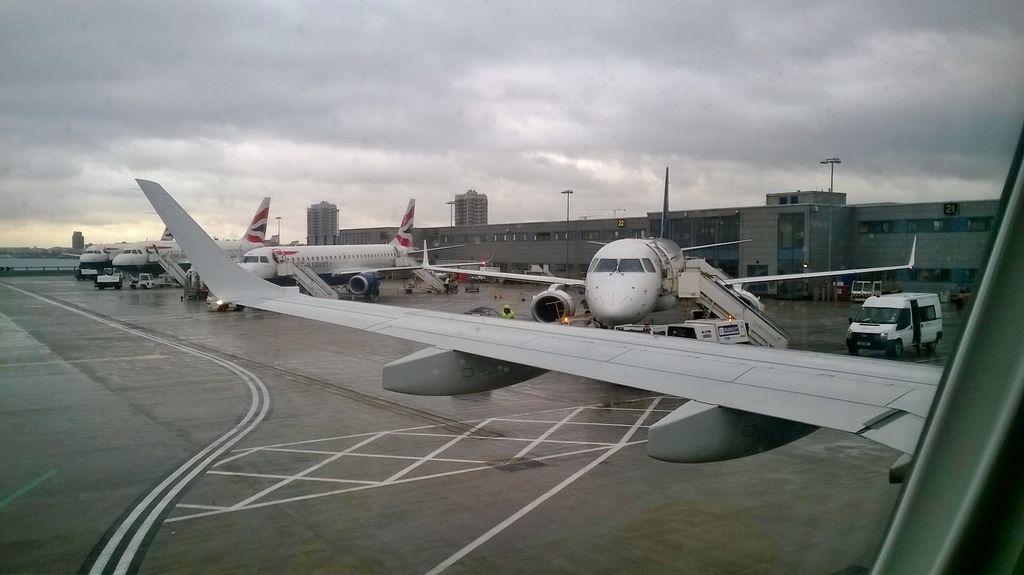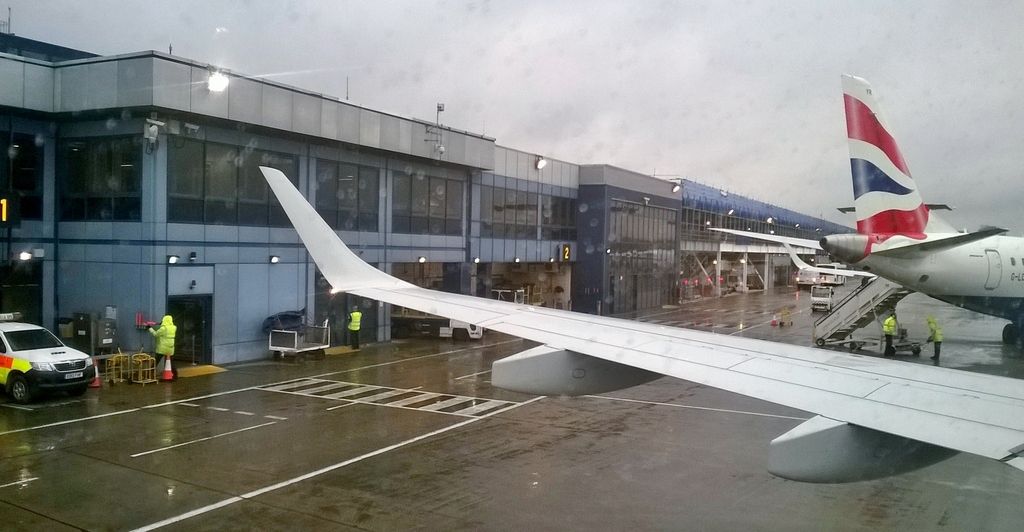 In about five minutes we were on the DLR, heading in completely the wrong direction. A nice Londoner heard us arguing and helped us out though. "Back to Canning Town it is". Ha. Eventually we found our hotel, the Nayland. DO NOT EVER STAY HERE. €330 in Paddington for three nights for two people was a bargain, but there wasn't a kettle in the room, the bathroom door touched off the bed when opened, the Wi-Fi only worked for an hour in the morning, the room was draughty, the breakfast room was tiny and the staff were totally unprofessional. I looked forward to my scathing review when they emailed me.
View outside hotel much more pleasing than the inside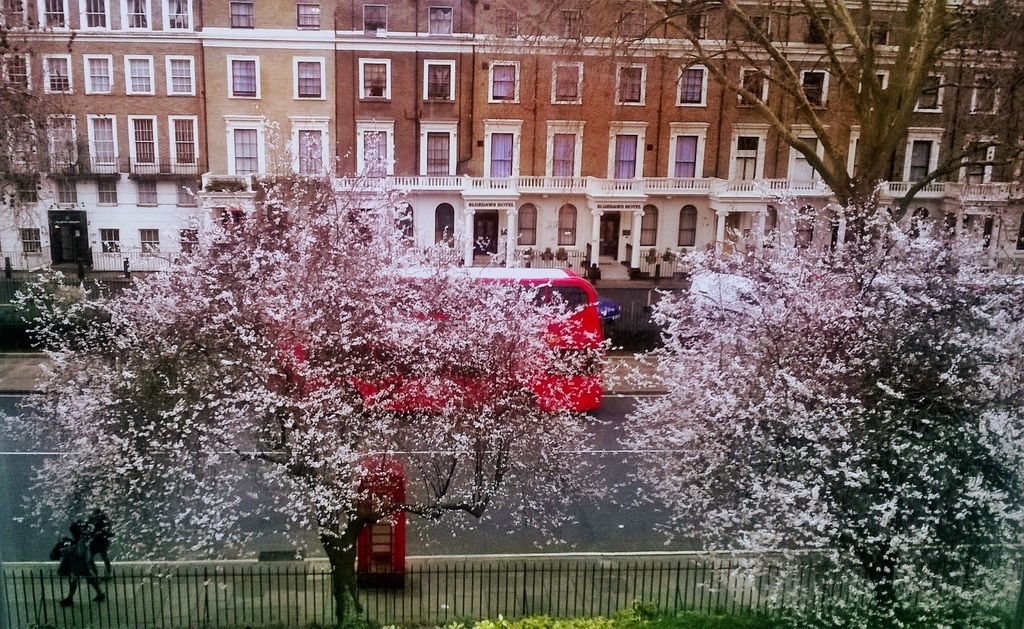 Anyway, we plodded our way around the capital, mostly on the Tube.
Choob life
Harry Potter WB Studios was fantastic and I totally recommend it, even for those who aren't huge Potterheads.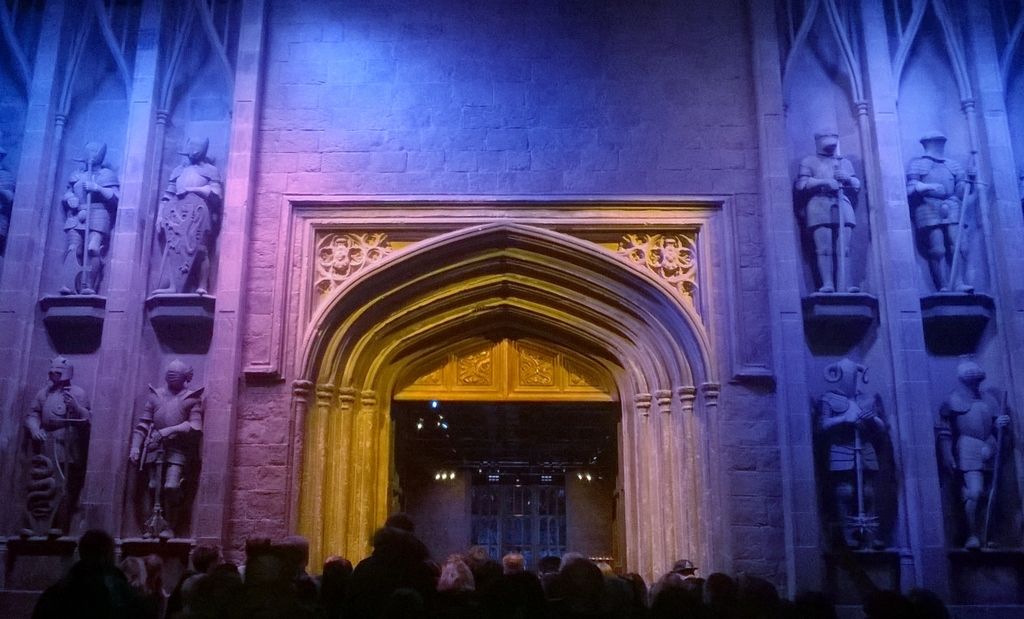 We also took in the things we missed in London last year. Physical Energy statue in Kensington Gardens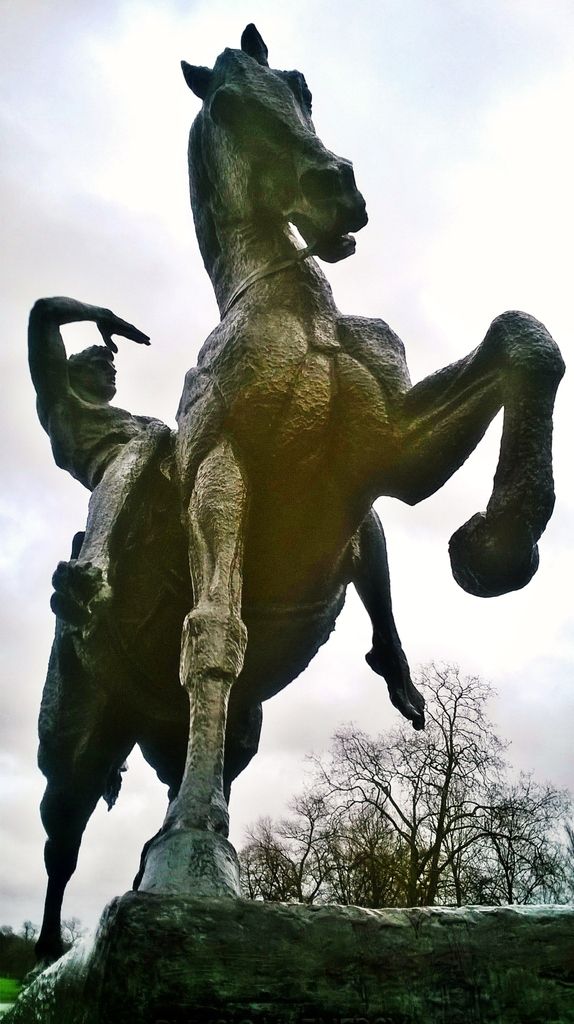 The Globe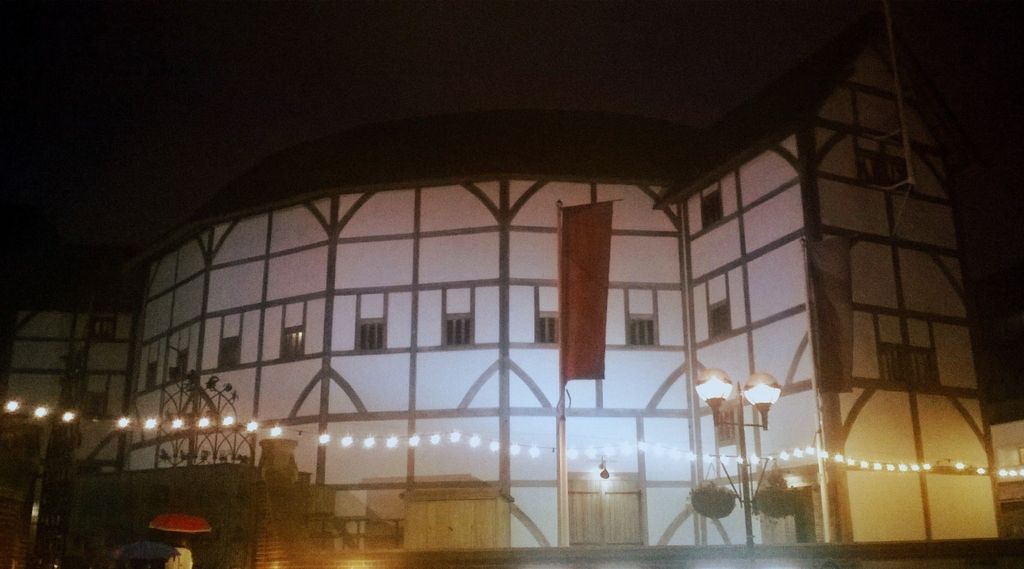 The Shard
The Barbican (sister wasn't impressed, I was too busy looking at an A346 looming in the distance)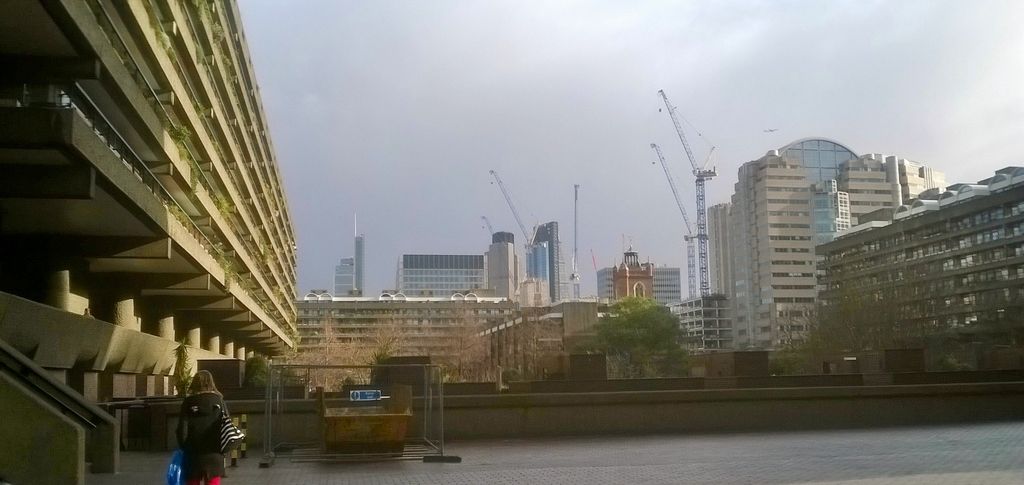 We also did a Jack the Ripper tour. It was only 8 pounds. It leaves from Tower Hill Tube station every day around 7.45. The guy was a Beefeater by day and took us around all the murder sites. The wind and rain from Hurricane Imogen certainly lent to the atmosphere!
Got the nerdiest tshirt ever in Camden for 3 pound: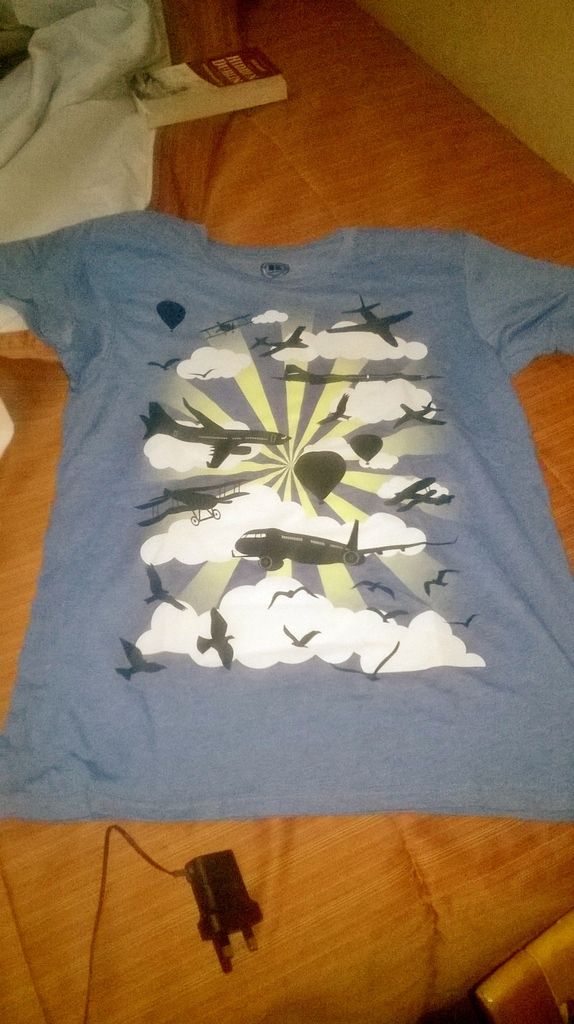 Another thing for my fellow plane nerds: The London Science Museum. I had pleasantly enjoyed each floor and exhibition, but did not realise the whole top floor was dedicated to flight. One word: amazing. Go. It's free!!!
I'll let the crappy photos speak for themselves: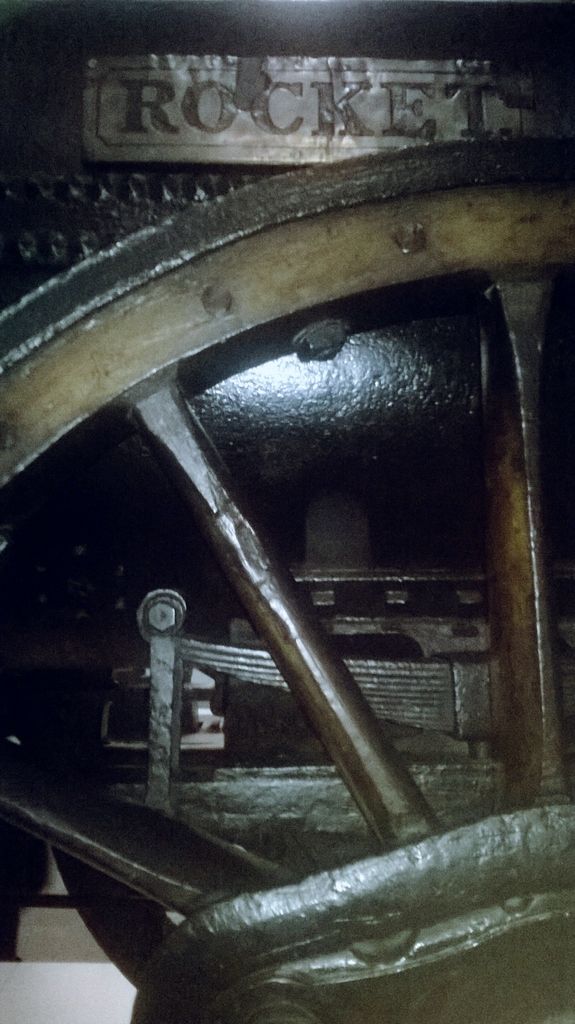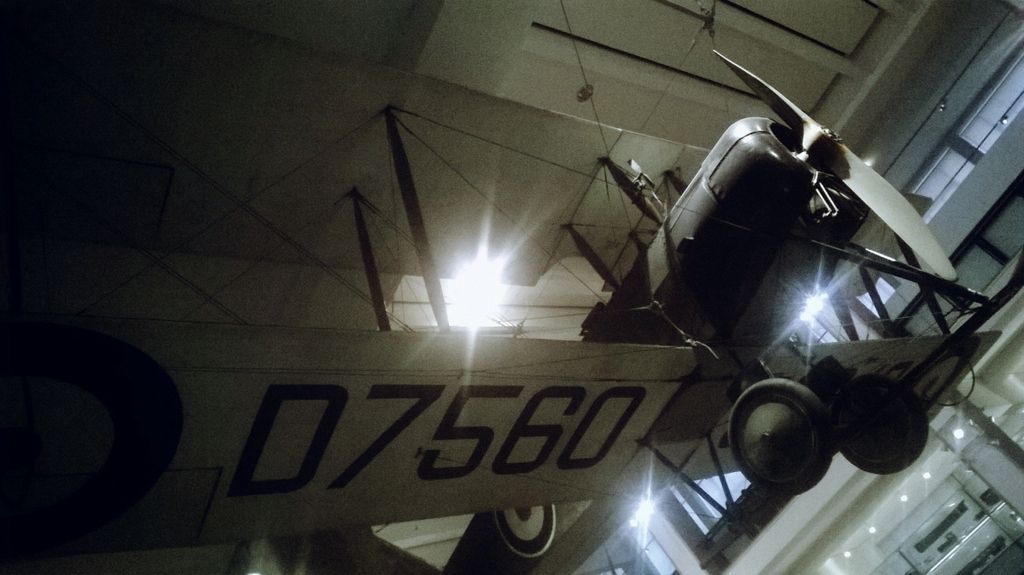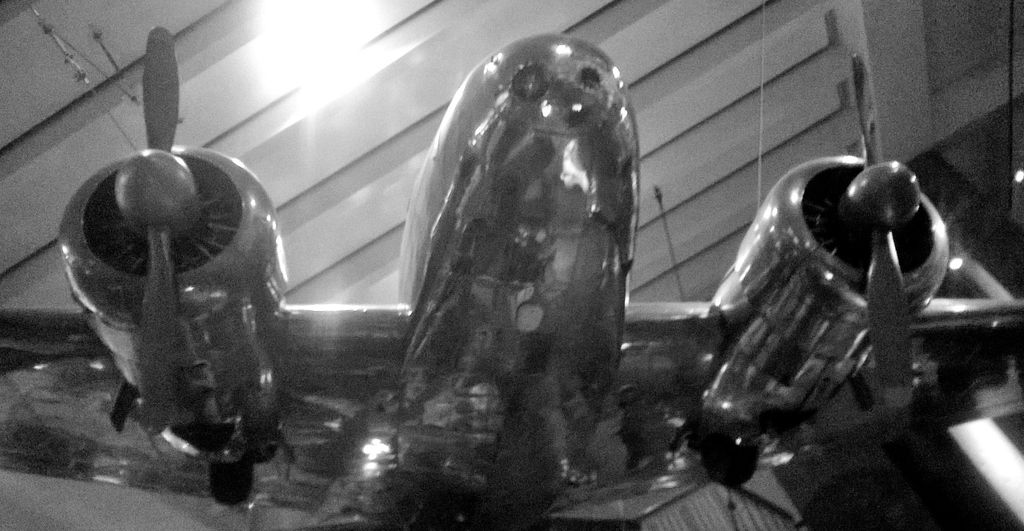 Unfortunately Imogen ended up cancelling our Thameslink train (the former Brighton Belle?) to LGW so we had to get a National Express bus and leave earlier instead. It was an experience, listening to people's weekend exploits on loud phone calls, including the Brighton guy behind us whose friend found out he had "the clap", and the Manchester girl whose aunty got "a bit mad with drink and smashed the windows of the Bachelors Beans factory". Onboard entertainment indeed! We had barely any money left at this point so just bought loads of sweets at the airport, yay.
I love the new FR boarding cards!
View Large
View Medium


Photo © Stefan Sonnenberg
FR 119 LGW – DUB
B737-800 EI-DYZ (7 years old)
Seat 27 DEF ….all to me on a packed 737 ha ha
Flight time…around an hour
A Med-View Airlines 767 to LOS was boarding next to us. Our FR flight was delayed due to the late arrival of the inbound a/c. I noticed the load for our flight was quite high and yet the LGW gate staff didn't seem to be tagging the bags for the hold. This then became the problem for the cabin crew who were running around the a/c trying to squeeze all the baggage in. I felt bad for them. They were very friendly and professional. We were on EI-DYZ, which had the new cabin with smiley people on the walls but not the new seats. The crew also had the new uniforms, which remind me a little too much of LH! They look smart though. I had a middle seat, 27E. As we boarded by rows, I was sure that the back was now filled up so I moved to the window. Of course Paddy Last, a girl who wasn't paying attention came down and sat in my seat. Oops. I pretended not to notice, and lo and behold soon she was whisked away to the overwings and the guy on the aisle to a different row with his girlfriend. SWEET! I wouldn't normally be so rude but she annoyed me by not paying attention! Storm Imogen later planted poor old –DYZ down in a crosswind on rwy 28 at DUB, resulting in the whole left side of the plane screaming. My sister was on the left side, oops. We stopped for a minute during taxi and some idiots got up and started getting their luggage in the dark, a pet hate of mine. Thankfully, the crew embarrassed them enough back to their seats. We were then deposited at the 200 gates, weird. It was the usual trek to immigration and soon we were back in the car with Mammy on the way home.
A fantastic but exhausting trip!!!
BA Cityflyer: 9/10
DUB: 10/10 - no queues!
LCY: 10/10 - Brilliant
LGW: 8/10 - gate staff a bit crap
FR: 9/10
Here's some more to look back on:
Flying To The Kingdom: DUB - KIR EI Regional ATR42
(by
aerdingus
Jan 8 2016 in Trip Reports)
Mad Dash To Waterford DUB BHX WAT Flybe Dash 8
(by
aerdingus
Apr 4 2015 in Trip Reports)
Dublin - Donegal Done In A Day! BE S340 DUB CFN
(by
aerdingus
Jan 28 2015 in Trip Reports)
Taking The Swiss! LX BCN ZRH LHR GVA BCN
(by
aerdingus
Jan 11 2015 in Trip Reports)
Three European LCCs GRO CGN TXL BCN
(by
aerdingus
Dec 24 2014 in Trip Reports)
Flying The Leafblower: WX RJ85 AF A320 DUB CDG BCN
(by
aerdingus
Jan 20 2014 in Trip Reports)